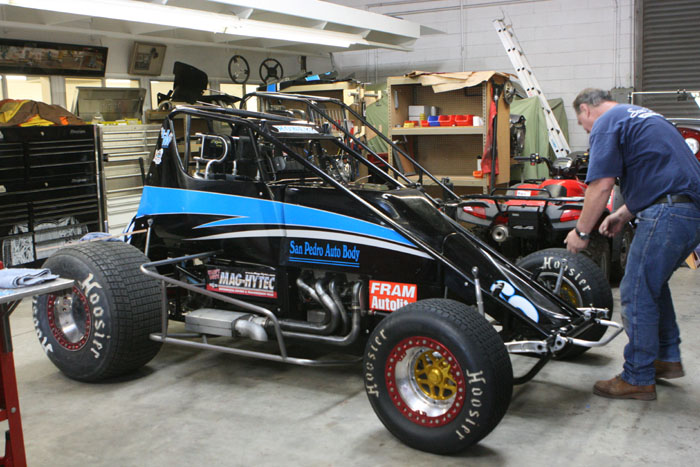 Dennis Sr is hard at work as we came in.
Here is the midget motor waiting to be installed. It is a Fontana model.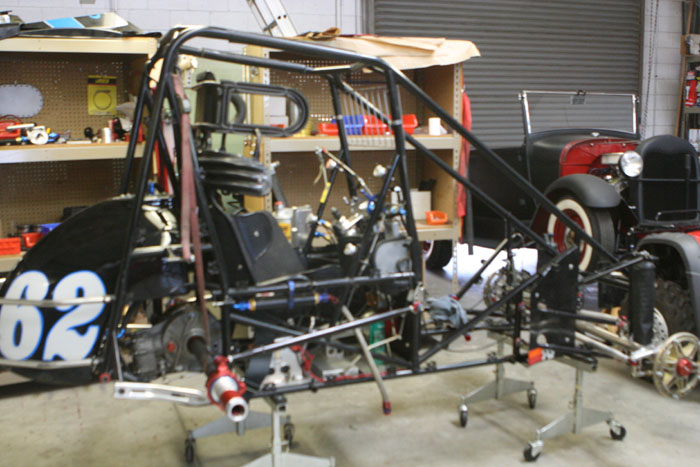 This is the midget looking a little bare.
You can see the two Howell men working away.
Dennis Jr and Randy start their discussions.
The clock above the shop is in a wheel. A number of pictures were mounted up there as well.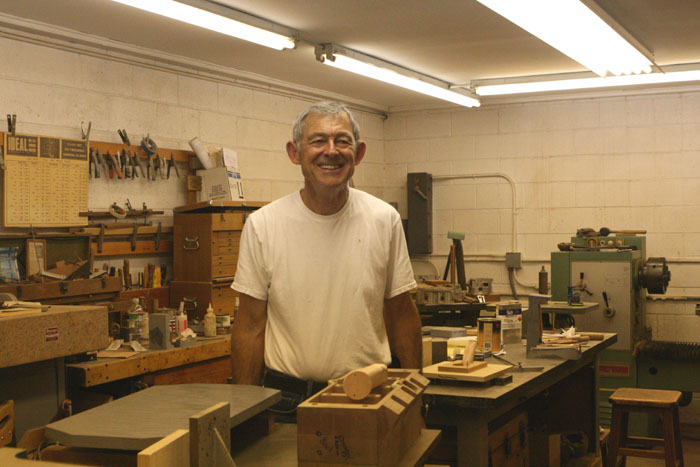 This is their partner Gene Meyer. He builds mock ups for motors and related stuff.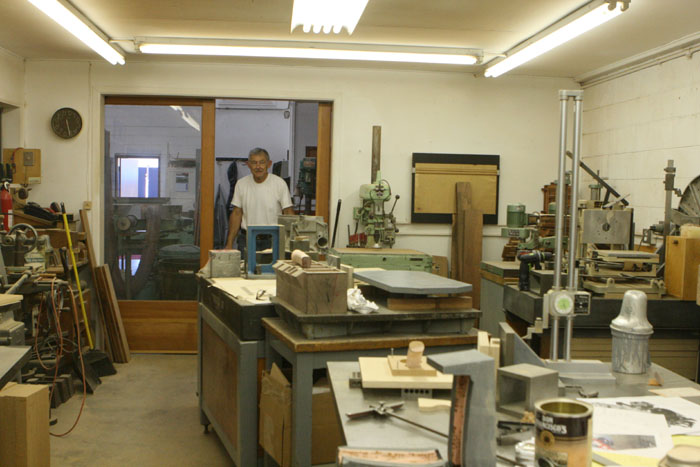 Here is a long shot of his shop.
Here is the result of his work, an engine block.
More blocks as examples of his work.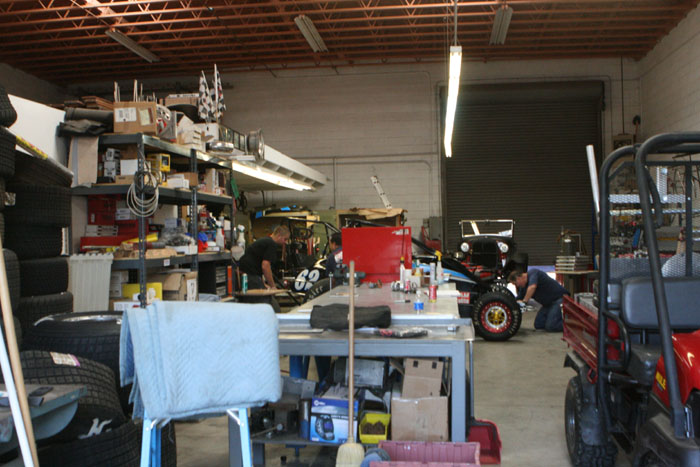 From front to back there is nothing but race car related stuff and plenty of room to work.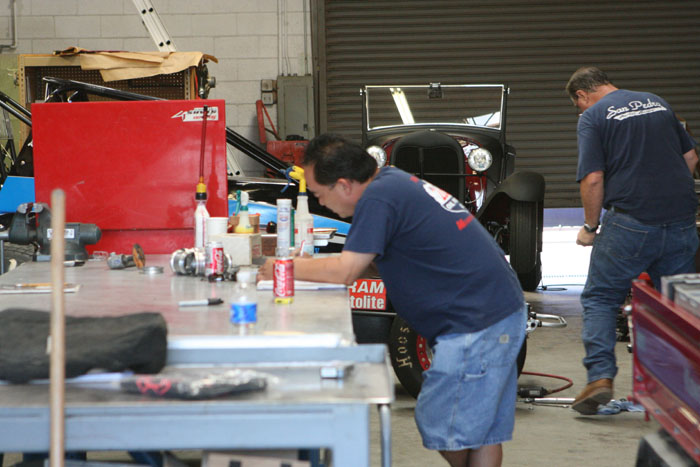 Randy works on his plan as Dennis Sr continues to finish up a project.
Dennis Mom arrives and Mary Anne has her list of things to pick up in her hand. It looks Like dad is adding to it.
The car is black with sharp blue highlights.
This was a father-son grinding experience.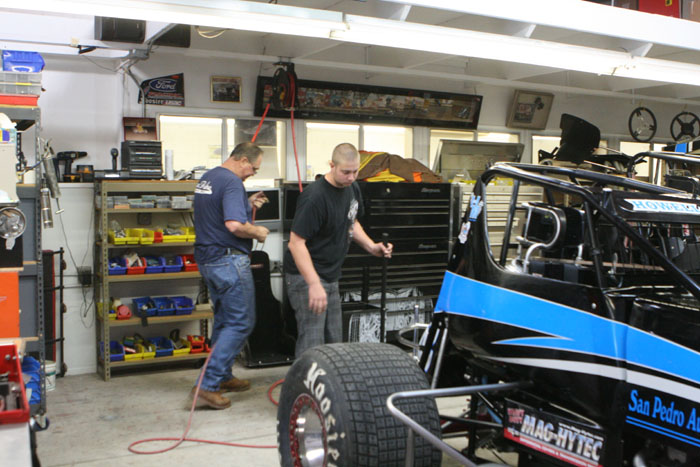 Young Dennis gets to work here.
Dennis is very intense as he was busy every minute I was there, as opposed to lollygaggin' around like me.
Randy is thinking about his next move.
Up in the rafters lies an old seat.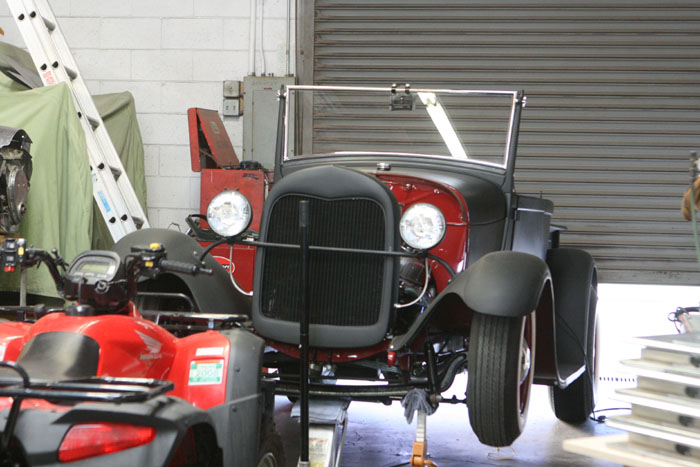 Here is another project that is on the back burner. Pretty neat old hot rod!
It looks like a little paint and away we go in this one.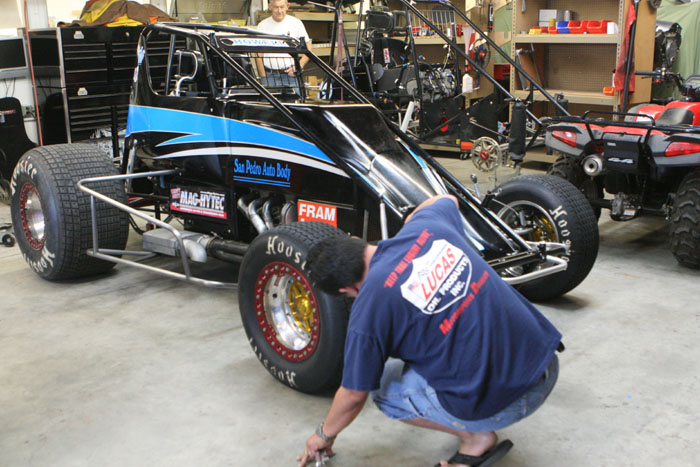 Randy is still at it measuring away.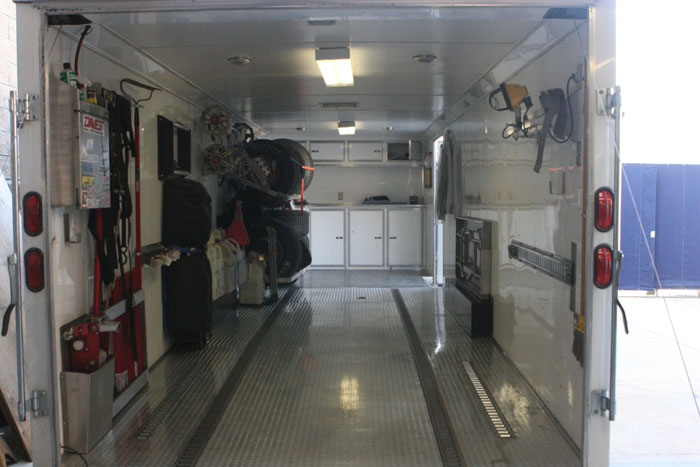 The trailer is pristene and ready to be loaded.
Here she goes, push!
Ok, done here, close it up.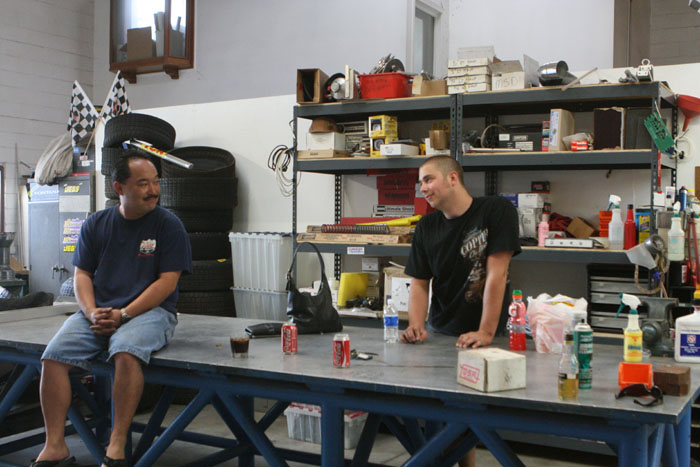 Randy and Dennis discussing what to wear?
This young man is a happy racer!
The sprint car is in the trailer leaving a hole in the shop.
Speaking of holes, here is one waiting for that Fontana motor to be installed.
Last look as the shop gets buttoned up.
The last plans are made for the morning, and we all leave.
The day with the Howell's at the races follows and it was a great day indeed. Morning was 8 Am as Randy and I headed to his work where Paul Dean was waiting for Dennis Jr to arrive and ferry us to Ventura. In the meantime Randy accomplished the one thing Julie requested, and that was get blankets out of the toter for the cool beach track experience. She told 4 of us so we wouldn't forget. Julie was off to a shower for her friend Karen who was once a Wagsdash trophy queen and still a regular pit visitor.
When Dennis arrived, we all piled in the red truck that would pull his trailer to the races. I had been warned it wasn't going to be as cushy as the Kittle rig and as soon as we hit the 405, we all sounded like Disney's Goofy cartoon character trying to talk as the vibrating ride was pretty unique to me and you had to laugh as we all bounced around and tried to make "small" goofy talk. It smoothed out some from time to time and really didn't take that long to get to Ventura. We had one stop before hitting the race track first. The sprinter needed some new shocks and Steve Watt, AKA Biggie, makes shocks, shock testers and markets many things out of his new Maxwell Industries shop that is just off Telephone road in Ventura. I had been promising I'd come visit sometime when we came to the races here, but I just never go there. Well we had time now.
When we arrived there he and his helper Nick were just getting ready his car and a few others to go race that night. Blake Miller would be in his # 81 later on. They take care of cars for several racers, so the shop is pretty busy. Biggie gave me a tour and several interesting things came up. Upstairs were two midgets waiting to go racing and a lot of shelving for parts and stuff. There was plenty of room up there and he said perhaps they would build a condo up there as his business continues to grow. Downstairs there were a bunch of stalls where cars were in various stages of readiness. In between the stalls sat a streamliner that last year ran 391 MPH at Bonneville. In the office, Biggie showed me some official certificates showing the speeds they reached. I think he is putting a bigger motor in for this year's attempt. click here to check it out!
Over in the corner in the back was where the shock testers are made. He also has other testers he sells and he services racing shocks and even some train shocks from San Diego and Europe. So he put Randy on to looking at the shocks he built for Dennis. After all was well, we loaded up and headed to get a bite at the Habit or Hobit or anyway it's a burger place. There was one on Telephone road in a shopping center so we could park the rig and get lunch. Burgers all around and then on to Ventura Raceway we went.
The line of haulers was fairly long when we stopped behind them in the parking lot of the track. Everyone vacated the truck and headed to the pit booth to sign in. I got my wrist band and headed in to talk with Jim Naylor. Of course he was on the grader getting his race track ready. He paused long enough, when I stood at the entrance to the track and waived, to say hi and then moved on to come visit later.
The Howell rig was now headed to their parking spot, so I wandered over and watched what I always love to see, the unloading and beginning to prep a car for racing. In addition to Randy and Paul of the Kittle team, there was Chad and his dad Ralph and Jimbo. Add the normal crew of John, Dad and Gene, al they were all getting it ready for "D jr" to race. I watched for a while as they got the car out and began the race dance. Soon it was time to track pack, so they pushed away from their pit and when Dennis came back it was mud scraping with a small problem. The heat gauge was trash so they sent someone to get a new one form the seller guy. Jimbo came back and said it would be a while as the seller guy's truck's insides were bundled on the floor in a pile when they parked, and it would be a while until they could organize and be ready to find the gauge. Meantime the old one came off and other preparations went on. Finally the new gauge arrived and they installed it. Some water was lost in the radiator so they added perfectly good drinking water to the radiator heating box (whatever it's called) so it could replenish the water system as it keeps the motor warm for when they fired up again. Lots of concentrated eyebrow action was going on as hot laps arrived. I headed off to see a few people and take more pictures.
They were ready to go hot lap when I took off to, you know, yakity yak. First I took a ride with Jim in his water truck and visited a bit with him as he put the last round of wetness down for the racers. Then we went up to the announcing booth and the night of racing continued. Already going when we got up there was some Jr Midgets and stuff with someone else handling the announcing duties that Jamie used to do. The hot laps were done and before you knew it the heats started. Mixed in between would be the other 7 classes running this night. Stock cars, Pro Dwarf cars, Jr Midgets, Jr dwarf cars, IMCA Modified, go carts and away we go. In Dennis' heat, the last one of four, he started in the back and began gassing it a little. It was a totally new set-up for him and he was a little tentative at first. He encountered a little problem of a spinning car and went back to the back. He moved forward on the restart only to miss the transfer by one car.
When he came out for the semi, he started in the third row and was sorting it out when, bamm, along came another problem not of his causing. Restarting at the back of the 12 lap race with 16 cars ahead of him did not look promising, but away we go anyway. I was now sitting up in the enclosed tower level above the open announcers booth because I didn't bring my jacket in and I was getting chilled. That is Galen's territory as he and his wife Joyce do a lot for the track, including keeping the tower clean. I was sharing with him that I rode up with the Howell's and was looking forward to seeing Dennis race when Galen says look at him, he's moving up. Yes he was and it still looked like a lost cause with a few laps to go, but he fought it up to 4th and made the transfer. I was already worried about the "fun time" the crew would have if he missed, but that was all over, now, Yahoooo!
He was in the main and started, get this, they gave him a break, last! The feature began with Cody Kershaw on the front row with Cory Kruseman and the youngster took the lead and held off Cory until a restart made it tough to keep him back any longer. Behind him there was a lot of action as Dennis was methodically moving up. At first he was on the bottom and trying to run under some, but soon you could see his confidence taking hold and he moved up the track. He was moving up faster and looking real smooth doing it. There were several opportunities to run into spinning cars, but he maneuvered well thru the maize and at the end grabbed a 7th place finish for a great ride. This young man was only running in his 6th sprint car race and Randy was right, keep your eyes on him, he looks like a winner.
I rushed out to the pits as he beat me to his pit. He came out of the car with a smile and was surrounded by smiles. Anytime you race Ventura with VRA, if you roll it on the trailer afterwards, you are a success! They did a lot of back slapping and yakking to each other as the race was dissected, discussed and remembered, and a little beer here and there flowed. In time, the car was loaded up and everyone headed to Carrows late night food-a-thon place. Slow service, variable food, but when you are with friends, all is well. I sat next to the infamous Joe Fontana of the Fontana motors world and was enlightened by our conversation. It was getting late when that broke up and we piled back in the voice modulator and headed back to Randy's work to pick up our car. I think I napped a tad because we were there very fast. We added Julie to the mix going home, so it was a little more crowded on the ride home, but it worked. Julie, Randy and I headed in the house, Randy went to walk the dogs and I went to bed at somewhere around 3:30 or so. At 7:30 AM, my alarm went off, ugh, and I showered and got on the road home. I had to meet my 4 grandsons at a store to get Mother's day food for their surprise feed for them. It turned out not to be a surprise, but they fed their moms and Granny Terry Lobster, Ahi Tuna and New York steaks that they prepared and served themselves. Hunter, Christopher, Jordan and Tory outdid themselves!
It was a great weekend and will be followed up by two more while Mrs Wags heads for Oklahoma this week and I go racing to Tulare, Perris and then Tulare again when she gets back in the next three weekends. My thanks to the Howells for the hospitality, the after race dinner and the fun they shared with their racing team. Also to Randy and Julie for making it possible to escape Vegas a little early, and I can't wait until this coming weekend for more great fun and racing as I go with the Kittle Racing Team to Tulare for a 360 show. Two in a row as I missed the last one?
The Howell rig is parked up next to one of the horse barns as they arrive and get ready to unload.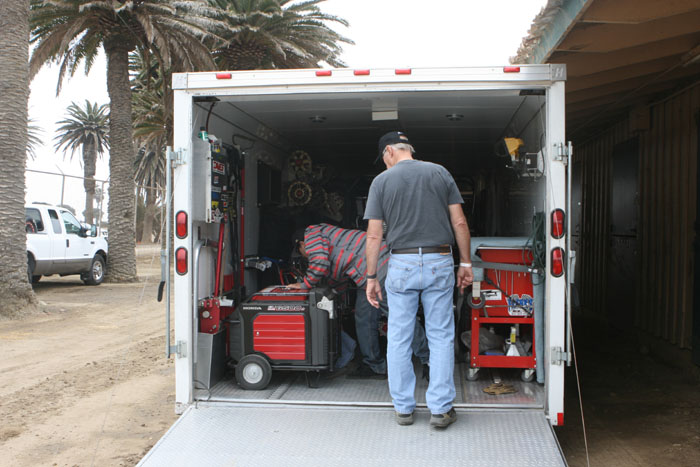 The trailer is opened up and the work begins.
John brings out the portable generator, even though it looks like he is going up the ramp, he's not.
Paul is thinking as the hot box, that thing that heats the radiator water, is plugged in.
This is Gene Meyer, former Badger midget competitor and now partner in the Howell racing team, thus the Howell/Meyer logo on the car.
Here are two guys who throughly enjoy what they do with race cars, Paul and Ralph.
Here is Mary Anne, Dennis's "mommy". She makes a mean sandwich!
And his dad, Dennis Sr, who raced sprint cars at Ascot years ago.
Alright, saddle up! Dennis gets his head sock on as Randy and Jimbo scurry around the car.
Dennis getting his helmet on.
Buckled in and ready to go track packing.
Nice helmet.
Dennis gets pushed away from his pit.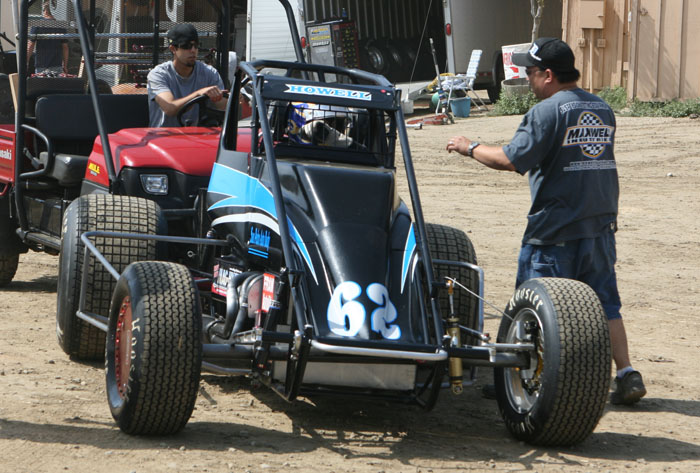 John gets behind him in the team Mule. Note Randy giving last minute instructions. Turn left, turn left, turn left, turn left, got it!
Jimbo and Chad head to the standing only area to watch.
The crew is in position to watch the # 62 car very closely.
Dennis is at the opening to the track ready to get pushed off.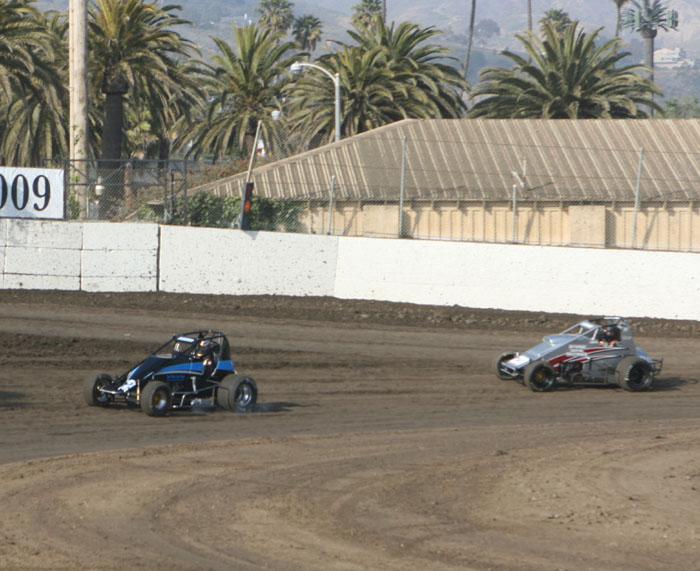 On the track now and his insides are boiling, well maybe.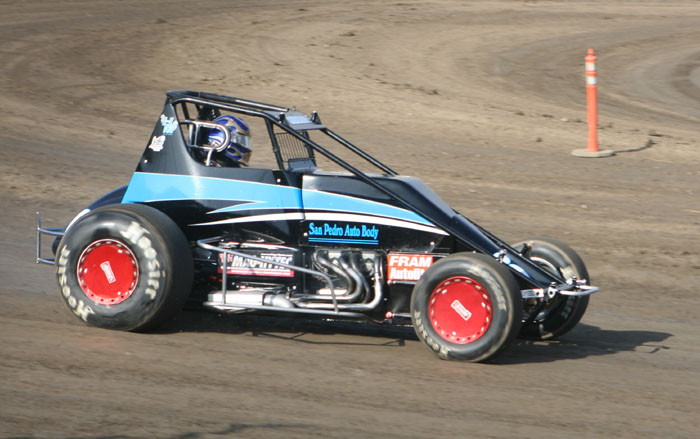 Lookin' good.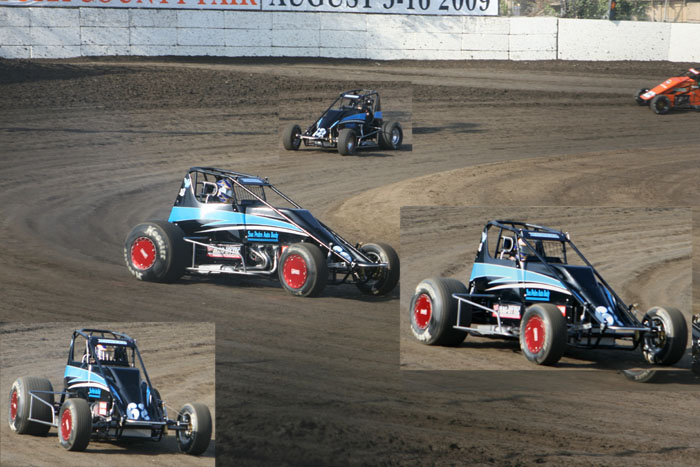 He's everywhere.
He's coming off the track after hot laps.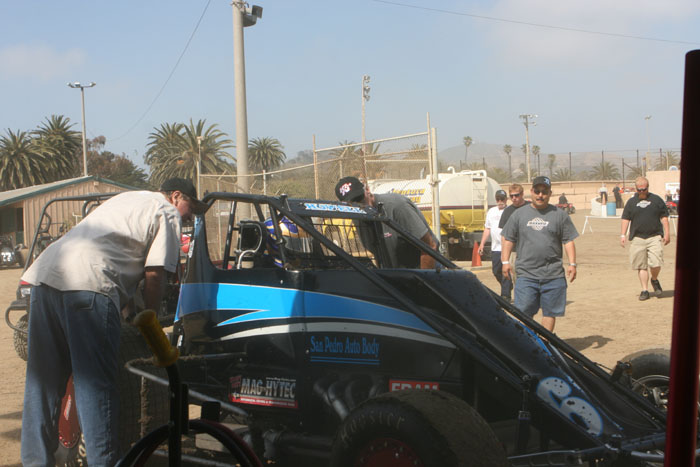 He just arrived in his pit and it's time to go to work.
Dennis looks happy.
Everyone gets into the act.
I think I found it!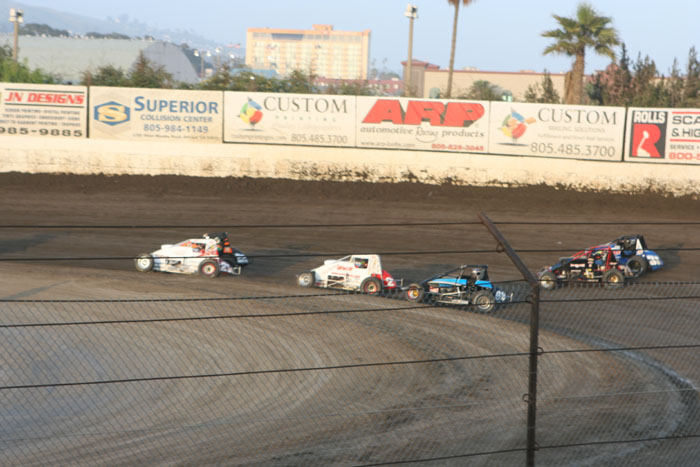 Dennis in action moving up in his heat race.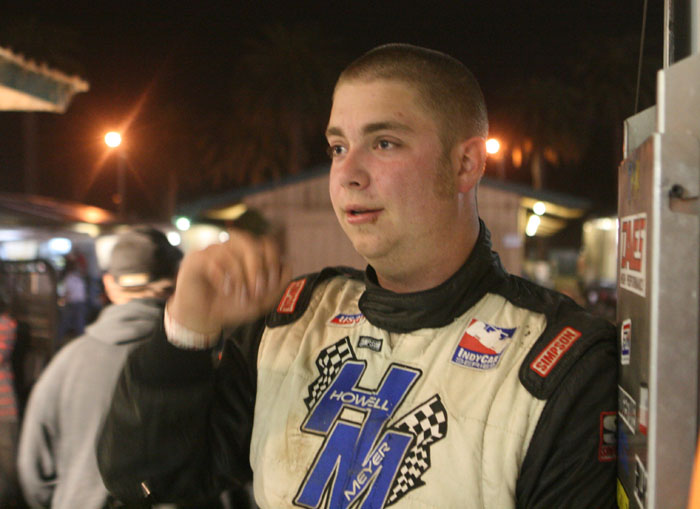 And when it was all over, I guess he was pleased.