Dodger quickly found "his perch" on the couch. He can look right out the back glass doors to know when it's time to go bark at something in his kingdom.
Time for a nap on mommy's foot stool
Dodger is hanging on the ledge here
Sugar is spending a rare moment near Dodger here
Dodger looks sad the door isn't open
Let me in!
Hi, got something for me?
Dad is just watching Scooter's reaction to the new guy
Love playing in the grass
Scooter sort of playing with Dodger
Dodger still saying come on
Hi there
That's a small stick in my mouth ready to take in the house. I soon learn to bring much bigger ones inside
Let sun a little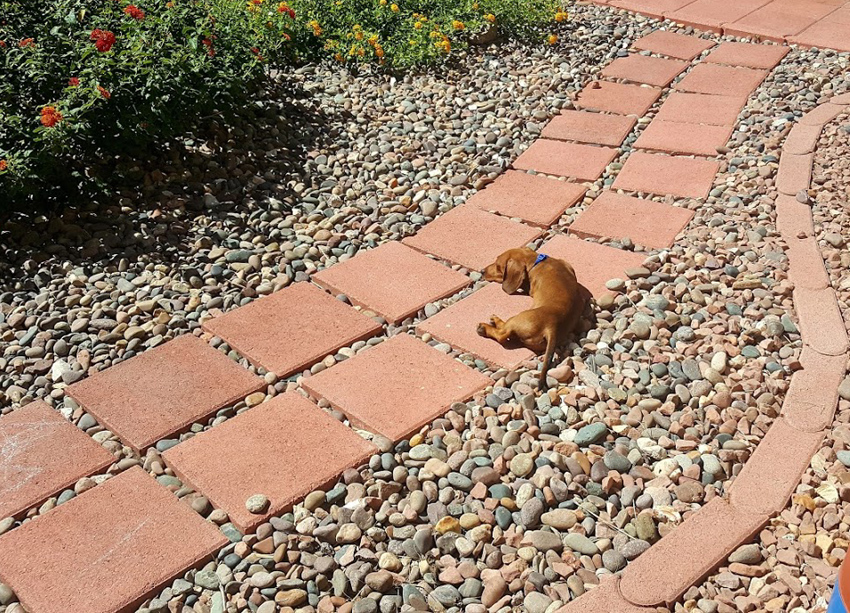 Some of those rocks are targets for my inhouse chewing fun
So innocent looking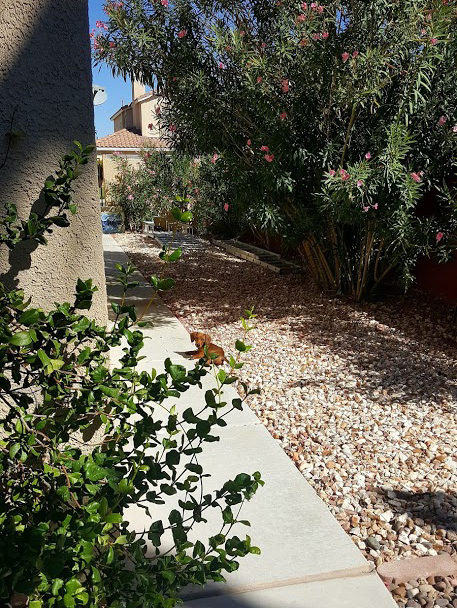 Dodger found the side of the house for relaxing away from his two pals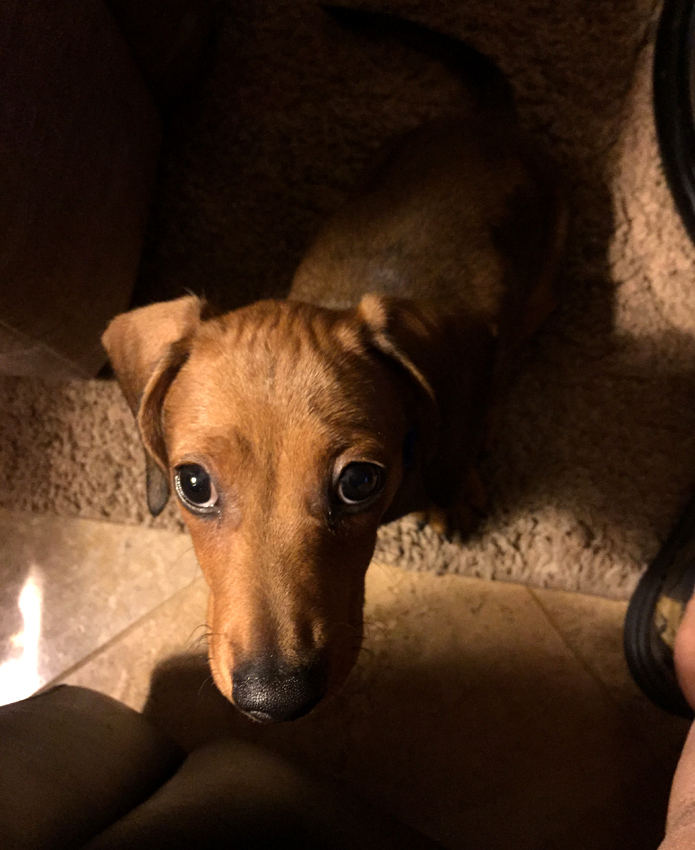 Hmmmmmm
Time for a rest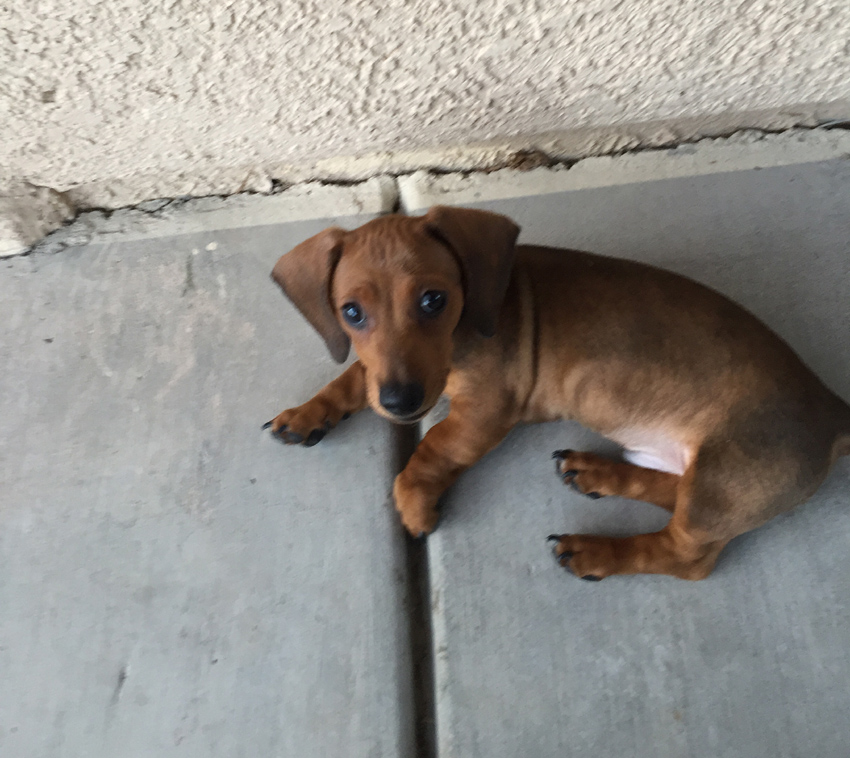 Awwwww
Dodger likes his bone
I got it mommy!
When the kids show up, there are more toys for me to play with, unless ... I get caught
I'm trying to rest
Didn't you hear me?
You mean this isn't my bed?
Dodger likes mommy's foot stool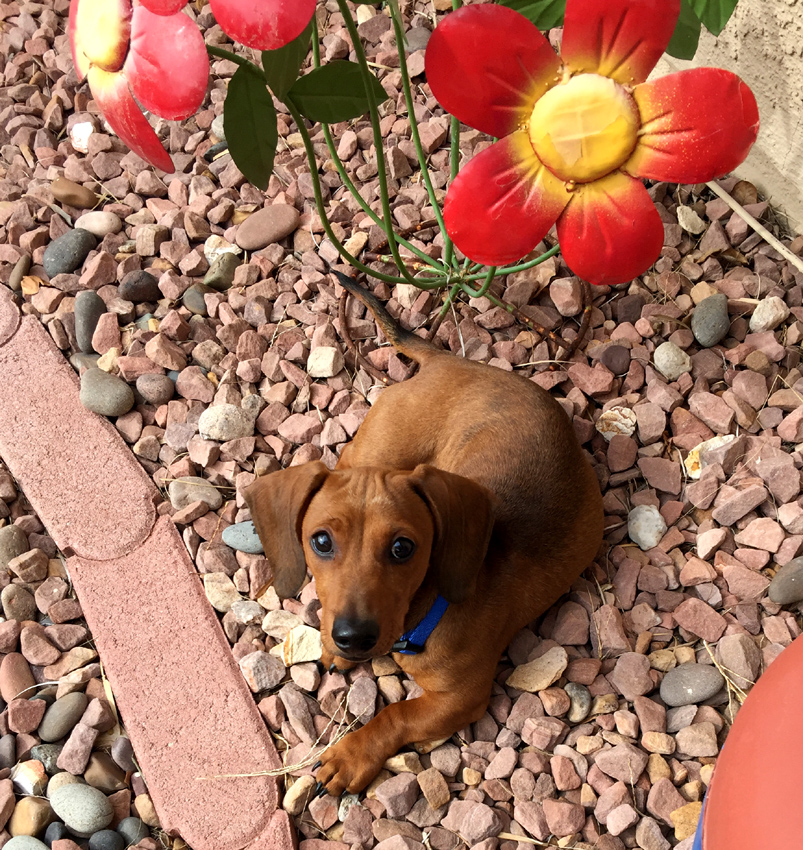 The rocks don't bother me!
See?
Dodger Blue
Nice day to relax
Only one toy?
Watch me trick em'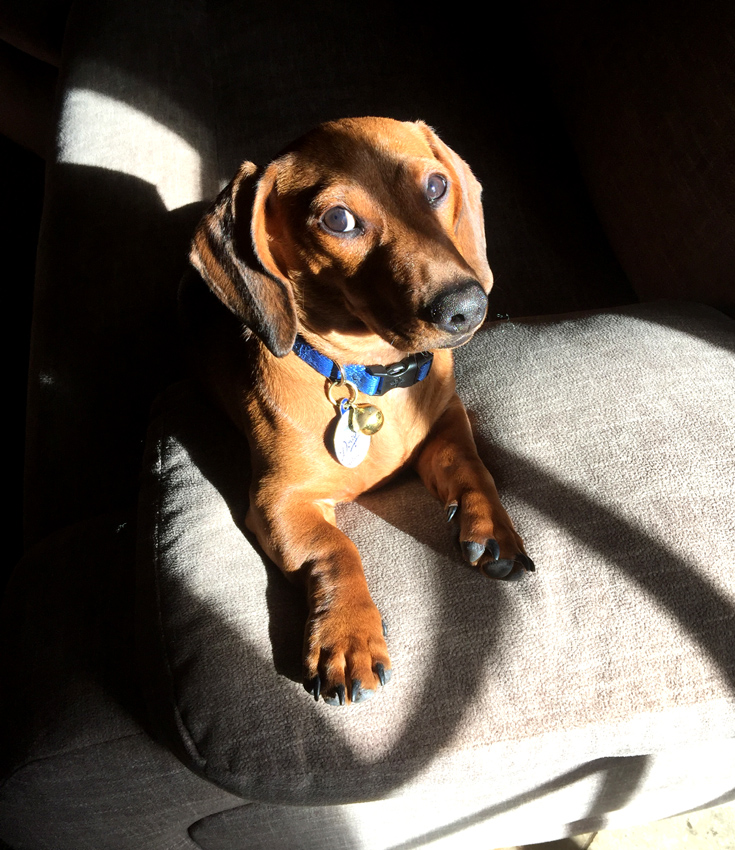 Calm before the storm
Ready
On point
Just hangin'
Nice
I'm ready to go!
Does my nose look too long to you?
Don't get excited, Uncle Jordan gave it to me, it's all mine!
I can get a little messy as I vring things in and shred em'
Here is part of my cache of things I bring in!
Time out, I thin I was pooped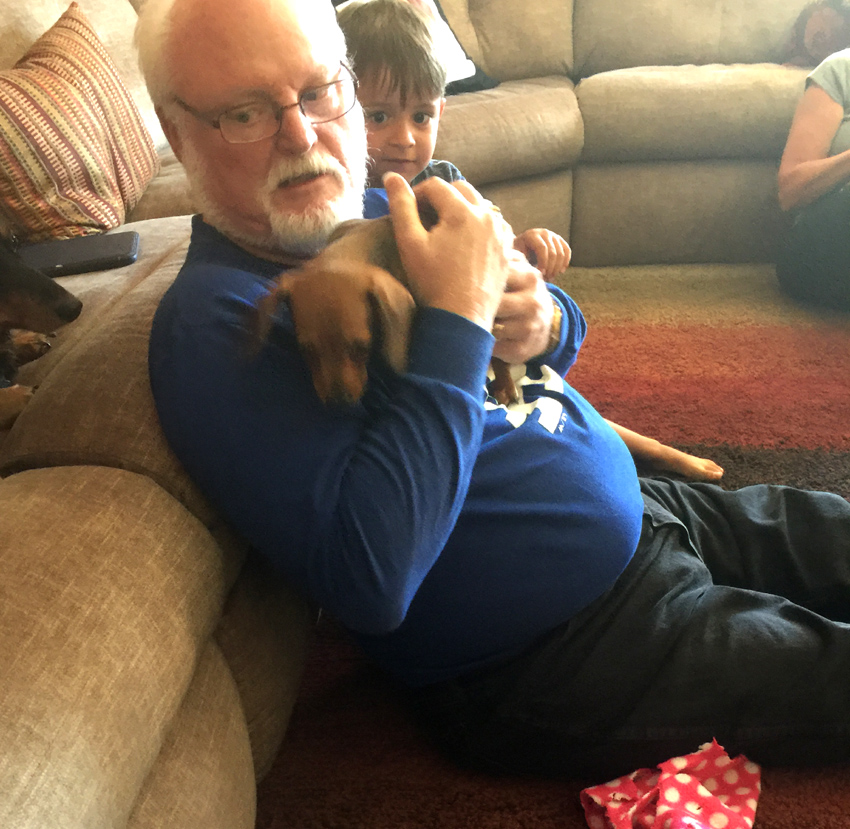 Brody looking over Pa Pa Ken's shoulder to see the new puppy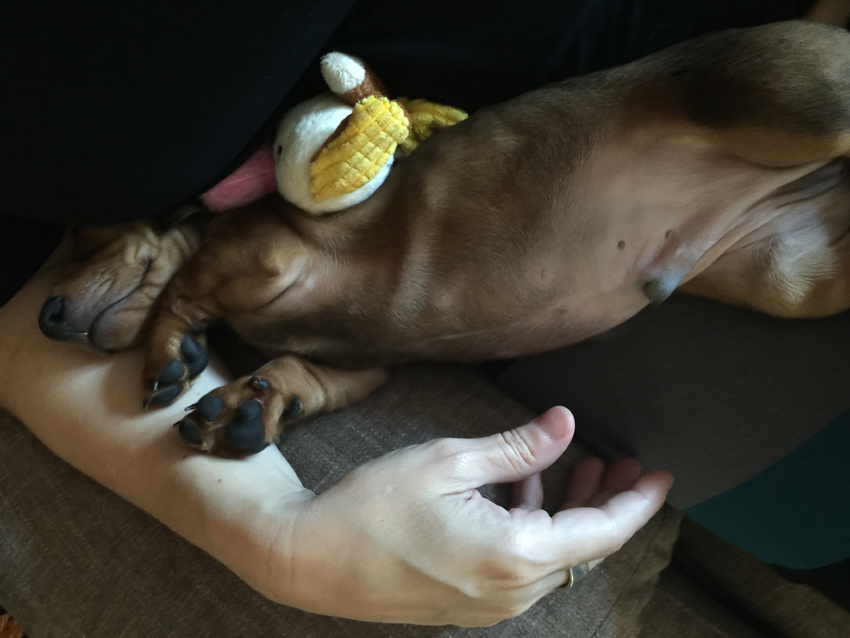 Asleep at the wheel
Nap time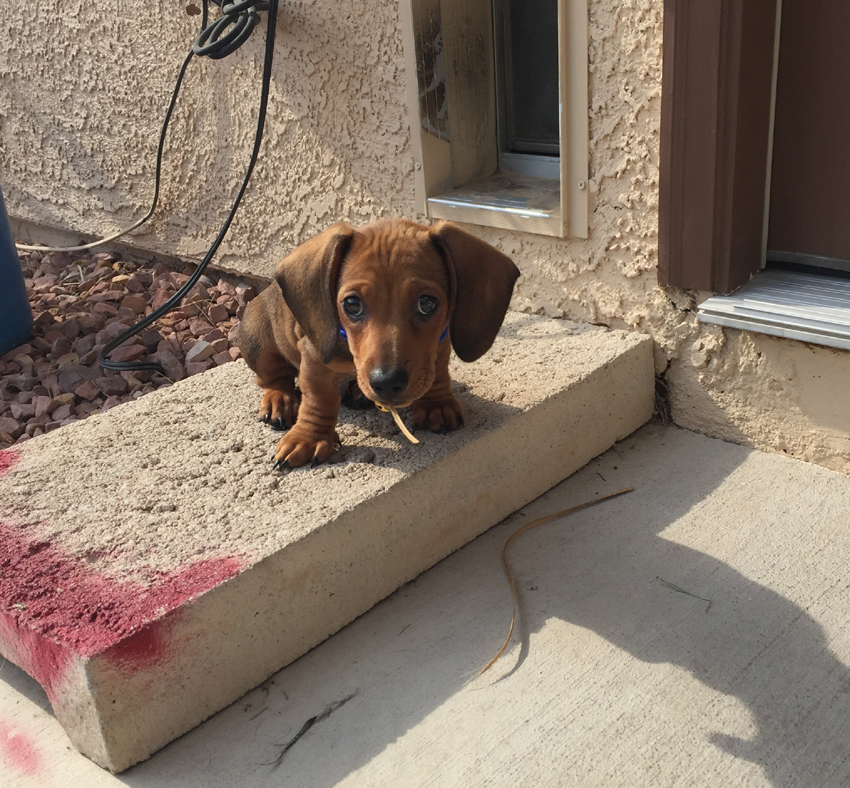 Sitting on a concrete block with a stick in his mouth
I'm ready to go in now
Hey
Don't even think you can take my toy
Come on Mommy, open my door
Here a a few more current
My toy squeeks and I chase if you throw it. These last about a week before I shew up the toughest toys
Just resting
A little dark huh mom, needs a flash
Dubya and Dusty
Wags with Dusty and Scooter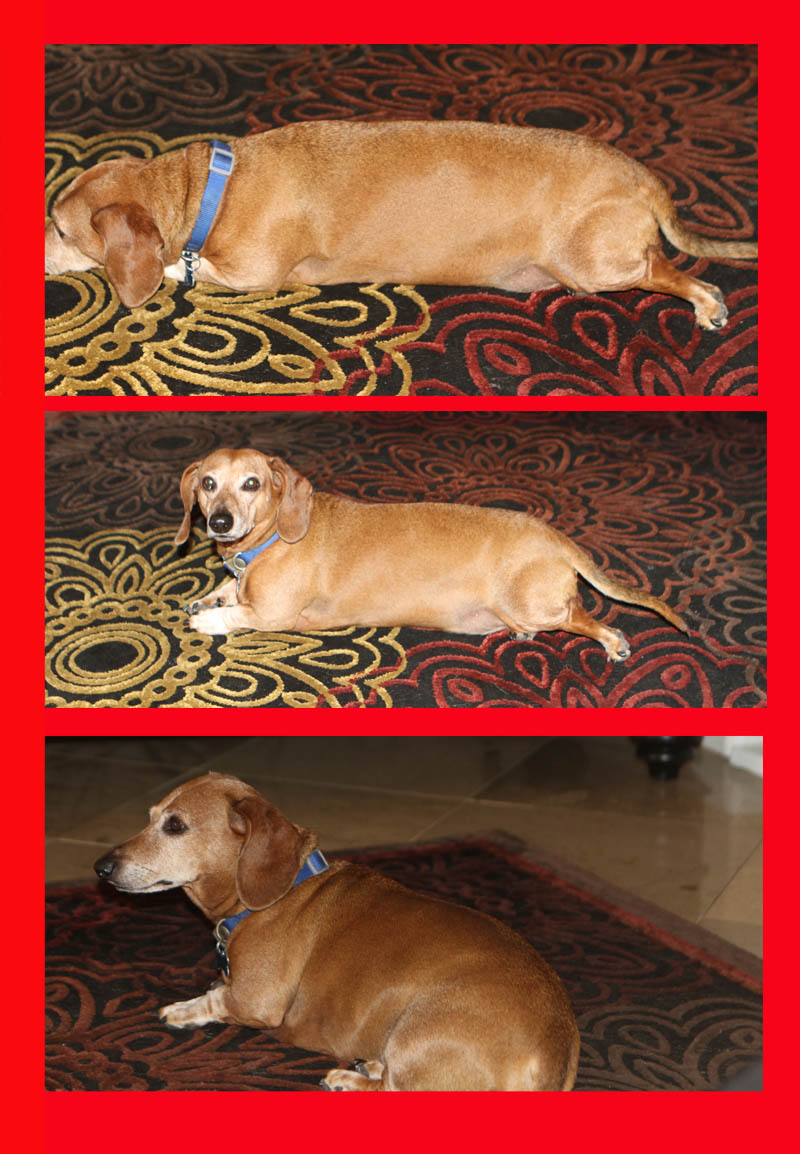 Dusty relaxing
Dubya in thought
Scooter
Dubya in thought
Scooter
Sugar
Dusty and Scooter
Dusty patrols the back yard.
Scooter and Sugar
Dubya does his patrol.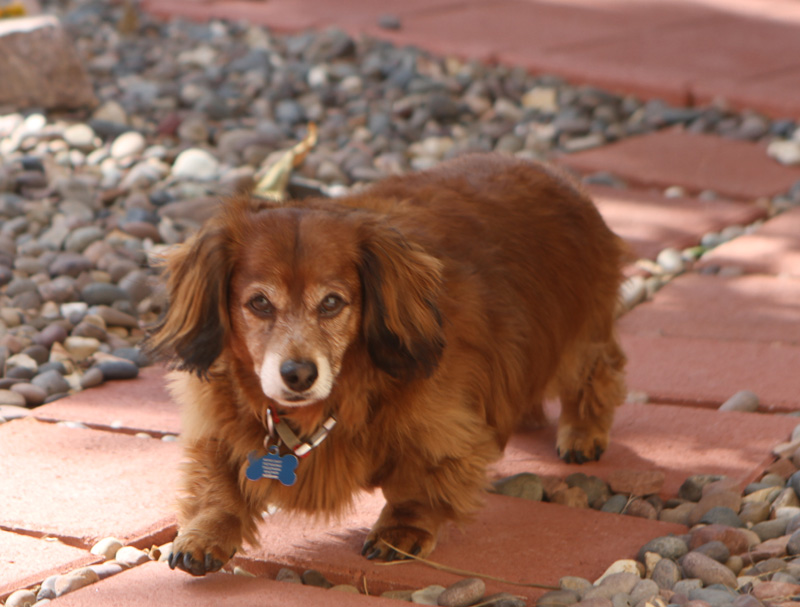 Dubya is happy in the backyard.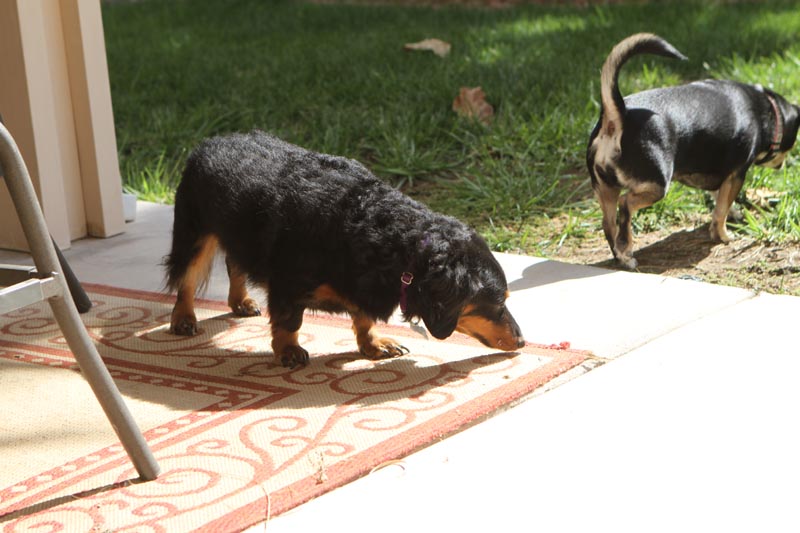 Scooter checking for food
Sugar chews on this plant like all of them do?
Dubya and Dusty wandering.
Scooter
Scooter heads in the house
Dusty
Dusty
Sugar
Dubya
Dubya
Sugar and Dubya
Scooter
Searching
Dusty
Dubya
Scooter
Dusty
Dubya
Dusty dissappears into the house.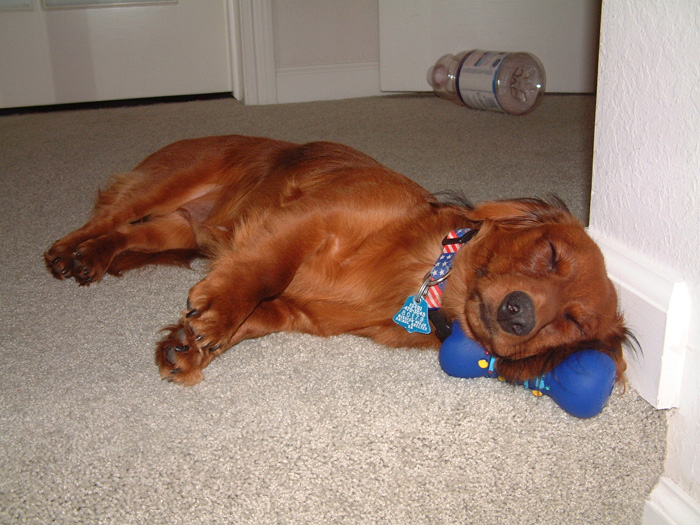 Dubya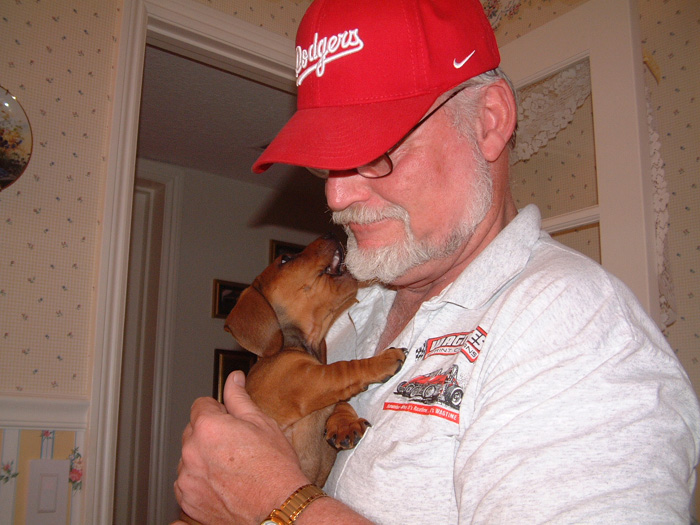 Dusty nibbling on Wags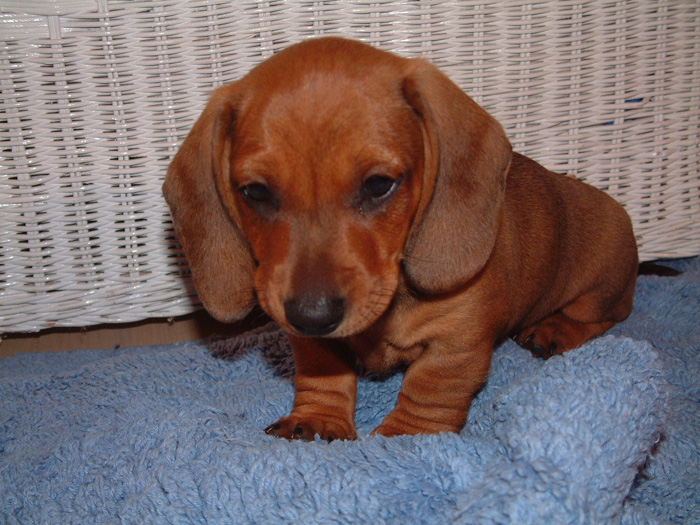 Dusty just arrived
Dubya resting
Dubya thinking if Scooter bites him again, oh brother!
Dusy and Scooter sleeping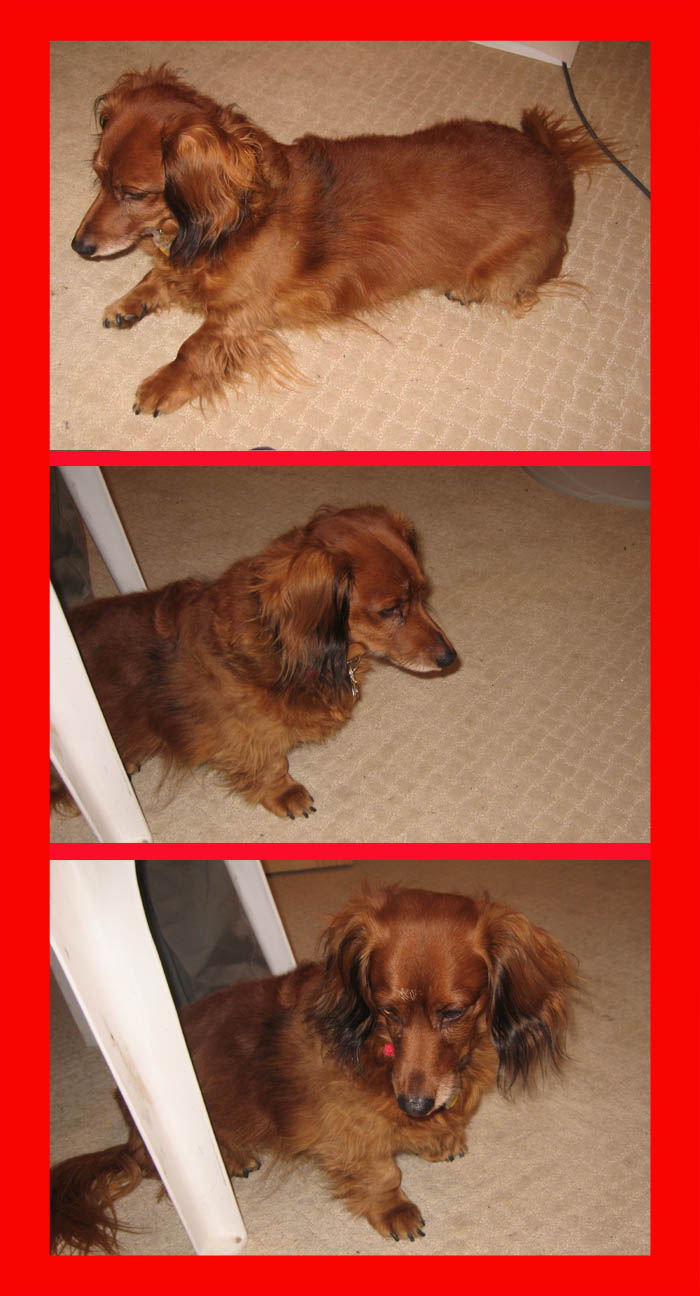 Duubya looking for something
Dusty at peace
Dusty all dressed up and ready to go some where.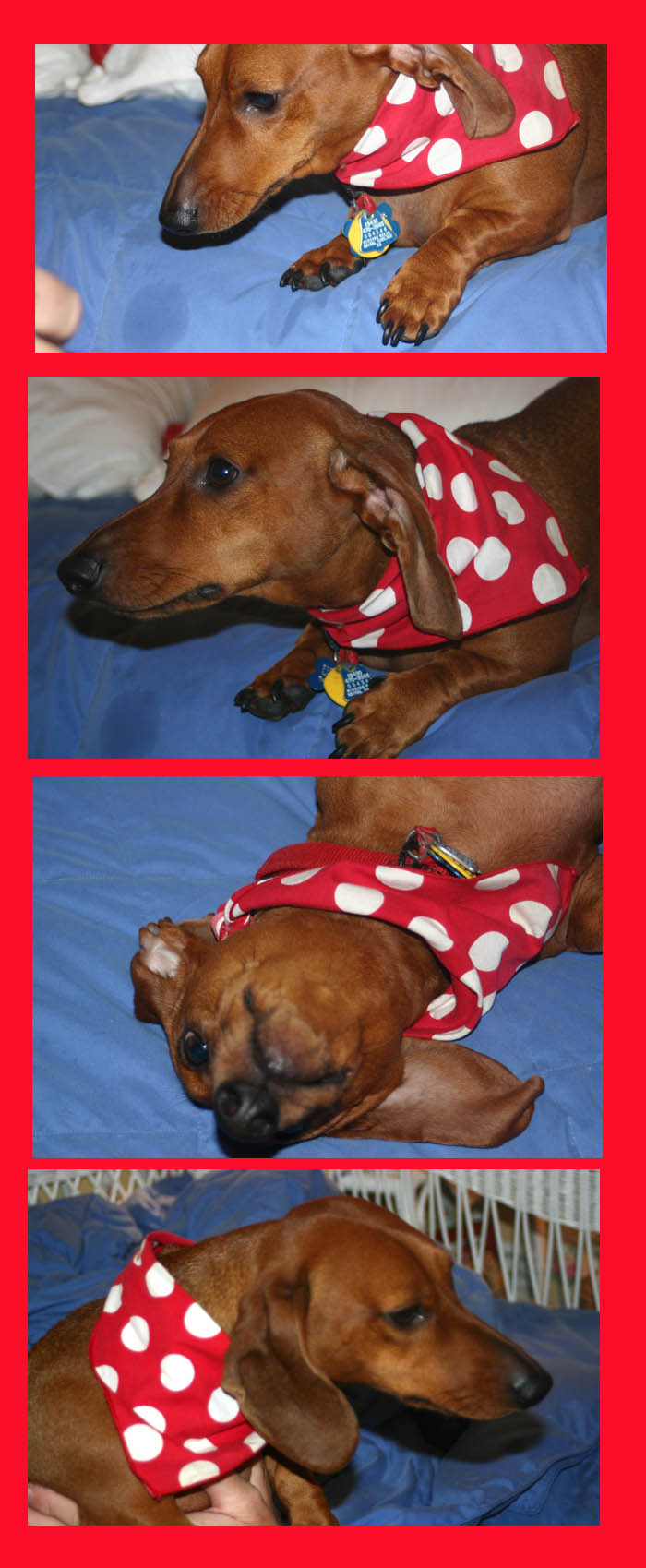 More Dusty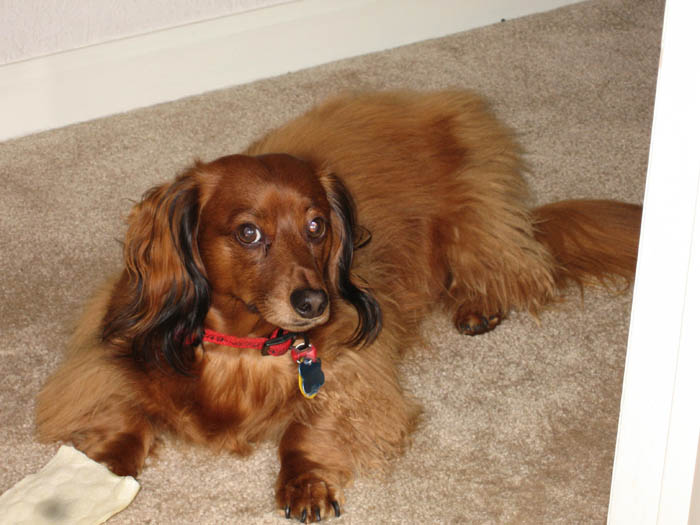 Dubby prettied up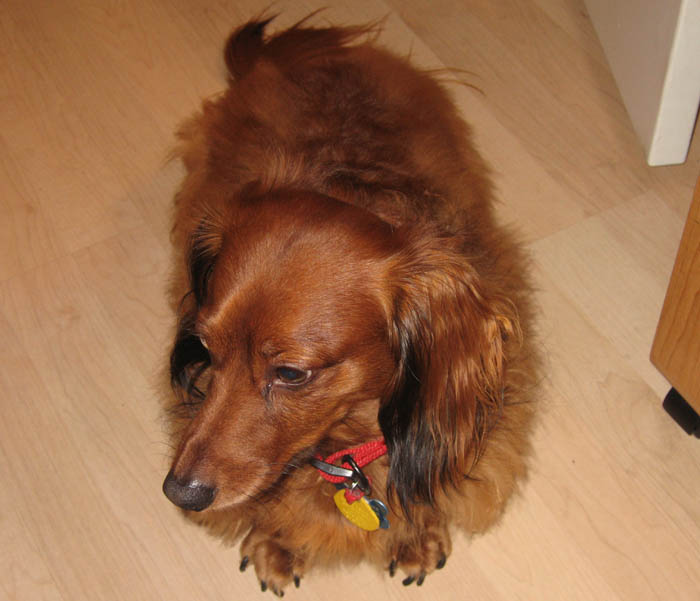 Where's dinner?
dusty at ease.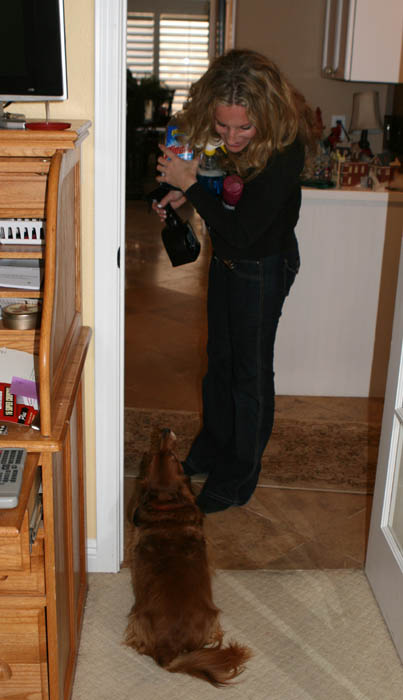 Dubya begging.
Dusty
scooter and Dubya playing
Dusty and Scooter share a chair
Riding in the polka dot mule

What??
The latest addition to the Wags house is Sugar, a mixed breed of some sort. We inherited her from our grandson Tory who had one dog too many. She is a little "bitch" with the boys, but her and Scooter spend hours chasing each other around the house playing.
Whose chair is this anyway. They seem to find a place to sleep no matter what.
Yep, a snack's a coming.
Where is it?
Man, when do we eat?
Boy, don't we travel in style ?
It's nap time.
Relaxing on mom's couch can happen if we are very careful.
I think Scooter is near. Attack!
He can't find me here, can he?
Hmmmm, do I hear dinner?
I am so comfortable, check it out.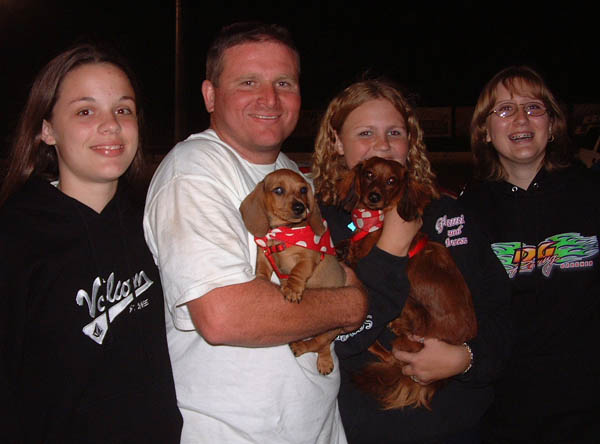 An old pic with Rickie Gaunt holding baby Dusty.
Dusty was just hanging around.
Dubya and Scooter in bed.
And then there were four. Note "little bit", the little black dog to the left was just visiting.
Dusty is so focused, must be food coming.
Another view with Little Bit looking at the camera.
Scooter looks very peaceful here.
Dubya has a long tongue, hmmmm.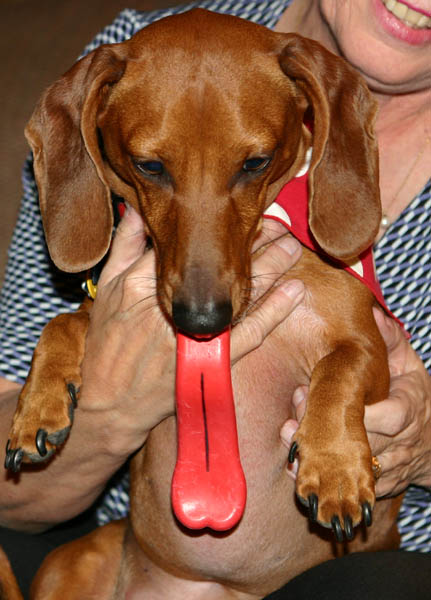 Dusty, what!
Dusty is ready!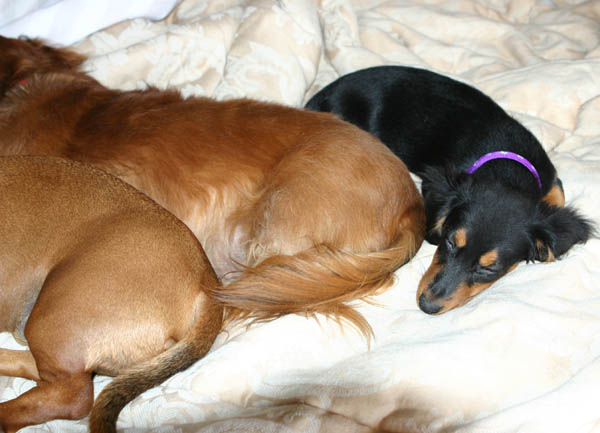 Scooter is getting under their skin!
Scooter is really a winner, but so active he's changed the way things are around Wagsland.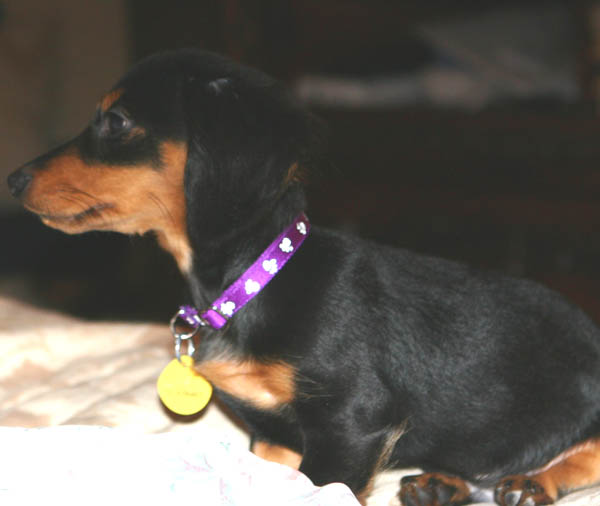 I heard a candy wrapper, where's mine?
An old motorhome pic with the two boys wanting to get outside.
Did Scooter hit the lotto when he landed in Wagsland, as several family members think?
Hey, hold still, I am trying to rest here!
What time do we eat?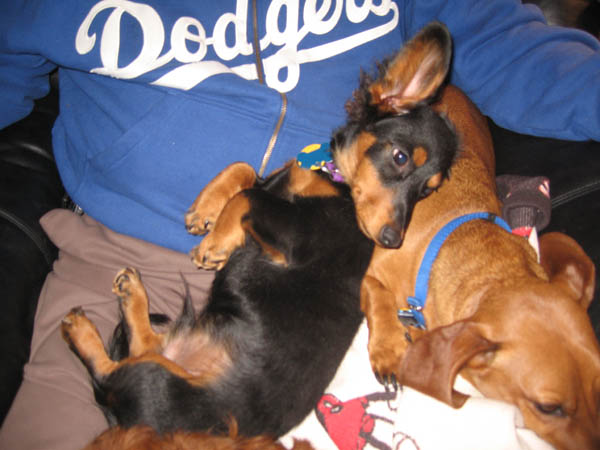 DId I hear dinner bowl music?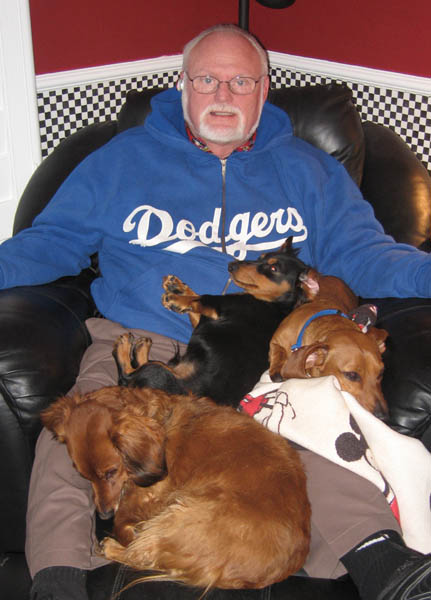 Is there any room for dad left?
Dubya gets comfy on the couch.
Scooter also likes the couch.
Dusty does his little trick and wonders where the treat is!
What time does dad get home?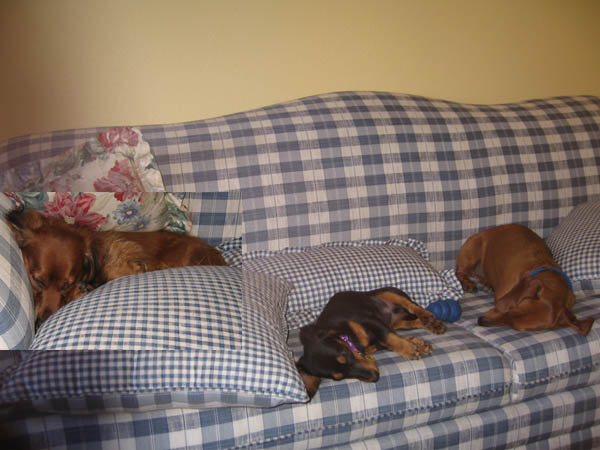 There they are, ready for action? One bark from outside and they spring into action, and very noisy.
I think I like it out here in the sun!
Gotta get our rest!
Dubya loves the closeness I give him. Is that a smile on Scooter's face?
What a life!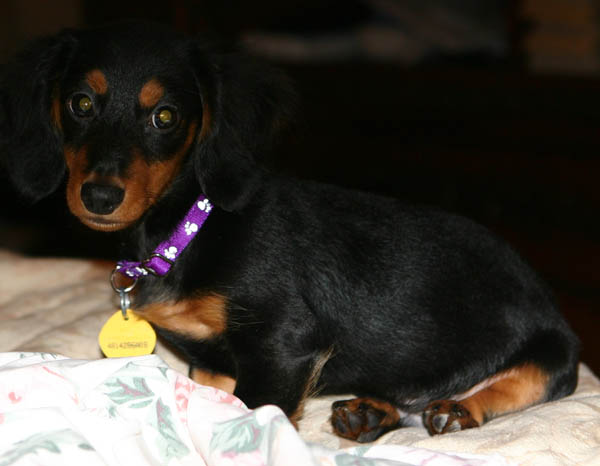 What a life 2!
What a life 3!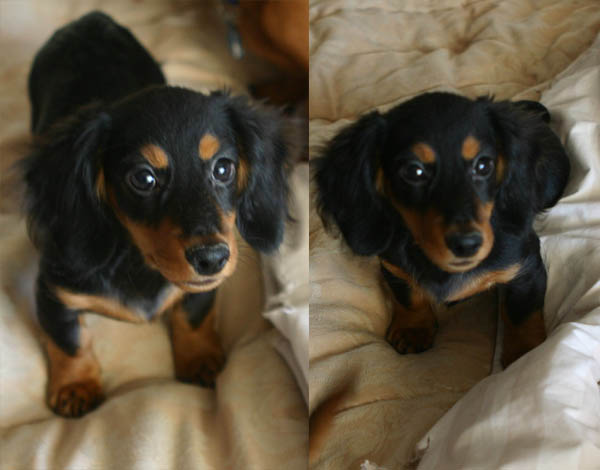 The latest wags dog is Scooter Max. This cute little 5 pound boy is a mini-dauschund and is full of life. He is 13 weeks old as of 10/21/06. His first few days with us were very tentative, but now he hustles for treats and aggravates Dubya and Dusty all day. Dubya was very standoffish at first, but I noticed after a week he was playing and not growling near as much. Dusty wanted to play, but not as much as Scooter. The little character has loads of enthusiasum and bounces around like a rubber ball!
Here Dusty is wondering what Scooter is going to do next.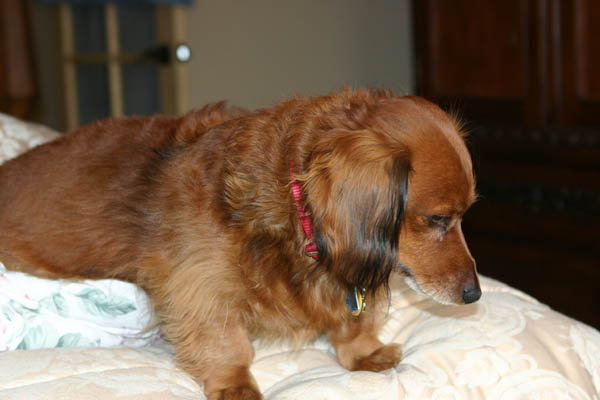 Dubya wonders what hit him, a little tornado?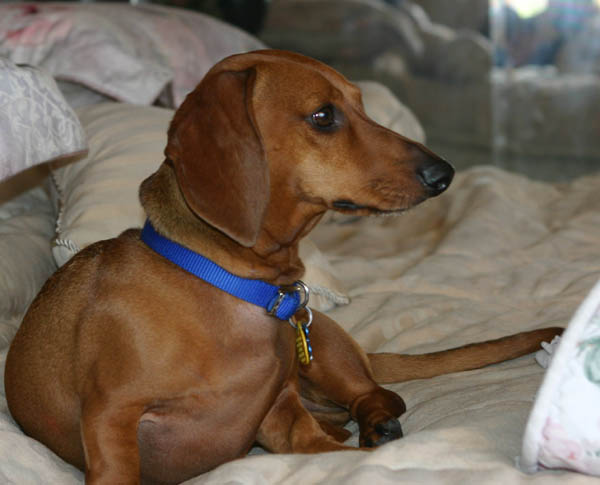 Dusty is OK and sometimes loves to play!
Scooter just loves to play!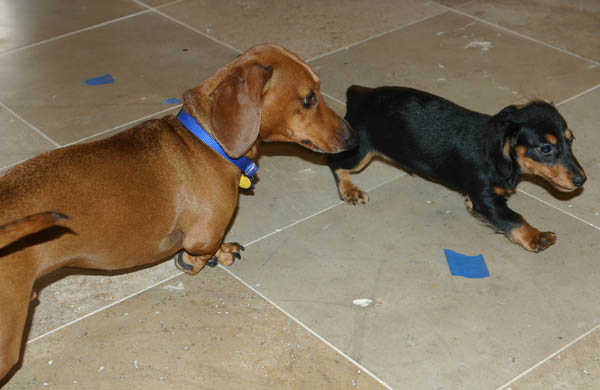 Wait for me, Scooter!
Dubya is just happy sitting daddy's lap.
OK, who is it?
What a face!
How could you not keep this little puppy?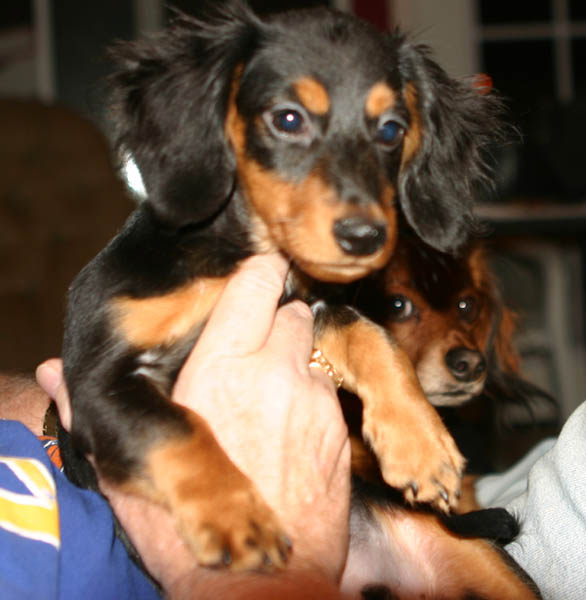 Is Dubya babysetting here?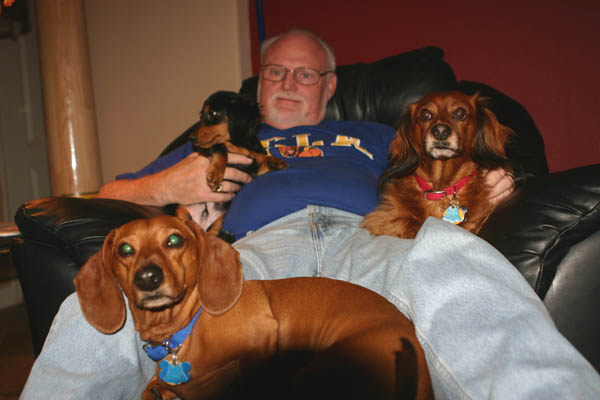 Here they are, all three settled down with dad in his favorite chair. Doesn't leave much room for my portable PC, does it? Whose chair is it?
Sleepy?
Dubya keeps a wary eye out for the bouncing ball called Scooter.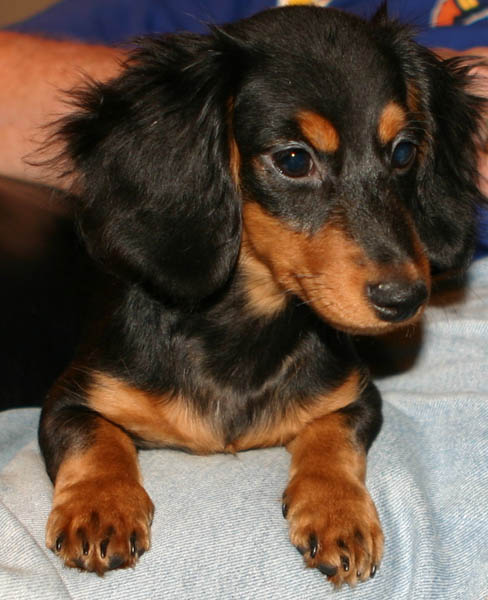 Wow, what a cutie!
Ready for a nap!
I think it's playtime, again, wait for me!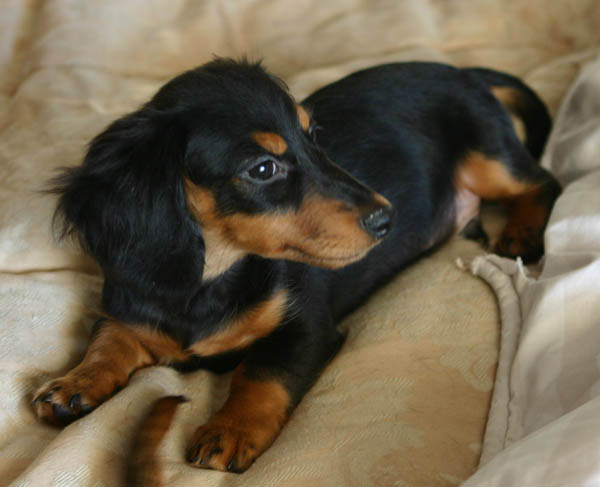 Ahhhhh, my kingdom!
Timeout to rest!
Zzzzzzzzzzzzzzzzzzzzzzzzzzzzzzzz.
Now for the dogs on parade part of the trip. Dusty was his ever moving selfexcept for a few pauses, When he wasn't outside chasing lizards, he was relaxing.
Dubya likes his quiet time and with Dusty off going crazy chasing things, he gets to do what he likes best, rest up for the next treat.
Wop Mastroleo and his 2 year old Dauxie Kadi Mae. We have seen this little dog racing in the Ventura Raceway parking lot as a bunch of fans tried to catch her!
Daisy II is a Dachshund puppy and so cute. Her owner is Gary Kittle. The little one is obviously enjoying her time with Diana Gary, who was dog sitting.

We went to Dana Point and walked around. Dusty saw some birds and he was on "point" often.

Dusty is wired. Where are they?

Dubya is just minding his own business as people come by to pet him.

Look close now, that is Dusty trying to catch a bird that flew by. Note he is leaping over Dubya.

Attention, I know those birds will be back soon.

What is Dusty so excited about, he'll never catch one

Any minute now.

Ok, where are they, I think I'll go eat some bread the people threw out for them and then I'll catch one.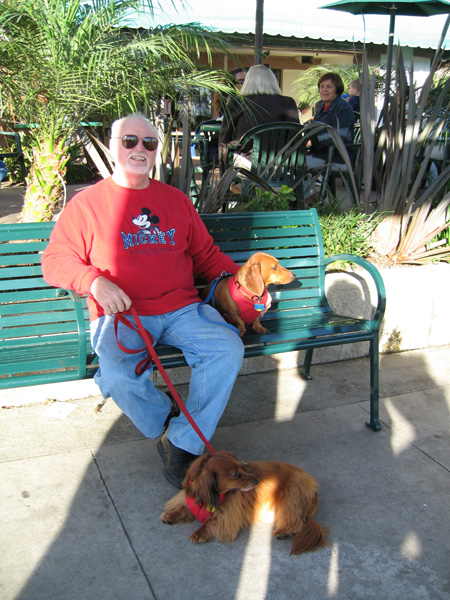 Who is that grey haired old dude keeping me from running? For the Dana Point boat pics, Click here.
Dubya had a ball chasing and chewing empty plastic bowls until he was winded and had to rest for a while!
And, Dusty said to heck with the others, he was content to snuggle with daddy! The racing was as hot as the weather, which made the trip worthwhile. And, the time spent with friends was the perfect topper to a great weekend. Next stop, Perris!
It's Saturday and here we are at Perris and it's only 10:30 in the morning! Nothing like beating the traffic! Dubya and Dusty don't care, as long as we're in the Motorhome with them. Dubya is looking at daddy, as if to say you won't leave me, will you?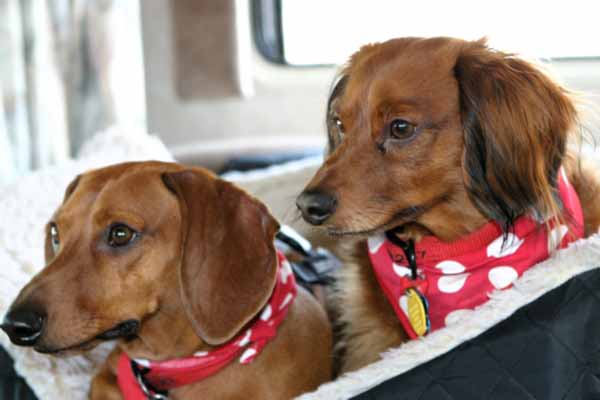 Dusty and Dubya were excited to go racing, but they were even more excited watching daddy Wags eat his sandwich. They just knew he'd share with them (and he did!)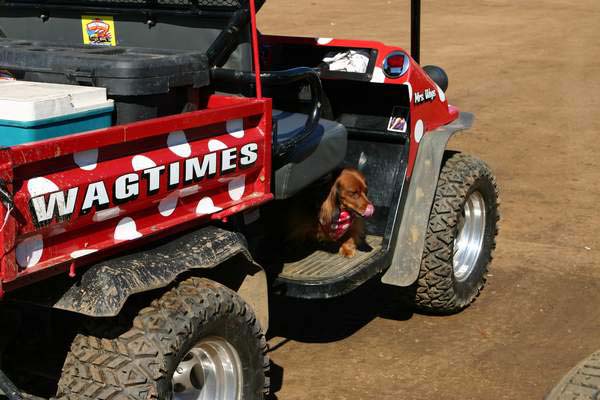 Dubya loves the feel of the wind blowing his ears back against his head when riding in the mule. However, he's not too happy when 'daddy' stops to chit chat in the hot sun (after all, he's wearing a fur coat, not a short-sleeved t-shirt).

Hello, My name is Dubya! I am 2 months old here.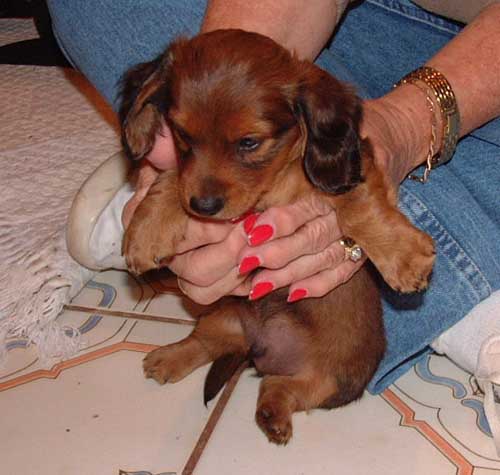 Pick me, pick me! And she did!!!!

This is Terry's first look at me at Becky Williams house when we went to pick out a new puppy.

I got all dressed up for company in my polka dot ribbon.

So, if I hide in the closet with the shoes, maybe I can have one to chew on while they are gone?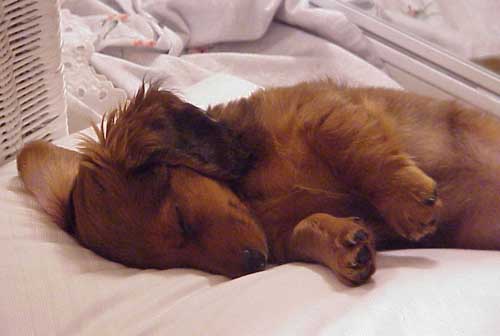 It is time for my nap, so I haven't a care in the world.

I am well taken care of. See how Terry is hooked!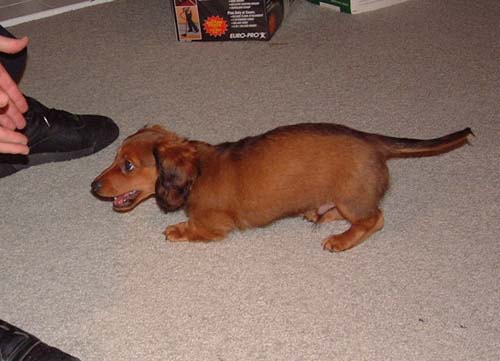 It's playtime at Xmas, so if I bite him now, he can't yell too much!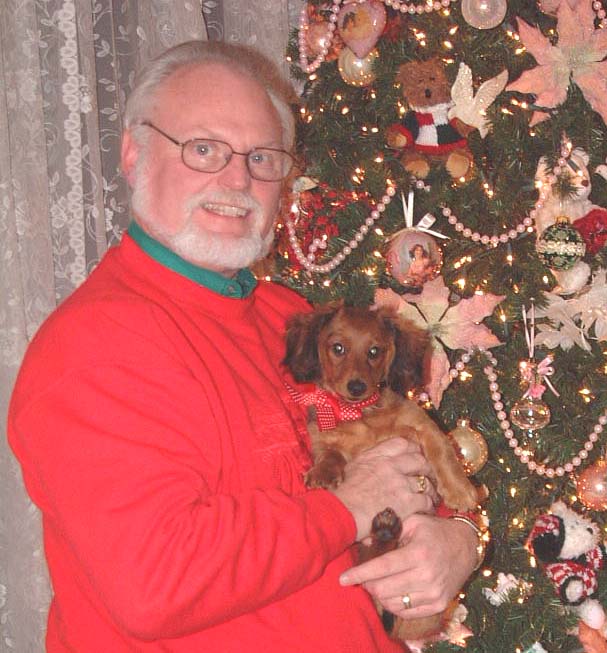 My first Xmas with Wags showing me off by the tree.

Here is my toy. Keep your hands off.

I am having a good time, but where is my snack!

Is this a great deal or what! I can rest here until my next treat!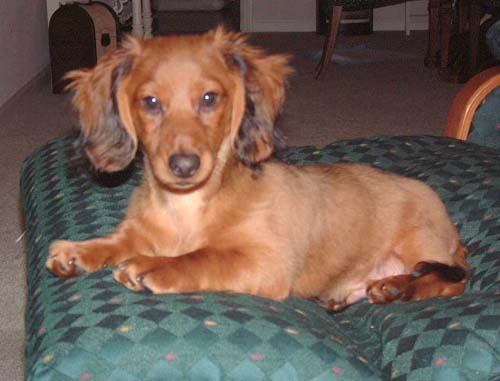 I just learned how to jump up in this chair!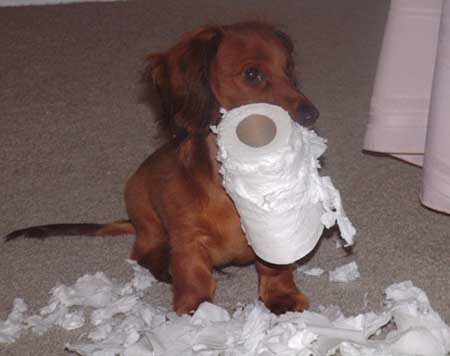 I guess the TP isn't a toy!

I get a lot of rest, but my blankie keeps me warm.

Did I hear a noise? Time to eat!

This is my tennis ball, keep your hands off.

Mickey is my best friend. He keeps me company when my parents are gone.

I just can't seem to get any rest with these two playing around all the time.

sleep!

Don't bother me and I mean it!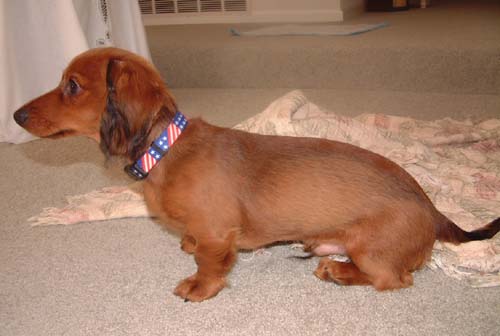 OK OK, I'll try to hit the puddle pad!

So, you want me to come back up, now?

It's a long way down the stairs, but I can beat Wags to the bottom.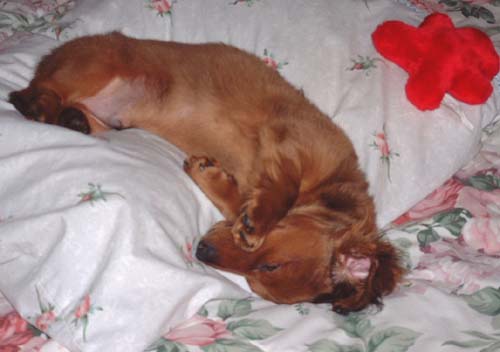 Me and my red toy are at time out. They don't know it, but I am plotting!

If I play my cards right, she will bring me a snack.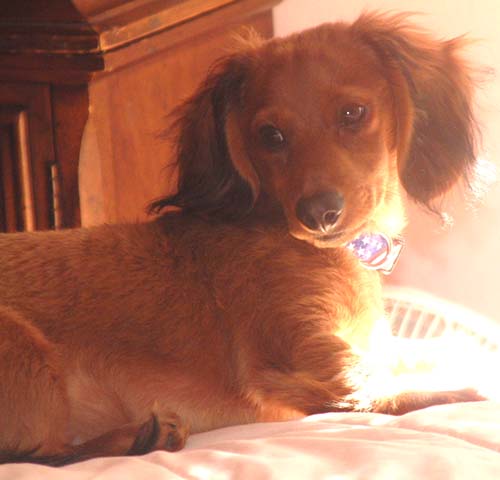 Soulful looks work on the Wags!

I think he likes the warmth. Wonder what it will be like in August to him?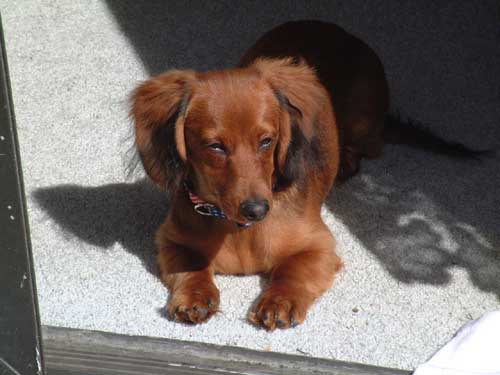 The latest with Dubya sunning at the bedroom door.

It is my TV channel changer, isn't it?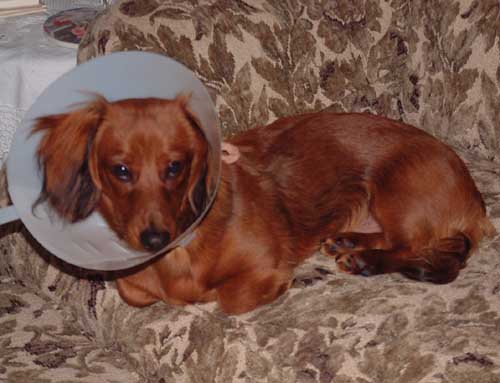 This was the day he changed to neutral. They say it's best, but the necklace is too much!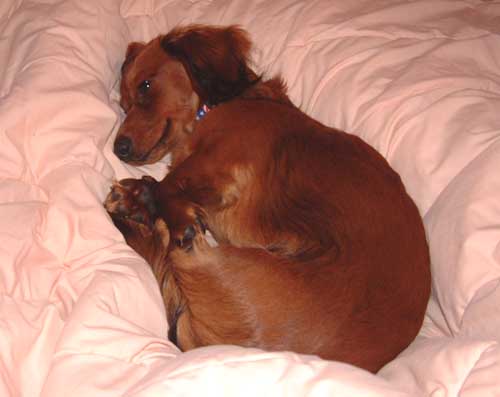 Here is how Dubya's week started off. No cares and a restful one, until Wednesday.

Joe & Ellen has two dogs, Max & Pepper. Dubya has Pepper down while Max looks on.

I guess I better rest up, you know how those puppies are.

I am a happy dog, but rumor has it, my brother Dusty is coming to live with us!

After a long "nap" I rescued him from the vet. He was starting to come around here, poor baby.

I am a brother to Dubya and he thinks he can buffalo me, but I am all over him.

Dusty was a little sales job from Becky Williams. She talked my mommy into getting me.

This is Dubya's way of welcoming the new guy in town. He is called Dusty and is 7 weeks old.

Hmmm, I wonder what Dubya will do when he sees I have his blue toy?

I also can bite him on the ear and he yelps really good, too!

Being the new guy, I am training Dubya by holding him down.

I wonder how long I have got before they miss me. It's too low down here to see me.

Lets see, I don't think mom will find me by the scanner down here.

Looks like Wags likes me, keep an eye out for Dubya.

I wonder if it is too early to really bite him yet. I heard him say Dubya made him bleed a few times. I can do better.

Looks like Wags is hooked. Does he have anything for me in his hand?

Maybe I should go find something to eat. So far, I am in the clear.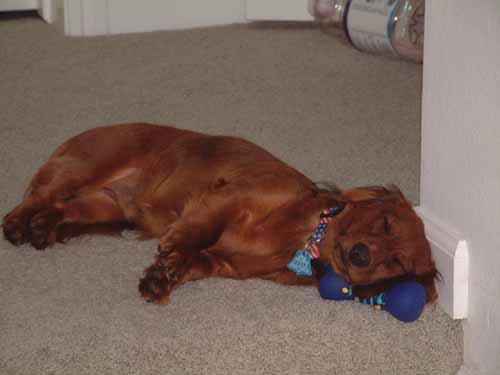 Don't bother my brother, he thinks this is really the life. Wait till I fix him!!!!! He won't know what hit him.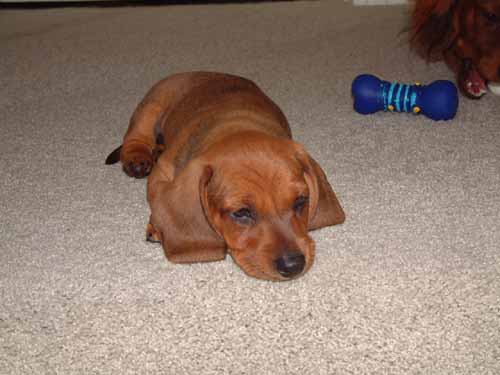 My eyes are getting heavy. I think I'll dream of a big T-bone.

It's a tough life here. I wonder if I have to go to bed yet.

I just love it being a newbie. They haven't asked me to do anything except take "it" outside to do my business. So
far so good, I haven't been caught.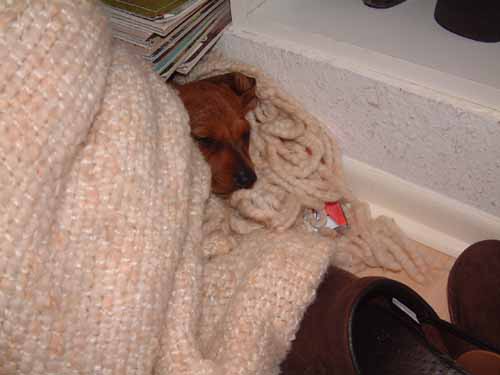 I thought I was hidden enough under this rag. I heard them whistling all over the place, but I doubt they will
ever look here. Drat, how did she find me?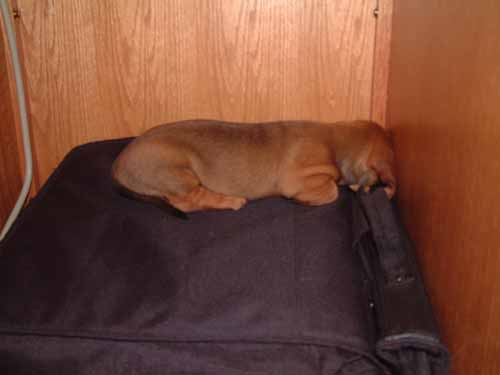 This is Wags work briefcase, I wonder if he needs it today?

Dubya's "Auntie Ellen" brought him a cute patriotic cover up, which he wore for this photo op, before trying to shrug out of it!

Dubya is all worn out after the party. He spent the whole time sleeping in the car, until it was over.

Did I say Dubya and I? Yep! Dubya did his first "pitwalk" in style in a special little pouch from Pet Smart! He
enjoyed all the attention from the many dog lovers, and savored the smell of grease and fuel in the air! He wasn't too fond
of the sound of the generators, however!

"Daddy" Wags is clearly enjoying this "photo op" more than Dubya is!

Here is Dubya bright-eyed and bushy tailed with Wags on Saturday in the motorhome after we arrived at the track around noon.

Back at the Ellis Hacienda, during desserts and endless race talk, Ellen took this picture of Dubya on a red &
white polka dot background!

The race is over, the lights are out, and Dusty says "Come on guys, can't we go home now?" Next stop, Tulare!
A big thank you to the staff of Perris Auto Speedway for making the 4th of July more than just a race – it was an event.
The fireworks, as always were great!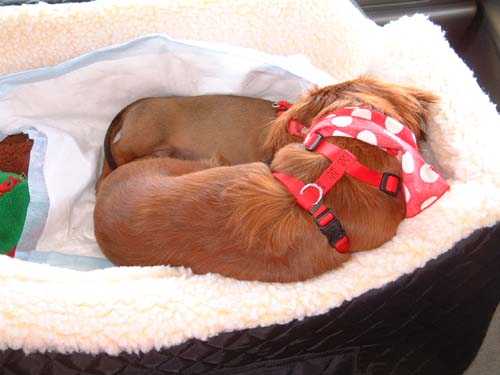 While we waited for our guests to arrive, "the boys" took a nap in their car seat.

Nice try! Dubya would rather be flirting with all the ladies and getting petted than sitting in a sprint car!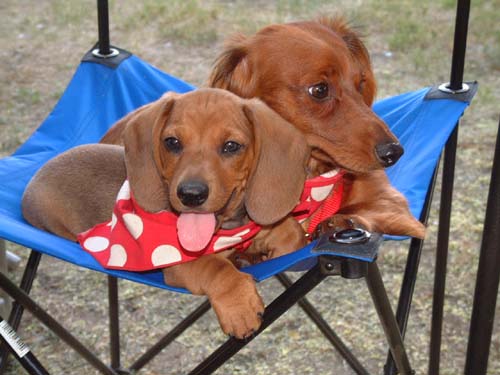 "Oh well, may as well go with the flow…." It's a dogs' life!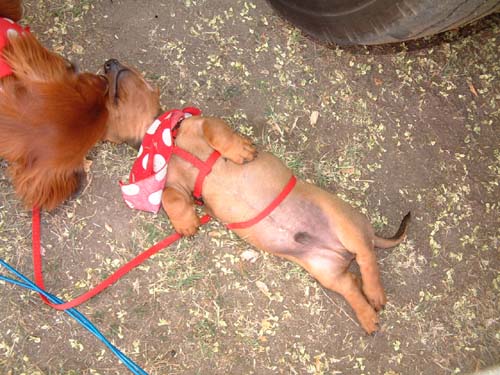 Dubya nudges his little brother, Dusty, to see if he can get him to play. They have it "made in the shade,"
and Dusty obviously wasn't too bothered by the heat, or anything else!

By noon, "Daddy" Wags was up and dressed for the day, but "the kids" were still being lazy.
Dusty was so sound asleep, that when Dubya jumped right on top of him and settled down to take yet another nap,
he never even budged!

Sometimes words are not need for Dubya and his skills!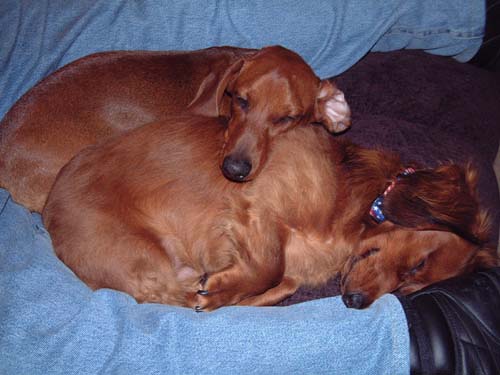 The two seem to really like each other until one gets something, then it's every dog for himself!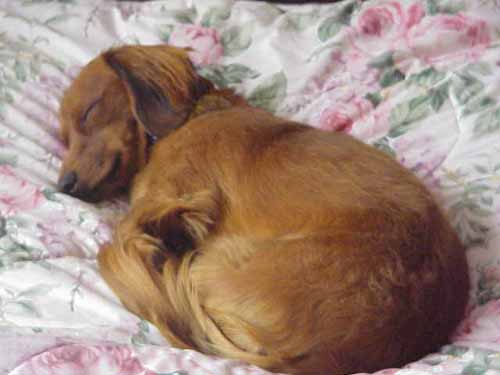 Dubya and Dusty slept all the way home and here, Dubya's taking yet another nap! Playing with
Max and Pepper is soooo tiring! It was a great weekend, with excellent weather and racing.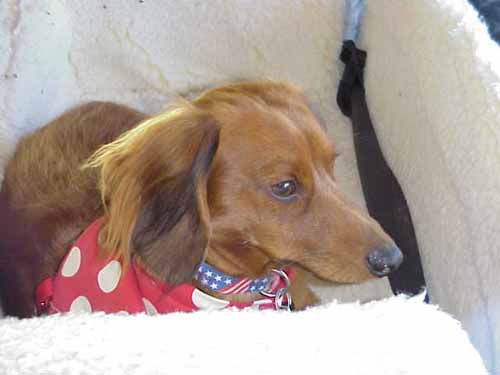 Dubya refused to even look at me, as he's older and wiser and realized that I wasn't coming back
any time soon. I called his name several times, and he never turned his head! "I'll show her…" It almost worked,
but then I heard the sound of motors coming to life and off I went!

Before the cars hit the track I went to the motorhome to feed and walk the dogs. Dusty
offered this soulful "what about me" look as I prepared to leave them behind to go watch the races. Who could
resist those big brown eyes? Me, it was time to go racing!

Dubya and Dusty anxiously watch "mommy and daddy" walk back and forth from garage to trailer. They're ready to go racing!

During a break between games, Dusty snuggles with "daddy" in the motorhome. Dusty
and Dubya were whipped when they got home after two days of racing and ballgames! They'll be rested and
ready to go racing week after next, I'm sure.

Home at last! When I awoke from my four hour nap, Wags was hard at work watching
a ballgame and working on Wagsweb, while Dusty and Dubya napped by his side. It was a fast, but fun weekend.

Casie Kruseman is thrilled over Dusty, and wants to give him hugs. Wonder where
she gets her love for doggies…

Not everyone is ready to rock and roll! A quick stop by the Wagsmobile found the doggies napping and Mr.
Wags in a contented stupor.

Dubya and Dusty are all worn out and so am I! A fun lunch with Norm, Sonia, Krista
and Lauren and a night topped off with great racing made for a very special day.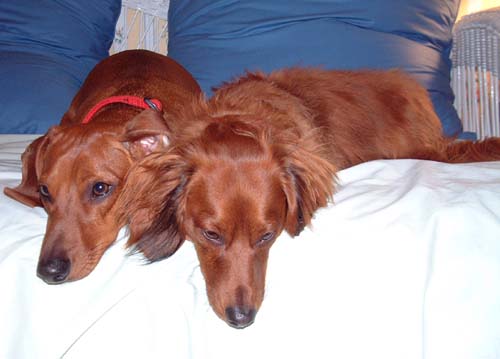 what's for dinner, steak?

Dubya is wondering what I am up to!

While Dubya lurked under the poker table, "Dusty Dawg Wags" had the best seat in
the house in "daddy's arms." Is it true that dogs tend to look like their masters…hmmm, maybe if we put
a pair of glasses on Dusty …Dubya of course looks like mommy!

Is this worth anything? I am ready to fly.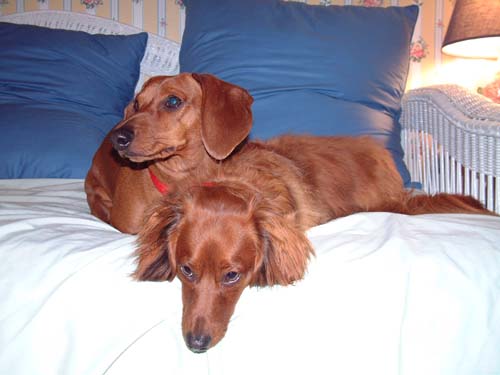 Dusty is looking for his treat.

These two are up to something, but they are playing dumb here.

This usually works for me, I am sooooo nice when I want something.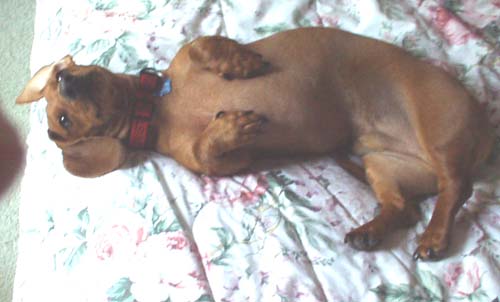 This usually works for me.

I am ready to go!

Dubya looks like he might want to eat again.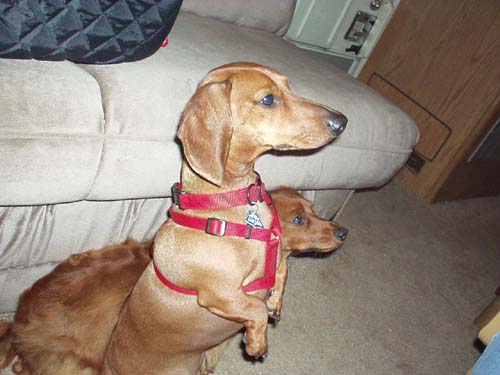 The boys are ready for some sleep after another long day in the air-conditioned
motor home while the two crazies are out in the heat.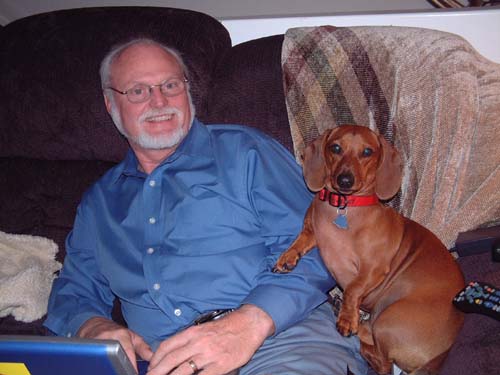 Looks like I am OK with Wags, he's interrupted his internet work to be with me. Don't I deserve a treat?

I guess I'll just hide under this pillow on the couch until I smell something.

It's always a blast to rest until the Wags put out more food. Is it time to eat yet?

All photos &copy 2012 Wags Photos