Steve pondering in his museum in the early days
Steve with that warm smile and Wags
Steve with a visitor to the museum
Steve with Wags wand the Wagtimes special trophy for his Hall of Fame
An important friendly handshake
Steve with Wags at Parker Stores photo room
Steve at Canyon with Glenn Crossno
Steve with Elen Ellis
Steve with Joe and Ellen with Mrs Wags in the museum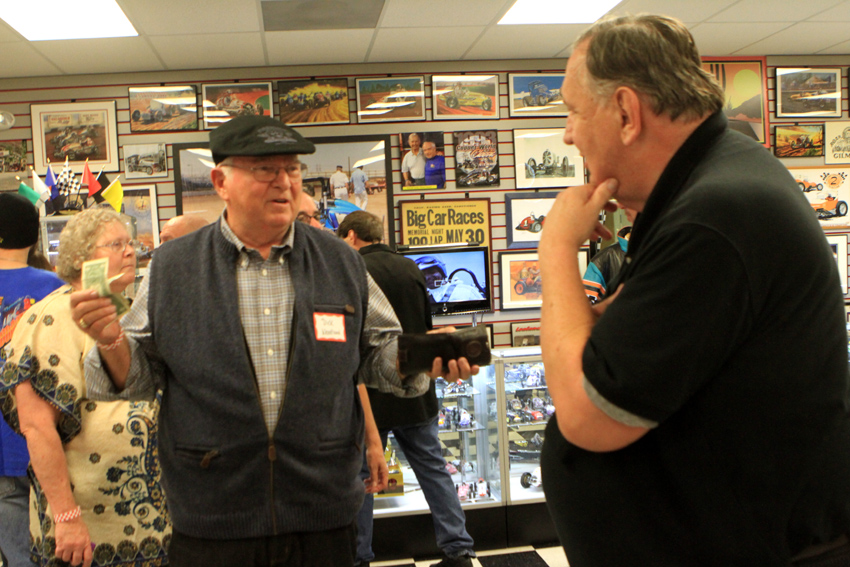 Steve visiting
Steve with The Wags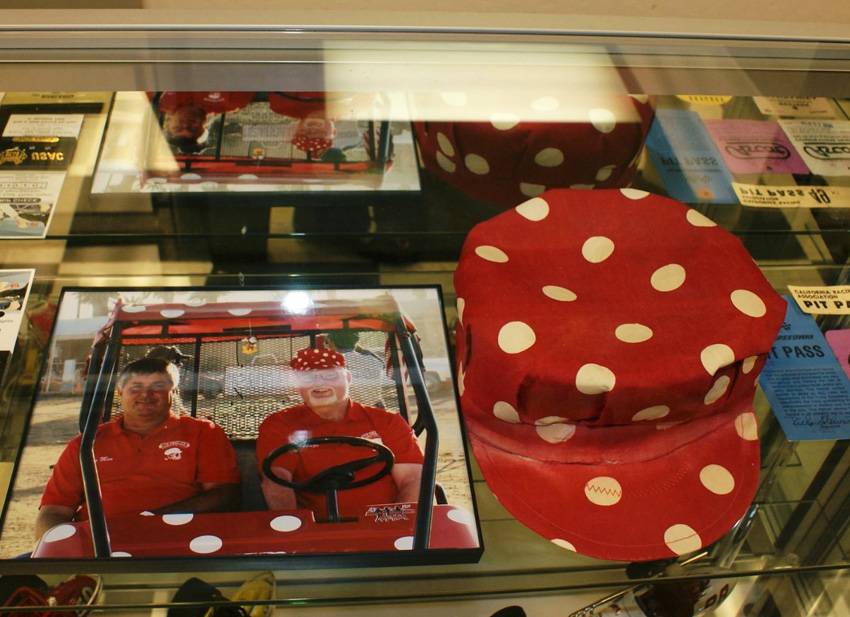 Wags hat in Steve's Museum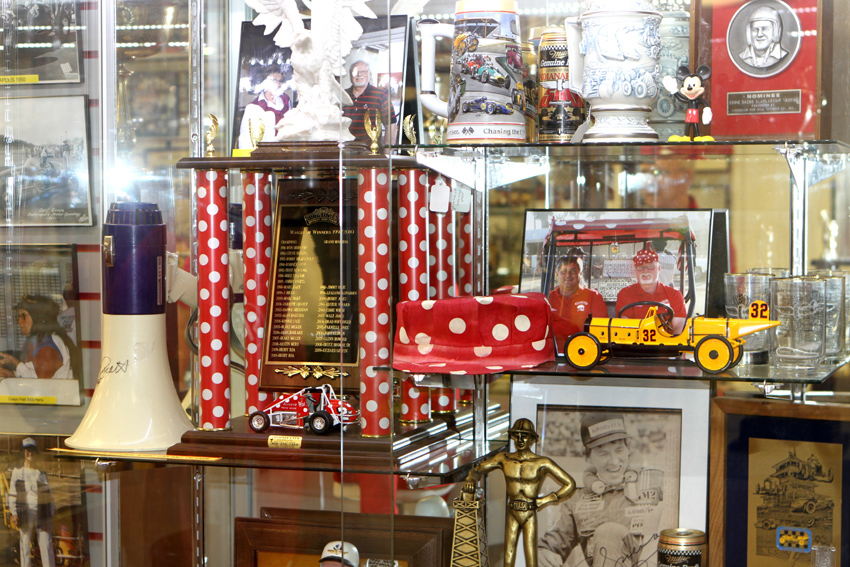 Wags trophy in the museum has all the Wagsdash winners and Grand Marshals on the front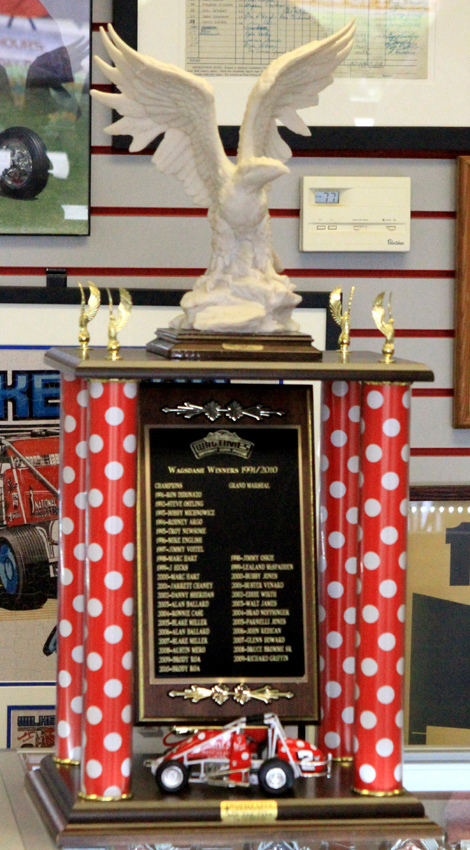 The trophy
The front of the museum
Steve posing
Steve with Kyle Larson
Steve with Kyle again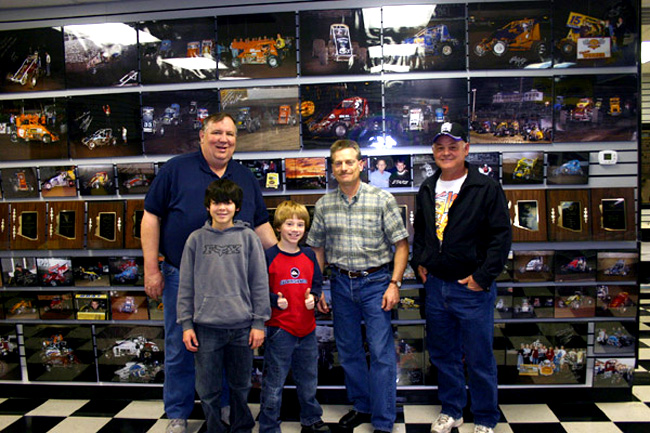 Steve at the Parker Store with young Kyle again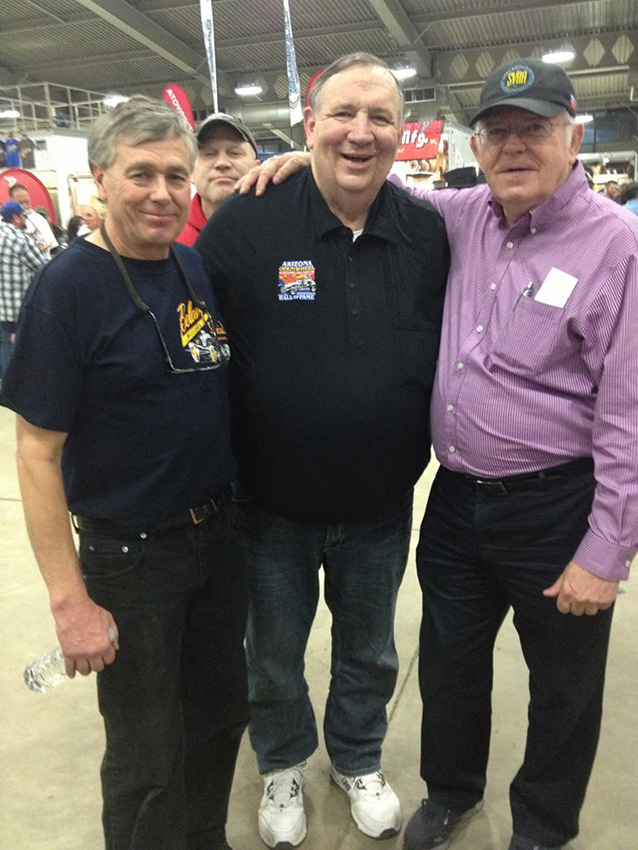 Steve at the Chili Bowl with RJ from USAC
Steve poses with Bob Ream and his crew
Steve, Until we meet again!
Steve Stroud Memorial at Canyon Park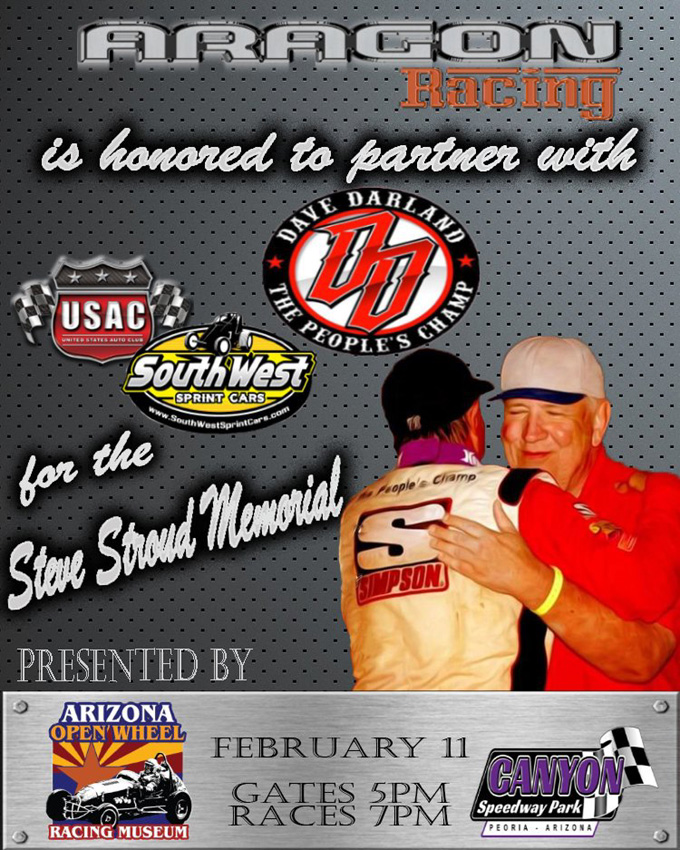 The Steve Stroud Memorial poster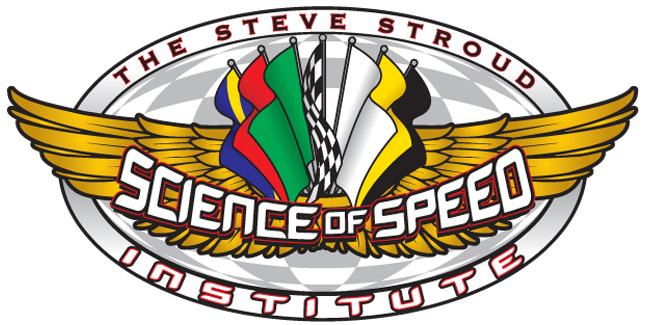 Steve Stroud Science of Speed logo
The museum sponsored two seater
Some pics from the museum
The helmet display donated by Jim Fargo
An AJ Watson built car
# 8
# 7 Kara Hendricks car
A few cars staged including the red # 70 Gasman driven car
Hank Arnold driven car
The pics all over are very popular
The Donny Schatz display
There's that kid again Kyle Larson
For some pics of the museum Click here to view
Steve was already a big sprint car sponsor and race fan when I met him. His Parker Stores had Donny Schatz running WOO as their guy. I got a chance to go to his office and see his photo room and have lunch with him in the early 90's. He wanted to get involved with the Wagsdash as a big sponsor, with one stipulation...It had to be at Manzanita. The 2nd Wagsdash was at Manzy and after Steve Ostling won the 30 lapper I went to the winners circle to talk with him over the PA, I asked all the Wagtimers in attendance to come down and celebrate with us. A dozen or so made their way down, so most in attendance were no surprise, locals. So unfortunately, I had to say no to Steve because I had to have the Wagtimers at Manzy and that wasn't going to happen. Steve thanked me and gaveore me a nice check for the next Wagsdash and we didn't talk about it again. I saw him at races over the years and one day he called me and asked for one of my red and white polka dot hats? He then explained he was opening a sprint car racing museum in Phoenix. To say I was honored , yes, b ut I was more shocked. I was blown away with the honor and had nothing to say except Thank you. When I went to Manzy and the museum, I took him two hats, one brand new and never worn, and a slightly worn out one that I had already retired. As you can expect, he took the old one and placed it in the museum with a picture of me and I was thrilled.
Steve built one of the most jam packed special museums I have seen and in a very short period of time. It is marvelous and is a great place to go to see history of our sport and each time I go, I always feel Steve's presence! He is very missed by all who knew him and his legacy museum will always need your support. Rest in peace Steve, you were one of a kind and thanks for what you did for us fans!
Steve Stroud, originally from Southern California, was a well-known, key figure in multiple Phoenix businesses. In the late 70s, he was drawn to Arizona to watch Ron Shuman and Lealand McSpadden at Manzanita Speedway — he became an avid racing enthusiast and maintained constant contact with the Valley's racing scene. As a prominent business owner of Lubrication Equipment & Supply and several Parker Store locations, Steve transformed from savvy spectator to proud team and event sponsor. He continued to build his business presence by launching The Hose Advantage Stores and The Racers Advantage Store. The Arizona Open Wheel Racing Museum encompasses his love of motorsports, appreciation of the history of racing in the Southwest, and the desire to celebrate and share the wealth of motorsports knowledge with future generations.
A spark was lit during the years Steve followed open wheel racing drivers, teams, and races. His enthusiasm was difficult to contain and he began to display photos of race events and drivers in one of his Parker Store locations. Customers waiting for service work to be completed took note and showed tremendous interest in the photos and stories. The spark was fanned into flames when Steve later met with a couple of notable racing figures — Windy McDonald (Manzanita) and Dennis Wood (PIR). Their conversations about the history of racing, the drivers and teams that came through Arizona, and the racing circuit itself inspired Steve. He realized he had a responsibility and passion to preserve those memories of racing and to promote continued interest in motorsports for generations to come. It was time to do more than display a series of photos in the Parker Store.
The Arizona Open Wheel Racing Museum was established to preserve the rich history of open wheel racing throughout the Southwest. The Stroud Family Trust owns several of the cars on display and Steve negotiated loans from collections throughout the country establishing regular inter-collection exhibits and has pieces in the process of restoration to exhibit in the future.
In the beginning, Steve wandered out to Manzanita Speedway and, oh, had a great time! He enjoyed watching Shuman and Lealand McSpadden and some of the racing that was going on and very much enjoyed it! He went back a number of times and that's how his interest got started with racing.
There is such a wonderful history lesson as we look back upon racing as it pertains to the Southwest. Kind of a lesson in so many things in terms of the American automobile and how it affects the economy, technology, and just how the entertainment business has changed. There's a wonderful story to be told. It's one that needed to be shared, and he did.
Museum info:
Arizona Open Wheel Racing Museum
3534 East Broadway Roa
Phoenix, Arizona 85040
Phone: 602.276.7575 or 602.438.0022 Hours
Wednesday – Friday: 12:00pm to 5:30 pm
Saturday: 9:00am to 1:00pm
Sunday – Tuesday: Closed
Updated 3/23/18