Looking back in the CRA world. I thought I would go back in time to post pictures that bring back great memories to me.
Terry is more than my bride, my friend, my better half and has been with me thru thick and thin and look at us .... retired! She is the best thing that ever happened to me and I am sure lucky she puts up with me.

Over theyears I have made some good friends that are sprint car drivers. They are all pretty special, and many have a real knack for being stars, so here are a few of them. Unfortunately, since I was usually taking the pictures, I wasn't in too many with the heroes. I have much respect for them due to their respect for racing. They have been a big part of my life and I miss them all as time passes in this retirement thing. Hopefully our paths will cross again as I get away from sin city. Posted 4/19/16.
Trophy City in San Jose, CA has made all the Wags trophys over the last 25 years. Trophy Dave has been very creative with his last one, a beauty with a white eagle on top and red and white polka dot posts that was impressive. It now resides in the Arizona Hall of fame in Phoenix, AZ. Each trophy, exept the last one, is in the hands of the many Wagsdash winners and in some cases, an extra one was made for the driver when the car owner kept the first one. Some of them had even a red and white polka dot die-cast car in it. I am proud of all these trophy's and it is fun remembering them. Some will recall I broke the very first one and had to have fast repairs so Ron Didonato could take it home fixed. I wasn't allowed to carry them anymore, but it all worked out. posted 12/15/15
Wagtimer's are a special group of people who have fostered, supported, and built a dynasty of gathering money for the racers over the last 25 plus years. Here are some pics from over time that shows them having fun. Some are no longer with us or moved on to other things, or like me retired to the after life of racing stuff. Without them there is no Wagtimes, with them, look at what we accomplished. The are my friends and whenever and wherever we see each other, we have a lot to talk about. Thanks so much for the committment, it is special in my world. posted 12/14/15
Damion Gardner has cut a wide swath in So Cal after coming South to run wingless with the CRA. After his first trophy dash, where he passed the other three combatants at least once each to win, one of those drivers said " he can't do that for 30 laps, can he"? Well, he went on to win the CRA championship 5 times with 74 CRA main events to answer that question. He has won all the major CRA races including the Oval Nationals, the Firecracker 40, the Vermiel Classic and the Salute to Indy, some more than once. He is the currant reigning champion driving the Alexander Brothers Silver Bullet and doesn't appear to be done. Posted 12/12/15
Lealand McSpadden is one of 45 CRA drivers in the Knoxville Hall of Fame, and his induction was in 1999. He was equally good with or without a wing, but his non-wing exploits were amazing. On the Midwest tour one year, he won a race at the big Oklahoma City track without brakes, using the wall to slow him down around the corners. He won 92 CRA main events and was Champion in 1992 and 1995, the year he retired. He is one of the all time greatest in the sport, period. He was also the most talented driver with the fans, never letting anyone go away without a chat with the Tempe Tornado, even when it took hours to accomplish. He said he never raced against anyone, it was always against himself. He never let up and was the ultimate rim rider to me. He once started in the back of a 22 car field and was in second place by lap 15, but the really dusty track didn't allow him to find the leader before the checkers. He was the Grand Marshal of the 1999 Wagsdash. He is a giant legend of our sport and another retired driver who is woefully missed by the fans. Oh yeah, that is Evelyn Pratt as the trophy Queen at Hanford with Lealand and the DSD # 91 car. Posted 12/11/15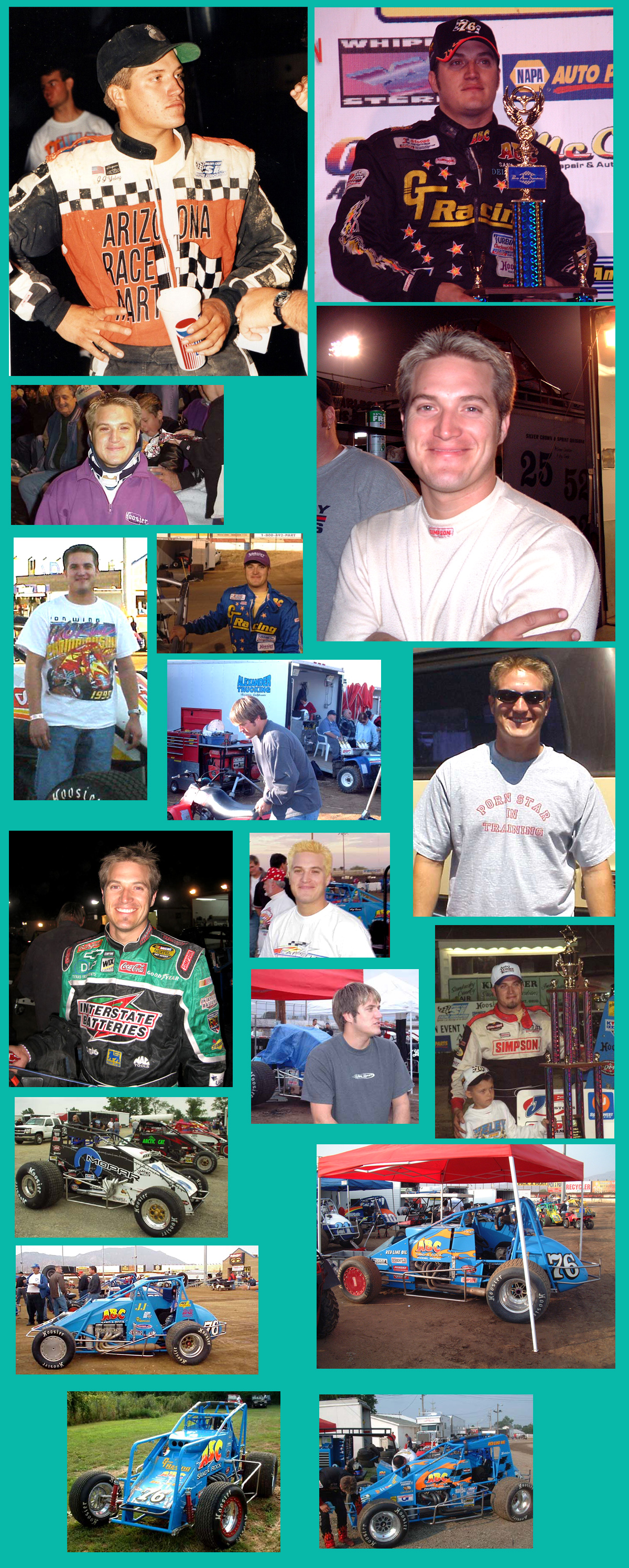 J J Yeley was fun to watch. As a rookie, he and Cory Kruseman waged a battle for rookie supremacy and nobody won, both were sensational. JJ drove the ABC Sand and Rock #76 to many great wins in California, Arizona and eventually Indiana when he took his show on the road back East. His iconic smile is known everywhere and it was a sad day when he got into Indy cars and later landed with NASCAR, where he continues today. He shows up at dirt tracks occasionally and has a great time. He is one of those who made it, but yet is missed in the weekly dirt track wars by his many CRA fans. Somehow it's still great to realize he is one of a few CRA graduates who went on to his dream world. We always lose the great ones, but they usually stay longer with us. Posted 12/10/15
Here are some of my closer friends that loved racing and are gone. There are many more, but I thought I would share just a few. If you want to look at our lost loved ones link on wagtimes.com here are more: http://wagtimes.com/lost.html Posted 12/06/15.
Here are a few more important people in CRA history. This group is very familiar to the "old timer" pit walkers. Posted 12/6/15
Over history, many great men and women have been a big part of the CRA success. Most were the people in the pits either working on the equipment or working on making the races the best they could be. Here are a few of those famous people no longer with us. Posted 12/6/15

Sprint cars have all kinds of logos illustrated on them and some are very intersting. Some cars honored the Wagtimes with our decal and was much appreciated by this Wag. Harlan Willis was the first to do so with his own big lettered version. Posted 12/03/15
My magical Mule went a lot of miles at dirt tracks around the CRA world and saved me a zillions steps I didn't have to take. It hauled food, drink, t-shirts, camera stuff and all the other Wags Stuff needed to make it thru a raceday. Here are some of the memorble times for me in my old pal that now calls Ventura it's home. Posted 12/05/15
An often overlooked part of race reporting is the mysterious pics of drivers in helmets. Sometimes you can pic out who the are by the eyes, and sometimes not so much. Posted 12/04/15
Jim Naylor is a special promoter who continues to keep Ventura Raceway in our sights. The combination of the ocean and a great dirt track is scenic beyond discription. Where else can you go sit in the grandstands and see surfers and sailboats on the blue waves with the sweeping coastline that is amazingly incredible, while watching hot laps? Jim has spent over 30 plus years redefining the track from a smaller go cart and TQ facility to todays bigger sprint car arena of excitement. Jim hosted the Wagsdash for 12 years and made it a special event for fans and racers alike. He also hosted the Thursday night Midget events that were televised back in the day. Sprint car racing on the best little racetrack by the sea is always great, but economics has narrowed the fan base area with less traveling going on these days. It is a very unique racetrack and fans should support it while they still have it.

Here are some of the sprint cars from back in time that are no londer racing with us. Some are championship cars with a long line of history. They may be in a garage or storage, the junk bin or rebuilt as something else, but the are gone but not forgotten to many. Wouldn't it be great to have them all in one place for a cacklefest like the diggers do? Why didn't I think of that sooner????

Bubby Jones! Two words that speak for themselves. Bubby won so many races they quit counting. He loved Eldora because it was a man's racetrack. His cowboy hat was famous and is in some Wagtimer's hands from a Wagsdash auction. His eyes hold much history, but he is quietly reluctant to share. He is proud of his family and Davey and Tony are special racing sons. We would love to have his knowledge, but only the boys got shares. Historically, there are only a couple who could challenge his skills, and that includes Lealand McSpadden, who can stand on that podium with him when it is all said and done. It is so hard to rate the different generations of drivers, but in the years to come, those who know will have him in the top 5 all time with the great ones. We all miss Bubby for being what he is, one of the greatest drivers of all time! If you didn't see him on the track, it's too bad. Posted 11/22/15
In the past few years we have had a lot of great drivers retire to do other racing, take care of their health, or do other stuff and they are missed. This is just a few of our hero's and many of them could still race if the budgets were full. Posted 11/18/15
I found a few of the Oval Nationals winners to show the joy of what we'll see from the 2015 version. The white eagles are pretty desired! Tonight's the night! Posted 11/14/15
Since the successfull Trophy Cup and the presentaion of $125,000 to the Make A Wish foundation in October, Trophy Dave Pusateri and his amazing supporters are about ready to start their collections for the 2016 Make A Wish plans right after Thanksgiving. Trophy Dave and his wife Muriel showcase their home every year to collect more money for Make A Wish as their amazing light display stays open from Thanksgiving to almost Christmas. With the kazillion lights installed on and around the home, it is quite a sight to see and anyone in the San Jose area should check it out! Posted 11/13/15
The little red sucker was all about Dean Thompson until he retired. Over 100 wins in the famous car was exceptional as Bruce Bromme Sr and Jr built and maintained the car in their garage and were very dominating for many years. The car shows up as a shining example of history from the Ascot era. Those of us who saw the car race at Ascot will never forget. Posted 11/11/15

Here's a few views of some of the tracks I have been to. They are all dirt!!!!! Posted 11/09/15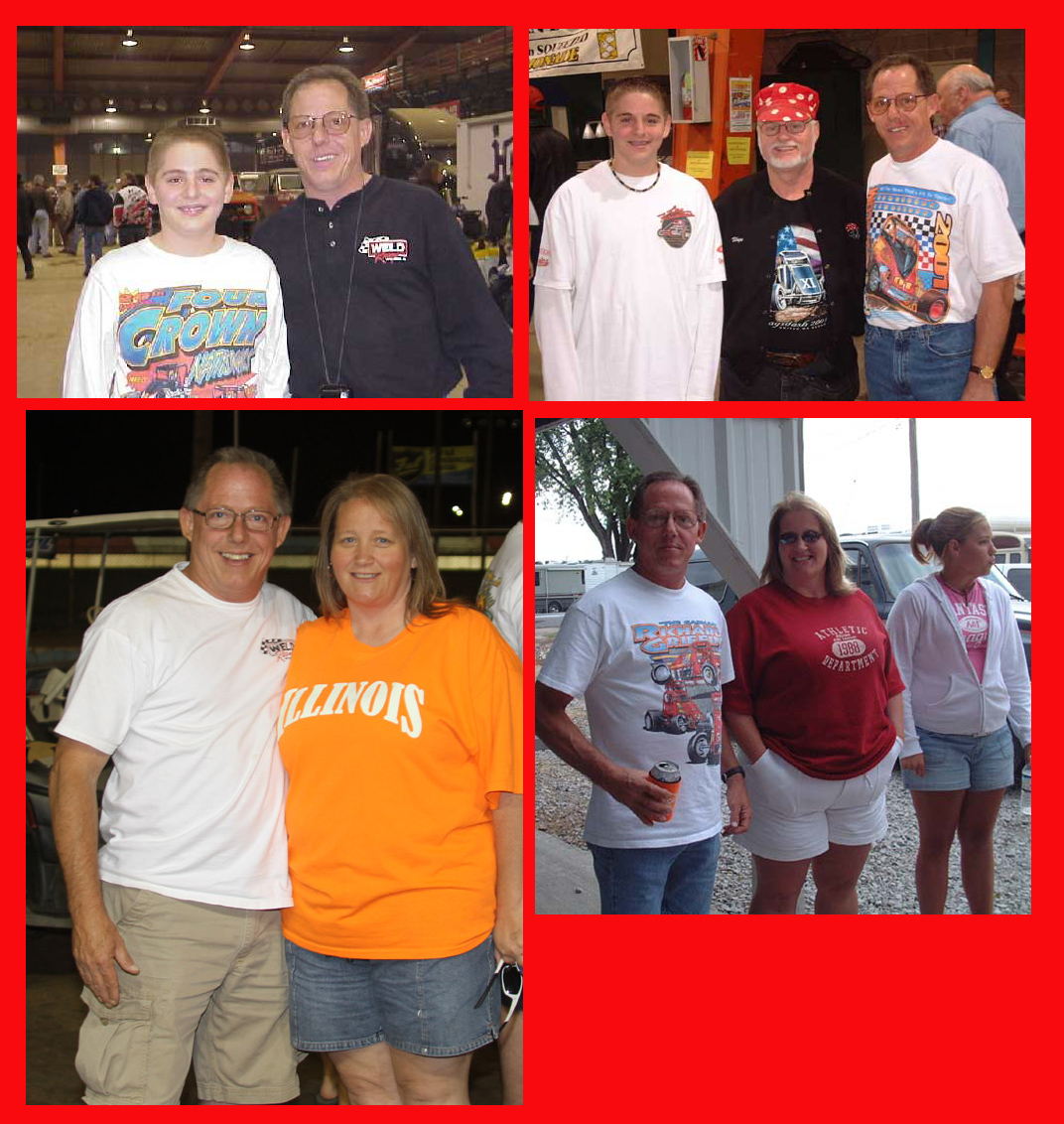 Morty and I met some years ago and I still remember when he introduced me to his son Drew. Over the years we met along the racing trail and had some laughs as he was a big sprint car fan and was enthused about anything dirt and racing. On my top ten of race fans I know, Mort was at the top and I miss him and his friendship. Posted 11/08/15
Brody Roa started racing very young in his dad's footsteps and was in a 360 sprinter before we knew it. He was pretty good as he won the last two Wagsdash's and moved on from there. This is a family affair that has the whole brood involved, including the granddparents. In recent years the Leonard's, Lee and Norma, have returned from retirement from racing to get involved with their car, too! Brody has a great attitude and his recent results are making me wonder when he will hit the winner's list? It should be soon. Keep an eye on him.
The year 2000 had a lot of Y2K "things" going on. We had Dave Argabrite at the Ovals reporting like he does. The Venard Family at Manzanita having fun was normal with Buster and his boys racing. The main Ascot sign made an appearance at the Ventura Wagsdash that year, along with a lot of other Ascot items that belonged to others that I borrowed. And Eddie Wirth appeared in a Pinto stock car to race the other Legends in attendance that night. Those legendary drivers gave the crowd a show! Posted 11/06/15 and taken in 2000.
At a Terre Haute race some time ago, Jack Kraemer, who we lost a few years ago, had his usual race fan gathering near the entrance to the track. His brother Tom brought out a couple of his race shirts to model for us. He and Mike Clark put on two of them and for the likes of me I can't remember how he described them getting in this condition, but it was a riot! Posted 11/06/15 Taken in June of 2000.
Hank Winters and Jim Fargo back in 2008 at Manzanita. Jim was the track photog there for years and worked very hard to get the shots the racers needed back then. He was a big Wagtimes supporter and started the "photo for Wagsbucks" program that we used in the early years to get money for the racers. Hank was a CRA 410 racer for many years and when he retired he got into some off road stuff that he still does today. His smile was golden and he was missed in our racing. Posted 11/4/15
Ronnie Gardner was going to the races as soon as he could walk and working on the cars about the same time. He got to work on them back at the Gardner Motorsports shop, but not at the track until he was about 12 or so. He and cousin Chet were a pair to draw to as they could fix anthing on the family cars. Chet didn't want to drive, but Ronnie sure did. When Chet passed away, Ronnie was going solo and he remembered the good times with him. About the time he was old enough to get in a family car, there wasn't any as the team shut down and he and his dad worked to get him a sprinter. He didn't get to run it often and then he was working at a midget engine shop and began driving a car with the House motor in it. He won a lot of midget races and had a championship or two, but still pines for a full time 410 ride. Ronnie still has big dreams and I hope he gets the sponsorship to step it up to running with CRA regularly. Posted 11/3/15
Cal Smith is a legend in his own time. Who else spends more time promoting CRA than racing CRA? Cal loves CRA racing and even though he is the ultimate low buck racer, it has never stopped him. When he doesn't have the money to race, he goes and helps others in the pits. Whenever the call goes out to bring a car to display to help our racing, his trailer is loaded and he is there. I wish the all had the dedication Cal has, we might have more cars and more fans. Posted 11/2/15
I've really got a lot of favorite cars I liked over the years and many who were more interesting than some others. For some it's the paint job, for others it's the driver and what he did in it and sometimes it the unusualness of the car like Yeley and Bondio's runners. From top left to right and down: Tony Jones 2003 winner, Mark Priestley's yellow 2008 version, John Scott's Pace sponsored 2002 car, Don Blairs 2007 green car, J J Yeley's 2002 car for the big show at Oskalosa, Iowa, The Twister from 2005, Ron Didonato's 2003 car, Andy Bondio's chili Bowl 2005 car, Bubby Jones out of retirement car at Knoxville in 1990 and Rickie Gaunt's 2001 beauty. They were all special. Posted November 1, 2015 and taken over years.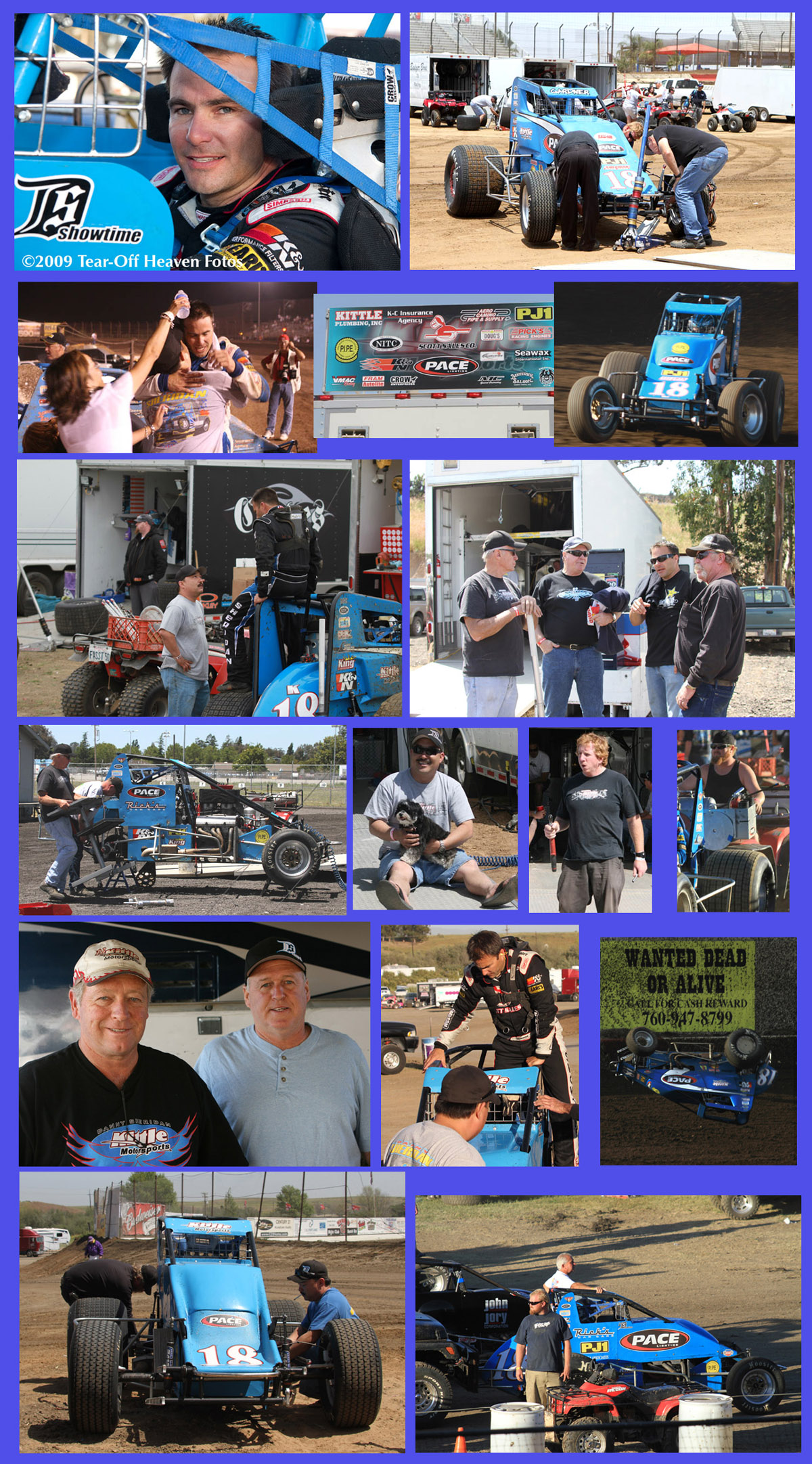 The Kittle Motorsports Racing team brings back a lot of memories for me as I look back on my good racing times. There was a time I was "kinda" a crewmember (with no responsibilities) who traveled with the team and enjoyed those special times with them. With Danny Sheridan driving the car it went from great highs and a few lows. Winning the 4th of July race at Perris in 2008 was definately a high as he dominated that race. Danny's last win was at his hometown track Santa Maria when he and Mike Spencer went head to head to the last foot of the 30 lapper where Showtime prevailed! The little Blue Bugger, as I called the # 18 car, was fun to watch and sad to see retired. Posted 10/31/15 and taken over the years.
Tom Downing is a longtime 2nd generation racer who ran the CRA circuit for a long time. After getting married and starting a family, Tom switched down to the Lightning Sprints and has done well there. Now his son is running the little wing cars, so I guess a family that races togeather, stays together! Posted 10/30/15 and taken in 2011.
Richard and Jace Vander Weerd are twins who started driving little openwheelers until they graduated to 360's and then both moved to the big 410's. Richard had success first with his 5 CRA victories looking large. In 2015 he has been flirting with the points lead with the hope for a championship. Jace recently won two USAC 360 events as he gets his winning ways moving forward. Perhaps the family running the Handford racetrack has something to do with their improvements, but they are both doing well. Look for more out of these two quiet giants. Posted 10/30/15 and taken in 2011.
Jeff and Cindy Kohler are real non-wing fans from PA. They drive by nearby Williams Grove Raceway and it's big time wing racing to go see their preferred sprint cars. They travel to the Ovals nearly every year and do some Indiana trips. Jeff runs a bowling center where he hosted the SCRA back in 2002. We had a grand time bowling inside and watching sprinters getting cleaned and set up outside. It's always a pleasure to visit with them whenever the come to town. Posted October 28, 2015 and taken in 2002 in PA.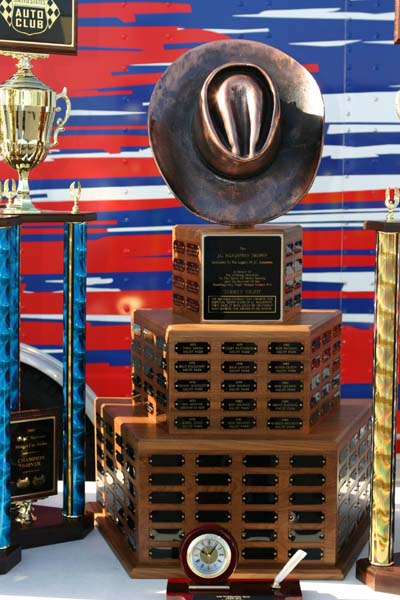 One of the most prestigeous trophy's in the land is the Turkey Night beauty that everyone wants their name on. It is amazing up close and I know a few of the names on there personally. That and a dollar might get you a cup of java. Posted October 27, 2015 and taken in November of 2005.
Laurie Sertich likes to decorate for holidays. Any holidays is the key to her art work in the Moose pits. She does Easter, X mas, Valentines day and of course Halloween! Check it out! Posted October 26, 2015 from October 2008
We ran 20 Wagsdash's with the first at Bakersfield and the last at Hanford, a place where the first was supposed to run but the 7 lap main that night kept us in the pits. The Ventura Years were the best with great crowds and high purses for the low buck racers. When CRA wasn't going back there at that time any more, I chose Hanford after talking to many for guidence. It looked like it would work there, but when I only had around $5000 heading there that day I knew we were in trouble. I stated if we couldn't raise at least $10,000 for the 20th annual, we were done. It looked good as we set up a table and got started in the afternoon, but the early sunset left our booth in the dark as the crowd came in and left any chances of raising enough money to a minimum. That and the crowd not knowing what we were doing sealed the deal. I invited 7 cars to run their normal night with a polka dot ribbon on their cage. So the polka dots who finished the highest on the night would be the Wagsdash Champion. It was interesting watching a battle between Greg Bragg and Brod Roa as they ran close to each other in the feature with Brody winning his second Wagsdash in a row and we were history! I loved doing that with my special Wagtimers every year, but in the end, all good things must end. Thanks to all for the 20 years. Posted October 25, 2015
Back in 2008, Mrs Wags and I took a trip to Menden, NV to visit the home of Darleen and Stubby Dils. Stubby is known for his jokester attitude and he didn't throw any firecrackers or drag his rattlesnake out of the freezer, but we had a good time. Darleen is always up for a good visit and it's always a pleasure to drop in on them. Time spent with them is very special and I expect another visit is coming soon. Posted October 24, 2015
The Arizona Open Wheel Racing Museum will be having their induction ceremonies this weekend. The museum is Steve Stroud's baby and has grown considerably from the little room in his Parker Stores locations a few years back. Steve has reallly put together so much that Arizona racers and fans can be proud of. I wish california had someone that would do it like that. Steve's enthusiasm has made the place very unique and user friendly. If you go to Phoenix, don't miss this place! Sadly, Steve passed away Posted October 23, 2015
Don Blair was a man of many talents. He was known as "thrifty", honest and a rare gentleman who did his business deals on a paper napkin. He bought only a few brand new cars in his lifetime and at least one was for the engine! He was "old School" until his death. His wardrobe was early 60's as he didn't need new duds. He had Jimmy Oskie driving his sprinter when he won his one CRA Championship and each race it was a one race deal until the next race. Don owned Blair's Speed Shop that was famous to me because of the drag racing history that I knew personally. Don began giving me $600 a week several years ago to give to the first 6 who missed making the main. I called it Mr Goodbucks, not Wagsbucks, because Don wouldn't allow me to tell where the money came from. Every Perris race the money came in and the racers thanked me without knowing where it came from. This happened until he was too sick and required hospial care. Posted October 22, 2015
A couple of years prior to his passing, Don was in the hospital with some knee surgery and I went to visit him. He told me of his plan to take his money and put in a trust to be doled out to CRA racers for years to come. Surprisingly, I was on his board of three people who would manage that when the time came. My role is merely to be the paymaster. Hopefully it will all happen soon but until all his property is turned into an interest bearing account where the money would come from, it is still on hold. He owned a lot of cars over the years and one of his is now owned by Toby Sampson, who recently retired from the drivers seat and will find a driver. Don was really a giant in racing who had a great desire to help every one. Keep your fingers crossed! Posted October 21, 2015
One of racings most famous drivers, Parnelli Jones, signed autographs forever at the 2005 Wagsdash and honored us. Here the Wags family join him for a photo op. He was such a trooper as he did everthing I asked during the day and took me up in the tower during the racing to explain how those bad boy sprint cars work. He greeted everyone and visited long into the night and was smiling the whole time. After the race I took him and his posters and stuff out to his truck and expected him to say goodbye. After I thanked him profusely for his help and enthusiasm all day, he said you are welcome, now lets go get some more chili! He is truly an all time hall of Famer as everyone knows! Posted October 20, 2015 and taken on October of 2005.
A few years ago Perris head photographer Doug Allen broke his foot. Being a guy who stands on his feet every race day, you wouldn't have expected him to be "working" the next race, but he was! Remarkably, It never slowed him down. Mike Arthur and broken foot Doug at work. Doug has been working very hard at his craft for a long time and sent me a ton of pics to post. Now that I am not there every race like the good old days, he keeps me in the loop, THANKS! Posted October 19, 2015 and taken in May of 2011.
Back when Victorville Raceway was running regularly, the tiny track next door ran bikes and these little things. A familiar name to some was on what appears to be a sprint car puppy? Do sprint cars have babies? You could watch over there from the grandstands when the sprints weren't on the track and it looked like fun. Posted October 18, 2015 and taken in April of 2008.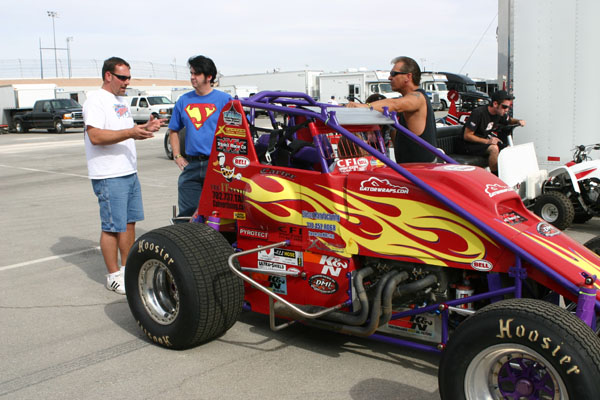 Tony Jones talks with Joey Franklin, AKA Elvis of Las Vegas. Joey still is an entertaining Elvis around Las Vegas these days. He ran with us at the Las Vegas dirt track a few times because he enjoyed racing. But he eventually gave it up after deciding it cost too much to keep up. I know he won a wing race, something I heard from him in passing, but he sold his trailer one time, then made his decision to end the walk on the wild side, and continue on his career of being Elvis. I tried to get him to come to a Wagsdash, but he passed on the tow money I offered and I haven't talked to him in several years. Posted on October 17, 2015 and taken in March of 2007
A rowdy group are these special guys and some pretty fine drivers too! Mike English, Richard Griffin, Tony Jones, Rip Williams and John Redican all hanging at the last Wagsdash run at Ventura. Richard "The Gasman" was the Grand Marshal and it was a fun day at the beach. Posted October 16, 2015 and taken in October of 2009.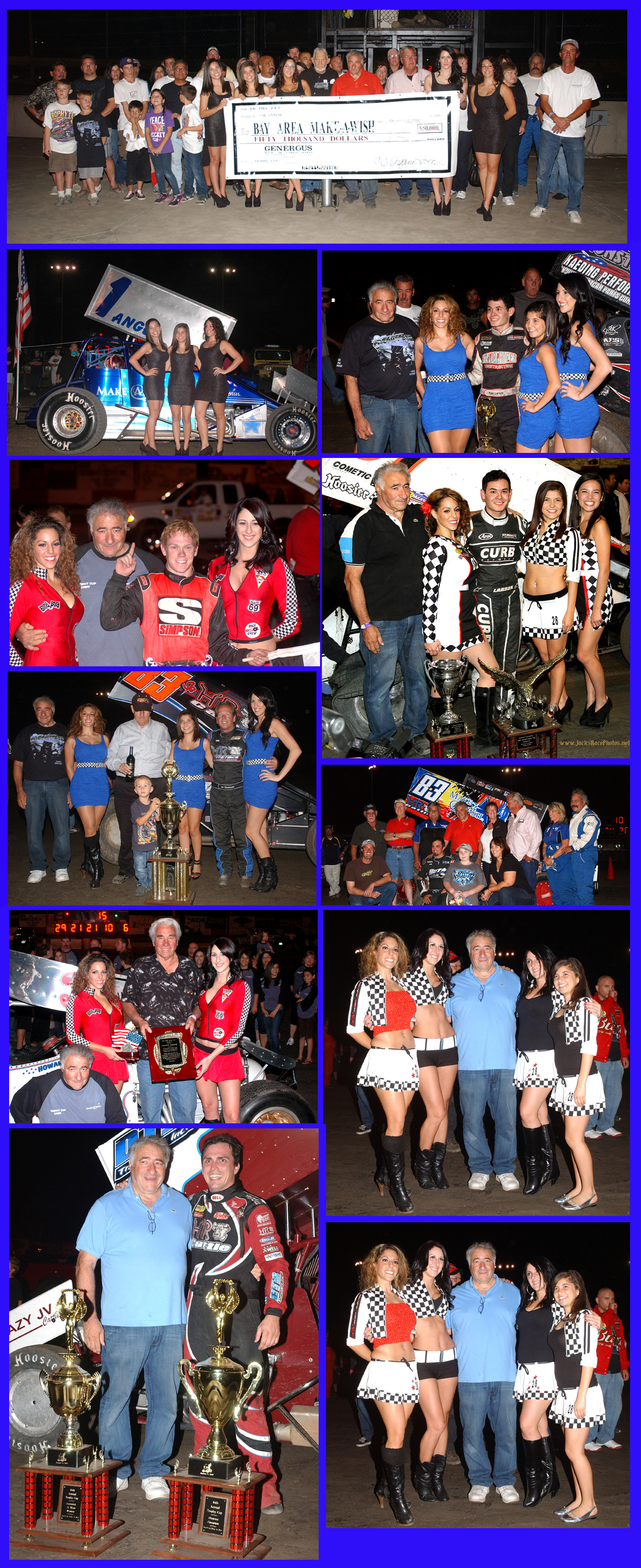 Dave Pusateri's 22nd Annual Trophy Cup is a 3 day race Oct 15/17 at Tulare Raceway. It happens to be a 360 wing race but the inverted by points format creates a lot of passing and exciting racing. Over the years Dave has grown his race and also supported the Make a Wish Foundation to a tune of $1,135,000. Last year's $100.000 check was the largest contribution ever. The things "Trophy" Dave, his wife Muriel along with many lifetime helpers dedicated to this race go thru to make it happen are amazing. An annual golf tournement, the Xmas lighting at his home each year and all the auction items and other donations on race day add up to a large race purse this year of over $100,000 is very impressive. Check out the pictures as some of the finest drivers in the country have come to get the big prize. Kyle Larson's win 2 years ago was incredible as Kyle came from 24th to win on a last corner pass. Good luck Trophy Cup and this is a race the fans win big time! Posted Oct 15, 2015 and pics taken over the years of Trophy Cup.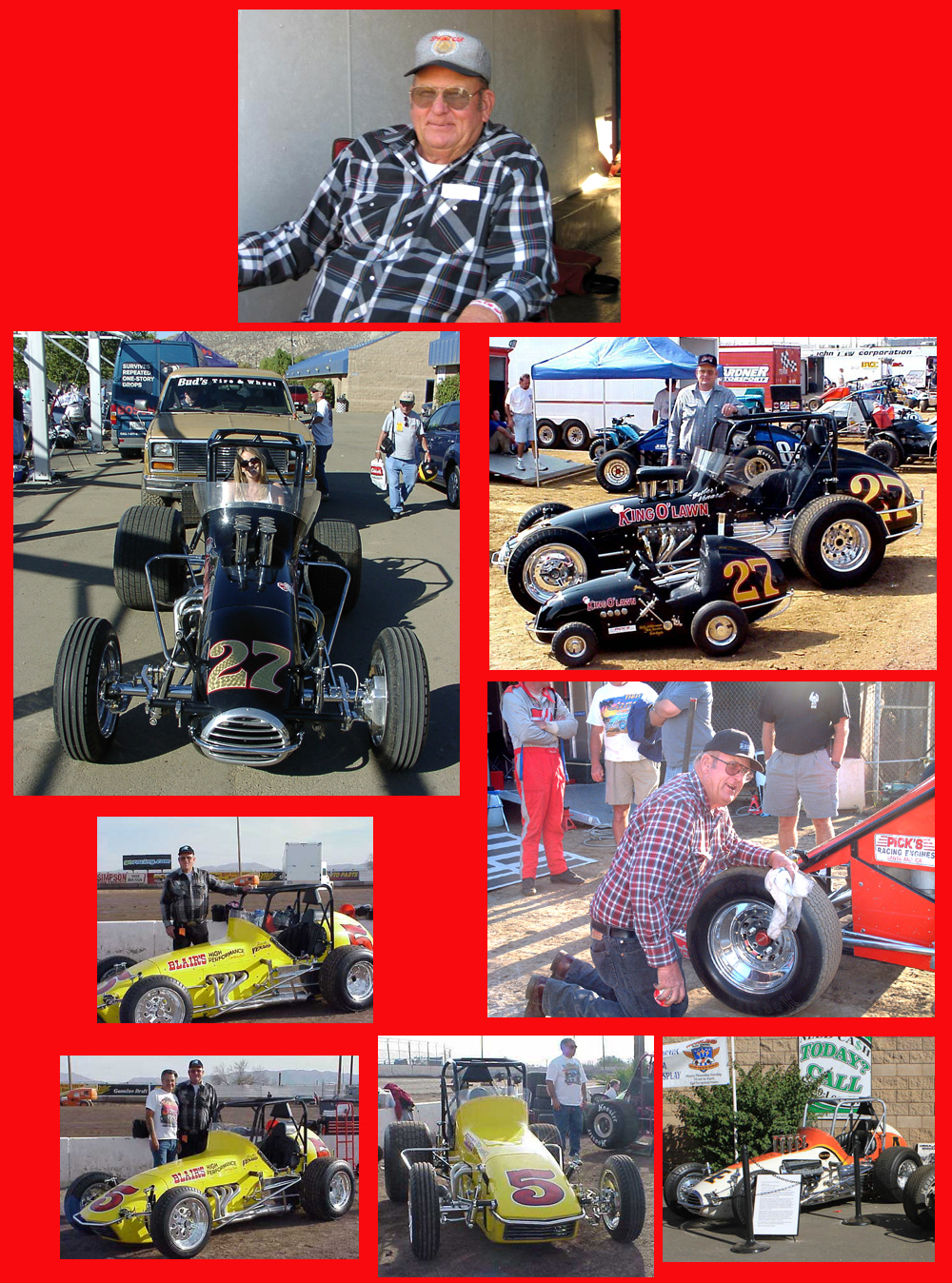 Buzz Shoemaker is the picasio of car restoring. His cars are so neat, they are better looking after he finishes with them than when they were originally built. He has created some masterpieces out of his garage in Laverne, CA. I am your typical unmechanical kind of guy, but I can appreciate perfection when I see it. One visit to his garage some years ago left me speechless at what I saw there, including a rare overhead cam Ford sprinter, a wild speedway bike and other open wheel stuff that was very impressive. Here is the black King O Lawn car that is my favorite and a couple of more from his work to view. Buzz really has a long line of beauties that he put his skills on and brought back memories for anyone involved especially. Posted October 14, 2015 and taken on several occasions.
This is an arial view of Ascot Raceway in Gardena, Ca. Ahhh, I'll bet you have some memories. There are a million stories from the long gone dirt track, but it is still talked about and missed in racing conversations. I was lucky I got to see the Dean N Bubby show there many times as well as some of Jimmy Oskie's rein. It is where the Wags stuff began with Wagsbucks up and running a couple of years before it's closing. The track always had a great heavy track with a good cushion and backing em' in was a staple. Posted October 13, 2015 and Taken I dont know when, but before 1990 for sure.
So, is that Gabby Hayes with me at a Phoenix cowboy restaurant? No, he is the "Greeter" for the place and thus is paid to hang around and visit with the customers. He already had the red and white polka dot kerchief, so he was obviously a Wagtimer. Me and my bride were in town for a CRA race and we met with Lealand and Janet McSpadden, Joe & Ellen Ellis, Norm Bogan and a few others out for a good meal. Seems like just yesterday! Posted October 12, 2015 and Taken October 16, 2000.
For those who use to travel on the CRA tours back in the day, there's a dining experience you probably missed. Jack Kraemer, one of our lost loved love ones who has gone on to the beyond, lived in Hutsonville, Ill (referred to as hooterville for those who knew Jack). The town is just across the Indiana/Illinois Border from Terre Haute, one of the few big dirt tracks in Indiana. Anyway, whenever I went back on the tours, Mike Clark and I often stayed at Jack's "Adams family like" big house and we had two restaurant's fairly nearby to chose from. One featured frog legs that Mike and Jack loved and the other was Moonshine, a place to get fresh hamburgers and drinks. They only served for about 3 hours, noon til 3 I think, and if you came early you could go out back as they slaughtered the cow. Moonshine is a little store that most of the things on the shelf that weren't food, were often antiques because the place was opened a very long time ago, seems like it was mid 1900's, and some items had been there a while. Anyway, they always had to take me there because no way could I ever find it. There were too many little turns in the road down some barely wide enough to be highways until you parked in the parking lot next to the store. Mostly we went there for the great burgers, but you never knew what you would see. When you entered the store there was a sort of liars bench with room for maybe 8 people, plus some other seating scattered around the store. I swear the same 8 people were setting there ever year, and we were nodding aquaintenencs over time. You stepped up to a little old style meat display case and ordered from the very limited menu written on a chalk board. You ate and visited for a bit, and when you were ready to leave, you went up to a counter where they asked what you ate and was told how much. After paying, it was time to find our way to the track, Jack! The place was amazing and the years when we missed it, it was a shame because it was worth the effort to find it. I don't remember how man racers and travelers went there, but not many. On the way to Terre Haute, Jack always stopped to get chicken livers and when you joined him at his normal parking spot at the track (labeled "Jack's Camp Thirsty"), You had a beer, some livers and often some pork tenderloins. Ahh the memories, as I miss Jack and the fun days with him. Posted October 11, 2015 and Taken in the summer of 1999.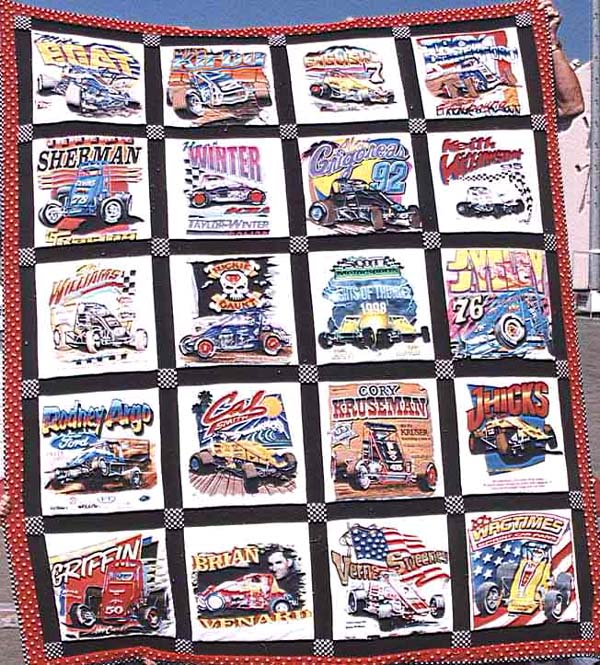 There was a time that Mrs Wags created a t-shirt quilt using driver shirts donated to her by the drivers. The money we made from the quilts went into the Wagsdash each time. This is the 1999 version, and for the life of me, I can't remember who got it. I am so pleased with the thought of all the different fund raisers we did for the racers, it is among the fond memorys it still brings me and the Wagtimers who stood by me to create what we did to the tune of the $600,000 plus dollars we raised. So many good friends we made in the 20 years of Wagsdashes and such good times. Those friends are what lasted as the last bits of Wagsdash music drifted away, isn't that the truth! Posted October 10, 2015 and Taken in October of 1999.
Here is something missed and never coming back, the line at the pit booth at Manzanita Speedway in Phoenix, AZ. One of lifes serious wrongs. That place was big, fast, awesome and will never be forgotten. The list of gone but not forgotten dirt tracks in California is long: Ascot, Corona, San Jose, Victorville, Sacremento, Brown Speedway by the San Diego border and Baylands to name a few. Add a few famous drag strips like Lions, Carlsbad, Irwindale, San Gabriel, plus pavement big tracks Riverside Raceway and California Speedway in Fontana and you see what has happened to our racing. It's the same way around the country as fans are part of the problem. They can't afford to go anymore. Anyway Manzy is missed perhaps as much as Ascot and only us old guys know that! Posted October 9, 2015 and Taken in February of 2005.
J J Hughes was just a youngster when he sat in the grandstands with his parents each week. He loved sprint car racing and eventually, the family moved back east. We started to see his name running a sprint car back there and he even came to run Perris as a much older young man. It looks like he is living the dream. Posted October 8, 2015 the first taken in 2000 and the second in 2011 at The PAS.
Two hall of famers that are more than just champions. Jimmy Oskie was a 5 time CRA Champion with 54 CRA wins and is 12th on the all time win list. More than that, he rarely misses a race or a chance to help young drivers, as he is still a big part of the CRA scene. Richard Griffin is 8th on the all time list with 63 CRA victories and also is a 5 time CRA champion. The Gasman was pretty special as he flew from his New Mexico home to each race at considerable cost, but it was worth it to him. He retired when His family needed him more than us and his business was booming. It's a shame as he was still on the top of his game! The Gasman still finds time to come watch occasionally. Posted October 7, 2015 and taken in 2000 at Perris.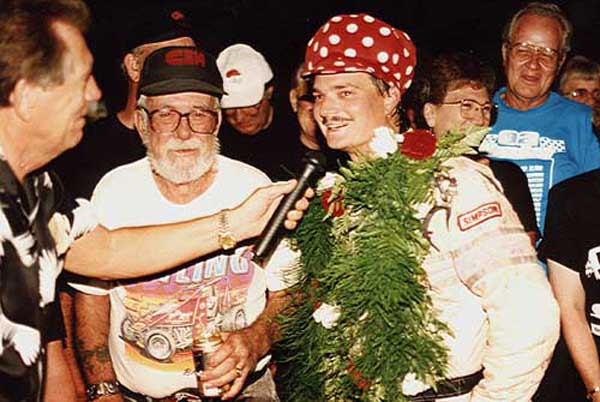 Steve Ostling won the 2nd annual Wagsdash and wore a polka dot hat in the winners circle! This was on Friday night at Manzanita of a two day show. We visited with the team the next day as the did their maintenance and I wanted a pic of me in the car, but it was late in the day and it was too wet to get in? We agreed to do it after the race, but Steve had an encounter with 35th Sreet (or avenue, I never can remember) and the picture never happened. Steve was a great winner and that race is still a highlight of my racing days. Posted October 6, 2015 and taken in 1992.
Jim and Sandra Bartosh former California race people now live in Texas. She used to have Sandrqa's stuff at Ascot for all things race memorabilia, incliding t-shirts and Ascot dirt the last night before it closed! Posted October 5, 2015 and taken in 2003.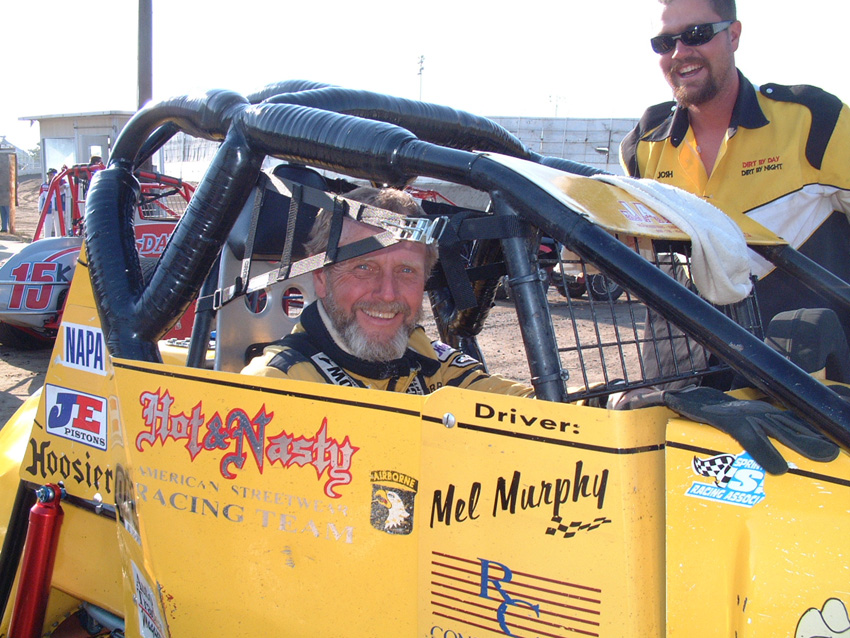 Remember when Mel Murphy was a driver not a businessman selling race parts? Posted October 4, 2015 and taken in June 14, 2003 at Tulare.

Here is a Parnelli Jones collage from pics I took at his office and museum when I explained what the Wagsdash was. When he honored us as our Grand Marshal at the Wagsdash XV, it was one of my greatest memories! Posted October 3, 2015 and taken in October, 2005.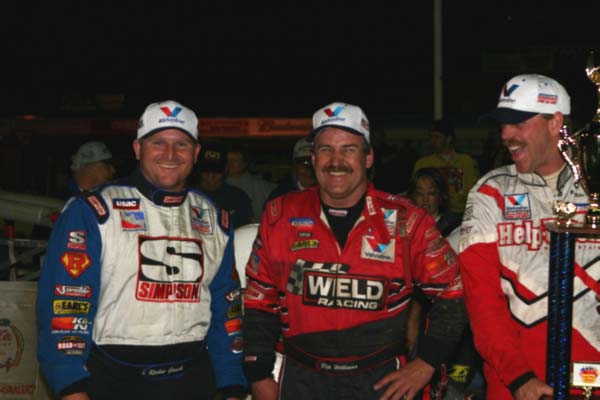 From left, Rickie Gaunt (2nd), Rip Williams (3rd) and winner Mike Kirby share a laugh on the podium. The are all retired from driving sprint cars. They have 185 CRA victories between them. They are missed on the track! Posted October 2, 2015 and taken March 19, 2005 at Manzanita.
Ray Vodden, left, and Don Read pose happily in the pits. Don was the SCRA tech man back in the day, but says it was too much traveling for him and stayed closer to home, except for Indiana Sprint Week and some key races. Posted October 1, 2015 and taken Turkey night 2005 at Irwindale.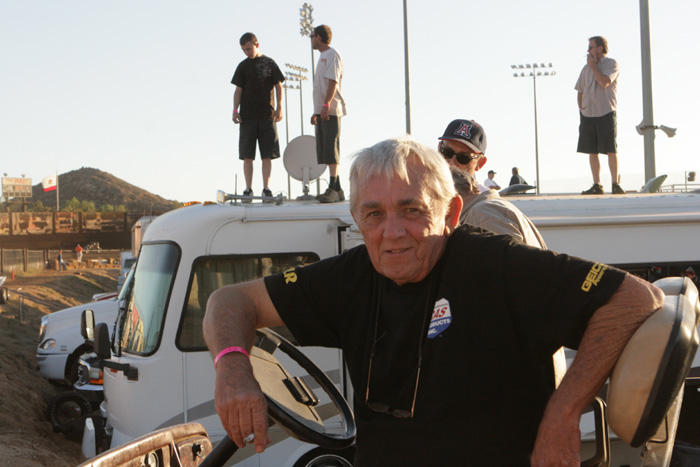 Bubby Jones was one of the best drivers of all time. He is a member of the Sprint Car Hall of Fame and still lives in Indiana. Posted September 30, 2015 and taken November 6, 2010 at Perris.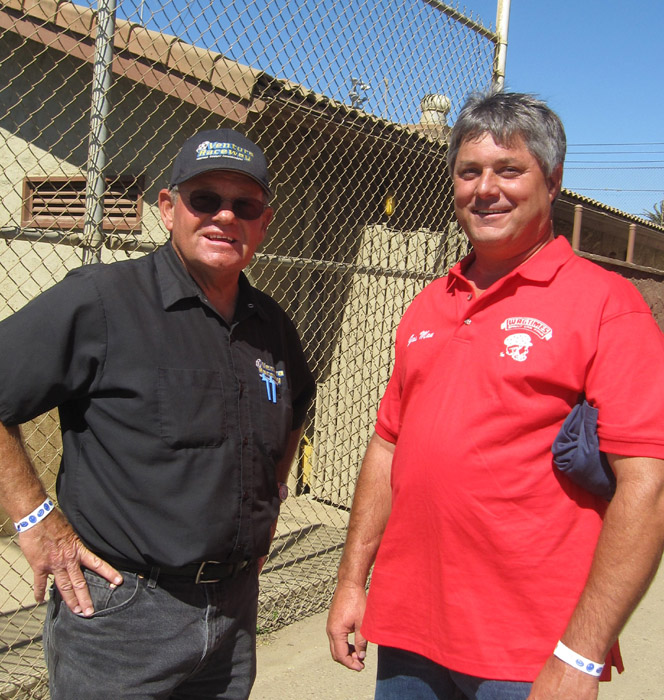 Two Super Stars of sprint car racing, The Gasman and Jim Naylor. This was at the 19th and last Wagsdash ever at Ventura. Posted September 29, 2015 and taken September 25, 2011 at Ventura.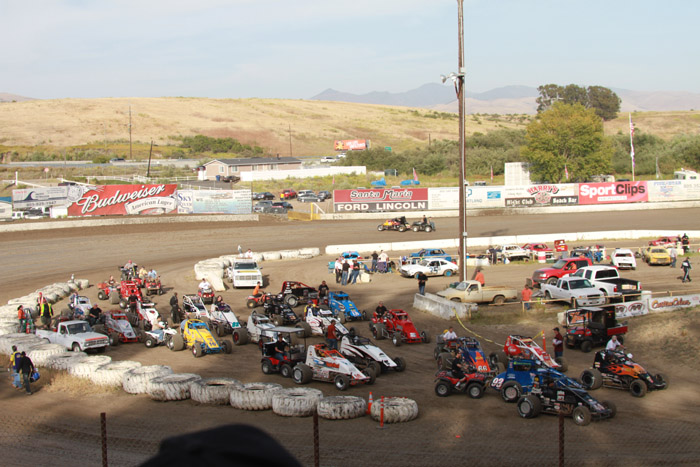 After qualifying at Santa Maria, everyone gets pushed back to the pits at the same time. Posted September 29, 2015 and taken July 18, 2011 at Santa Maria.
Jesse Hockett and Mike Truex talk before the racing action. Jesse later got a raw deal when he and Matt Mitchell stopped when a car flipped over. Jesse was taken from us way too soon when he was electrocuted in his trailer at home. He was just letting us know how really good he was wing or non-wing when he was killed. Posted September 28, 2015 and taken October 24, 2009 at Ventura.
Dwane Marcum came out of retirement to wheel this Don Blair owned sprinter. Don Blair's legacy should be evident in the future when his desire to help racing comes to fruition. Don passed a few ears ago, but his car still runs under Toby Sampson's guidance. Posted 09/26/15 and taken April 18, 2009 at Victorville.
Car owner Ron Chaffin and his crew chief Bruce Bromme Jr celebrate their 10th championship togeather. From Lealand McSpadden, to Richard Griffin, to Damion Gardner and then Mike Spencer. it's all good for the little red sucker. Posted 09/25/15 and taken November 29, 2008 at The PAS.
Larry Henry and Bubby Jones back in their day with their first car together. The were a force in the midwest for many years. Posted 09/24/15 and taken sometime in the 60's?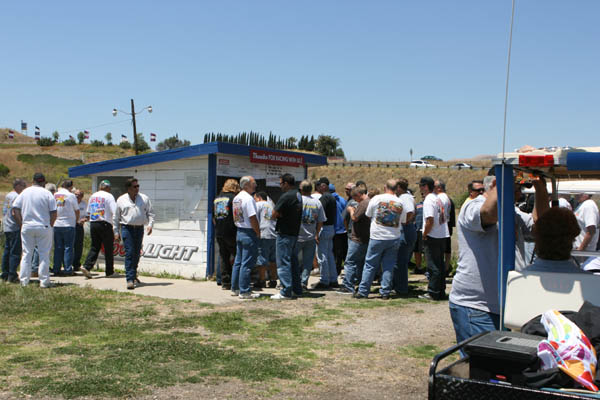 How long has the Santa Maria pit booth been standing? It was removed in Chris Kearns time running the place a few years ago, but the memories will linger a long time Posted 09/24/15 and taken June 14, 2008 at Santa Maria.
Toby "Okie" Sampson was all smiles. He ran 2nd on the night after getting screwed on a line-up for a restart. Toby can drive, build, rebuild and enjoy watching races wherever he goes. Posted 09/23/15 and taken April 26, 2008 at Perris.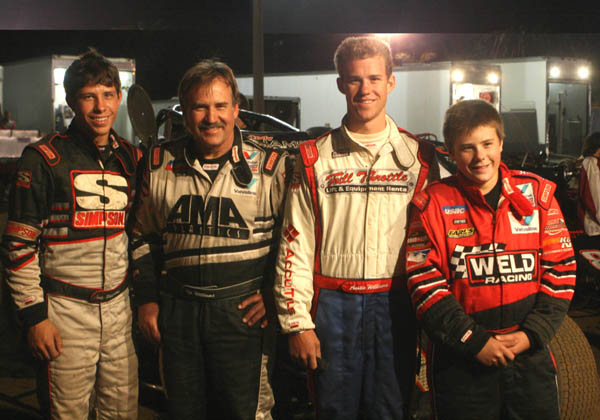 The Williams family of drivers from left Cody, Rip. Austin and Logan. Pretty impressive. I think it was the first time they had ever raced together at the same track. Posted 09/22/15 and taken October 25, 2008 at Ventura.
Mark and Bethany Thrasher. Bethany is still teaching young kids these days and married to a street rod guy Gary Dewitt. Mark is recovering from a battle with cancer. Posted 09/21/15 and taken March 15, 2005 at Manzanita.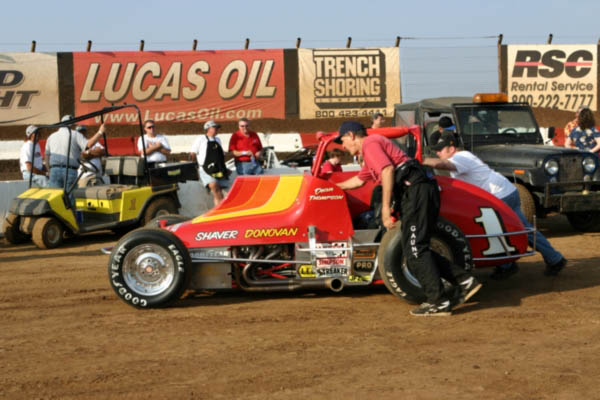 The Bromme number 1 car is still awesome even today! Jimmy Oskie chauffeured it around for a few laps this evening to the delight of the admiring crowd. It is one of the most revered and remembered cars because Dean Thompson won 105 races in the Bruce Bromme owned cars. Posted 09/20/15 and taken May 28, 2005 at Perris.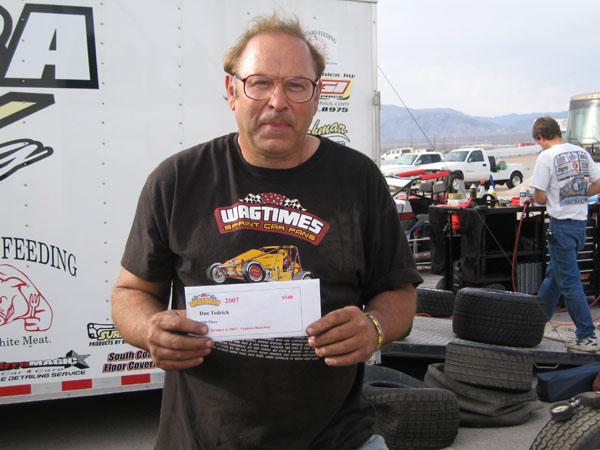 Dan Tedrick gets his Wagsdash money. If you were to look up the definition of low buck racer to run the Wagsdash, this is the guy. It was his biggest race of the year each season and he was humble and thankful to get in the event. Posted 09/19/15 and taken October 27, 2007 at Las Vegas.
Manzanita Hall of fame night had Jack Hewitt, among a lot of other old time racers, signing autographs. Ellen Ellis was one who stood in line to talk with Jack. Posted 09/18/15 and taken November 11, 2006 at Calistoga.
Looks like Keith Bloom has the best view of this crash. He went end over end a bunch of times, but was OK. Posted 09/17/15 and taken September 6, 2009 at Calistoga.
I don't know about the word official on the front, sez Mr Ostling. The new uniforms looked sharp on their debut! Posted 09/16/15 and taken June 18, 2010 at Watsonville.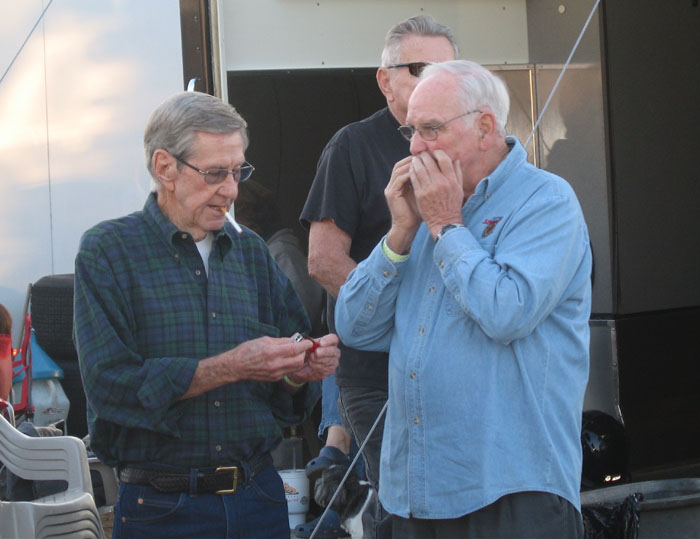 Billy Wilkerson has a smoke as long time friend Gale Forester looks on! Posted 09/15/15 and taken November 29, 2008 at Perris.
The Gardner line-up is impressive. Five cars for Nadine, Super Rickie, Bullet Blake, Bad Brad and Tyler "B". Those were the days! Posted 09/14/15 and taken Oct 27, 2007 at Las vegas.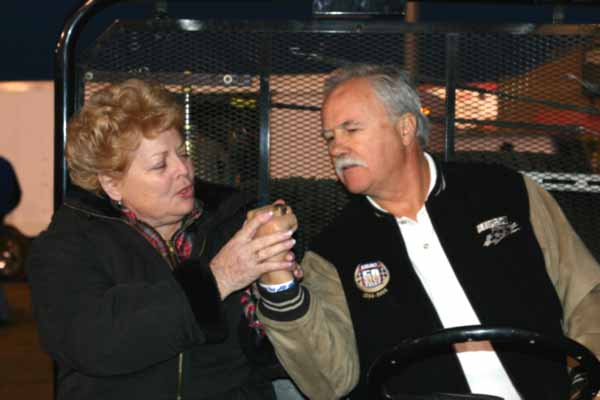 Ooohhh…that's pretty….Sharon Jory, owner of the #3 car, checks out hubby's 2004 championship ring…no, I didn't hear her say "where's mine!" Posted 9/13/15 and taken at the opener of Perris in 2005.
Evelyn Pratt had a job keeping people away from the Tony Stewart race cars during the afternoon of fan wandering in his pit. Posted 9/12/15 and taken Turkey night 2005 at Irwindale.