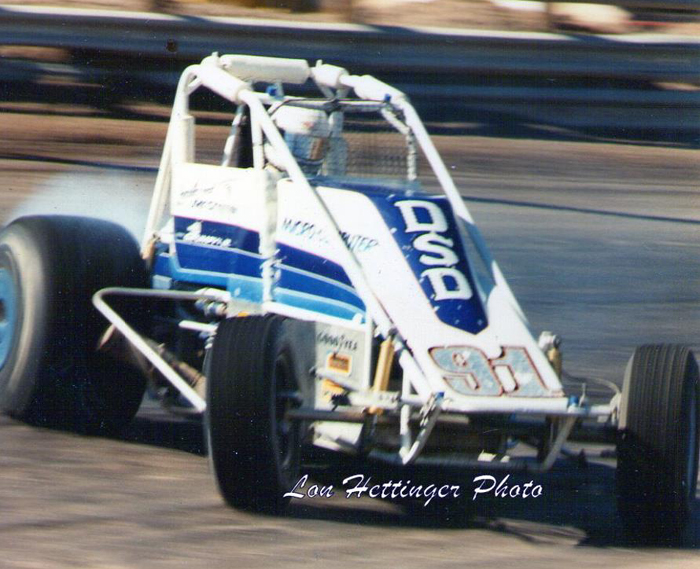 Stolen pic of Lealand McSpadden in a car we all remember of Frank Lewis.
J J Yeley drove this famous ABC Sand and Rock car at Oscaloosa. JJ did great Sunday at Daytona.
Remember this car? He is back!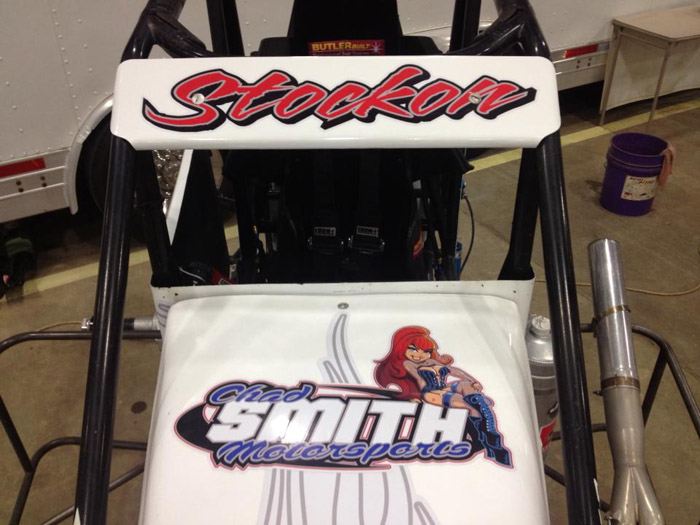 Chase Stockon appearing in Florida. Nice graphics!
One of my favorite people I miss the most Ralph Tracy. No body treated me the way he did. He was revered by so many, and he is missed by all who knew him.
At Eldora Lealand McSpadden taking aim on Scotty Burns!
Mike Kirby in Jim Kirby's yellow car. Mike retired from sprint car racing in this car. He still is a killer stock car driver, but is missed on our dirt tracks!
The wags at Perris captured by Jim Fargo. Fun days!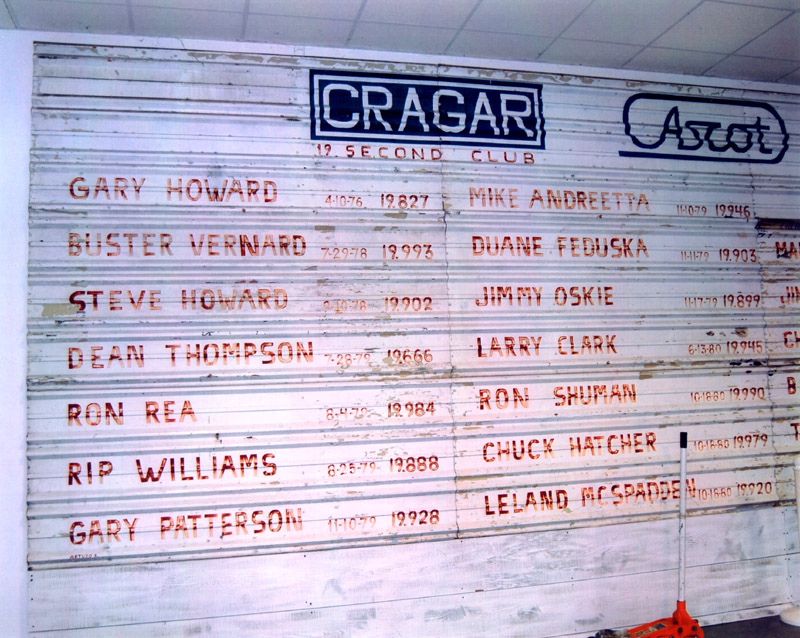 The old 19 second wall from Ascot is somewhee else these days.
The 18 sec panels for the wing guys.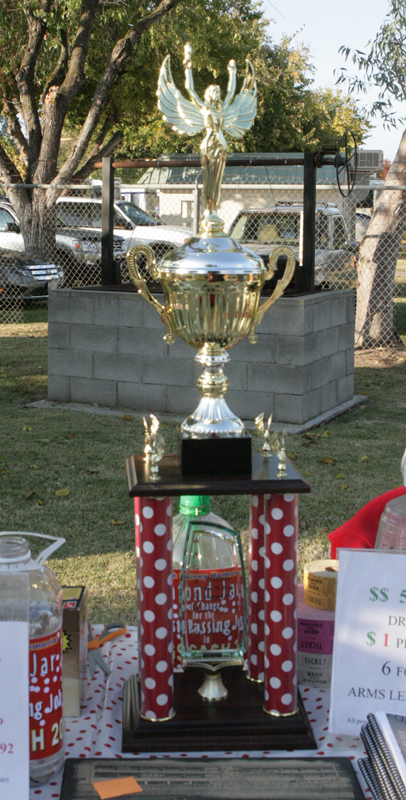 The WAG$CA$H Champion Trophy from Trophy Dave.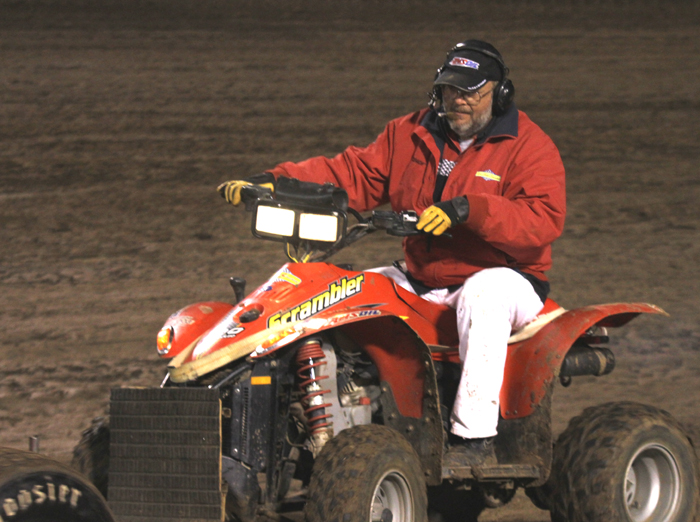 And them there is the man known as coach. He hangs out in turn 4 where he directs traffic going on the track, scrapes mud off the walls, gives a push to cars who stop on the track and react to help anyone who gets in trouble.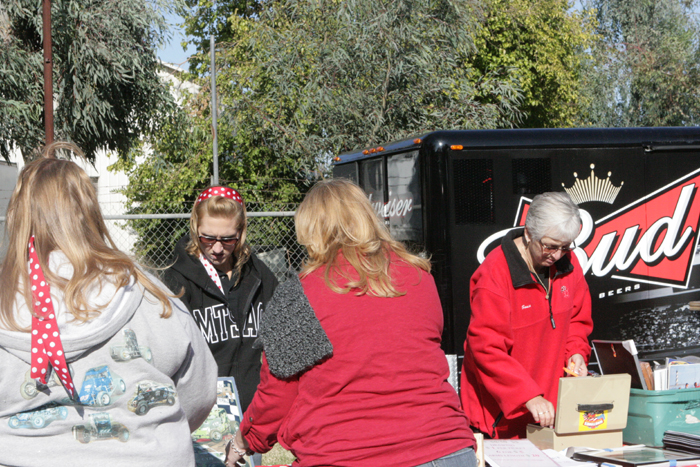 Wagtimes workers at work at the last Wags event.
The guys who protect our racers and more!
Jimmy Oskie honoring Don Blair.
Vinnie's dad Carl is a photographer too?
Lealand poses with Mrs Wags and Wags. The End.
Lafond ready to strike!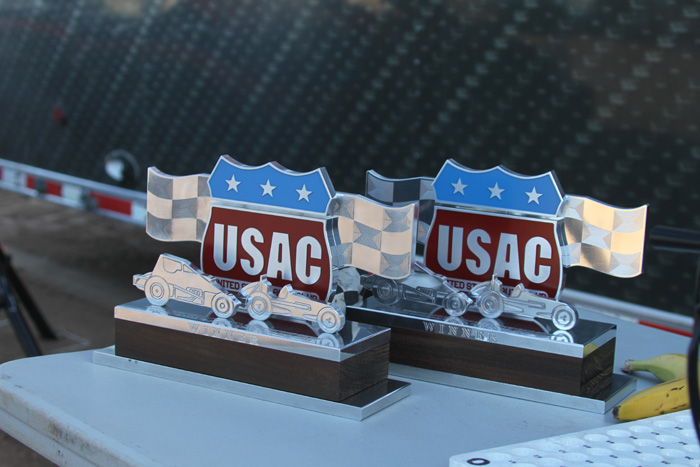 These are the trophies were made for CRA winners. Very nice and heavy!
Frank's pit mule?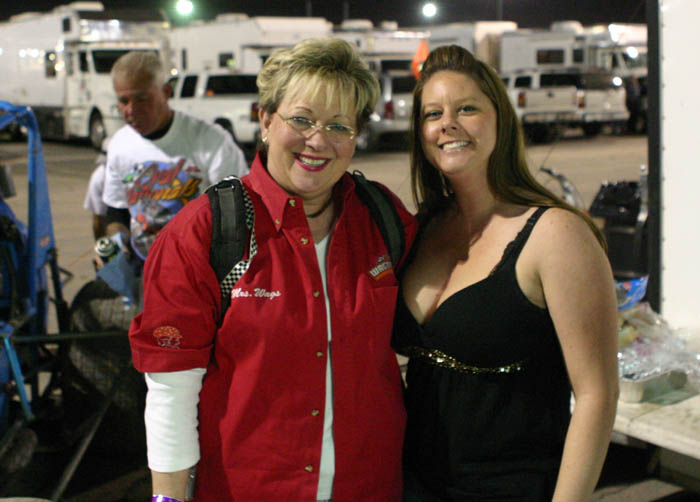 Terry and Tanner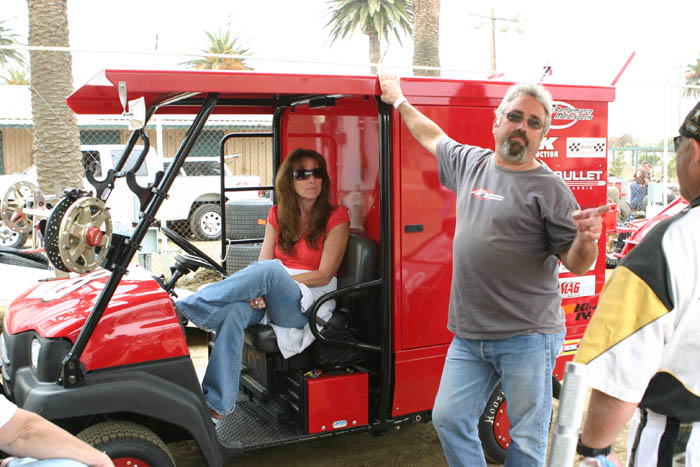 Nice big pit cart.
Julie and Gayle Davis
Bryan and Kris Kittle
Tom Schmeh came to the Wagsdash!
Tony Jones family at a wagsdash
Randy Julie and Danny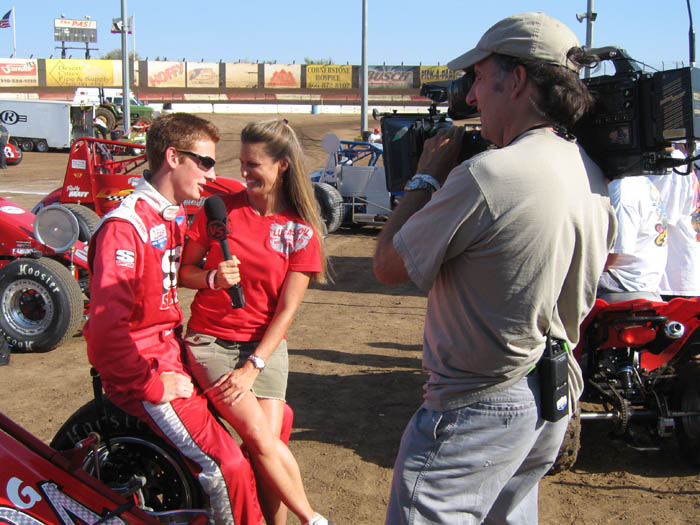 Blake Miller interviewed by Miss Motorsports?
Wags and Da Man Lealand>

The ultimate "low buck" racer Dan Tedrick.
Wags and Josh Ford in a quiet moment.
Toby Sampson and Jeff Gardner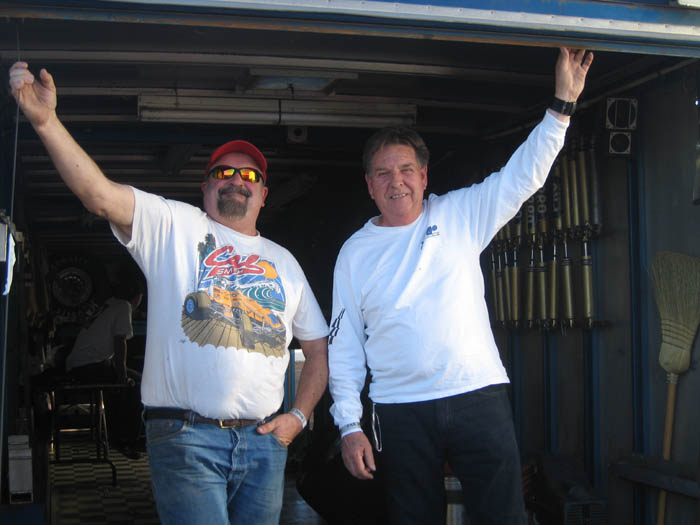 Catfish with Don Argo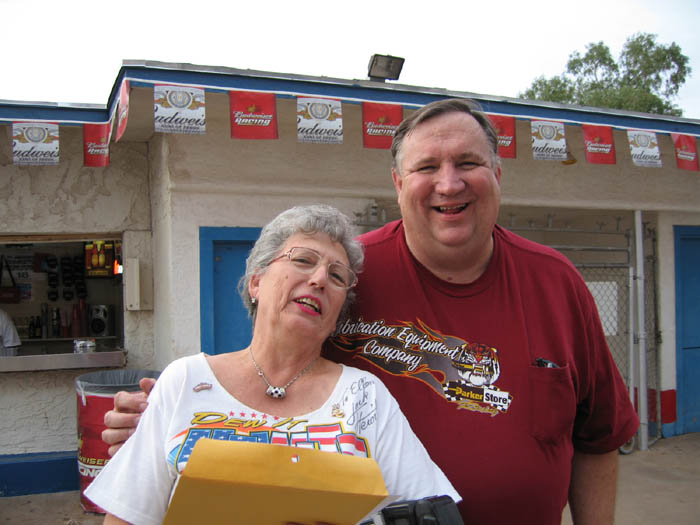 Steve Stroud and Ellen Ellis
Mark Alexander taking a nap at Manzanita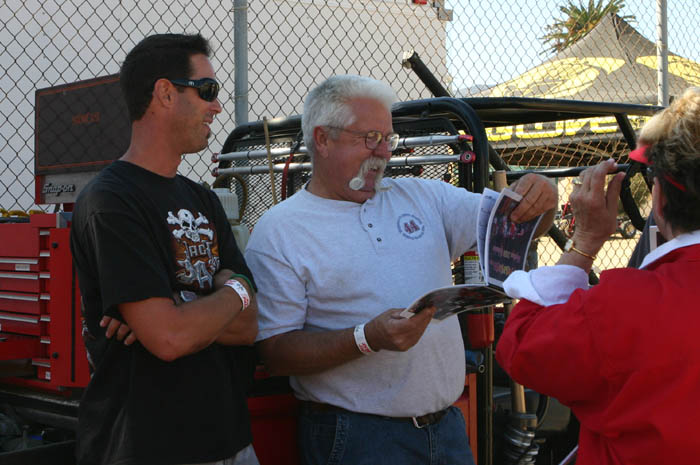 Hal looks at a dirty calender while David Cardey looks on??
Danny, Fran and Julie at the 17th annual wagsdash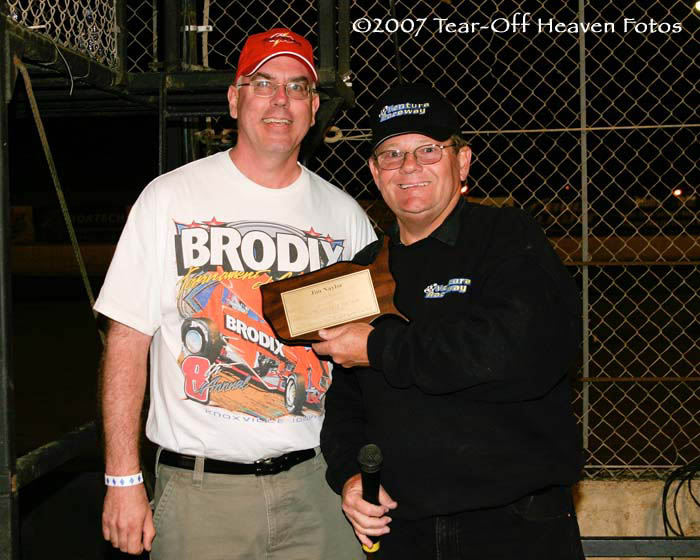 Tom Schmeh gives Jim Naylor an award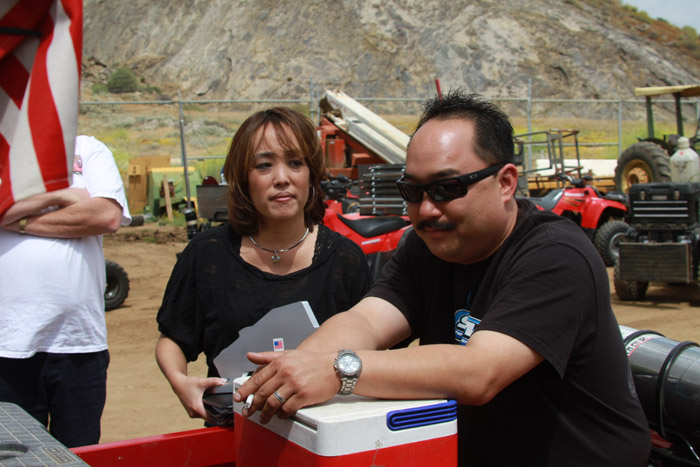 I think Randy has a Jack and Coke on his mind as Julie is ready to get her work zone on.
Want a cloud 9 sticker? The dark haired one looks like she has to WORK!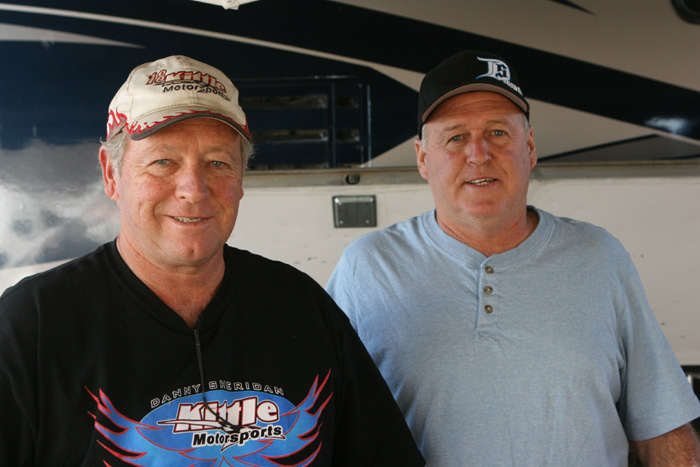 The Kittle Brothers Brian and Gary.
Ron Shipley Jr has been with the fire rescue team for a long time going back to the Ascot days.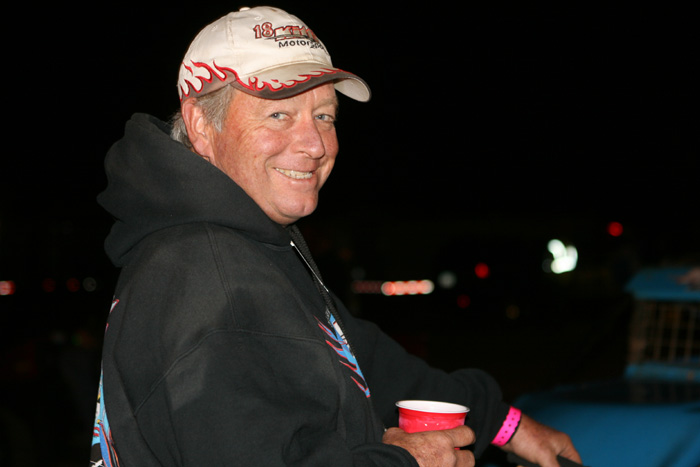 Brian has a devilish look here!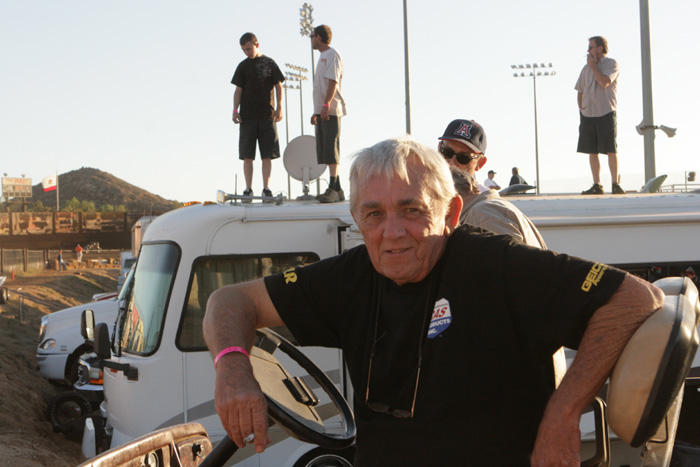 Bubby Jones
Strange sky but neat!
J J Hughes looks like he is wearing one of Ostling's t-shirts. At one time he sat in the PAS grandstands having fun watching as a younger boy.
Polka dots and checkers, what could be better?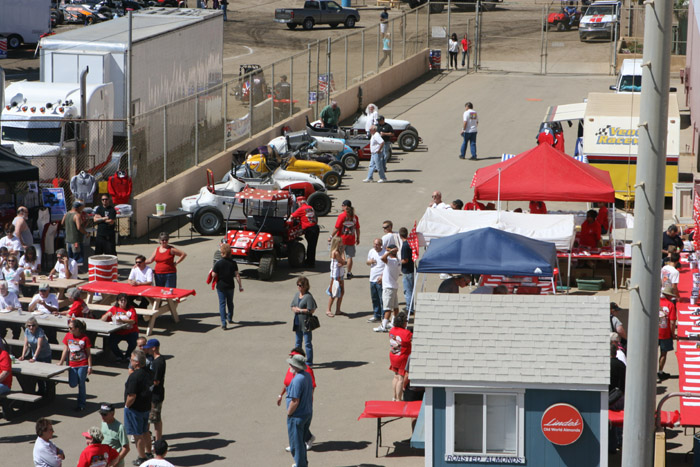 Another shot from above.
The midway was busy most of the day.
A pic from up in the turn one grandstands overlooking the midway.
Jim Naylor made awesome banners for the Wagsdash!
The Wagsdash banner overlooks the pits.
Julie Shiosaki and Shelley Ostling look like they are going shopping, or have been shopping, are thinking of shopping, talking abo0ut what they bought, or are just having fun.
Here's Nellie Stansberry wondering whats next? Behind her is Glenn Crossno talking with Tony Everhart.
How do these two look in USAC black? Julie Shiosaki and Shelley Ostling are amazing.
Here's a nice pair...... Steve & Shelley Ostling.
Here's driver Heidi Tresler, her mom and probably her dad?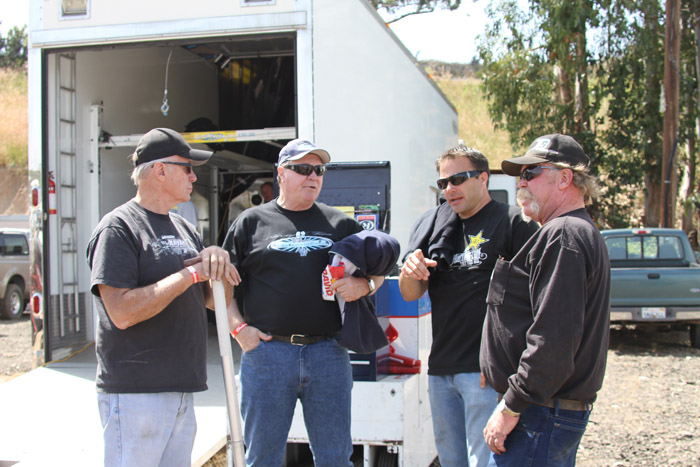 From left, Paul, Dennis Sr, Danny and Ralph are having a session. Danny seems to be leading the discussion.
Dog sitting with Hailey is another of the many talents of Randy Shiosaki in his quest to make the little blue sucker a winner each week. Soon it was back to business and the car took center stage.
The day in the life of a crew chief. Imagine what he is thinking about. Winning! It must work!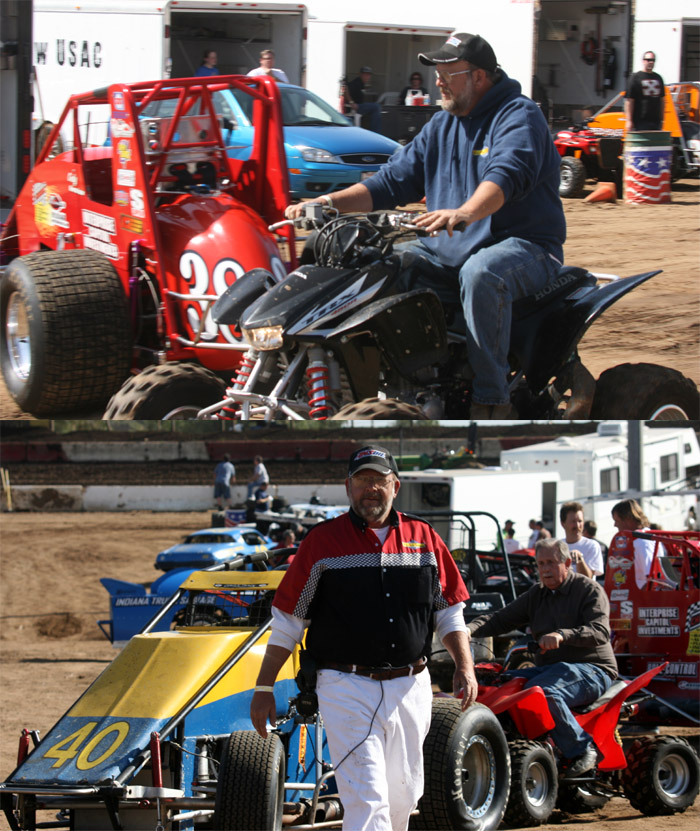 This very nice PAS official called Coach is always up to something with a smile on his face. Early in the afternoon he was zooming this 4 wheeler around the track trying to get the motor to run smoothly, or practicing for an off road race. Later he became an official and was dressed for the part.
Who's in my Mule. The Kittle's took it over when the pits were way back outside turn one?
Doug Allen sits on the scorboard walkway. I looked it over, but decided against scaling up there.
Jimbo buckles in for the ride of his life in the little blue bugger.
The Kittle Family Album photo to start the year out in 2010!
Brian poses in a family portrait with Bill and his bride (???)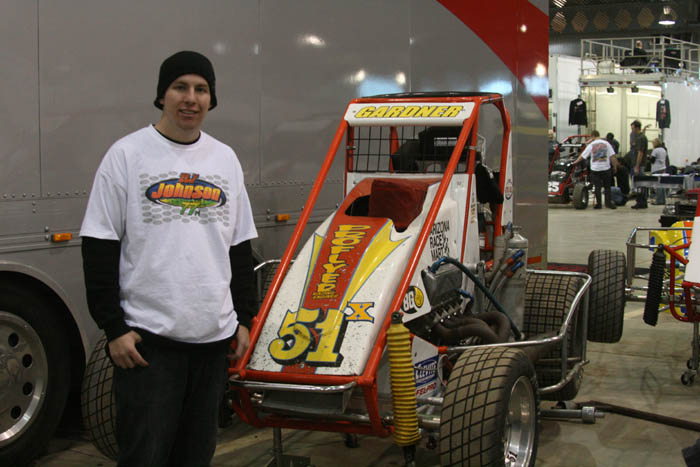 Ronnie Gardner came to the Chili Bowl to have fun! He won the first feature on Saturday night!
Steve Lafond and Mid West writer K O from Indiana come stalking in the pits.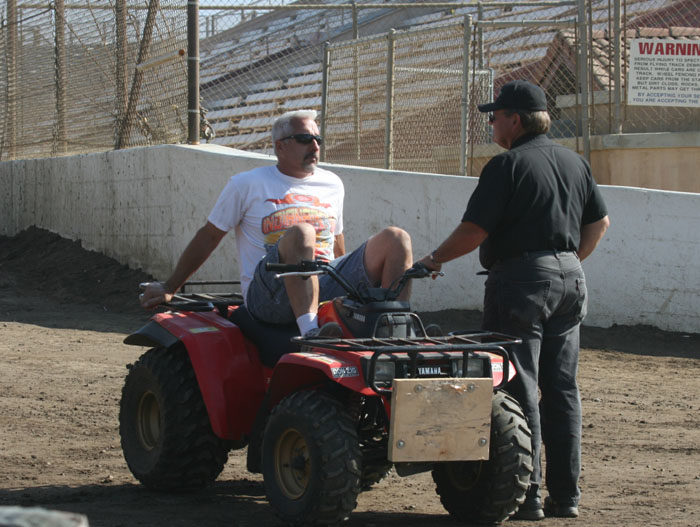 Jim Naylor talks with his new VRA Sprint Car Champion Kevin Kierce.
Jesse Hockett and Mike Truex talk before the action. Jesse got a raw deal when he and Matt Mitchell stopped when a car flipped over. Unfortunately, no red was called, and they went to the back. There was rumor that the red came on and off, but officially, it was they stopped on a yellow, end of case, but left a bad taste in these racers mind.
As I was walking in, this guys T-shirt caught my eye, negatively. "Losing is natures way of saying you suck". That was mild compared to many others on the bodies of some of our youth at the drags. Where did we go wrong? Why don't they just say what they mean, F the world!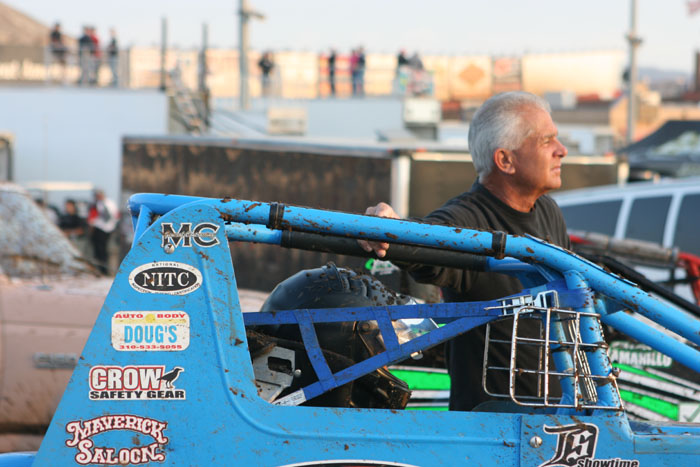 Danny's dad Rich is concentrating hard.
Gary Kittle brought his little weenie dog to the races again. I think she's called RD2?
Doug Allen and Julie Shiosaki talk.
Here is Ed McWilliams and his wife Alexandria.
Billy Wilkerson was one of the best.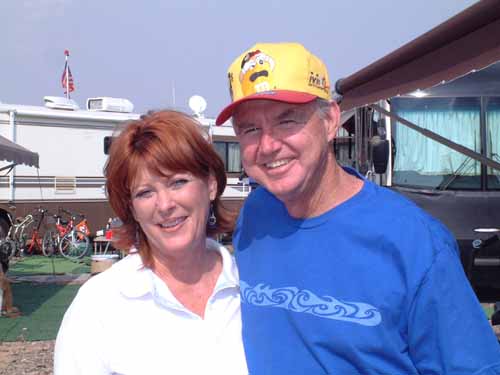 Janet and Lealand McSpadden.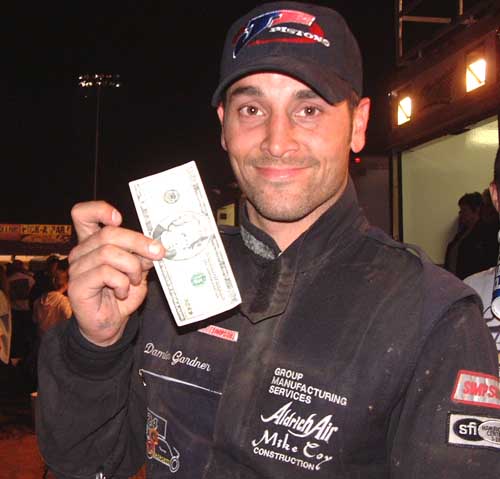 Damion Gardner
Bubby Jones, Rip Williams and Jack Jory.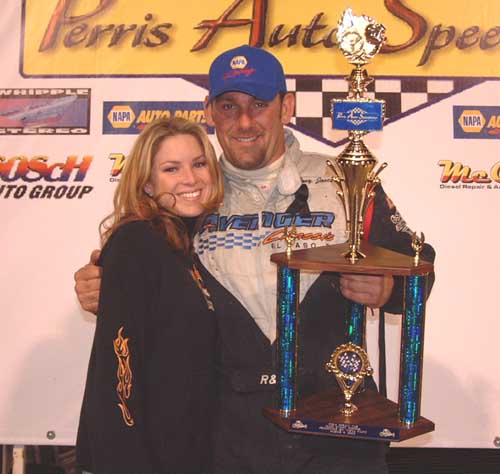 Tony Jones and wife Tammy.
Bubby Jones and son Tony.
Agnes Johnson, one of my best friends in this racing world. She is miissed.
The Bud girls at the PAS
Somewhere in Illinois these two were on display.
Here is the front view.
J J Yeley's car at Oskaloosa way back in 2002?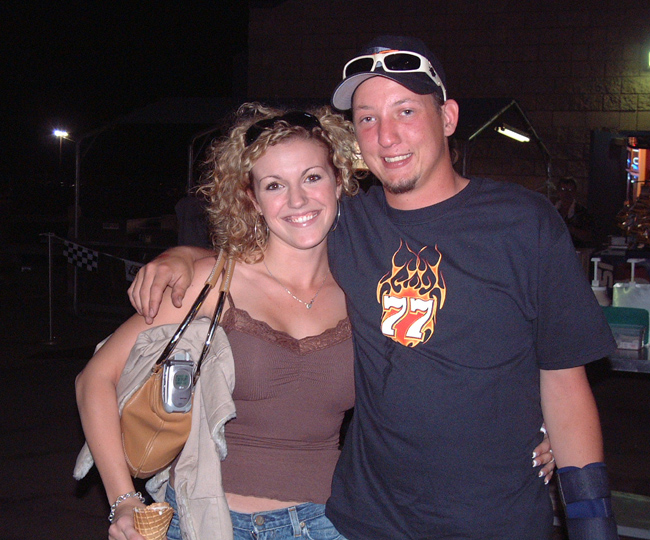 Chris Tramel and a beauty of long ago, Amanda, she was a doll and even worked at Ventura Raceway for a while.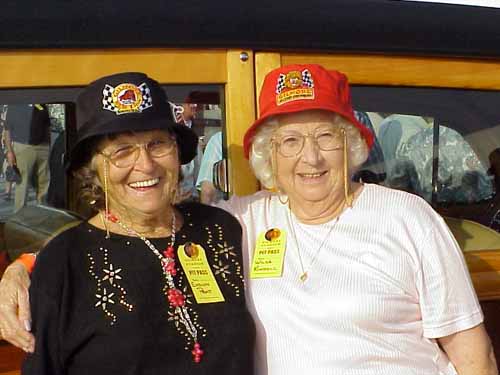 Evelyn Pratt and Wilda Kindall in a classic pose.
The scene at the PAS from up by the press box.
Perhaps the prettiest race car driver around, Destiney Hays.
Julie Shiosaki and Terri Bliss love to have their pictures taken!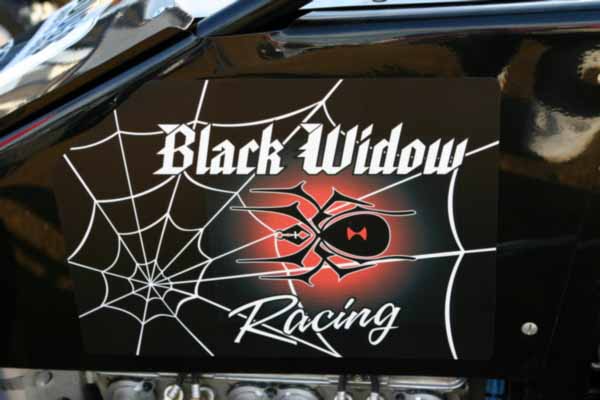 The "Black Widow" racing team logo has been updated and looks sharp, if not a little scary!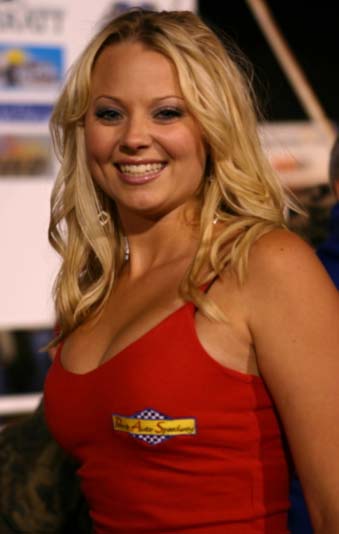 What can I say but she was The End all in PAS trophy girls!
Jim Naylor and the Wags. I wonder what he just whispered in my ear.
Jessie Hockett was the best of his breed. It was a tradgedy losing him and his "Show" at the races!
The Jeff Bagley Award in the National Hall of Fame.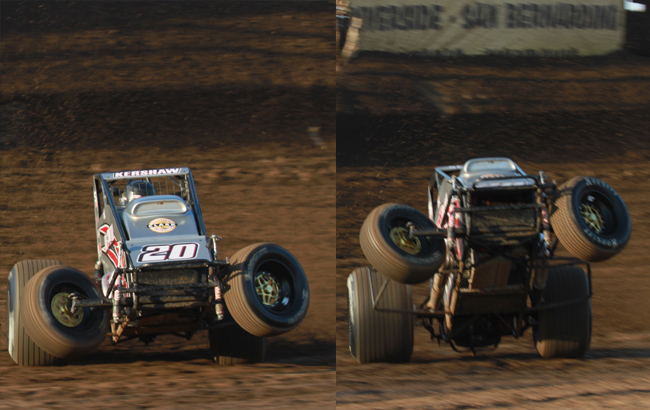 The Kershaw wheelie of fame at the PAS in 2011. The luckiest shot I ever made, and he was within about 8 feet when the wheels came down, and pointed right at me. I was safe behind the K-rail, but what a rush!
Rip is at his happiest time here with the big win. Note the hat!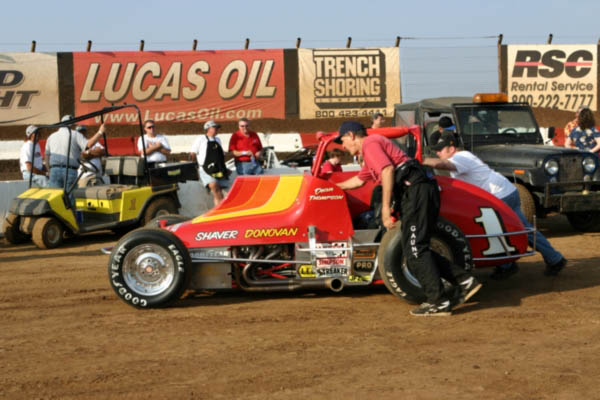 The Bromme number 1 car is still awesome!
Greg Bragg's new ride back in the dayhas Jimmy Evens wife, Sherri, sitting in it.
A zoomy shot from up by the pressbox at the PAS.
It must be a Gardner sighting. Ronnie, Chet and Jimmy must be getting ready to do something cool.
John and George bookend the birthday boy Don Blair, owner of car # 13. He was 84!
Some drivers of the past, looking back now.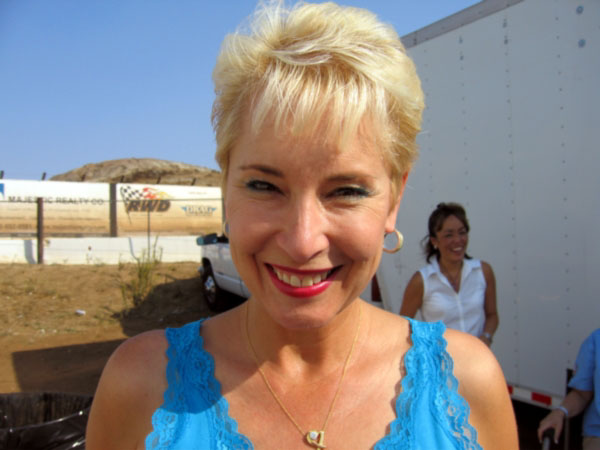 Kris Kittle, wife of Brian, shows off a bright blue top and mascara that matches the car. Can you believe it?
The Kirby Kars are lined up and ready to get at it. That ill fated team wwas the end of Kirby's sprint car driving career.
What a great graphic on the back of the # 92 trailer. Great job and it will get your attention as the rig goes down the road.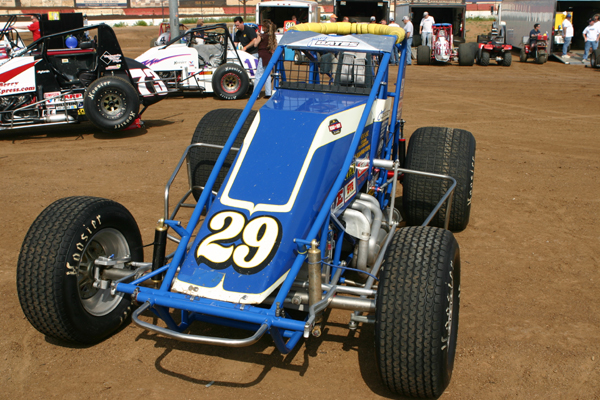 Another view of the blue and white beauty of Chris and Biker Bruce Fischer.
For some, it's just another day at the beach in this pit.
Dan Tedrick poses with his newly painted car. He loves sprint car racing and he is the ultimate low buck guy!
Blake Miller receives his awesome Wagsdash Jacket, created and donated by Jim Naylor, for being the 2005 Wagsdash Champion! It was a touch not many other champions ever received.
Ron Didonato and wife Meri visit the pits. Rom makes Spin Tech mufflers which are one of two official mufflers at Ventura.
The flags were flying all night on this 4th of July race.
Another nice looking blond!
Ellen gets an autograph from Jack Hewitt.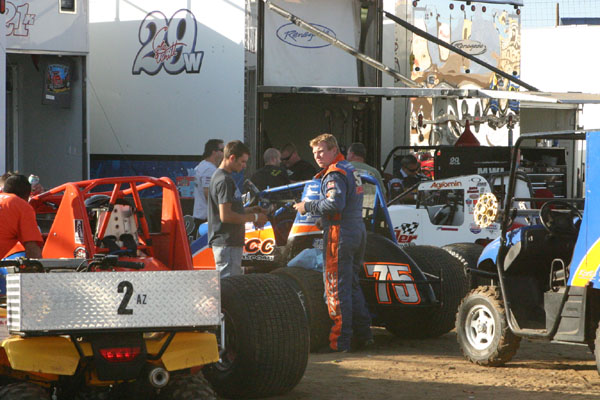 Jesse Hockett looking ready. He was as he won the Friday race.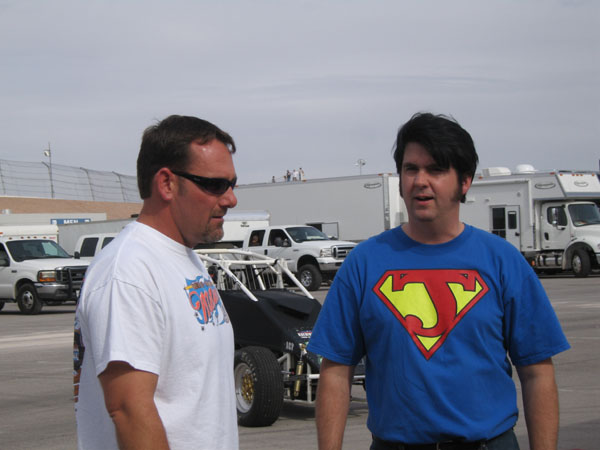 Joey Franklin, aka Elvis impersonator, talks with Tony Jones. .
The Gardner line-up is impressive. Five cars for Nadine, Super Rickie, Bullet Blake, Bad Brad and Tyler Brown.
Stan Jr and Mike Arthur are in the house to do some camera work.
Remember that Kenny Rogers song "you picked a fine time to leave me "Loose wheel"? Something is missing and Wags needs help!
As Chet Gardner bips around the corner, is he going to get it from the stern looking Jack Gardner Jr and Rickie Gaunt? Look at them, they are up to something.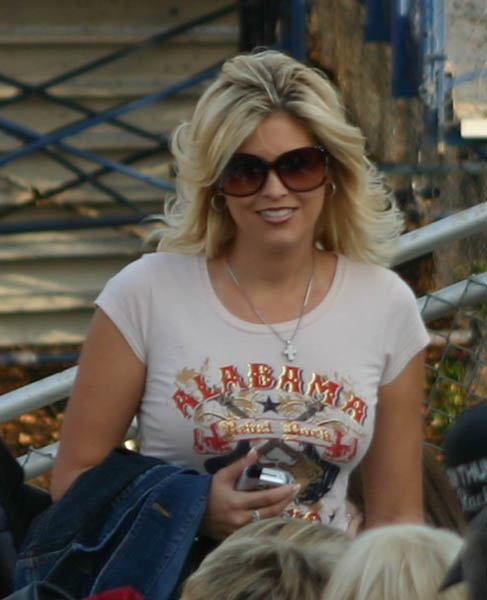 Nice shirt!
It is an honor to be in the same frame with this man!
The McSpadden family is growing as Janet and Lealand's two kids, Michelle and Jeff, have 6 children between them, so they get plenty of grandparent fun.
Tony Jones goes over and over in the one pic of a long sequence by Meri Didonato.
Glen and Pat Howard share a rare non working moment at the So Cal trailer.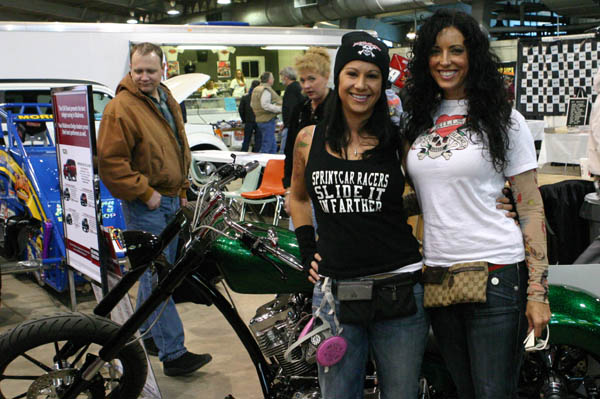 David Cardey's wife "Dirty" Danita and Victoria.
Casino girl worked the room.
Ronnie and the Wags gettin' chummy.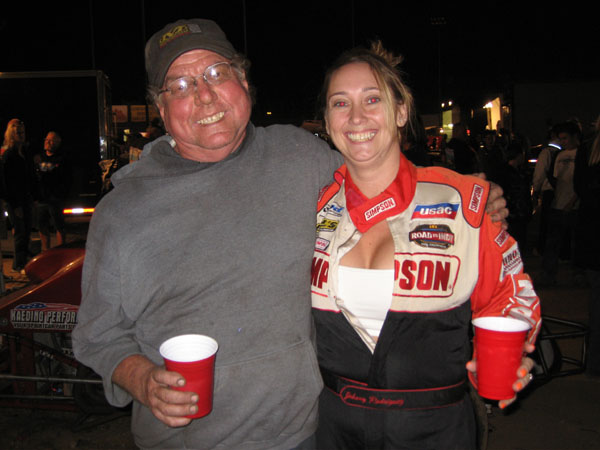 Bruce Bromme Jr with Karen as J-Rod.
Shaun McDonald is always having fun at the races.
The two trophy girls for the evening dressed up for later. Summer, left, and Nicole.
A great shot of Mrs Wags!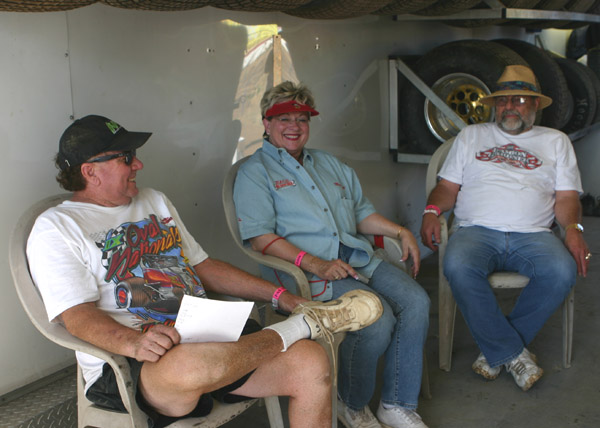 A little gathering in the # 50 hauler with crew chief Bruce Bromme Jr, Mrs Wags and car owner Ron Chaffin holding court together.
Tony Jones and his pretty wife Tammy and son Grady pose after his third win of the year.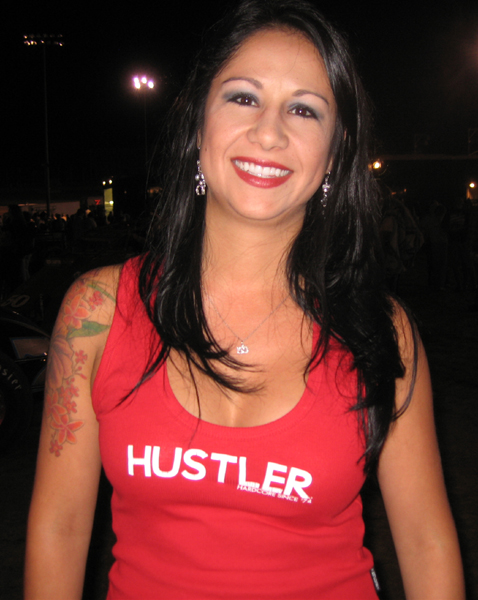 Danita Cardey is always cheering her husband David on. She was sad this week when he got whacked in the main, but knows his time is coming fast.
Ron Chaffin relaxes and watches his crew scurry around the pit working.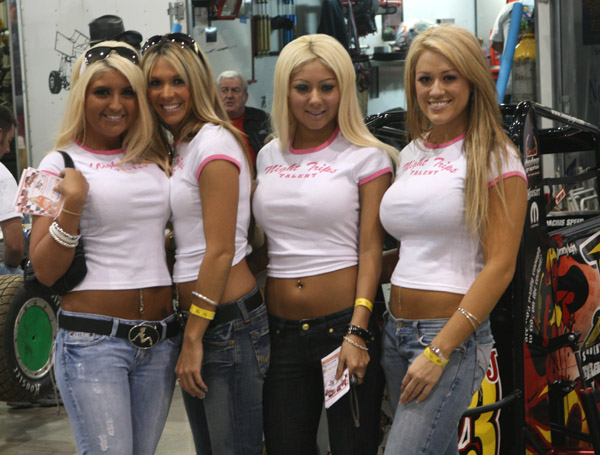 Oh MY! These girls were touting a local watering hole, Night Trips!
Here, Damion poses for me after Chili Bowl win, too!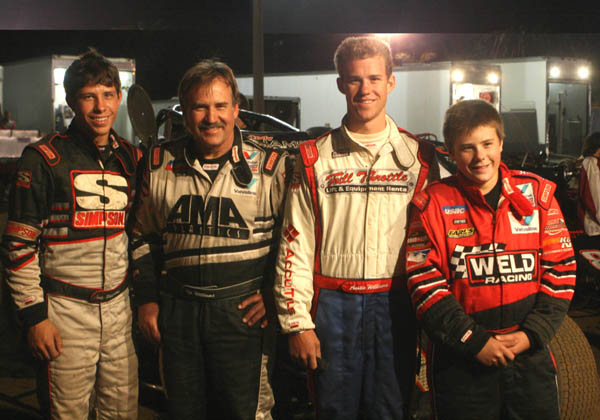 The Williams family of drivers from left Logan, Austin, Rip and Cody. Pretty impressive. I think it was the first time they had ever raced together at the same track. It was Oct 25th at Ventura.
Ed McWilliams drives this 360 car occasionally. He is from San Diego and had Dennis Stewart is helping him tonight. His pretty pit crew lady and wife, Alexandria, was very active getting the car ready.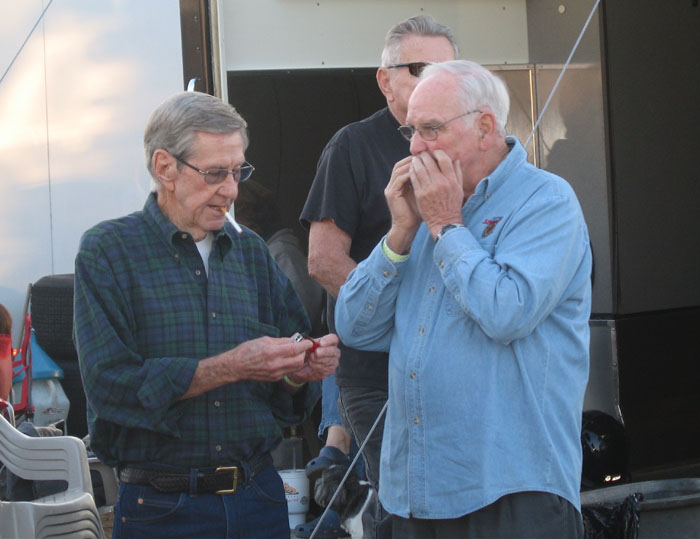 Billy has a smoke as long time friend Gale Forester looks on.
The Hooter girls move around.
The girls were very nice to pose for me. From small to tall, they were fun and it was hard to pick a favorite from this group.
What are Kenzo Okubo and Steve Foki up to with Lore Wright. Only problem is Lore won't tell!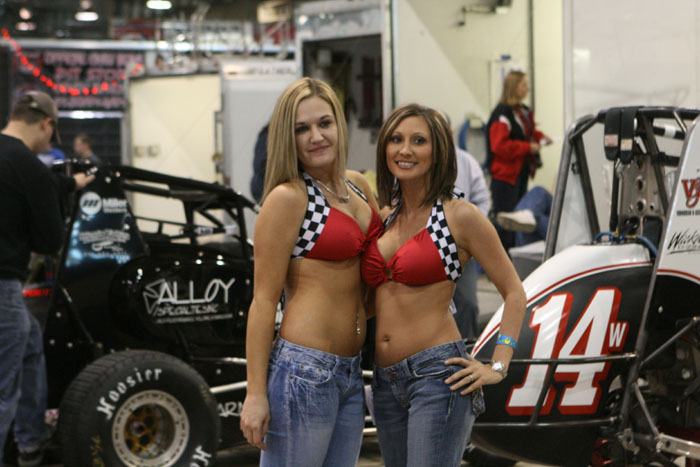 These Gentleman's club girls were minding their own business as I took a picture.
Then along came Kevin Kierce to put me in the photo.
Looks like Keith Bloom has the best view of this crash at Calistoga.
Here Mrs Wags makes this suitable for framing shot of the cute pair. She says these Williams boys are really good looking young men.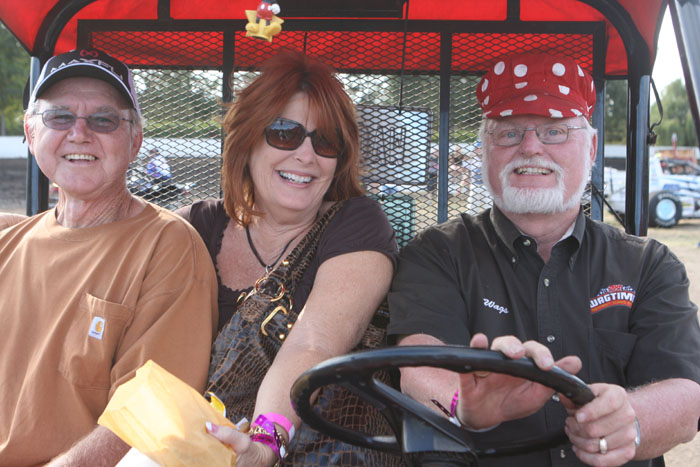 Janet and Lealand take a chance on a ride with the Wags back to the parking area where they dined on track cuisine before they returned to watch the action from the infield.
Jack Kraemer and his sister, where he used to saty when he came to California.
A picture from Grandma's in Ohio back in the day. They use to take orders for our choice of pie for after the races. Rhubarb was a favorite of mine. The pork tenderloins were massive and tasty. After going there for several years, we showed up to share with some others, and they were closed for good. Grandma must have died.
Wags and Evelyn Pratt whentheir car ran the wagsdash and got a little Wagscash!