When I received an invitation to go see the much heralded Parker Stores, owned by Steve Stroud, I thought it was a good idea. When Mark Thrasher offered to chauffer me and go early enough to see some pictures and have lunch, I was ready to rock and roll. It was the first day of the 39th annual Western World, so we would have to get with it.

Mark picked me up and with his daughter Bethany, and we headed to the Parker Stores and I had no idea what was in store for me. We arrived and what happened next amazed me. Steve Stroud met us in the parking lot and we entered to see the business.
The sign out front means business, not racing, so why are we here?
We are ready to go in and see some hoses.
Near the front door, there were a number of sprint cars in shelves. I knew something was different here.
There was a t-shirt sales area for Bob Ream with orange and black the special shirts.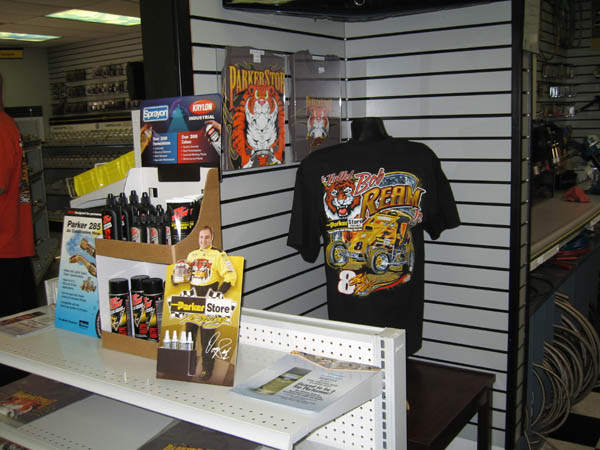 More of the same.
You can see the store main items, but racing is used in advertising everywhere.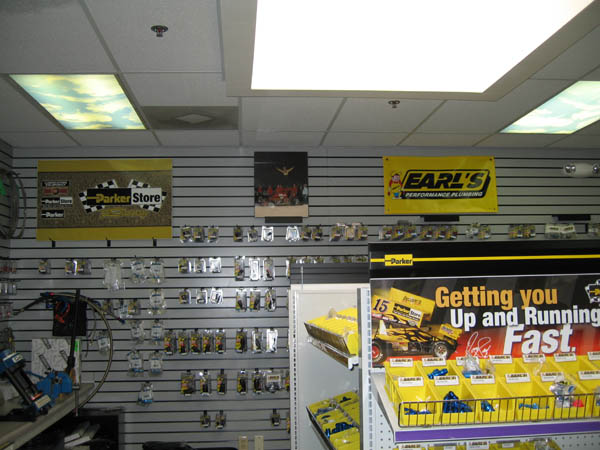 Isn't that an Earl's sign up there?
A racing Coke machine is ready to serve.
Now begins the real tour. Steve has a love for great racing pictures and buys a lot, but only the ones that mean something to him. He began showcasing many of these pics in his office, then a small room until one day he was asked if he woulod take the hall of fame stuff out of the storage closet, where ever that was, and make a room for it. Bingo, here it is, all the Arizona Hall of Fame awards plus Steve's pictures.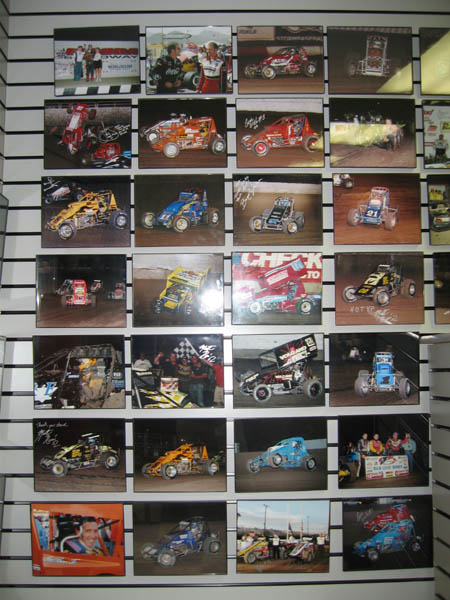 More pics, forgive the flash, but the glass is a camera's enemy. You get most of the pics.
"These terrific photos taken by Jim Fargo" is what is seen on one wall. Awesome!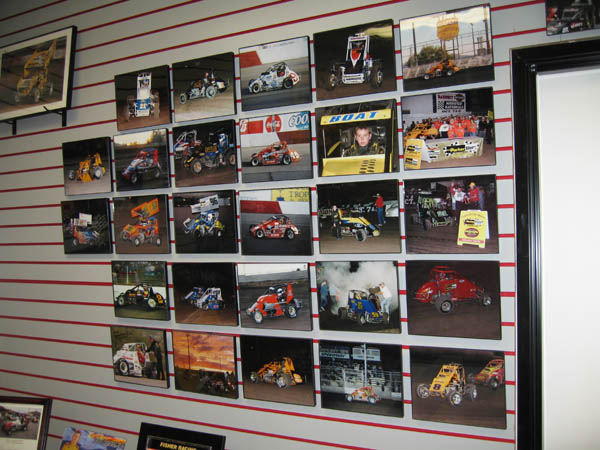 More pics, do you recognize any?
More pics.
A different angle of same.
Even the Wags is up there. I was honored!
Some Parker Store sponsored trophies.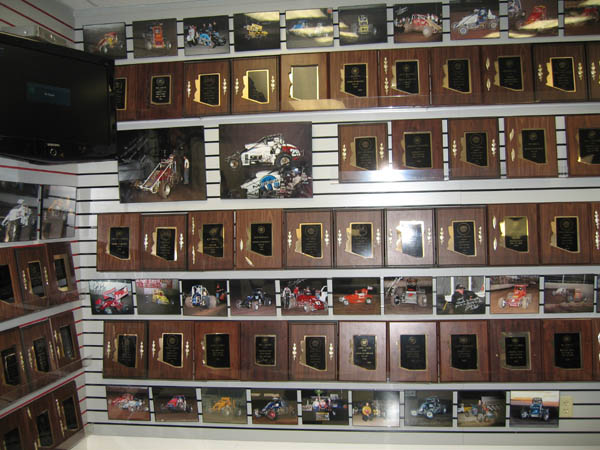 The Hall of Fame plaques are mounted on this wall. There are a lot of them!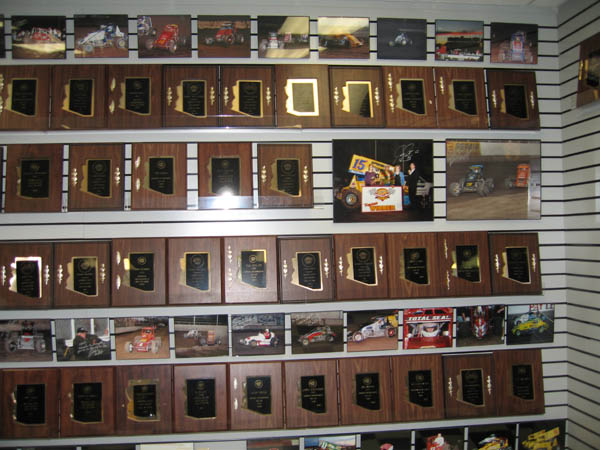 The right side of the HoF wall.
More plaques to the left and I think the room will need an addition with next years inductions!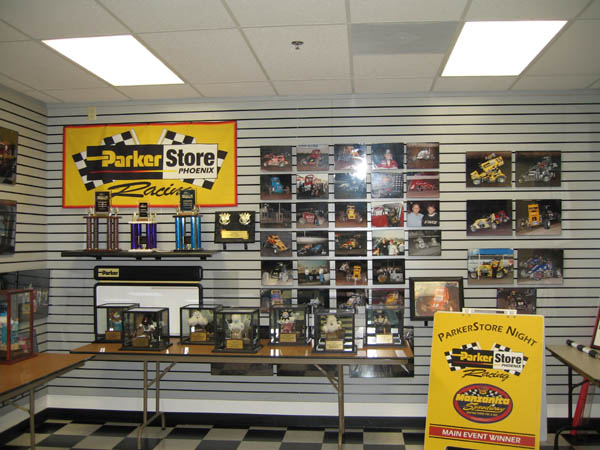 The left wall full shot.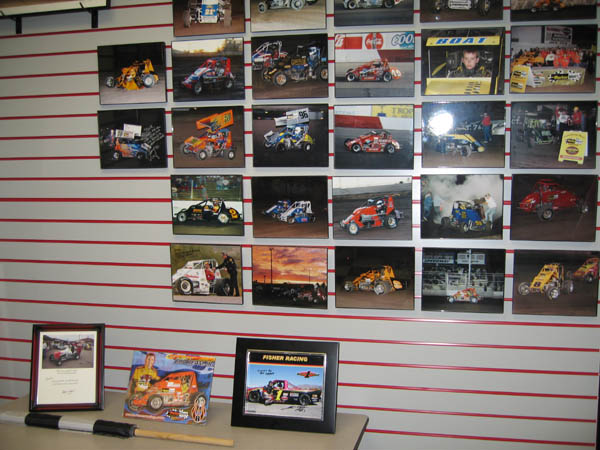 More wall pics.
The Parker Stores night main event winner sign.
Steve Stroud and Wags in the special room.
The total pic Hall of Fame wall.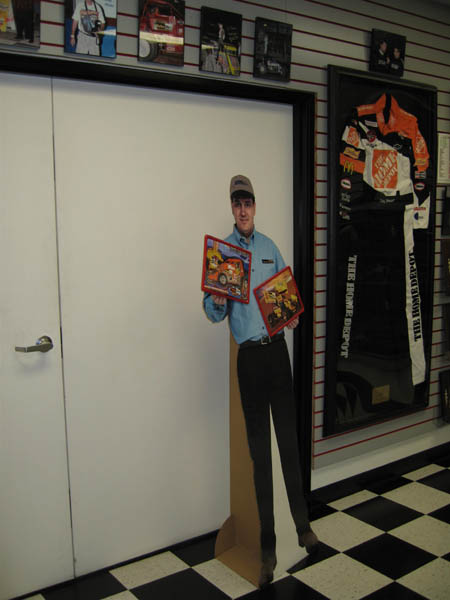 More stuff.
A picture of Bobby Gerould interviewing Tony Stewart above Tony's driving suit mounted in glass.
Close up of a few of the plaques on display.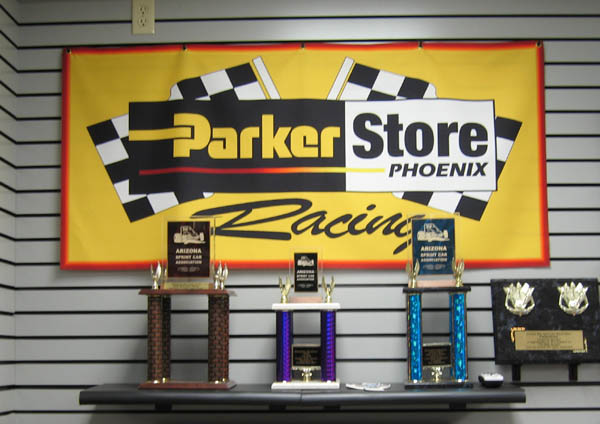 Nice sign with trophies.
More close-ups.
I don't have any make up on, sez Bethany, like she needs it!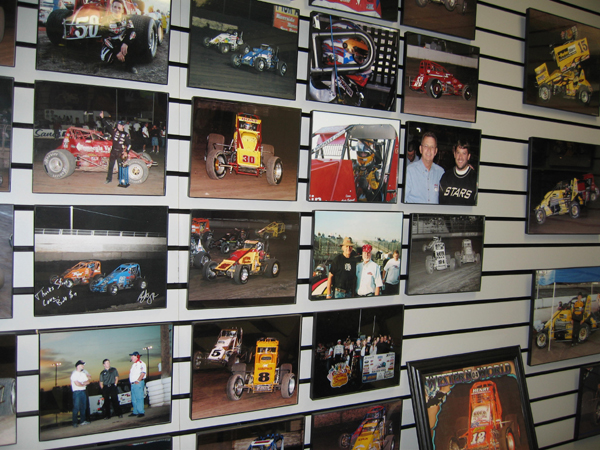 More close-ups.
Nice poster, did I miss this one.
A thouroughly enjoyable tour was followed by lunch with Steve before we all went racing. This man has the gleam of the love of racing in his eyes and he shares it with everyone. He is proud of his associations with different drivers that he helps and can't wait until the next race. It was a pleasure to see Steve in his own world of hoses and connectors with racing embedded everywhere. You should all go see this place, the "room" is worth it!