The large industrial building that is home to Superior Metal Fabricators, Inc. and Spin Tech is large and tucked back in an industrial area in far off Riverside, just off the 60 freeway and east of the 15.
The front door was hard to get a good picture with all the glare, and you enter here into the office part of the building.
Ron himself sits in his office as he greets me. No he's not asleep, he just blinked.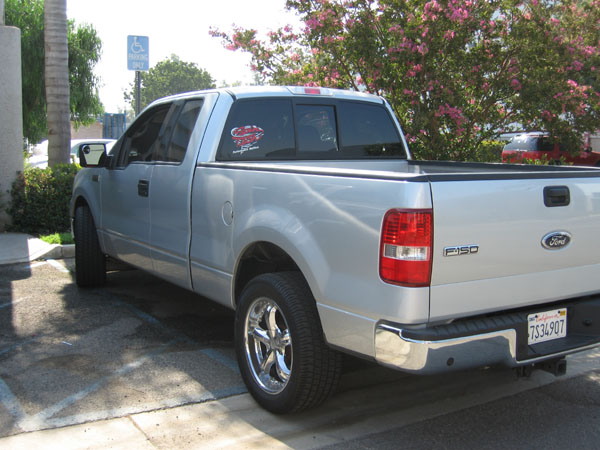 The mode of transportation for Ron is a Ford pickup. It sounds pretty good, too with its Spin Tech add ons.
Here are some pictures of the office coming in the front door.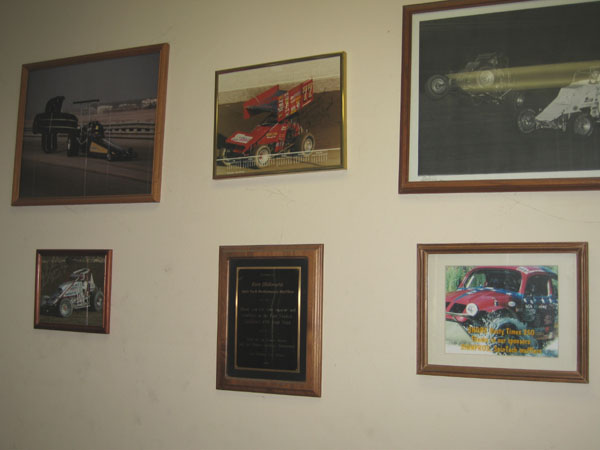 More pictures in that office with plenty of evidence that a racer is in the house.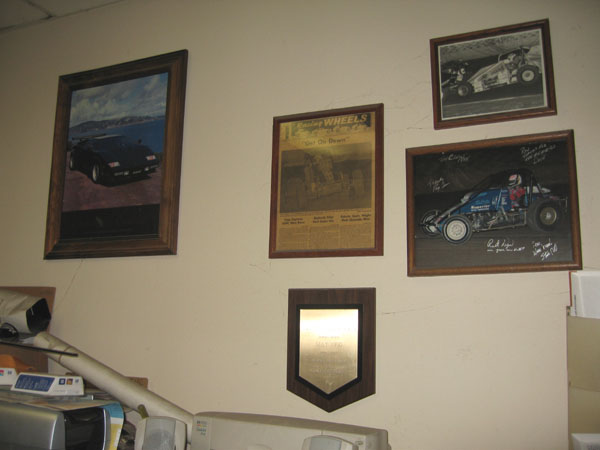 Ron's office has several things on the walls including a trophy dash award.
Here are some die cast cars, a picture of one of his early # 57 cars at Ascot and a couple of trophies. He keeps his Wagsdash trophy at home.
Here are three Wagtimes shiney tire awards! He was one of those racers who always supported the Wagtimes in every way he could, and that included shining those tires.
The race shop where he worked on his # 57 for years is sans a race car now that he sold the last one the day before my visit. Lots of various race parts on shelves, a fuel cell and much more that would bring back stories and memories.
Ron's is a typical race car shop with posters on the walls.
More posters and the top of a motor sitting on the floor at the bottom of the pic.
Ron's banner flies on one wall. The back of his trailer has had that graphic on it for years.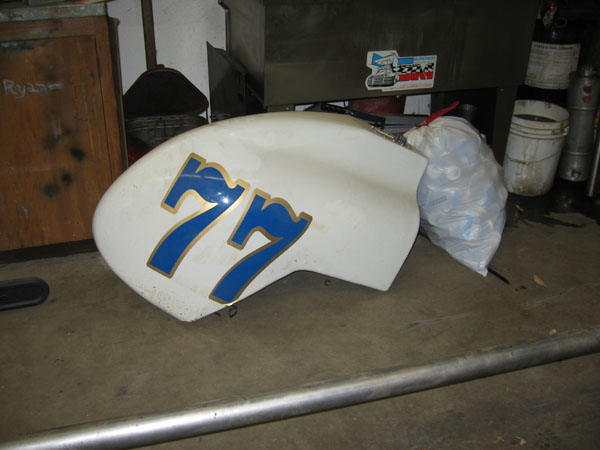 An old fuel cell just waiting to find a new home.
A discarded hood from days gone by.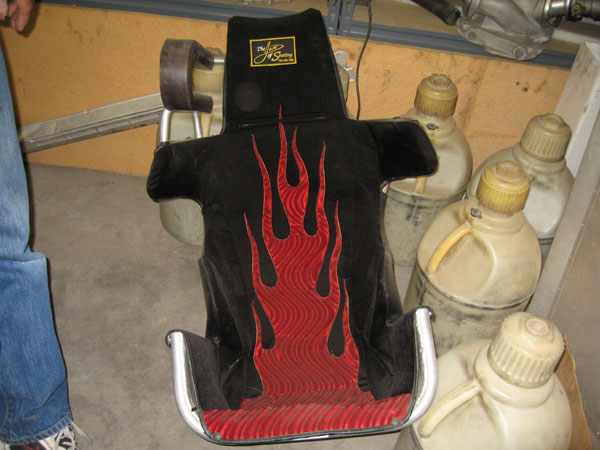 Some fuel bottles and a driver seat are more of what's left from the sprint car racing days of the past.
A motor is parked in the race shop.
You always find interesting things around a race shop. Here is a hood for a go cart that looks from the old 70's style. Ron said he drove it.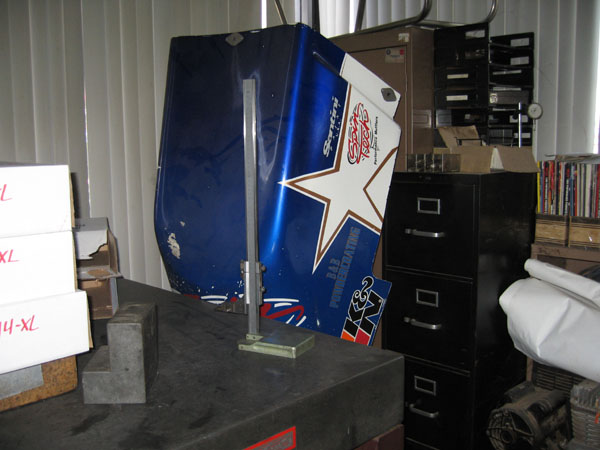 Another more modern hood left over.
Here is one of Ron's loves, a Pantera. I know little about these as I have always been Corvette driven. He is currently building two new fuel cells as he restores and finishes the car for his street driving soon, he hopes.
This older model Camaro belongs to an old friend of mine and former racer, Kim Craft. Kim once had an old Corvette in his garage/race shop out back of his home. He talked of plans to restore it. Don't know if that is still in pieces back there, but I would love to have that one. Maybe this is the replacement?
This is the back of the facility with three large entry doors. Kim's Camaro pokes out of the middle door as it was waiting for some kind of exhaust part that was on order.
Ron is discussing something with one of the machinists as production work goes on all over the shop.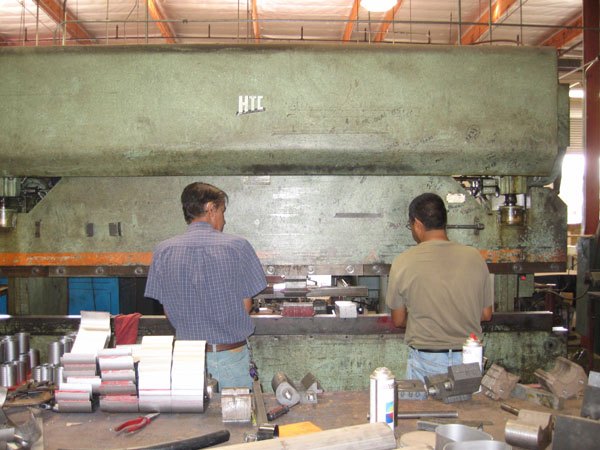 Two workers on a big monster machine creating stuff.
Another big machine that does Cad Cam work. The 20 year old device does a variety of creating different "things"..
Another motor, this one a Ford Cobra, and it is waiting for?
A narrow second story storage area was above the work floor.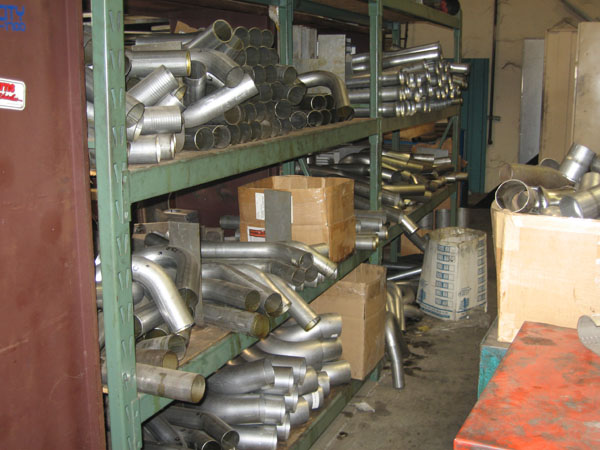 Storage of big diameter pipe ready for use on someones exhaust system.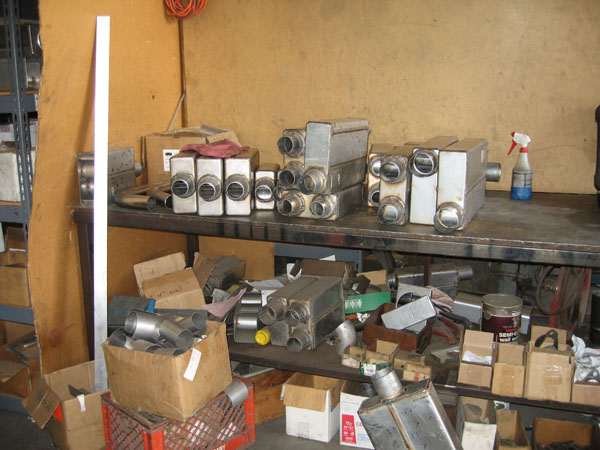 Just completed mufflers are ready to be boxed up.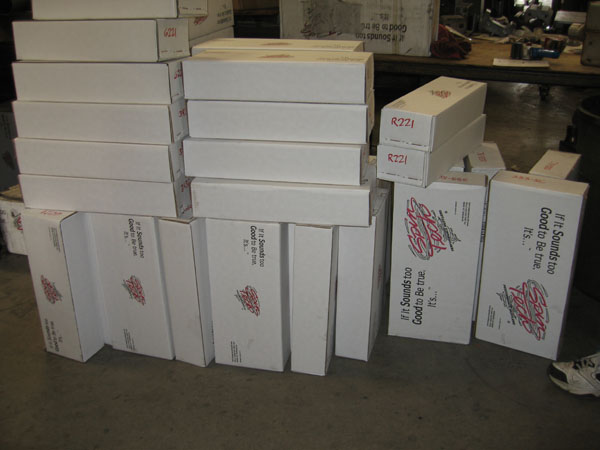 The boxed up Spin Tech Mufflers ready for shipment.
The Spin Tech sign is posted on one of the walls.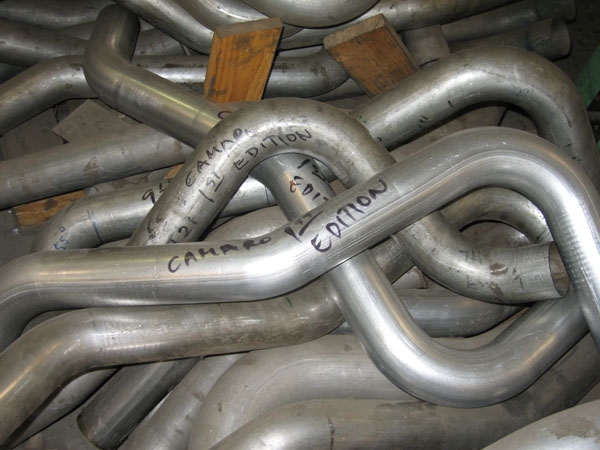 Every time they do a new high performance application, they make a model for later use.
That's Ron checking on my x-pipe that is being readied for my car.
Here it is, the X-pipe is installed with the special made mufflers that required them to be 1 inch shorter than the stock ones.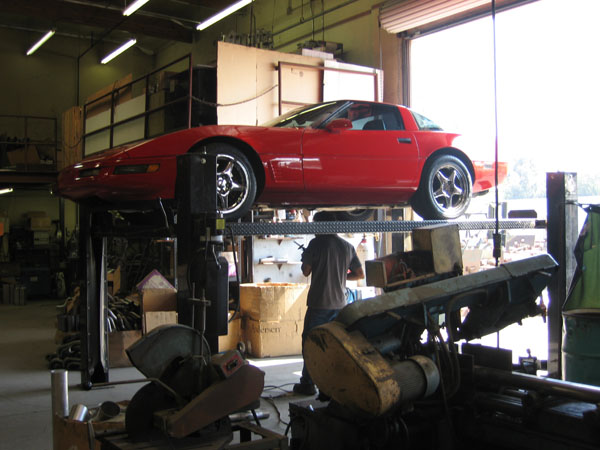 Here my Vette is up on the rack.
Ron is directing traffic on the install.
All done and on the way down.
Here's a shot of the # 57 car taken by Steve Lafond.
Loren Hill and Sal Acosta pose with one of his best ever looking models at the rear of the race car shop. Look at those tires!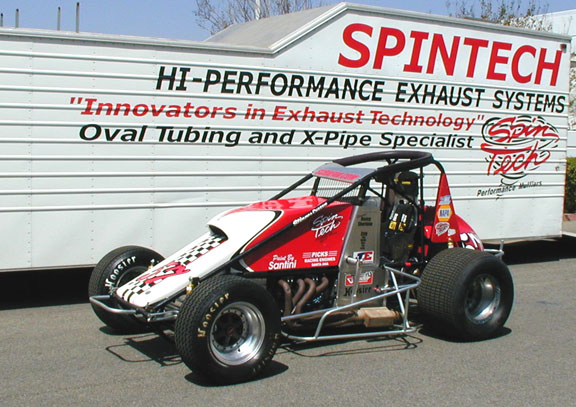 One of my favorites, the red car, but when it was trashed, he went back to his old colors.
Another version still a little different.
Another Lafond foto beauty with Ron and Dan Hillberg side by side.
Action shot of Ron.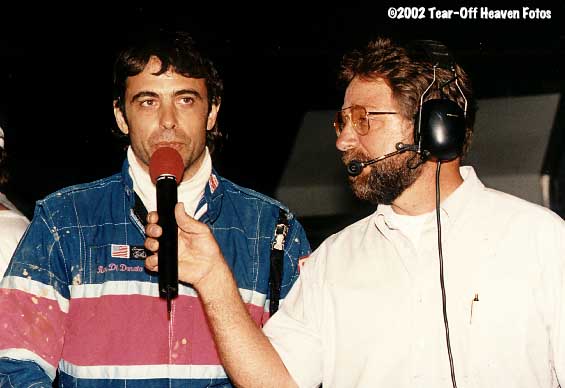 Ron is interviewed by Chris Holt.
Ron poses with his car.
Another Lafond shot.