Our 30th anniversary trip began on Friday as we headed thru rainstorms to Cambell Californina and the home of Steve, Kim, Korie and Mo Lafond. We spent the evening hosted by the Lafond's and got to finally view the remodel that started years ago and is now completed. New enlarged rooms and a comfy look was enhanced by my first look at an HD TV. Man that makes it look like oyu are viewing it from out a window, it is so clear. Our breakfast cook on Saturday morn was Korie Lafond. She was so anxious to impress us with her new culinary skills, she started preparing the special feed on Friday night .
Mo was ready for breakfast, but was denied any by the family creed. I wonder if Dubya and Dusty could take that?
Steve helped Korie out with getting the feast ready. It consisted of a baked pancake, a "hole in one toast" with an egg in it and the French toast she prepared. It was all good. I never had the baked pancake before or the hole in one, but I finished my share.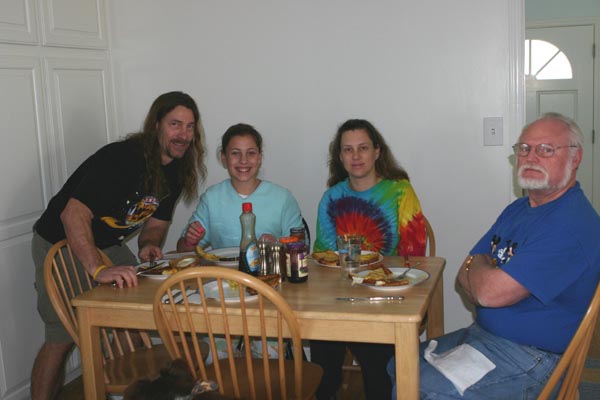 The family at breakfast with me as Terry took the photo. From left Steve, Korie and Kim were fun hosts and you can barely see Mo's head at the bottom, because he didn't want to be left out,
These goodbye's were said after Steve left for his band practice, Ded Ringer, on an all day recording session.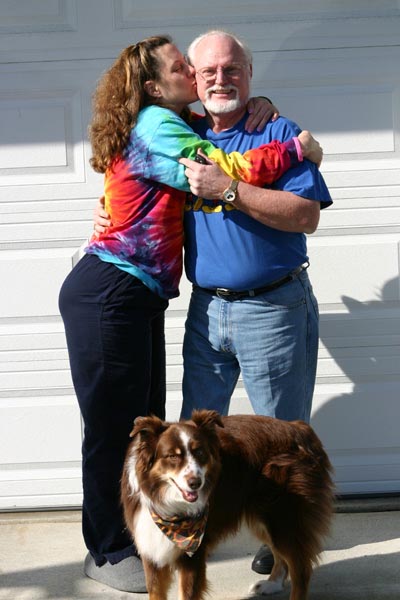 The goodbye smack from Kim ended our short stay and we headed down the street to Trophy Dave and Muriel's house. Later I found it was just straight down a street called Hamilton, but no, I went back to the freeway and wormed my way back down to their off ramp.
Trophy Dave & Muriel Pusateri were expecting us and took time out of their busy schedule to include us in Muriel's birthday party. It took place at a Chinese restaurant that served up some great food, especially the honey walnut shrimp! The evening at their home was fun as we talked about racing and other fun things. They don't go to many races anymore, now that the San Jose track has been closed for a number of years, but the Trophy Cup will be at Hanford for the fourth time of 11 yearly events. Dave does the race to donate money for the Make A Wish foundation, and his Trophy Cup race puts at least $25,000 in their till each year. They hate to have their picture taken.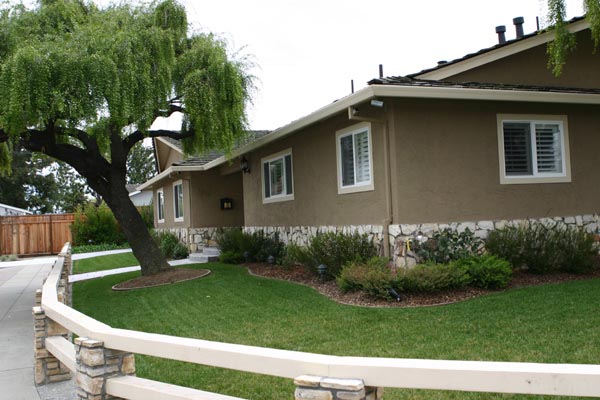 Their remodeled house is marvelous featuring a three car garage for his hot rods and a warm interior for their living pleasure. It is on a corner and is very close to where he was born. Imagine, he has lived within five miles of his birthplace there in San Jose all his life! During Christmas time, his outdoor Xmas display brings the crowds and he collected several thousand dollars, again for the Make a Wish foundation.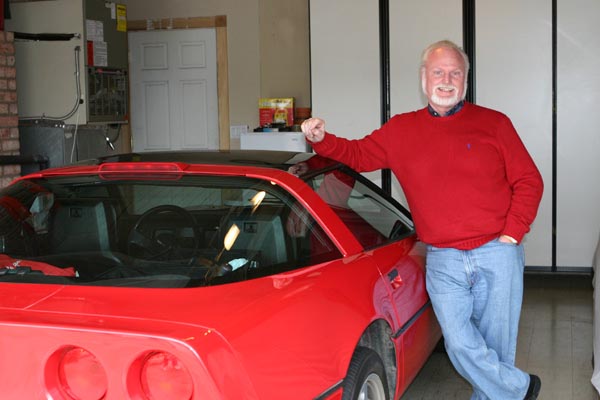 Muriel's Corvette share's the garage with two of Dave's red hot rods. This beauty is also red and I guess I would be glad to have it! Actually, it has convinced me to quit looking for a Camaro and find an older used Vette for myself. We shall see how that goes. We left there and headed for the Fisherman's Wharf in San Francisco and the Sheraton experience right across the street from the famous Wharf.
There we checked in and took off for our anniversary dinner. I had already given Terry her present, a pearl necklace and she still had mine in her purse. After walking around and seeing the touristy stuff, we went to a popular place called Scomas, which normally is so packed you have to wait. Luckily, it was Sunday before Valintines day and we got right in. The steak, lobster tail and fresh Salmon dinner we shared, with a little California wine, was excellent and she gave me a new wedding ring for my gift. Awesome, I had been wanting a new one! Anyway, we had a very romantic 30th, thank you, and the next day, we bid that exciting city goodbye and went on home. Thanks to our hosts for the fun and friendship, I just wish we had more time to spend with them, but racing and distance make it hard to do. We picked up Terry's slot machine, the one that was broken when we sent it to Dave's brother Ron to check, but fixed by the time it arrived? It was a great trip and will be remembered in our good times book for years to come.