Jim and Carol Wolfe enjoy the banquet. They were pooped after a trip to NoCal for two turkey dinners Thursday and Friday.
Sherri Cartwright and Jimmy Evans do the shine thing for Greg Bragg and Ronnie Case. They are planning on getting married in March, two days after the green beer day.
Jim Blakesley and wife Theresa share the evening. Jim is the crew chief on the Don Blair owned # 33.
Richard and Sylvia Watkins share the Ripperís championship. Her with joy and him with stoney seriousness.
Mike and Lori English have fun during the evening. Mike hasnít said if he is driving next year, but he just won the Parumph race last week.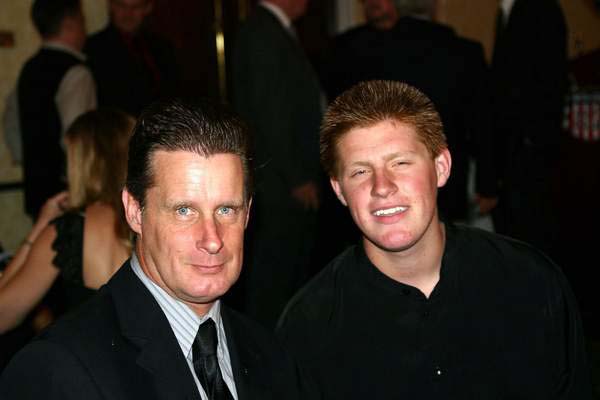 Mike, Rips webmaster, and son Josh Moats come to see it all. They own another brother of our dogs.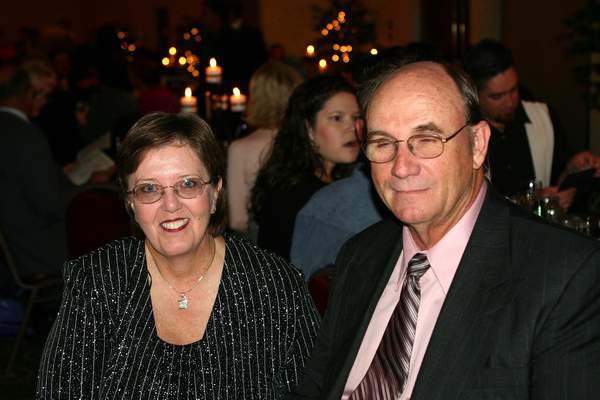 Rose and Larry Smith enjoy the banquet and Ripís championship festivities.
Mike and Debbie Row, also in Ripís crew, were in the house.
Ladies and Gentlemen, your USAC/CRA Champion Rip Williams and wife Becky.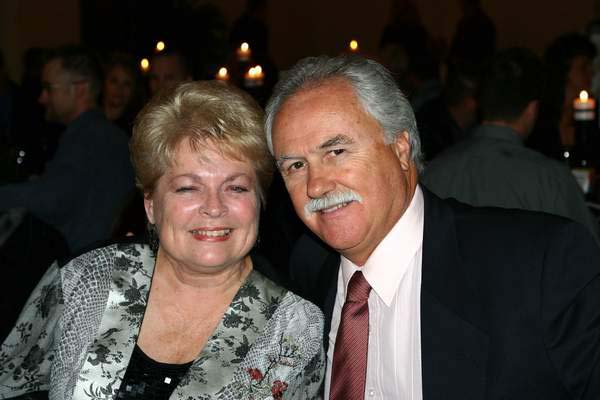 Jack & Sharon Jory, the Champion car owners!
Cody and Logan sit next to Estella Escobar as Austin stands behind them. I told those boys to be sure and get some champagne, do you think they did?
Ripís mom, Idella, and Rip enjoy the moment as Dave Perry looks on.
Bill Pratt and Wilda Kindoll must be up to something the way Evelyn is keeping an eye on them.
Dale and Betty Crossno, Glennís parentís, enjoyed me giving him an empty envelope. It happens!
Roger & Tinette Crossno, (Glennís brother), At the affair.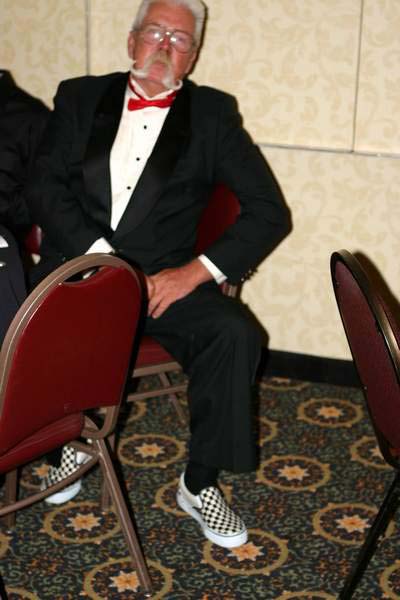 Hal Engstrom shows off his tux with red tie and dress shoes.
Chris Morgan and friend Holly attend the banquet together.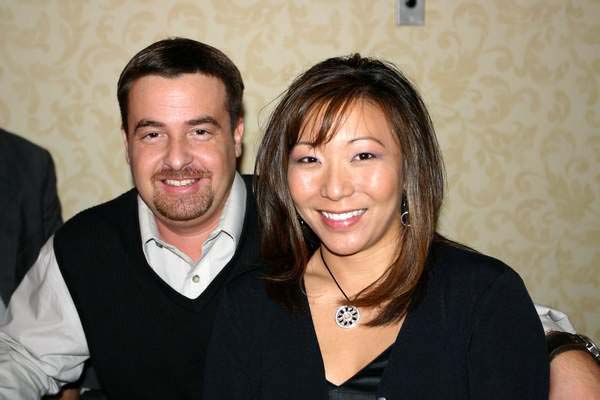 Bobby and Kim Gerould came for the fun. Bobby did a lot of interviews during the night.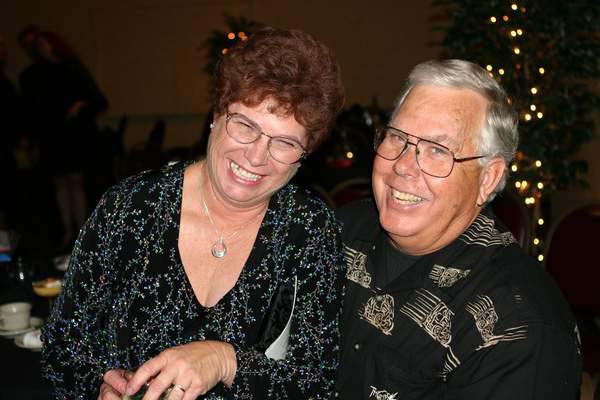 Ken and Nellie Stansberry, parents of VRA champion Tom Stansberry.
Rip Williams stands between rookie of the year Ronnie Case and his girlfriend Patti.
This must be bliss! Terri has put hubby Russ to sleep?
Julie and Randy Shiosaki make an appearance, she to work hard and he to cruise.
Terri and Julie worked hard all year for USACís success. They even sold tickets for the candelabra centerpieces.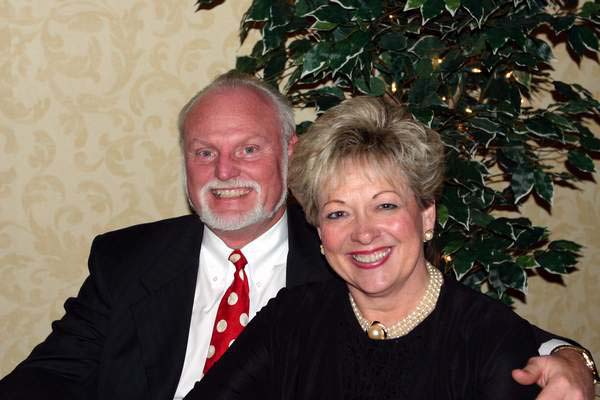 The happy couple at peace, she because the seasonís over and he because he is.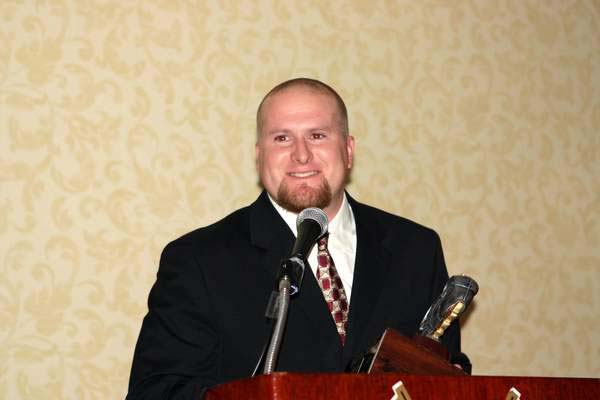 Ronnie Case accepts his rookie of the year award.
Evelyn Pratt says nice things about her driver, Greg Bragg, who was snowed in at a campsite somewhere up north and couldnít make it to accept his most improved award he tied with Bobby Cody.
Bobby Gerould is about to give up the microphone to Bobby Cody. Bobby had lots to say.
Rip and car owners Sharon and Jack Jory get their rewards and look like they were enjoying it!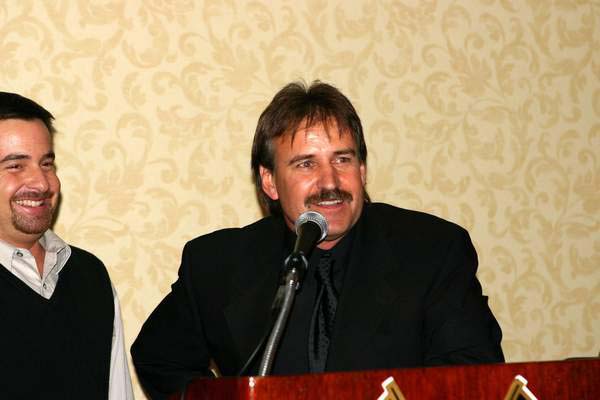 This is about as animated Rip ever gets. Winning a championship can do that to a guy. He mentioned ďthat other guyĒ who he doesnít miss and is glad USAC came to town!
From left Rip Williams, Johnny Rodriguez, Tony Hunt, Bradley Galedrige, Jim Waters and Chris Rahe, the Western USAC Champions for 2004.
Bobby Cody and the little guy. Bobby sez the car is a total loss. He should have news on whatís up for next year very soon.
The Spencer gang from left, Adam ďThe tire SpecialistĒ Woods, Jennifer McKnight, Mike Spencer, his mom Karen and dad Mike.
Rick Ziehl and his intended, Carla announce a possible marriage coming up.