This year Mrs Wags has been missing a lot of races because she works full time and the long trips are tough on her. On this trip to and from Calistoga she shot a lot of different stuff besides the racing, so I am going to post a little bit of everything here. The trip went straight from Vegas to Harris ranch where we had lunch with the Kittle Motorsports group and then went on to the track where they got their rig parked and then we headed off to dinner in a Calistoga Italian restaurant before heading to Don "The" Barber's house where we would stay the weekend. The first thing we did Friday morning was go visit the man at his barber shop. Don't ask why it's named Art's Barber Shop, it's been that way for the near 30 years I've known him.
Yes "The" Barber is in the house here.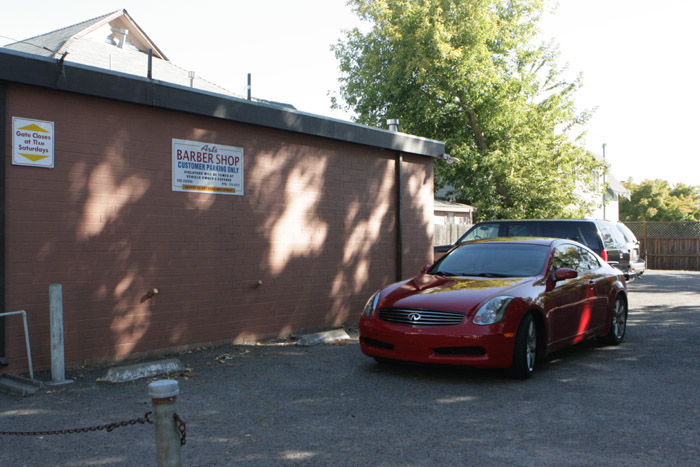 We parked my new ride outside the shop and went in.
Terry poses for me.
There he is doing his work, the famous Don "The" Barber.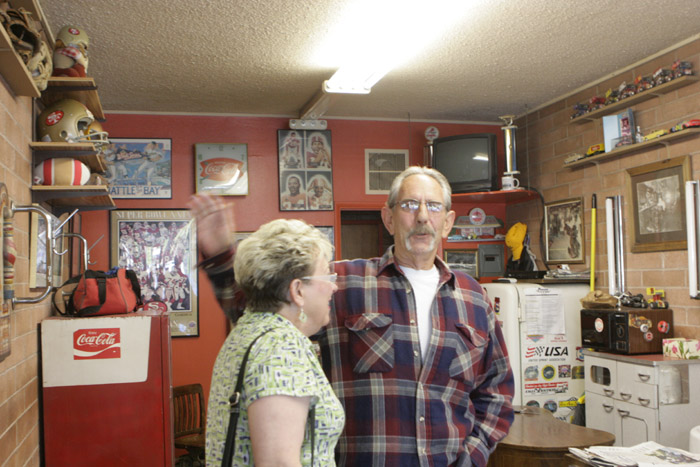 One of our friends known as "Suitcase", his knickname not my doing, as he was plannig for the 360 race at Petaluma later. I should have gone with them because as the promoter Soares said "it was the best little race no one saw" when I saw him at Calistoga later.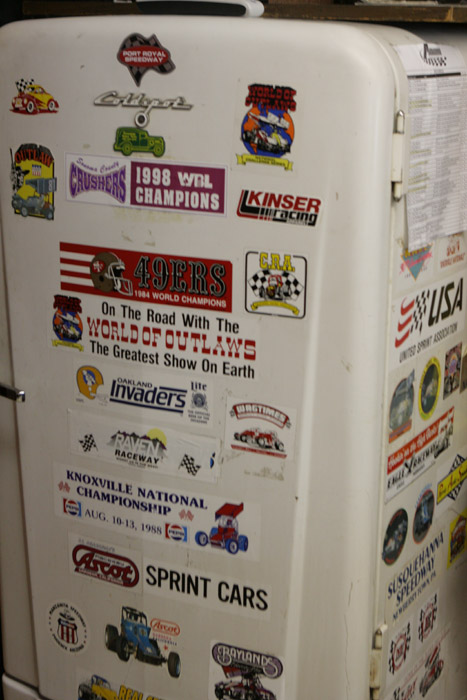 The fridge in the shop has sopme OLD stickers.
Old baseball gloves on this shelf.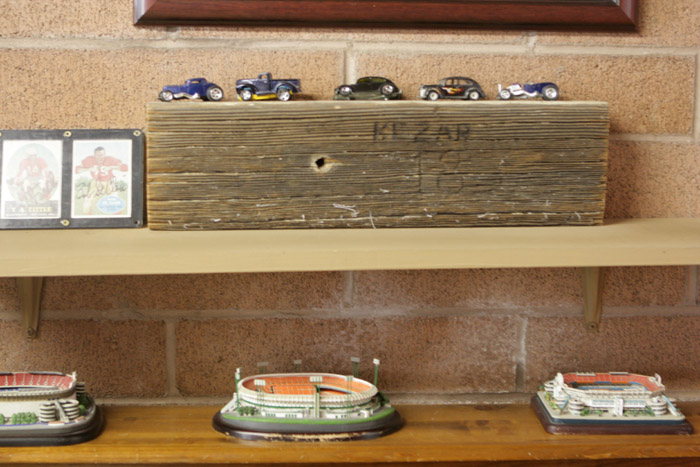 Old model Jalopies like The Barber drove in his day with model baseball stadiums below.
Die Cast sprint cars on several shelves.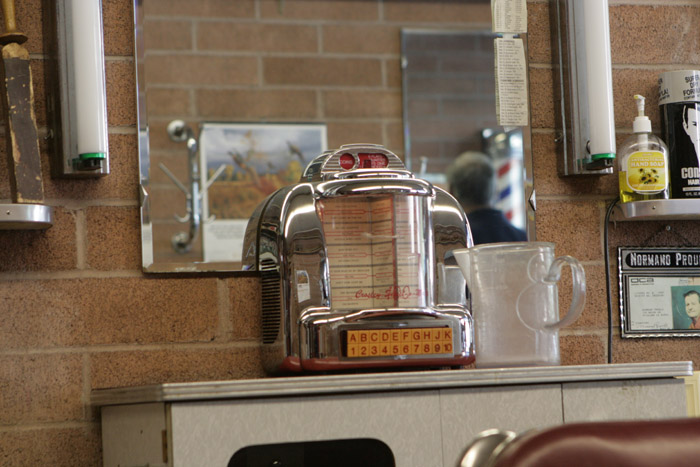 Old music coin box.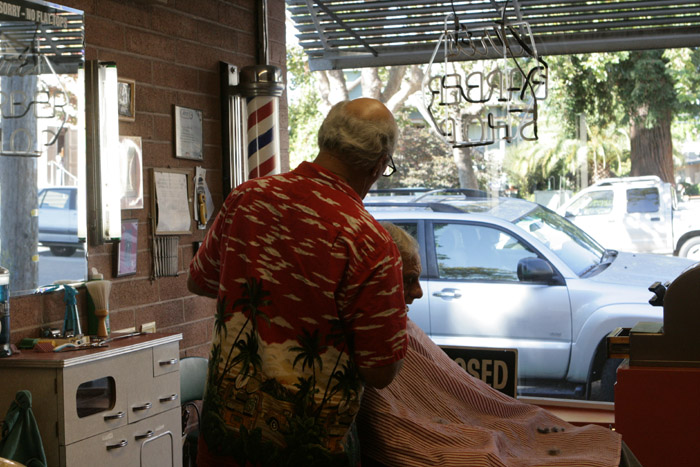 Quite a shirt there Barber.
This Catholic church is right across the street.
This painting was done of the Barber shop without Don's knowledge. He found it and bought it!!.
More old pics next to the heater.
More stuff on the walls.
One of those neat old houses in Petaluma.
Going away from the barber shop towards downtown.
It's a quaint little town that Mrs wags once wanted to move to before her brainstorm to move to Las Vegas.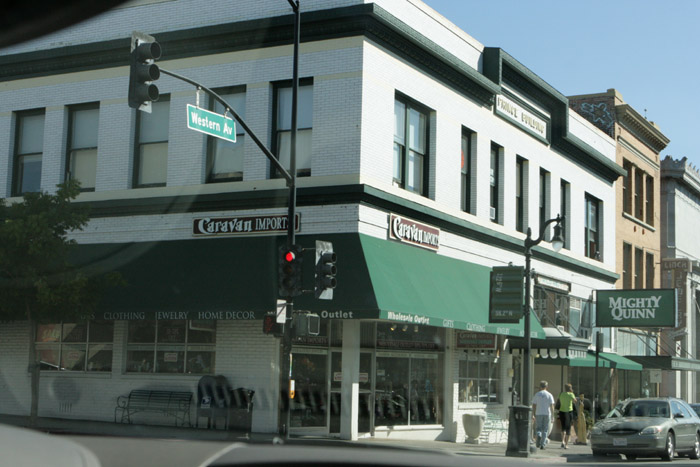 The downtown is all spiffed up.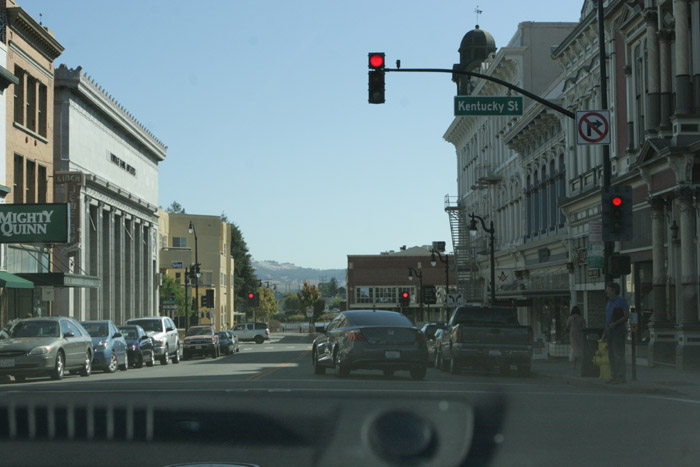 More downtown.
On the road again.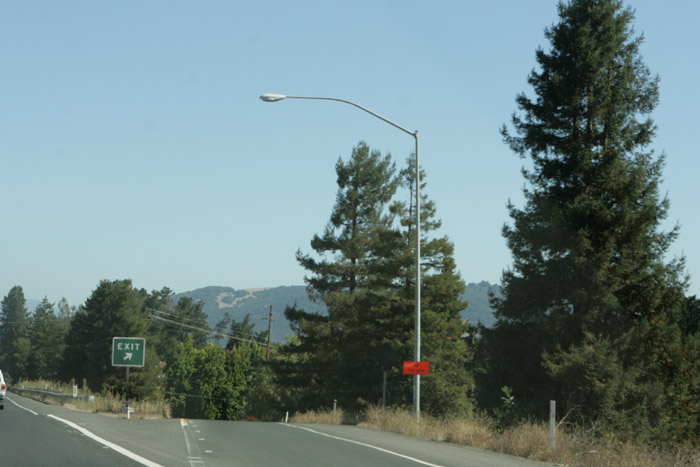 Lots of trees in Northern cal.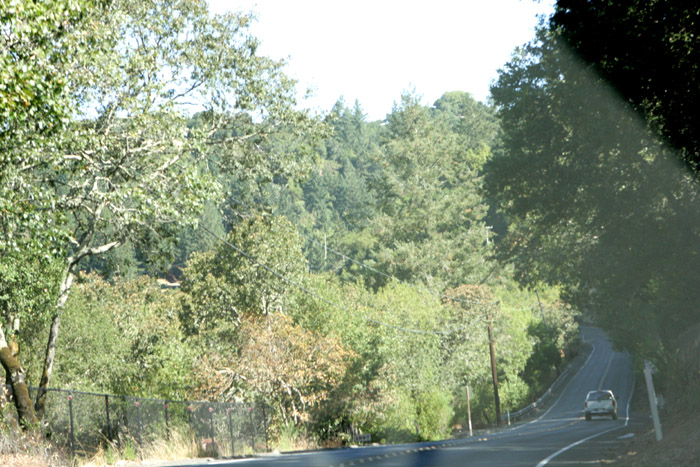 Trees is green.
One slow zone under the trestle on the curvy road to Calistoga.
That's a big Xmas tree!
Old Faithful?
The big Fairgrounds had lots of camping room!

Under the "awning" is the place to be.
Campers started setting up on Wednesday, so I hear.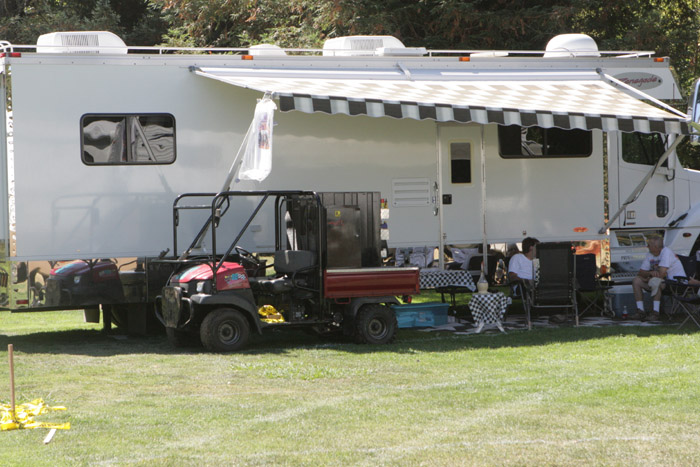 The Moose camp is ready to go racing.
Am I asleep at the wheel?
A nice way to go camping, kinda like staying at the Hilton.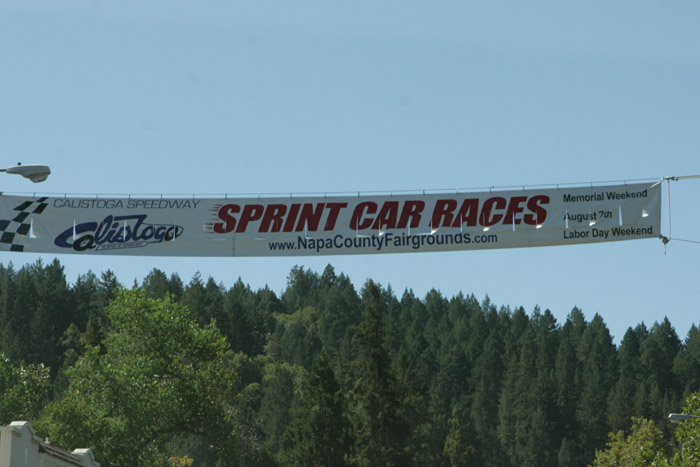 This town is welcomng the races.
Town trees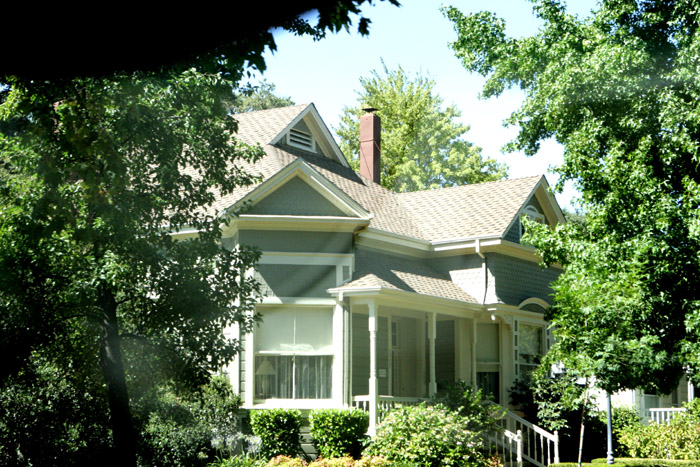 Old house
Old church
A little gathering in the Kittle Kamp.
Someone always catches Brian during his siesta. This time it was Mrs Wags.
Is that the famous Randy in a restful period?
Julie's little Hailey got to go on another road trip.
The Sheridan foursome comes home from the golf wars, at least I think they were playig.
Danny and Kacie are hammin' it up.
This is the Jimbo we know so well.
Mrs Wags checking for messages.
Gary Kittle relaxes.
Mrs Wags smiles at Wags?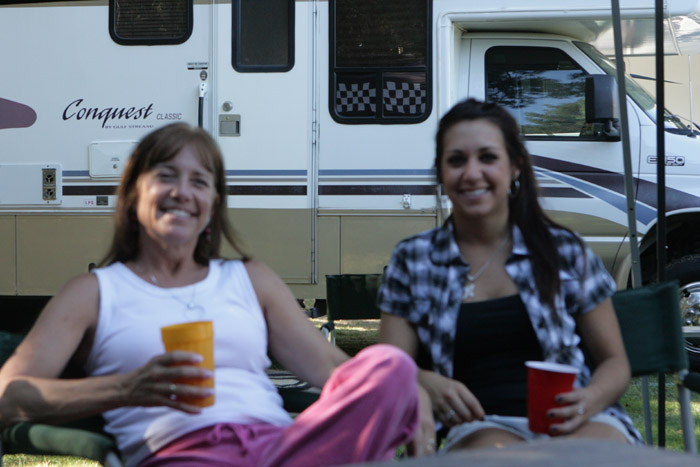 Sharon and Katie smile fuzzily.
Fran and Sharon
Danny and Chad on Friday.
No telling what Katie, Sharon and Chad are discussing??
Katie, Paul and Danny watching paint dry.
Chad asked if there was any beer left.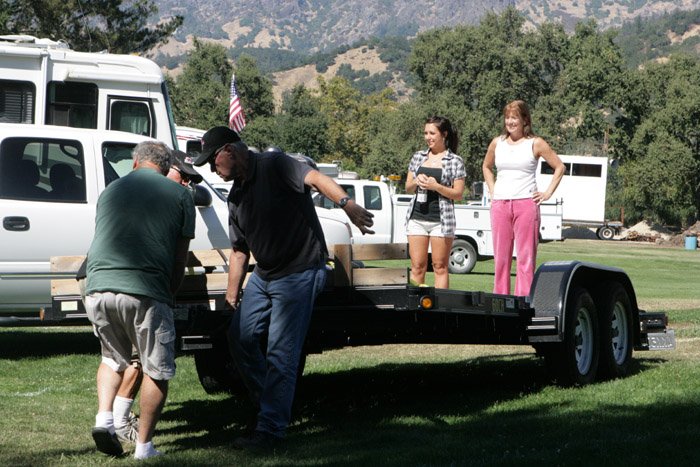 How many does it take to move a trailer.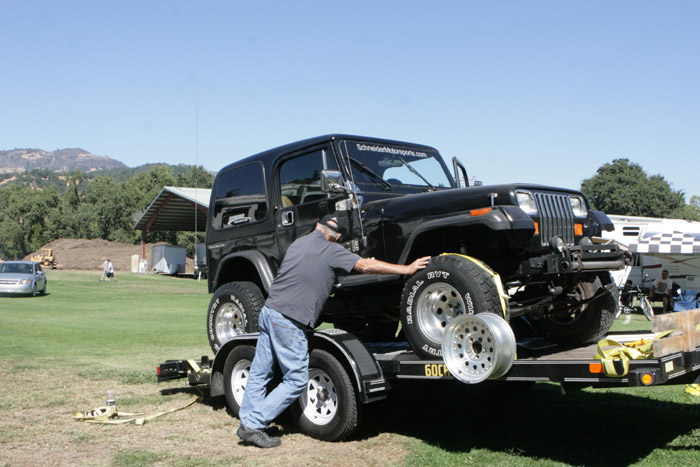 Paul thinks he's got it!!
Dick and Mary Sower worked the wine tasting glass booth.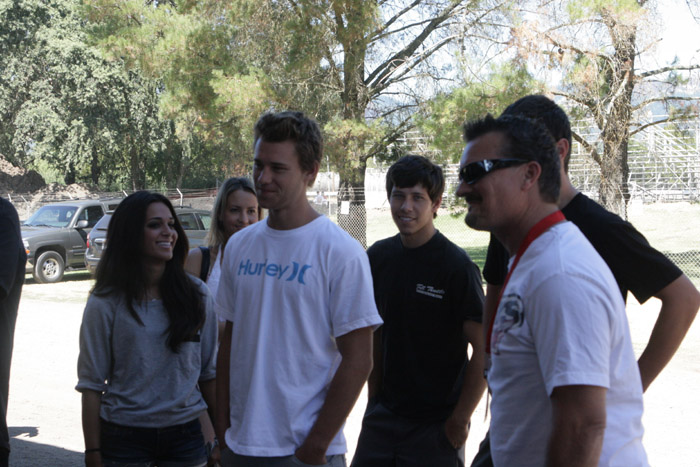 A little by play as the Willaim Brothers and Steve Ostling are enjoying a laugh.
Terry visits with newlyweds Sammy and Daniel.
John Redican comes north for a race.
Freddie of the Racer's Pub was havin' a good time.
Fred's sidekick Roy came along for a good time. Those two were always up to something.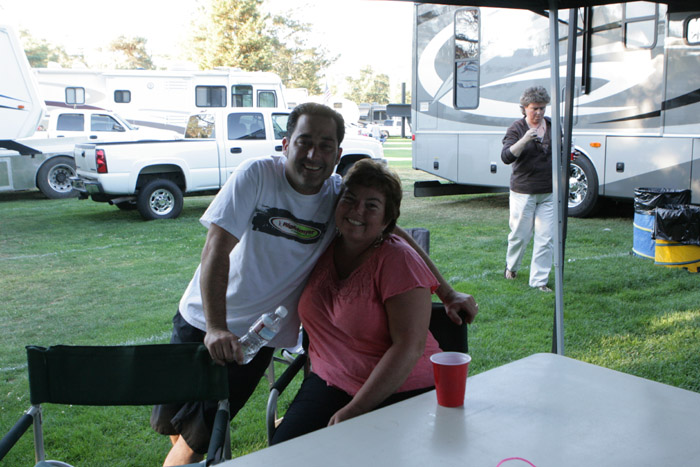 J J and wife Lisa having fun.
Julie had a few minutes of peace before the working weekend began.
Fran and Jim relax under the big shade tree.
You gotta have an arm band to drink.
Old car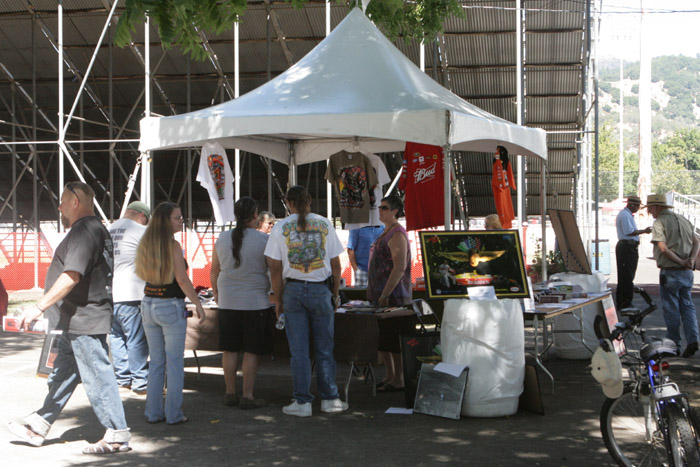 Buy something!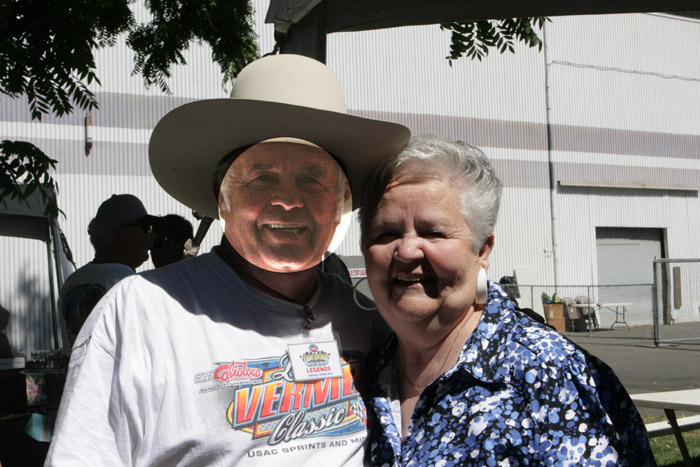 Johnny Anderson and his wife Grace
The band played and the people stayed.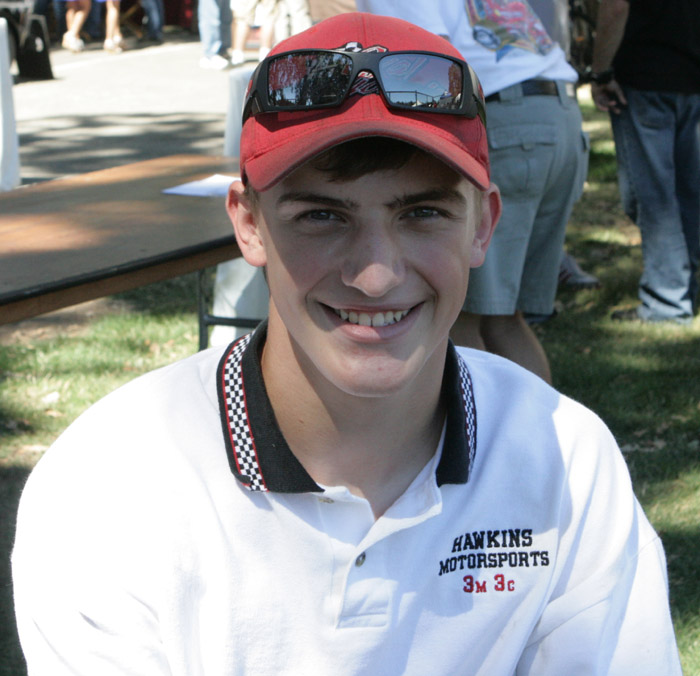 Marty Hawkins I think.
Greg Bragg
Austin Williams
Matt Mitchell
Robert Ballou
Blake Miller
David Cardey
Danny Sheridan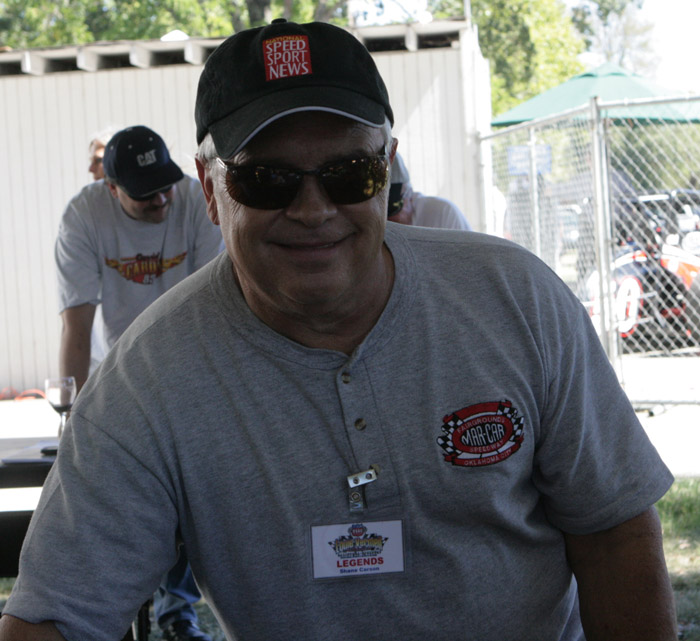 Shane Carson
Mike Spencer
Rip Williams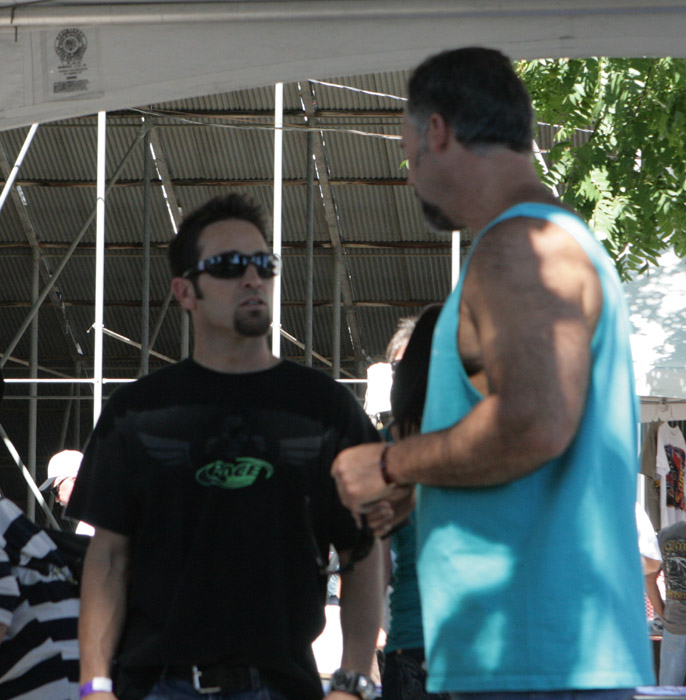 Damion Gardner
On the road we go after the racing to pick up the Wagsdash trophy from Trophy Dave. He and wife Muriel have a weekend pad near Placerville. They go up there on the weekends to get away from San Jose. You be the judge, is this a pad or a palatial woodsy home? This is the front.
Dave is getting ready to hook up the pontoon boat as they took us to a nearby lake and we had lunch on the water, nice!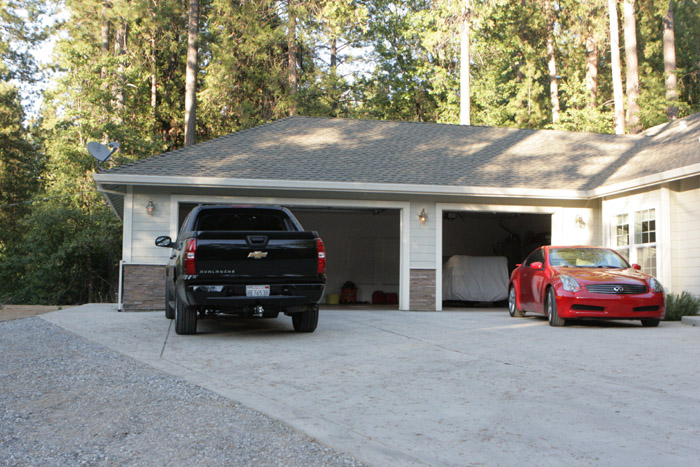 Here's the view of their 3 car garage. behind my car is an old fully restored Phaeton roadster that is awesome, but I like his 32 Ford even better. Okay on the road again we go. Dave told me about this two lane road with no traffic and a faster, shorter way to get to the Nevada border. Only one problem: no gas stations and after driving nearly 3 hours and watching the reserve fuel light come on, we had to recalculate. After checking a motel that was still open, our options were slim and maybe none. It was 30 miles to the next town where gas was available, and a closed station nearby, so we took off. That made us a tad nervous, so we backtracked to the little town of Walker and checked into the BATES motel. At least it looked like one. Only 11 rooms and the insides were knotty pine and a little spooky, but what other choices did we have until 6 am and the gas station opening in the morning? No phone in the room, no cell or internet service, but they had directv! Also the only dinner was a cup of noodles, the pour in hot water kind, but we passed. We made it to morning and left the place to gas up at $4.09 a gallon for the cheap stuff and on down the road to breakfast 30 miles away where there were plenty of Gas statiopns. So we went on home with another "can you believe the luck" fun adventure.
Heres the entrance to our room.
The heater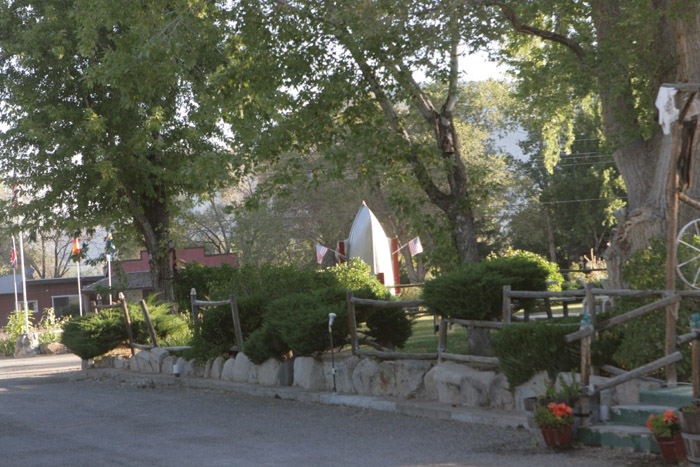 Here's the rustic outside. The propriotor said mostly hunters and fisherman stay there.
The microwave in case you wanted to fry something.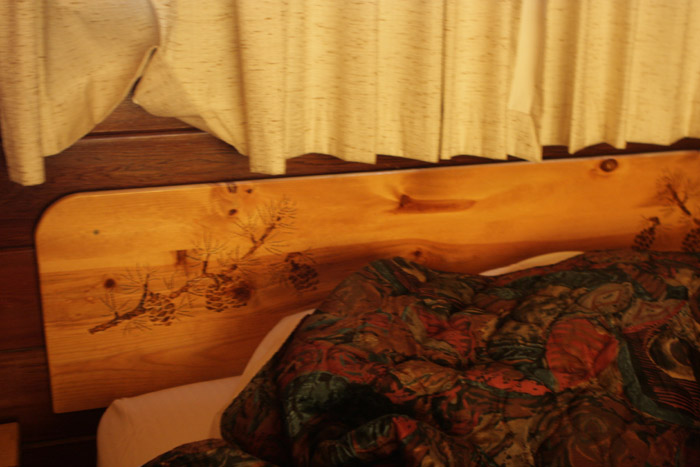 The headboard.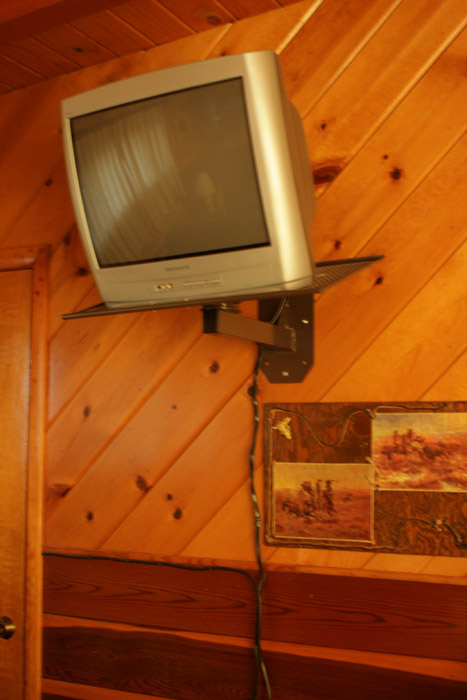 The TV, big ain't it. Do you get the woodsy look yet?
Air conditioning.
Part of the motel sign.
The one and only gas station that was closed when we arrived the night before by 9 pm.
It's a really an old general store.
Desert scenery is sometimes OK.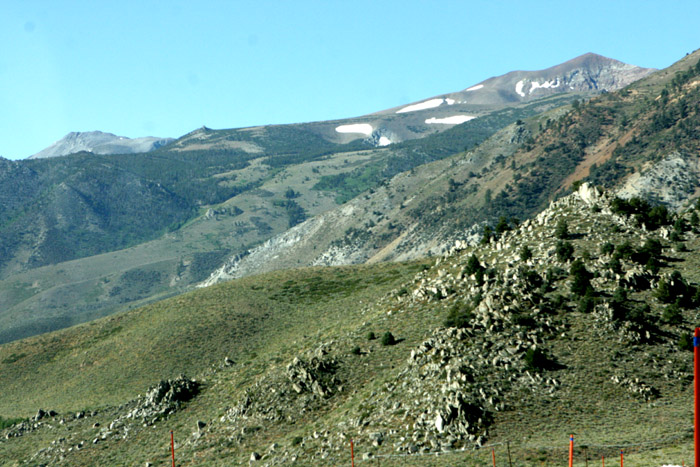 Sometimes rocky.
And then it turns to rolling hills.
And down the road we go.
Thru little towns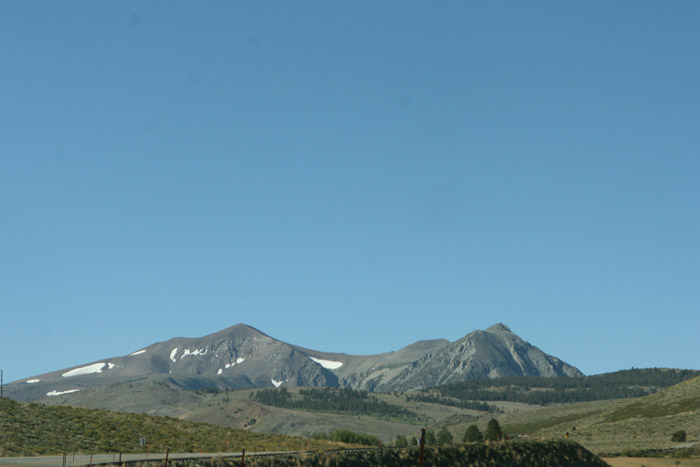 and by twin peaks, it's a wrap!