From the big main grandstand general admission cheap seats you can see the big bulding in the infield. There is something called the neon garage out behind that building where fans, for extra money, can go look in the individual garages thru glass and watch.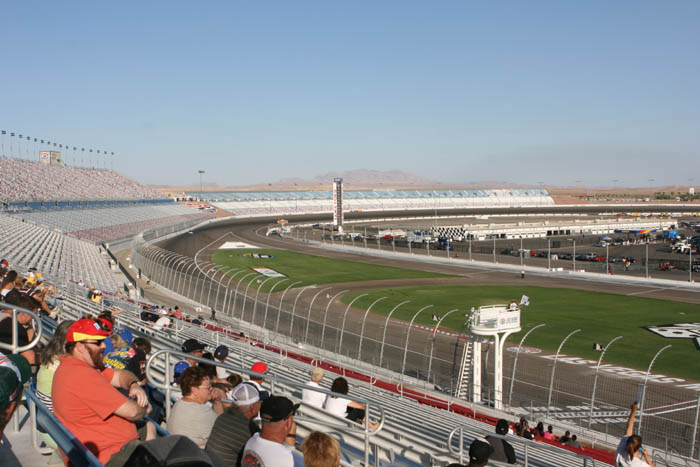 A view to the left looking at the turn 4 coming at you. Each end of the track had a line-up pole that gave you the running order. The flagstand looked very sturdy.
Note the big areas above the level we are on. Lots of seats.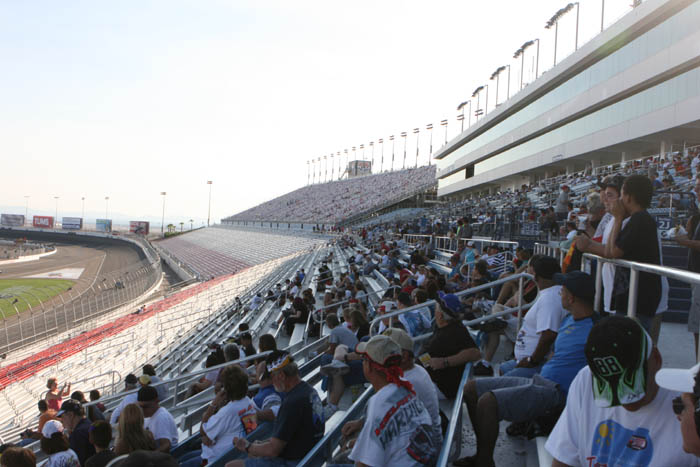 To the right towards turn one.
The turn into turn 2.
The suites and various announcing and other official booths above the stands.
Turn 2 and the backstretch.
The trucks that have already qualified are ready to race. They qualify, then pull in and are not allowed to touch the cars again until the first pit stop. You can see the garages in blue.
You can see the motorhome parking above the back stretch wall. I wonder what they see from there since some can't see the start/finish line.
A truck qualifying on the back stretch.
Coming around turn 4.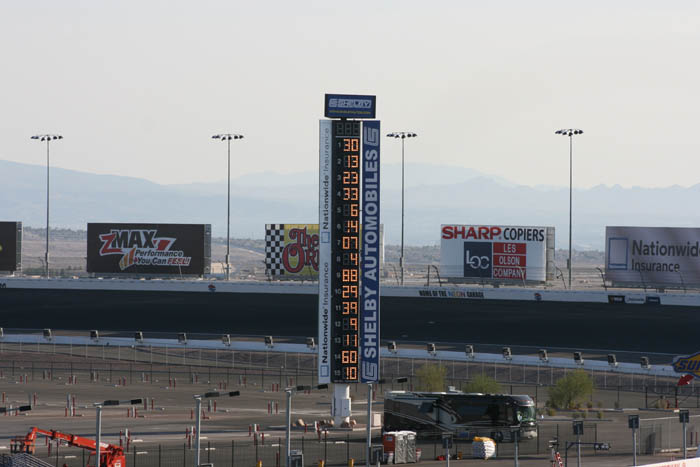 The scoreboard that made it so easy to keep track of the leaders.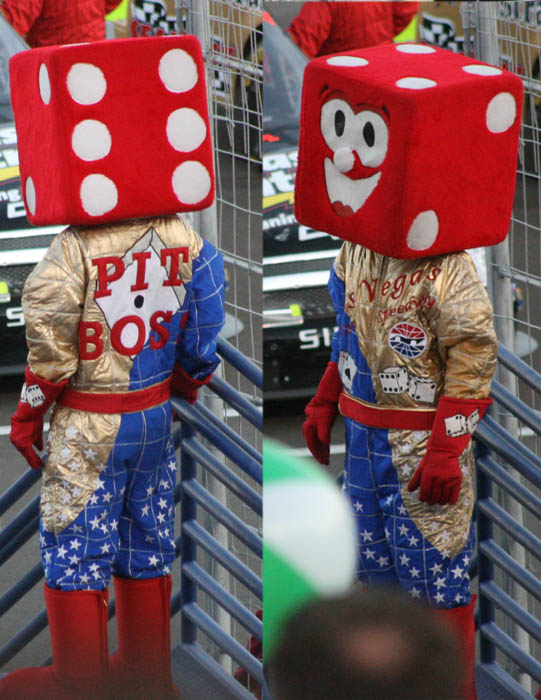 Don't have a clue!
I didn't see anyone important get out of that car, so it must have been a politition spending our money.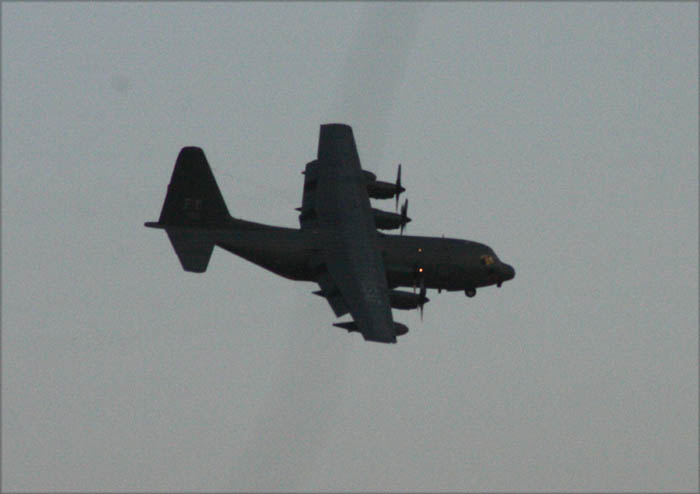 Flying box.
The starters box was busy. The cowboy hat was pretty wild waving the green flag forever to get attention as the cocktail hour must have got him going.
The cars, er trucks, line up in qualifying order, from right to left, before firing up on the "gentlemen, start your engines message.
The back half of the field.
The showgirls are with the cowboy hat.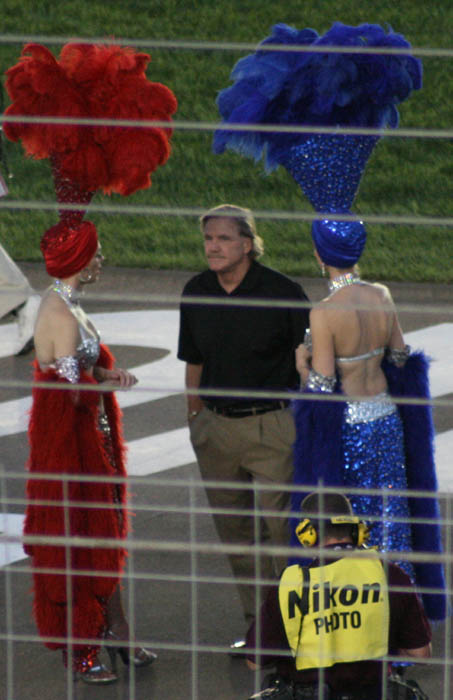 The showgirls with who?
Nightime appears as the garages light up a little.
You can see the pit areas of the drivers along the back wall. They were spaced out so everyone had room to come in from the racetrack without any worries.
Another pit area.
They thought they were going racing, but a bank of lights went out and they were delayed almost an hour.
Lining up for a restart. I never saw them on any green due to pop-up routines by rednecks.
A backrunner comes in.
A few blonds in the house here.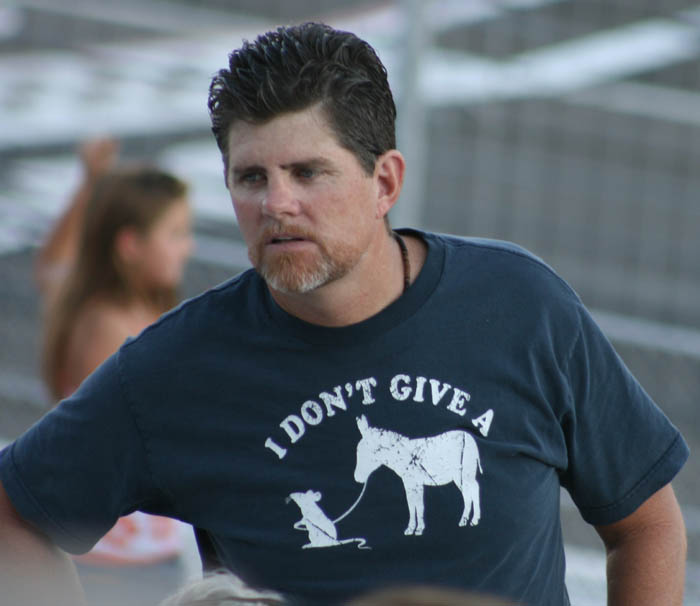 Figures!
Sauter smokes his winning car.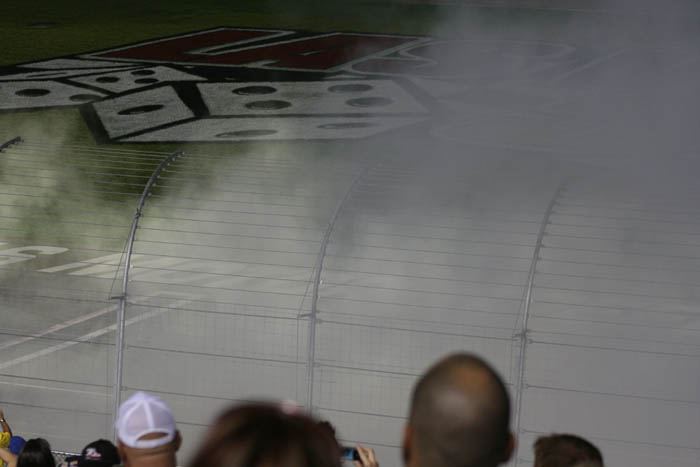 Smokey the bear loved it.