Digital Images from Mr Wags!
Walt Stevens High Speed Racing Team
I have only known Walt Stevens personally for about a year, but in my youth, and his, I was a big drag racing fan and he was one of the top AA Gas dragster drivers in the country. That's what I remember the most of him, but he also drove many Top Fuel cars, getting started in the A & W Root Beer Special. Over the years he has driven many cars, won a lot of races and worked in racing most of the time. He got involved with High Speed Motorsports, the car you see below, several years ago and they run the nostalgia events all across the country. These pics are from their most recent win in Bowling Green, Kentucky where they won the Top Fuel class for the 5th straight year. The car is front motored, the class that died when Don Garlits built the first successful rear engined dragster after a bad accident at Lions many years ago. That changed the face of drag racing and eventually drove me off to sprint cars. I truly miss the 1320 smoky passes of the front motored cars and todays blistering, much noisier, smokeless passes just don't measure up for me. Granted, technology has really improved the cars to where they run under 4 second passes and way over 300 miles per hour, but I was very happy in the old days when they ran 6 seconds and smoked the length of the quarter. I still go to the NHRA meets on occasion and am enthralled with the speed and beauty of the pro classes, but I will always prefer the reunion meets at Bakersfield. Some of Walt's gas dragster racing came when they were really fighting to keep some attention on them as the fuelers were faster and the Funny cars were being born.
Walt is also involved with Josh Ford's sprinter and comes to our races often. He will be inducted into the drag racers Hall of Fame this year, so is truly one of the sports legendary drivers. You can check up on his racing team at their website at: www.highspeedmotorsports.com.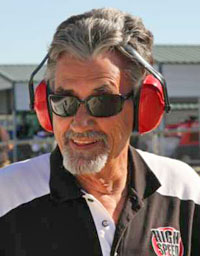 Walt Stevens calls himself the "Floater" with High Speed Motorsports, but he is very actively involved.
The team shot after winning the top fuel title at Bowling Green.
The car is driven by Troy Green and they were the 2008 Top Fuel Champion.
The car on a run and lighting up the headers!



I stole this one from their web page as Troy flys the chutes after a run. Very pretty shot!


All photos &copy 2009 Mr. Wags Photos