I have done several pictorials of race shops and some business locations over time, and even did some photo visitations along the racing road, but I wasn't prepared for the visit to Glenn Crossno's business, home and race shop. Terry was home in Vegas preparing for her mothers 80th birthday & family reunion on Sunday, so I headed to the LA area alone in my little red Vette. I had been trying to get to the Crossno # 38 race shop for a long time and what with schedule conflicts, me moving, and Glenn redoing his shop, it didn't happen until this week. I had to come early for my monthly poker night anyway and would be staying for the race at Perris the next night, so I wanted to work out this long awaited and promised visit.

Glenn also invited me to tour his business (HTG) which he started years ago from making special parts from special materials. Things like stints for heart problems and a lot of products related and non related to hospital needs that were high tech and much more. The company is in two buildings, side by side, way out in the Fontana area near the 15 freeway and Baseline. I was blown away when he greeted me and began my tour of his work facilities. I can't describe what every operation is that we passed thru, but basically there are rooms for design, rooms for initial creation and rooms for the CNC type machines to make the designed items. Some of the material is plastic "like" that ends up much harder than regular plastic. Some area's were in "clean room environments" so people wore plastic head and beard coverings inside. One item that was very interesting was a "gizmo" that was used for liver surgery where it cut and cauterized at the same time to hold down the bleeding. Some metal creations were extremely small and detailed, it is truly amazing. The tour included both buildings and with my illiterate ability to understand all he showed me, I got the feeling that Glenn had his hands on every aspect of his companies operations, from design thru testing and completion.

Glenn noted how hard it was in the beginning to go out on his own to create the business, but with his ability to design many much needed items and market them, it all made sense. All of the above is what made his business grow to the extent it is today. He mentioned that a handful of his employee's have been with him from the start and made it possible for the amazing growth of the company. He has now sold the business and is on retainer for a year. One of the benefits of success is having a sprint car and other things he and his wife Carol want out of life. This is a story of success by a man driven to excel, achieve and get what he wanted in life. The business was the first example of his credo with more to come.

After the whirlwind tour of the amazing high tech company, he took me about 8 miles down the road to his home where the race shop is. Their spacious Villa is up in the foothills among the many large spanish tile roofed homes, all with matching white fences. Of course the size of the homes in the area are rather large, so I was not surprised when we passed a lot of rolling mansions with beautiful grounds. When we arrived at his home, he showed me the circular driveway in the front of the home that they don't use. It would be great parking for gatherings, but they don't normally use it. Around back he opened a garage door and inside there were spaces, two deep, for at least 6 cars and there is a stacking system about to be installed that will create even more spots. Inside the garage were a 57 Chevy, 34 Ford pickup, a new jeep and some empty slots that he will surely fill in time.

The 57 Chevy was black and chrome and pristine clean, The 34 Ford was my color, red, and both cars go on the street just fine he said. He added when he takes the Chevy out, the blower scoop on the hood advertises that it is a mean machine, so the cops watch him like a hawk when he is cruisin'. Inside the home, the tour began with his soon to be completed movie theater that will feature a 100" screen, with seating on 3 levels. The kitchen was being renovated with room for several normal sized kitchens inside there. A very warm and spacious living room, dining room and a loft type office above were obvious as we headed out the back to a large pool, complete with a slide and a big chocolate Lab playing. The dog had a big pink ball that was his favorite toy and he showed off with it until he purposely dropped it in the pool. Oh well, I guess he had to just jump on in and cool off.

The large concrete parking area behind the house had the hauler parked next to the race shop. The large shop had a 1600 square foot "condo" above it and that is where his mechanic Brian lives when he is not downstairs working on the cars. The building is a converted horse barn that is long and at least 30 foot or so wide in the main maintenance chute which goes the length of the building with roll up doors at each end. The ceiling is very high, but not enough for the hauler to get inside. The shop houses everything needed for the care and feeding of multiple sprint cars. The shop was very organized and functional with everything in it's place and three cars lined up. Brian was making some design changes. He was doing all three now so they were done at once. Brian also said he wished he knew I was coming so he could clean up his area, but it looked very clean to me. The pictures below will show everything the way it is and more explanations with them.

My thanks to Glenn for taking time out of his busy schedule to work me in, the tours were very enlightening and showed the side of him I had imagined, but now it's confirmed. He is very focused and driven to perfection, and it shows in his home, shop and business. His attention to detail is obvious everywhere you look. He is a hands on owner and like at work, he wants to "touch and feel" his race cars. His workday is not complete until he can come home, take off his tie and dig into working on the race car. Many homes in the area have horse facilities, as this one once did, but both horse buildings have been modernized and converted to his use. His neighbors say they like this type of horsepower because there is no smell or flies. I forgot to ask if he fired up the car occasionally, and what the reaction was, if any from them.

It was quite a whirlwind of touring for me with Glenn, and I am still remembering things he said and showed me, so let me just get on to showing you "Glenn's World" and you can see for yourself.
This black beauty was all you could imagine in a two door 57 Chevy. The black paint was only outshined by the old Hillborn style scoop that sat atop two fours, mounted on a blower under the hood. He didn't talk horsepower or speed, but did say it was fast! The interior was simple and made you want to sit down and fire it up and disappear down the road.
Glenn was all smiles when he talked about this street machine. It would have been a kick just to hear it, but we were headed to the race shop where real horsepower lives.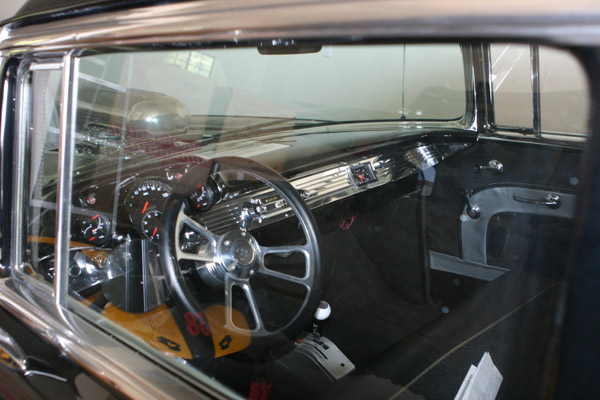 The interior is clean looking and simple. Can you imagine being behind the wheel?
The hood scoop makes it look fast.
Glenn's racing and hot car days included a lightning sprint and this go cart. He loved to race, especially a sprint car, but now is a car owner and I think he still would like to light up the tires now and then on some track.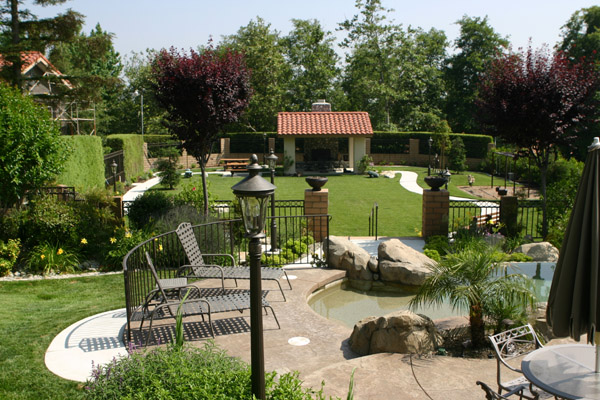 Hang on, the race shop is coming. Here is a look at the family pool and some of the grounds on this 2-1/2 acre property Glenn and Carol call home.
The slide on the rock hill looks inviting, especially in the hot climate out there. He says it is about 8 degrees cooler than down on the 210 freeway nearby.
I missed taking a pic of the shop, but that is the roof of it behind the truck.
The hauler is as big and amazing as any in racing. Glenn is having a "truck barn" built behind the race shop for this big monster. In that building will be an indoor basketball court for visitors to use when in town for racing.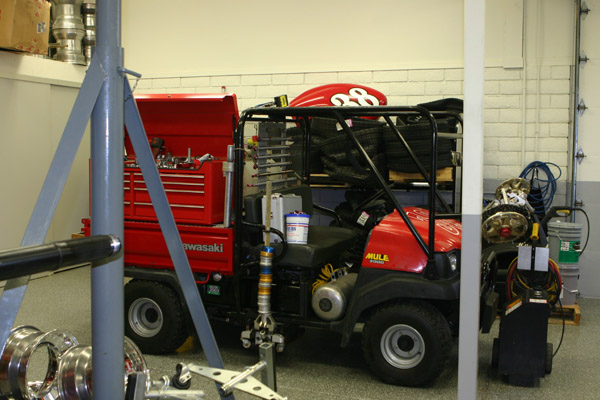 The Crossno mule is parked at one end of the long shop that I would estimate to be 100 feet long.
Brian is Glenn's mechanic who was on the outlaw tour for some time before coming to the # 38 team. Brian is responsible for everything during the week and continues his role at the track. It must be nice to have a job like this if your into a lot of work on race cars.
One of three cars in the "chute" getting worked on. It has a 360 and Cory will drive it at Watsonville next friday before the Saturday Santa Maria show.
This new car is under final construction.
This separate room had many kinds of machines that as he said, "what ever we need to make, we have the equipment to do it in here".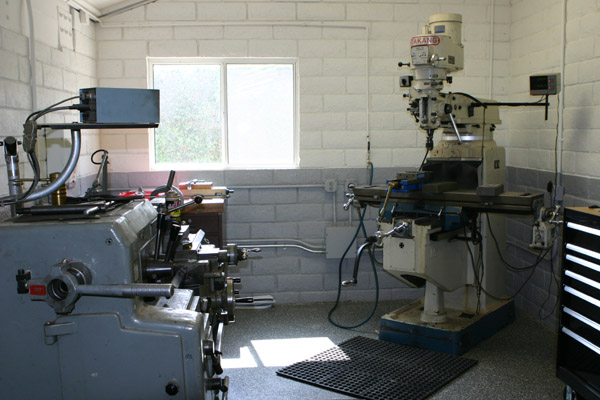 Looking the other direction.
Lining up copies in the shop makes this place even more amazing.
Up on a shelf, you can see extra seats, side bars and much more as there is everything in here to build more cars.
So, is three enough for this weekend, you think?
In addition to the motor on the floor, some wheels, cases of oil and two chassis to the left.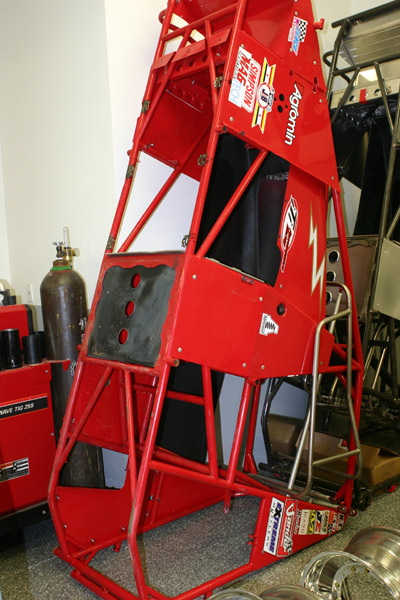 Two chassis set on end. One new and unpainted and one crashed model that needs a little tubing replacement before it is ready to go again.
A view around the back side of the cars.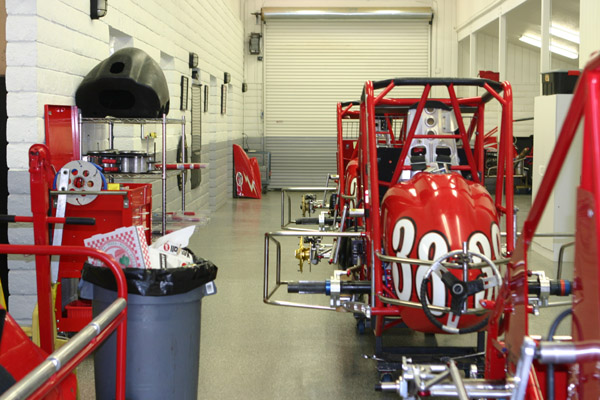 Another look. Notice the trash can and was pizza on the menu?
How clean this new car is. It is a Bullet Chassis. Glenn recently bought out TCR, but don't expect any more of those cars to come off the line. He intends to build street rods out of a new shop he is starting to create. This will be a relaxing fun thing in between sprint races.
A complete rear-end sets on a table ready to go.
Here is a smile from Glenn who is so competitive in everything, he doesn't have much time to relax and smile. With a business to run, a house to remodel and a race car to tinker with, the man has more to do than most could imagine time to get done.
A Buzz Shoemaker special hangs on the wall. Buzz has made many of these over the years and we even auctioned off a few for the Wagsdash in years past.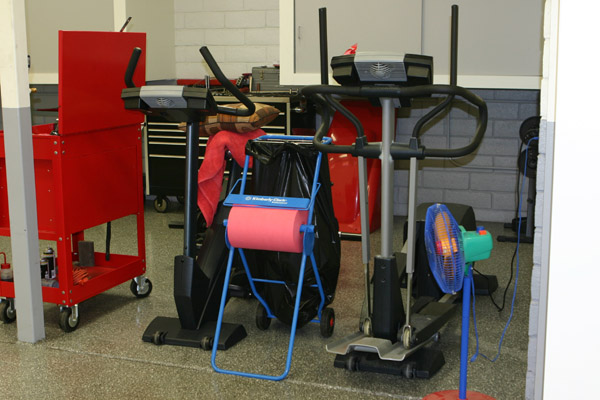 If you have nothing better to do, you can exercise on these.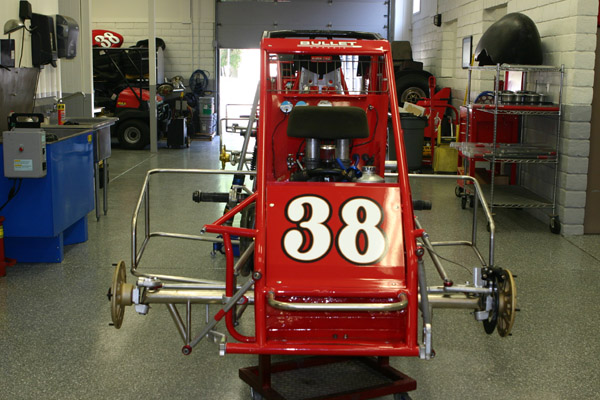 Look at the offset, even though it is only a little, it sure helps to turn left.
Glenn took the time to explain and show me everything in his company, his home and his race shop. You could tell he was proud to show off all of it, and he should be, it all is very impressive.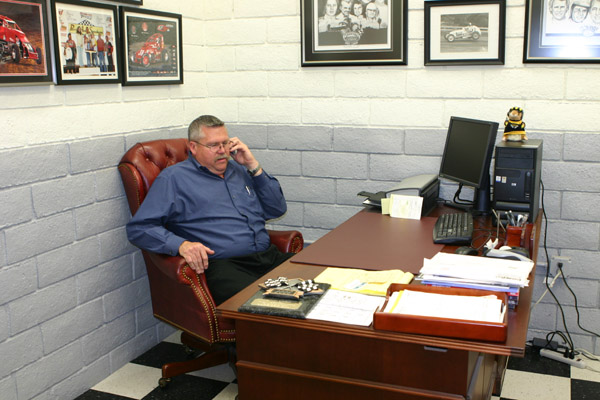 And here is Glenn in his busy mode on the phone.
Some of the awards his cars have won.
Some pics on his shop office wall
Trophies on the ledge in the office.
More wall mounted items include motorcycle stuff.
More.
One last look at the hardware.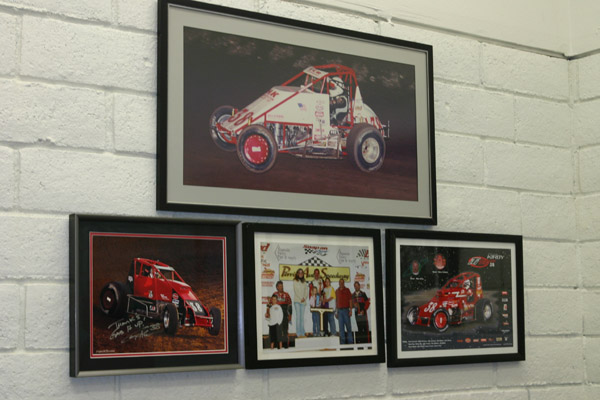 The pictures are of Glenn in the white car above, Mike Kirby to the right and Cory Kruseman to the left.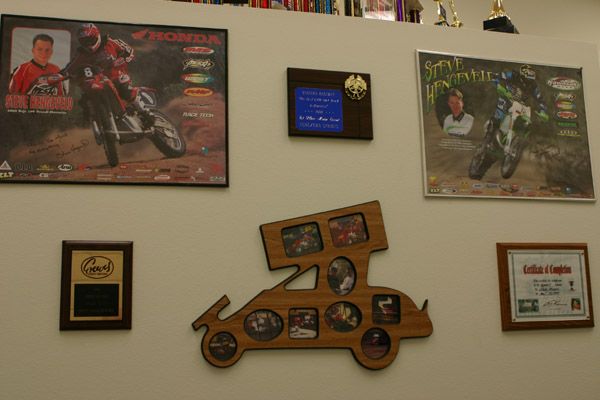 The motorcycle wall.
More awards, this time plaques.
This is a special made display case. Man how do I get one like it, only Wags style!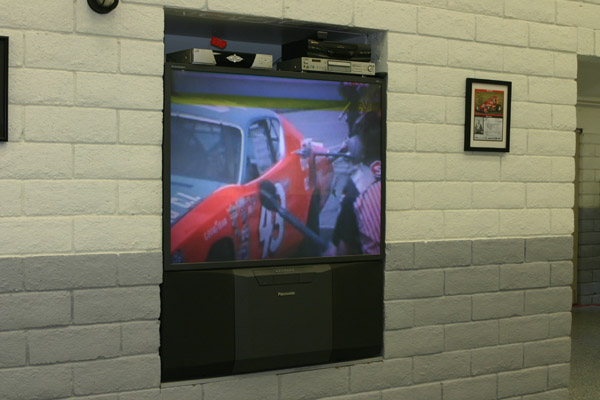 The big screen TV is in the wall of the shop for all the race watching while working on the cars.
A tire and another picture of one of Glenn's cars.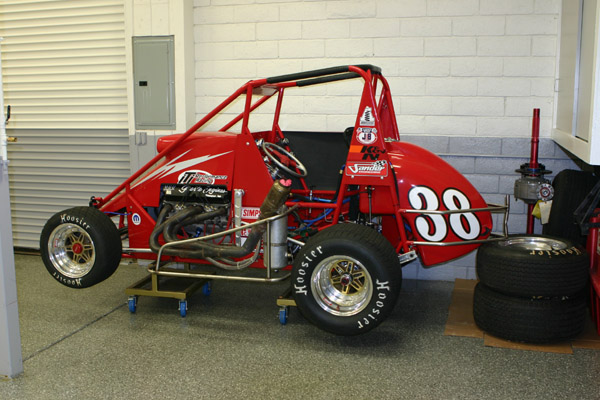 A midget, driven by Levi Jones at the Chili Bowl, sets in the corner all alone.
The steps go up and out of the shop. Note the pictures mounted on the walls.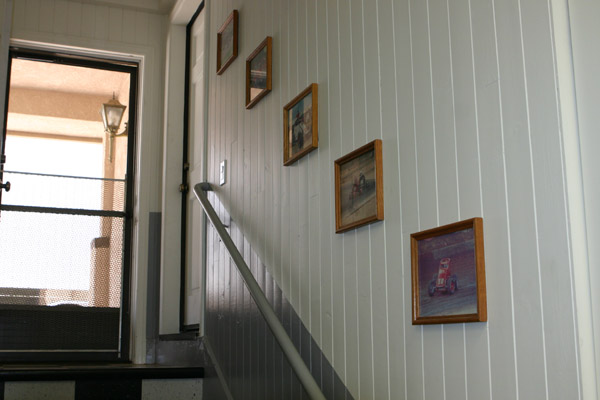 The other side of the stairway features more pics.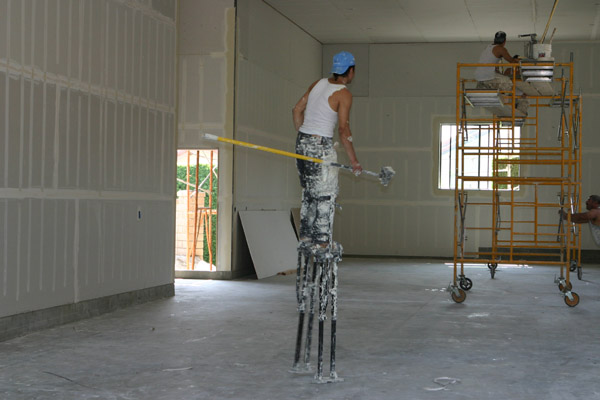 The man on stilts is painting away in the "truck barn".
Behind the wall on the left will be an indoor basketball court.
And as I left here, I remember Glenn saying something about giving these tires to a needy racer. WHAT A DAY! Sorry Terry missed it!