When Kevin Kierce invited me to come see his Bunker, I thought he was kidding. I thought being invited to his race shop was cool, but talk about a Bunker was crazy! Picture this, when the war broke out on December 7, 1941 America went into a crazy phase. Blackouts along the coast were normal as the threat of a submarine attack was feared. Nobody was comfortable as the Japanease Americans were herded off to concentation camps out of fear. Well, you know all that, but did you know there were four huge bunkers built in Burbank next to the airport? The walls were 8 foot thick at the bottom and tapered up to about 6 foot at the top. Inside were fighter planes that were setting there with motors kept warm and everthing ready for immediate take off in a moments notice. The pilots had sleeping quarters to the side of the bunker where they were at the ready to jump in and go protect the coast. In later years the bunkers were commissioned to be destroyed, and a small company began by bulldozing three of them into the huge pit they were built on the edge of, but they went broke before the last one could be dismantled. Enter a number of people who began using this bunker for many things, including storage and at one time it was full of different racers with all their equipment. The building sold and somehow "THE" Kierce was the lone survivor, keeping a small cave like room off to the side of the big bunker for his race shop. He has been there since the mid nineties and the shop gathers many people on Thursday nights.
This now is today's story where inside his small probably 30 square foot shop there is enough room to shoehorn in several race cars and little else. Kevin added an attic in the form of a wood floor above half the shop where he stores things he needs including chassis and more. Anyway getting back to biz, I left home early in the morning of the day of my visit and arrived in Burbank at the Bunker a few minutes before noon. Kevin wasn't there yet, but his old fiend Lou was. The area surrounding the bunker is packed with all kinds of vehicles, including a lot of cop cars, ambulances and burned out wrecks. All of which is used in the movies! I found the door to the shop and entered as Lou was relaxing in an overstuffed rocker. Lou was born in 1918 and so he has been around a long time. He was there for the start of the Salt Flats racing in Bonneville, and the start of the WRA and much more racing history. Now he spends a lot of time at the BUnker, being still involved in racing and following Kevin's exploits. When Kevin arrived, we went thru a lot of history of the bunker and more war stories, then headed off to lunch. After that we had a little visit to Jay's Garage, but that's another story. Visting with Kevin in his race shop was another of those priceless adventures and I am thankful for the time he spent with me.
This is the entrance to the bunker. The blue iron fence surrounds it and protects everything inside from intruders.
Down this little alley, Kevin fires up his race car.
Here are some of the "studio vehices" used in the movies.
That is Kevin's rig parked right outside his Bunker shop.
The sign says it all except for the race shop that is part of the scene.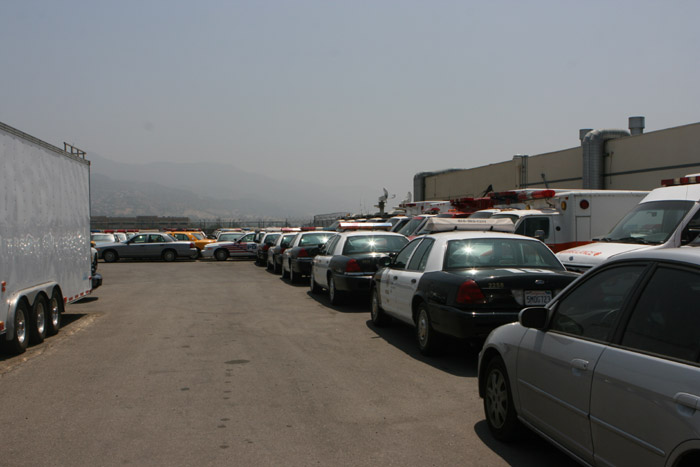 I don't know how many of these vehicles that are parked in the large lot, but it was plenty.
More cars.
Kevin's parking spot has this notice.
As I entered the shop I took this pic and Lou was relaxing, not knowing who I was yet. He knew I was coming, so it wasn't a surprise.
One of the many pics on the wall, this one of many of Kevin's supporters and friends, all who come by on thursday nights to just bench race or tell lies, whichever happens first.
More of the many memories posted on the wall.
The racing signs hanging in the rafters are interesting.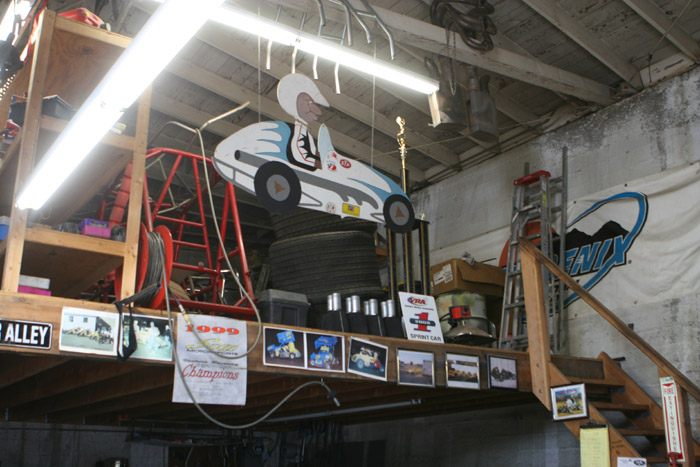 More rafter stuff to the right here and you can just see the upper level.
How can there be more dirty rags than clean ones, or should that be left unsaid.
In racing there are trophies and I am sure Kevin has many more than this.
Another picture on the wall.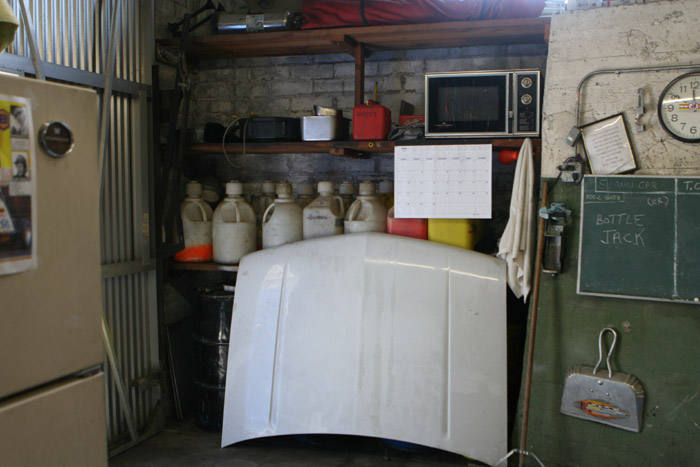 Racing stuff?
One race car without motor sets lonely in the back.
A refreshed motor ready to get back to racing.
The tool cart is waiting for action. None today!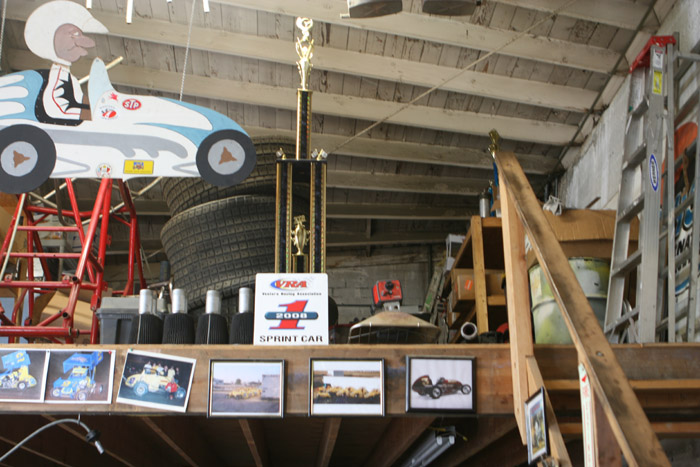 The stairs going up the wall.
Another group of pictures.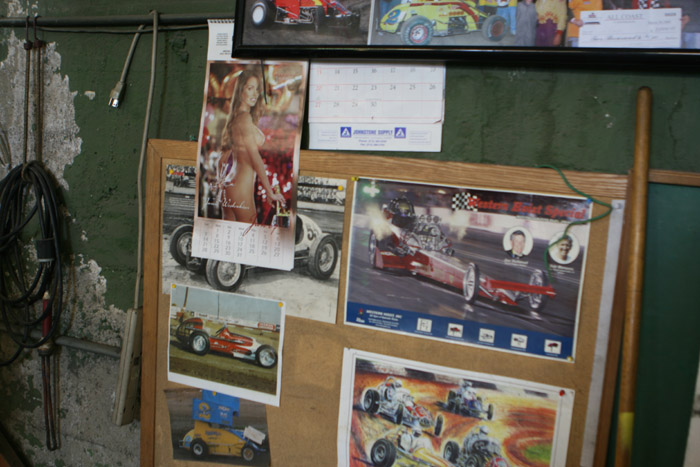 More great pictures.
Another view of upstairs.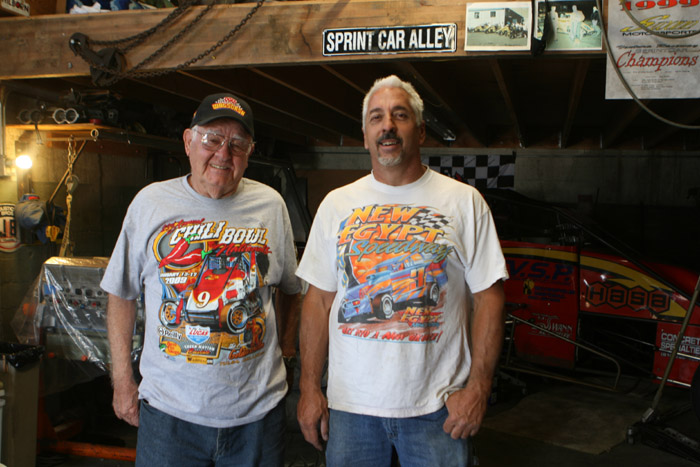 There you have it. Kevin and Lou pose for me after a spirited visit. It was fun to get to see something you only heard about, and for that Mr Kierce, I thank you!