The honoring of Hall of Fame driver Lealand McSpadden was a fun thing to watch. Lealand was his usual self, making this important time just like old times for us all. Since he retired he keeps himself out of the limelight as much as he can, but on this day it was his to shine. His family came to share the festivities with him. His wife Janet has always been by his side with her support and her smile for everyone too. Their two kids shared the day as well as we saw a lot of redheads! Their son Jeff and his wife Carrie have four little ones: Maddy, Ally, Brody and Andy. Their daughter Michelle and husband Marc have two daughters, Megan came and the other little one was with her other grandma for the day. Lealand signed autographs on his newly made event shirt and the program all afernoon, then he and his family watched the races together in the grandstands. During intermission, the red rainbow family surrounded him on the track as they continued the honoring of him in front of the crowd. The man could only thank everyone and especially the fans, for without "you" (the fans) he said he and many others could never have raced and had the great fun they enjoyed. A few stories of his old days included warm memories and the crowd loved it. He is theirs, even though he ran more out of town races than at Manzy, he was always home at the track. After the races, he still stood on the front stretch and greeted everyone, just like the old days. I remember when the lines to see him were so long after the races, it took a long time to get to speak with him, but he stayed and talked to everyone until they all left. In order to get my time with him, I always watched the line until it was short then moved in to get that smile, handshake and warm greeting he had for each and everyone of us. You don't find many drivers in these times that take the time with fans he did and made each feel special like he still does. He looks great, for those who keep asking, and still works and is still a recovered cancer victim. He said until you have a serious desease like he had, you don't know how many friends you really have. His presence where we could all enjoy the time was wonderful. But, because he doesn't want to be in the limelight since retiring from driving, you will have to be very skillful in seeing him at the races as usual. He and the family spend a lot of time playing in the dunes near their "other" home in Mexico and are often there when we are racing at Manzy. It was great to see the love given him this past weekend and I hope we have many more times with him in our midst.
Lealand gives this smile to everyone.
Lealand brought some of his Wagsdash posters with him and Mrs Wags was seen helping fans get one for him to autograph.
Here he signs a program.
Joe & Ellen are among those who wanted his autograph.
Ellen waits for hers.
More fun.
Looking for the right page to sign on for Jimmy Blanton.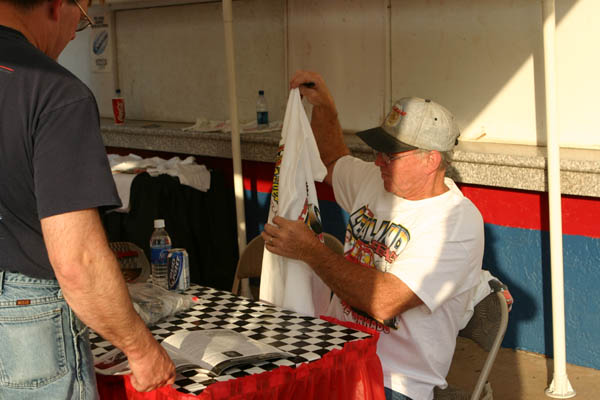 He signed the shirts for them, too.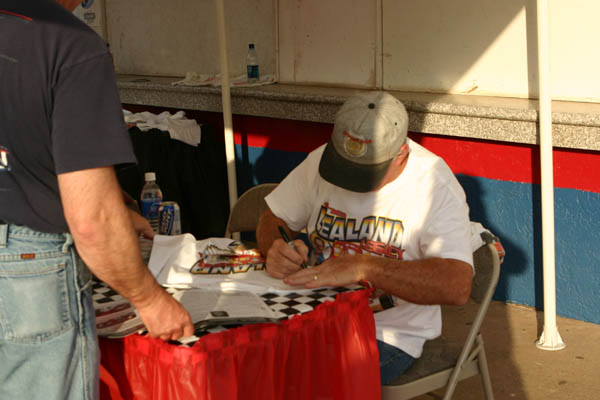 Note the Hall of Fame hat he was wearing.
The crowd was neverending.
Lealand's wife Janet visits with Mrs Wags.
I can almost hear what they are saying. Men!
The family members began to gather around.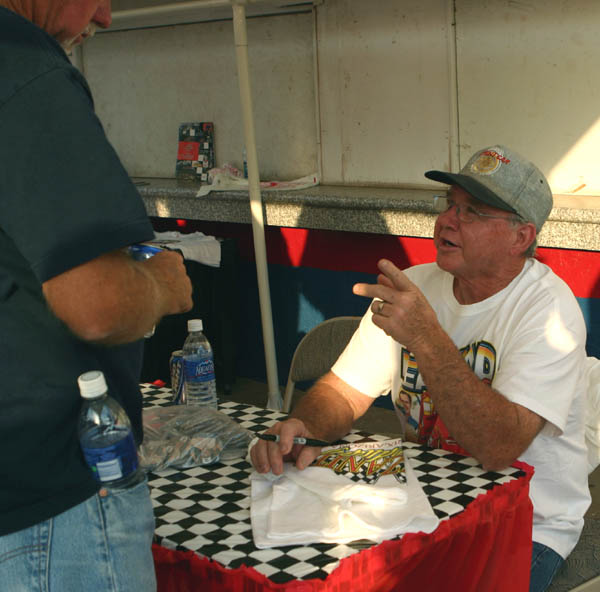 Remember the time?
Windy McDonald does a little interview to pump up the crowd and let them know the Tempe Tornado was in the house!
Lealand's granddaughter Megan, isn't she a beauty!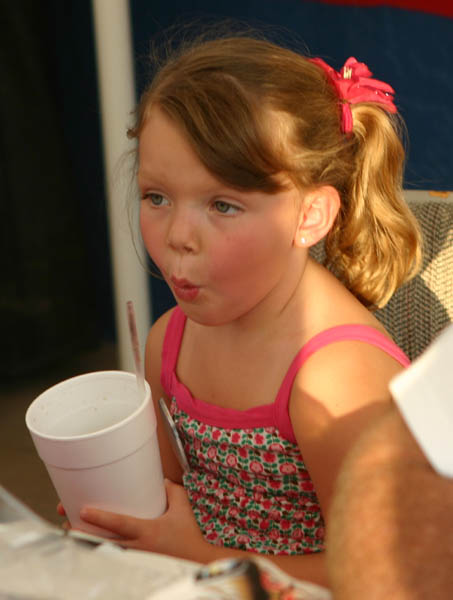 It must be something neat that she sees!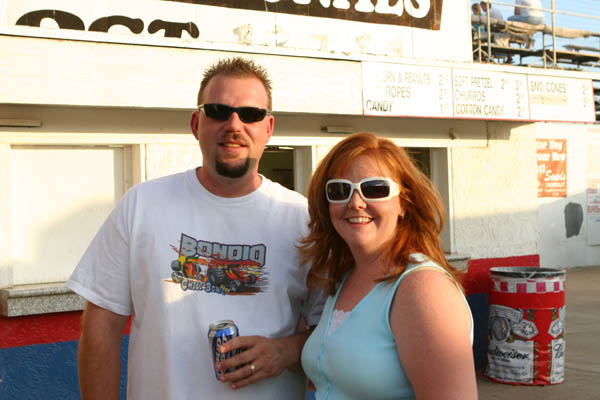 Daughter Michelle and husband Marc.
Son Jeff admires the new t-shirt.
More.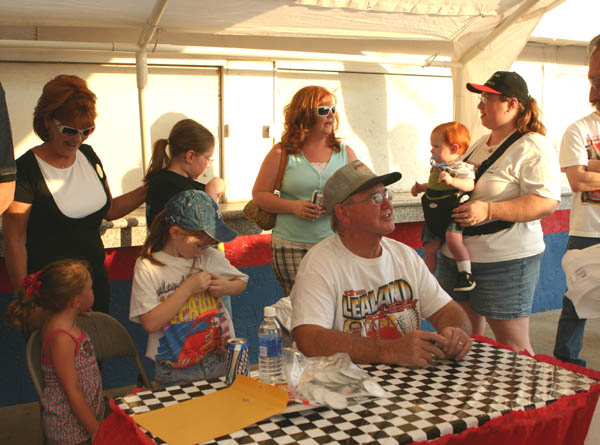 Lealand looking intent on another visit.
Always the handshake, here it comes.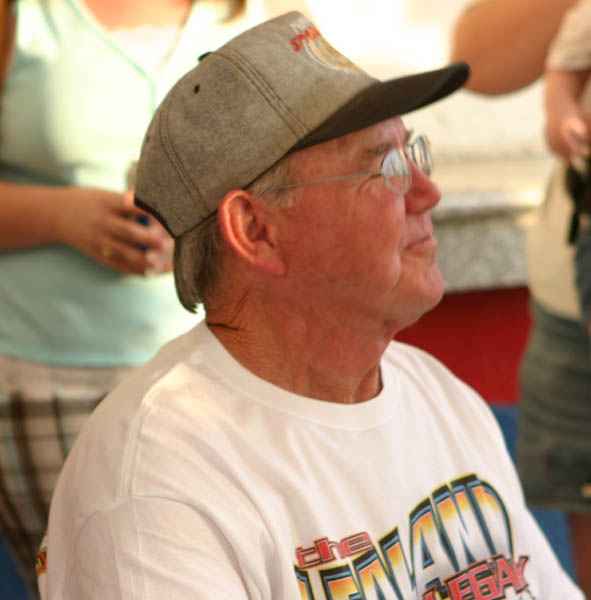 That's Lealand!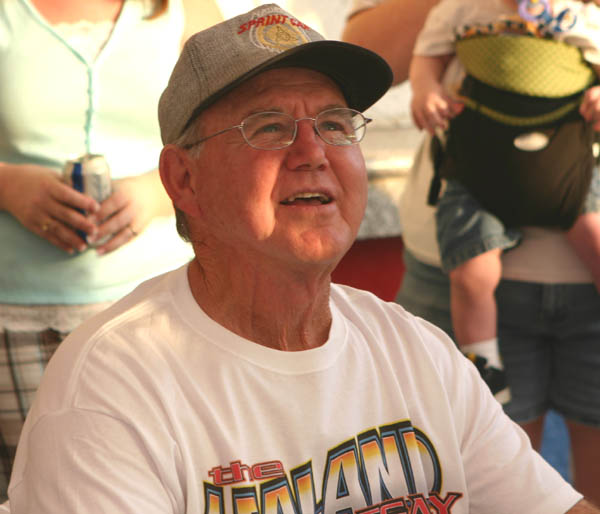 What, she said that!
Another greeting.
Janet is pinning a McSpadden picture pin on Ally.
The lady is looking over the t-shirt. I can't tell if she is buying or not.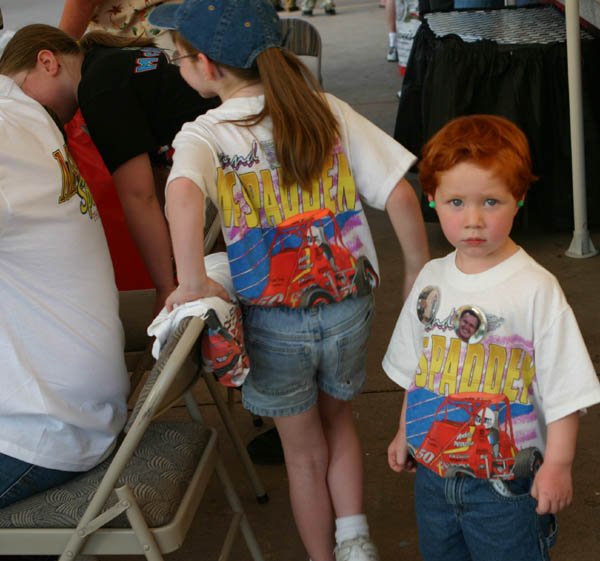 Brody looks intense. That red hair is bright!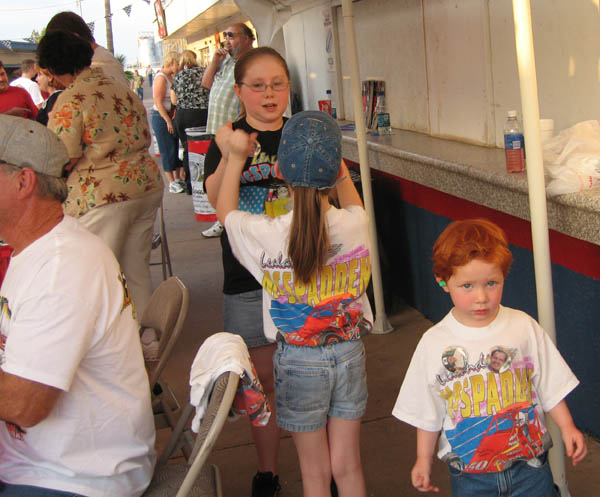 Brody is still watching closely what's up.
Maddy seems to be enjoying herself as grandpa keeps on signing.
Are you talking to me?
Another "old timer" greets Lealand.
A great shirt!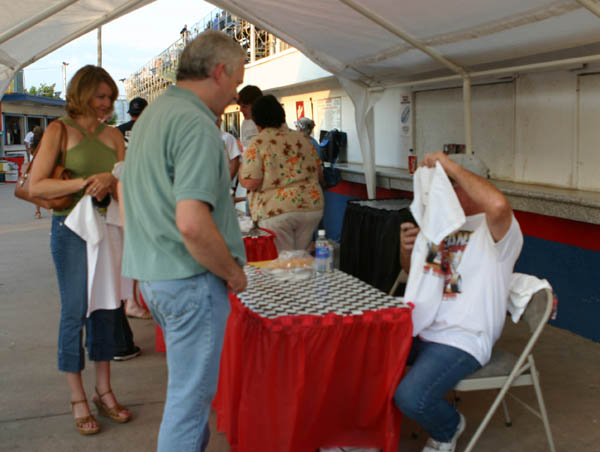 Yep, she bought it.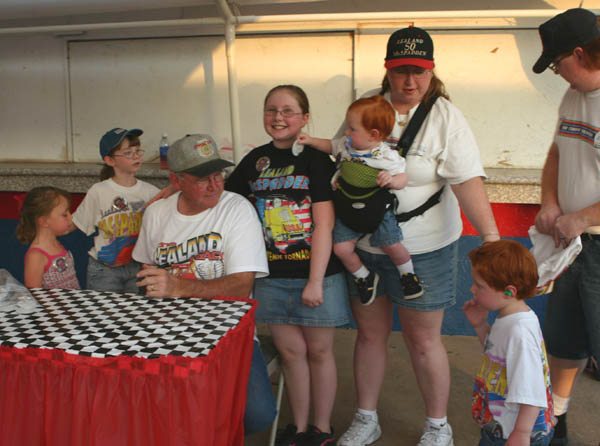 The family groupings were great.
Another
And the hits just keep on coming. Look at the differnt looks on the kids faces.
More stooging around.
Lealand is even cracking up.
Another with more smiles. They look like they enjoy this, don't they?
Terry's up to something.
Now Janet's finally joined the party.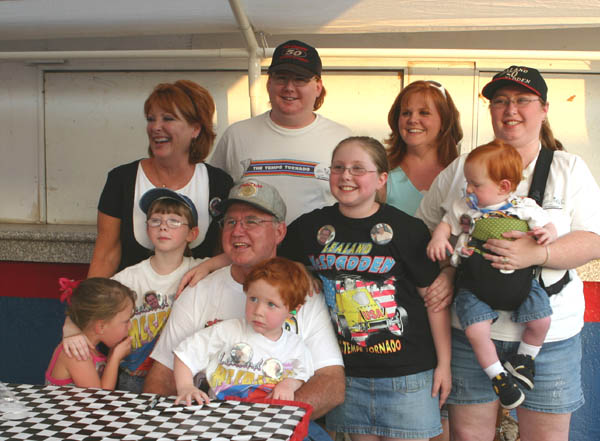 One more time!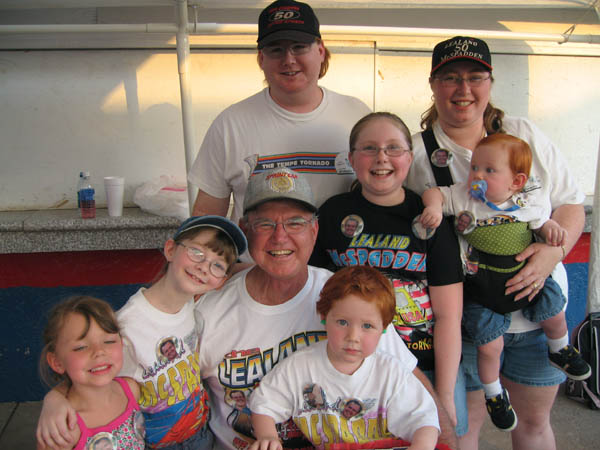 And finally, the end. I hope you enjoyed the Family McSpadden, I know they enjoyed the day!