It's not often you have a hauler pull up to your house and unload a racecar. After the Manzy races, the Kittle Motorsports team travelled on to Las Vegas and made our house a planned stop. After my taking a couple of trips with them last year, it was only fair they took a trip with me at Wagsland. Since they had a few days between races, it gave the team a chance to relax and work on their race car with no distractions in the comfort of my garage instead of a motel parking lot. Randy, Julie, Chad, Ralph and Paul showed up on Sunday afternoon and parked the long rig in front of my house. We live on a Culdesac, so other than blocking my view of the neighborhood, it fit in like a glove. We had our usual Sunday family barbeque that evening, so some of the family came over and entertained the team during a hamburger feed. Afterwards the gracious crew unloaded the little blue bomber and we had show and tell time. The kids had a chance to get in the car and we took some pics. All in all it was a first for many of my family, but they seemed to enjoy it all. For the next two days, Randy and the boys serviced the car and did the things they would normally do back at the shop in an unstructured kind of time. Julie kept up with her business and did some USAC stuff as we visited and enjoyed it all. Mrs Wags even took off Monday to hang around and be part of the fun time. Monday night they took time off to go party at the Orleans where all the racers stayed where they could let their hair down and relax a bit with other racers, but were back at it Tuesday morning. When they finished up all the prep work, cleaned up my garage better than when they arrived, they loaded the car and tools back in the hauler, then headed to the hotel to get ready for dinner. That evening we met them and Fran & Jim plus photog Jim Fargo at Joe's Steak and Crab house in Ceasars Forum shops. An evening of eating and enjoying the outstanding steak and crab feast, and the good company, was had by all. We tasted some deserts that included their famous Key Lime pie and it was all thumbs up!! As we parted ways the next stop would be at the Las Vegas slick track slapstick event the next night. Terry and I were thrilled to host the team for their short stay with the hopes we can do it again. Of course I would prefer they don't ever race here in Vegas again, but I am not in charge. Thanks Kittle Motorsports for giving us a rare view of your outstanding team! Now on to the races.
When a rig as big as this pulls into your neighborhood, people seem to take notice! Their arrival didn't open any doors, but the window shades might have bobbed and weaved a bit.
The kids go outside after dinner to see the race car coming out of the hauler.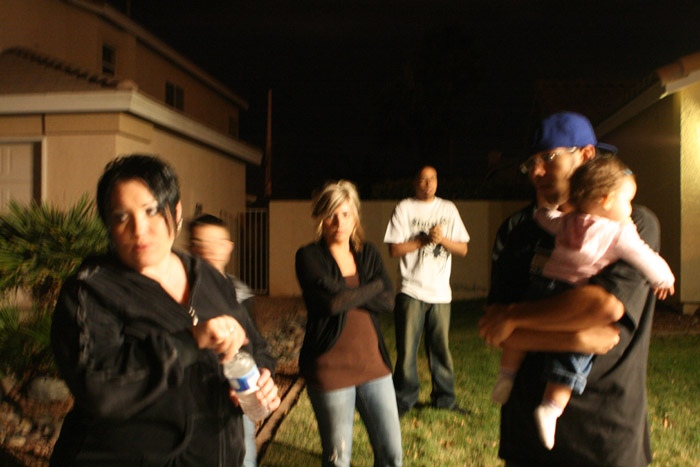 Although fuzzy, you can see thier anxiousness as we begin the show and tell time.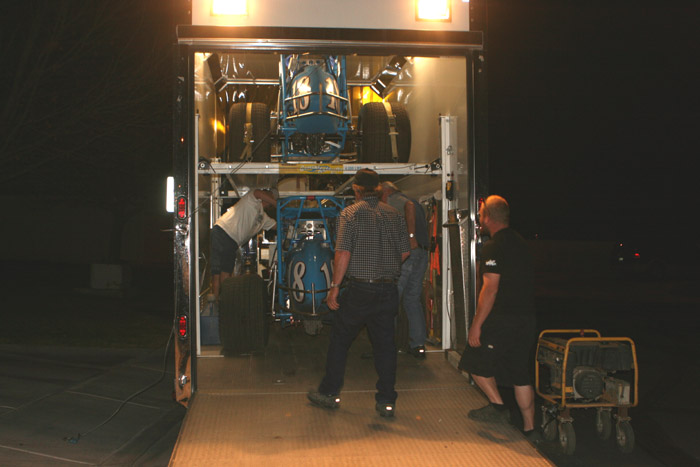 Ralph and Chad get the door open and now the fun begins.
You can see there is plenty of light in the trailer.
Little Isabel, my grandson Tory's daughter, is lost in the cockpit of Danny Sheridan's ride.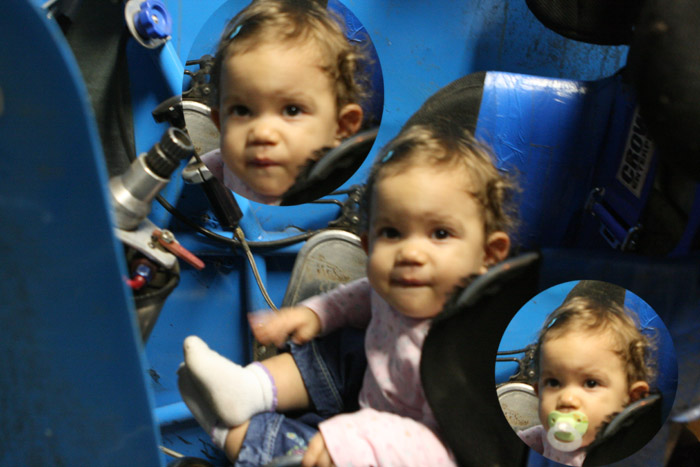 Oh, there she is!
This is Amanda, my grandson Christopher's girlfriend.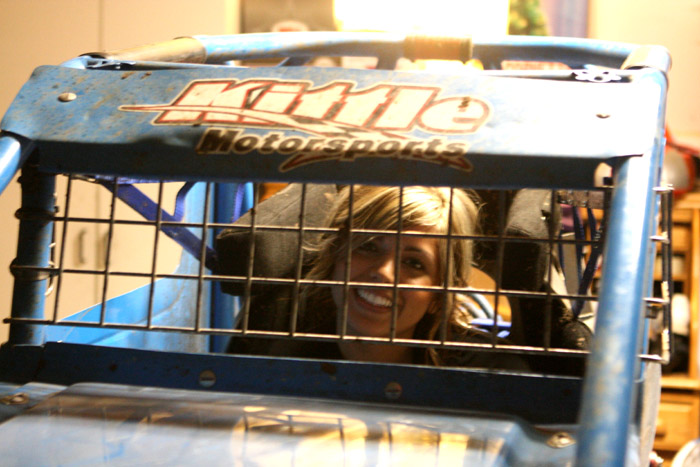 She seemed to enjoy the experience enough that she came with him to the races on Wednesday night. I don't know how she liked it as the slick track nonsense couldn't have impressed anyone.
Christopher declined the joy of getting in as she came out smiling.
Here goes nothing, says grandson Hunter, the baseball player.
He looks comfortable in there.
My grandson Tory takes some time to get a big grin. He always had the desire to race, just not the money or someone who could have helped him do it.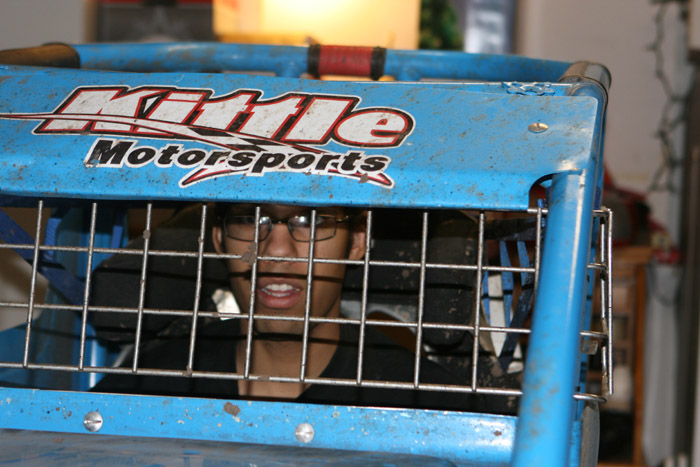 I can just guess what he is thinking............ let's start this bad boy up!
Monday morning begins as the car gets washed down.
Ralph and Randy get going.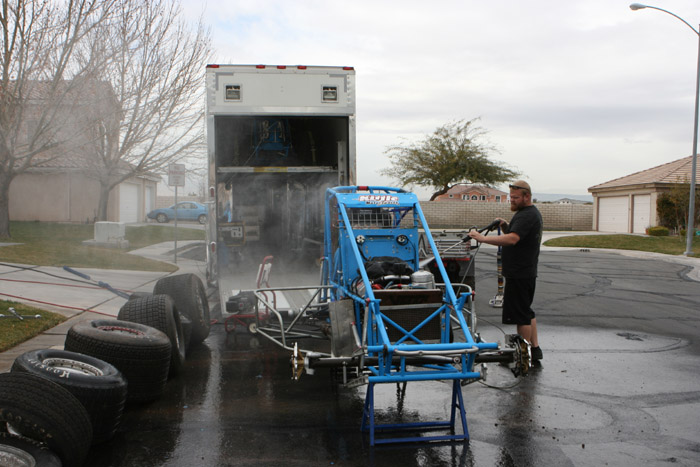 The car is stripped for this action.
Chad runs the pressure water device.
The long white Kittle hauler.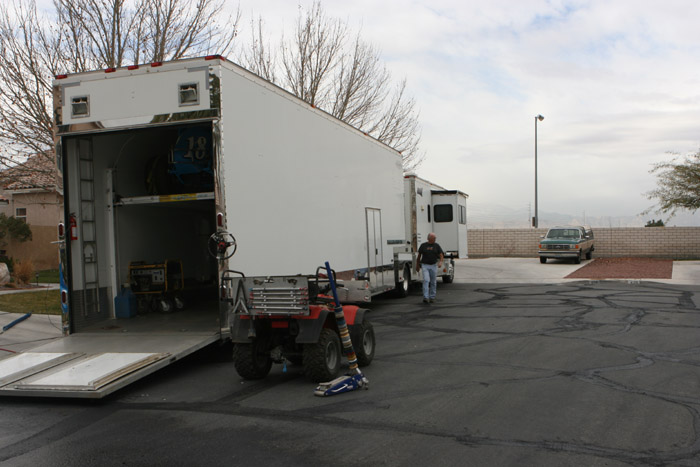 Open for business.
It's not a very long street. Add another hauler this size and it would be pressing the cross street..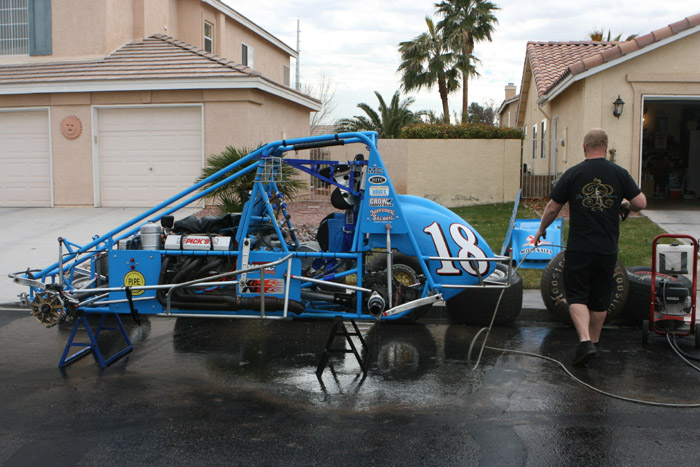 Chad is still at it.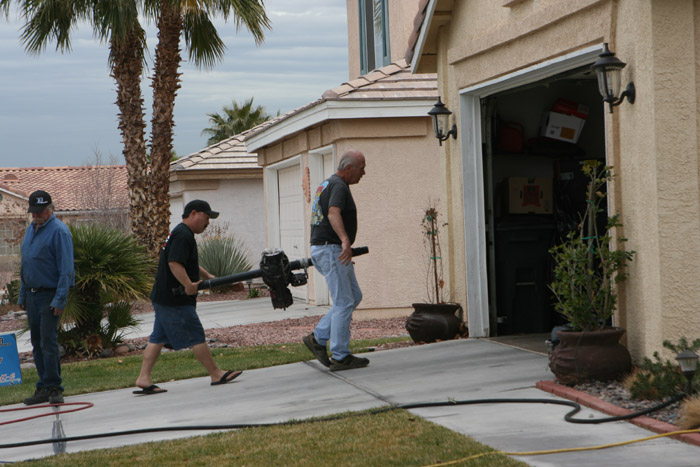 Paul and Randy carry a broken rear end in to the garage to make repairs.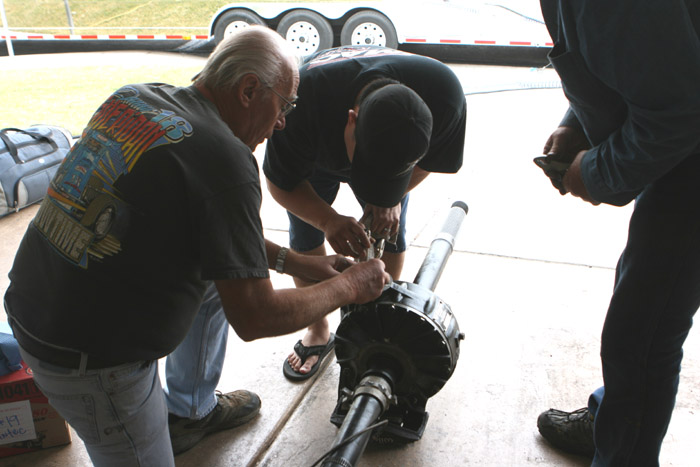 Ciphering is tough. But Paul has an idea.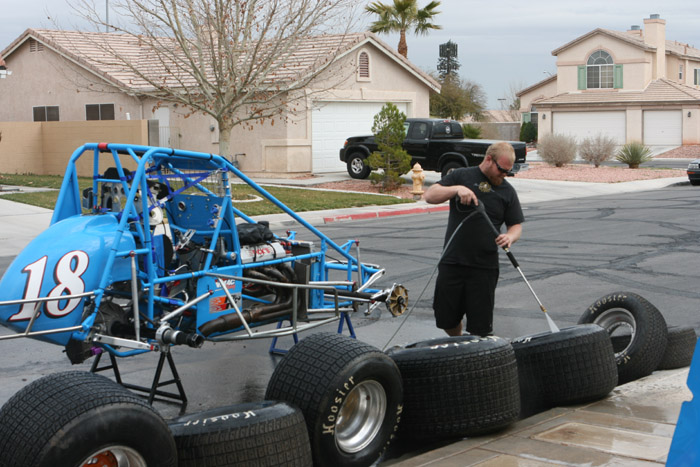 Chad's cleaning the tires.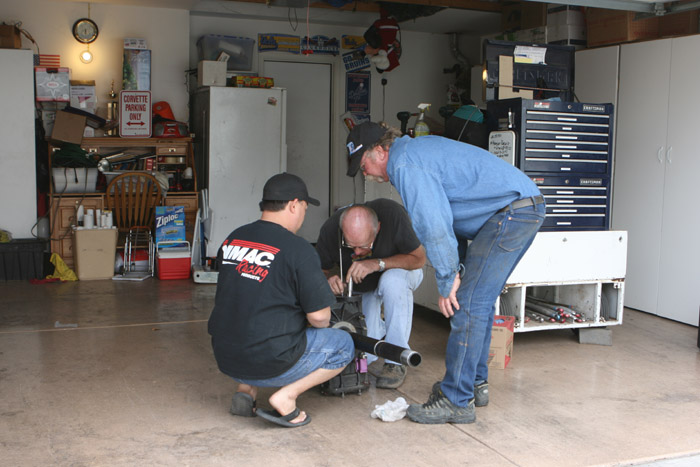 Now we can fix that old rear end, Ralph is here.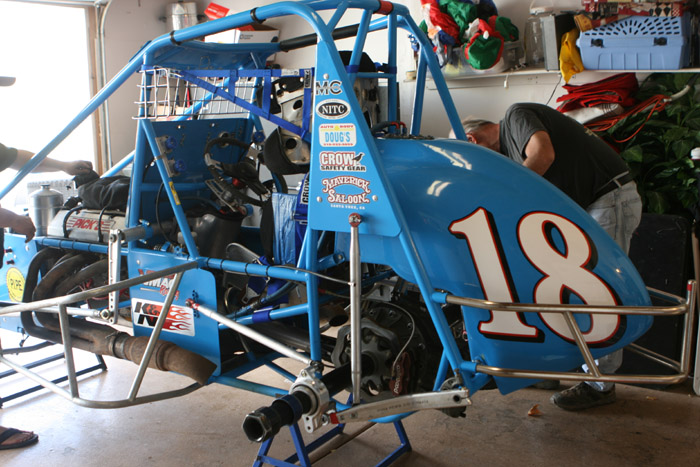 The car is on jack stands, or some gizmos that keep it up high, with every little thing getting addressed.
Ralph watches Randy dealing with the top of the motor.
Paul gets into the act.
Randy is up to something. What is that yellow thing he just put on the car?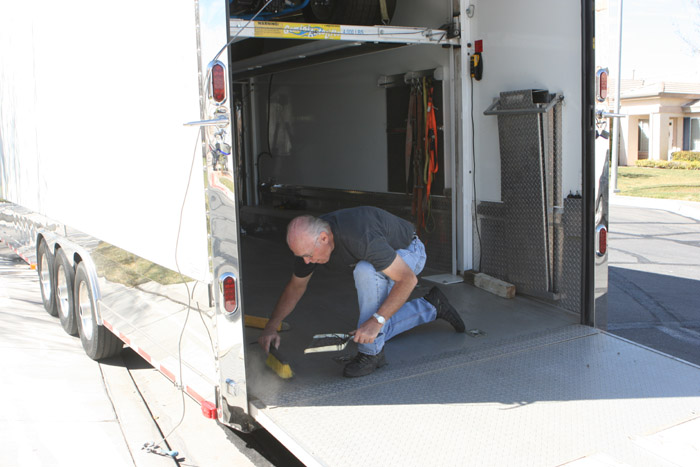 Paul said Danny tracked mud in the trailer so he has to clean it up.
The trailer is now ready to receive the prepared race car.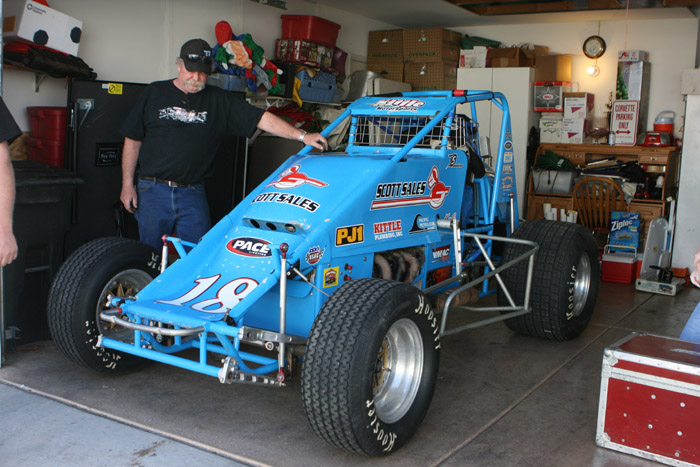 Ralph admires all their work as the car is now ready to go.
Team photo as it's time to load up.
Let's get er' out in the street.
I wonder what the neighbors think that is? NASCAR, go cart or what?
Looks pretty sedate for a 100 MPH race car!
First get the tool cart in.
Chad, open the back door!
Lets move this thing, it's heavy.
Yo, push!!!!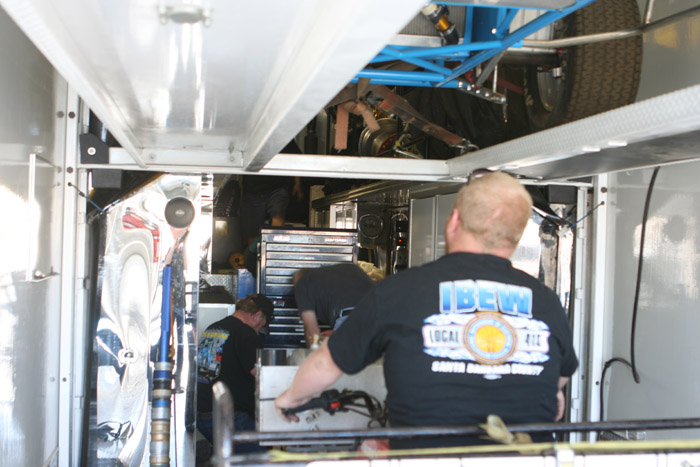 Everything has to be tied down.
What's he doing posing with the car, he didn't do a thing!
Chad gets to ride as they push the little blue bugger up the ramp.
The generator goes in and let's lock it all down.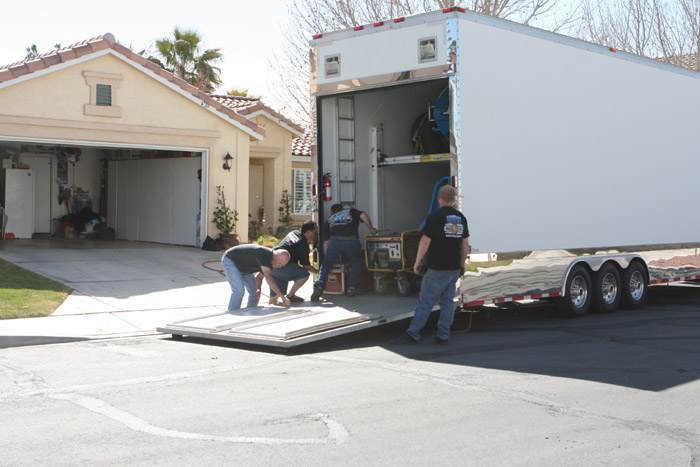 As they get close, look how empty the garage looks now.
Closing it up now.
Ready to back up outa here!
And as they roll off into the sunset, my neighborhood will never be the same!