We parked in the back and the seats were ready for the Hall of Fame presentations.
An old antique and the Hall of Fame two seater are parked by the back entrance.
An oldie was one of many well known cars outside of the building showing additions tot he inside cars.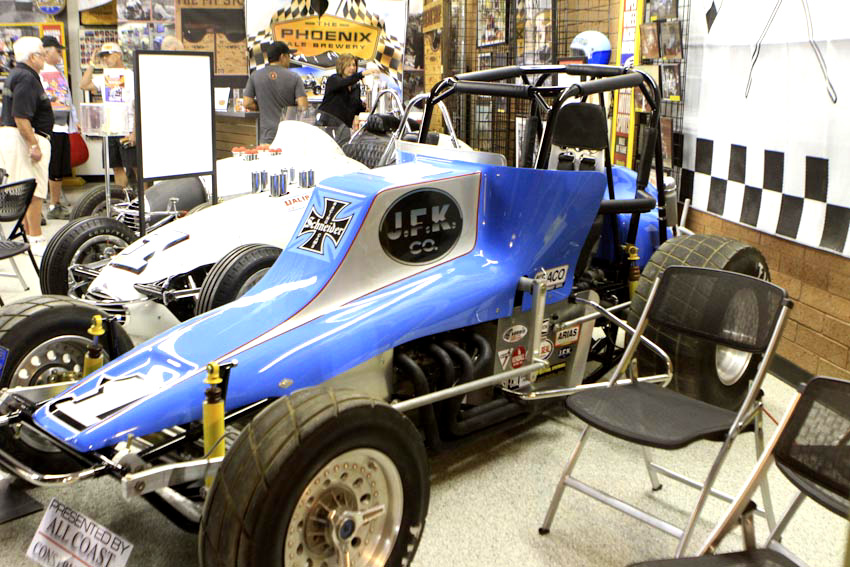 Thus JFK champion car was seen the wek befofre at the Oval Nationals with Jimmy Oskie in the seat pacing the line-ups.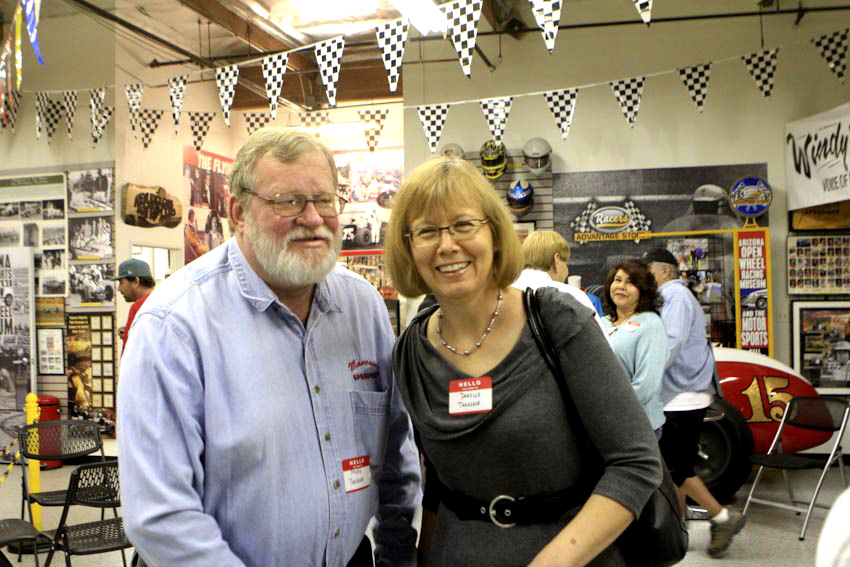 Mark and Janelle Thrasher enjoying the evening.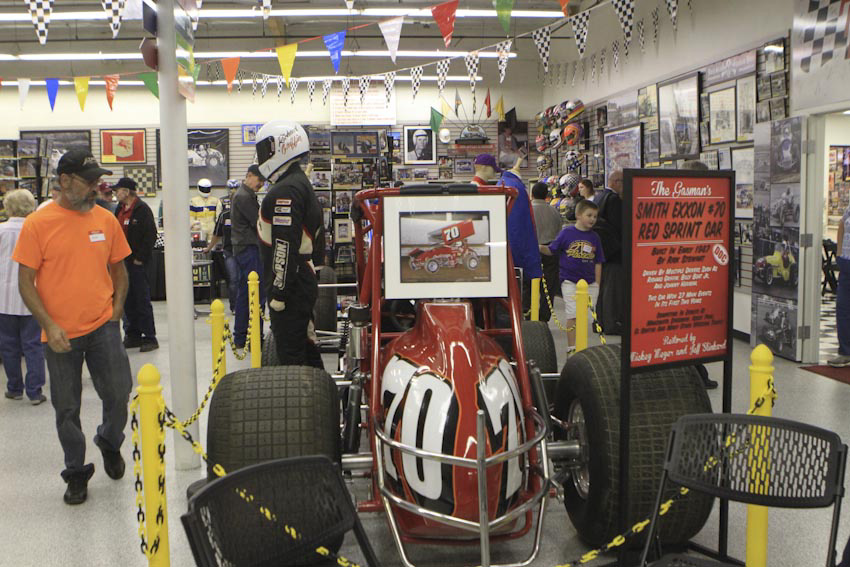 Ths car was once driven by Richard Griffin
A view in the back room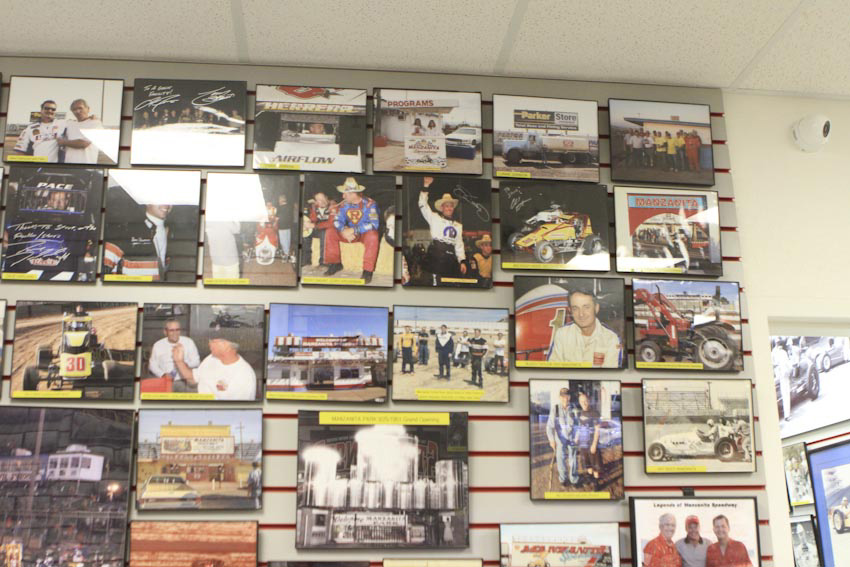 Some of the many pics on the walls of this very packed museum.
A proud moment seeing the Wagsdash Trophy complete with all the Wagsdash winners and the Grand Marshals emblazed on it. Also my Polka Dot Hat next to a pic of Richard Griffin and myself.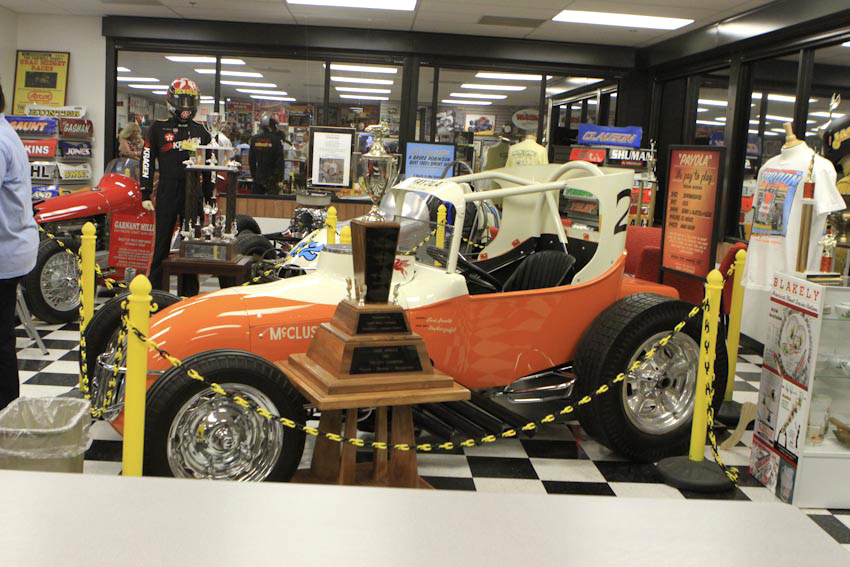 The very famous Hank Arnold Super that had a very destintive sound when on the track running hard.
Dick Woodland , left, talks with Museum owner STeve Stroud.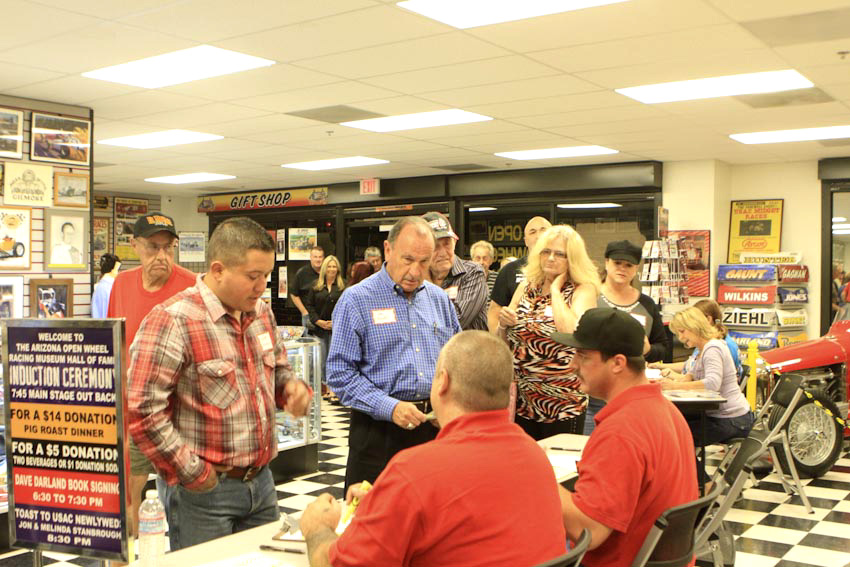 The front door saw people coming in and signing in there too!
Some interesting illustrations on the walls in the "coffe room".
Mark Thrasher was getting hustled to be Santa Claus at a Hall of Fame event coming up. This pretty lady was bussing the tables and generally having fun with everyone.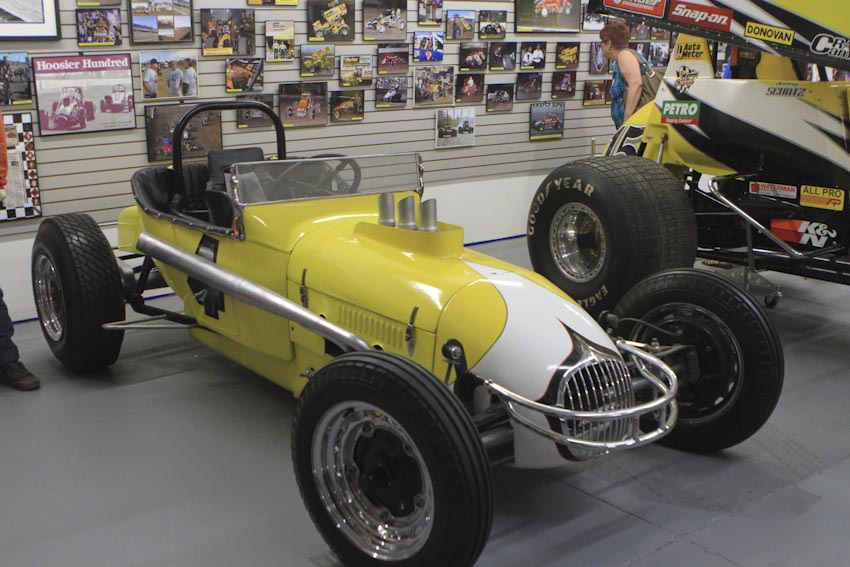 An oldie looks rady to race.
Donny Schatz car in the hall. Steve Strouds Parker Stores name has been on this cars sponsor list for many years.
Jesse Hockett once drove this locally owned car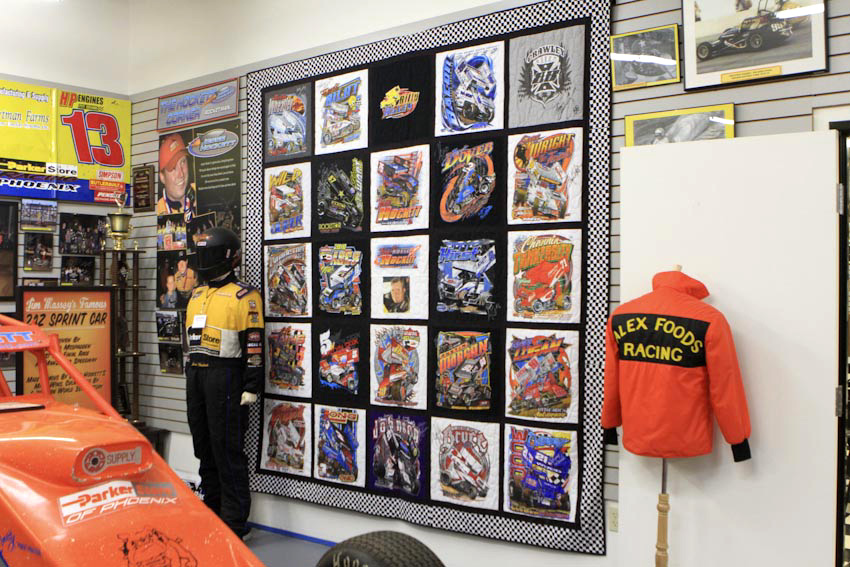 A t-shirt quilt adorns the wall here.
Another wall of pics
Schatz world champion car
More stuff!
Motors!
A nice oldie
Another old racer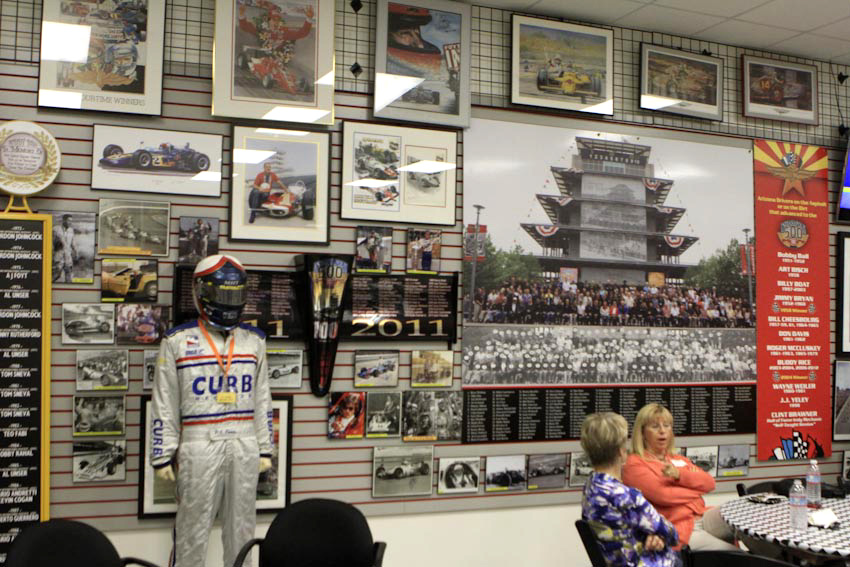 More wall stuff
This, same room is to the right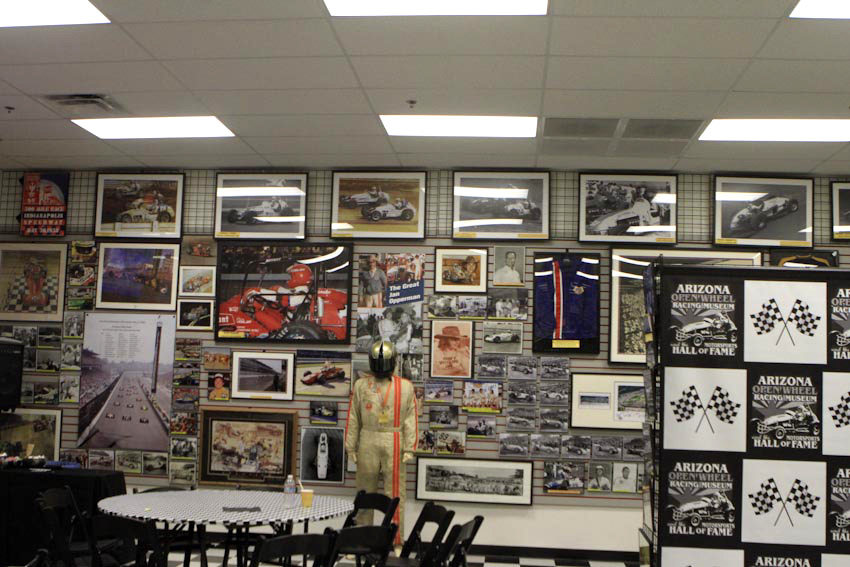 Walls are paacked
Kara Hendricks midget
To the right
Big trophy on right
Here it is!
More neat pics
Bill Kprbacher unaware of what's behind him. Thhis is why you never turn away from the qaction!
Nice oldie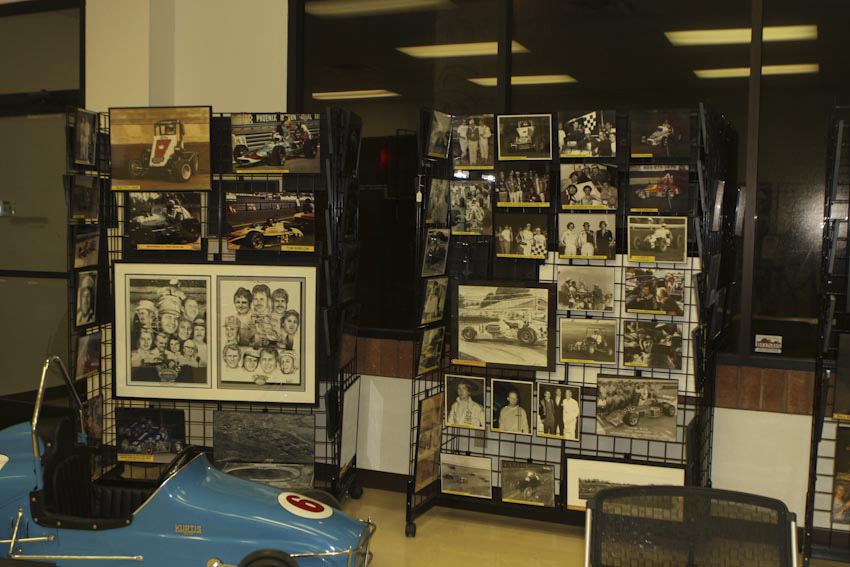 Pic stands show even more
More
Even more
A little more
A Kyle Larson bunch of pics
More of the NASCAR superastar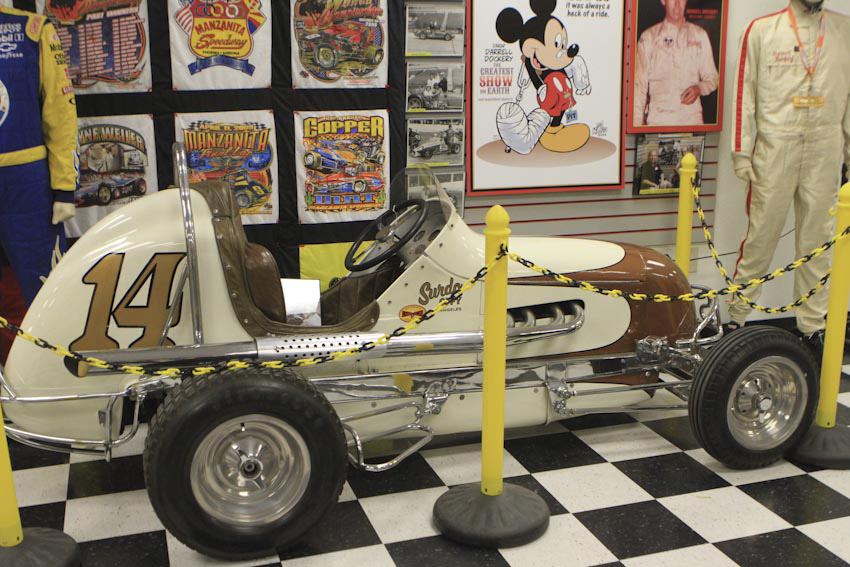 A nice little car
Another view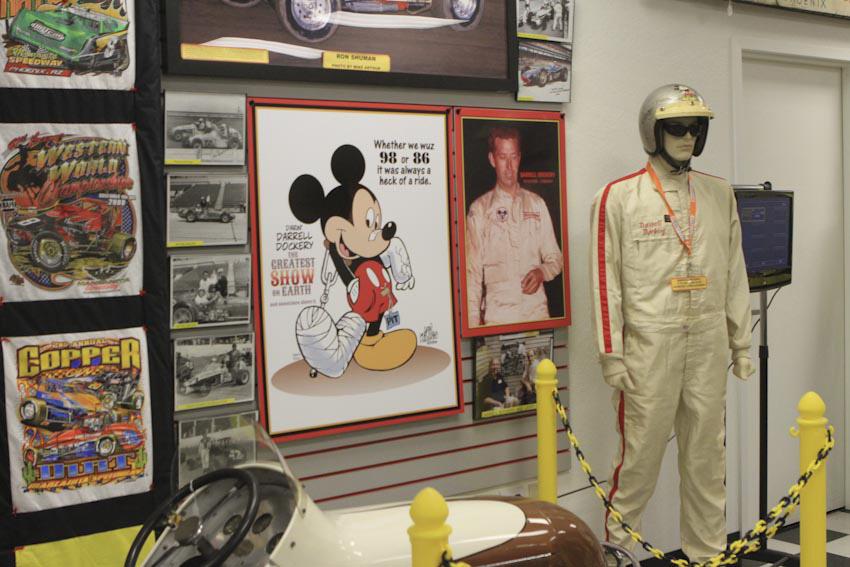 Mickey!!!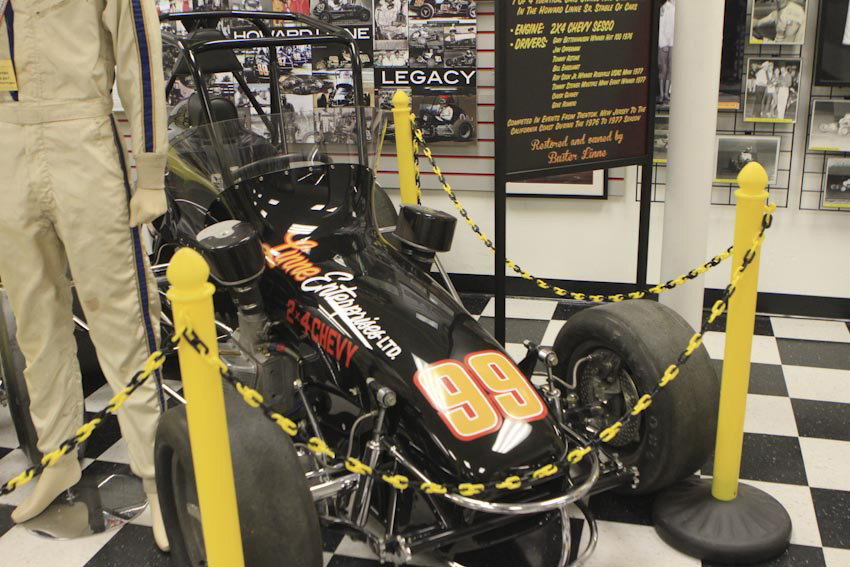 Another little runner
Front view
Diecast alley!
Nice really big cars!
More biggie
This is the counter display as you come in the front door of the museum!
Here's that noisy Super Modified again!
More good stuff!
And more
Richard Griffin talks with Shane Carson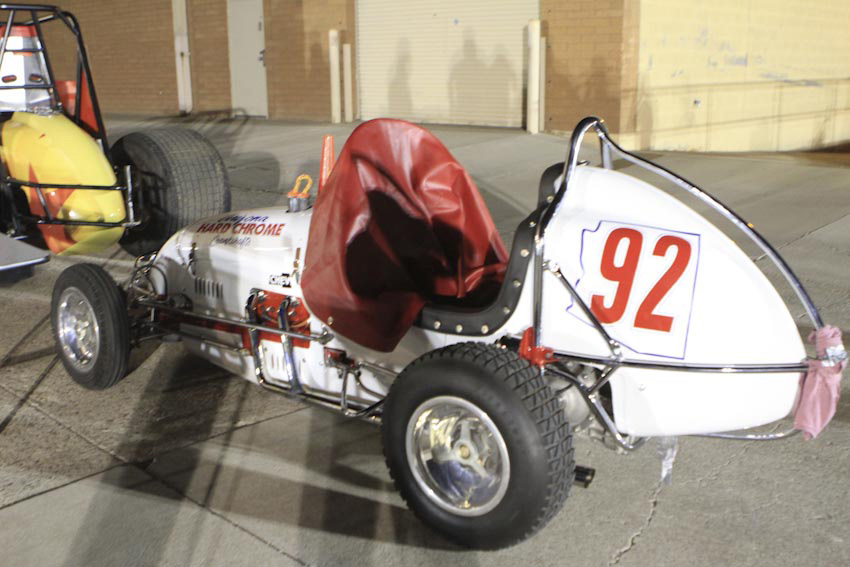 They fired this 4 cylinder up and it was a bit noisy too!