Kari, Tracey, Gerry and Mrs Wags at breakfast at the motel while Wags pulls himself together upstairs.
Auction organizer, Steve Lafond, and his daughter Korie work away getting everything set up.
Mile Clark in a new job on Wagsdash day. Normally he is in the kitchen warming up the chili, but with John Gardner doing the chili, he has new duties.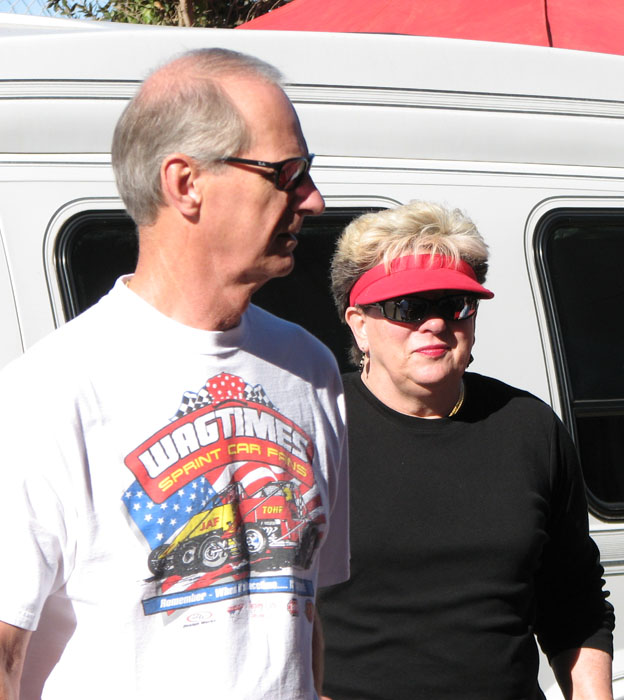 Mike and Mrs Wags doing something.
One of the things we learned to do is wrap everything for the auction in a saran type wrap to protect from any moisture getting under the glass of photos.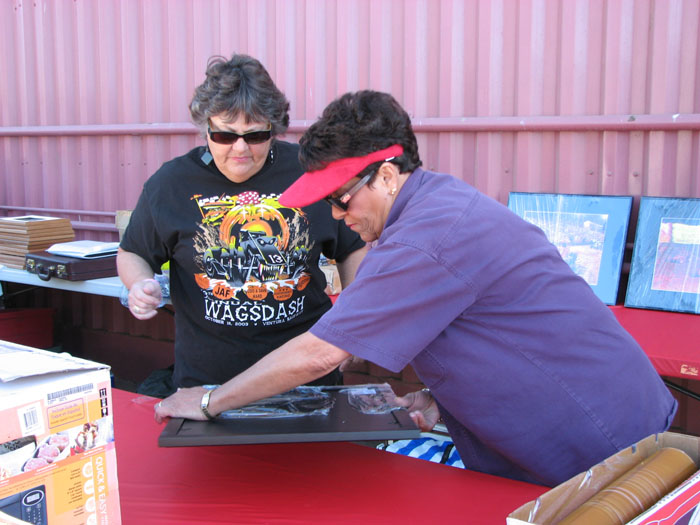 Darleen and Fran get it done.
Steve Lafond on a mission.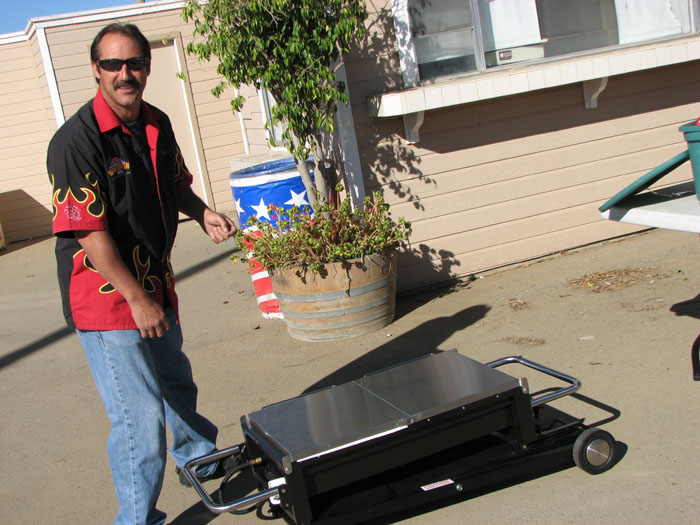 Gerry Johnson about to unfold the new cooker.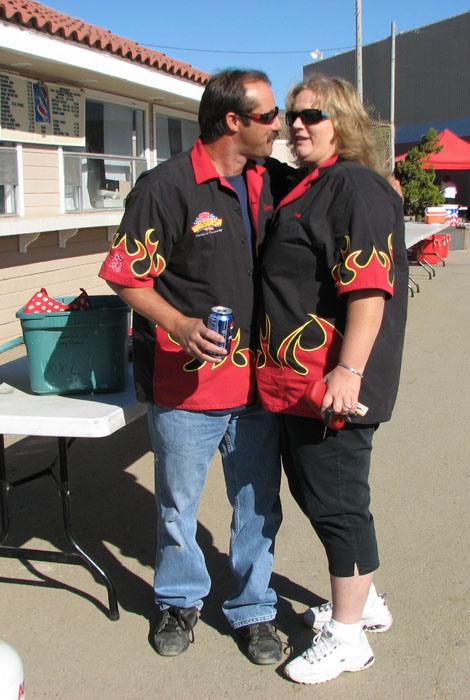 Gerry and wife Tracey.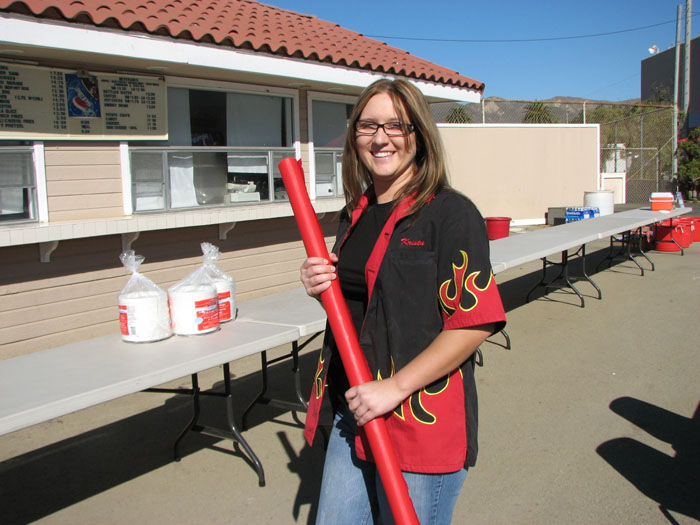 Krista keeps coming back for more!
Darleen looks over Jim's camera!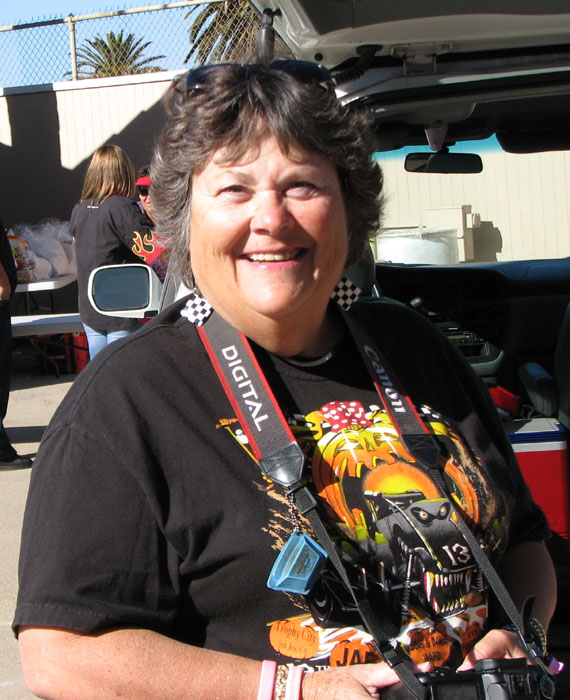 Darleen is thinking "how much will it cost me"?
Jim shows off his bear he brought for the auction as Wags, Gerry and Ashley look on.
Ashley is helping Wags spell names for the sign-in sheet.
Mr Jim Naylor comes to visit to see what he can do to help. He did a bunch already.
The bear continues to have company. Darleen and Jim Herdrich come to see.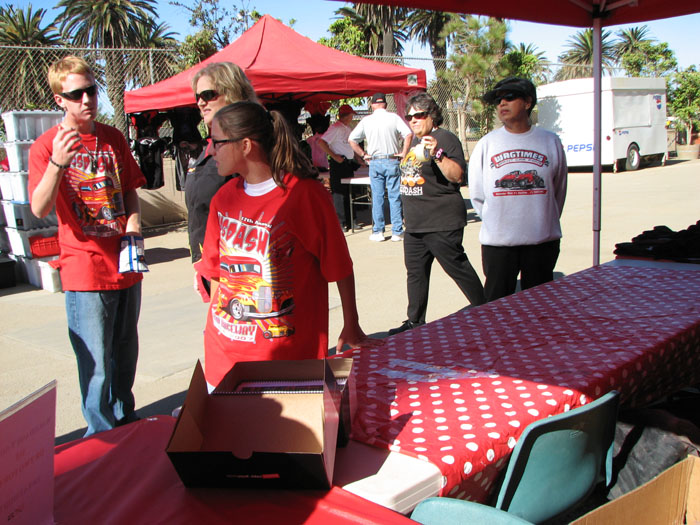 The gang buzzes around as things are almost ready.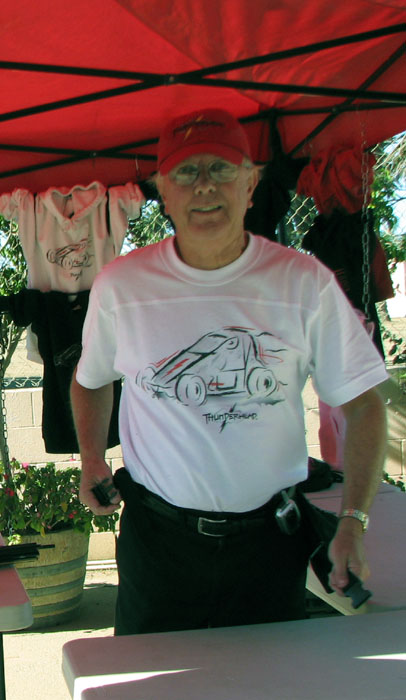 Tom from Thunderhead gets his booth up and running. He hired the band that played during the afternoon.
The EZ-UP goes up for the bake sale.
Mike and Evelyn Clark. They didn't know we were re-using the flame shirts and left them home.
Brad was in charge of our needs. Here he makes another request come true.
Lois Ward joined the group for the first time and enjoyed herself.
Kari contemplates..............
Ellen and Marilyn seem to be going different directions.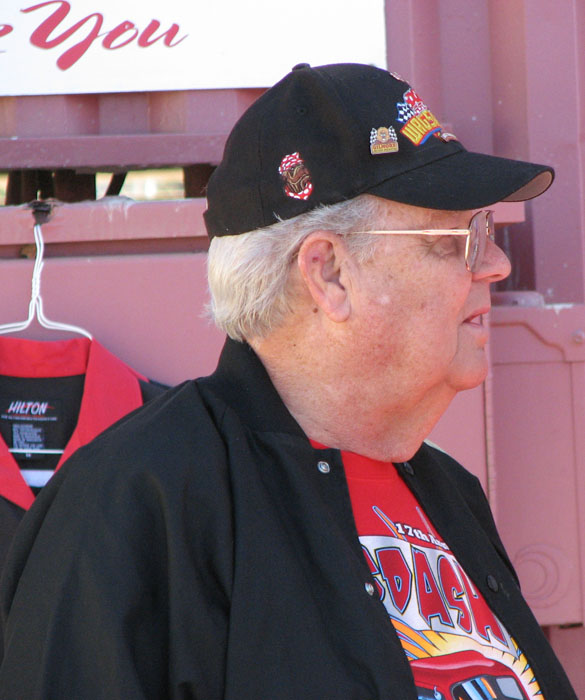 Joe Ellis in the house.
Let me introduce the bear.
Darleen and Stubby.
Dennis Rodreguez comes to see.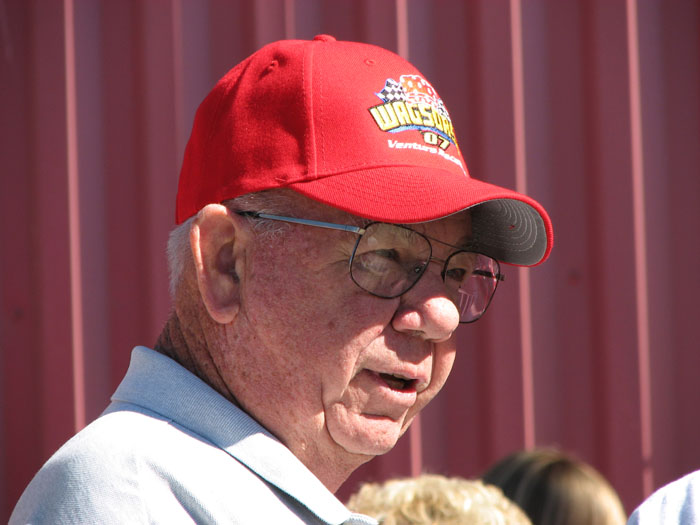 Norm studies something intentley.
Mike is telling Wags how it is!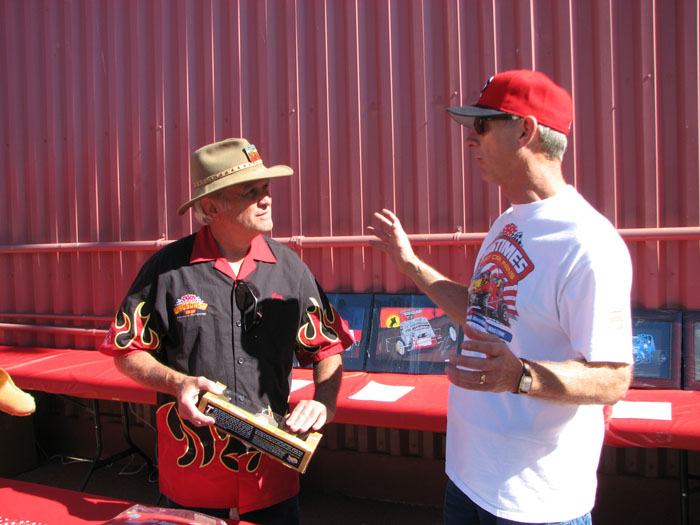 Now Mike tries it on Fargo.
Marilyn and Evelyn at work.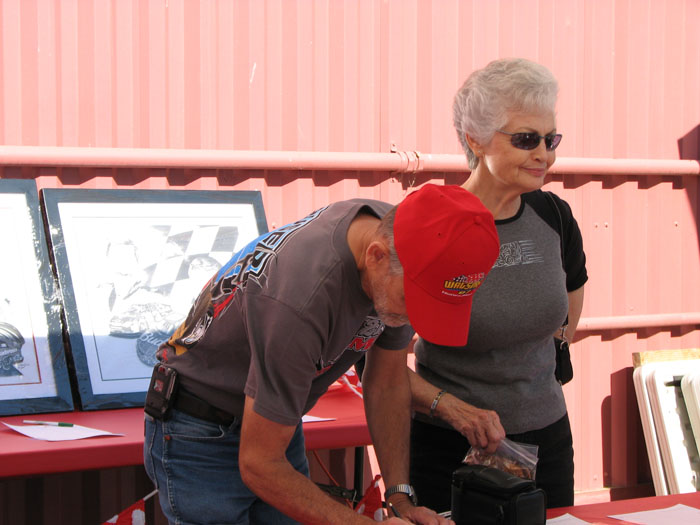 Galen and Joyce looking over the auction.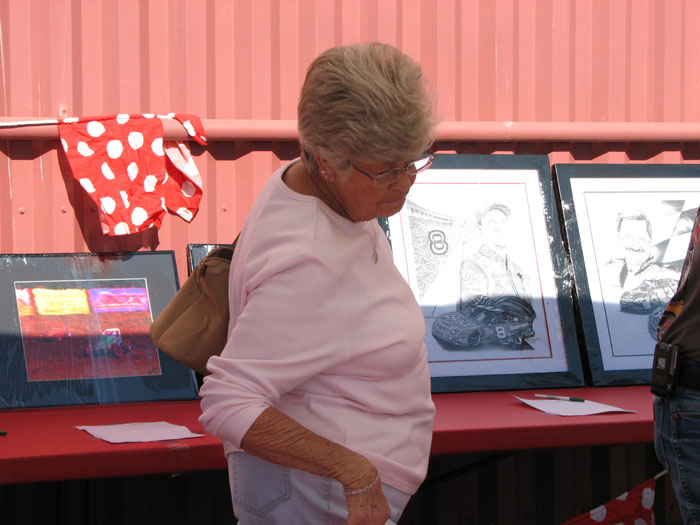 Grandma Suzy takes a look.
That's sneaky of Steve to sign up for the bear, so soon?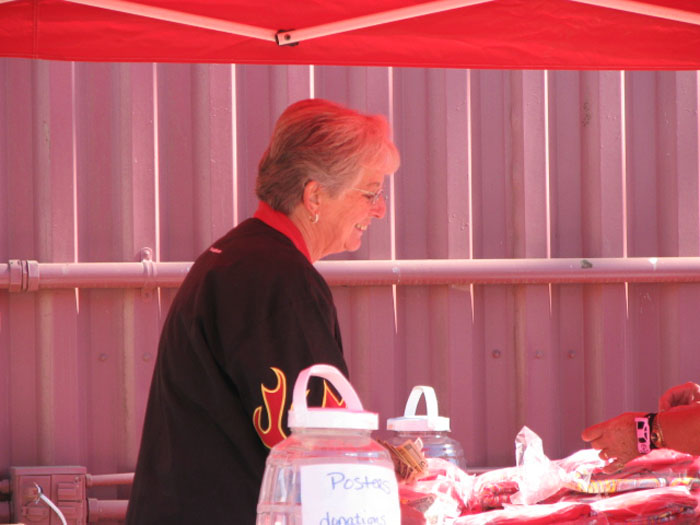 Sonia Bandy works hard in the booth. Her job is to keep all the money seperate so Fran can make the proper accounting at the end of the night.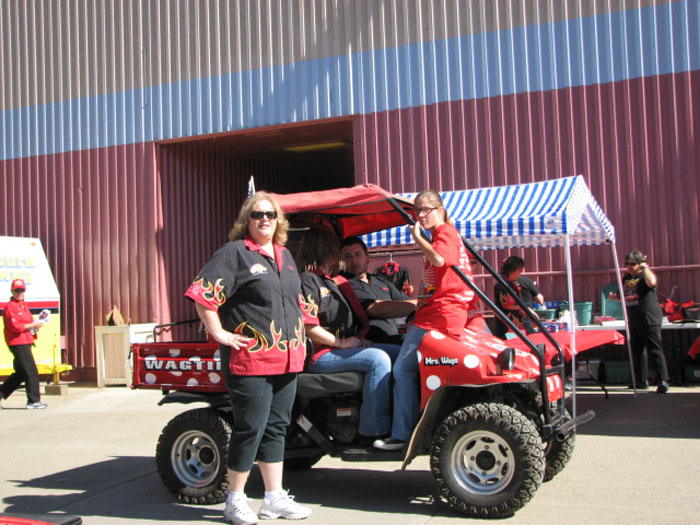 They stole the Wags Mule to run around in!
Sonia and daughter Kari are workin' it!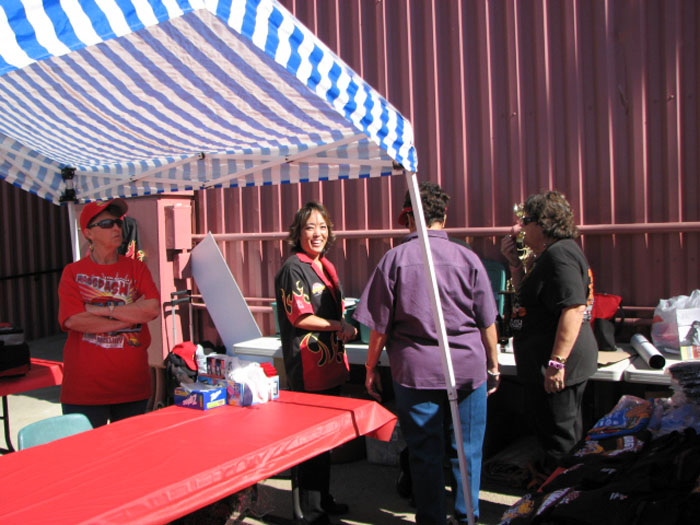 Julie organizes her bake sale.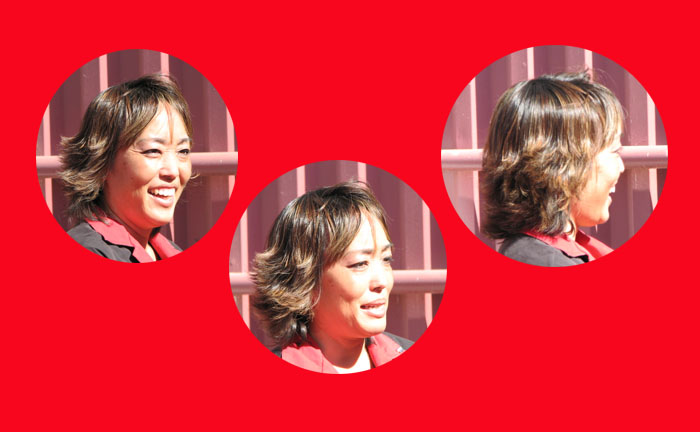 Julie was a happy person as usual.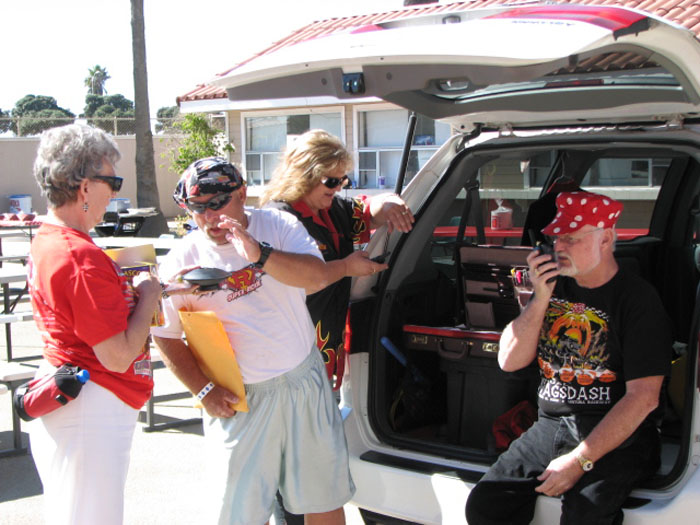 Hello, hello? Anyone there? We never did get the walkie talkies to work and we've used them for years. They didn't need me anyway, they resolved all the problems alone, Great!
Hey, who's the midget behind the poster with the red and white polka dot hat on?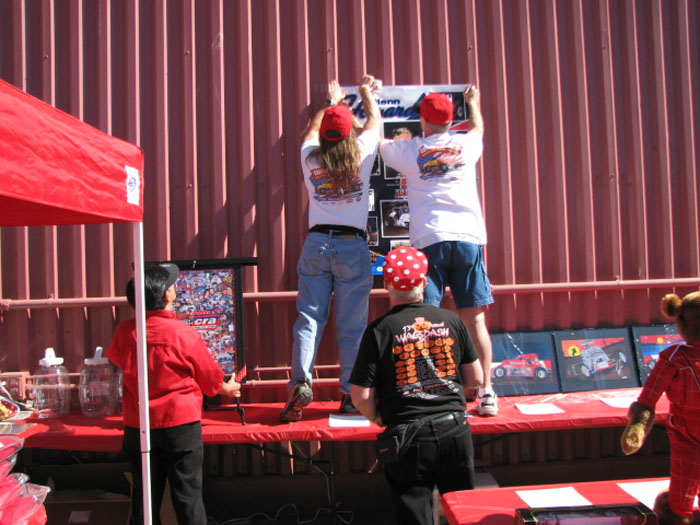 We hung the poster/banner on the wall for all to see! Later it went to the Howard family.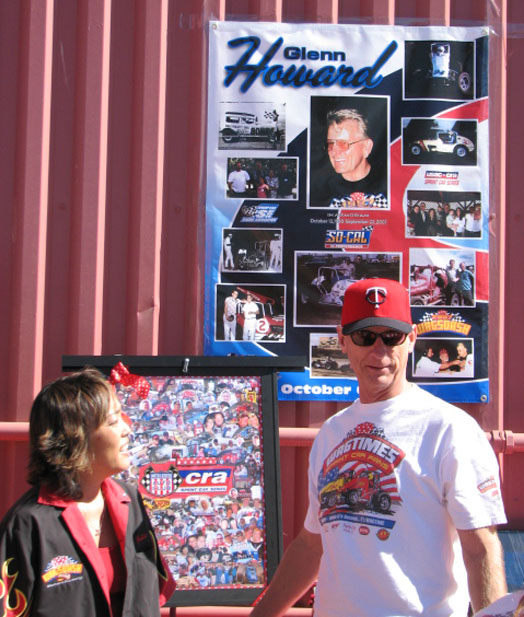 Mike and Julie look over the collage she made.
Mrs Wags has a napkin holder that has a sprint car, on the other side.
Looks like a carnival is in town.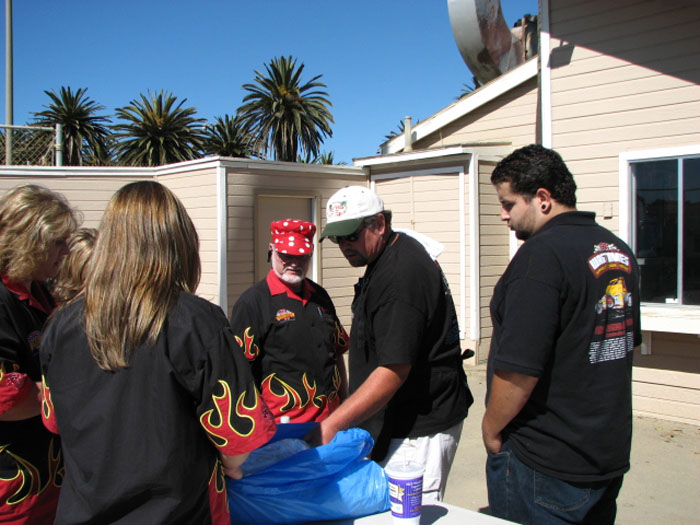 What's in the blue bag............... Spoons?
David is the ice man for now.
What, the drivers can't drink? Good Idea!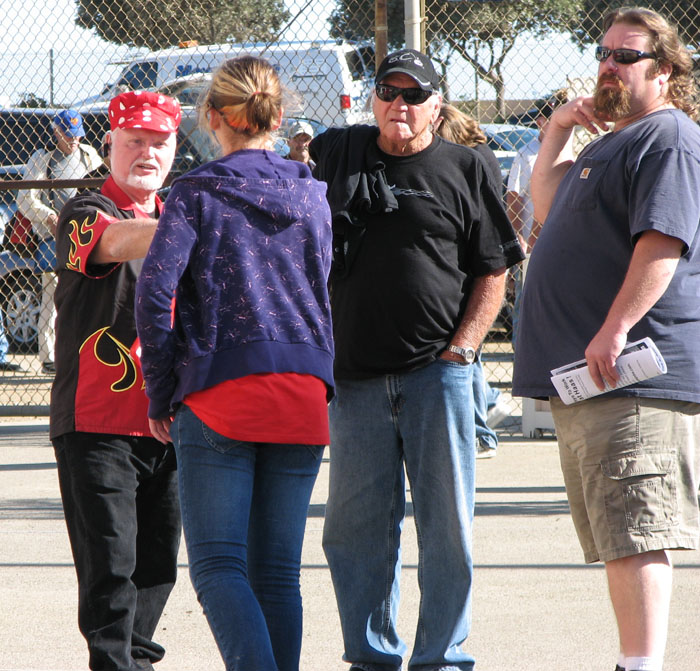 Lee Leonard came to the dash. He doesn't get out to the races much anymore, but he is missed.
Mrs Wags is taking pics today!
John Gardner is here!
Look how organized he is.
The crazy sisters smile with John, now that the chili is ready!
Jeff and Ashley hang out.
John Gardner and Wags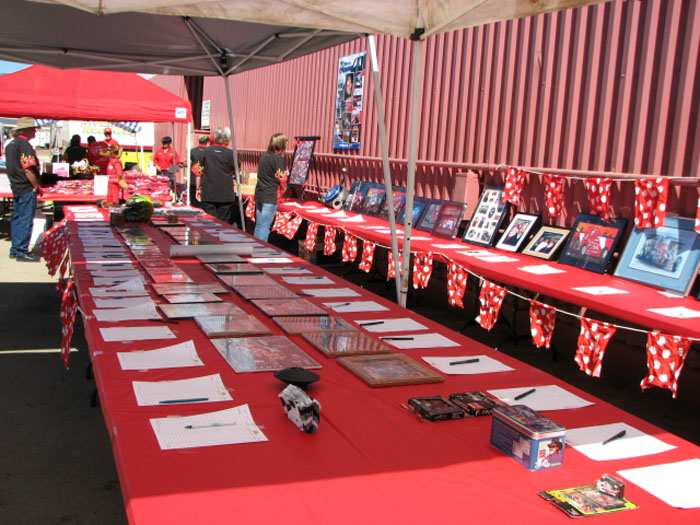 All is ready for business.
Julie's collage was a big hit.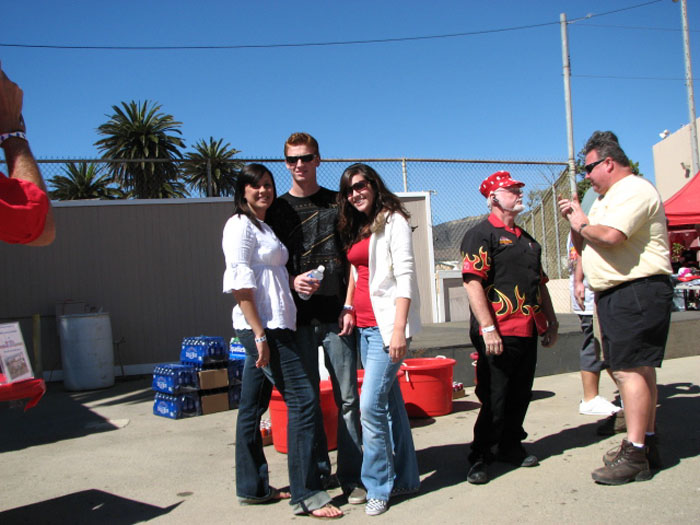 Blake and his girls.
Biggy and Wags
Ronnie Gardner and Wags
Danny Sheridan and Julie.
As usual, Fran wants in the pic.
Julie and Hailey just having fun at the races.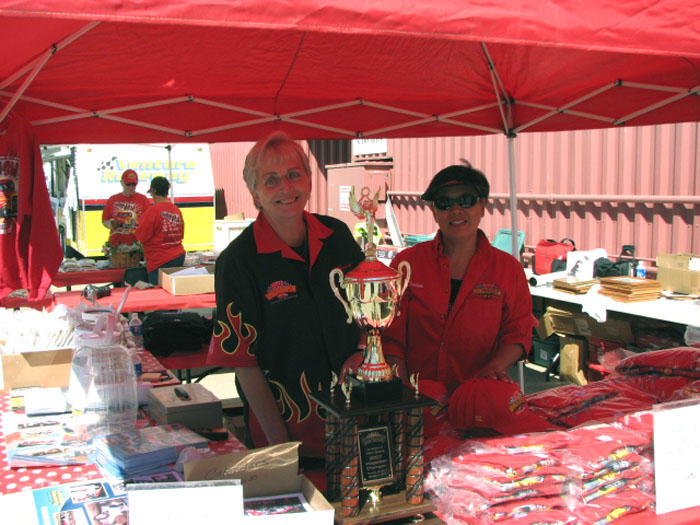 Sonia and Evelyn with the Wagsdash Champion's trophy.
Mrs Wags found a doggie, a big doggie.
Luis, Danny, David and Tab having fun.
The polka dot cook is in the house.
Danny looks comfy.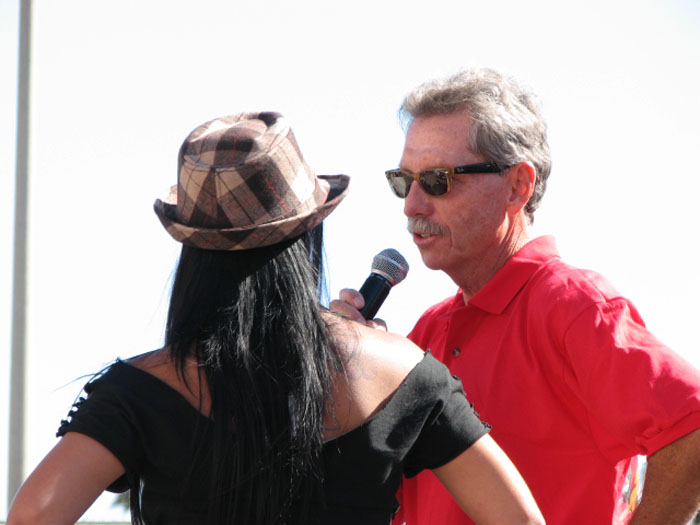 Danita getting interviewed by Mike.
Julie is orchastrating the sexy driver contest.
And the winner is...... Sexy David Cardey.
Wags and the Master of C.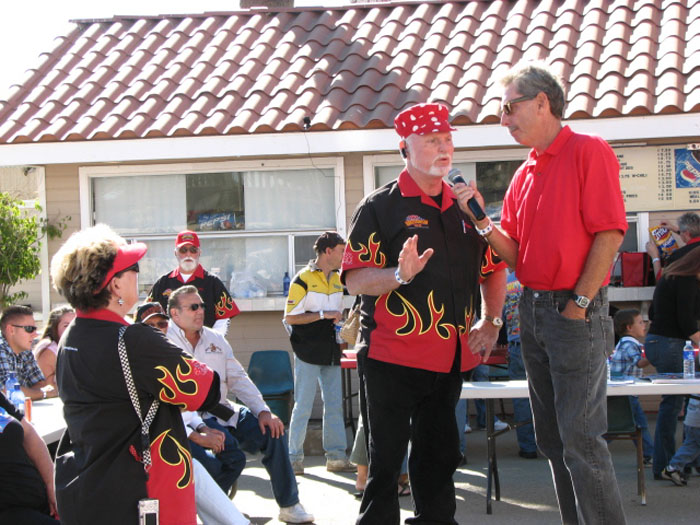 Mrs Wags is trying to tell them something.
Pat and Mrs Wags
The band Frank Barajas and the Shakedowns.
Friends of ours Mike and Marilyn Conklin came by for some chili!
Wags visits the t-shirt trailer.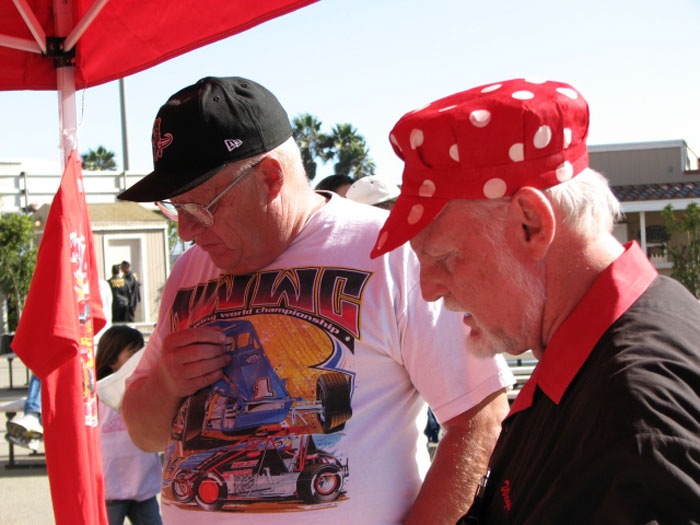 Ray Voden comes for a peak.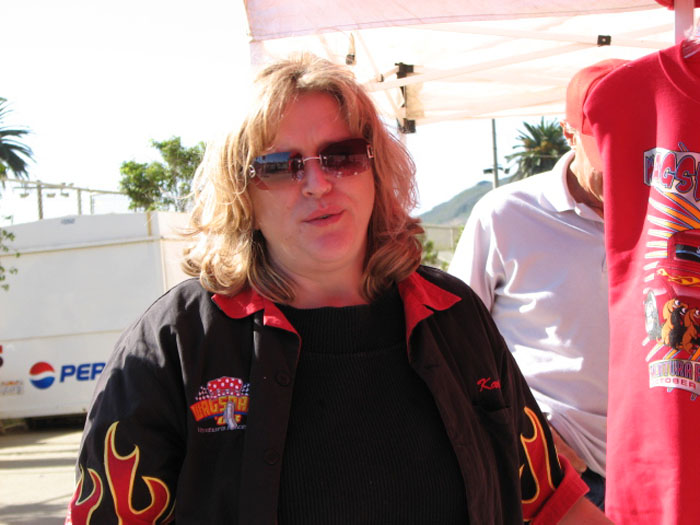 Kari in work time.
Don Reed is a long time Wagtimer and former tech guy with SCRA.
Stephen is taking no blame for something?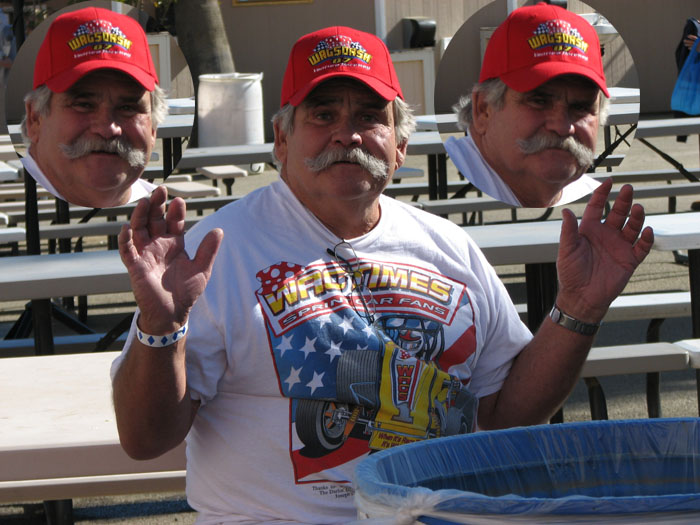 Stubby Dils has on one of my all time favorite Wags shirts. I think these will be available after January.
Hold on David, your truck wasn't hurt that bad.
Do-Ragman Lafond.
The two Diva's visit with the Wags.
Danita visits with the Wags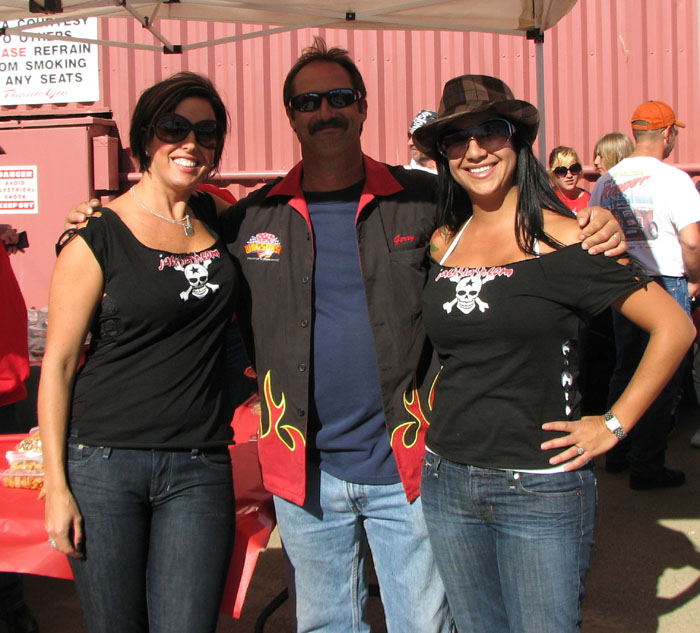 Gerry posed with the Diva's.
Then the Wags got into the pic.
A family affair, but who knows what they were up to, it's Tracey, Gerry and Ashley.
Mrs Wags havin' a ball.
Lets see; the F stop is next to the 5th avenue liquor store, right?
Mrs Wags and Joy Paulson.
Contrairy to popular belief, Korie is not hooked to Jason, as the young workers are getting some rest.
Mrs Wags doing her thing again.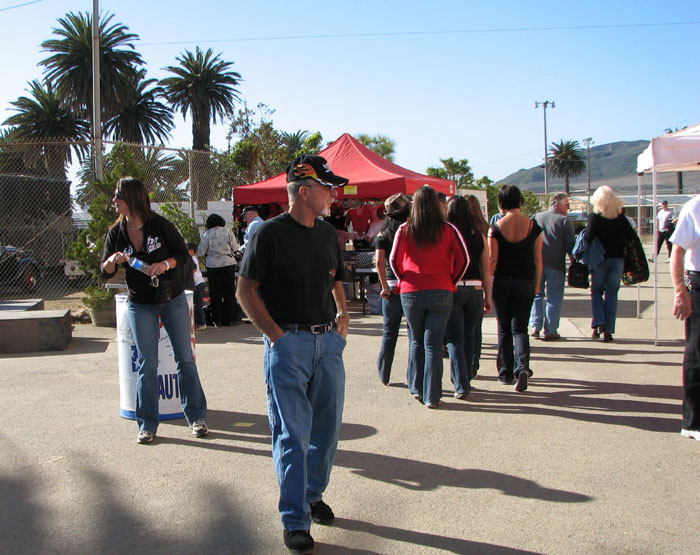 The crowd mulls around.
Jimmy Oskie and super shopper Marsha confer after her purchase.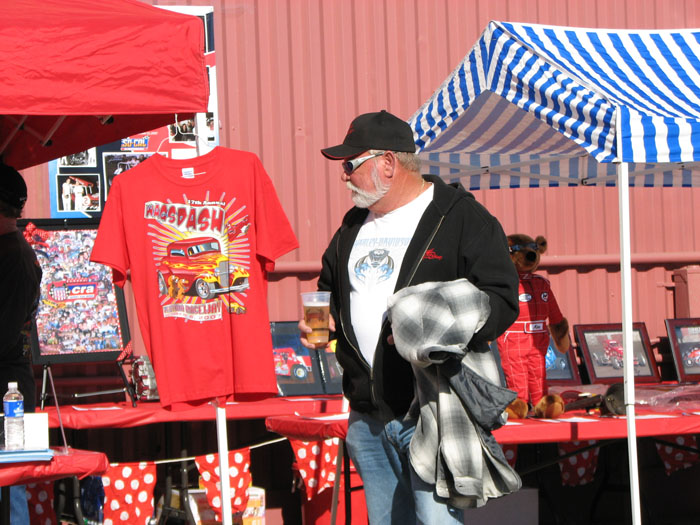 So that's what a sprint car t-shirt looks like.
Here's a fan looking for something good.
Looks like Stephen lost his razor.
Ernie Ballard came by with his son Alan who is looking for a ride.
So, you say it's just a little crooked?