The Williams crew unloads the cars and then the cars get set-up and they go racing whie the Godfather Jack enjoys it all. He is proud of his team and is always there to share the fun with them.
Josh Pelkey stayed out of trouble and had two top 10 finishes with the visiting warriors in town. It was 7th and 10th and they rolled it on the trailer!
The silver bullets are still firing. Not much luck this weekend, but the championship is a done deal for Damion and the Alexander Racing Team. Mark Alexander looks relaxed!
Dustin Cormany dominated the mini-sprint mains both nights. He won the wing and non-wing features. His lady Nancy worked with him in the pits alll weekend. His motor is a 600 CC Suzuki, half the size of the California ightning Sprints, but he could do well with them if he travelled and got 600 more CC's.

Matt Mitchell's new car is bright and will be easier sen on the dark dirt tracks. He had a so so weekend dialing the new one in.
The littlle red sucker was 3rd on opening night and looked to do better Saturday, but an opening lap skirmish put im and a bunch of others in the back. The old CRA rule of first lap crashes and everybody gets their spot back might have been only if it was a red flag, as driver Bruce St James said to me later.
Kevin Thomas Jr had a good Friday with a 4th, but not so Saturday with 19th after leaving the front for the back on the opening lap.
Tracy Hines was consistent with double snake eyes finishes this weekend. On the podium twice is always good!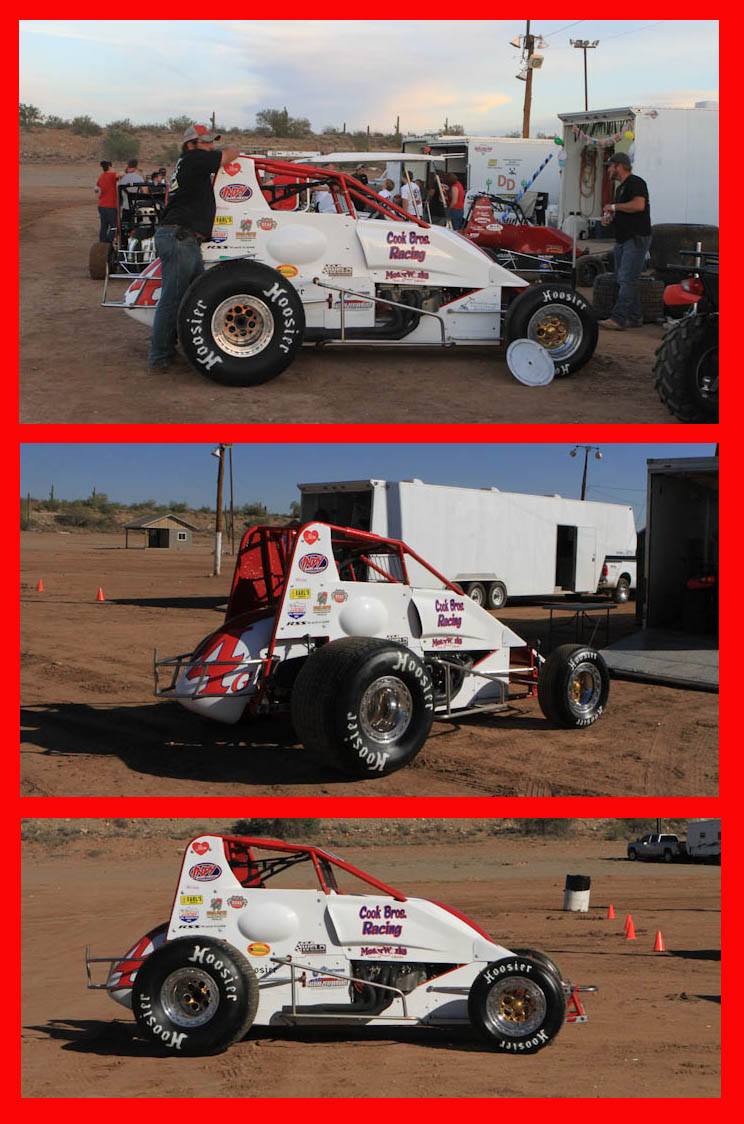 Charles Davis Jr didn't have a lot of luck as his # 4 was a racing magnet getting involved with 21st and 16th finishes not representive of this man. He still keeps on smiling!
This shot from the back stretch.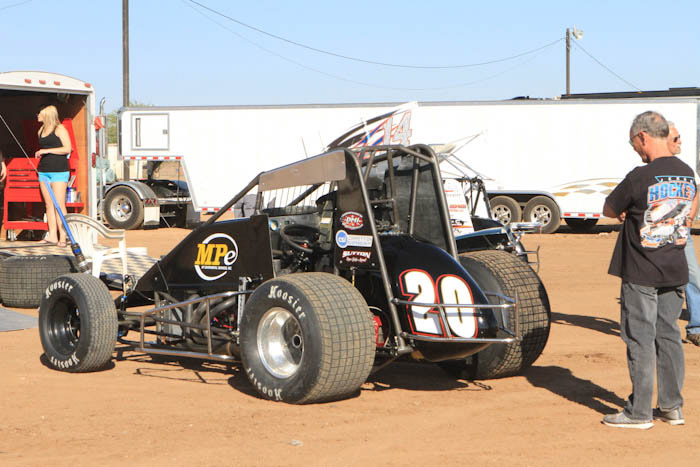 Shon Deskins
Chase Stockin
Robert Ballou did good with 5th and 8th on the two nights
The steel block cars ran hard and crashed often.
Dave Darland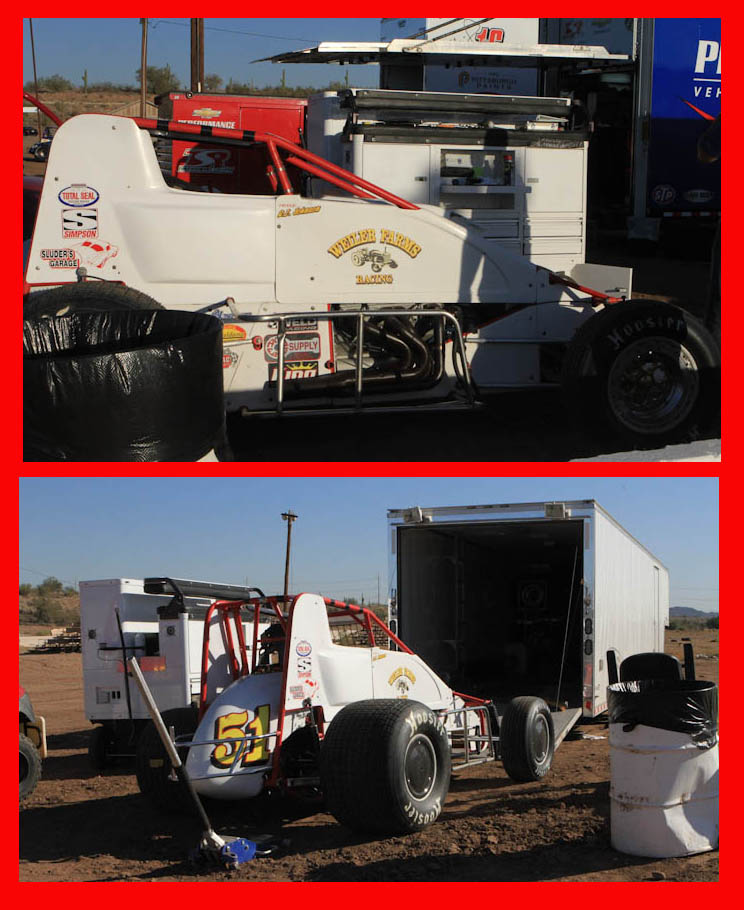 R J Johnson gave it a go on Saturday as he fought hard for his 4th place finish.
Justin Grant was 3rd on Saturday after a 15th Friday
Matt Rossi ran Friday but went home.
Tyler Courtney made the feature both nights in Bob Ream's orange car.
Josh Hodges
Bruce St James
The USAC Traxxxxxxx traier got attention with driver meetings and so on.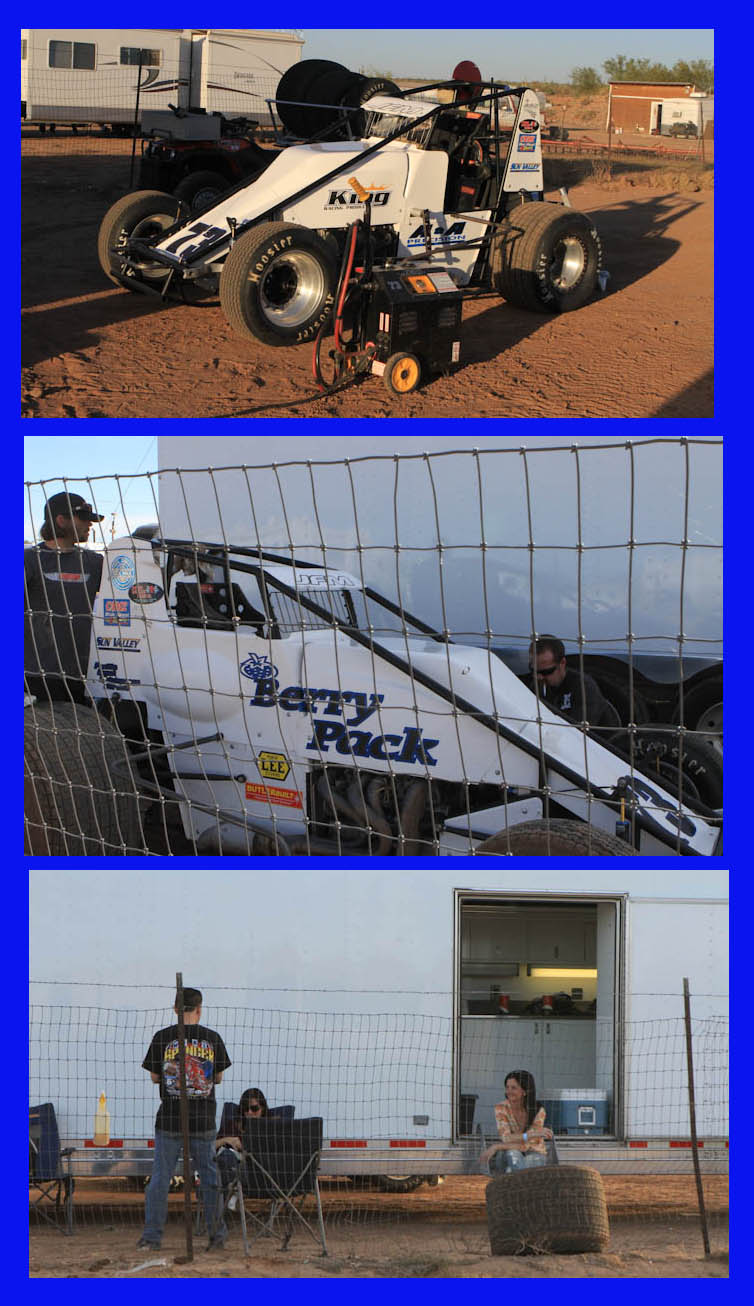 Jon Stanbrough came out from Indiana to drive the Ford Motorsports # 73 once rodeoed by Ryan Bernal.
Braden Wasson and his wife Katy enjoying the [it walk.
They are up there
Steve Stroud, Glen Crossno and Tyler Courtney talking
A view of the pits
Camping view with Mike Clark, Carl Lattner and the Clauson campground groupies.