First of all let me say I really screwed up these pics. I obviously had it on the wrong setting and most every shot has a ghost background due to me letting in too much light. Some of these taken in shadier areas were OK, but most were awful. I am truly sorry because I got some great shots of cars that will not be seen here. I will only put up the ones that I can improve to see clear enough, but there doesn't appear to be many of those. The truth of the matter was I got a little sun dizziness and wasn't thinking too clearly as I tried to get shots of things that caught my interest. When I finally got some gatorade in my shaky body, I was done shooting and boggied out of there anyway.
As I was walking in, this guys T-shirt caught my eye, negatively. "Losing is natures way of saying you suck". That was mild compared to many others on the bodies of some of our youth at the drags. Where did we go wrong?
A hot Studebaker.
It was very hard to get pics with the big crowd and everyone annoying the photogs trying to do their job. I just waited patiently as they smiled and moved along.
This Sour Sisters Safford, Ratican and Gaide car was Olds powered and very fast. Note the upholstered cockpit, very rare.
The famous Stone, Woods and Cook AA Gas Supercharged car was one of the best. Big battles with Big John mazmanian were legendary.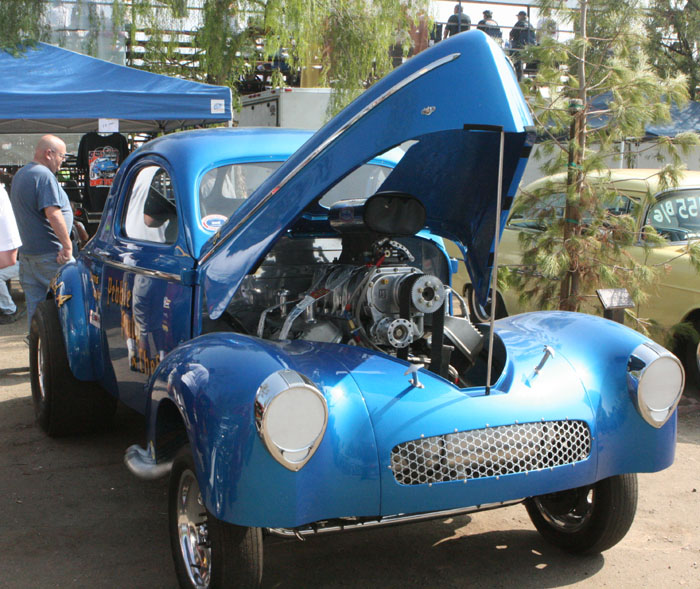 A knock off of the name was on this car: Pebble, Pulp and Chef! I really don't know anything about this one.
This is more like the orginal SWC car and was Olds powered in the early life of the car. Later they went to the big aluminum hemi.
No info for you on this AA Gasser car.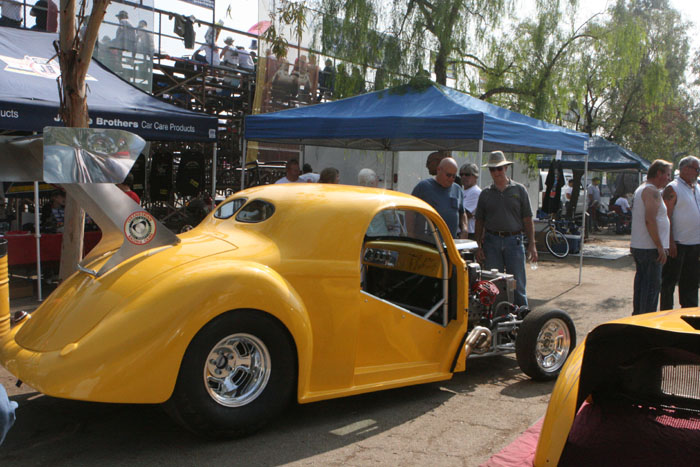 Another AA Gasser of unknown origon.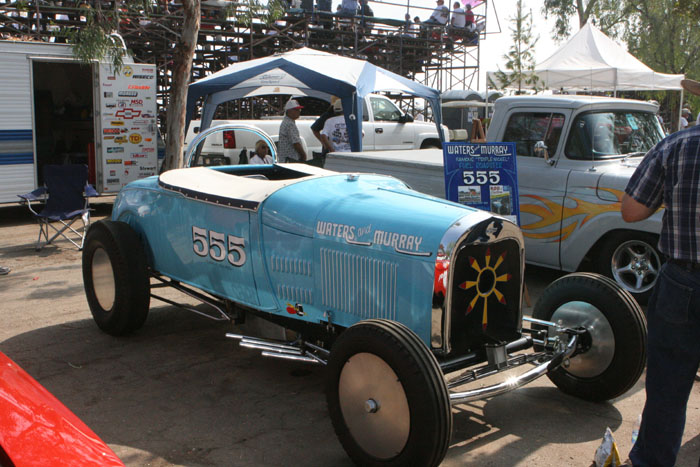 Pretty roadster. Note the hoop "rollbar" for the driver?
The last good shot on the proper setting before I went bonkers was of Poison Ivy, a fast fueler.
OK, that's TV Tommy Ivo, a famous actor and dragster driver of the 60's and 70's.
A competition eliminator car.
A nice looking rail job.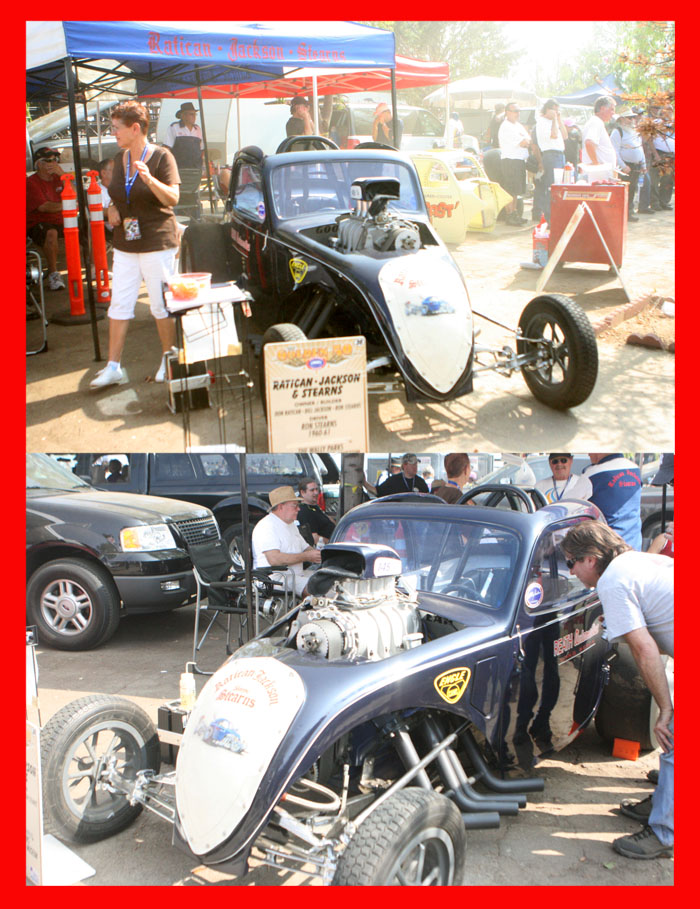 One of the fuel alterds that were so popular, and still are when they come run. With a 92 inch wheelbase and blown motors on nitro, what a gas! Ratican, Jackson and Stearns were their names.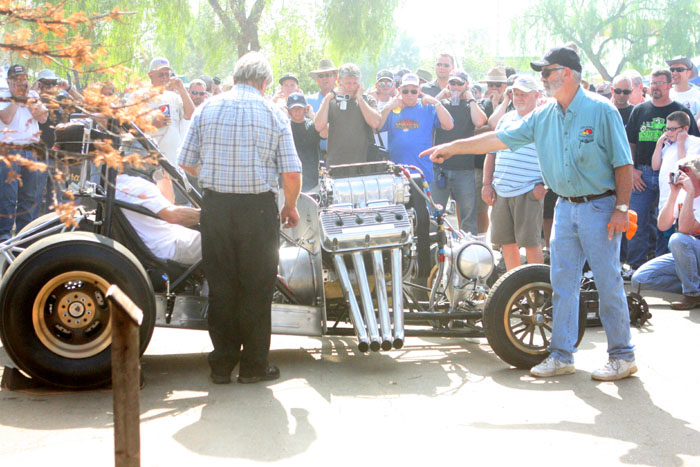 This Fuel Altered was fired up and backin' the crowd away when he burped the motor. Oh the smell of Nitro what a memory rush!
After a similar Bantum altered named Pure Hell became popular, this Pure Heaven version was every bit as racy. Some great races by these two. That is the owner in the cockpit.
The Samurai fueler was very clean looking.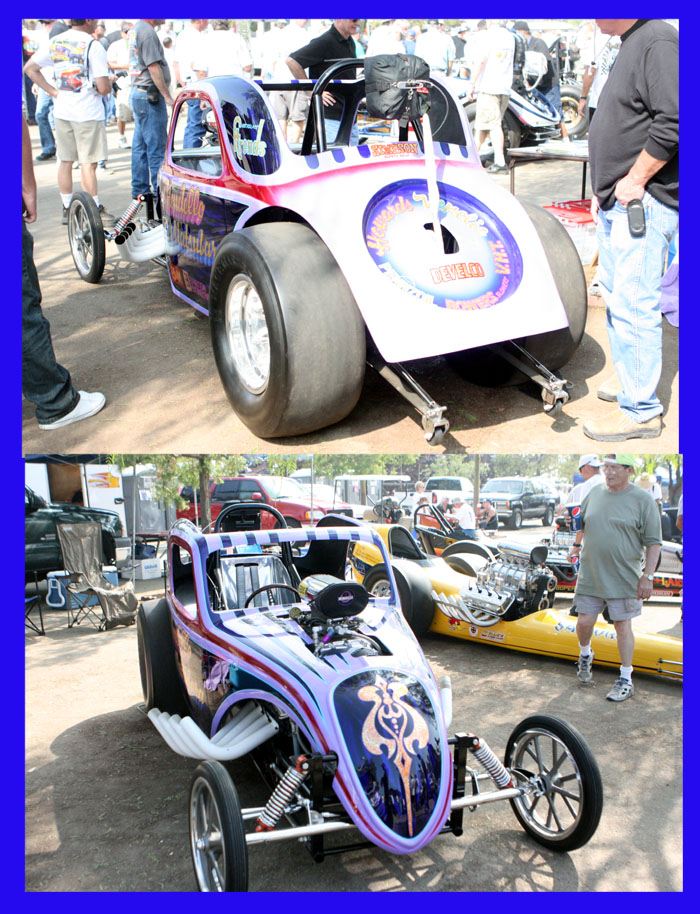 A very nice altered.
The Burkholder brothers ran this car back in the day and the car was later sold. Then one of the brothers and his son bought it back and now they love to show it of. The wife and mother told me the story.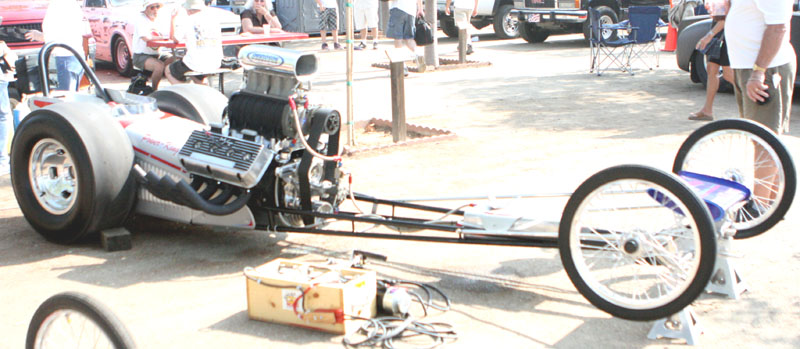 The typical fuel dragster of the 60's without a full body looked like this. Open chassied front end and some skin around the driver. There were a lot of these as they wanted to go fast and win without paying for the artistry of someone like Hanna to creat the sleek skins.
The blue one looks like a Gene Adams car, but I didn't really look, or I forgot. Not sure about the red one.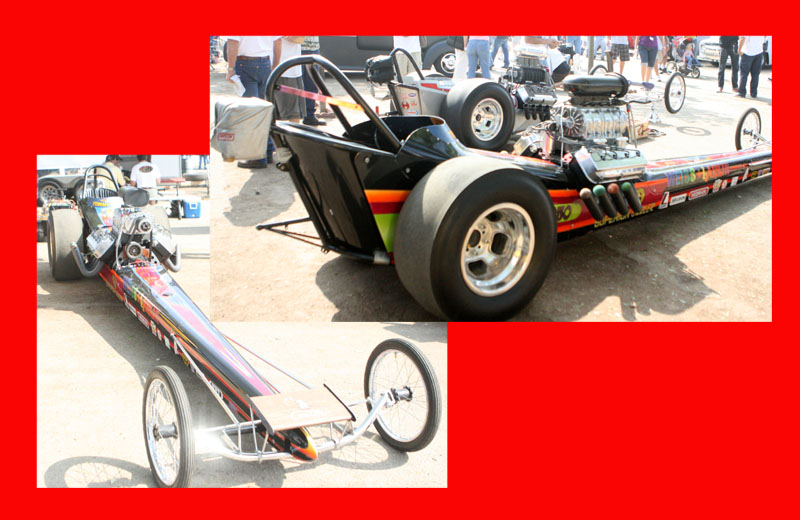 The Wiess and Larkin fueler.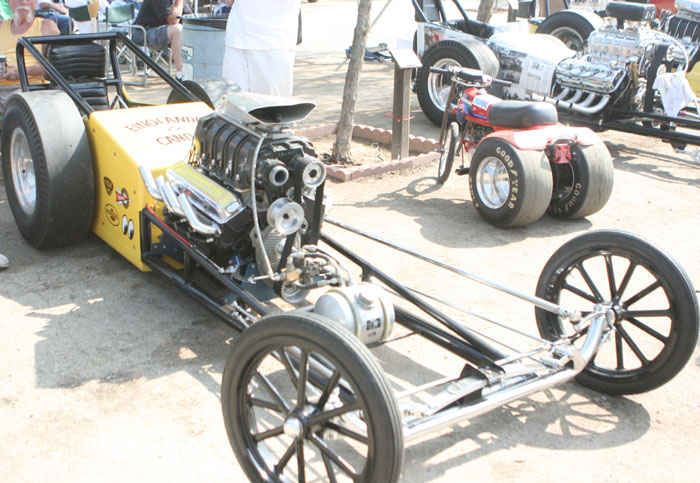 Looks like one of the Chassis Research cars of the early days. The guy who built these stated that he figured out by using scietific basics, that the fuelers would never go over 160 miles an hour. Boy, was he wrong as they fly over 350 MPH today. Notice the 3 wheeler with slicks???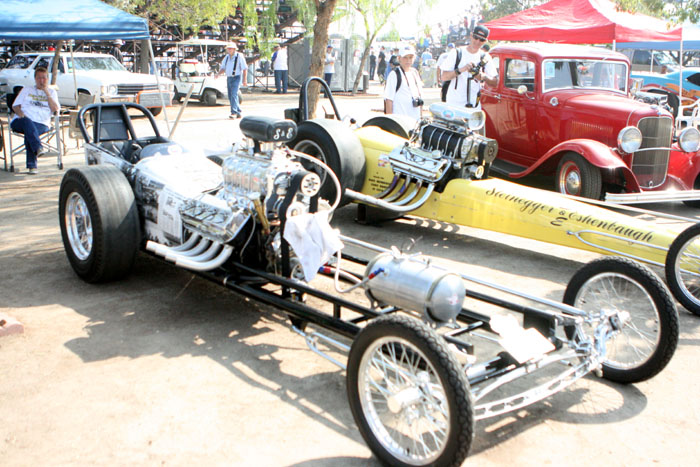 The one on the left is an early model for the team of Stennegger & Eshenbaugh from Phoenix,AZ. One of their cars is in the Phoenix museum that we visited years ago. Not sure it's still there, but it is longer than the yellow one in this picture.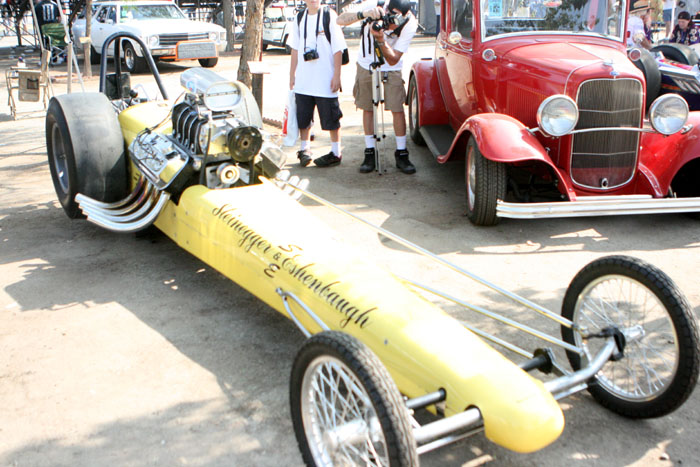 S & S by itself.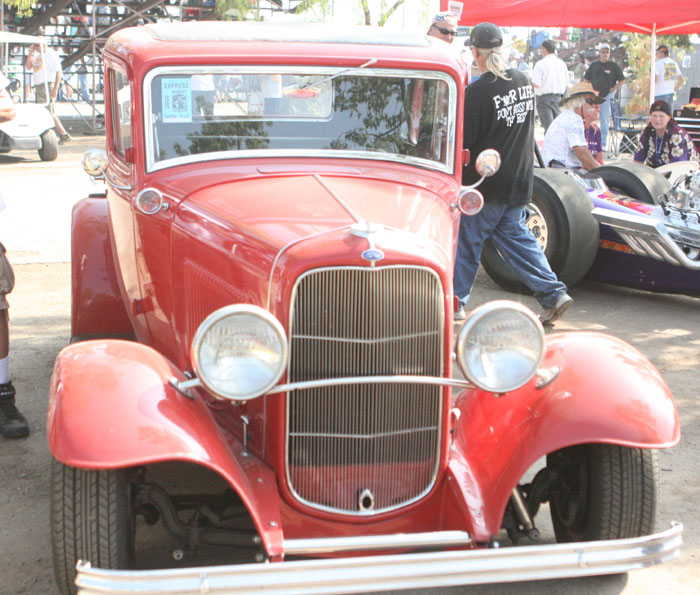 Nice little red rod.
No memory of this one. I did notice from comments I heard that some of these front motor cars are not necessarily ones that were run back then, but newly created cars.
Nice 34 hot rod.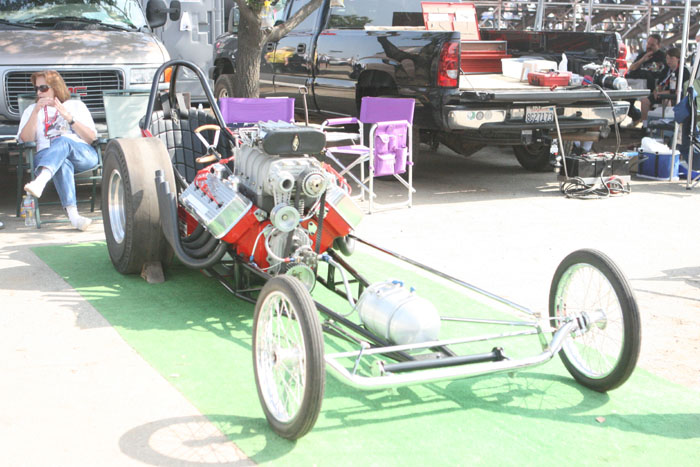 George Boltoff's gas dragster.
One of the many old roadster's from the AA/FA class, but I didn't see a roll bar.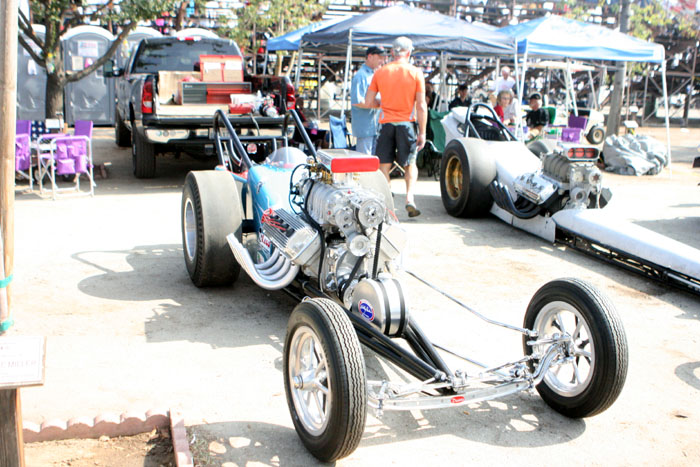 Another old, old chassis of what class I didn't look.
Another dragster.
Stone age incomplete dragster? Never heard of it.
You'd panic if you drove this famous AA/FA.
Which would you pick?
Nice oldie. The event has hot cars, hot rods and many nostalgia race cars all over the place.
Nice, oh man it is screaming for a wild yellow paint job.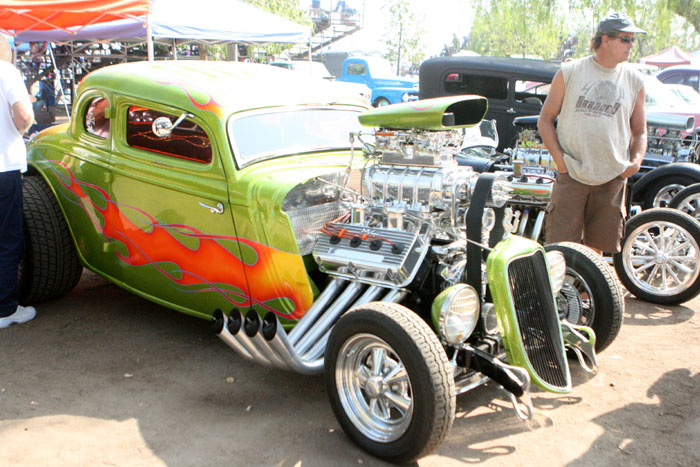 How in the world can you see out of this one????
Low slung roadster.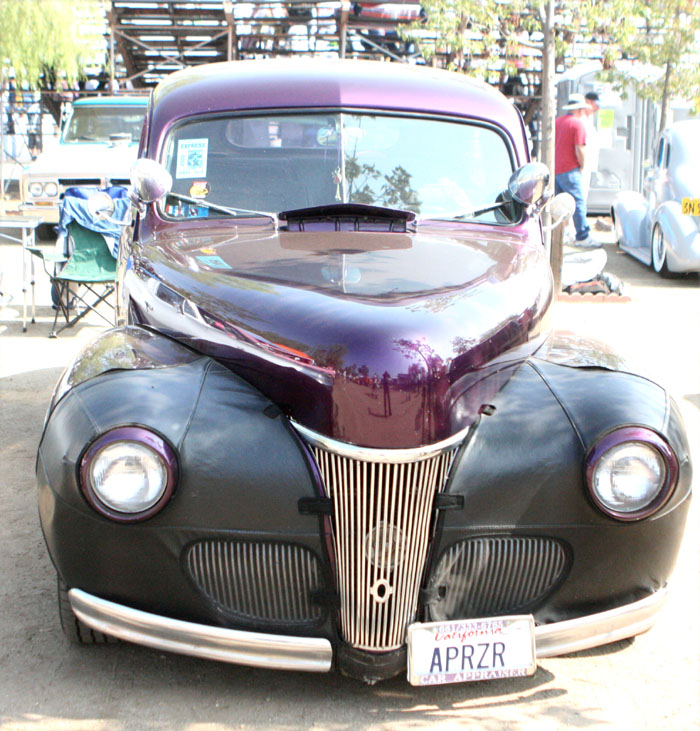 Late 40's hot rod.
A slick Willys, heh heh.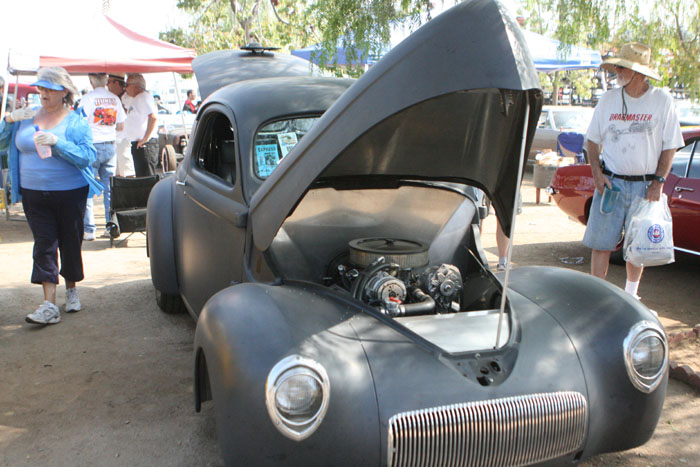 A little paint and I'd drive this Willys.
A case of the missing hood. Looks better with one.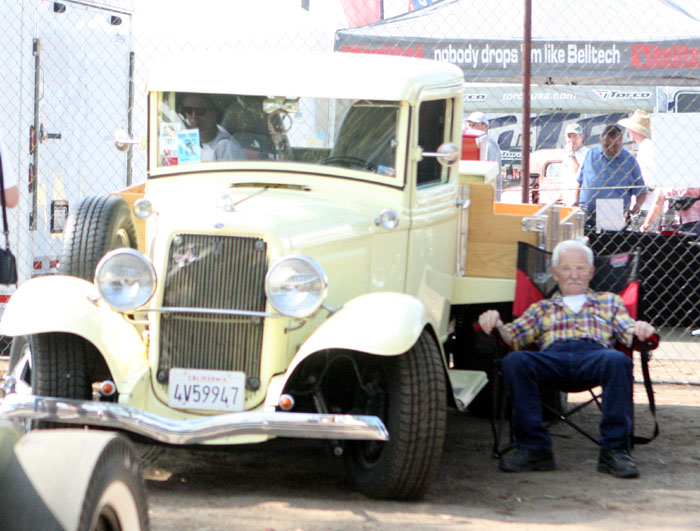 Doesn't he look like he drove this one off the showroom floor, if they had one in those days.
Needs paint, but a real nice little truck!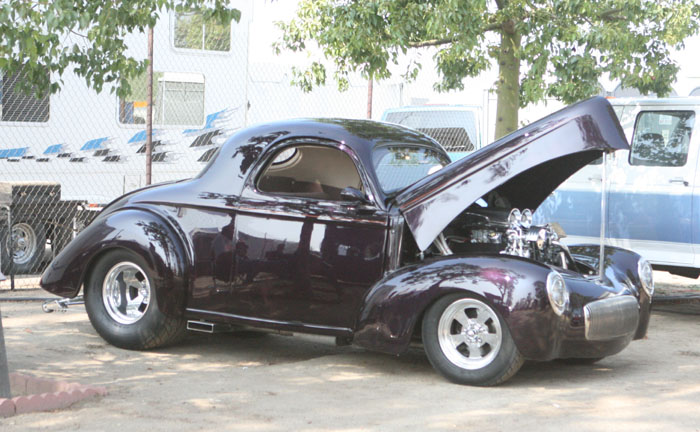 Another nice daily driver Willys.
Flames under the hood?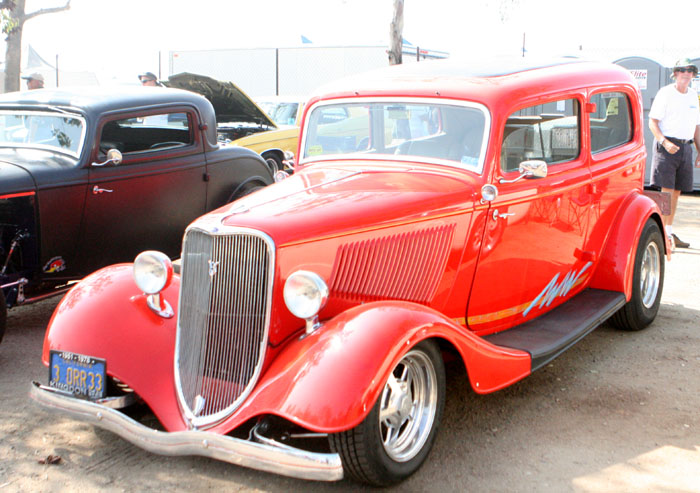 Too stock looking for me, but still way nice.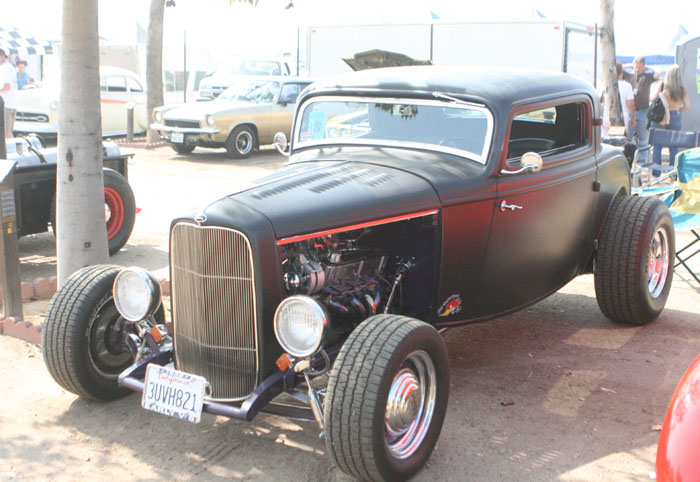 A real hot rod.
Really?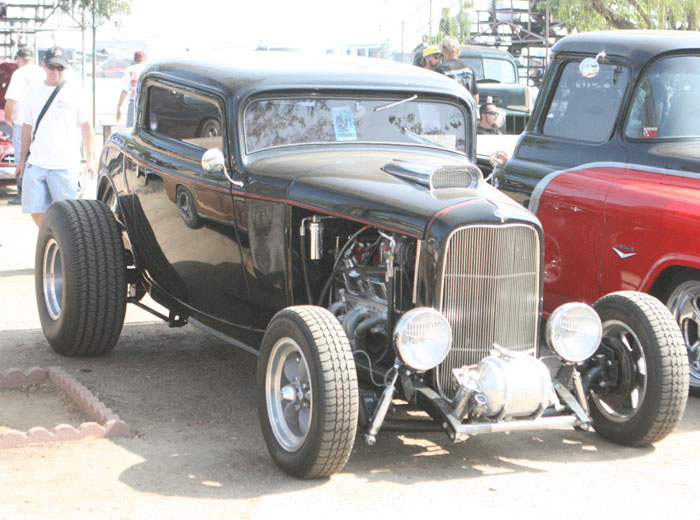 Emphasis on hot car, not a bright flashy one.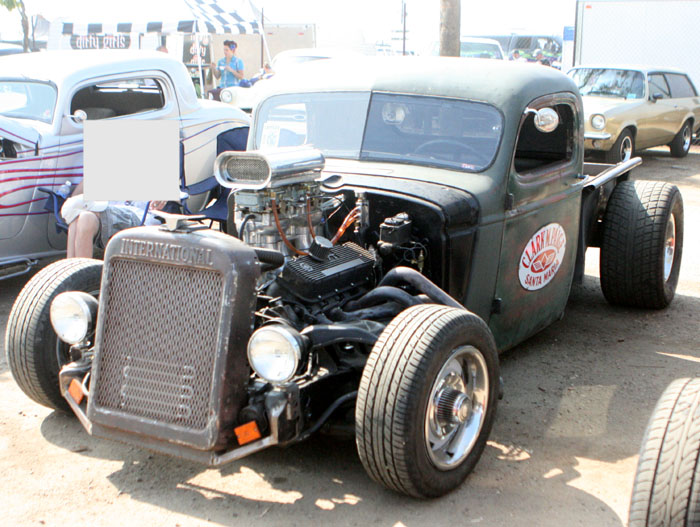 This International needs a big ugly radiator? it's a bit much..............
Nice 34.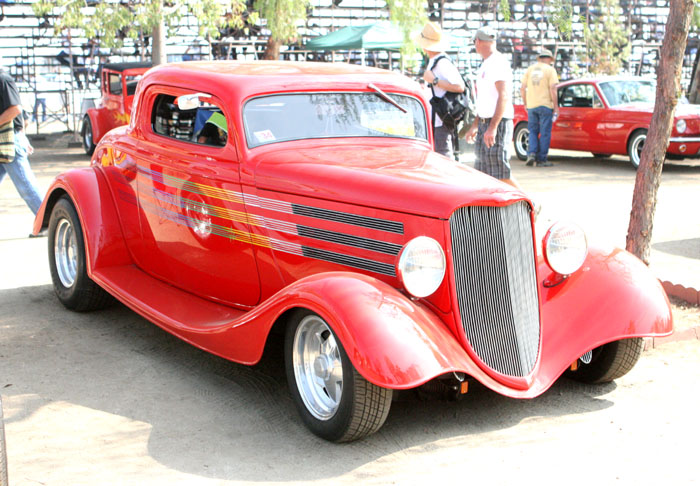 Wow, where are the white polka dots?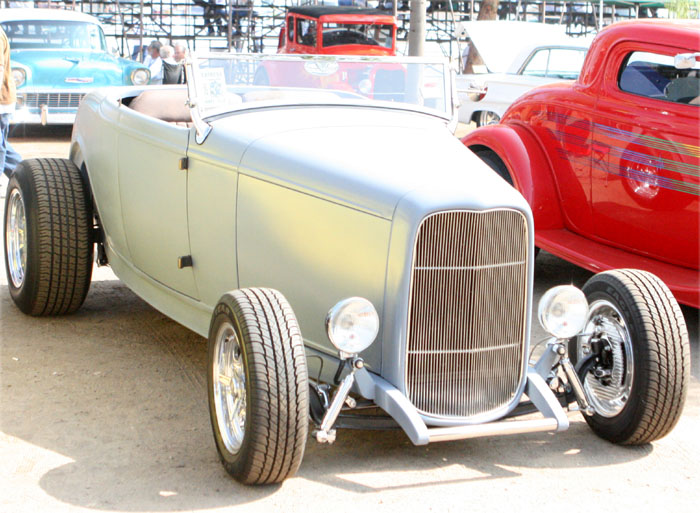 This old hot rod was very popular, but never lit up my dreams.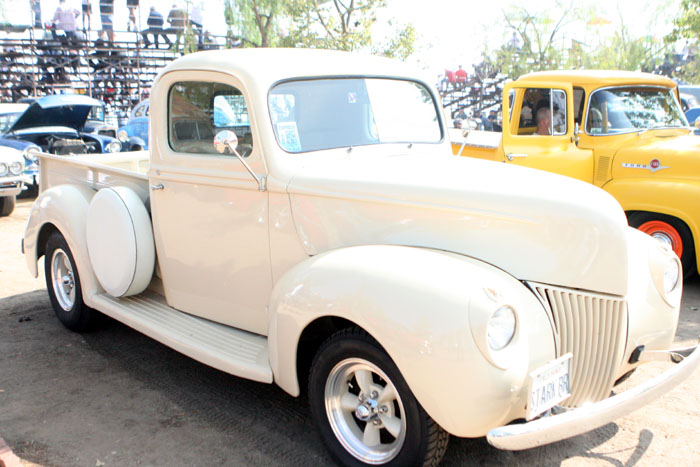 I hope the lady likes her truck!
Nice little red rod.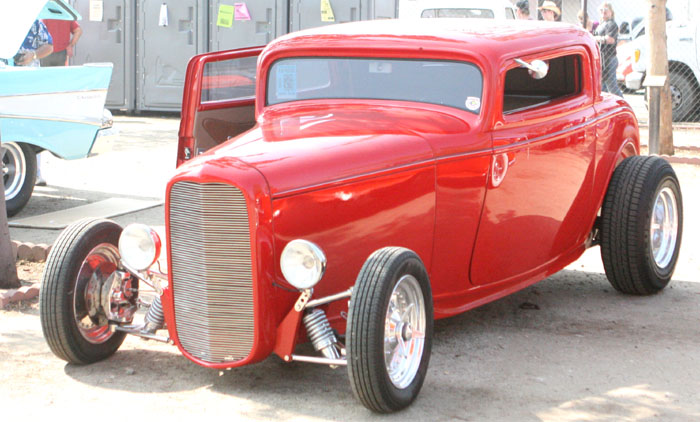 I'll take it!
The guy on the left probably owns a paint shop.
Nice rods.
Pretty slick. You know slick willy? It's a Willys!
Is Eliott Ness in the house? Oh yeah, his was black!
This is what hot rods looked like in the early days, colorful.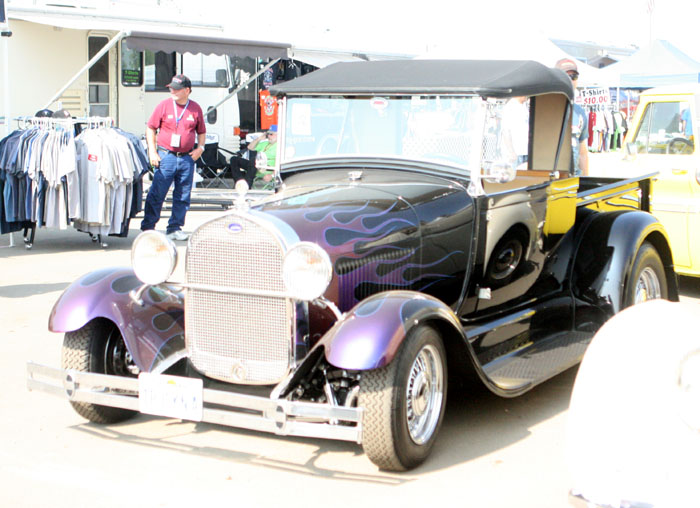 Nice little truck.
Wow, if it was in red, I'd buy it!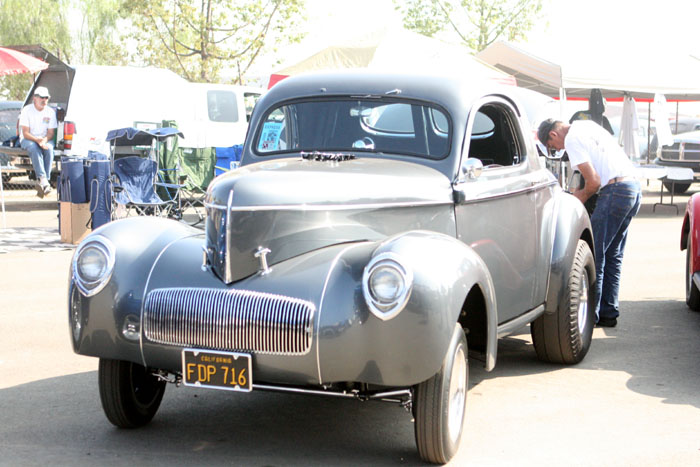 Plane Jane, but fast I am sure?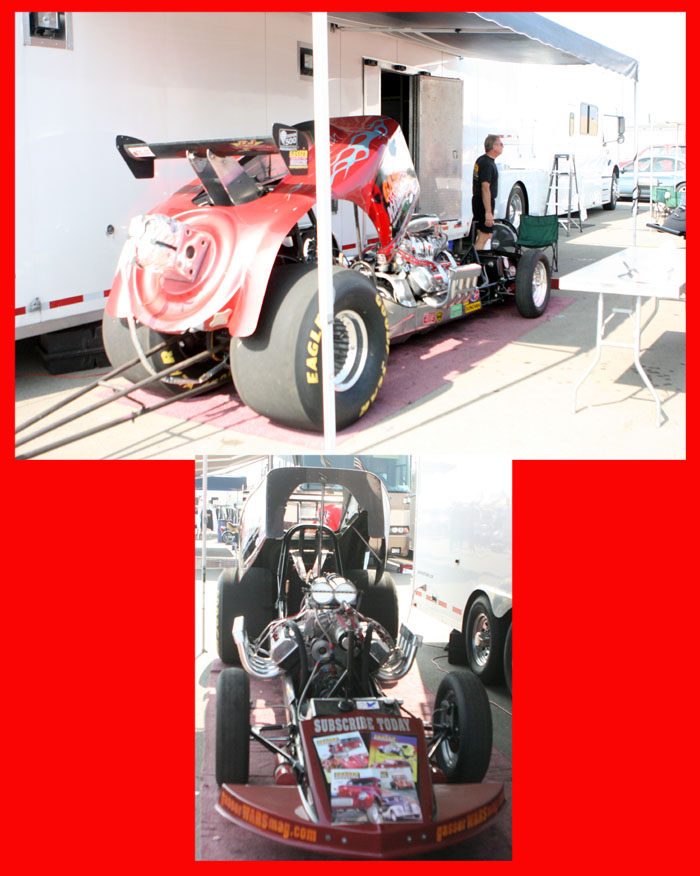 This is not a 92 inch roadster.
An Anglia that became the norm in A Gas cars and later in AA Gas Supers as well.
I like this one.
A little top heavy. Ever wonder what the power curve would be when you drive something like this?
Yellow beauty looks nice?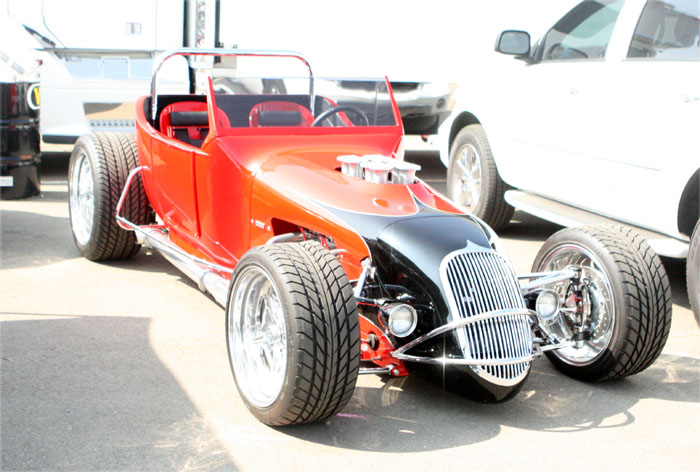 This one looks like a Hot Rod Magazine cover car?
This is a perfect example of how the pits were lined up. Your pit area included the trailer and the spot next to it where you work on your car.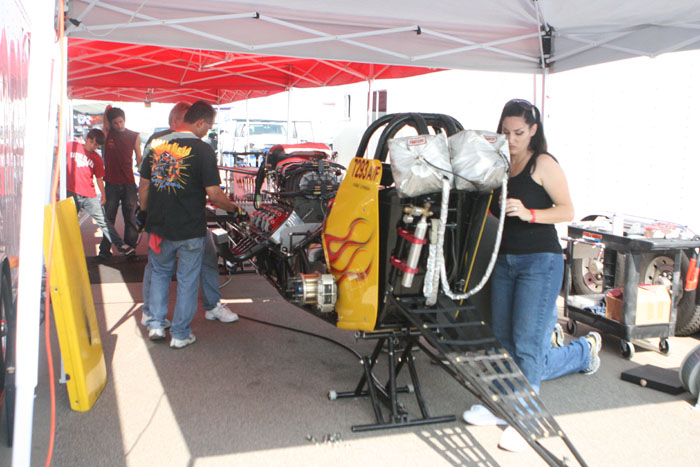 I don't know what she was doing, but my camera didn't run her off.
The famous Hawaiian of Roland Leong. He drove the car, one time, and crashed so gave up the idea of racing it.
The funny cars took off the bodies to work on the cars.
A jet truck, for what?
I have the die cast model of this car.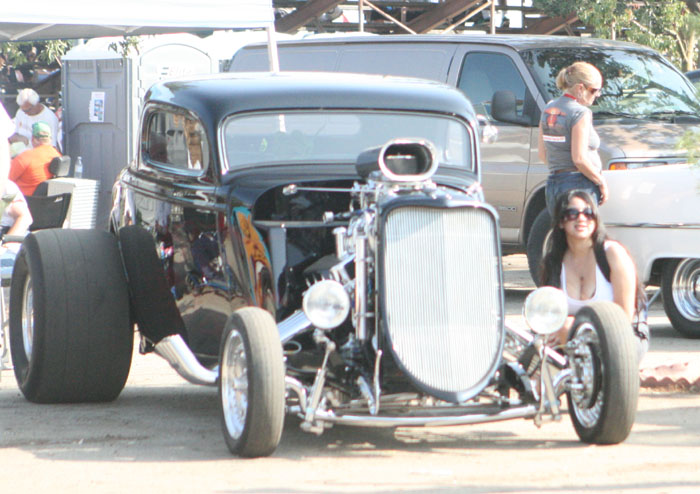 Photo Op!
There were many unique strollers around, but this one was creatively aimed towards drag racing.
Another die cast car.
A pair of fuel cars.
The legendary Freight Train Gas dragster once driven by Bob Muravez aka Floyd Lippencot Jr. This was once the mightiest of all gas dragsters.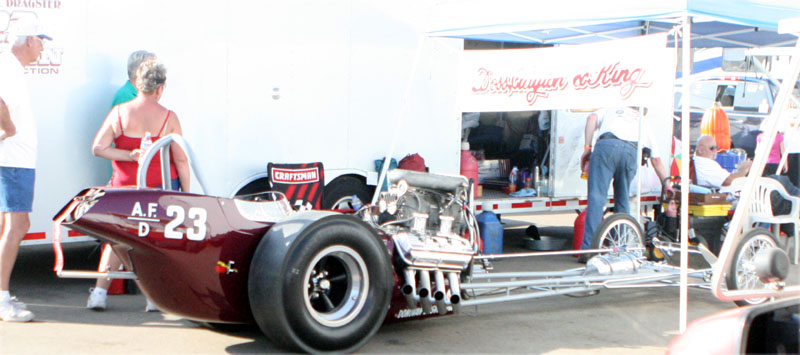 Another chute pack design on this fueler that was popular in the day.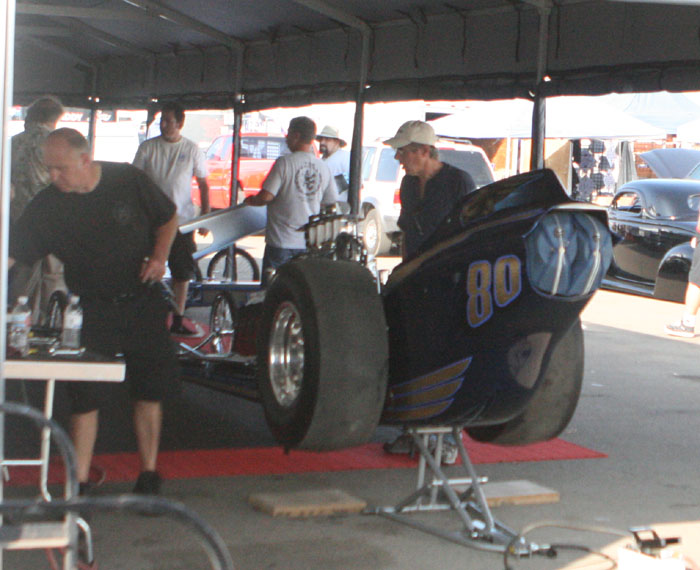 Another chute pack design that was even more aerodynamic.
A long smooth looking fueler.
Perhaps the most famous, and feared, AA fuel altered was the winged Express driven by Wild Willie Borsh, who drove it one handed.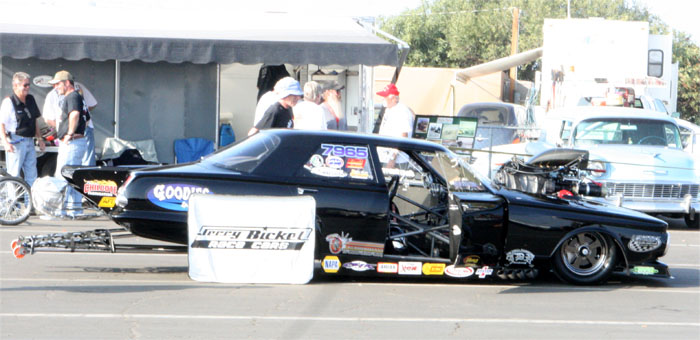 A blown car in line to run.
Is that our Don Blair's old speed shop? I know he sold it out years ago.
A hot Willys heading to run.
On the road home, I followed him for a while.