The 2008 Bakersfield reunion drags is an event of many things retro. Most of the race cars are from the old 60's and 70's days, except for the ones who race for real and they have todays chassis and rollcage rules. To walk around Famosa before any racing you see alot of awesome vintage on display. From the front motor cars of the 60's and 70's to the many hot rods that have no year related to them with the color and crome display ampong the best anywhere. The chills I felt when seeing the Frantic Four fueler light up can not be explained. In fact the whole event can not be explained to the newbies, especially the Cacklefest which defies logic. For those of us of the age where we can say we were there to even believe the rest of you could understand, well that is not possible. You can appreciate what you see, but it's all new to you and can't crack the senses from long ago like those like me. I was pepperd with the view of so much I hardly had time to stand still on a 4 hour walk thru the pits and show area, so when I finally had to sit down, I was bushed but very pleased. Thanks to Bob who took me under his wing long enough to give me a seat and some water when I realized I needed a pep me up late in the afternoon. Thanks I realy needed that. Seeing the Famosa track and the huge crowd brought back what nostalgia really is as, I took it all in with three grandsons, Hunter, Jordan and yes Tory, as they crisscrossed the area coming to check on me every once in a while. I realized as I tried to explain what they were seeing that there was no way they could get it, but they tried and enjoyed what they did see. It was really quite a day with a big number of "what are you doing here"? comments from so many who know me at the sprint car races. What they don't realize is that the drag racing history of many of the greats crossed the lines to other forms of motor sports, like indy racing and more. did I enjoy it? Yes, I did and I'll share these photos with some commentary as there was some hot stuff going on.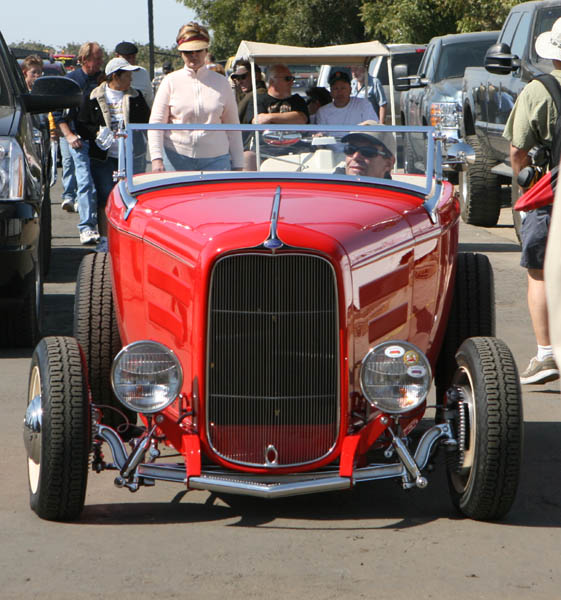 The day starts out seeing a nice hot rod that would look very good in my garage if I had Jay Leno's money.
A walk by the staging lanes and one of the fast super gas cars gets ready to run.
A Vette from the same class lines up,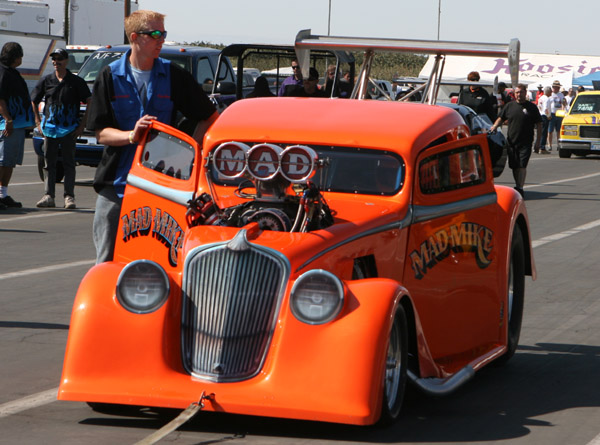 This Willys made some strong runs.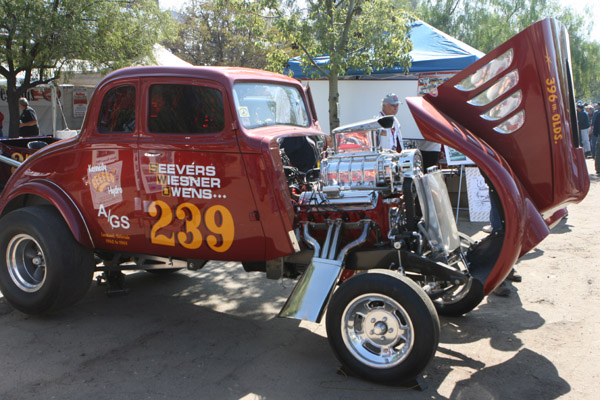 A gasser with a huge motor started the car show portion of my walk.
Looks like a restore in progress.
There were roadsters of all types everywhere.
A fast roadster from the day.
An injected gasser looks fast just setting there.
One of the most famous of the times was the Frantic Four fueler.
A pretty one.
An old 55 Chevy.
They call it the Samurai, I call it smooth.
The Magicar was unique. Check the front end on all the other fuelers and you see a different front end attachment. This one is hidden, for you mechanics you probably understand it, so the front end is very simple looking. They were the first to do that.
I don't remember this one.
I always liked the swoopy chute packs!
Paul Sutherland was one of the local fast guys!
The Larkin car.
The fuel alterds are the most dramatic drag cars to me.
Another nice altered.
John Weiebe was a great racer.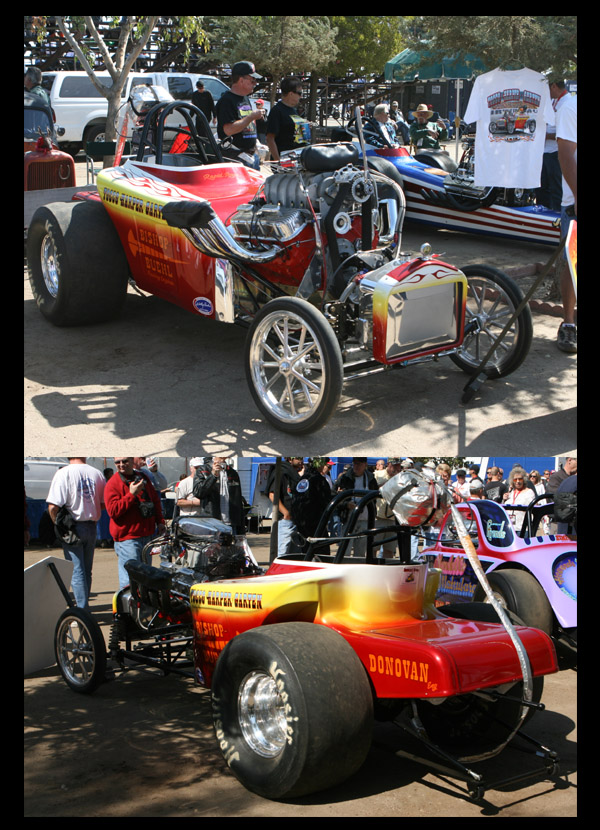 A hot roadster was part of the cacklefest.
There were many of these in the old days, just a roadster mounted on a dragster chassis, and they were fast.
A very old short wheelbase A dragster makes you wonder how they ever made a full pass.
One of many many of these plane Jane dragsters that could get er' done.
A chopped rod that looks kind of Pontiacish.
34 ford looked all motor.
I said all motor!
The shirt said Garage Girl!
Where did you say you parked the bike?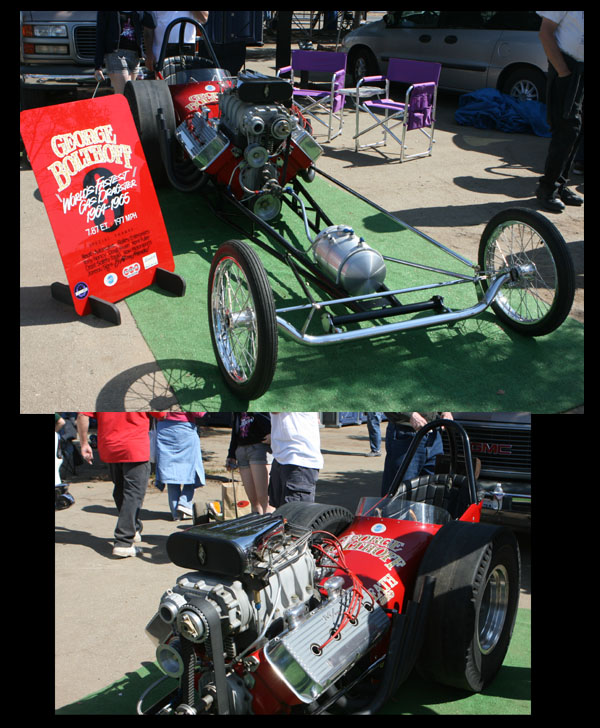 George Boltoff was one of the studs of Top Gas dragsters and won a lot of races.
Another short wheelbase dragster prior to the Woody Gilmore, Kent Fuller etc etc expanding length cars to come.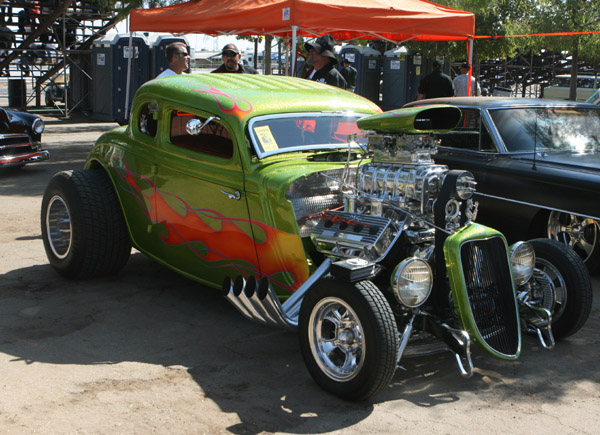 A hot looking one.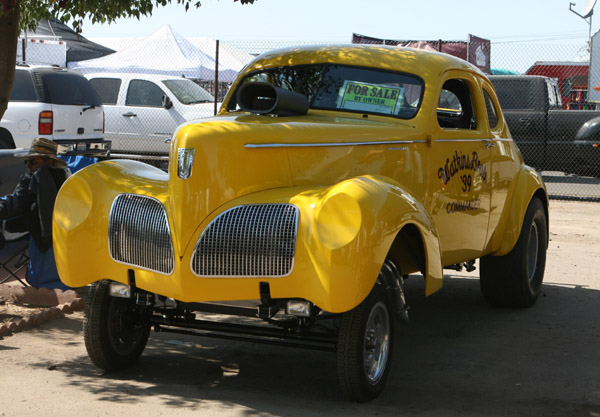 A wild yellow Willys.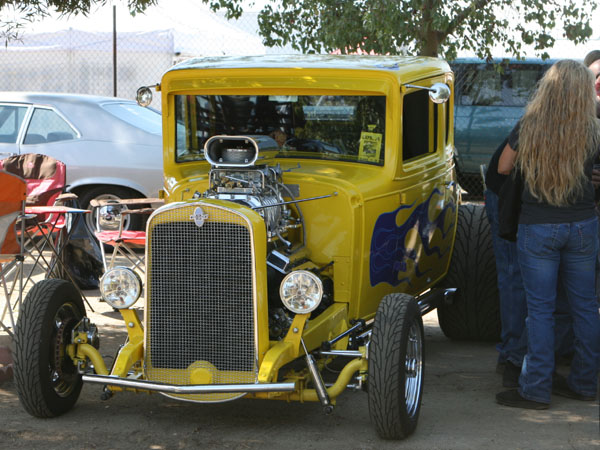 Nice rod.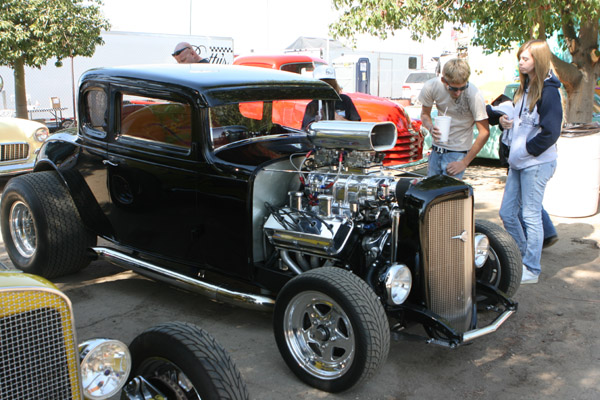 Ditto.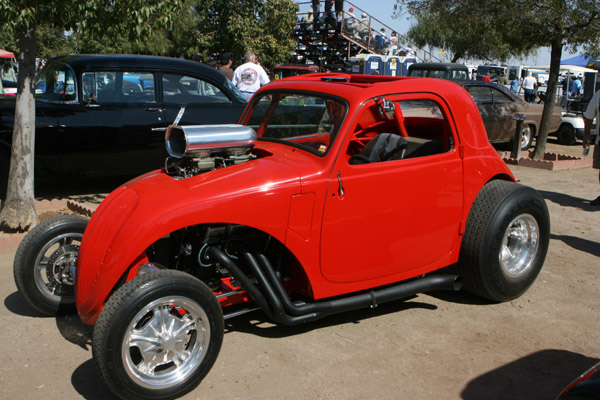 A street legal Fiat racer.
Interesting.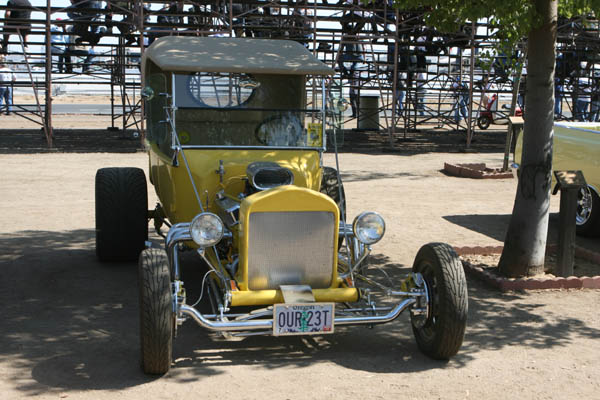 A street roadster would be fun.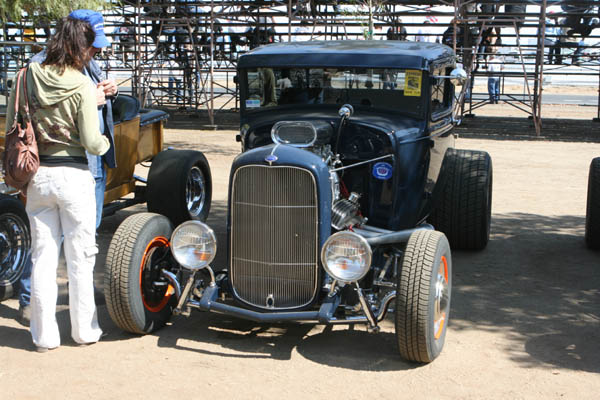 How hot is it? The car!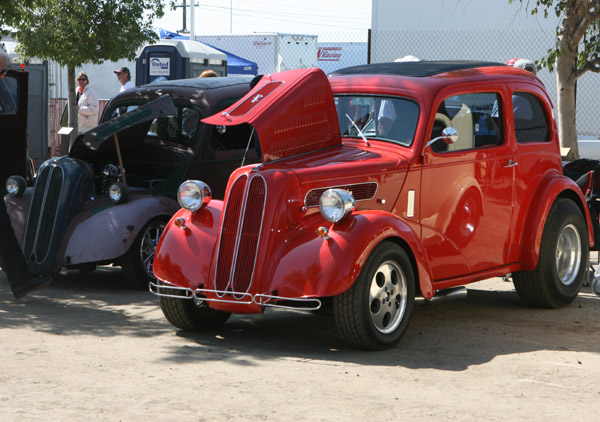 This one looks like it is fast and these English Fords became real popular in the gas classes after the Willys took over the class.
A nice hot rod.
Is she looking for a hot rod or just looking?
If he comes up behind you, will you get the point!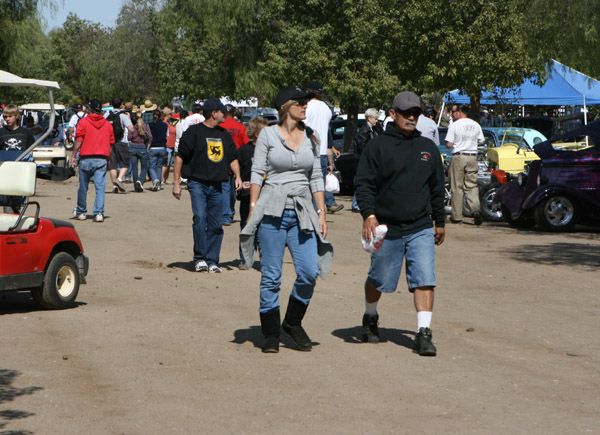 A nice crowd packed the place.
Wow, that's colorful!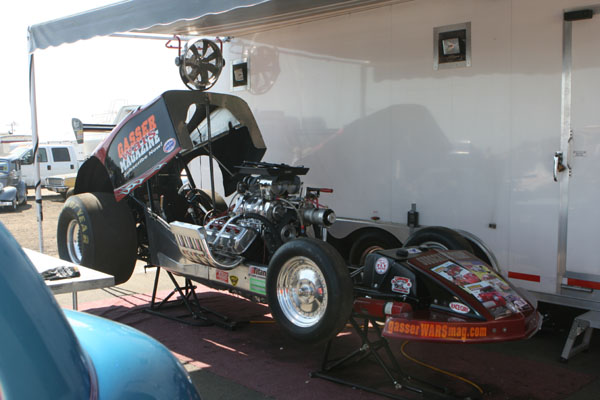 Interesting bantam roadster.
A clean 40 Ford is just aother example of the awesome daily drivers that showed up.
This logo was on the side of a primered hot rod.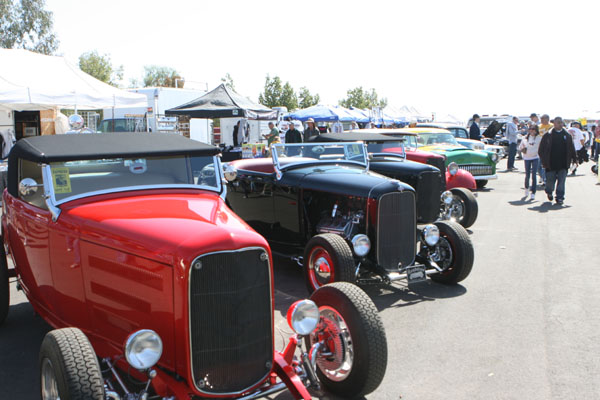 There was no end to this display of hot stuff.
This could bring back memories for many.
The line of hot cars doesn't end.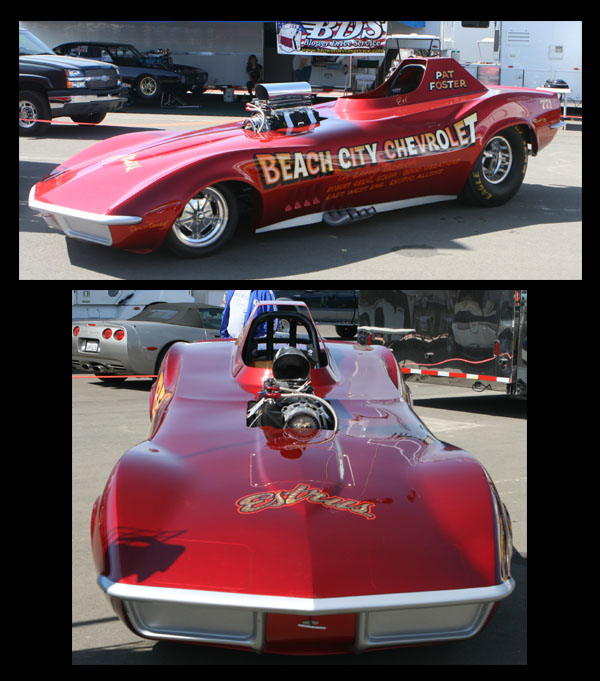 A hot looking Vette.
The ever present cell phone in action as there was so much to check out all over the vendor area.
Another great 34 Ford. That style might be my dream rod!
Looks like a daily driver in need of a paint job. Still very desireable.
Now let's see, just look for the bling, then get her in the trailer to try on the good stuff.
This and that look like twins.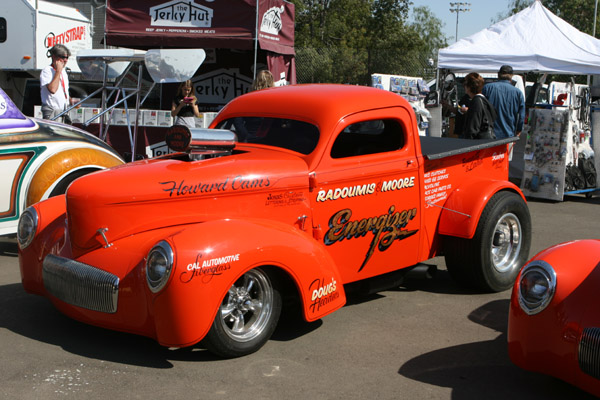 And they parked next to each other!
The paint scheme was a little busy for me, but I'd take it.
There was too much for sale to even try to see it all.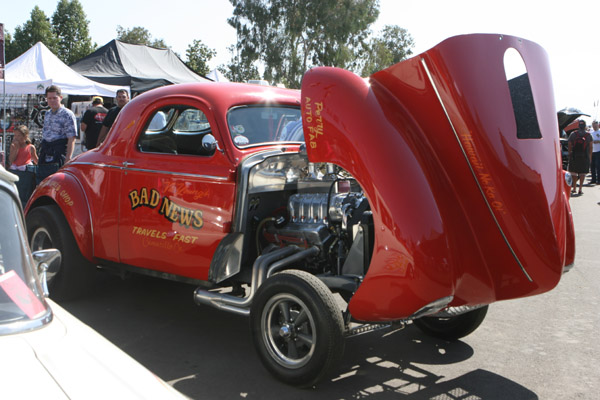 A wild Willys with a tilt front end showing off the motor.
Who wouldn't want this little rod?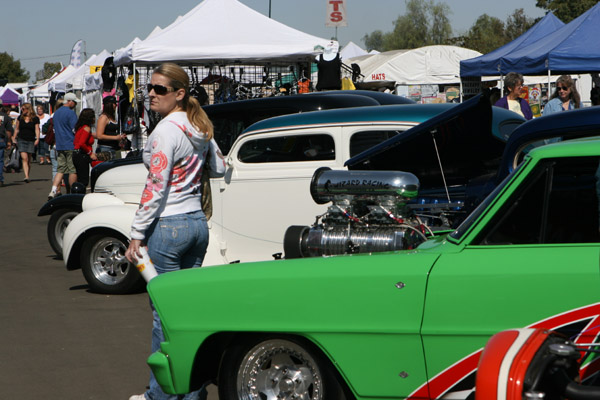 Who wouldn't want to be here?
Another famous fueler is tucked away in the vendor area. Rocky Childs drove this one I think.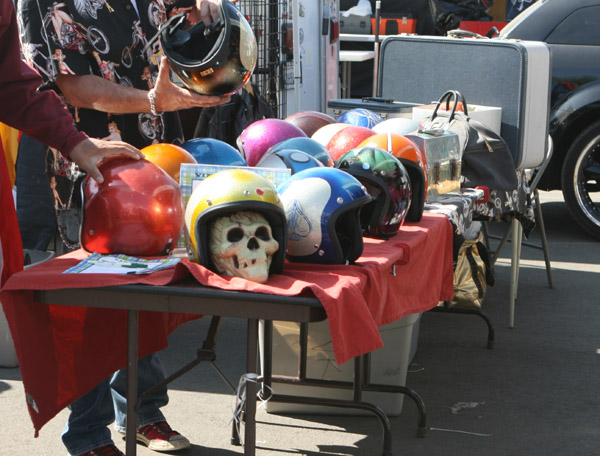 Need a helmet? Is that a relic from the past in the front one.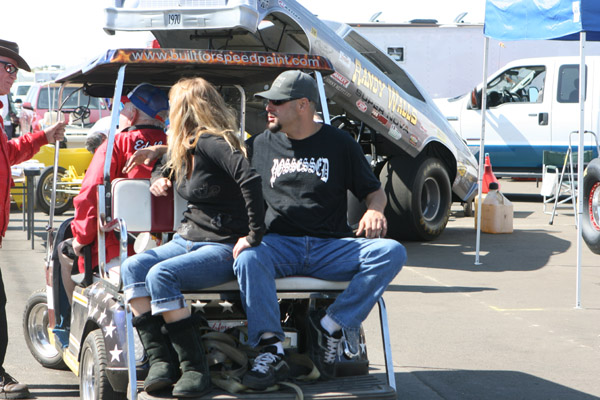 Hey, why did we stop?
Some years back Tom McEwen drove one of these 57 Chevy's blown on fuel.
When Willy Borsch drove this Winged Express fuel altered everyone in the pits stopped to look. This car and the Pure Hell Chevy Bantam are two of the most famous fuel alterds of all time. I think they are the most dramatic of all the fuel race cars. This one made a pass that was hot later!
This Gizzle Hopper from the early 60's laid down some smoky runs back then.
Another fueler out of the past.
TV Tommy Ivo was a young TV star and went on to be famous in drag racing. He had many unique cars over his career. This one was an attempt to be streamlined without the big bodies that were being tried in the times. The front wheel flarings never worked for anyone.
Another one of his cars was this 4 engine special that went on to be one of the most famous of all exhibiton machines. With a buick wagon body, this car smoked all four tires the entire strip, much to the amazement of spectators around the country.
One of Tommy's winningest cars. He had a trailer that had sides of clear plexiglass, I think, and you could see his racer as you passed him on the highway.
This was the typical look of the fast fuelers of the 60's after chassis builders got going. I think this might be a Woody Gilmore car, but if not cetainly a near copy of one.
John Peters Freight Train Top Gas Dragster was the most famous of all Gas cars back then. The two inline Chevy's were too much for most. Note the cow catcher front end deco and whenever the car fires up, the train whistle blasted out loud! This is real history here folks. Later they tried two Hemi's in the car and it was still fast.
Here are two more of the famous fuelers. There were times I went to Lions or Fontana, or San Gabe, Irwindale and other drag strips where 100 fuelers would try to make the top 16 or 32 for that night. When the time wound down to end qualifying, in the last few minutes there would be 7 or 8 cars fired near the line trying to get a shot. It was an early Cacklefest!
In addition to the many blown fuelers, there were the injected "jr" fuelers. Big horsepower without the big blowers, these cars could scoot. The Steffey and Logge car from Chicago used to come to the coast and run against the big fuelers, and actually win some of the time. One infamous sprint car driver, Elgin Freeman, drove one of these very sucessfully under the name Freeman and sons. That car still sits at Elgin's house with a lot of other race car stuff.
Here is an East coast group that ran successfully back in the day under the name Gratiot Auto. Al bergler I think drove many of those cars.
Pretty slick looking modified dragster.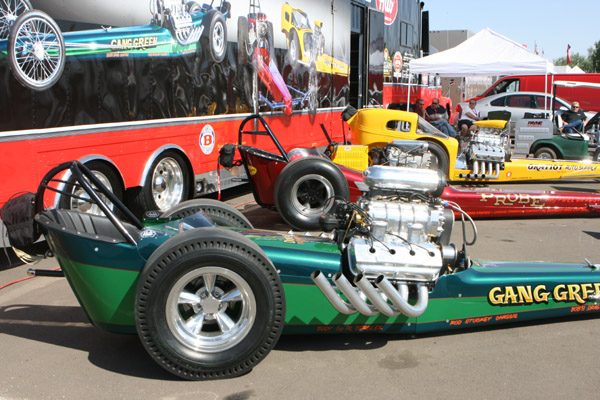 I wonder what these cars are worth today. They don't have the modified cages, so can't compete, but in there day......
To me it didn't get any better than this in those days. The uptilt headers firing in the night, the swoopy full bodies glistening under the nights and full quarter mile smoky runs, it is a thing of beauty that these reunion guys try to recreate.
This is the Howard Cam Rattler of which I have the model. There were many in the pits who have die cast models of the cars, and I actually have nearly every one of them. That includes the Winged Express and the Garlits car that you'll see here soon. Talk about famous, some of these cars and drivers were the headliners of the 60's along with Don Prudomme, Tom McEwen, Don Garlits, and less nationally famous, but not less racy drivers like Jeep Hampshire, Norm Weekly, Kenny Safford, Benny Osborn, Denny Melani, Jerry Ruth, Shirley Muldowney, Chris Karamisines Ed McCullouch, Chet Herbert, Zane Shubert, James Warren, John Weibe, John Mulligan, Pete Robinson, Don Velasco, and yes even Walt Stevans were the hot shoes locally. And those are just the tip of the iceberg off the top of my meory bank. There were so many heroes in those days, but the Mongoose and the Snake were by far the most famous along with Garlits around the country. Add Linda Vaughn as the most famous Lady in the sport. Her rack was legendary!
Yes it says "got lube?"
The fastest of the reunion dragsters is the top fuel cars like this one. They run in the 5.70's at over 250 MPH.
Another top fuel car.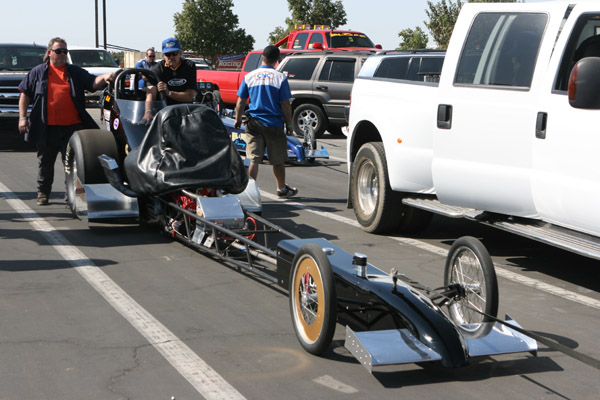 Another one as I didn't know them and didn't take notes.
Look at the motor on this one, the safety gizmo's all over it.
Another.
A pretty blue one.
A pretty purple one. I like the hat.
The Walt Steven's entry with Troy Green driving. Walt sponsors Josh Ford's sprinter. The car was quick time and won their first round!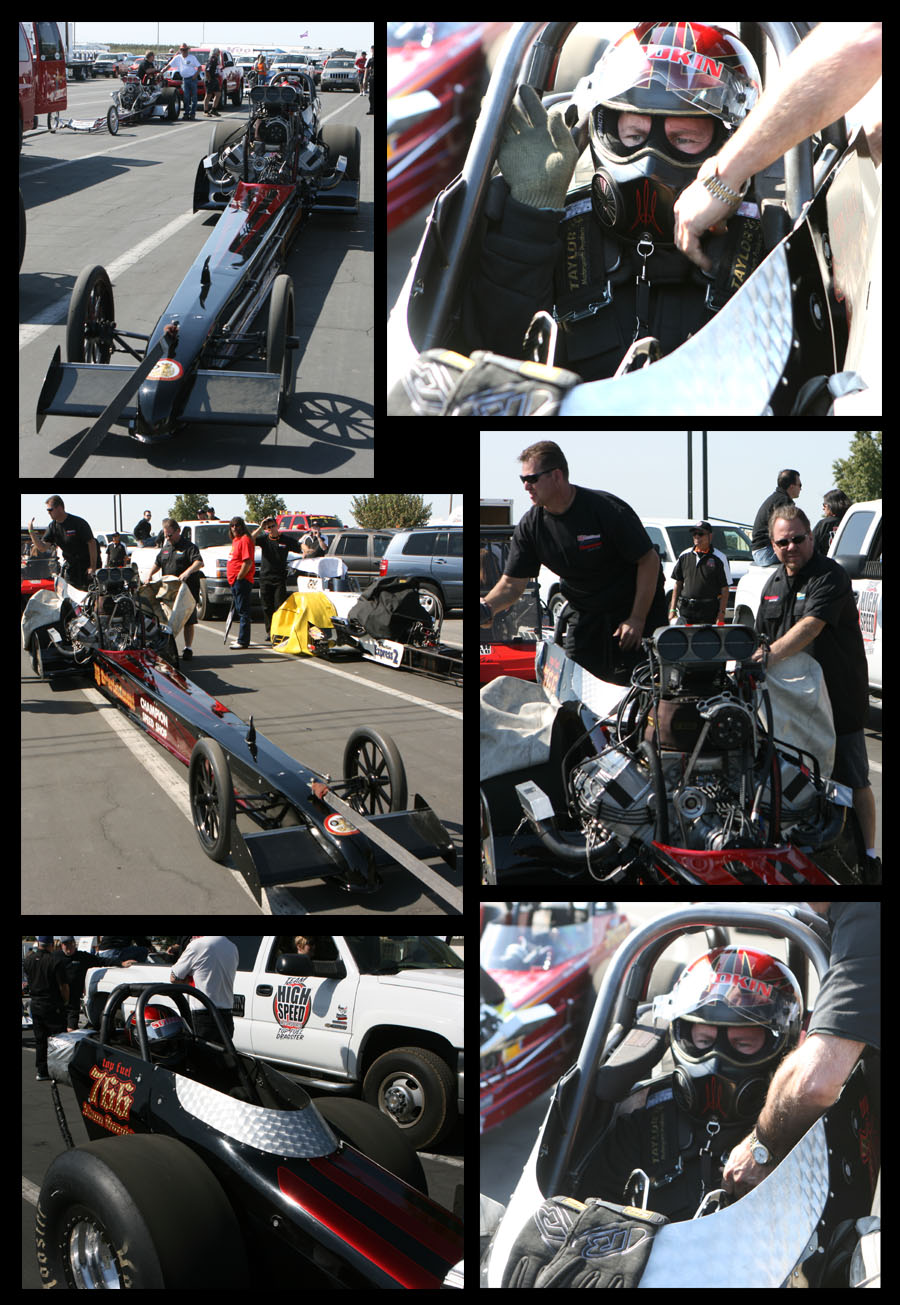 A car from the Champion Speed Shop up North that once had Masters and Ricter running out of their shop in the day.
A driver getting attention prior to running.
Another fuel altered heading in the staging lanes. It was fun to walk the lanes.
She sure gets around, or is it me?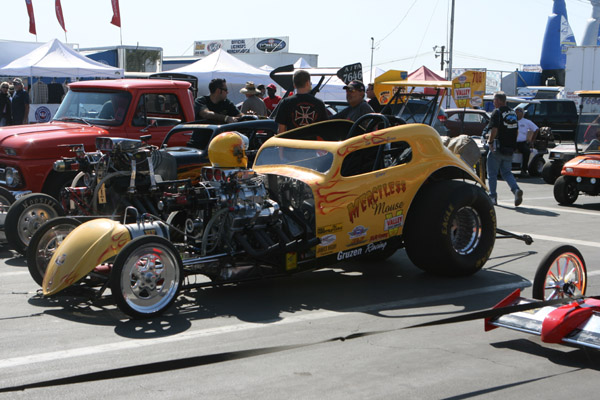 Another fast altered. I never did get their class, but it was not A Fuel Altered like the Winged Express.
It just looks so cool, wanna drive it?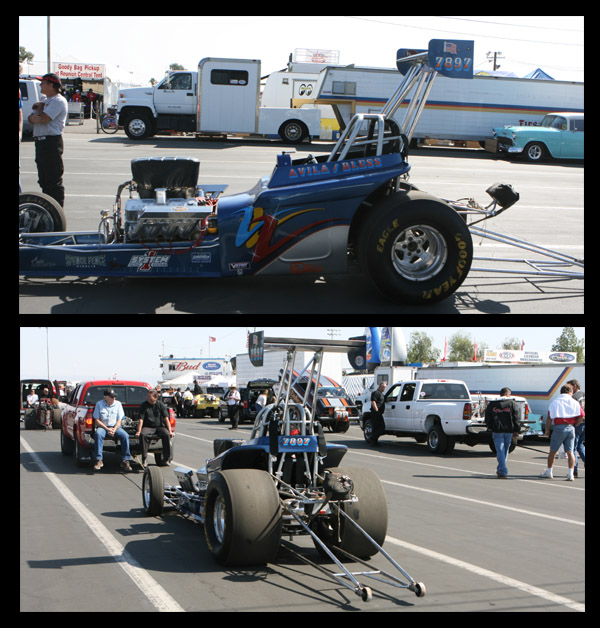 A fast roadster here.
And one with a nice body.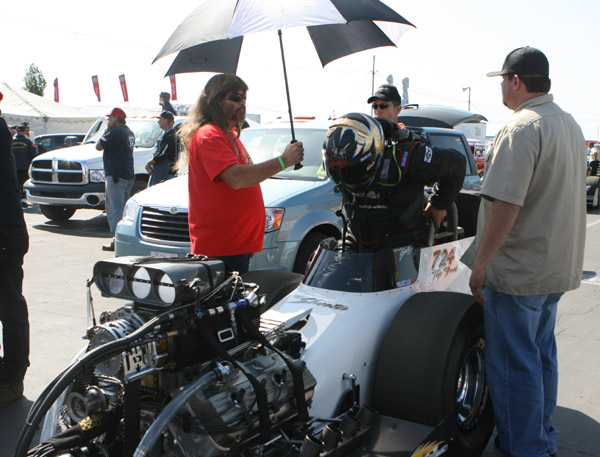 A driver needs shade when he's suited up sitting in his car in the sun!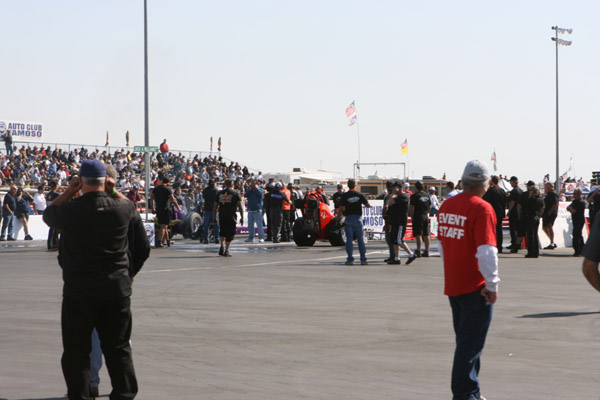 There are two top fuelers on the line ready to go.
Another modern top fueler.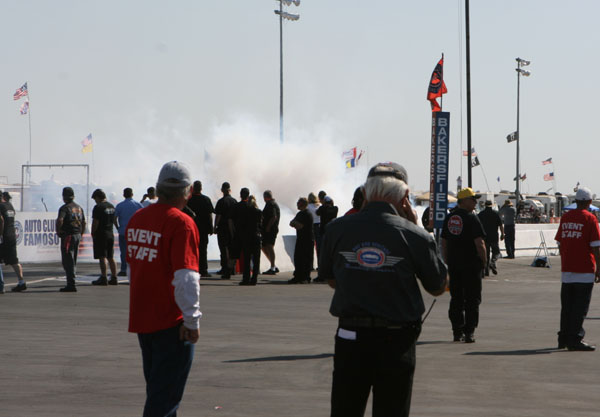 And there off!
Another top fueler ready to go.
And she looks ready to go.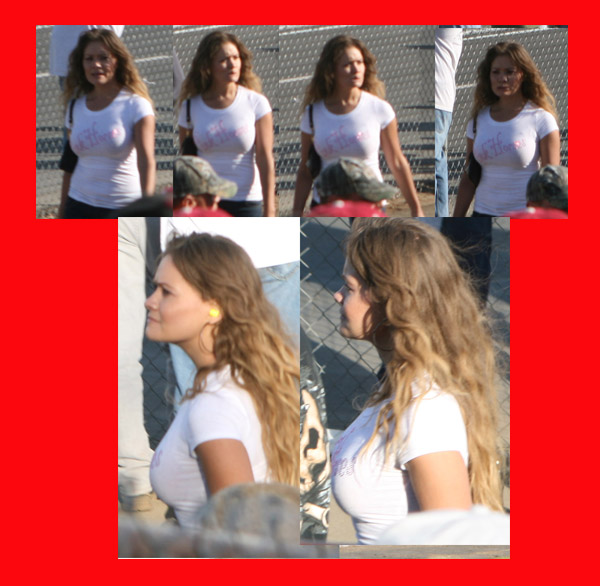 A cutie pretty rare here.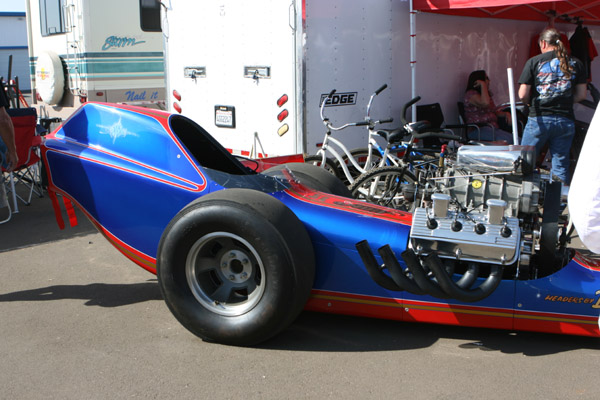 A nice blue full bodied car.
Although Big Daddy wasn't in the house, he did have a car here.
A fueler on the line ready to rock n' roll!
She hung around a while then caught a ride to the starting line with her camera poised, not posed, as I never saw her take a shot for the little time she was up there.
Twin flatheads!
The morphidite mouse car must have a sense of humor.
Come on guys, I have to get my hair fixed for the banquet!
First there was the morphidite mouse, now the merciless mouse. Dare say they run the same class?
These guys must be from Texas with a name like "All In Racing". Maybe they won the car in a poker game.
Howard Cam car, another die cast car available.
Another dragster rolling thru the pit lanes.
There were a couple of walkways, the two white lines, that allowed spectators to cross like in a crosswalk on the streets. You can see a lot walking thru there.
Pretty nice!
The famous mooneyes dragster more famous for show than go. Revelle made a plastic kit of this car way back.
This Moon car looks more like a Bonneville runner.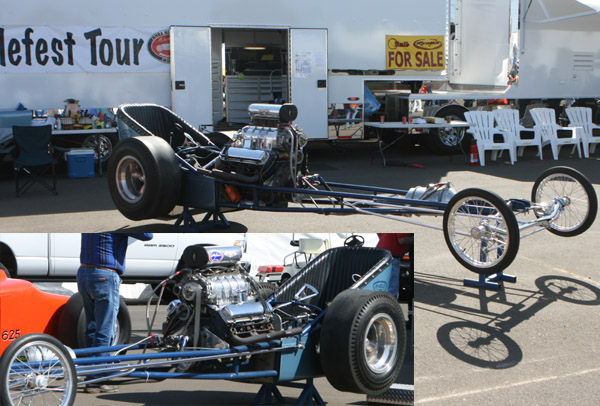 The Safford, Gaide and Ratican car driven by Kenny Safford was Olds powered until they switched to the "shark" car years later when a Hemi graced the new one. Another famous fast car from the day.
The famous Speed Sport Roadster from Arizona was popular back then. It seems that it was owned by Lyle Fisher, but I am a little fuzzy on that one.
The Chrisman Brothers and Cannon Hustler I was another attempt at going fast. The car was too heavy, but beautiful. Most of the early attempts at streamlining met with either poor results or disaster.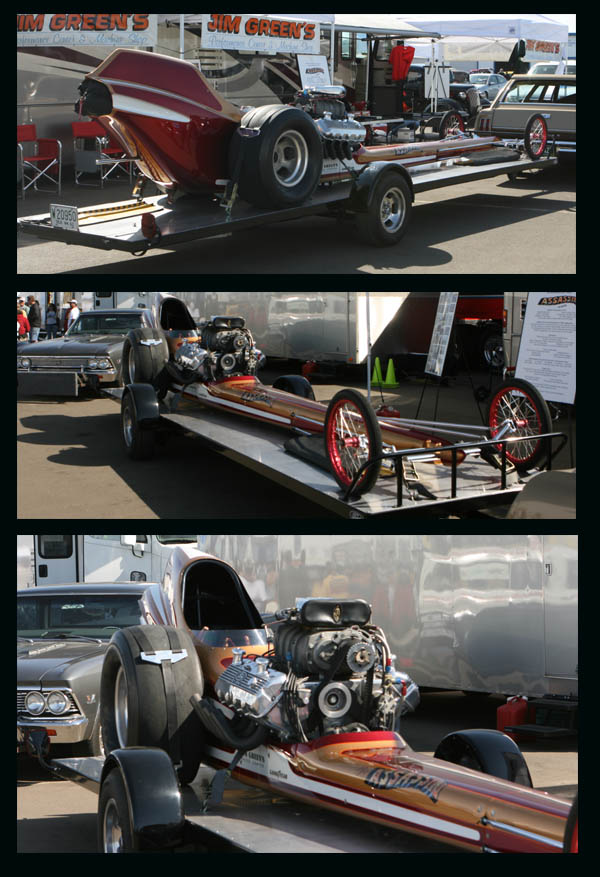 A real beauty on the trailer.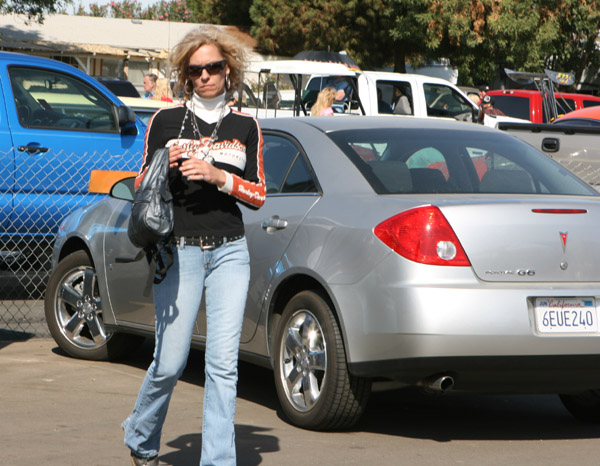 She's looking for a hot car to tool around in, probably!
She has to be famous with long blond hair and a dress on?
Another sharp full bodied car that I don't remember.
The Yeakel Special owned by Lou Blaney in the day. That even looks like him behind the car. Another die cast car available.
Many of the cars that were only for show fired up in the afternoon. This one sounded mean!
Families came to this one because kids 16 and under got in free!!!!
A 2003 Cacklefest t-shirt.
In the old days they never fired the fuel cars without helmets and face protection. This car is fired and no protection?
The Creitz and Donovan machine was a Hemi engined winner. The original Creitz machine was from Tulsa and had an Olds in it. I still have a picture I took of it with my first brownie camera, I imagine in 1962 or so.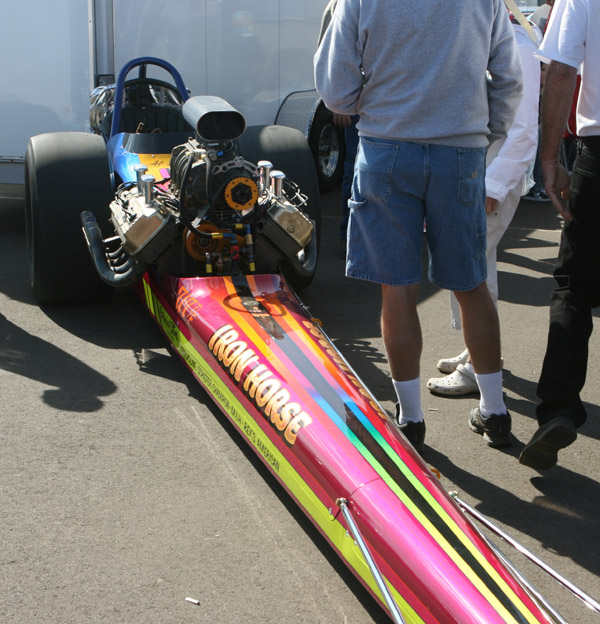 The Iron Horse was a runner.
The Anaconda just sounded mean, and it was.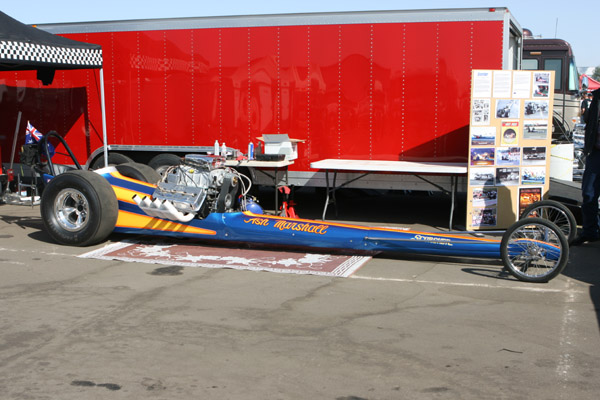 I just don't remember Ash Marshall?
like the old days, young guys would die to push the cars back to their pits. Today they are the same guys, just a tad older.
Nice looking, but unfamiliar. I saw so many cars run in those days, but remember there were cars back East that didn't come West much.
Ever have one of these. I did, but it sure didn't look like that with the old apple green color.
High Speed Motorsports, with Walt Stevens as President, was in the house this weekend. Walt sponsors Josh Ford's sprinter and had Josh, his Dad and girlfriend watching all the action. They set fast time for the top fuel division and won their first round on Saturday.
The starting line was hard to see from the short grandstands, but you could see the track very well.
Two cars take off.
people wandered around all afternoon, coming and going, standing at the fence and generally just milling around.
Some were cuter than others, but there was fun in the air.
A lavender car, don't know if it was a lady as there were plenty of lady drivers, had done a burnout and was moving back to the line for a run.
Don't know if the circus was in town, but the tatoo lady was here.
Better hurry, dinners getting cold.
There were a lot of Vette's running the hot classes.
Is that my Vette out there?
The Winged Express just did the smokiest burnout of the day.
These cars are involved in the Cacklefest as they move down the track. The idea is to fire up and stop in front of the grandstands and "cackle" until they have to shut off. It is an outstanding deal! My apologies for these pics were taken without flash or a telephoto lens.
Some of these are lit and you can see the header flames.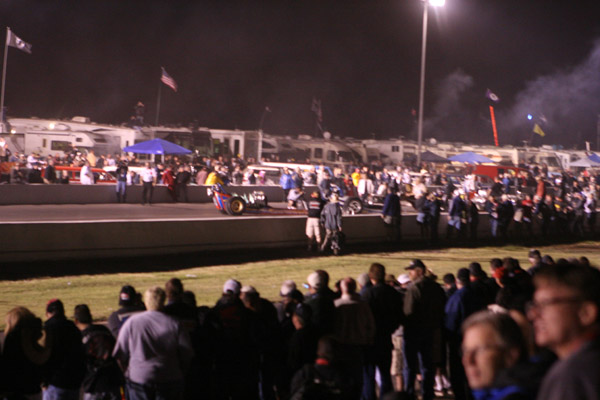 The strip holds all the Cacklefest participants. It was wild!