Digital Images from Mr. Wags!
Buster Venard visit
One of the things that goes away as we age, move away and wander off in the sunset, we let things pass us by. I planned a visit to the Venard home in Gardnerville, NV when I knew I would be in the area on the Calistoga race trip. Before we both moved from the LA area 5 years ago, we always had a yearly winter feed with all the Venards. Always fun and it is missed.
Arrival at the lovely home of the Venards on Friday, September 9, I was greeted by Buster himself, but soon Linda and Grandma Rosie came out to make sure I was welcome. We settled in the living room and caught up on the families and what was going on with them. They are all in good health and Buster seems to be off repairing and building stuff for his neighbors too often, but he is able to all things, so he keeps busy.
Racing talk started and really never ended as his history was spelled out for me, some of which I knew and a lot I didn't. He only drove the sprinters for a few seasons, but the record of wins he left behind was a far greater percentage than most of our stars who raced a lot more years. Buster had a few things he shared with me that ware his ideas for a better and faster race car, but the thing that stood out in my mind was the arm guard. He said for some time he would come home from racing and his right arm was battered by the rocks and it hurt. He created his own innovative idea which was placed on his car and wala, the pain stopped as he was protected from then on. He showed me the original model that he bent by hand. He had other firsts, but some were a little over my head. He built his own car and motors before he drove and still holds that knowledge of what he accomplished.
A tour of their lovely home showed how decorative this family is as every room was done up very nice. A race room was only a prelude to what was in the race shop out back on the two acre lot, and soon we went out there. It appears that Buster could roll out both cars and go racing very sucessfully, if he chose, but as he says, it's too far south and nothing in the area interests him. So it's car shows for the time now. In fact the blue one will be getting new body work soon and new paint, without all the decals. I hope it's my old favorite style with red and yellow and some black and white checkers that I loved back when!
We spent a long time in the shop, after the girls left, as Buster patiently explained many things and he noted he was into flying RC helocopters now. That is much cheaper, but he had a lot of parts for that venture organized on one wall. I know he would love to go racing, but with his boys busy working hard for their future, and even knowing they both would love to race, it's enough to have the visits up there as well as down south when they can. The memories displayed in his shop makes it seem like a museum, there is so much to see.
After we were settled down to visit some more, Darleen Dils showed up. She was excited as usual to get to visit with Buster and his family. When it got hungry out, The five of us went to Carson City and a restaurant called Red's. It was a Knott's berry Farm type ambiance as many buggy's and old antique items were on the floor, the walls and the ceiling. Very interesting. After dinner I went back to the Venards to get my car and head to the Dils for a short visit there. I was surprised with my flat tire when we arrived, but Buster knew the drill and had it repaired shortly and I was on my way. My thanks to the Venards for the welcome and the fun I had there with them. Hopefully we will do it again.
Too fuzzy but it is the Venard home.I was greeted by Buster himself and soon Linda and grandma Rosie came out to make me welcome.
More front
And a closer look at the front door
A view from the back yard.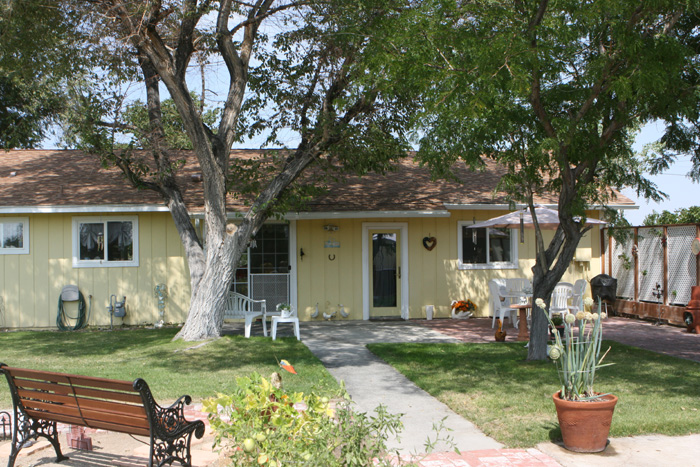 Closer view there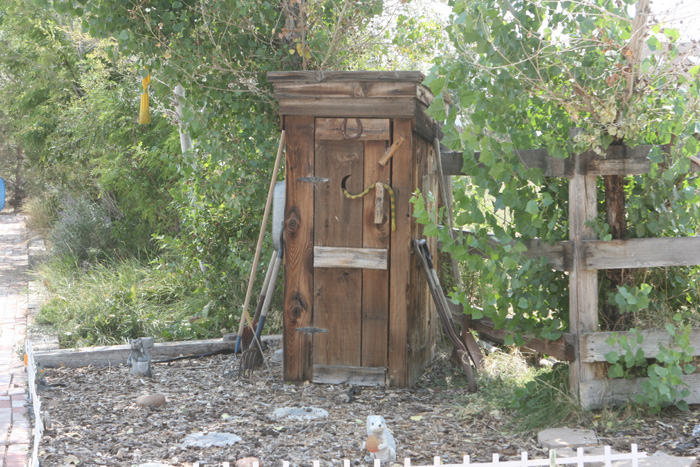 You didn't know they still had these, did you? I have it on good authority it hasn't been used in years.
Grandma Rosie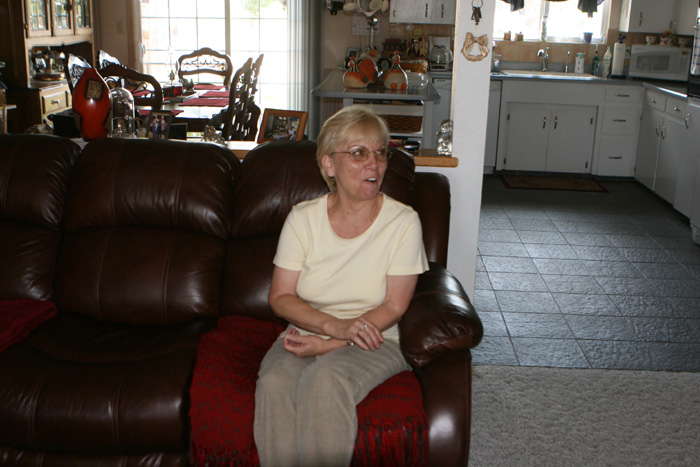 Here's Linda
And Buster looks like he could still drive!
Grandma Rosie's room features John Wayne.
A lot of John Wayne
This picture has an inset of Linda in it that was taken by Mike Arthur as Buster was in this car. In other words she watched him on the track and both were photographed at the same time.
There were a lot of pics in the "race room".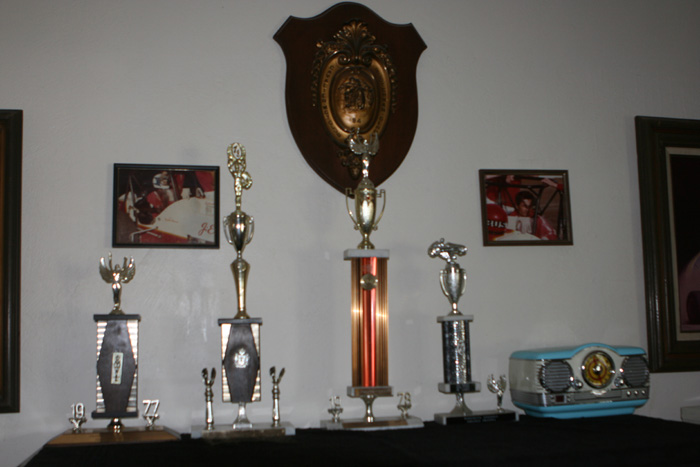 The Peobody Open Trophy from Ascot
Buster uncovers one of the two sprint cars in his race shop.
This is the Mopar powered car.
This one is a Shaver in an Ellis chassis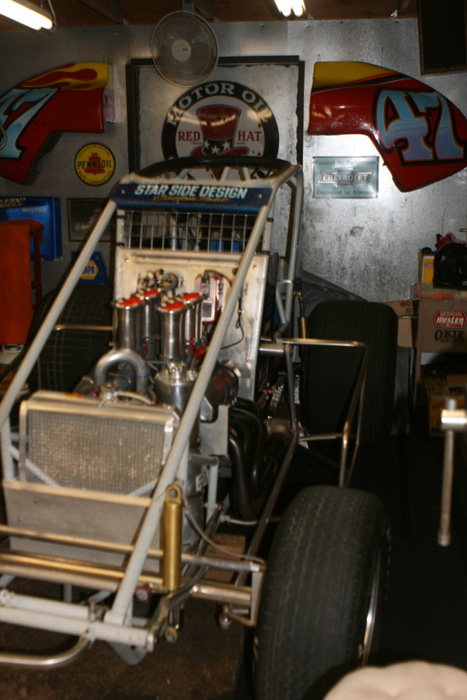 Some hoods hung on the wall.
A little office in the shop has music, drinks and more.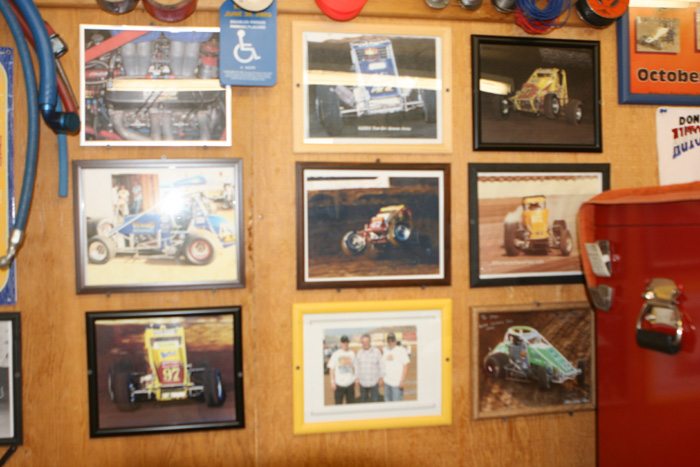 Some more pics of the Venard history were everywhere.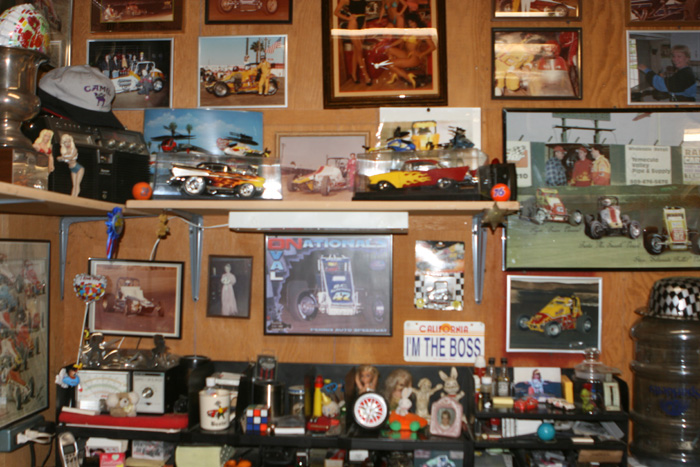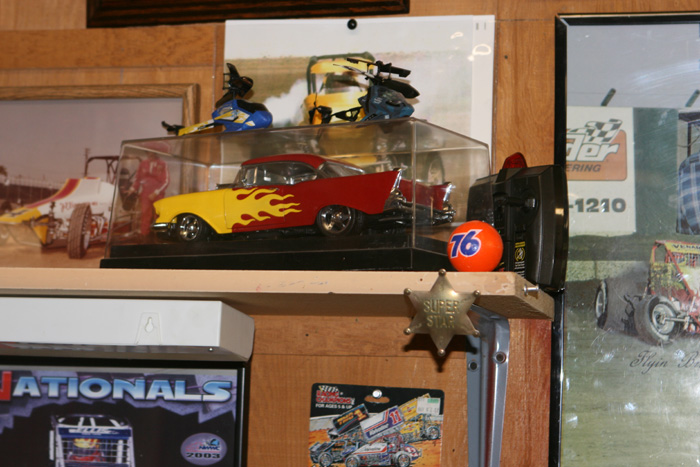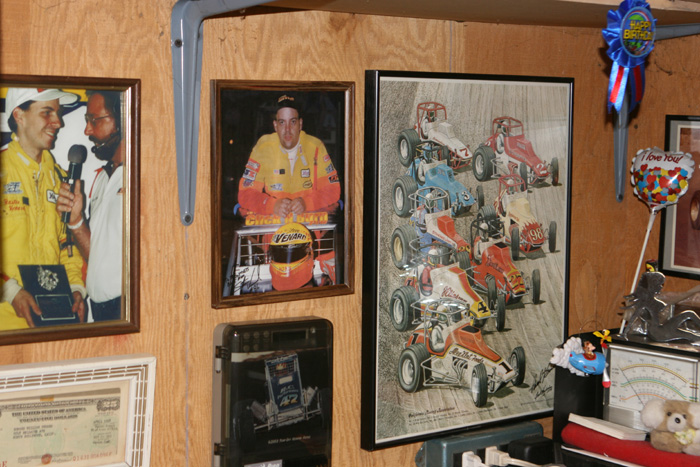 A very famous car that Buster won some big races in.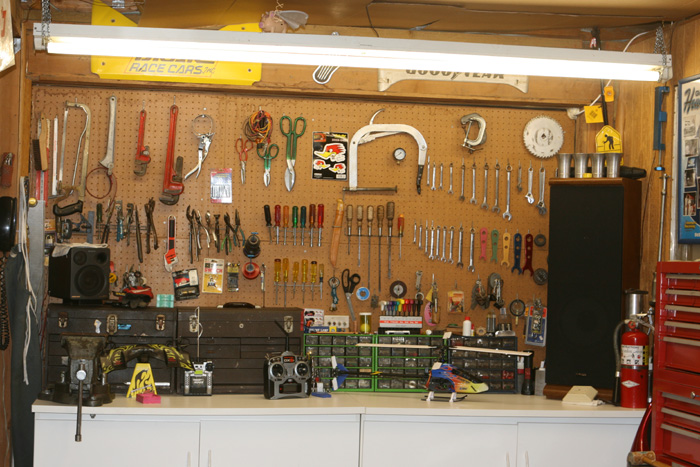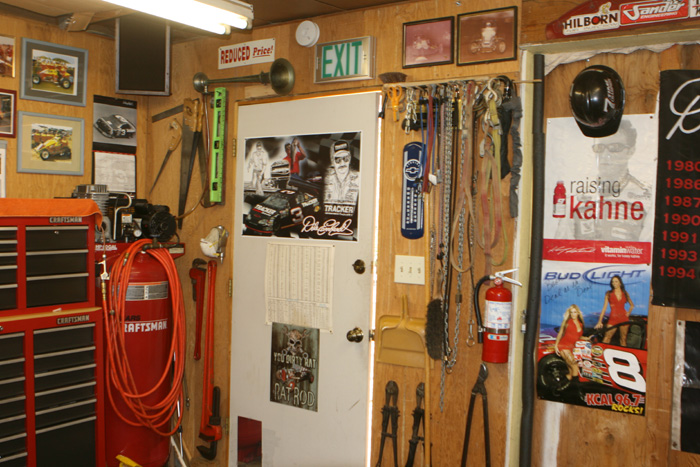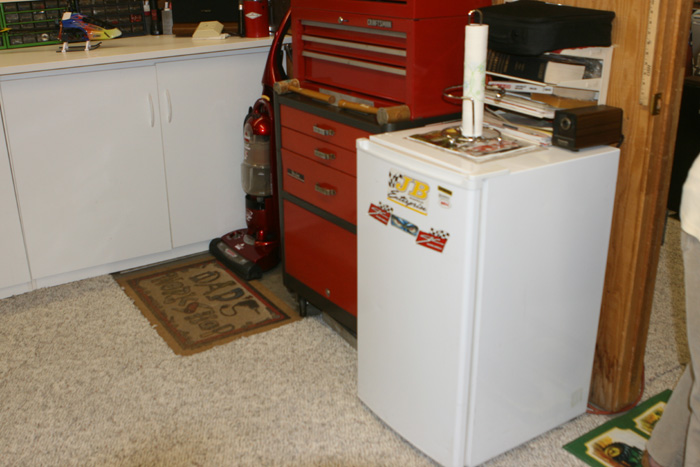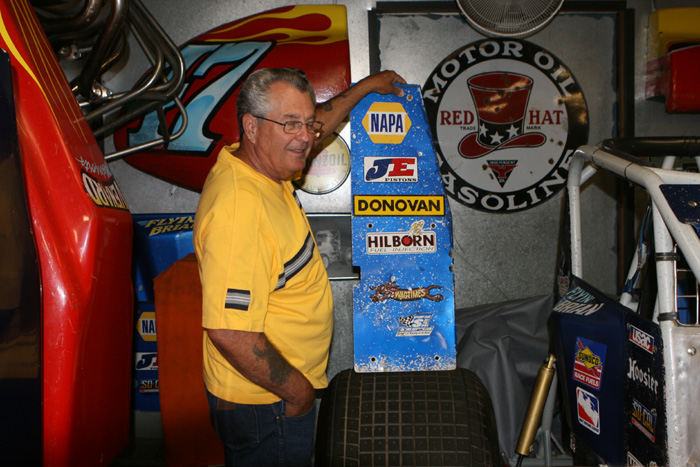 If you look real close there is a brown weenie dog on this side panel buster is holding up.


All photos &copy 2011 Mr. Wags Photos