Digital Images from Steve Lafond TOHF
The Lafond world of speed and color! Indiana Sprint Week - Kokomo

Man, Kokomo was a BARN BURNER!!! One for the ages...Dave Darland and Justin Grant went wheel to wheel at the end, with Darland picking up his 51st USAC National Sprint Car victory on an unbelievable track! 46 cars and another packed house...this one will be hard to beat...Darland also broke the one-lap track record with a stellar 12.405 lap! Won't soon forget this race!

First shot is of Darland with car owners Steve and Carla Phillips in victory lane. Third shot is Darland with his $100 bonus for the new track record. Fourth shot is of Darland racing with Kevin Thomas, Jr. early in the feature. Note the front end lift on both cars!
Dave Darland in winners circle
Dave Darland in action
Dave with $100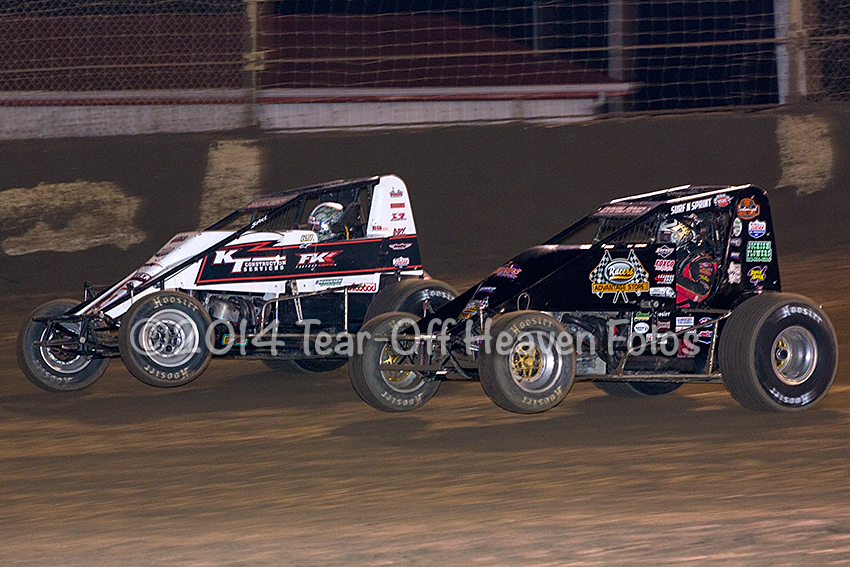 Dave Darland with Kevin Thomas Jr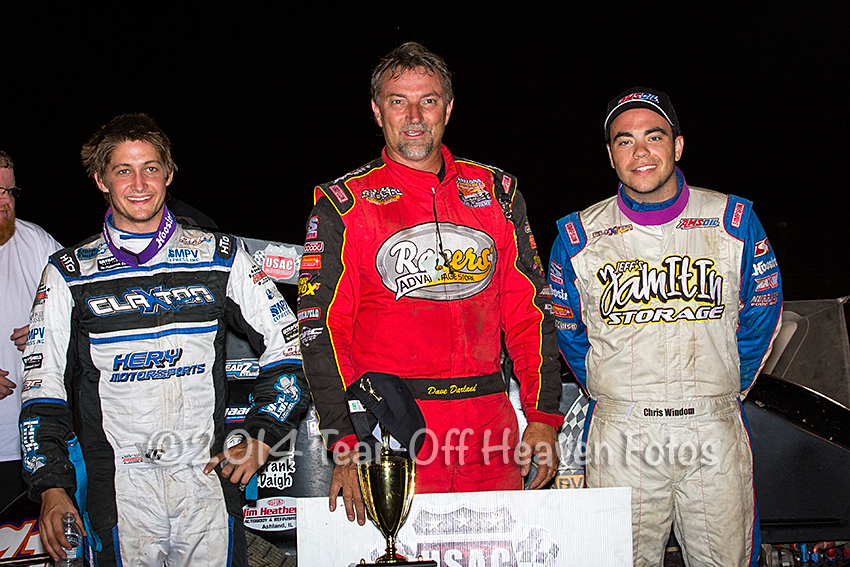 Dave Darland (center); second place Justin Grant (left); third place Chris Windom (right). That's two-for-two in podium finishes for both Grant and Windom.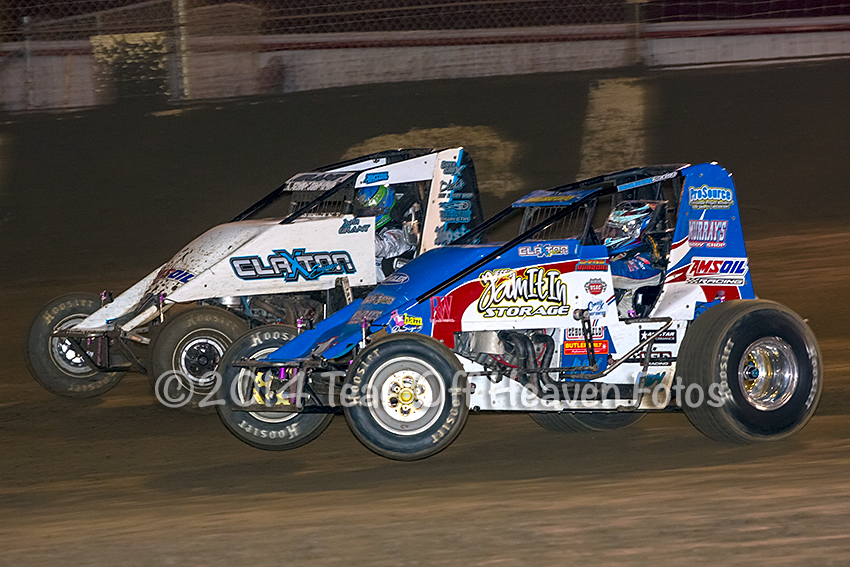 Justin Grant and Chris Windom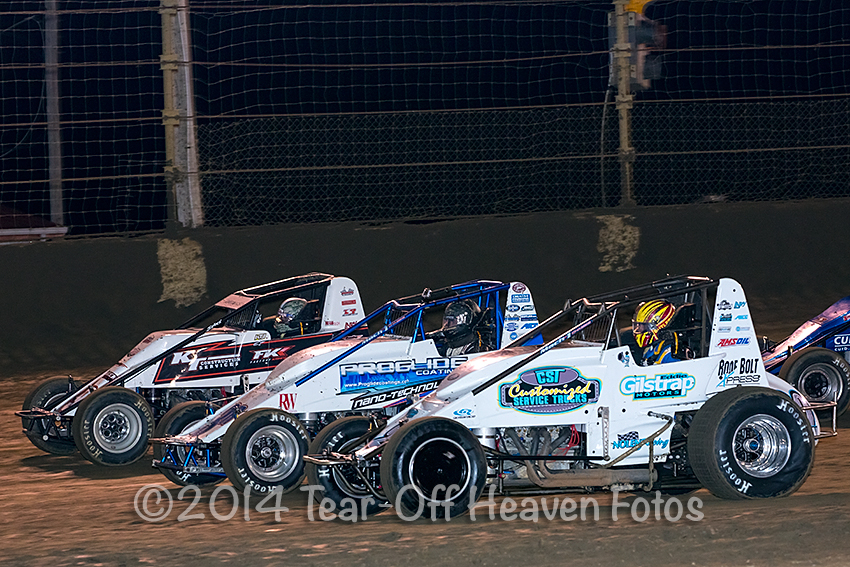 3 wide
3 wide down the front stretch
Jarrett Andretti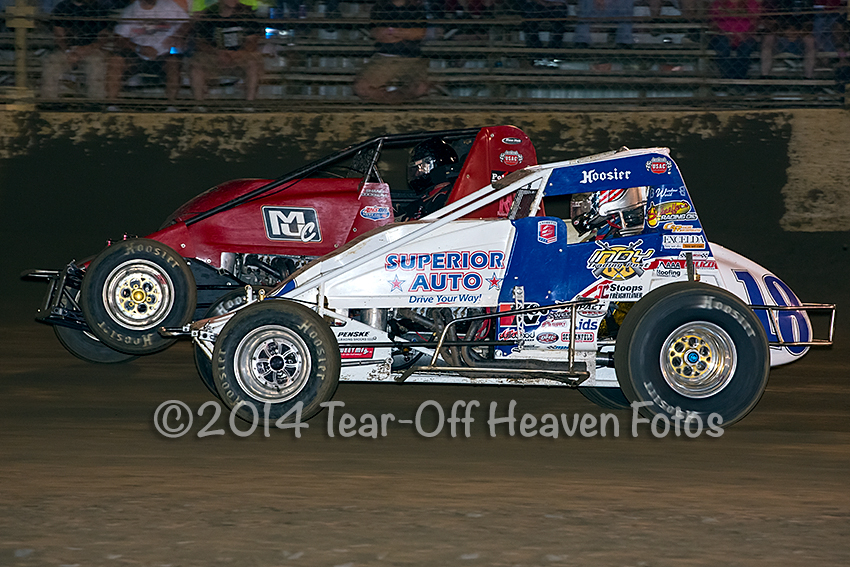 Jarrett Andretti and Shane Cockrum
Brady Bacon and Robert Ballou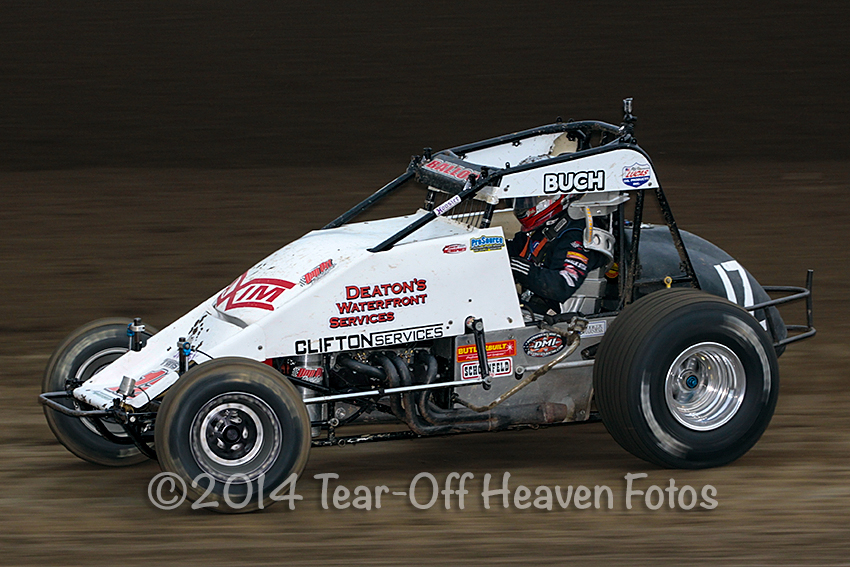 Robert Ballou
Chad Boespflug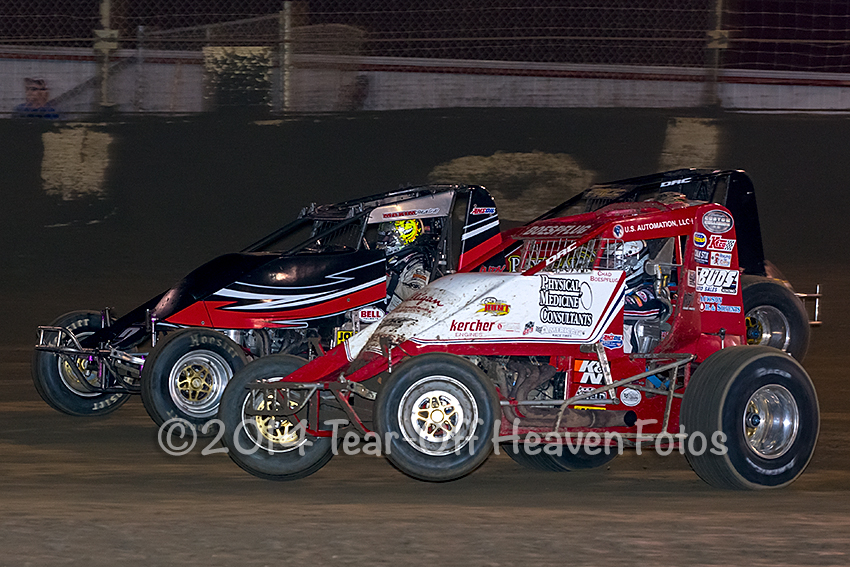 Chad Boespflug, Tyler Courtney and Thomas Meseraull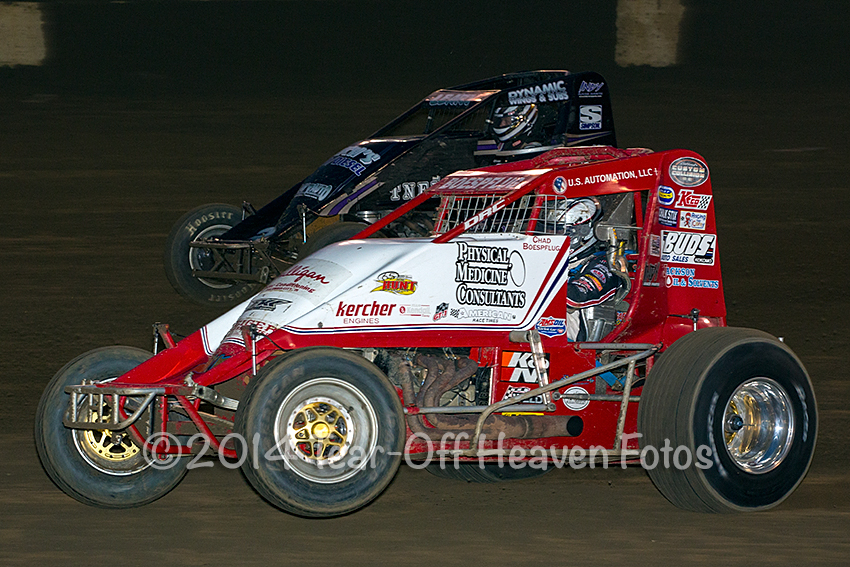 Chad Boespflug and C J Leary
Chad Boespflug, C J Leary and Justin Grant
Chase Briscoe
Bryan Clauson
Deron Clayton
Shane Cockrum
Jerry Coons Jr and Richard Vander Weerd
Shane Cottle and Brent Beauchamp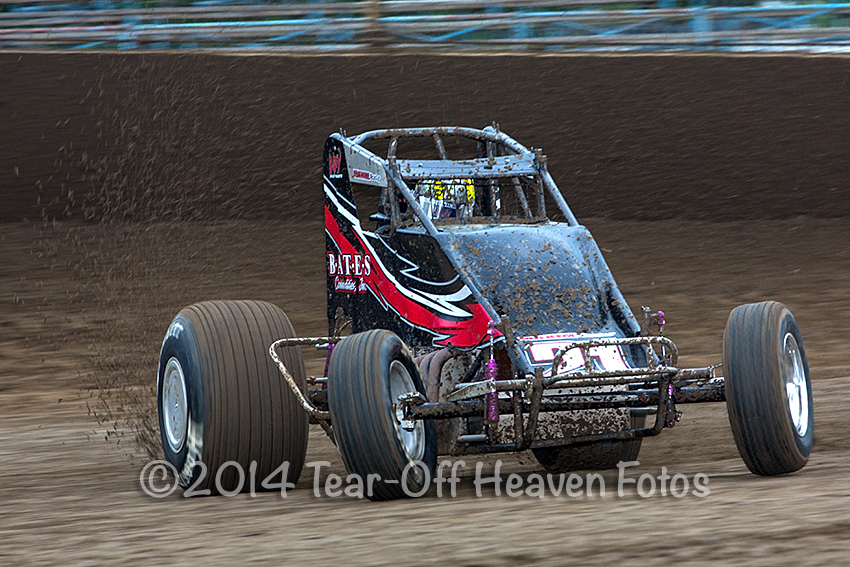 Tyler Courtney
Dave Darland getting a kiss from his wife Brenda
Dave Darland Cheering his win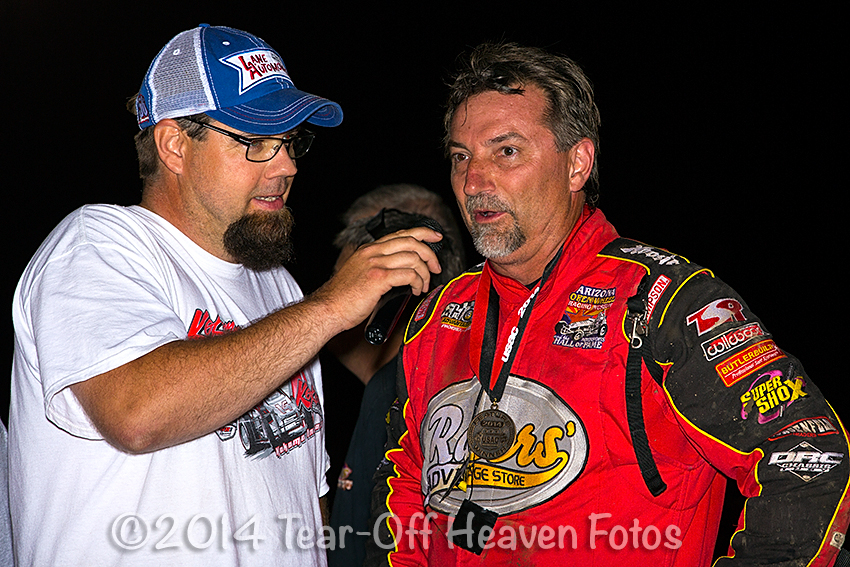 Dave Darland getting interviewed
Dave Darland with another kiss from Brenda
Dave Darland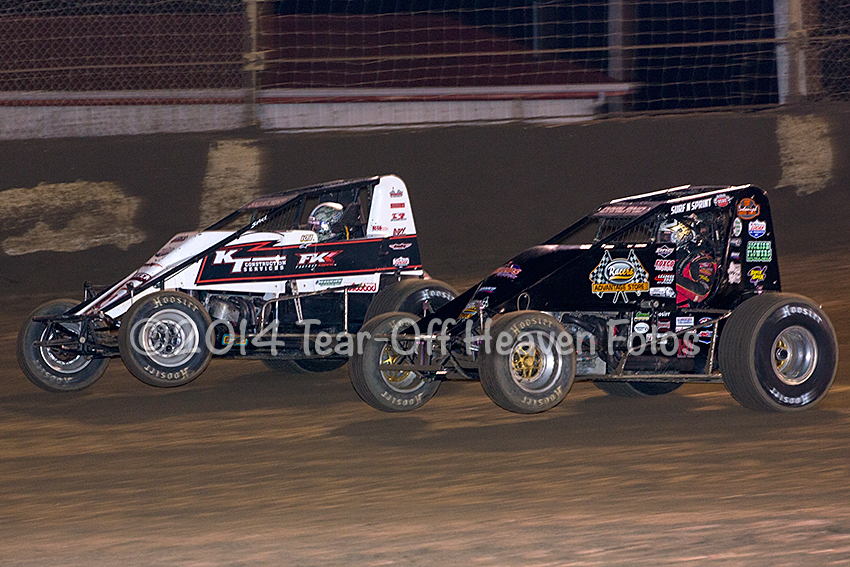 Dave Darland and Kevin Thomas Jr
Justin Grant
Ted Hines
Ted Hines
Jace Vander Weerd
Kokoma track view
C J Leary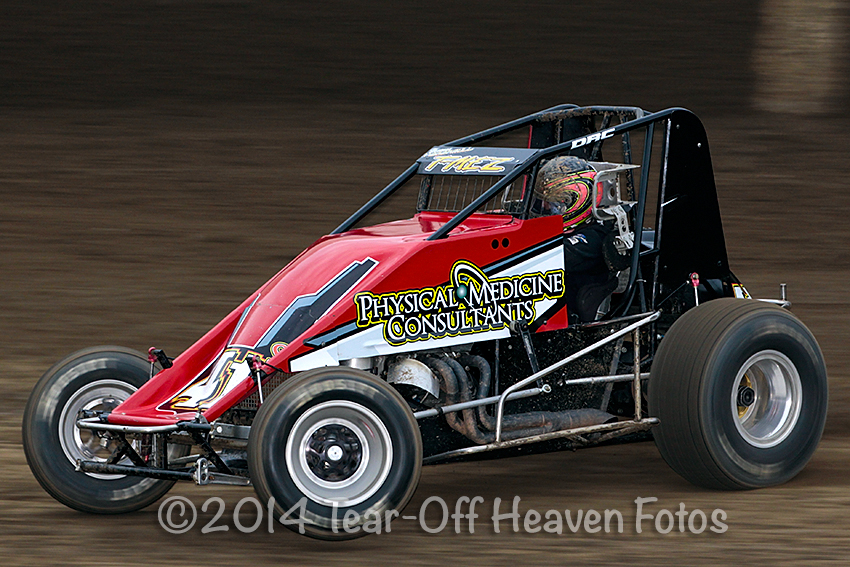 Thomas Meseraull

AMSOIL USAC SPRINT CAR NATIONAL CHAMPIONSHIP RACE RESULTS: July 12, 2014 – Kokomo, Indiana – Kokomo Speedway – 27th Annual "Indiana Sprint Week"

QUALIFICATIONS: 1. Dave Darland, 71p, Phillips-12.405; 2. Brady Bacon, 69, Dynamics-12.589; 3. Bryan Clauson, 20, Stewart/Curb-Agajanian-12.628; 4. Tyler Courtney, 21x, Pollock-12.725; 5. Chris Windom, 11, Walker-12.739; 6. Justin Grant, 40, Hery-12.777; 7. Kevin Thomas Jr., 9k, KT-12.824; 8. Chad Boespflug, 57, Hazen-12.934; 9. Hunter Schuerenberg, 20N, Schuerenberg/Nolen-12.938; 10. C.J. Leary, 30, Leary-12.943; 11. Jerry Coons Jr., 10E, Edison-12.959; 12. Thomas Meseraull, 41, SST-12.959; 13. Scotty Weir, 18x, Keen-12.977; 14. Robert Ballou, 12x, Ballou-12.999; 15. Richard Vander Weerd, 10, Vander Weerd-13.011; 16. Jon Stanbrough, 37RW, Dutcher-13.030; 17. Tracy Hines, 4, Hines-13.061; 18. Brent Beauchamp, 34, Olson-13.072; 19. Daron Clayton, 3R, Byram-13.124; 20. Matt Westfall, 54, Best Performance-13.149; 21. Max McGhee, 17, McGhee-13.177; 22. Shane Cottle, 2E, Epperson-13.263; 23. Chase Stockon, 32, 32 TBI-13.280; 24. Brady Short, 11p, Pottorff-13.282; 25. Nathan Moore, 48, Moore-13.300; 26. Josh Spencer, 66J, Spencer-13.312; 27. Aaron Farney, 15F, Farney-13.379; 28. Logan Jarrett, 29, Jarrett-13.397; 29. Casey Shuman, 21k, Krockenberger-13.460; 30. Jarett Andretti, 18, Andretti-13.464; 31. Chris Gurley, 12G, Team Automotive-13.483; 32. Chase Briscoe, 5B, Briscoe-13.488; 33. Shane Cockrum, 66, Amati-13.528; 34. Mike Terry Jr., 85, Terry-13.535; 35. Jace Vander Weerd, 88, Vander Weerd-13.545; 36. Lee Dakus, 75, Dakus-13.647; 37. Ted Hines, 12, Hines-13.654; 38. Landon Simon, 24, Simon-13.705; 39. Kent Schmidt, 5k, Schmidt-13.753; 40. Jay Waugh, 99a, Waugh-13.909; 41. Mark Smith, 1M, Smith-13.937; 42. Travis Hery, 21H, Hery-13.991; 43. Brody RoaM., 91, BR-14.013; 44. Gary Taylor, 4G, Cook-14.039; 45. Ethan Barrow, 15, Barrow-14.139; 46. Adam Byrkett, 78, Byrkett-14.654.

FIRST HEAT: (10 laps) 1. Hines, 2. Darland, 3. Schuerenberg, 4. Windom, 5. Weir, 6. McGhee, 7. Shuman, 8. Barrow, 9. Smith, 10. Moore, 11. Ted Hines, 12. Cockrum. NT

SECOND HEAT: (10 laps) 1. Beauchamp, 2. Cottle, 3. Ballou, 4. Bacon, 5. Grant, 6. Leary, 7. Simon, 8. Spencer, 9. Andretti, 10. Hery, 11. Terry, 12. Byrkett.* NT

THIRD HEAT: (10 laps) 1. Clayton, 2. Stockon, 3. Clauson, 4. Thomas, 5. R.Vander Weerd, 6. Coons, 7. Gurley, 8. Farney, 9. Schmidt, 10. Roa, 11. J.Vander Weerd.

FOURTH HEAT: (10 laps) 1. Short, 2. Stanbrough, 3. Westfall, 4. Meseraull, 5. Boespflug, 6. Jarrett, 7. Courtney, 8. Taylor, 9. Briscoe, 10. Dakus, 11. Waugh.

QUALIFYING RACE: (10 laps) 1. Simon, 2. Dakus, 3. Roa, 4. Taylor, 5. J.Vander Weerd, 6. Barrow, 7. Hery, 8. Schmidt, 9. Terry.

SEMI: (12 laps) 1. Boespflug, 2. Grant, 3. Courtney, 4. Leary, 5. Coons, 6. Weir, 7. Spencer, 8. Shuman, 9. R.Vander Weerd, 10. Andretti, 11. Farney, 12. Taylor, 13. Cockrum, 14. Jarrett, 15. Roa, 16. Dakus, 17. Gurley, 18. Briscoe, 19. McGhee, 20. Simon. NT

FEATURE: (30 laps) 1. Dave Darland, 2. Justin Grant, 3. Chris Windom, 4. Hunter Schuerenberg, 5. Bryan Clauson, 6. Kevin Thomas Jr., 7. Robert Ballou, 8. Brady Bacon, 9. Thomas Meseraull,* 10. C.J. Leary, 11. Jon Stanbrough,12. Jerry Coons Jr., 13. Brady Short, 14. Chase Stockon,15. Tyler Courtney, 16. Tracy Hines, 17. Richard Vander Weerd, 18. Scotty Weir, 19. Chad Boespflug, 20. Shane Cockrum, 21. Jarett Andretti, 22. Daron Clayton, 23. Brent Beauchamp, 24. Matt Westfall, 25. Shane Cottle. NT

**Moore flipped during the first heat. Gurley flipped during the semi.

FEATURE LAP LEADERS: Laps 1-5 Thomas, Laps 6-30 Darland.

NEW AMSOIL NATIONAL SPRINT POINTS: 1-Bacon-1,100, 2-Darland-1,094, 3-Stanbrough-1,010, 4-Clauson-1,001, 5-Stockon-975, 6-Hines-938, 7-Grant-910, 8-Windom-867, 9-Schuerenberg-849, 10-Leary-742.

NEW INDIANA SPRINT WEEK POINTS: 1-Windom-126, 2-Darland-125, 3-Grant-124, 4-Stanbrough-103, 5-Bacon-102, 6-Clauson-99, 7-Hines-88, 8-Stockon-86, 9-Ballou & Schuerenberg-81.

NEXT AMSOIL NATIONAL SPRINT RACE: July 13 – Lawrenceburg (IN) Speedway - 27th "Indiana Sprint Week"


All photos &copy 2014 Mr. Wags Photos