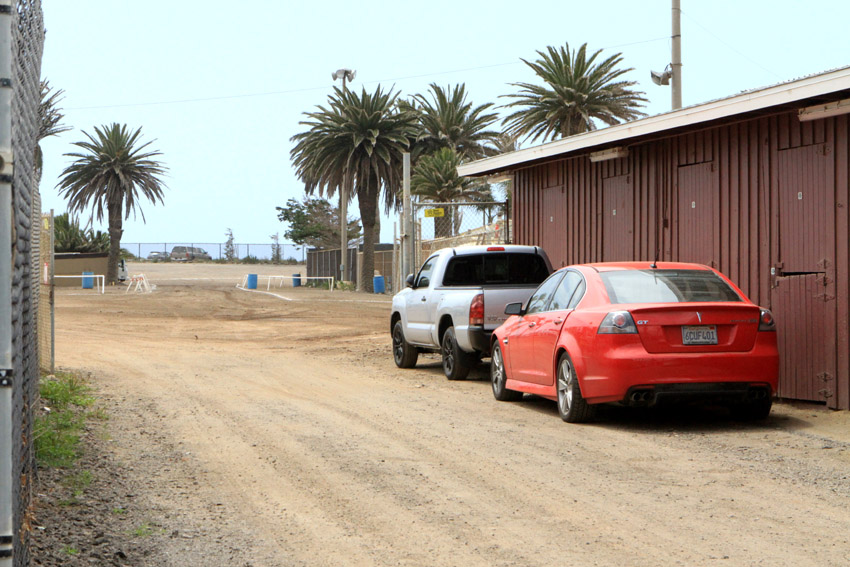 Goint in the back gate at Ventura is a pleasure.
Big Mike has hs welcoming boooth ready to greet the racers he enticed to run his challenge.
Steve and Kim Lafond came out to watch the big challenge. Camping for them is fun!
Jim Naylor uses the water truck a lot more than many track repspecialists and gets great results. But remember, many competitors bitch regardless of how the track is?
Troy Rutherford coming in with a itre on his shoulder. He ran 9th against the CRA boys.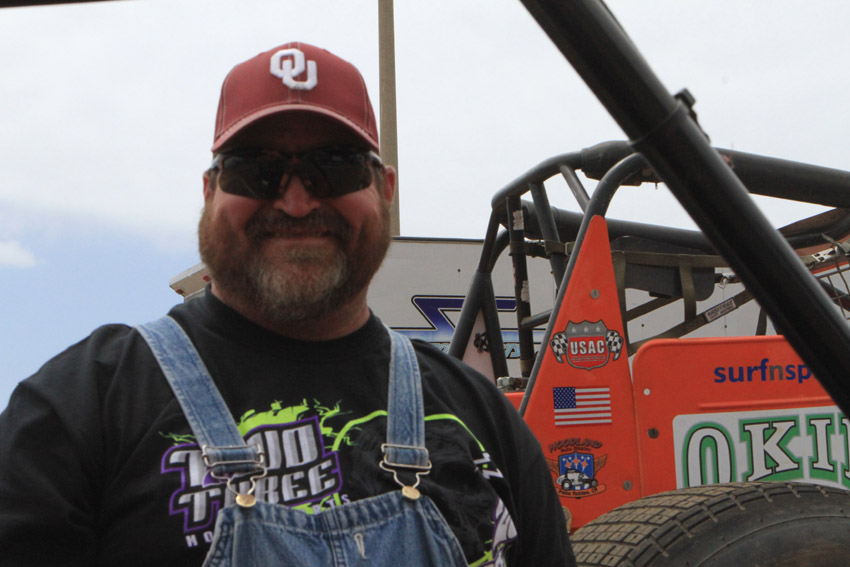 "Okie" Sampson is a happy guy looking for some fun today. He ran 7th in the C Main and got to watch the rest of the night
Logan Williams Had a rough night ass he ran 11th in the C Main and missed his first main in a long time.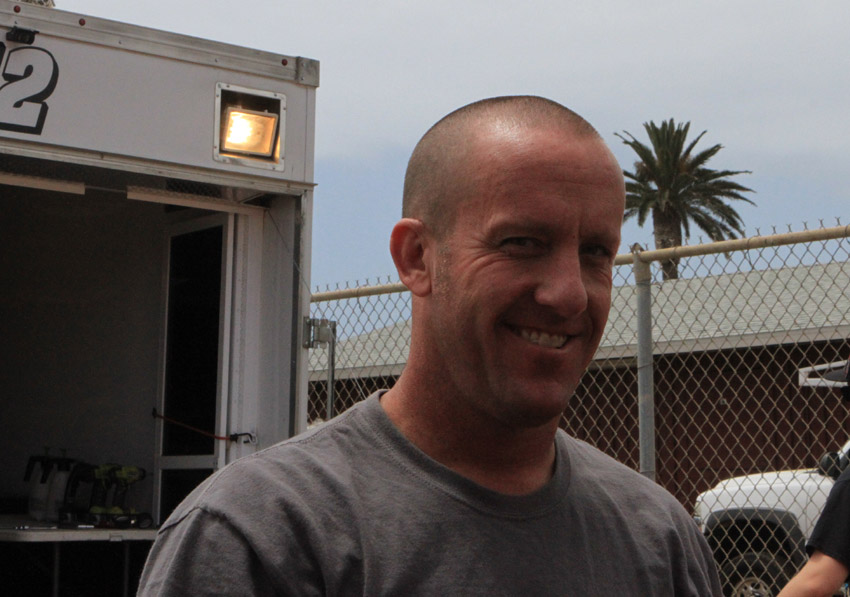 Josh Pelkey came a long way from Phoenix to race at the beach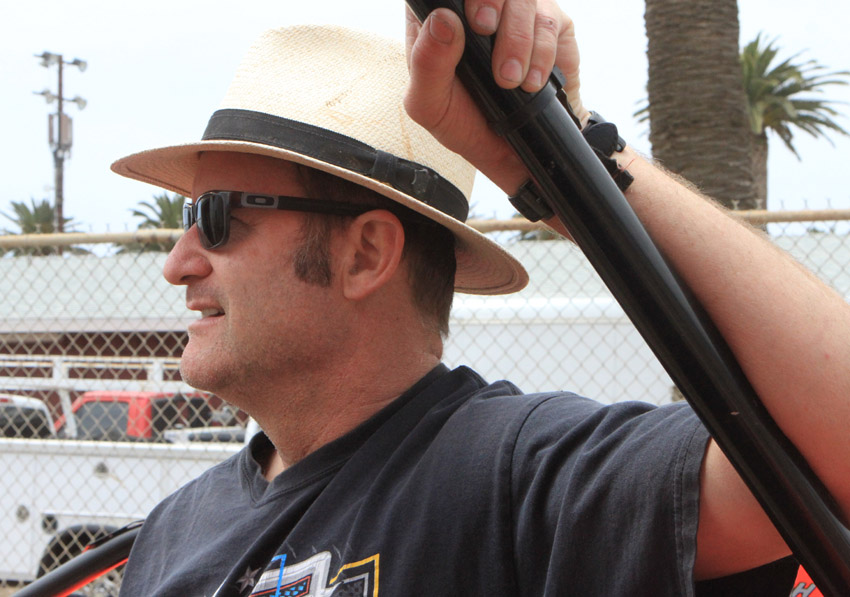 Pelkey's Car owner Robbie Allen contemplates the rest of the day.
The sponsors on race cars is very important to getting the money needed to run these bad boys.
Kyle Edwards was here and missed the main like 26 other cars.
Rick Hendrix and his wife Yumi get ready as usual.
Chris Wakim, Tristan Guardino and Danny Sheridan mounts lined up in the afternoon. Chris missed the main by one spot. Danny led 35 laps before he was spun out and ended up 17th.
Luke Boels and David Taylor getting ready. Boles car fell off the jack, but no one hurt and they ran fine with Boles 2 spots out of the main.
Cody Majors was 5th in the C main.
David Bezio came to have some fun but missed the main.
A J Bender and his father were hoping for better, but a 6th in the C Main wass today's best.
Jimbo McCoskey tries to hide from the camera again!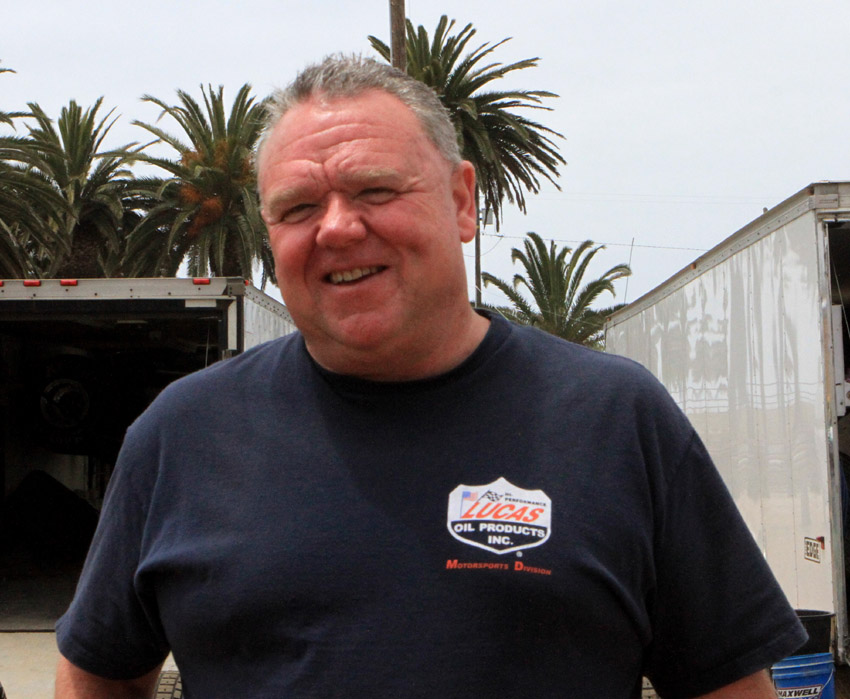 "Biggie" Steve Watt brought 2 cars to race at his home track.
Kyle Smith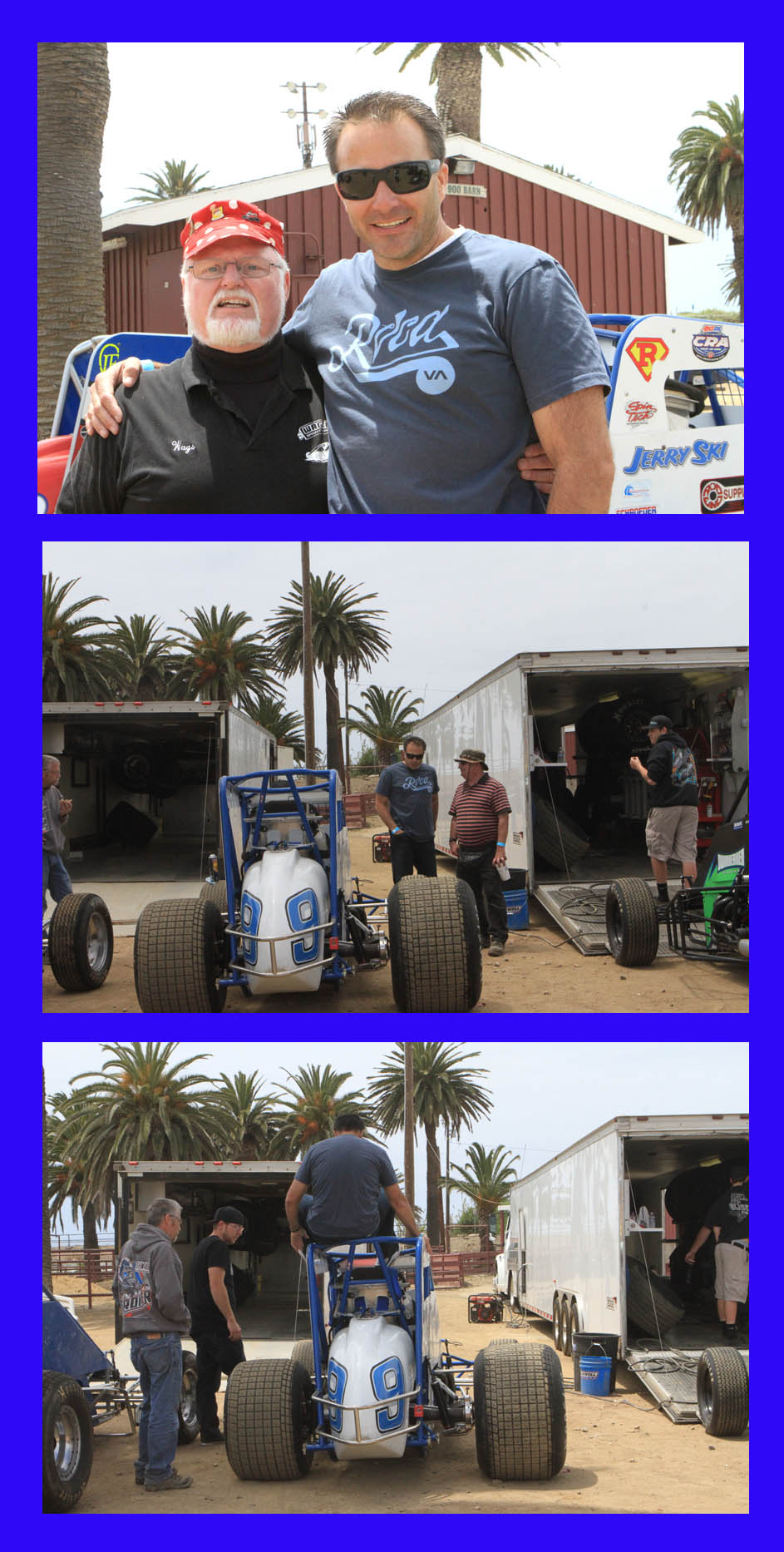 Danny Sheridan drove one of Rickie Gaunt's cars this race. He ran second to Rickie in his heat and started on the outside of row one of the Main Event. He led 35 laps before up jumped the devil in the form of a lap car, and he got shuffled inot a spin and on the hook.
Luke Boles car fell off the jack, I'm thinking, but no one got hurt and they raced like normal.
The Moose team were in the house. Did you know if you buy a t-shirt you get candy with the moose racing logo's and Jake Swanson's name on them! Jake had a flat in his heat and ended up coming up thru the main competitors to get the hard charger $500 money.
Ronnie Gardner was in the house. He ran a strong fifth in the main. One wonders what he could do if he concentrated on the sprinter full time?
The Gansen sprinters ready to rock and roll.
One reallsey pretty yellow car driven by COry Kruseman this week. He ended up 11th.
A look in the pits
Ron Bach is back at it???
Tobey Sampson and his son at the raaN"CENTER">
Jeremy Ellertson
Lee Leonard on right has been with Brody Roa for a while now. Sometimes Brody drive's Lee's car.
Brody Roa, Jake Swanson and the Okie up to no good.
Brody Roa with some old man.
Mike Spencer, Paul Dean and Gary Tanaka get the little red sucker ready to race.
The Brody Roa pit
Sammy Bahr was on crutches and brought his family for support
Tony Jones had just presented me with one of his helmets and that was a request of mine from him. It made me really happy, to say the least.
There the helmet is on my desk!
Mark Priestley and his hard working crew are still at it.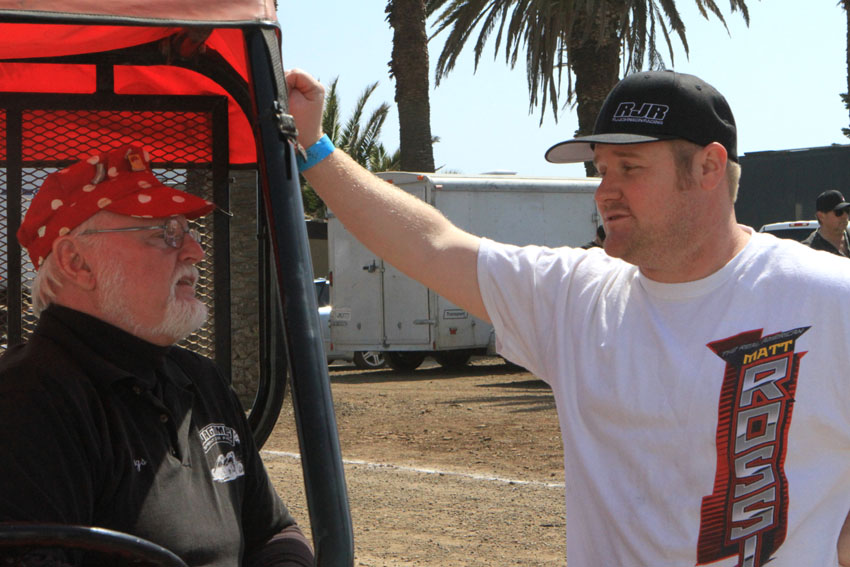 R J Johnson visits with the Wags
Kim Lafond being a photog person.
Harlan Willis having a chat.
Hobey Conway wandering the pits
The Williams racing team having fun
Jack Jory visits with the Wags
Cars heading to the track fro hot laps
Jace Vander Weerd
Danny Faria gets ready
More little red sucker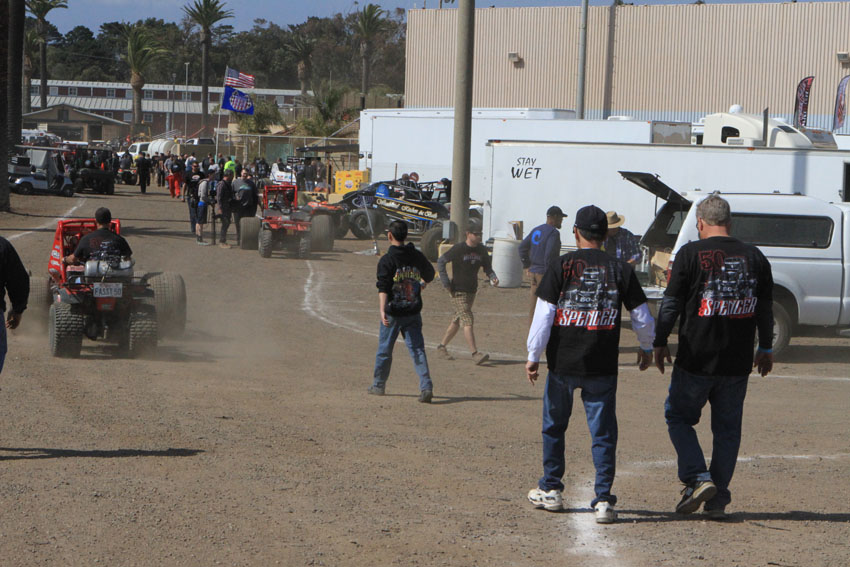 Heading to the fire up lanes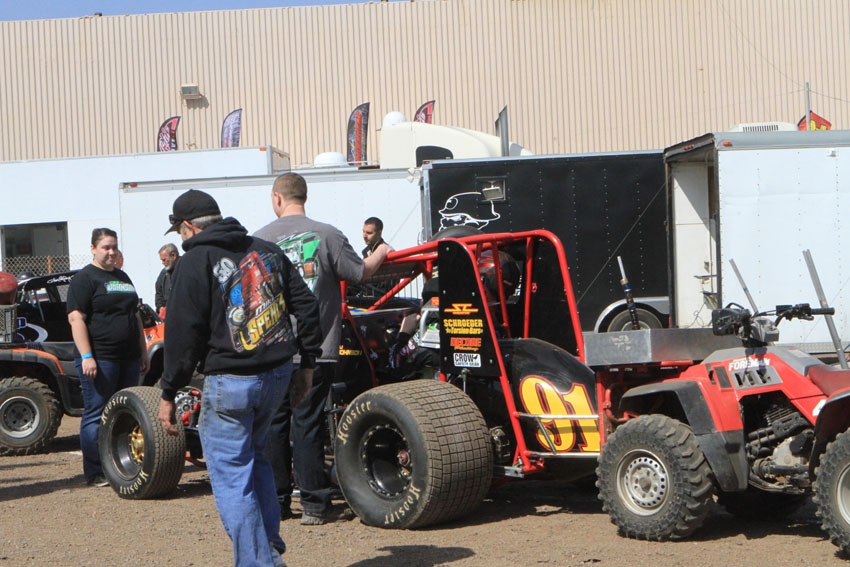 R J Johnson drove this car
R J Johnson
Tony Everhart
Matt Stewart
Tony Everhart
Biker Bruce!