The day starts out with "the coach" getting the rigs parked within the cone confines.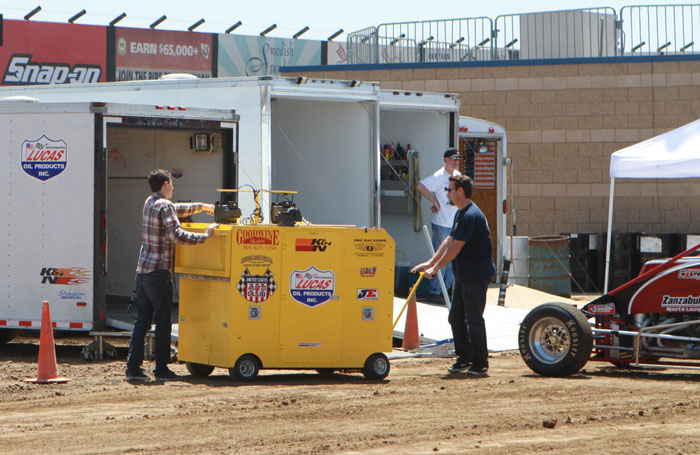 Unloading the rigs is important and doing it early in the day makes for a more ready team.
You can see by the old clock on the wall, it's mid day and stuff is already happening.
The day is just starting and so far so good, they are lining up fine.
The beautiful # 7 of Mark Priestley.
Another shot of the yellow one.
Jake Swanson ran good this week as the rookie won his first heat! He was 15th in the main event.
Mike English and Wiley Miller arrived (middle two) and the pit talk begins.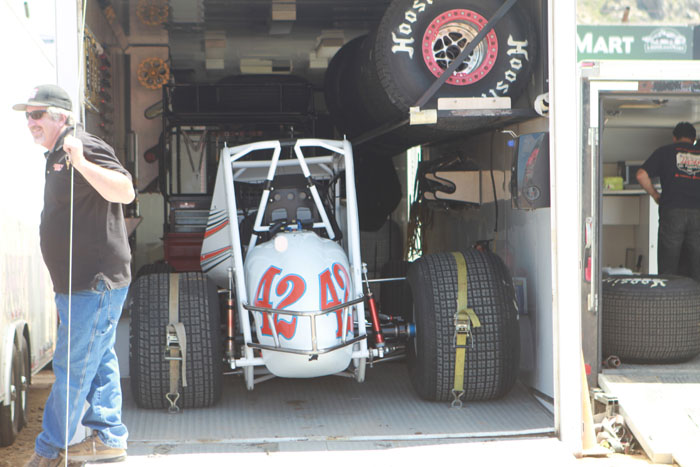 Dwight Cheney has Ronnie Gardner in the seat now. Ronnie was 4th quick and dropped out in the main with a fire under the car?
Jerry Welton's car was in first and ready quickly.
Ripper was around visiting early in the day. He says he is still having fun with a big smile on his face. Having two sons running with him probably has a lot to do with that.
Here they unload one of the 3 black stealth Williams cars out of the big black hauler.
This one rides in the rafters on the road to the races.
Cody's car was already out.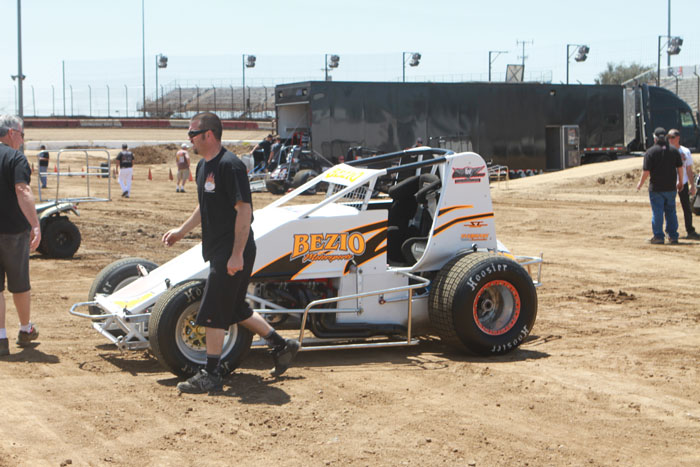 David Bezio is having more fun with his 410! He ran 17th this week.
Time to find food.
Time to unload the little blue bugger. Randy gets his only ride of the day.
Two famous Alexanders relaxing before the real work starts!!!
The # 42 waiting for "G" to show up and get to work.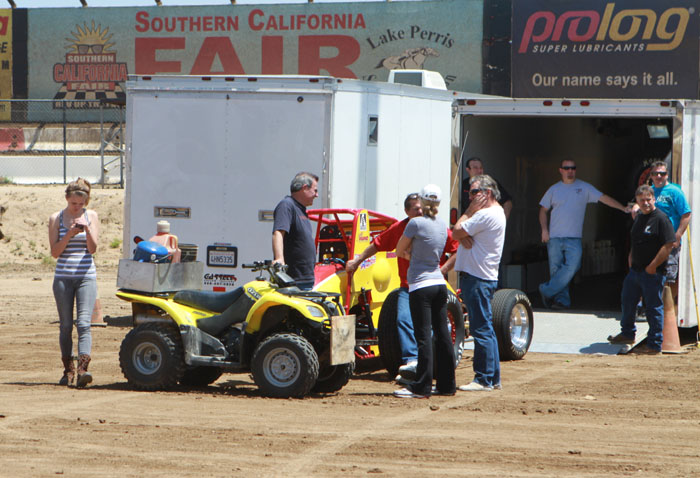 The visiting early in the afternoon is the norm. Later all will be busy.
Time to ride the elevator.
What a pair!!!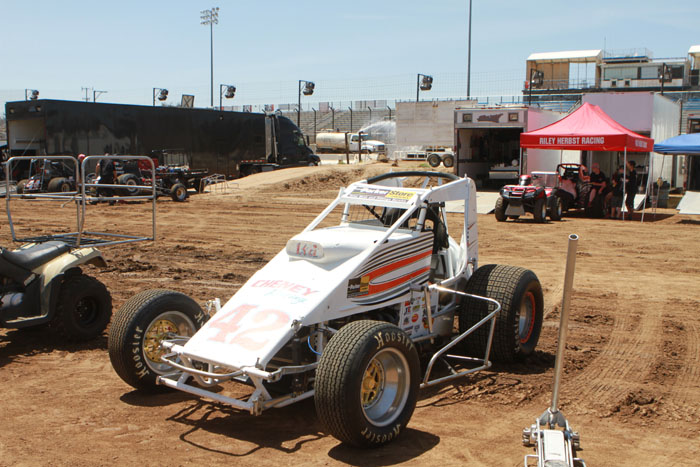 Looking over the top of the Gardner ride, you can see the water truck on the frontstretch.
Mike English taking a break before he has to go to work on the # 75 Miller car.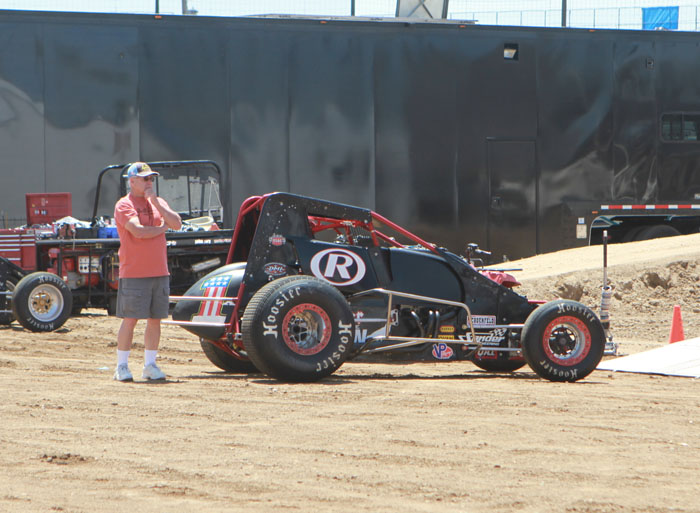 Someone pondering Seth Wilson's ride.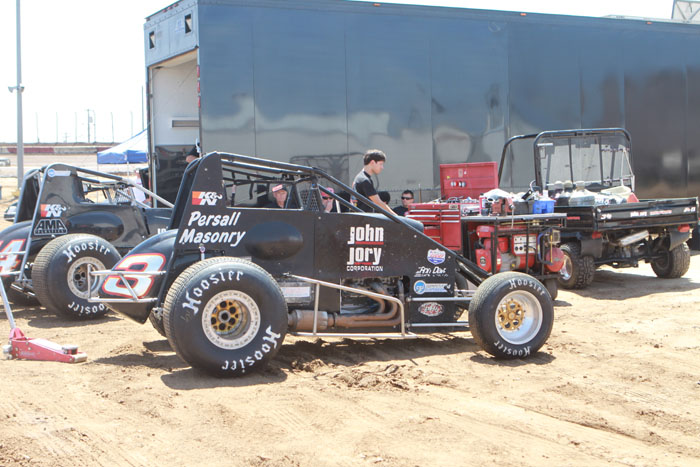 Ripper's famous # 3 ready to go. He was fifth on the night as he battled his son Austin most of the race.
Amazing how much easier it is in the shade.
Bobby Michnowicz now has to maintain 2 lightning sprints as he and his son Kevin run them now. Both had the lead in the 20 lap feature, but both pulled in early with problems.
Austin Williams gives his car a little TLC.
Jimbo, left, and Paul, right, both look out for snakes?
The VanderWeerd twins were in the house. Richard 8th and Jace 14th.
Bruce Bromme Jr contemplates his next big win, which was by the way, tonight!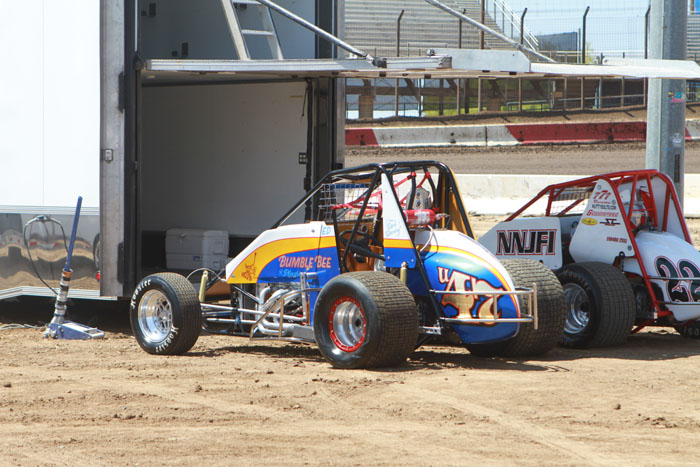 The # 47 car is a beauty!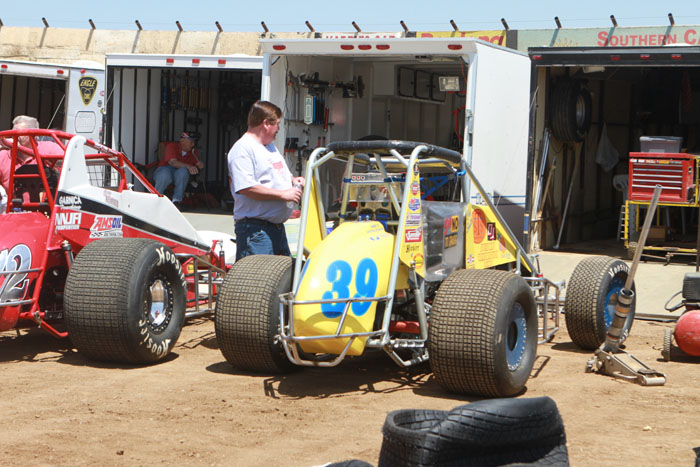 Cal Smith came out tonight and became a significant rollover victim. It was a doosy! He was OK.
A senior car that did well in their feature. With his sense of humor, what not add some green to the number 13?
Starting to look busy in the pits with 31 sprinters, 13 senior sprinters and a abunch of lightning sprints.
Two Senior cars come out of this big hauler.
Matt Mitchell at peace early on.
The little red sucker ready to do battle, again.
Tony Everhart is always having fun.
The howlin' wolf in New Orleans?
Verne Sweeney makes another appearance. He was 16th this week.
Raymond Potter's car before the number 33 was applied.
Austin Smith made the feature and went out early.
David Cardey got on the podium this week and announced he would be driving the Moosemobile when the new Victory chassis is ready that will be tall enough for him.
Plenty of race cars this week.
Paul Dean and Tony Everhart chatting.
David Bezio gives a smile.
Josh Ford was 13th this week.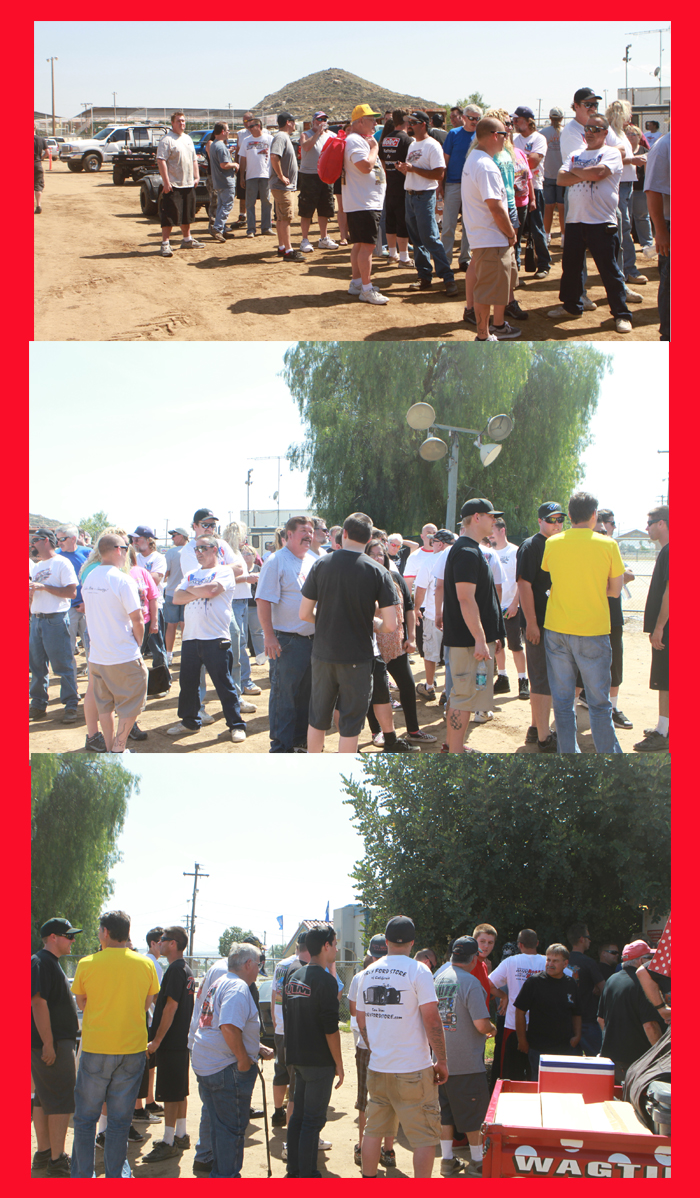 Line up for pit passes.
The Bender Brothers, Bobby and A J, with A J running 18th this race.
Evelyn Pratt still up to her pit work.
Ryan Bernal poses with his Kittle ride. When he is not driving the Kittle 410, he is in a Josh Ford 360 car.
Randy Shiosaki and his new "son" Ryan.
Vinnie looks a little grumpy, what do you think?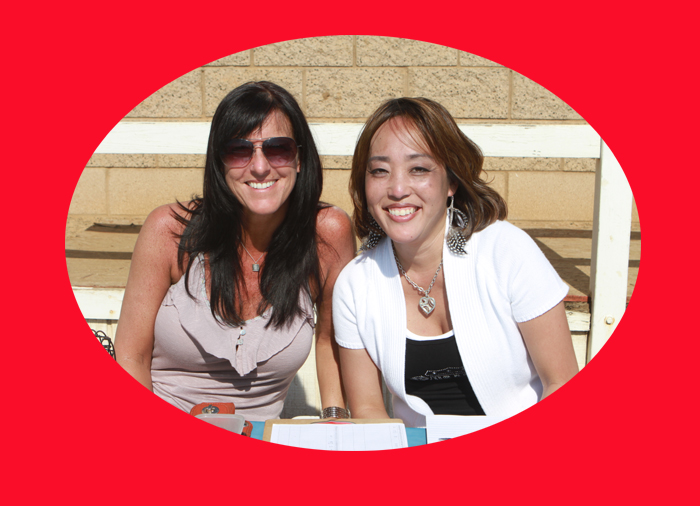 My hot girlfriends Julie and Shelley!!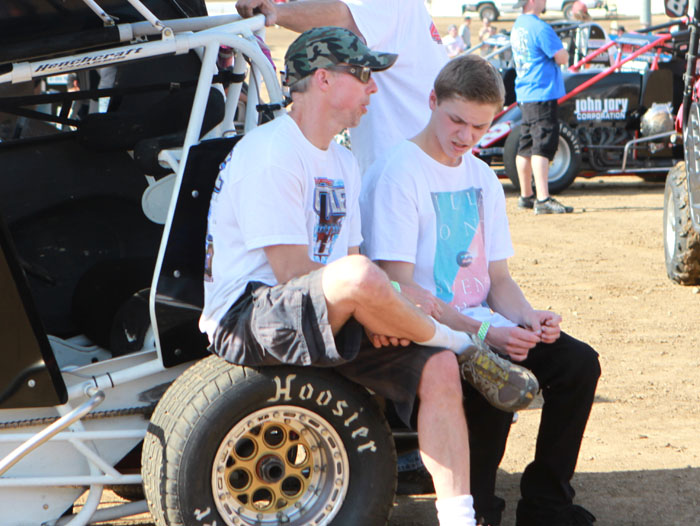 OK dad, I think I got it! (Kevin and Bobby Michnowicz talking about their racing)

Bunch going out for hot laps
More

More
More

And more
Now were in the mud

Sloppy times
Who are these two old codgers? Only the 5 time CRA champion Jimmy Oskie and Steve Howard looking for trouble like usual.
Here are some shots of the on the track fan visits on the frontstretch after qualifying.
Verne Sweeney is out there.
Doug Allen looking for another great shot that he is famous for.
Verne's aware of someone?
OK David Cardey, what you got for Shelley?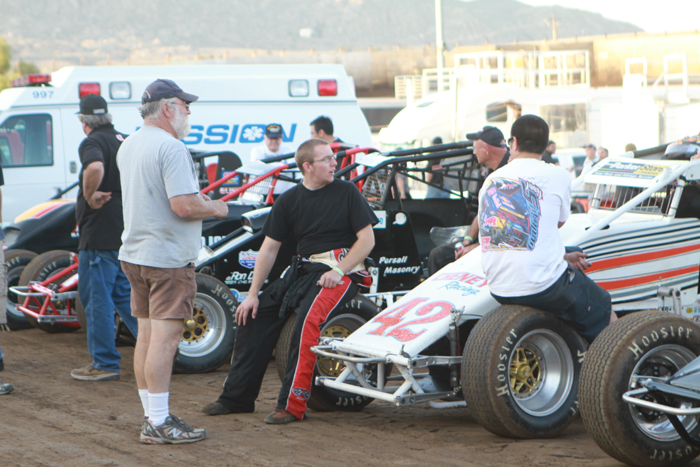 Ronnie Gardner visiting.
The Good Guys are always around!
We need more kids around the racecars!
Meet and greet is a great idea, even if it's only 15 minutes or so!
Hey, there's a wall over there?
Famous Freddie of the Racer's Pub nearby. He is a Cardey fan.
Shelley Ostling having fun.
Kenny Perkins with his back to you.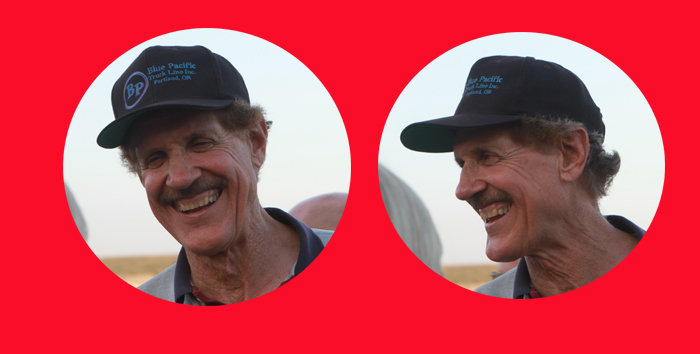 5 Time CRA champion Jimmy Oskie is always a big part of the CRA pits.
Cardey hugs a pretty lady.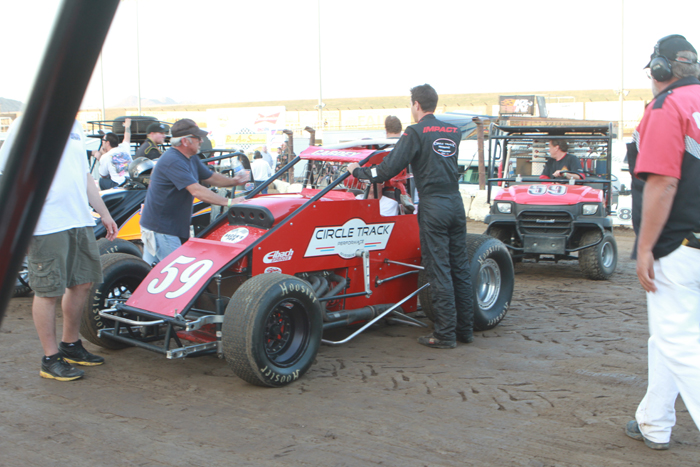 David ready to go back to the pits after all his hugs.
Ron Shipley Jr, in red, and his jovial track safety specialists. They are very much needed and appreciated for our racers. They all ham it up during the break.
Cody Williams car ready to move.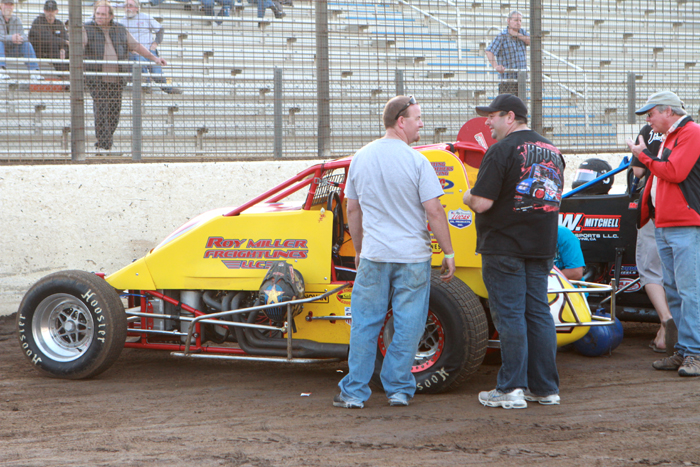 The # 7 and the familiar brothers, Jason and Randy, who work on it religiously since forever!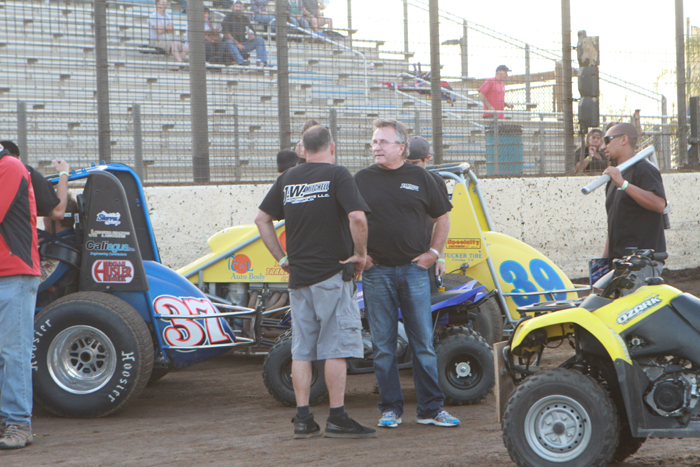 Matt's dad Nick having some fun.
back to other pit stuff
The "Coach" on the tractor.
Hub Cap Mike did a great job in the SR main!
Photogs watching from the 3rd turn K rail.
Rapid Ryan Bernal on a fast lap.
Matt Mitchell comes around to turn four with his dad on the K Rail watching!
Matt pulling the wheels a bit.
Qualifiers!
Look from right to left as David Bezio feathered the throttle through this wheelstand coming from turn three to turn 4, then....
He did it again!
More runners.