The cloudy day didn't detir anyone from coming as the lits got filled pretty quickly.
Paul starts working on the little blue bugger as it's been a while sice this one saw the track.
The Perkins pit getting cars ready. The red one gets a number later.
The Williams clan in the pits doing their thing.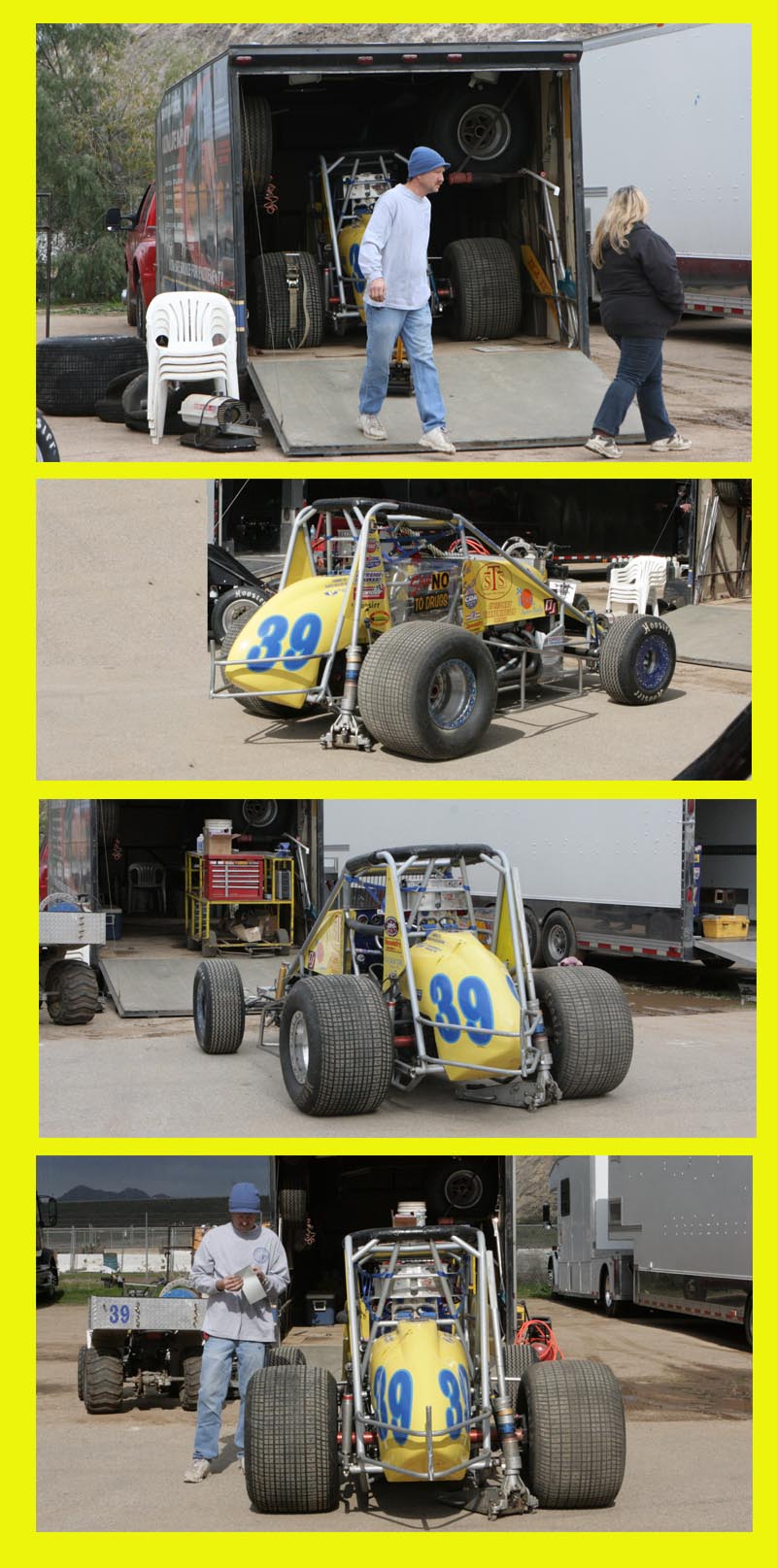 Cal Smith still racing because he loves it.
A J Bender is running alone without his brother who moved away due to work.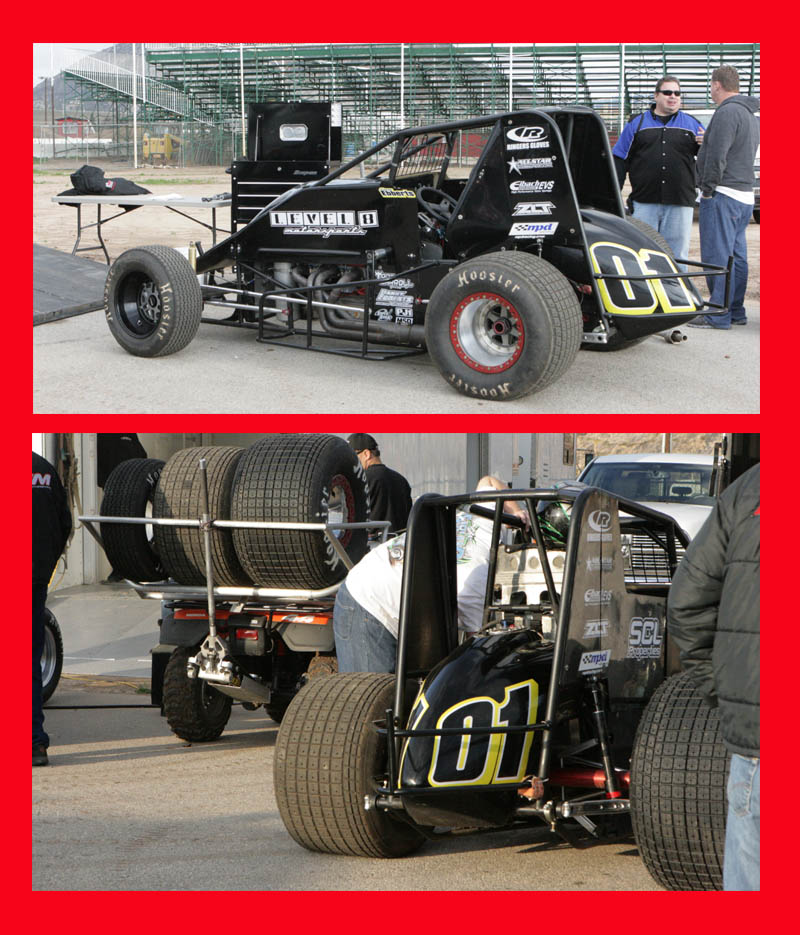 This # 01 car brings back memories of the old Bailey Bros car Lealand McSpadden drove. NOT! It's Danny Ebberts car with Justin grant in the seat I pushed him with my Mule to the fire off area, but he never came out to race.
Brody Roa ran 13th this week as his year gets started.
"Team" cars of Jerry Welton and Gary Potter come to race and have fun and are a prime example oflow buck racers.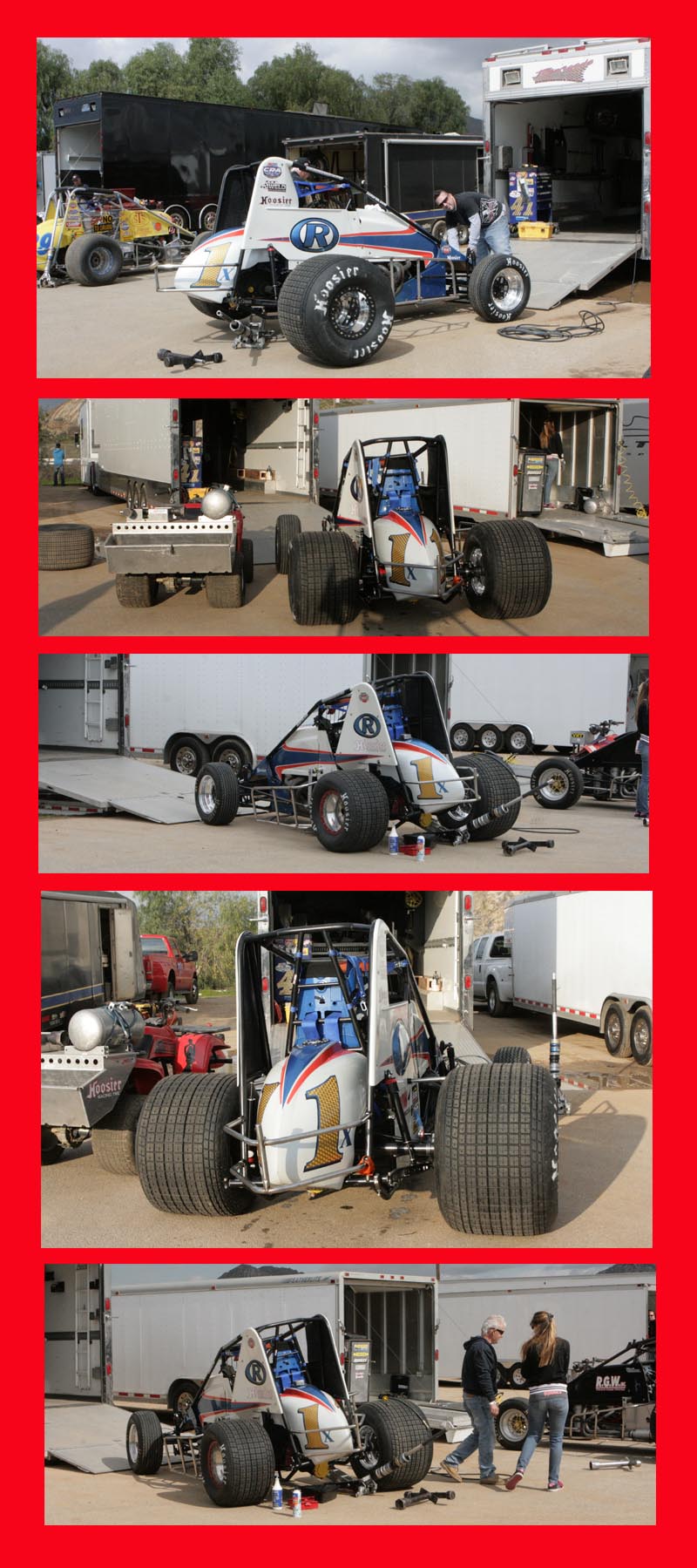 Seth Wilson's car making a run down from LV for the Mohawk man He was 21st in the main after getting involved in a 4 car crush.
Mike Spencer was 5th quick and led the first 7 laps before the little red sucker puffed white smoke and he was done for the night.
R J Johnson came down from Las Vegas after racing there on Thursday to race and they go back to Arizona after finishing 11th on the night.
Billy Blinn's pretty carwas 8th in his heat but didn't come out for the semi.
Ryan Bernal had his problems and ended up on the hook in the main.
The silver bullets with Damion Gardner adnd Nic ZFaas in the seats were both on the podium tonight.

Mark Priestley's # 7 yellow beauty got whacked in the heat and Hurt Cory Kruseman's shoulder.
Some senior sprint cars.
Biggie's cars in the house. Marcus Niemela ran 15th in the 81 car.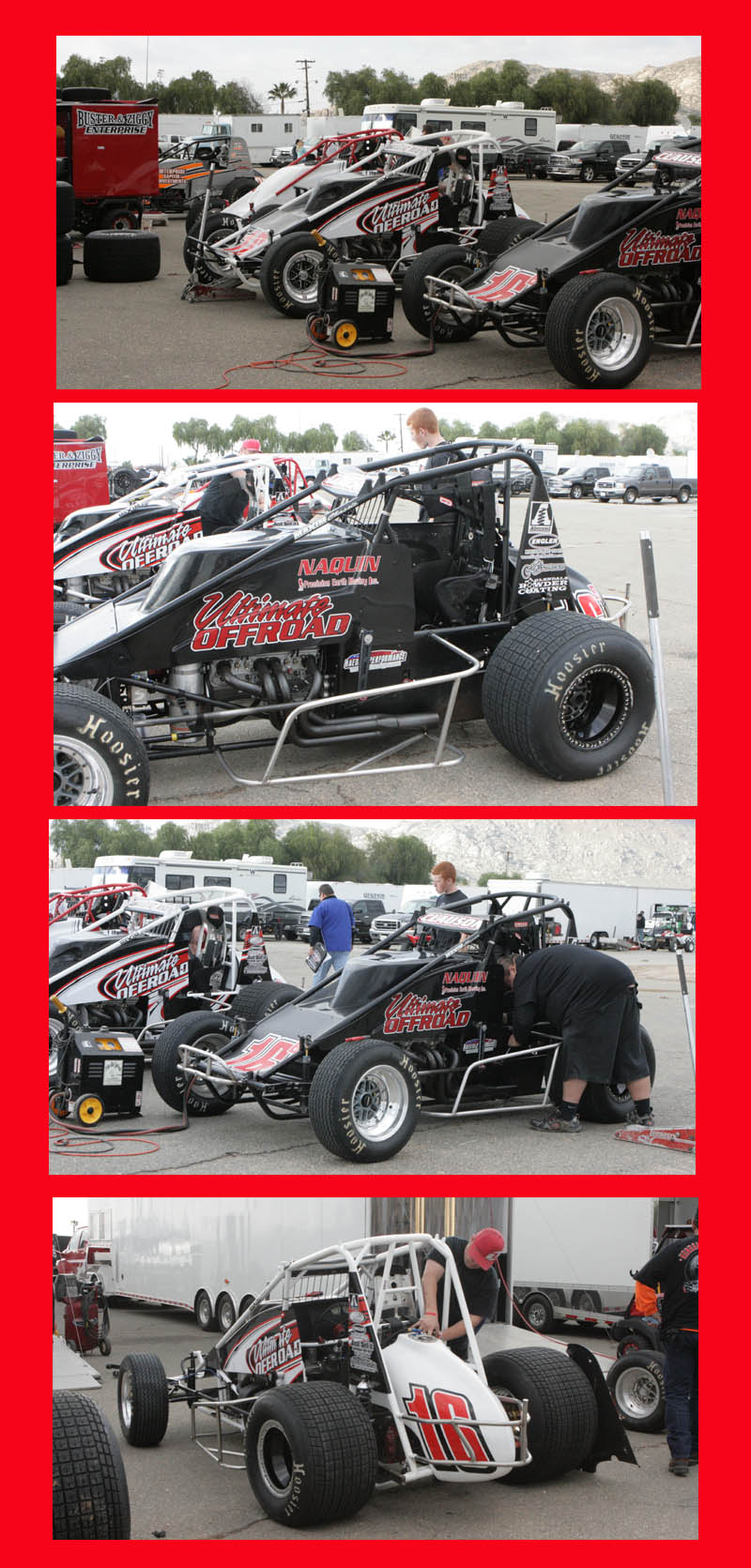 Mike Martin's cars with Himself and Bryan Clauson in them, Bryan won again on his west coast jaunt.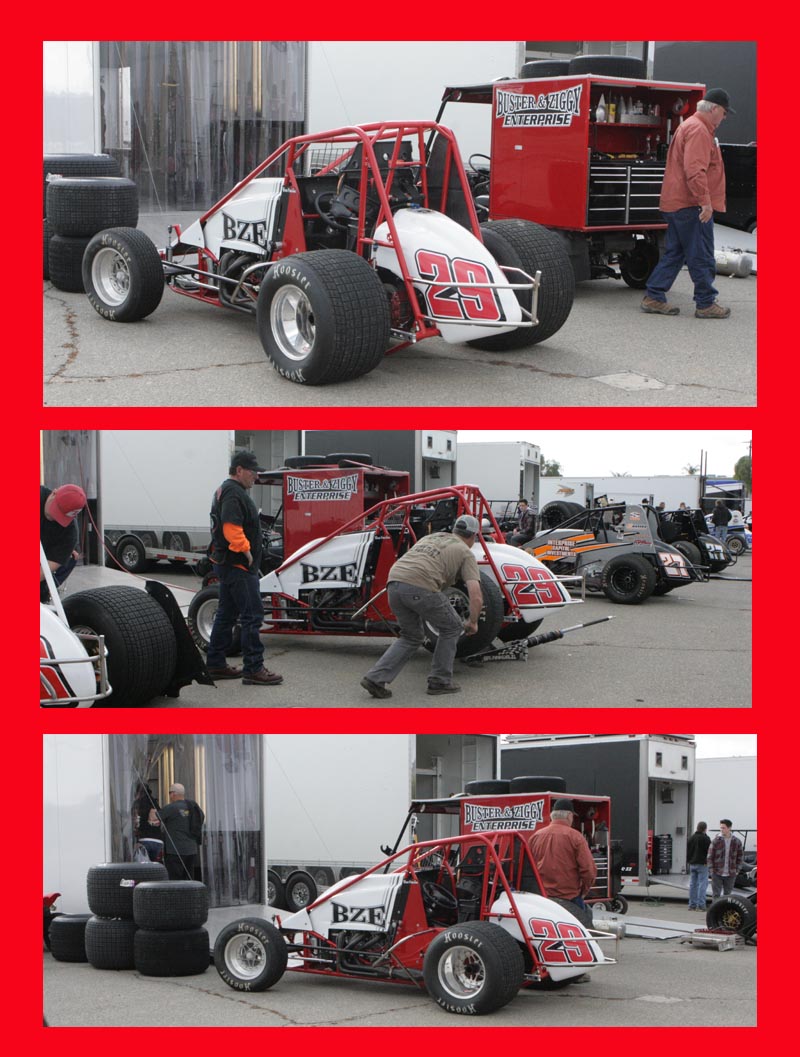 Bud Kaeding ran 12th. Good to have him running with us.
J J Ercse has a new hot rod this year He was 16th in qualifying with the new 410 power. He just missed the transfer, but qualified thru the Semi. He was in that 4 cAR PILE-UP IN THE MAIN.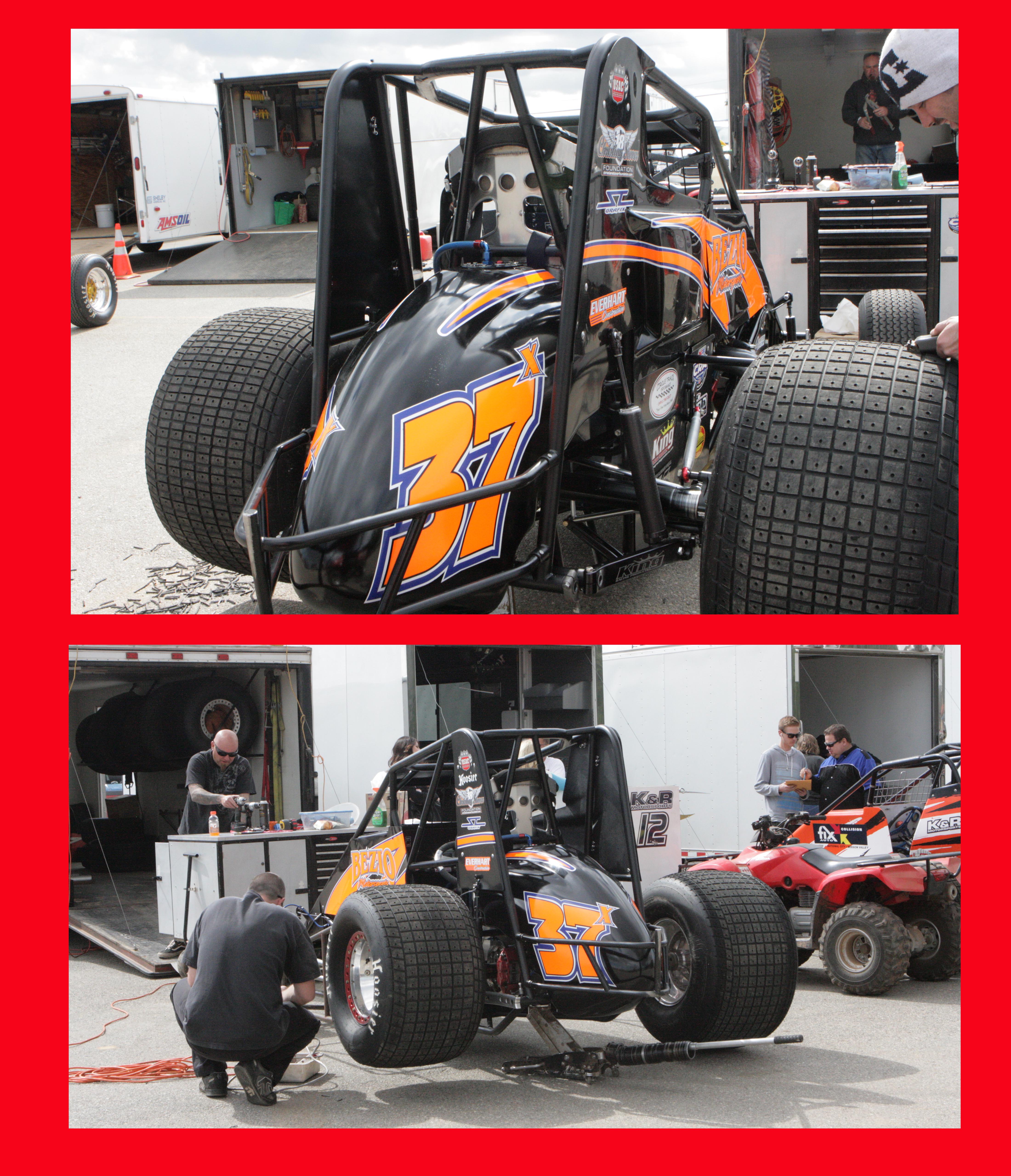 David Bezio was on a high flier in the main event and his battered racer was in need of some help, He woud be the Wagsbucks recipient in the old days.
John Aden missed the main by one spot in the semi.
Rick Hendrix.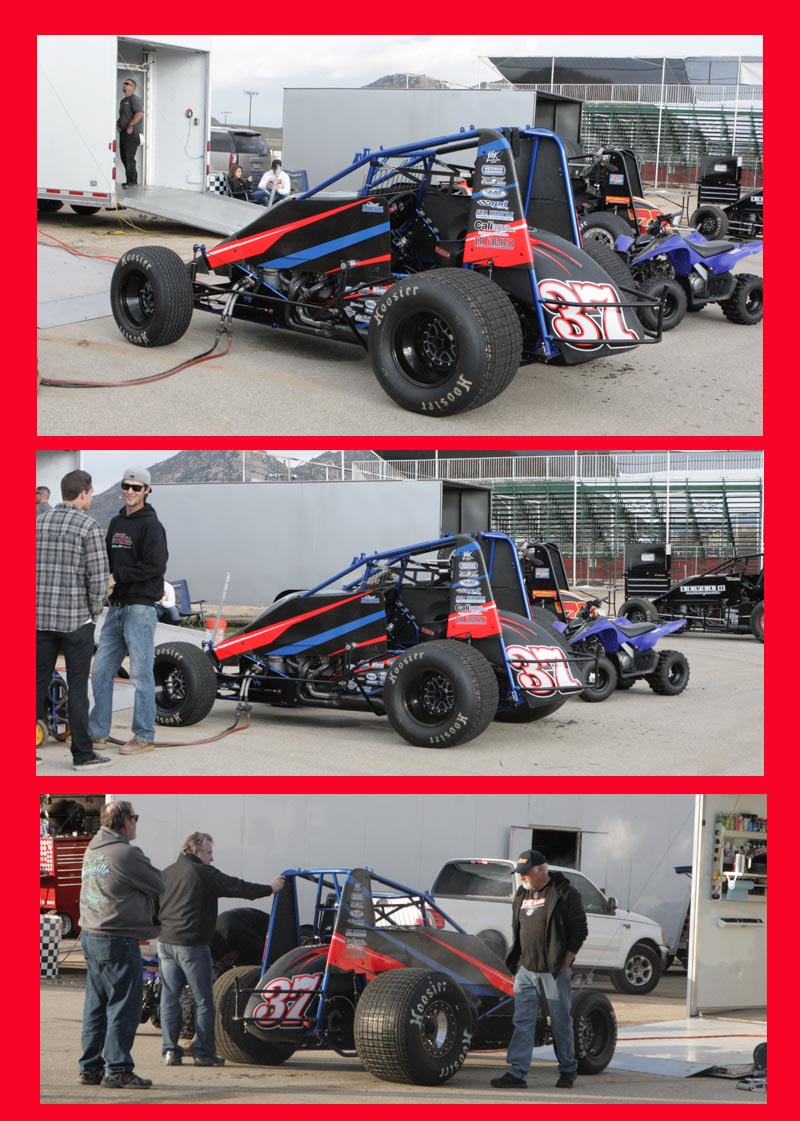 Matt Mitchell Crashed for the second race in a row in the main.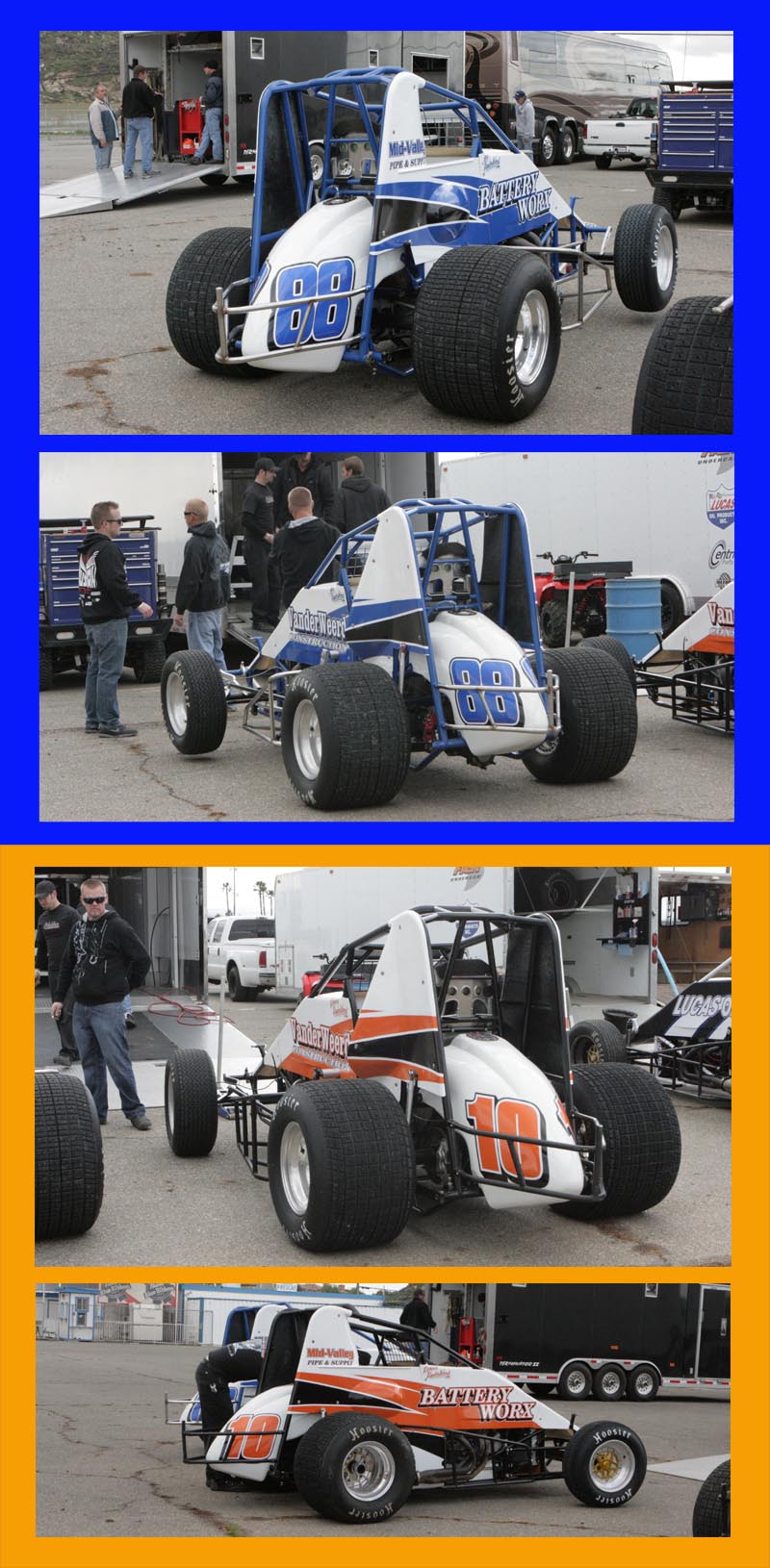 The Vander Weerd twins were 7t, Richard, and 10th, Jace, for a good family finish.
The Moosemobile did not come out fro the main.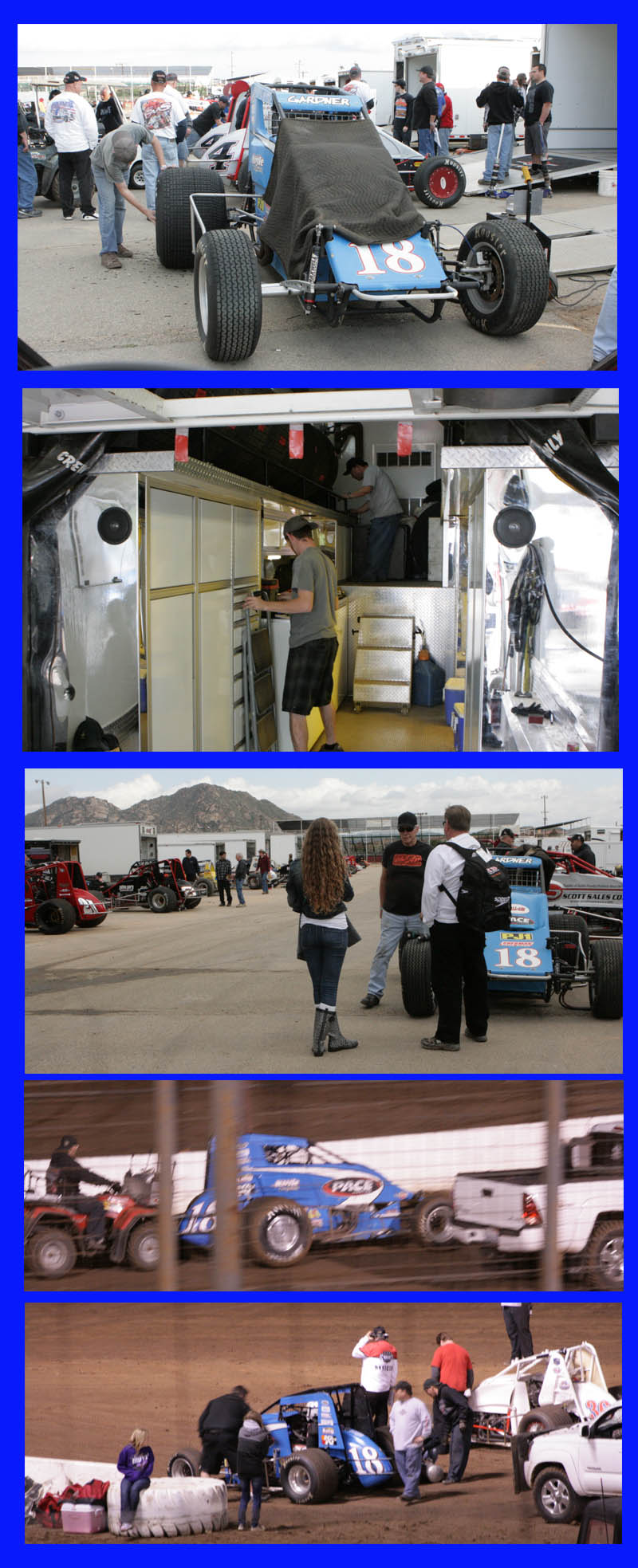 Ronnie Gardner drove this one to 6th. He said it was a 4th place car, so he was wrong.
Another Senior car?
Kevin Michnowicz drove this Lightning sprint to a third in thier feature.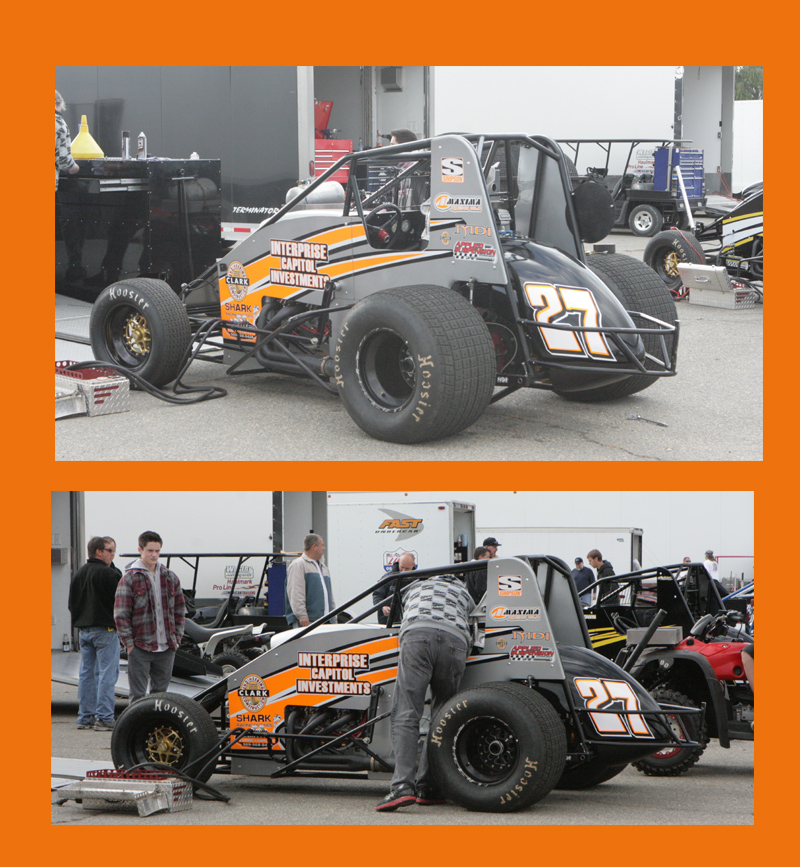 Cody Kershaw Was the first car out in the main.
Trevor Cooper was in a Kruseman rent-a ride.
Even asphalt has puddles when it rains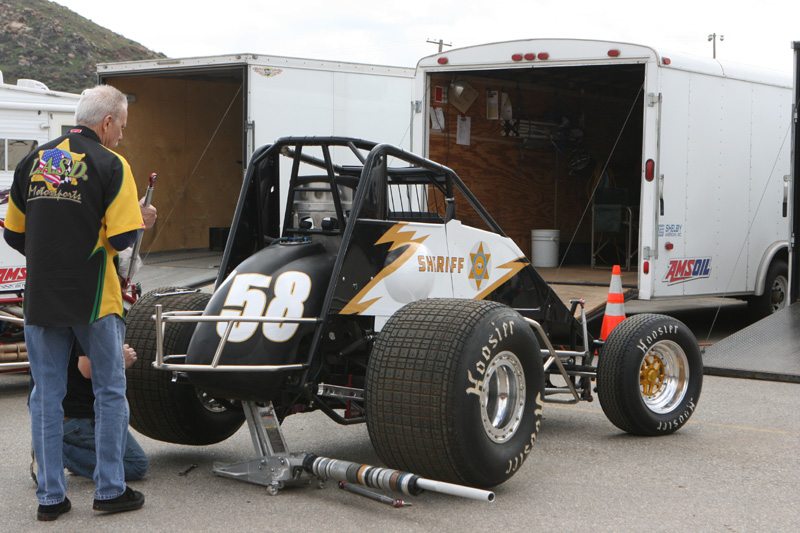 Johnny Bluntach made the main and ran 22nd this week

Pit meeting is always a bit busy.
And more pretty faces?
World Famous Tom Downing holding court.
Get well Laurie sez Skip.
My worse with an old camera. My good one is in the shop!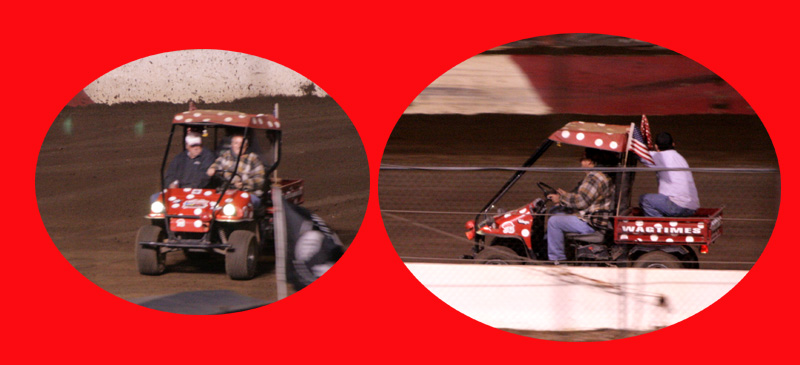 My Mule at work.
The trophy girl Amber Blakesley!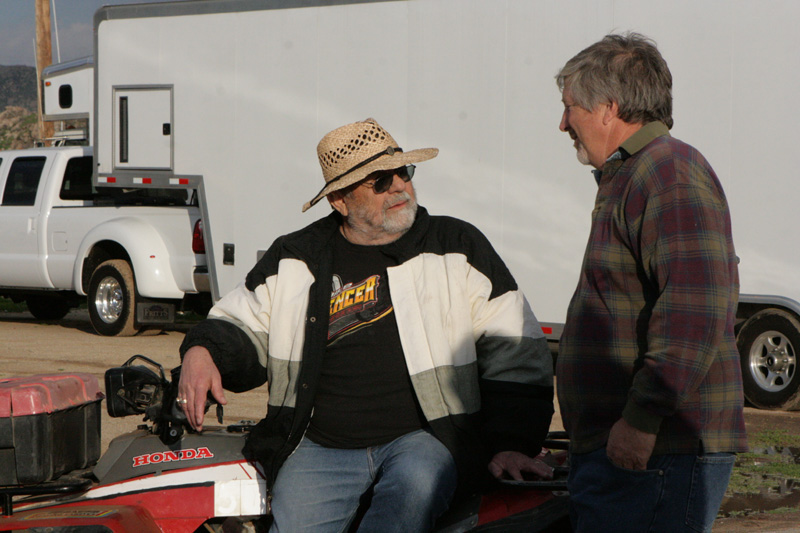 Dwight Chaney and Ron Chaffin
Racer's Pub Fred with Cindy. She was very excited about racing!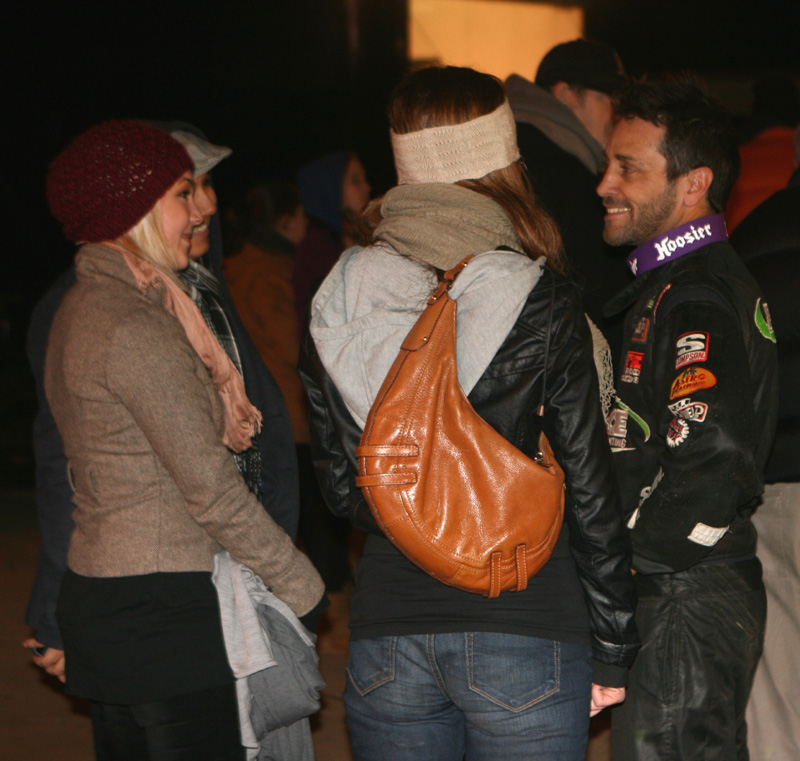 The Demon and his girls. Nite now.