Sometimes racing is a little work and not all fun, yet still can be enjoyable. Before each season begins, all race teams have to analyze what they got, what they need, besides money, and what their plan is for the upcoming racing year. Most of that work can be done in the race shop, AKA garage, or where all your worthy racing posessions are located. Then most racers like to have an opportunity to try out the latest version of their racing machine before the first race. In this case The Kittle Motorsports Racing Team rented the Victorville raceway track and a few friends brought out their hardware to join them in a full testing day. In addition to two Kittle Kars, there were two from the Moose Racing Team, plus the Matthew Shedarowich latest model and Brody Roa's very first sprint car. Brody will step up from his Ford Focus model to a 360 Stinger Chassis and he will run mostly in Ventura. All 6 cars will got plenty of track time and many opportunities for changes and results analysis as the 10 to 4 PM schedule would permit. I was encouraged to take a break from my Las Vegas fun time and drive the 2-1/2 hours down to watch. Naturally, I took my camera and gave it a work out as long as I was there. It was fun and started my year off with hopes and dreams of great racing ahead It was fun and started my year off with hopes and dreams of great racing ahead. Young Brody Roa got his first ever laps in a sprint car and you couldn't wipe the smile off his face all day! Young Mad Dog Shedarowich took to the track and had a little motor problem early but was resolved by their motor man and later got in his hot runs. Greg Bragg was busy all day in one of the Moose cars as was crewman Chad Kincaid as they gave them a workout. Although young Dennis Howell was helping to warm up one of the little blue buggers, Danny Sheridan did most of the heavy lifting on the testing of his ride. The day worked well for all as the cars and crews performed well and there was time for some wannabee's to get a little track time!!!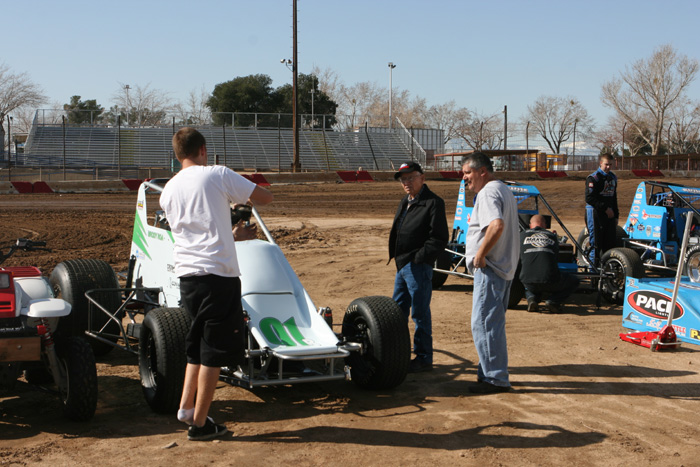 Brody Roa's new ride was ready for his first ever trip on a dirt track for him in a sprinter. He was ready to go when the track was ready and never looked back all day.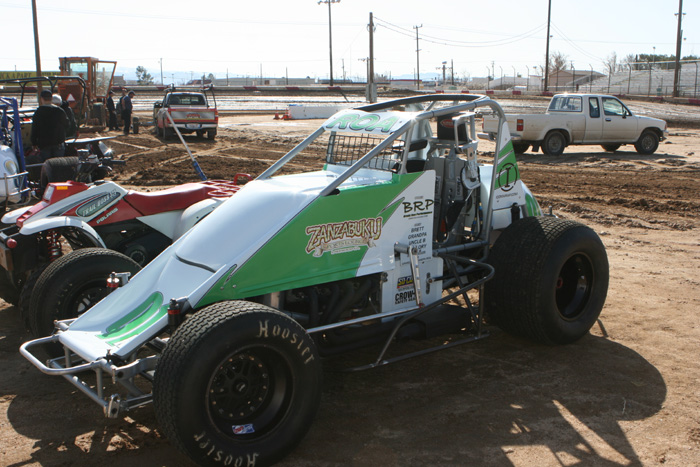 Here is his new ride and I am sure his brain was saying "Dad, don't make me drive those little kids cars any more"!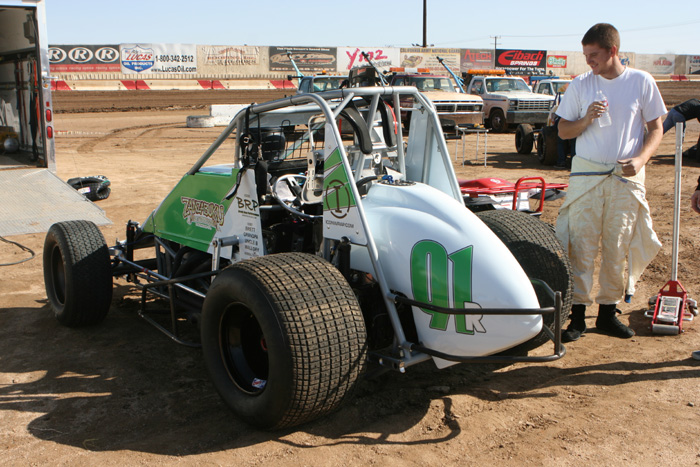 The look of love is on his face as he has hit the track and can see his future.
Brody is ready to get back on the track.
Buckling in brings some anxiety and excitement rushing thru the young driver.
Brody can feel it as he packs the track!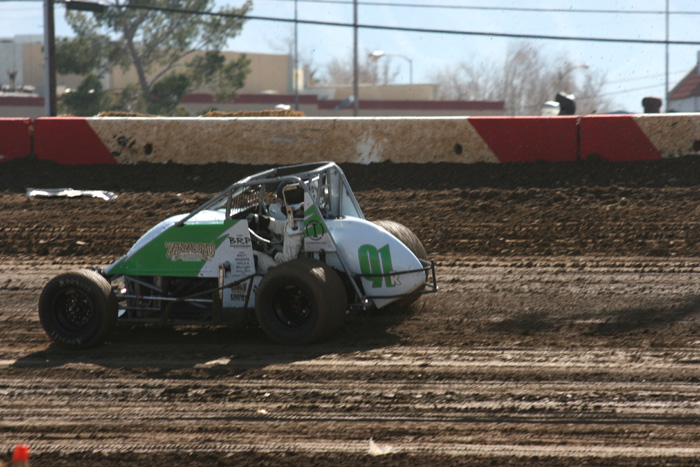 Going around turn one.
Pull that wheel Brody!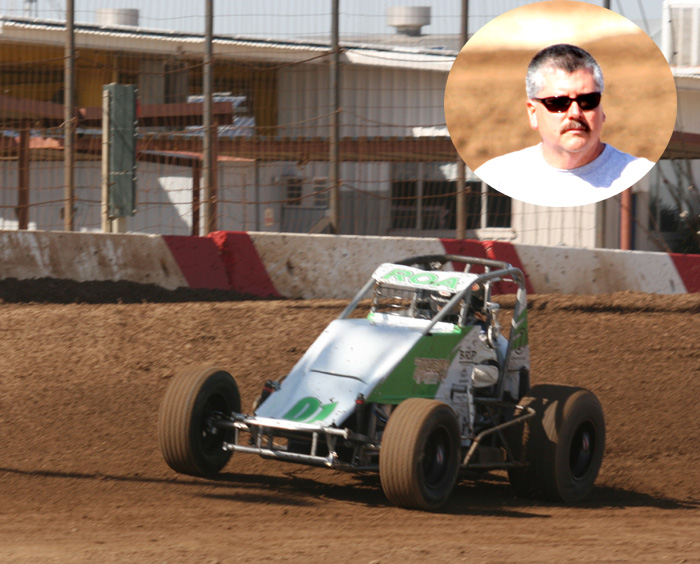 Dad keeps an eye on his son. Did that look mean he wanted to get back in the seat for just a bit?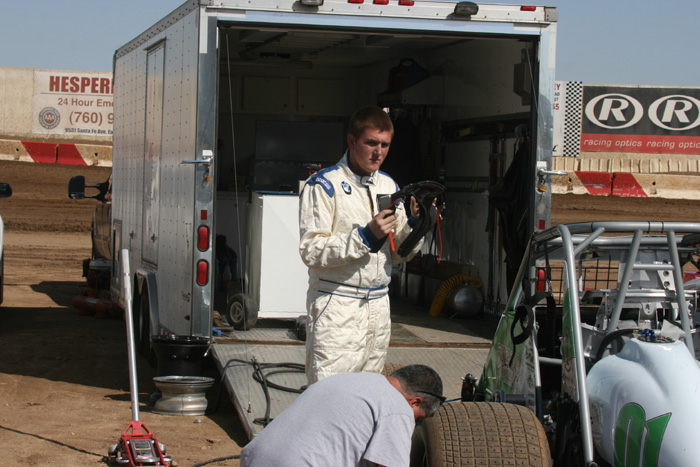 Brody is thinking "do I have to wear the darn thing"?
Brody's ride never faultered all day.
Brett talks with Ronnie G.
And they pose for the camera.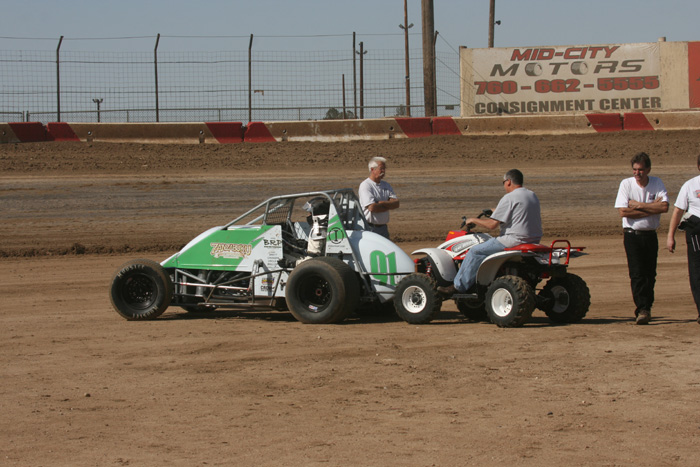 Brett pushes Brody to the fire up area.
Brett used to drive these things, so I wonder how he likes it coming back to build another one. He did that for Mike Kirby for a long time!
Get the thing on so we can go get more laps in.
Where's my helmet?
Push me back.
On the gas!
Wow, are we having fun yet?
Dad taking a photo of his son after a very successful day at the track!
Lock er' down, time to go home.
If you see this trailer on the road, it's Brody Roa one of the 360 rookies for 2010.
Mad Dog Shedarowich shows off his new sponsor and colors. I liked the old colors, but this one's pretty. Julie Shiosaki said it reminds her of the Steve Ostling car back in his early driving years.
Careful son, dad's watching!
Getting ready to go fast, but they had a small problem that required attention. It got fixed.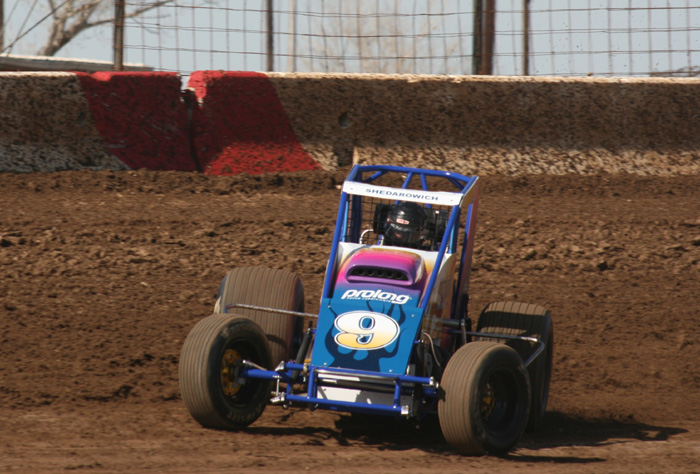 Sideways is the only way to fly.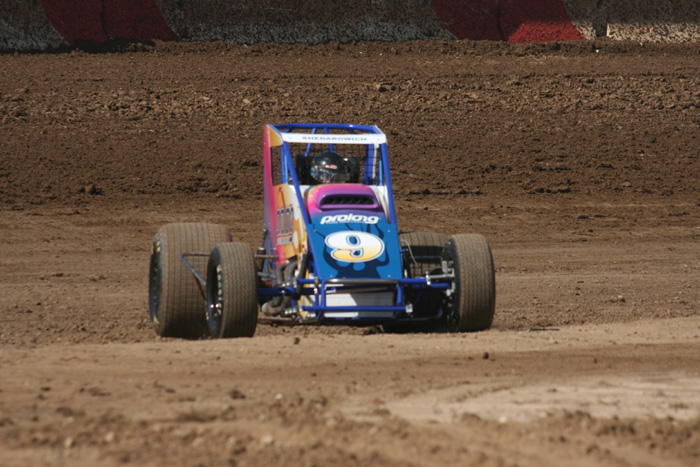 Head on shot.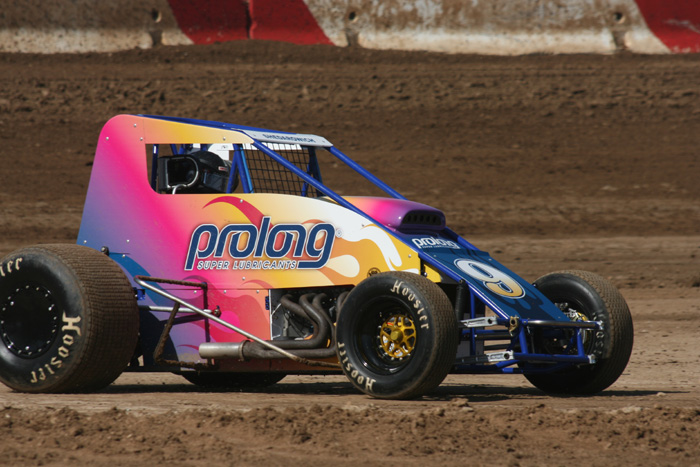 Back to the trailer.
Grandpa's right there with his "kids".
Grandpa and Mad Dog look it over.
Mad Dog's trailer.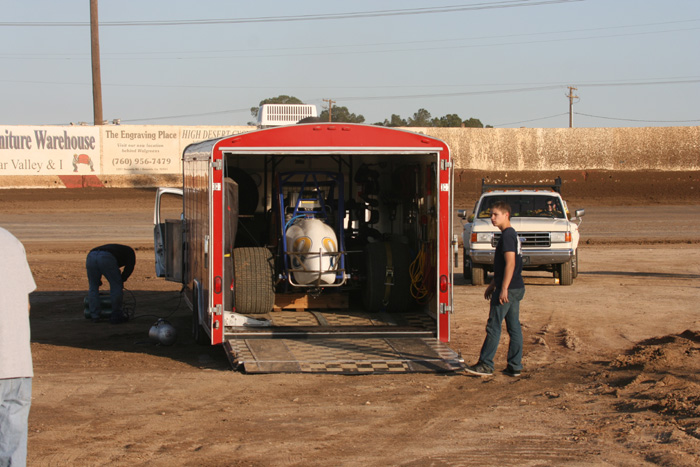 The day is done, let's load up!
The Moose machines are looking ready.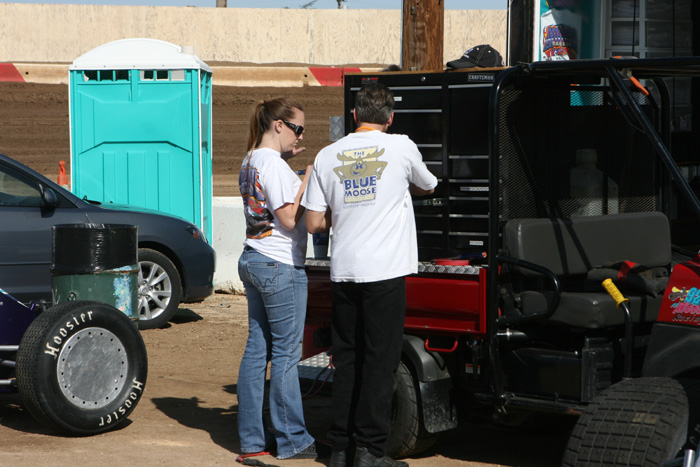 The Blue Moose Lounge must be the new Moose watering hole. Too bad it's in Scottsdale, Arizona.
Tom Setich, in dark sweater, is rarin' to get this show going.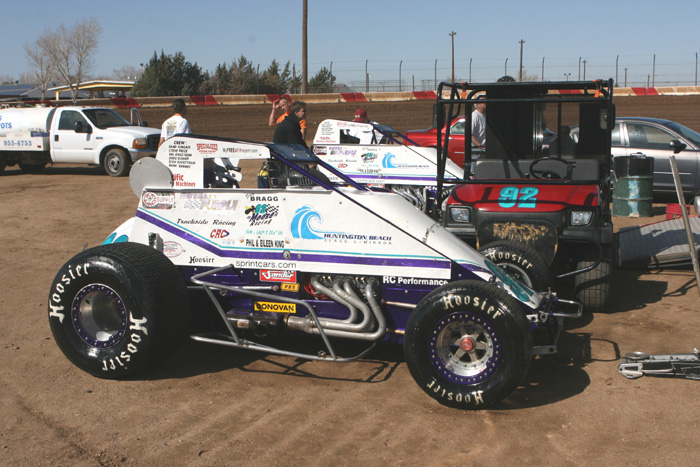 The two moose cars are ready.
Greg Bragg on the right and Chad Kincaid the left as they near the ready stage.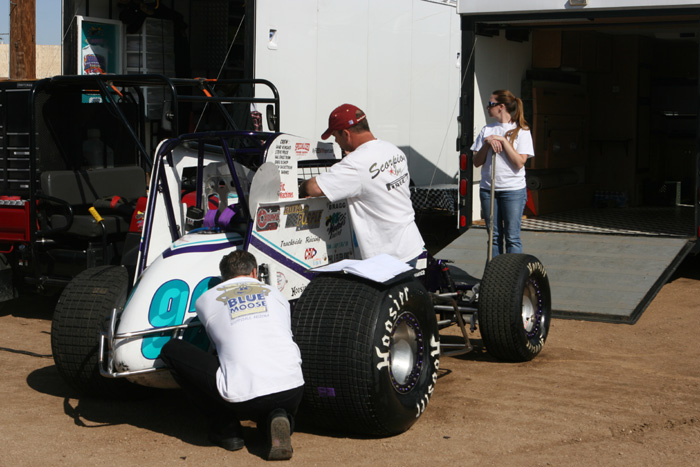 Ready yet?
The Moosemobile on a fast pass.
Double your pleasure, double your fun.
Running by the empty grandstands is cool.
Let er' rip!
She has it all under control.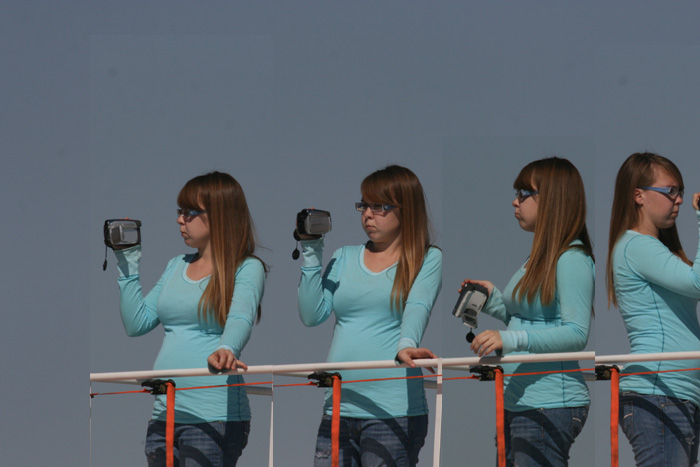 Greg's daughter keeps a camera on him.
Greg is getting in to go play.
Lets get goin' here.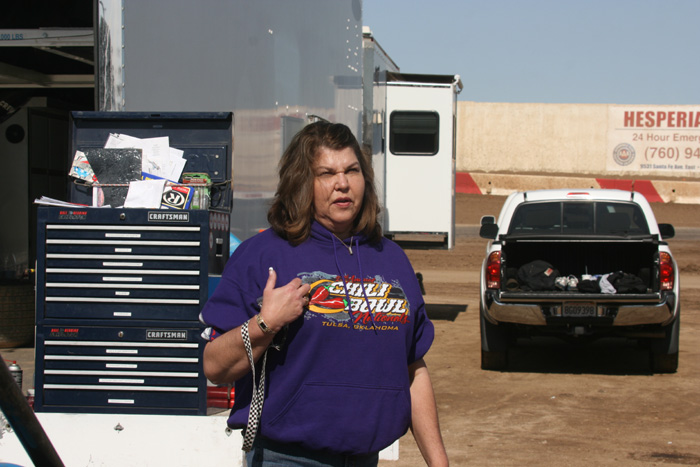 Mrs Moose, Laurie Sertich, And Julie set out a feed for everyone.
Danny talks with the Moose people before ending the day.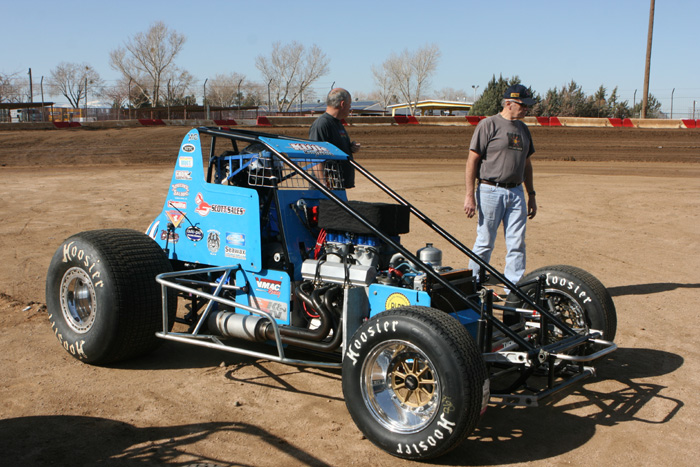 Paul and Brother Gary do things to one little blue bugger.
Krewman Chad works on the second little blue bugger.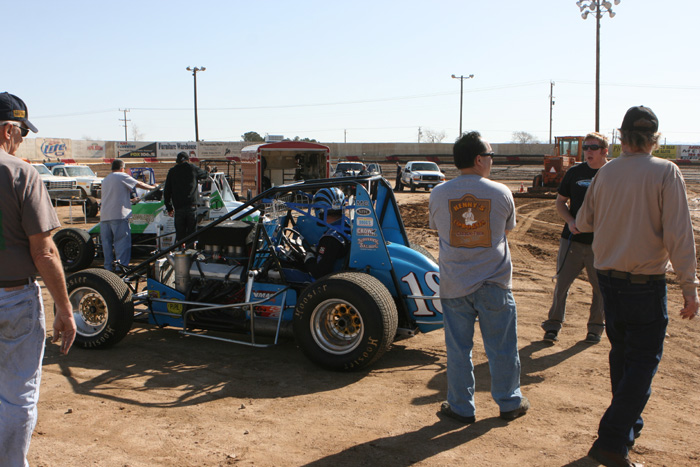 Dennis Howell in the seat ready to fire up and warm the motor.
OK were fired, lets go!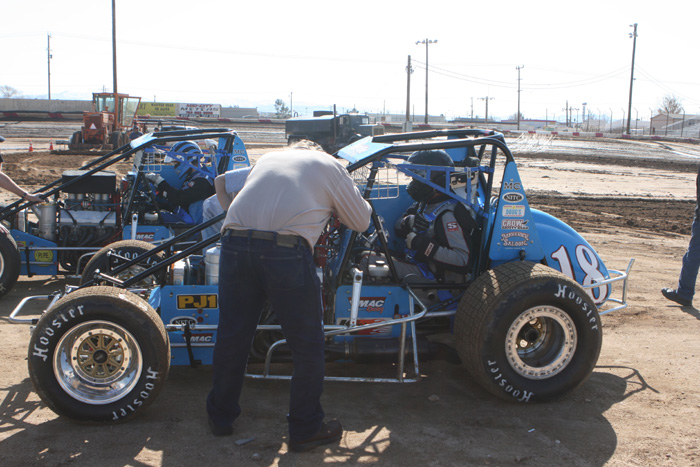 Danny in one seat and Dennis in the other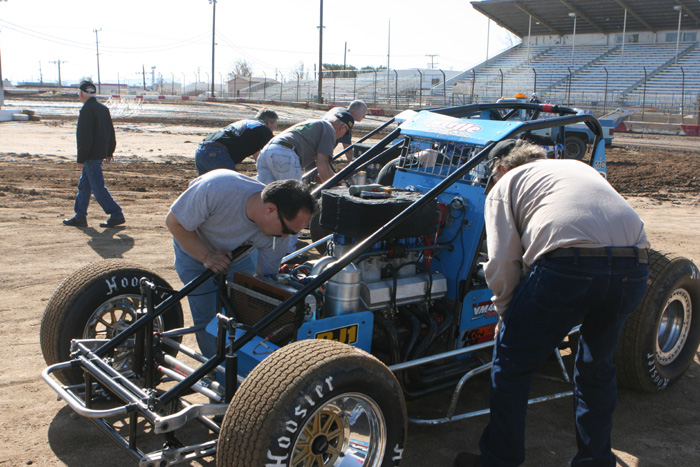 Just like a race day running two cars, both get attention as the Kittle Krew does it all in a timely manner.
The swarming action is organized and timely.
Car owmer Brian Kittle is here to support his racing team.
Hey, who has the 1/2 " wrench?
Maybe we should try a little Nitro? Heh, heh, heh!
Danny wants to get going.
All checked out, so lets go pack the track.
Dennis waits patiently.
Chad does most of the pushing of the cars around to get fired off.
Danny is belted in and all set.
Is that the Doublement Twins? No, it's just double Showtime!
It feels good to me.
Kruisin' into turn one.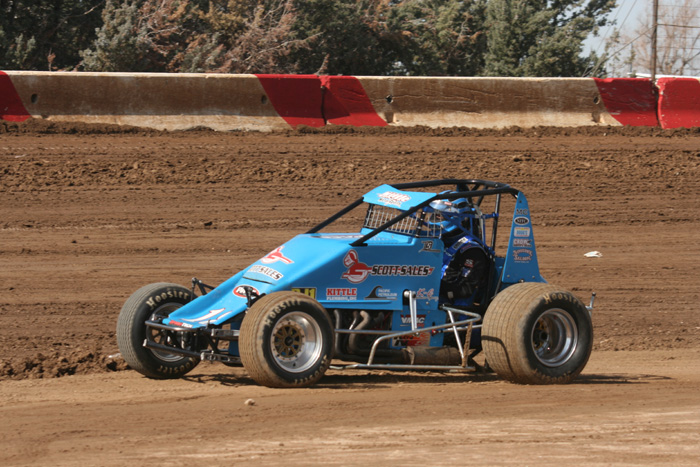 Dennis is in the second car.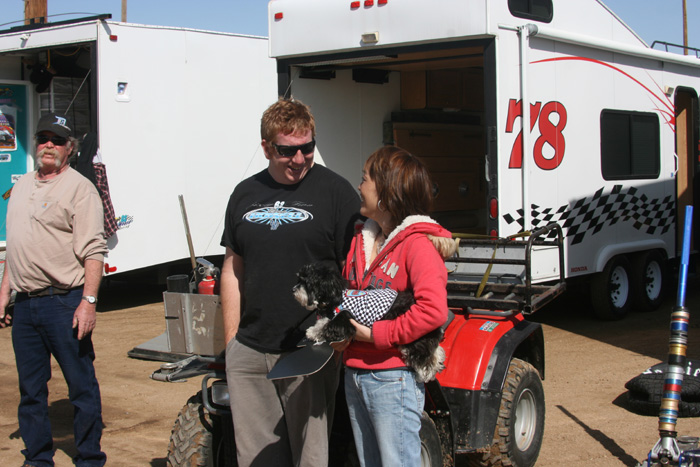 Jimbo talks with Julie as Hailey gets in a few licks.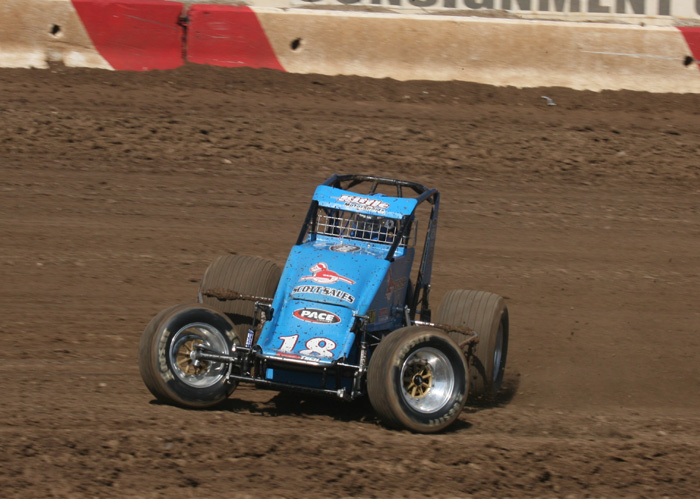 Danny gets er' sideways.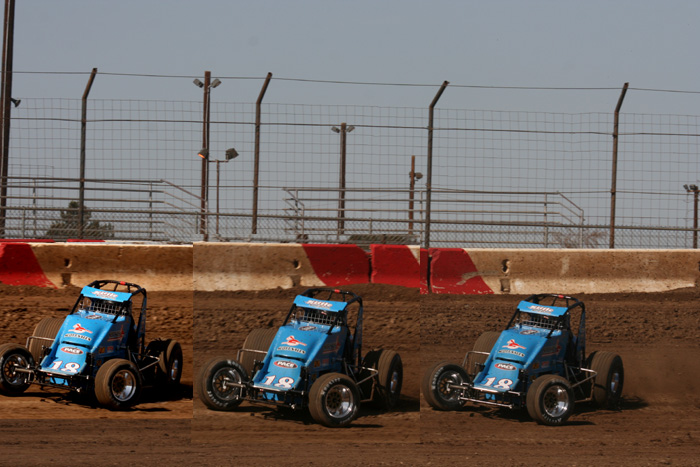 More sideways x's 3
And more x's 4
I know a real photographer can get some really swell stuff, but I liked this shot.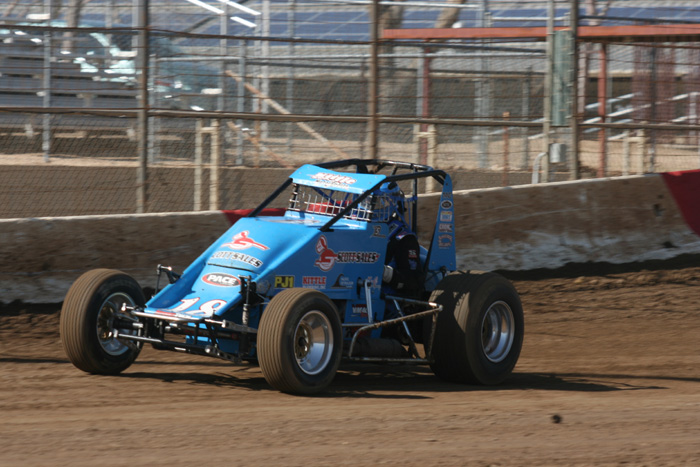 Dennis gives it a ride.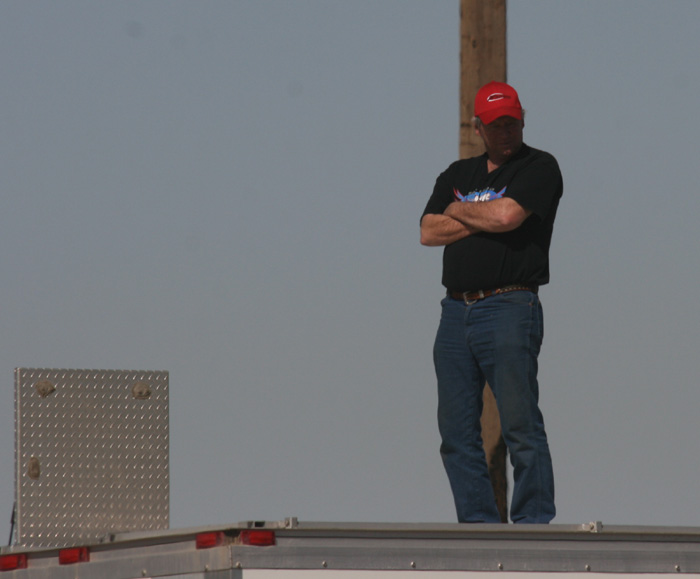 Brian checks it out from on top of the trailer.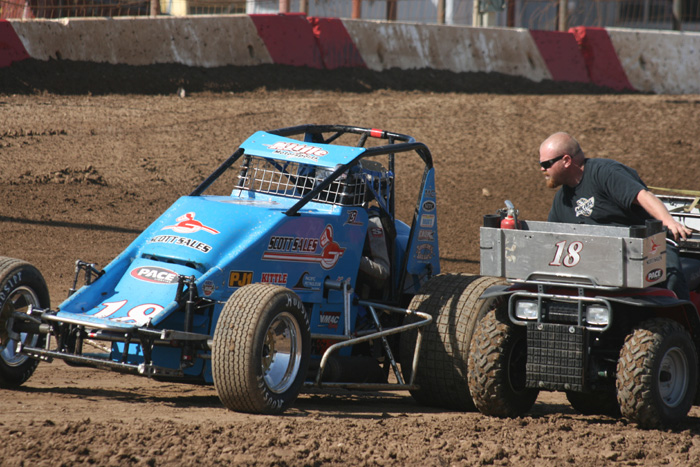 Chad puts Danny on the track for a push.
Maybe Papa John wants to be a sponsor
Who sez all four wheels have to be on the ground?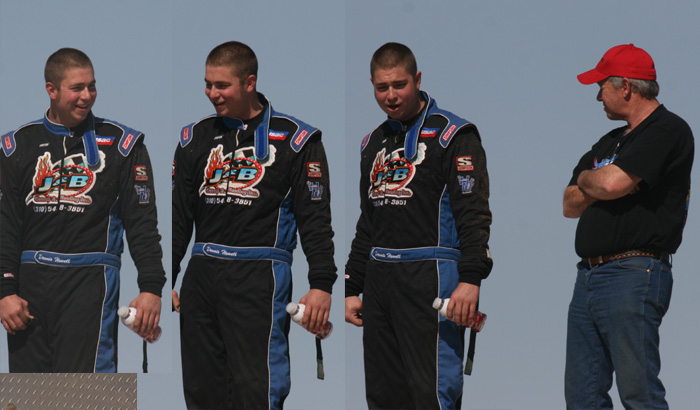 Dennis Howell has a good time on top of the hauler.
Here Paul, take my gloves.
Randy takes notes as the boys remain focusd.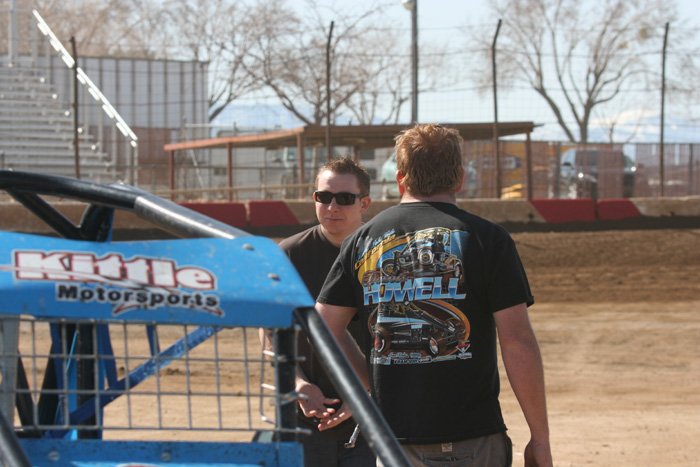 Ronnie Gardner appeared mysteriously and visits with Jimbo.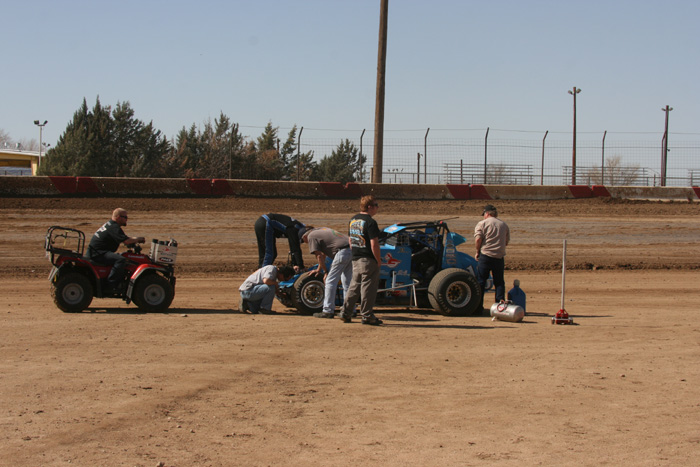 As soon as they took a few laps at speed, they would pull in and adjust something, before going back out.
Ralph gets a tire mounted as more adjustments were made.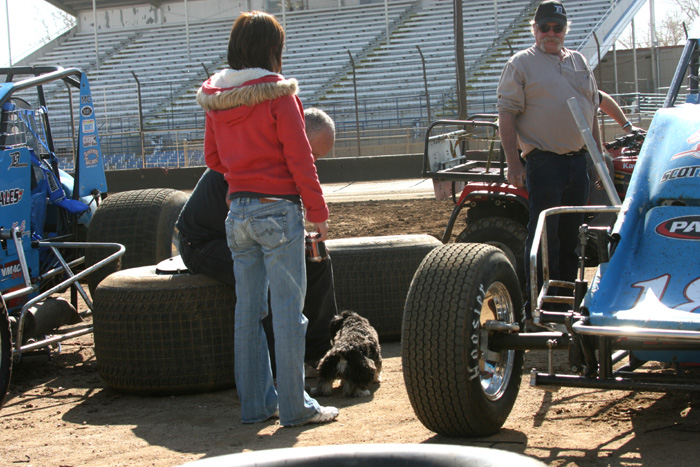 Julie brings Hailey out for a walk.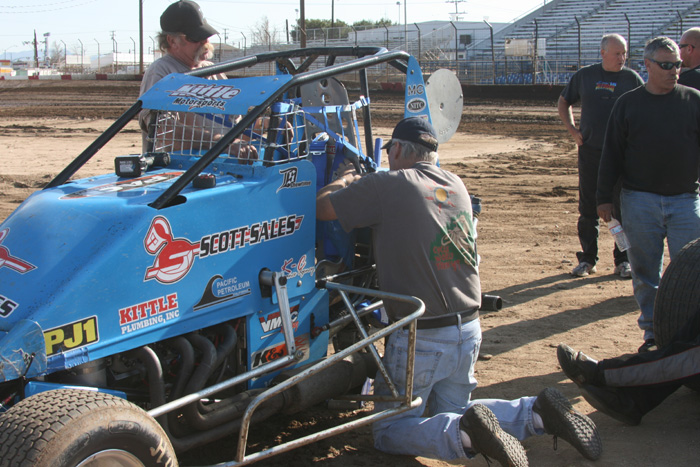 The seat was too low, so an adjustment was made.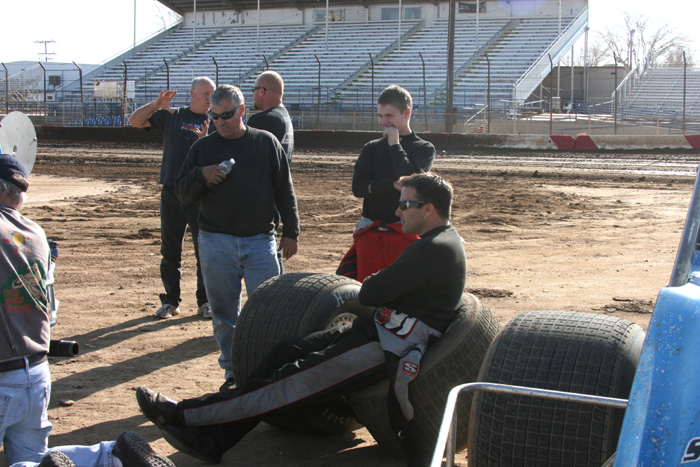 Danny is thinking "I could watch em' work all day long"!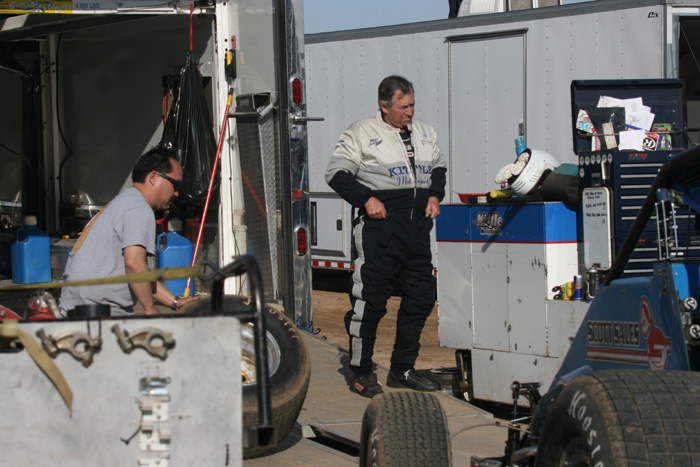 Looks like the bossman has a yearnen' to drive. He's suited up!
I am ready boys, hurry up!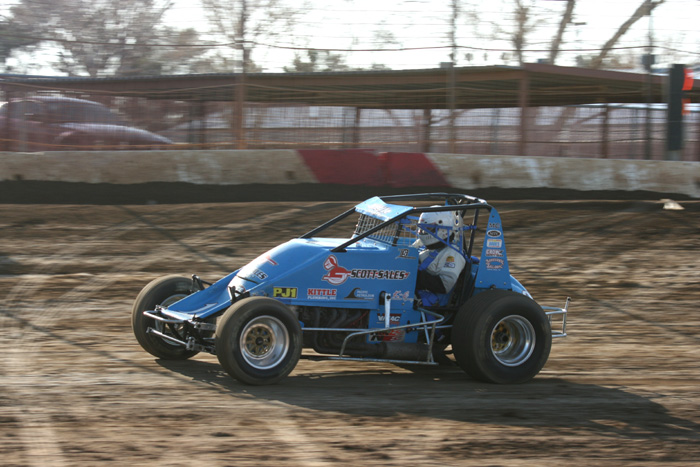 Now that's more like it!
Randy and Julie are enjoying it!
Chad's turn! He had never turned a wheel until now.
Chad looks confident!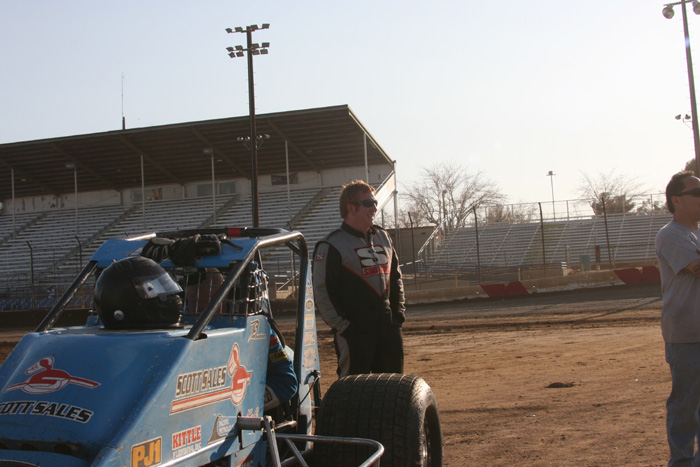 Jimbo sez I'm next!
Brother Gary gets a turn.
Gary gets tucked in the seat.
Jimbo buckles in for the ride of his life.
Chad gets out with joy on his face, he said it was as expected, a ball!
Jimbo felt just like Chad, it was a blast!
All loaded and ready to close the door.
The Kittle Family Album photo to start the year out!