MO Kan Dragway in Pittsburg, Kansas
Bob Sullivan came down from Kansas City to run the hot car races. This was my first fueler sighting on a racetrack and it was memorable when the slicks started pouring smoke and he went down the quarter mile so quickly.
Here's the modern, for that time, open trailer bringing him to the track.
This was the new look of fuel dragsters as the wheelbase was much longer than some other cars running at the time.
Benny "two motors" Osborne is from Sand Springs, OK and had a very fast AA gas dragster. Later on he became the NHRA Top Fuel Champion and I saw a lot of him running in California. Most recently, I see him at Bakersfield Reunion event with both his old gas Dragster and one of his top fuel cars. He's still fun to talk with.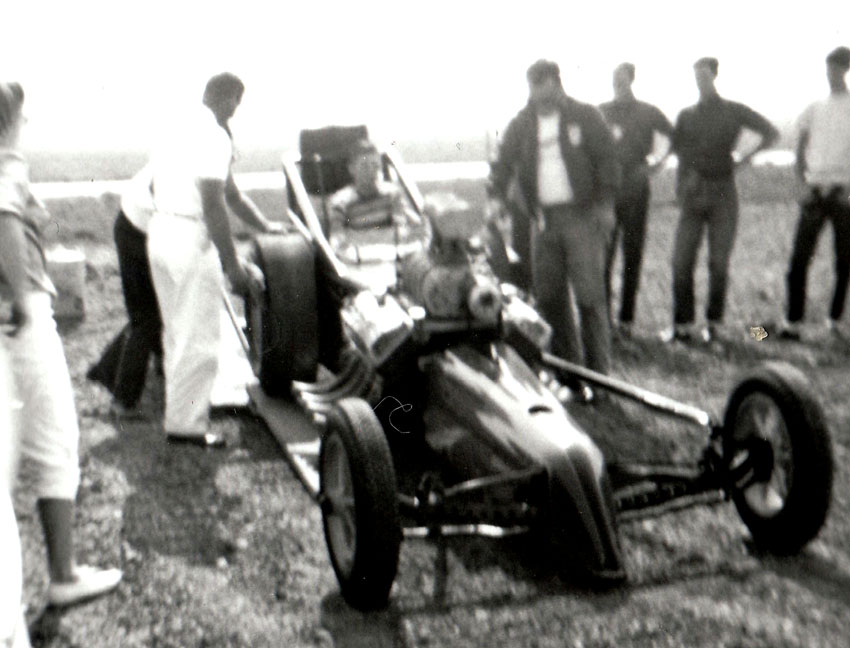 Bob Rodgers ran A fuel but wasn't one of the hotties.
This Crietz Auto car was yellow with a big Olds for power on fuel. They were fast, but not fast enough for the Kansas City boys.
This was a later Crietz car as they broke it in.
It was much faster and hooked up better than the old one.
Kingston and Cain were from KC and ran a heavy full bodied beauty that was more of a show car yet fast, but later switched to a lighter chassis.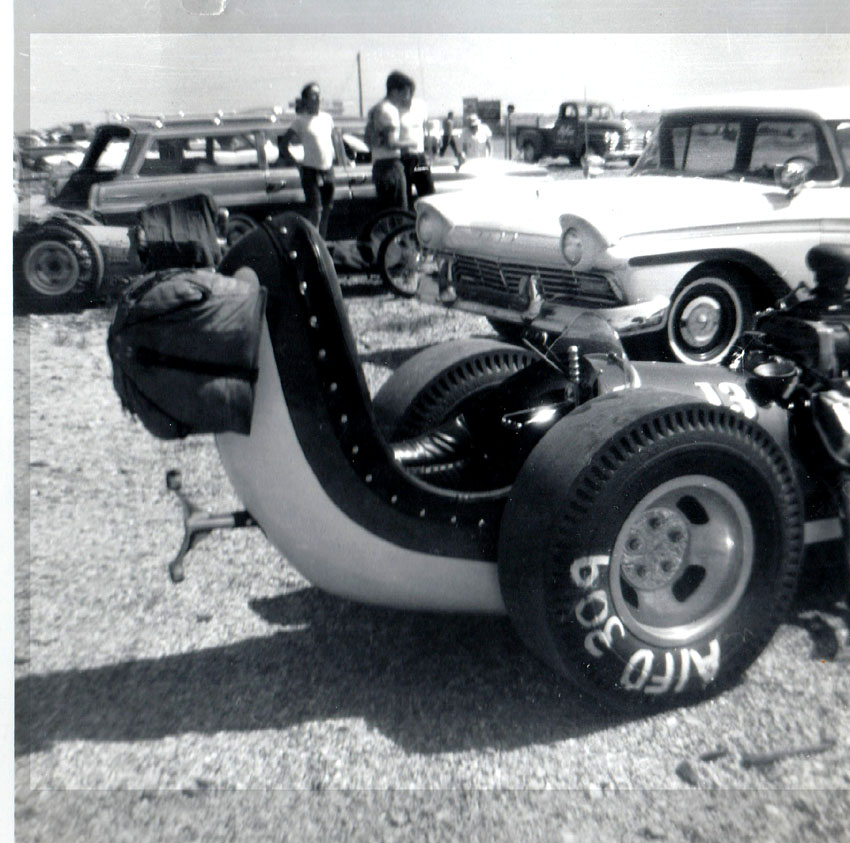 I think it was cream color and dark red leather cockpit. Look at the size of the tires, not yet very wide.
Lou Cangelouse was a strong runner in his Stuckey Chassis car called the "Missouri Missle". Note the push bar key on the back, the Stuckey signature push bar was on all his cars that he built. Lou crashed and died at Ozark Dragway not long after this when the nitro fumes put him out and he ran down in the trees off the track.
Rod Stuckey drove his house car, and his cars were fast and up to date modern for the times.
Not sure who this was, but he was from Chicago I think, and was fast but broke this race.
Eric and Meyers had a fast car. They ran under 9 seconds which was good for these times.
Moritz and Mclintock were from Tulsa running Top Gas. Benny Osborne was too strong, but they did well with the car.
Burt Brothers A Gas Dragster ran over 170 MPH on gas!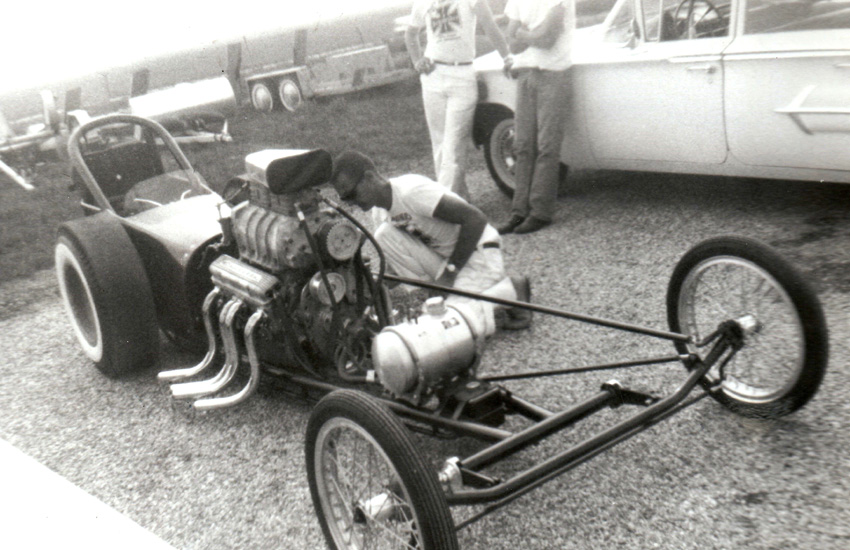 This is also a Burt Brothers car.
The Cam Twisters B Gas Dragster was pretty fast. When they stepped up, they ran top fuel I think, but I was gone to California.
The car was from Joplin and the Cam Twisters was a car club if I remember right.
The Eagle INC flathead dragster was fun to watch
Another flathead gas dragster
This A modified was squirelly, but fast when it hooked up.
The Terhune, Shramm, Parish C dragster ran 10's at 150 MPH
Another flathead dragster
Tulsa Auto Gas Dragster was a dramaster chassis car
They were OK, but don't remember seeing them much.
Another C gas dragster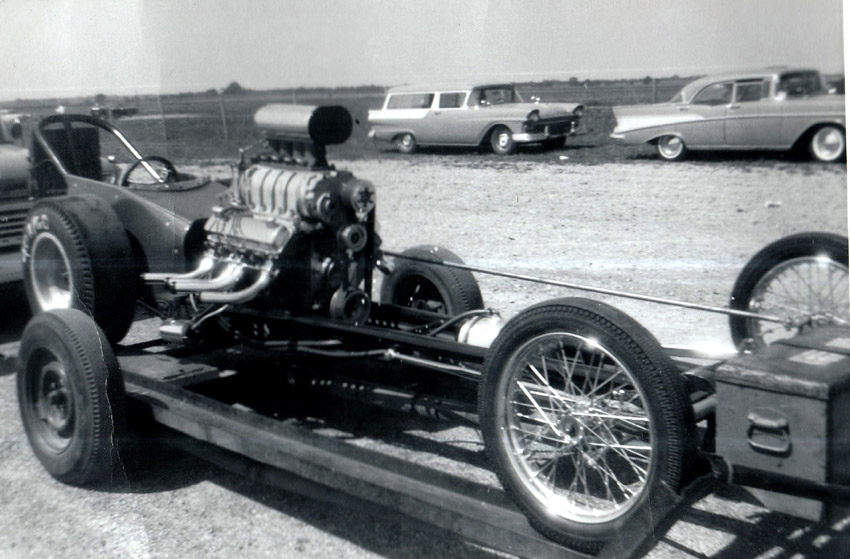 Another A Gas Dragster
A C Fuel Dragster
Another small fuel dragster?
Another C Fuel Dragster. Note the Chassis research style chassis that was thouht to be the ultimate design at that time, but not so much by when I was there.
A D gas Dragster
An early modified roadster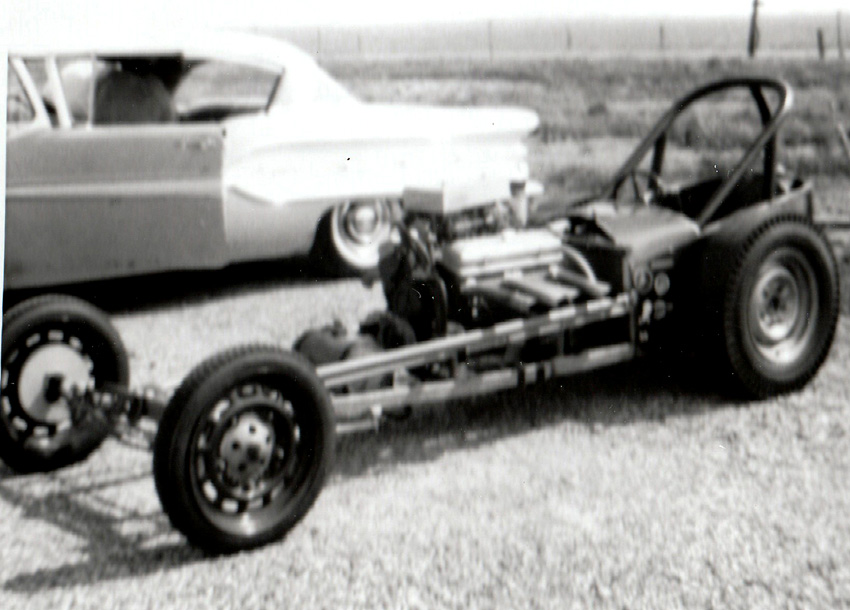 The Coleburners D Gas Dragster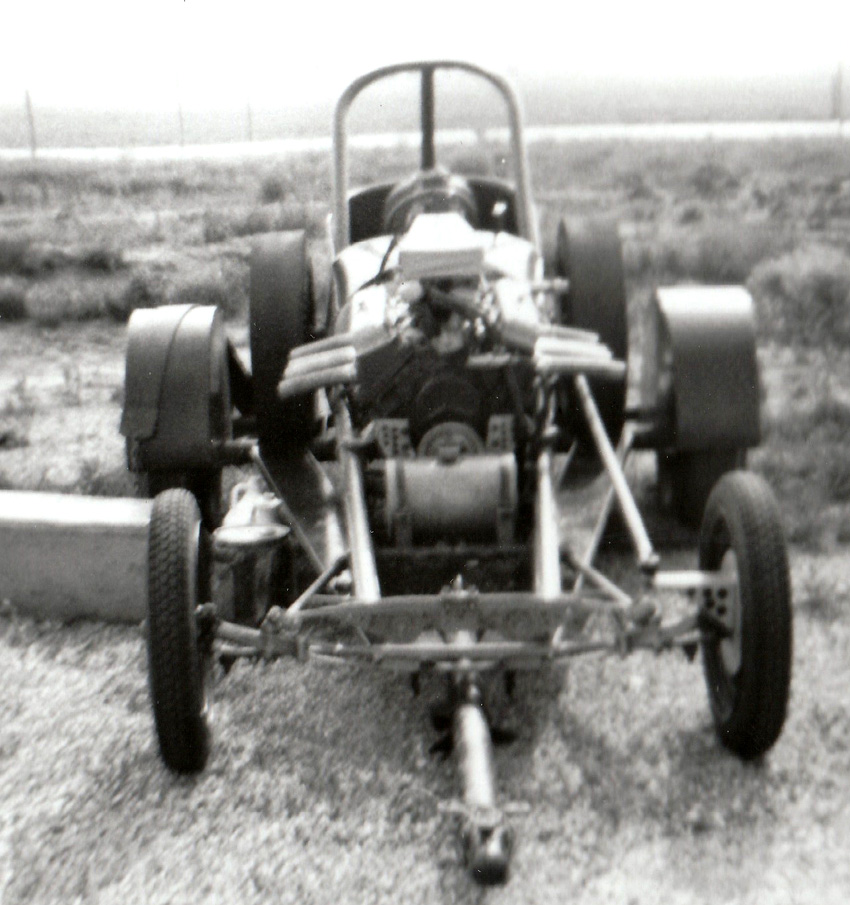 On the trailer for the Coleburners
Unknown A as Dragster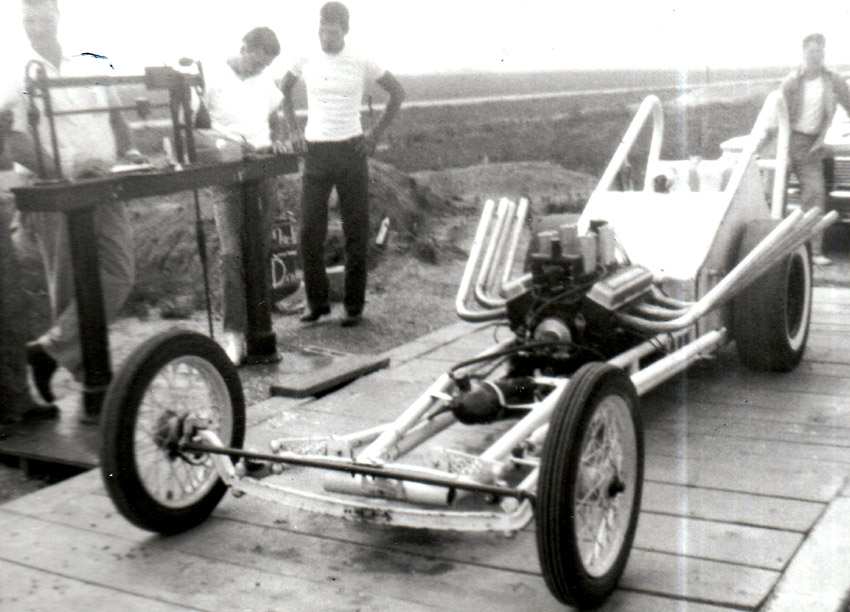 Another little gas dragster Green Valley AHRA Nationals meet 1963
Bobby Langley's Scorpion Dragster was pretty wild looking and quick!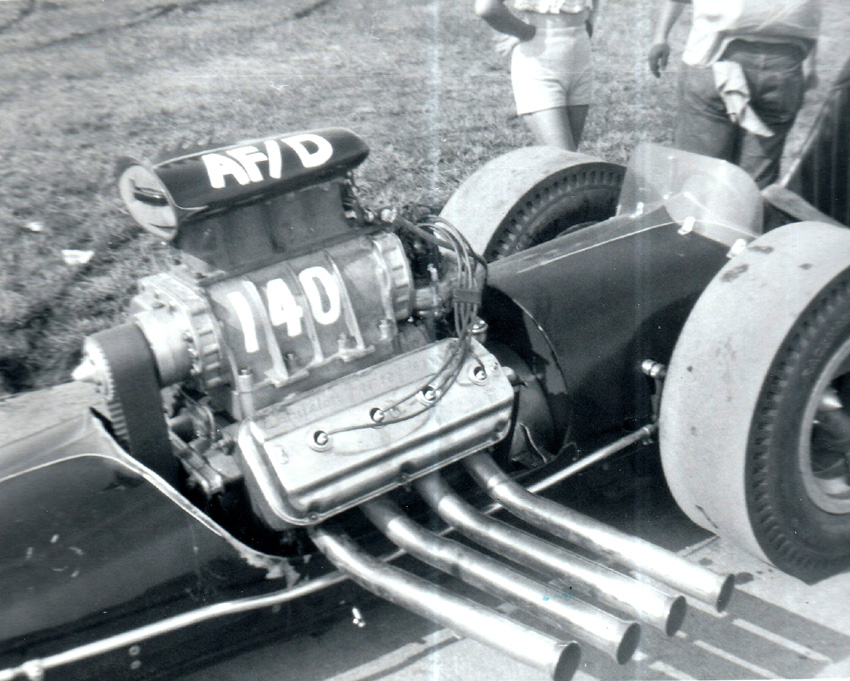 Bobby was very popular back in these days.
Unknown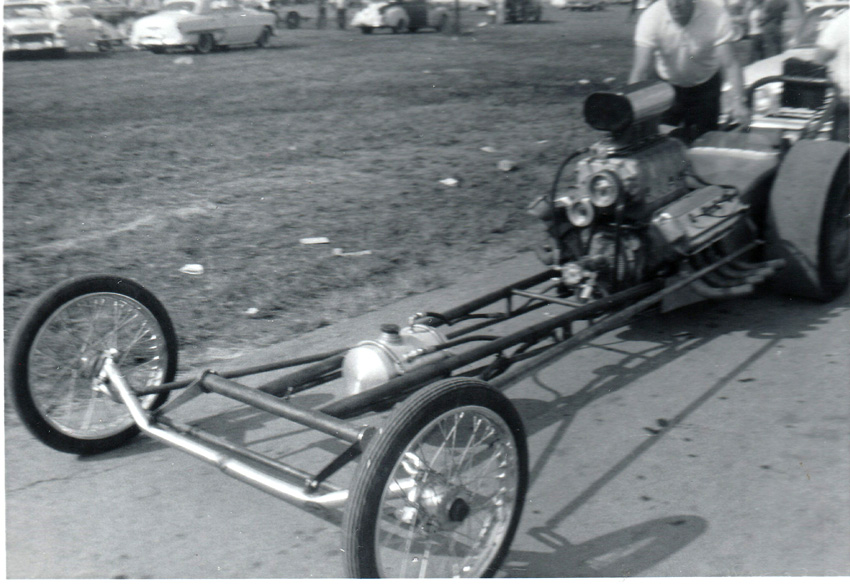 Another I don't remember as I walked the fire-up lane
Might be Al Wait from Louisiana?
Mayhew and Dyer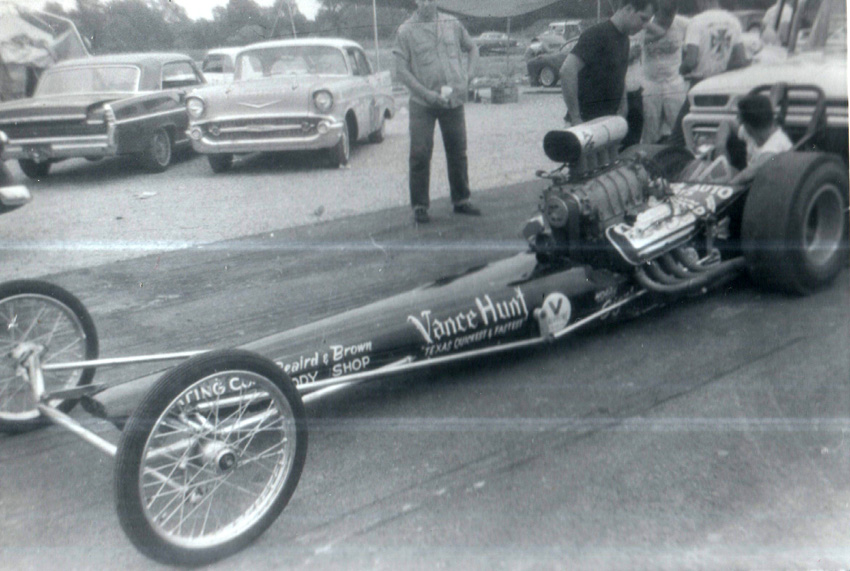 Vance and Hunt. This is the driver who died running into a tree avoiding the catch net at the end of the track when his chute didn't open. The da before he used the net and the rebuilt the car. Should have checked the chute.
A front view of the popular car.
the following are cars I don't know anything about, as I took pictures waking the fire up lane. Taking pictures was kind of an afterthought as I was busy watching from the grandstands or helping my buddy race.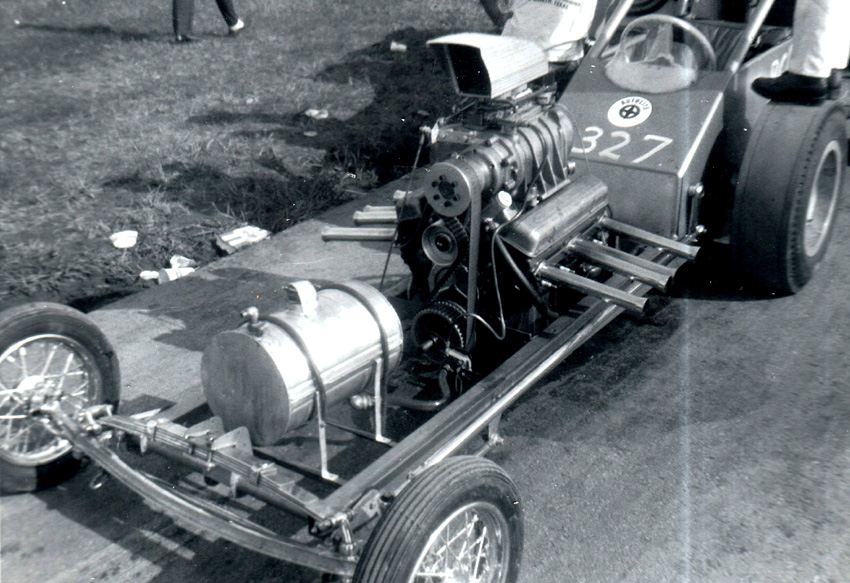 A blown Chevy
Don't know why two air intakes?
Another blown chevy
A strange looking blower on this motor, not a V8
Injected chevy
A six cylinder like I know what it is?
Another blown chevy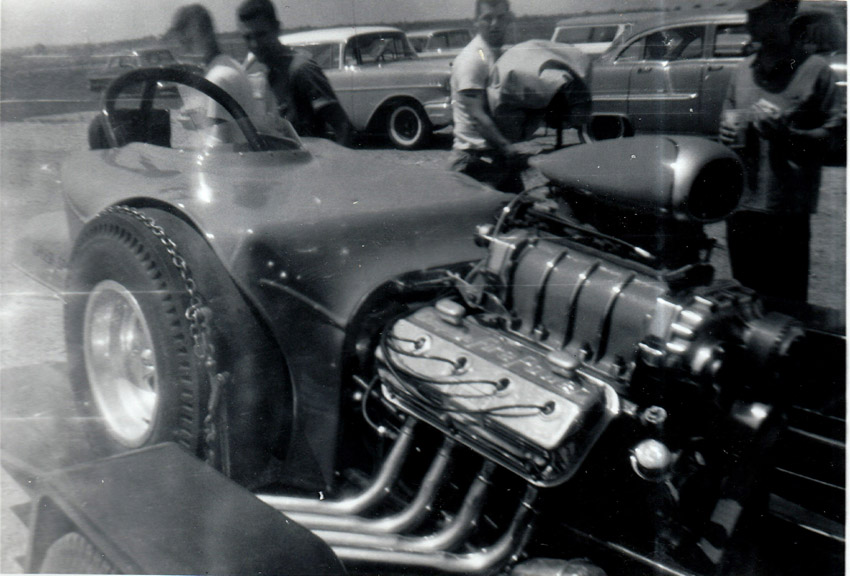 Lyle Fischer's famous speed sport roadster Here a few others I took in california after my move home. Some of my favorites from the mid 60's at Lions, Fontana and the Hot Rod meet in Riverside.
Brissett and Sutherland at Fontana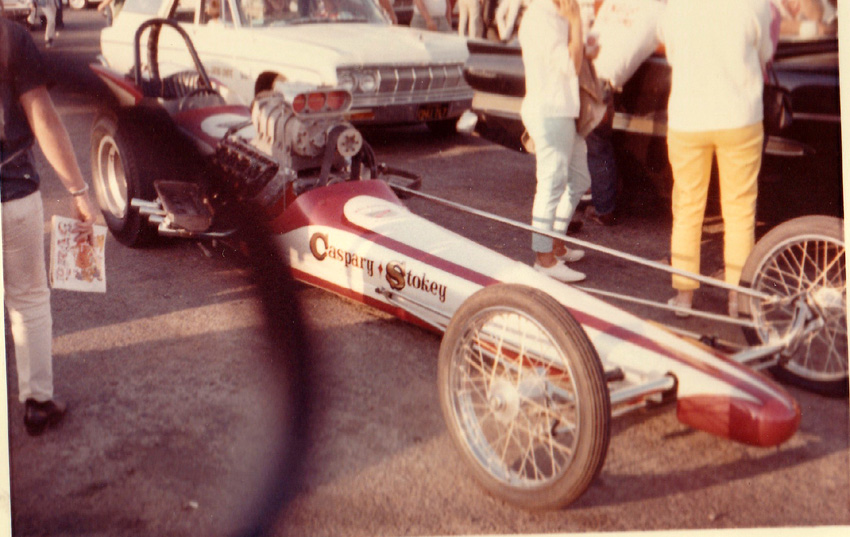 Caspery and Stokey
Dugan, Akins and Decker at Fontana
Donovan and McEwen
Dyer engineering
One of my faorite drivers Earl Canavan with his Lincoln powered top fueler at Lions. He was such a underdog and fan favorite, but never set the strip on fire.
Ewell and Chubasco at Fontana
Frank Cannon on the day he went over 200 MPH to set a west coast record. The Greek had alread done it at Cordova, Ill, but many doubted it.
Denny Milani drove this Gotelli Speed Shop car.
Greer, Black and Prudomme with record win setting car at Hot Rod Magazine race. The earlier yellow car had an outstanding 90 % plus winning percentage and I saw a lot of them.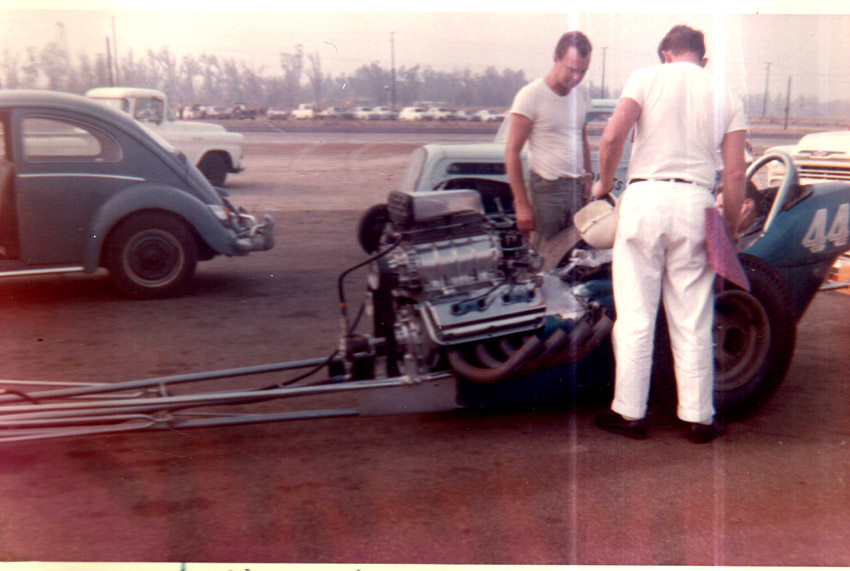 Jungle Larry Faust in the fast 44 car
Some day I will find another box of the old days pics and I'll que them up. I had a new camera, so I know they are somewhere.