The work day started this year getting the midway ready for the Wagsdash. Since La Villa John was bringing the chili, we had other things to do.
They bring out a bunch of tables and we arrange them properly.
Marilyn and Fran are discussing how to do it.
Joe, Tina and Darleen are moving tables around.
Mother and daughter Kim and Korie at work.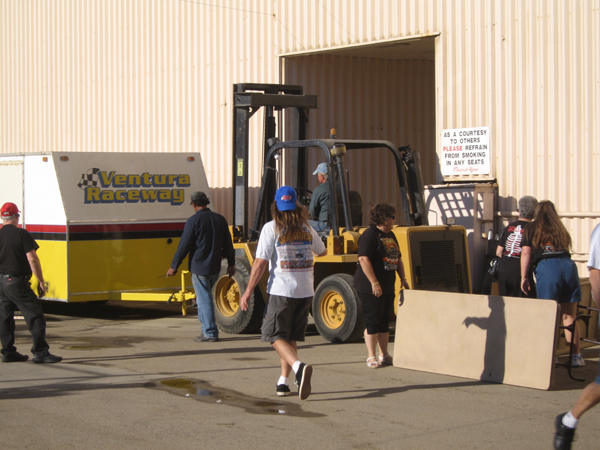 Steve Lafond looks on as the t-shirt trailer gets moved over.
Jim Herdrich gets the last table off the pallet.
Joe and Ellen Ellis at play.
Joe and Ellen and one Jim Herdrich.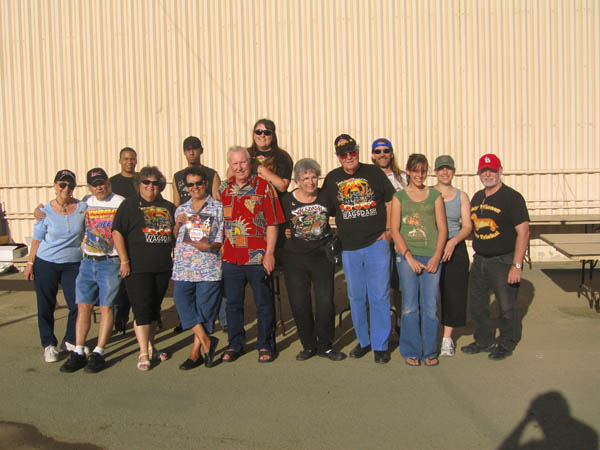 The group gets all set.
The fairgrounds workers get all the requirements out of the warehouse and bring them to us.
Looks like a rest period.
Fairground worker puts up John Redican's welcome Banner!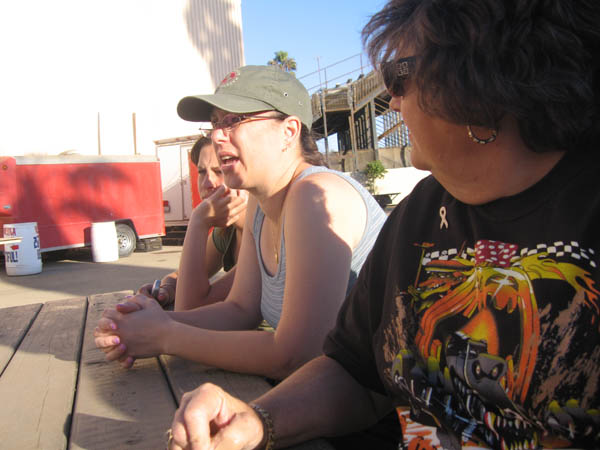 Kim Lafond at work?
Tory makles another Wagsdash, but he's thinking "what now"?
He's still up there.
Our next stop was at Smart and Final where seven cars caravanned over from the fairgrounds. Only one fatality as Jim and Fran missed the light and we had to guide them in on a cell phone.
Our fearless leader gives instructions on how to shop in pairs.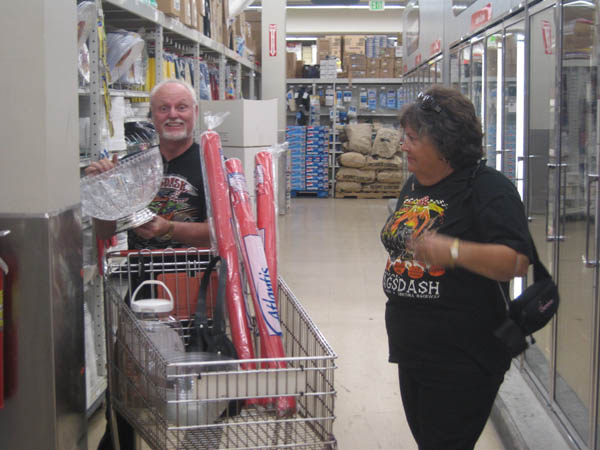 Here he is trying to sell a crystal bowl to Darleen. Not!!
Joe looks on as Ellen fondles the buns.
Soda's anyone?
Darleen says is this enough?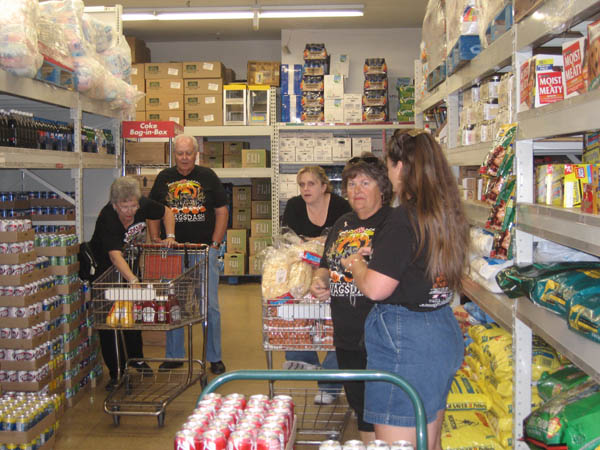 Here come more shoppers to help?
How many plates do we need?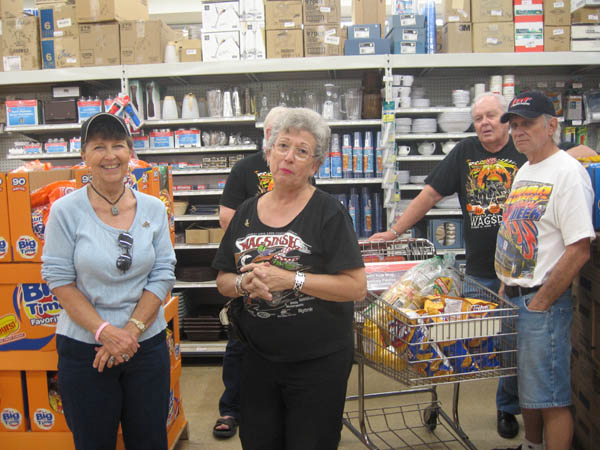 Oh my, are we done yet?
Earth to mars, our fearless leader says, how do I get out of here?
Oh no, did I get any on me?
Checkout time, where's our fearless leader now?
Now we head to dinner at the Pirates Grub and Grog. Braden and Bethany are ready to eat.
The fun times never end.
Darleen and Fran renew stories.
Mark and Jesus, oops, Steve gag it up. The World Serious was playing on the TV's and the red team one, as I predicted!
How did I miss this?
The fun keeps on coming as 25 Wagtimers showed up for din din!
Marilyn and Jim are a pair to draw to!
Sonia and daughter Kari are here to have fun.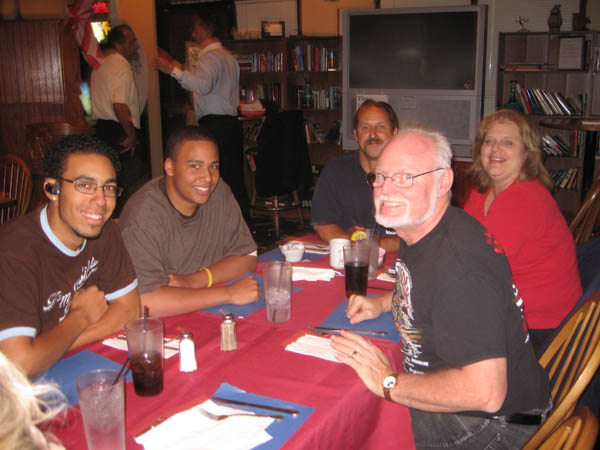 There is trouble at this end of the table.
The gang keeps doin' it.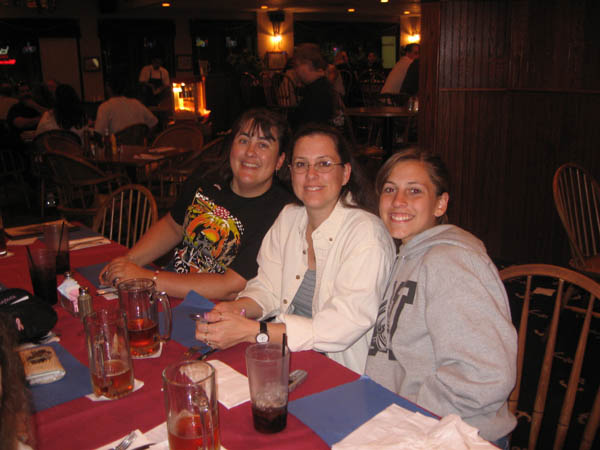 Tina, Kim and Korie ham it up.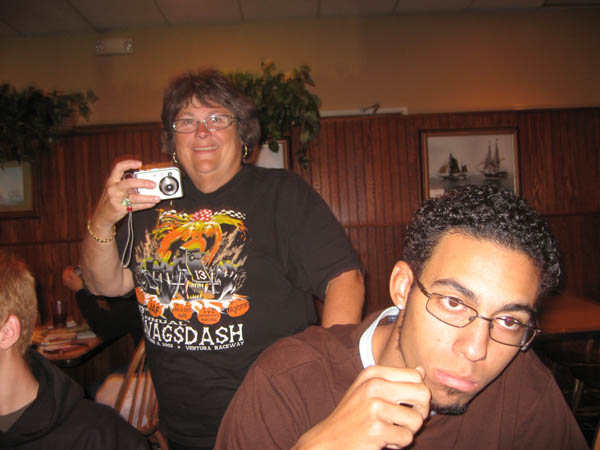 Darleen takes a picture while aTory picks a booger.
Darleen tries it again.