Here is the Silverado Skyhawks roster: # 1 Luc Balestracci, # 5 Matt Sambol, # 7 Josh Bravin, # 8 Dylan Brand, # 10 Cameron Rosser,# 11 Vince Taormina, # 12 Wyatt Reid, # 18 Ross Redden, # 19 Hunter Welch, # 20 Travis Brown, # 21 Dillon Johnson, # 22 Mike Meyers, # 25 Hunter Lee, # 28 Joe Ahlin, # 30 Mason Takizawa, # 31 Siam Schleuning, # 32 Austin Helin, # 33 David Kuzma, # 35 Mark Janosik, # 40 Daulton Freeman, # 42 Thomas Licea, # 44 Marty Sifuentes, and # 50 Bryan an Faucher.
5/12/12 - Silverado 3 - Coronado 4


Starting to dream about going to Reno.
Is it a day at the beach at Green Valley. Not hardly!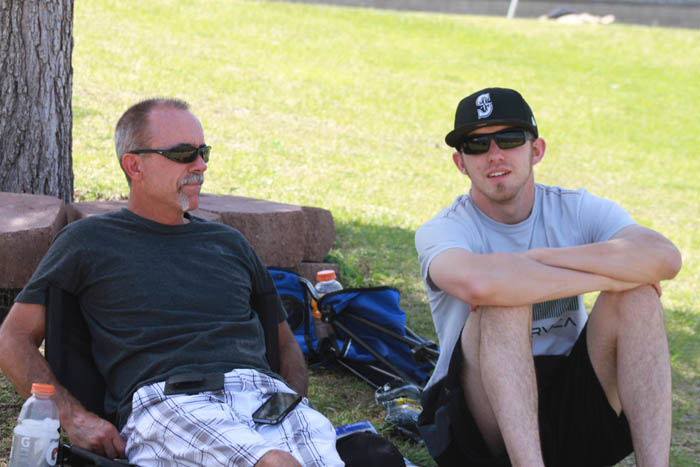 Catfish Hunter's dad and brother relaxing in the shade.
The hillside view is unlike any other high school with a birdseye view very much desired.
Don't know if they are Silverado girls or not, but they like the sun.
Mike at bat walks to start the game.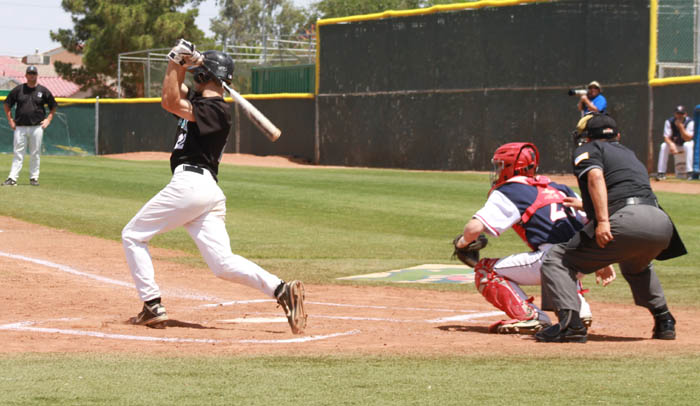 Mike gets a good swing in before ball four.
Wyatt takes his swings.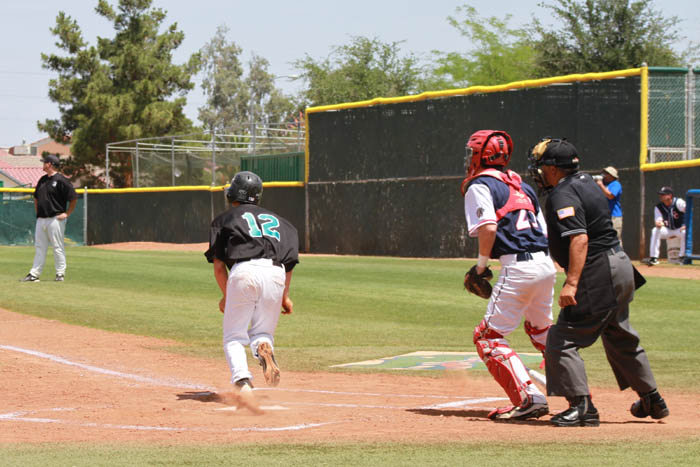 Wyatt hits one to right.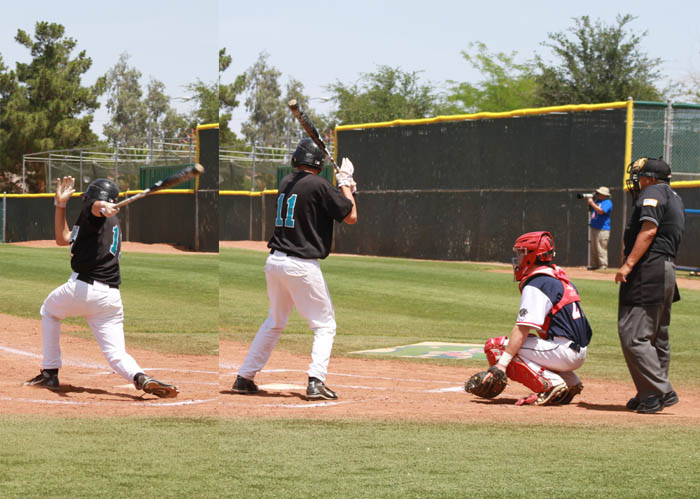 Vinnie gets around on one.
Bryan "the Bambino" takes a big swing. He was passed to first twice today and unfortunately it worked for the other team.
Cameron came up big today. His second timely hit could have been the game winner, if not for the bullpen giving up two in the bottom of the ninth.
Is it my imagination, or is Cameron trying to fly?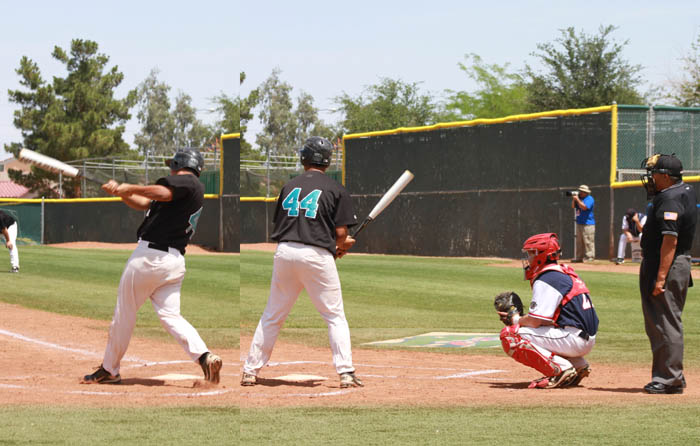 Marty drove one to the fence in left field for another double!
David did a yoeman's job on the hitters this day. That means he done good.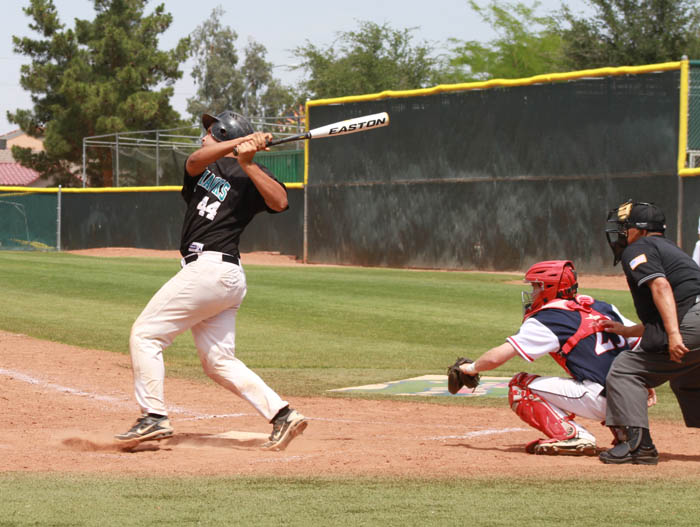 This is the wall banging swing!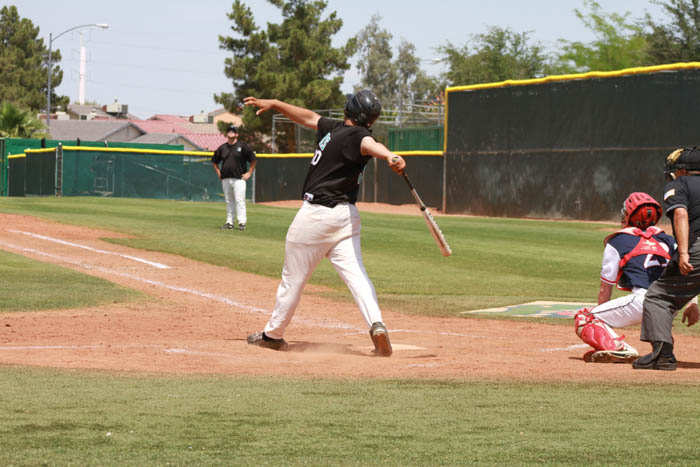 Looks like Bryan is wielding a magic wand when he nails this one.
Vinnie has the ball in his glove, but the runner has his hand on the bag.
No Mark, the other way!
Dillon is very agressive here.
Is that man asleep or star gazing?
David had some luck with his big stick!
Cody Howard was a teammate with the old Wildcats in Hunters younger ball paying days. He is a special player. Too bad all those Wildcats couldn't have gone to the same high school, they would be the state champs hands down.

Hunter came in to relieve David. He got 6 ground balls to infielders and 3 were mishandled, thus giving Coronado just what they needed.
I was proud of Catfish today. He did what was needed, but it just didn't work out!

Mike came in to relieve David and finished the game.
The last time this team will play together.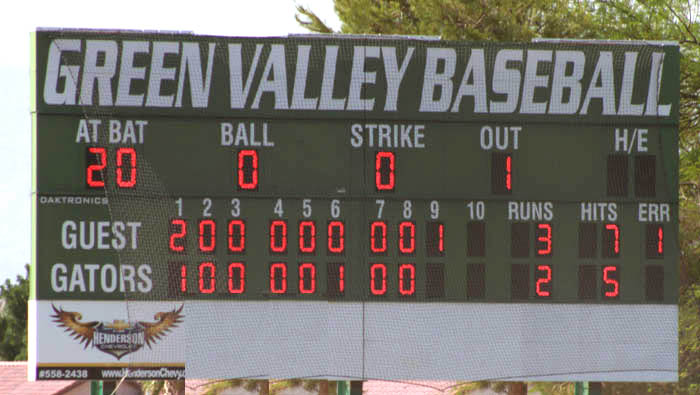 THis is the way it should have been, but.....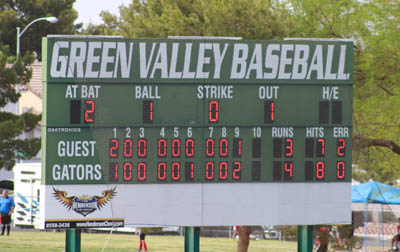 This is reality.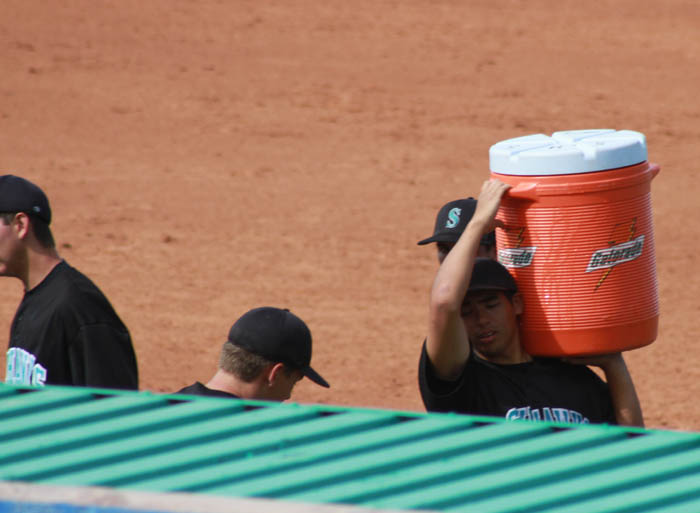 No celebrating today, but the team should be proud the way they fought and battled right up to the end!
5/11/12 - Silverado 8 - Green Valley 3

The day starts with warm-ups as usual. Cameron takes a grounder as Green Valley beat rancho 10 to 0 to move in to this elimination game.
Dillon makes a throw from third base.
Wyatt hangs around second base.
Joe practising and first base.
This is just before the line scattered as the coach hits a pop up for Marty to scury after and it went into the team line-up here.
Now were safe as GV takes infield.
GV coach warning the umps about the crowd.
The moment before they take the field. They were the home team but were forced to use the visitors dugout and were listed as Gators on the scoreboard???? It's always something!
Small crowd today.
Josh Braven pitched today and after a shakey 3 walk first inning, he settled down and pitched a complete game. Scary at first, but it worked to get them back for a chance at Coronado and a chance for a trip to Reno!.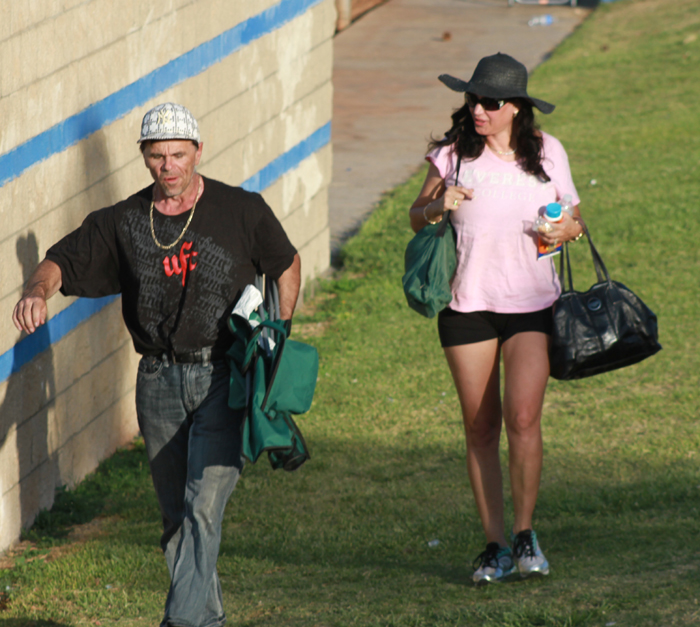 Bryan's mom and dad after the game.
Josh watching the runner on first.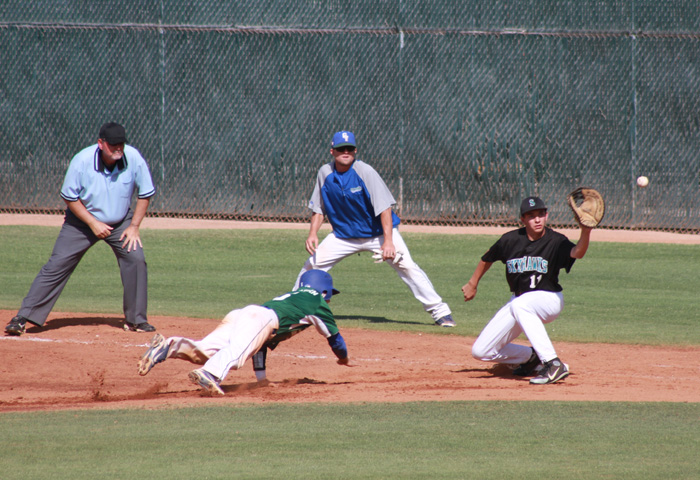 I guess a throw over there won't hurt.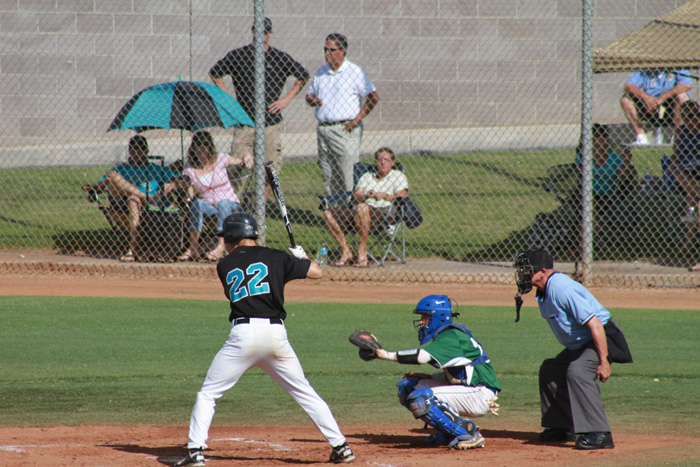 Mike at bat.
Wyatt brings him in.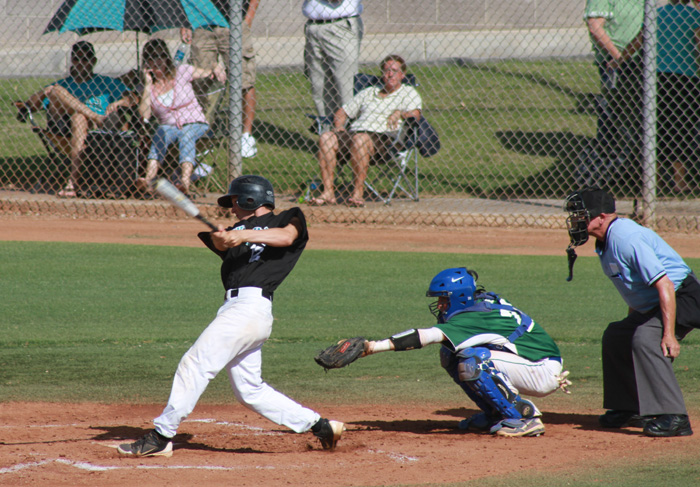 Wyatt on the hammer.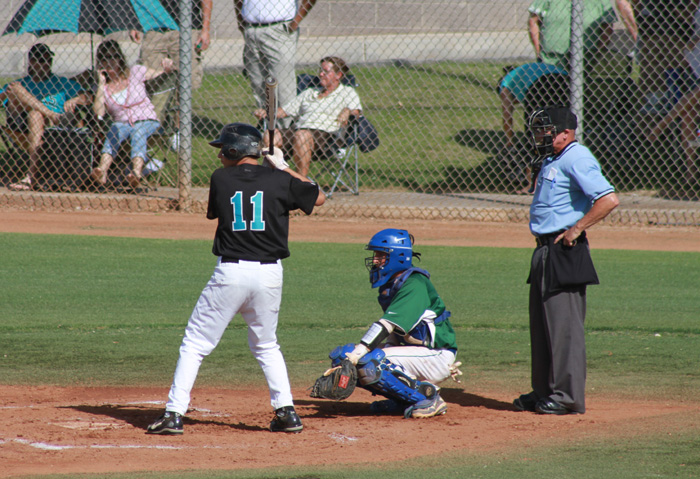 Vinnie ready to hit.
And here he does.
Vinnie knows when to take off.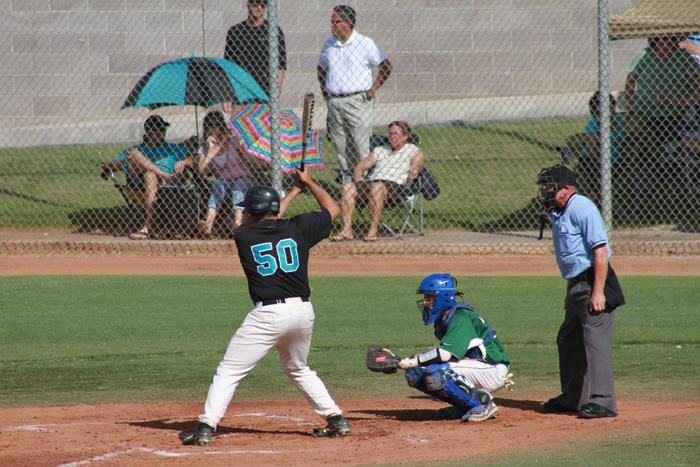 Bryan ready to smack one.
And away it goes.
Cameron setting up his choices.
Cameron mashing on the loud pedal.
Bryan just scored!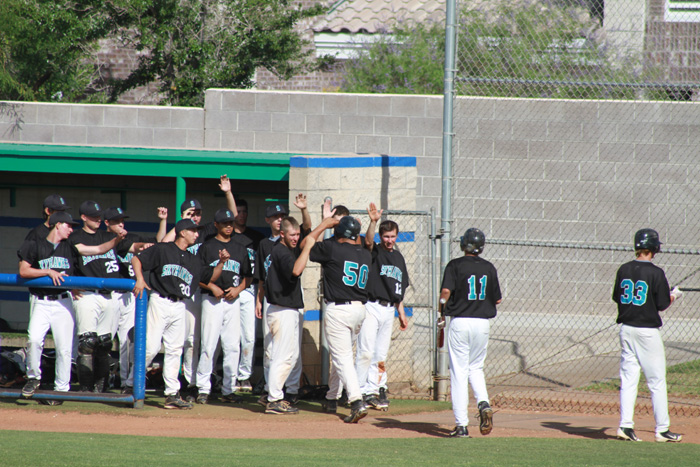 A happy dougout is a fun place to be.
Marty ready to send another one on its way.
There it goes!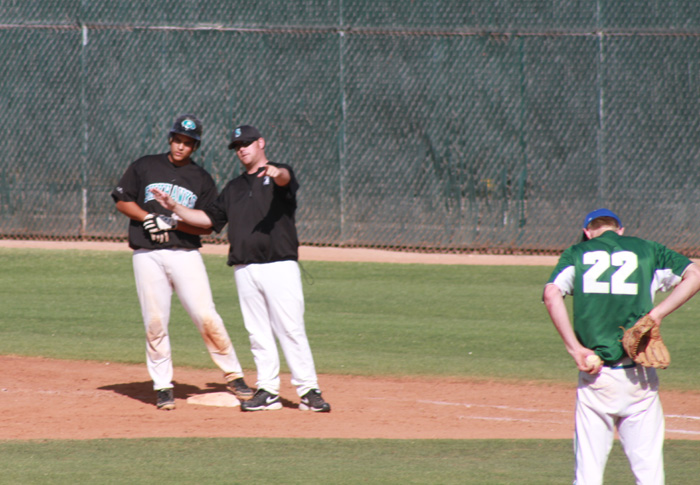 Ok, you got him rattled, so go get em'. That was the only GV player without his name on the back. Were they out recruiting, or was he just being sent a message?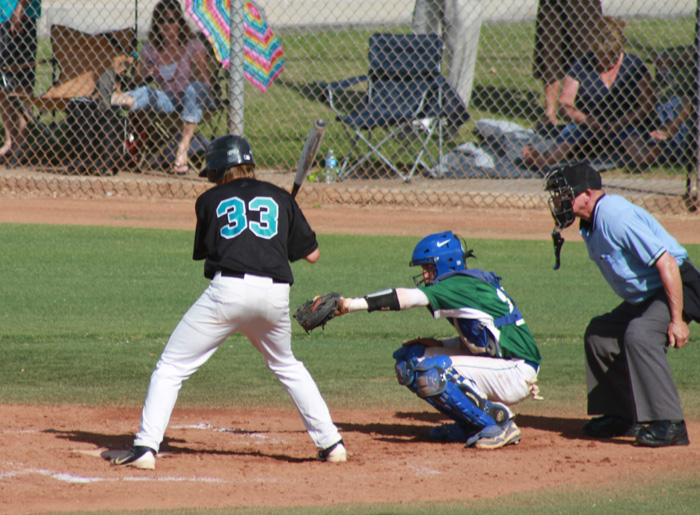 David did his job this day.
Dillon did well and is ready to hit.
And here he does.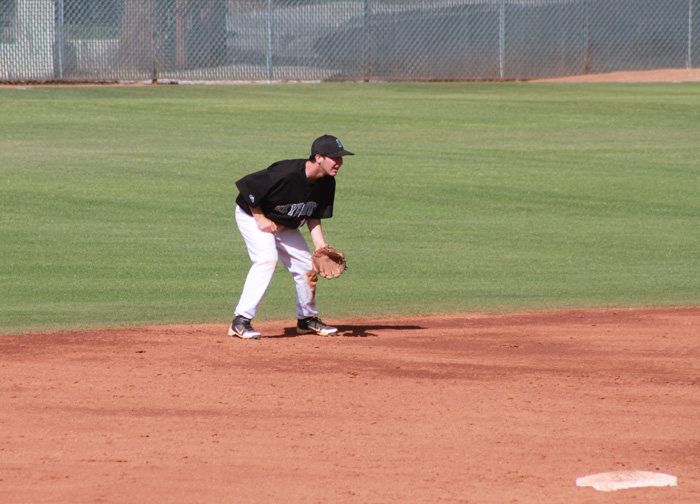 Wyatt wondering when the ball will be hit to him.
Josh has his hands full. He has to pitch, watch the runner and another pitcher is running to warm up.
Mark ready to bat.
Socko!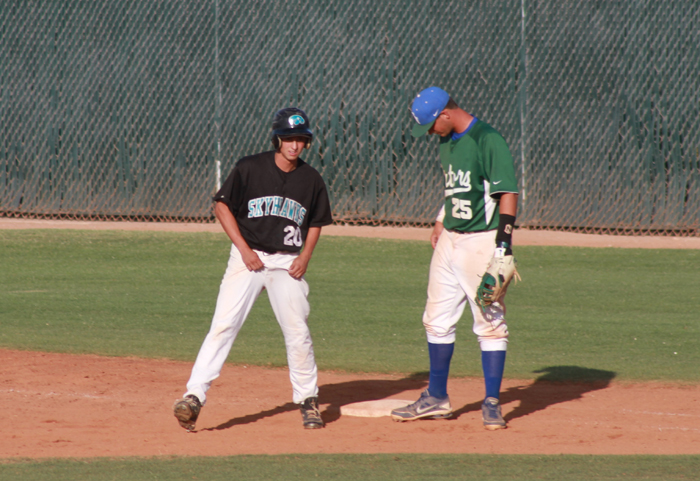 Travis gets to run.
Catfish warming up.
Marty wonders when it'll be over!
It's over!!!! Beating GV twice in a season is big news!
Knuckle Knockin time!!!!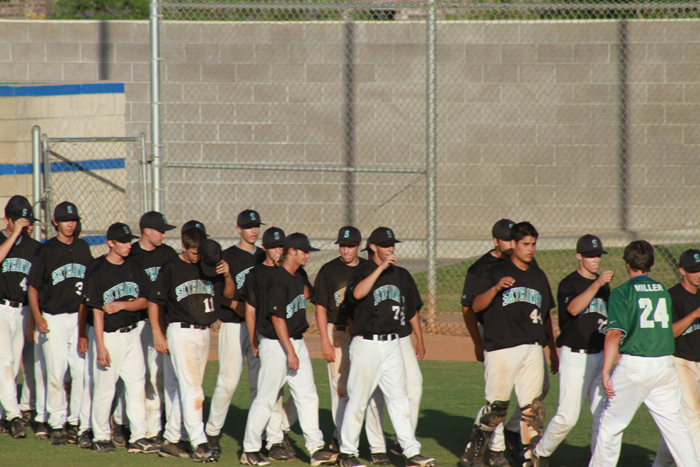 Theres more work to be done!
Grab you bags and lets get!
Scoreboard, now two more!
Josh was a lifesaver!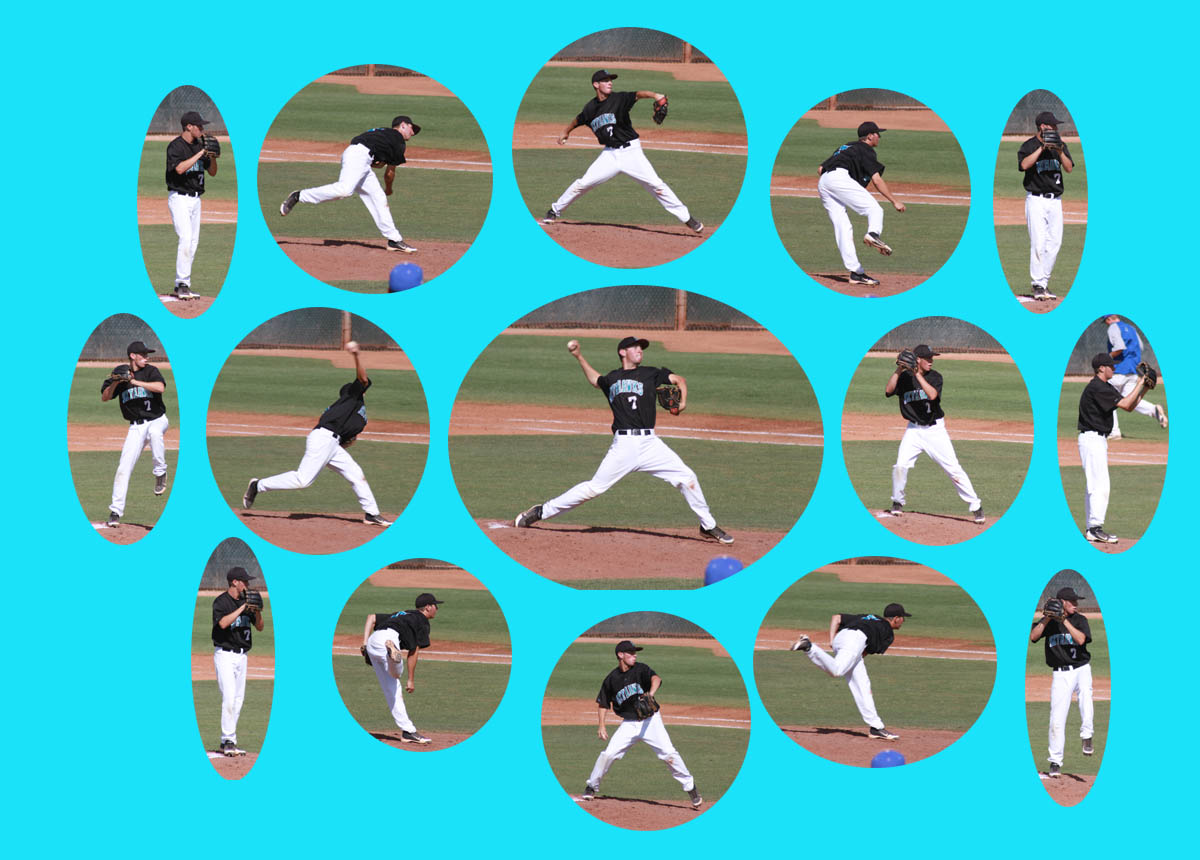 Josh kep them off balance all 7 innings.
5/10/12 - Silverado 3 - Coronado 7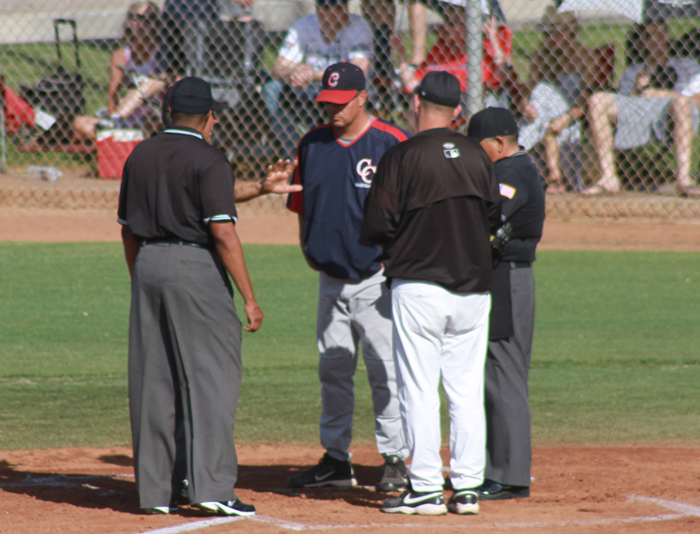 Must be about time to start the game.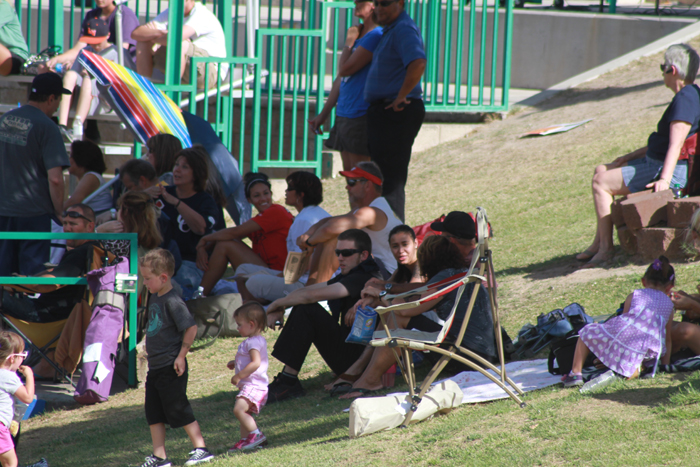 The crowd is ready.
The team looks ready.

Vinnie looking one over!

vinnie does a hire wire act at first.
Wyatt ducks and hits the next pitch to drive in a run.Ha!
Bryan's 2 run blast was the last offensive thrust of the game.
That's a home run trot!
Vince at bat here.
Cameron hit it hard.
Lorena and Hunter's brother Christopher take in the game.
Wyatt drove in the first run.

Mike led off like normal and scored a run.

Bryan throws a mean bunch of pitches.
The heroes of Silverado.
A pick off throw at first basE was a little late.
Mike makes it home safe.
Bryan looks FOCUSED just before he lets the ball go.

Mike really gets on this one!
Cameron takes his shots.
Mark does his thing.

Mike came in to relieve and the force wasn't with him when focus became a problem behind him.
5/9/12 - Silverado 8 - Rancho 2

WARM UP TIME.
David pitched a strong 6 innings to shut down Rancho!
Vince keeps em' close at first. Safe or out?
Inside, or you missed me!
Here comes the fast ball, good luck!
Dugout magic fun to watch.
Mike hits a double down the line.
Dave was focused well.

Wyatt at work!

David fouls one off his foot!
Marty hits it hard.

Josh come thru with a big hit.

Mark hit a two run dinger over the left field wall!
Mark gets a great greeting after his blast.
Hunter Lee takes a few pitches while Marty gets his gear back on.
Marty takes a few more throws before batter up!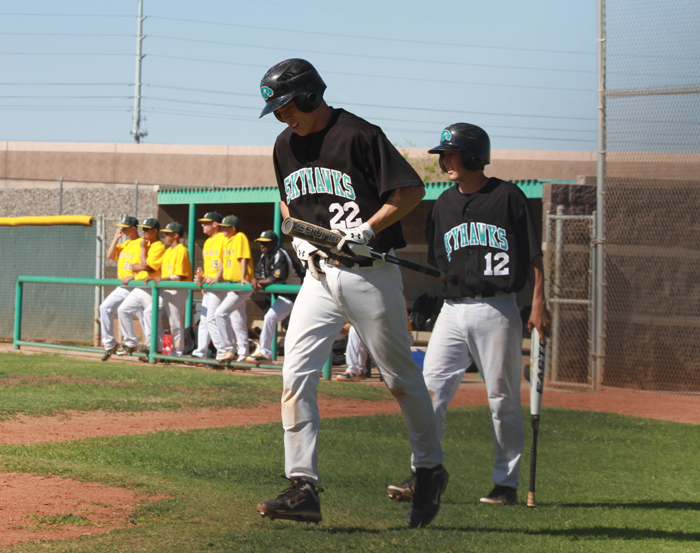 After the home plate greeting, he saunters back to the dougout with a smile on his face having hit an inside the park home run.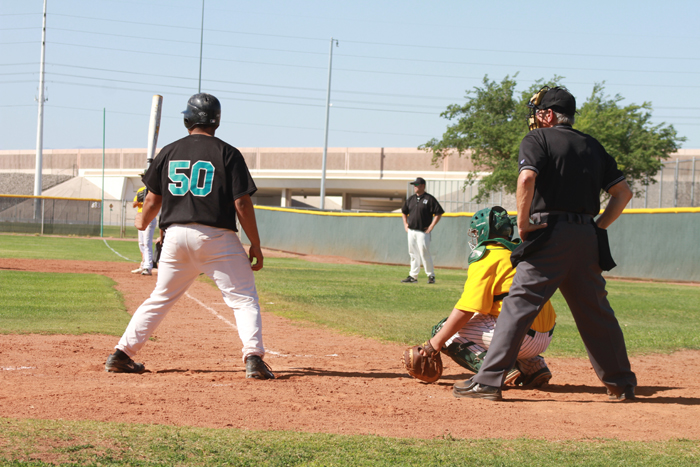 Bryan gets ready to swat the long ball.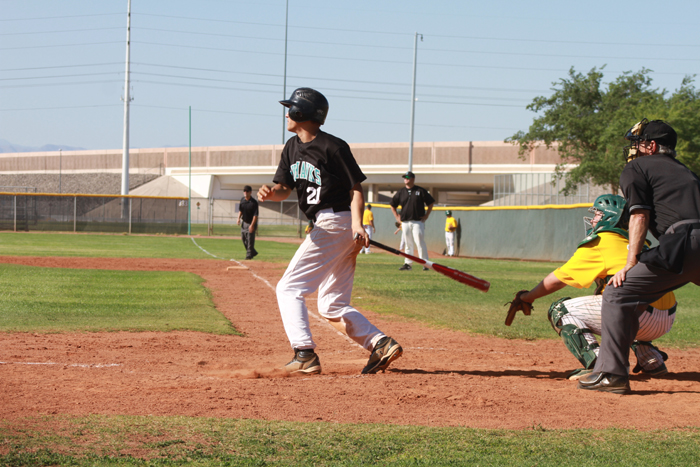 Dillon got 3 hits on the day.
Wyatt drove in a run on this swing.

Luc on the mound for inning and he took em' down to close it out.
Luc let his left arm do all the work!
Bryan does some heavy lifting.
Vince does a good job this day.
The "other" dugout.
The boys of summer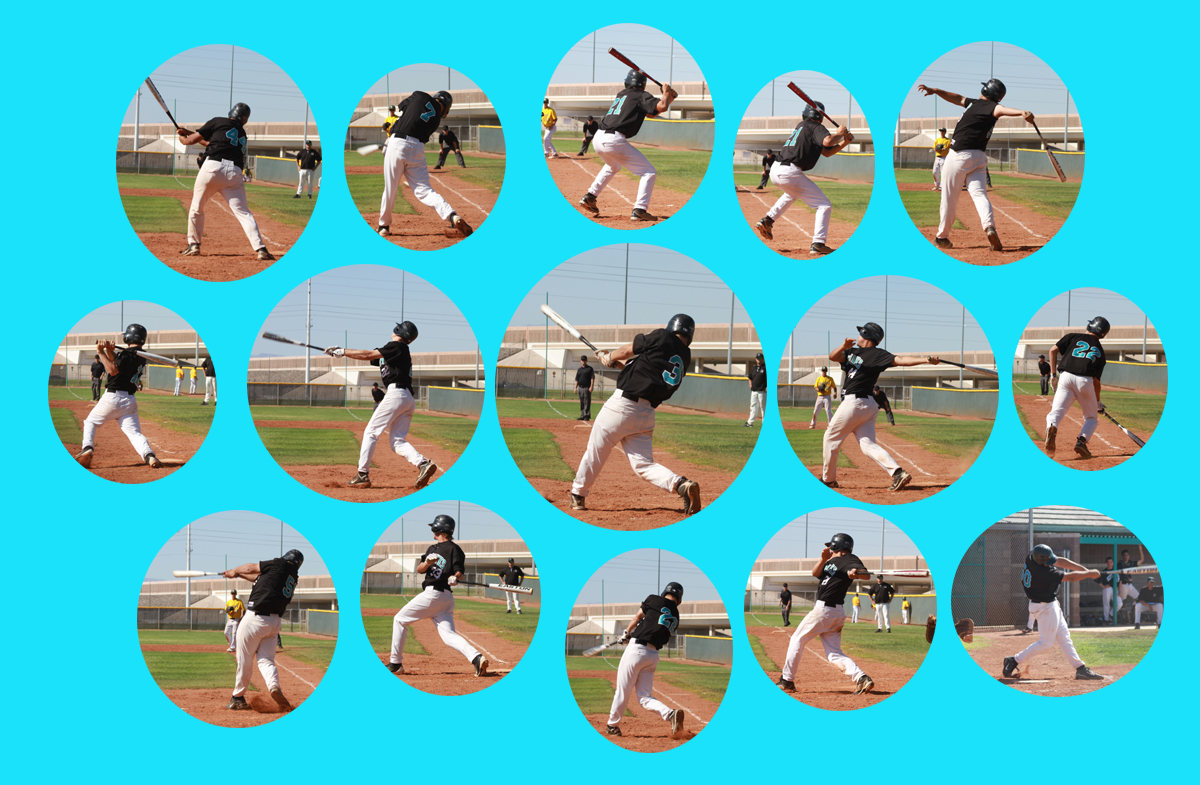 Hitters r us!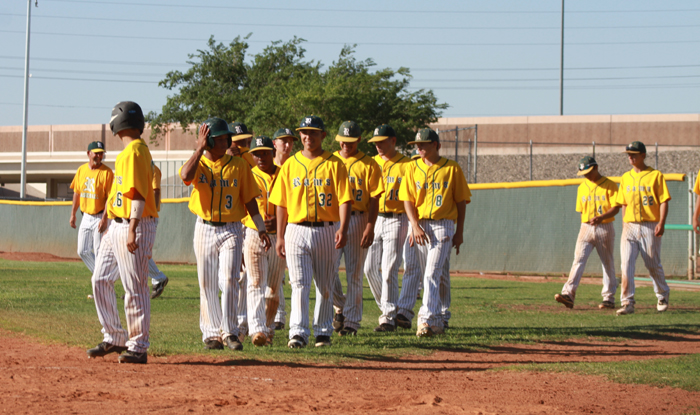 The opponents are ready to play tomorrow..
Knuckle Knockin' Time!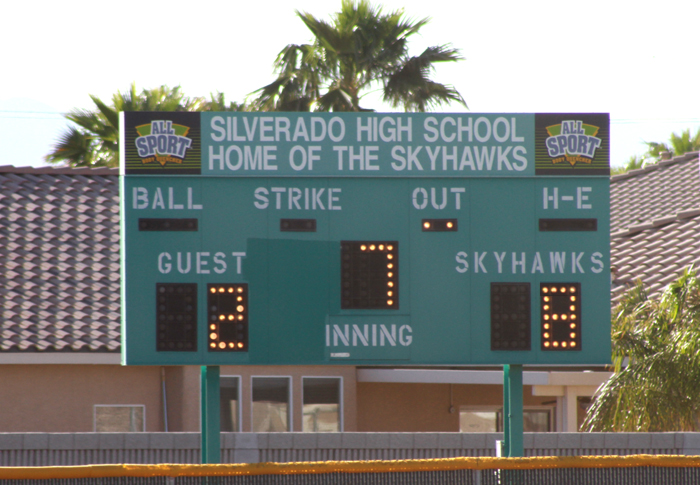 Scoreboard!
5/8/12 - Silverado 12 - Sunset Mountain 1

The day starts with warming up as the playoffs begin!
Bryan knocks one a long way.
Josh hits and runs to first base.
David had a good day with 3 hits.
Hunter walked his first batter, then he settled down and took care of business as he won his 6th game of the year!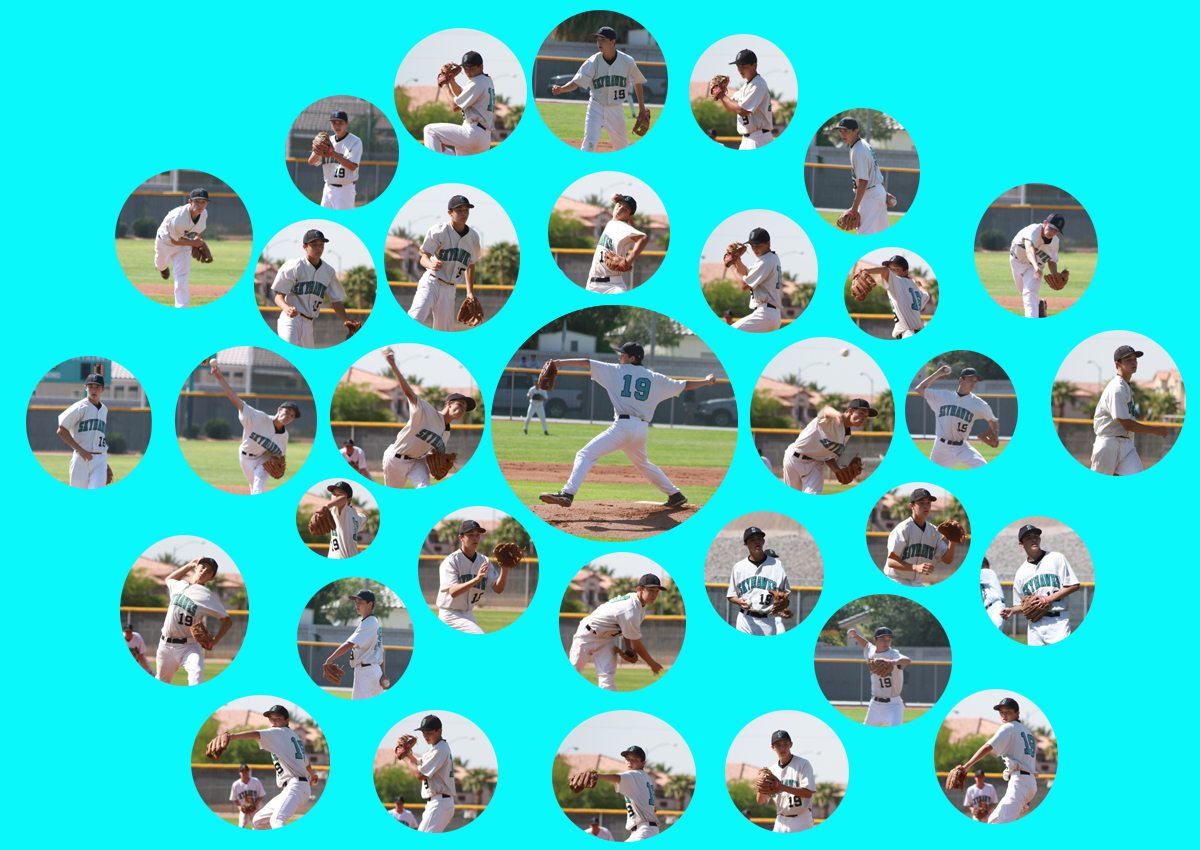 Catfish starts his first playoff game and does well.
Hitting heroes!
On the infield and ready.
Hunter's parents, Chris and Missy with cousin Robert in inset.
Home team dugout for the Skyhawks.
Visitors dugout for the Sunset Mountain team.
Hunter throws one down the pike.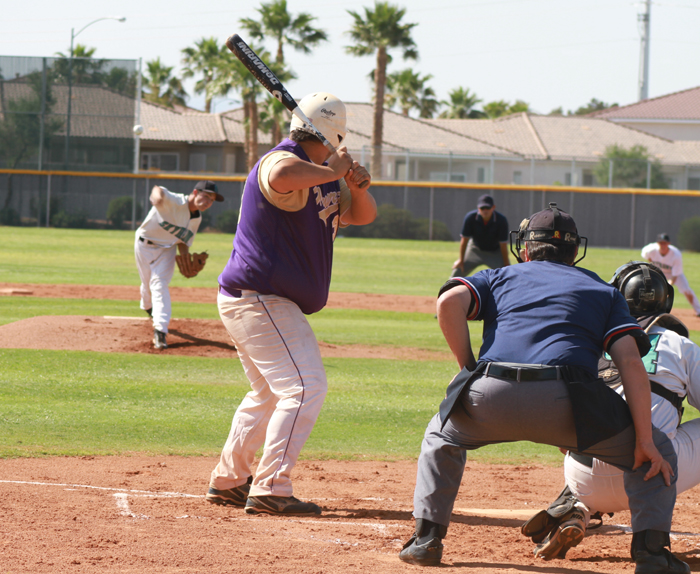 Here comes another one.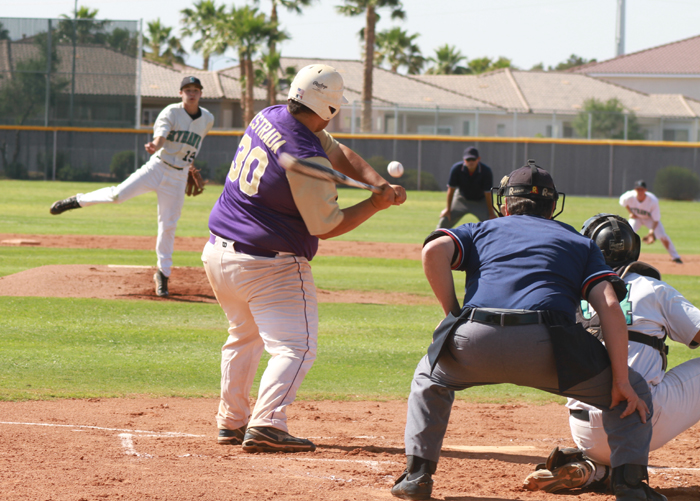 I don't think the purple hitter can catch up to this fast ball.
Smile, your on Wags camera!
Mike at bat.
"Catfish" Hunter does in the Visitors as he gave up 2 hits, walked one and allowed one run.
Bryan snakes one into the outfield.

Marty is faster than a speeding bullet with another double!
Dillon hitting one hard.

wyatt pops one out of play!
Joe came in to relieve Hunter and closed out the first playoff game.
Joe was very intense on the mound.

Knuckle Knockin' TIME!!!
5/2/12 - Silverado 9 - Coronado 8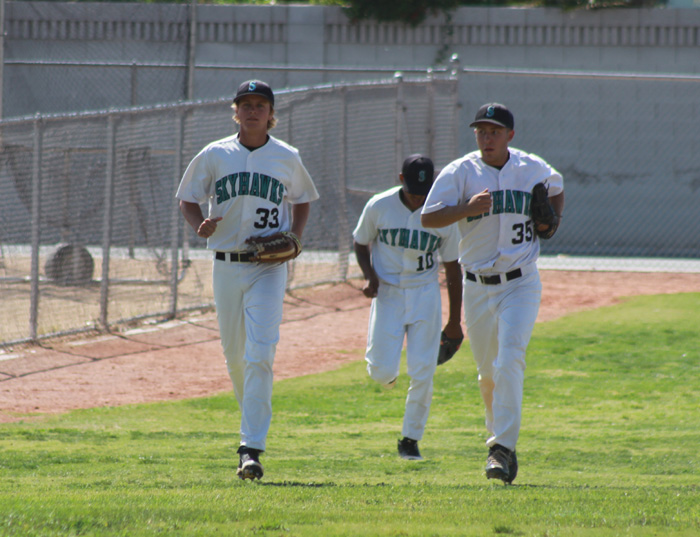 Warm ups are about done as the Skyhawks are set to continue the 9 of out 10 win streak. They have paid back Green Valley and Liberty for early season losses, so it was time to give Coronado the same treatment.
Gather in fort he last of infield practice.
The Skyhawk softball team was celebrating senior day.
Concentrate.
Probably the toughest game of the year with all the pressure of trying to win the league championship, they weathered the early storm when the game finally started with a hit batter.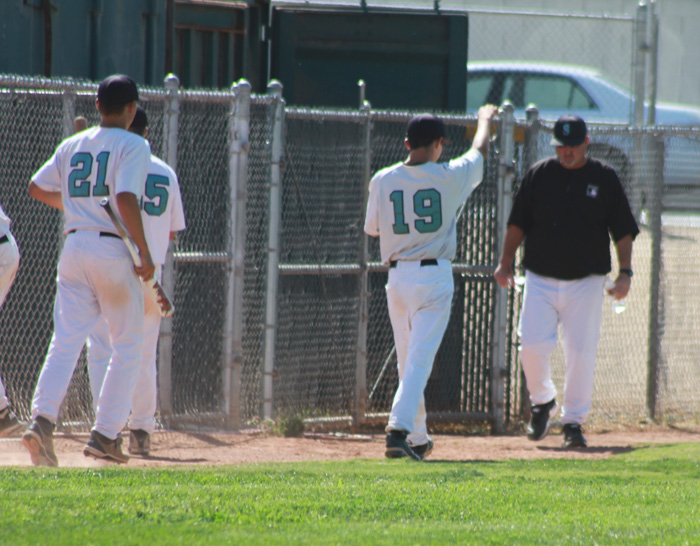 A fleeting view of my grandson Hunter.
Look at the determination on the faces of our boys of summer.
Ready? YES!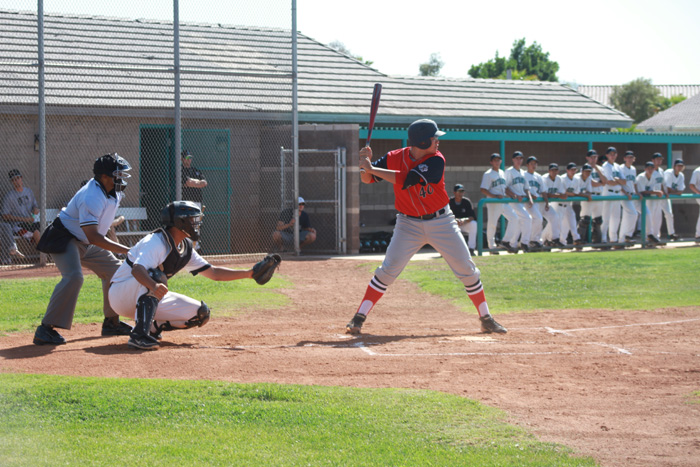 And it all starts with the battle of the championship hopefuls!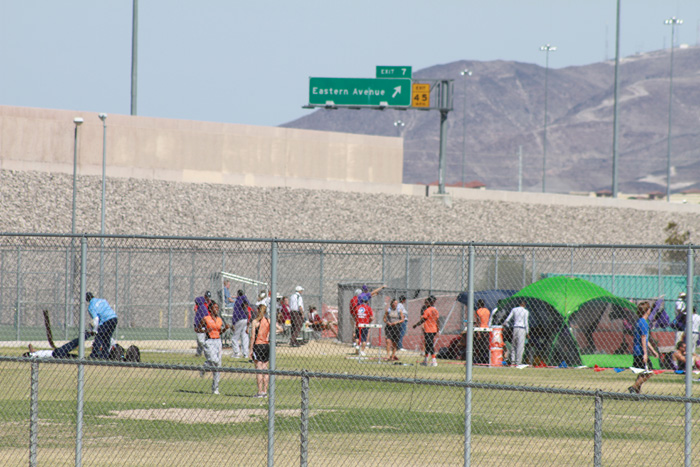 A track meet was going on out front.
Mark does the job and whacked a base hit.
Dillon on the go.
Cameron nails another one.
Bryan slams one into center field.
Bryan gave up 5 runs in the first inning after a double play opportunity went awry.

Bryan hung in there and waited for his team to come back, and they did. Had he got one more out, he would have had the win!
Brian is a handful on the mound.
Bryan wants to win!
Josh came in to relieve Bryan.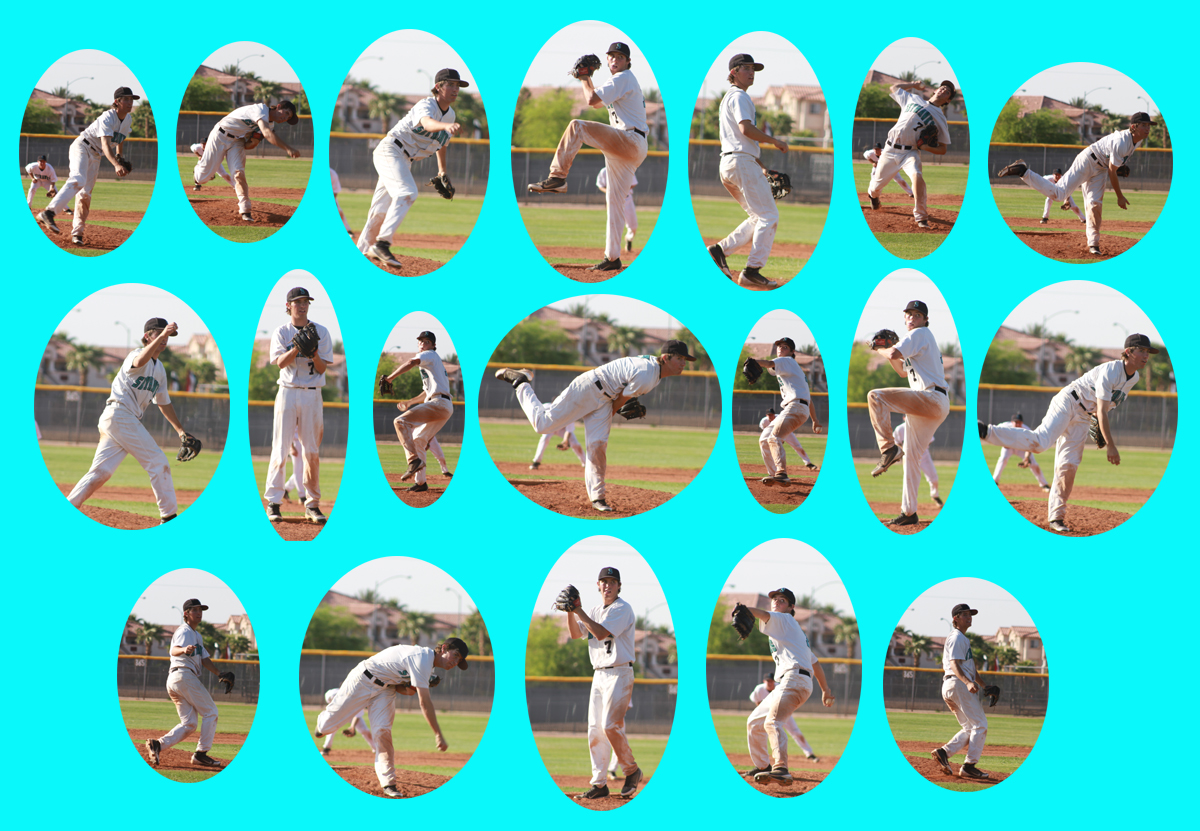 Josh was determined!

David came in to get the last 6 outs and shut down the cocky Cougars.
David shows his pickoff move.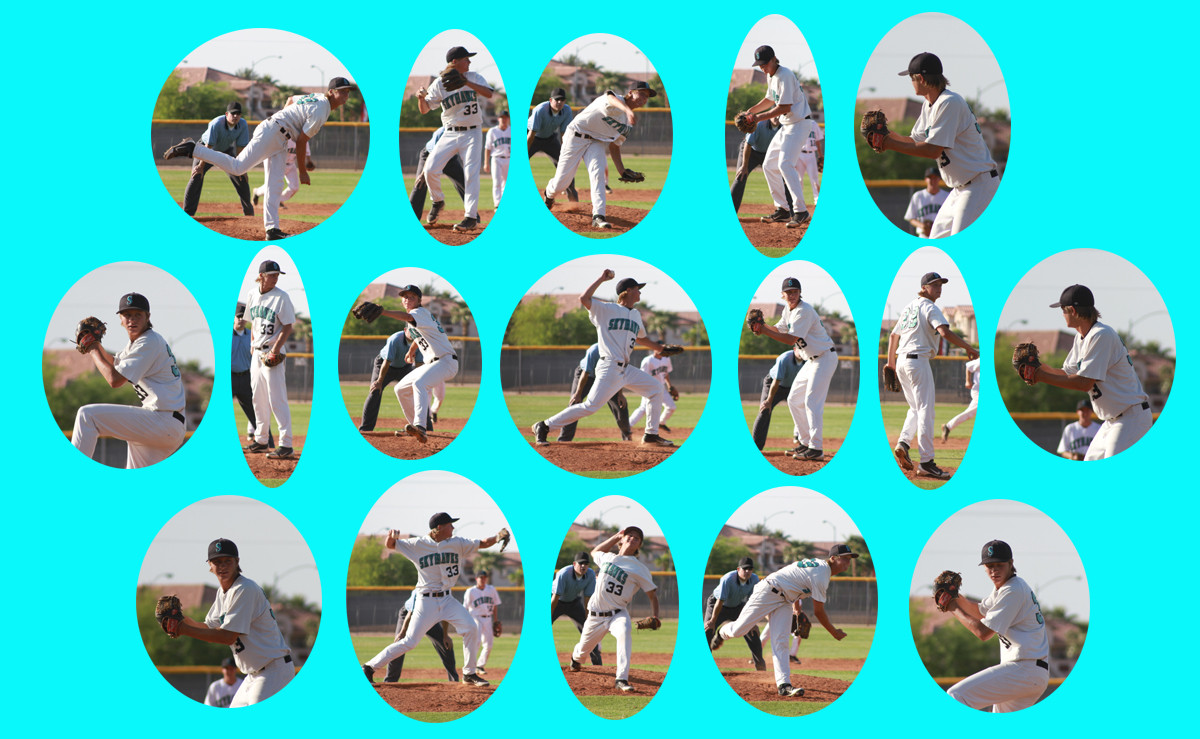 David was sharp in relief.
With the Skyhawks down by 2 and two on, Mike came up to bat. He had been stymied by the Cougar pitcher his first 3 at bats and was anxious to atone. On a two strike pitch he nailed a slow curve (something that had been a pretty good weapon against the home team) and sent it up and over the left field wall. Too bad it wasn't a walkoff, but the rowdy visitors were extremely quiet after that and it was in the bag after David closed the door on them!!!!
The greeting for Mike was pretty happy with pure joy in the eyes of his teammates as they greeted him.
Josh came up with the bases loaded and two out in the fifth and singled to drive in 2 runs. It started the 6 run rally that won the game!
Marty was 2 for 4 and hit a big double on the day.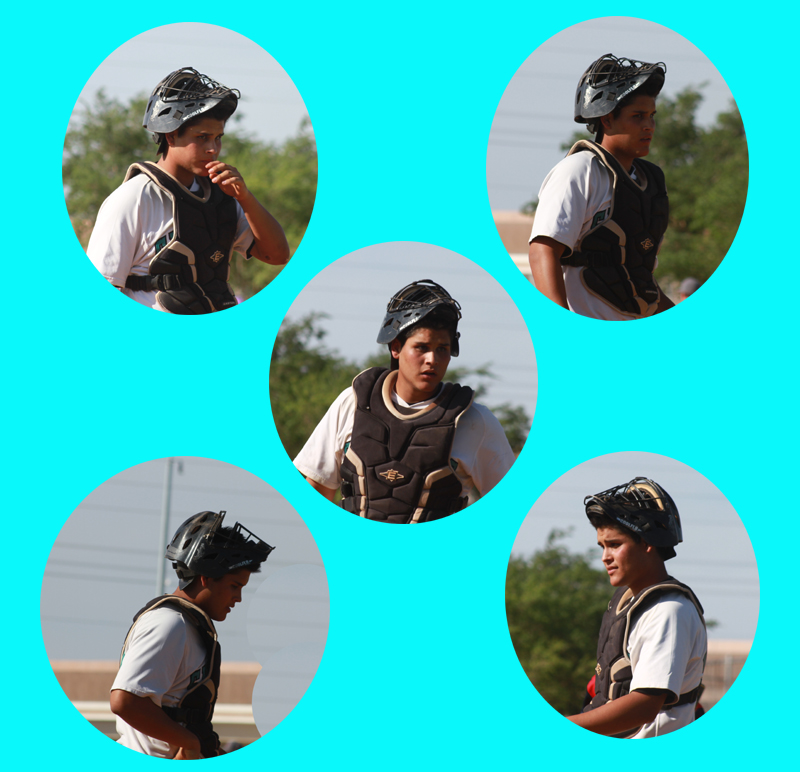 Marty behind the plate!

Yep, it's gone! A 2 run shot that helped stop the bleeding.
The welcome is the best part of the long ball!
Looks a little low!
Yeah we are the champions!!!
Big time Knuckle Knockin' time!
S C O R E B O A R D!!!!!
4/26/12 - Silverado 11 - Del Sol 0

Practice isn't done yet. Now down to business.
Come on, let's go.
Chinese fire drill?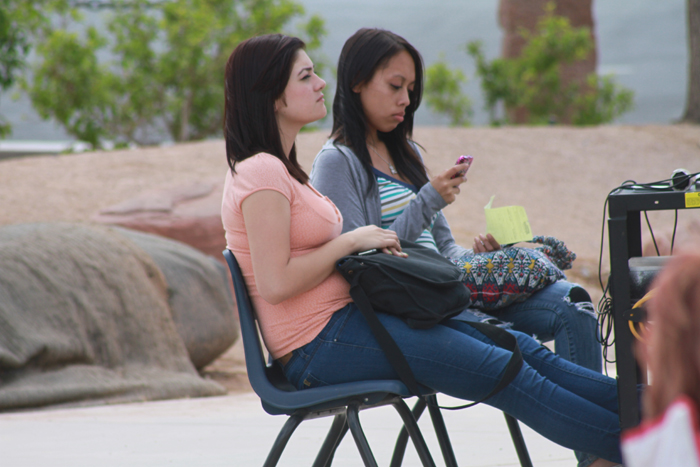 Scorekeeper and announcer's.
Infield is interesting. Is that a pirouette in the circle by Vince?
Mike in his first at bat to a strike that his face registered amazement. He then stepped back in the batters box and goodbye fast ball over the left field fence, 1 - 0 just like that.
Mike's home run trot is greeted at the plate as the day begins
Wyatt folows the home run with ahit if his own.
Vince hits a long one.
Bryan has a monster swing!
New hitter Dylan Brand at bat. He walked!

David cracking out a long one.
Mighty Mike went off this game. Two home runs and a triple was pretty amazing by the young shortstop.

Dillon runs down the line pretty fast.

Wyatt had fun today.

David from the other side.
Bryan hard at work on the moundd. I think he struck out the last 6 batters!

Marty knocking one to the wall!

Cameron slugs away
Mark on a hit.
Bryan throws darts!
The many faces of Flyin' Bryin!
Mike's 2nd home run was with one on.
Look at the dugout heads up in the air for Dillon's shot here.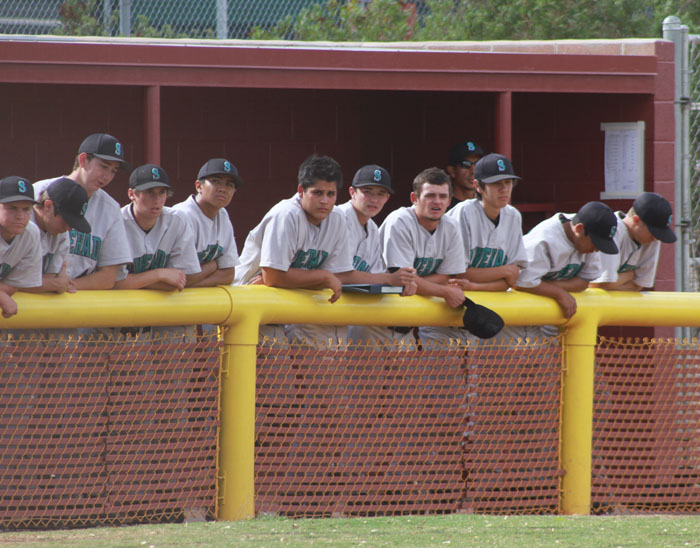 Look at the bright eyes in the dugout!
Hunter Lee comes in to warm up the pitcher while Marty reattaches his catchers gear.
Dylan Brand got to pinch hit and walked, then wanted to do good and steal 2nd base.
Marty about to catch a strike from Bryan.
Look, I am ready to play, too!
On base antics.
Batter up!
More Batters up!
Vince says "what me worry"?
Knuckle Knockin" time!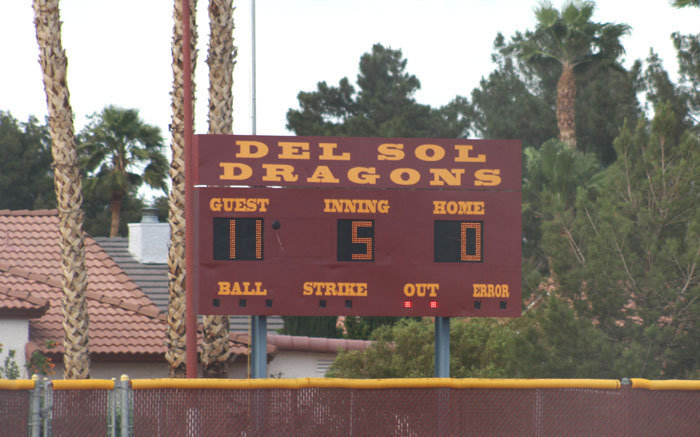 Scoreboard!!!!!
4/24/12 - Silverado 13 - Basic 3

Dugout time before the game starts
A little more.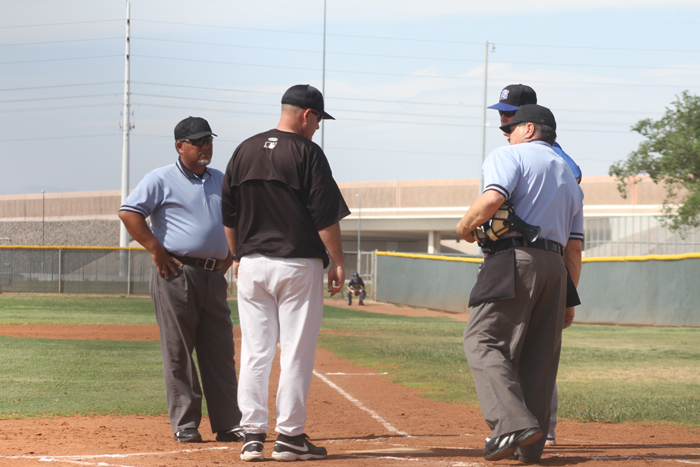 Meet and greet before the game.
The visitors dugout
The peanut gallery watches as Wyatt gets ready to show em' his stuff.
The girls of Silverado at work.
Time to get it going.
Play ball.
Marty loves to hit!

Dillon slaps one into right.
Mark drove in a run here.
Wyatt nailed a triple that drove in a run!

Vince was strong batting third this game.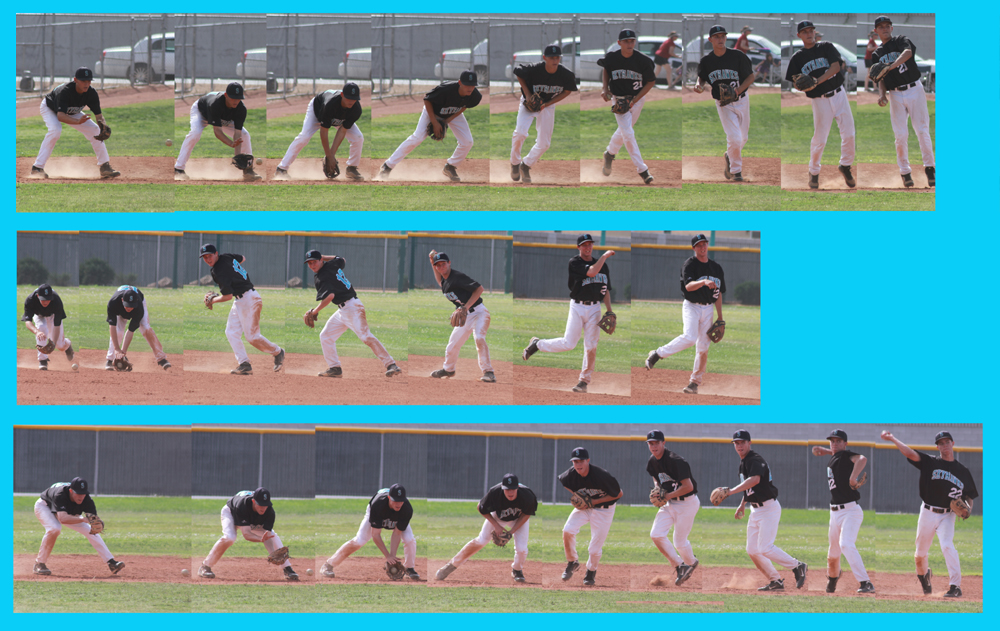 wyatt, Mike and Dillon take ground balls between innings.
Mark ready to rock.
Mike had another good day with the bat.

Cameron nailed a fastball!

David pitches, Marty catches and the batter syrikes out!
David did a bang up job as he pitched thru the hard spots and won another complete game.

Bryan jumped on a few pitches this game.

Mike on the gas.
David was sharp on the mound.
The hitters of Silverado
Mike stealing second?
Ready boys?
Knuckle Knockin' time!
Scoreboard!
4/20/12 - Silverado 12 - Green Valley 2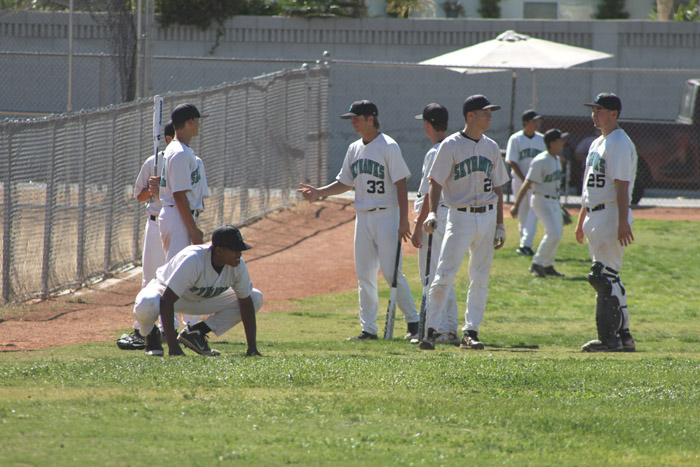 The afternoon starts with a little warm up.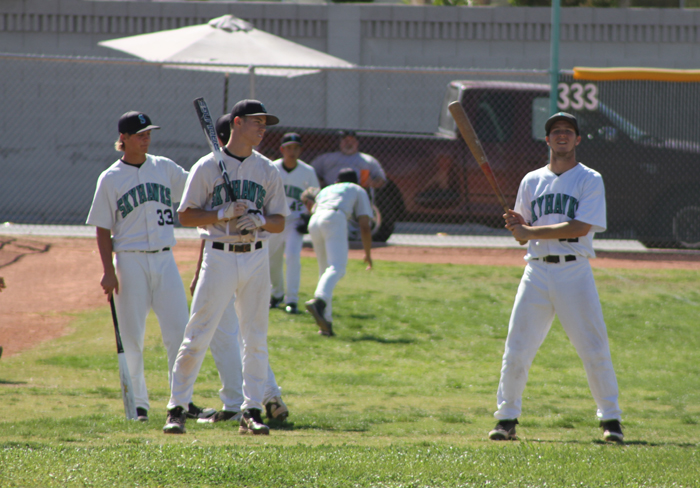 Remember last time at Green Valley? Let's do it!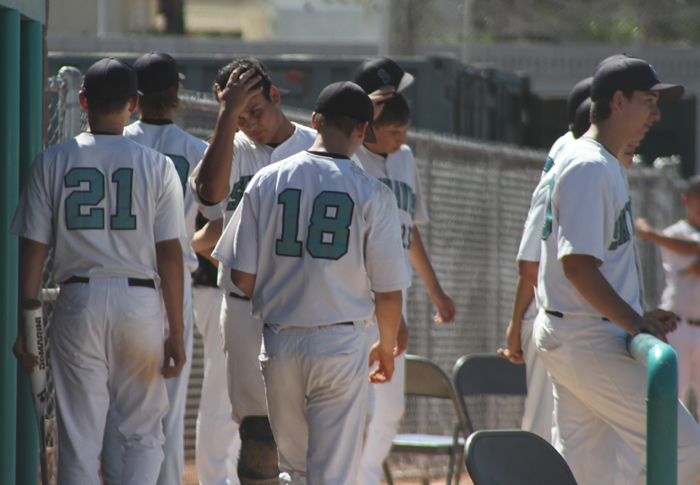 Just thinking about it gives me a headache!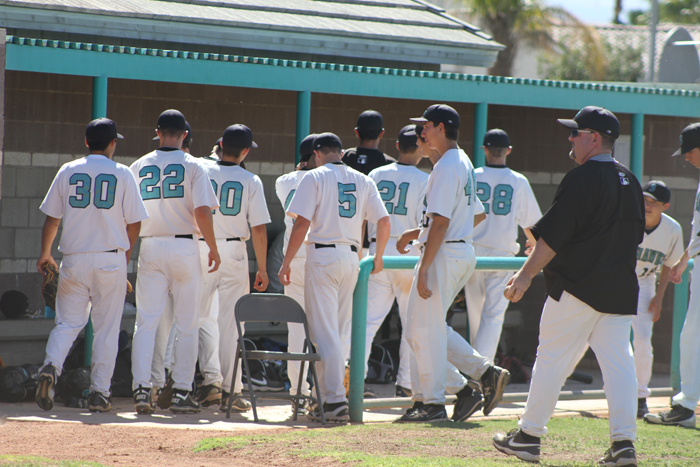 The anxiety before any game is always in the air. With GV, it goes up a few notches.
For some of us it's always a waiting game. Am I going to play or not?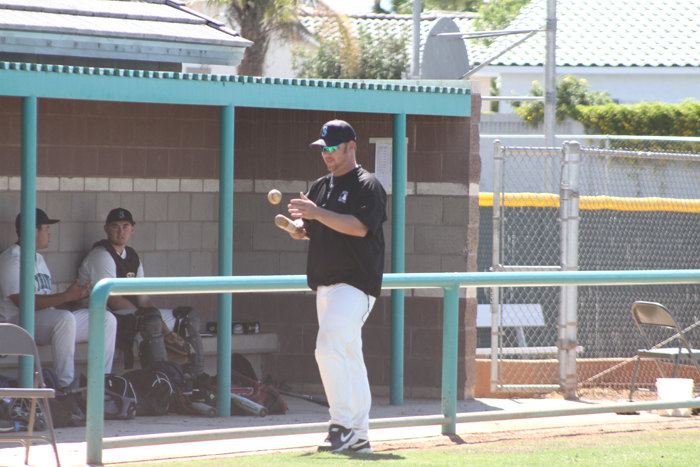 How does this go again? Bat - ball or ball - bat?
Okay, let's get this thing going!
It's time to play.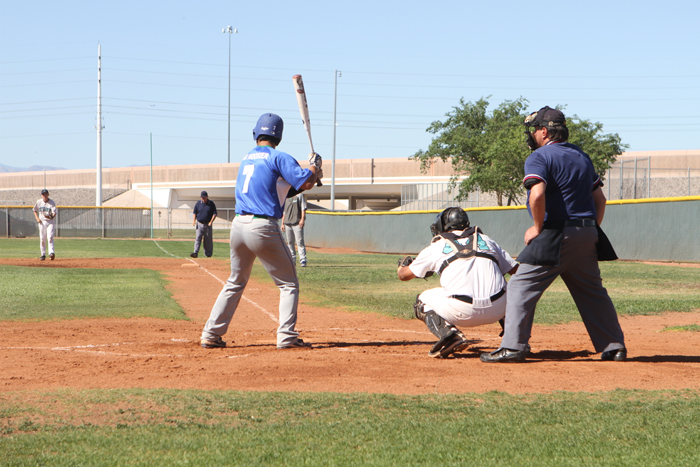 Batter up!
Batter down!
Daring Dillon does his job.
Mike mashes a long one.
Wyatt whacks another one
Vince hits another one.

Vince Again!
Bryan pitched an outstanding and tough 12 to 2 win and hit the walk off 10 run rule hit!
Bryan was tough on the mound!
Mike had a couple of good swings leading off the day, but ended up on the ground after he got beaned in the batting helmet. It sounded worse than it looked.

Cameron was on his game today, hitting the ball and scoring from 1st base on a double.
David lines one hard for a big hit.
Dillon hits another.

Bryan is a monster to the other pitchers. He had a walk off double to end the game with the 10 run rule over the cocky Green Valley team.

Josh at bat!
Wyatt and a ground ball adventure.
The many looks of the amazing Bryan.
The boys of Silverado summer.
Swinging away here, boss!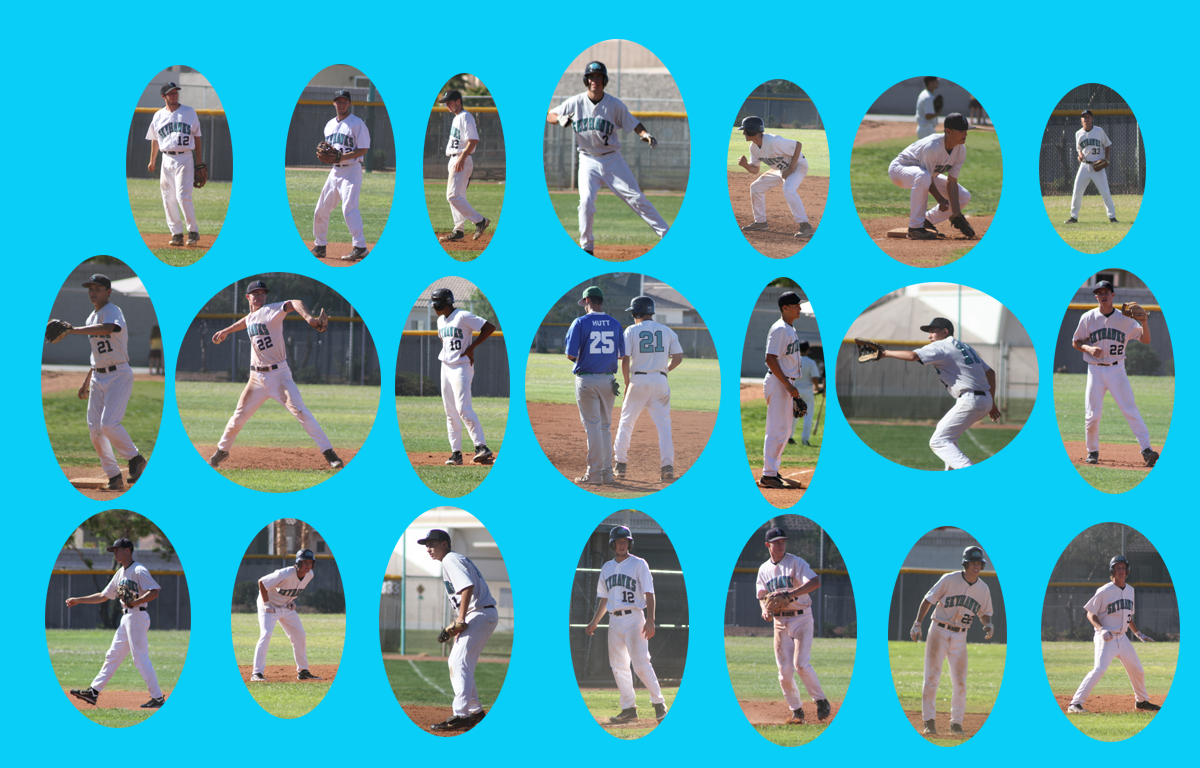 Infield action.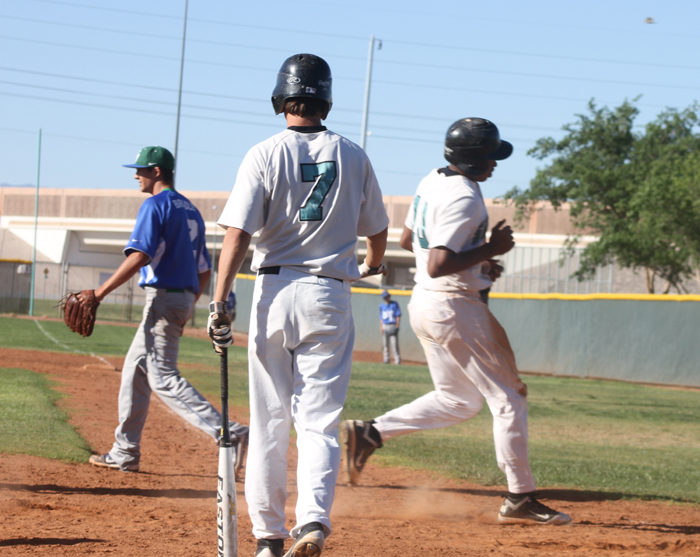 Cameron looked like Tommy Davis in the old Dodger days going from first to score as he was flying.
Family watching in the direct sun.
I don't remember when Silverado 10 ruled Green Valley. Thevisitors don't look happy as they warm up another pitcher!!!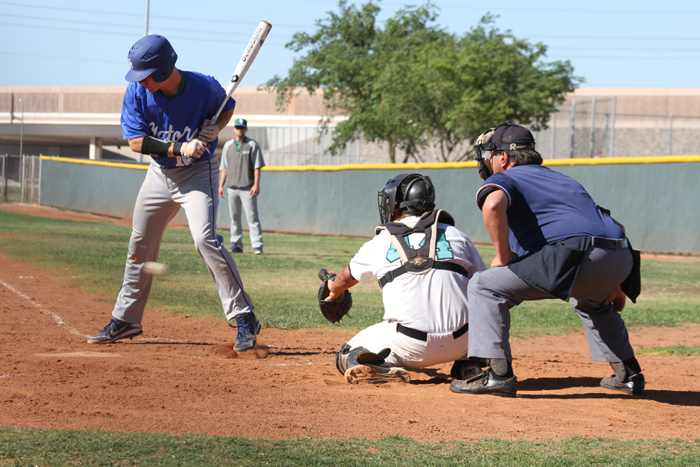 Strike threeeeeeeeeee!
The dugout was looking good as they won their 3rd tough game in a row.
I forgot to get the ending 12 to 2 shot of the scoreboard, but I know there was a lot of satisfaction looking out there as this one played out.
Sign on the Football stadium.
Knuckle Knockin' time!!!
4/18/12 - Silverado 12 - Liberty 4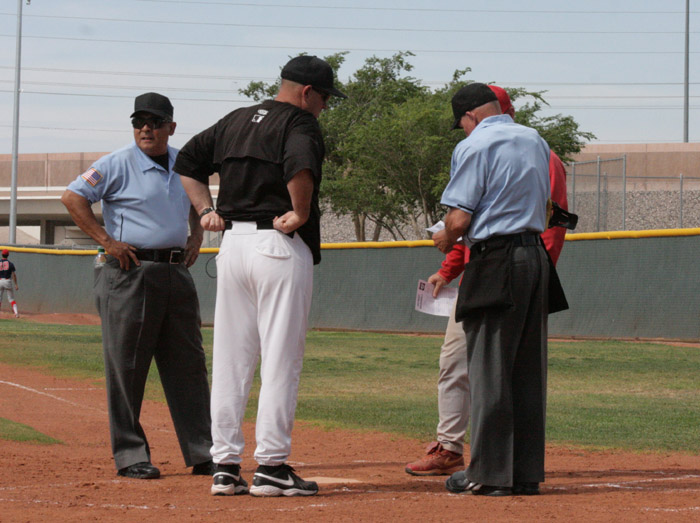 The coaches and umps meet before the game to share line-ups and talk of any ground rules that need to be covered.
The competition, Liberty Patriots, who had their way with the Skyhawks the last time they met. Maybe something different this time?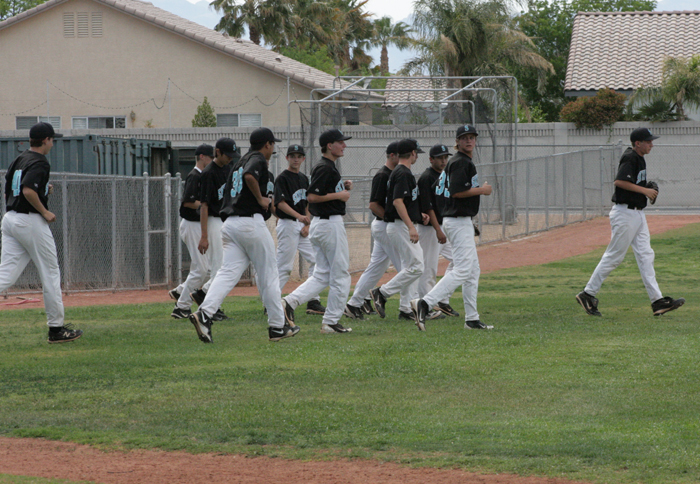 Out of the dugout and lets go team!
Huddle up and let's play ball!
Kinda looks like a chinease fire drill?
And they look like this when all done.
Pink is good!
David pitched a complete game and after giving up 3 in the first inning, he was in control the rest of the game.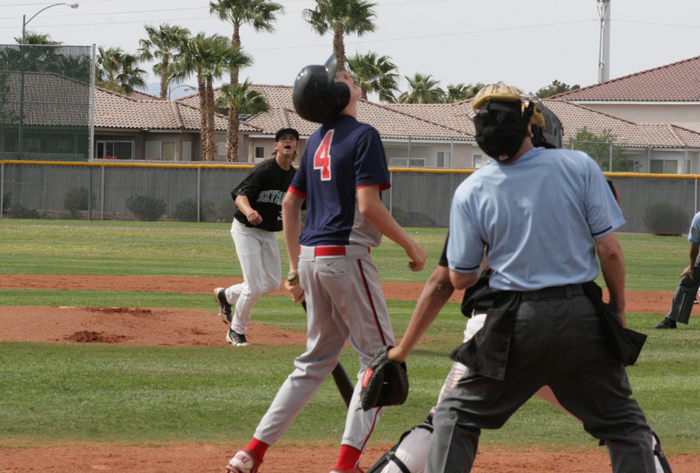 Must have been a pop up!

David throws a strike!

Wyatt on the move after slugging theball.
Bryan hit a monster blast agains the left field wall for a double.

Marty at bat and heading to first.
Josh nailed a long one.
Hitters beware!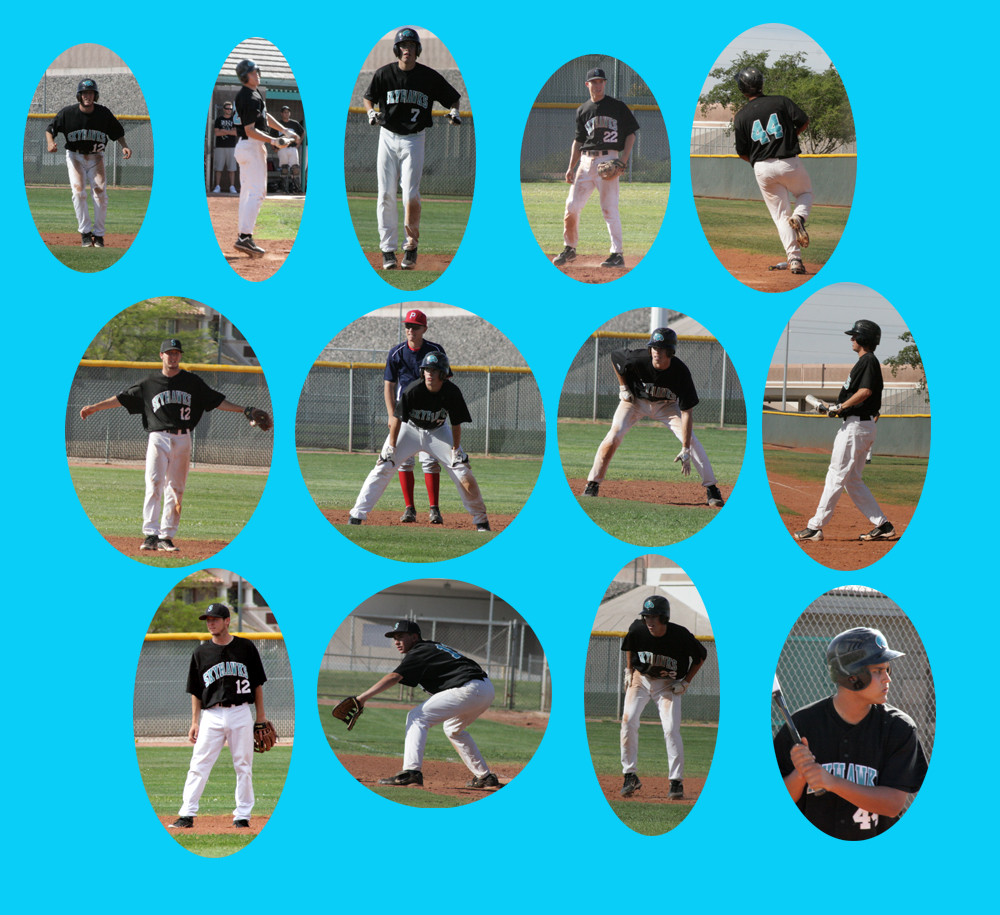 The boys of summer.
David does Liberty.
Very well!!!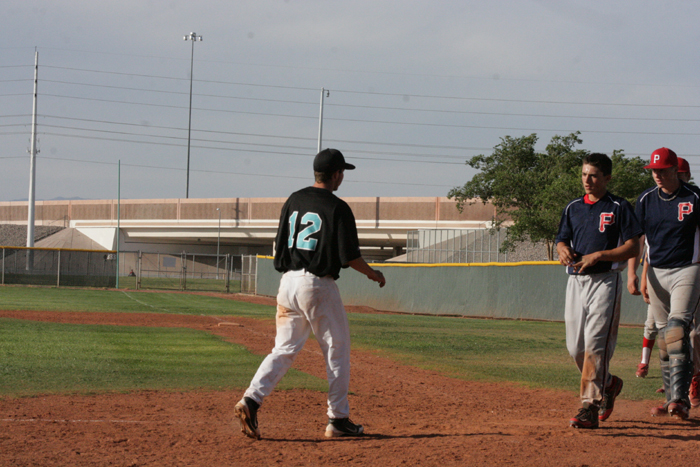 Scoreboard!
4/16/12 - Silverado 7 - Foothill 3

The day starts with batting practice.s they make their last throw, they line up on the first base side as a team.
Warm ups and then hit the dugout.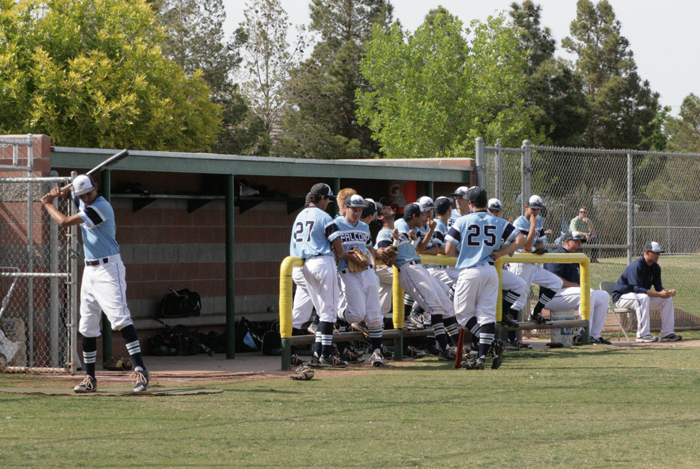 The Foothill dugout.

Lead off hitter Mike does the job.
Mike on first ready to go as Wyatt comes up to bat.
Vince nails one and heads to first.

Bryan can flat hit the ball hard. He got two doubles today.
Here Bryan dodges a bee, jumps for joy, poses for SI or looks at an inside fast ball.
Catfish Hunter Welch on the mound. He pitched a complete game for the second game in a row.
Cameron nails one hard.
Marty does a number on the ball.
Mike on his way to second base.
Foul ball!
Wyatt gets it going here.

Vince at bat.

Bryan nails one down the line!
Cameron does the base hit thing.
Marty slams another one.
Dillon does his thing.

David hits and runs hard.

The wall behind the plate - Marty!
The boys at work.
More shots.
Marty's father Fred
Dillon takes a grounder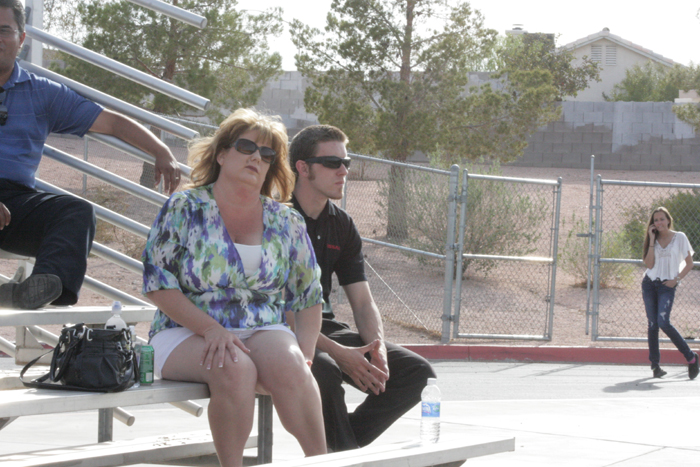 Marty's mom Lisa and Hunter's brother Christopher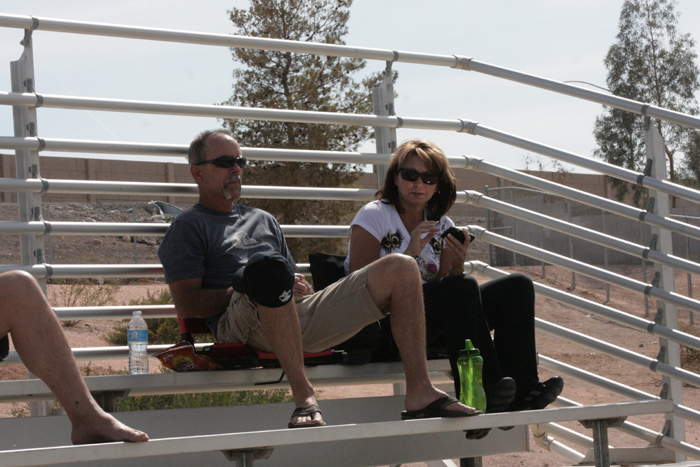 Catfish's mom and dad, Chris and Missy.
Catfish on the mound.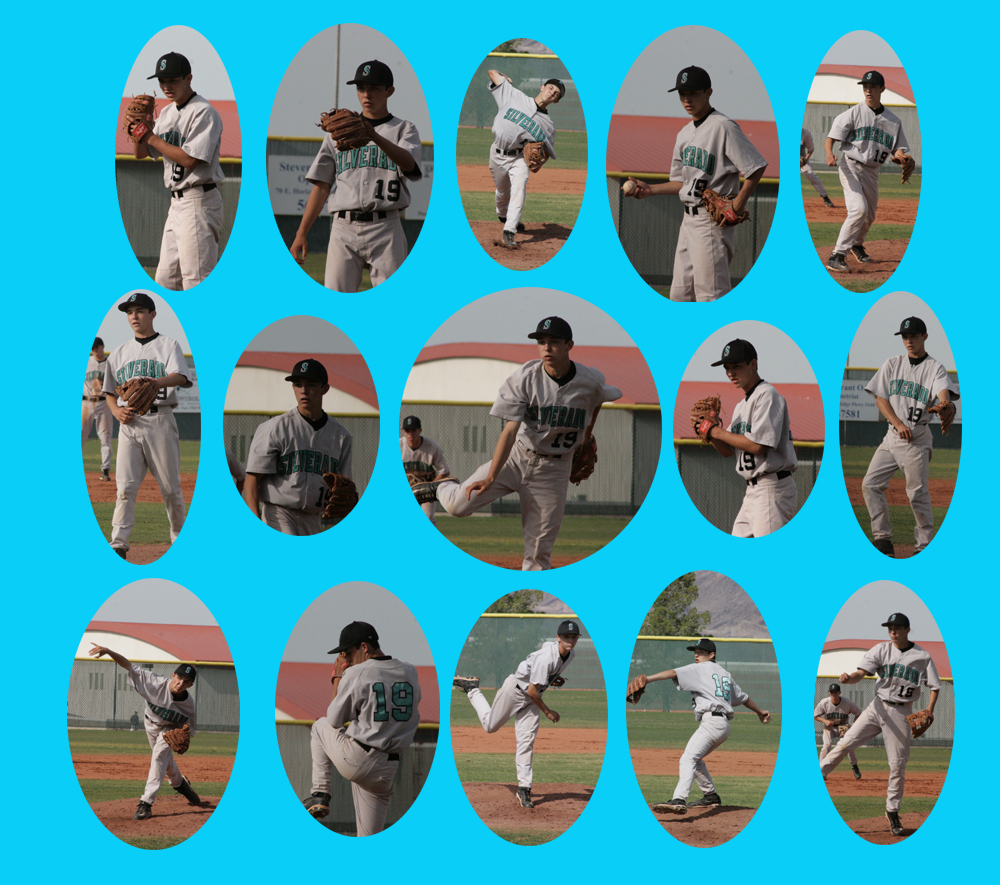 Hunter looked good on the hill!
Knuckle knockin' time is better when you win!