# 1 Kenny, # 2 Cody, # 3 Tyler, # 4 Joseph, # 5 Kyle, # 7 Aaron, # 9 Jake, # 10 Tommy, # 11 Trent, # 12 Alec, # 20 Tanner, # 21 Anthony, # 25 Evan, # 34 Hunter, # 38 Marty.
Not a good weekend as they lost twice to the same local team but won 3 other games.

Tyler is behind the plate here working hard.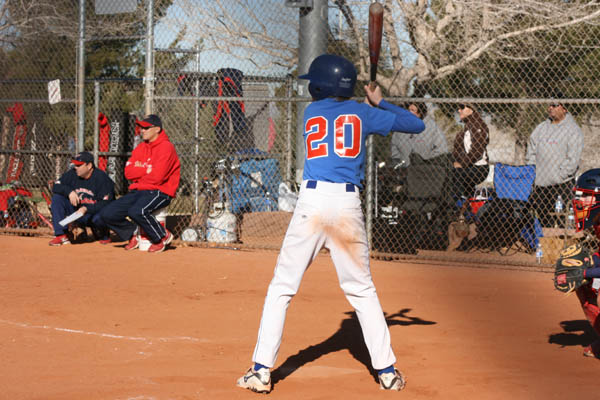 Tanner at bat in the first game. He is always getting the bat on the ball hard.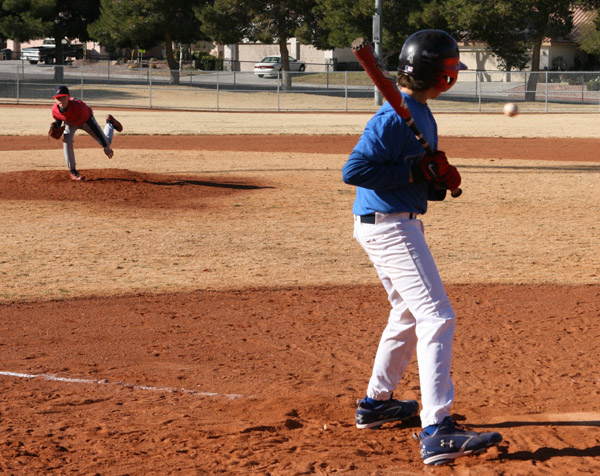 Joseph at bat and gets some nice knocks.
Number 5 is alive. Kyle gets into the swing of things.
Joeseph on the mound. He pitched very well as usual.
Tyler hits and runs!
Catfish Hunter at bat.
Father and son from the Welch clan.
Cody at bat and he takes a mighty swing.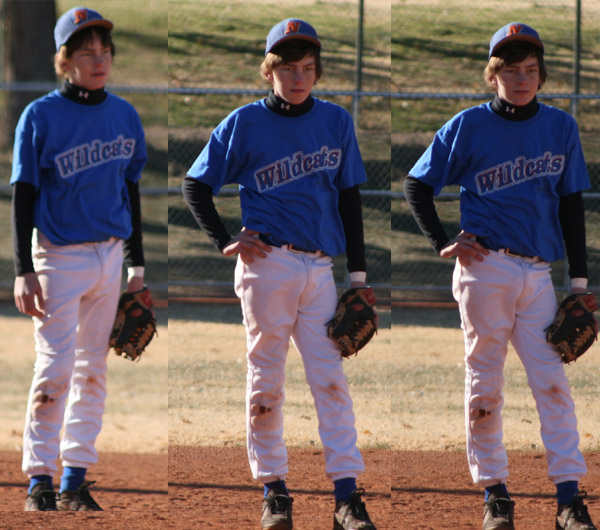 Cody played third.
Big Country nailing another long one.
And another mighty swing by Alec.

Aaron on a charge.
Aaron often plays first.
Coaches meet for instructions. To, not from the kids.
The peanut gallery consists of parents, grandparents and family coming out to support the Wildcats.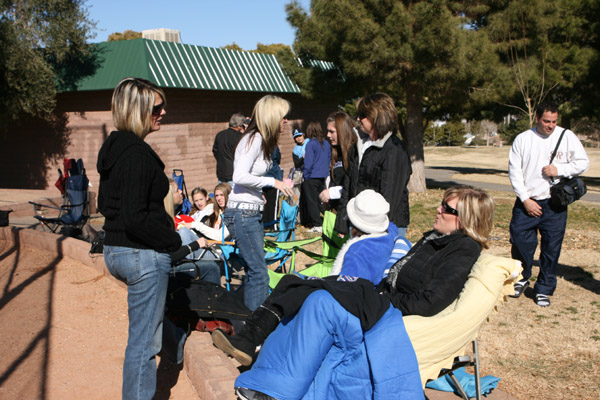 More times than not, they are fun to watch.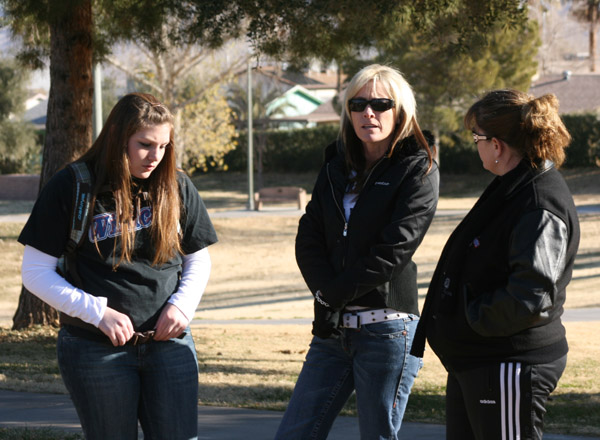 More
More
More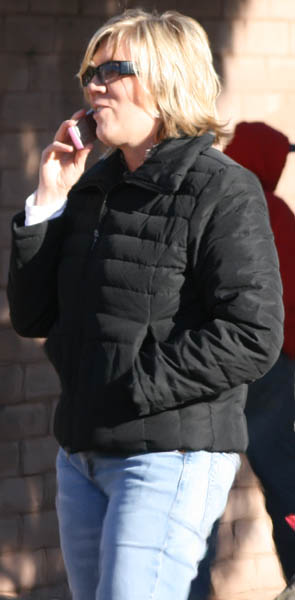 More
Good game, but the Wildcats lost this one by 1 run.
Tanner does it the hard way when he went head to head with their big hitter and beat him!!!
Hunter on the move!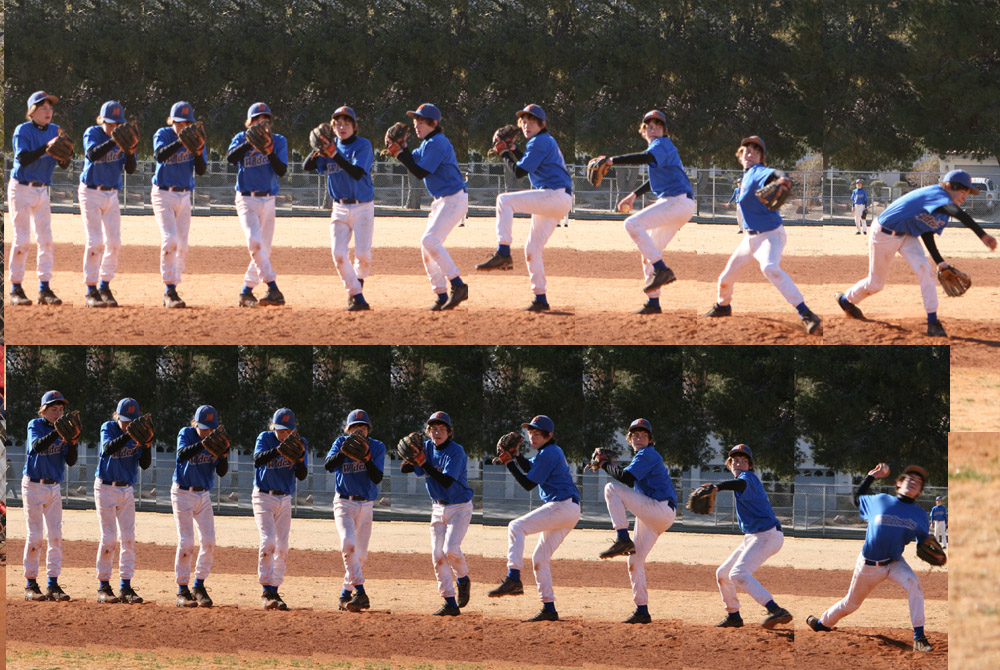 Cody on the mound.
Hunter Legs one out.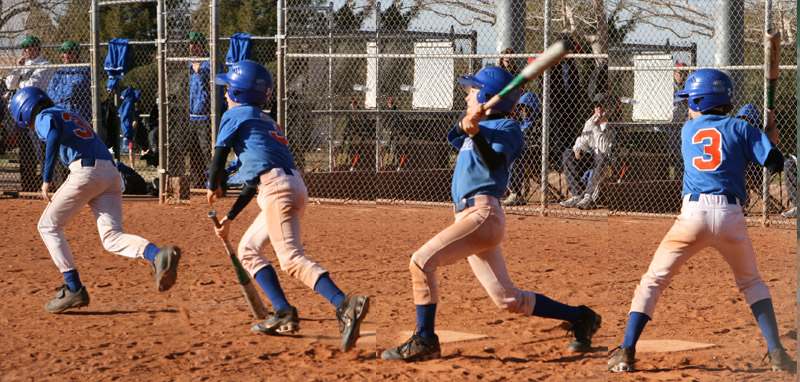 Tyler whacks it.
Tanner at bat here.

Tanner gives it a ride and heads out for first.
Cody is angry at the ball.

Cody takes a whack and runs.
Alec on the hammer.
Aaron takes a look at a few pitches and walks, then later nails one hard.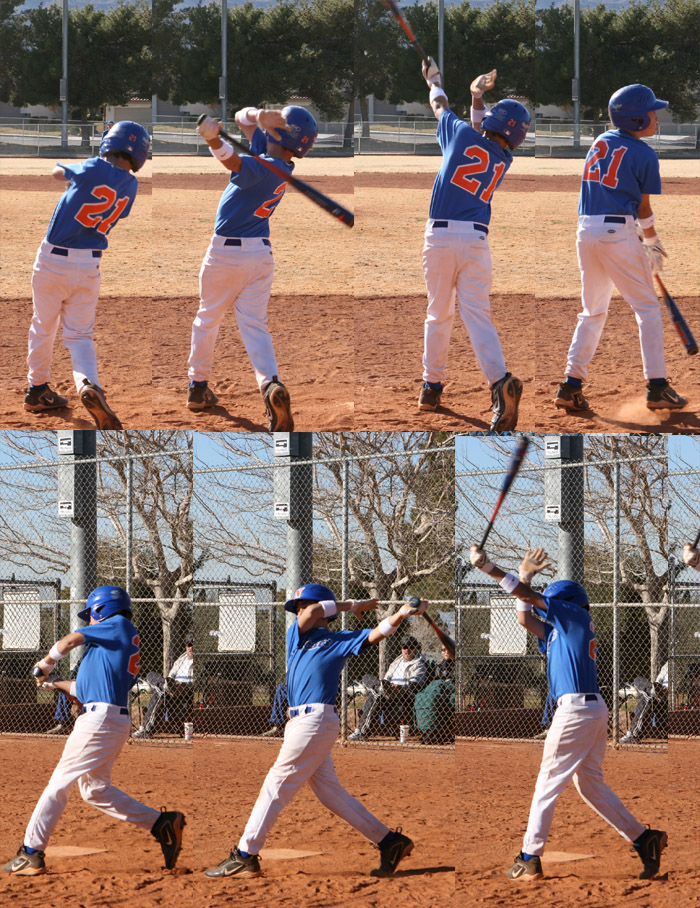 Anthony on the ball hitting again.
Alec is a strong pitcher on the mound!
Trent ready to knock another great base hit.
Trent gets it going here.
Tommy does a job!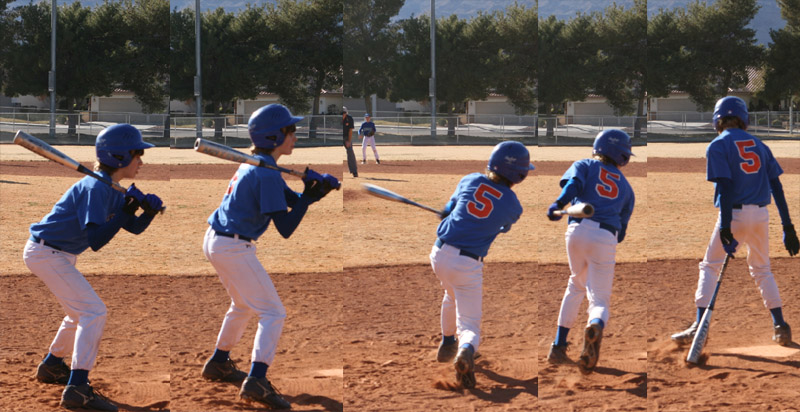 Kyle gets in a few whacks, too!
The family pics are of real cold people!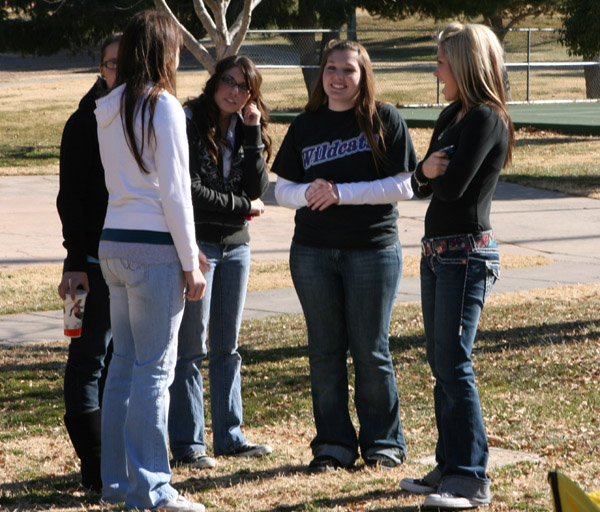 Hey, were not cold!
Blanket up!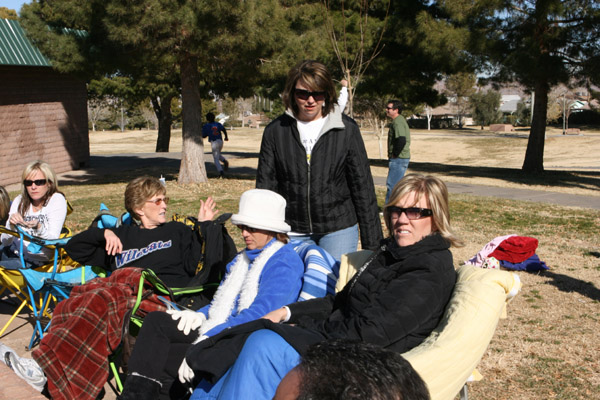 Did we score?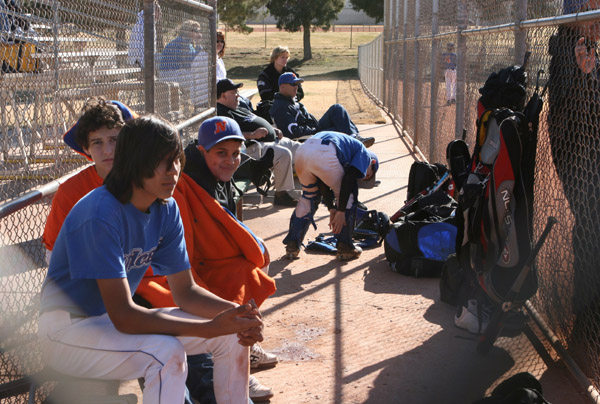 Anybody cheering in there?
Alright, lets go!!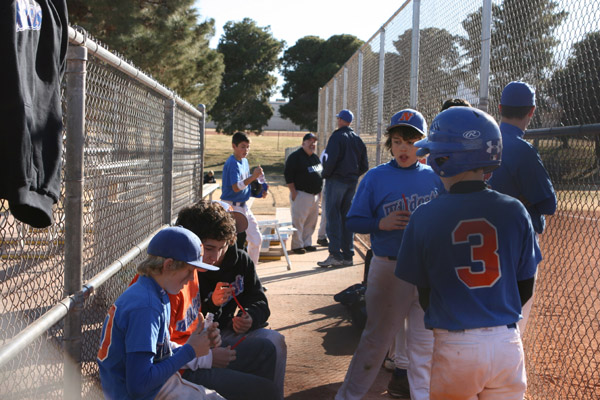 Red vines, anyone.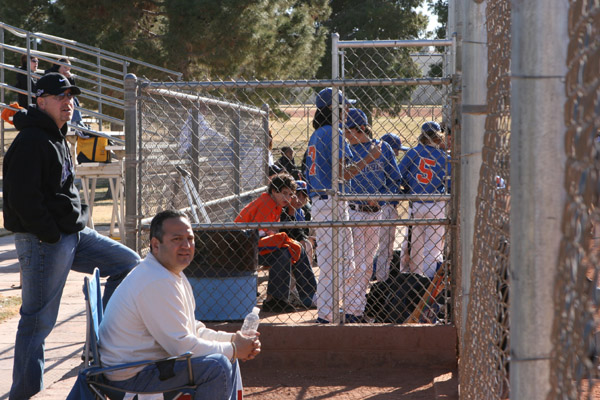 Joe, is that the right play?
Kenny will be back soon.

Aaron looked strong on the mound today.
Tyler slaps one into left.
Tanner stings the ball.
Tyler behind the plate was awesome. I missed the play where he blocked the plate on the big dude from the other team!
Hunter makes hay on a hit.
Trent sends one flying.
Cody gets moving here.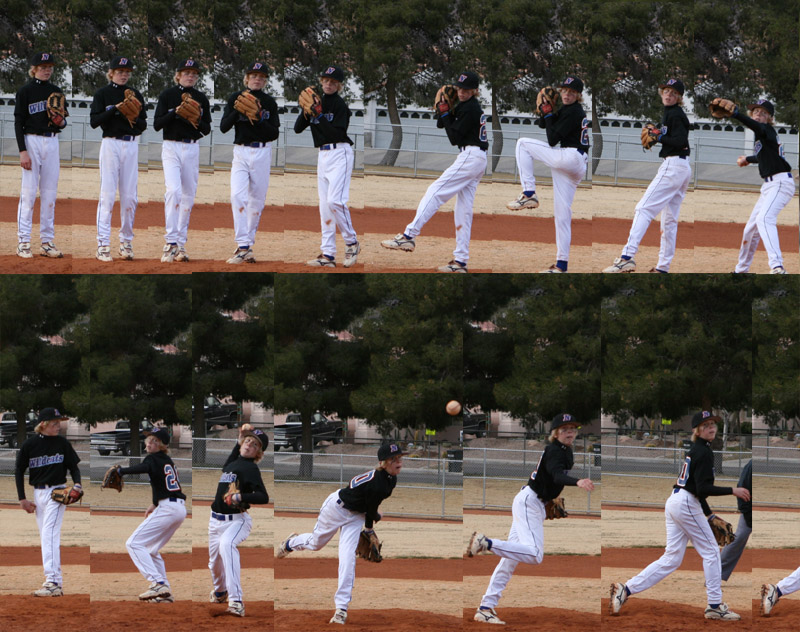 Tanner does the mound music.
Big Country airs it out.

Aaron at bat.
Anthony at bat.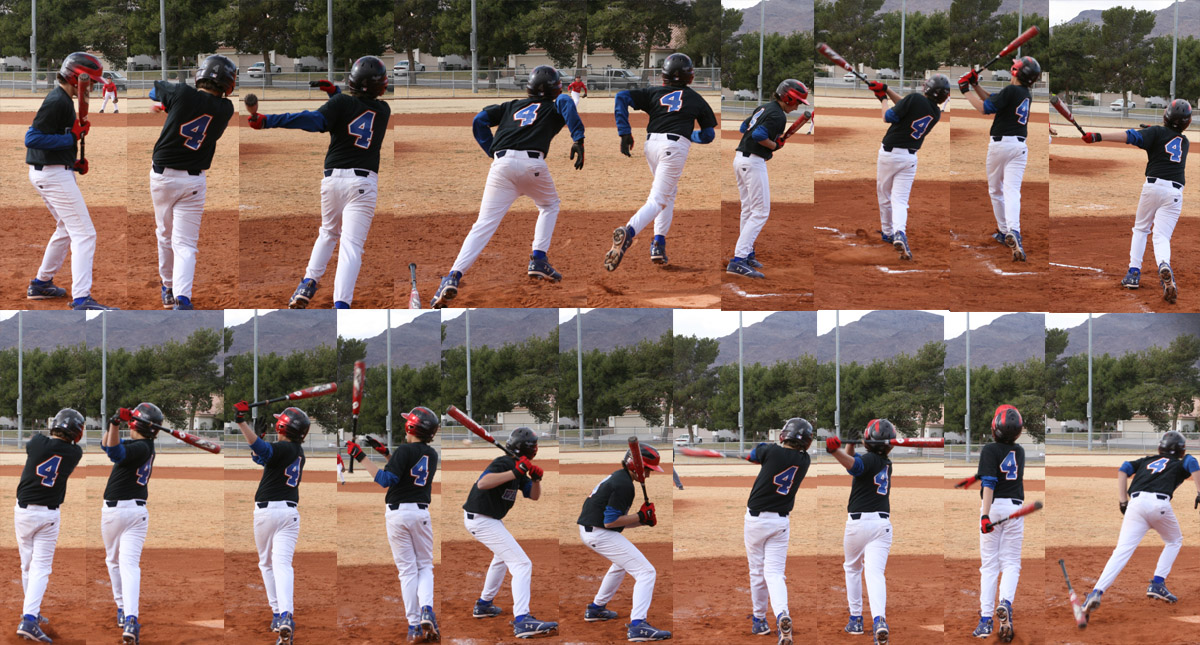 Joseph manages the batters box.
Kyle hammers out a hit.
Family freeze time.
Lets go big "D".
OK, I've gathered you here to explain something....... We gotta win!
Time to let the wood out!
I am ready to get back, but for now will wait for next time!!!!
Anthony on the mound.
Cody attacks the ball.
Big Country nails the ball.
Tanner gets on one and sends it for a ride.
Kyle winds up on the mound.
Tommy on target here.
Cody played third again.
Joseph ready for the infield throws.
Trent awaiting his next action.
Aaron plays first when he's not pitching, generally.
Aaron at bat.
Alec ready at third.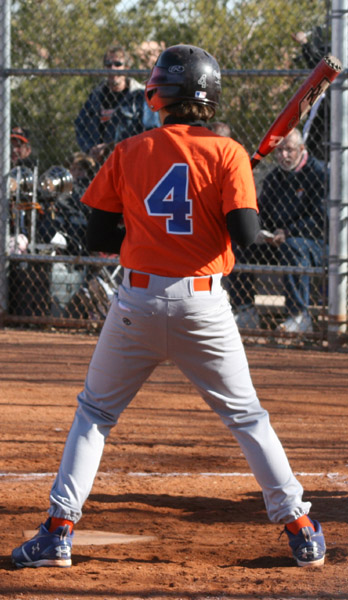 Joseph at bat.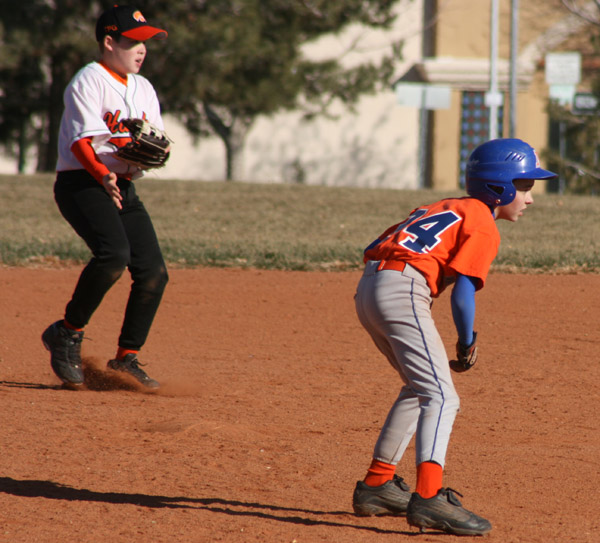 Hunter looking to steal.
Dugout chatter brings a few smiles.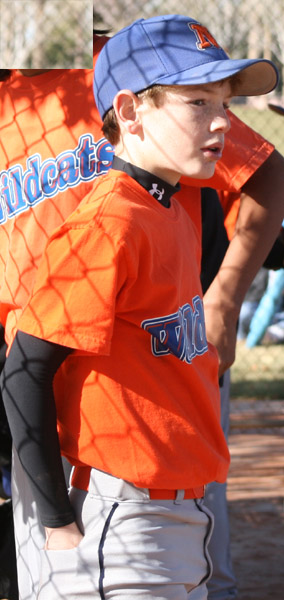 Tyler thinks on it.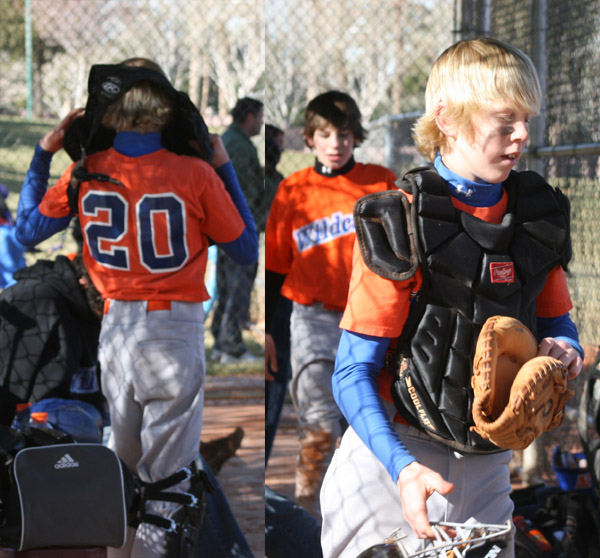 Tanner dresses up to go catch.
Hunter pondering.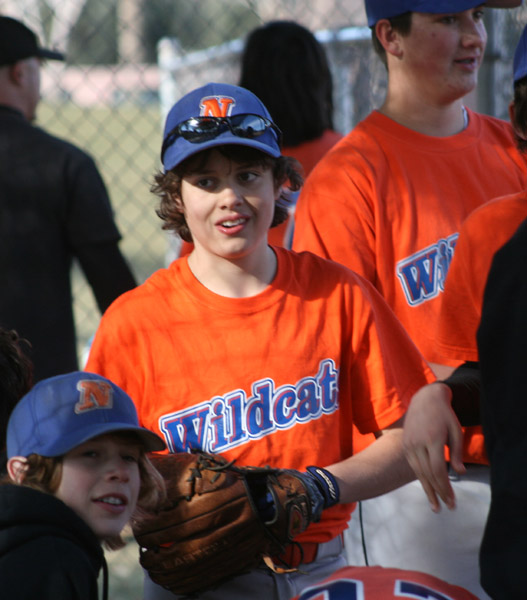 The boys keeping their spirits up by
Marty hangs in the dugout while his arm mends.
Ant wants to know the signs?
Tyler goes up to bat.
Is it cold, or what!!!!
It was a dreary tournement as the Wildcats didn't get off to a good start and then weren't able to turn it on when they needed it. Missing Marty and Kenny hurt, but they still had the horses to win this weekend like they often do.
The Champions!!!!
11/10/07 - 11/12/07 Wildcats won this tournement by winning 4 and losing just 1. They beat the team that they lost to by a score of 10 -4 in the finals. When they get enthused and into the game, they are very hard to beat, but it sometimes is hard to motivate them as they can be distracted by many other things. This is an exceptionally talented team, and sometimes each player thinks if he doesn't do good, it is the worst thing of all time. All they need to do is realize they are all very good and everyone can pick them up when they are struggling. Several have done so well in baseball, they think the team will lose if they don't do thier best. Not true, they should each realize anyone of them can make it happen, and relax and just do it!

Trent at bat.
Trent in the field.
Tanner blasts one.
Tanner holding a runner on second base.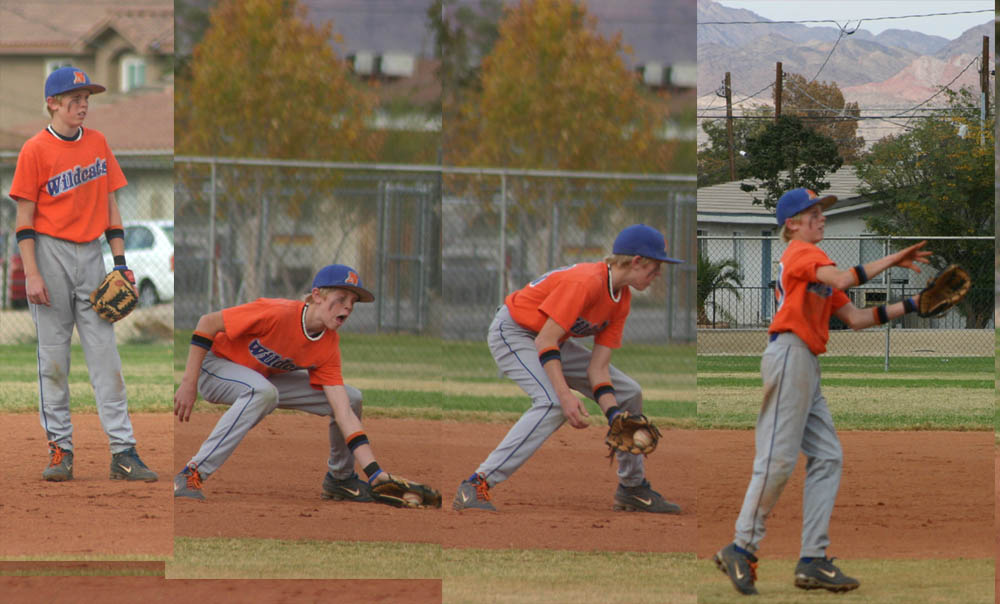 Tanner fielding the ball.
Anthony takes a mighty swing.
Anthony in the field.
Anthony at bat.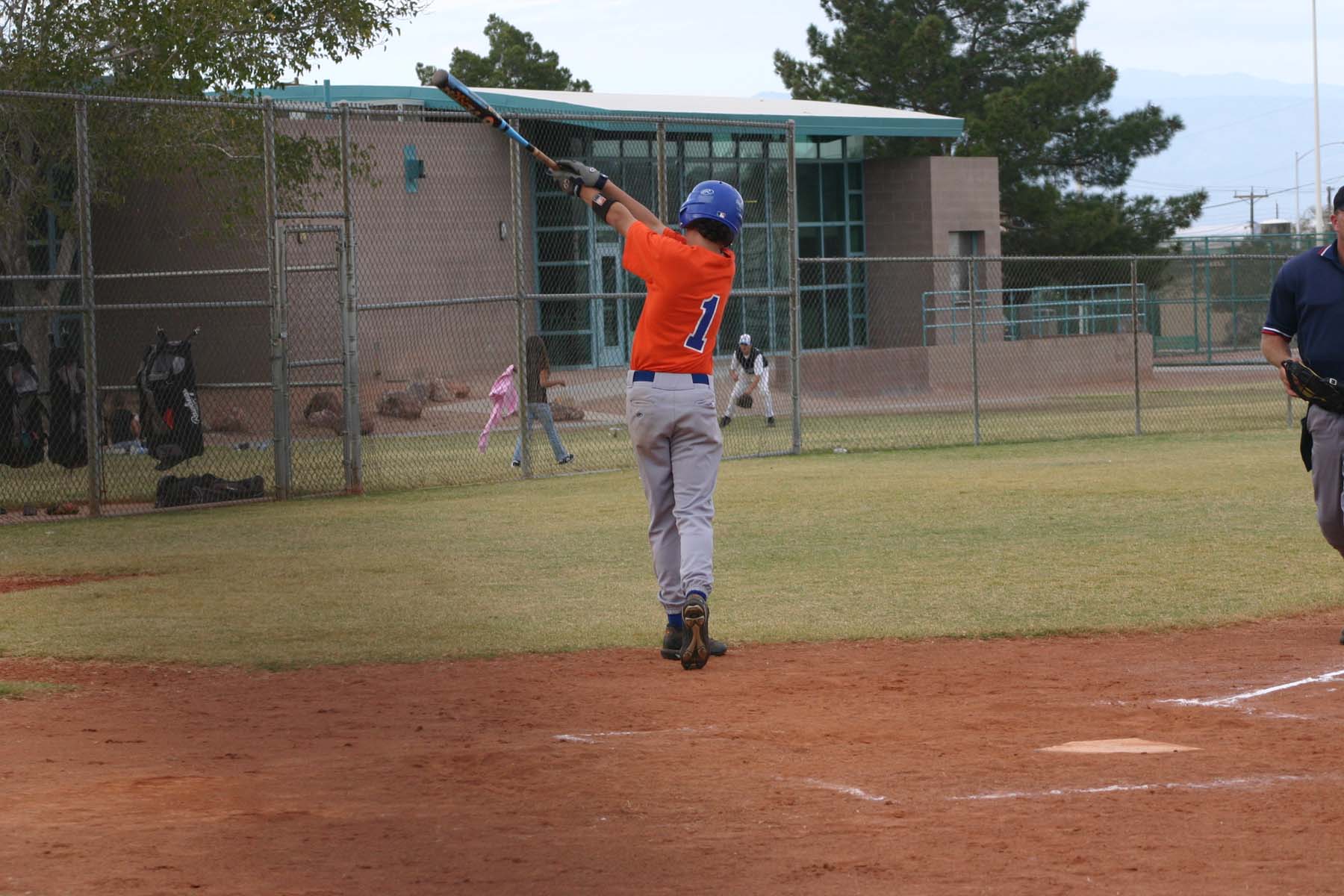 Kenny takes a practice swing before stepping up to the plate.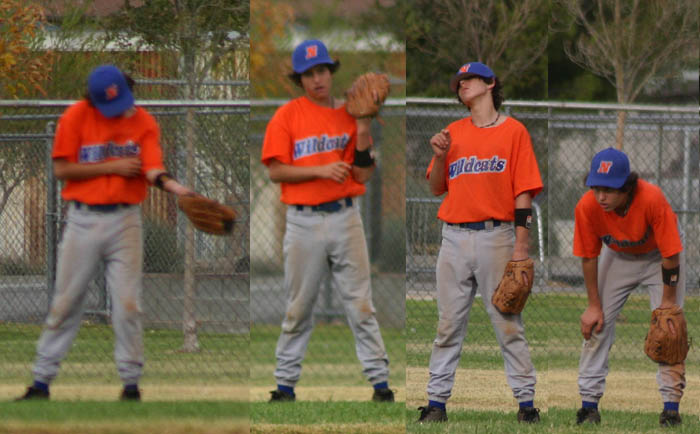 Kenny plays a mean center field. Great arm and he's fast.
Kenny can hit the ball hard.

Cody is a hard charger and slaps one into the outfield for another hit.
Cody plays second here.
Marty hits a sacrifice fly to bring in a run with the score close.
Marty played third. He made one play that was major league to throw out a hitter with two outs and a man on third.

Aaron takes his swings.
Aaron on the mound. He had a shaky start, but shut em' down from that point on.
Joseph is a mean pitcher. He has a nasty curve that compliments his fast ball. It drops off the shelf.
Joseph is tough on the mound.
Kyle behind the plate.
Pick off attempt of Kyle on second base. Safe!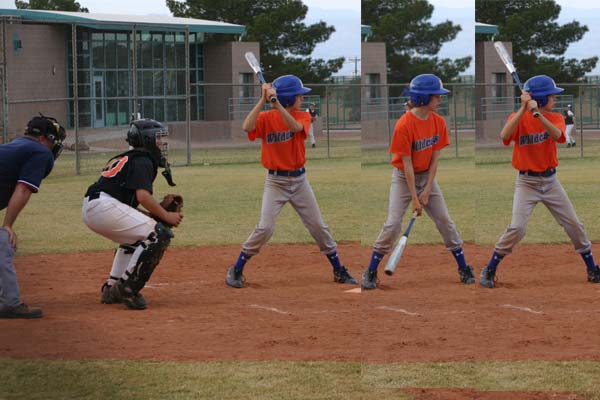 Kyle at bat. he had good success this game getting on base.
Alec at bat. He hit a ball that hit the very top of the fence right on the pipe that holds the fence together, and bounced back on the field. This with the bases loaded and it cleared the bases but was only a double.
Alec on base ready to go home.
Alec scores from second on a nice slide.
Alec swinging thru the ball for a big hit.
Catfish Hunter at bat. He started the rally that put them ahead to stay with a base hit and two stolen bases before scoring on a wild pitch.
Catfish plays second base.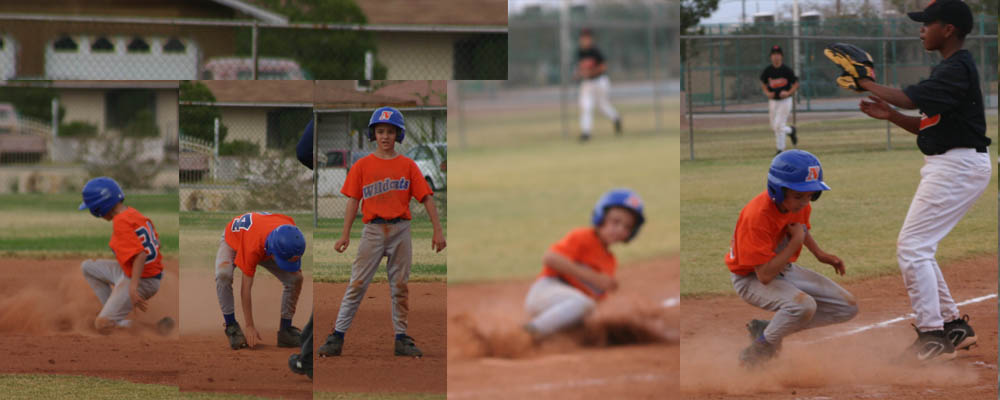 Catfish seals second, third and comes home to score.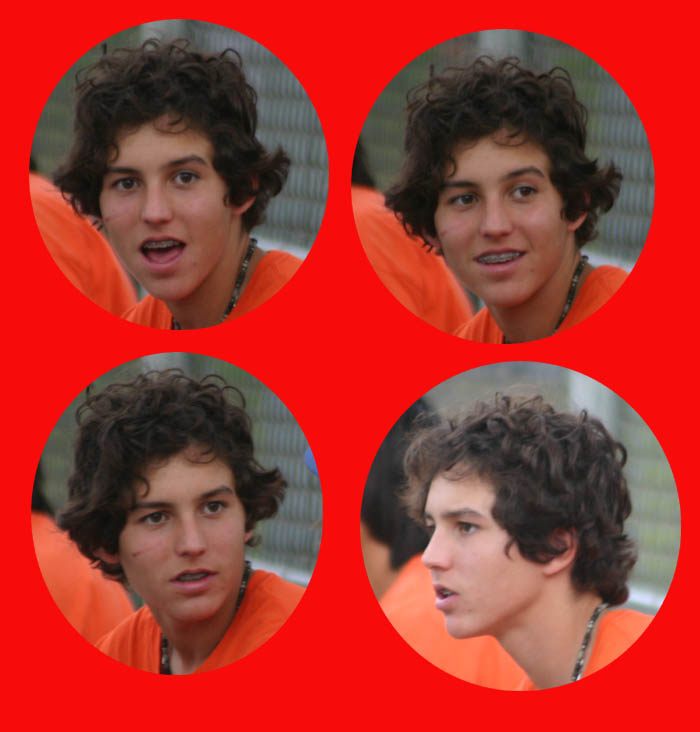 Kenny has many faces.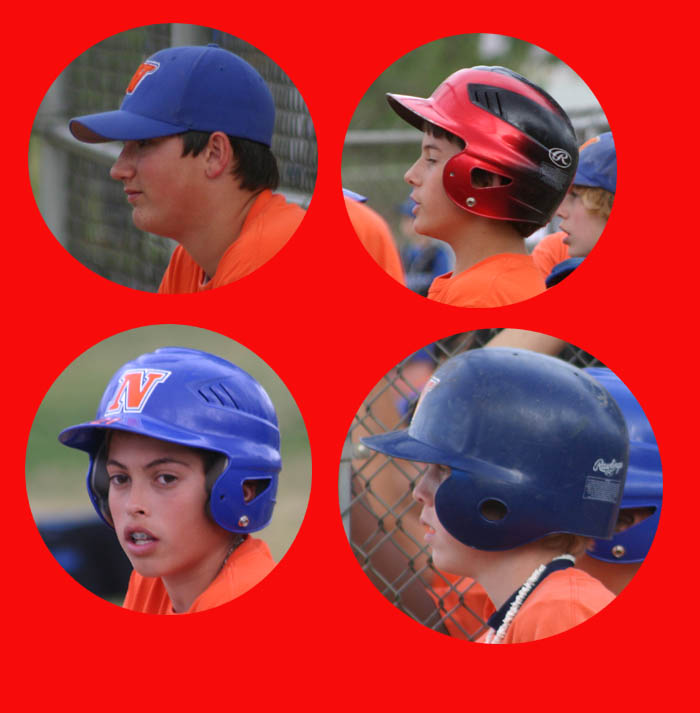 The hard hat crew ready to go to work.
Moms and dad's seem to like to stay near the beer wagon.
More parents, but they are a little closer to the action.
Everyone's happy.
Anthony nails one.
Anthony pitched 5 innings and did very well.
Tanner cracks one hard.
Mighty Marty at bat.
Trent on the go.
Catfish steals another base.
Hunter ready to steal.

Joseph at bat. He walked.

Alec cranks out another long ball.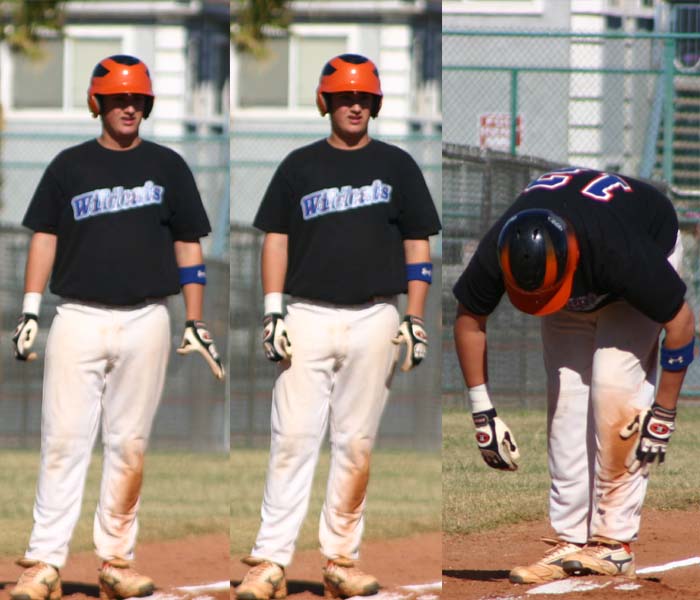 Alec on base.
Tommy was a wall behind the plate.
Tommy catches and executes well.
Hunter at bat.
Kyle swings hard.
Tanner pitched very well in closing out the game.
Cody hit some zingers.

Kenny did a great job at the plate as usual.
Looks like a funeral in the dugout, not the champions lair.
The awards ceremony is quiet.
Simon sez everyone cross your arms, you too Hunter.
Everyone got an award!
Ah, another tournement done!
10/26/07 Wildcats won 4 games before losing a 12 inning heart breaker to a team from Arizona.

Kyle at bat.
Kyle takes a mighty swing.
Kyle in the outfield.
Catfish Hunter slapping one into right field.
Catfish in motion.
Catfish plays a mean second base.
Tanner out in the field does well!
Tanner cracks one into center.
Tanner hits another one.
Marty gets a hold of one!
Marty shows off his swing.
Cody gets serious about a hit.
Cody always gets his chance to succeed at bat.
Cody played a strong third base.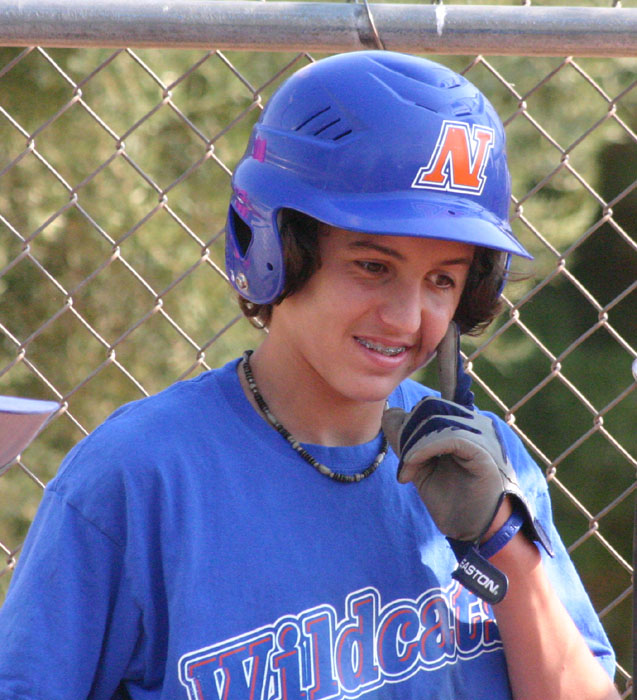 Kenny works hard to win with the Wildcats.
Kenny has a strong stroke and nails one into left.

Kenny plays a number of positions.
Anthony hits it and runs to first.
Anthony holds the runner on first.
Trent steps up and whacks one.

Trent into his swing.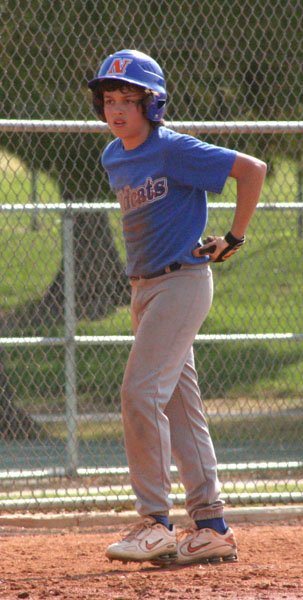 Trent looks to score from third.
This is a home run swing. Note him admiring the blast at the right.
Alec gets a real greeting after hitting one over the wall.
Alec has a powerful swing.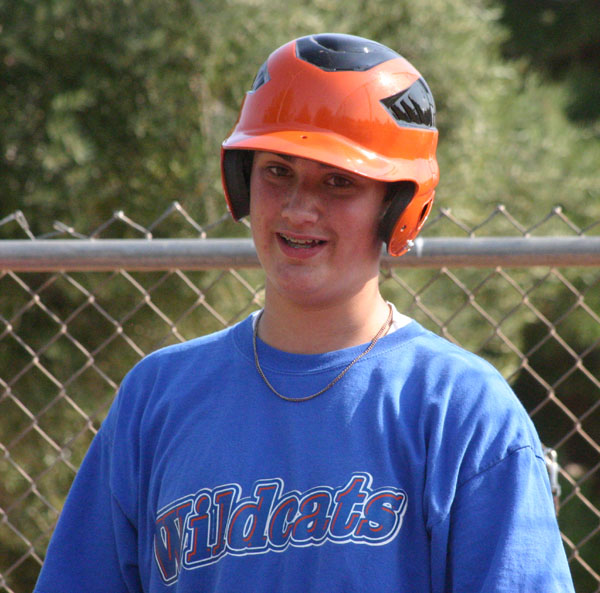 Alec with a smile.

Aaron gets going after whacking the ball.
Aaron relaxing on the bench.
Aaron on the mound.
Aaron throwing a strike.
Aaron on base.
Jake is thinking about a home run, or an ice cream bar, or a hamburger, or a movie, pick one.
Kenny steals second base.
Joseph contemplating getting a hit.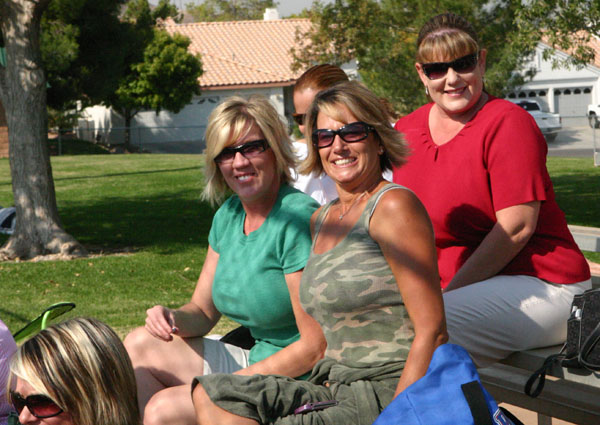 The peanut gallery having fun.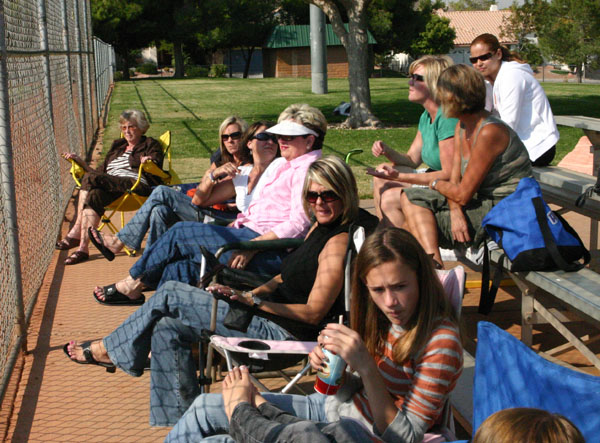 They come to cheer, chat, relax and watch the Wildcats win.
Another day, another game

Jake in the field and at bat had fun today.
Kyle takes a healthy cut.
Kyle gets in the swing
Alec on the ball.
Up, up, up, up, and away!
The catcher is .........Kyle?
Hunter looking for the right pitch.
Hunter looking for a ground ball.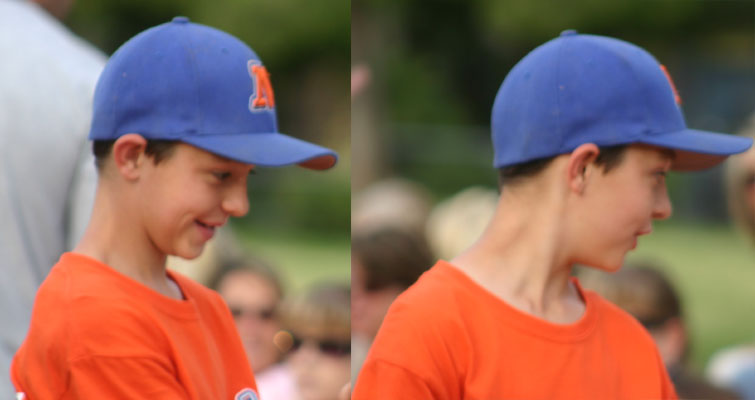 Hunter found something here?
Joseph gave the ball a ride.
Joseph played first base very well.
Anthony swings hard here.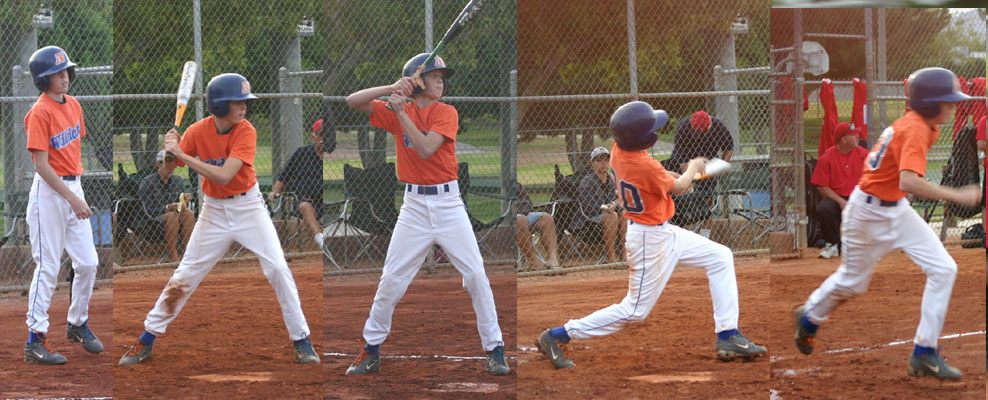 Tanner slaps one into the outfield.
Tanner threw a great game.
Kenny cranks on one here.
Kenny is after the runner.

Marty tatoo's one to right field.
Marty leads off from first.
Cody looks like he got all of that one.

Cody in action.
Cody at third.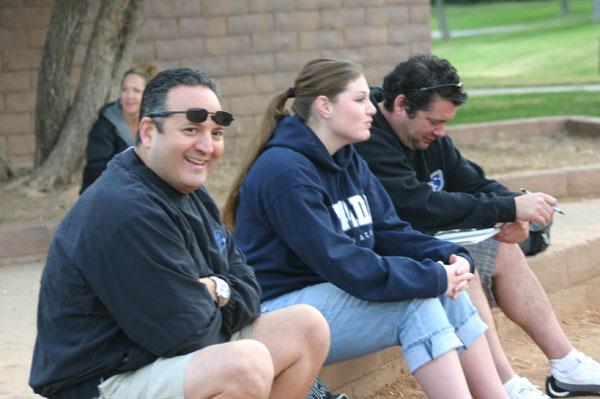 The new coach smiles!
Oooohhhh my, what are these two up to?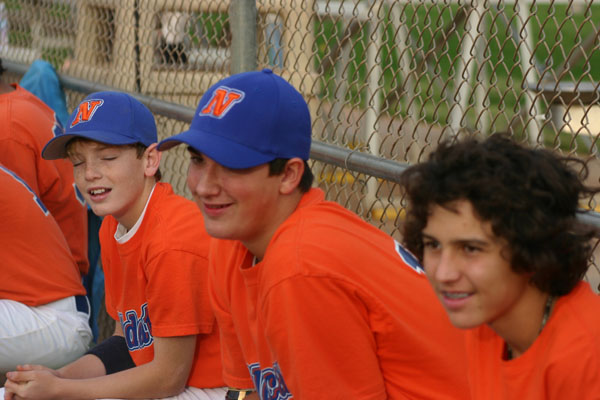 Kenny and Alec put Tyler to sleep.
It's a family affair.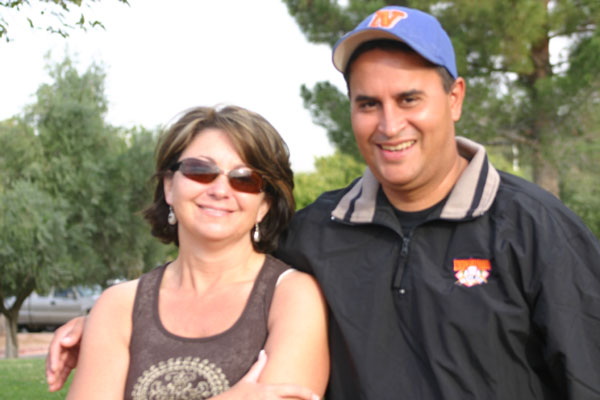 Missy and Fred ham it up.
Ken and Barbie?
This weekend tourney has teams from everywhere competing. The Wildcats fresh from a successful trip to Cooperstown are ready to rock and roll. They played two games, getting off to a slow start in the first one and then rolling in the second.
9/21/07 Wildcats 7 - 4 Thousand Oaks CA

The game started out with a four run burst by the Cats after 2 were out and then they leveled off. TO came back with a couple of runs to make it close, but in the end time ran out for TO.
9/21/07 Wildcats 12 - 2 Bulldogs, CA

This one featured a long home run by Marty and some good play. A lot of hitting made it a mercy ending.
Trent started things off for the cats.
Trent gets his swing flowing.
Joseph "hammers" the ball!
Joseph had fun in this one.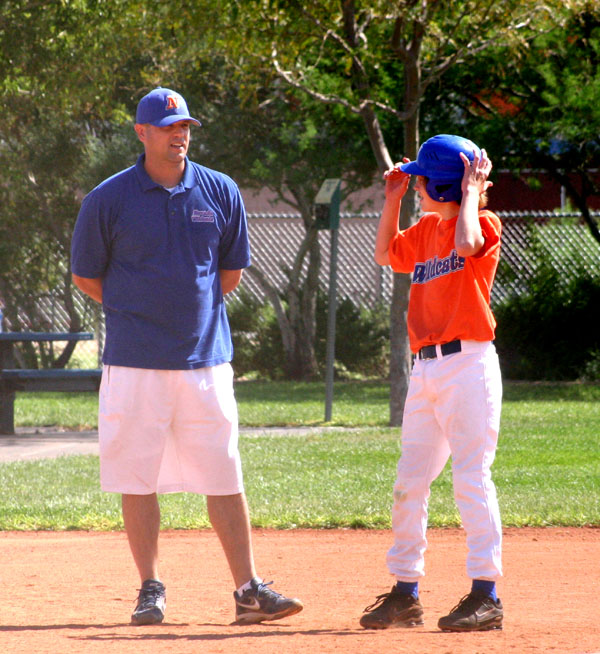 Coach, do you think I should steal home?
Aaron pitched a strong game.
Kyle was a wall, as they say, behind the plate.
Marty on base tries to score.
Trent in the field.
Kenny does his thing!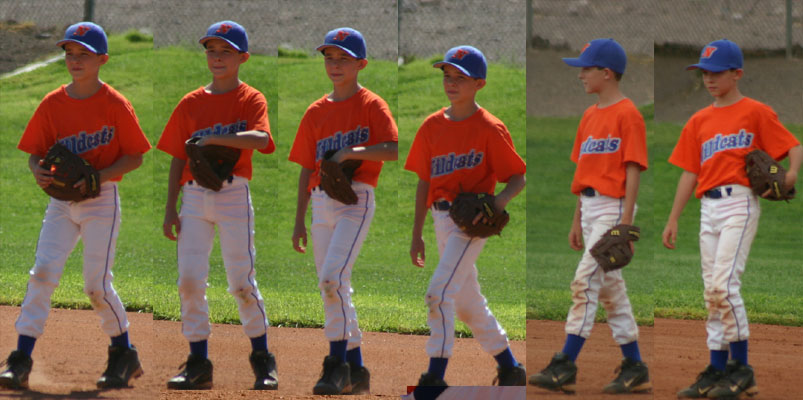 Catfish at second base. He got a key hit and RBI in the second game.

Cody played very well at third as he never misses a beat.
Marty at third base. He hit very long home run to highlight the 7-4 win over the team from Thousand Oaks.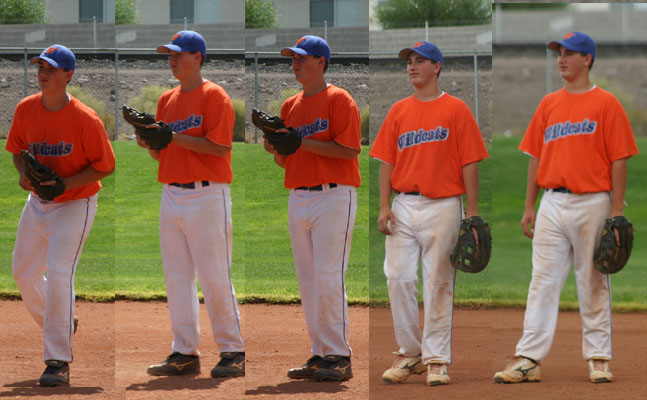 Alec plays first base. He is so focused sometimes, you might think he had the weight of the team on his shoulders.
Check out the look on Marty's face as he is on the mound and ready to do battle!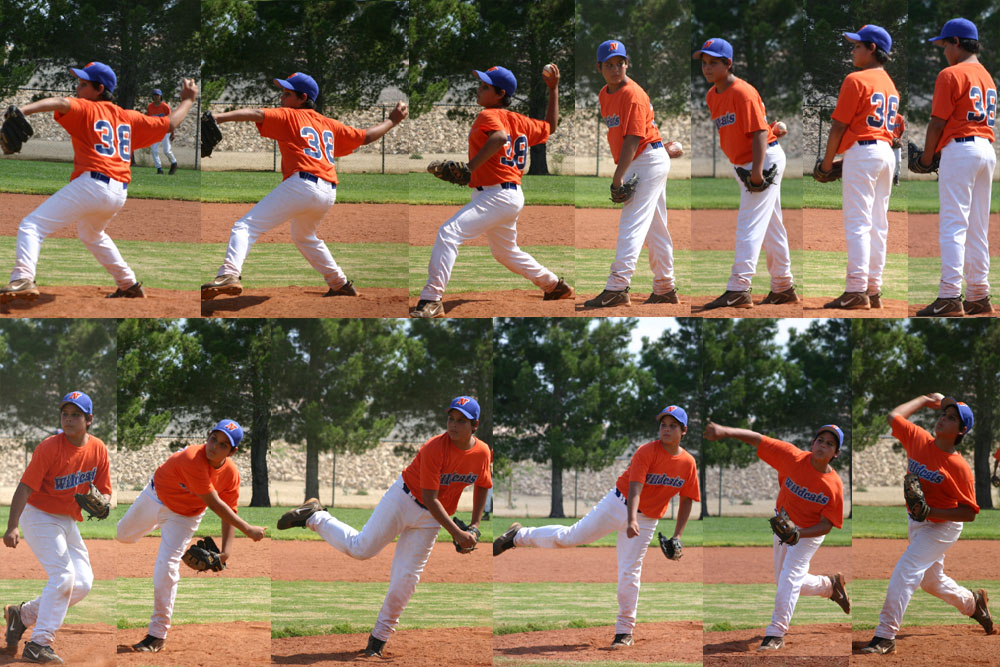 Marty came in to relieve the starter and shut em down.
Kyle caught and played very well both games.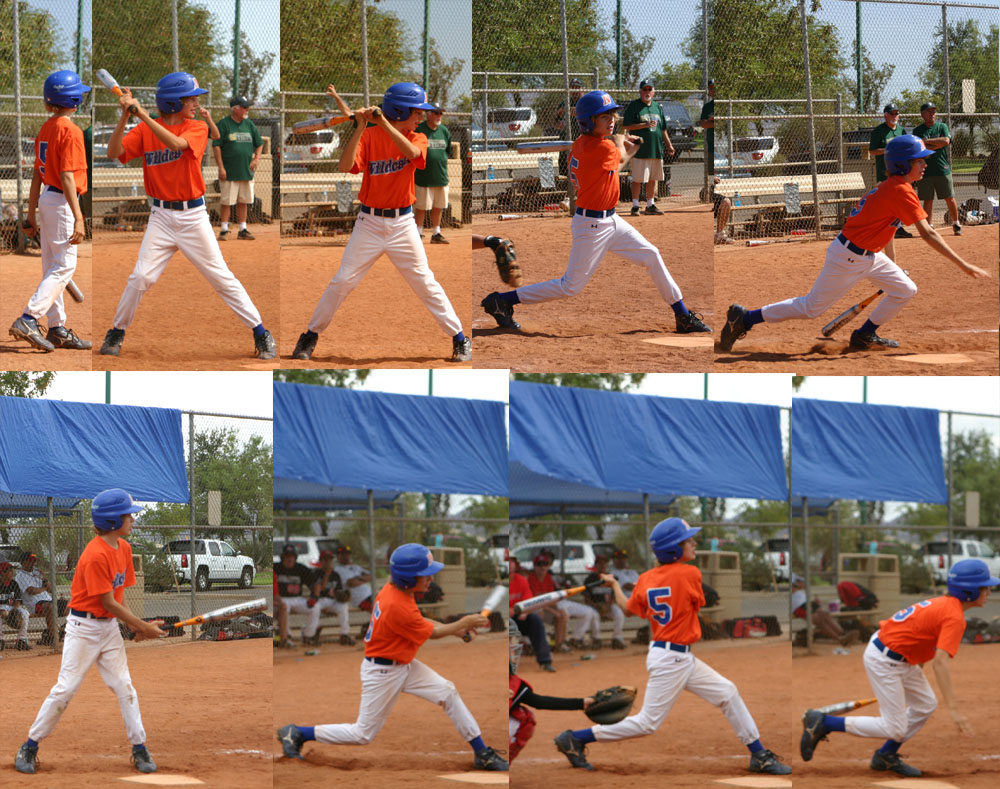 Kyle has many good looks of his swing.
Aaron still has that sweet swing.
Trent leads off and does his thing.
Trent takes his swings seriously.
Kenny sends a long drive out to center.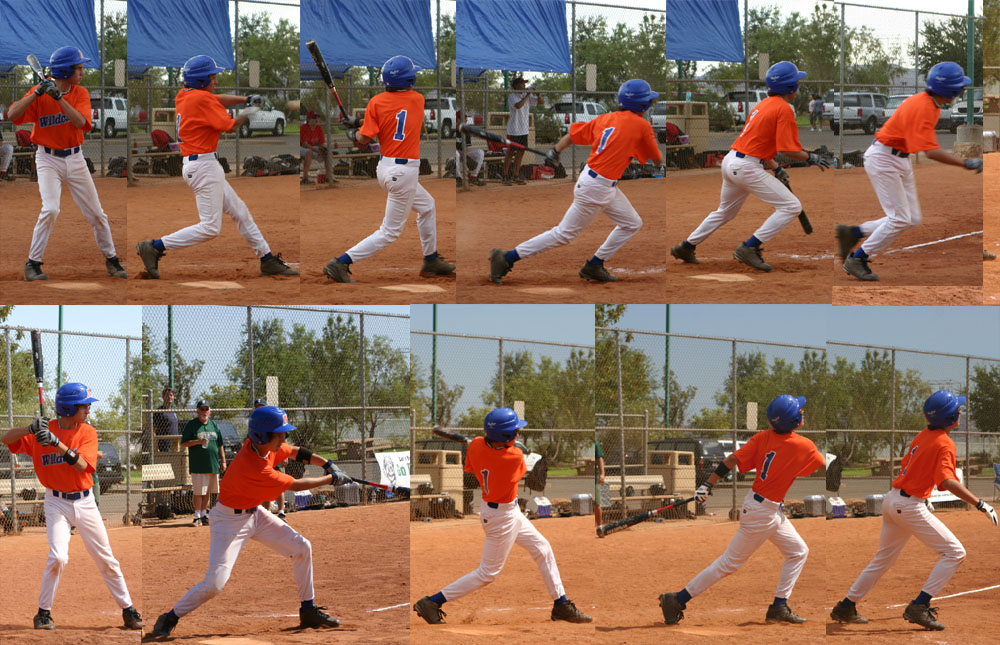 Kenny hit some winners today.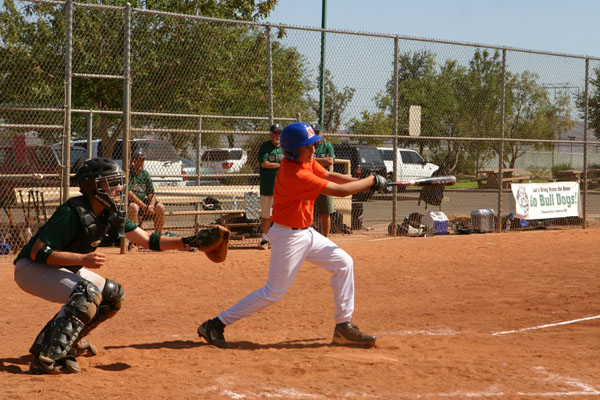 Joseph knocks one for a base hit.
Alec swings through the ball and sends it sailing.
Cody shows how it's done.
Alec measures another pitch.
Marty about to unleash his power.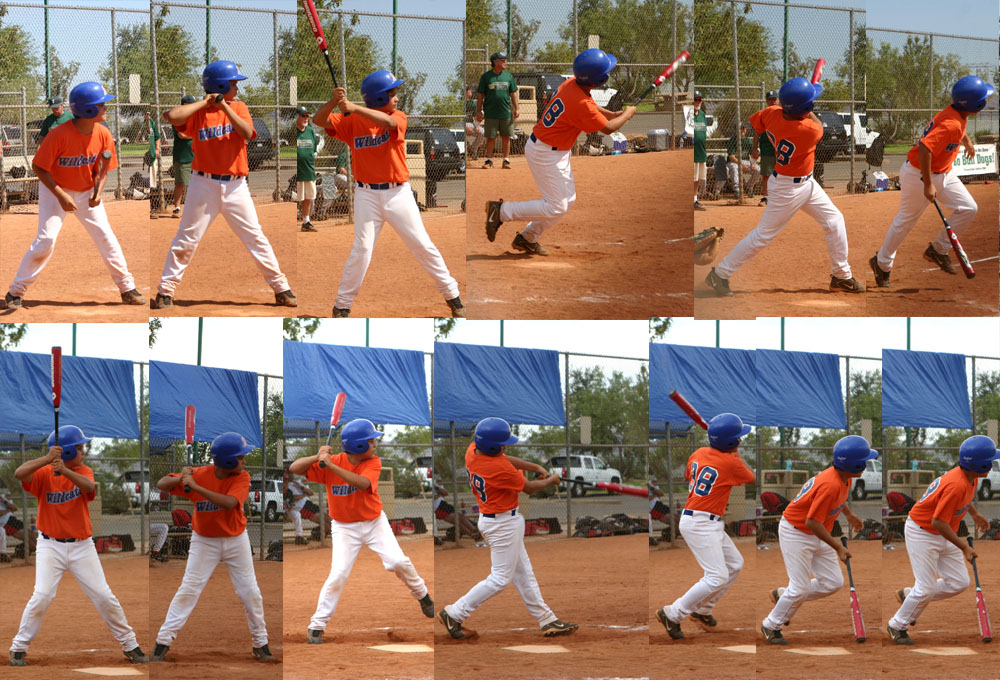 Marty knocks the stuffing out of the ball as he hit a monster shot over the left field fence.
Marty comes home for a celebration.
Tanner mowes em' down from the mound.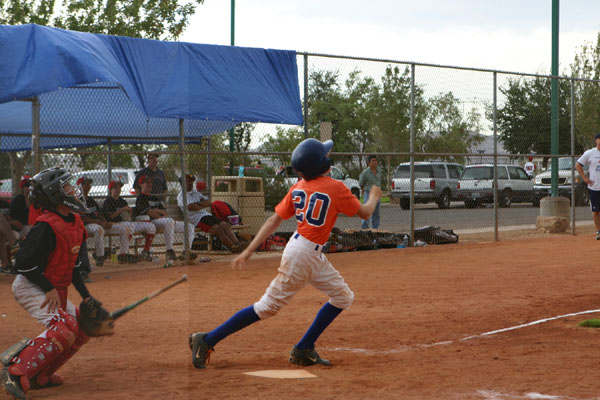 Tanner slams one.
Jake makes for another hit.
Hunter nails a hit for an RBI.
Joseph takes it to right.

Tanner cracks one up the middle.
Jake takes off for first.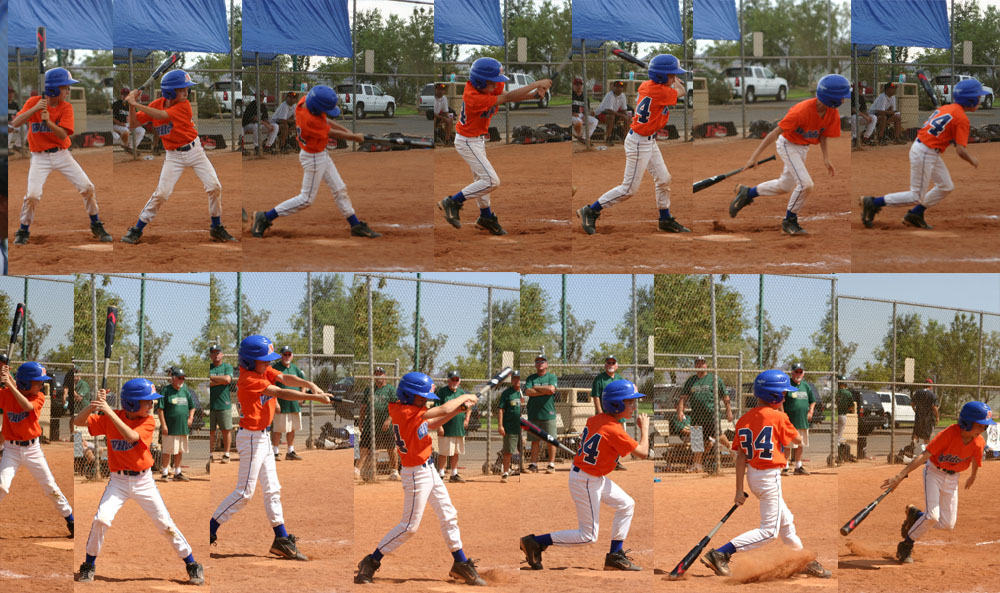 Catfish gives it a go.

Anthony on the mound.
The Cat family is here.
More family.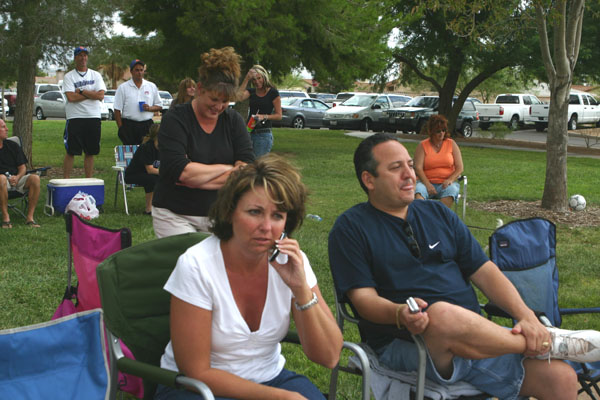 Missy on the phone, really?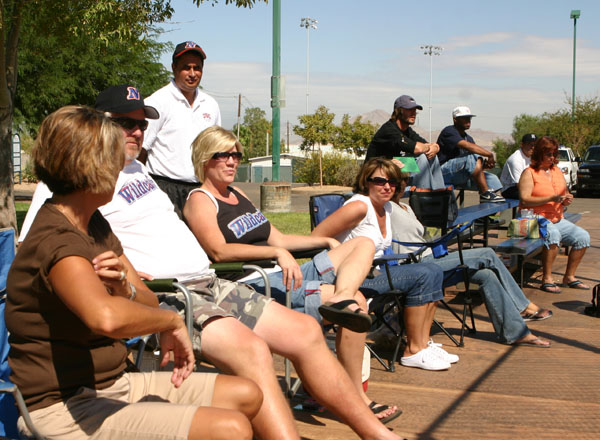 More at play.
More evading the camera.
Did we win coach???
9/21/07 Wildcats 4 - 0 Hunt Beach, CA

A well pitched game that was tight early, but ended up a good win.
Tommy behind the plate.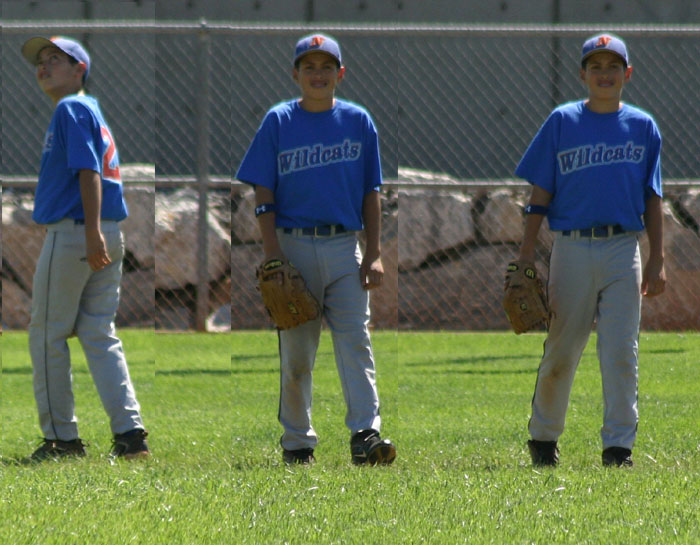 Anthony in the field.
Kenny is well rounded and a fun player.
Tanner looks like a baseball player!
Kenny at bat and swings a mean one.
Cody whacks a hit!
Joseph pitched a shutout and looked good on the mound.
Marty at first base.
Joseph takes a walk.
Tyler hits the ball and runs to first.
Tommy takes a nice swing.
Alec nails one hard to left for a big hit.

Alec is often pitched around and it frustrates him, but not this time!
Cody takes a ball and then hits one up the middle.
Cody played third base like it was his.
Marty takes a mighty swing.
Trent scores!
Ant takes it to right field.
Tanner takes off after a blast.
Evan came in to relieve and stopped em'.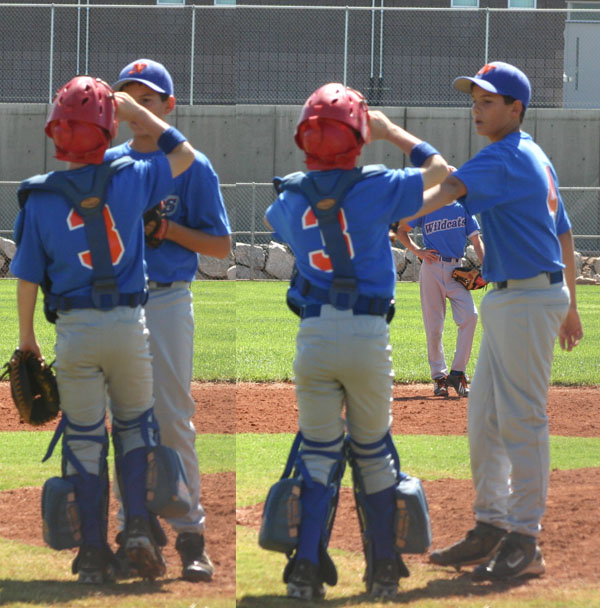 Meeting at the mound with Joseph and Taylor.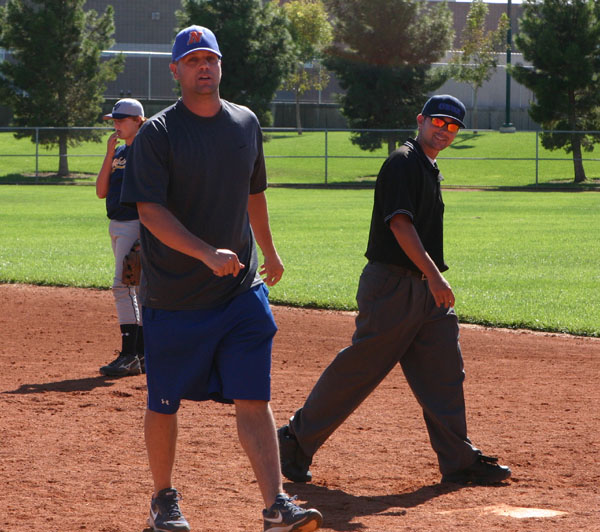 Coach Nick after a chat with wise guy ump who missed the call.
Coach chat in dugout explaining the game of baseball.
Tyler is 1) dreaming, 2) unhappy with call, 3) resting, 4) counting time outs or 5) having a moment.
The blue color looks good.
Trent sez " I know I can make it!" Turn me loose coach.
I don't believe he called me out!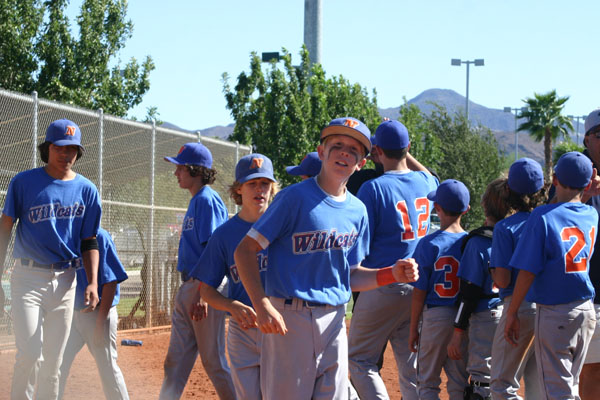 Am I on Wags camera????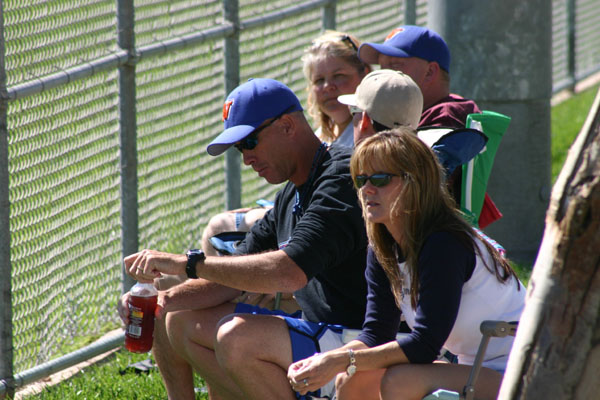 George and Mary come to watch Tommy play.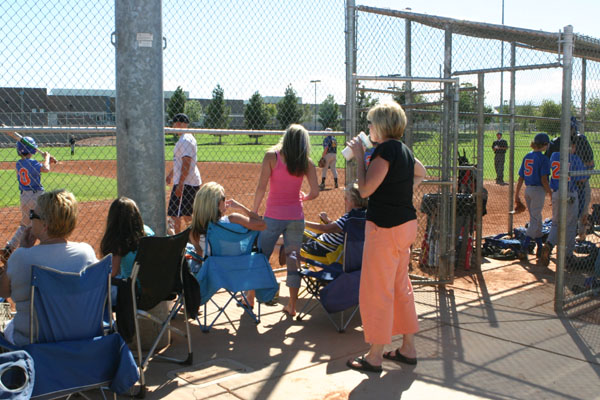 Let's go Wildcats.
What's in the cup, Missy?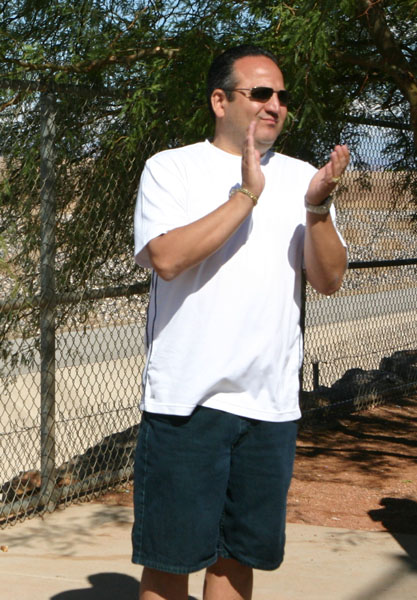 Pa Pa Joe cheers on the team.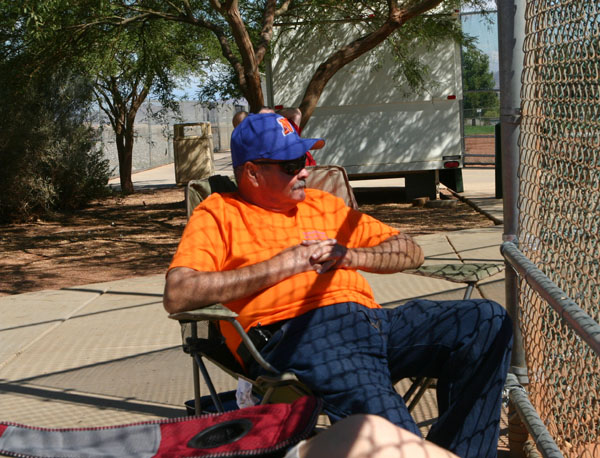 Anthony's grandpa is always at the games.
9/23/07 Wildcats 0 - 5 another Cal team

Unfortunately the mighty Cats couldn't get an offense going and wasn't that sharp on defense either, so they bowed out in the semi's to the top seeded team who pretty much laughed their way to a victory.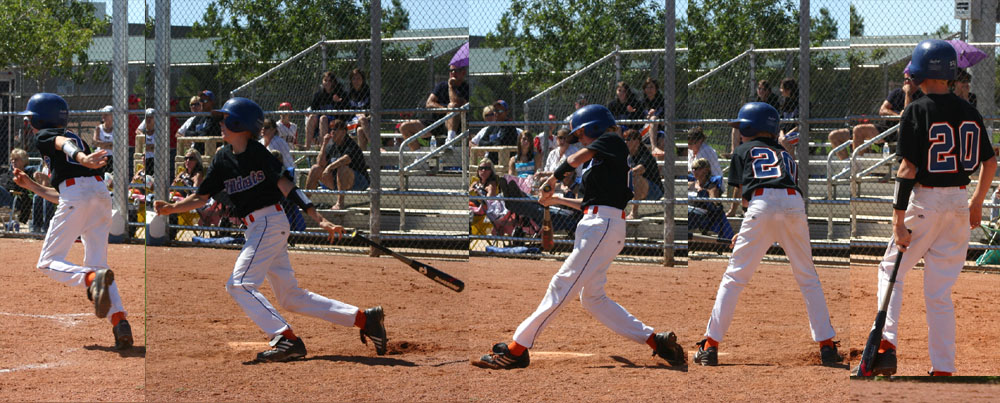 Tanner tries hard to jump start his team.
Jake hustles off to first.
Kyle has his turn at bat.
Cody had one of the few hits, a sharp single to right.
Big Country slams the ball.

Kenny tried hard to rally the Cats.
Alec had a rough game, but wasn't lucky at all.
Mighty Marty slugs the ball.

Aaron makes a run at first as he beats the throw.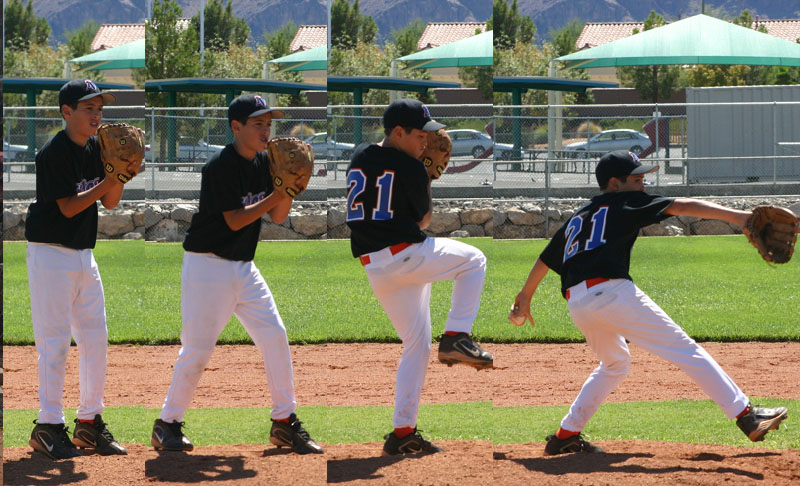 Anthony comes in to relieve in the end.
Tommy takes his shot at a hit.
Catfish Hunter came close to driving in the only run with a nice shot that the right fielder made a great play on.
Trent played in the outfield today.
Jake was out there, too!
Kyle was also in the outfield grass.
Cody on third.
Kenny ready for the next grounder.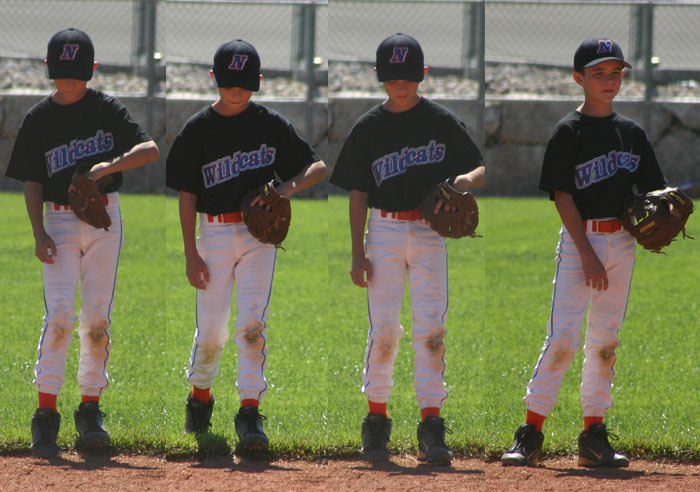 Hunter at second base.
Aaron played first base.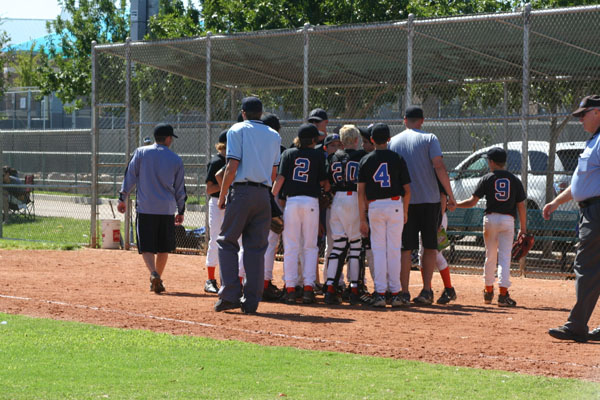 Huddle up.
Let's go get em'!
The Wildcats go to Cooperstown!!!!
Team members for the Wildcats:
Aaron McDaniel # 15
Alec Hutt # 1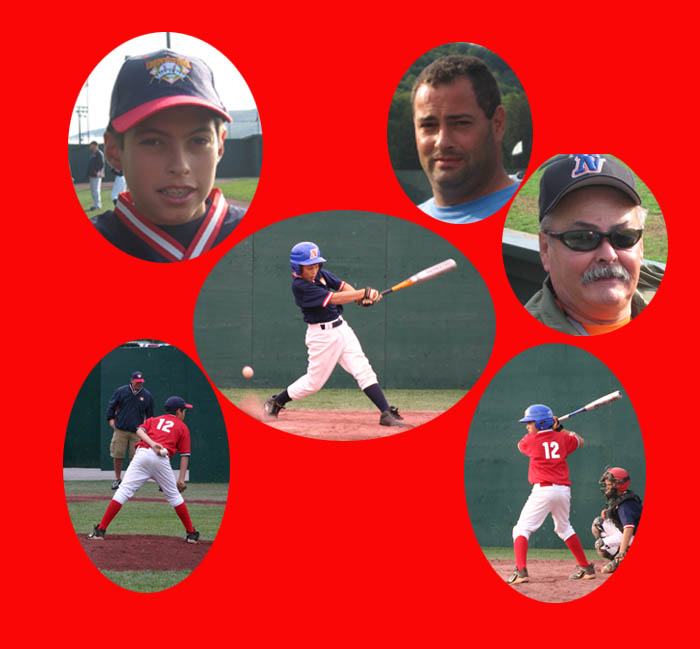 Anthony Martine # 12
Cody Howard # 6
Drake Wasden # 5
Hunter Welch # 4
Jake Hicks # 3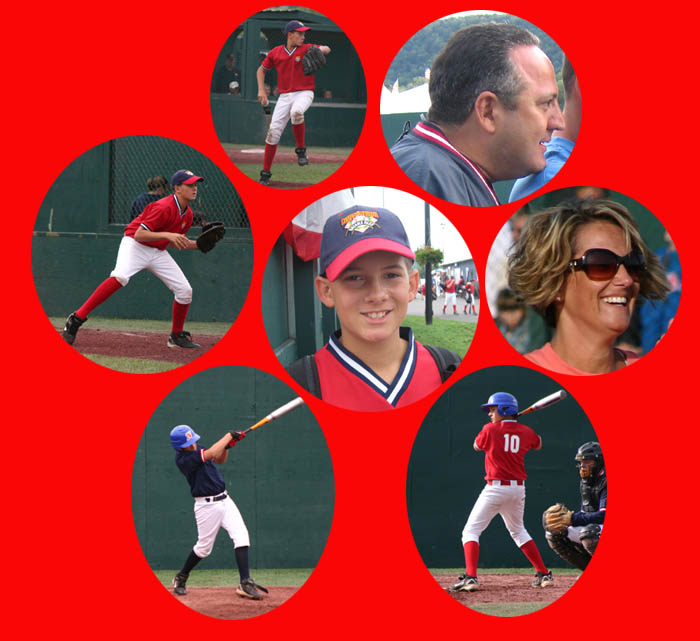 Joe Giuliano # 10
Kenny Meimerstorf # 14
Kyle Motis # 13
Marty Sifuentes # 2
Tanner Howell # 11
Tommy Headley # 8
Trent Kennedy # 9
Tyler Brown # 7
Note, I'll be putting up pics as quick as I can. It will take a while because I have other things to do? I will create CD's of the pics for each player and the coach's and they should be done by the next tournement.
The team photo of the 2007 Wildcats on tour.
The last team photo of the weekend took place at the entrance of the Dreams Park.
Eric Martine made the three shadow boxes for the three coaches and presented them after the last win. A very nice guesture by a father of one of the team members to show his appreciation for what they have done for his son and the rest of the team.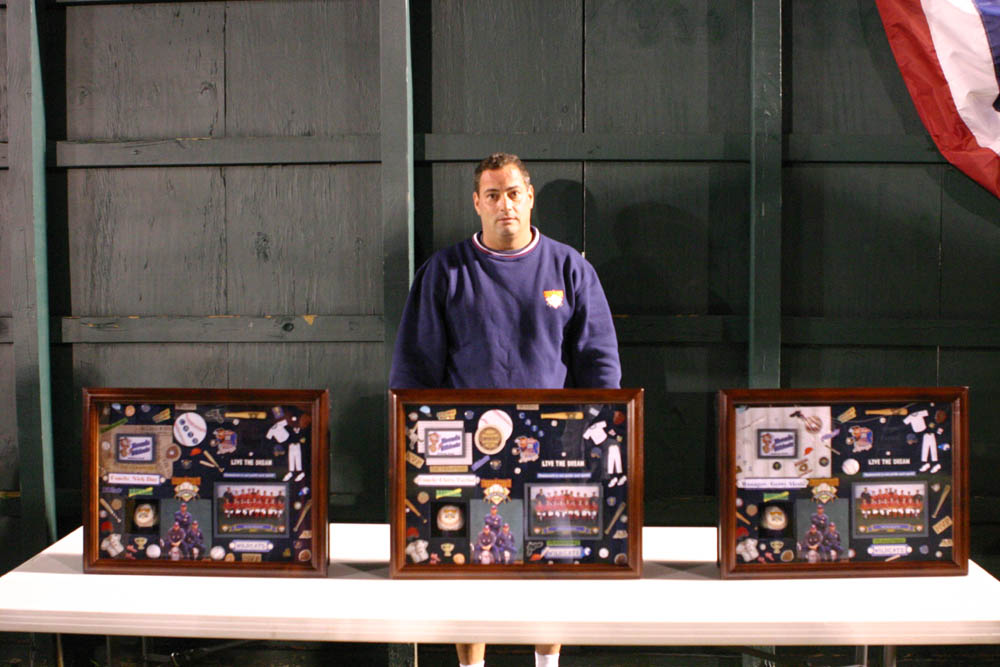 Here Eric poses with the boxes
Box 1
Box 2
Box 3
This was one of the most fun trips I have gone on as over the years my racing and other vacation trips have always been action packed and fun. The jaunt across American to go to Albany and hit New York at the start and end of the 10 day excursion, which sandwiched the Dreams Park extravaganza that 96 teams were there for. Traveling with the Wildcat parents, grandparents, friends and the ball players was fun and there is so much to talk about.
The opening ceremonies were on Saturday after a Thursday arrival. The Dreams Park is very unique and consists on 21 identical fields with green walls and a 200 foot distance for the power hitters. There are asphalt walkways that weave thruout the park that allow cart rides for some and plenty of room to go from the parking lots to the various fields with many concession stands and rest rooms along the way. Souvineers were inexpensive with a great variety from clothing, to all kinds of baseball items. The food was reasonable and good. And the weather was damp but very nice.
The kids were checked in to their barracks on Friday. From here the teams and coaches would reside until time to go home. Each player was issued a red and a blue uniform, with red meaning home team and blue away for every game. The parents could check their kid out for a short period if they wished. There were 96 teams entered, so games started on Sunday and the playoffs began on Wednesday afternoon. When the last playing day started on Thursday, there were only 16 teams left and a loss sent you home. Unfortunately, the Wildcats got an early ticket home when they lost a game they should have won.
The opening ceremonies were held at the field where only the championship game would be held. It was the only field that had grandstands, all the rest used plastic green chairs that went from about the 1st and 3rd base locations to the foul poles on each side. After a lot of long windy introduction speakers, all 96 teams came in and were introduced to the crowd. Then they lined them up around the outfield walls and some individual contests were held as the crowd began to leave. There were special t-shirts for the grandma and grandpa's in the crowd with the Dreams Park insignia on them. They gathered some moms and dads of players out of the crowd to be part of the ceremonies and dressed them in special shirts as well. Two sky divers jumped onto the field from a high as it was a warm, but enjoyable time.
Highlights for me included Alec Hutts many long home runs, but one stood out as it left the park, went across the walkway behind it, continuing until it cleared the outfield fence of another ball field and ended up on the infield. WOW! Nearly everyone on the Wildcats cleared the fence for home runs and their family had to go find the souvineer that will be among the favorites of any collections. The Dreams Park layout that included the barracks and the many fields was awesome. Other highlights of our trip included visiting the Baseball Hall of Fame, finding my Duke Snider autographed ball, hanging out in the town of Cooperstown, finding a 63' LA Dodger decorated Corvette for my collection, collecting many hat pins (not from the kids, but the various stores), visiting Shea and Yankee Stadiums for the first time, getting lost in the beautiful countryside a time or two, seeing the joy on the kids around the park and town knowing this was something special, being part of the Wildcat family on a narly and most wonderful adventure, and finally watching the games and especially seeing the great success the Wildcats had coming in 10th out of 96 teams, they were awesome.
The day started with Hunter Welch family headed for the opening ceremonies. Mother Missy Jo, grandmother Terry, Brother Chris and his girlfriend Amanda.
The teams are hearded out of the barracks for meal, the games and other events.
You can see green is the prevelant color as all the ball fields wood structures had a liberal coat of green paint.
Marty's mom Lisa is followed by Missy, Courtney and Uncle Mark coming in to see.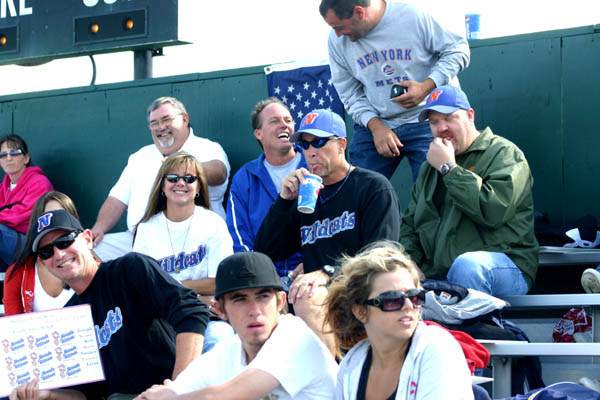 Some of the parents and fans of the Wildcats in the grandstands.
The left field grandstands.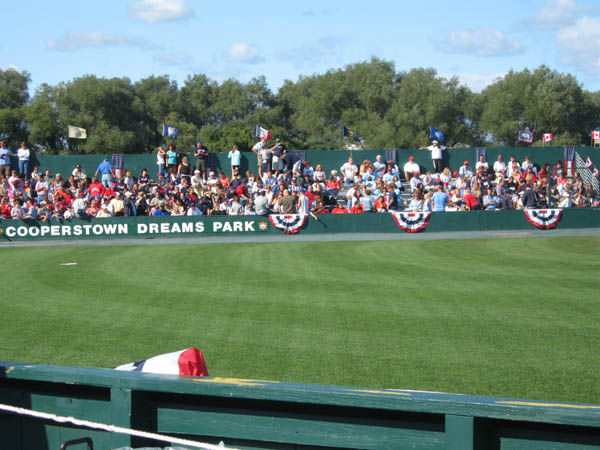 The right field grandstands.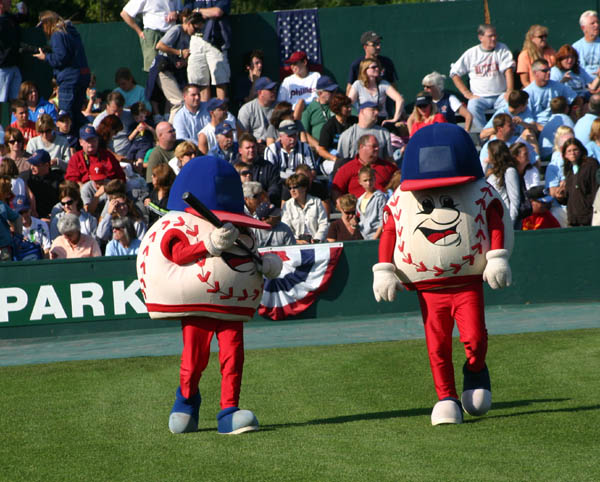 The Dreams Park baseball characters.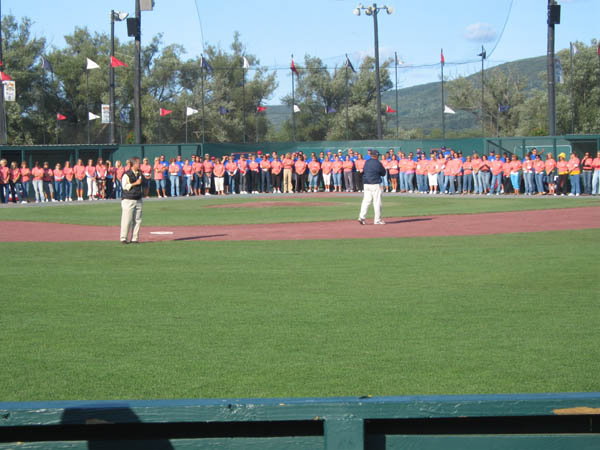 Moms in front in that sort of pink shirt and dads behind them as the festivities happened.
Some of the moms got out of control. I think it was beer-30 in their party house! Note Lisa SiFuentes and Terri Giuliano to the right.
Close-up of the moms waiting to dance and sing!
Ready....................
Kick!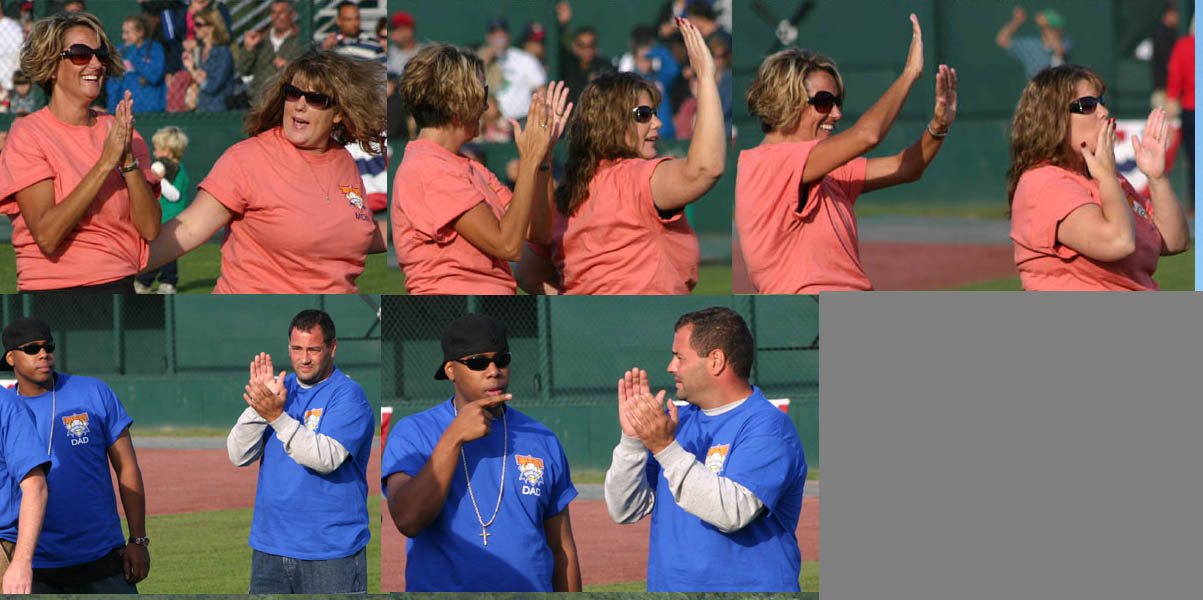 So proud!!! Eric Martine and JR are in the dad's group.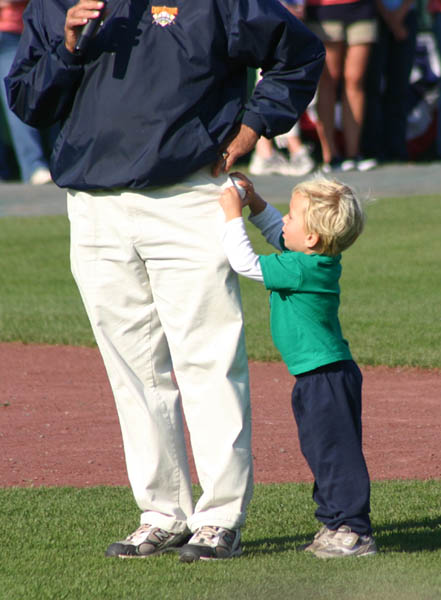 One of the Dreams Park founders did a lot of intro stuff. While this was going on, the little guy was playing catch with him. Occasionally he would come bother his grandpa, like now, looking for the ball!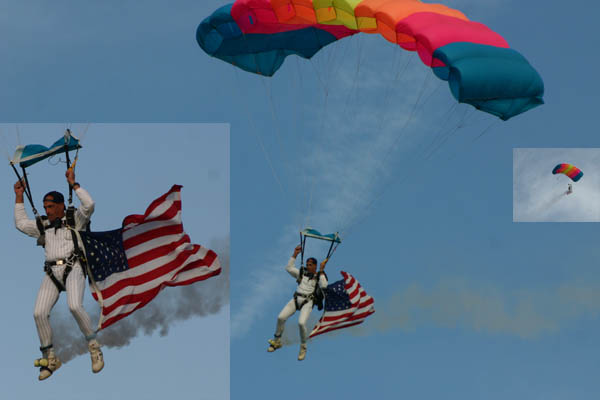 This skydiver brought the American flag down with him. There were two and it added to the pomp and ceremony of the opening day.
Here comes the second one as they both came out of that plane.
Here comes the flag with all 96 teams following behind as they enter the stadium.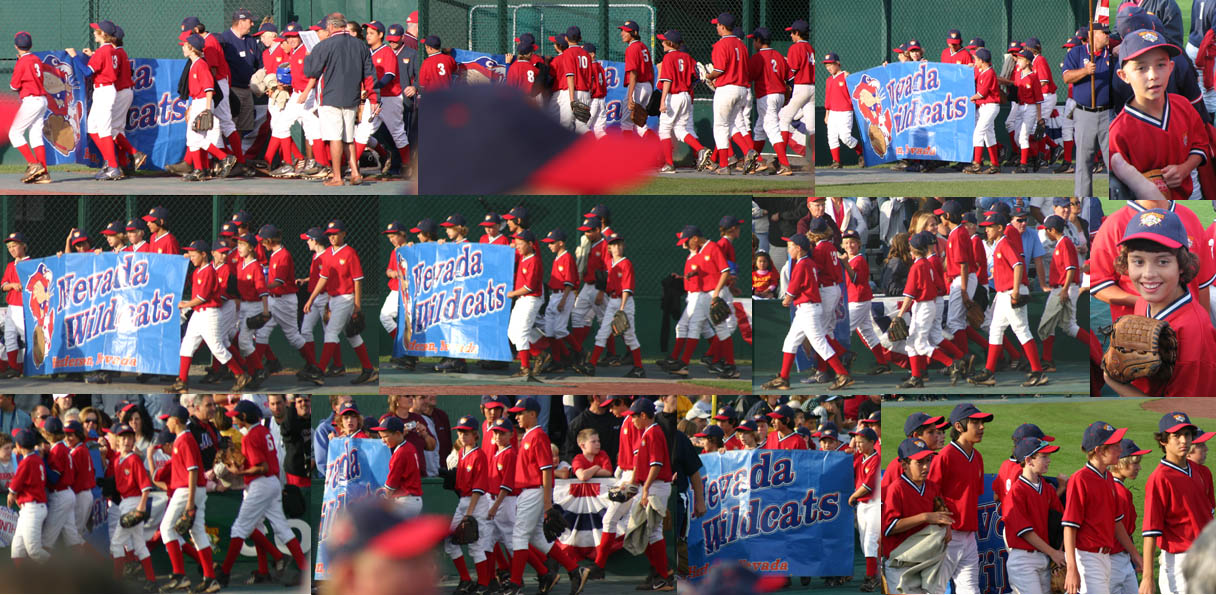 The Wildcats enter the stadium and proceed around the outfield and stopped right in front of the centerfield bleachers.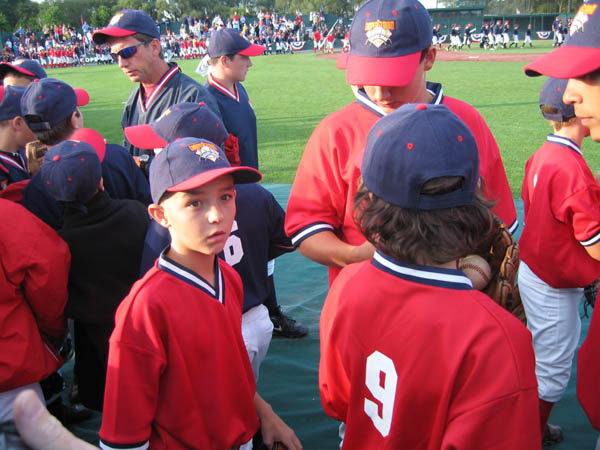 Hunter in a trance?
Tanner is questioning the food?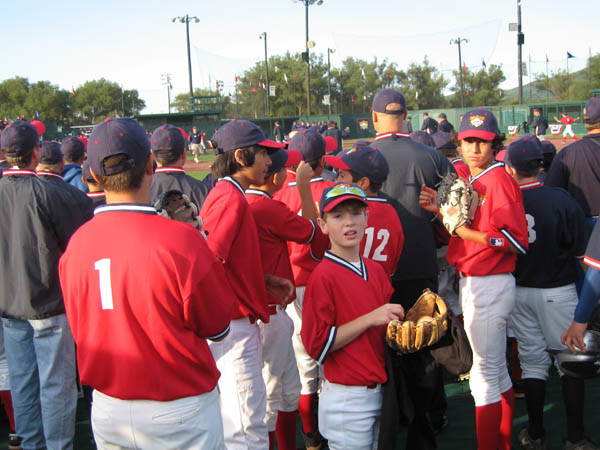 When do we eat?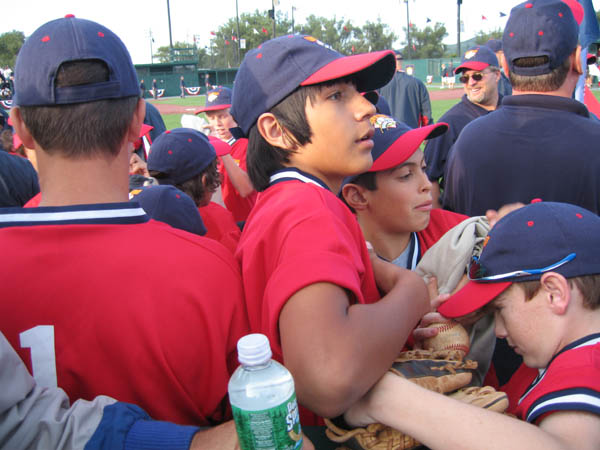 Aaron wants to know when he can start hitting.
Coach Gerry almost smiles.
You're on candid camera boys!
The packed house enjoyed most of the ceremonies.
THE FIRST GAME!
Game 1 - 8/19/07 Wildcats 19 - 0 Leviitown NY

The kids came out hitting and had more than the 12 runs needed to end it in 4 innings. Aaron pitched well as the team started to jell right away. Several players had been added to the orster to make 15 players and they were needed up until the boys left the brackets on the last day. I felt bad for the visiting kids as they obviously don't play year round and had some fumble-itis problems.
Everyone mills around before the start of the opening game as it was an 8:30 AM start on Sunday.
Kyle is ready to bat as two coaches talk as the line-ups are exchanged at home plate.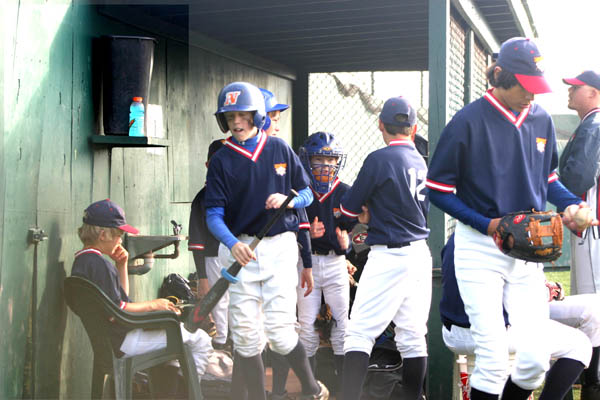 Tanner gets his bat put away as Aaron heads to the mound.
Alec takes a seat on the coaches bucket.
Hunter got his share of the hits this week!
Hunter looking for another hit.

Joseph "Hammer" got into this swing.
Kyle picked up from Aaron late in the game.
Kyle takes a mighty swing here!
Aaron Shut em out for his stint, as did Kyle.
Aaron pitched very well in the first game.
Kyle gets his swing going
Alec hit some shots as "Big Country" was in the house.
Alec swinging that bat.
Trent had fun this game.
With Kenny's fierce look, I wouldn't want to be the pitcher.

Anthony takes a whack.
Tyler has a detirmined look here!
Tommy had a great game.
Kyle on the mound.
Tommy taking it to right field.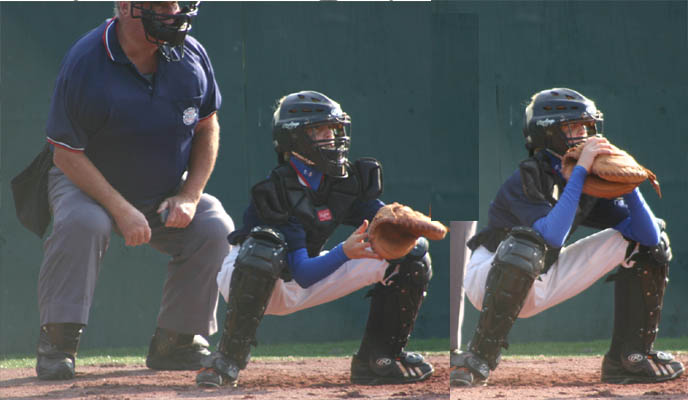 I think it's Tanner, but I didn't take notes.
Tanner gets some leverage before pounding out one of his home runs.
Joseph at bat.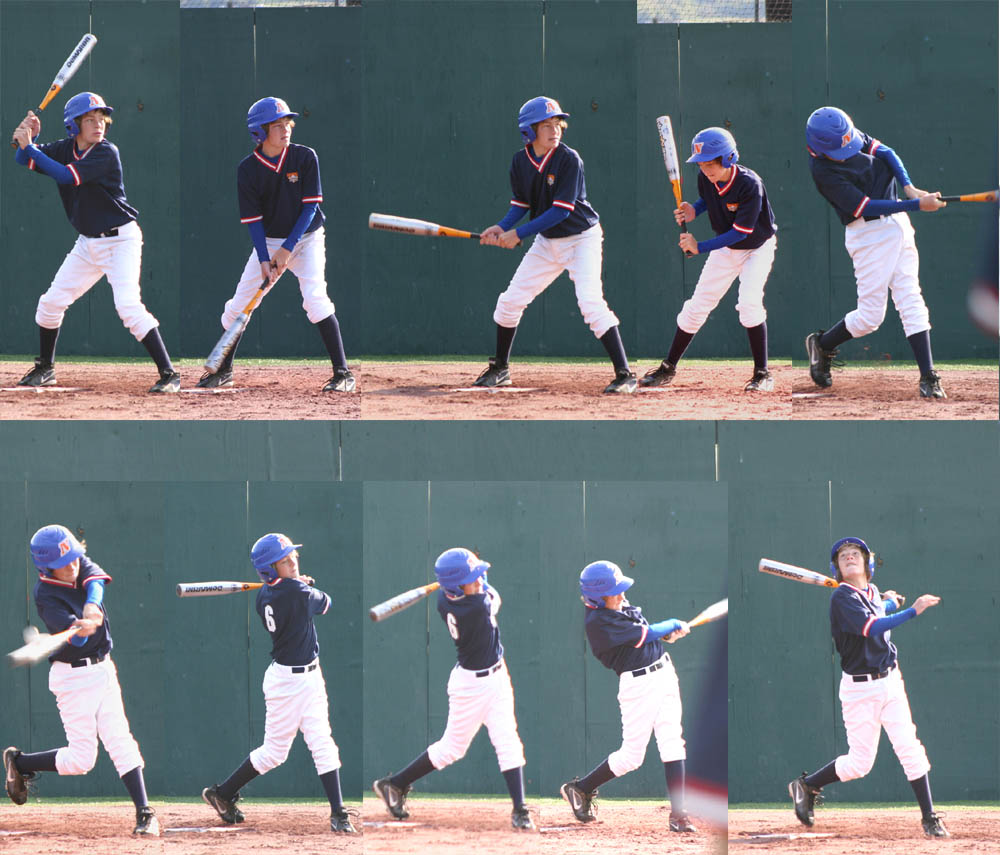 Cody had an active bat all week.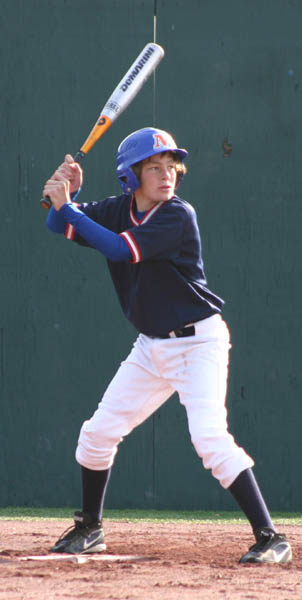 Cody never gets cheated at bat.
Aaron at bat in blue.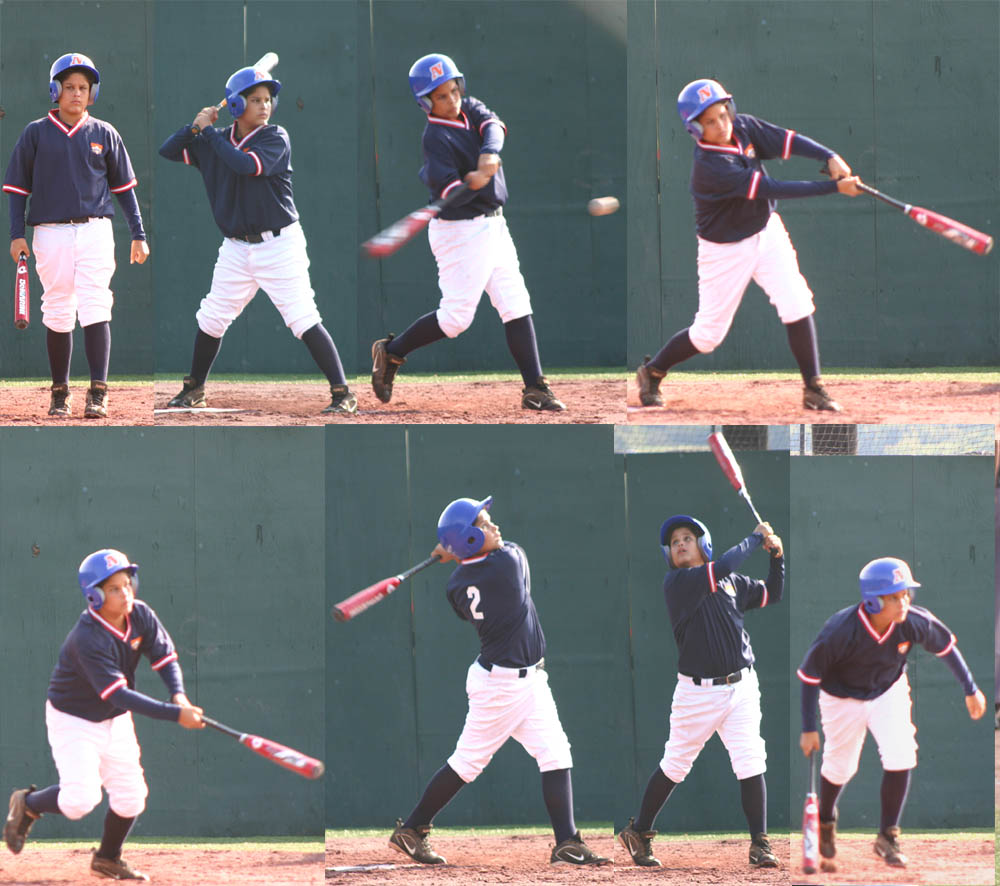 Marty slams one down the line.
Marty about to lay the wood on the next pitch.

Tanner played just about everywhere during the week and had great results.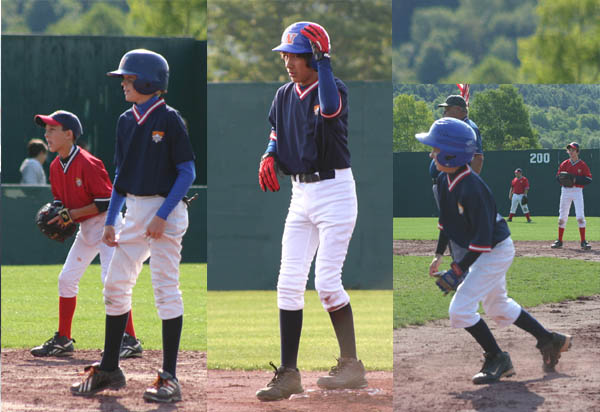 Tanner, Aaron and Hunter were among the many baserunners in this 19-0 slaughter.
Kenny, Cody, Kyle, Hunter and Anthony in the field.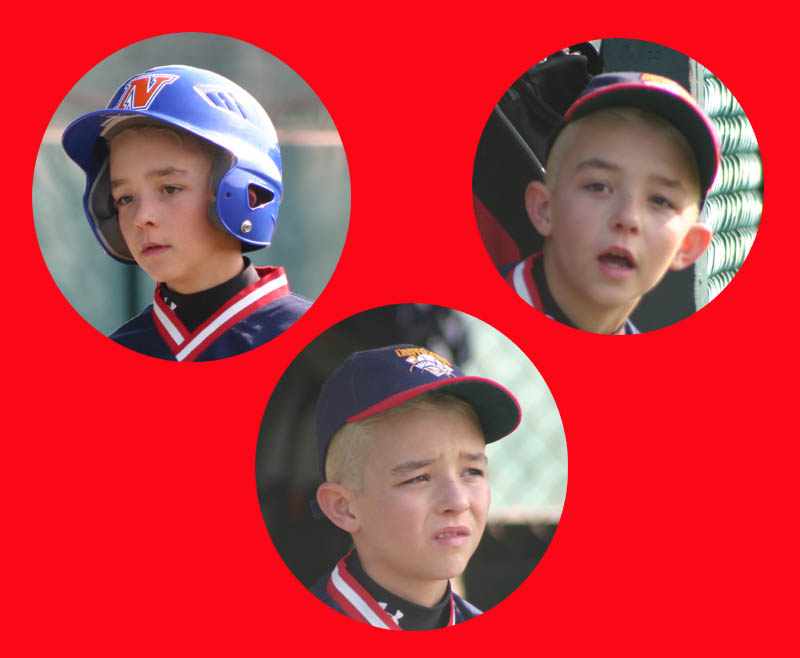 My grandson Hunter in various moods.
The team comes off the field excited as the coaches keeps them pumped up.
The first victory was too easy, but we'll take it!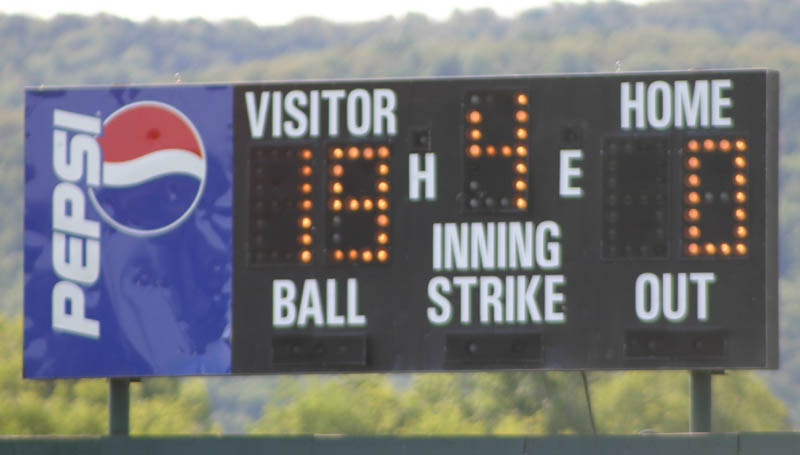 Scoreboard.
Game 2 - 8/19/07 Wildcats 12 - 0 Vienna Nationals VA

Everyone is ready to go inside and enjoy a baseball game!
Ready to play? Yes they were anxious to get started!!!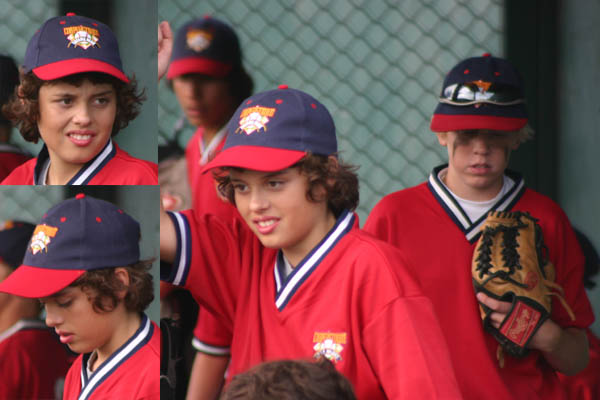 Trent and Tanner have a lot on their minds.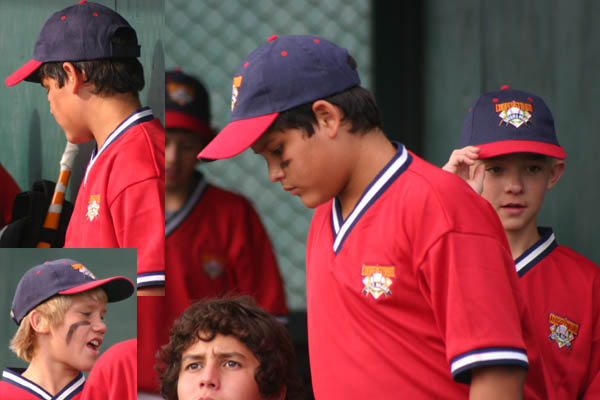 Marty, Hunter and Drake get ready as Kenny is getting excited.
Aaron at bat and he went 1 for 1 and did well.
Tommy at bat in his red uniform.
"Catfish" Hunter had 3 hits on opening day.
Cody was very agressive at bat. He was 2 for 3 in this one.
Tommy came in to relieve Big Country.
I can't tell who the catcher is!
Anthony was 2 for 2 in this game.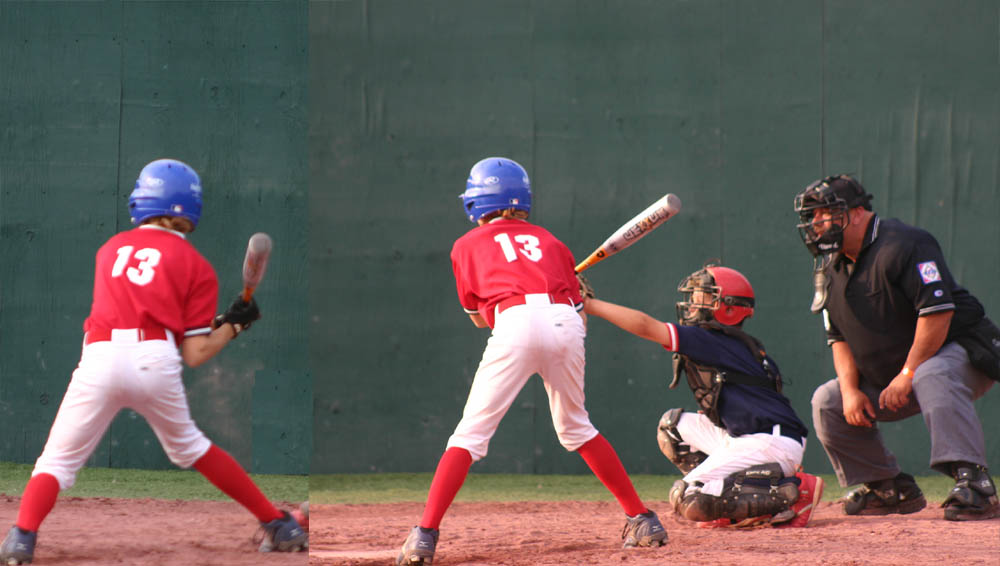 Kyle was also active this game.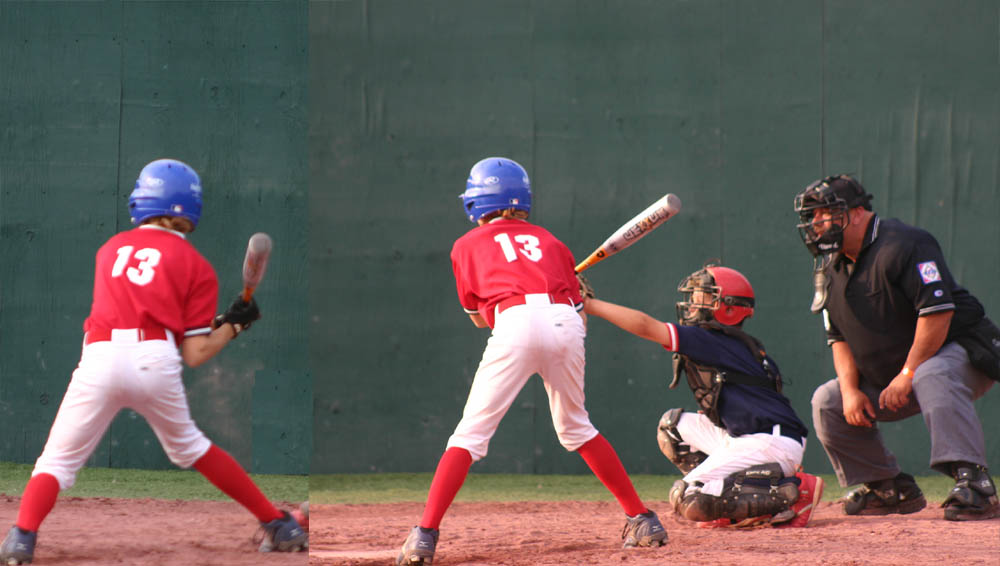 Alec was very strong on the mound. He started one game and relieved several times before the week was done.

Alec hit one homer today and will continue to crunch the ball in this tournement. Other teams and reps came by every day to watch him hit the ball.

Kenny was a strong hitter. He injured his back on a swing the first game, but recovered and continued to hammer the ball.
Tanner was 2 for 3 and hit a home run in this game.
Marty was 1 for 2 and had some fun in this one.
Joseph at bat as he plays very serious. Like most of his teammates, he took this tournement very seriously.
Jake had some fun time today.
Kenny, Tanner, Tyler, Anthony, Jake and Cody get ready to defend.
Marty, Hunter and Tanner are on the basepaths looking to score, and they did!
Always a lot of interaction between the coaches and the kids.
Scoreboard.
Game 3 - 8/20/07 Wildcats 4 - 2 Wendell Warriors NC

Jake starts it out in the third game.
Joseph had a good game on the mound.
Anthony gets ready to hit.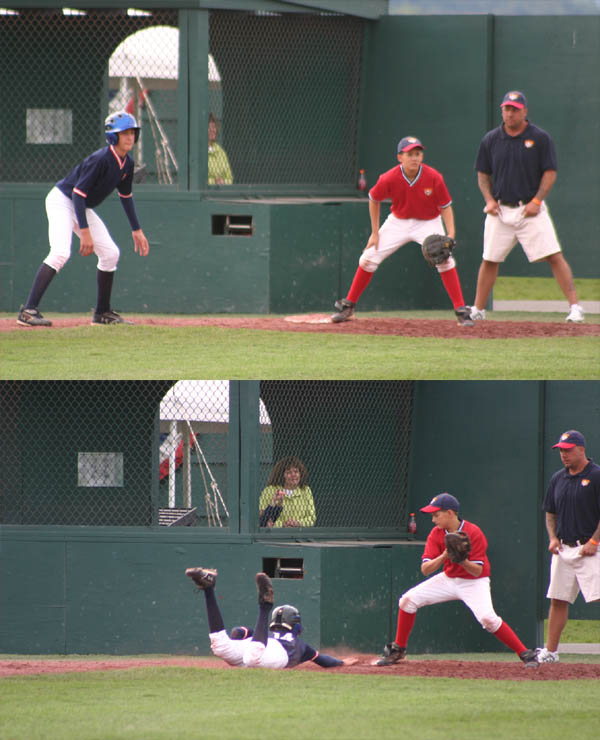 Joseph played first and tried to pick this guy off.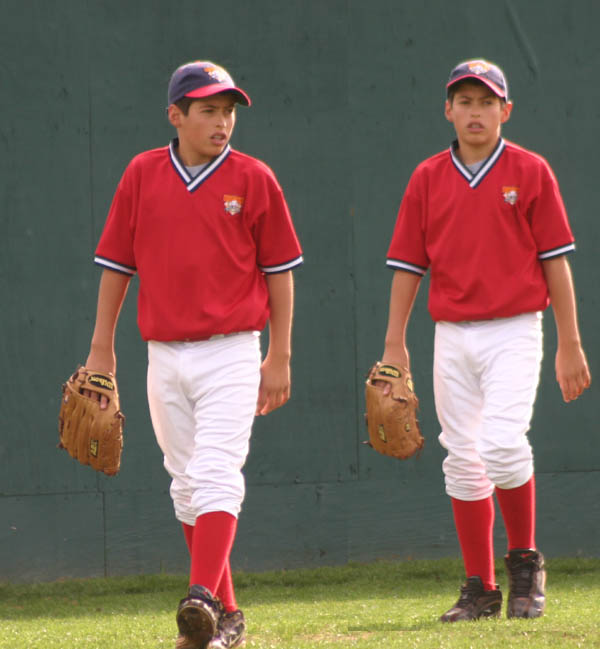 Anthony played the outfield among his many positions during the week.
Arron played some out there as well.
Hunter plays second base very well.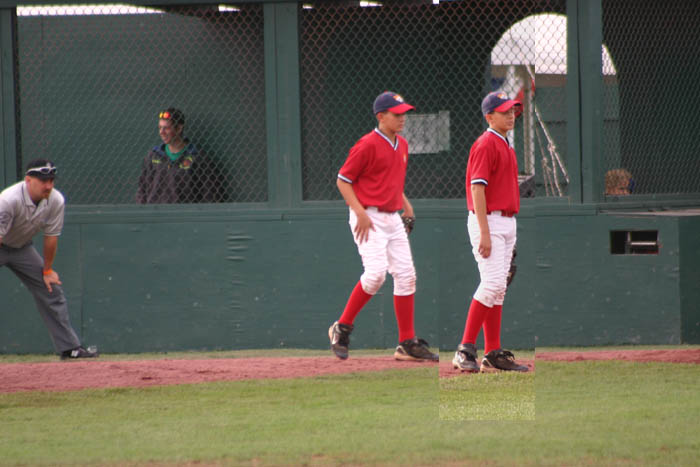 Joseph on first here.
The littlest warrior comes to bat.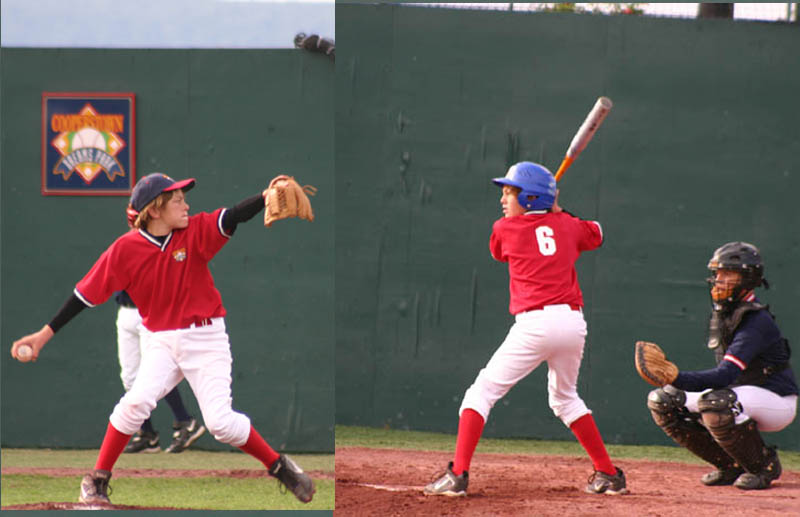 Cody about to unload a home run here. Is he pitching to himself?
Cody on the mound. He pitched very well for someone who had a cast on recently.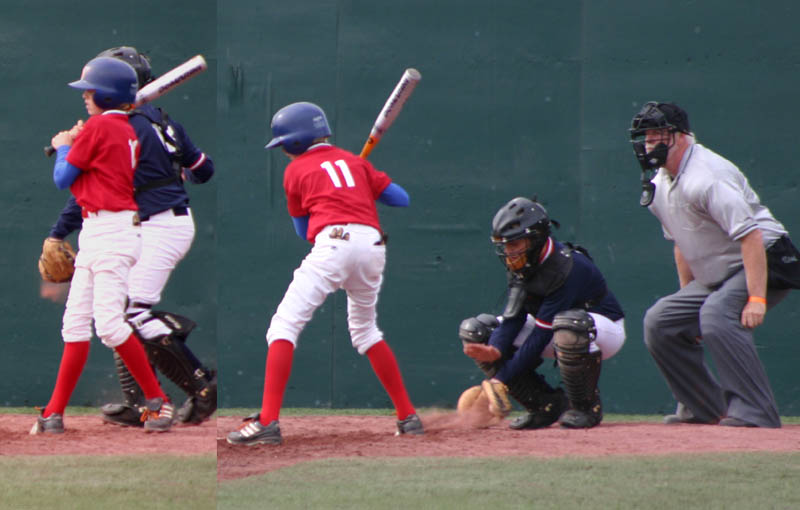 Tanner at bat again. He always does something good.
Marty got a hit and had a pretty good game.
Drake in the batter's box. He was 1 for 2 in this one.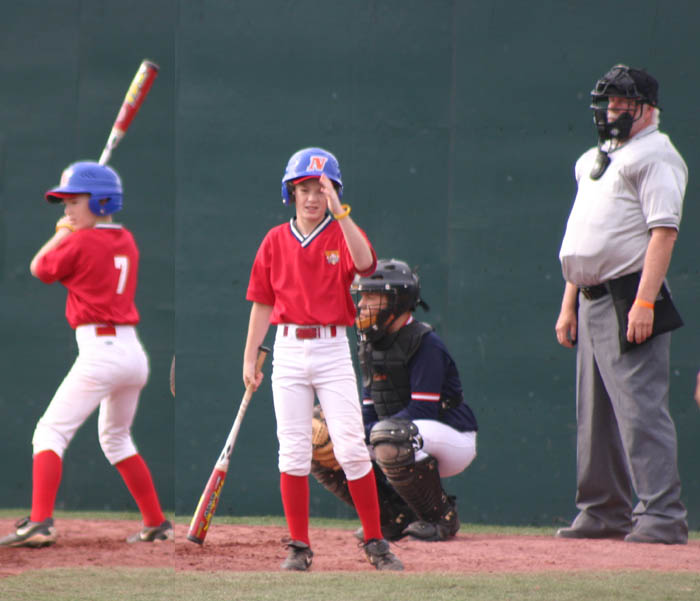 Taylor is ready to hit the big one.
Joseph at bat and he got a walk this time up.
Scoreboard.
Game 4 - 8/20/07 Wildcats 7 - 0 Parkway Travel MA

Another day starts with more fun.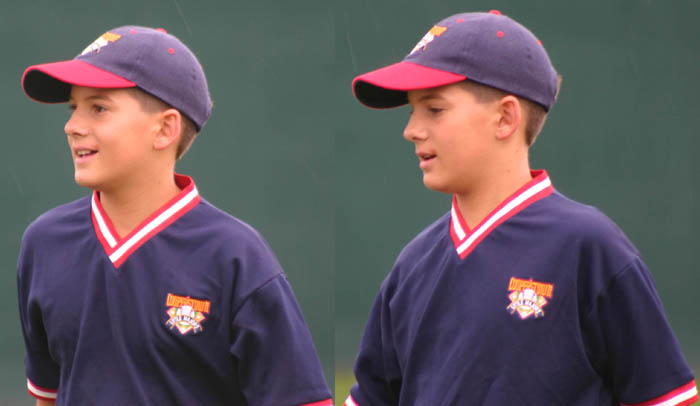 Joseph in a good mood.
Hunter shut out the MA opposition this game as they won 7 - 0.
"The" catcher is working hard.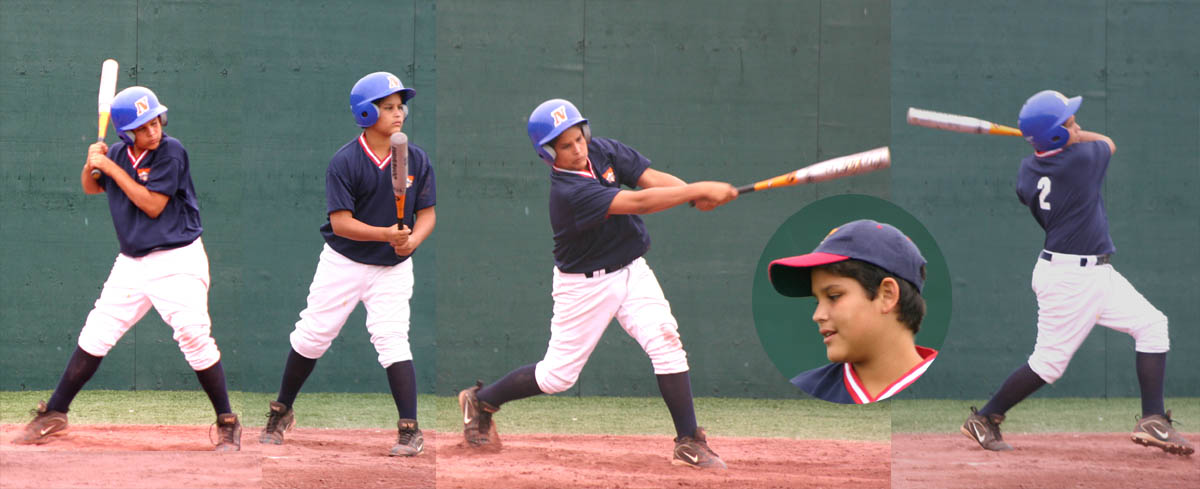 Marty was one for two this game.
Drake was up to bat in blue here.
Kenny looks so mean up there, but all he wants is a hit.
Trent took some mighty swings!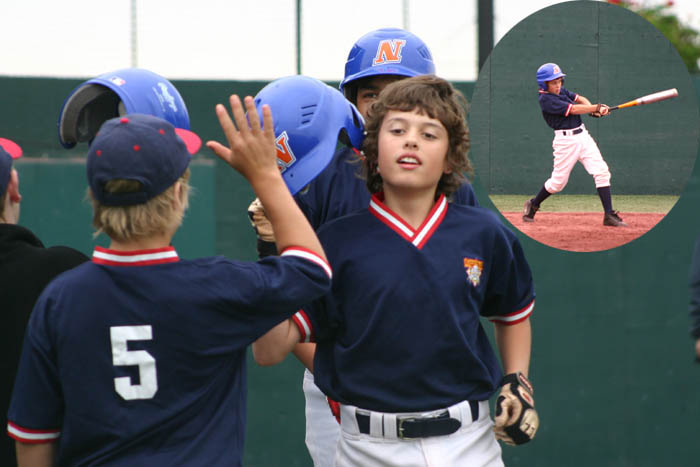 Trent got his home run and here is his greetng committee. That was the swing that sent it over the wall.
Tanner had his home run trot down for this game as he stroked two out!
Tanner's home run brings cheers from his teammates.
Here comes another shot, this time from Aaron.
We saw a lot of this action as the boys flexed their muscles.
Tyler gives it a whack.

Cody was hitting home runs for his special friends. Here goes another one! Hey, where was mine? Oh, the girls were prettier.
Think how special this feeling is when you hit one out and your teammates greet you at home plate!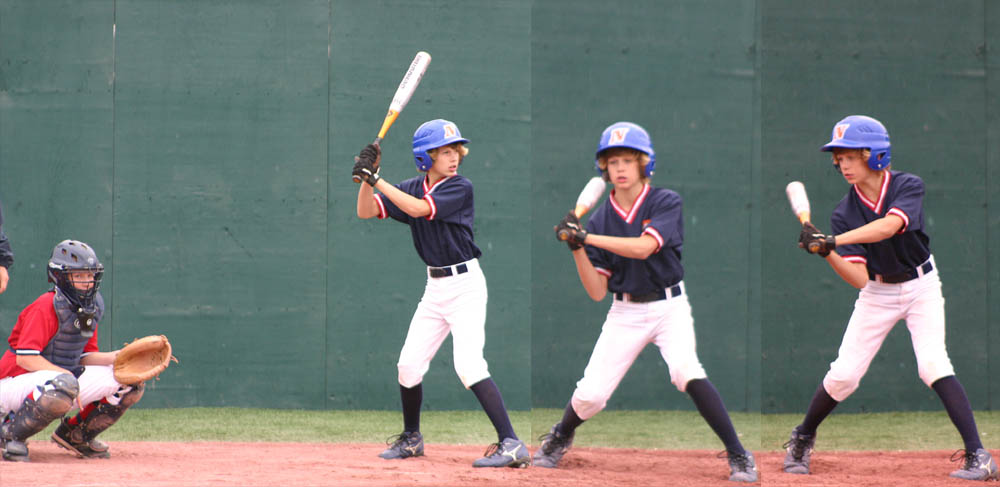 Kyle was 2 for 2 in this game as he played well.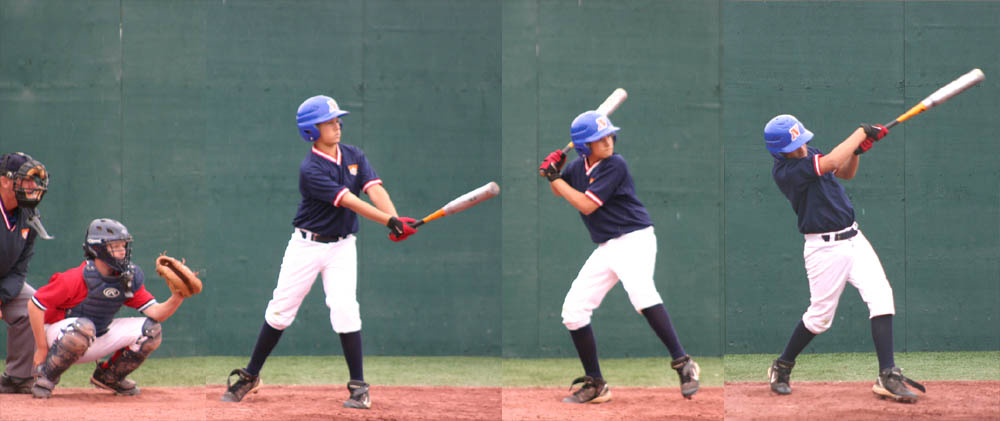 Joseph hangs in there and hammers the ball.
Catfish putting the hex on the ball.
Alec getting ready to crush one. ooops, I guess he did again!
Tommy hit a home run in this one. Boy was his dad excited.
I think it's Kyke, but................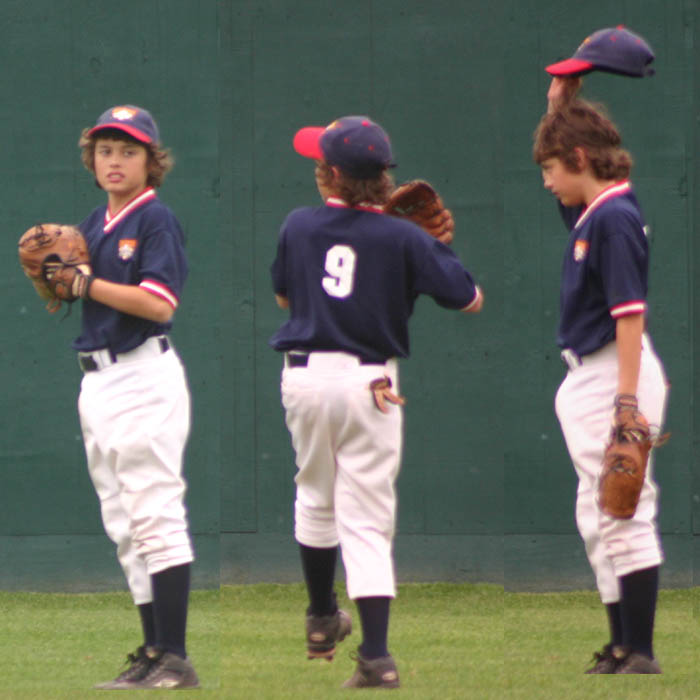 Trent out in the field.
Cody ready to make the play.
Marty at third ready to scoop it up.
Jake gets vocal as the game is a shutout.
Hunter and Cody jaw between innings.
A lonely looking Aaron in the outfield.
Hunter at second base getting focused.
Whats next coach?
Scoreboard.
Game 5 - 8/21/07 Wildcats 21 - 2 Horsham Magic PA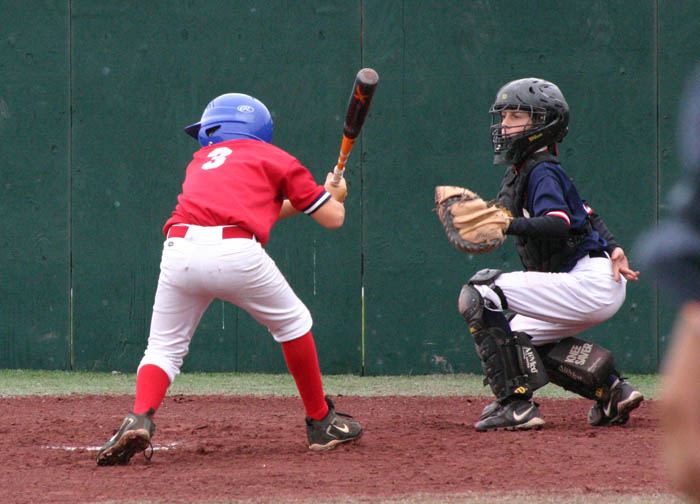 Jake was 3 for 3 in this romp and played real well.
Catcher behind the plate is mystery kid who?
Marty pitched well and hit a home run in this romp.

Aaron takes a mighty swing as he went 1 for 2 this game.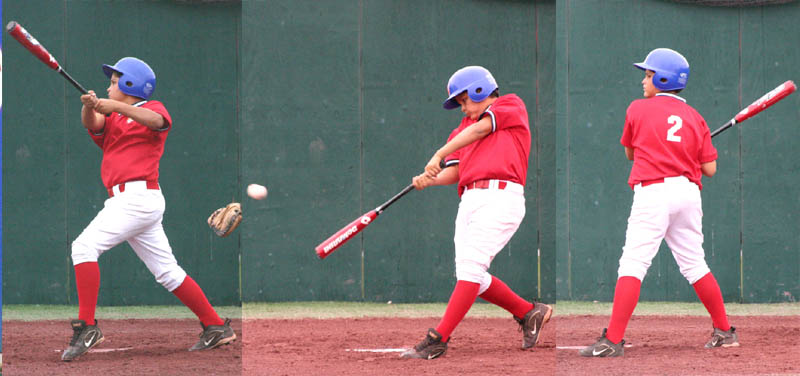 Marty went 3 for 3 and hit a dinger over the wall.
Joseph takes his turn in the batters box.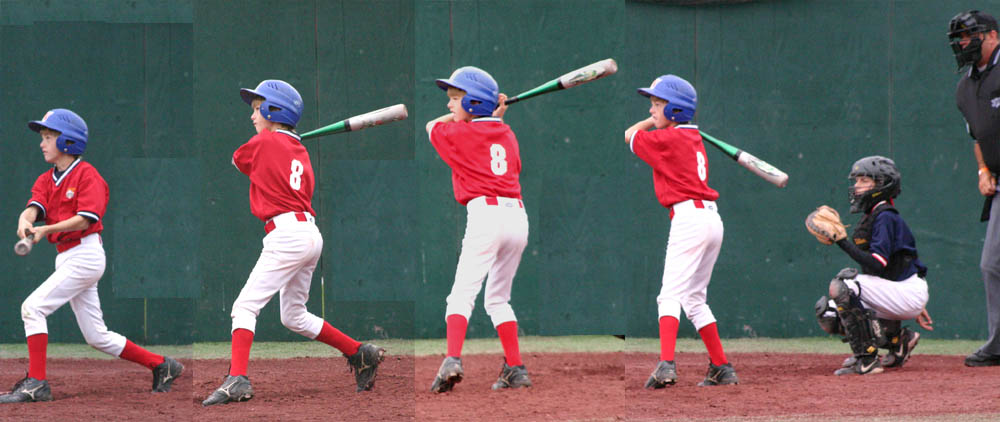 Tommy had another good game.

Tanner on the move with his bat pretty wicked to opposing pitchers.
Cody on the go with two hits this game.
Anthony was 2 for 2 in this game.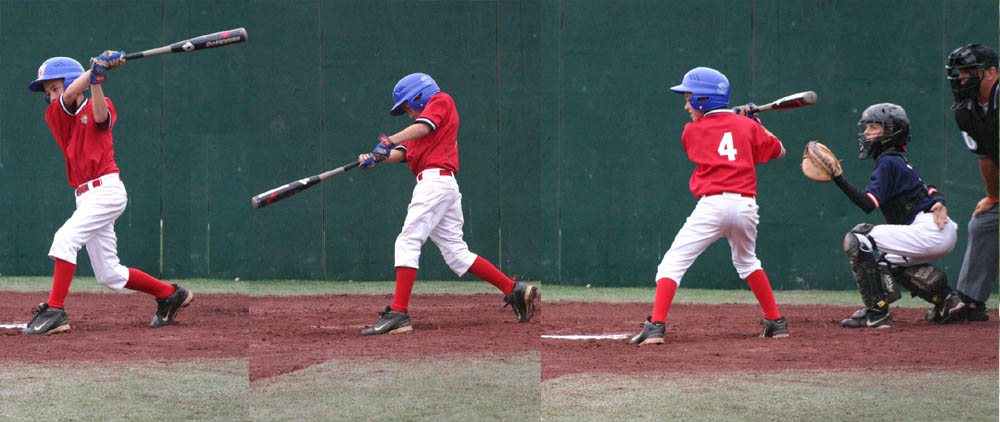 Hunter was 2 for 3 and enjoyed this one.
Kenny looks like a hitter and 3 for 3 proved it again.

Alec hit two home runs in this game, both very long shots.
Alec gets his welcome after this homer.
Joseph, Kenny, Tommy and Hunter are ready to rock and roll!
Scoreboard.
Game 6 - 8/21/07 Wildcats 6 - 5 Connecticut Cannons CT

Lisa, Missy and Terry were up to something as the game was getting started.
Trent looks interested in winning this game.
Tyler up to bat.

Kenny goes 1 for 3 as the Vipers went down to the Wildcats.
Kyle comes up to bat again.
Joseph gets in the groove here.
Another mystery catcher, it might be Tommy?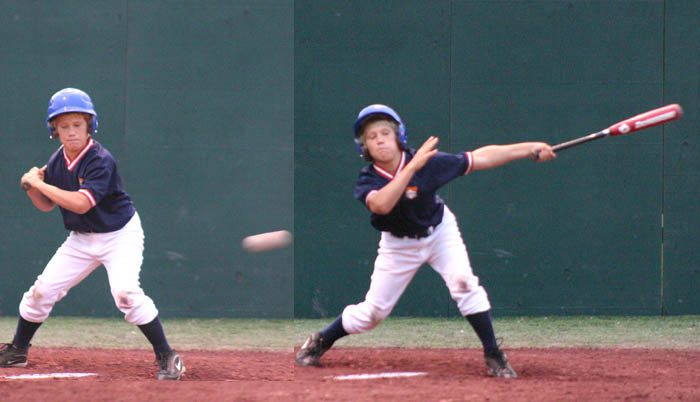 Drake just missed this pitch.
Joseph did good on the mound. He concentrates so hard when he is on the field.
Jake at bat here.
Tanner getting pumped up.

Alec homered again this game.
Alec's greeting committee after his first home run.
Marty at bat. He went 2 for 2.
A little fuzzy, but Aaron has a shakey bat going here. He was 1 for 2.
Jake getting warmed up here.
Kenny is happy here.
Game 7 - 8/22/07 Wildcats 15 - 2 Las Vegas Vipers NV

Aaron warms up before he takes on the Las Vegas Vipers.
Now the game starts and Aaron is preoccupied with a runner on first.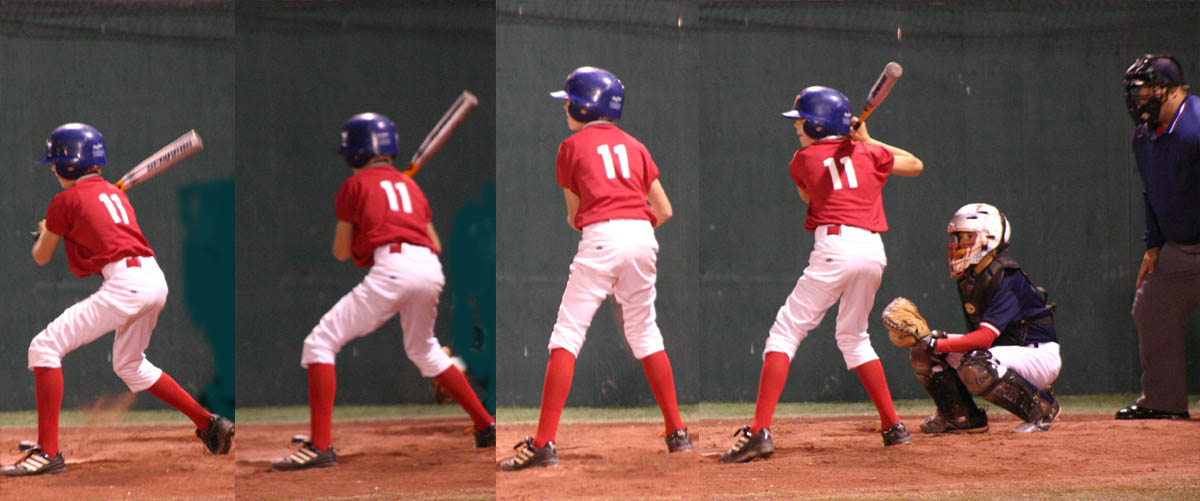 Tanner hustled up to bat as usual.
Aaron had another good hit in this game.
Cody was 2 for 2 and enjoyed this one.
Catching is fun. I bet he enjoys it!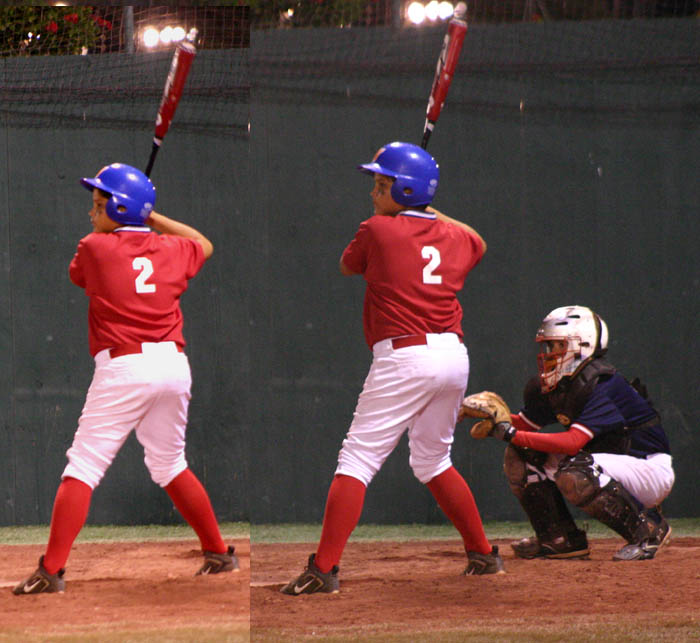 Marty at bat again as went 2 for 2.
Kyle was very active in this game and was always smiling.
Anthony on the mound here.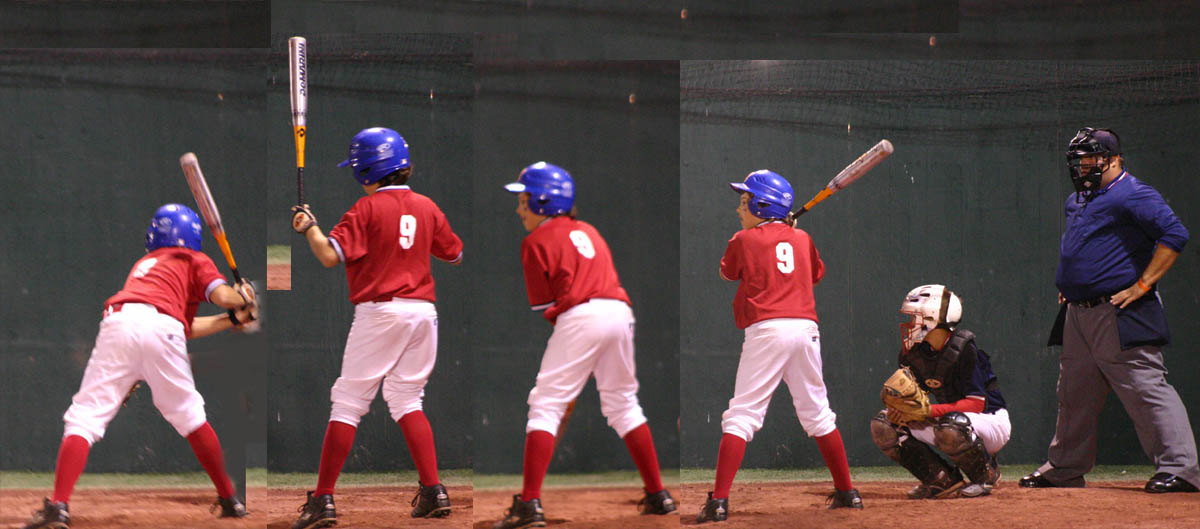 Trent was one for two on the night.
Tommy got one hit and I think he was behind the plate some.

Kenny crushed one for a big hit.
Alec crushed two home runs in this one. There were many players, fans and others in the house to watch him. He hit one so far over the wall, across the wide walkway between diamonds and over the outfield wall of another diamond, rolling to a stop on the infield. He got a standing ovation including froma bunch of players we beat that were there to watch on the hill aboive the field.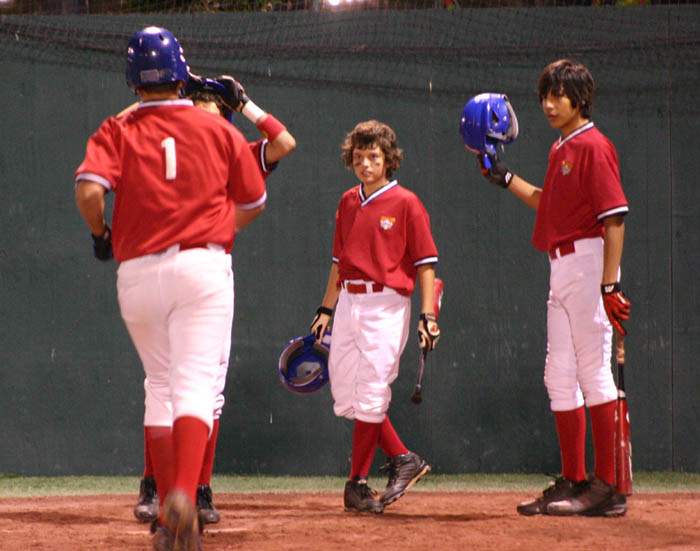 Here comes Big Country after another blast.
Ready to steal home?
After winning, a little team meeting in the outfield. They looked confident here.
Scoreboard.
Last Game - 8/23/07 Wildcats 6 - 7 Texas Sliders TX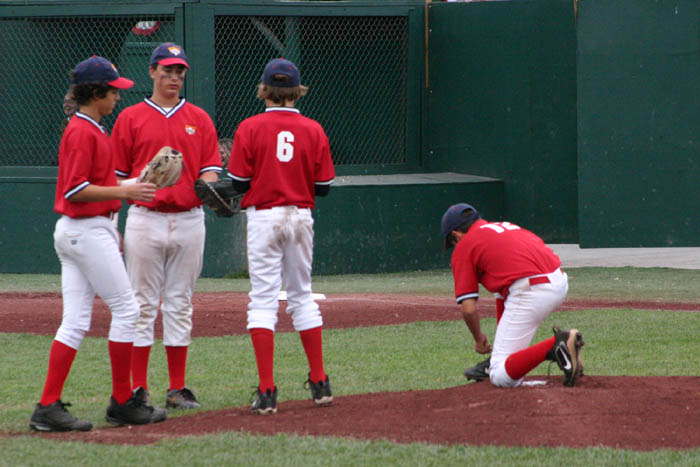 As soon as Anthony ties his shoe, we can get on with this game!
They all looked ready to go, but things just didn't go their way. They tried hard, but in life....................
Anthony pitched in his second game in a row.

Kenny was 2 for 4 with a home run.
Joseph came in to relieve, but the hole was dug too deep. He did a great job, yet it took the whole team to get to that point, and you can't blame losses on any on individual.
Here's Joseph at bat.
Kyle takes a turn at bat.
Jake takes a stab at it.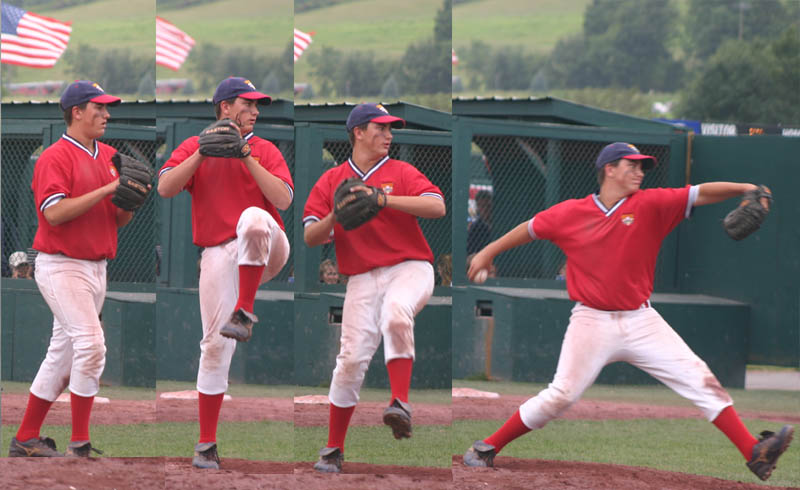 Alec came in to stop the bleeding, and he did, but the damage was done and we never recovered.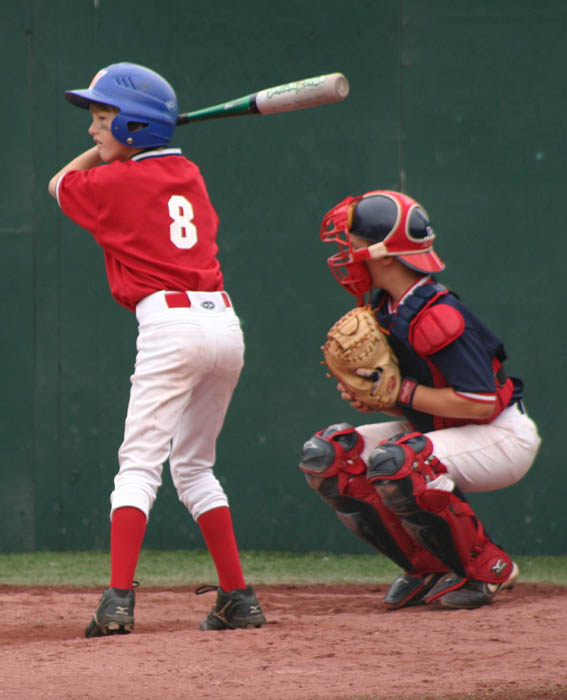 Tommy was 2 for 3 as they tried to battle back.
Trent got a big hit in this one.

Alec at work.
Tanner hit another home run in this game.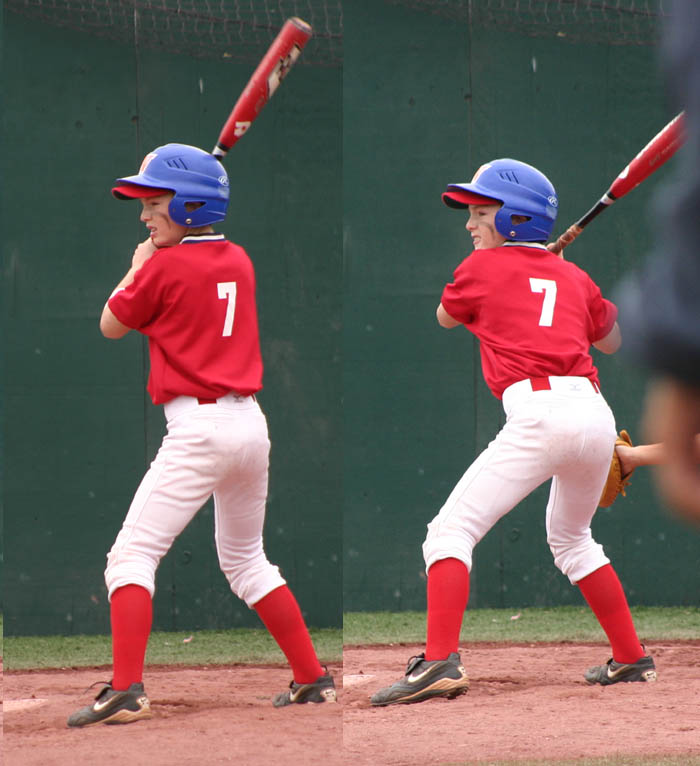 Tyler played in this one.

Cody was 2 for 3 in his quest to win.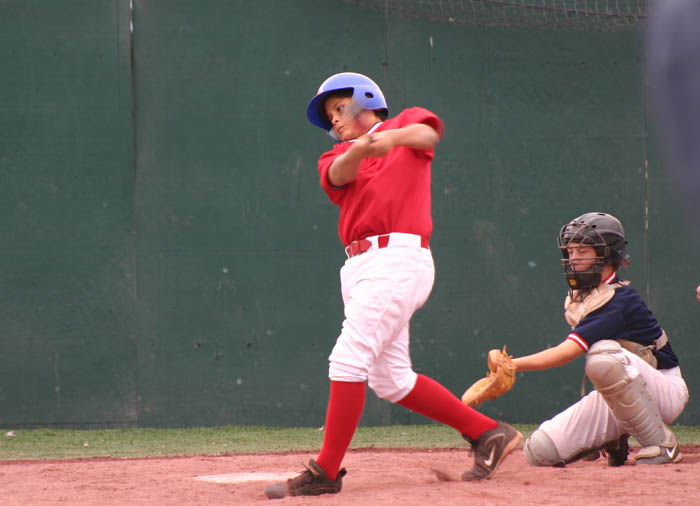 Marty tried to make it happen here.
Aaron was the last gasp. He hit one over the left field wall, but on the wrong side of the foul pole. That would have been a walk off, but no what if's here.
THE END.
I guess stats isn't my best feature, so they are gone. Figure your own!
The last few pics are from after the last game. It was a fun ride for all and the Wildcats were tremendous, they did very well. Now, on to the next tournement!
Lisa, Missy and Terry having a laugh.
Chris and Amanda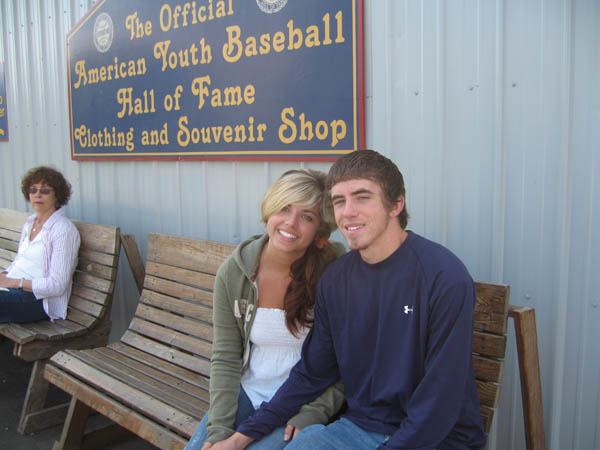 Again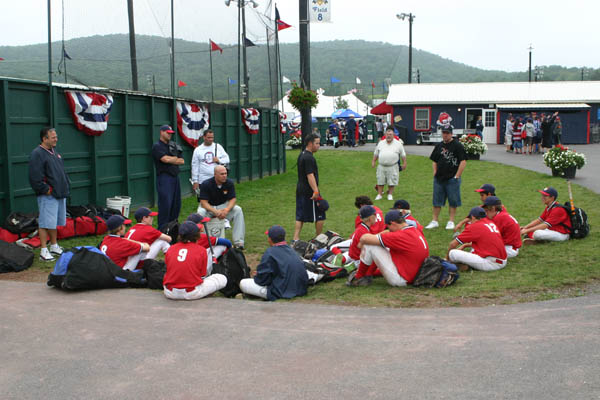 A time to reflect.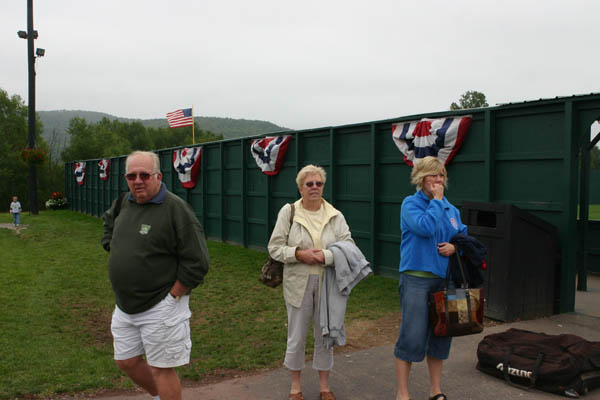 Kim and her parents.
It wasn't easy.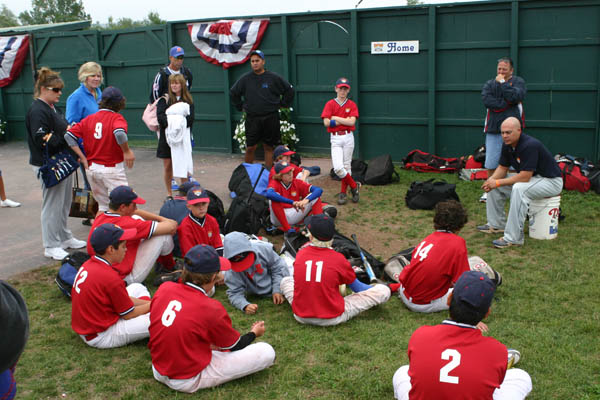 Think about it!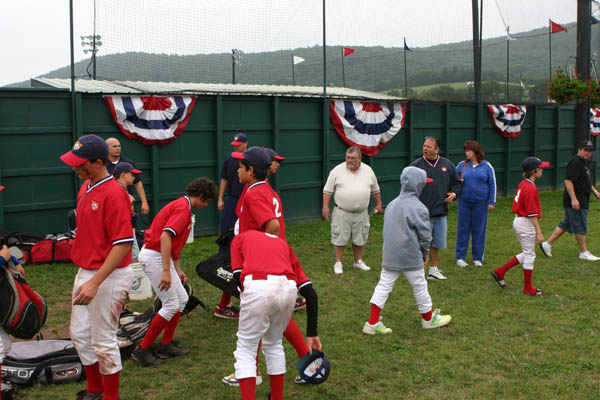 Lets go!
Hunter is thirsty.
And now..........
OK here we go.
A last shot together.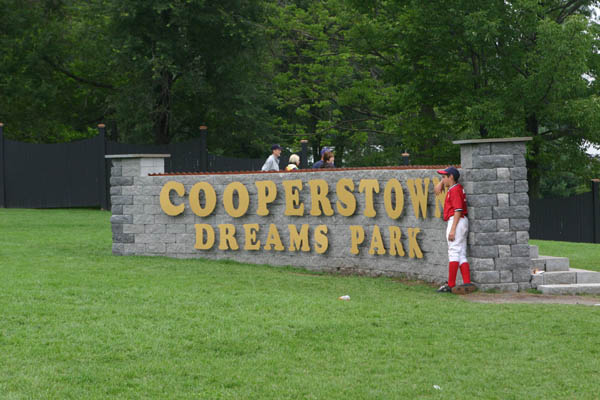 A lonely feeling.
It was a great run.
Memories.........
Where is it?
A good time was had by all.
A quiet pair.
Our "party house" out in nowhere. No cell service.
The family at our house.
And now, we must leave.
George and Tommy at the airport.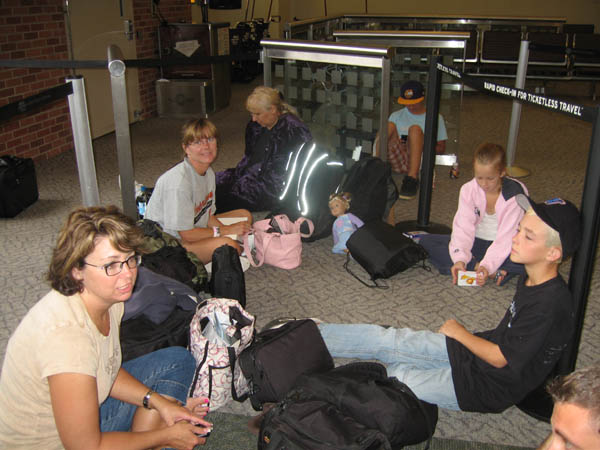 Some more ready to take off.
It was a dream trip to the Cooperstown Dream Fields for fun.
The "other stuff is now posted and linked here Click here to see. The trip to New York City, Shea Stadium, Baseball Hall of Fame and Yankee Stadium.
Team members for the Wildcats: # 2 Cody, # 7 Aaron, # 5 Kyle, # 9 Evan, # 10 Tommy, # 11 Trent, # 20 Tanner, # 34 Hunter, # 38 Marty, # 45 Anthony.
The Wildcats played a local team and beat them 11 - 6 to make their record 3-1 in the tournement. Then they lost to the High Rollers 11 - 1. The discouraging loss should send them to practice with a rewnewed enthusiasm in order to get back to their winning form.
First things first. Got to get the shade up!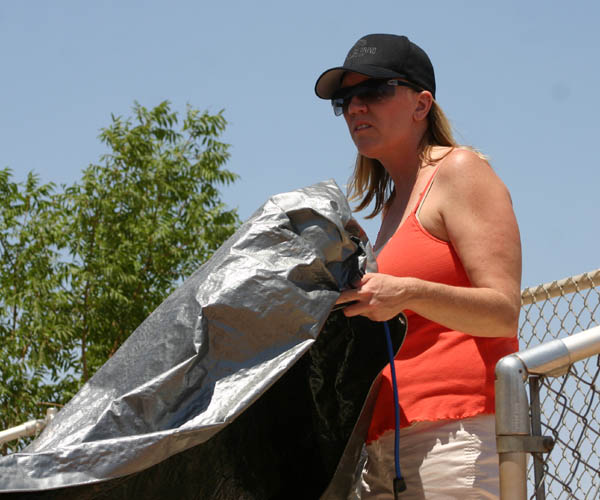 I've got a corner.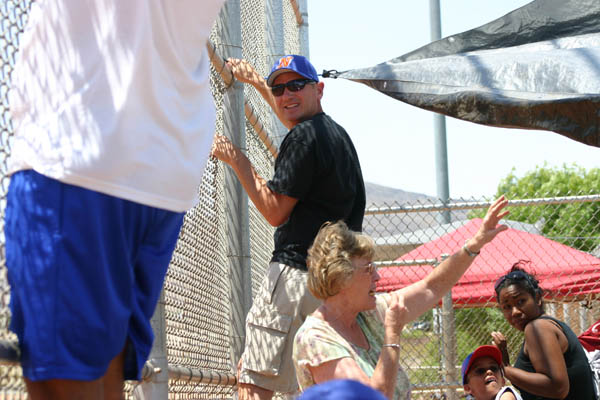 Over here!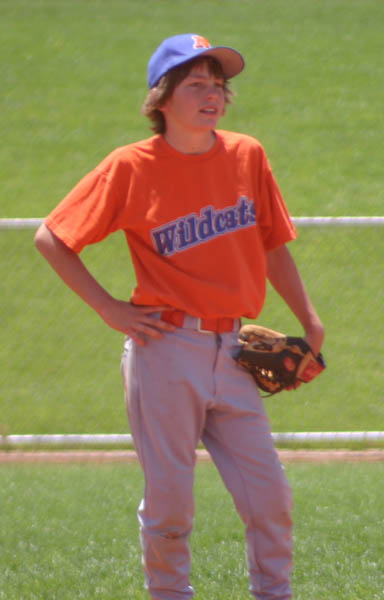 Now let's play ball.
I can throw anybody out!
Let's get this thing going.
It's a little warm in the outfield.
I am ready now.

Three musketeers, one for all and all for one.
Wallyworld!
Aaron is ready to hit as always.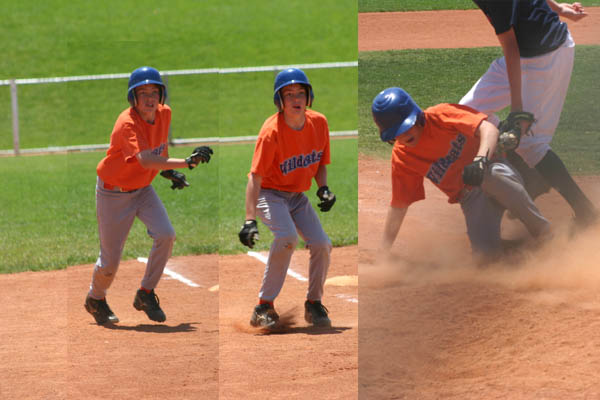 Safe!!!!!!!
Tommy's on the move here.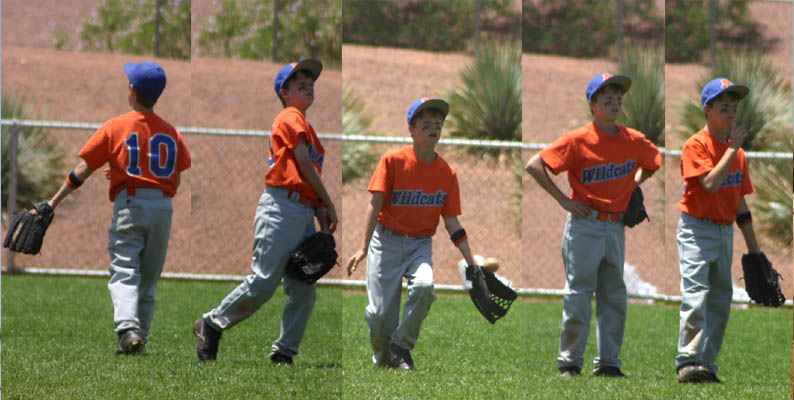 Tommy plays outfield.
A lot of trees out here.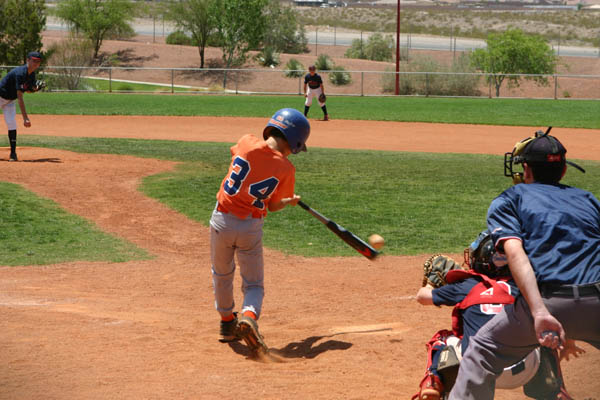 Mighty Hunter at bat.

Playing second base is sure fun, sez "Catfish Hunter.

Hunter hammers one for a hit.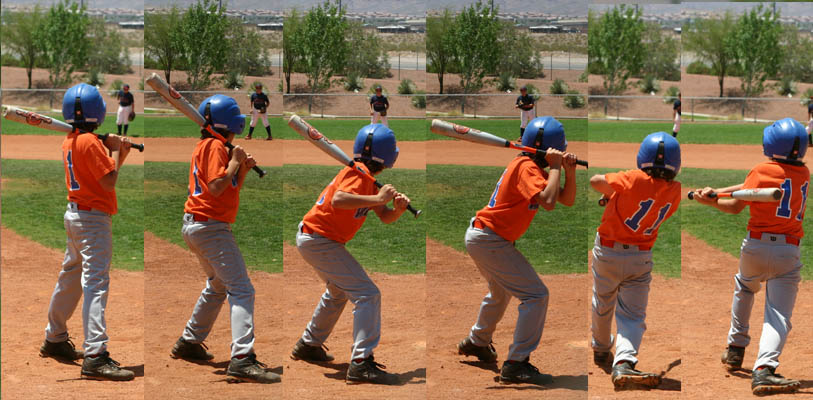 Trent takes his cuts.
Anthony at bat!
Kyle getting his power flowing.
Tanner slugs another one.
Cody making waves again.
Dugout fun as I snuck in for a moment.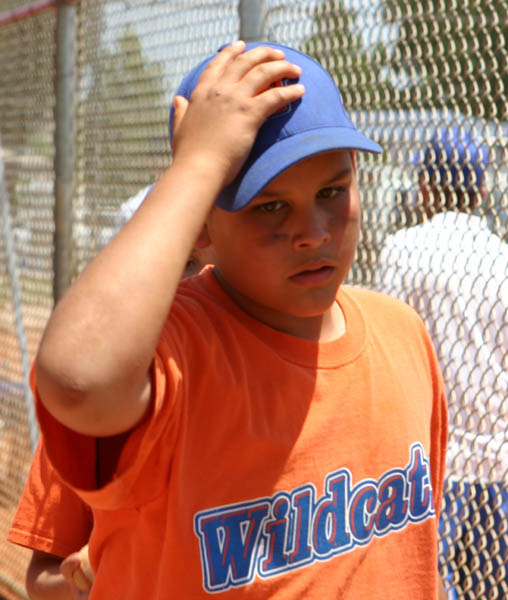 Oh my head hurts, sez Marty!
Me thinks he has too many bats.
Mighty Marty at bat.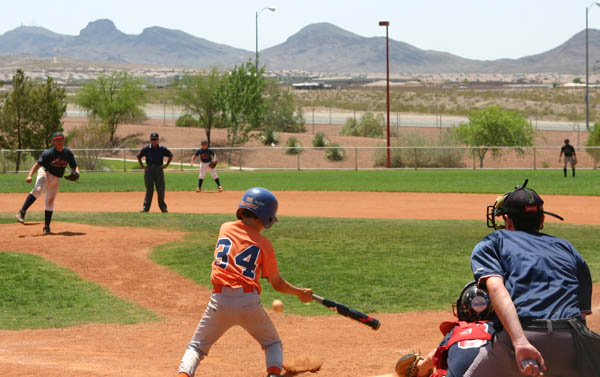 It's a bunt!
Marty's on the mound.
In between innings chat is quick and usually joyful.
Big dude ain't he?
A strong swing here.
Marty at third base.
Aaron swings a nimble bat as he bangs one in right field.
Marty on the mound. He did a good job.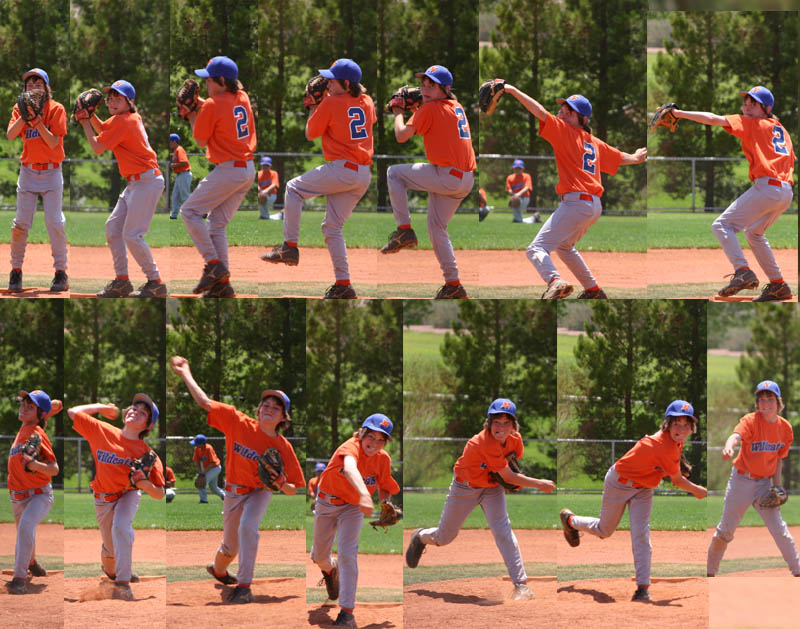 Cody finishes up the game in style.
Knuckle knashing time.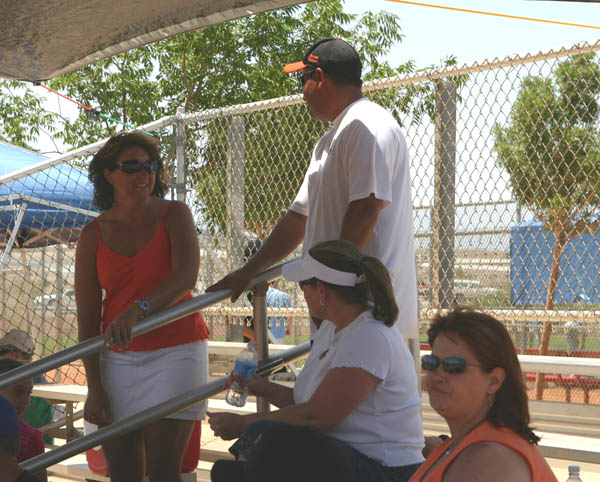 Missy and Fred up to something here.
That's our flag flying in the breeze on this Memorial Day weekend.
Kim said "money" and Ken said "what"?
Last group photo of the fans of the Wildcats!
The day starts out normal as Fred is on the cell phone.
Kyle battles at the plate.
Cody hammers one here.
Cody makes hits happen.
Aaron played first base and later pitched.
Aaron hit a line drive for a single.
Here goes a hit.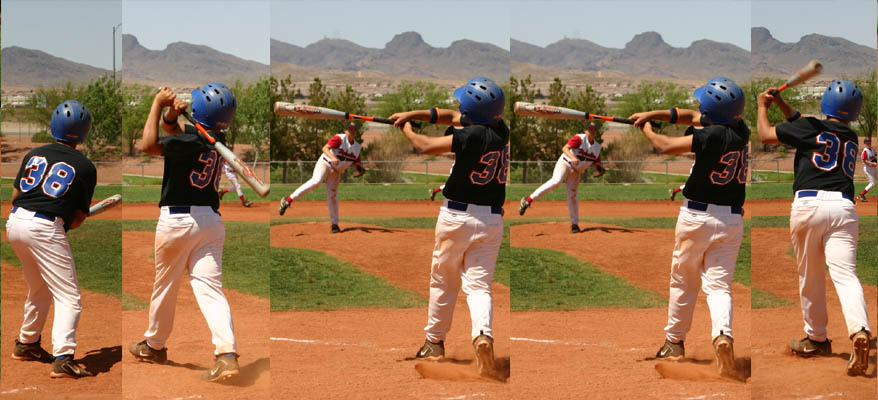 Marty cranks on one.
Trent at bat.
Cody is always at war with the ball.
Coaches corner.
Hunter at second base.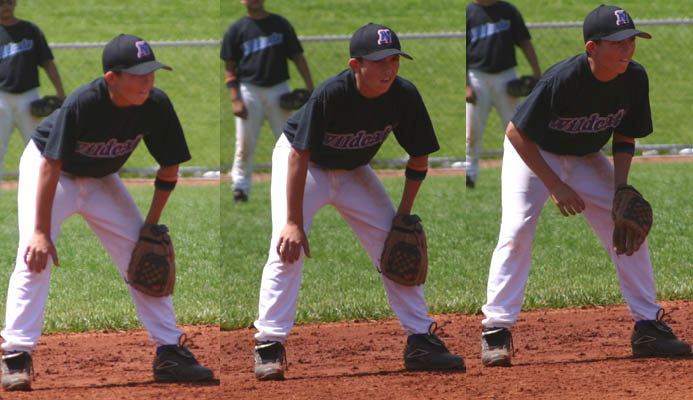 Third base is fun!
Tommy whacks one.
Tommy has a good time at bat.
Anthony in his swing time.
Hunter nailed a line drive to left for a big hit.
Hunter ready to steal second, and he did.
Tanner snaps his bat.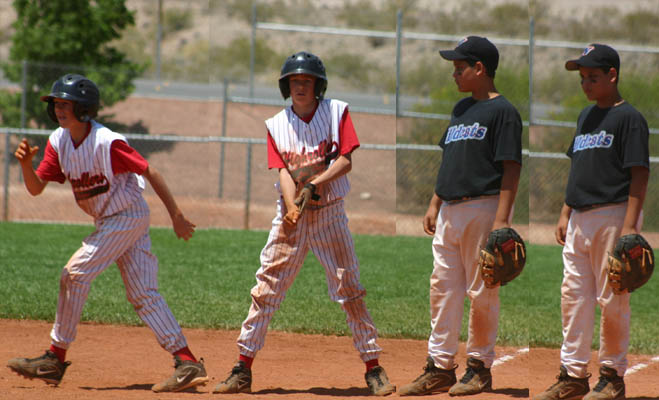 Marty holds the runner close.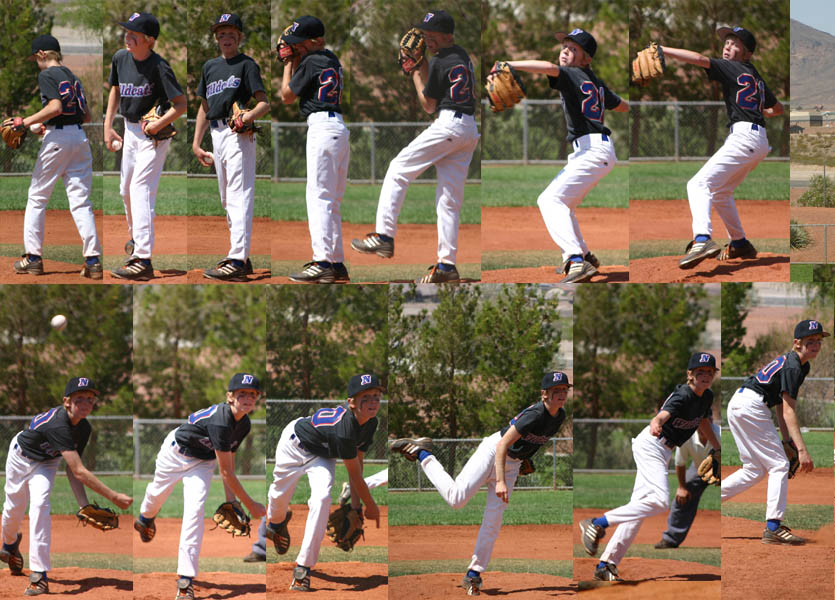 Tanner pitched strong and got no luck.
Aaron comes in to quell an uprising.
Another look at Aaron.
Crowd shots
More!
The end for a not happy crowd.
Wildcats 3 - All Stars 2 - This won them the three day tourney championship, one of many this talented team has won.
I arrived and stepped out of my car to see a long home run hit the grass behind the left field fence. I noticed the Wildcats were in the field and said oops.
Jake is on deck as they go into the bottom of the first inning behind 1 to 0.
Kyle gets a key hit.
Jake swings!
Tanner gets on the ball hard.
The moms are a little cooler with the wind today.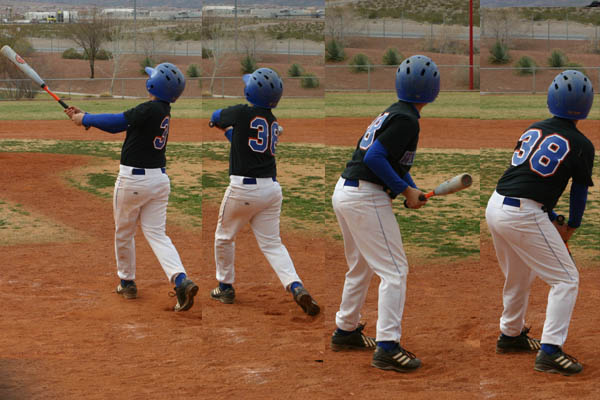 Marty swings hard!
Time to hit.

Tanner toils on the mound. He wpicked up the win for the championship game.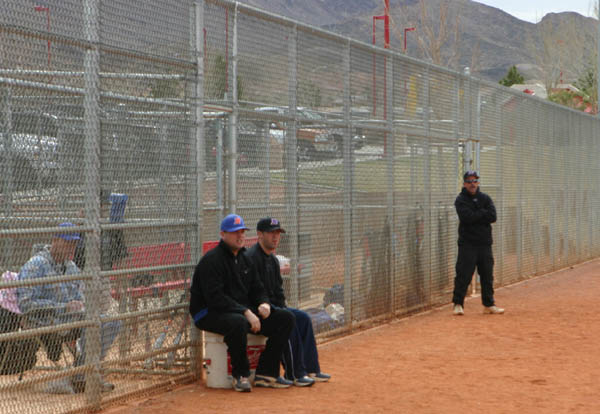 The coaches are always active during the game.
Aaron gets on base with a walk here.
Anthony gets going down the line.
Tommy at bat. He hit one line drive that was hot!
Trent gets a swing or two in.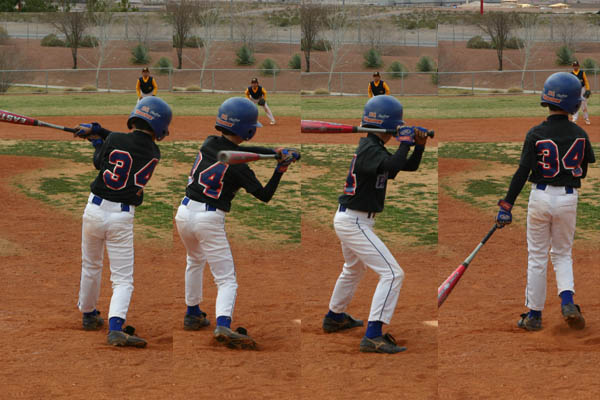 Hunter had a couple of good at bats, including getting the winning run across in the bottom of the fifth inning.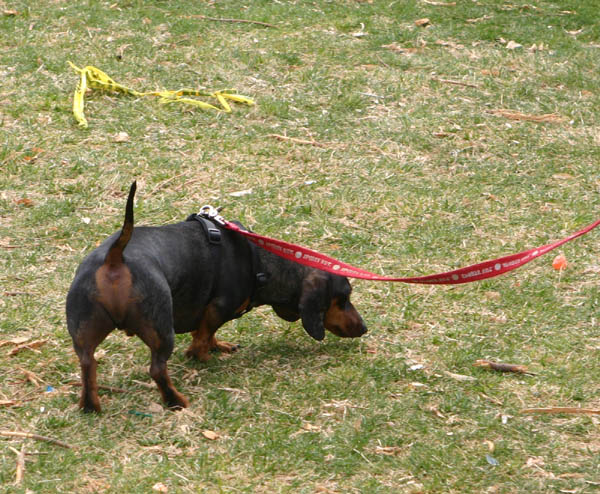 Isn't he cute?
The nuckle bump shows sportsmanship.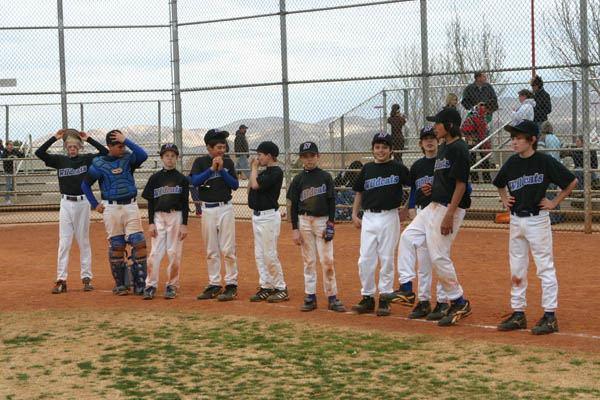 Great look after a big win
The runner-up team, the All Stars.
The coaches line up as well.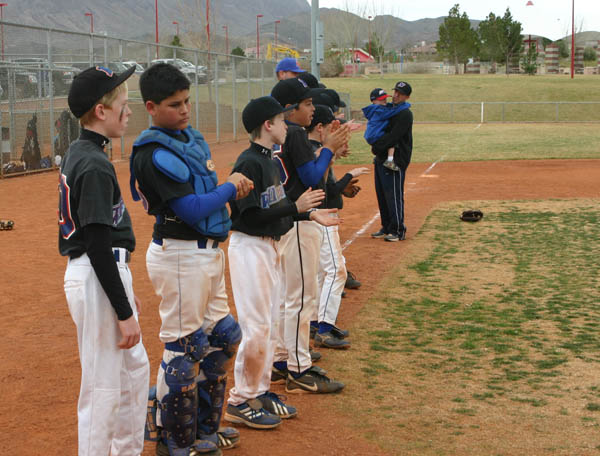 Team photo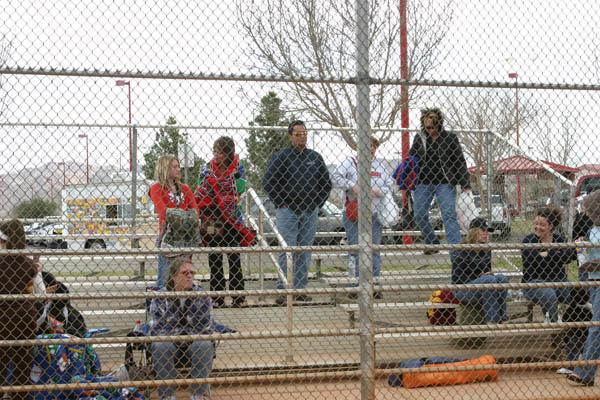 The moms wait for the ceremony to end so they can eat pizza.
Catfish Hunter gets his trophy.
Look at that look on Catfish's face!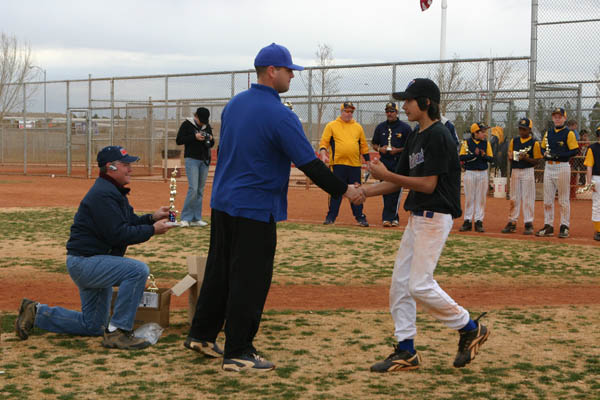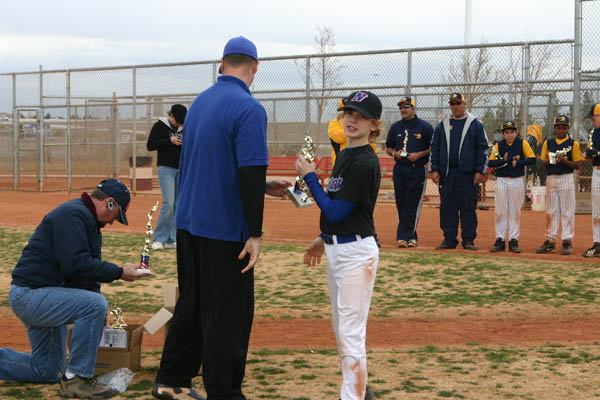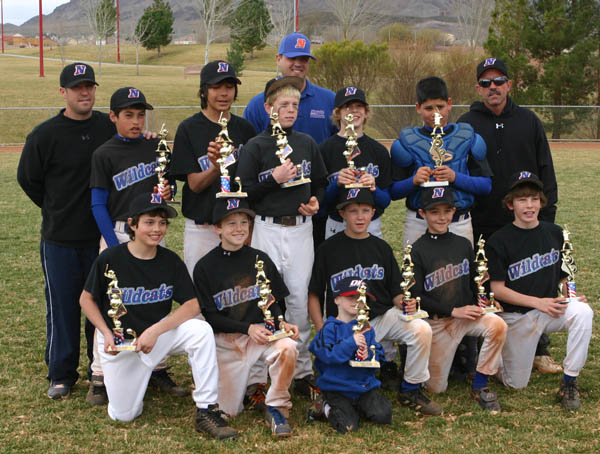 The winners!
Wildcats 3 - Black Sox 2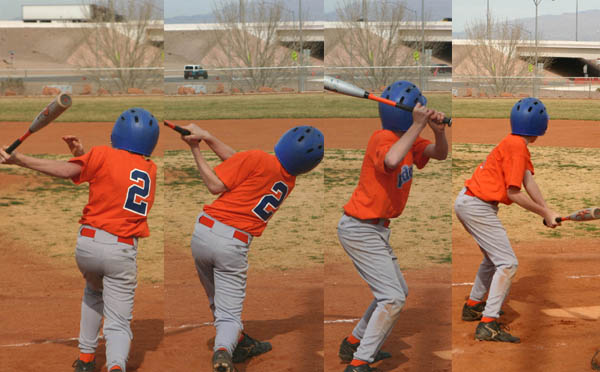 Great at bat for Cody.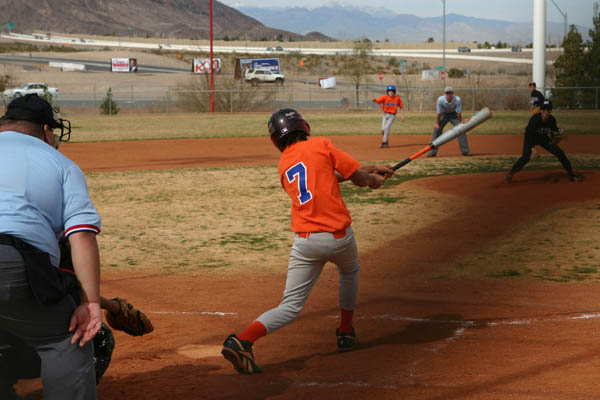 Aaron in the on deck circle.
Aaron drives in a run.
Anthony at bat.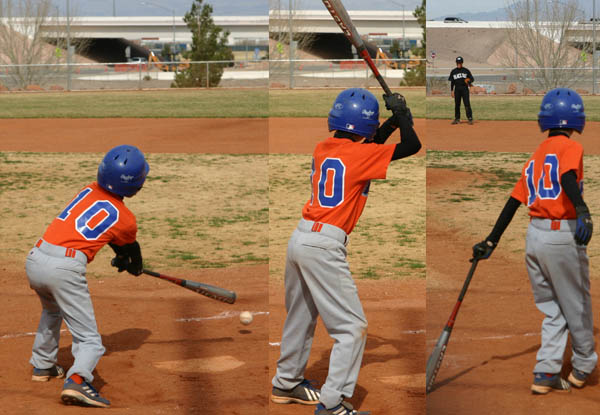 Tommy whacks a base hit. He later became one of the stars of the game when, while pitching, he was hit with a line drive and had the presence to pick up the ball and throw out the tying run trying to score from third.

Tommy pitched a great game.
The catcher always works hard.
The caged dugout allows you to see the kids while they relax waiting to bat.
Hunters brother Christopher and his girlfriend Amanda watch the game?
Hunter takes a whack.
Kyle takes a turn and hits a long one.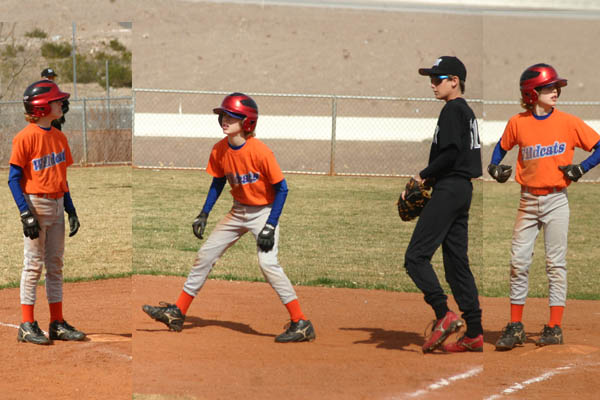 Kyle gets to third before scoring.
Jake at bat.
Cody at war in the batters box.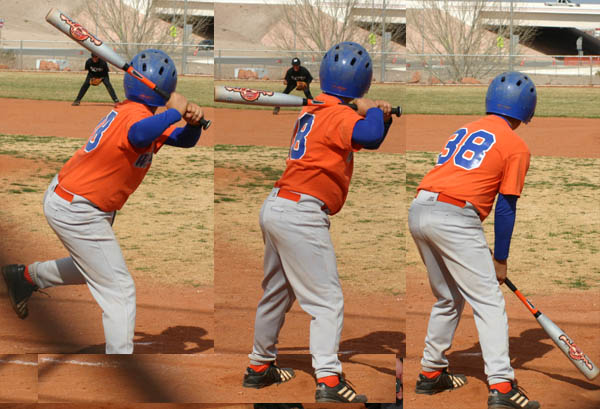 Marty whacked it sooooo high, I was surprised they caught it, but he drove in the run!
Aaron back at bat. That smooth swing gets a lot of hits.
Aaron ready to go home.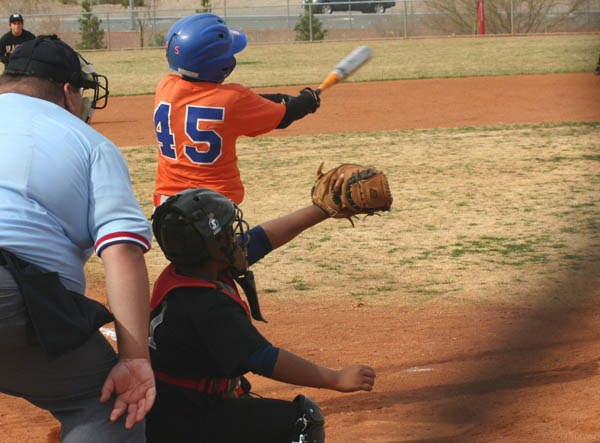 Anthony gets ahold of one!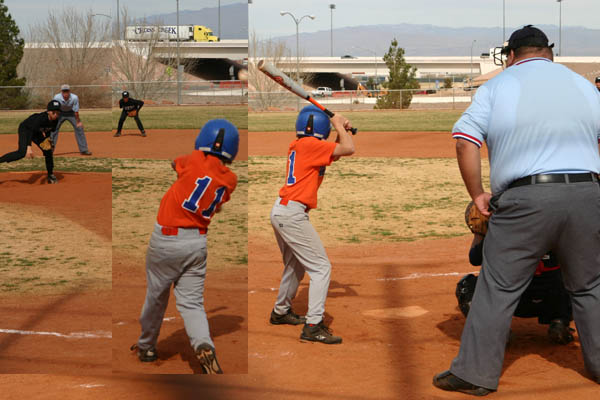 Trents swings,
Hunter gets a big hit.
Jake hits the ball.
The moms, and uncle, cheer for the Wildcats.
More moms and a dad.
11/24/06 Wildcats come in second in latest tourney in extra innings.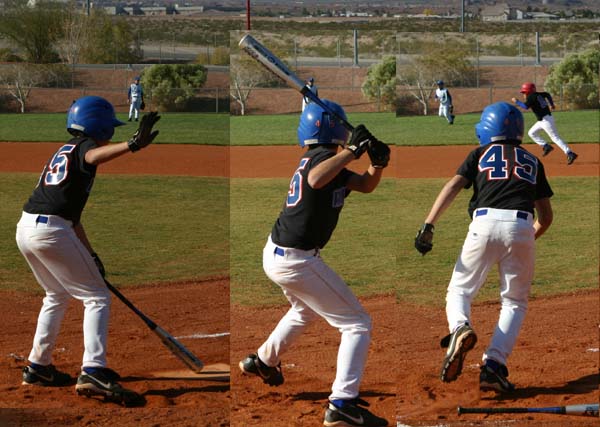 Anthony gets a hit and takes off.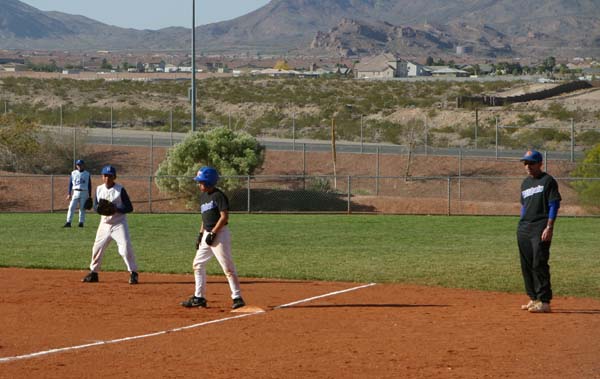 On first base and ready to go to 2nd.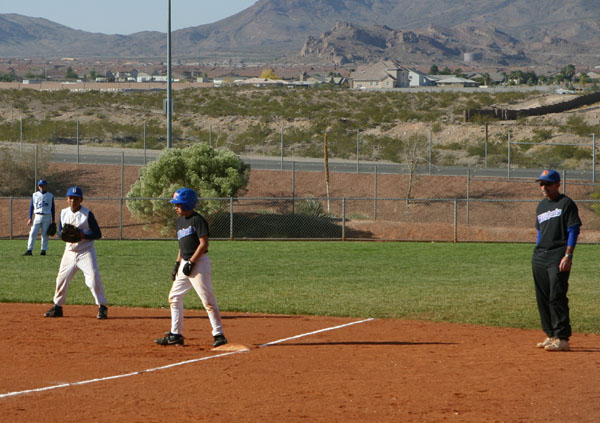 Somebody's on first, who' going to bring him in?
The moms hang out and cheeer the kids on.
Sometimes they don't like the calls.
Let's go, get a hit.
I mean it!
Tanner gets his motor running.
Number 10 gets at it.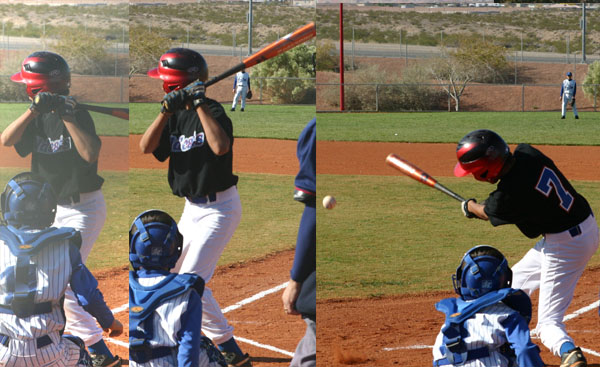 Aarron has a sweat swing!
Number 9 whacks it.
A wildcat scores on a hit
Hunter gets ready for a long double.
Tanner is ready to drive in Hunter.
Here comes Hunter.
Lets get on base here, Marty.
Yowser, it's a bingo!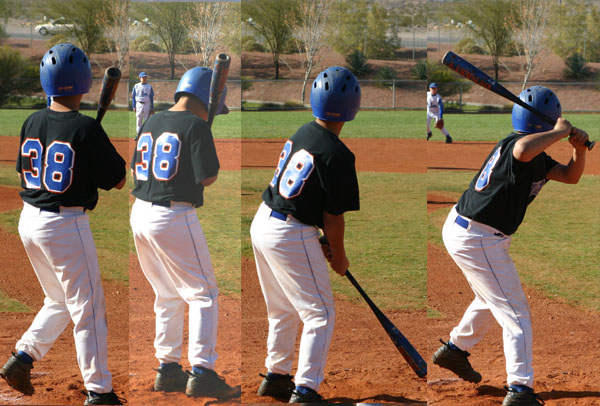 Marty powers up another hit.
Number 11 gets a hit.
Another think tank episode.
It was getting colder, but the Wildcats were winning.
The mighty Catfish warming up!
Is that a heater?
Crowd is getting closer.
Games over, time to celebrate.
Is that Scooter Max peeking out from the blanket?
9/15/06 Wildcats played 4 games and split putting them out of the tournement that they won last year. They came out slow int he first game against the Knuckleheads and lost 4 - 3 in a close oone. After winning two f=games in a row they lost on a walk off double error in the bottom of the last inning.

Anthony pitched several innings of the first game.
After each inning in the field, the kids head for the coach for a chat.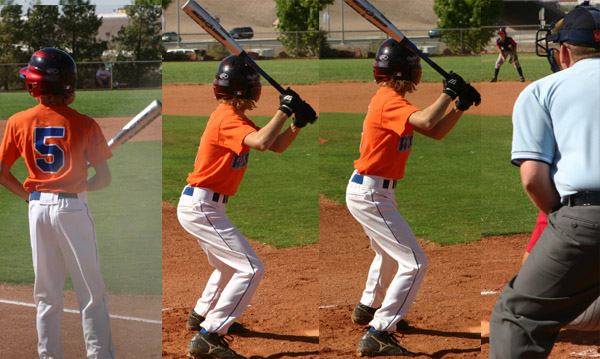 Kyle at bat.
Anthony tries the bat for fun.
Mighty Marty swings hard and has fun.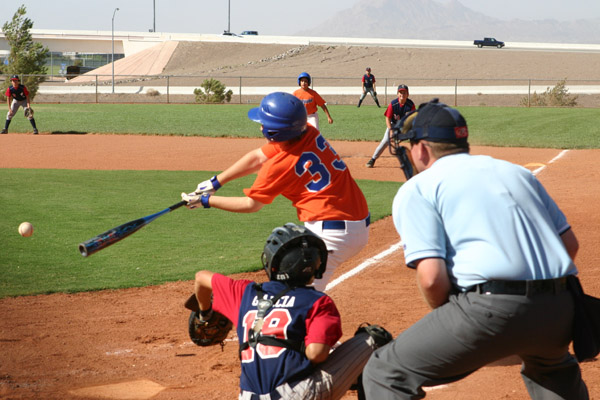 Swing batter, batter.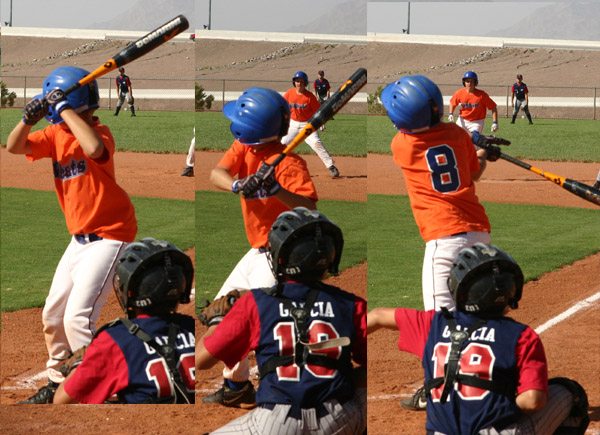 Michael at bat.
Miguel pitches here.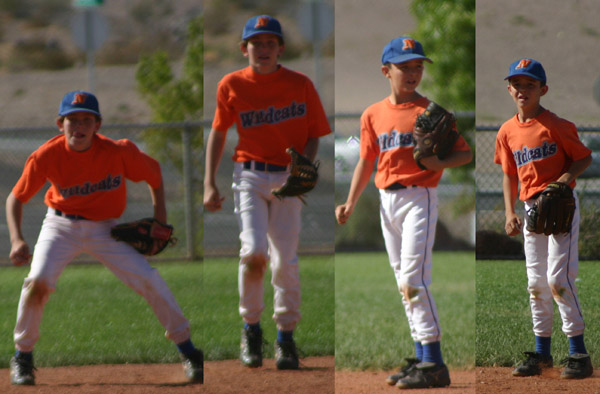 Hunter and Cody at the ready.
Kyle here.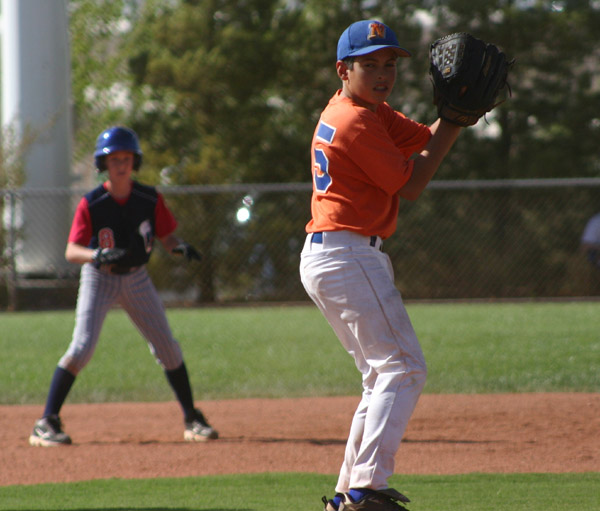 Great look of Anthony on the mound.
Behind the plate "the Rock" Marty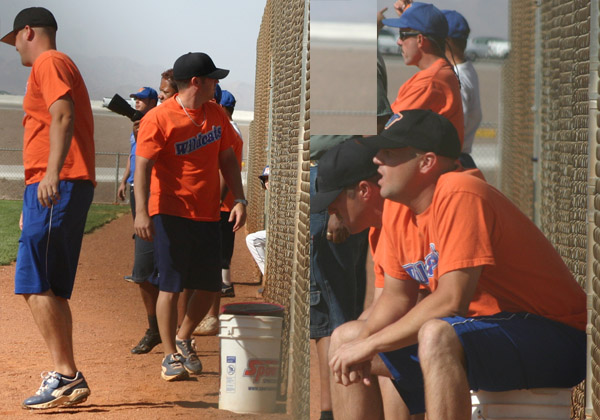 Coaches corner. Is it true some kids complained about playing time? Are there really selfish players at this age?
Miguel gets his fast ball going.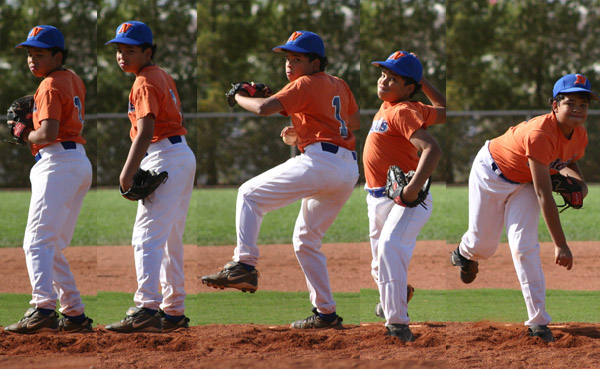 Miguel for some more.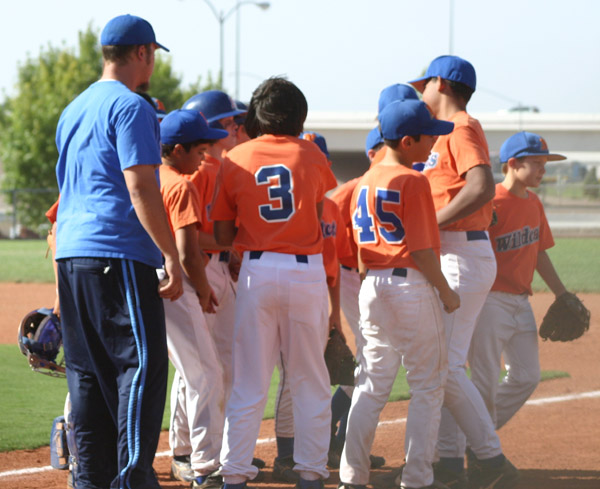 Another gathering after an inning is over.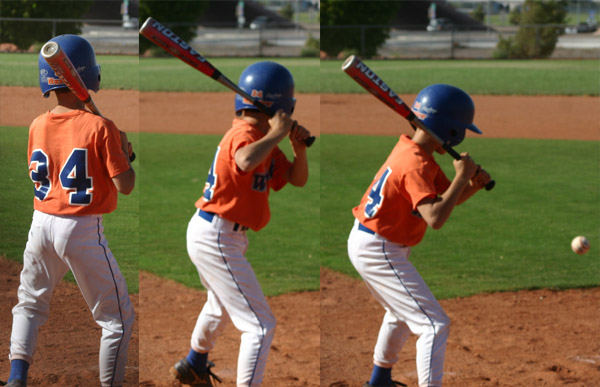 Hunter Lee at bat.
What is the pitch, coach?
Another gathering.
Are we stealing coach?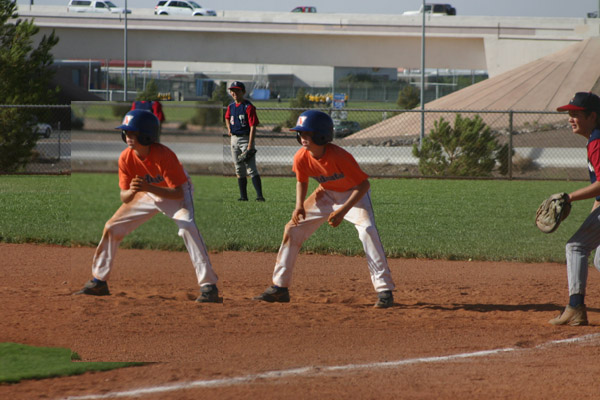 The steal is still on!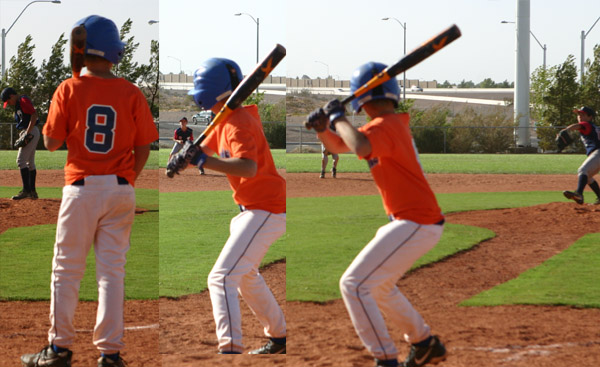 Again, Michael at bat.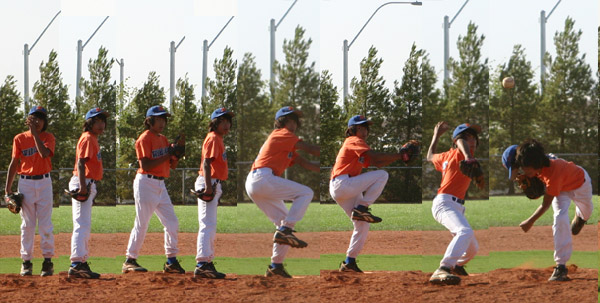 Aaron on the mound.
Will comes up to bat.
Aaron at bat.
That's the ball game.
We were protected during the game by the chopper clan.
8/12/06 Wildcats played two practice games.

Marty gets a hit and moves off from first base.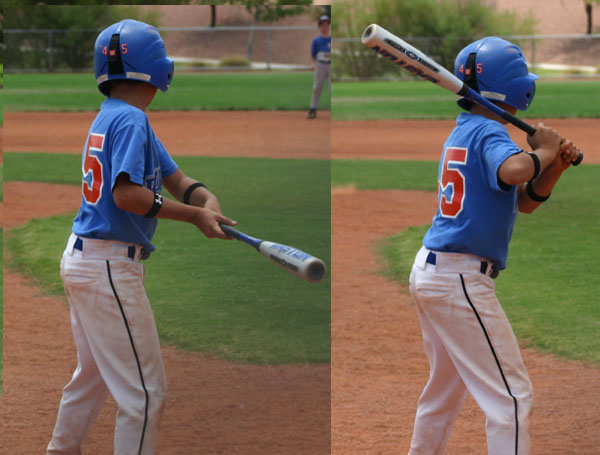 The parents under the EZ-UP watch the Wildcats in the heat of the day.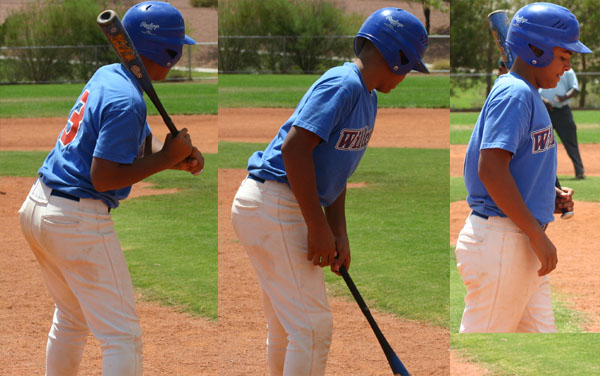 A new player to the team.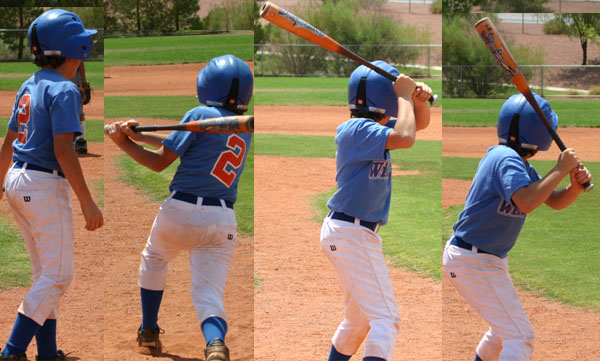 Michael behind the plate.
Michael behind the plate.
Tanner warms up on the mound as Hunter gets ready.
Here it comes, ready or not!
Pitching is fun for Anthony!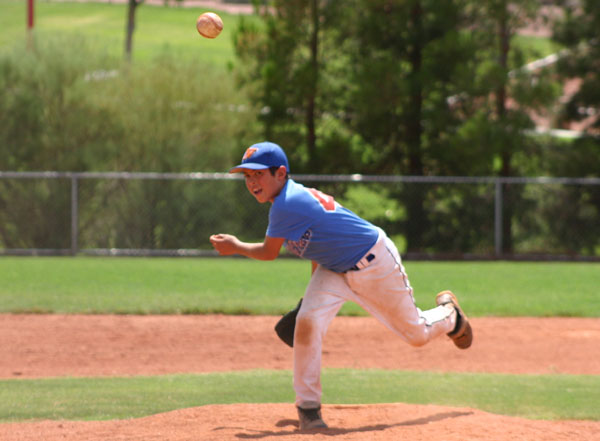 The follow thru is always the deciding factor - strike or ball.
Foul ball and play is frozen for a moment.
The catch of the day by Hunter was pretty amazing.
Aaron playing first base.
Batter up!
Mighty Cody at bat.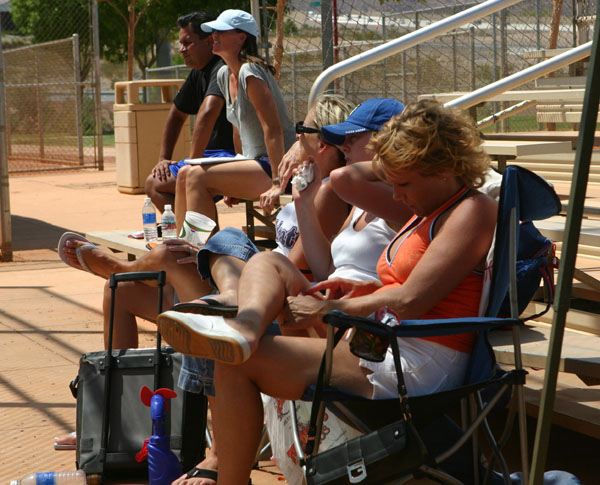 Momslove watching their kids play. So do the dad's as Fred, Marty's dad, is on the end.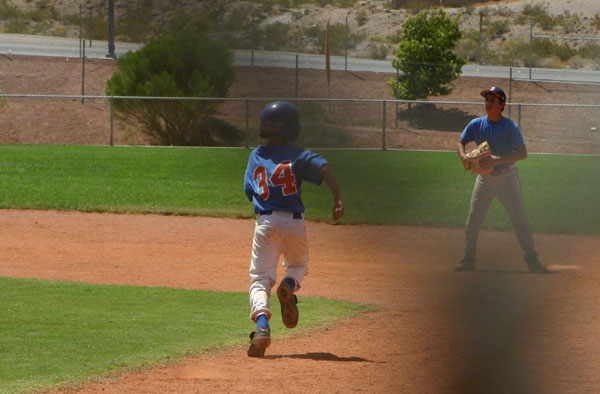 Hunter running out a base hit.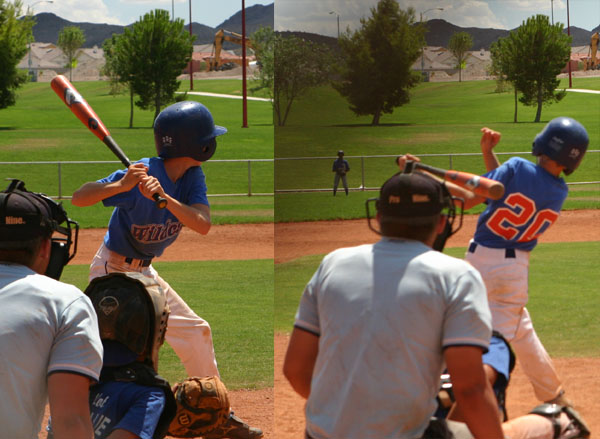 Tanner takes a hard swing.
Tanner lets it fly.
Concentration, that's the name of the game.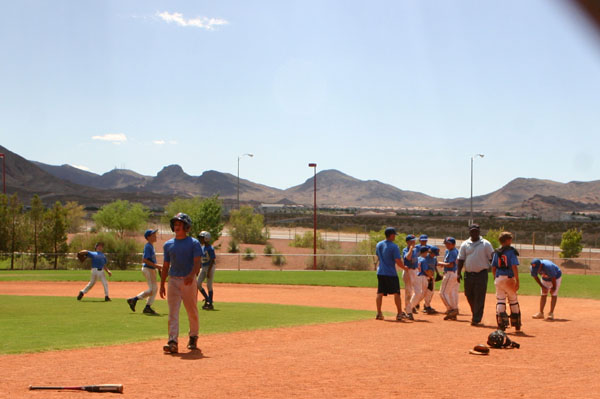 This practice game is over.
ready to go shake hands?
The line of shakers.
What now coach?
Aaron, Hunter, Marty and Anthony get ready between innings.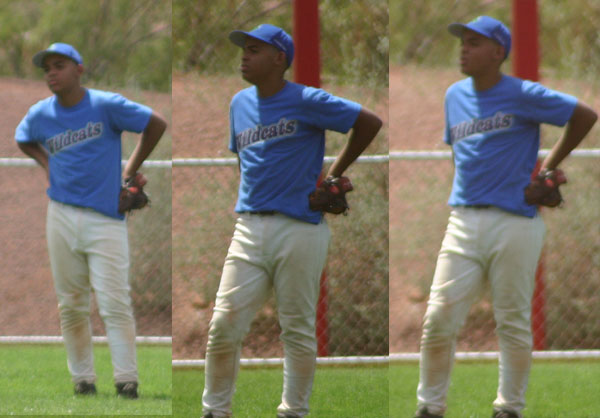 Will playing right field.
These three look relaxed. The should be, the score was way past the ten run rule.
It looks lonely out there.
Another great look at the pitcher, Tanner.



They usually huddle up after an inning to cover the action.



A line drive would be nice.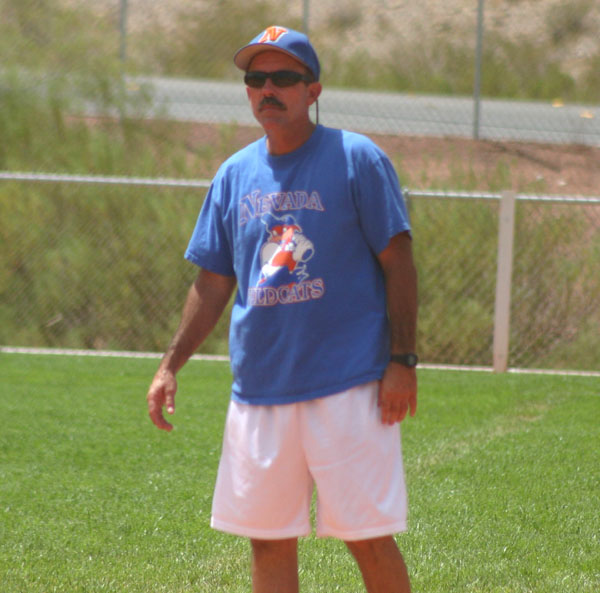 Coach Chris is ready.



Mighty Marty at bat.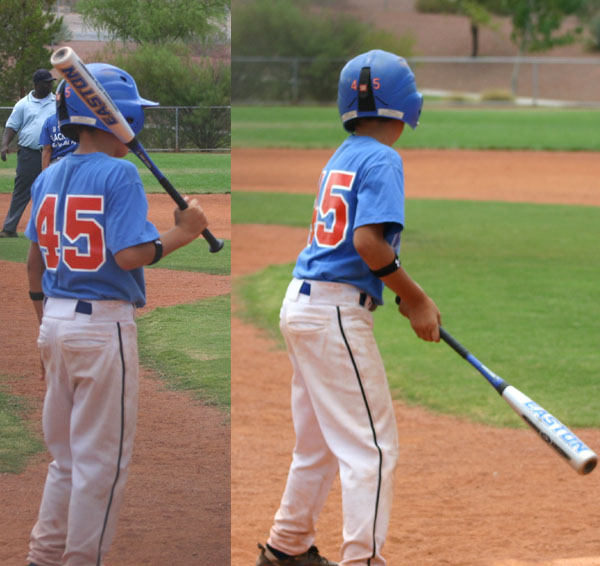 Anthony gets ready to hit.



Our flag, Honor it!
LEGACY ALL STARS RENO BOUND!!!!!!!!!!!!

Aaron # 00, Cody # 2, Grayson # 3, Kyle # 5, Dustin # 7, Dilan # 8, Greg # 13, Miguel # 21, Braden # 25, Hunter # 34, and Marty # 38. 7/7/06 Legacy 9 - Green Valley 5


The Legacy boys came ready to play as they methodically scored 9 runs and then held off a last inning run that netted 3 runs for the Green Valley boys. Never a doubt as the Legacy just played well and earned a trip on the Funbus to the state championships in Reno starting on the 21st. Good pitching by Grayson, Aaron and Miguel did the trick.



Coach Slusher is among the early crowd before the championship game.



My little red Vette is parked outside the left field foul pole. I had great hopes they couldn't hit it out there.



Mom Missy, son Chris and girlfriend Amanda before the game of brother Hunter's latest fun times.



The home team was Green Valley dressed out in blue, green and a lot of white.



Hunter leads off the game.



Dustin batting away.



Marty gets ready to crush one.



Hunter plays second with this team.



The game is about to begin with Grayson on the mound.



Grayson in action. He pitched half the game and did very well.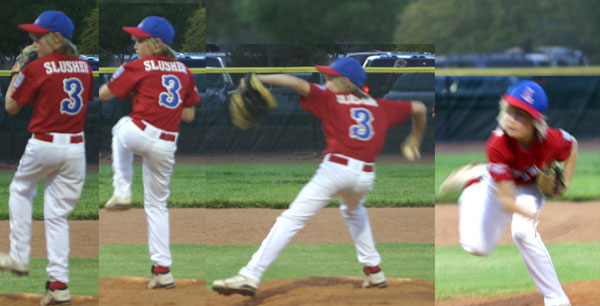 Grayson with more piting action.



Marty behind the plate. He blocked the plate keeping a run from scoring, but got whacked pretty good in doing it.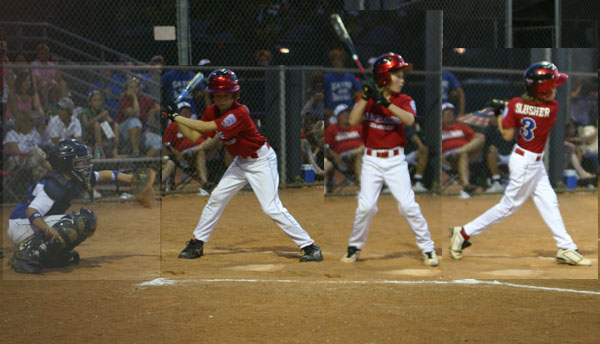 Grayson at bat.



Kyle doing his duty.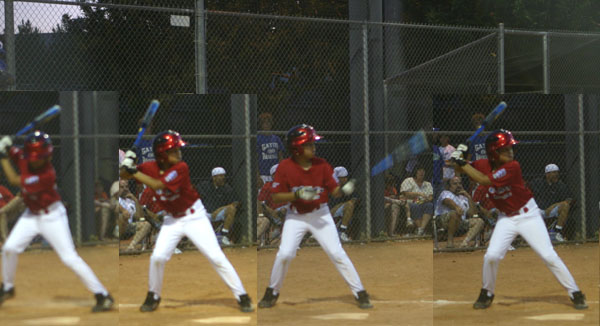 Miguel gets a chance to shine.



The pitcher looks back, probably to see if his teammates are ready. They weren't ready for Cody.



Cody looks out to see where he's going to play this one and suddenly, Bamm!



Cody is greeted after hitting a line drive over the wall.



The joy in mudville, oh so sweet.



Aaron gets a hit and lands on first.



Aaron races to third on another hit and is greeted by Coach Slusser.



Team cheer sessions seemed to work, hey!



New pitcher as Aaron comes in and the strikes keep coming.



Aaron lets it fly from the mound. He shut them down for three innings until Miguel came in to close.



Let's close it out and go to Reno!



Miguel closes out the victory after coming in with the bases loaded and no outs.



We did it!!!



Great victory and now the Funbus ride to Reno on July 20th to win the state championship is up next. More practice anyone?



Congratulations to the players and families who support these kids.

7/7/06 Legacy 7 - Silverado 6


Legacy All Stars road to Reno. This game almost got away from the Legacy All Stars when they gave up 4 runs in the 2nd inning and went behind 6 to 2, but they came back. They scored a run in the 4th and 5th innings, but were still two runs shy with the last inning coming up. Cody relieved Marty on the mound after he was unlucky to give up four runs on several errors. Cody shut the strong Silverado team down the rest of the way with some savy pitching and one plate blocking incident that denied Silverado another run. If 11 year olds can be cocky, the Silverado all stars were just that with their strutting around and batting gestures with big smiles, especially after their hot pitcher nailed a two run shot in the first inning. They projected that look of a winner, but the Legacy dug in and began to create momentum for themselves. With them still three runs behind in the bottom of the fifth, and with two outs, they filled the bases with some timely hits and productive at bats. The hot pitcher was replaced after he gave up one run, but the score was still 6 to 4 when the last inning started after they missed a real chance to blow in some runs. Marty led off the last of the 6th with a hit, then two were on and a big base hit tied the score. With runners on 2nd and 3rd and only one out, up to bat comes Aaron, who had already had at least two hits in the game. He swung at the first one and missed! Zowie! The next pitch was flung at him and he smoothly swung thru the ball and sent it over the right fielders head as the winning run scored and the Legacy All Stars jumped for joy. They overcame a lot in this game and the bottom line was a big victory for them all! The next game is on Monday for the rights to go to Reno, I heard, so off we go!!!!!!!!!!!



The evening starts with practice.



What to do when you are a coach and are not allowed on the field? Chris Welch, father of Hunter and a coach on his team, is kept away from helping the kids because only two coaches are allowed on the field with a 12 man team. Legacy could have had three but for one more player. One might wonder why a coach and the players are penalized when nothing is more important than guiding these kids, and two adults can't do it alone.



Hey, let's take ground balls.



The outfielders get the feel of the game under the scoreboard, that does not work.



Warming up is very important as these four are getting ready.



Continuing to practice before the game gets everyone in the mood to win.



Coach John sends grounders to the infielders.



Hunter fields a grounder and throws it back in.



Miss Lisa, Marty's mom, with her new boyfriend.



Missy brought cookies!!!



The catcher always has more gear to put on than anyone, so it takes time.



More activity as the game is getting near.



The teams were introduced before the game.



The line-up means something to these kids, it is their time in the limelight.



Marty's dad Fred.



Marty on the mound.



Aaron on first.



Miguel in the outfield.



Hunter at second base.



Cody at shortstop.



Aaron ready to make the play.



Marty in motion.



The intense Marty.



Oooops - this is the "hot" pitcher who hit a 2 run homer,



What is the sign?



Team unity meeting. It worked.



Here we go. The 1st basemen is not paying attention, the runner can't leave until the ball is pitched, the camerman has a funny hat and the 1st base coach is an 11 year old player. That is not a good thing with the coaching rule in effect.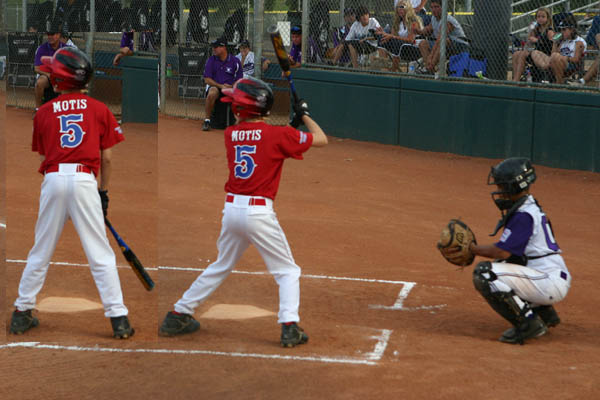 Batter up.



Hunter getsd focused because the Legacy is behind.



Hunter takes ball four.



One more run closer.



Miguel at bat.



Miguel's mom and sister.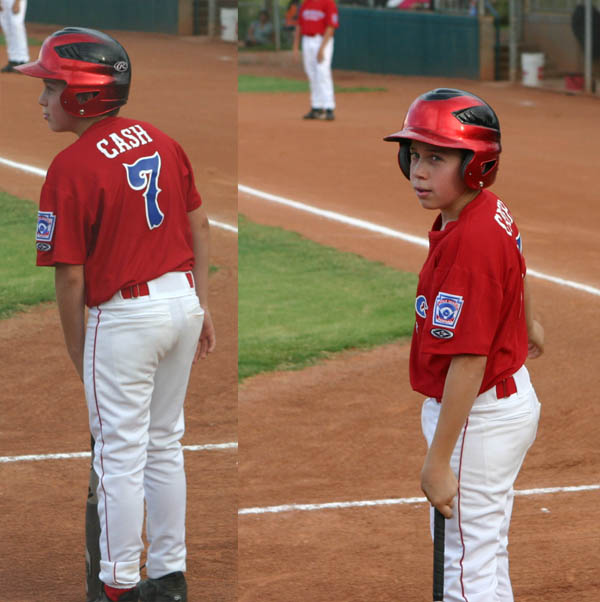 Is this Johnny Cash?



There were few fly balls to the outfield, but who is that behind those sunglasses?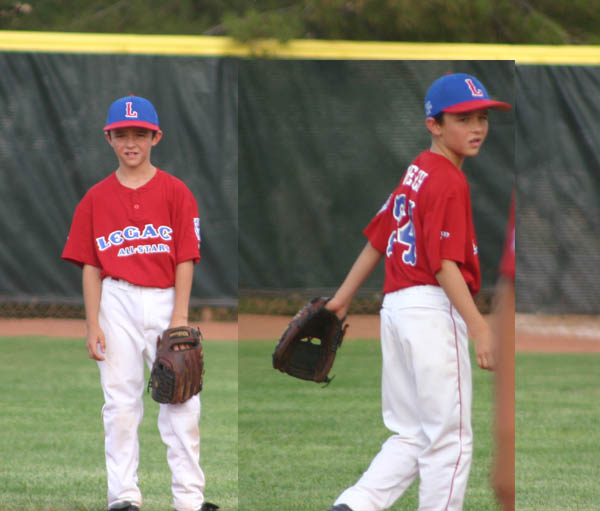 Hunter is waiting patiently for the next play.



Cody playing short.



Miguel gets his licks in.



Cody takes the mound.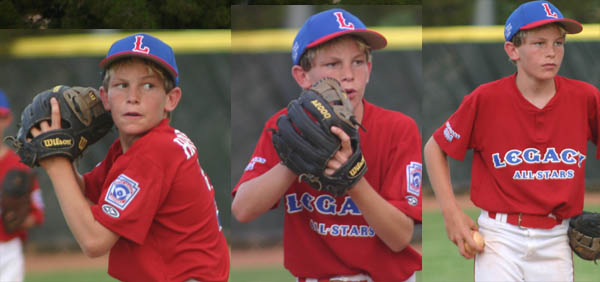 Cody in deep study.



Marty ready to steaL?



Little Hunter about to make life miserable for the pitcher.



Is this Mr Rogers in the neighborhood?



Time out for skygazing.



Is this Brand X?



Aaron was very active getting hits this game, including the game winner.



Hold em'!



Get a hit!



Grayson is ready to nail one.



Another beautiful day!



Time to rally.



Concentrate!



Oh my, a fastball.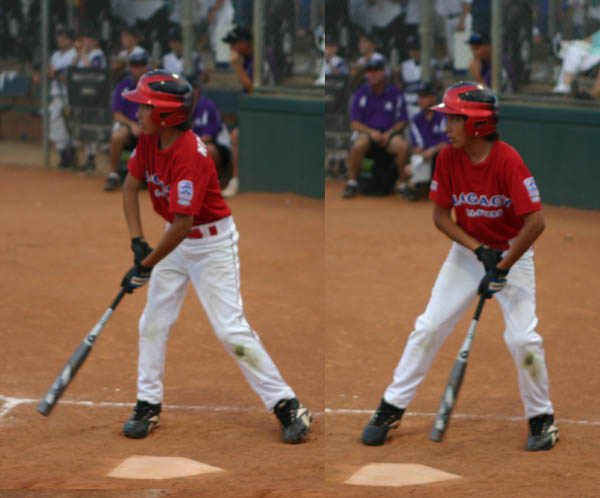 Now if he throws it down the middle, and he did, and then Aaron did his thing!



And dreams do come thru, at least today!
The Legacy Allstars came together just a few weeks ago. They lost their first game in extra innings and are battling to stay in the chase to go to the state playoffs. These kids come from all around the area and have either played together or against each other many times in the past. The 12 kids have worked at least 3 hours a day to get to this point, so some sacrifices have been made by players and coaches just to do this. They want to win. On Wednesday night the road to winning began with the knowledge a loss ends that road so their focus was ready when the game against Central began.

They scored 2 runs in the first and 8 more in the second and went on to finish the game winning 17 - 2. Two home runs in the game highlighted their efforts as the Joy of winning was quickly realized.

7/5/06 Legacy 17 - Central 2




Fred and Lisa, parents of Marty enjoy the night.



Missy and Chris, parents of Hunter.



Ken & Kim who just came to watch from the Wildcat family.



Missy and a Grandma who comes to every game.



Cody's mom and ????.



The Legacy crowd getting settled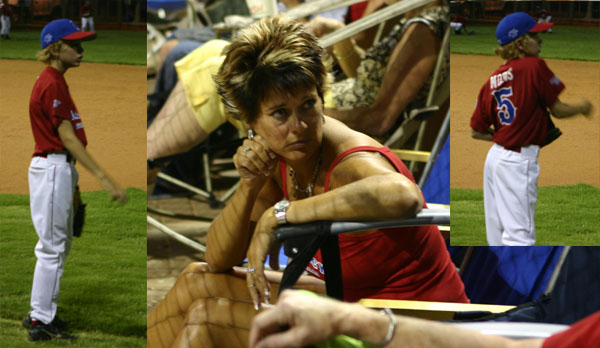 Aaron and coach John hitting ground balls to the team before the game.



Coach John meets the father son umpire team. We have seen these two before.



Legacy fans.



Several of the boys warming up.



There were a few showers. You can almost see the rain slanting down in the lights.



Catfish Hunter at bat. He played well with two strong hits and two walks as well as made several good fielding plays.



Marty at bat. He hit a towering homer to right.



Miguel on the mound.



Number 8 at bat



The pitch is on the way.



And another



Slusser pitching 4 innings very well



Aaron at bat. He had several good hits.



Marty is a strong catcher. He threw ut the only runner that tried to steal on him anbd hit a long home run.



Hunter on the slide home for the first run of the game.
Team members for the Wildcats: # 2 Trent, # 3 Aaron, # 4 Cody, # 5 Kyle, # 8 Michael, # 9 Jake, # 12 ???, # 20 Tanner, # 27 Austin, # 34 Hunter, # 38 Marty, # 45 Anthony.



The Champions of the 2006 Memorial Day Baseball Bash!
The 5th annual Memorial Day Baseball Bash - The tournement began on Saturday and runs thru Monday

5/29 Wildcats 12 - Brusers 3 ( eight run rule) Wildcats 6 - Dodgers 4, Wildcats 11 Lightning 0. Wildcats win the championship with a 7 - 0 record. They give up -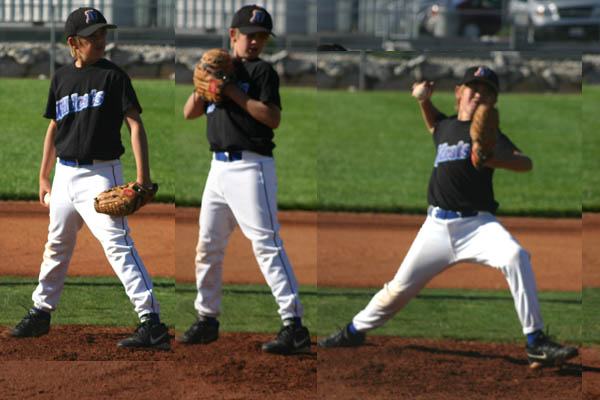 Michael begins the game pitching, but later felt something pull in his arm and he was taken out.



Hunter and Jake moving around in the dugout.



Anthony at bat.



Arron waits for the pitch.



Arron leads off first as the Wildcats start hitting.



Michael takes a pitch before banging out a hit.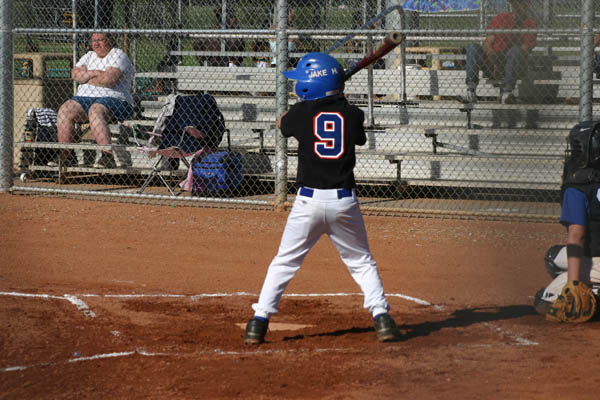 Jake is up to something here.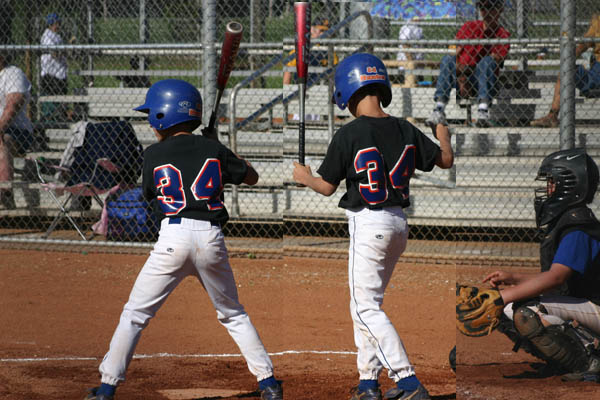 Hunter gets on with a high popup.



Trent gets his swing going.



Grandson Tory and Kim, Tanner's mom, are hanging as the game goes on.



Marty's mom Lisa at peace as her son gets another hit.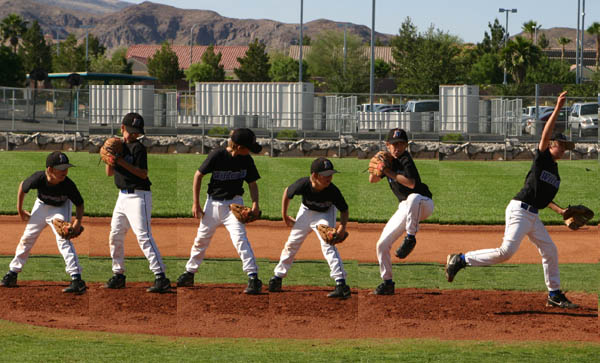 Michael in motion.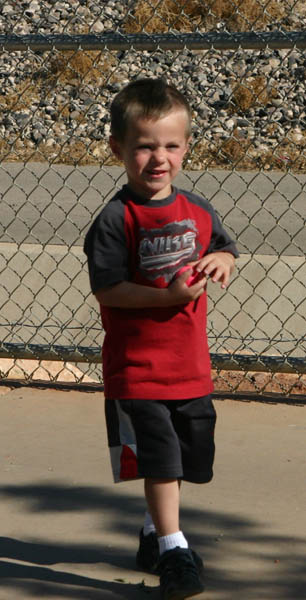 A future Wildcat is around having fun.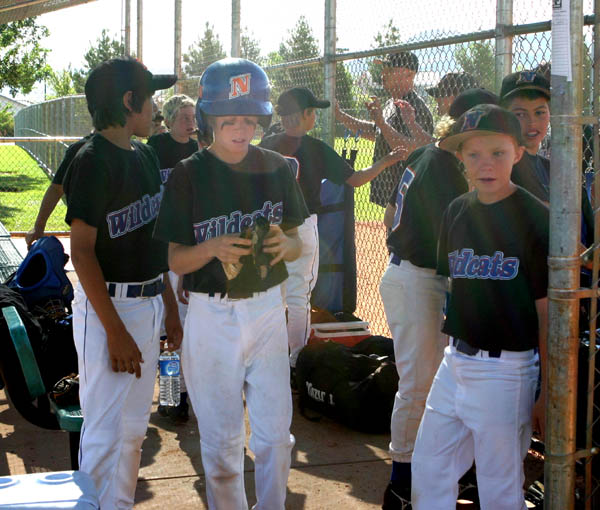 More dugout action as the Wildcats are at bat scoring runs.



Tanner getting offensive minded.



The Wildcat crowd gets rowdy, but no tailgate, yet!



Mighty Cody at bat.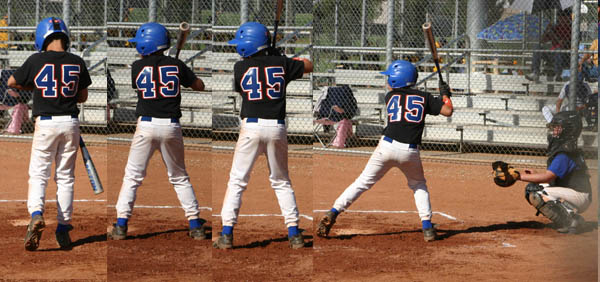 Anthony having a moment at bat.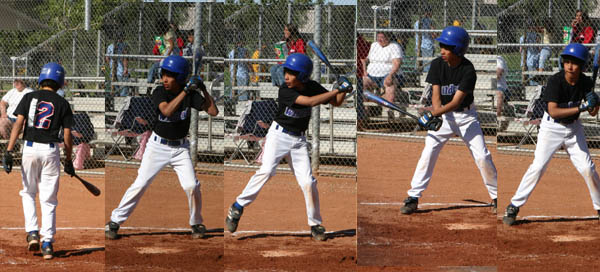 Aaron hit one long shot that should have been a home run. The long grass in the outfield was just like a glove, nothing bounced out of it.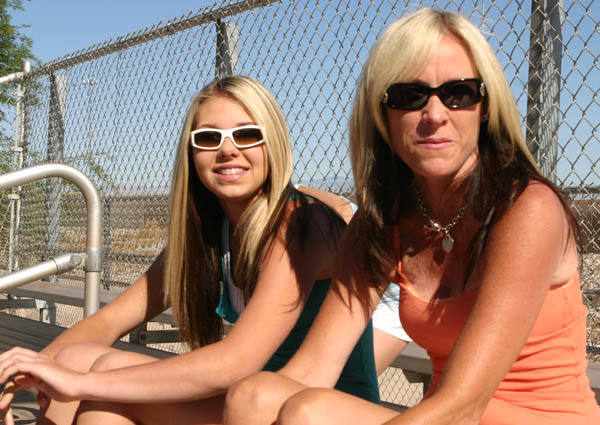 Mother and daughter of the famopus Cody family.



Jake gets ready to hit.



Hunter and dad confir at first base.



Hunter steals 2nd and third.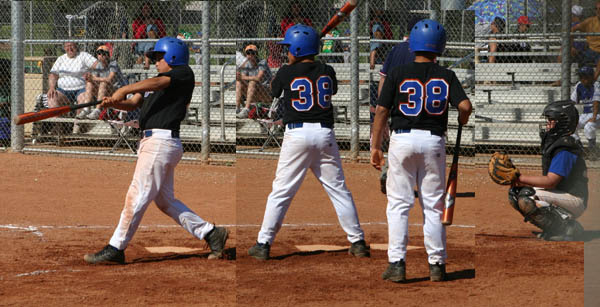 Marty crushes one.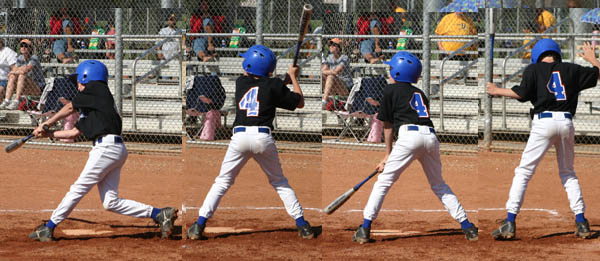 Cody on a rampage.



Another view of the dugout activity as the kids cheer for their teammates.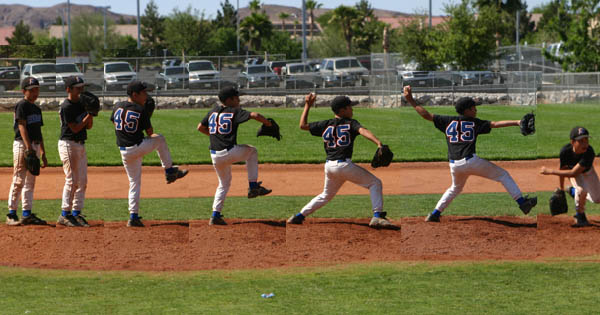 Anthony gets in a few innings after Michael had a little twinge in his arm.



Tanner hammers one.



Hunter at bat.



Hunter again.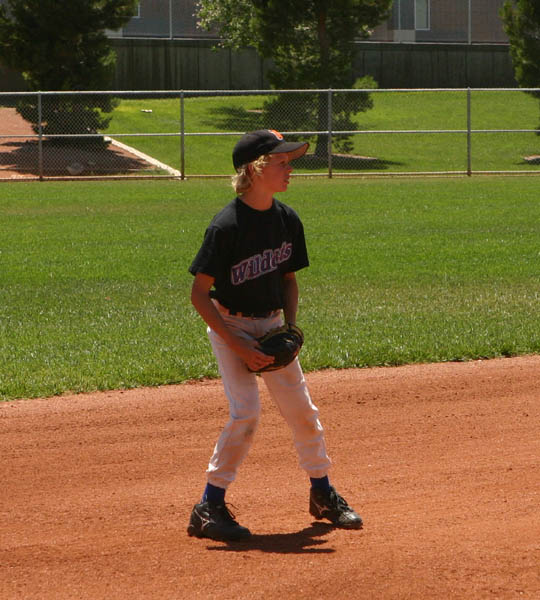 Tanner at third.



Cody at short.



Chris, Hunter's brother, his girlfriend Amanda and mom Missy.



Kyle and coach Chris at first.



I guess Kyle is running.



Aaron in the outfield.



Anthony at first.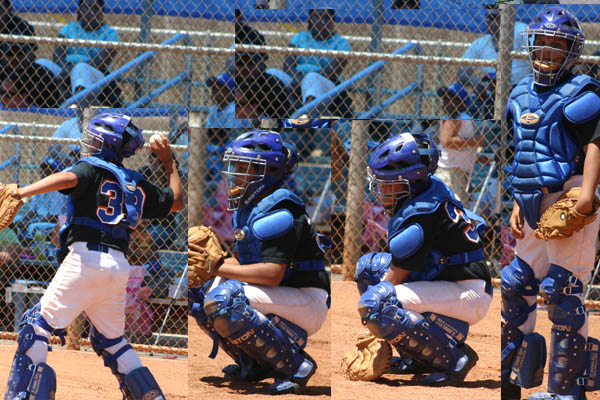 Marty behind the plate.



Tanner gets serious.



Tanner with more action.



Trent at bat whacking it hard.



Great study of a baseball player!



Kyle gives it a go.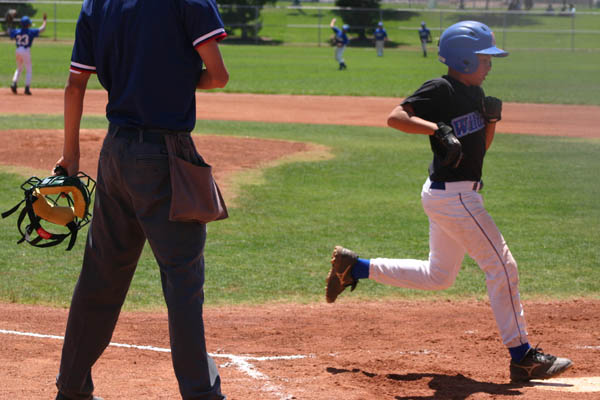 Scoring is so much fun..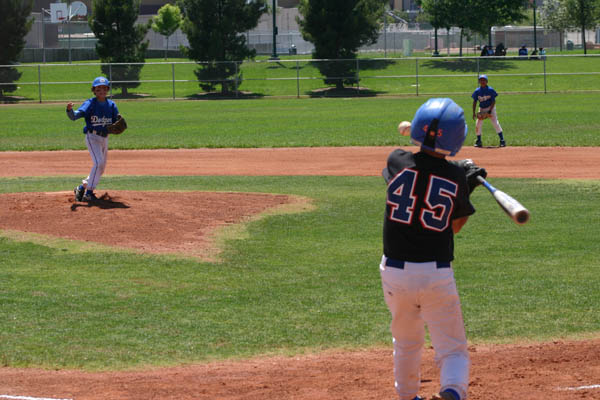 Anthony looks over a high ball.



Aaron at bat.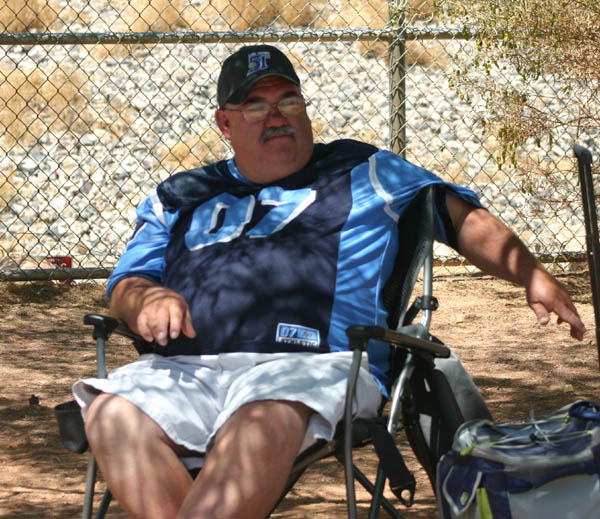 A friendly Wildcat fan doesn't miss any action.



Michael continues his hitting spree.



Jake had a hot bat this weekend.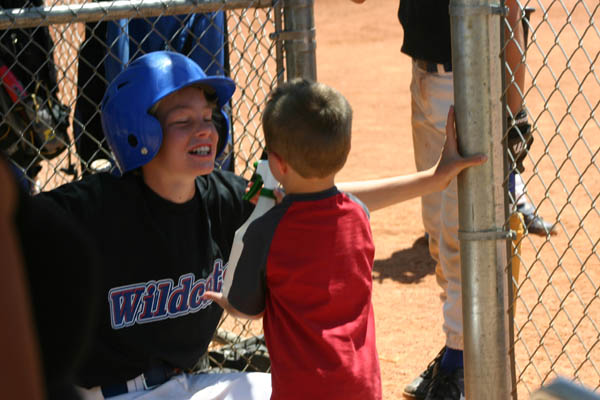 This little fan was spraying water on the Wildcats when they came off the field.



A great swing equals a base hit.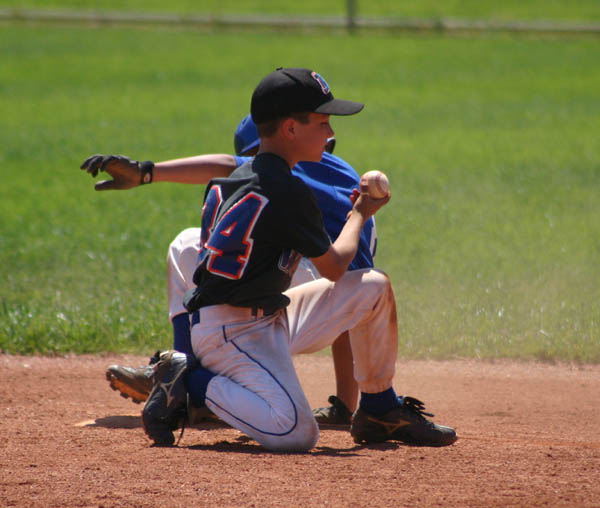 Hunter says I got em'!



The camaraderie of the Wildcats is obvious on and off the field.



Anthony gets the ball to hit his bat.



Here he goes, that Catfish is a base stealer.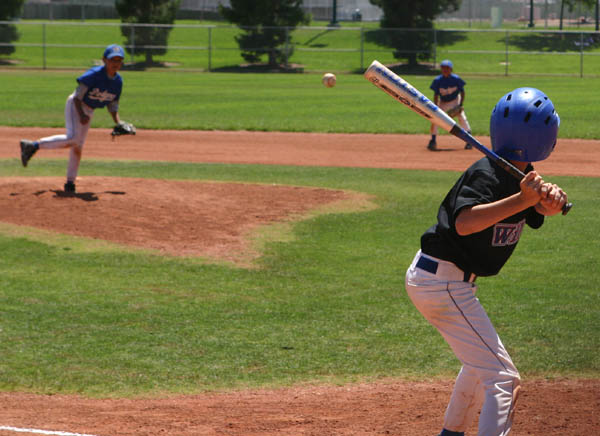 Cody on the charge.



Marty pitched in the championship game and shut them out.



Kyle lays down a bunt for a hit.



Is the batter choked up or what? Marty delivers the pitch.



Aaron gets his bat on the ball again.



Michael gets a hit.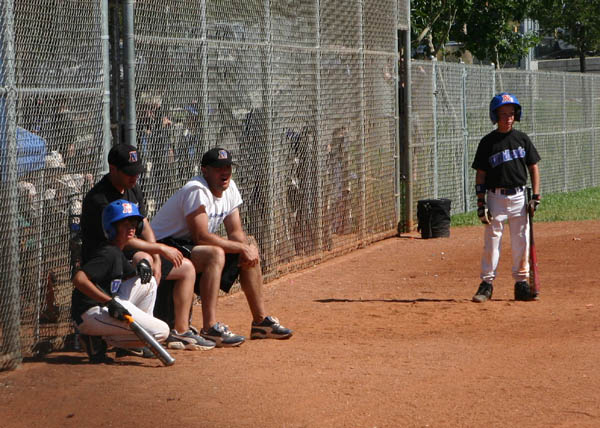 The coaches sitting in the dugout entrance.



Amanda and Chris in the crowd.



Marty pitching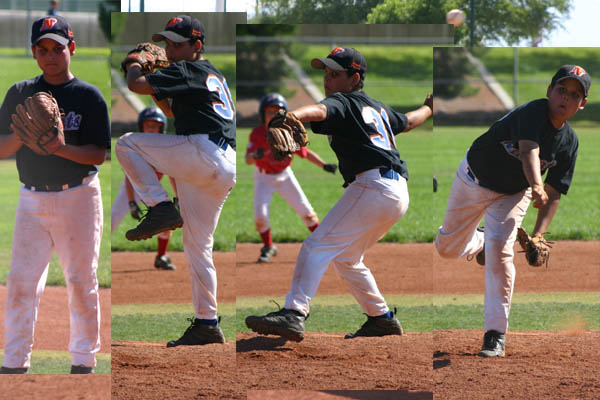 And more Marty.



Ball game, and the crowd rejoices as they get ready to go tailgating.



The line-up after the championship game. Wildcats win!



The champs get champ T's and hats.



The hats fit!



Anthony's dad lines up the winners for a team picture.



Team photo from the right side.



Last shot.
5/28 Wildcats 14 - Coyotes 4 ( Ten run rule) and Wildcats 10 to Dodgers 1 (8 run rule) in two games -




Aaron pitched a complete game victory. The ump was having a problem seeing strikes and Aaron had his otroubles in the 2nd inning, but recovered and began to mow em' down.



Anthony at first base. He had some great plays and fun today.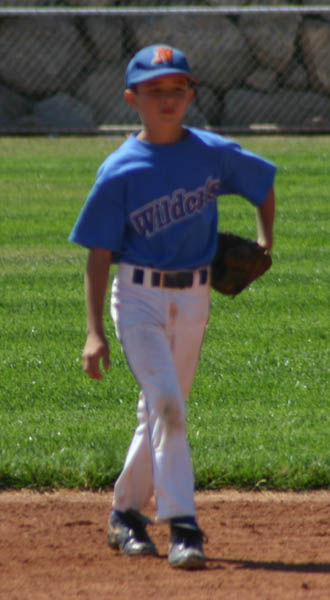 Hunter stays around second. He made some good plays and got key hits.



Cody at third. He made some key plays with runners on base.



Tanner at short.



The outfield in the first game.



Trent at work.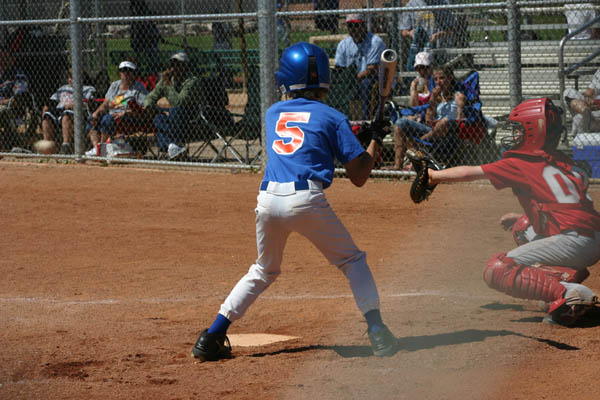 Kyle up to bat.



Tanner at bat.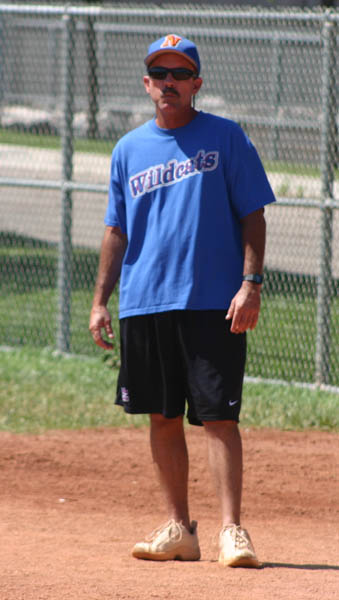 First base coach Chris at work.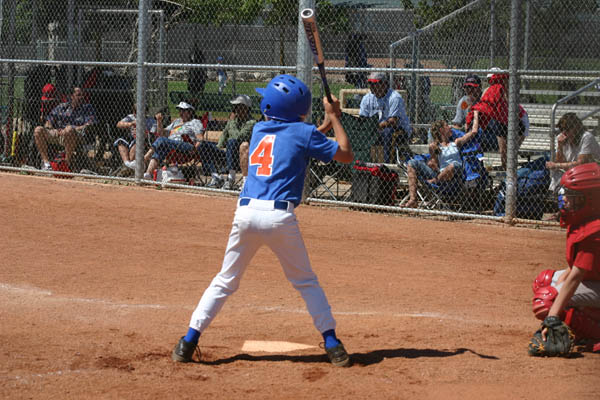 Cody getting a bead on the ball. He had several hits, but one was a real beaut and only a perfect throw to second kept him from a double.



Marty at bat.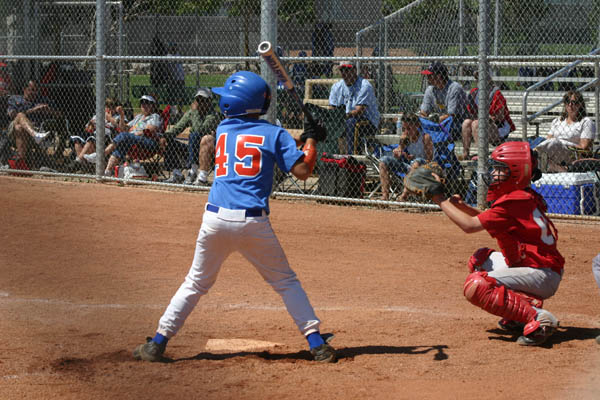 ANthony gets a crack at an RBI.



Aaron has no number, but he can hit.



Michael is a cool player, that is he keeps his cool.



Jake made several good throws and defensive plays.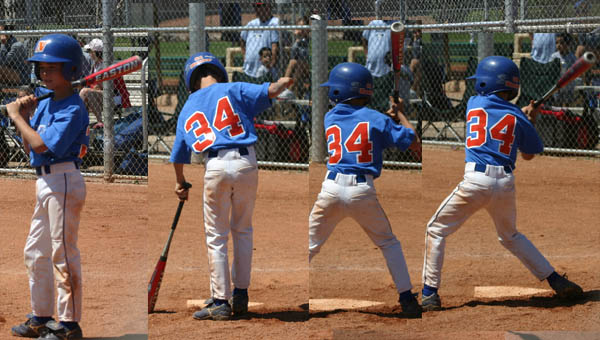 Hunter going for a big hit.



Wildcat baserunners are very successful!



Does he look ready?



Marty behind the plate is a rock!



Anthony pitched the second game and again got the complete game win.



Looks like trouble in the BH Dodgers.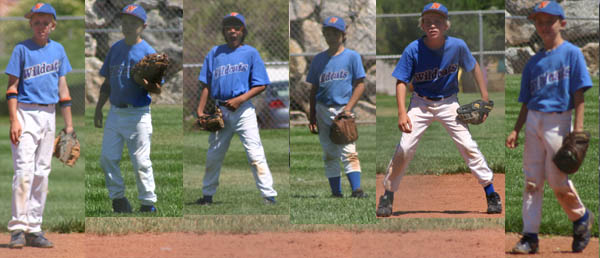 The boys of summer are Wildcats.



Baserunning makes you bite your nails.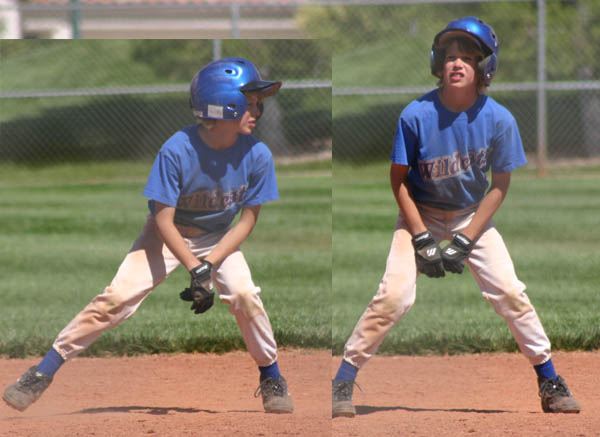 Hit it so I can run!



Fred and Lisa, parents of Marty, bookend unknown lady.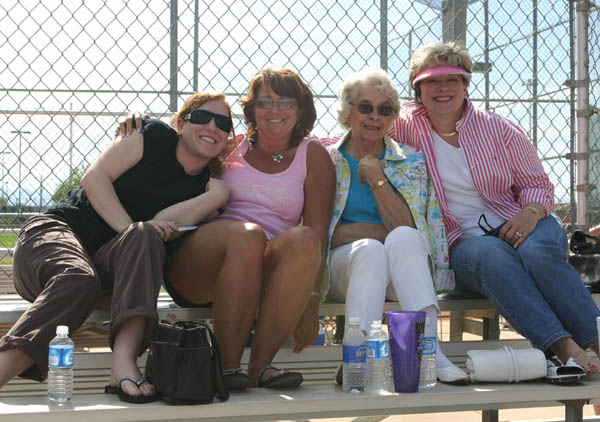 Some of the weird Hunter family - Cousin Callie, Missy, Great Grandma Max and Granny Terry
5/27 Wildcats 12 - 0 and 7 to 0 in two games -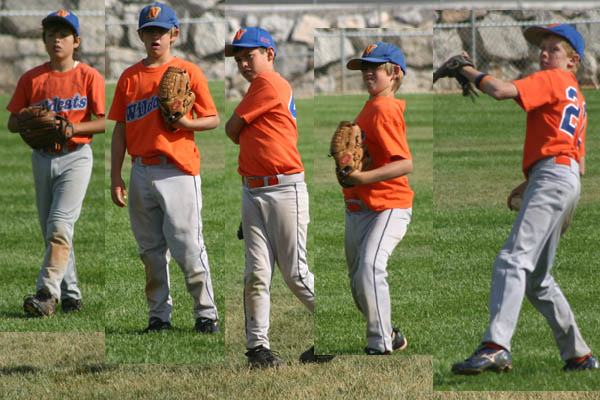 Warm up includes tossing the ball around a sthey get ready for the second game of the day. After a 12 to 0 win, it was time to take on the Hawks, a local team.



The day was warm , windy and worked into a cool afternoon as the Wildcats continued in the 5th Annual Memorial Day Baseball Bash.



Hunter's brother Chris is in the house with his cousin...........



Tory who is lookin' cool in his glasses, ac ording to Lisa.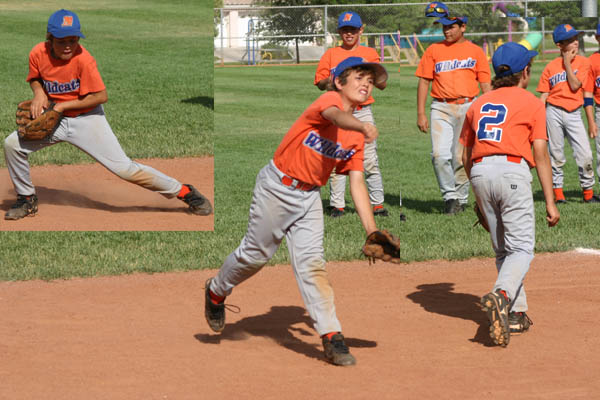 It looks like Trent is ready to play.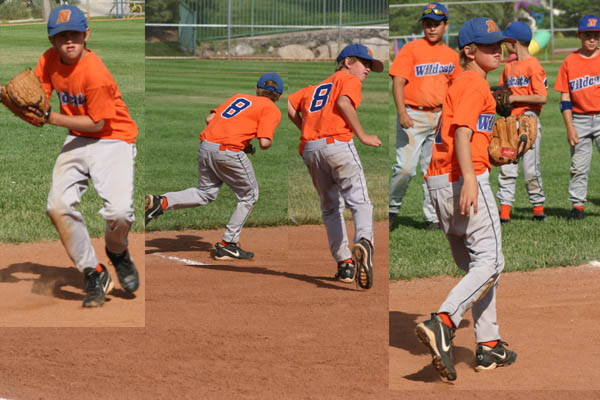 Michael played third base today and did well at the hot corner.



Tanner getting his action warming up.



Aaron gets his tude on for the Hawks.



Hunter Welch in action