ELLEN'S MEMORIAL WEEKEND IS A FOND MEMORY
In preparation for our Arizona trip to be with Joe and his family, Steve Lafond flew to our house from San Jose, after driving up from his new home in San Luis Obispo, and rode over with us to Tempe on Friday before all the fun started. He said he couldn't miss it! We three arrived in the afternoon and enjoyed visiting with Joe Ellis and his family in the Ellis Hacienda. Ellen's sister Martha and her son Jim Johnson and his wife Christi were waiting for us, with two other house guests, J D Cormack and his lady T O, until it was time for dinner. We added Sonia and John Duffy at the Longhorn Restaurant down the road a short way and chowed down on some good stuff. It was like usual on our racing visits over there, just a little more somber this time. We visited and shared stories and were excited to get tomorrow started for Ellen's memory.
The Celebration of Life for Ellen Ellis was a special day on Saturday, September 28th as we headed to Rosita's about 11 AM. The celebration of Life for Ellen Ellis started and she was remembered by all who came to the Restaurant to hang out and have a little of her favorite Mexican food at her favorite Friday night dinner spot for years. There was a special cake that Fran Herdrich had created with a picture of Ellen with Lealand McSpadden in the two-seater on top and labeled "the ride of her life". Joe and his family were there with bells on greeting everyone who came to enjoy the day. There was plenty of hot food laid out for the crowd to enjoy as the Celebration began. Ellen's sister Martha and brother David Van Liew and his wife Louise, along with Martha's son Jim and his wife Christy, all came from Kansas City to be with us. Joe's nieces Sharon, Stephanie and Denise, who live locally and were there, too. CRA officials Chris Kearns and Julie Shiosaki attended and the CRA picked up the food tab. Thank you!
Other notables in the crowd were Greg Stephens, racing pastor Ken Bowers, Tom and Laurie Sertich, Brett and Brody Roa and longtime crewman Zach, the Lealand McSpadden family, the Mark Thrasher family, The Ed Rausch family, J D Cormack & T O, Sonia & John Duffy, Krista, MacKenzie and Dylan Cordova, Fran & Jim Herdrich, John Lewis (her employer since the 60's), plus her hairdresser and some other friends we didn't know, plus many others who were there to honor her. Steve Lafond took pictures and entertained the crowd as posters and t-shirts of Ellen were gathered in. It was a warm gathering as all remembered Ellen with some great stories and memories bandied about. Big thanks to Bethany DeWitt with Martha, Fran, Terry and Sonia for organizing the event and many others who were involved, it was a family affair and much love was in the air!
After eating some good Mexican food and enjoying the cake Fran created, and finishing the warm shares of Ellen, it was time to head out for part two of the Celebration of Life for Ellen. After a pause to relax and get ready to go racing, the gang headed to the track where the night started and we knew we had a busy night ahead of us.
Jimmy Blanton, who created the program and organized the autograph session among other responsibilities at the track, had a table set aside for me and we got set-up next to an old wing sprinter that provided a little shade from the enormous wing mounted on it. We were right across from the autograph signing that featured a lot of hero's from the past. That included the Grand Marshal Larry Clark and the inductee's Bob Bishop, Ric Davis, Chuck Forstie, Mike Pinney and Brice Robinson. Others wielding a sharpie were Lealand McSpadden, Jimmy Blanton, Jerry Miller, Brent Kaeding, Lonnie Sherman, Rickie Hood, Billy Hicks, Jeremy Sherman, Russell Faucett and Mark Passarrelli. They were pretty busy for 2 hours or more. Steve Lafond had some 8 x 10's of Lealand for fans to donate to the Ellen hard charger award and then they could have the Tempe Tornado sign them. Steve says there are a few more left over as he made a bunch so let me or him know and we can work it out. The pictures will Steve took will accompany this story. We had t-shirts and posters of Ellen available and we visited with many fans who came by to pay their respects, get stuff and donate to the Ellen Ellis Memorial Jar of Change for November 16 right here at Arizona Speedway. Bethany DeWitt took our "bucket" off to the pits to collect from many pit people down there and she came back with a lot of green. Later she informed me a lot of the 360 drivers had joined in to donate to the jar. She was amazing working it with the racers. My thanks to her! Oh, and Brody Roa, you cost me $20! At the end of the night, the Ellen Ellis Memorial Jar of Change total is up to $950, thanks to you all, but our goal is to beat that Sneaky Lealand who collected $2700 at Perris for Ellen a few weeks ago, and we want to top that before November 16 at Arizona Speedway. You can help by sending money to Wags at 429 Flores Circle, Las Vegas, NV 89123 and I promise not to waste it in a slot machine! Let's do it!
Before the racing started, the national Anthem was sung very nicely. Then Lealand McSpadden and photog Steve Lafond got up into the flagstand so Lealand could wave Ellen's last flag for her………. Then two racers, Austin Williams and Charles Davis Jr did a lap in her honor and roared off under Lealand's amazing flag waving. That was a tear jerker for many and a real special thing for Ellen's family and all of us.
When the heats started, we loaded up our "booth" stuff and took it to the car so we could go watch a little racing. In the first heat Eddie Tafoya ran off and won easily ahead of Austin Williams! Jake Swanson was hot in the second heat as he raced to the win there over Damion Gardner. Dennis Gile beat Charlie Davis Jr in another good one. The racing on a very tough track was pretty good all night.
The main event looked like it belonged to Jake Swanson when he and Brody Roa Lined up on the front row after his high flying act in his heat. Jake led the first 6 laps flying up around the top most of the time and looking strong and dominating. Damion got by in a traffic move and led 5 laps before Jake took it back and went high flying again. Unfortunately, after a later restart, Jake ignored the faster low groove in turn one/two and hit the high groove again one more time, and it bit him hard. As one track smart guy said "the tire hadn't heated up enough to hold that line" and he got sucked into the wall and was up and over and done for the night. That had the crowd holding their breath and stunned. Before this startling end of the # 34, they were racing hard behind him.
R J Johnson had been coming forward hard with Austin Williams and Stevie Sussex as they shuffled thru the pack to get close to Jake. After the "clean up on isle 2 was done, the next restart took off. R J inherited the lead on that one and never wavered as he rode the last 9 laps with Stevie and Austin on his tail and grabbed a big $ 4000 win. He also added $900 of Ellen Ellis Hard Charger money from Lealand McSpadden for a nice payday. When Bethany suggested we pass a little of that money she helped collect in the pits to that 360 group after their great main, we added $150 to Lealand's collection money for Ellen and they awarded 360 driver Josh Shipley $400 for his hard charger efforts in honor of Ellen. It was a good thing
Steve Hix received Ellen's UK Trophy, the Long Haul Award, in memory of "A special Lady and dear racing friend" sponsored by English lads George Rimmer, Tony Flynn and Mark Kelly. He was thrilled to get it! The following is the tribute George wrote for Ellen.
ENGLISH MEMORIES:
REMEMBERING ELLEN: (From George & Susan Rimmer, Liverpool, England:
The term "Life Changing Experience" is used so often these days, that the true meaning of those words can sometimes get lost in translation. However, when we first got acquainted with our beloved Ellen Ellis over here in England, I can say with 100% certainty that it really was an absolute "life changing experience"!
Many of you there today will know of Ellen's "English connection" but possibly don't know just how well known she was in the oval racing world on this side of the pond. It all began way back in the late 1980's when I wrote to the great Tempe' Tornado to ask for an autographed photo. Like the true gentleman he is, Lealand quickly replied and also very kindly sent a terrific 10 x 8 signed photo which I still cherish today. The other thing he did was pass on my letter to a lady by the name of Ellen Ellis who wrote us a really nice letter along with a "whole bunch" of photo's, programmes, decals, and other sprint car material. She even sent a tiny "Tempe Tornado" bib for our new born baby! From that day on, our lives were never quite the same ever again. We became what used to be called "pen pals" and would exchange letters on a monthly basis for many years, until the internet came along and those letters then became E-Mails and it went to a weekly basis!
Looking back to those early days, it's difficult to convey just how much this was appreciated here in England as it was long before the on - line era, and trying to get racing information from the U.S.A. could take many weeks or even months. Ellen was our lifeline and kept us up to date on everything happening in the sprint car world which I would then share with other like - minded English fans. She would also send us a funny little fanzine called "Wagtimes", which kept us up to date and made us feel "involved". Three decades on, and we are still friends and in touch with many of the group members and feel both proud & privileged to still consider ourselves as "Honorary" Wagtimers.
In 1994 an opportunity came along when Ellen invited us over to the Copper World at Phoenix International Raceway. At the time I had a very demanding job plus two small boys, but my wonderful understanding wife Susan said that I should go, along with another good racing pal Gary Picken. In all honesty, I really couldn't afford it, but we worked a lot of extra hours over Christmas & New Year and that paid for the flight. I'll never forget nervously walking out of Phoenix airport and meeting Ellen & Joe who were waiting for us. They were so warm and friendly and instantly put us at ease. Most people would hold up a sign with a name written on it, but Ellen was holding aloft a chequered flag and a copy of "Open Wheel" magazine! As we got into Joe's huge Cadillac I said to Ellen "will we see Lealand race this weekend?" The reply was "Oh sure" and you'll be sitting next to him at the restaurant tonight". Yes, in true Ellen style, she had arranged a huge dinner and had invited just about every big racing name or "legend" who was in town that weekend for the Copper Classic. A typically wonderful gesture from the little lady with the biggest of kind hearts.
That was the first of several visits to Phoenix and the "Ellis Hacienda" as Wags used to call it, and that also led to several later trips over to the Chilli Bowl in Tulsa which were always amazing experiences. Every trip, Ellen would somehow work her magic and find us a room in the much sought after Expo' Motel, along with tickets which were so hard to obtain. For us "Brits", the lady from Tempe was the absolute epicentre of Chilli Bowl and was our "go to gal" whenever we were there – I simply cannot imagine another trip to Chilli Bowl ever being the same without her being there. From a personal point of view and away from racing, without Ellen our family would have never got to visit Arizona or see so many wonderful sights in the U.S. on our American vacations. Ellen and Joe took us to places we could only dream about like the Grand Canyon, The Hoover Dam, or Las Vegas plus some incredible road trips throughout the AZ and CA states. She became a real true friend to Susan, and genuinely cared about our lads from when they were both babies, and remained constantly interested in their lives right into adulthood. Even now, they still genuinely look upon and regard Ellen & Joe as their 'unofficial' American Aunt and Uncle! We all know that I was her main ''English person'' & friend, but many American people probably won't be aware or realise just how much she did for lots of other people over here in the UK. Mrs Ellis actually had quite a following of English friends and fans, and her British Christmas card list was almost as big as her American one! Her impact on racing here was quite significant too, as she really helped to bring sprint car racing to a wider international audience. Without Ellen's input we would never have got to know so many influential racing people, plus she introduced us to several American drivers who eventually came here to race (and vice versa). There is now a huge amount of interest in Sprint Car racing in the UK, but back in those early days it was Ellen Ellis who was an endless source of valuable information, assistance, and resources with regard to spreading the sprint car gospel!
Our last conversation was back in late May when we called her from Pennsylvania where we were on a short holiday. It was a very emotional and tearful experience to say the least, but she sounded so brave and upbeat throughout our chat. This will come as no surprise when I say that her main concern was that she could no longer send me my copy of Sprint Car & Midget magazine! (Nothing could illustrate Ellen's caring and unselfish nature more than that). Sadly we cannot be there today as you all celebrate the life of this amazing lady who changed and touched all our lives, and actually feel just a little "helpless" being so far away over here. We are with you all in spirit however, celebrating and remembering our beloved Ellen's wonderful life and reliving those cherished memories.
RIP "The Photo Lady" – there will never, ever be another one quite like her!
Footnote: With the invaluable help of Ken Wagner, myself and two other UK racing mates Mark Kelly & Tony Flynn, we have organized an award to be presented in Ellen's memory at the races tonight. We've called it ''Ellen's English Trophy'' in recognition of everything she did for us at Chilli Bowl, and also for so many other people over here.
That was a very special tribute by George and Joe and the family really appreciated it!
After the races, we all headed back to Joe's, with a quick In N Out burger stop for a snack. More visiting until lights out. The wind down was very nice as we settled in and relaxed after the special day. In the morning we met at the Texas Roadhouse in Gilbert, AZ that David's son Kevin manages, where he hosted the big group for a final get together before we all had to skedaddle home. It was great with one more time to get to know the KC group after sharing the Celebration for Ellen and saying good bye in what turned out to be closure for many. Rest in Peace Ellen, we will never forget you.
Here is Steve Lafonds work of the day and evening.
The crowd at Rosita's pointing up to Ellen
Another view of the crowd.
The special cake provided by Fran Herdrich
Remembering Ellen Ellis - sign from J D Cormack with signitures from Belleville and Arizona Speedway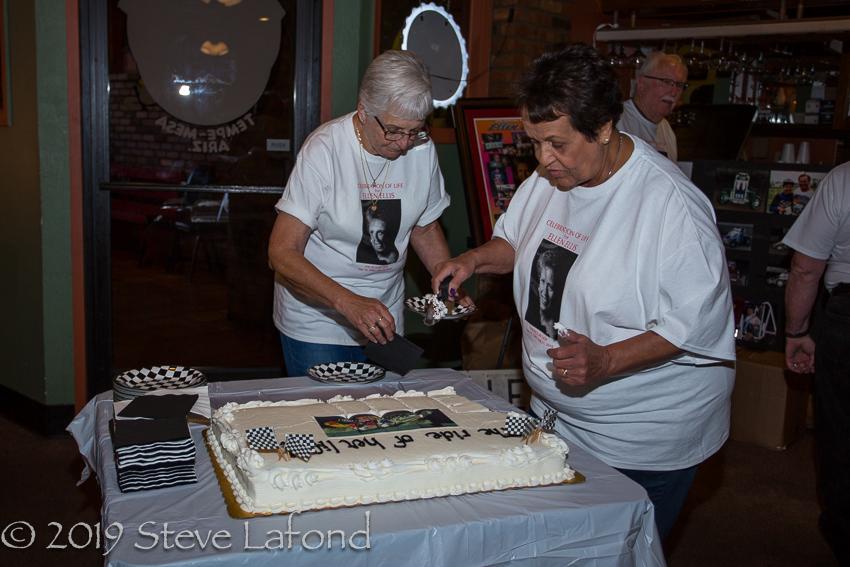 Fran and Sonia cutting the cake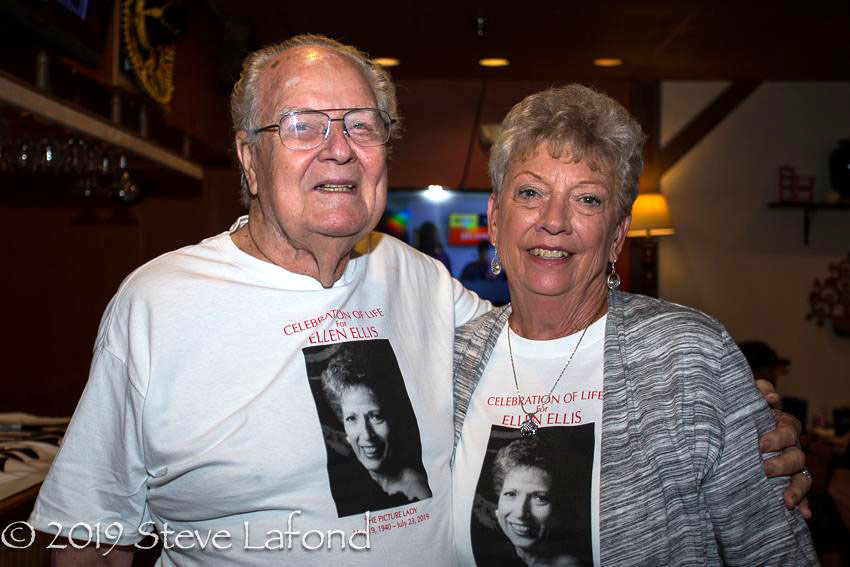 Joe with Ellen's sister Martha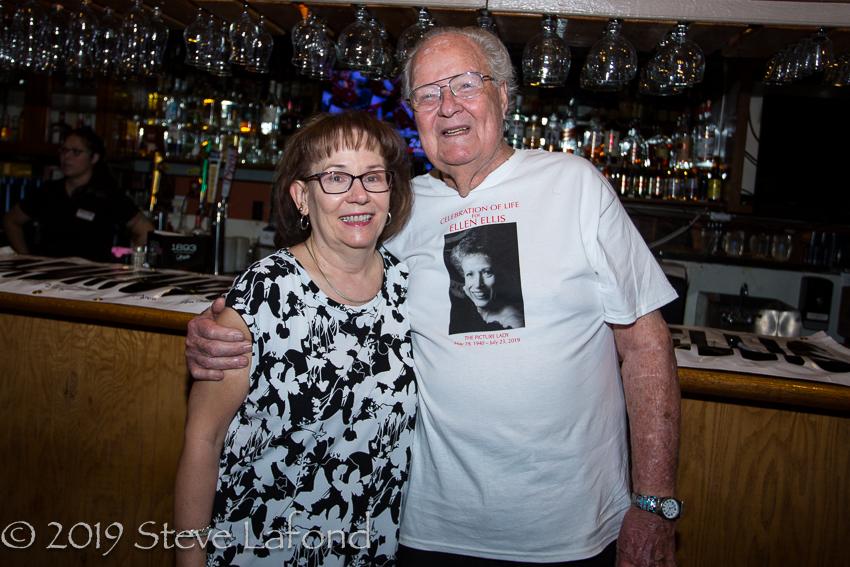 Joe and niece Sharon
Lealand with Ben Thrasher and J D Cormack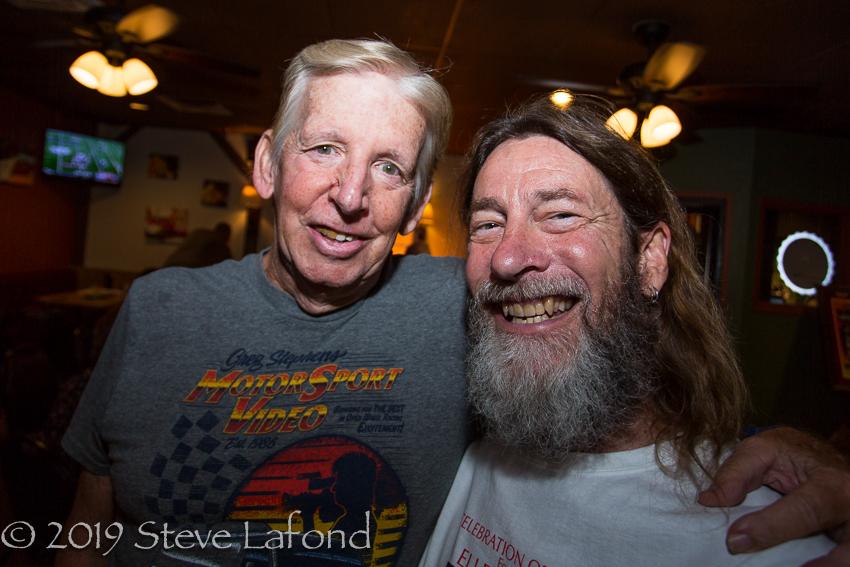 Steve Lafond and Greg Stephens
J D Cormack and Greg Stephens
Lealand McSpadden and Wags
Martha and Wags with Ellen's hairdresser and her husband
Sherri Spencer, Wags, Joe's niece Sharon and her husband
Lealand with an unsuspecting admirer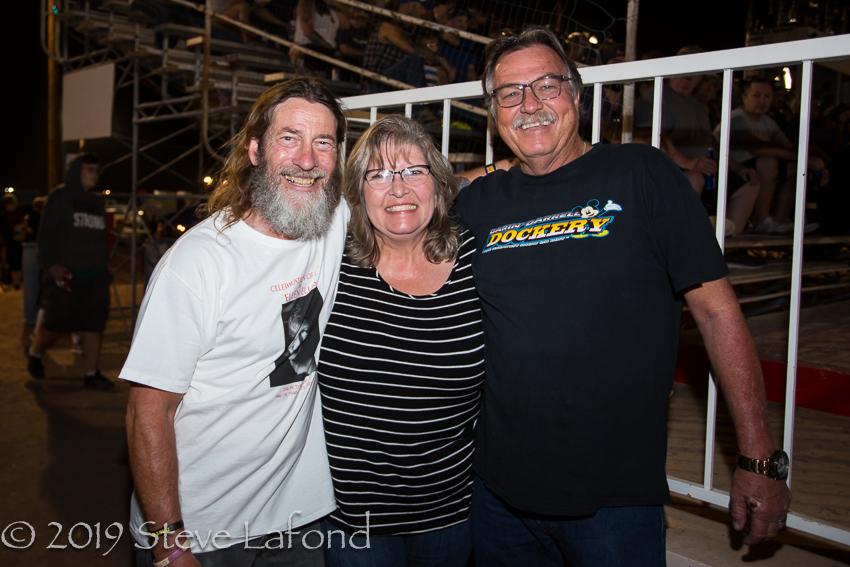 Steve Lafond with Roger and Kim Toops
Bethany DeWitt and Roger and Kim Toops
Sherri Spencer with Fran Herdrich and Sonia Duffy
CRA officials Julie Shiosaki and Chris Kearns with photobomber Tom Sertich
Krista Cordova, Bethany De Witt and her brother Ben Thrasher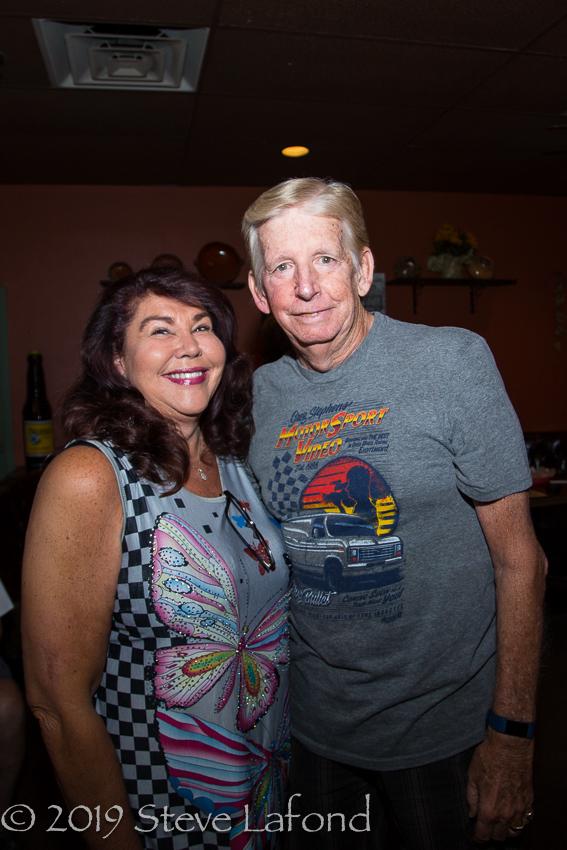 Laurie Sertich and Greg Stephens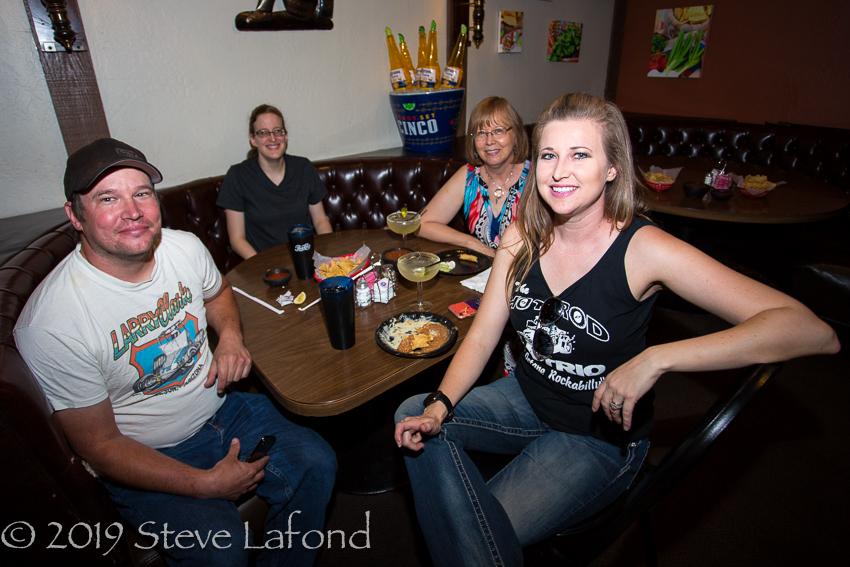 The Thrasher family
No clue, someone who knew Ellen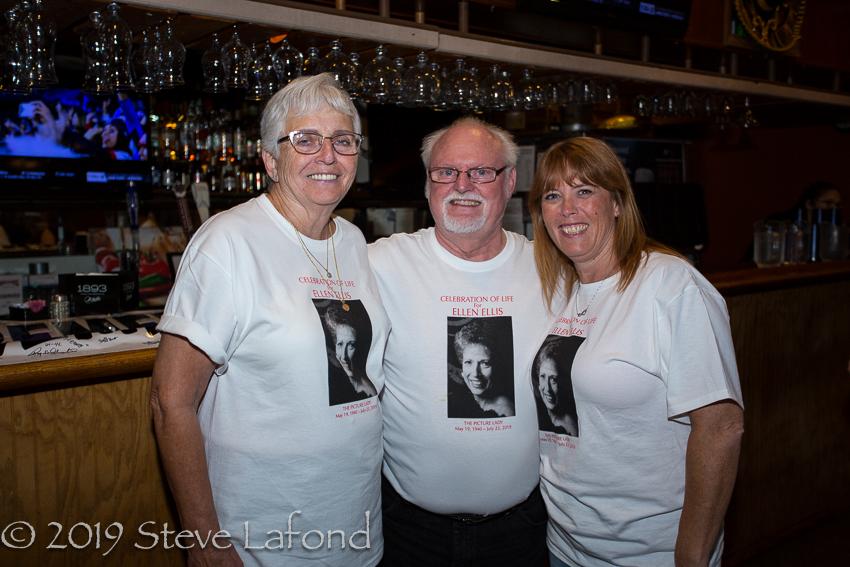 Sonia Duffy, Wags and Christy Johnson
The McSpadden family
Krista and Dylan
Sonia and McKenzie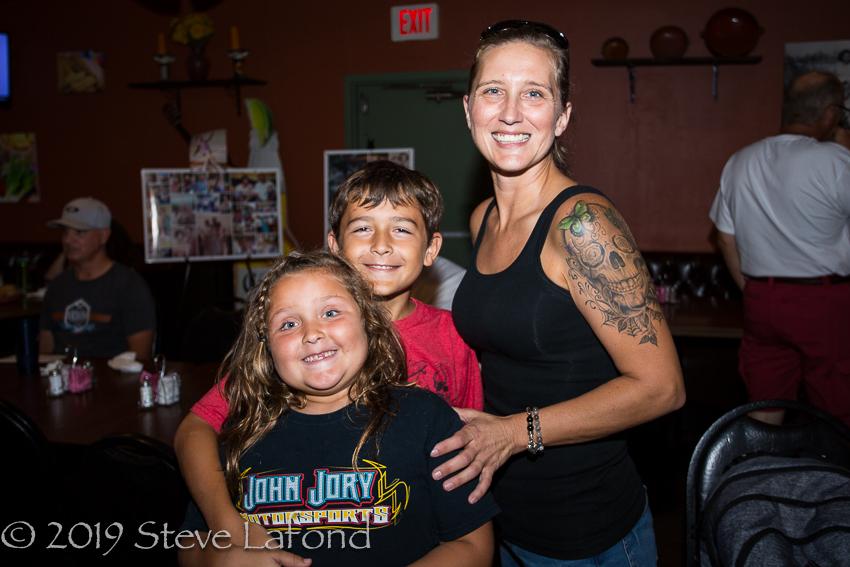 Krista, McKenzie and Dylan
Krista with McKenzie and Wags with his new Mickey present from Sonia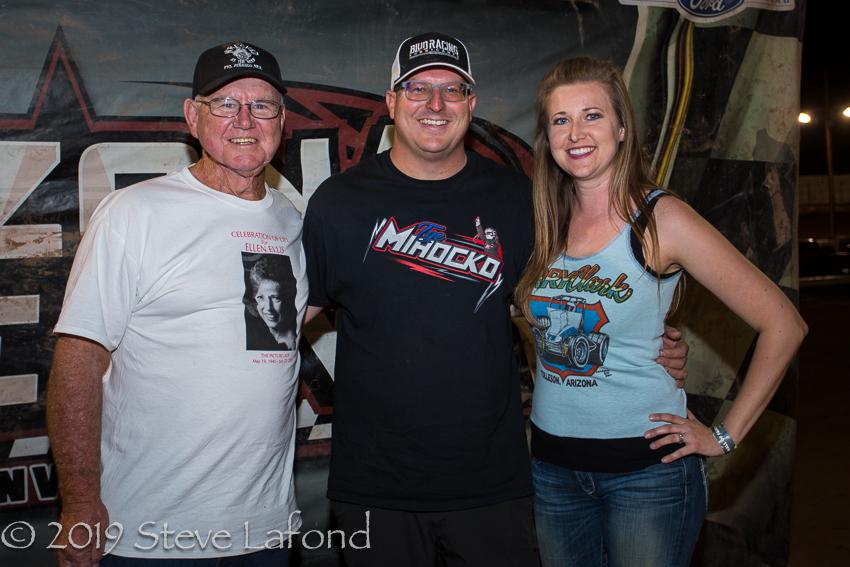 Lealand with 360 hard charger Josh Shipley and Bethany De Witt, the hard charger money girl
Here's Bethany and Josh Shipley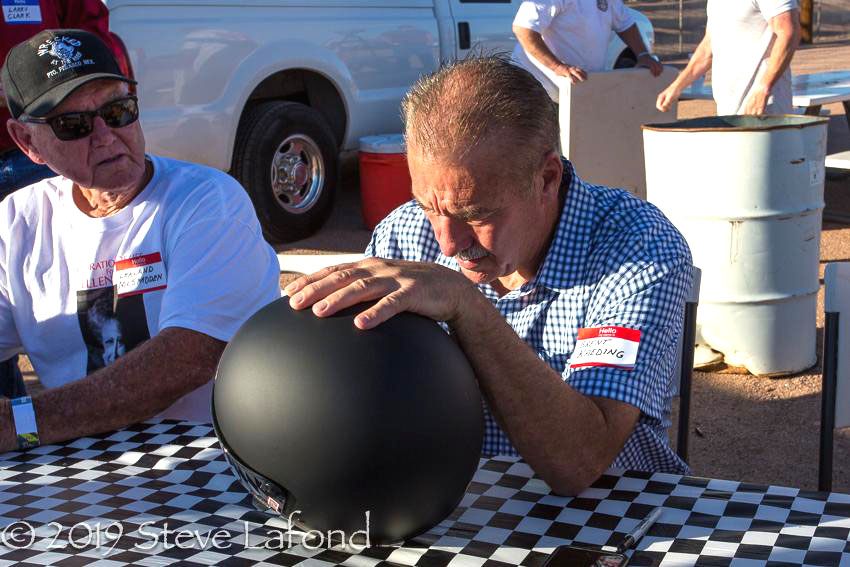 Bethany with Shipley senior I think
Brent Kaeding and Lealand McSpadden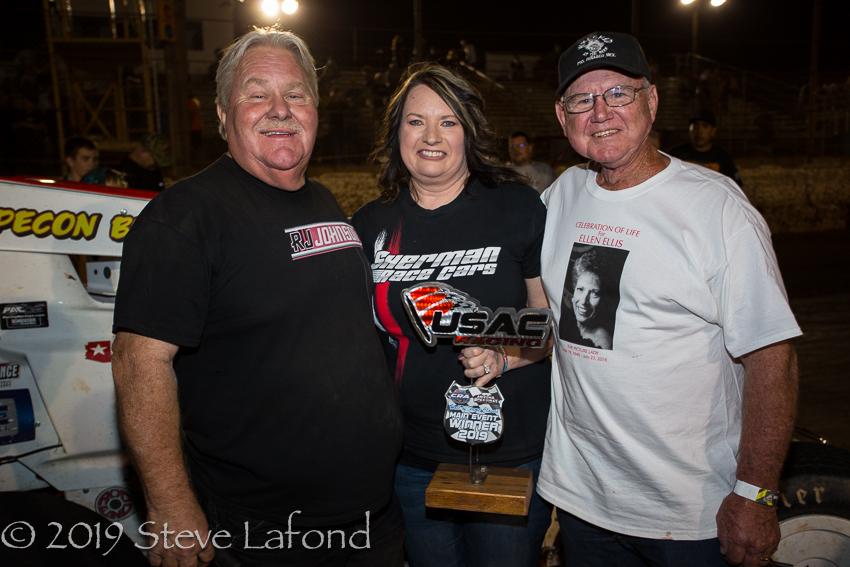 Ricky Johnson and Lealand McSpadden
Brody and Brett Roa and Zach
Lealand McSpadden with Racing Pastor Ken Powers and Wags
Steve Lafond and Tom Ball
Lealand and the winner R J Johnson
Lonnie Sherman, Brent Kaeding, Lealand McSpadden and Jimmy Blanton autographing
R J Johnson, Stevie Sussex and Austin Williams
Steve Hix gets Long Haul award with Lealand and Bethany
Lealand being interviewed by the track announcer before he flags Ellen's last lap
Lealand flagging Charles Davis Jr and Austin Williams on Ellen's last lap.........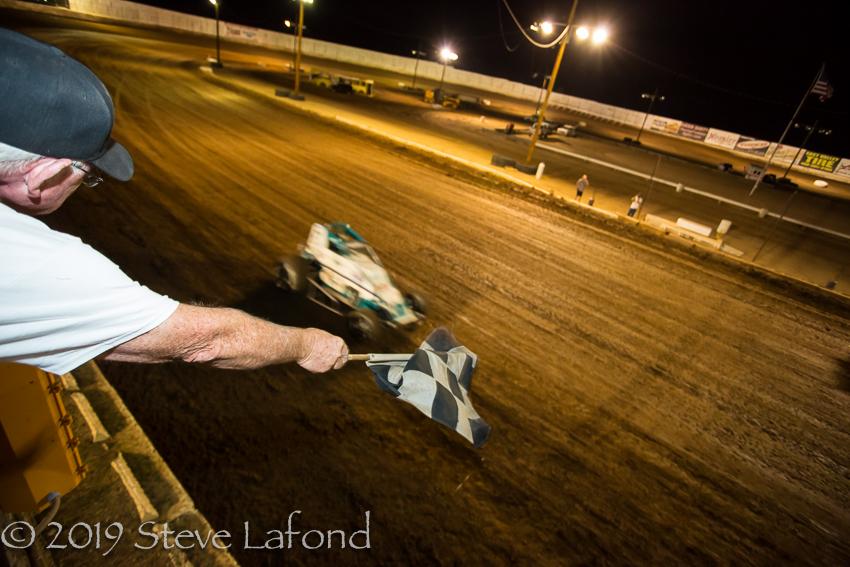 Lealand again
Lealand one more time
Charles and Austin lined up
Martha's pictures of a young Ellen
Our advertising for the night's activities. The 8 x 10's were available for a small donation
The end with a Sunset
The following photos came out of Wags camera, forgive me.
Go Lealand sign from the early days
Martha putting coins from Ricky Johnson in the coin jar (which counts it!)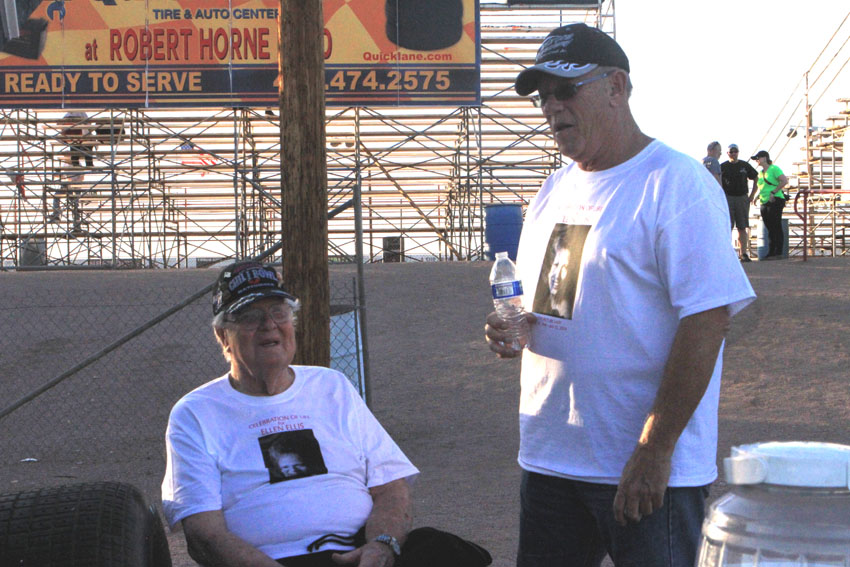 Joe with J D Cormack
Joe and Martha
Steve Lafond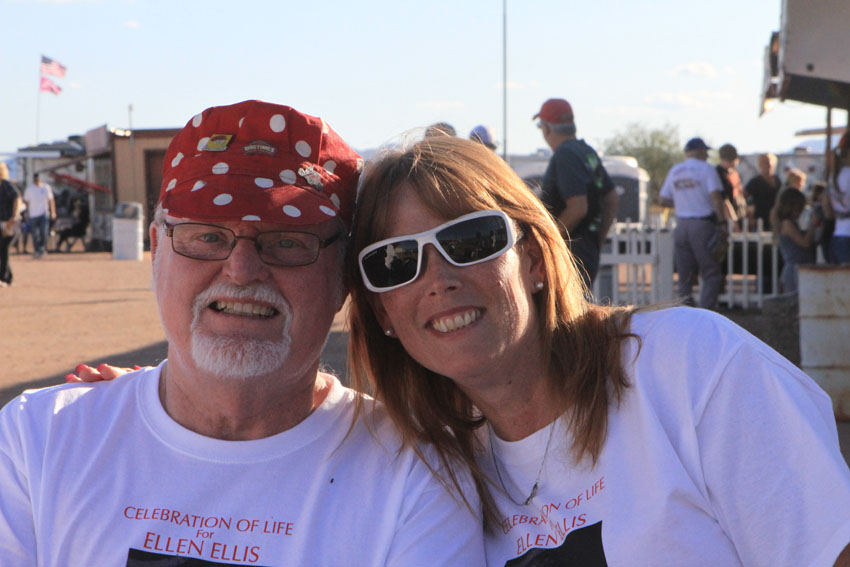 Wags with Christy Johnson
And another fuzier copy
The Ellen Ellis Memorial Jar of Change is up to $ 950 to date. You can see there is room for more!
Ellen forever
Ellen forever
More pics stolen from facebook from JD COrmack and others
Jim and Christy Johnson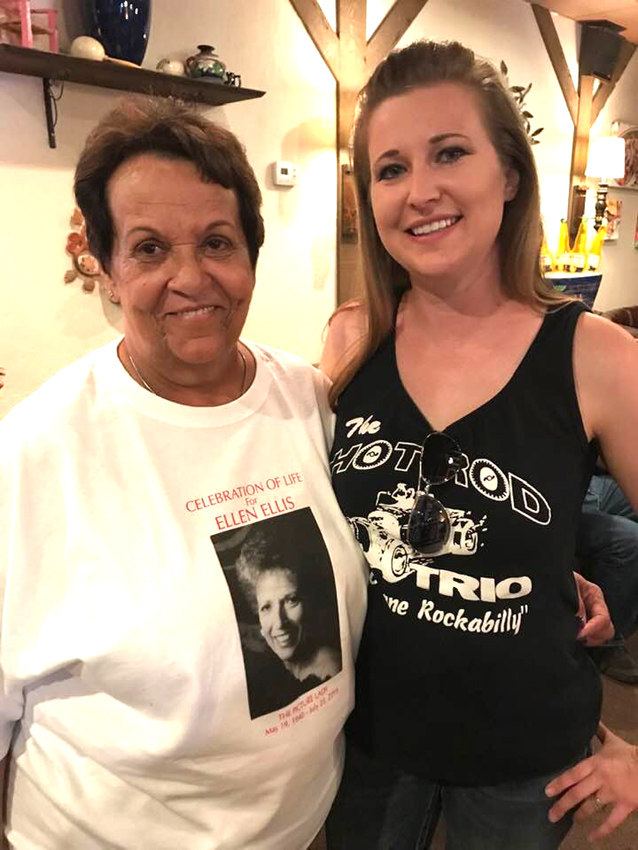 Fran Herdrich and Bethany De Witt
Lealand and Janet McSpadden
Steve Lafond & Greg Stephens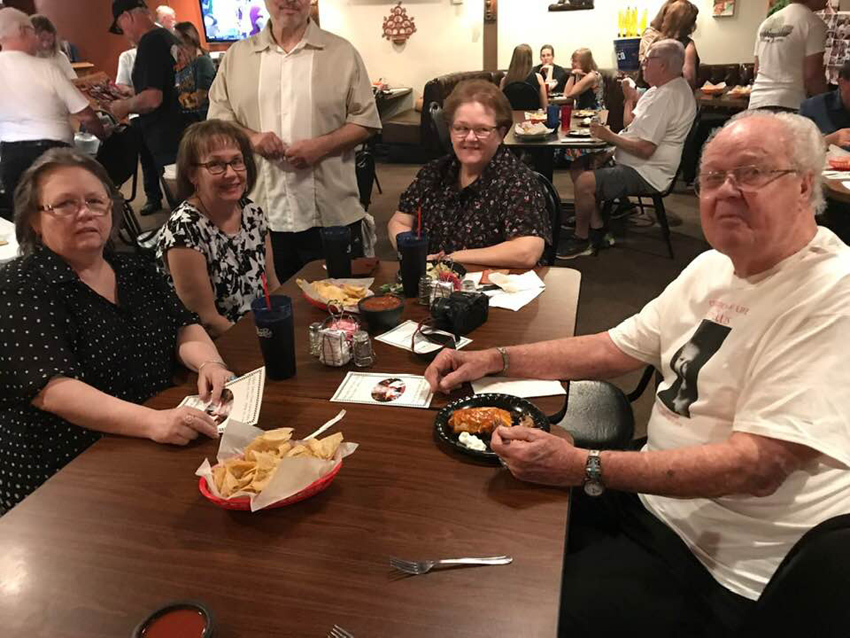 Joe with cousins Sharon, Denny and Stephanie
Dave & Louise Van Liew
Jim, Martha, Christy, Louise and Dav id
Ed Rausch family and former starter & Motor Cop Tony
Steve Lafond & Wags
Louise & Davis, Joe, Martha, Christy and Jim
T O with Fran and Sonia
J D & T O with Ellen's hairdresser and her Husband
The McSpadden Family
The Ellen Celebration booth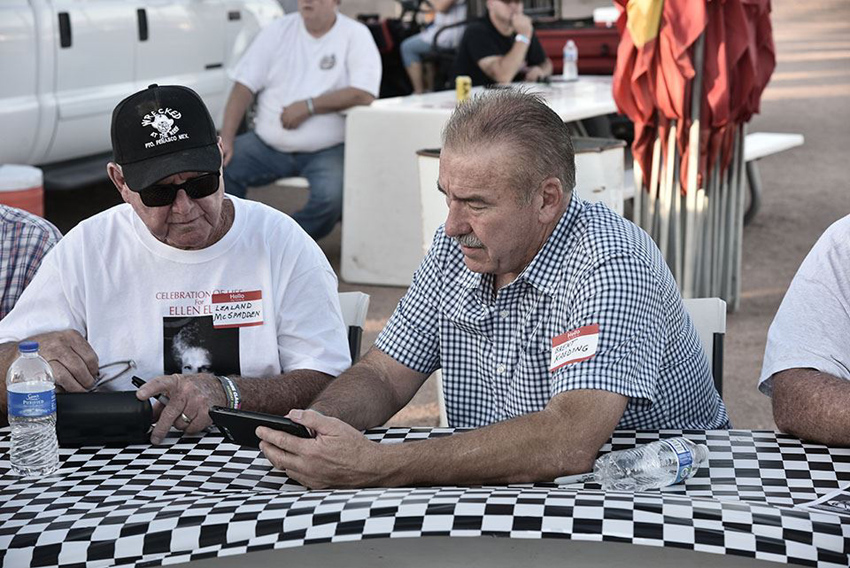 Lealand McSpadden and Brent Kaeding
Jimmy Blanton
R J Jonson in winner's circle by Ben Thrasher
R J Johnson with Lealand by Ben Thrasher
R J Johnson with Lealand by Ben Thrasher
R J Johnson with Lealand by Ben Thrasher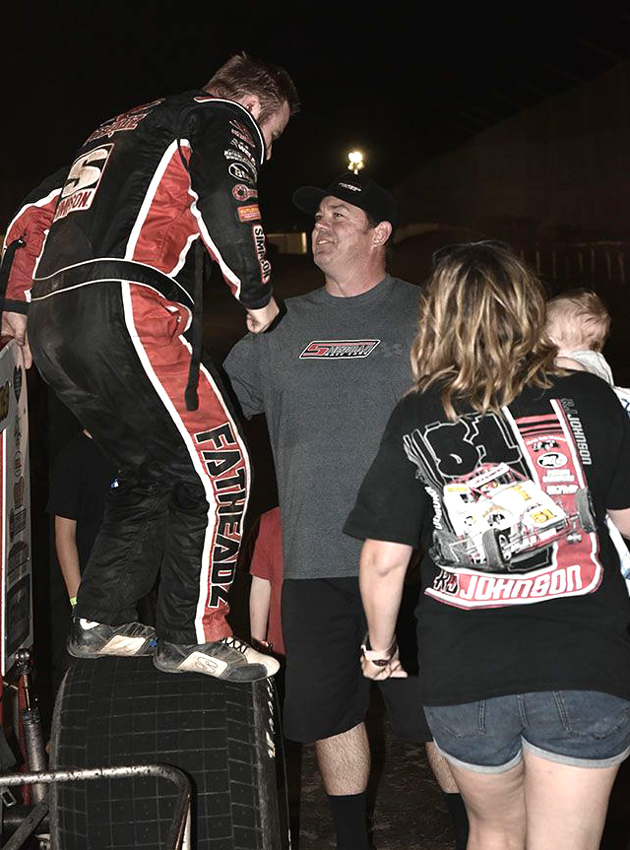 R J Johnson with Jeremy Sherman by Ben Thrasher
Josh Shipley with Lealand and Bethany by Ben Thrasher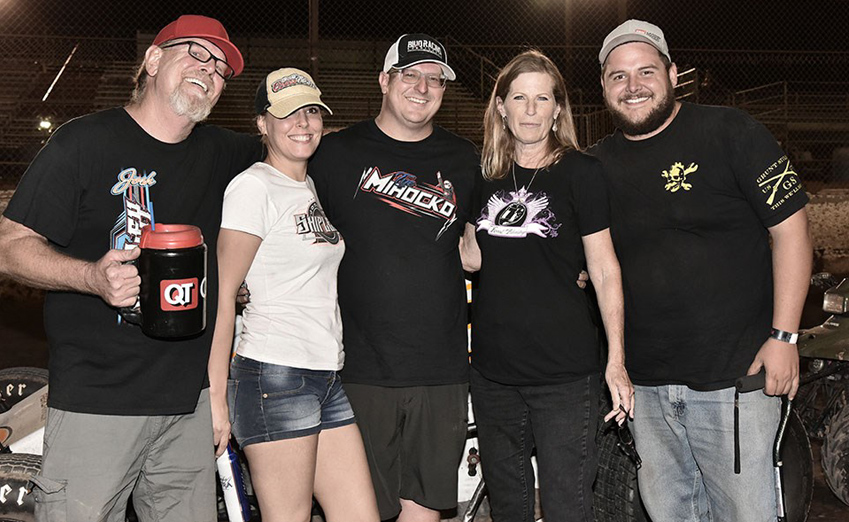 Josh Shipley and crew by Ben Thrasher
Ellen's poster framed up for Joe's wall
More young Ellen pics by Martha