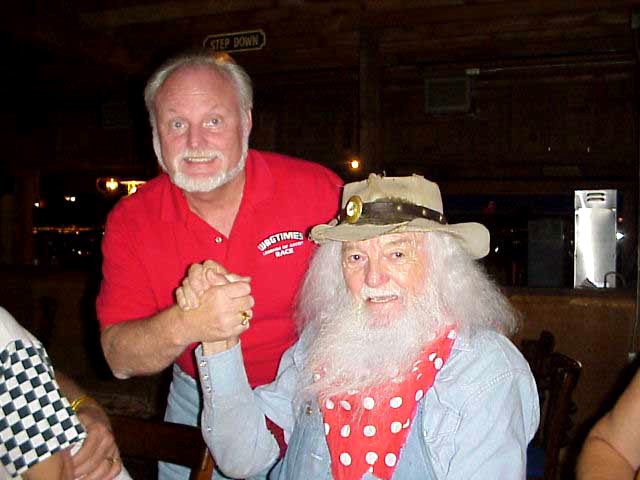 Wags with other race folks
Trophy Dave Pusateri at the last Ascot race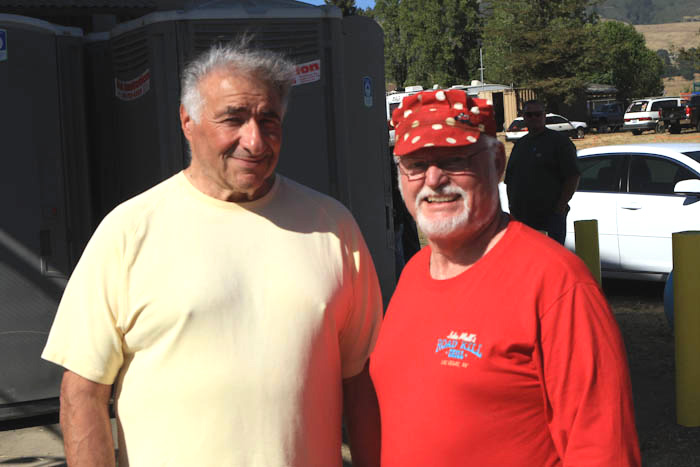 Trophy Dave Pusateri created every Wagsdash trophy we ever had in his San Jose Trophy City shop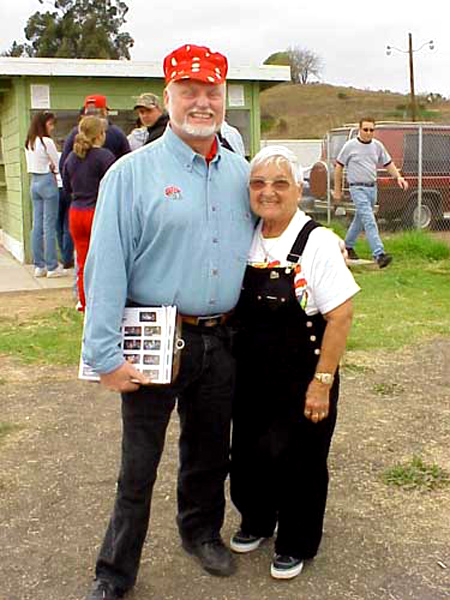 Grandma Rosie at Santa Maria
Don Flanders at Ventura
Brenda Pecharich of 14 K jewelry at Manzy
Bill Boat Sr loaning me a Harley shirt for Halloween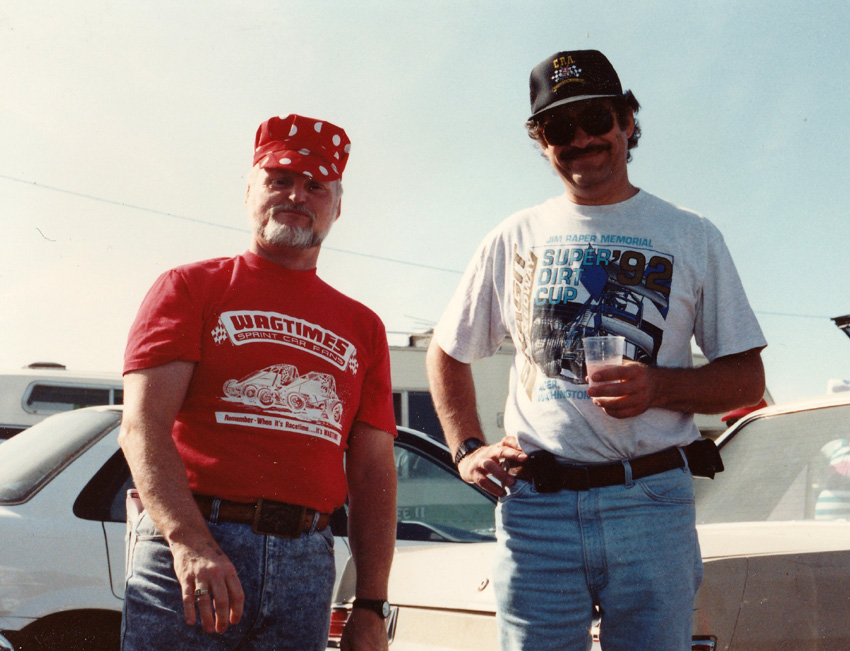 brain fade send me his name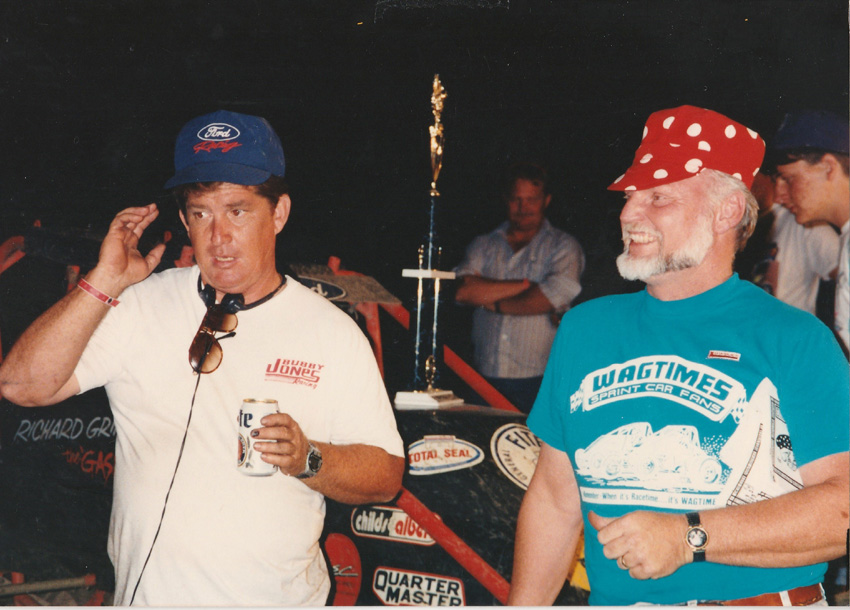 Pepper Fite
Biker Bruce got Wagsbucks
Biker Bruce a very special person. I always wanted to go to Sturgis with him, but it never happened due to my racing schedule
Sal Acosta getting Wagsbucks
Promo guy Doug Stokes when he was at Perris
Dave Williams of Low Buck Tools fame. He hand built just about anything. His motorhome, his race cars, his Knotts style town front behind his house. Very talented.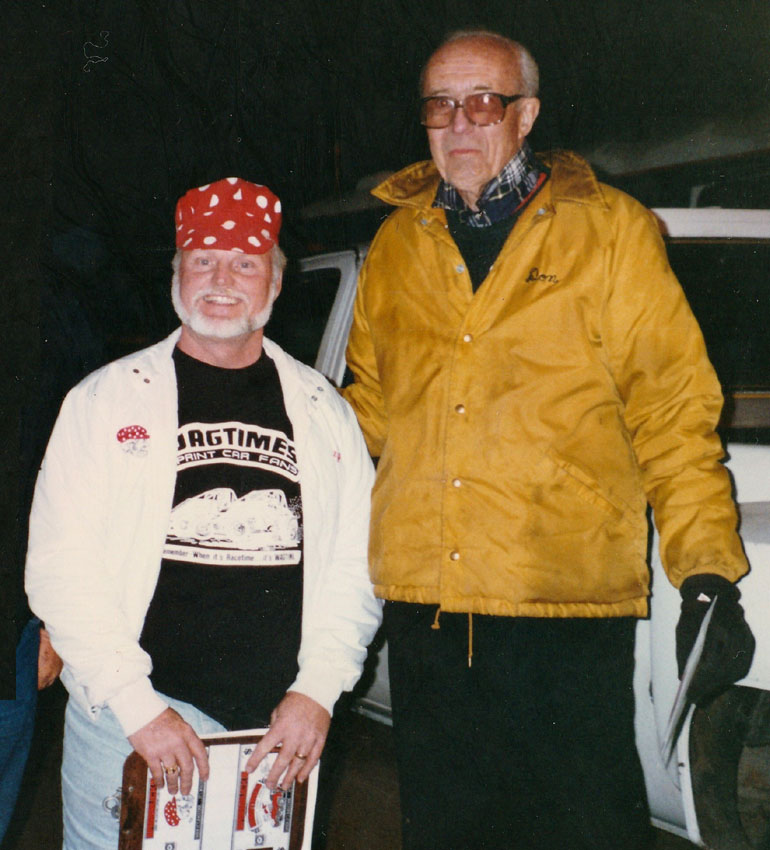 My friend Don Blair who left money to the CRA racers in his will. I was on that distribution deal, but it didn't happen?
Frank Lewis at Terre Haute
Kevin Eckert at the Wagsdash
Paul Anton from the midwest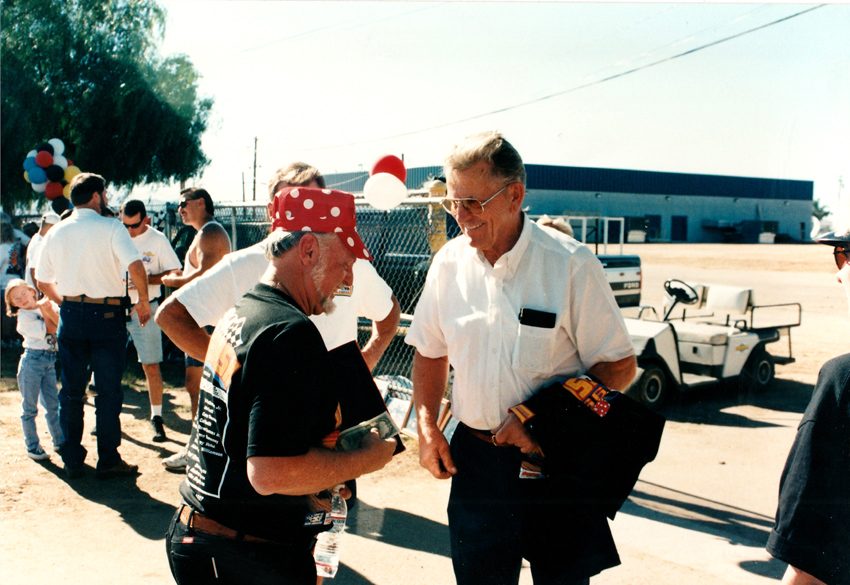 Glenn Howard
Glenn Howard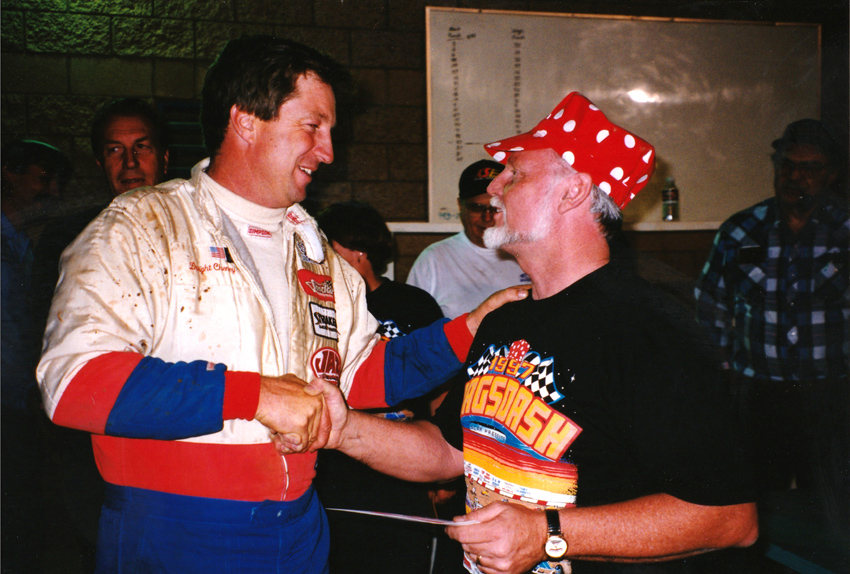 Dwight Chaney getting Wagsbucks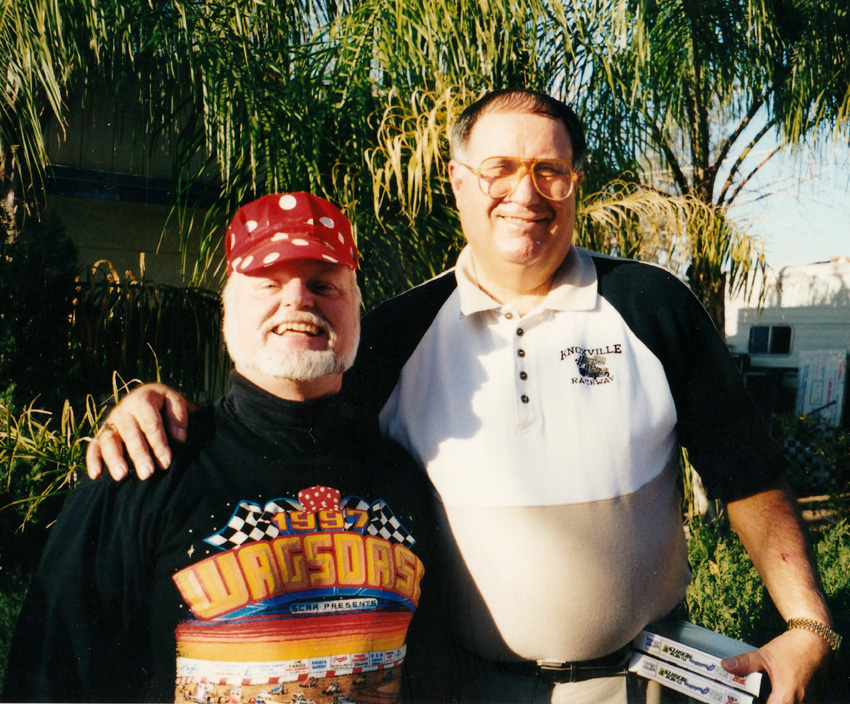 Matt Pecharich at Manzy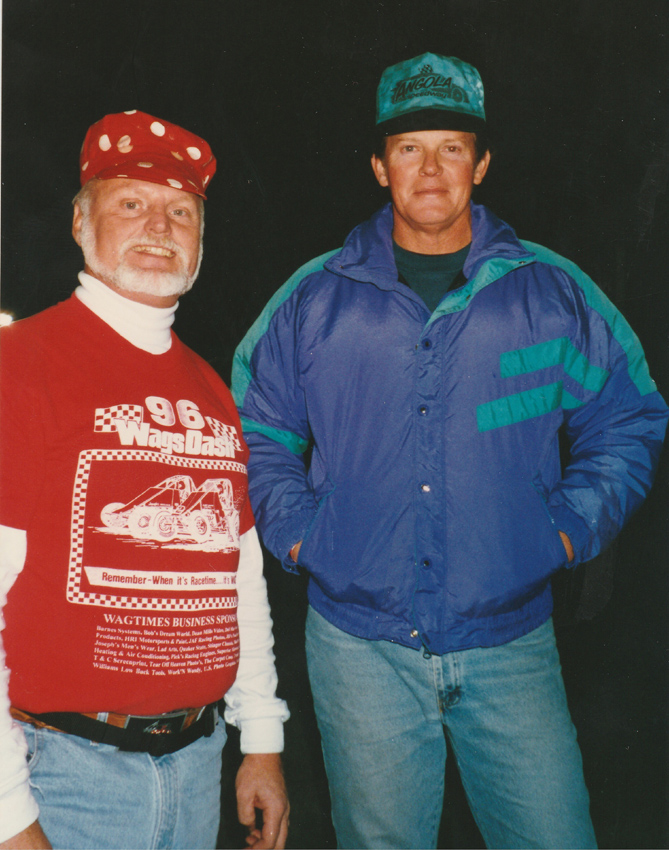 Ron Rodda a No Cal writer
Dave Argabright .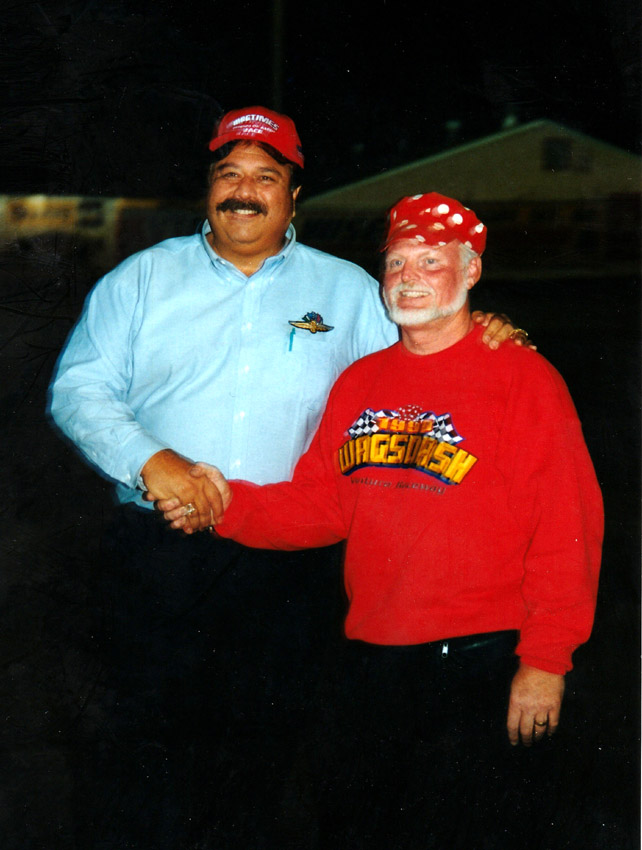 JC Agajanian Jr
Another brain fade. Send me your name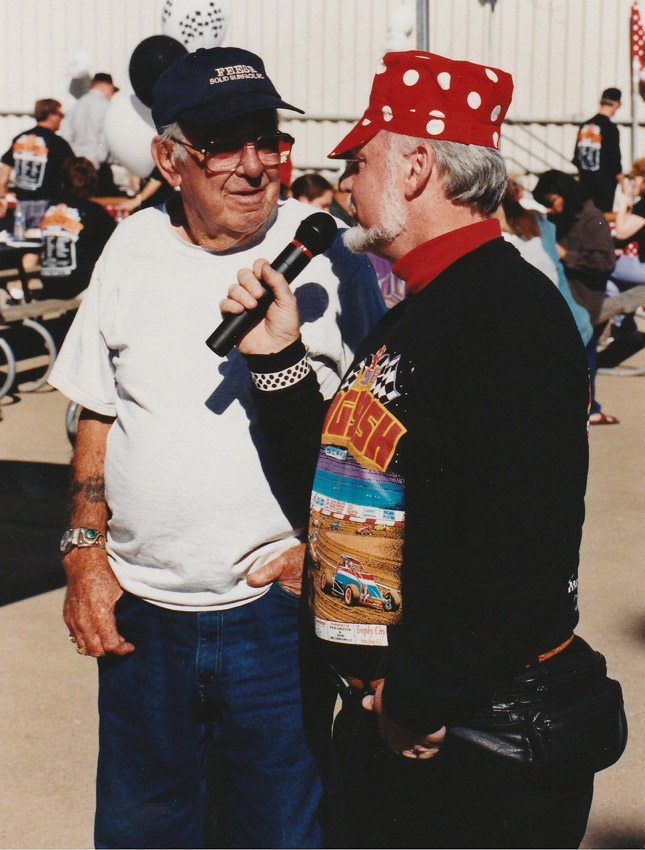 Bill Pratt
Dean Roper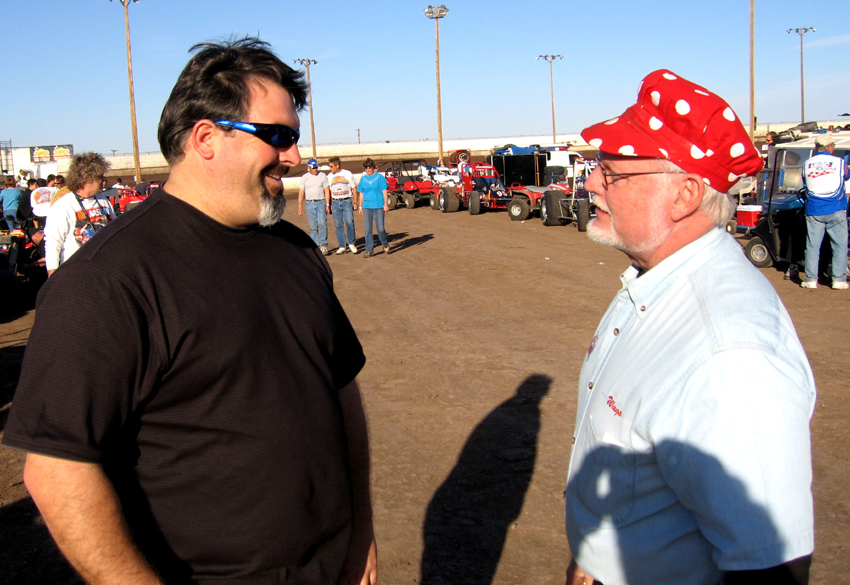 Dean Mills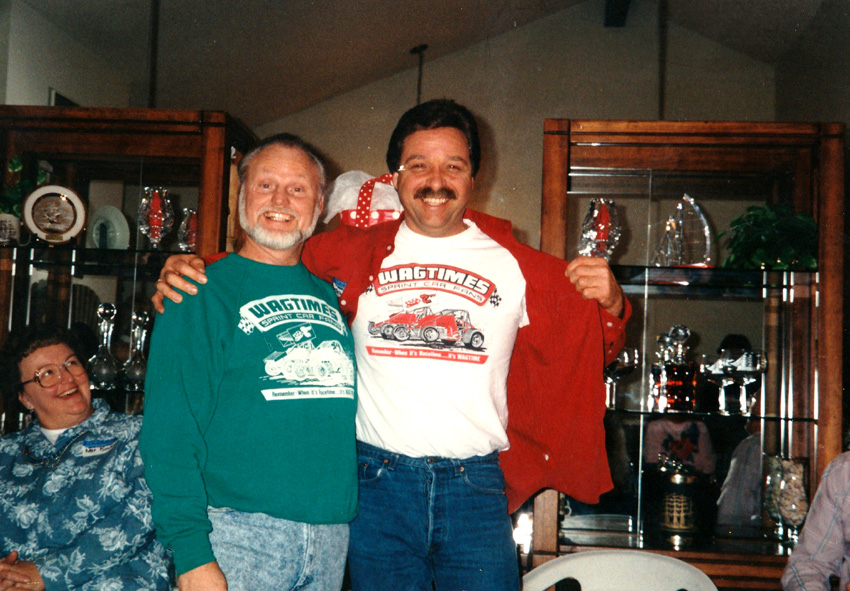 Chris Holt
Chris Holt
Chris Holt at Bakersfield party
Nelson Stewart a really nice man
Mike Siefert once sold die cast cars and is now Hosehead WEST PHOTOG
Jack Gardner who quit the horsepower world to go off and live a regular life. Sure miss him!
Jack Jory, one of the nicest car owners. The CRA owes him for his support!
Petie Ruth a very nice lady. Her and the pipe smokng husband were around CRA forever
Dale Fry's artistic ability made great sprint car illustrations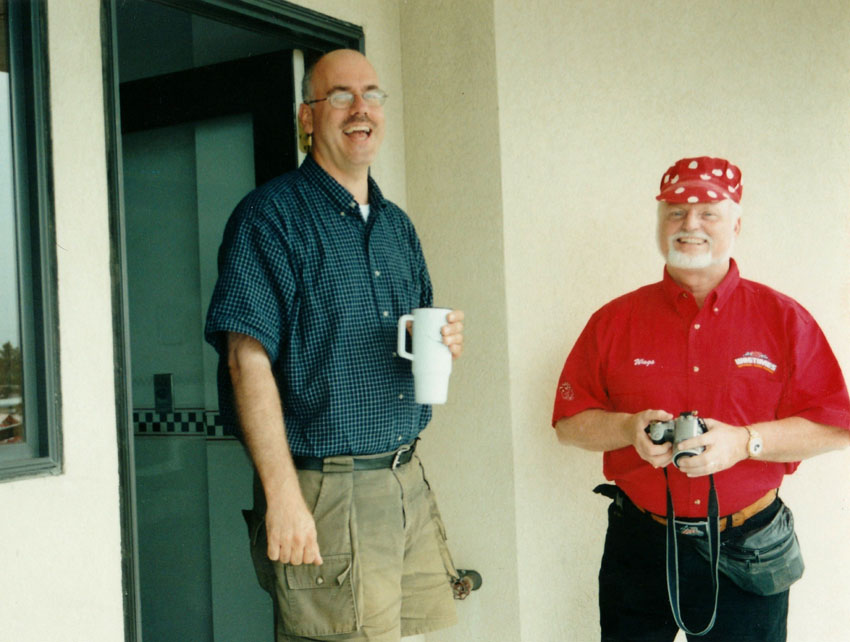 Tom Schmeh a man who has all my respect for what he has done for racing
Tom Schmeh came to the Wagsdash once on his travels for the Knoxville Hall of Fame Museum
Tom Schmeh on one of his trips to the PAS
Mrs Wags niece callie who came from Oklahoma to be the Wagsdash trophy queen one year
Leroy Sweeney a long time friend
Leroy Sweeney always helped his son Verne
Larry Jolly always helped the racers
Jack Gardner getting some Wags Tow Bucks on a CRA tour
Ben Lancaster another car owner retired
Mike Truex my media buddy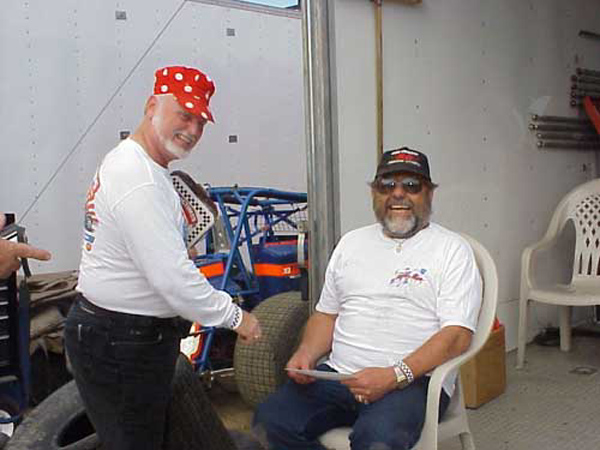 Ron chaffin, a neat car owner who always gave his teams what they needed to win.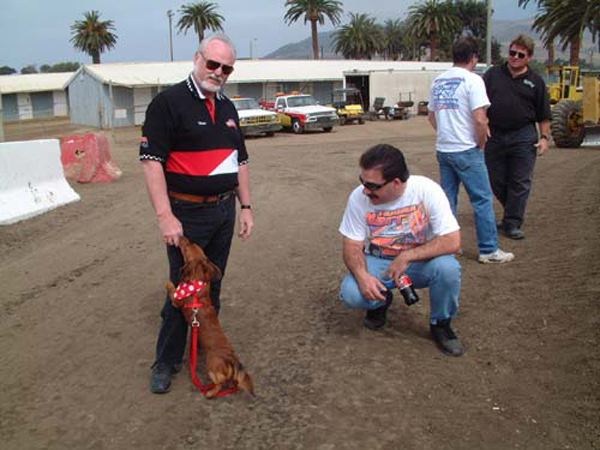 Mike Nye checks out Dubya my racetrack dog
Jim Naylor always helping me raise money. Here he gets the crowd to bid on a drivers autographed helmet
Jim Naylor in a cool hat looking out for me as he made the Wagsdash the greatest thing we ever accomplished in Wagtimes lore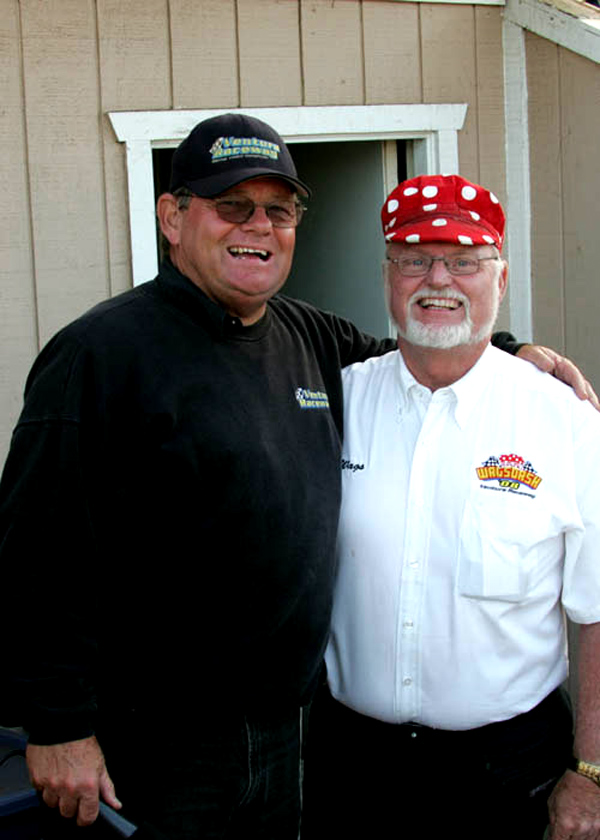 Jim Naylor made wagsdash day special every year
Jim Naylor keeping an eye on me and my Wags stuff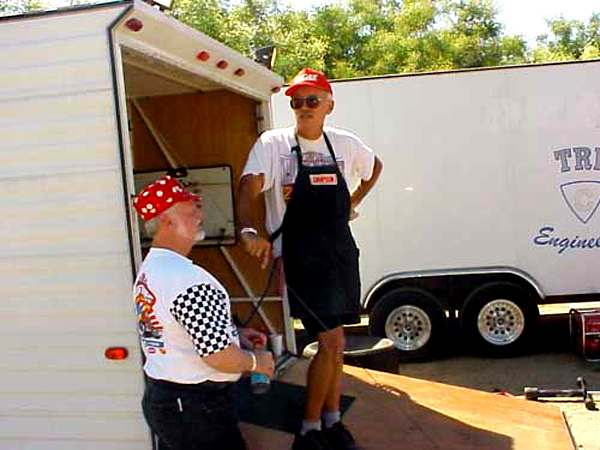 Jim wells my buddy who did pool cleaning for years and worked the pits every race
Speedy Bill Smith let us go into his private museum and gave us a neat tour back on a CRA tour years ago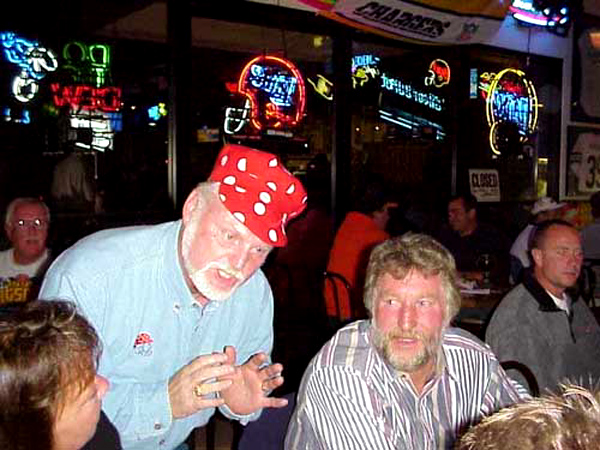 Danny Tramel once loaned me about 10 Ford Pintos to put my Ascot Legends in. My guys beat the cars to heck, but everyone had fun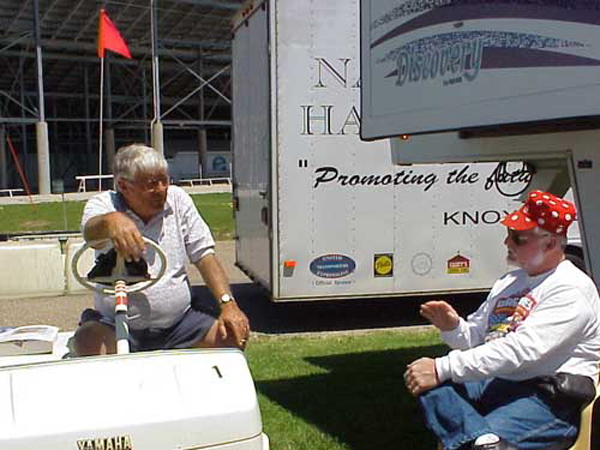 Ralph Capitani visiting at Knoxville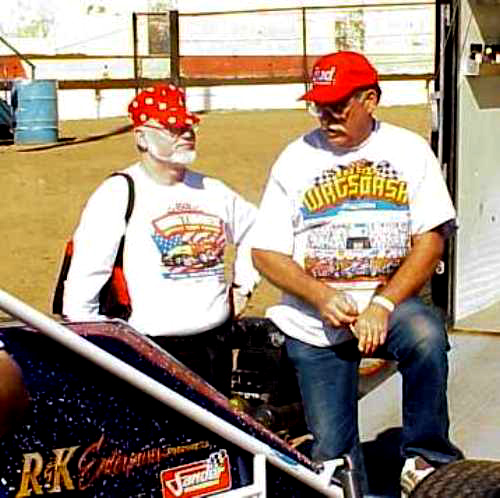 Brad Geurin
Cal Smith's wife Debi attacking me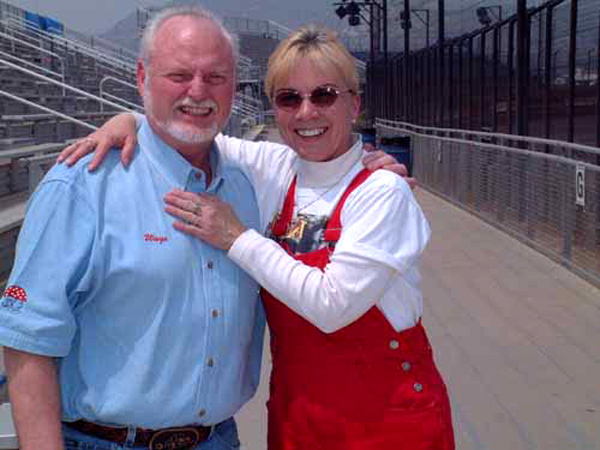 Linda Venard giving me love at Perris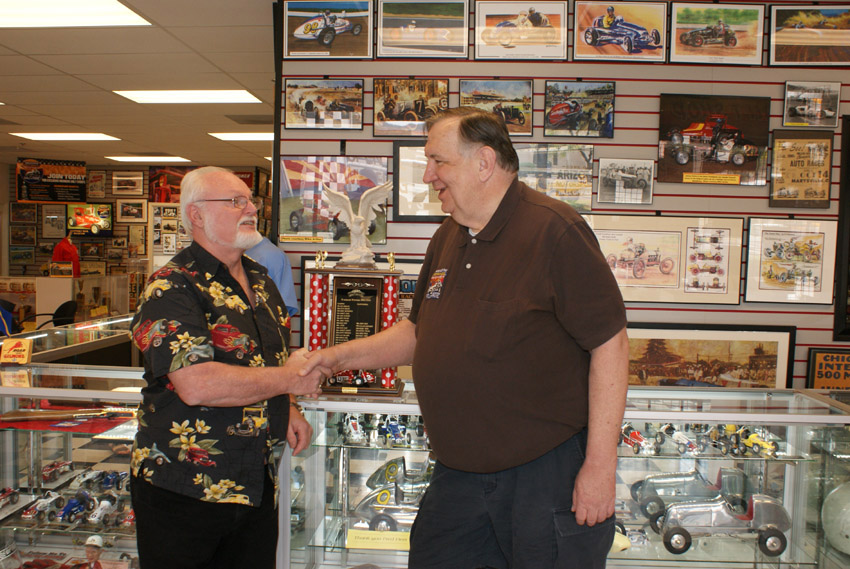 Steve Stroud greeting me at his amazing museum for racing
Steve Stroud hosted me in his Parker Stores business before his Arizona Museum ever got started
Steve Stround accepting the special Wagsdash winners trophy for his museum
J D Cormack at a Cracker Barrell in Tulsa
Dirty Danita Cardey at the Wagsdash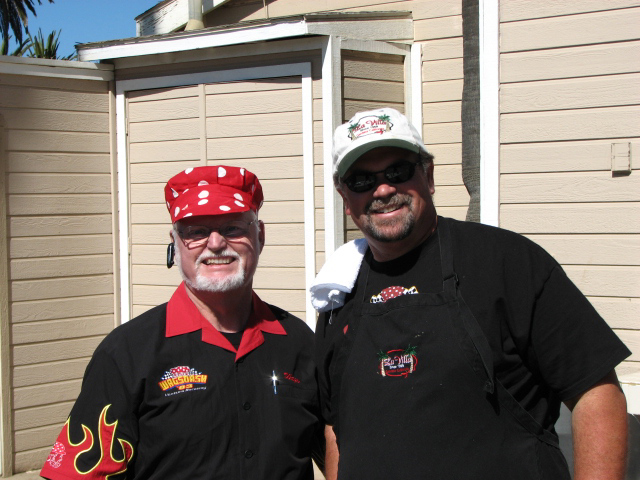 John Gardner brought the chili from his La Villa Restaurant the last few years of the Wagsdash. It made it easier, but the Wagtimers and I missed the cooking chili on Fridays and the fun we had
Laurie Sertich in my Mission Viejo den
Laurie Sertich gets Wagsbucks at the Ovals
Mark Alexander gets Wagsbucks too!
Kim Toops looking happy
Race fan Sherry was captured by me digitally for years and was a favorite
Rodney Argo and his new friend at the 94' wagsdash at El Centro
J D Cormack at the Chili Bowl where he worked relentlesssly each year to raise money for charity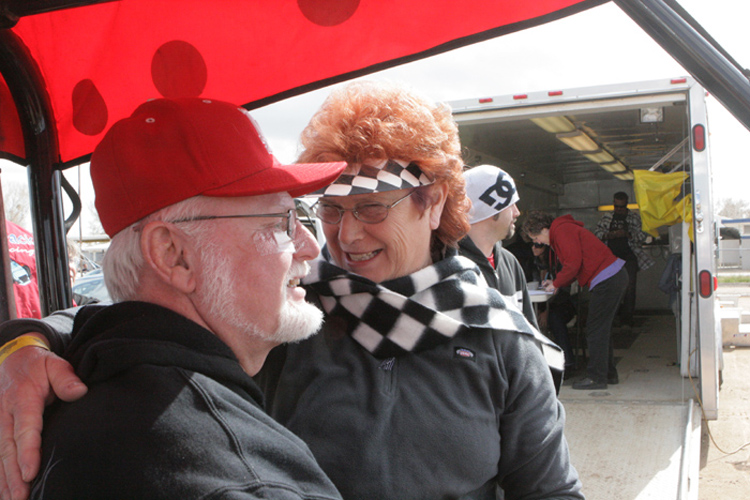 Nellie Stansberry looks happy to see me!
Ray Stansberry brought me a present! Turns out it was a red and white polka dot soft top cover for my Mule. Thanks Ray I needed that
Ray Stansberry getting some Wagsbucks
The 51's energy drink girls bookend Wags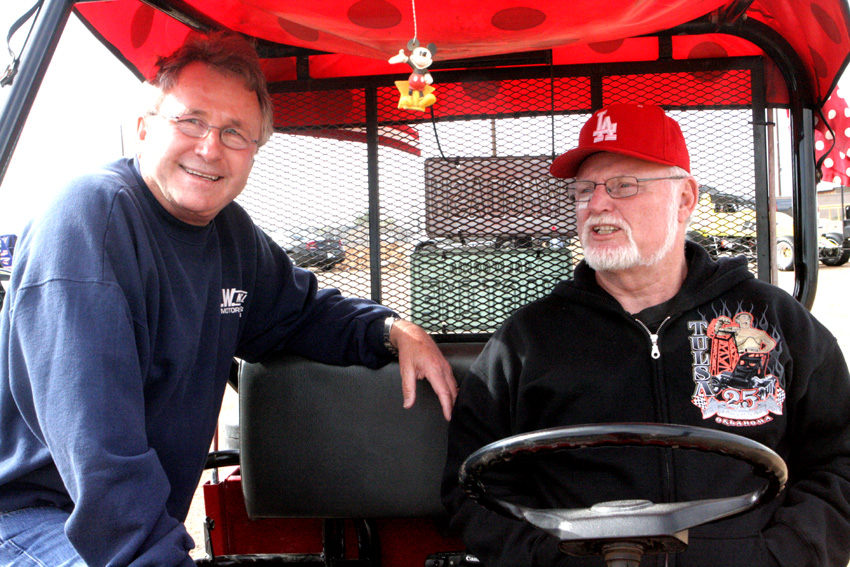 Nick Mitchell, Matt;s dad, always had a smile for me
My gone but not forgotten Dusty who could sing like a dog when he was prompted. It's the only thing I ever taught him
Kim Lewis pllaying along at our Cronies hijenks. She is a former sprint car driver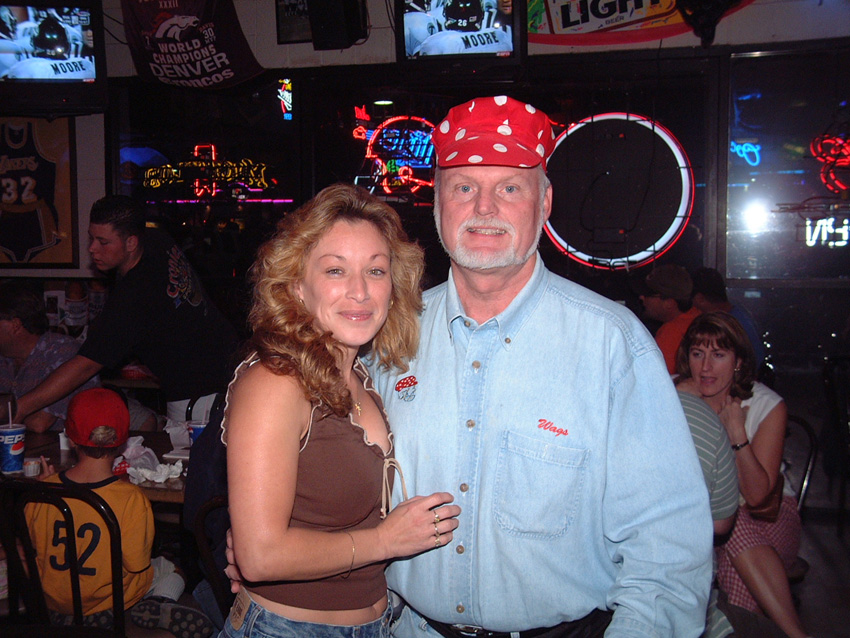 Another Cronies funseeker. I don't remember her name, but her hisband built motors and she was a cutie!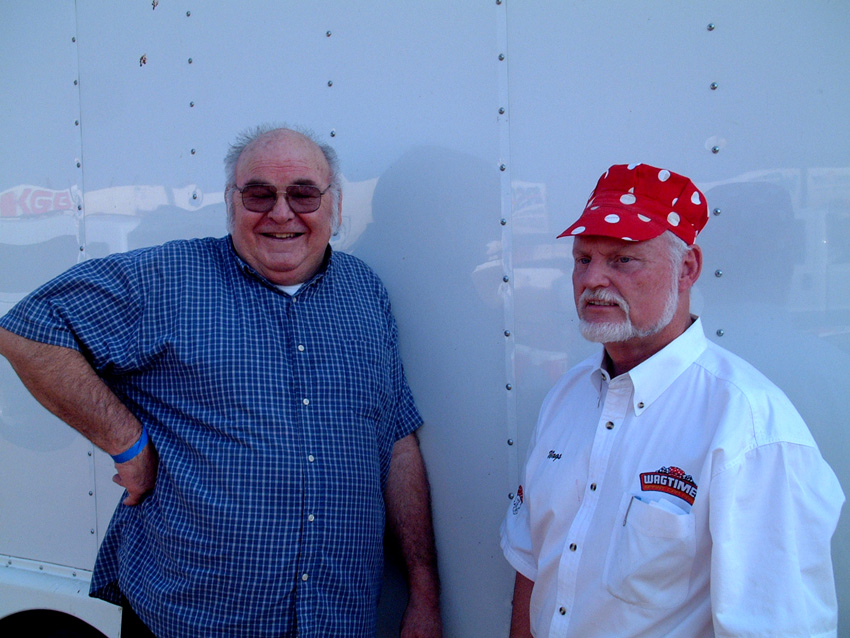 Danny Pivoveroff was a great car owner with drivers like Mike Kirby, Lealand McSpade=den and Troy Cline among the many.
Hal Engstrom gave Mike Spencer his start in racing. Hal has been around helping many since he parked his # 44
The former NARC t-shirt trailer owner was a lot of fun. The last time I saw him he was running the Cornhole tournements at the PAS during the Oval Nationals a few years back.
Windy McDonald was the voice of Manzy for many years. He left us with some history books of Arizona racing.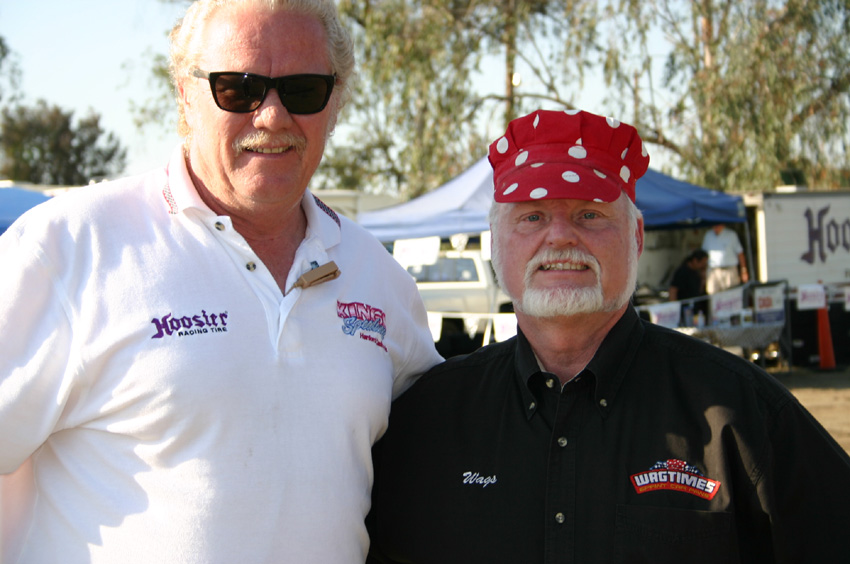 Dave Swindell was running Hanford when this was taken
Dick Jordan was training me the USAC way of race reporting. I don't thnk it took because I only lasted a year
Carrie Kruseman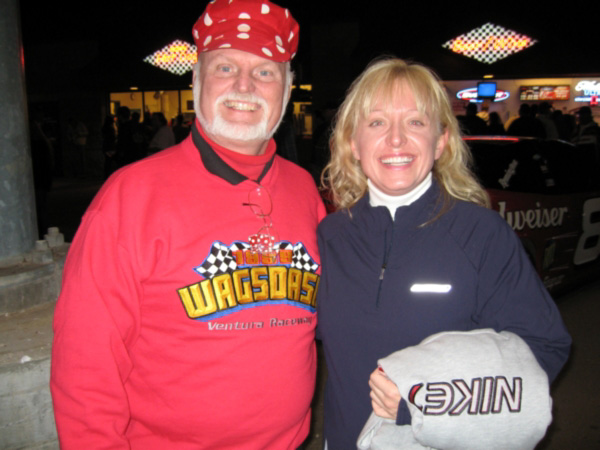 Kim Craft's wife Kim Sue, I think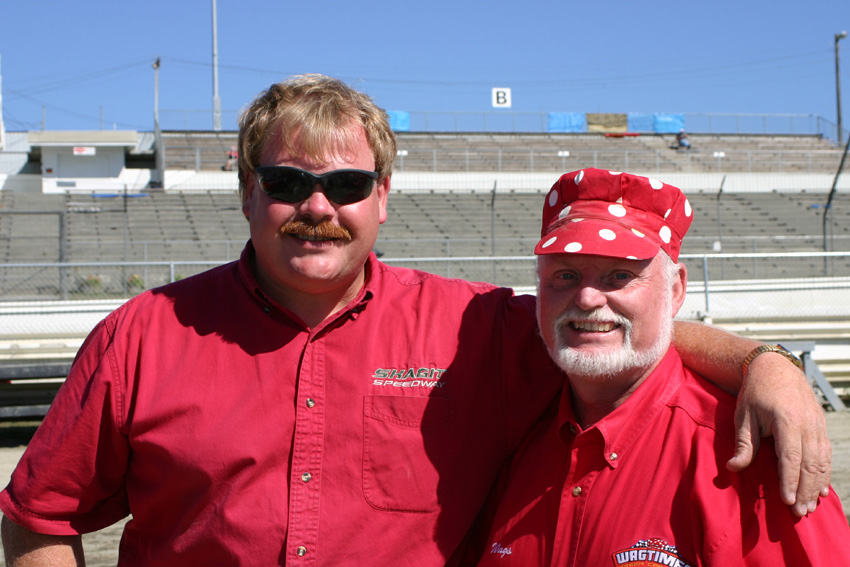 Steve Bietler the promoter at Skagit. Nice guy and was a former racer turned helper to racing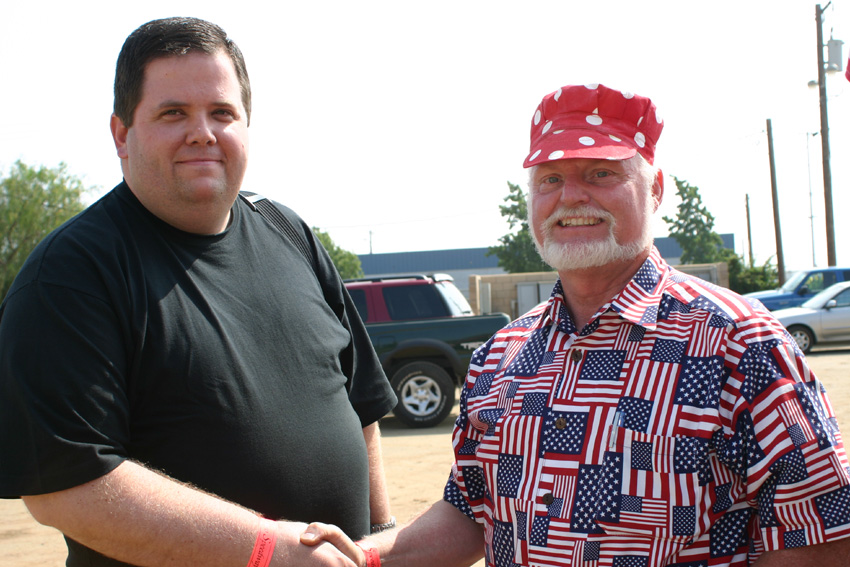 Freddie Sachs the CRA scorekeeper for years who always made sure I got the right hard chager to give the money to. I didn't wait for him one year and had to pay it twice when I found out ewho should have got it
Kevin Eckart at the Chili Bowl
Evelyn Pratt getting Wagsbucks back in the day
Jeff Gardner, aka fatehr of Ronnie, one of the good guys of racing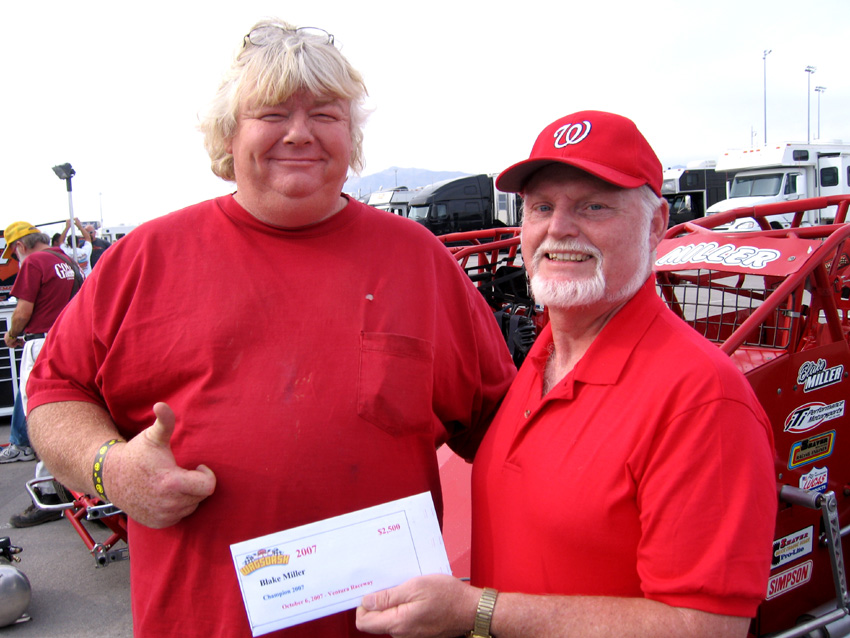 Jeff Gardner getting some Wagsbucks
Joe Godoy a great fan and supporter of racing
Vinnie Latner in his world, working on winning race cars
Rich Sheridan, Danny's father, was always there at the races helping and having fun
Nelson Stewart at Las Vegas always a happy guy
Carol Wolfe relaxing at a Las Vegas CRA race
Maria Gardner as she came to serve the chili at the Wagsdash
Ronnie Case's mom cmae to the Wagsdash
My friend Mike Conklin who was a big soccer fan
Drake York gathered over $300 in our hard charger jar, this at Calistoga
Shelly Ostling must have said something very profound to me and I was thinking it over
Dean Mills probably getting advice on where to have dinner
Brian Kittle alowed me to "ride along" with his Kittle Race team for several years. Some of the best times!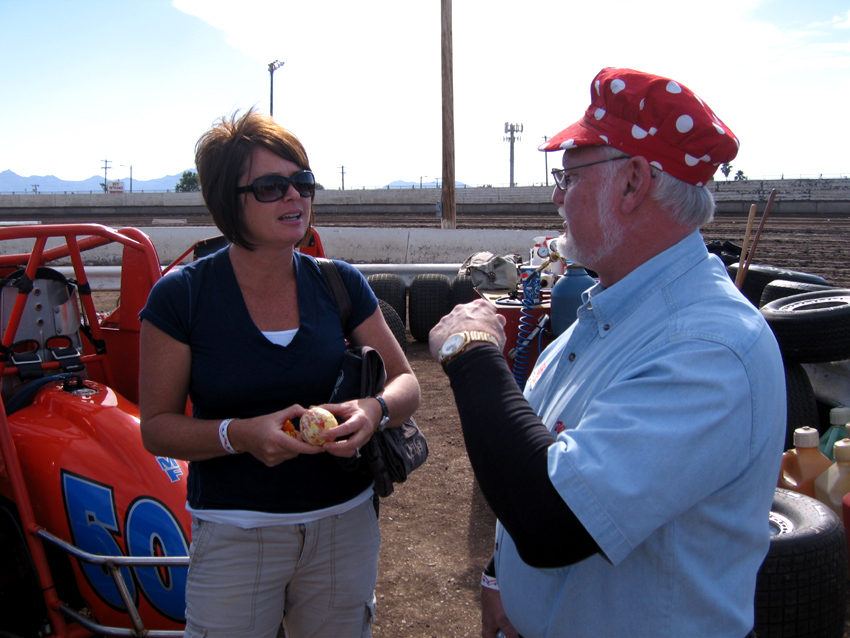 Carey Smiley, one time driver, is married to Tony
Tommy Hunt has a rich raicng background and now make the Vermeil Classic special at Calistoga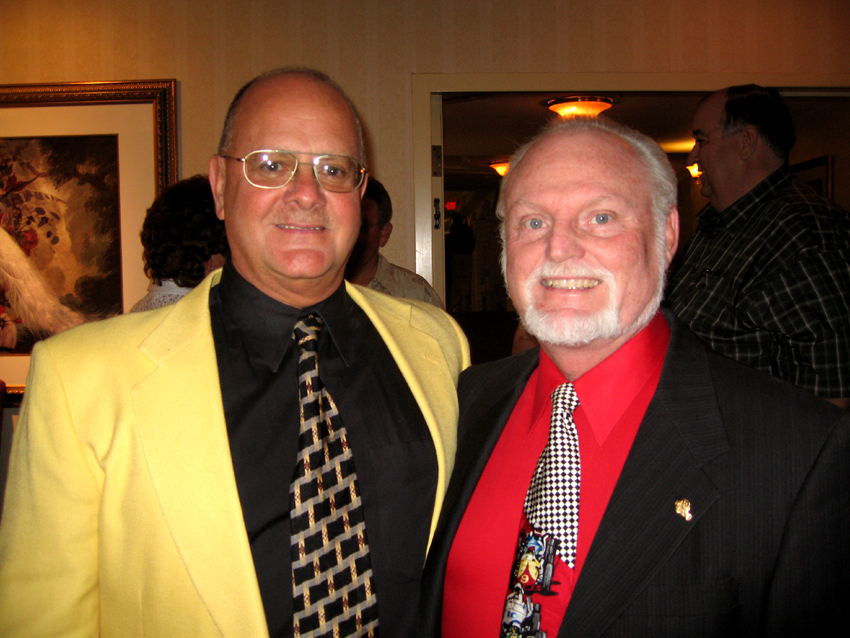 Greg Staab was one of those special race people from his driving and owning cars to his involvement with USAC and racing in general. Sadly his life ended tradgedly when his home burned down and he later passed before really recovering.
Doug Allen always helping me and training me with my camera as I was always lost. He still sends pics to post on my site
Ben Thrasher looks like someone, his sister Bethany, is bombing his photo here
Ricky Johnsonm RJ's father, is fun at the races.
Steve Vodden was one of the best flagman CRA ever had. He was the one flipping in the air at El Centro years ago in that fanous picture
This NASCAR star was sponsored by Kawasaki and they came to our offices for a little show and tell. Great visit with all employees who went outside to see
Tom Downing, the only driver who ever allowed me to pack the track in his car. Of course he later told me I fouled the plugs I was going so slow! I was trying to stay away from my friend Verne Sweeney whop was mudding me
Brad Noffsinger rides in the Mule during the National Anthem performing his Grand Marshal duties
Created 4/19/18