Over the years we had a Wagsbash party at our home in Mission Viejo. Many racers, fans and Wagtimers came to party with us. Maybe you will recognize your younger selves? It wasn't a booze party, as most who came didn't bring any brown bags and the theme was always to settle down after a big feed and tell your own story plus ask questions about the future. These gatherings were great and the food that showed up was oftem amazing. They came from far away to get together. Many were big time supporters of the Wags stuff and had fun with us. Unfortunately, some of these smiling faces are no longer with us. OH, I list names left to right.

Wagsbash parties
1989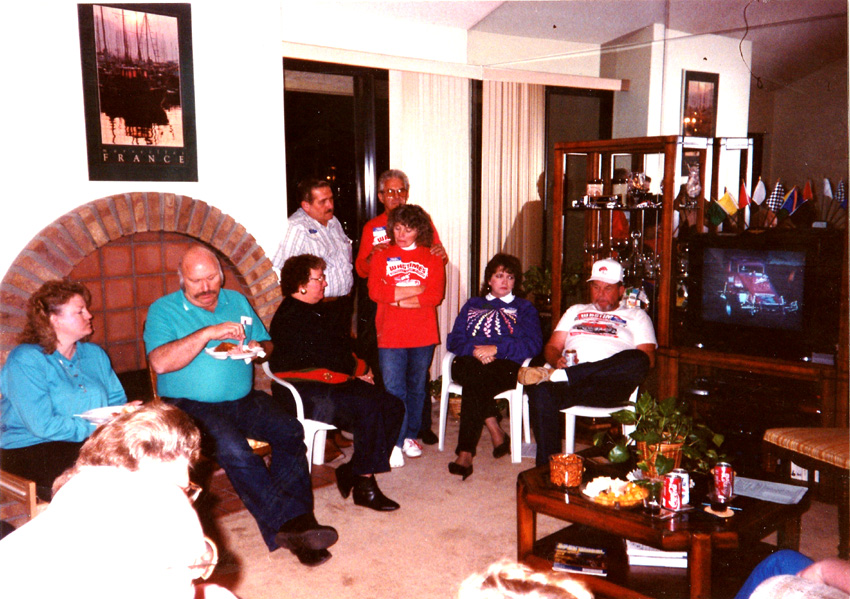 Myra and Larry Jolly, Natalie, Gene and Nancy Tussing and Pat and Norm Bogan
The debut of our banner made by Jerry Hdson, famus racer car design artist
Tim Matthews with Mrs Wags and Nancy Tussing behind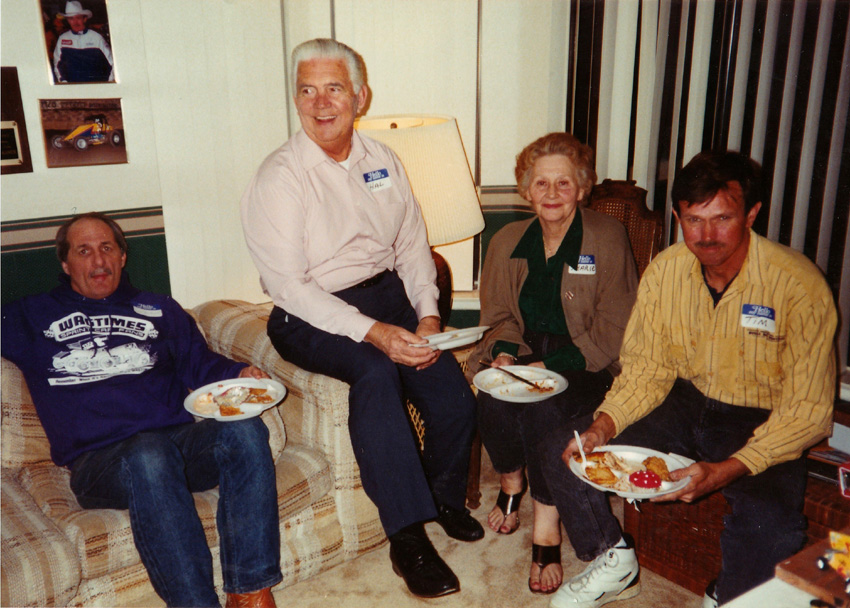 Don "The" Barber with Hal, Marie and Tim Matthews. Hal and Tim never missed races for years until Ascot closed. We still saw them occasionally, but they retired off in Arizona I heard.
Larry Jolly and Jerry Hudson. Jerry still comes racing, but his bicycle crash years ago on the way to the Long Beach Grand Prix nearly paralized him. After a long time in the hospital, it was difficult to get back to his working on race cars making them prettier. He created the first Wagtimes logo from a stick figure drawing I did, and it has lasted the test of time. Originally it had a wing car and a traditional one. When I changed my desire to wingless, he took the wing off.
Gene and Teresa. Gene used to wear a huge cowboy hat at Ascot and he was often sitting near us. Mrs Wags made friends and explained how the view behind him was limited. He changed to a baseball cap and everyone was thrilled.
Don "The" Barber and Wags. Don was the original member of the Petaluma Posse I met and there was a long list of those fans that later went racing with us back east. Don is a lifelong barber and still cutting hair today. He, like us, doesn't travel much these days, but having a dirt track very near his home, makes it easier to go on Saturday nights.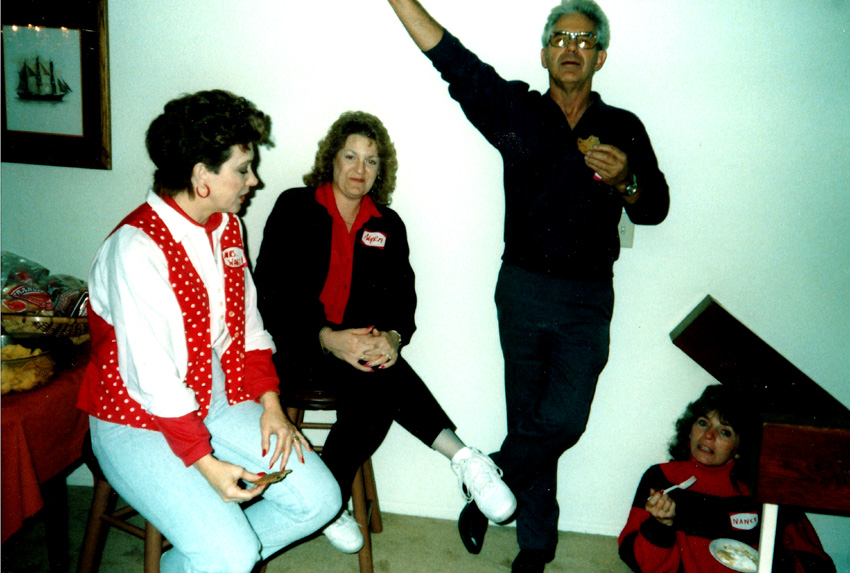 Mrs Wags with Myra Jolly and Gene and Nancy Tussing. The Jolly's and Tussing's were part of the original Wagtimes sprint car fans group that got all this Wags stuff started. Nancy became an Orange County cop for some reason. When she passed, Gene went off to Montana or someplace remote and we havn't seen him in many years.
Pat Bogan
The steps up to the living level and dining room area where the food was. Everything was upstairs except for the garage and entry way. we really liked that place. In later ears I had a stair chair installed to make it easier to go up and down. I used it for groceries and packing stuff up mostly
"The" Barber, Mrs Wags, Tim Matthews and people eating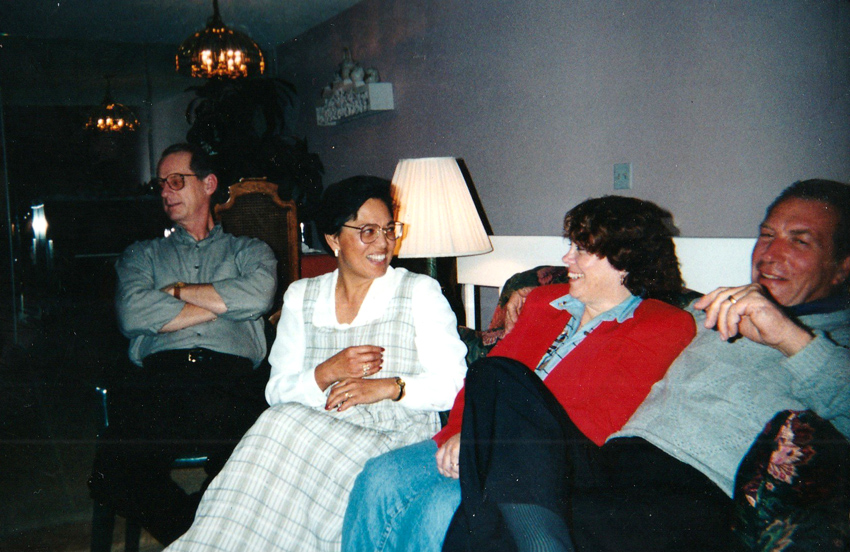 Mike and Evelyn Clark with Stephen and Judy Pettigrew. Mike got involved with Wagtimes when one night at Bakersfield he asked what my cut was of the money I collected. I had him shadow me for the night and he verified we put all the money in the envelope and gave it to the driver. He was a big help in the Wagsdash's particularly as he was the guy in the kitchen heating up the chili every year when we were serving it up. He always came up with unique auction item's to make money for the racers. He spends a lot of time in Indiana traveling with his own trailer and watching a lot of races.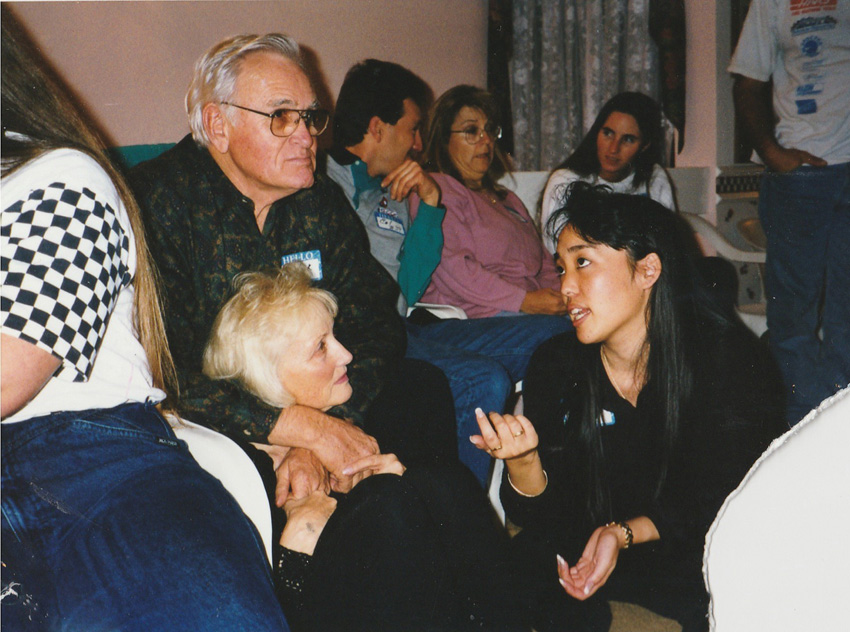 Stan Cook and Marilyn Thomas with Julie Shiosaki. Stan and Marilyn were a long time couple. Stan sponsored Bobby Michnowicz and was deeply involved in sprint car racing.
Pat Bogan with Wags
Judy Pettigrew, Mrs Wags and Monica Everett
Tom Downing, Wags and ?? and Verne Sweeney
Stephen Pettigrew and Wags
Mrs Wags, Judy Pettigrew, Randy Shiosaki, Lee Jaskowiak (the CRA starter), Tina Dils and Rich Chesavage.
Tom Sertich and Cal Smith
Stubby Dils with Wags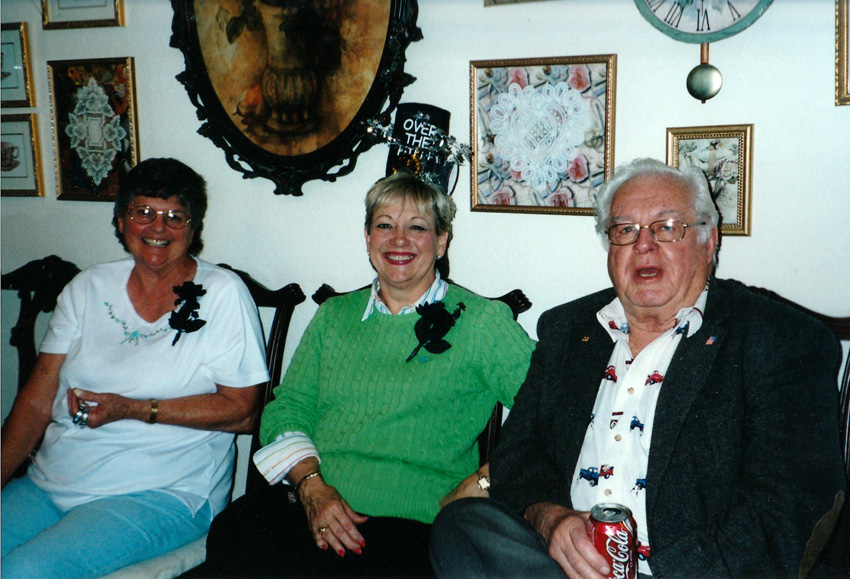 Marie Sweeney with over 40 Mrs Wags and Jim Van Natta. Jim had a long history with racing and still loved going racing until he passed away.
Jim and Fran Herdrich with Mrs Wags and Cal Smith
Marie Sweeney, Kenzo Okubo, Belita Michnowicz and Debbie Smith
1992
Marie Sweeney with someone looking over her shoulder
Stan Cook and Wags
Richard Watkins with Tina Dils
BJ and Charlie Stewart (An old friend of the Darlin' Dils)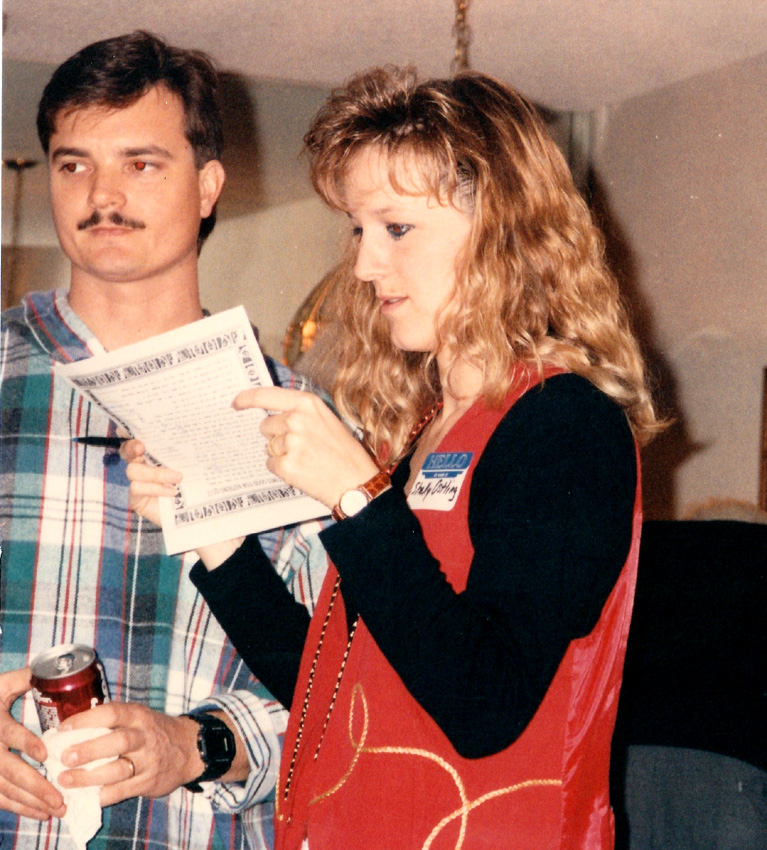 A very young Steve and Shelly Ostling. After a great driving career, Steve became the CRA Tech guy until politics stepped in and ended that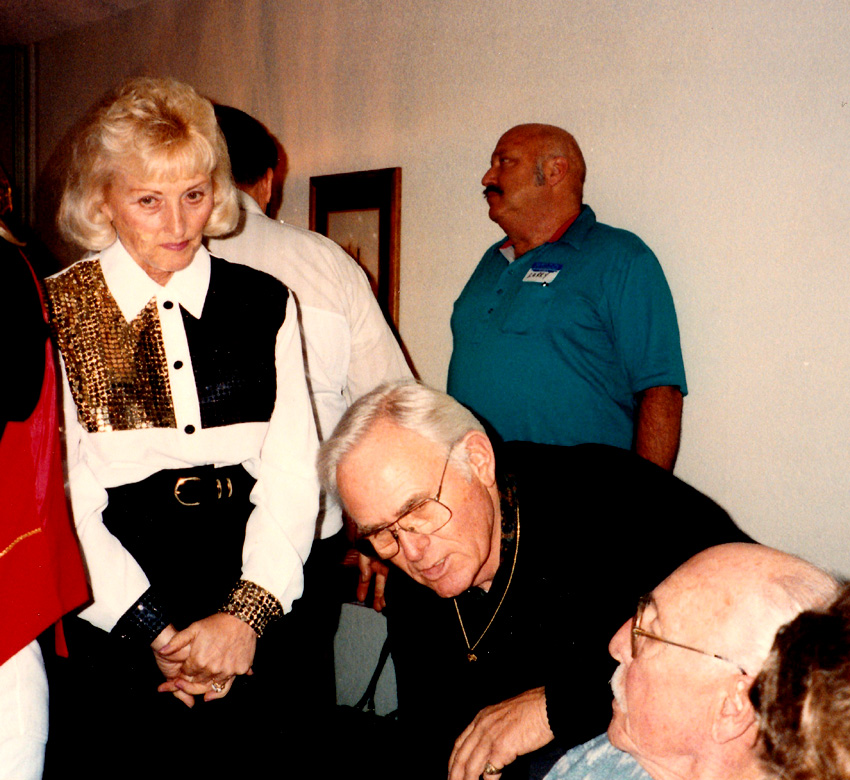 Marilyn Thomas with Stan Cook talking with Bud Burchell and Larry Jolly behind
Larry Jolly, Gordon Hollenbeck, and Ken Ostling (Steve's dad)
Pat and Norm Bogan with Helen Burchell
Charlie Stewart, Tina's Tom, with Darleen and Stubby Dils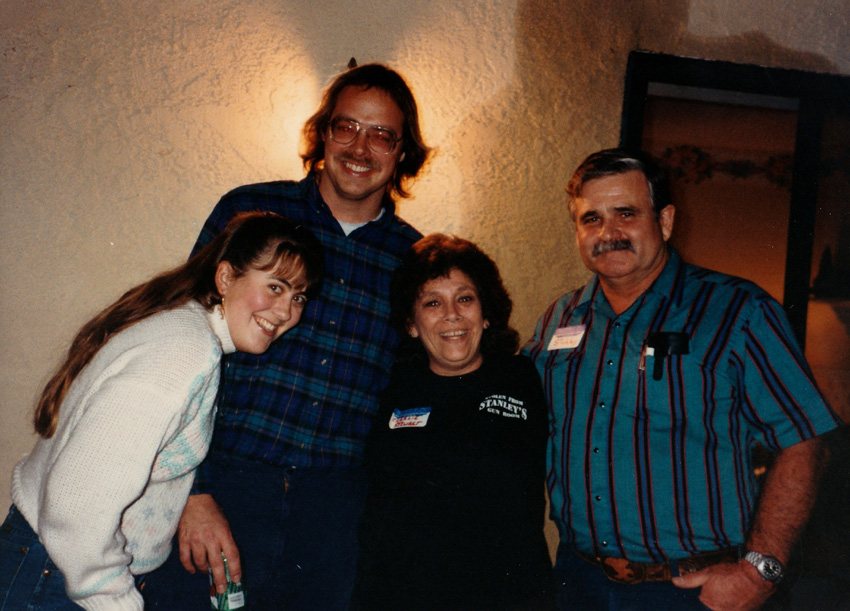 Tina and Tom, with Charlie Stewart and Stubby Dils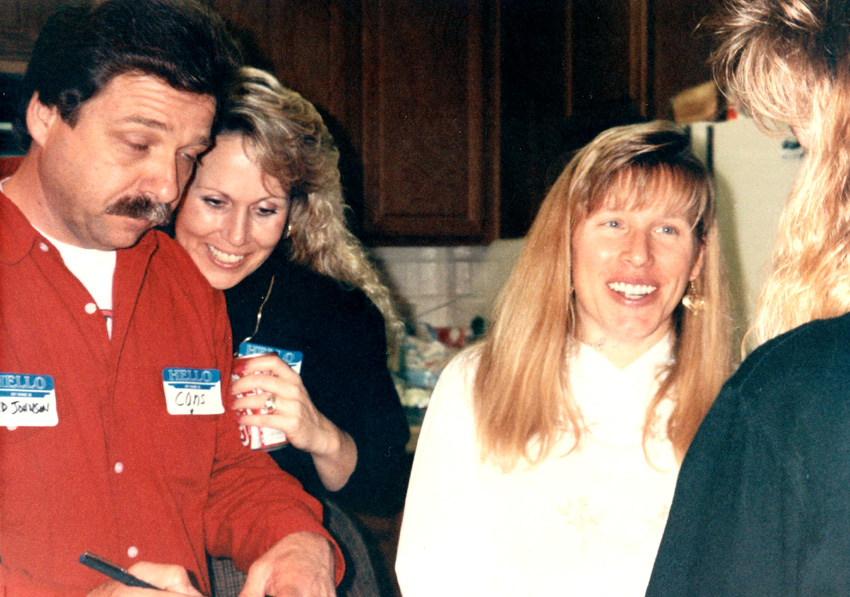 Chris and Linda Holt with Kim Sue Craft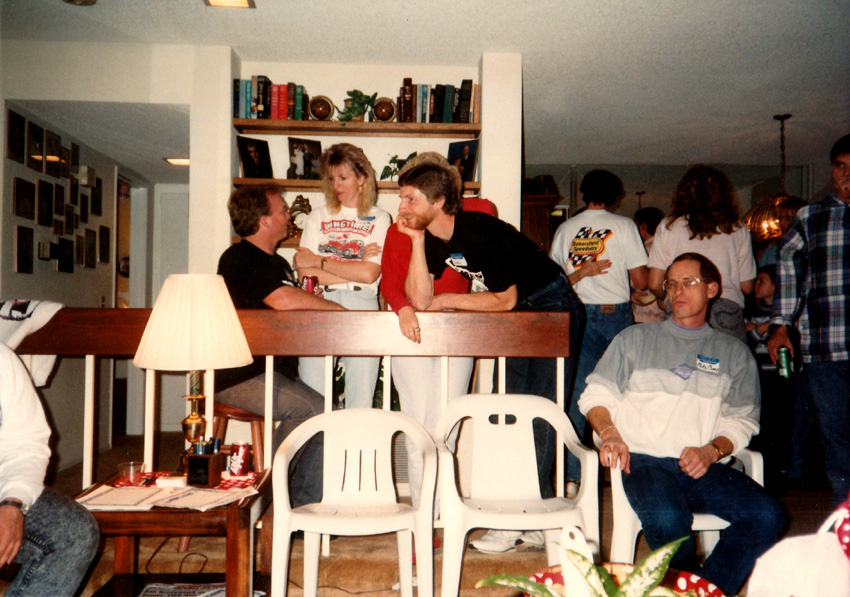 Dennis and Collette Stewart, John Baumann and Mike Clark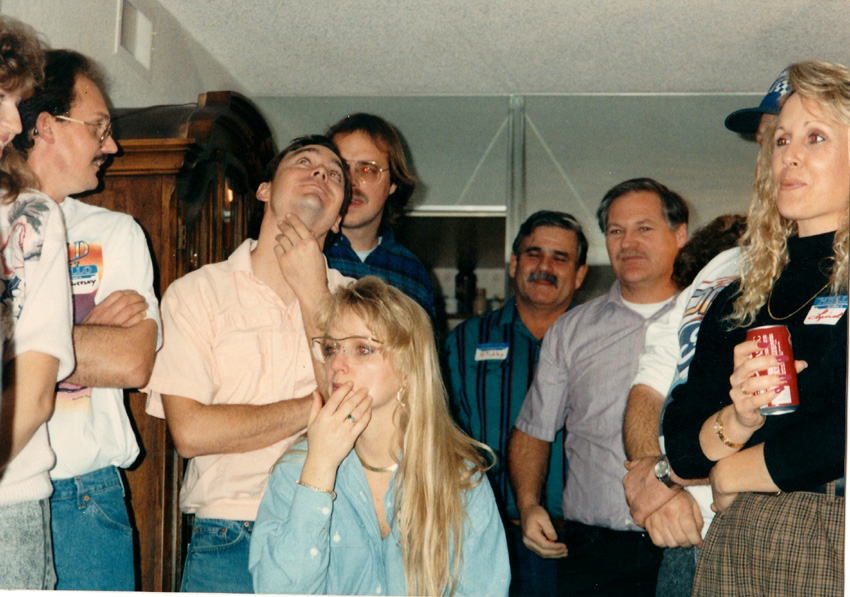 Verne's brother Bill Sweeney next to Verne his wife, Stubby Dils, Richard Watkins and Linda Holt
Jack and Natalie
Natalie, Gene and Nancy Tussing, "The" Barber and Myra Jolly
Little John, Richard and Sylvia Watkins and Jack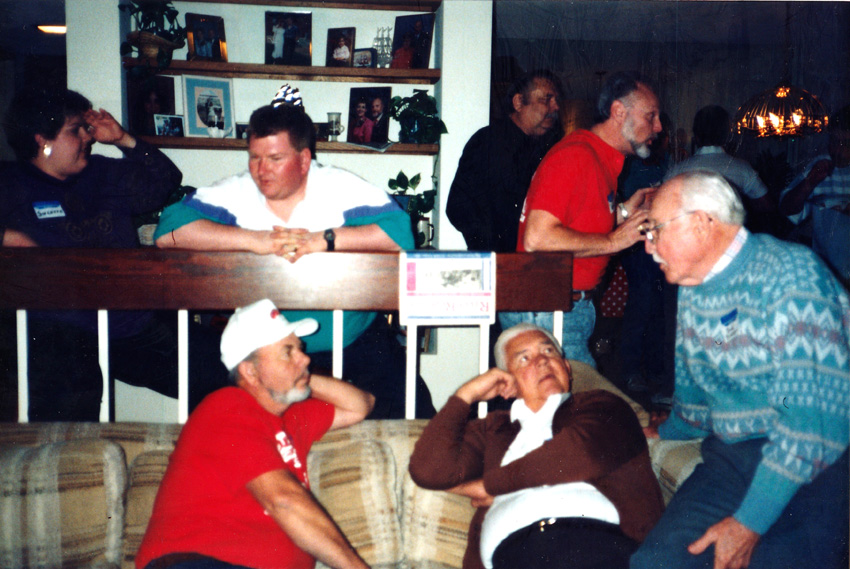 Gregg and Suzzette Gallant, Norm Bogan, Hal Mathews and Bud Burchell. Gregg worked for a copier company and did some night time copying of the Wagtimes newsletter for me. Often he did some color pages, too. They ended up moving back East and we keep up thru facebook.
"The" Barber, The Wags and the Bogan's
These familiar faces must be watching a racing video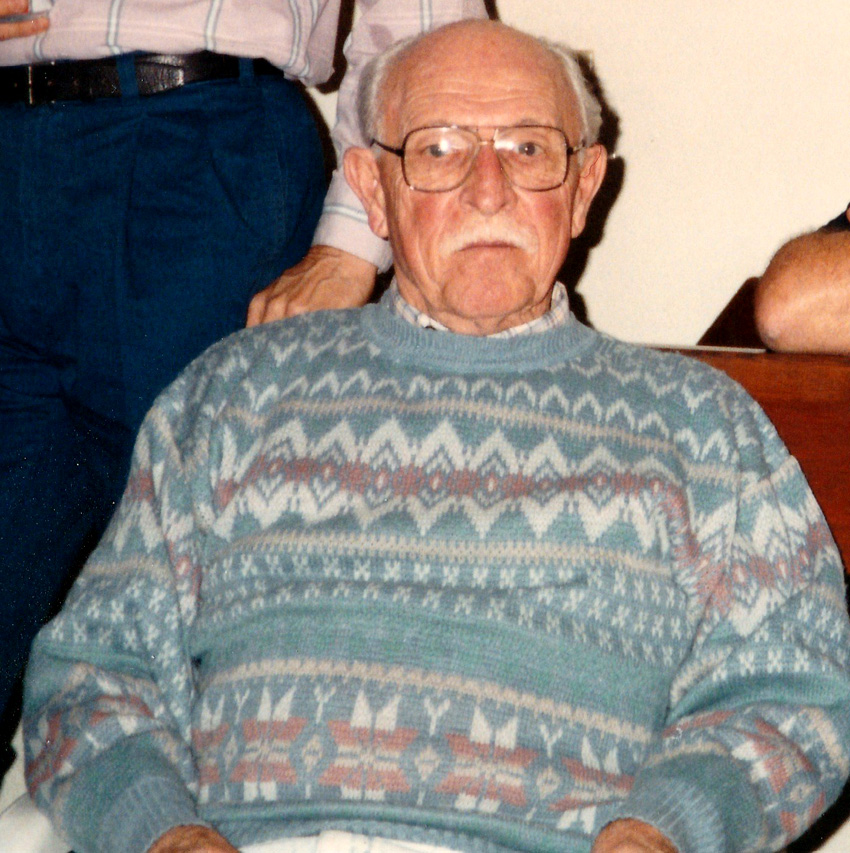 Bud Burchell once asked me if it was OK for him and Helen to be Wagtimers, Being so old he said? Ha ha, whos old now!
Dennis and his two kids, Matt and Allison, with John Baumann, Mike Clark and Richard Watkins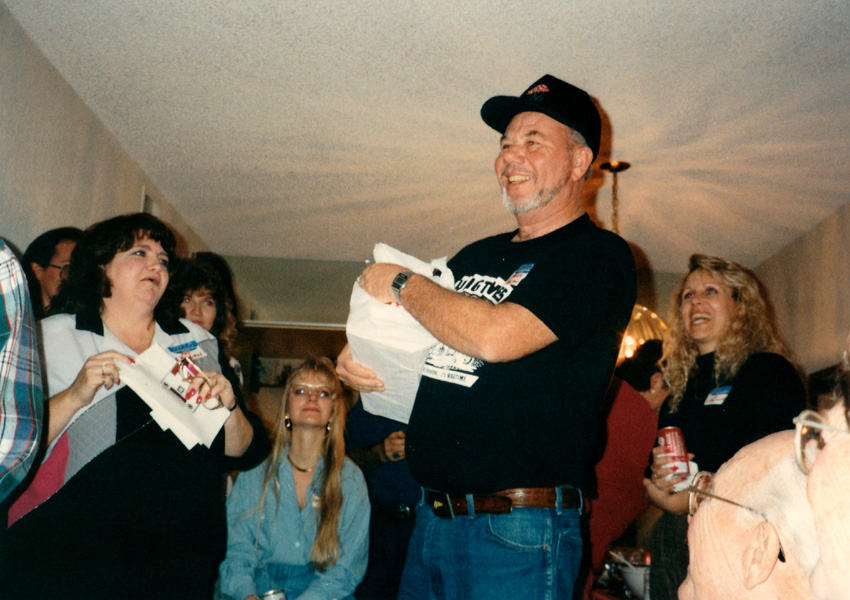 Pat and Norm Bogan and Linda Holt
The look on Mrs Wags face sez were watching porno? The Sweeney family seems good with it and don't worry, it was racing!
Collete and Dennis Stewart, John Baumann, Deloris, Steve and Shelly Ostling
Matt and Allison Stewart fishin' for licorice
I think it's the annual Wags Quiz. The Ostlings and John Bauman are playing along
DJ and Monica Everett, Pat Bogan, Collette Stewart, John Bauman and his wife plus Matt and Allison below
Mrs Wags, Marie Sweeney and Linda Holt comparing rings?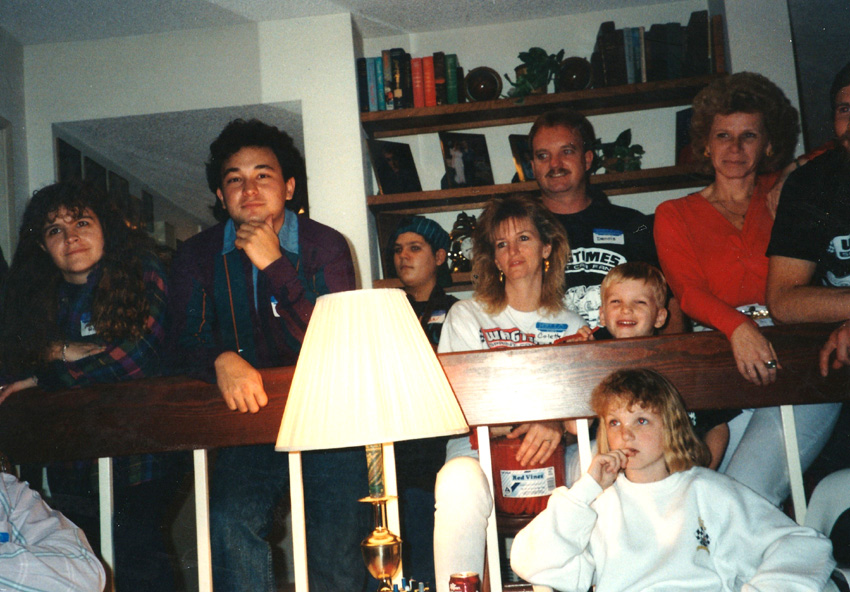 DJ and Monica Everett, Dennis and Collette Stewart with John Baumans wife and the Stewart kids
John Baumann, Steve and Shelley Ostling, Linda Holt, Kim and Kim Sue Craft, John Habbick, Mrs Wags and Bud Burchell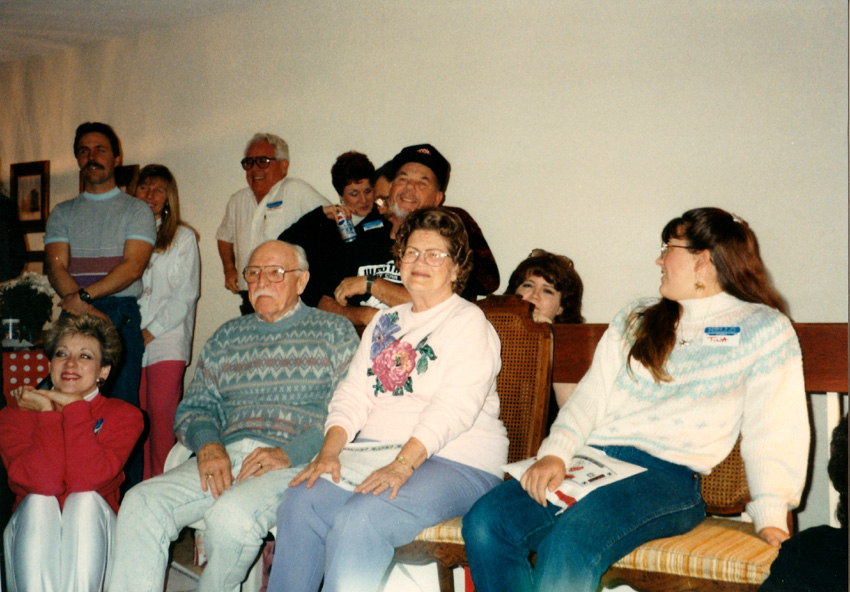 Shift the scene to the right and add Helen Burchell, Tina Dils and the Bogan's
Pat Bogan and Charlie Stewart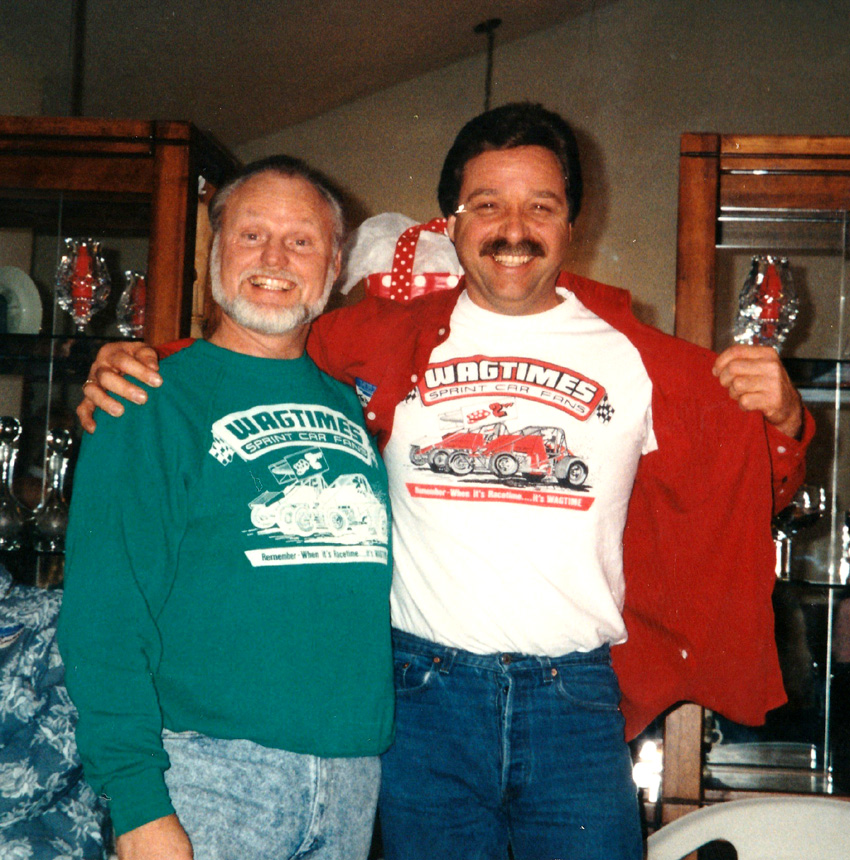 Wags with a proud Chris Holt. Chris was instrumental in getting the Wagsbucks word out there so people knew what it was. He was the Ascot infield announcer and still does that at Perris.
Wags and Chris Holt messing around with policeman Ken Ostling keeping an eye on them them
D J and Monica Everett with Gordon somebody?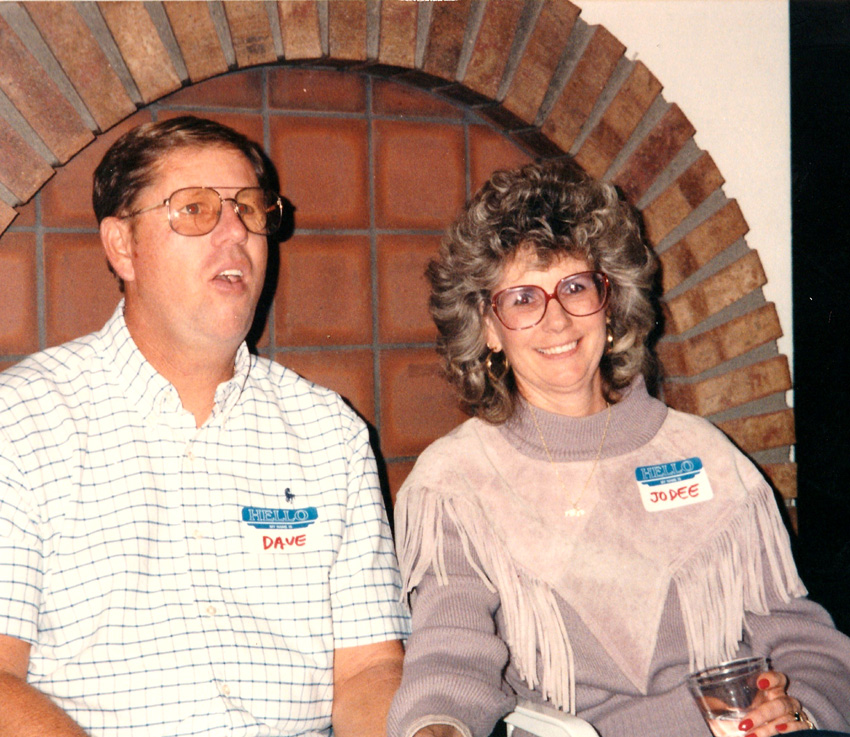 Dave and Jodee Dunham
The Darlin' Dils, Tina and Darleen and Jack
Mrs Wags Cooking?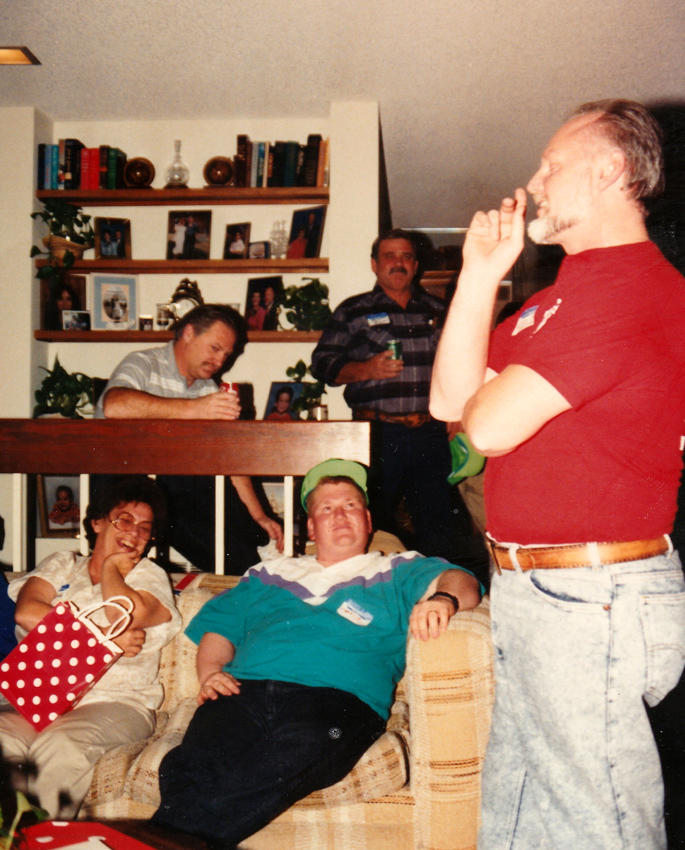 Gregg Gallant is watching Wags
Tom and Tina
Chris Holt and Wags
John Baumann with Steve and Shelley Ostling and Darleen
Pat Bogan, Leroy and Marie Sweeney, Linda Holt, John Habbick with Bud and Helen Burchell and Tina Dils below
Bud Burchell, Marie Matthews and Pat Bogan
1994
Dennis, Collette and Allison Stewart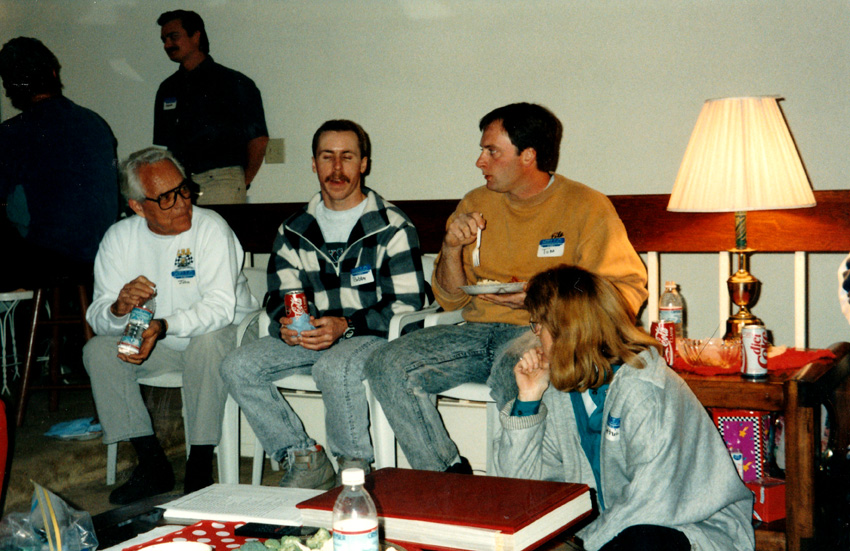 John Habbick, Bobby Michnowicz and Tom Downing
John Habbick, Bobby Michnowicz and Tom Downing with Scotty Burns behind
Gene and Nancy Tussing, Norm Bogan, Shelley Ostling and Wendy Michnowicz. In the background you see Scotty Burns and Bob Michnowicz
D J and Monica Everett. DJ has always been like a son to us. We met him and his father at Ascot when he was just barely out of high school
Kim and Kim Sue Craft with Mrs Wags
Pat and Norm Bogan with Wags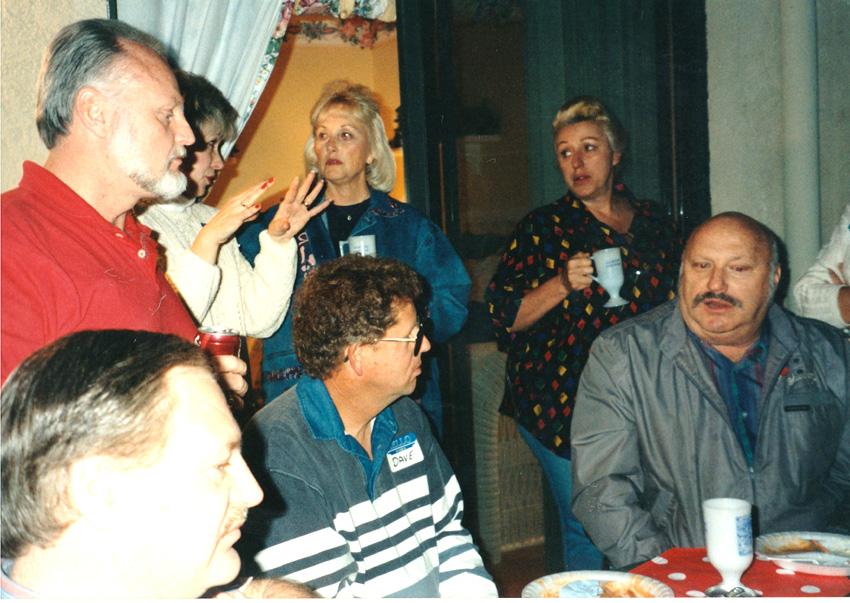 Wags, Marilyn Thomas, Belita Michnowicz with Richard Watkins, Dave Dunham and Larry Jolly below. Dave and Jody had their own street rods, both 409 chevy powered
Pat Bogan and Charlie Stewart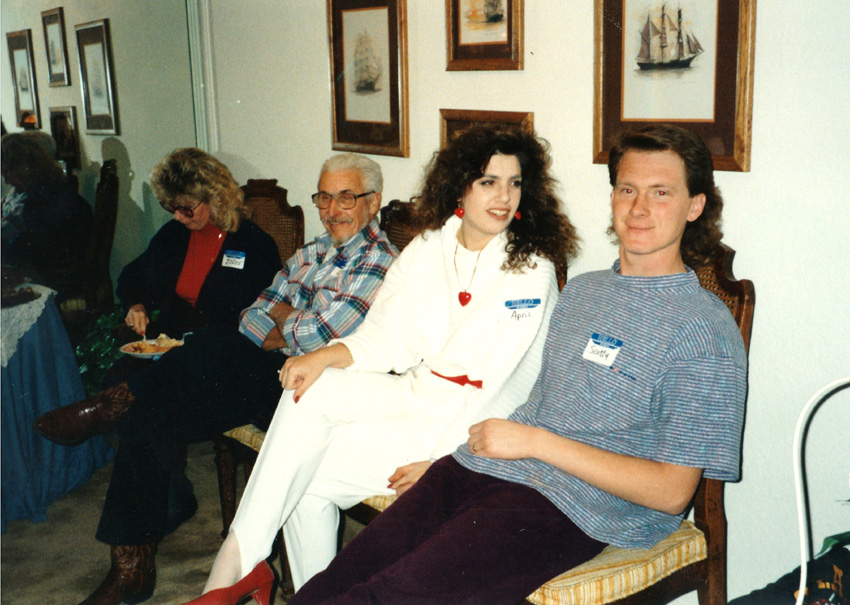 Bob Michnowicz with Scotty and April Burns. Scotty tried promoting Sprints after a lot of motorcycle events. He ran Victorville and then tried to put dirt on the Orange Show track, but it didn't last when his two money guys were gone. Scotty and the family are living back in Oklahoma now
1995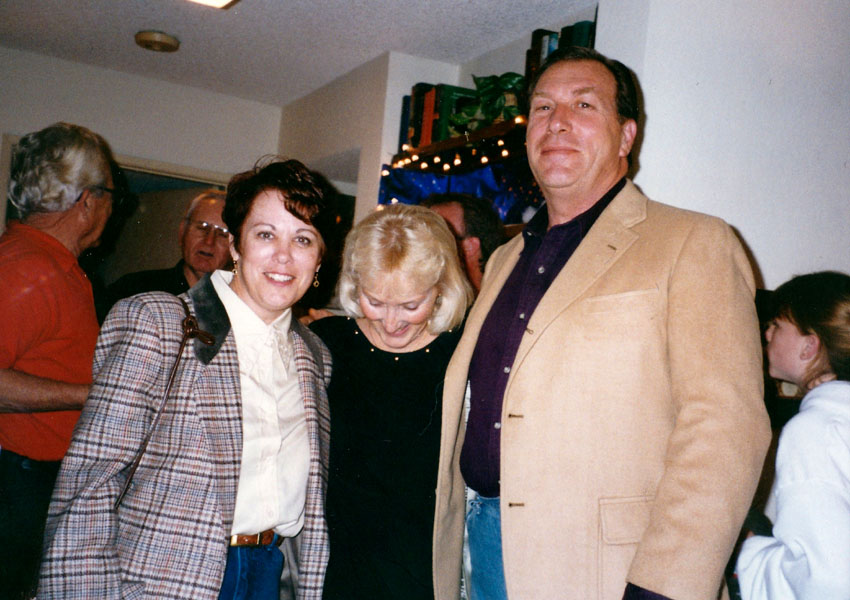 Judy and Stephen Pettigrew with Marilyn Thomas. Judy and Stephen got involved with us on the very first Wagsdash weekend. We were renting a Cruise America motorhome, on the cheep because we knew someone, and they wanted one. They never left the Wagtimes after that
Must be Mrs Wags birthday party?
Tina Dils with Mrs Wags. Note Tom downing with a Mike English name tag on
Mrs Wags with a bad number. Of course today it would be golden
Judy Pettigrew with Mrs Wags
John Baumann and his new wife Lani with Lee Jaskowiak and Wags
Linda Holt and Stan Cook
Chris Holt
April Burns, Tina Dils and Mike Clark
Darleen Dils, Pat Bogan and Charlie Stewart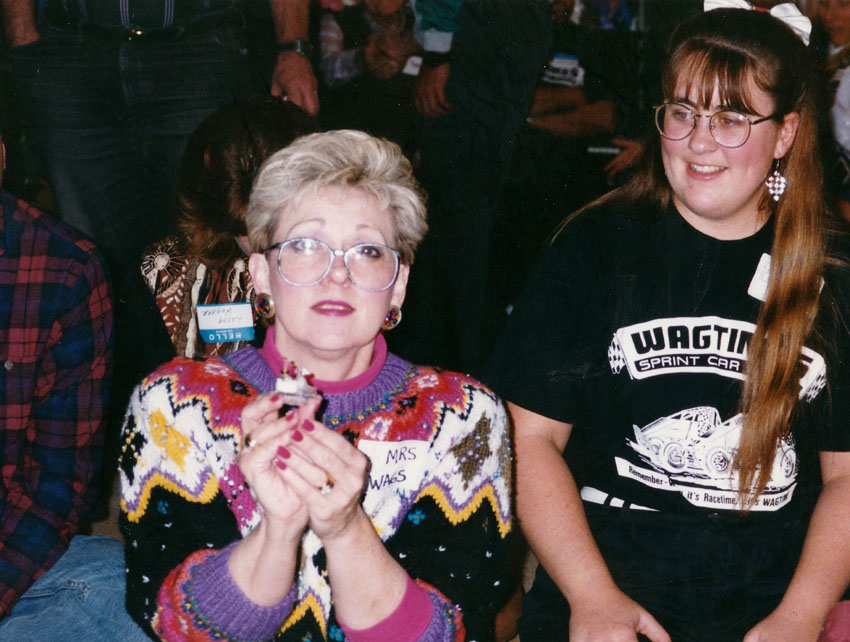 Tina Dils with Mrs Wags
Hal Matthews, Linda Holt and I think "my brother" Larry Wagner. He's not my brother but a real nice guy
Bud Burchell, John Habbick, Chris Holt, Kim Craft, Stephen Pettigrew, with Judy and Mrs Wags below. Bud became quite the whittler as he made neat stuff. I have a sprint car and a letter opener he made, given to me by Helen after he passed. He had a walking stick with my likeness on it, but I didn't get that one. He spent his last years volunteering at a hospital and that's where he passed.
Helen Burchell, Tina Dils and Lee Jaskowiak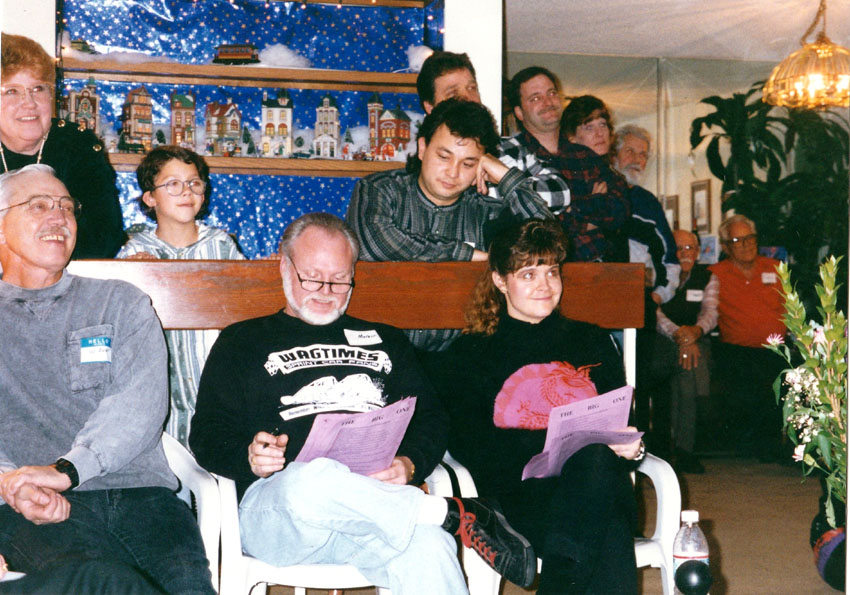 Willie Bandy, Wags and Monica Everett in front of a crowd. Willie was a staunch Ripper fan and he always agitated the Wagtimes crowd in the stands.
Wags with Mrs Wags and Kim Craft. I used to go out to Kim's house during the week when they worked on the sprint car. No, I just watched. He had an old 50's Corvette that was ready for restoration that I lusted after. After his crash that left him unconsious for a while, he came back to drive until he won his only CRA race at Santa Maria, then he retired.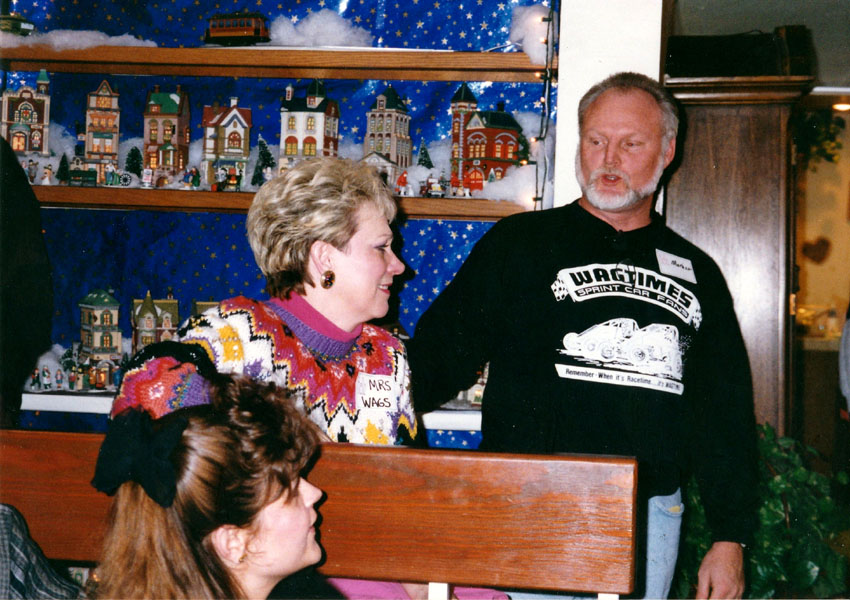 Mrs Wags and Wags
Sitting Willie Bandy, D J and Monica Everett, Tom Downing with Mike Clark, Wags and more
Here's where we go around the room and everbody gets to speak. After all that I always had a few words of wisdom to spew. Those were fun days.
Wags with a birthday cake for Mrs Wags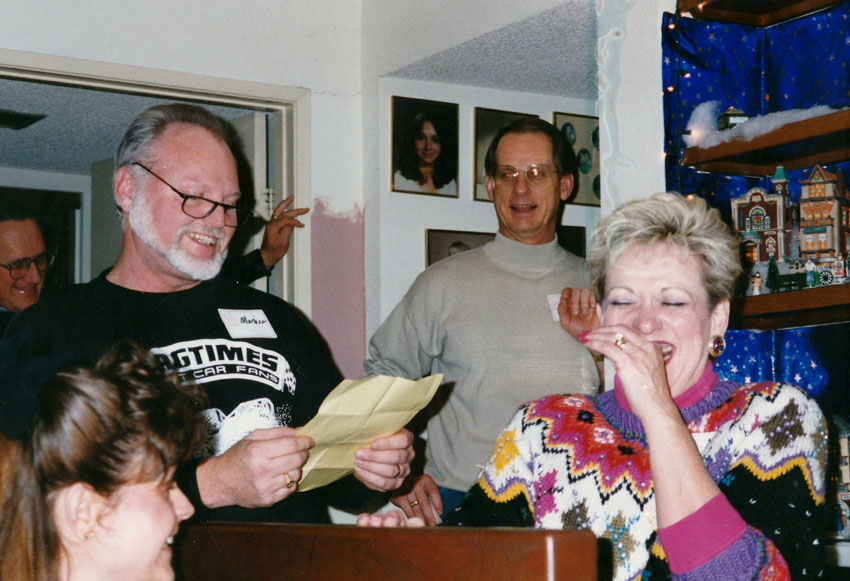 Wags reading something I wrote to Mrs Wags with Mike Clark looking on
My pretty wife having a good birthday
The crowd looks on as Mrs Wags opens presents
If you shrink down in size, you can take a ride in this little spaceship she said?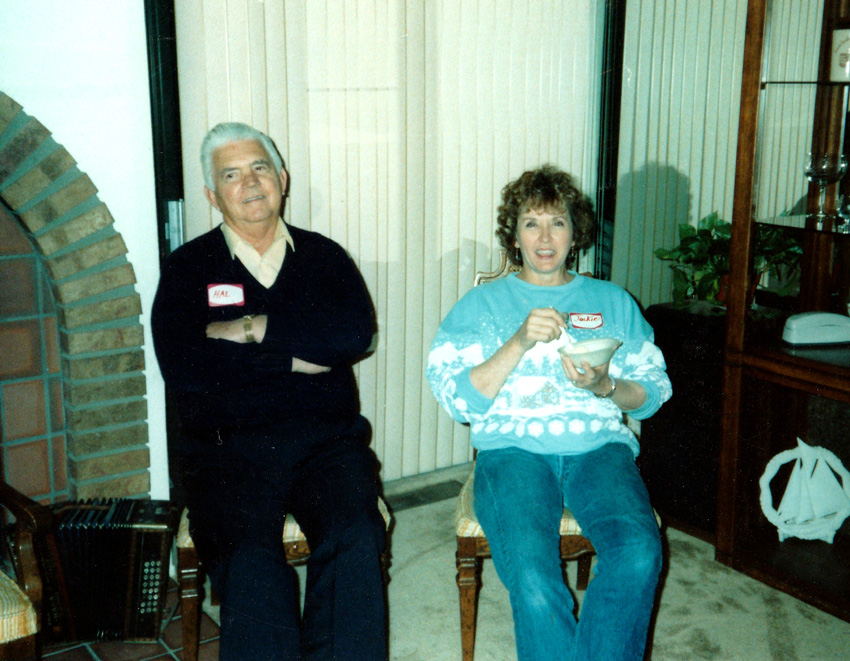 Hal Mathews and a pretty lady?
Tina Dils actually thinking about cooking?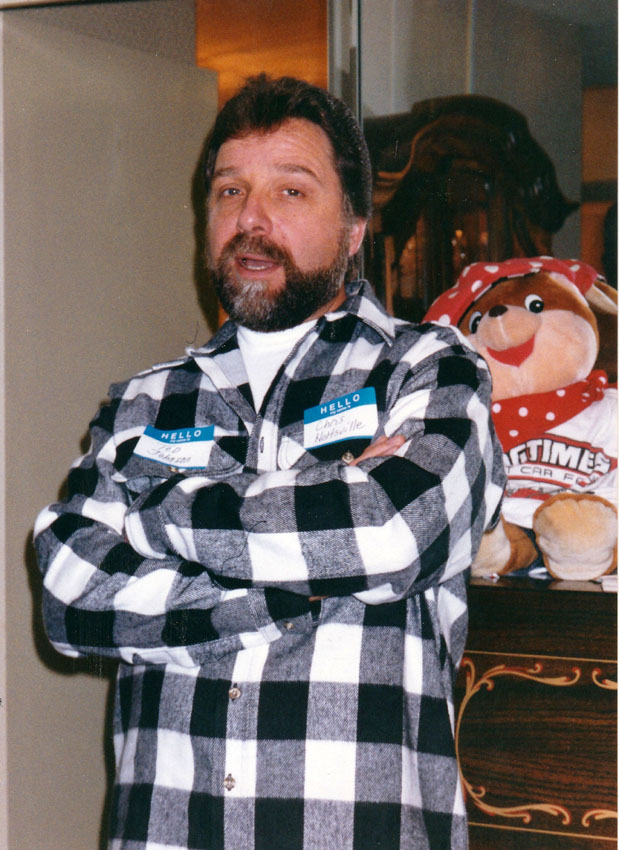 Chris Holt and the Wags Bear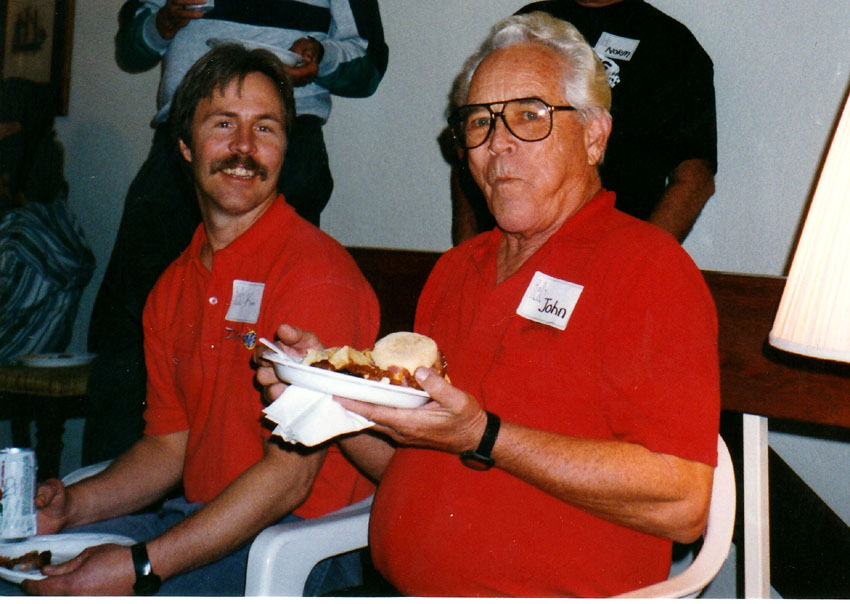 Kim Craft and John Habbick.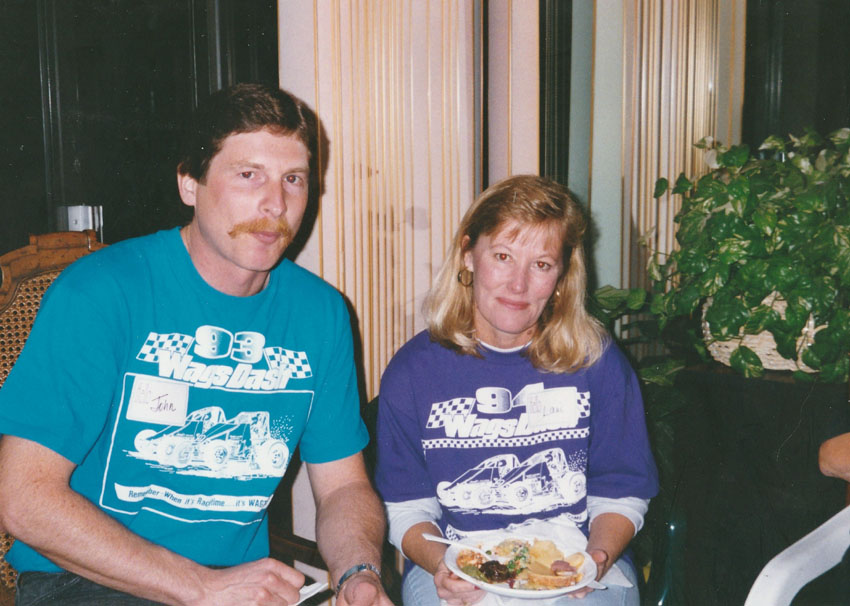 John and Lani Baumann. John was a crewmann on Dennis Stewart's sprint car
Carole and Brock Burns with Mrs Wags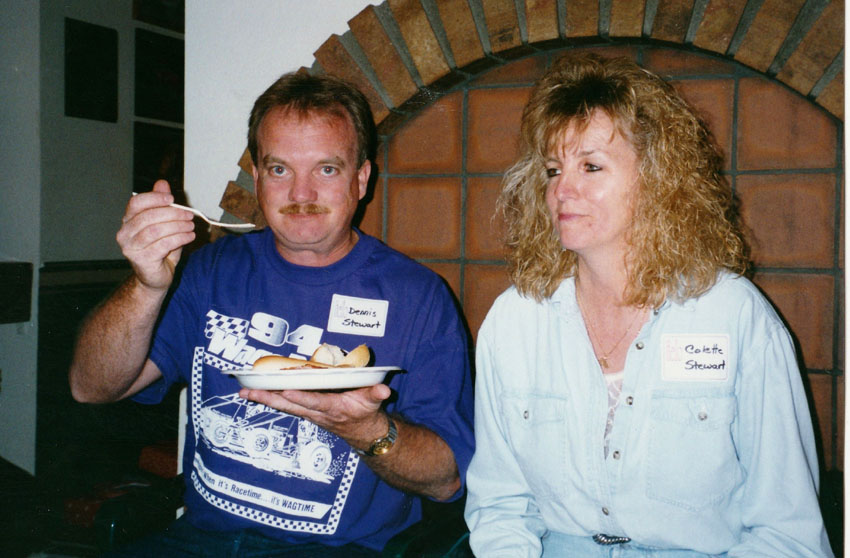 Dennis and Collette Stewart
Charlie Stewart and Tina Dils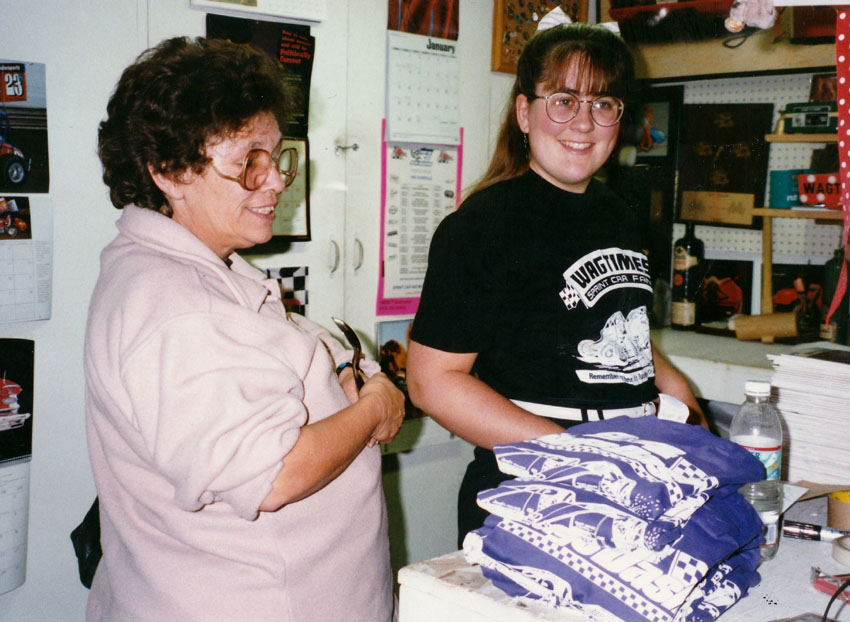 Same pair in the garage t-shirt shopping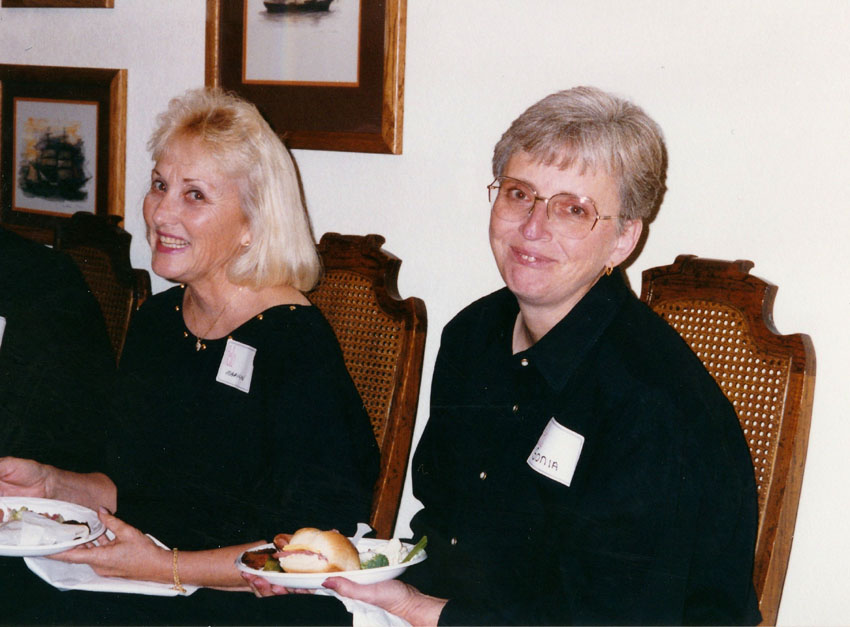 Marilyn Thomas and Sonia Duffy
John and Lani Baumann and Scotty Burns with his son Brock
Judy and Stephen Pettigrew with Marilyn Thomas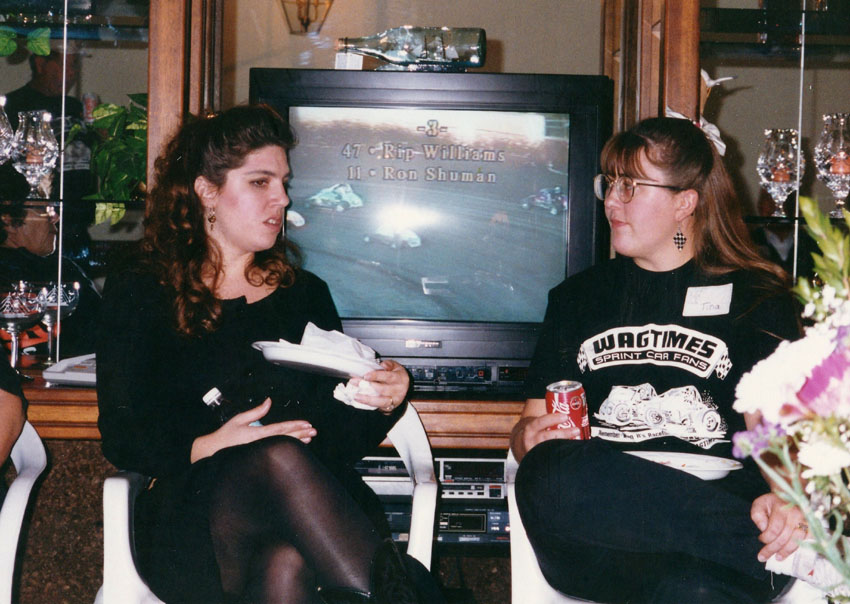 April Burns and Tina Dils
Kim and Kim Sue Craft with Bud Burchell
Kim Craft
Tom Downing and Mike English before they switched name tags
There were usually more than 75 people at these Wagsbash parties in our small 1600 square foot condo, so seating was at a premium. I always moved the furniture out and brought in those white plastic chairs, but still some were down the steps towards the front door.
Larry Wagner, Linda Holt, Richard Watkins and Marilyn Thomas
It was always like I had my closest friends in the house, and I still treasure that
This is the patio seating out side the kitchen. It was for the kids. Note Lee Jaskowiak is one of the kids and Wags parties always welcomed the racer kids
The small room to the left was my den, about 8 foot square, and some hid in there
Here Mike Clark is telling his story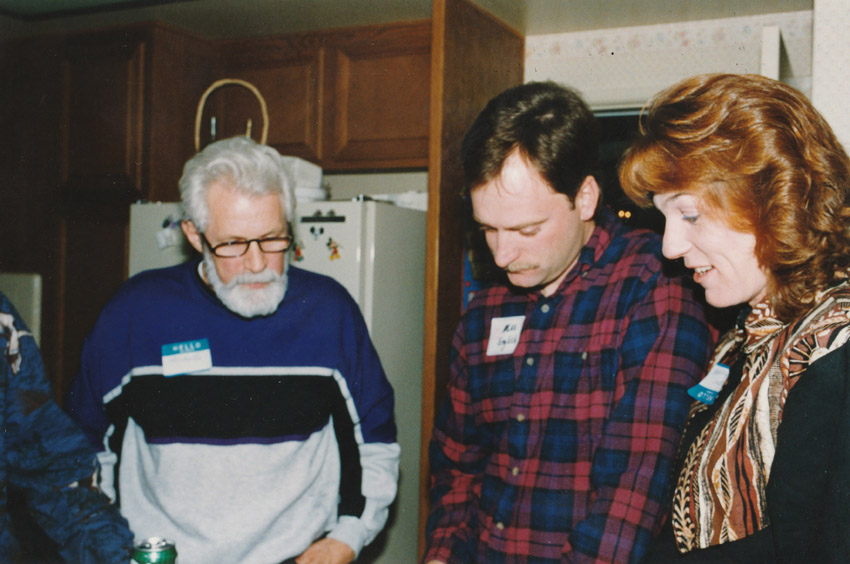 Larry Wagner, Tom Downing and his date
The Stewart's, the Baumanns's and Scotty and Brock Burns
Carole and Brock Burns
Wags with Monica Everett and Matt Stewart.
John Habbick, Linda Holt, Stan Cook and Marilyn Thomas are speechless with Chris Holt's bantering
Tom Downing with Mrs Wags and a lady who shall remain nameless. She might have been Tom's date and the one who once asked me "which way do the cars go around the track"?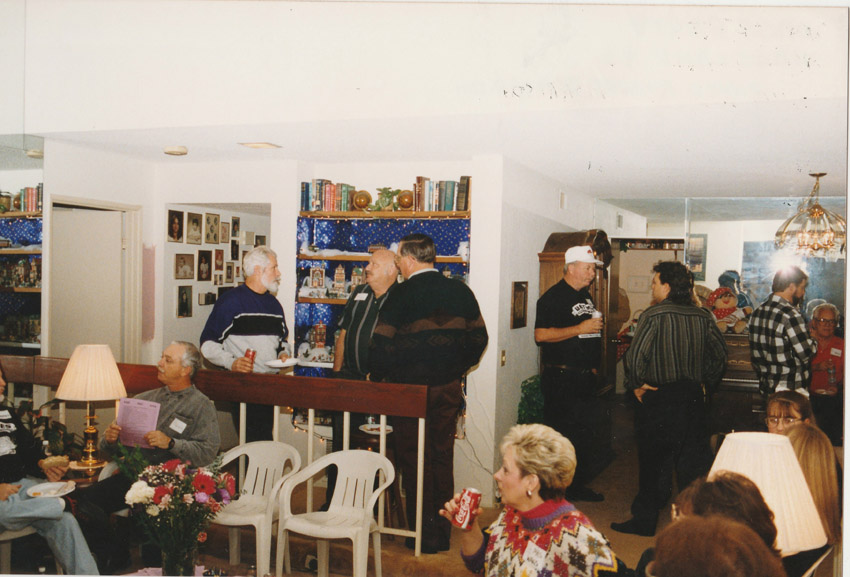 Looks like a break in the action
Hal Matthews is following Mrs Wags and Darleen Dils thru the food line. Looks like it might be a long wait
Larry Wagner, Larry Jolly, Scott, Bud and Carole Burns
April Burns, Tina Dils, Mike Clark, Willie Bandy and Monica Everett
Diane Keck had a great love for dogs. She once brought us a pillow with a perfect likeness of our beloved Dusty Dawg on it.
Hal Matthews and Kim Sue Craft
1997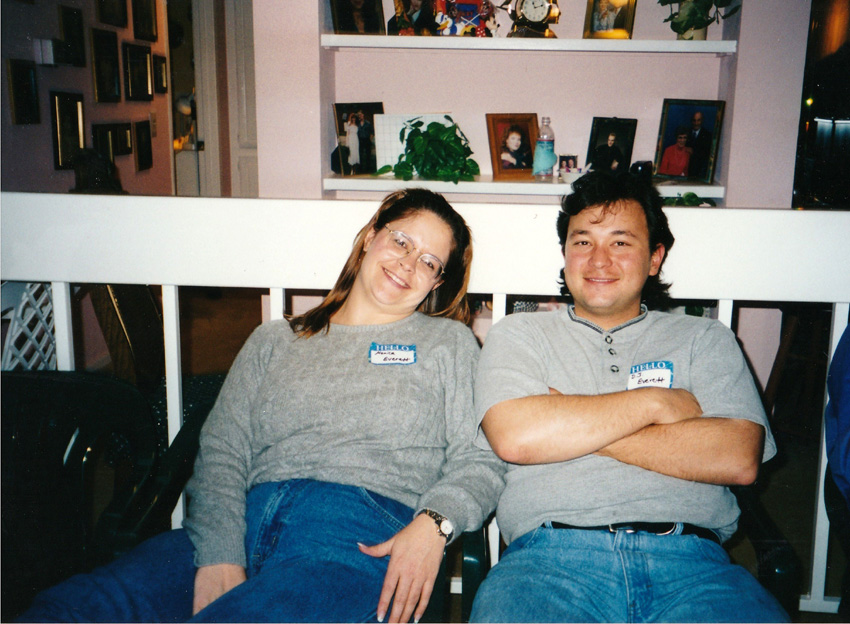 D J and Monica Everett
Leroy and Marie Sweeney
Willie, Krista and Sonia Bandy
Cat and Jack Algir, Wags and Bud Burchell

1998



Carole Burns with John Habbick over her shoulder



BJ with Gordon Hollenbeck. Hollie as he was called, had a stroke while mowing the lawn one day. He was so stubborn that he finished before going to the hospital. It was the start of him going into assisted living because that wasn't good. He would still come to the Wagsbash's and even go to the races when someone could take him (BJ). He needed my stairchair to get up the stairs at our place for our party. He used to redline my paper Wagtimes newsletter, to help me with my writing skills (?). It didn't work, I never learned the correct writting techniques. Gordon was a former tech writer for the airlines manuals he created, and he tried so hard to help me. He was fun, good natured and always had something nice to say to us.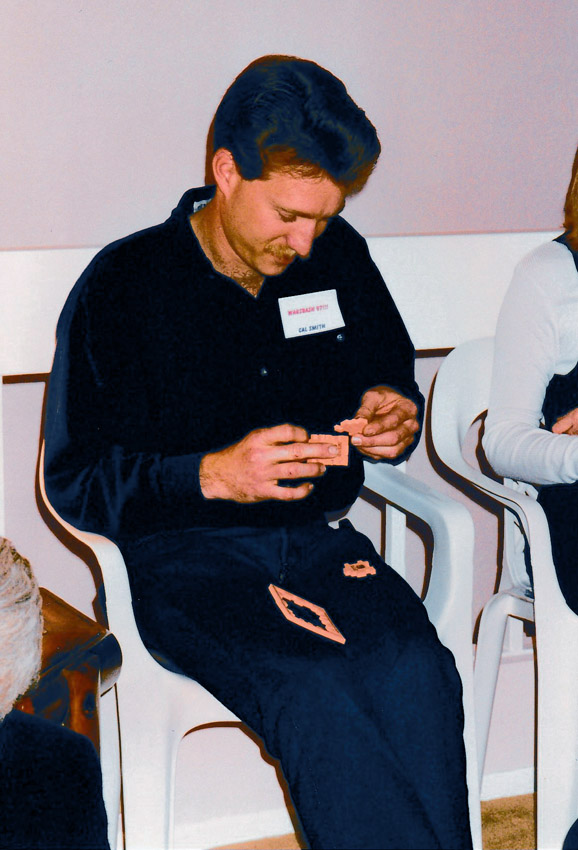 Cal Smith with a puzzle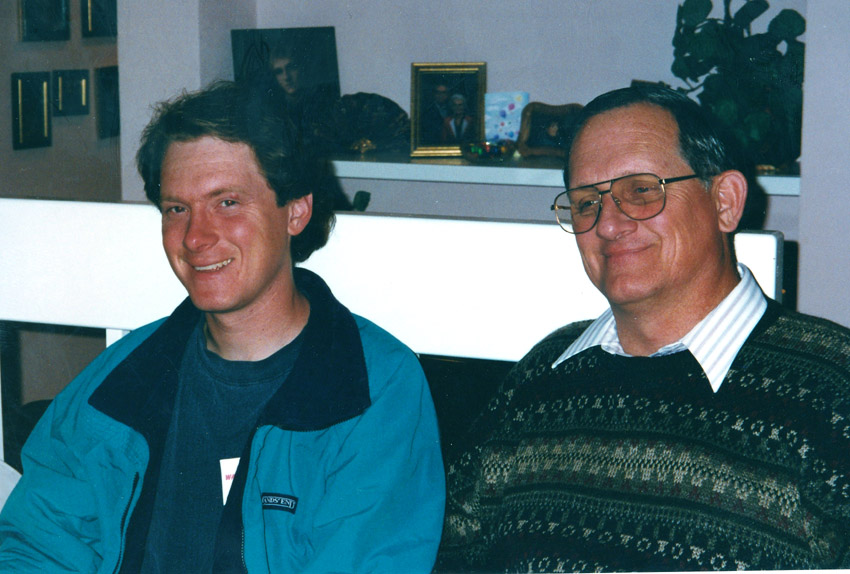 Scotty and Bud together, son and father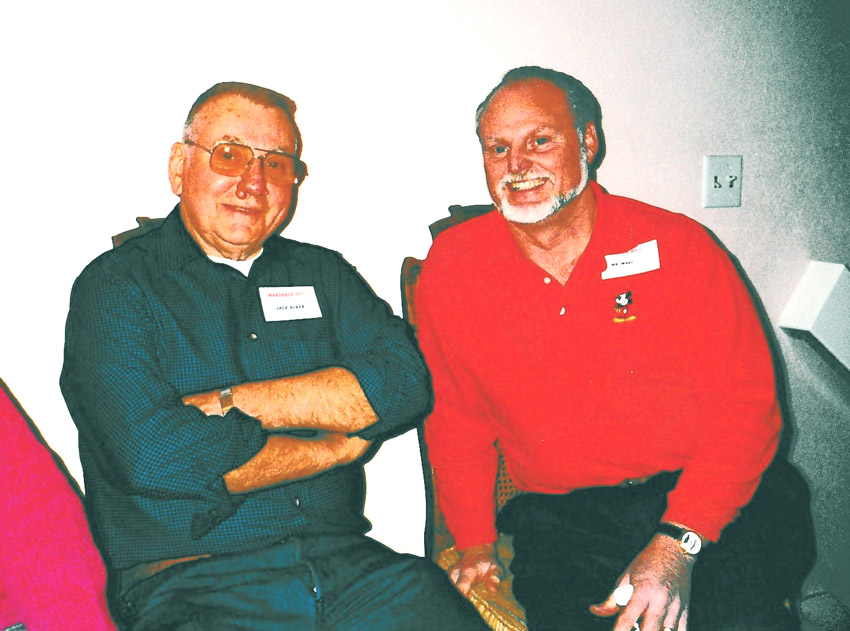 Jack Algir and Wags. He was a good man who worked on motorcycles most of his life! His wife Cat was a pro bowler when she was young and a hell of a softball player we were told.



Randy Shiosaki is excited, Verne Sweeney looks like he gets it and the night goes on. Verne once bought a shrimp farm in Mexico. He even had some friends invest in it. I remember the federales took the first crop and never heard if he got anthing out of it. He had so many small sponsors on his race car, there were too many to read off. He still drives today and got one CRA win years ago at Manzy. Verne still has that sneaky smile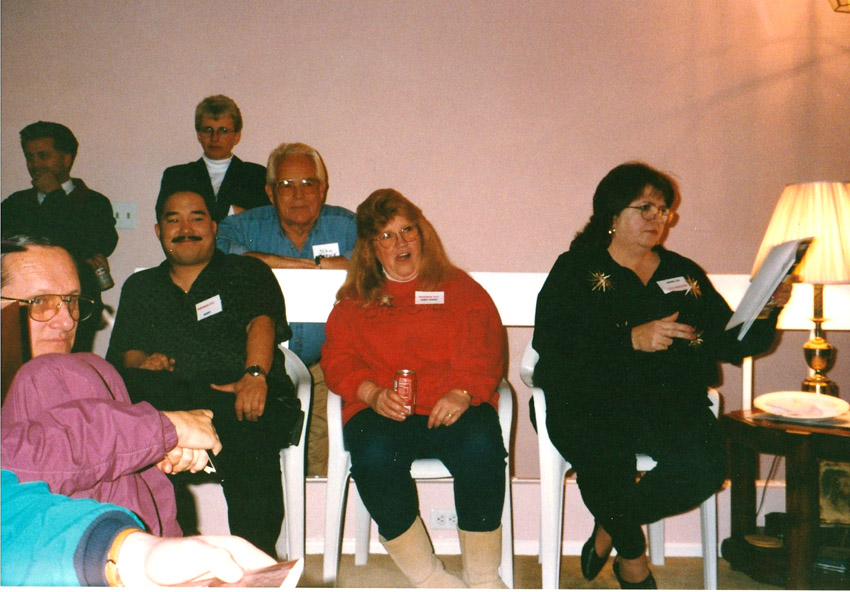 Randy Shiosaki, John Habbick, Carole Burns, Pat Bogan and Bud Burns



Cal Smith, Jim Blenkarn, his wife and daughter and Debbie Smith. Jim lived just down the street from us. He worked for Honda I think and was quite an engineer. His trailer had the one side open up for easy access.



Tom and Laurie Sertich with Mrs Wags. Tom and Laurie have had the Moosemobile going for many years. After Tom retired from driving, they have had many notable drivers in their car. Mike Boat, Rusty McClure, Greg Bragg, Danny Sheridan, David Cardey, Jake Swanson and now R J Johnson. Laurie makes holidays at the track very festive as she decorates like crazy. Good people and obciously great supporters of racing. She made gold sprint car jewelry for years, and I have some. Don't know if she is still doing it?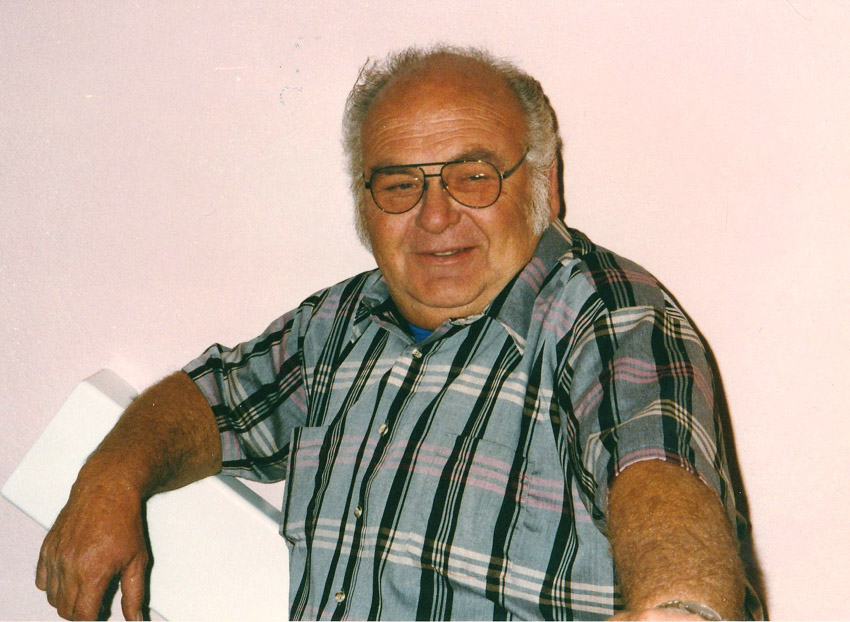 Danny Pivoveroff, a man who did a lot of good in racing. At Bakersfield one time, he gave me a greenback like he often did, but when I checked it, a dollar bill was in my hand. Knowing he usually gave me a $100 bill, I asked him about it as we were getting some watermellon at a booth. He was embarrassed when he explained he thought it was his normal offering. He said he had too many buds that night. He moved off north to some where near Petaluma, but his health kept him from going racing much because he couldn't drive anmore. He would call and check on me once in a while. He passed away recently.



A young D J Everett and his bride. DJ moved to North Carolina to become famous as a driver, but ended up an announcer instead. He worked here in Las Vegas at the pave oval and moved to Boise, ID to be near his daughter. Today he announces and drives his own stock car when he has time. And he comes to visit when the big tired trucks race here.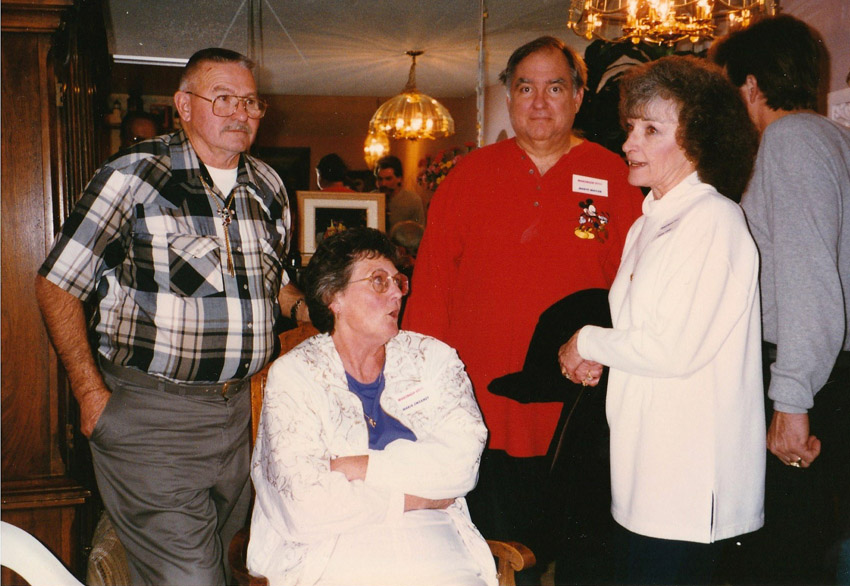 Leroy and Marie Sweeney and Marty Meler and Diane Keck



Dennis and Allison Stewart with Wags



Judy Pettigrew, Willie Bandy, Helen Burchell and below Tina Dils, Sonia Duffy and Pat Bogan



Dennis and Allison Stewart and Mrs Wags in my favorite all time racing shirt



Tom Sertich and Sara Jaskowiack



Add Laurie to that mix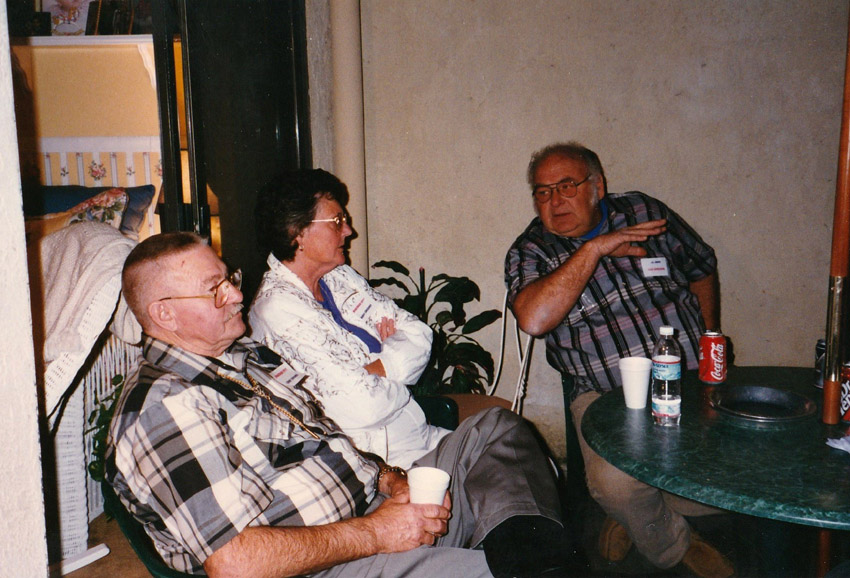 Leroy and Marie Sweeney and Danny Pivoveroff



Mike English with Wags

1999



John Habbick. John was the guy that put together a group of $100 supporters with a plan to find us a new dirt track after Ascot closed. He put a lot of work into it, but nothing ever happened. I supported that effort. He was well liked



Scotty Burns and his daughter



Bud Burchell and D J Everett



Diane Keck and Marty Meler



The Scotty Burns family



John Habbick, Gordon Hollenbeck with Tom and Laurie Sertich



Wags with Bud Burchell



Wags, Bud Burchell and ?? He might have been a driver in John Scott's group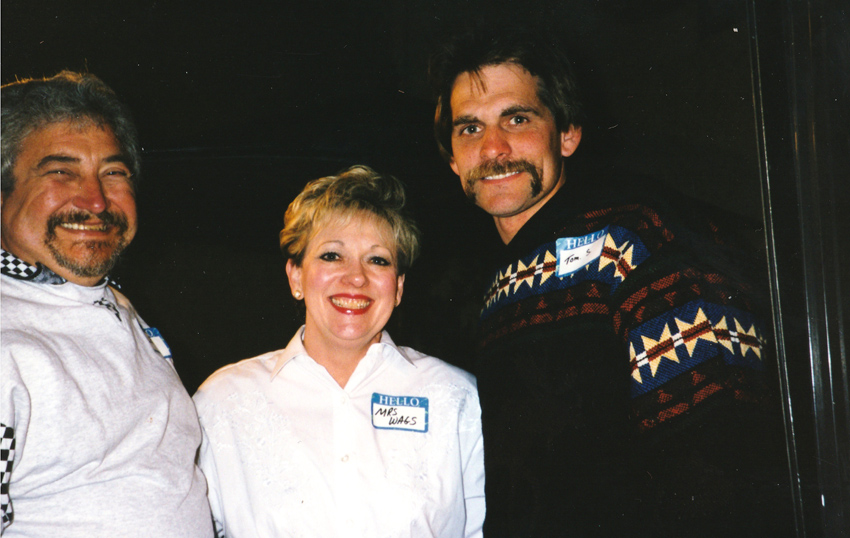 Lee Jaskowiak, Mrs Wags and Tom Sertich



Carole Burns and her grandchild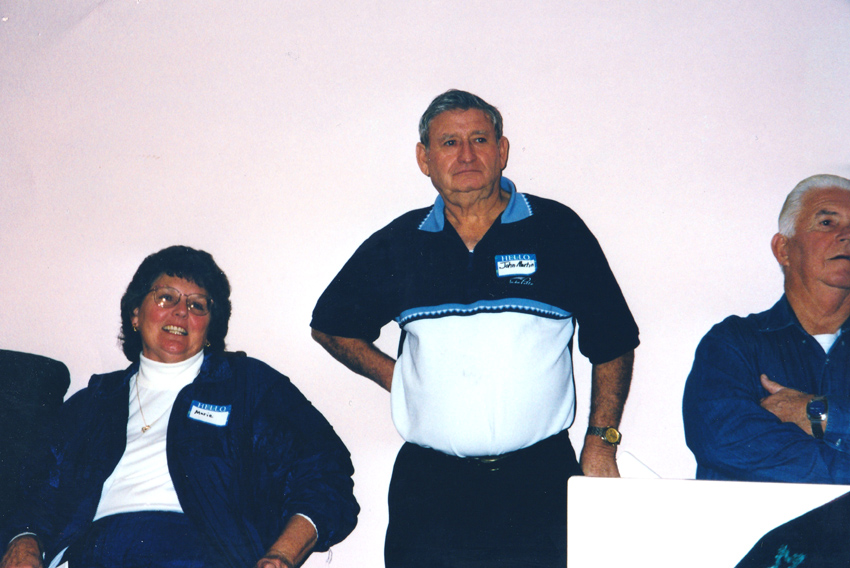 Marie Sweeney, Little John and Hal Matthews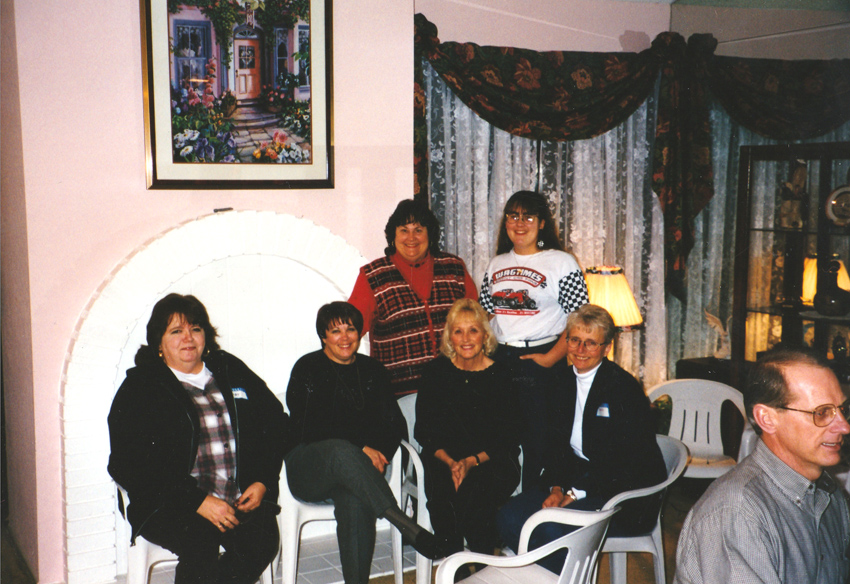 Pat Bogan, Judy Pettigrew, Darleen and Tina Dils, Marilyn Thomas, Sonia Duffy and Mike Clark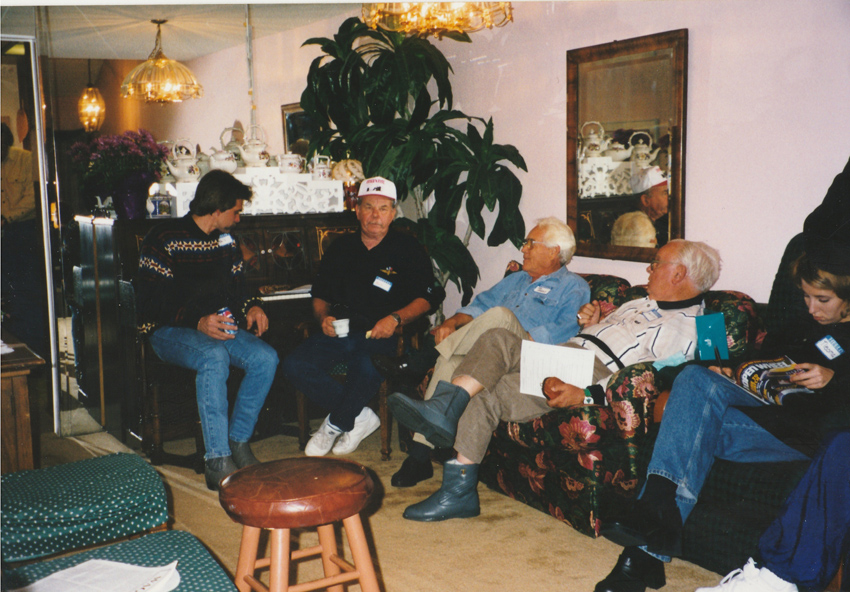 Tom Sertich, Norm Bogan, John Habbick and Gordon Hollenbeck



Bud Burchell, BJ and Willie Bandy



Stephen Pettigrew, Norm Bogan and Hal Matthews



Verne Sweeney, ??, John Habbick, Chris Holt, Marie Sweeney, Mrs Wags, Linda Holt and Wags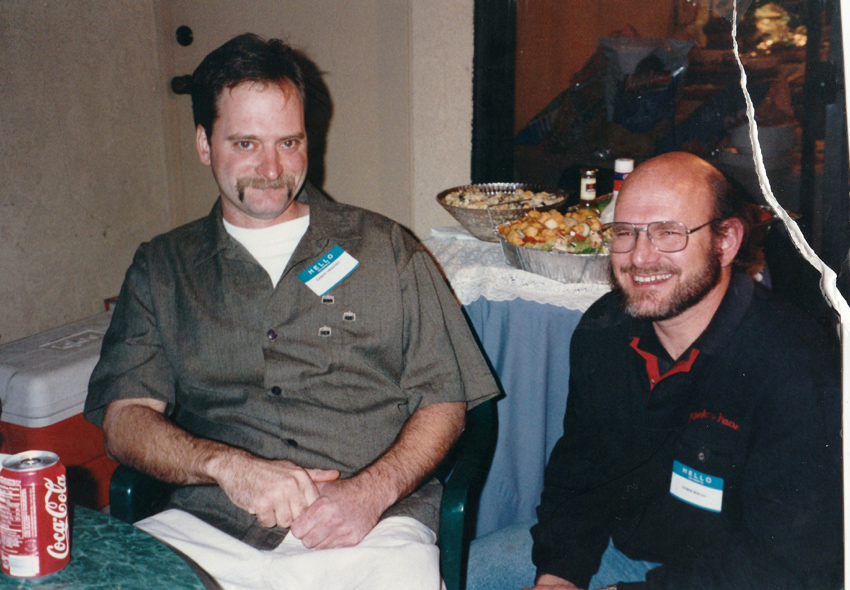 Tom Downing and Jim Blecarn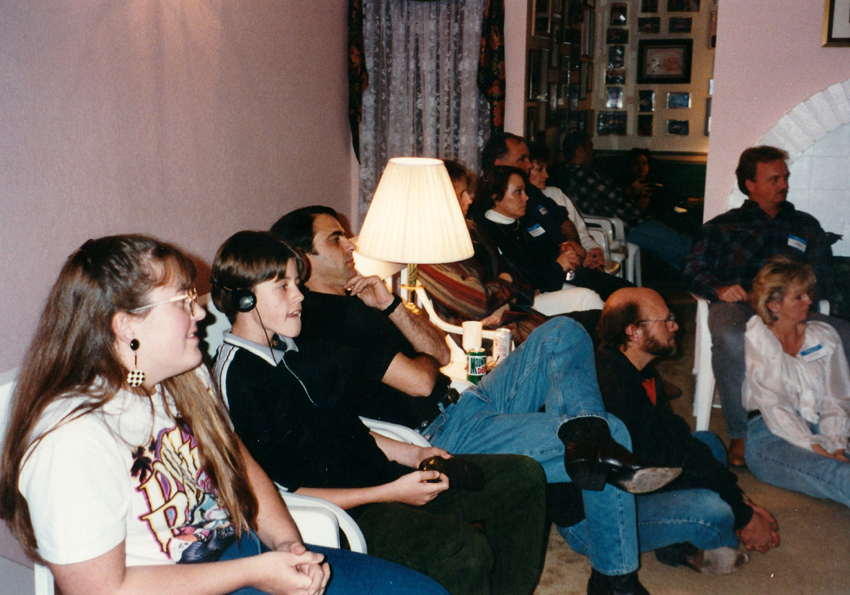 Tina Dils, Ron Didonato, Judy and Stephen Pettigrew, Jim Blencarn and Dennis and Collette Stewart



Darleen Dils



Chris Holt, Mrs Wags, Dennis Stewart, Mike Clark and Willie Bandy



Willie and Sonia with Stan Cook



Jim Blencarn, Wags, Mike Clark and Willie Bandy



Jim Blencarn, Dennis and Collette Stewart, Mike Clark, Willie Bandy, Norm Bogan and Jack Algir. This was when Mrs Wags had painted the house a Pepto Bizmo color



Rich Chesavage and Lee Jaskowiak. Rich fixed a virus on the Wagtimes web page when I was lost and helpless. Lee did all the tile work in our kitchen when we remodled, so he was just visiting his handiwork.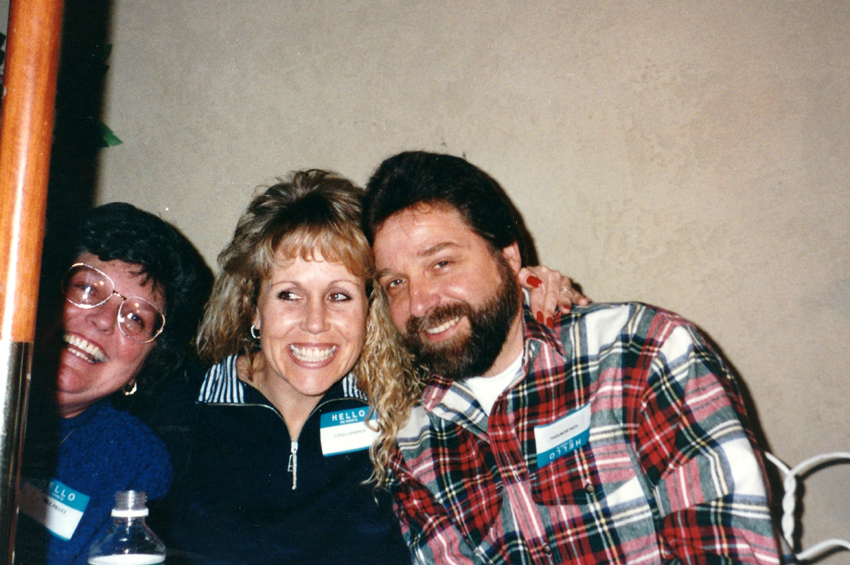 Marie Sweeney with Chris and Linda Holt. Linda always had the biggest smile



Tina Dils, Marilyn Thomas and Evelyn Clark in front of Mrs Wags Dickens Display. She puts only a few out these days so the rest are for sale since we have nearly 100 of those neat little houses.



Dennis and Collete Stewart. A very nice couple who we still get to see at the races when we do go



Evelyn Clark, Marilyn Thomas, Mike Clark, Stan Cook, Willie and Sonia



Tina Dils, Marilyn Thomas, Evelyn and Mike Clark



Bud and Helen Burchell.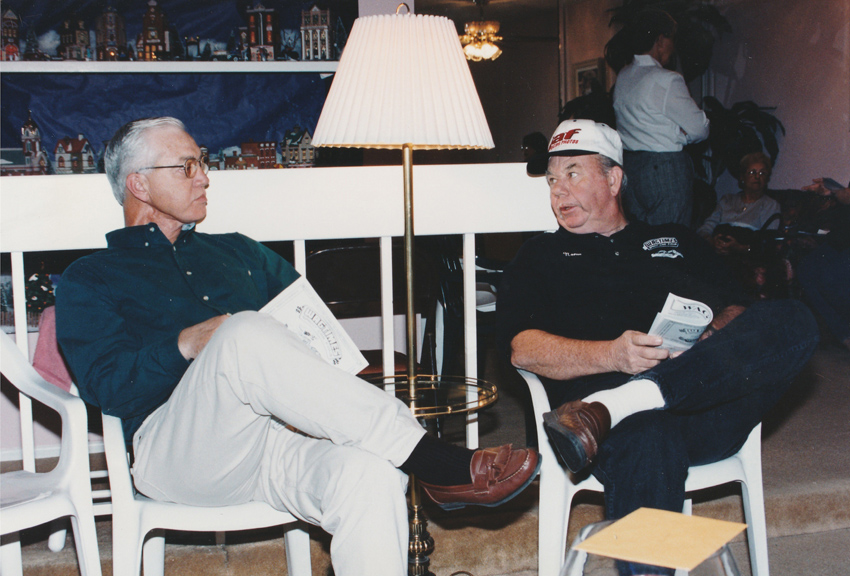 Willie Bandy and Norm Bogan



Steve Lafond and Mrs Wags



Wags and Laurie Sertich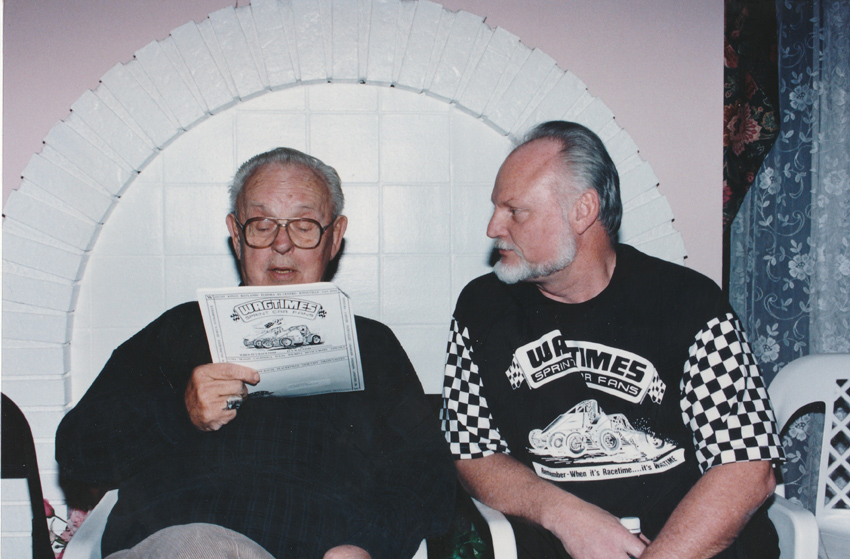 Gordon Hollenbeck reading my mistakes in the Wagtimes newsletter to me!



Someone must have said something important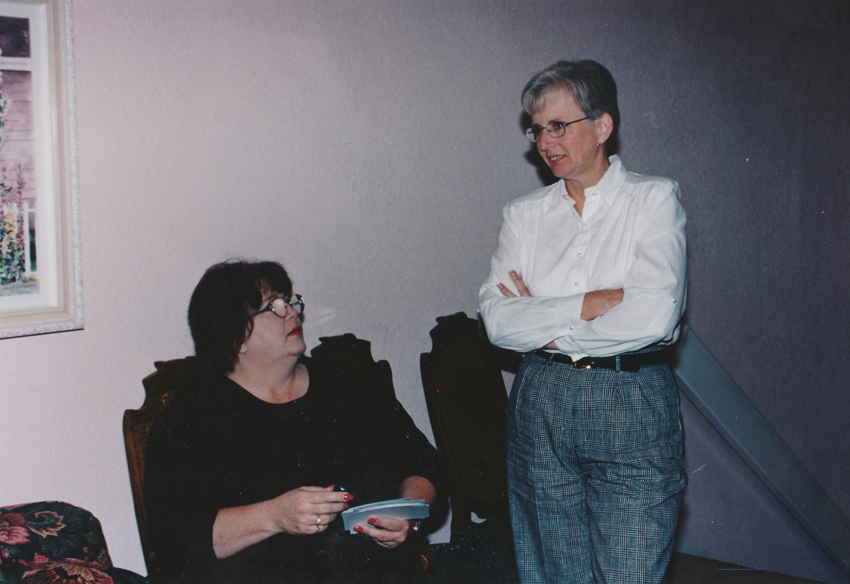 Pat Bogan and Sonia Duffy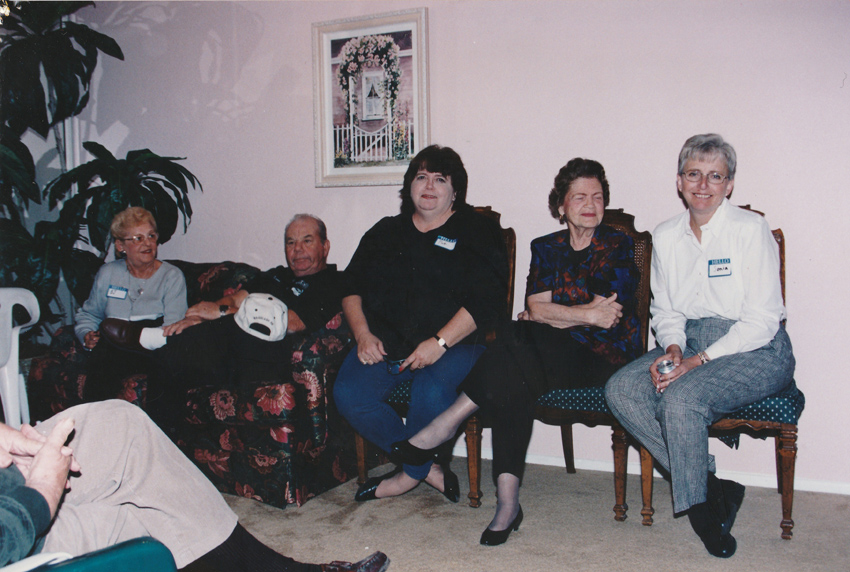 B J, Norm Bogan, Pat Bogan, Helen Burchell and Sonia all smiling



?? and Alex Gregoreus



Tina Dils with Marty Meler and Diane Keck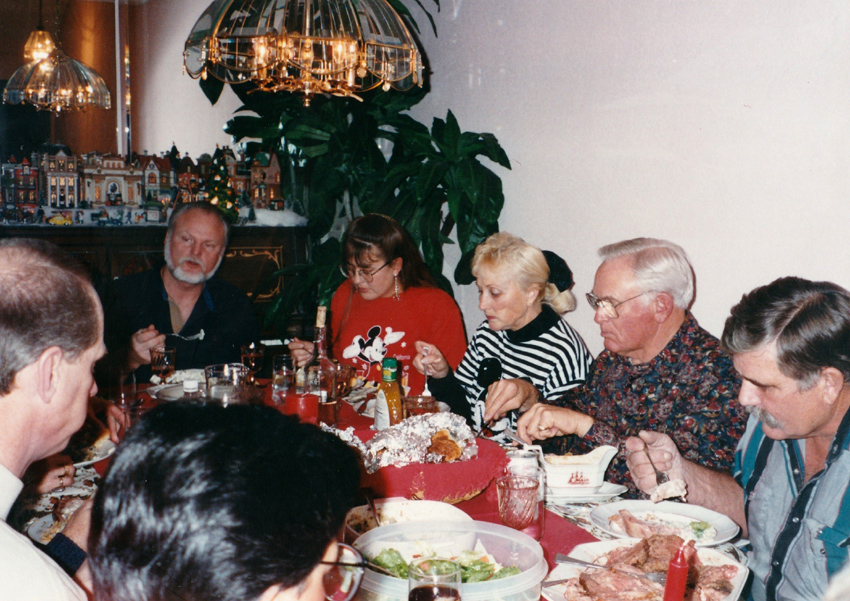 Wags feed



Tina Dils, Evelyn Clark and Marilyn Thomas and those Dickens houses behind them



My son Kevin dropped in and D J and Monica Everett



Monica Everett, Chris Holt, Mrs Wags, Dennis Stewart and Mike Clark



Wags giving Cal Smith a present with Lee Jaskowiak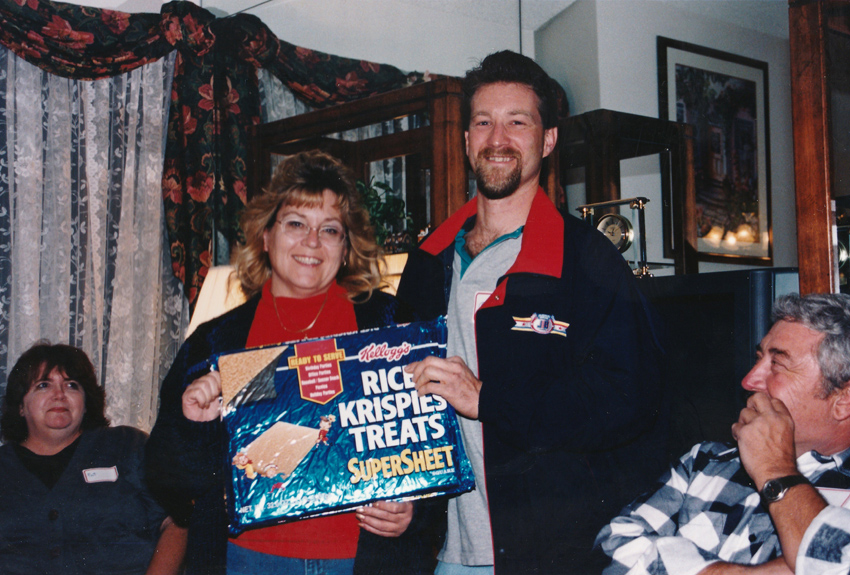 Cal and Debbie Smith with a product from one of his sponsors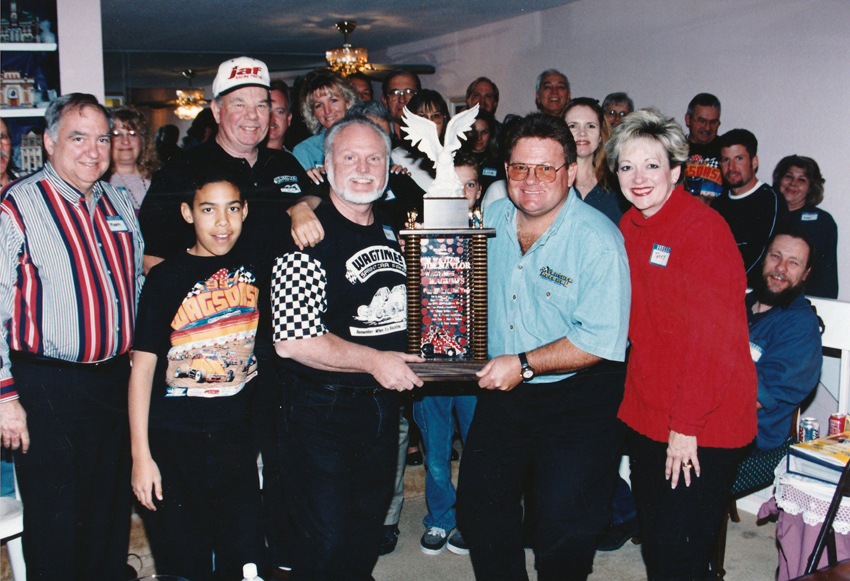 Jim Naylor receiving a Wagtimes thank you trophy made by Trophy Dave in San Jose. Trophyy Dave made all the Wagtimes trophy's over the years. His 25th annual Trophy Cup is this coming week, (October 2018) and his donation to Make a Wish will go over $2 million dollars!! beat that! He helped me get my ducks in order when we started the Wagsdash and went on to make a more famous race which gets national recognition every year. Imagine a 360 race paying a $200,000 purse with the winner getting $25,000 on Saturday night.



Jim Naylor and Biker Bruce. Jim is still promoting at Ventura Raceway going over 35 years I think. He has the annual Turkey night race and I hear it's something to see.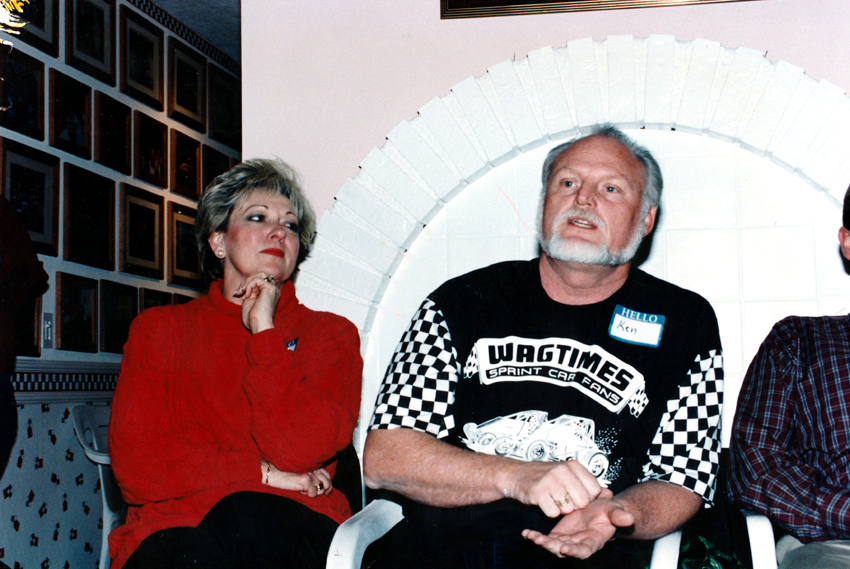 The Wags pondering



Julie, Michael and Randy Shiosaki with Marc Hart. Randy was his crew chief when Marc won the Wagsdash. He was also on Danny Sheridan's crew chief when he won his Wagsdash. Randy is remarried and living in Nashville, TN



Randy Shiosaki, Marc Hart and Biker Bruce. I remember her, just not the name



Krista Bandy and Korie Lafond



Grandson Tory with Granny Terry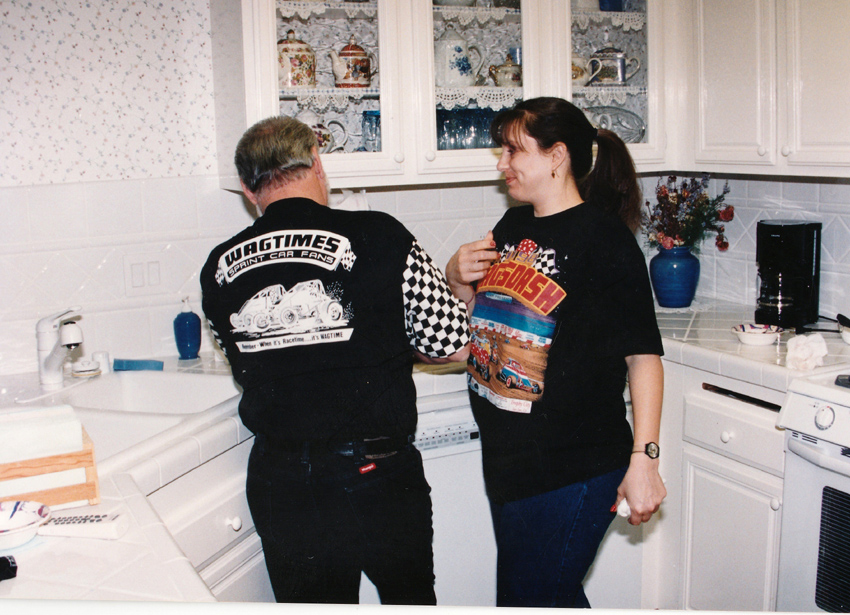 Wags with Kim Lafond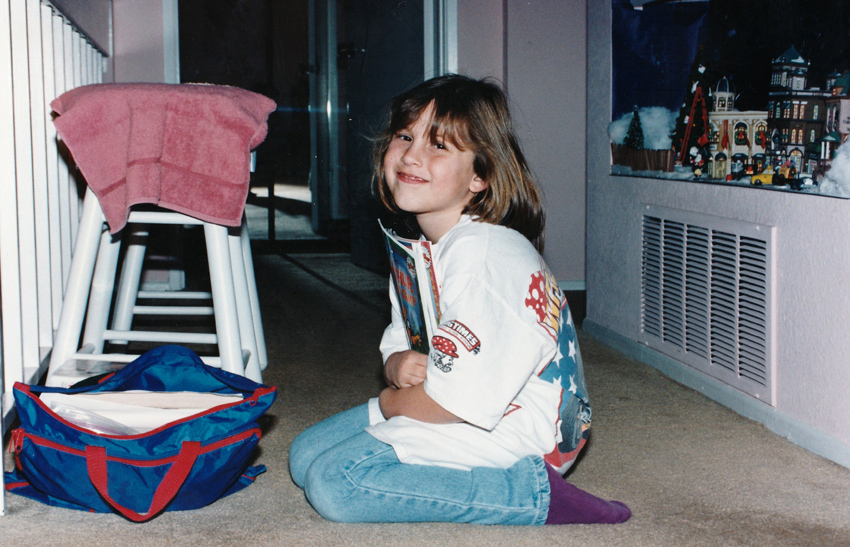 Korie Lafond



Wags grading the Wags quiz. I created some interestinng questions about CRA racing and gave out cool prizes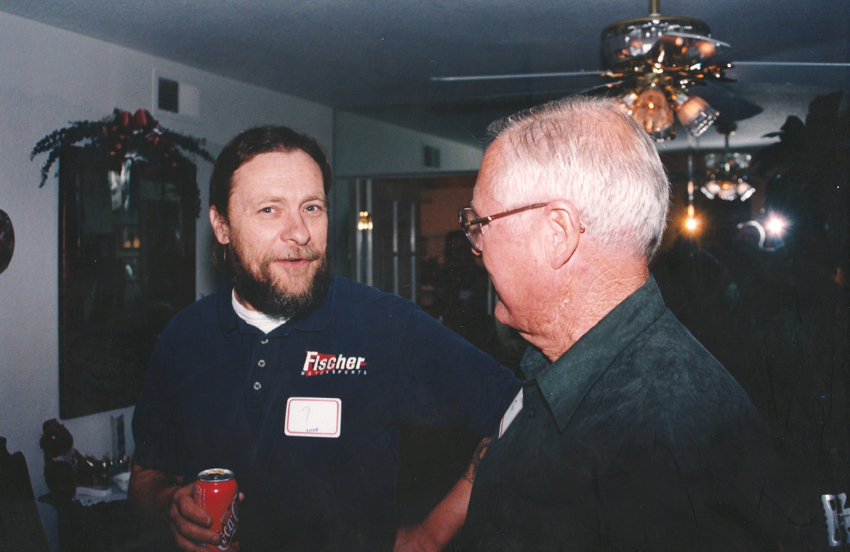 Biker Bruce and Jim Herdrich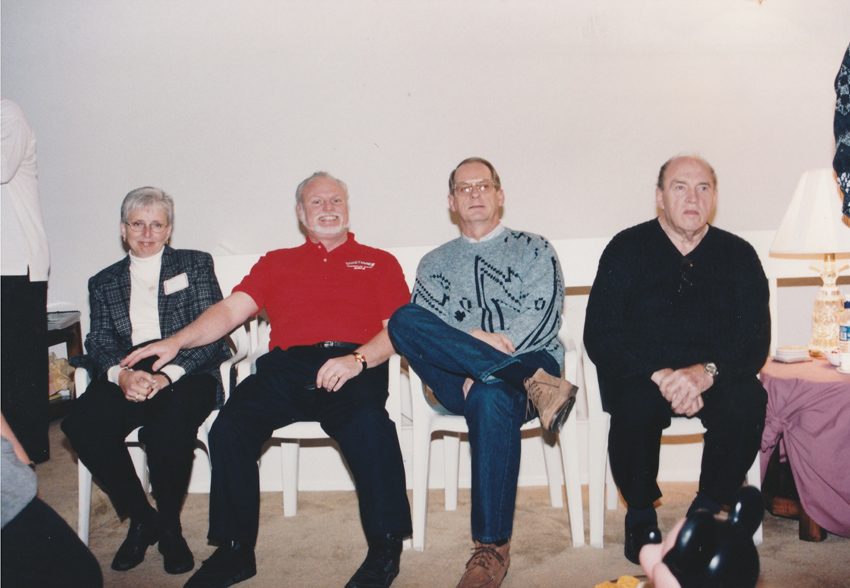 Sonia, Wags, Mike Clark and ???



Helen Burchell, Wags and Denise Manandik, former John Scott girlfriend



Terri Bliss, Mrs Wags, Diane Keck and Grandma Rosie



Tom Downing and Wags with what use to be my daily beverage, Dr Pepper, too much sugar and I miss it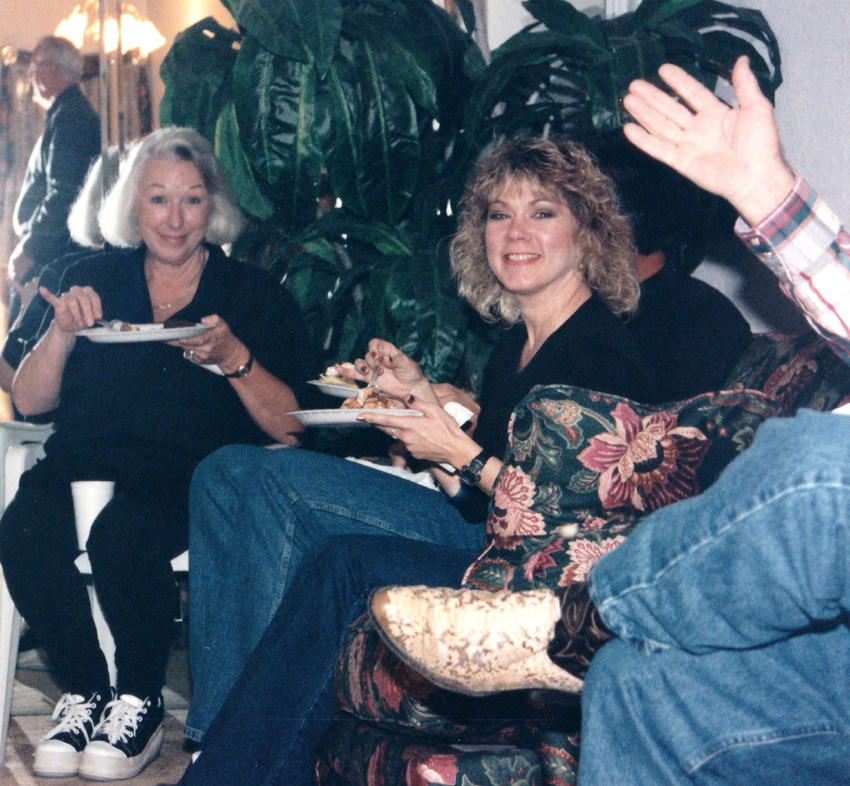 Belita and Wendy Michnowicz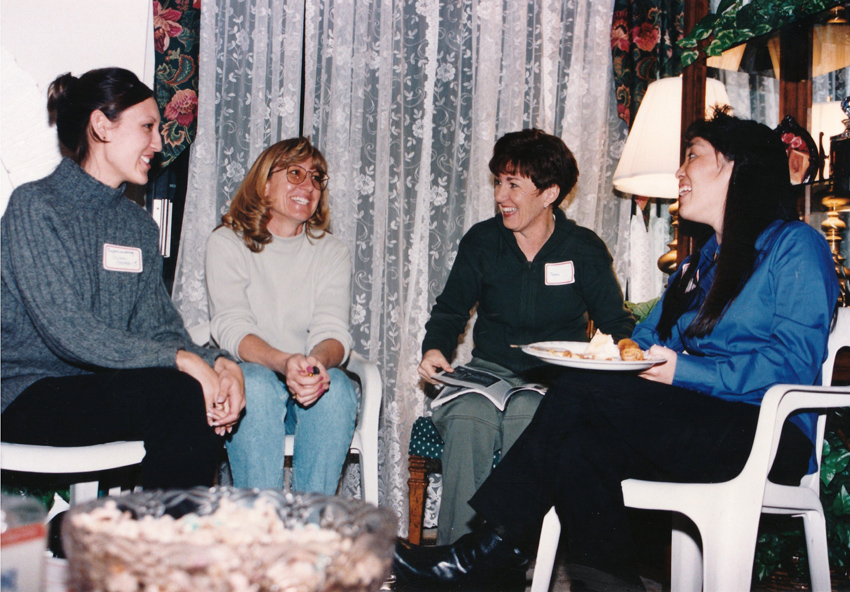 Denise Manandik, ???, Terri Bliss and Julie Shiosaki. Terri lives in North Carolina near family now.



Wags with Belita and Bobby Michnowicz



Brian and Buster Venard with Marty Meler. Marty gave the Venards a Mopar motor to run. I think it's still in that car in Buster's garage in Gardnerville, NV



Tom Mize and Lee Jaskowiak. Tom was a CRA official



Lois and Dave Ward and Belita Michnowicz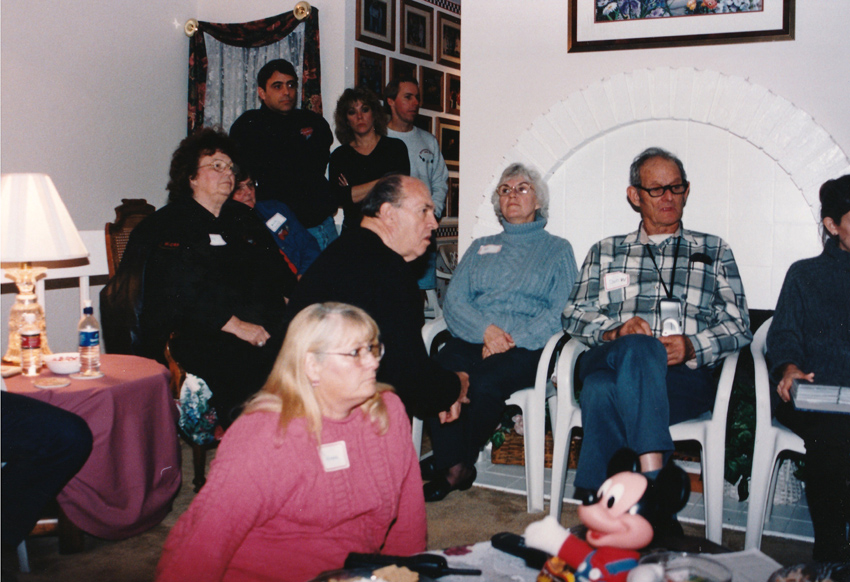 Some faces are Betty Sauer, Don Weaver, Ron Didonato, Wendy and Bobby Michnowicz and Debbie Smith



Don Weaver, Denise Manandik, ???, Pat Bogan and Wags

2001



Verne and dad Leroy Sweeney



Helen Burchell, Lee Vodden and Don Weaver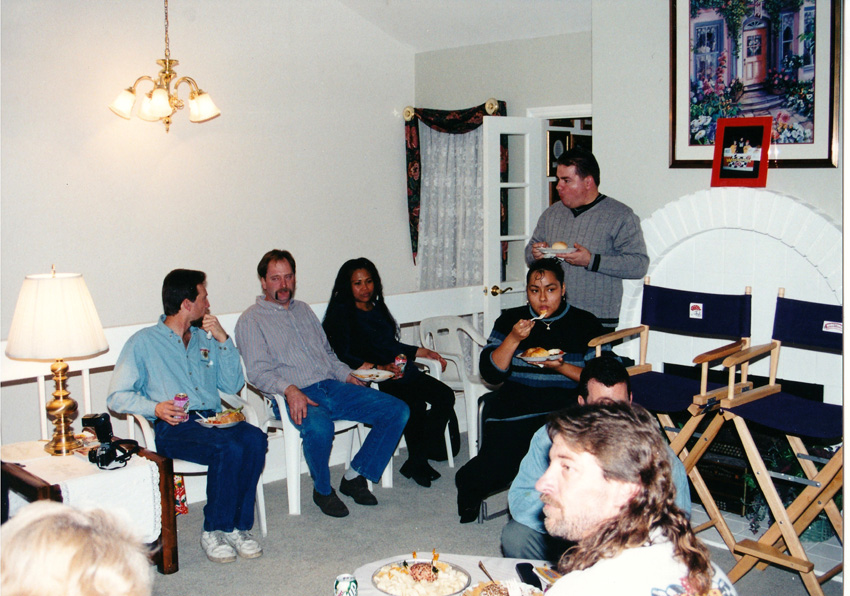 Cal Smith, Tom Downing, Lance Jennings and Steve Lafond. Cal Smith missed the Wagsbash one year due to my stupidity. In those days I made out the invites manually. Well his had the date for Sunday the next day, and we always had it on Saturday night. Anyway, imagine our surprise when he and Debbie showed up the next day and we had a mini Wagsbash with them. We ate and visited to make up for my mistake. I wonder if there were others who had the wrong date and didn't come? Cal recently found my phone under the grandstands at Calistoga where I dropped it, and that after me and the guard looked for 30 minutes with no luck! Thanks Cal.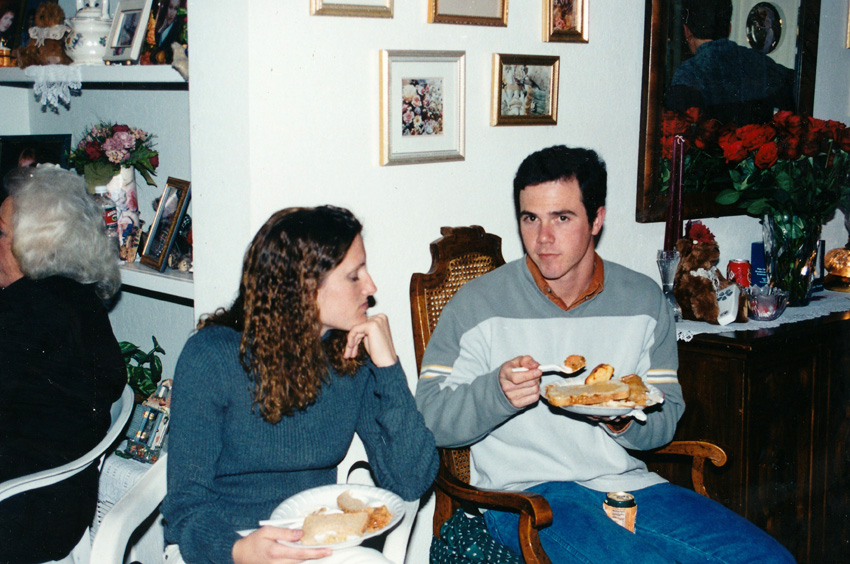 Lance Gremmett and his better half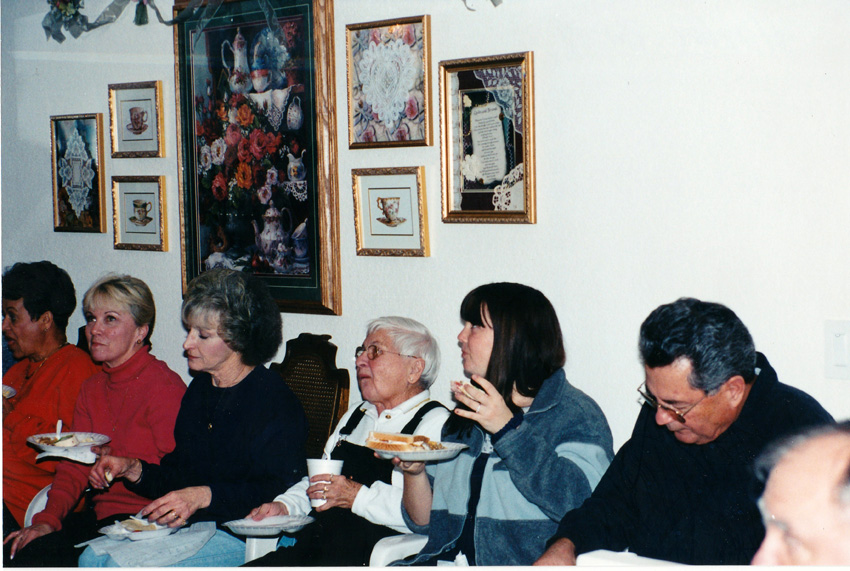 Fran Herdrich, Linda Venard, Diane Keck, Grandma Rosie, Nicole and Buster Venard



Pat Bogan, Jim and Fran Herdrich and Linda Venard



Gordon Hollenbeck, B J and Wags



Pat Bogan, Sonia Duffy, Fran Herdrich, BJ and Nicole Venard



Wags with a gaggle of funseekers



Another gaggle with Dean Mills, Steve Lafond, Lance Gremett and his dad amoung others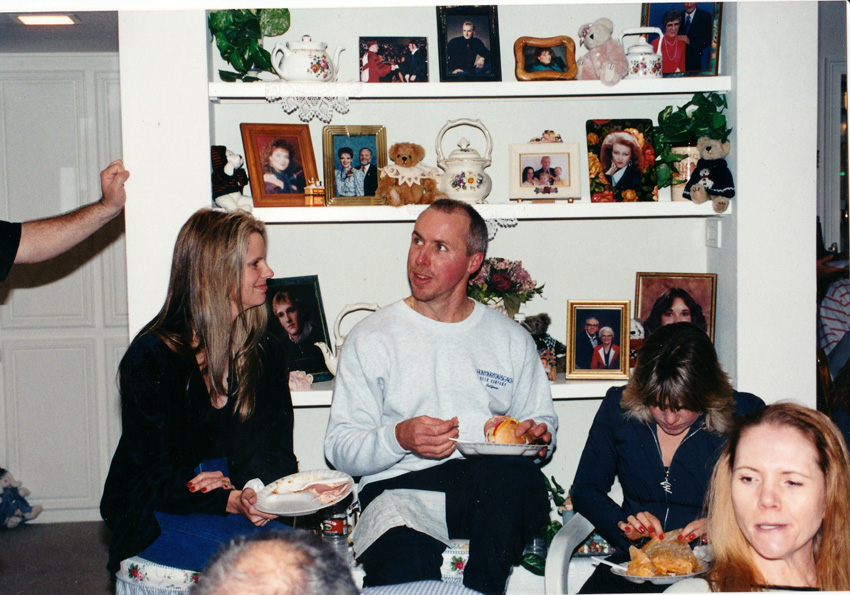 Bobby Michnowicz surrounded by girls



Kim Lafond giving Wags the eye



???, Helen Burchell, Lee Vodden and Steve Lafond



Sonia and Pat Bogan and Charlie Stewart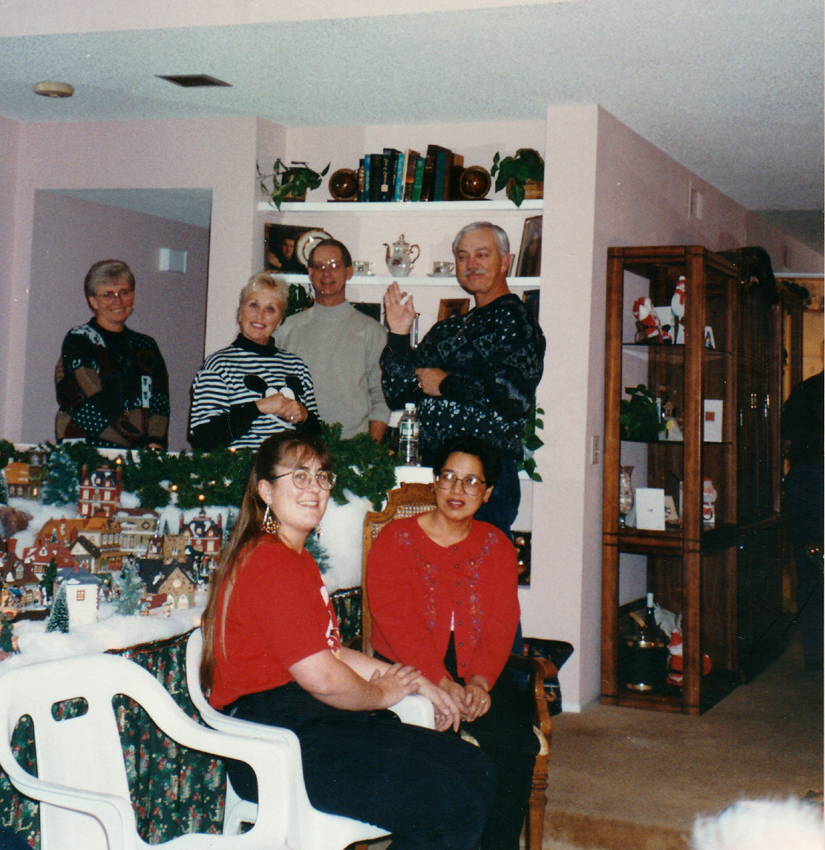 Sonia Duffy, Marilyn Thomas, Mike Clark, Willie Bandy, Tina Dils and Evelyn Clark



Debbie Smith and Jan Fargo



Bobby and his Mom Belita Michnowicz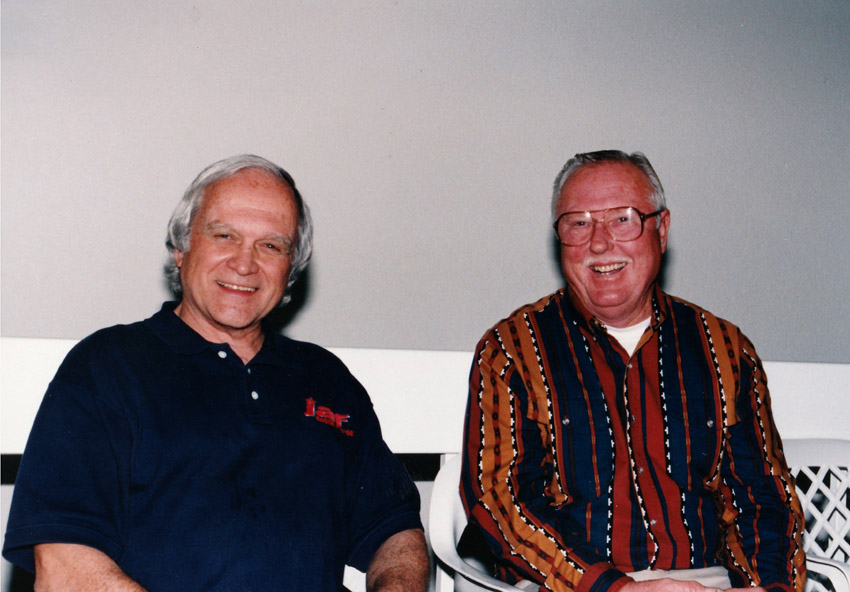 Jim Fargo and Jim Herdrich



Wags on his throne



The Venards, Linda, Grandma Rosie, Nicole and Buster, Buster was one of the greats of CRA, but retired too early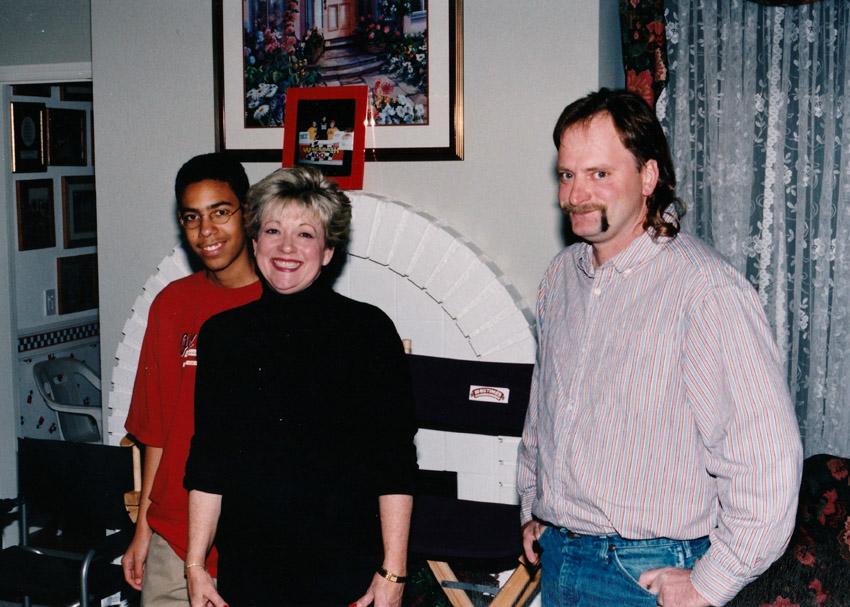 Grandson Tory, Mrs Wags and Tom Downing. Tom let me pack the track at Bakersfield in his # 9D car. Forget about me fowling the plugs, I went so slow, that was still quite a rush, especially when Verne Sweeney sprayed mud on me. Tom gave me that helmet I used!



Lance Jennings and his mom and sister



Norm Bogan, Gordon Hollenbeck and me in my den



Wags with Kim Lafond, Debbie Smith, Jan and Jim Fargo



It doesn't take much to pack my tiny den

2003



Mrs Wags with a present as Lois Ward looks on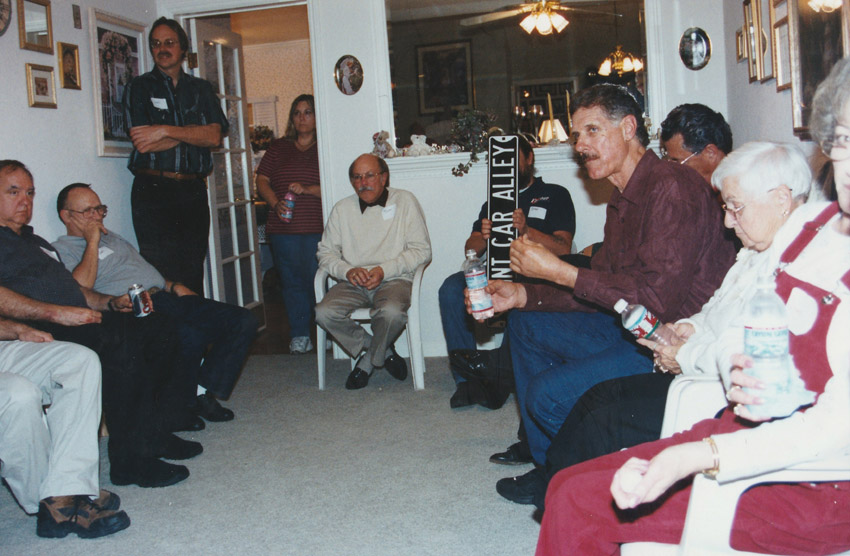 Marty Meler, Don Read, Tina's Tom, Tom Mize, Jimmy Oskie, Buster Venard and Grandma Rosie



Dave Ward leads em' in chowing down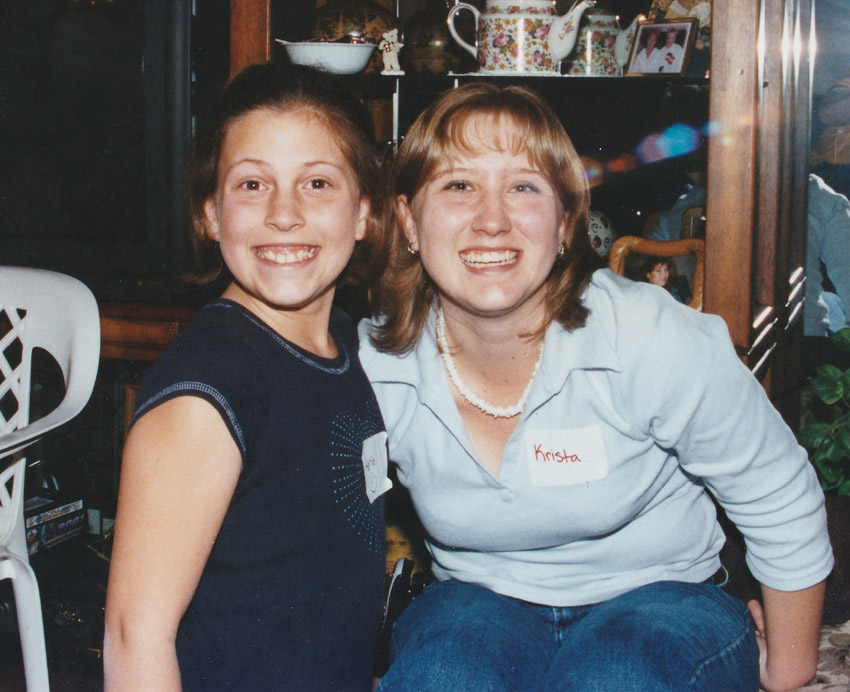 Krista Bandy and Korie Lafond



Marty Meler, Buster Venard, Wags, Grandma Rosie and Linda Venard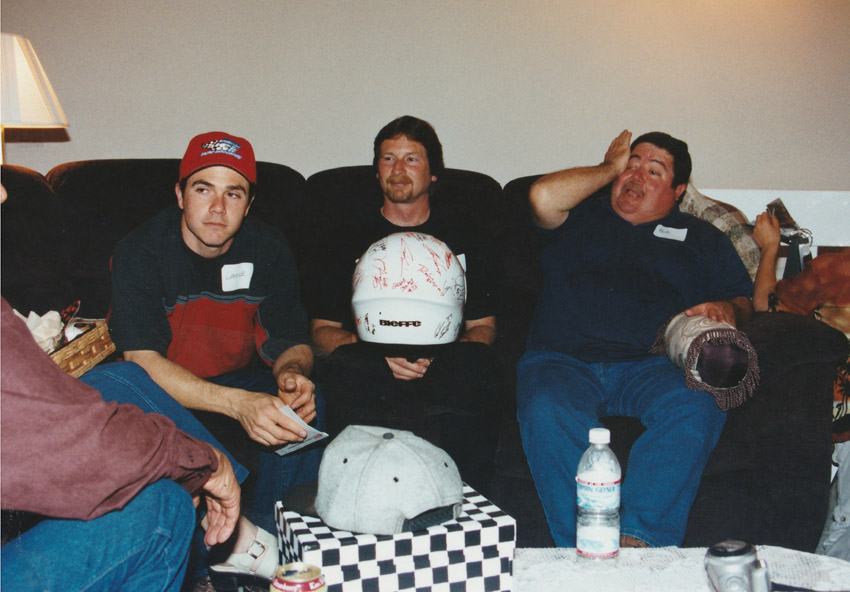 Lance Gremmett with his dad and John Baumann



Darleen and Stubby Dils with Rip WilliaCharlie



The Rip William's family. Take note there are 5 sprint car drivers in this pic



The Wags sitting in their high chairs with the crowd. I used to leave those two seats at the PAS until they disappeared. I could set up my Wagsbucks collections from them. The Mule came later so I didn't miss them. Nobody had a clue to where they went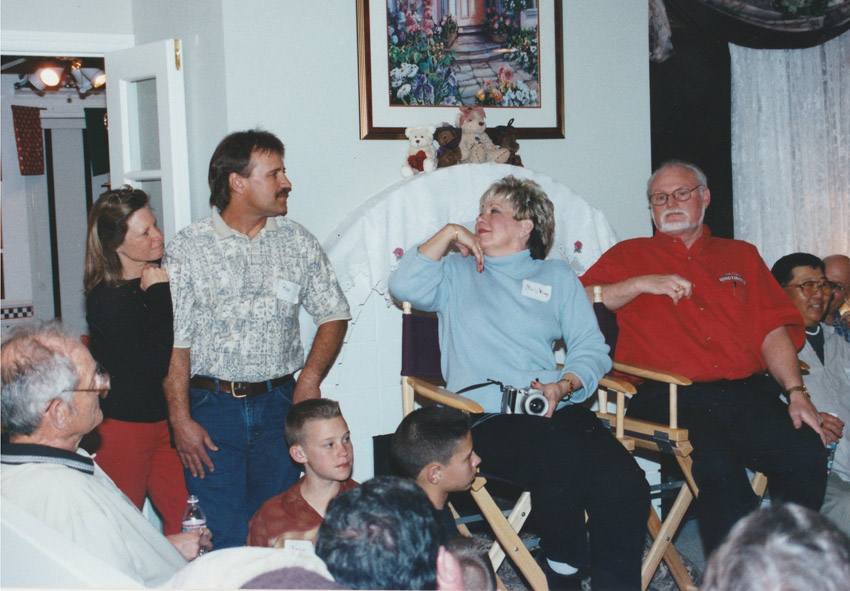 Ripper and the family came to collect the Wagtimes favorite driver award. Thank you Ripper!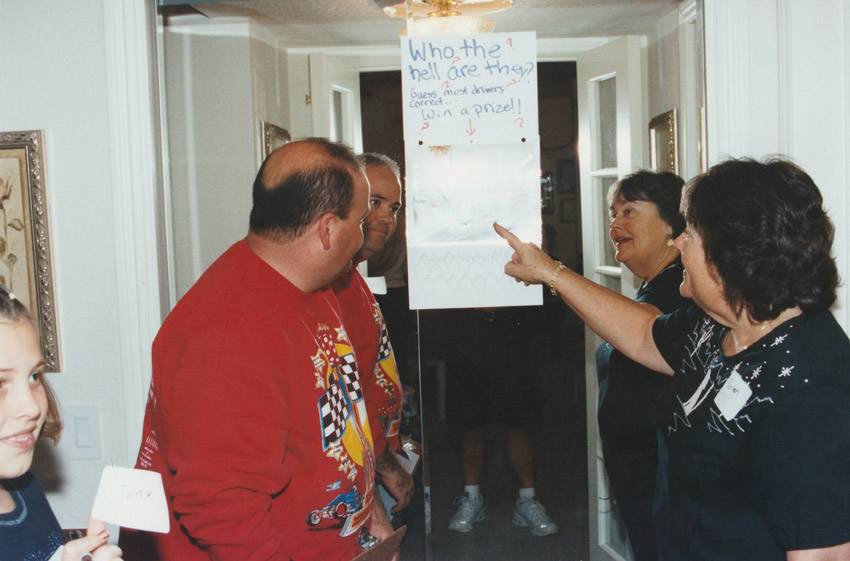 Tony Poole and Darleen Dils checking out a little Wags question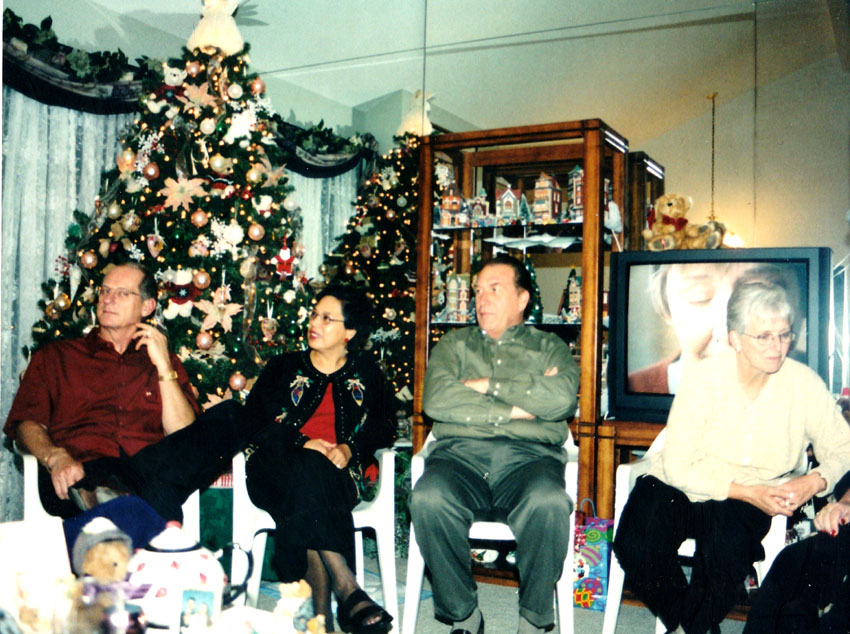 Mike and Evelyn Clark, Stephen Pettigrew and Sonia



Mike Clark brought Mrs Wags two little metal wiener dogs. They are still right by the front door of our home in Las Vegas



Pat Bogan, Sonia and Krista



Mike and Evelyn Clark, Mrs Wags and Pat Bogan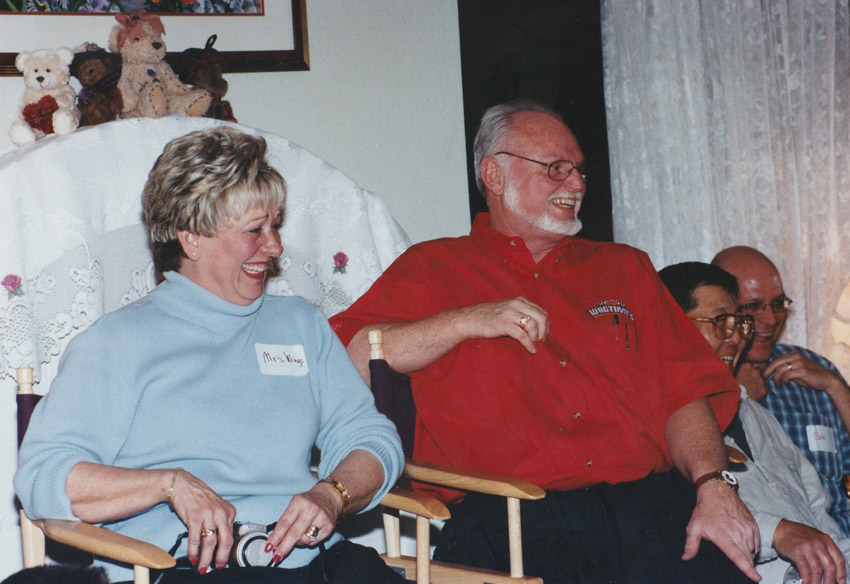 Mrs Wags funny bone got tickled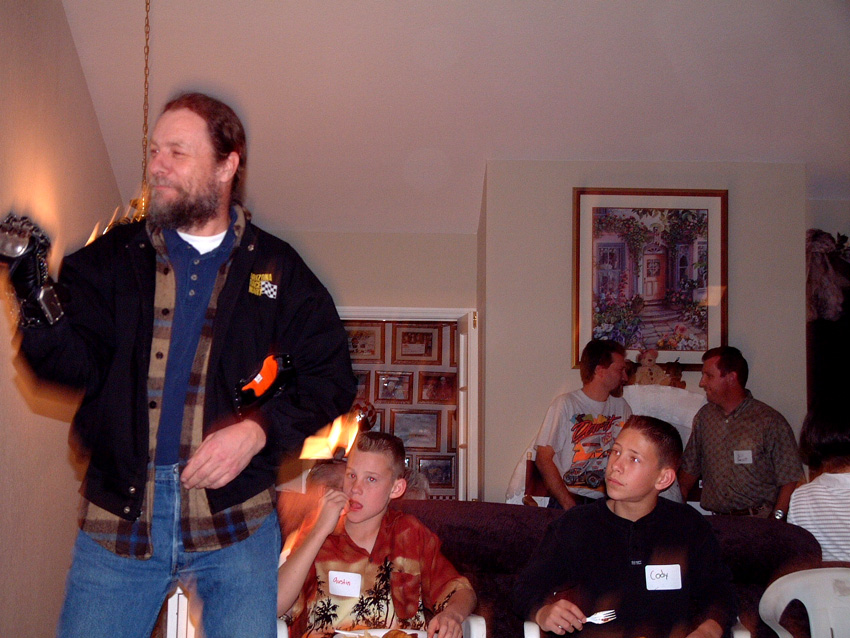 Biker Bruce is up to something as two of the WilliaCharlie boys watch



Darleen Dils took a lot of these pics, except this one of course



Marty Meler, Diane Keck, Buster Venard, Mike English and Grandma Rosie



Mrs Wags, Stubby Dils and Debbie Smith plus a familiar face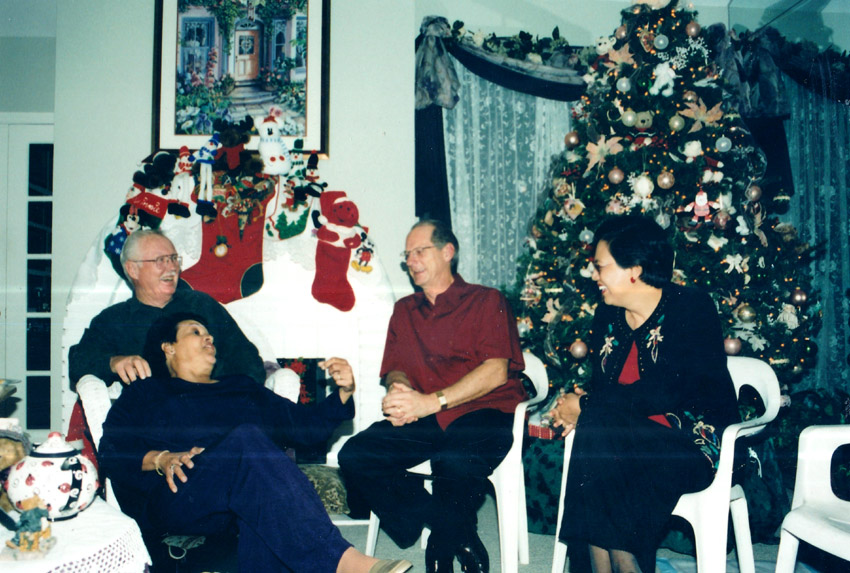 Fran and Jim Herdrich and Mike and Evelyn Clark



Lee Vodden spends part of the year in Wyoming these days.



Russell Bliss, Julie and a sparkling Randy Shiosaki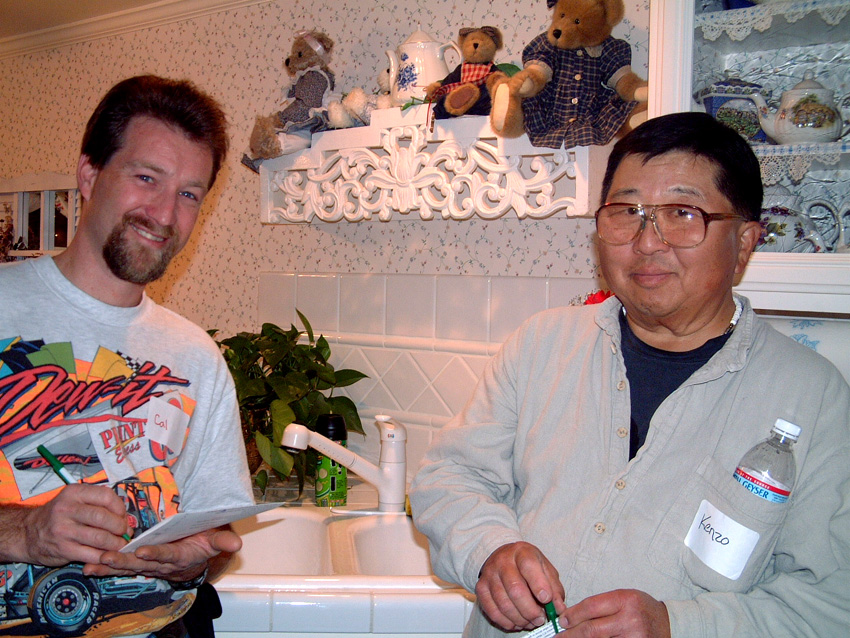 Cal Smith and Kenzo Okubo. Kenzo owned a clothing store downtown LA that featured suits for height challenged people like me. I bought a number of suits from him, his stuff was quality. We became good friends over the years and his passing left a big hole in my world. He sponsored Kim Craft and others along the way. He loved racing.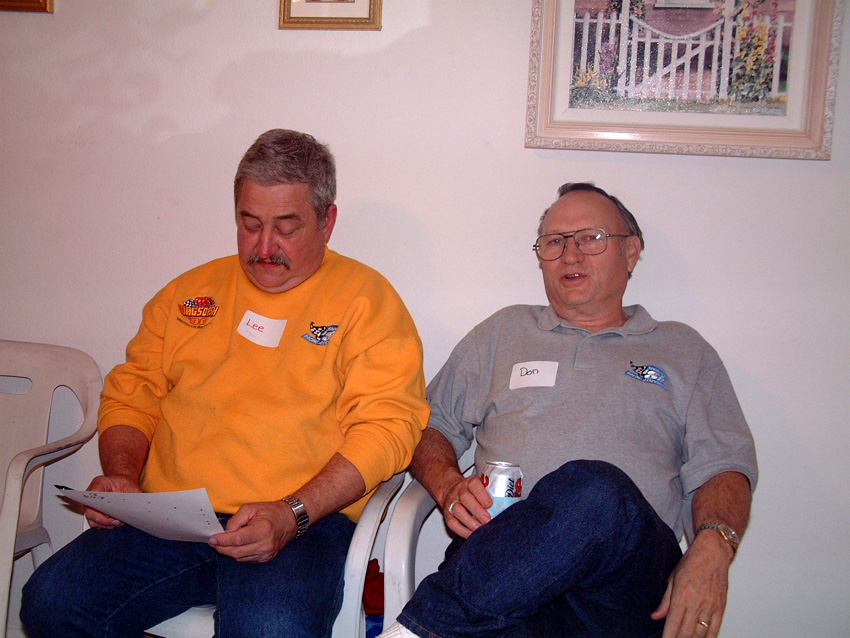 Lee Jaskowiak and Don Read. Don was a CRA official and a longtimme Wagtimes supporter



Don Weaver and Belita Michnowich. With Belita's organization skills and Don's racing world contacts, they ran the Legends of Ascot Hall of Fame event for years. He wanted me to take that on, but I live too far to have done it justice.



Tom and Tina having fun



Kenzo and Tachi Okubo having a bite. She was alergic to methanol so he had to undress in the garage when he came home from the races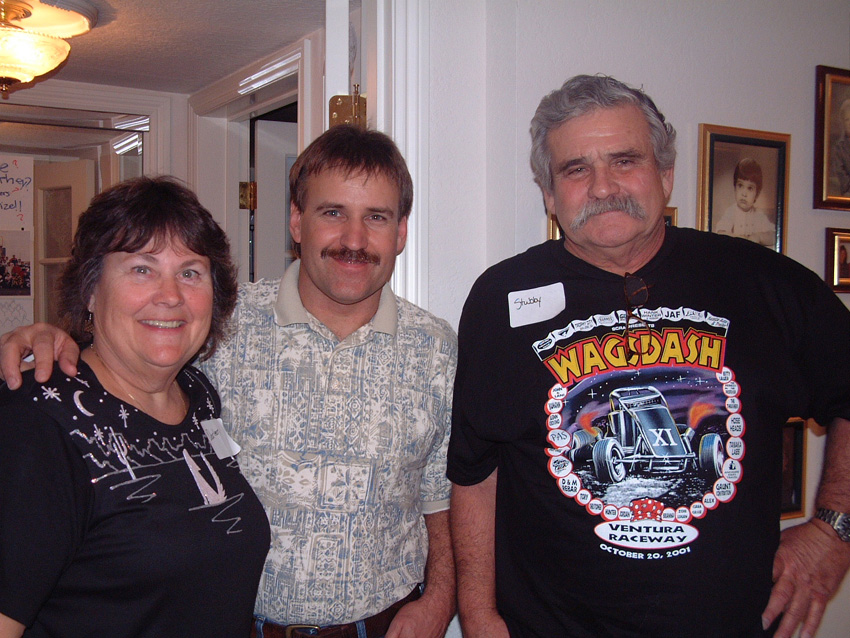 Darleen in 7th heaven as she and Stubby are with her favorite driver



Ripper receiving the Wagtimes Favorite Driver Award.



Lee Jaskowiak



Lance Gremmett and his dad with John Baumann



Mike and Lori English. A nicer driver you never met. When his car owner Ray Battersby won the lotto, he let me know to not give him any Wagsbucks anymore. He was so gracious. When he crashed a dirt bike and screwed up his leg, that recovery went on forever.



Stubby Dils with Austin Williams.



Ripper and his family in my house, I was so honored. We got Dubya and Dusty from them



Krista with Dusty Dawg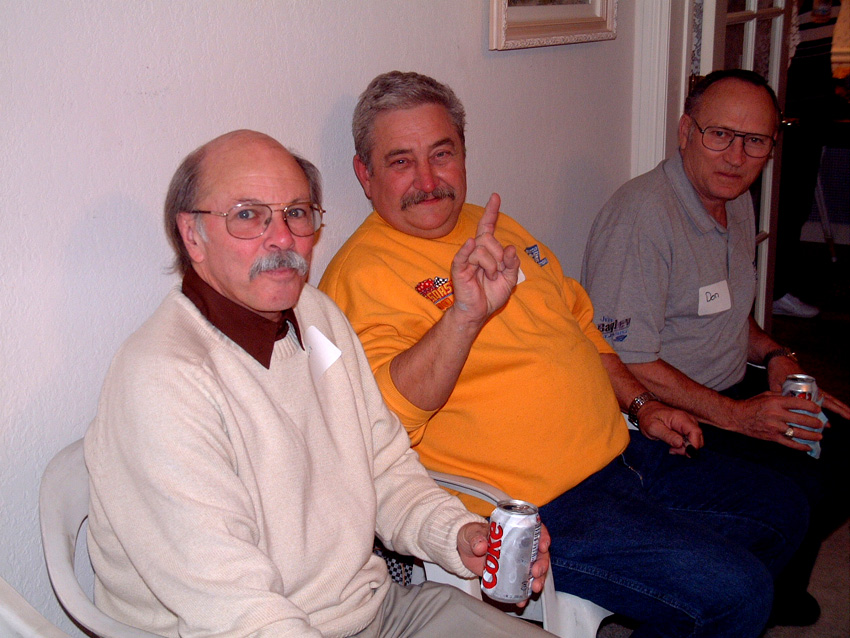 Tom Mize, Lee Jaskowiak and Don Read up to something



Looks like my boys snuck into my den



Biker Bruce brought this beauty to the party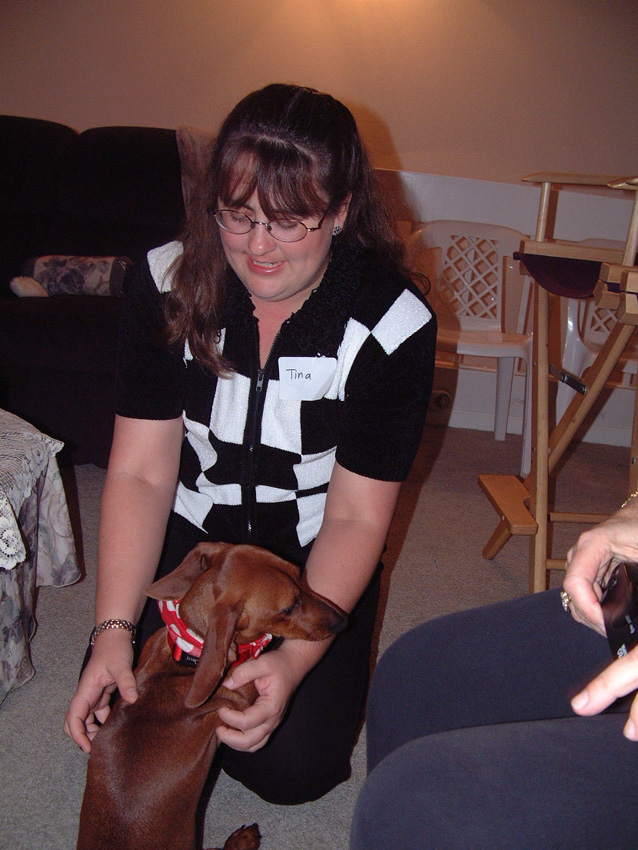 Tina Dils makes friends with Dusty Dawg



Biker Bruce



Steve Lafond takes a nap in my den. Steve met us at our Wagtimes opening event , the Peabody in 1989. It was the debut of Wagsbucks and the Wagtimes t-shirt. It was our first Mrs Wags Chili Feed. Steve walked up and introduced himself and Kim, then asked what we were doing. He bought a shirt, donated to the Wagsbucks, ate some chili and has been glued to the Wagtimes efforts every since. You have my sincere thanks for all you have done. His Hard Charger award has been going every year since 1991. It will happen again here in 2018 at the Western World in Arizona



Steve and Korie lafond. She just got married on 10/6/18. Boy they grow up fast!

Las Vegas reunions



Joe and Ellen Ellis with Darleen and Stubby Dils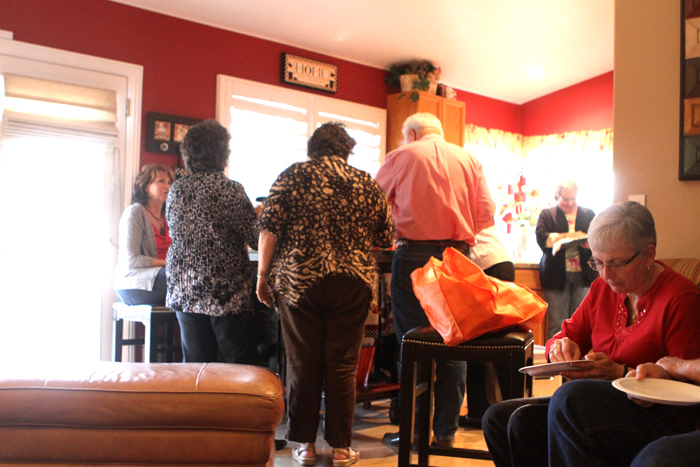 We had Italian food catered and it was good



Darleen came down from Minden, NV as all Wagtimers had to travel to get here



Ellen Ellis and Stubby Dils



Sonia and John Duffy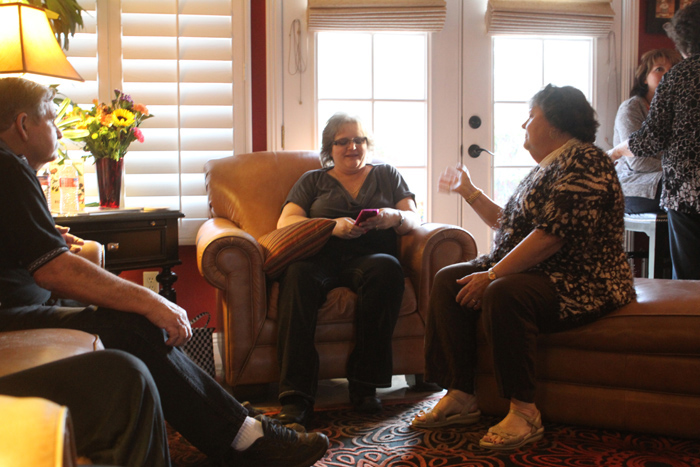 Tracy Johnson and Darleen Dils



Krista and john



Fran Herdrich



Joe and Ellen Ellis and Stubby Dils



Mrs Wags ordering the food?



John Duffy and Jim Herdrich hanging in my man cave



Joe Ellis with Dusty Dawg



Jim and Fran Herdrich



Krista with Fran



Mrs Wags with Sonia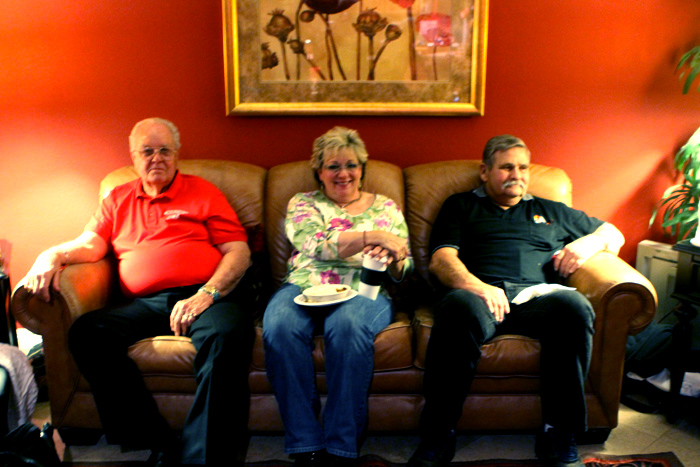 Joe, Mrs Wags and Stubby



Tracy with the girls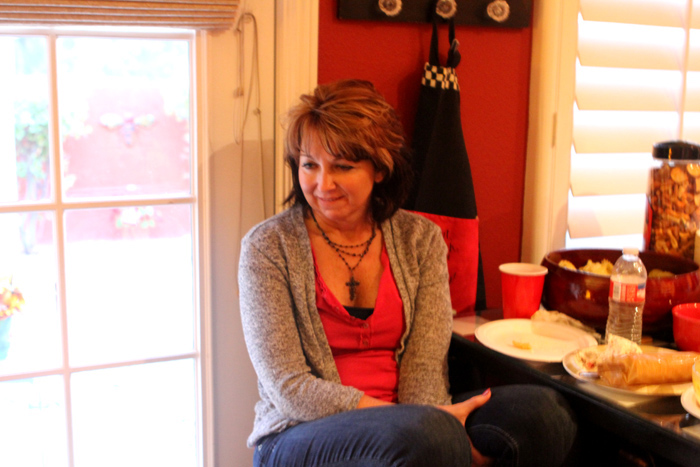 Daughter Missy came to watch



Sonie and John, Krista, Trac and David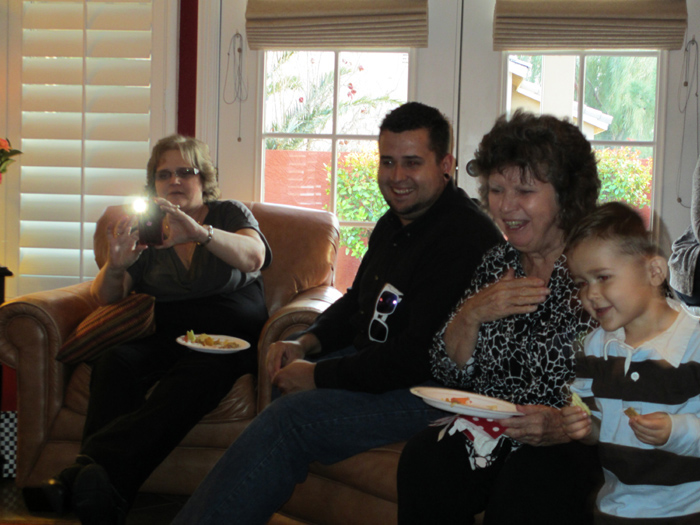 Tracy, David and Dylin



Dusty trying to get attention while Dubya waits for a treat



Tracy with Wags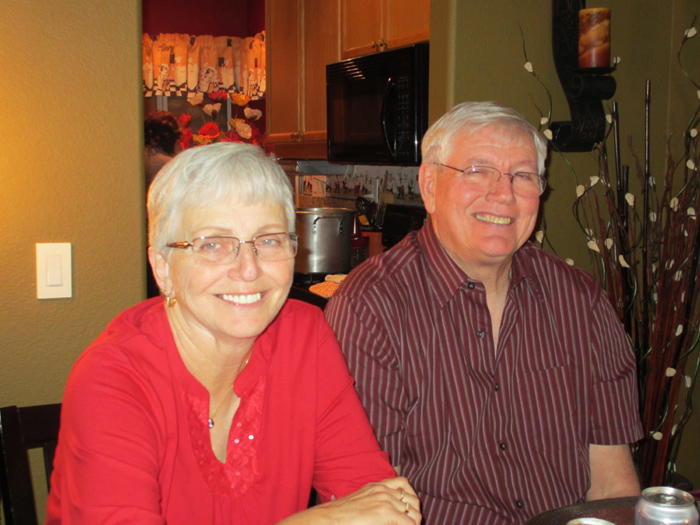 Sonia and John



Wags getting Wagsbucks



Darleen and her friend Arlene Roepke



Stubby with the same lady



Jim and Marilyn Fargo



Darleen and Stubby



Marilyn Fargo looks at a photo album



Joe Ellis and Stubby Dils



Sonia, Gerry Johnson and Mrs Wags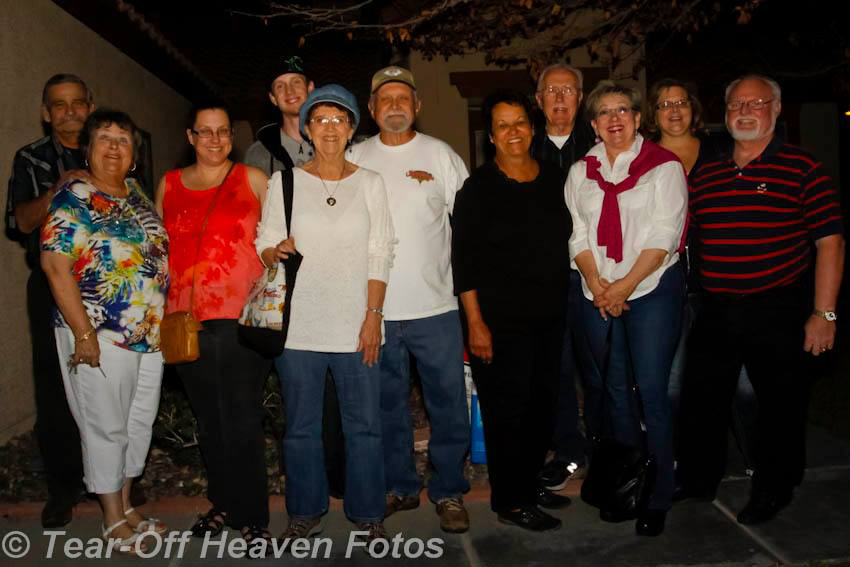 Party group



Wags getting more Wagsbucks



Tracy's son Jeff liked the shirt



The Wagtimes trophy with all the Wagsdash winners and Grand Marshals that is in the Arizona Hall Of Fame



Tracy and Jeff



Steve and Kim Lafond



Jim and Marilyn Fargo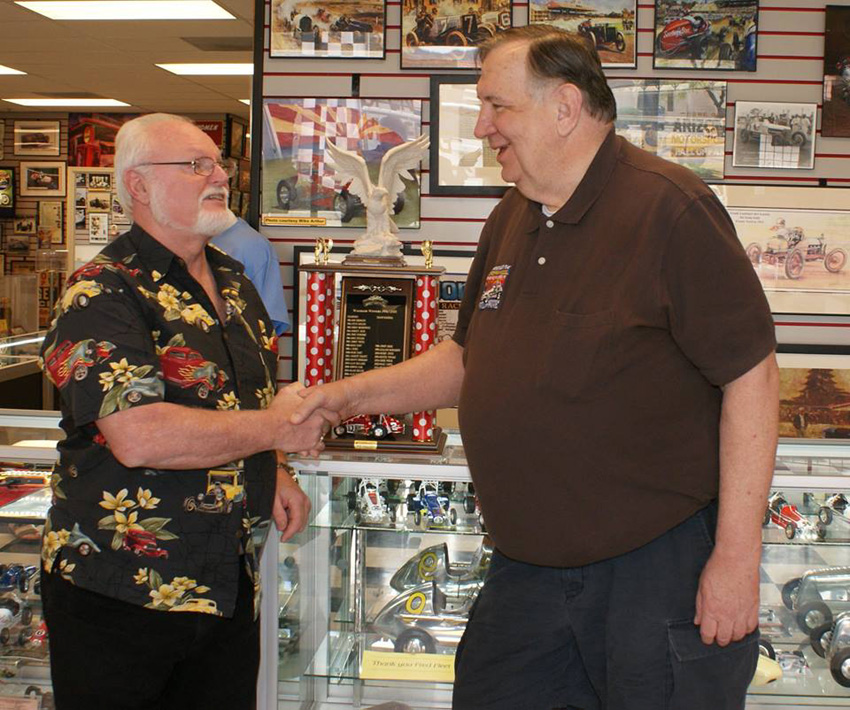 Steve Stroud taking charge of the trophy at the Hall of Fame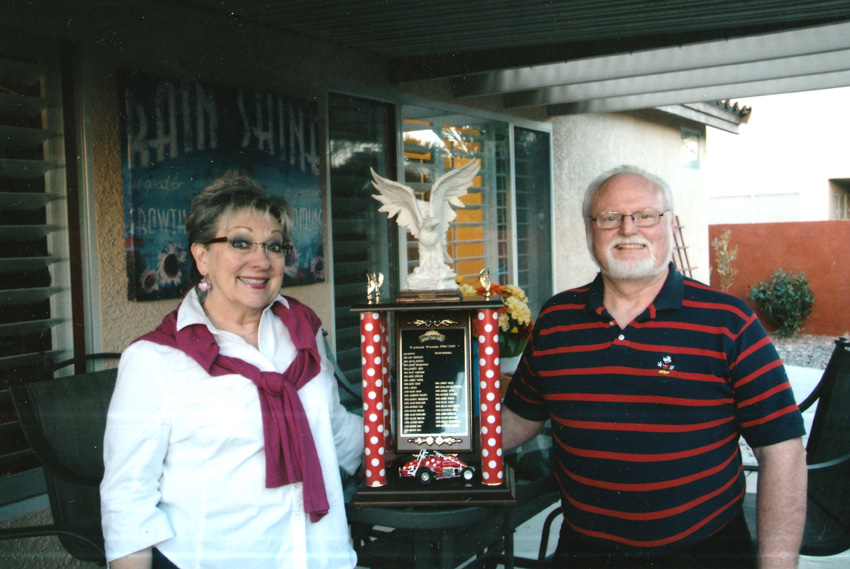 The Wags

We might try and do another Wagsbash here in Las Vegas next year 2019, stay tuned.