Jeep Hampshire
Jeep
Jeep and brother Ron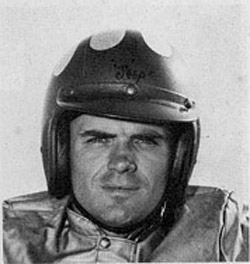 Jeep
Jeep
Jeep with his ride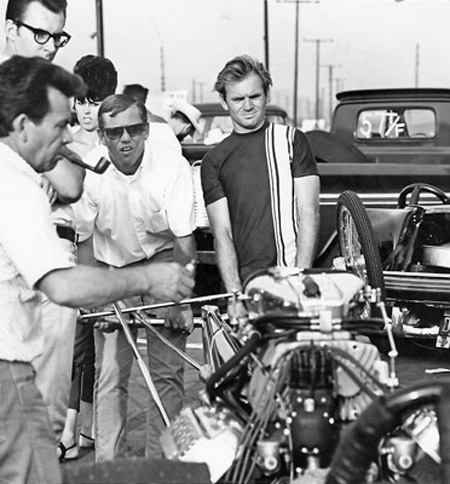 Jeep on the right with the car
Jeep and brother Ronnie bookended by Jesse Schrank, left, and Joe Douglas on right
Jeep and Ronnie in plaid shirts as youngsters
Jeep in his office
Jeep in the most beautiful top fueler of all time, to me at least!
Jeep in the seat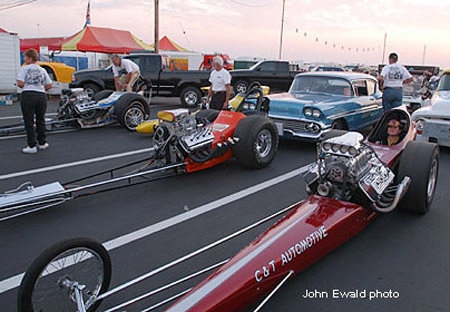 Jeep in staging
Jeep in the S & H car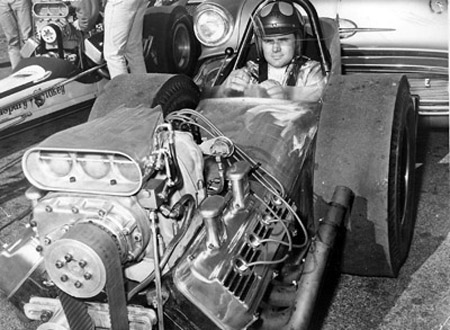 Jeep ready to push off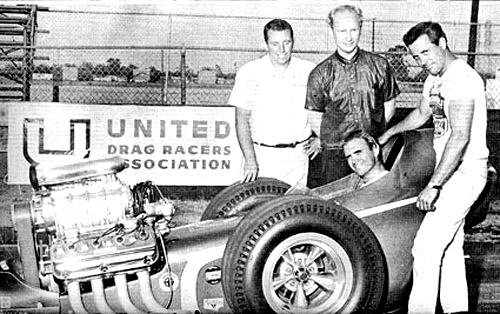 Jeep at Lions 1964 at a United Drivers Association event
The S & H special

Low slung
Looks like Jeep
Looking ready
View from above
Front view
Nice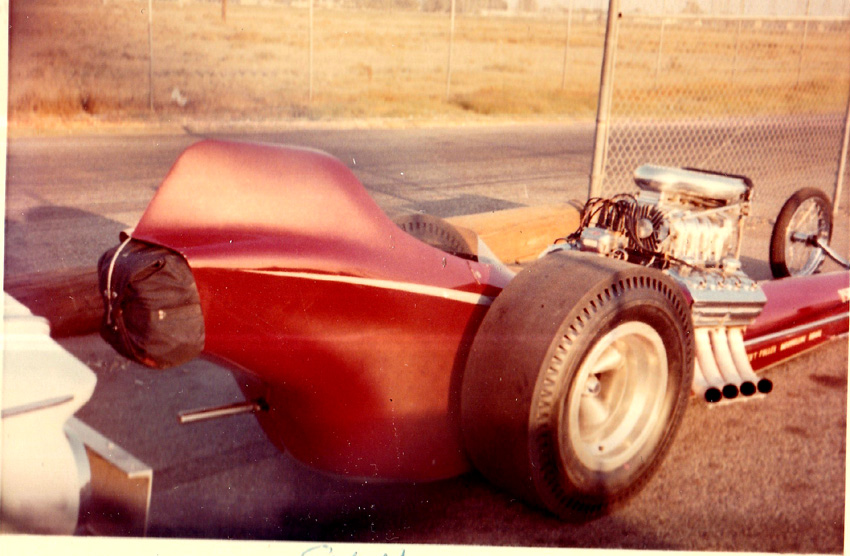 Another of my shots from my old brownie camera
Pit shot
Another pit shot
One more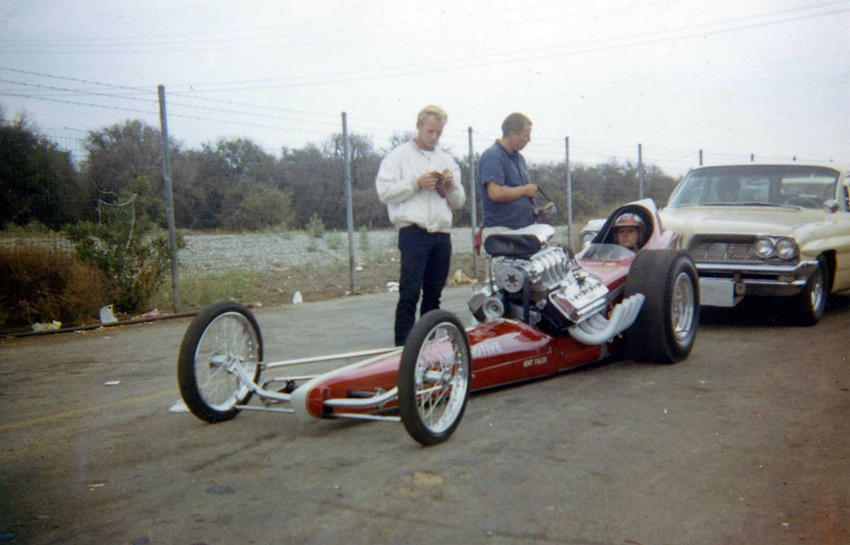 Jeep getting ready to go race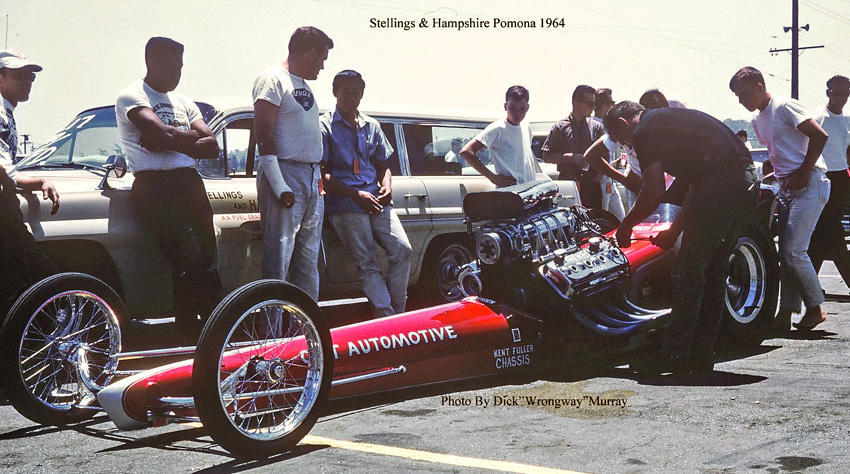 S & H Maintenance at Pomona 1964
Jeep moving
In the pits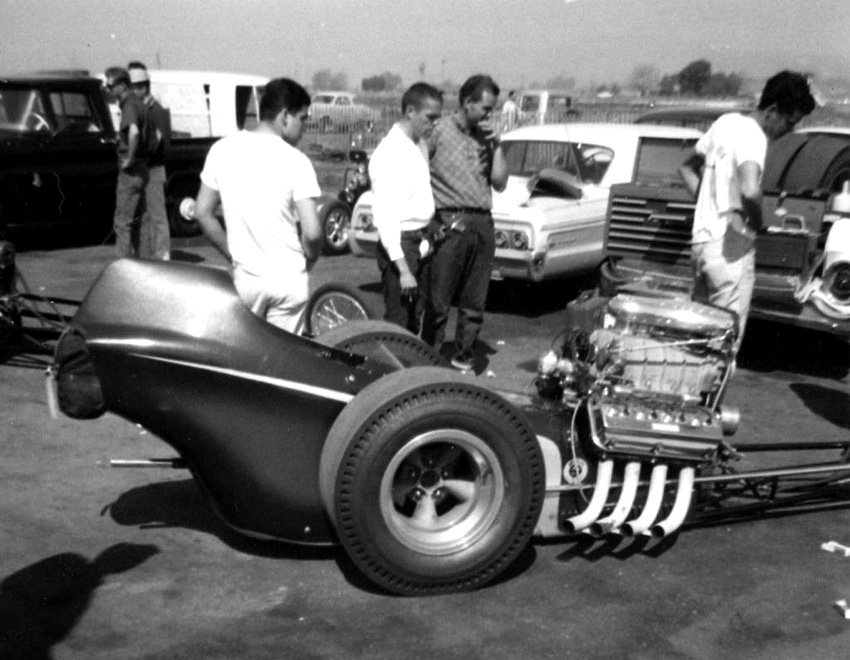 S & H at Fremont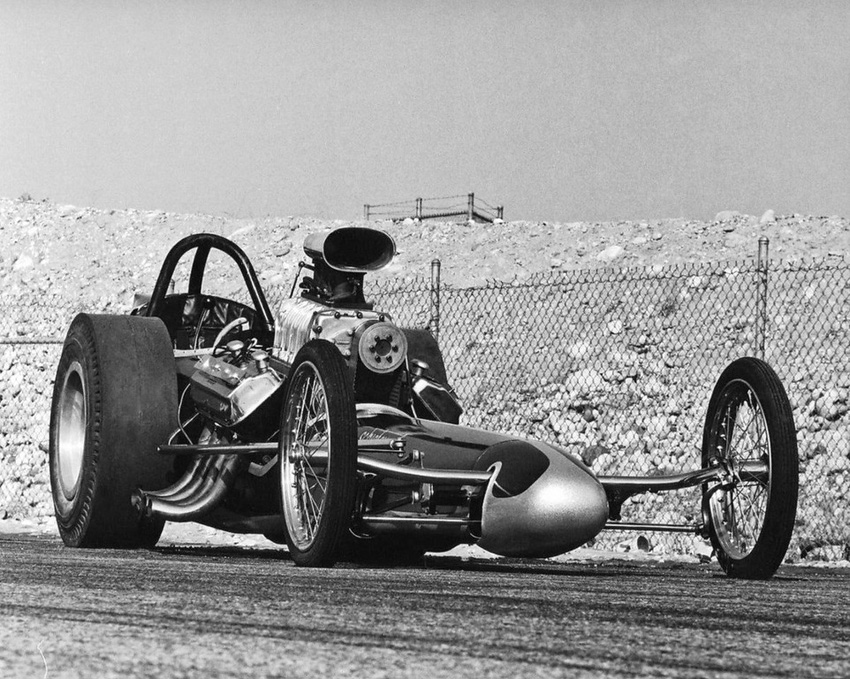 S & H
Jeep working on the car. This and the following two pics are ones that I took from Green Valley, TX 1963 when I was there
S & H
S & H
S & H pit shot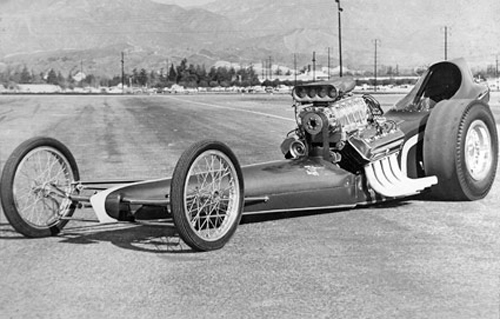 S & H
S & H
Getting pushed around to fire up
S & H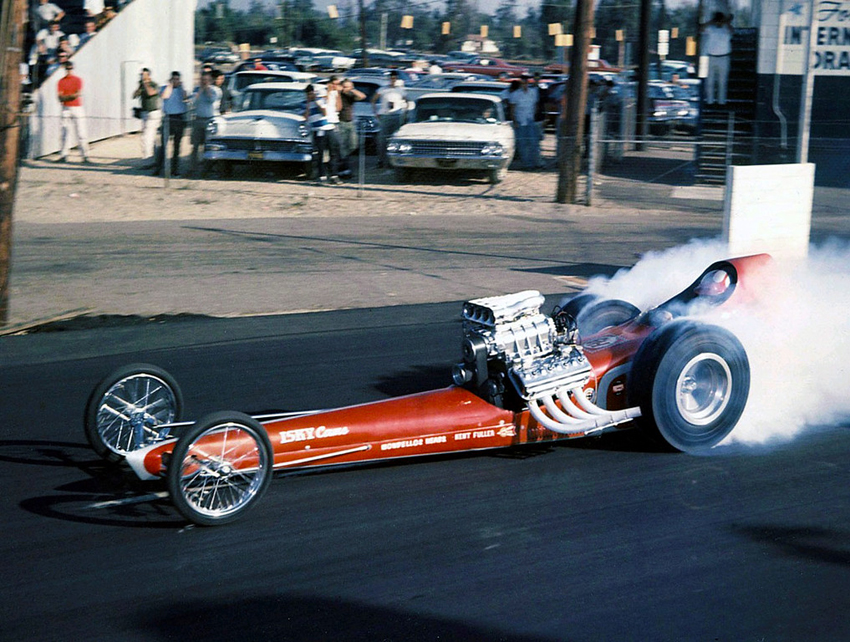 S & H
S & H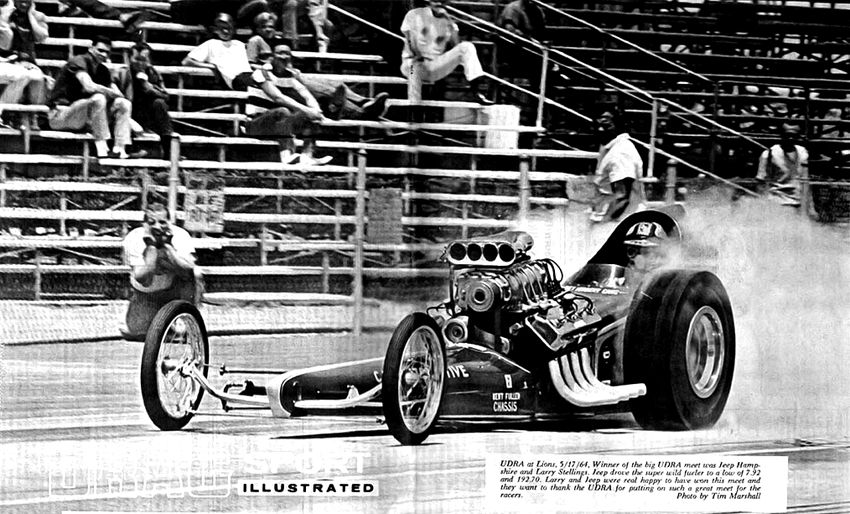 S & H
S & H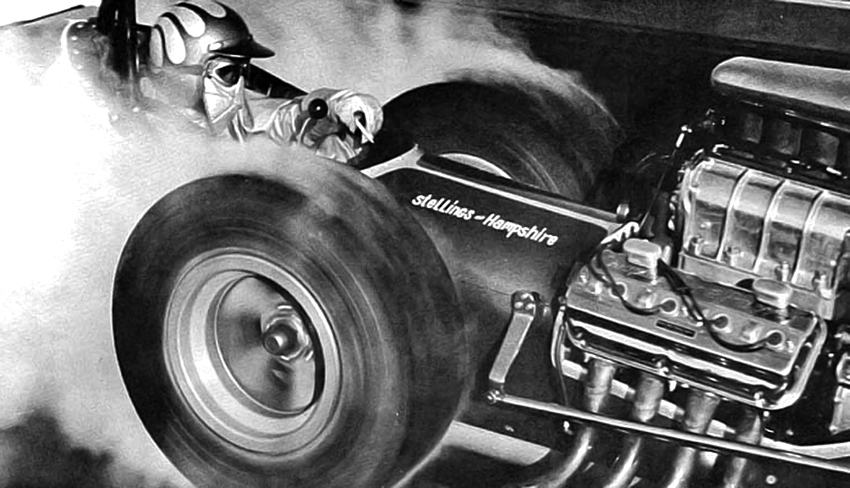 S & H
S & H
S & H
S & H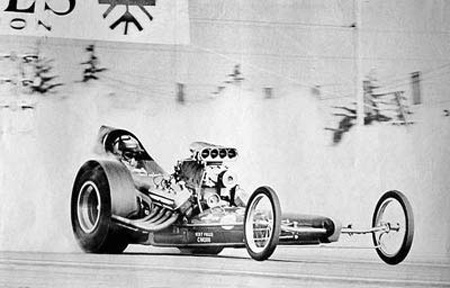 S & H
S & H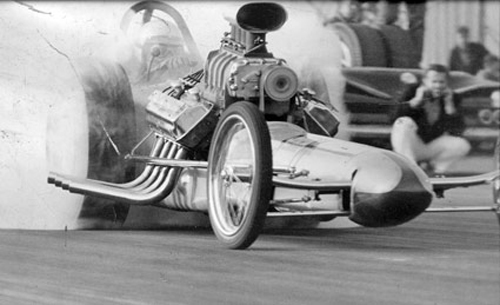 S & H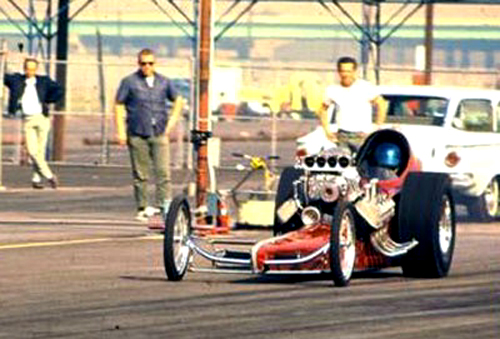 S & H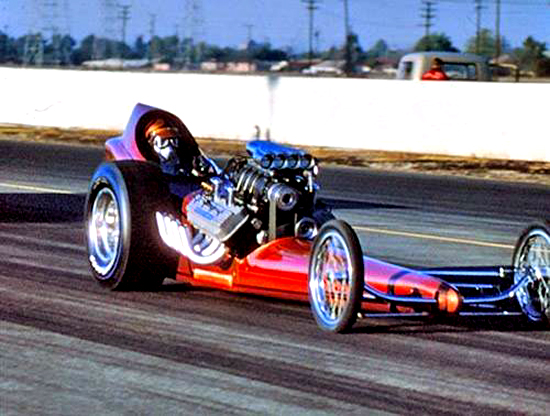 S & H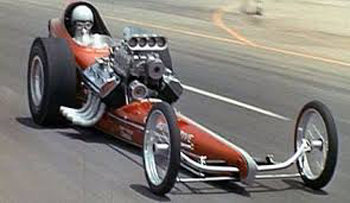 S & H
S & H
S & H
Jeep's other rides were many
Magicar
Magicar at Lions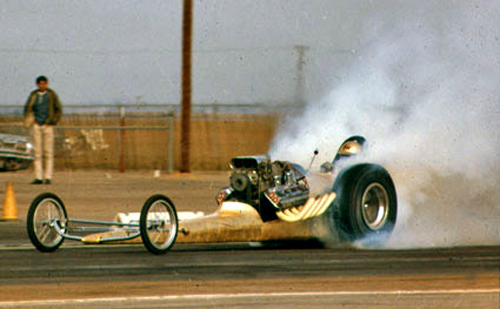 Magicar 1965 March meet
Magicar 1965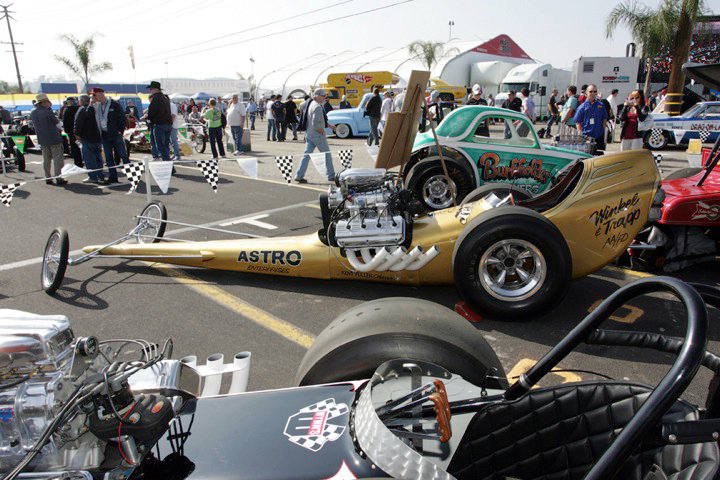 Magicar
Magicar at Fontana
Magicar
Magicar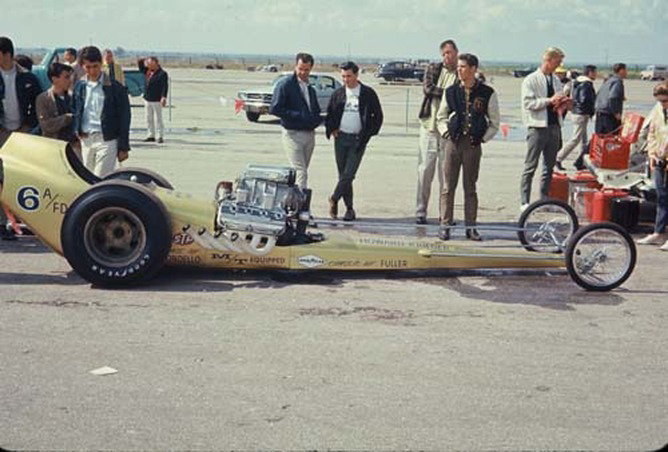 Magicar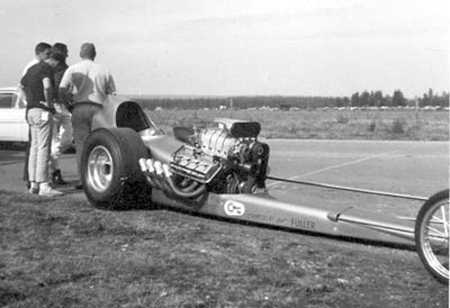 Magicar
Herbert & Steen dual Olds car
Herbert and Steen
Stellings and Maas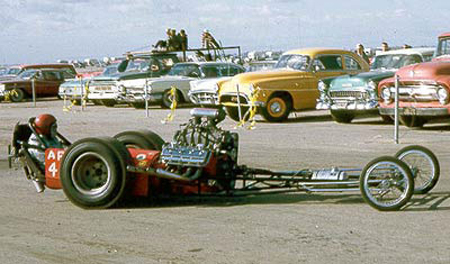 Dick Goss car at 63 March meet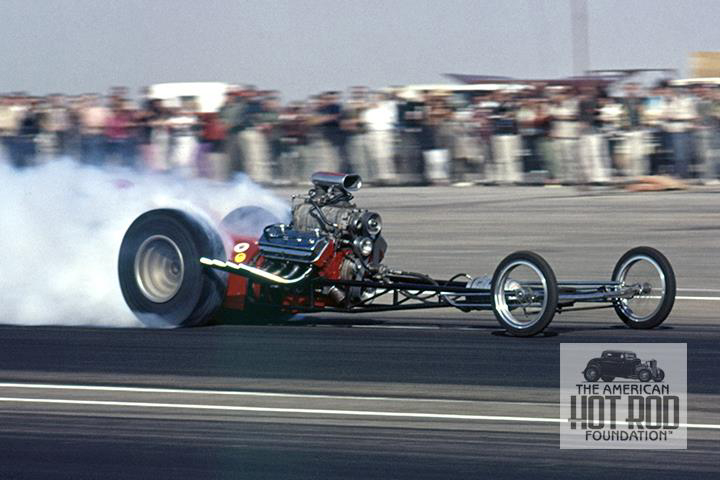 Dick Goss car
Jeep at Lions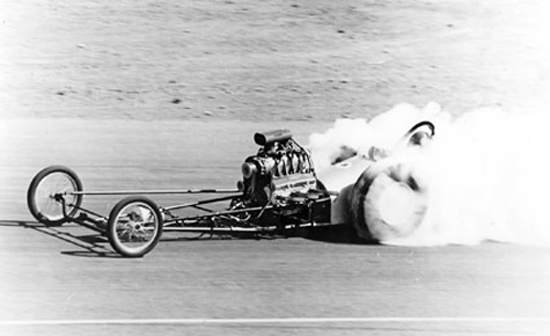 Bill Martin 400 Jr car
Kent Fuller car
Don Kunda's Rainbow's End car
Rainbow's end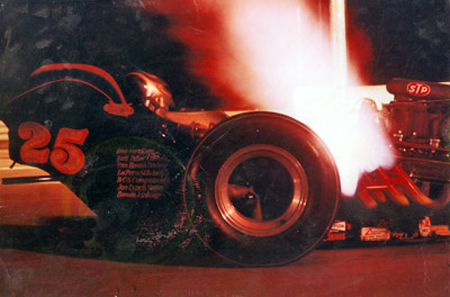 Rainbow's end promo pic
Ronnie in Waterman's car and Jeep beyond him
The Caspery & Stokey car that ended Jeeps career on April 26, 1969 at OCIR when he crashed hard and took over a year to get close to back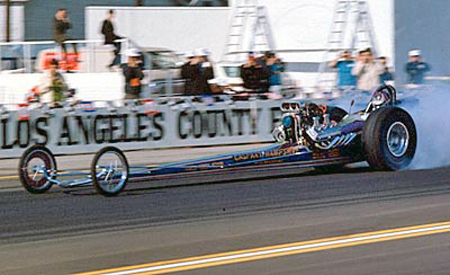 Casper & Stokey
Casper & Stokey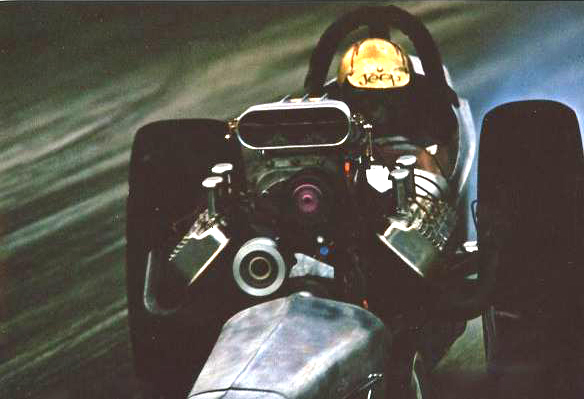 Casper & Stokey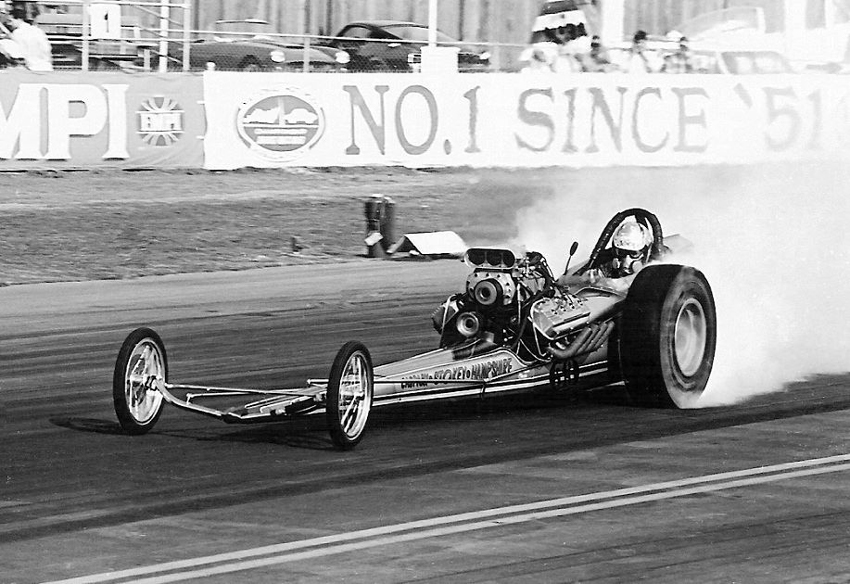 Casper & Stokey
Casper & Stokey
Casper & Stokey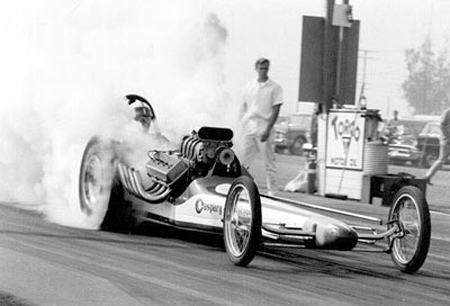 Casper & Stokey
Casper & Stokey
Caspery & Stockey
Caspery & Stokey
Caspery & Stokey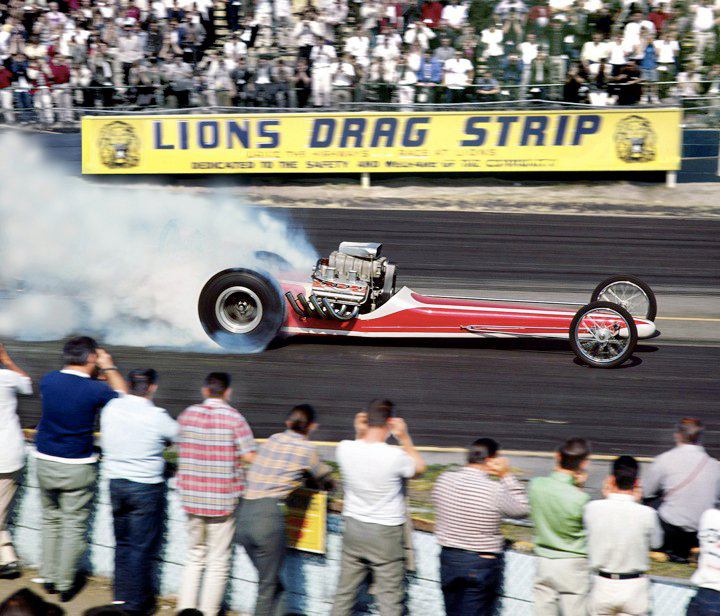 Caspery & Stokey
Casper & Stokey at Puyallup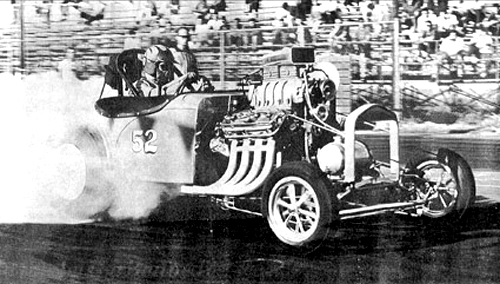 A roadster Jeep once drove
The Platypus, Jeep's original rear engined Modified roadster. On it's one outing it ran 135 mph with an unblown gas burning motor, very fast for the time. They swapped out the motor fro a blown fuel burning Chrysler and it died on a tow to Bakersfield when a drunk driver crashed them destroying the car.
Jeep near side Warren Coburn
Jeep near side at Lions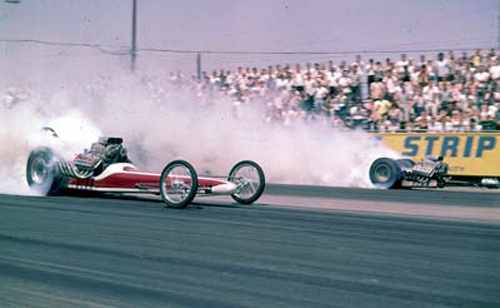 Jeep near side against his brother Ronnie
Jeep near side against Art Malone at Fremont 1965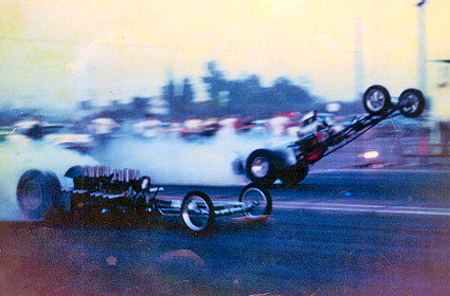 Jeep in Chet Herberts twin against Wayne King
Jeep near side against Porter & Reis
Jeep near side against Brectal & Fedak
Jeep near side against Paul Sutherland
Jeep farside pulling the wheels
Jeep near side The Snake
Hot rod mag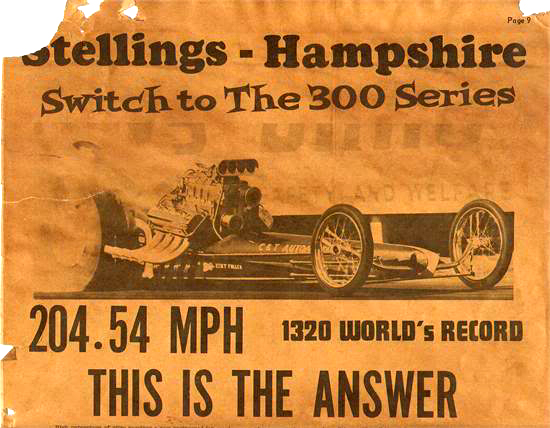 Poster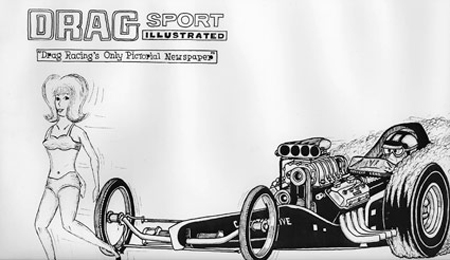 A cartoon that humorously said this is what made sleepy Jeep run!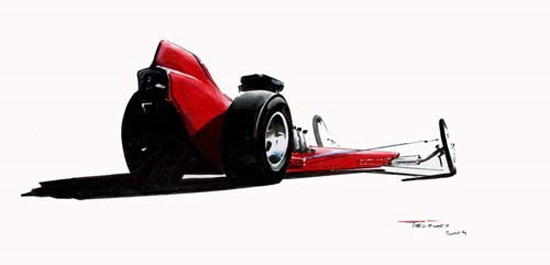 Art
Stamp logo
Another
The cacklefests and car show at Bakersfield
Magicar
1
2
3
4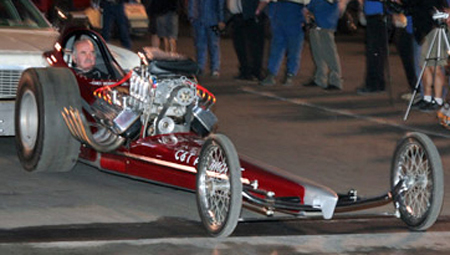 5
6
7
8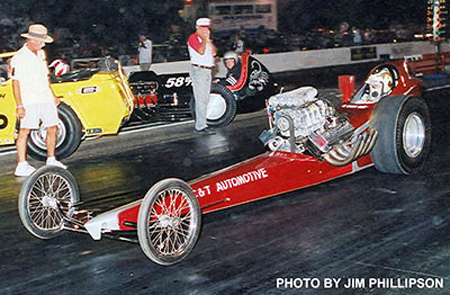 9
10
11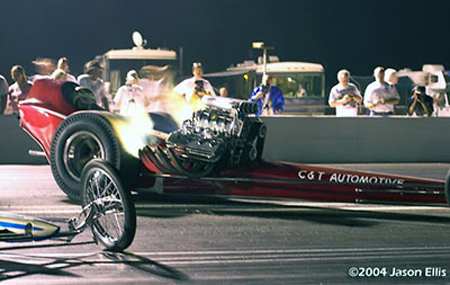 12
13 - with Linda Vaughn
14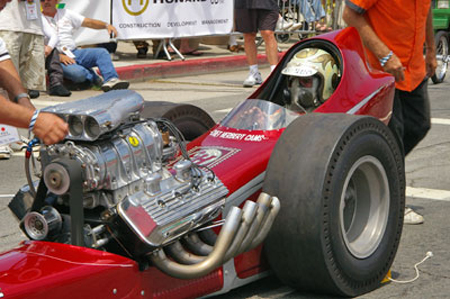 15
16
17
18
19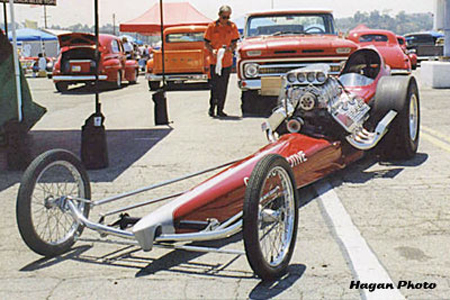 20
21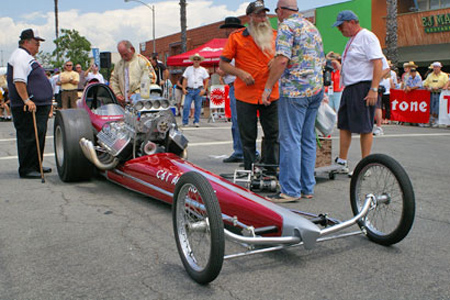 22
23
24
25
26
27
28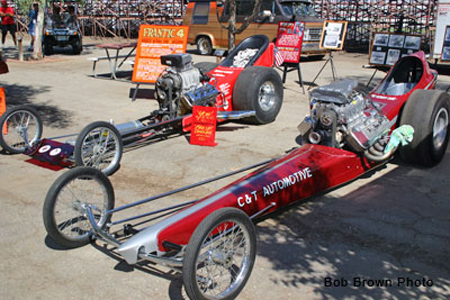 29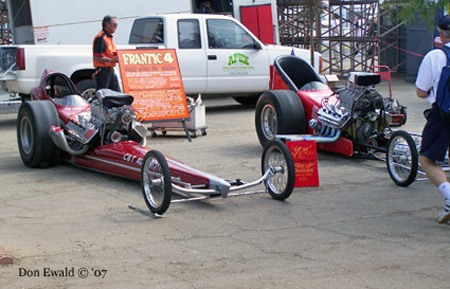 30
31
32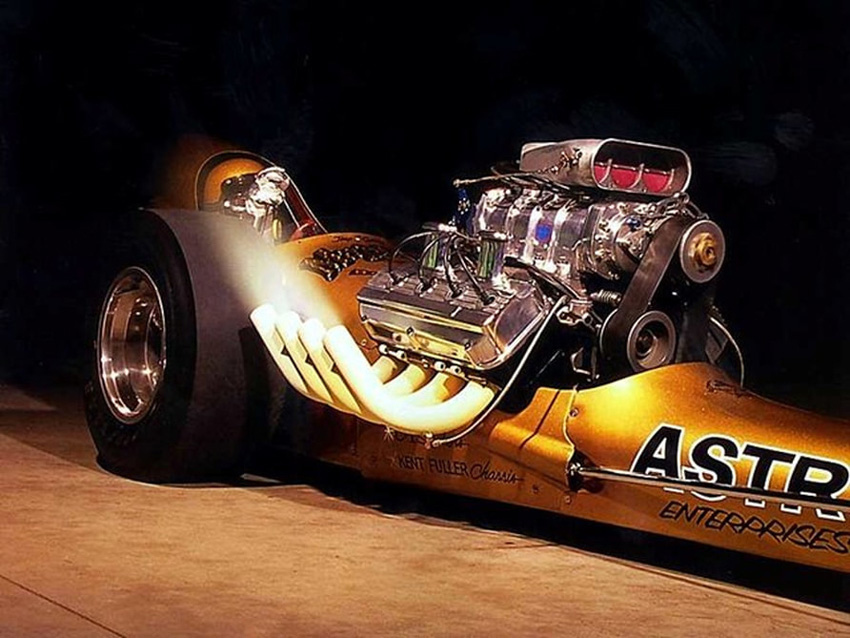 33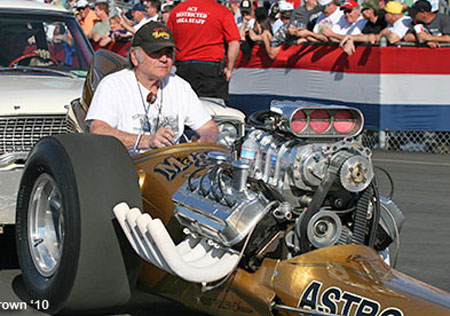 34
35
36
37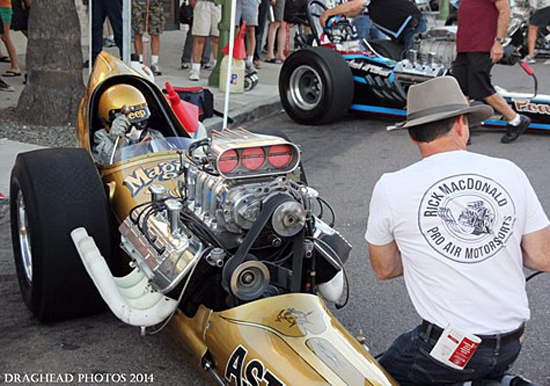 38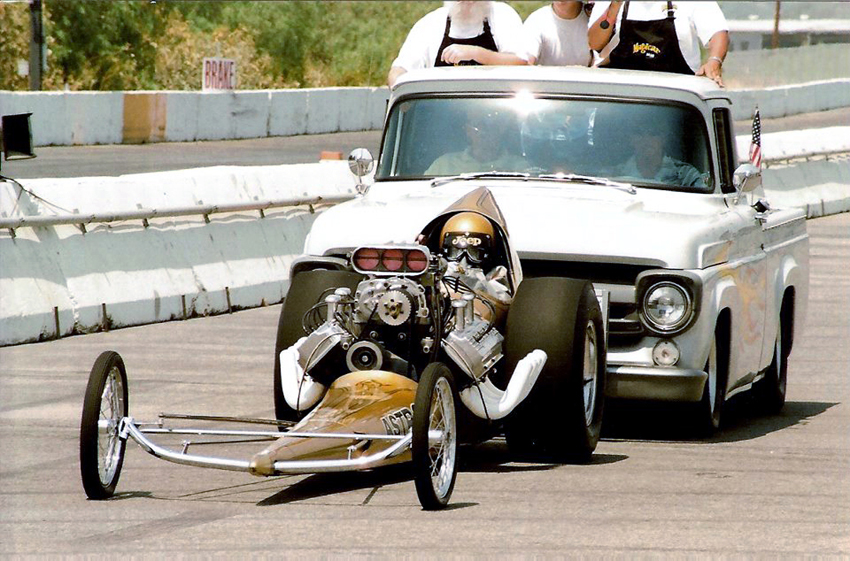 39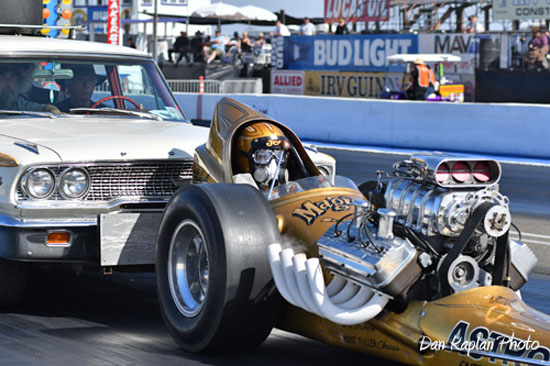 40
41
42
43
Jeep and Ronnie Hampshire, brothers separated by only eleven months in age (born in 1938), grew up sharing a love for cars and racing. Having been reared in Southern California in the '40s and '50s, the pair was exposed to the "hot rod" culture at an early age and it became an integral part of their daily lives. Jeep bought his first car, a 1935 Ford, early into his high school years, but finances being what they were, it remained stock for as long as he owned it. Ronnie, as he recalls, drove the hand-me-downs. After their graduation from high school in 1946, the brothers went from being spectators to participants with Ronnie supplying a 1934 Ford sedan and Jeep providing a highly modified flathead V8 for power. At this same time, they joined one of the premier car clubs of the area, the Throttle Merchants Car Club, of which they are still members some sixty plus years later. In 1957, with the help of Frank Huszar and Arnie Roberts, Jeep started building his first 'real' race car while the pair continued to race the '34 sedan. The brothers continued to share their common love of racing and exchanged a lot of information. but as time went on they gradually moved apart to compete on separate teams.
In 1957, Jeep started building his first dedicated race car–a rear engine, fully streamlined body, modified roadster with an injected Chrysler on gasoline. It was dubbed the "Platypus" due to its unusual body shape. It took him almost two years to complete this car, but the first time it hit the race track it posted an incredible, (for that time and class), speed of 135 mph. After its initial appearance, Jeep teamed with Roy Steen and swapped out the unblown gas engine for a blown fuel-burning Chrysler and headed for Bakersfield, CA to run it. Unfortunately, on the way there a drunk driver crashed into them destroying the race car.
After the "Platypus", Jeep and Roy, (who was still in high school), but already an experienced welder, built and drag raced a more conventional front-motored, blown and injected AA/FD. The Hampshire-Steen top fuel dragster experienced moderate success winning top eliminators at San Fernando and Fontana. In 1962, Chet Herbert had plans to build a top fuel dragster that would feature two injected F-85 Olds engines in-line for power. Chet offered Jeep and Roy the opportunity to build and run the car with Chet picking up the tab for the project. In late 1962, they were able to successfully debut the car, but the Hampshire-Herbert-Steen team disbanded at the end of the year over disagreements on how to run the dragster.
Not content to just sit around and spectate, in 1960 Ronnie bought the original rear engine sidewinder dragster that had been built for Chuck Jones. He teamed up with George Bolthoff who was a well-known engine builder. The pair installed a blown 340 cid gas-burning Chevrolet engine for power, and while the car looked great, it was a real handful to drive. After managing to squeeze out a speed of 162 mph and a 9.30 ET, yet not able to correct its evil handling, the pair retired the sidewinder and teamed up with Jack Bynum to race a front engine B/Gas dragster. The next year, Ronnie and George moved the blown Chevrolet into a chassis owned by Accessories Ltd. and notched a few local wins with it. In 1962, the pair ordered a new Kent Fuller car. But before the new car arrived, Ronnie was dealt a big lifestyle change when he was drafted into the Army. Nonetheless, he was lucky enough to be stationed at Ft. Ord in Monterey, CA and that allowed him to go home on weekends. Ronnie and George would divide up the driving chores; George on Saturday nights and Ronnie on Sunday. The Army moved Ronnie to Ft Lewis near Tacoma, WA in 1963, where he soon made friends with several of the local enthusiasts and managed to drive for several of them. By the time he was discharged in 1964, he and George were running a blown Chrysler in their dragster and doing so with some serious success, including a stint touring around the country with it. It was at that time Ronnie got his first taste of driving an AA/Fuel dragster, when he took a turn in the Ansen-Pink blown Chrysler powered nitro burner and was instantly hooked.
In 1963, Jeep briefly drove Bill Martin's 400 Jr before securing a ride in the Stellings-Graffio-Schiefer blown KB hemi-powered AA/FD. Bad news came when Jeep crashed this car at Fresno when the throttle stuck wide open and the chute failed to deploy. But the good news was Stellings would have Kent Fuller build them a new car which they debuted at Lions two months later. The Stellings-Hampshire Red Stamp Spl. went out and promptly set both ends of the class record with a 7.97 ET and a speed of 191.08 mph. Shortly thereafter, Jeep set a new ET record of 7.81 at the 1964 NHRA Winternationals in Pomona, CA, and a Standard 1320 speed record later at Fremont with a run of 204.54 mph.
At the end of the 1964 season, the Ansen-Pink car was retired, but Ronnie was able to move on to drive for Sid Waterman (a relationship that exists still today) and Bill Bradley with their unique, blown Chrysler powered AA/Fuel Dragster, a stint that would last through 1967. This car was very unique in that the driver's legs went under the rear end instead of over it. On January 24, 1965, the team set a new Standard 1320 world record of 7.51 ET at Fontana backing that up a week later with a 7.57 ET at Lions. In 1968, the team replaced the durable RCS car with a car of Ronnie's own design. It featured a longer wheel base with a shorter front end and with 'legs over' the rear end foot controls. While building the new car, Ronnie climbed into Randy Scoville's top fuel dragster at Irwindale, where he experienced the worst crash of his career when the steering wheel came off its shaft and he wound up bouncing off several large boulders at the top end. Ronnie was able to complete the new car and debut it in January of 1968. Because of problems that arose with Sid building engines for their competitors, and those customers not happy about him competing against them, the car was sold in early 1969. While he did find a couple of part-time rides after that, including a short stint with Ted Gotelli, his last quality ride was the Caspary-Hampshire-Robinson top fuel dragster which was successfully campaigned from September 1969 until the end of the 1970 season when the car was sold.
In 1965, Jeep took over the driving duties of the now famous "Magic Car" of Kent Fuller, Ronnie Winkle, and Kaye Trapp. Jeep was soon posting near record times and winning several top eliminators at local tracks, but he could not come out on top at any of the big prestigious meets. In late 1965 he left the "Magic Car" to drive Glen Stokey and Dee Caspary's fuel dragster. But, Caspary was drafted into the Army in early 1966 and the car put in moth balls. Subsequently, he moved into the driver's seat of the "Rainbow's End" AA/FD owned by Don Kunda and Romaine Dauphine. This was a top dollar car with a Fuller chassis, Zueschel engine, and Tom Hanna body. Unfortunately, the owners soon ran out of money to continue racing, and Jeep returned to driving for Stokey and Caspary. Dee Caspary had a new Fuller car built in 1967 and they ran it very successfully until April of 1969. It was at a meet at OCIR that Jeep, on a strong pass, had a steering failure that put him into the guard rail, pretty much destroying the car and leaving Jeep with severe, life- threatening injuries that ultimately forced him to retire from driving.
While the brothers are retired as drivers, they both still attend many of the California Hot Rod Reunions and similar events, and Jeep can usually be found cackling the "Magic Car" or other cackle cars, and Ronnie behind the wheel of the original Waterman-Hampshire top fuel dragster.
Jeep: If Chet Herbert opened the drag racing door of opportunity for me, then it was Larry Stellings who invited me to stay for a while. Larry owned a beautiful Fuller car with Joe Graffio and Don Moody. It had all the best parts including a 392 cid Keith Black engine. Moody, who worked for Engle Cams at the time, had decided to go drive for Dave Zeuschel (Zeuschel-Fuller-Moody), and Larry needed a driver. This would be the precursor to the better known Stellings-Hampshire Red Stamp Spl. I started driving this car during the summer of 1963 immediately after a short stint in Bill Martin's 400 Jr. Officially, we were known as Stellings-Hampshire-Schiefer (Carl) although I did not have any money in it. Unfortunately, the car didn't have a long life span; I crashed it at Fresno in September of that year. I was on a qualifying run and paired with Kenny Safford in the Safford-Gaide-Ratican Olds fuel dragster. It was one of those deals where the throttle stuck wide open and the parachute fell off the car, but I figured it would just run out of fuel or blow up. Fresno Raceway was 100' wide and the run off was forever. Blackie Gejeian, the track manager, had just mowed all the weeds for about a mile down track and they were all piled up in one gigantic mound. Of course, I ran right into the world's largest haystack and totally destroyed the car. There I was, upside down, nose bleeding profusely, with my goggles rapidly filling up with blood. I finally got the helmet unfastened, and in disgust, hurled it a good 50 feet from where I lay. When Larry and the crews arrived at the scene and saw the car and the location of my helmet, they decided it was a scene they did not want to investigate too closely. Finally, after a very long wait, I had to yell at them to come and free me from all the wreckage.
I felt really bad about crashing Larry's dragster, but by the following Wednesday we were back at Fuller's shop making plans to build what would be known as the Stellings-Hampshire Red Stamp Spl. The unpainted Stellings-Hampshire debuted at Lions Drag Strip on November 8, 1963 and promptly set low e.t. and top speed of the meet at 7.97-191.08. Before the end of the year, we would hold the speed record at both Lions (194 mph) and Fontana (197 mph). At the 1964 Winternationals, the one won by Crossley-Williams-Swan, we set low e.t. of the meet at 7.81. A few weeks later at the March Meet, we qualified with a 7.97, defeated the '63 winner, Art Malone, in round #1, but stumbled and lost to Hank Clark in the next round. At the very next race, the West Coast Championships at Fremont, we set top speed of the meet with a blistering pass of 203.16 and got barely nudged out for low e.t. by Don Prudhomme (7.74-7.78). The Stellings-Hampshire dragster was a magnificent race car. It was beautiful, powerful, and so calm to drive. On October 18, 1964 at Fremont we set the Standard 1320 speed record for AA/FD at 204.54. It was a record that would endure until Ted Gotelli's driver, Denny Milani, ran 211.26 at Sacramento Raceway in May 1965. In January 1965, the Winkle-Fuller-Trapp "Magicar" was completed and ready to hit the drag strip. I turned over the reins of the S&H Red Stamp Spl. to Big Bob Haines and embarked on a new phase of my drag racing career.
JEEP: April 26, 1969 was "the day that will live in infamy" for me. I had no premonition or uneasiness that something terrible was about to happen. The race that day was a 16-car show at OCIR, a track I had been down countless times before. It was the first round of eliminations and I was paired against Joe Lee (Abbott-Lee). We pushed down toward the starting line, fired, but at the last moment were told to shut off-there was a car still on the track. That is the last recollection I have of what occurred that evening. But, Ronnie was there and this is how he remembered it,
RONNIE: The cars were re-fired and brought to the line.There was nothing to indicate that a tragic accident was about to happen; both drivers were on strong but seemingly uneventful runs. Joe was in the left lane and Jeep in the right lane when at about 900' the front end of Jeep's car turned on him. The dragster went on its side across the track, hit the left side guard rail, and careened back to the right side, colliding once again with a guard rail. The second impact ignited a flash fire, knocked off the top of the roll bar, and exposed my brother's head to the track's surface as it gyrated in circles down the drag strip. I was at the starting line standing next to John Bateman, and we just reacted instinctively and took off running down the track. By the time we got there emergency crews had arrived and were attending to my brother. Jeep was conscious but his injuries were massive and life-threatening; he was rushed to the Santa Ana Community Hospital where he would endure over five hours of surgery.
JEEP: My inventory of injuries was like a laundry list: seven broken ribs, punctured lung, broken left and right arm, broken left and right wrist, and broken collar bones. I had a cut in the left bicep tissue so deep the muscle was almost severed. A natural "lefty", this accident made me right-handed. It would be a year before I could even feel any sensation in my left hand. The neuro-muscular injuries, as bad as they were, paled in comparison to the danger I faced from a lacerated liver.
RONNIE: I had been sitting in the waiting room awaiting some word on Jeep's condition when the surgeon in charge walked in. He told me the situation was this: "If your brother's liver ruptures, it's all over-these organs do not grow back together. I've done all I can; it may take a power greater than that on earth to save your brother." But, he was saved and it was probably due to this doctor-he used a procedure that basically secured and supported Jeep's liver in a hair net.
JEEP: I was in intensive care for four days and spent another week at the hospital before I could be released. I spent another two months convalescing at home. I was not able to move my left arm for about one year; even today, I still don't have very good feeling in my left thumb and fingers. This accident pretty much finished me as driver and I was in no position to even think about being a car owner. As soon as I was able, I returned to work; I had a family to support.
Created 1/26/19