(RIP)James Warren
Known as "The Ridge Route Terrors" because of their trips to LA from their Bakersfield home to win a lot of races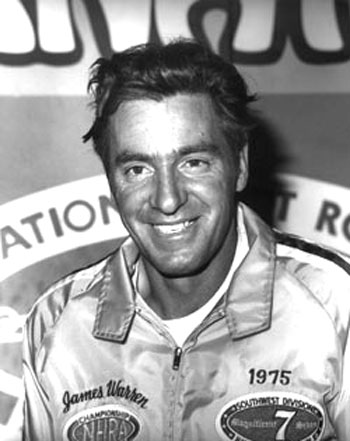 James
James
James
James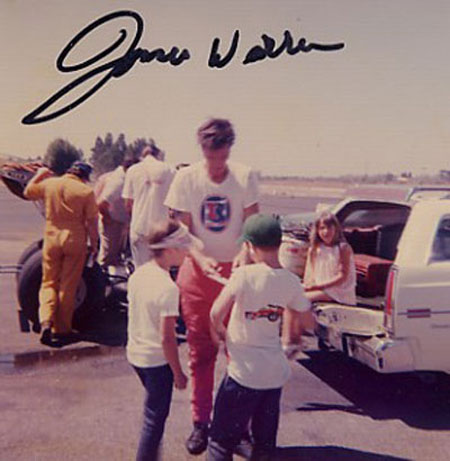 James autographing
James suited up
James in the car
James
James Warren and Roger Coburn
James and Roger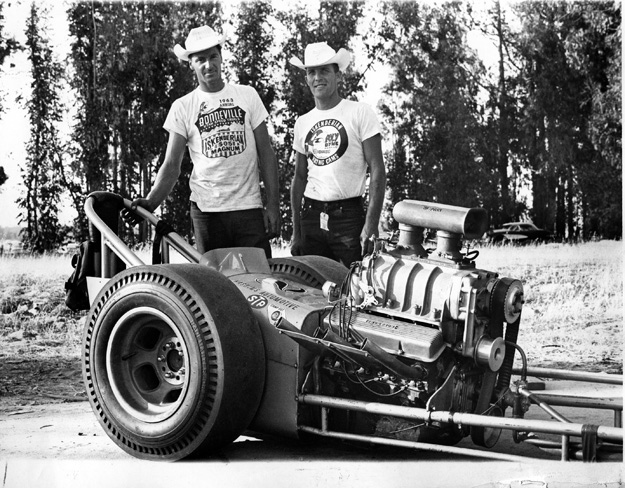 James with the Chevy
James with the Chrysler
James with te rear engine car
James and a trophy girl
James ready to get in the car
James with Mike Kuhl
James and Roger with Steve Evans
James and Roger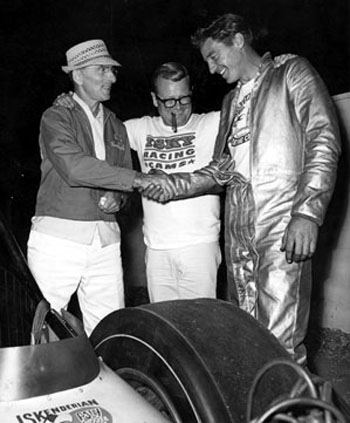 James with CJ Hart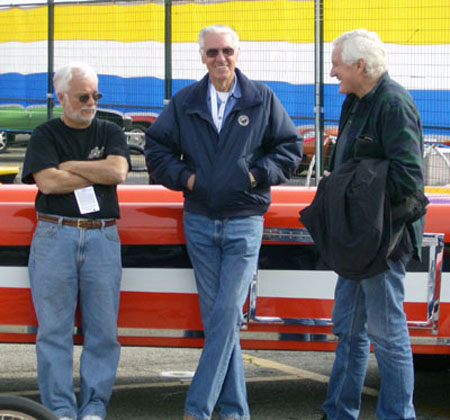 James with some friends
James with Wayne King and Tom Jobe
James by the car
James by the car
James working on the blower
James by the car
James in the seat
James in the car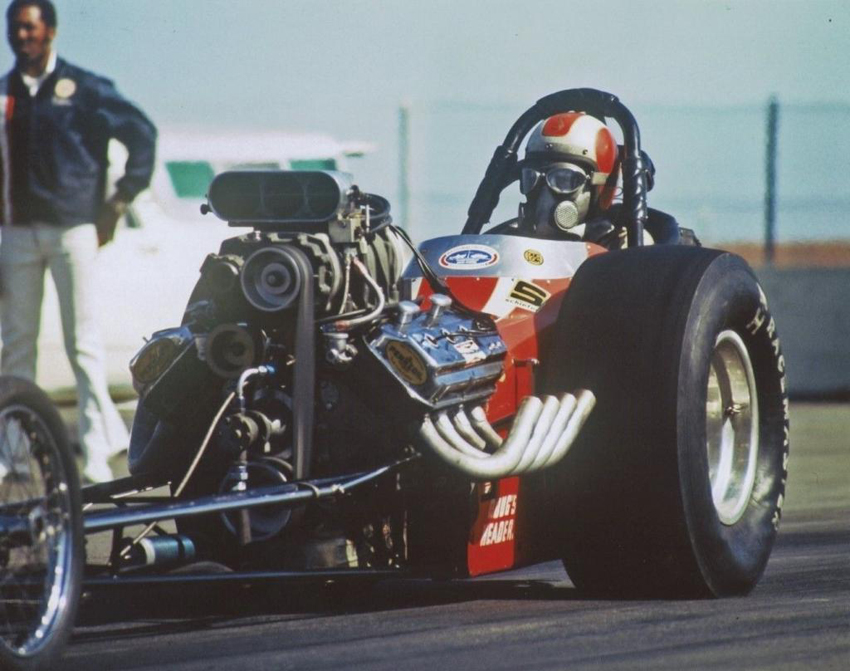 James ready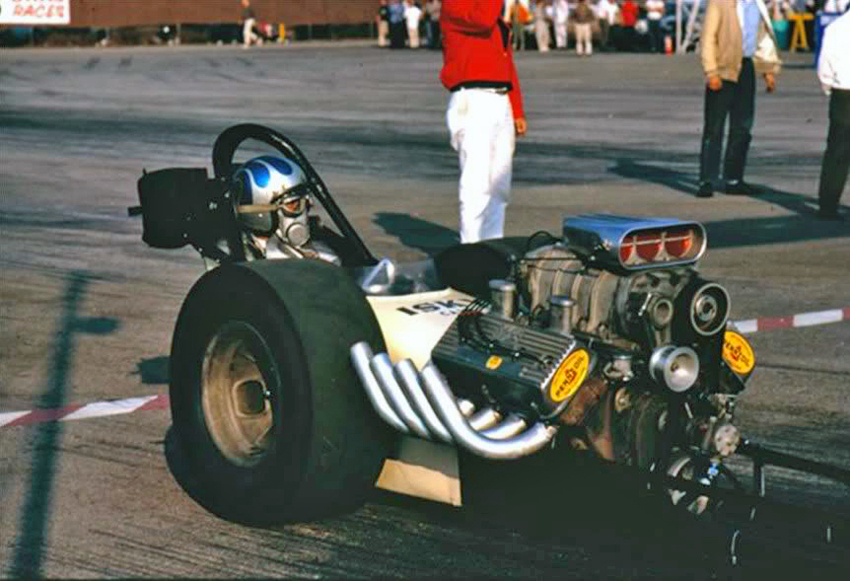 James lining up
James in the seat
James ready to blast off
James in the car
James in the seat 1964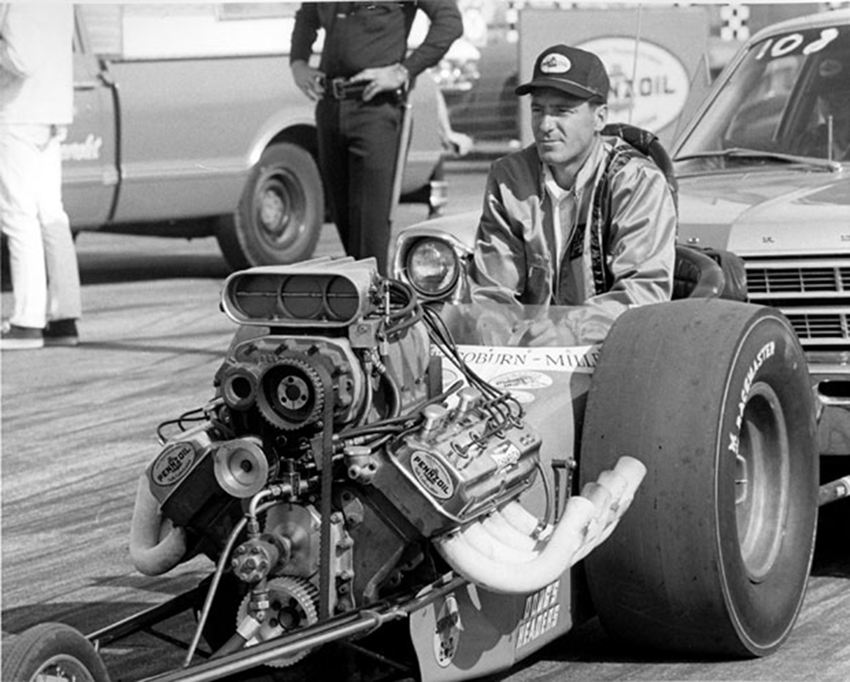 James in the seat
James in the seat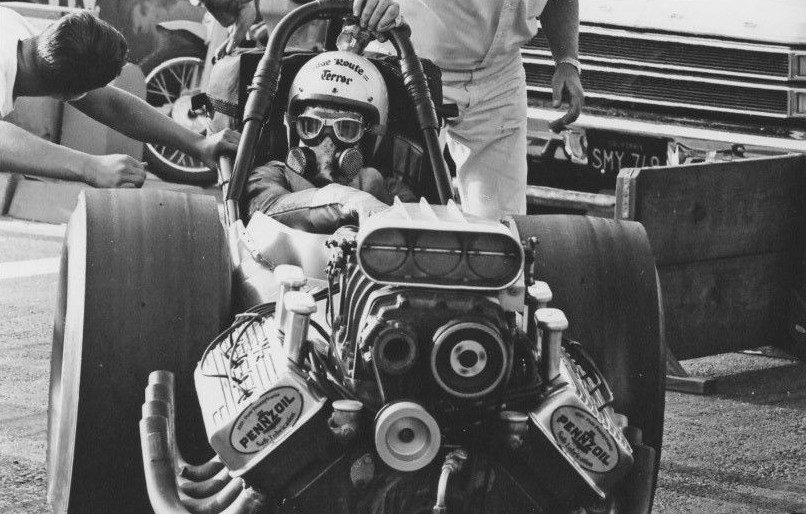 James in the seat
James
James
James in victory circle
James and the crew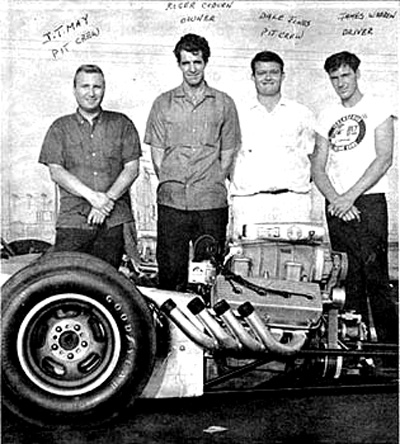 James, Roger and the crew
James and the crew at Irwindale
James getting a kiss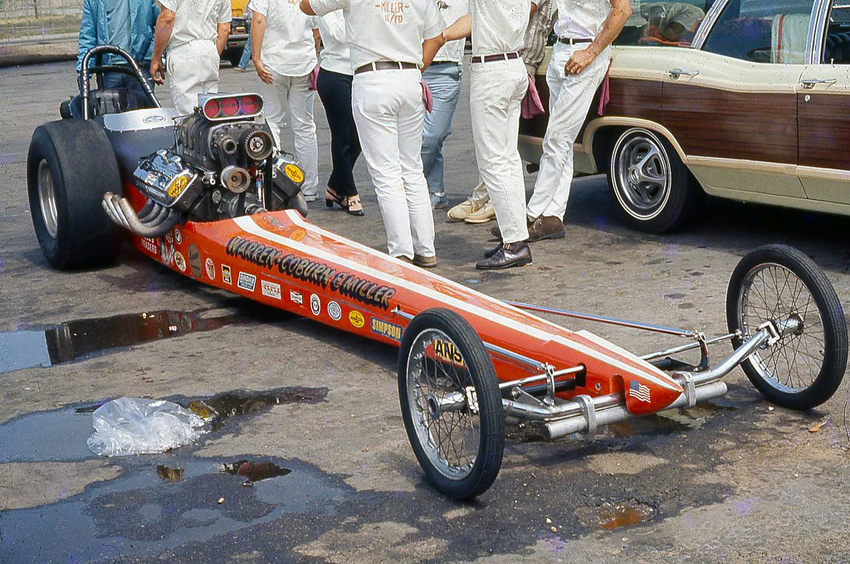 Rain for Rent fuelwr
WCM
WCM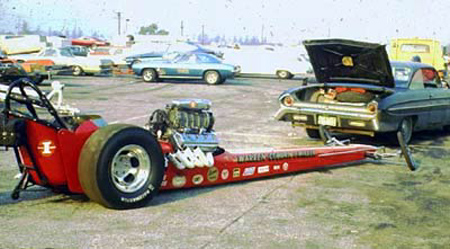 WCM
WCM
WCM
WCM with Roger ready to line up James
WCM at Lions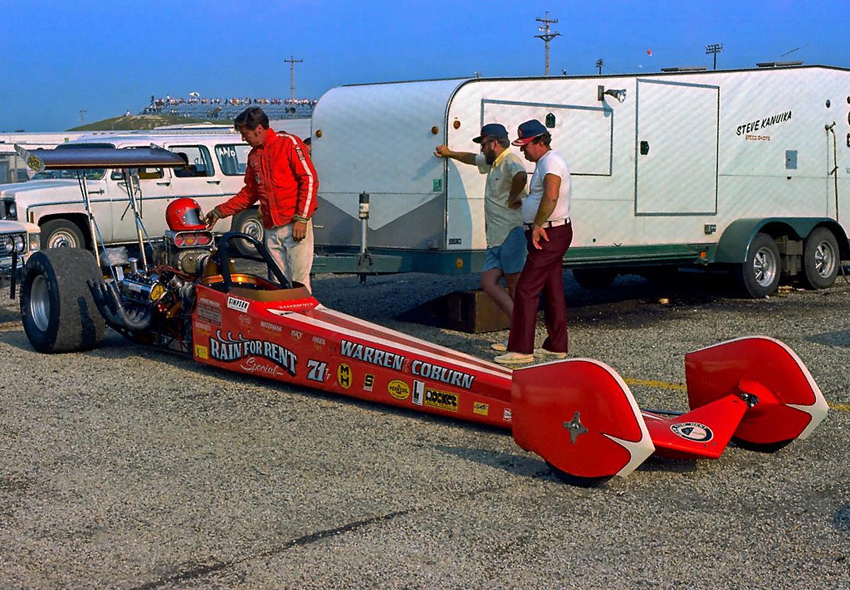 WCM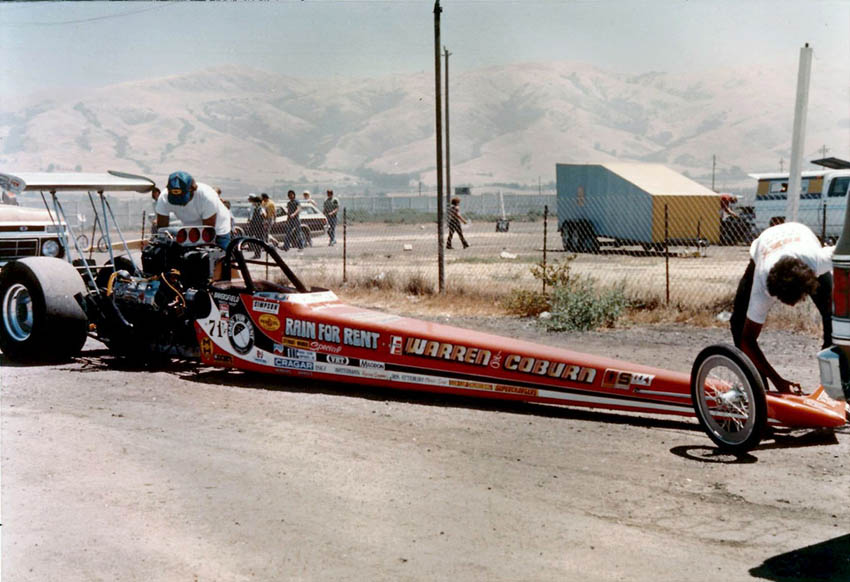 WCM
WCM
WCM
WCM
WCM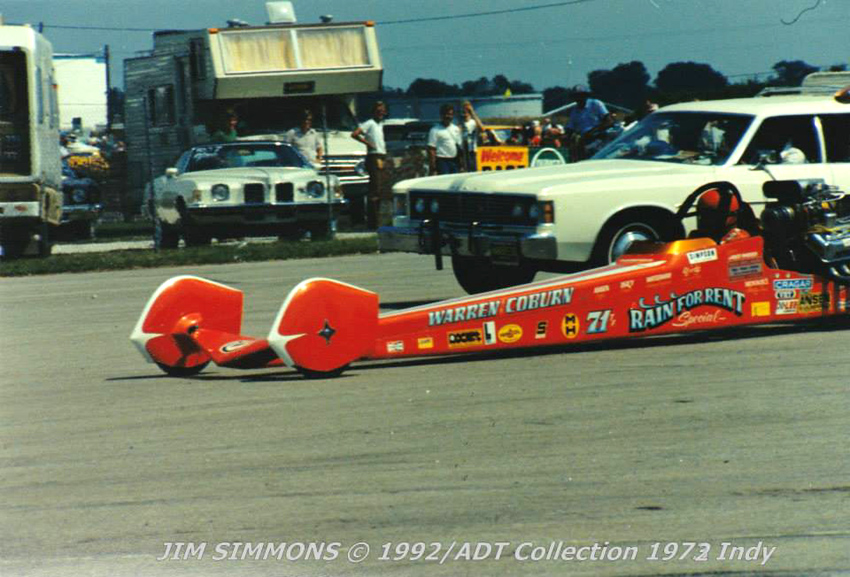 WCM
WCM
WCM
WCM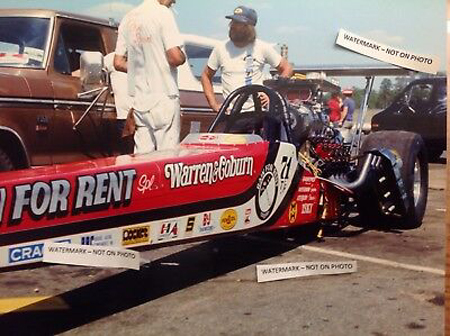 WCM
WCM
WCM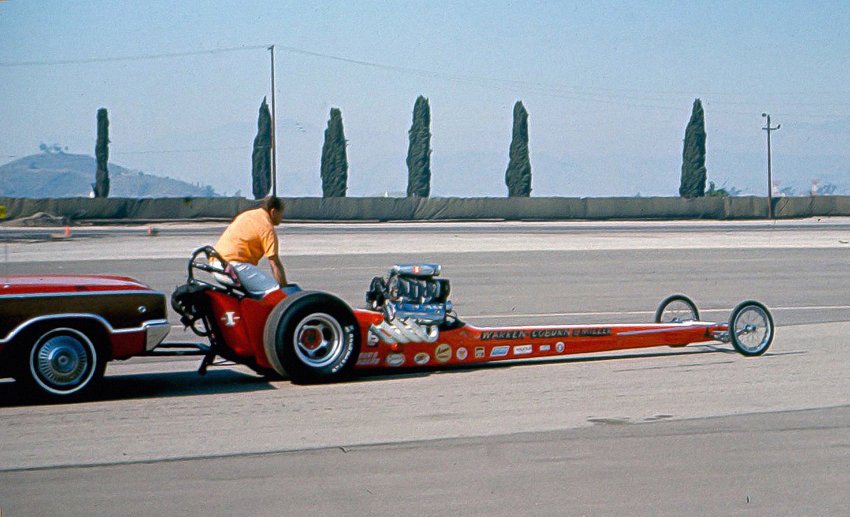 WCM 1969 at Pomona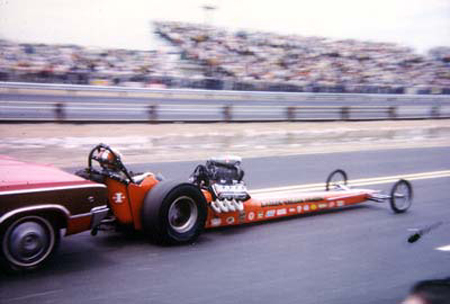 WCM
One of their 1st cars
Side view
The Blue car Chevy powered
On blocks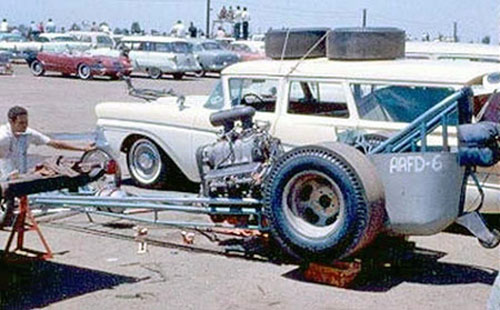 Leaving the line at Lions
Warren Coburn 1959

WCM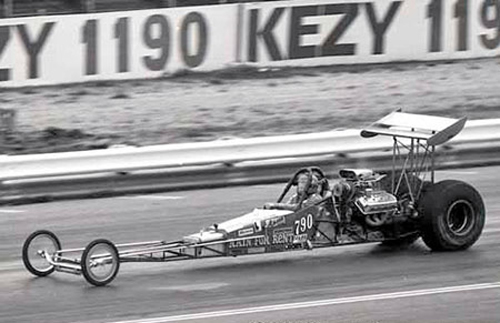 First woody Gilmore rear engine car
WCM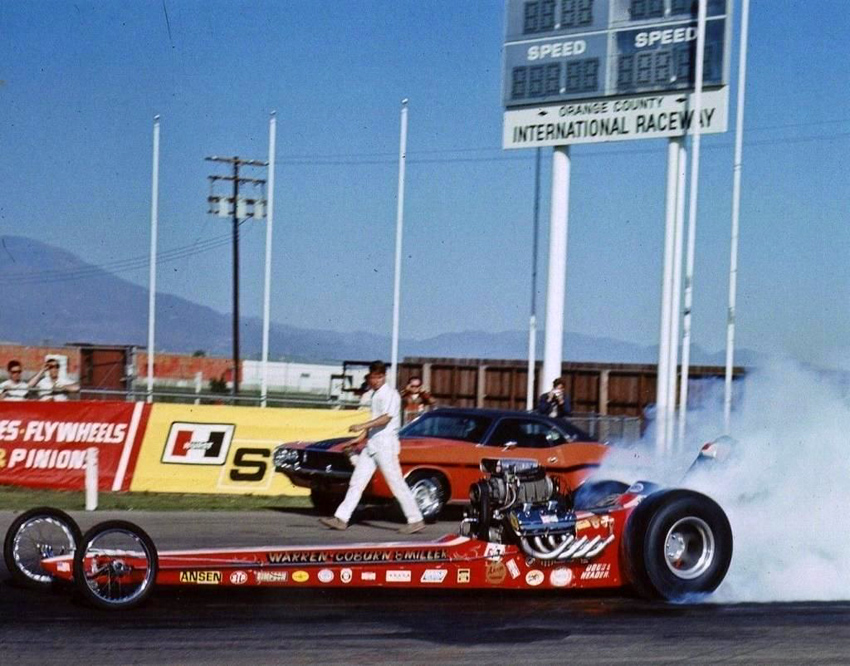 WCM at OCIR
WCM
WCM 1965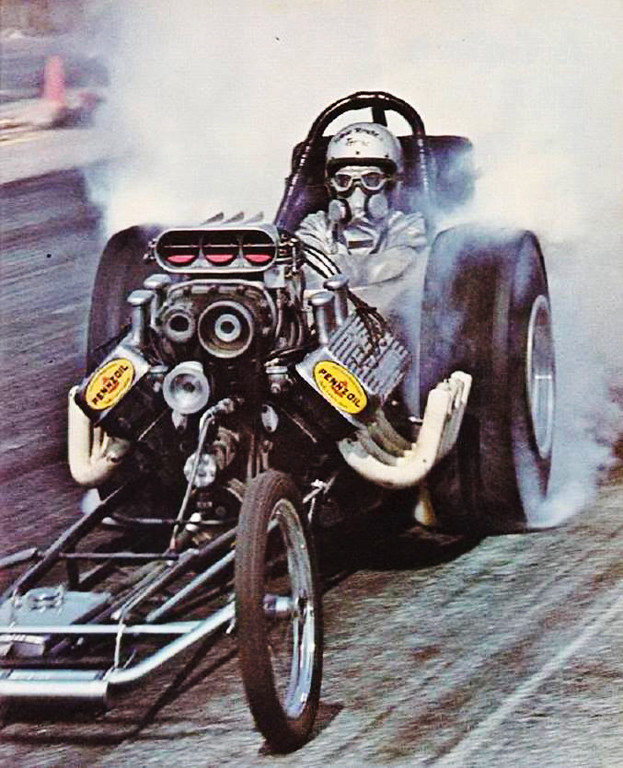 WCM 1965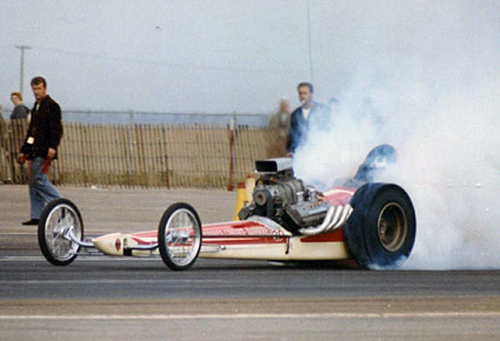 WCM 1966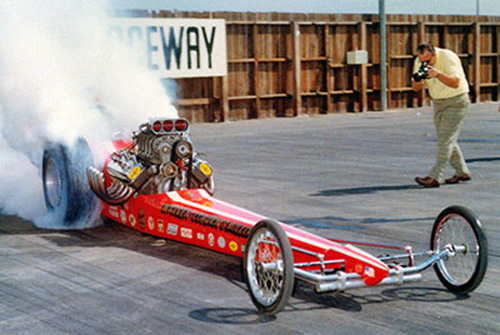 WCM
WCM
WCM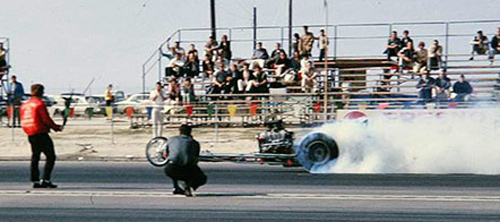 WC
WC 1964
WCM
WC 1960
WCM 1966
WCM
WCM
WCM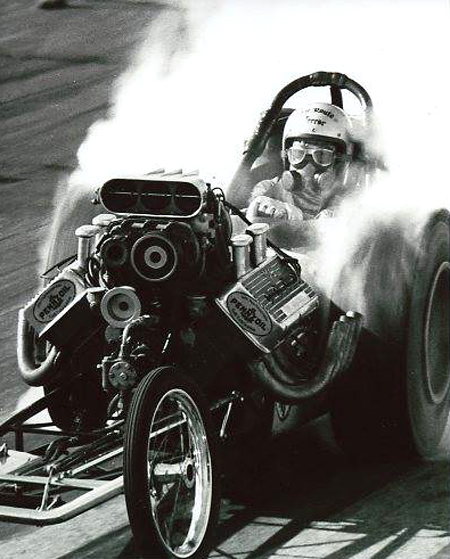 WCM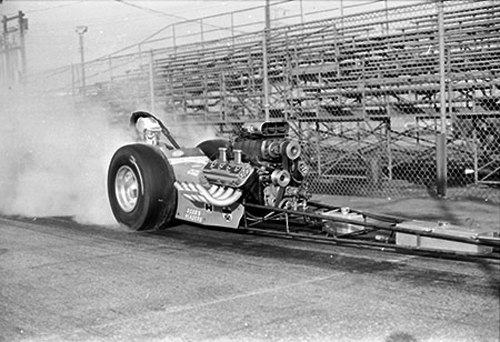 WCM
WCM
WCM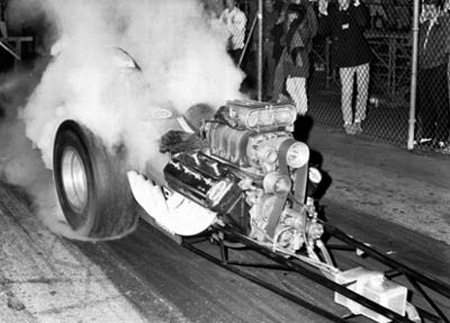 WCM
WCM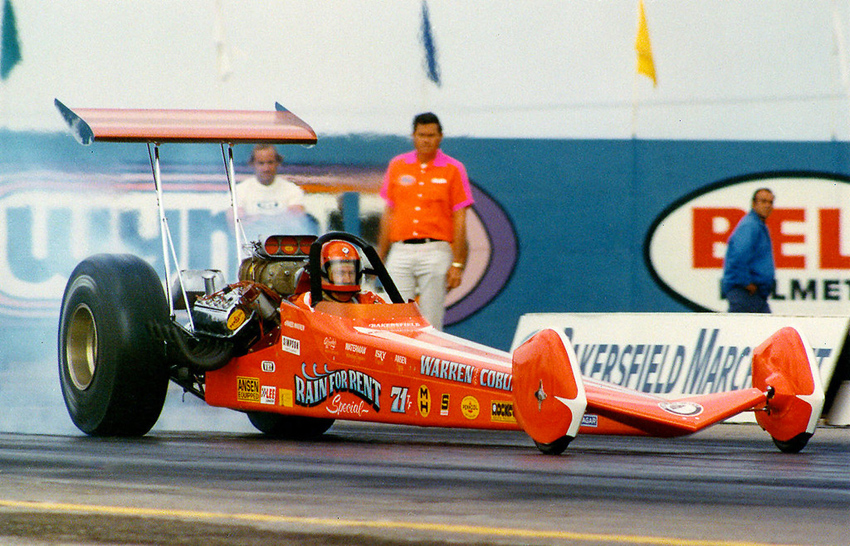 WCM
WCM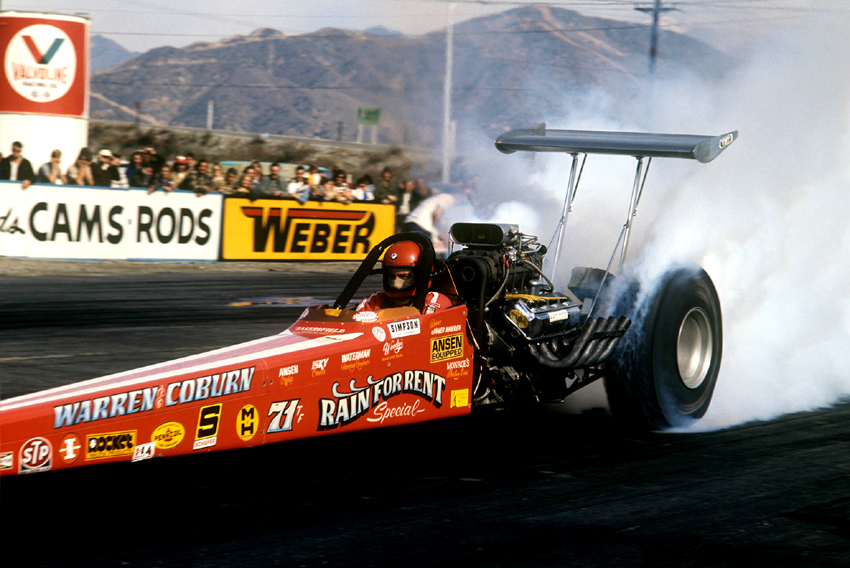 WCM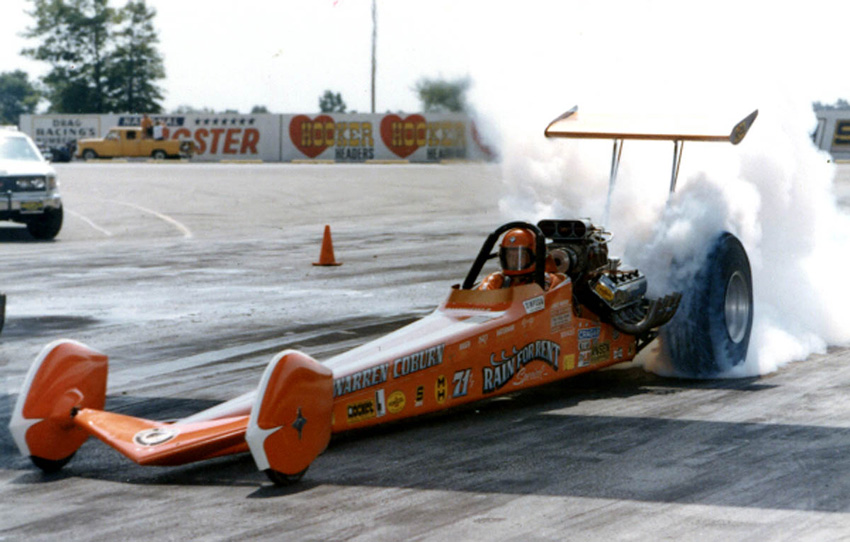 WCM
WCM
WCM
WCM
WCM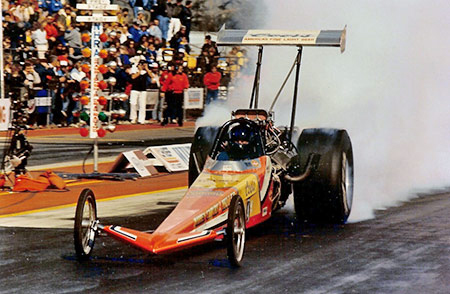 WCM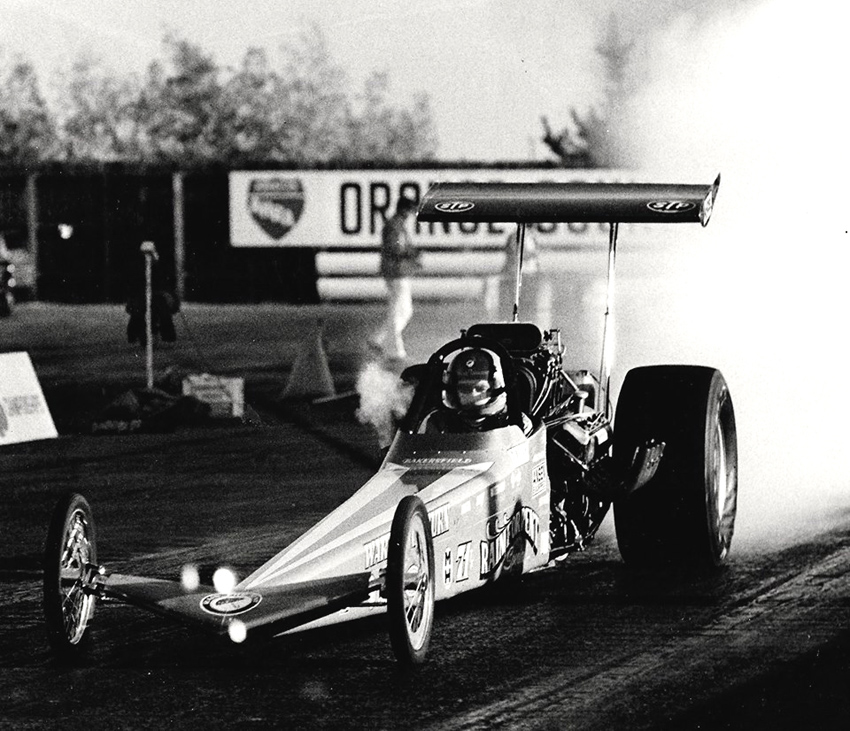 WCM
WCM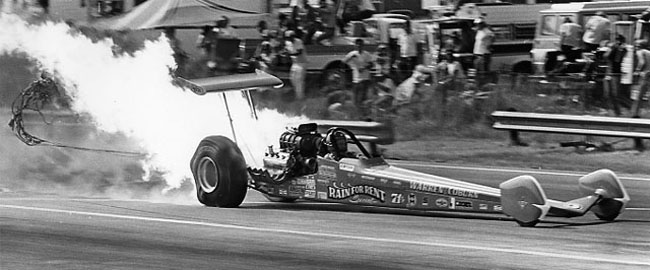 WCM
WCM
WCM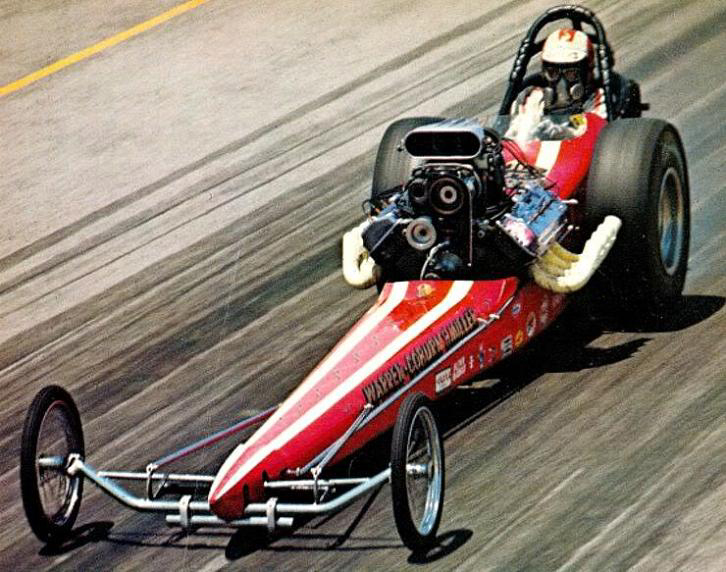 WCM
WCM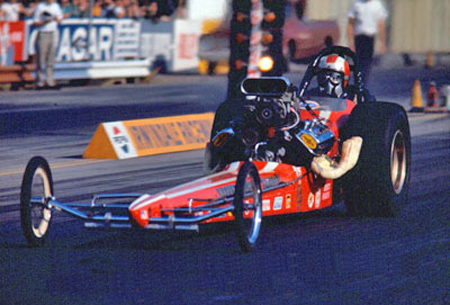 WCM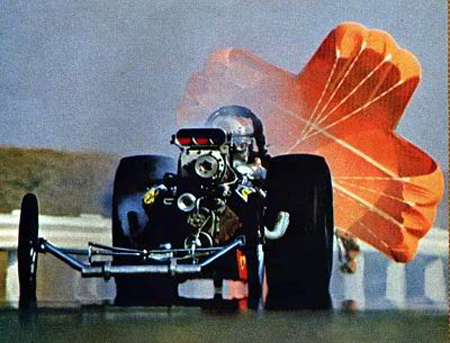 WCM
WCM
WCM
WCM
WCM at OCIR
WCM
WC 1963 at Pomona
WCM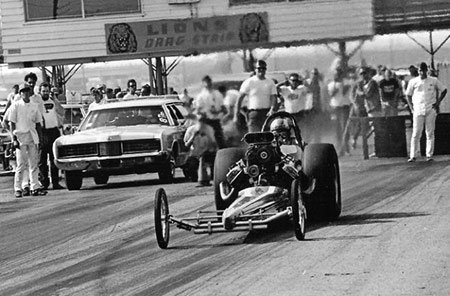 WCM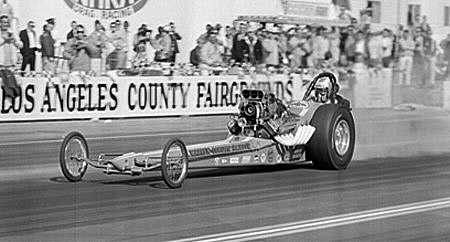 WCM
WCM
WCM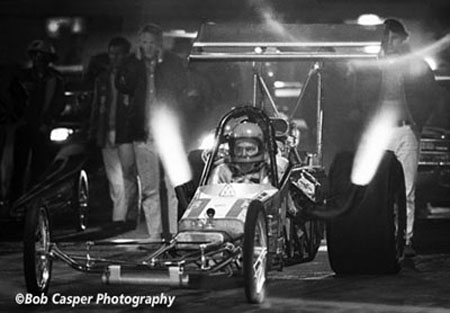 WCM
WCM
WCM this side against the Surfers at Pomona
WCM against the Surfers at Balersfield 1966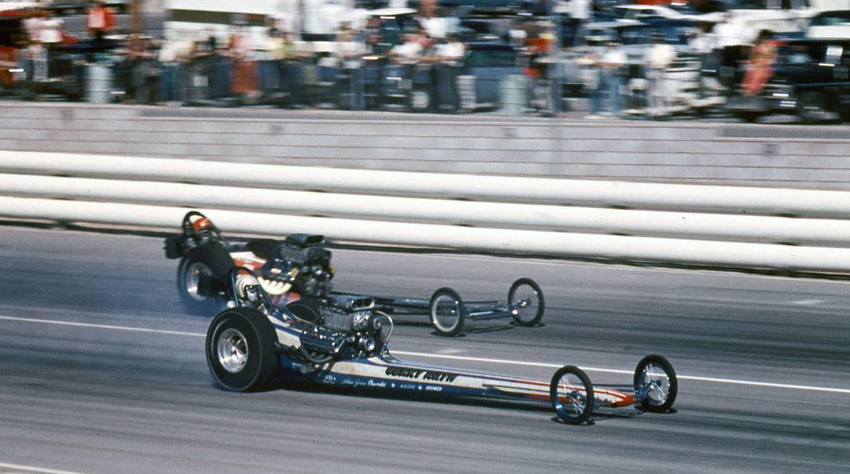 WCM against Jerry Ruth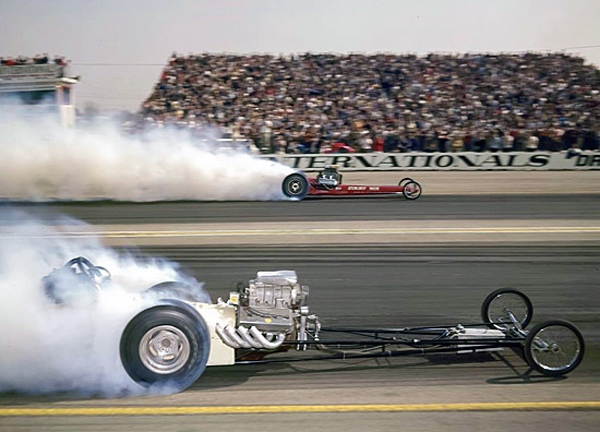 WCM against Jimmy Nix
WCM against Don Garlits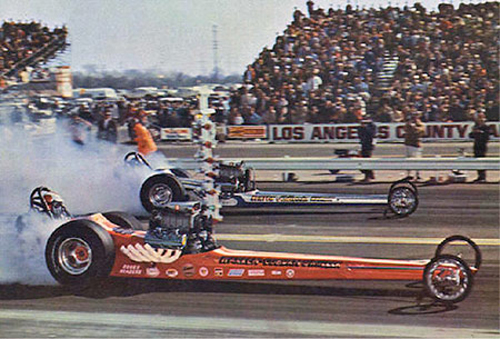 WCM against Creitz

WCM against Keeling and Clayton
WCM against Shirley Muldowney
WCM against Don Garlits
WCM far side against the Hawaiian
WC at Pomona 1964
WCM at Texas 1969>
WCM against Danny Ongais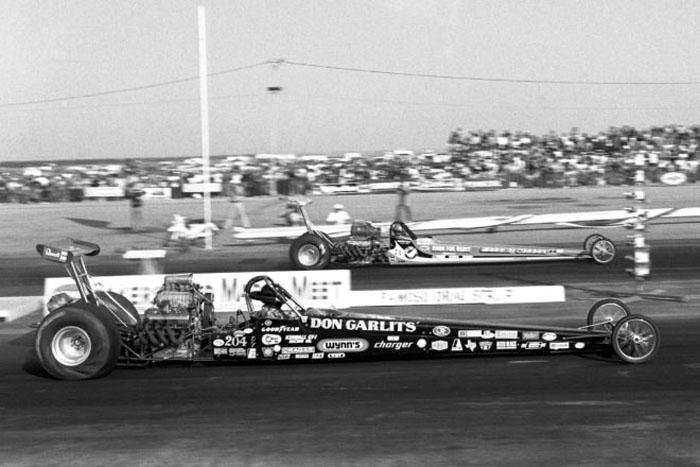 WCM against Don Garlits
Cacklefests at Bakersfield
1
2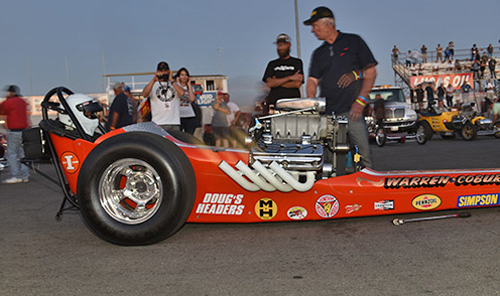 3
4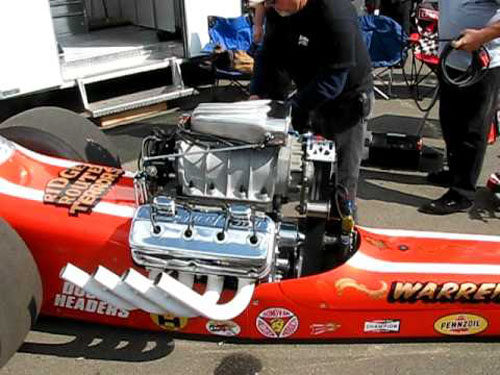 5
6
7
8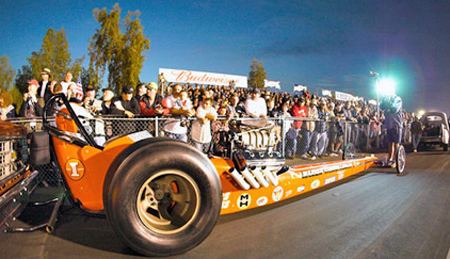 9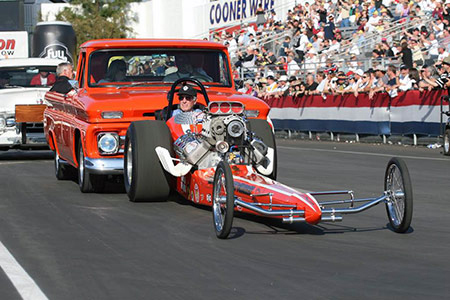 10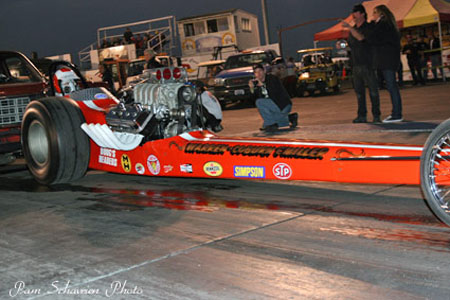 11
12
13
14
The cowl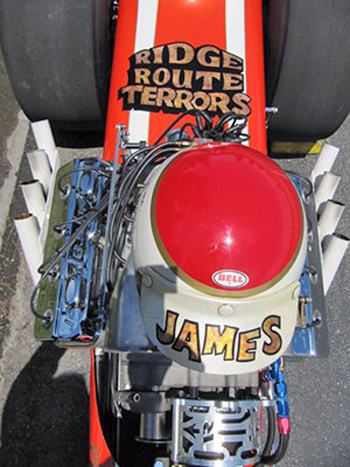 With helmet
Art
Art
The driver of a top fuel car is a lot like the quarterback on a football team, that is, he usually gets most of the credit for his teams success but he is the first one to admit that he couldn't do it alone. Such was the case with James Warren, the driver for one of the most famous teams in all of drag racing, the Warren, Coburn and Miller Top Fuel team, a team that was also known as the "Ridge Route Terrors." That name referred to the road that ran over the mountains between the San Joaquin valley and the Los Angeles basin and it was reported that when the team was seen towing down to race at the southern California tracks it struck terror in the hearts of all the other dragster teams.
James Warren began driving in the late 1950's but it wasn't on a drag strip, it was on the local dirt tracks around his California home, but it wouldn't be long before he was hitting the drag strips of California and visiting the winners circle at those tracks on a regular basis. With his partner, Roger Coburn, James drove a series of cars that ranged from a twin-engine car with one Chrysler and one Chevrolet engine, to a lightweight blown dragster that ran with the best of the California breed. When businessman Marvin Miller joined the duo he brought his company's sponsorship with him, and since Marvin ran a company that provided irrigation systems for the farmers in the Bakersfield area, the trio became know as the "Rain For Rent" team. Whatever you called them, the team of James Warren, Roger Coburn and Marvin Miller were winners wherever they raced.
That brings us to the subject car. Prior to 1968 Marvin Miller, who owned "Rain For Rent" had been a minor, somewhat silent partner with James and Roger. In '68 Marvin took a more active roll and ultimately stepped up and financed a full upgrade for the teams 1967 Woody car, Hanna body and better parts than the team had ever had. This was the first time Miller's name was actually on the car and his influence was evident as it was the nicest car they ever had ... period. It also ran as good at it looked. In 1970 the car got another shorty body and the full body was put in storage. The car with the full body was sold in 1971 to help finance their first rear engine car.
Forward by Don Ewald: The older we get the better we understand the Circle of Life. We don't like it but we know that's just how things work. Another downside of aging is the older you get the more family and friends you lose. Some of those losses, especially family, cut deep and then there are those who are part of our extended family - in our case, drag racing.
With that thought in mind, the passing of James Warren left a huge hole in our family... it cut deep. The most common response on hearing the news was, "I'm stunned". That was certainly my first thought. We knew he had a medical condition but did not know how bad it really was. Like someone said after his passing, "Roger has the car ready and needs his driver". I would like to think that is true.
There is one common thread when it comes to The Ridge Route Terrors - everyone who ever met them, raced them or read about them will say they were a "class act".
I not only had the pleasure of knowing Roger and James but racing them as well. When you staged with James you knew two things... he did not play games and more often than not beat you. He was as level as it gets. If he won or lost, at the end of the day he was the same guy.
Neither James or Roger wasted words. Both were soft spoken and not much for idle chatter. Thanks in part to the third "terror", Marvin Miller, these guys did their talking on the track. The team of Warren-Coburn-Miller have left the building but as long as drag racing history is maintained and carried on they will never be forgotten.
Some History: WCM was comprised of driver James Warren, tuner Roger Coburn, and later sponsor and partner Marvin Miller. In the mid-60's Miller, vice-president of the irrigation company, "Rain for Rent", made the decision to become involved in drag racing after he made a few trips to the famed Famoso track. He was bitten by the drag racing bug and started his search for a way to become involved. It didn't take long for him to come to the decision that where better to invest his money than with fellow Bakersfield racers Warren and Coburn. So the Warren, Coburn and Miller team was born with ever familiar "Ran for Rent" sponsorship painted on their great looking dragsters. They all hailed from Bakersfield, and had to make a three-hour tow over the San Gabriel Mountains on Highway 99 -- the famed Ridge Route -- to reach the mecca of Southern California dragstrips, which earned them the nickname "The Ridge Route Terrors." There are stories of other teams having spotters stationed at the end of the route to see which freeway the Terrors would take and what their destination might be so that the other teams could quickly head off to a different track, as far away from them as possible. No joke.
Warren originally had been a dirt track racer, and initially met the drag racing-oriented Coburn through Coburn's brother, with whom he had served in the armed forces, and in 1958 they had partnered and switched to the dragstrip with a twin-engine gas dragster. They ran in Top Fuel from 1964 through 1980, always with Coburn on wrenches, first with supercharged small-block Chevy engines then early Hemis and finally late-model Hemis. Miller owned the irrigation company Rain For Rent, which supplied Bakersfield farmers with portable water solutions, and became the team's major sponsor for years.
Warren, who was voted No. 38 on NHRA's list of Top 50 racers in 2001, was quick to credit his partner's role in his many successes. "I had a good car. We were a team for so many years that we knew what to do for each other. I knew what I needed, and Roger knew how to tune the car the way I liked to drive it. It just seemed like there was a combination there."
After a runner-up at the 1967 Nationals -- to Don Garlits, who famously shaved off his beard after winning – the team won their first of two NHRA national events the 1968 Winternationals, and also set low e.t. and top speed, 6.86 at 230 mph, in the first round. They also finished second that year in the Professional Dragster Association series behind Garlits.
Warren and Coburn were Division 7 Top Fuel champion five straight years, 1972 to 1976, and the Ridge Route Terrors were never tougher than at their hometrack, where they won the famed U.S. Fuel and Gas Championships three straight years, 1975-1977. The 1976 season was among their best. They opened with a runner-up at the Winternationals, won the Phoenix Winter Classic as one of only two cars in the fives, won an East/West race at Orange County Int'l Raceway, the U.S. Fuel and Gas title, and the Gatornationals, and finished fifth in NHRA points.
By 1979 James had grown tired of the constant thrash and expense to stay competitive as well as all the travel involved. So, along with the loss of Marvin Millers financial backing, James called it quits. This move was not only regretted by their many Bakersfield fans but by fans across California and the nation.
Coburn continued to race the car with Mark Prudhomme in the seat but the magic that existed between him and James wasn't there and he was never again successful, and by 1983 he too retired from racing.
Both James Warren and Roger Coburn have been inducted into the International Drag Racing Hall of Fame in Ocala, FL in recent years in recognition of their many accomplishments. James was inducted in 1992 as part of the first group of inductees and Roger followed a couple years later. As always the Bakersfield clan was there to back then up with a large group of them making the trip across the country to be on hand for the induction. They have also both been honorees at the California Hot Rod Reunion as well.
Created 1/27/19