R.I.P. Don Zabel
Don passedd away in May of 2017 and will be missed tremendously by many!
Don walking around the Chili Bowl
Don taking a pic of me
Don looking at cars?
Don at Ventura
Don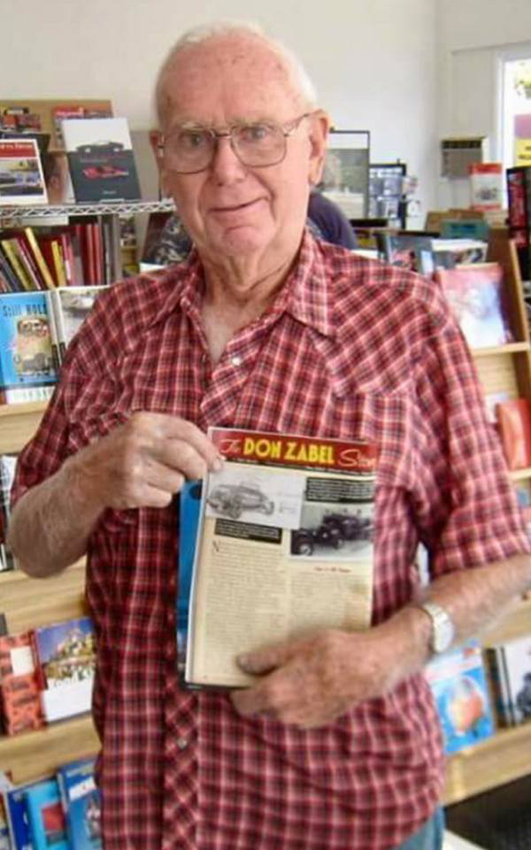 Don was featured in Rod and Custom magazine
Don and his truck
Don with AK Miller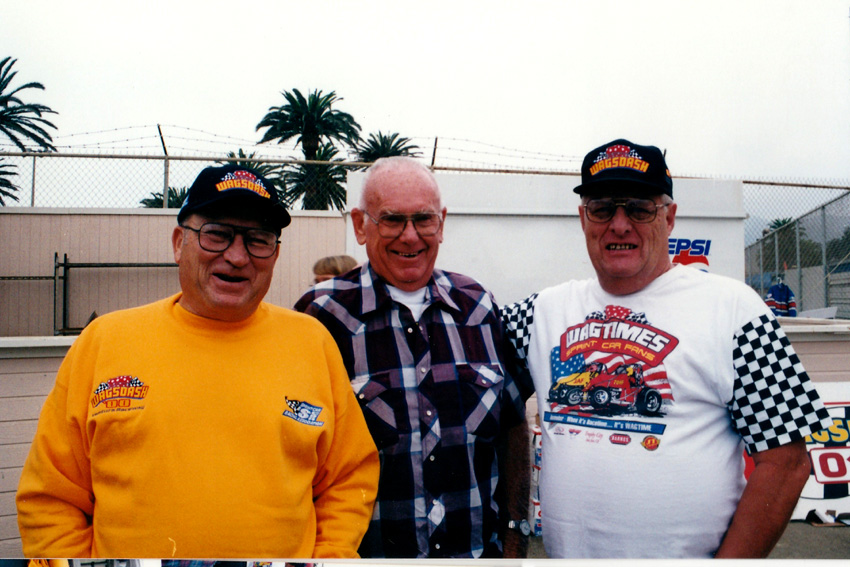 Don with Don Read and Lee Vodden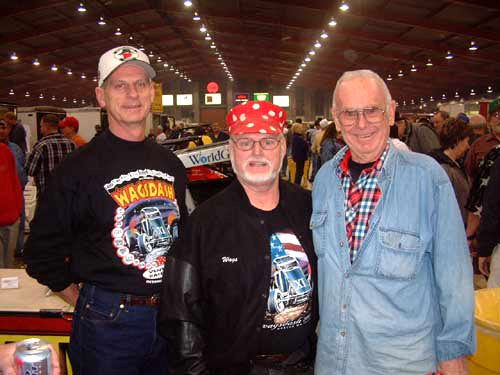 Don with Wags and Mike Clark
Don and his wife
Don at a Legends of Ascot affair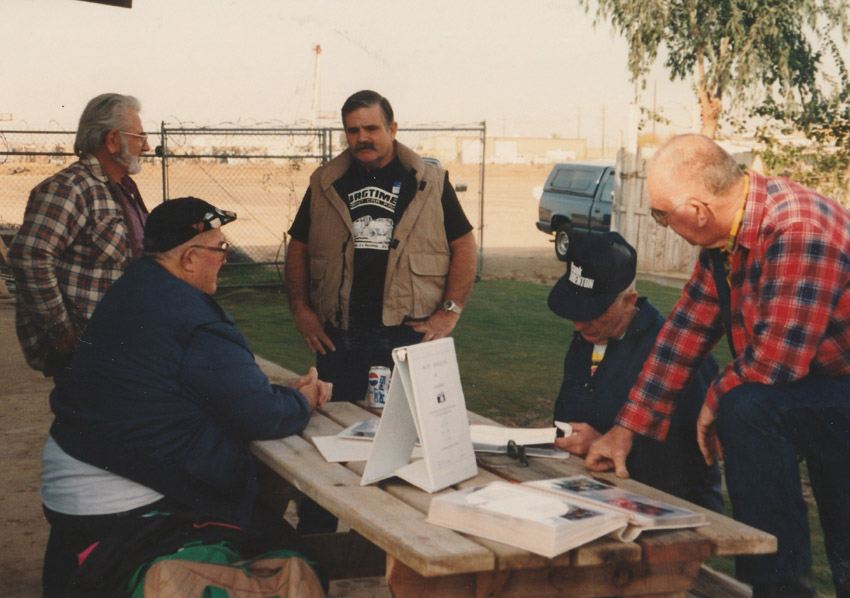 Don at Bakersfield with some Wagtimerrs



Don at the Wagsdash autographing session

Here is some of the story of Don: He was a charter member of the Trompers from Eagle Rock, CA which started in 1945, 3 years after I was born. He and his fellow car club members were into speed and the El Mirage was where they set their eyes on originally. He never lost his need for speed as I saw him at most of the CRA races over the years that I was attending, including the CRA tour races as well. He never missed a Wagsdash and was always a big supporter. He had a short period of not getting around well when he had his knees replaced about 20 years ago, but after that he was very young looking and acting until his death. His smile was always there as he always found me and handed me some Wagsbucks, chatted a while and was off to his seat to watch the races. He was very unique to have known me for 25 plus years and never mentioned his storied past, obviously he was not bragadotious at all! Being written up in Rod and Custom was a really big deal, and I had no clue! I am sorry I didn't get my last visit in with him before he passed. I considered him a friend and will miss him trmendously!
Don in his garage
Don
A young Don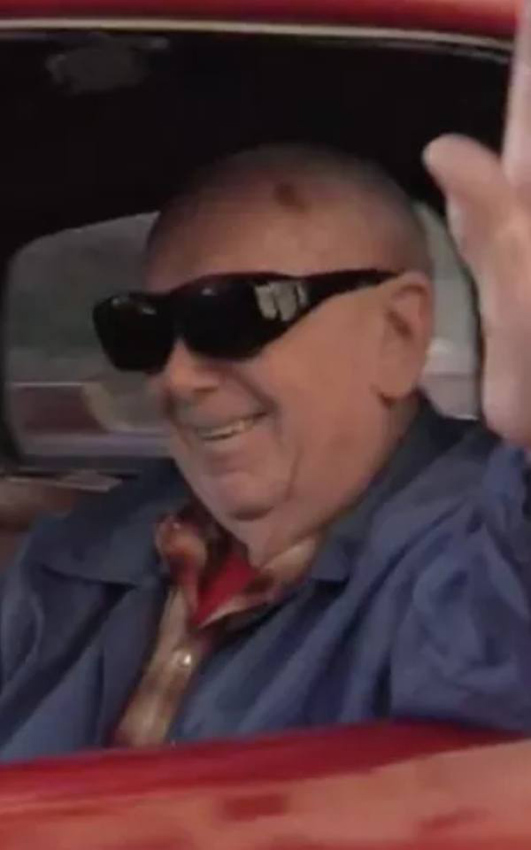 Don was famous in the hot rod world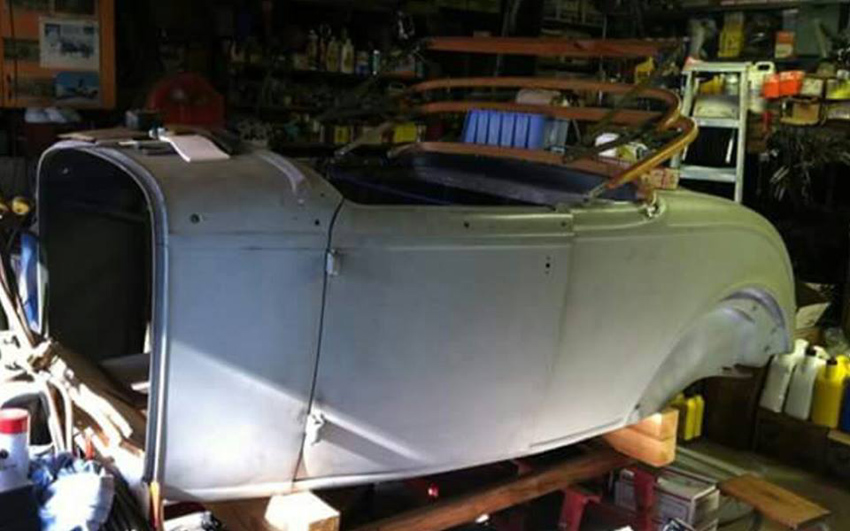 A car in waiting to be put together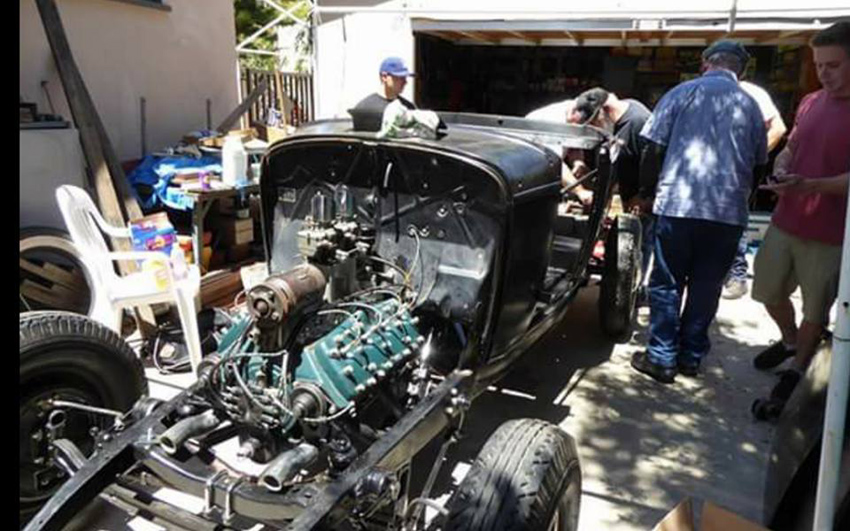 Don's Tromper friends assembling his car for him before he passed. They got it running for him to see
When Don's friends heard he was ill, they came and built his roadster project.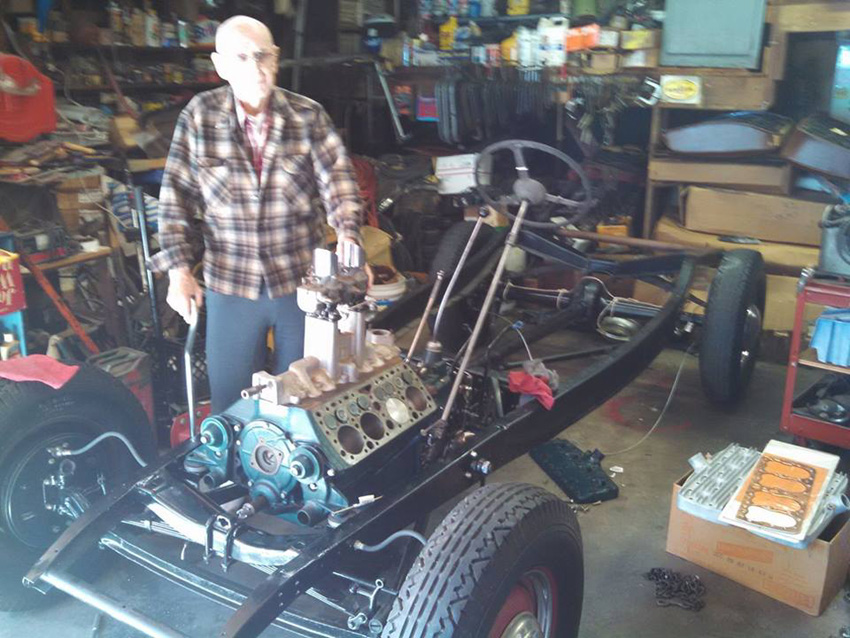 Don with his project car
Don with his car that his club friends put together for him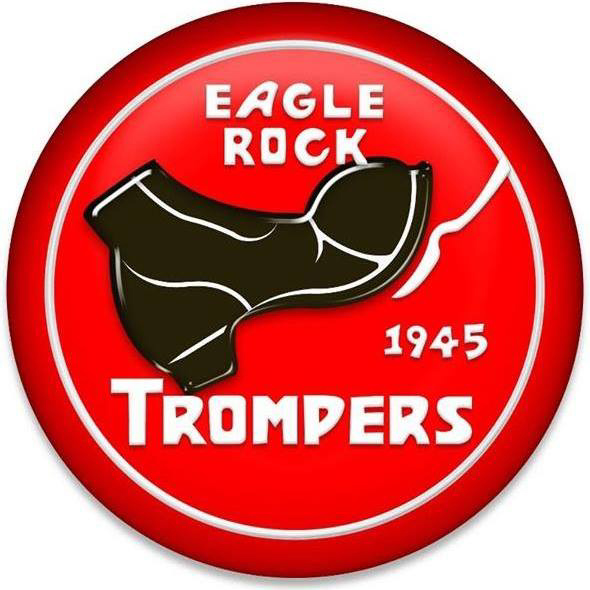 the club decal
The club patch
The club t-shirt
The club photo
John Gunderson the founder of the Trompers
Don with car club friends
Don at breakfast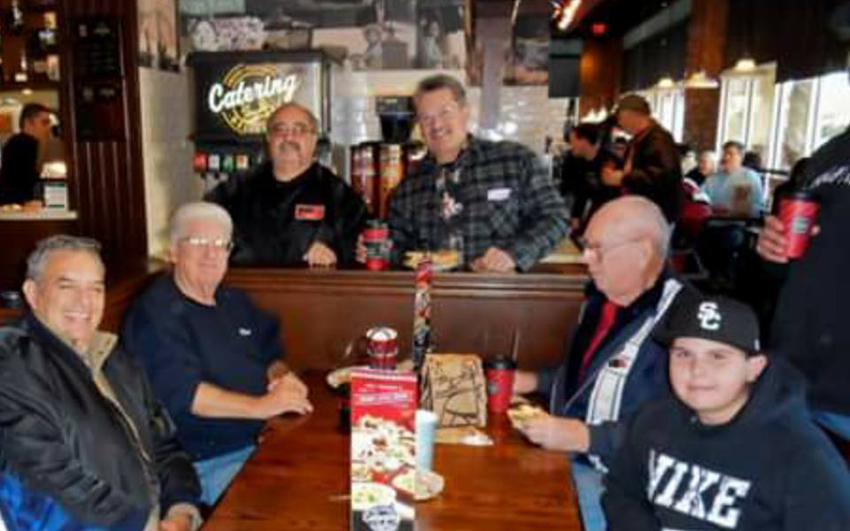 Another group photo
Don with more club friends
The Trompers with their peacoats and derby hats on. Don is the 3rd one from the left
A roadster
Shop truck
A nice hauler
Part of Rod & Custom story on Don
Don is the one on the right with glasses on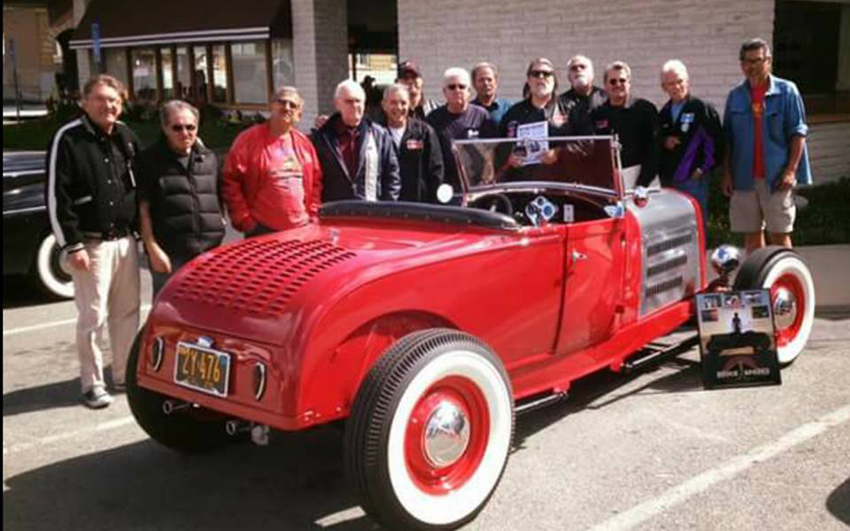 Another group photo
One of his businesses in the 50's
Don's ride to his resting place. The Ford decal was to honor his love of Fords
One of Don's cars
Another
Don's salt racer
another
Thats Don in the # 14 car against Jack Gardner. This picture is in his hands in the frame above.
Don in # 14
A sketch of a Don car My thanks to Lee Vodden who sent me pics of his history online which led me to find more and the stories about him.
The following article on the Trompers was published in the LA Times in February of 2014:
The Trompers logo is a thick boot on a throttle. To tromp the throttle is to put the pedal to the metal.
When the club was founded in 1945, it was all about speed. Young guys were buying old Fords and Chevys and souping up their engines. Teenagers raced on the streets, and on the tracks and on dry desert lake beds speed records got smashed week after week.
The first Trompers set their sights on the time trials held at El Mirage in the Mojave Desert. They were "a bunch of hot rodders, just a few guys in a driveway up the other end of Eagle Rock," said Don Zabel of Tujunga, an original member who at 86 still comes to meetings.
Together they raced, tinkered and took off on jaunts along the rough two-lane roads to Palm Springs. Sometimes they all wore peacoats and black derby hats.
It was fun for a bunch of years, until life intervened and the club faded away.Then in 2003, a modern-day Eagle Rock car nut was flipping through an old hot-rod book and came across a reference to the Trompers. He asked around. Original members were found. They gave their blessing to the club's revival.
Those who were Trompers from the beginning are, of course, older now. And the newer members are no spring chickens either — though there are plenty of advantages to that. Quite a few are retirees. They have time on their hands and money in their pockets to indulge their whims. Most own more than one old car — which keeps the Wednesday morning show-and-tell interesting.
Rich Carter, 66, a retired high school principal from Michigan, drives west with his wife each winter so they can be near their daughter. He's loved cars since he was a boy, and has a hot-rodded 1939 Ford he bought when he was 14. Finding the Trompers and experiencing Southern California car culture firsthand, he says, was the fulfillment of a lifelong fantasy — as was refurbishing a second classic car, a forest-green 1939 Ford Deluxe convertible with a seductively curvaceous front end.
"I'm one of those guys from the Midwest who read hot-rod books and just dreamed. And when I retired, the dream became a reality," he says. "Wednesday mornings, you get up out of bed. You put your Trompers shirt on, your Trompers hat and go have breakfast and have a great time."
The club president — 65-year-old Al Reyes of Duarte — often drives his 1933 Divco Helms Bakery truck to meetings, although he has three other old vehicles, including a 1936 Ford two-door slant-back with a tricked-out engine. Vasken Hagopian, 68, who says he's owned 100 cars over the years, converted a terrace in his Silver Lake backyard into a covered parking spot for six. Two more are at his mom's house in Hollywood. One's living with a friend of his in Lancaster.
Ask Kevin Preciado how many he has and, before he says 30, he grins and asks: "Why? You got a vacant spot?" It's loud inside Coco's, with all the reminiscing about drag racing and cars that got away and great times "going to the salt" for Bonneville Speed Week. Forks clank on plates of pancakes, bacon and eggs.
Reyes blows his two-tone Helms whistle to start the meeting. He welcomes "the girls" — a booth full of wives — and asks everyone to support the group by buying tickets for the weekly 50-50 raffle (in which they could win one of his wife Sandy's pineapple upside-down cakes).
Model A coupes, motorcycle races, upcoming shows, Rex Jaramillo's wife's knee surgery — members take turns talking. They swap stories of their early days just as, later on in the parking lot, they'll swap hard-to-find spare parts.
Mike Rickman, 70, talks about his late father, a legendary photographer for Hot Rod magazine. For years, Rickman went with him to all sorts of car races and gatherings. When Eric Rickman died in 2009, Mike Rickman says, he felt so lonely.
"I was looking for camaraderie and I found you guys. And it's been heaven ever since. No glum days, no bad days. It's just a breakfast party every Wednesday."
The back room at Coco's in Highland Park gets crowded Wednesday mornings. So does the parking lot, which can get embarrassing too.
Slip your Accord or Corolla into a spot and fight the urge to back out: It's as if you showed up at New York Fashion Week in a rumpled T-shirt and sweat pants.
Your generic sedan may be resigned to its dents and its dings. That's not the case with the lot's more distinguished occupants, so pristine they could be fresh off the assembly line.
Coupes, pickups and sedans from the 1920s and '30s. Roadsters shining as if dipped in nail polish. Hot rods so clean their engines gleam. But don't get the wrong idea.
Although members of Trompers of Eagle Rock car club baby their vintage cars, they also drive them — and have been known to race them. Their prized possessions, they say, are no "trailer queens" hauled from show to show just to be shown off.
The Trompers logo is a thick boot on a throttle. To tromp the throttle is to put the pedal to the metal.
Here is something I found out on the net and am reposting it. As I said before, I didn't have a clue on his early hot rod background, he was much more than I ever knew. Don't know the author of this piece, but he apparently knew him well.
"Yesterday we lost another hot rod pioneer with the passing of Don Zabel. He was 89 years old. Don was not only one of the best guys you could ever meet, he was also a great personal friend of the American Hot Rod Foundation.
Don was one of the founding members of the Eagle Rock Trompers and was, truly, the "real deal". He was hot rodding as early as one could in life and continued on as a successful USAC Sprint Car owner in the '50s, '60s, and '70s. All this while raising a family and running a successful service station near his home in the La Crescenta area.
He ran a '32 roadster on the street and at the lakes as a kid, he flew and serviced planes for our country during the war, and he continued to celebrate and involve himself in every aspect of hot rodding and auto racing until his last moment here. He was everything we envision when we think of what the character make up was of an early hot rodder.
We will miss this friendship and we will even miss his famous wise-cracking! It was only about a week ago that we visited Don and were greeted with a classic Zabel line... "Uh oh, I guess they'll let just about anybody in here". But, that was Don and that's how you knew he liked you. Always colorful, always entertaining, always smiling and laughing, but serious and loyal to his friends in an old-world way.
Because of his effect on so many of his fellow hot rodders who knew him, a team of truly good guys got together after hearing that Don was in failing health and decided to put the deuce roadster of Don's back together for him that he'd had in pieces in his garage for decades. We're happy to report that Don was able to see it as a running and driveable car just before he passed.
Although it can sometimes take a personality like Don's to inspire such action, it is definitely an example of what our community is all about. As we got to stand on the periphery of this while it was happening, we were able to document a little of it and will be sharing that with you during the next few days.
Godspeed to you, Don
Updated 6/1/18

All photos &copy 2017 Mr. Wags Photos