se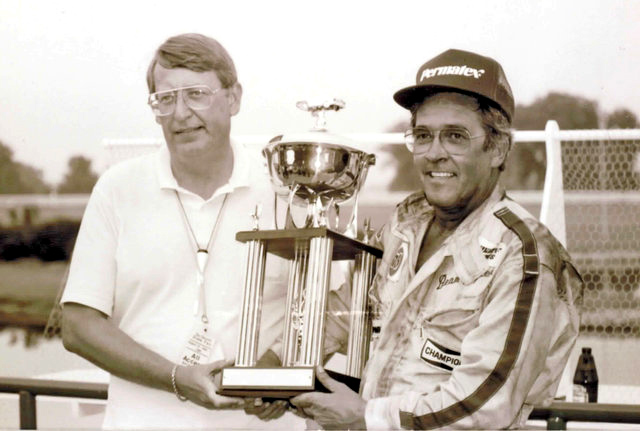 (RIP) Dean Roper
Dean ARCA's "Dean of the Dirt"
Dean and his son Tony with Bob Brevak stand by the wall at Walt Disney World
Dean and Wags at the Chili Bowl when we reunited
Dean with Jim Van Nata, Bogan and Wags at Wichita CRA race
Dean
Dean at Eldora with Butch Hartman and Ramo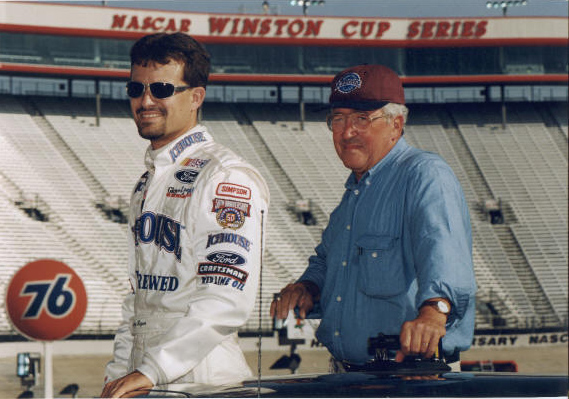 Dean and his son Tony
Dean
1982 USAC Banquet KO, Dean Roper, George Snider, Sheldon Kinser, Kenny Schrader.
Dean with Kenny Schrader after winning the late model championship at Lake Hill Speedway
Dean, 4th from the left, winning his 3rd straight USAC stock car championship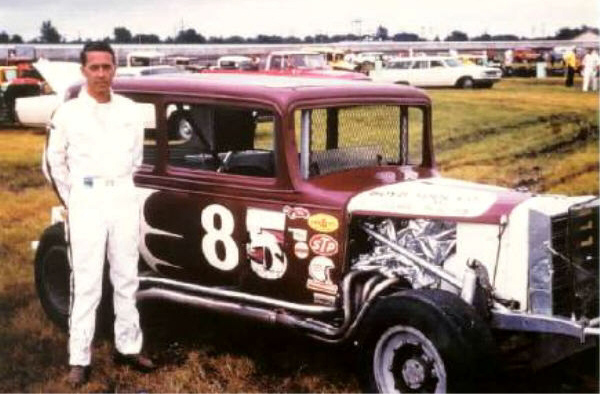 Dean in 1968
Dean with # 99
# 10
# 10
# 10
# 50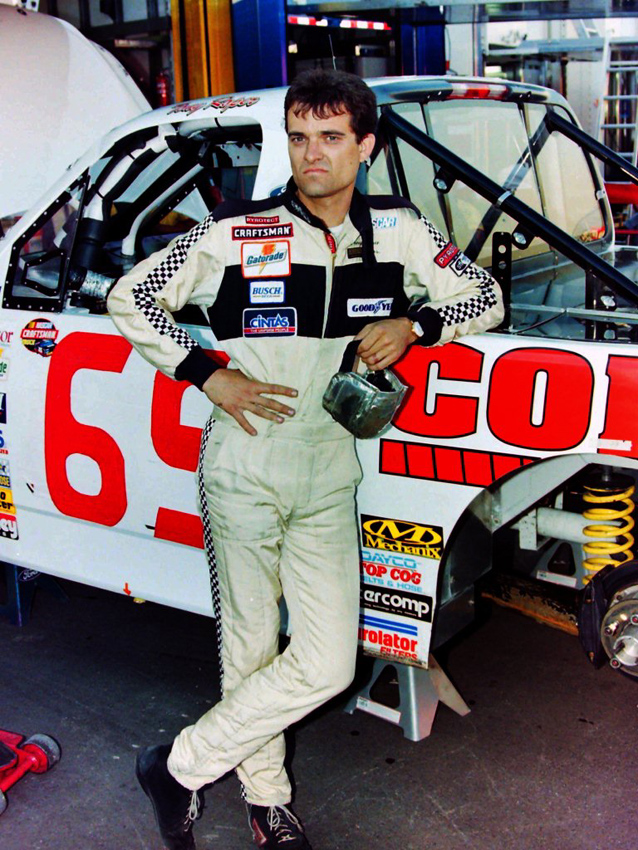 Dean's son Tony

Dean chasing Pat Woodward and Dennis Action at the 1968 Hutcheson Nationals
(top) Dean and his ride (middle) his car and crew and (bottom) racing against Dick Trickle
# 94
# 89
# 89
Dean on June 5, 1983 after winning the USAC/ARCA sanctioned Texaco-Lomax Piggyback American 100 on the Springfield Mile
Dean at speed in the race above
# 89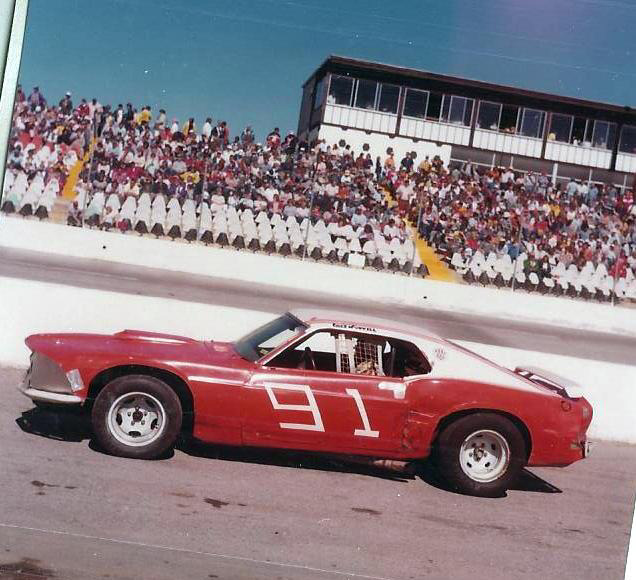 # 91 in 1979
# 10 twice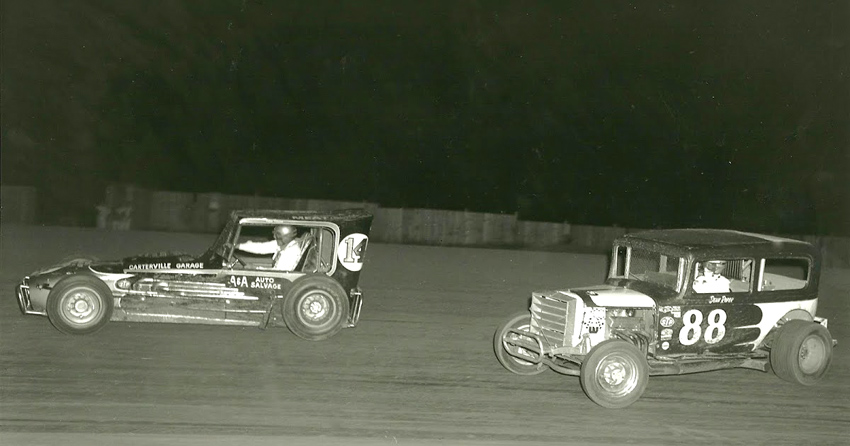 # 88
# 88 Dean on the outside of Dale McDanial in a super modified race at Joplin's Ozark Speedway
# 88 against Gene Paddock in 1968
Dennis Action leading Pat Woodard and Dean Roper # 85 at Hutcheson Nationals 1968

Dean running 2nd in this line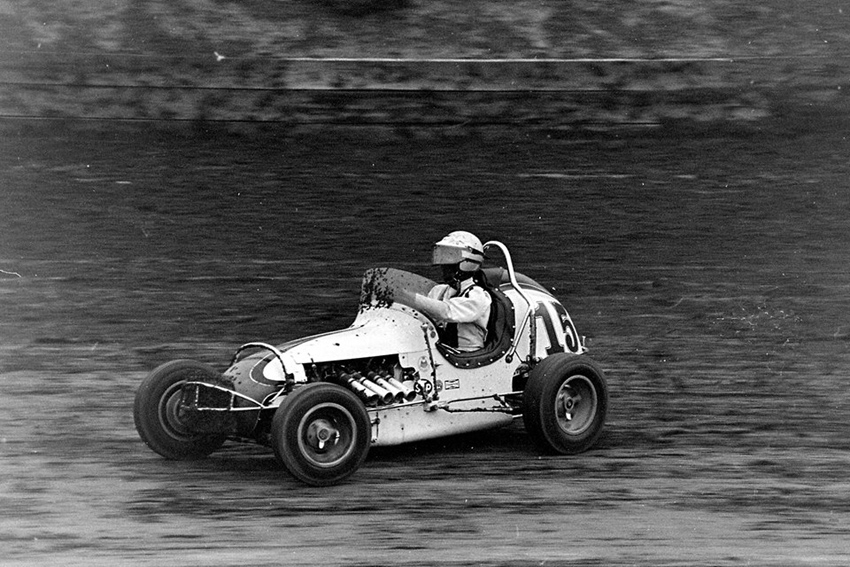 # 15 - the only pic I could find of Dean in an open wheel midget. It was July 18, 1969 at Springfield Speedway
Dean's logo?
FONT>
I met Dean when I went to work at a Lincoln dealer in Springfield, Mo when I was newly married the first time and was multitasking doing school, drag racing and just trying to grow up. I was making $.50 an hour at the local Ford dealer, but shopped for the $1.00 and hour I got at the Lincoln dealer where he was the parts manager. I got to know Dean real well real fast as we were togeather talking racing most of every day. I knew all about Dean as I had seen him run the local fairgrounds where I went on Friday nights to the weekly stock car races with my father-in-law who was a former racer. Dean was pretty impressive but his Super Modified skills had him running that division alot as well. I went to see him race in Joplin and then built a model of his race car. When I presented it to him, he was impressed because as he said, no one else had a model of their car. Remember there were very few model kits in those days and none of race cars yet. Since I built a lot of custom cars and race cars from scratch, it was pretty easy for me. I entered all my cars in local contests and usually won the top prize. That partly because I made unique cars and had a friend in the body shop who sprayed them for me with auto paint instead of the spray cans of the day that was impossible to make anything look good. In fact Dean's car won the grand prize the only time I entered it before I gave it to him. Anyway, from that point on I followed his career thru the years. I left that dealership a year or so later and moved back to California.
Many years later, and after I had moved to Tulsa, OK and married Mrs Wags and moved back to California, I saw him at the Chili Bowl wandering the pits. He recognized me and we had a good visit. He was already retired from active racing but still drove when he could because he loved it. He got on the Wagtimes mailing list and we stayed in touch. While I was on a CRA Tour in the midwest in 2001, he showed up at Wichita 81 speedway while we were there and surprised me! He told me he was having some heart problems but had it under control. His wife didn't want him racing, but he still was driving when he could smooth talk her into letting him. He had lost his son Tony to a crash in a Truck stock car race in Texas a few months before this time and was very remorseful, as he said it took a lot out of him. His wife didn't know he came to our race, but he smiled and said he would come see the CRA race again. He said he had a race at the Illinois State Fairgrounds next and would see us after that. That was the last time I saw him as he had a heart attack while racing that day and was dead before the car stopped. The story below I took off the internet and it is a success story of a great driver most of my friends never heard of. I miss getting to visit with him because he was good for me back in the day and gave me encouragement that worked for me about my goals.
The following story on Dean is from the internet and is a good read:
Before there was the dominance of Frank Kimmel on the dirt, there was Fair Grove, Missouri's Dean Roper, affectionately known to many as ARCA's "Dean" of the dirt. Over a career that bridged the transition from USAC to ARCA at the State Fair championship stock car races, Roper won the Southern Illinois 100 at the DuQuoin State Fairgrounds five times, the Allen Crowe 100 at the Illinois State Fairgrounds four times, one at the Indiana State Fairgrounds and another at the Terre Haute Action Track, the only ARCA race ever sanctioned at the half-mile western Indiana dirt track.
There were also some years that Springfield and DuQuoin hosted a second stock car race…he won those too at Springfield in '81, '82 and '83 and one at DuQuoin in '83. Roper's last ARCA win came at DuQuoin in 1994 at 56 years, giving him the distinction of being the second oldest ARCA winner in history at that time. Iggy Katona, who had won the '74 Daytona ARCA 200 at 57, was a year older. Since, Ken Schrader is now the oldest ARCA winner at 59. That makes Roper third all-time in the aforementioned category.
Most of Roper's stock car success came at the hands of the Mueller Brothers, Tom and Jerry, who fielded Roper's stock cars since the late 70s. And it was, right from the start, a potent combination that produced three consecutive USAC Stock Car national championships in '81, '82 and '83. It was also in '82 when Roper first steered a Mueller Brothers Pontiac to victory lane in ARCA competition at Terre Haute. Roper also won on the Milwaukee mile in a co-sanctioned ARCA-USAC event that same year.
In an interview Roper gave arcaracing.com in 2000, he said, "ARCA is so much tougher than it used to be. There's more money in the series now, and you've got to have plenty of it to run up front. If we can put together enough horsepower, I feel that, with any luck, we can win. But if we don't, I've had a great career, and I'm still having one thanks to the Mueller Brothers who have stuck by me through the bad times and the good. I owe my career to them, and amazingly, they still haven't given up on me."
Roper began his racing career in go-karts in 1958 before he moved into the supermodified and midget ranks in the early 60s where he first established himself as a contender. "We won our first track championship in the old supermodified division in Joplin, Missouri in '68," Roper continued. "Then we moved up into the late model class and began winning there and won a track championship at Lake Hill Speedway in '71. That was on the pavement. I remember the year because it was the same year that this skinny 16 year-old kid by the name of Kenny Schrader started racing in our area. Then I was lucky enough to get hooked up with the Mueller brothers in '76 or '77, and we've been racing together and winning together ever since."
Roper's connection with the Mueller brothers also includes a few NASCAR Sprint Cup Series starts including two starts in the Daytona 500, the former Firecracker 400 at Daytona, as well as a couple at Talladega. According the Tom Mueller, it was the Mueller Brothers that first introduced the idea of renting a ride in NASCAR Sprint Cup competition. "Jim Sauter qualified our car into the '88 Daytona 500 through one of the 125-milers," said Tom Mueller. "Michael Waltrip, who was sponsored by Country Time Lemonade, didn't make the race. And all the while there was a bunch of Country Time corporate executives at a dinner party down in Orlando waiting to see where the Country Time car was going to start in the race. Well, Michael didn't make it so we went to them, told them we'd paint Country Time on the car, and for X amount of dollars, Sauter would sit out and Waltrip could race the car. We cut a deal on a handshake and had to go find Michael who was already packing up to go home. Anyway, I'd have to check the record, but I think Michael finished in the top-20 or thereabouts. But we gave Michael his initial start and we were the first to introduce that concept of renting a ride in Cup." Buddy Baker, Joe Ruttman, Rodney Combs and the late Alan Kulwicki are some of the other drivers who have driven Mueller Brothers equipment.
Just a week before Roper's final ride at Springfield in 2001, Tom Mueller said, "If we can give Dean the car it takes to win, I know he can still do it. Nobody can run the dirt miles like he can. You watch the rookies come off the corners and they're all standing on it, sliding high and sideways. Then you watch Roper come off the corner with the car nice and tight against the bottom easing into the throttle with the perfect finesse, and you can appreciate his ability." Roper and the Mueller Brothers entered the 2001 Allen Crowe 100 at Springfield. It was August 19. ARCAracing.com interviewed Roper a couple weeks before the race.
Article from Springfield, Mo paper 1938 - 2001 Veteran ARCA stock car driver Dean Roper suffered a fatal heart attack during the ARCA RE/MAX Series PAR-A-DICE 100 at the mile dirt Illinois State Fairgrounds and was pronounced dead at Memorial Medical Center in Springfield Sunday afternoon, according to Susan Boone, Sangamon County Coroner. Roper suffered no other injuries in the single car incident during which his Ford slowed on the frontstretch, gradually veered to the left and impacted the inside retaining wall three times on lap 17 of the race, finally stopping when the car impacted the wall at the pit road exit. Roper, unconscious when safety teams arrived, was extricated and transported to Memorial Medical Center, where he was pronounced dead. Roper, 62, from Fair Grove Missouri, was the USAC Stock national champion driver in 1981-82-83 and recorded 10 career USAC Stock victories. He was the winningest active ARCA RE/MAX Series driver on dirt with 9 career victories, including 3 at the Springfield mile, where he also recorded 4 of his USAC wins. He became the 2nd oldest driver to record an ARCA RE/MAX Series victory when he won at DuQuoin State Fairgrounds in 1994 at age 55. The majority of Roper's success came at the wheel of stock cars fielded by the Mueller Brothers Racing Team of Random Lake Wisconsin, for whom he was driving Sunday. Roper drove his first race in 1960 and was a 5-time St. Louis-area short track champion from 1967-73 prior to his national championship racing success. Roper is survived by his wife Marilyn and brother Dale Roper, both of whom were at the track on Sunday, and mother Jean Roper and sisters Lois Davis, Becky Farmer, Jeri Roper, Sue Roper and Jana Setzer. Roper's son, race driver Tony Roper, was fatally injured in a NASCAR Craftsman Truck Series race in October 2000 at Texas Motor Speedway.
Updated 5/29/18