Burkholder Brothers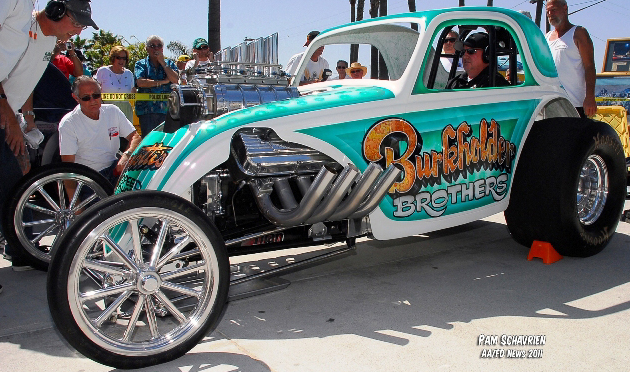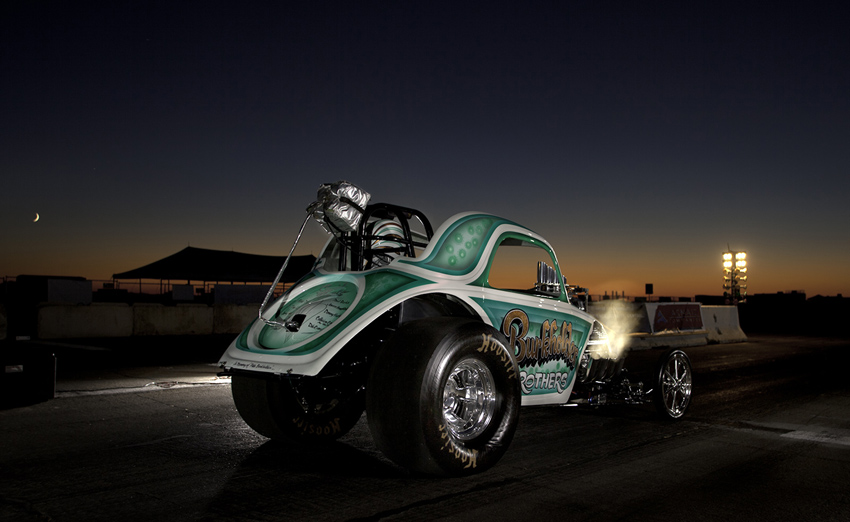 This car set the National record in 1971 at 7.06 at 205.94 mph at OCIR
Chute out against the Nanook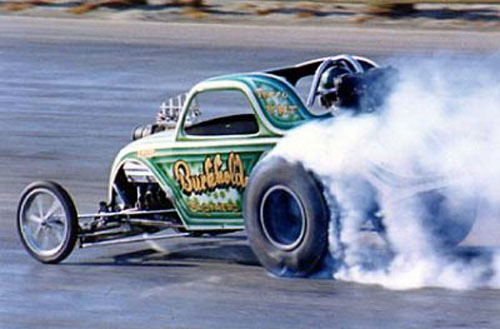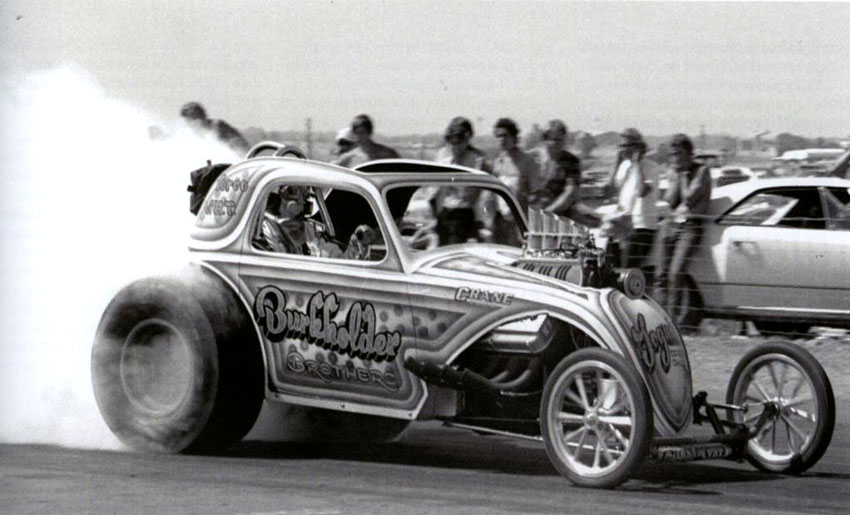 Early Burkholder cars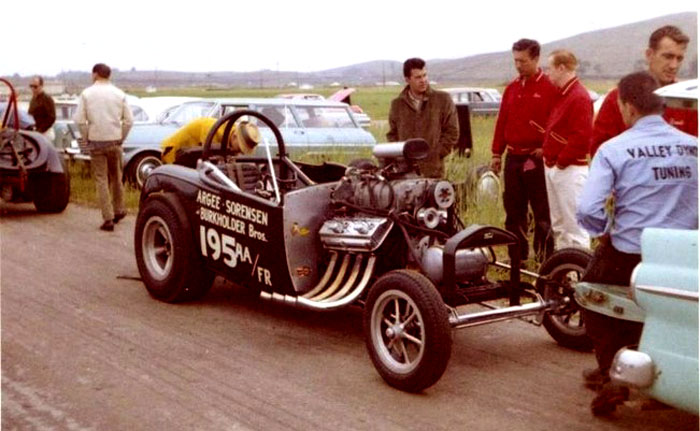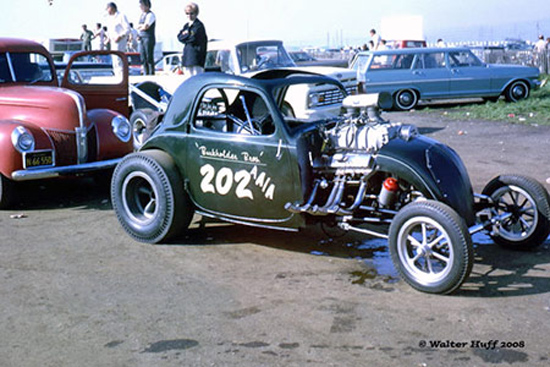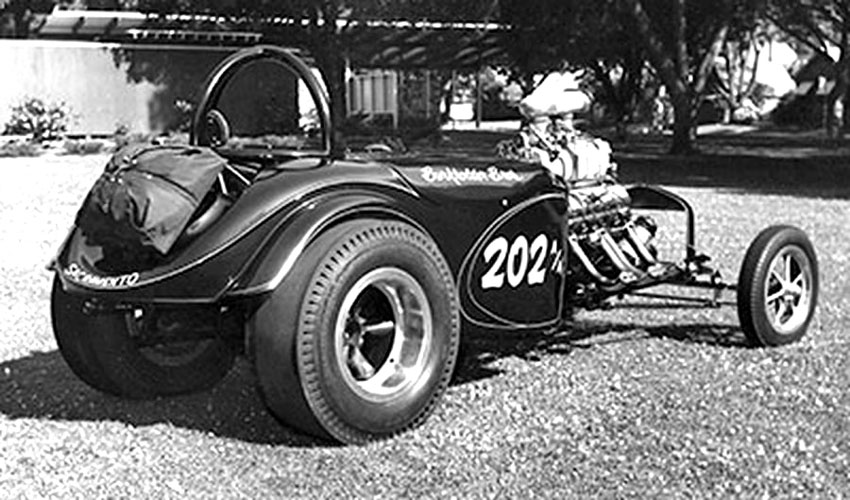 Cacklefest at Bakersfield
# 1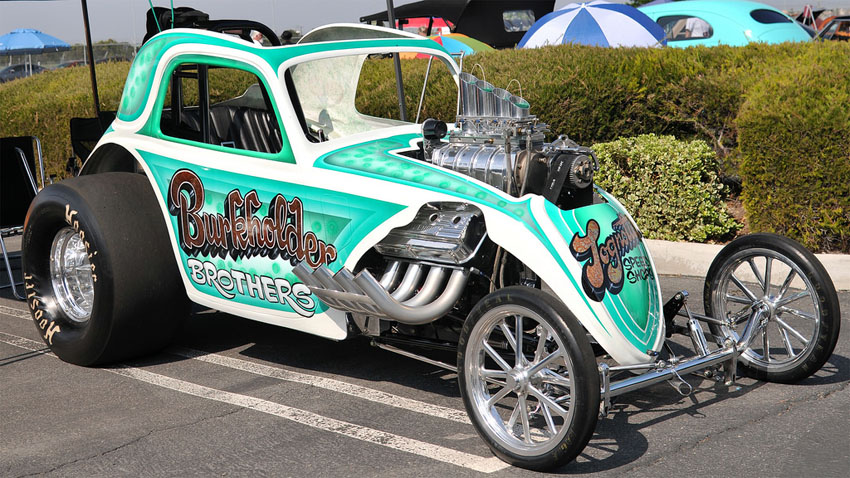 # 2
# 3
# 4
# 5
# 6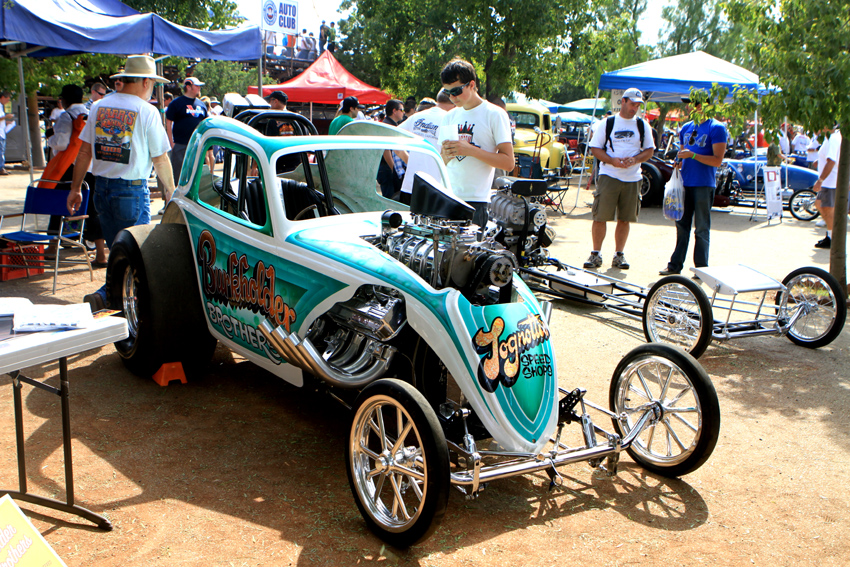 # 7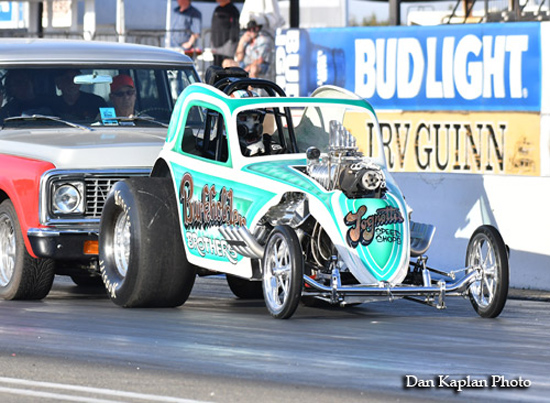 # 8
# 9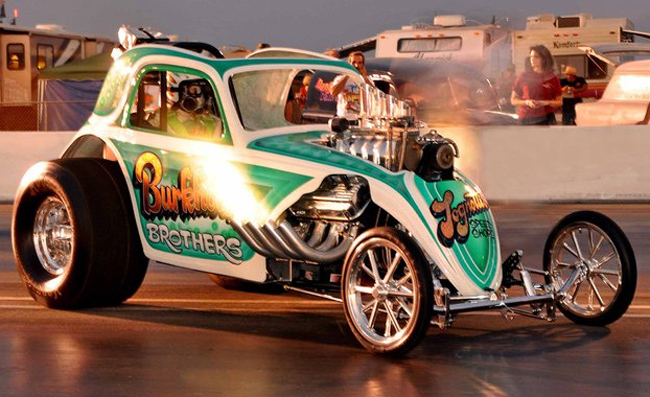 # 10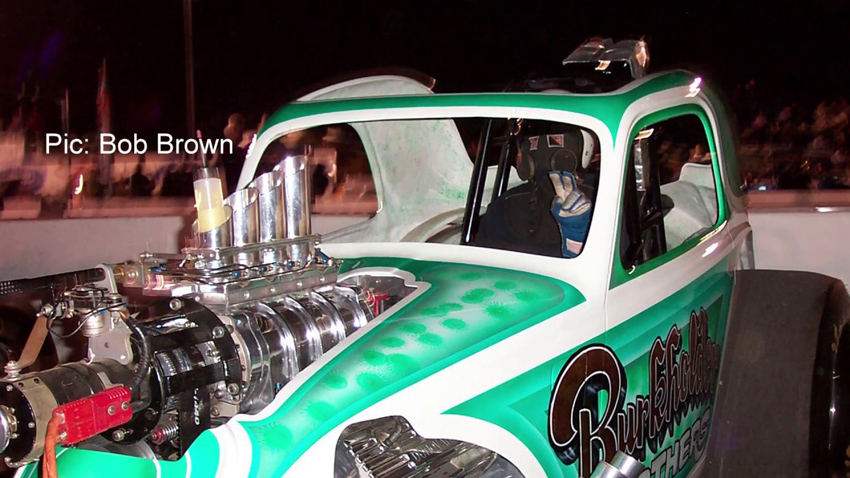 # 11
# 12 in construction before paint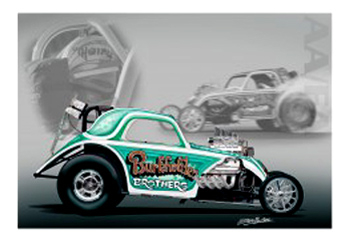 Art
Poster
T-shirt art
The story of Pete and Harry Burkholder began in the sleepy lumber town of Yreka, California. Pete was born in 1939 and Harry, one year later. Five months after Harry arrived in 1940, the family relocated to a small flat in downtown Sacramento. An older cousin, Bob Zetz, also lived in the building, and Bob was a big street rod and dry lakes racer. It was Zetz, along with his buddy Joe Radan, that got Pete and Harry interested in cars and hot rods. Through Joe and Bob, the brothers got to know members of the legendary Thunderbolt Car Club-guys like Don Argee, Lawrence Brocchini, Ed Cortopassi ("The Glass Slipper"), Dick Bertolucci, and Harold Bagdasarian. It was a formative time in Pete and Harry's young life, and their association with some of the "Thunderbirds" would be pivotal in shaping the direction they would go. From then on, all the brothers wanted to do was build hot rods and race.
By the time they were teenagers, they both had jobs working at a neighborhood gas station. Harry recalls their coming of age during that era of hot rods and cruisin' main street; "Pete and I went to Sacramento High School, but neither of us took any automotive school classes there. However, we both worked after school at Ed Smith's Shell station on 23rd and F St. We did it, mainly, to be able to work on our cars. Pete's real passion was painting cars and he soon got a job prepping and painting automobiles at the Wion Brothers Body Shop. His first car was a 1940 Ford coupe powered by an Oldsmobile engine; a real beauty that he entered into the Sacramento Autorama. My first car was a '41 Ford I bought when I was only 14 years old. I fixed it up-had it painted and upholstered before I was old enough to get my driver's license. Like many hot rodders back then, we were just a couple of self-taught kids. I worked on many of my friends' cars doing Olds engine swaps in their old Fords. When we started racing, I did all the design and engine work and Pete did all the fabrication and painting. We spent our evenings hanging out at the local drive-ins and cruising Sacramento's K St."
When Harry lost his driver's license from too many speeding tickets, the idea of building a car just for racing came to be. Pete and Harry rented a garage in downtown Sacramento from car show impresario Harold Bagdasarian (Sacramento Autorama car show) and the brothers set about building the first of what would be a long line of short wheel-based altered coupes and roadsters. That first altered would come from a beautiful '34 Ford coupe that they cut up. The chopped and channeled body was set over a pair of Model A rails given to them by cousin Bob Zetz and Joe Radan. The engine was out of a '54 Olds that Pete had totaled--the result of an accident on a rainy night's drive home from work. The 354 cid Olds was bored .030 over with a 3/8" stroker crank and boxed steel rods. With a Vertex mag, 6:71 GMC blower, and Hilborn injectors, this gas altered coupe was a menace for the competition from the time it hit the strips in February 1959.
Pete, by now an experienced body and paint guy, kept the gas altered in fine trim while Harry did the engine and chassis work. Harry did the driving, but Pete, being older, also wanted to take a crack at it. It was late 1961 and they were racing at Vaca Valley's weekly event. Harry recalls the day with clarity, "I knew Pete wanted to try some runs. So, after qualifying the car at 144 mph, I told my brother it was his turn. We did a few practice starts on the backstretch and everything went OK. He made a good pass at 142 mph, but the war surplus chute failed to deploy. The globe valve fuel shutoff did not have a 90-degree stop and did not completely close. Pete sailed off the end of the strip on the big-banked turn and flipped three times before landing on his head. It was a damned good thing it did not go over one more time as I do not think it would have stayed in one piece. The moral of the story? If you want to build a better race car, put your brother in one and crash it." That was the end of the first altered and Pete's driving career. However, before Pete's accident, the "Flyin' Fox" was a regular at all the local tracks like Kingdon, VacaValley, Redding, and later, Fremont, competing in AA/A, eventually running a best of 9.90 at 150mph.
There were several versions of the second AA/A that Pete and Harry campaigned between 1962 and 1967. Harry designed and built the car, and Pete did the body and paint with his usual aplomb .The car was easily recognized by its large radius roll bar and leading arm torsion bar suspension. NHRA still required steel bodies on the altereds, so Pete and Harry decided to use a Fiat body. They located one in such good shape that the doors still opened. They took the engine out of the deceased '34 Ford coupe and put it in the Fiat, eventually getting down to 9.30 at mid-150s. At the time, Pete was working for Aerojet General, which was building engines for the space program. Harry, who had just married, was working for Proctor & Gamble, or "the soap factory" as he called it. They now had the resources to assemble what they called the "monster motor".
Starting with the 394 cid Olds block, Harry installed a huge 5/8" stoker crank with Mickey Thompson aluminum rods and homemade (with a little help from Aerojet ) 4-bolt main caps. While the "monster motor" was being assembled, Pete and Harry joined up with another local team to race a fuel altered. In 1962, Drag News, the most popular weekly drag racing publication at the time, created a Junior Mr. Eliminator List for gas and fuel altered roadsters and coupes. Well known Sacramento racers Don Argee and Lawrence Brocchini were automatically voted No.2 onto the initial list. But, Argee and Brocchini had sold their '27 T roadster and did not have a race car to match race. Teamed up with Pete and Harry, Don Argee put his blown Chrysler engine into the Burkholder's chassis and Pete outfitted it with a '27 Ford roadster body. The car set a Standard 1320 record for fuel altered roadster of 170.77 in December 1962. It also won #3 Eliminator at the 1963 March Meet, and retained the Junior Mr. Eliminator number two spot as Argee-Sorenson (Don)-Burkholder Bros. for most of 1963.
The team disbanded in 1964 right around the time Pete was drafted into the army. Harry continued to race the Fiat on a limited basis while his brother was in the army. While completing his military service Pete's enthusiasm for drag racing started to wane. He even talked about selling out so he could buy a Corvette to drive across the country after he got out of the service. But, when Pete found out that Harry had set a new track AA/A record at Fremont (157 mph) all such talk about quitting racing dissipated. Invigorated, Pete now could not wait to be discharged and get back out to the drag strip.
The next rendition (number 3) of the altered was built as a roadster instead of a coupe. NHRA finally allowed fiberglass bodies, so Pete and Harry put a Bantam body on their chassis stuffed tight with the "monster" Olds engine. They named it "Outcast" because at the time NHRA was not sure what they wanted to do with the altered classes and a lot of the teams just felt like that-outcasts. Pete was back home from the army and working at Aerojet General again. AJ had fabulous machining facilities and let the brothers use their shop to build a trick set of heads for the Olds engine. The heads were furnace brazed in the exhaust port area, enlarging and separating the paired center ports into matched exhausts. Likewise, Harry was allowed to use P&G's machine shop after work to make 1/8" offset valve guides so the larger valves could fit. It took many hours of grinding to make everything clear, but in the end, the hefty Olds had the lungs it needed to flex its muscles.
The "Outcast" started out running AA/A on gasoline, but now and then Pete and Harry got the itch to try a more potent combination. Fuel altered racing was becoming extremely popular, so the brothers decided to pour in some alcohol and see if they could make some of those 16-car shows Fremont was hosting. With methanol and 10% nitromethane in the tank, that big hefty 470 cid Olds engine purred like a lion after dinner. The Bantam qualified for every race they entered and went several rounds most of the time. Nevertheless, it was time to move forward. So, after five years of racing, Pete and Harry sold the chassis and Bantam body.
By 1967, the fuel altered class was beginning to gain notoriety and legions of fans. Tracks like Lions, Irwindale, OCIR , and Carlsbad were regularly booking 8 and 16 car fuel altered shows at their tracks. The brothers decided it was time to move up, drive down, and mix it up with the "big boys" from SoCal. With that in mind, Harry built an100 inch chrome moly chassis with leading arm Halibrand torsion bars (like the ones originally designed for sprint cars).
Constructed in his two car garage, the "homemade" chassis needed to be certified by a professional chassis designer. This was done by none other than Don Garlits while both were waiting in the tech line at the '68 March Meet. The hand-formed aluminum shell was unique in that it consisted of two '23 T roadster bodies joined to create a touring style look. Pete applied a pearl yellow finish, and with the "monster" Olds engine, won an Outstanding Competition Car award at the '68 Sacramento Autorama. Sponsorships came in from Tognotti's Speed Shop, (now Pete's employer), Simpson, Crane Cams, and Hays Clutches. They also got help from Valley Ring & Rebore and Harry Lynis and his "Heads by Hal."
Pete and Harry raced the '23 T for two years, mostly on gas, but occasionally on a10% nitro/alcohol cocktail. It was a consistent mid seven second runner and recorded a top speed of 202 mph. The highlight of the car's tenure on the strip was a final round appearance against Willie Borsch and "The Winged Express" at Irwindale in 1969. It took everything Borsch could muster up to barely edge out the Burkholder Bros. that night at "The Dale."
Pete and Harry were finding themselves running more and more in the Southland as 1969 wore on. If they could "go rounds" with a big Olds engine on low nitro percentages, they certainly could do better with a hemi on a big dose of nitro. Harry went to work assembling their first hemi-powered fuel altered. Starting with a 392 cid Chrysler block, Harry had it bored .030 over with a 3/8 stroker crank by Valley Ring in Sacramento. A Crane cam, Howard rods, Hampton blower, and Hilborn 4 port/ manifold system provided the finishing touches on the engine. When NHRA allocated the fuel altereds to its Competition Eliminator class, they were put at a disadvantage. It was extremely tough matching up with a Gasser running an automatic transmission and a two second head start. Therefore, match racing and all fuel altered shows came to be the events to race. However, tracks like Fremont and Sacramento in the north, OCIR and Irwindale in the south cooperated by offering up many all fuel altered shows in the early 1970s.
It was at one of these shows that Harry earned his nickname of "Hairy " by Drag Racing Magazine writer Henry Walther. Participating at a race at Fremont, the car launched hard and straight, broke a spider gear in the rear end, and began dirt tracking across the grass between the strip and fire up road. Captured on film by the Jackson Bros., an embarrassed Harry finally got the altered under control, and idled back to the pits directly in front of several startled fans. Before it was retired in 1971, the touring T won the 1970 March Meet , beating "Nanook" in the semis and Mike Sullivan in the final. Pete and Harry also went on tour that year, defeating Willie Borsch and "The Winged Express" at La Place, Louisiana, and Charlie Smith three straight at Tulsa.
Clutch systems were improving in the early 1970s and between round maintenance on the race cars was becoming more demanding. Pete wanted a "flip up" body style to make it easier to access the clutch can, much to the chagrin of Hairy who loved driving his '23 T roadster. The body and paint guy (Pete) won out and a Fiat body was substituted for the '23 T in 1971. The Fiat would be the last of the famed altereds built by the Burkholder Bros. The best performance for the Fiat came at a race in 1971 at OCIR. Going into this event, there was a lot of pre-race chatter about this race giving up the first six second run for a fuel altered. That night, Pete and Harry set the record at 7.06 seconds at 205.94 mph. However, they lost the final to Miko Yoshioka on a hole shot (7.15 to 7.14), a memory that still galls Hairy. In 1973, the Burkholder Bros. sold the Fiat. At the same time, funny cars were gaining popularity and earning big money for the racers. The next time Pete and Harry ventured onto the drag strip, it would be with a 1970 Barracuda funny car.
Created 2/25/19