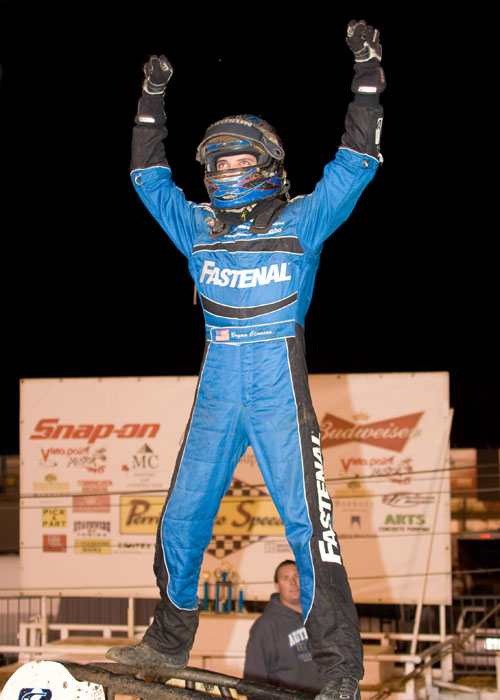 Bryan Clauson cheers his win.
Bryan Clauson and Mike Spencer.
The podium trio of 2nd place Tony Jones, winner Bryan Clauson and 3rd place Damion Gardner.
The podium with Gary Howard, Tony Jones, Rick Ferkel, Bryan CLauson, Steve Howard and Damion Gardner.
The Chaffin/Bromme/Spencer team happy with their 2nd championship in a row.
Garrett Hansen got a bottle of bubbly for his USAC Midget Championship celebration.
Steve Howard, Don Kazarian, Grand Marshall Rick Ferkil, Jimmy Oskie and Mike Spencer.
Mike Spencer
Tony Jones
Jerry Welton
Blake Miller
Ronnie Gardner
Garrett Hansen
Matthew Shedarowich
Bryan Clauson
Dave Darland holds the flashlight while the crew fixes a problem.
Robert Ellis and Jonny Bates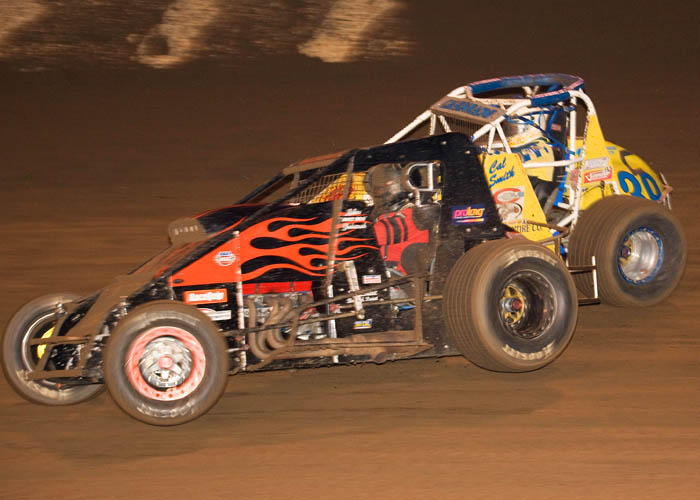 Mad Dog Shedarowich and Cal Smith
Rick Ferkel with Nic Faas
Don Kazarian chats with Champion Mike Spencer in front of the grandstands.
Mike Spencer
Four wide before the main event.
Danny Sheridan and Austin Williams.
Cody Williams runs the high groove with his father "the Ripper" below him.
Brent Camarillo races with Josh Ford.
The winner, Bryan Clauson, is bookended by Steve Howard and Rick Ferkel.
Ron Chaffin takes a taste of his 11th Championship