The Spanish Springs and Rancho teams line up before the opening game.

Eric Holden pitched strong after an error let in two runs in the first. He shut wm down as Rancho was ablle to catch up.

Tanner Oats did real good for 5 innings, then he was replaced with a one run lead in the 6th and it went downhill from there. The reliever walked one, tried to pick him off first with the wild throw putting him on third. Then he walked another and wild pitched a run home with the second walkee on 2nd now. A base hit plated him and end of story 3 to 2 with Rancho moving on.
Bishop Gorman worked out as they were ready to face Green Valley.
BG and GV with the National Anthem.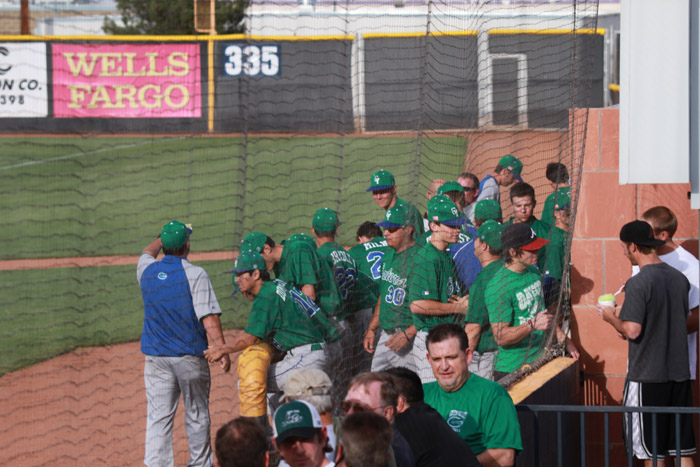 Green Valley is ready to take on the 5 time champs.
Bishop Gorman does a circle cheering to get pumped up that is familiar from the team.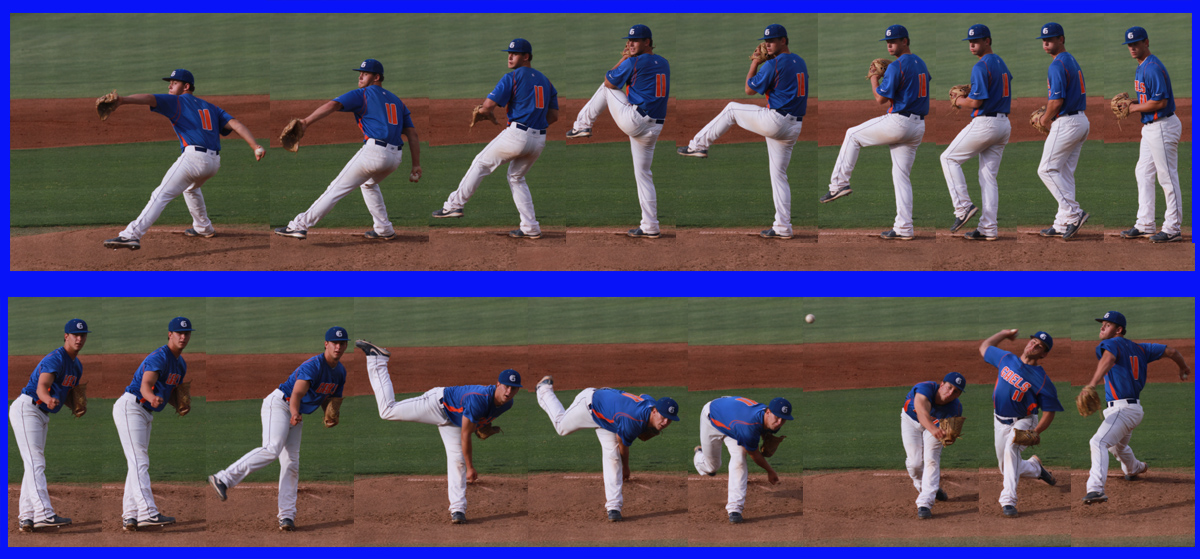 Cody Roper on the mound and strong!
The Gorman home run greeting. It happened a lot!
Alec Hutt from GV at bat with the Red Lion behind the plate.
Joey Gallo came in to shut the Gators down when Roper got in a little trouble.
Spanish Springs pitcher Dallas Mellum.

Alec Hitt had a good weekend hitting and pitching. He had a shutout for 5 innings.
The Gorman players geting ready to play.
The retired jerseys of CSN including Bryce Harpers.

Zak Qualls was very special, but didn't have any luck!
More BG warm up stuff.
I think it's Johnny Sewald at bat
Eric the Red Lion at bat.
Billy Richardson did a steller job for champion Gorman.
Scott Koenen from Rancho.
Brett Harrison did Green Valley proud.
Jamews Durbin of Green Valley.
Green Valley sent Rancho home with this knuckle knockin' routine.
Bishop Gorman shut down Rancho early on Friday. Scoreboard!
Desert Oasis Roster: # 1 Kyle Motis, # 2 Jake Lewis, # 3 Chris Paratore, # 4 Jossaiah Raval, # 5 Dillon Krasn, # 6 Bryan Morrison, # 7 Zane Killebrew, # 8 Austin Maiello, # 9 Mike Moriarty, # 10 Brennen Stott, # 11 Matt Garrett, # 12 Angelo Bianco, # 13 Dakota Roehl, # 18 Joe Paratore. # 19 Brandon Cook, # 21 Tom Haley and # 25 Marty Sifuentes.
SILVERADO ROSTER: # 5 Bobby Johnson, # 7 Drew Robinson, #8 Dylan Cross, # 10 Chris Adams, # 11 Pierce Belsutegui, # 12 Kyle Simmons, # 18 Mike Drozd, # 19 Matt Scala, # 20 Freddy Medina, # 21 Morgan Stotts, # 22 Michael Meyers, # 25 Tanner Dushane, # 28 Greg Gahn, # 29 Anthony Ford, # 30 Braden Keathley, # 31 Jeremy Morski, # 32 Kyle Graves, # 33 Cody Bostick, # 35 Chris Staresinic, # 38 Mark Janosik and # 50 David Lutomski.
Desert Oasis 13 - Carson, Ca 16

This one staryted out 16 - 1, but the DO kids came back very well. Still they lost, but they played better as the game went on.
Jossaiah Raval takes his cuts.

Mike Moriarty at bat
Tom Haley gets ready to whack it.
2nd baseman gets ready
Dillon Krasn gets in the box.
Marty Sifuentes Behind the plate.
More Marty

# 22 pitched????
Chris Paratore
Jossaiah Raval

Marty at bat
Matt Garrett at bat
Desert Oasis 9 - Buckley, Ca 2

This was one win DO needed. The team for California Didn't fare too well against Tom Haley as he controlled the game. The kids from DO did very well as they overcame a loss earlier in the morning.
The little hill behind the baseball field had some fans here to watch their "boys"
A couple of the kids headed for a drink at the concession stand?
I think this is the third baseman? No number on the front of the jersey makes it hard for me to get up to speed for who they are.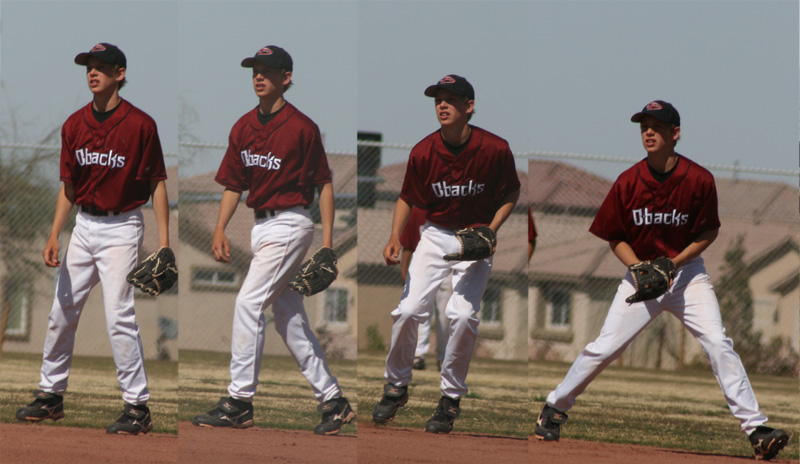 Kyle Motis plays second base. He had a pretty good day. I know him from the Wildcats so I have two kids to watch on the DO D-Backs.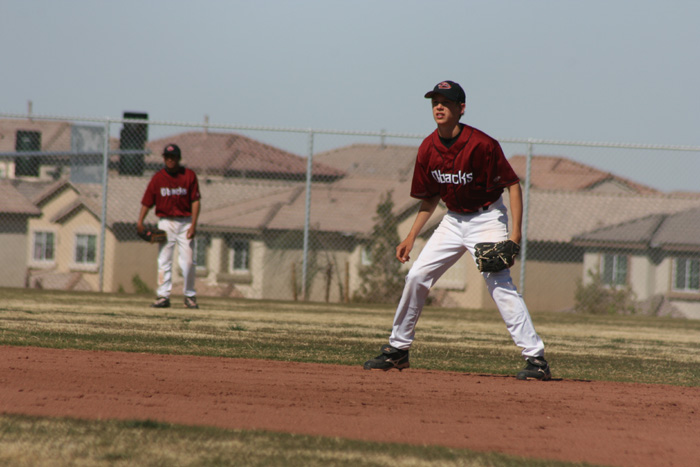 Kyle is ready!!!
Jossaiah Raval Hammered the ball.

Brennen Stott, (hmmm I ownder if he is related to Morgan on Silverado?) Gets after it.
Brennen was ready to pop it here.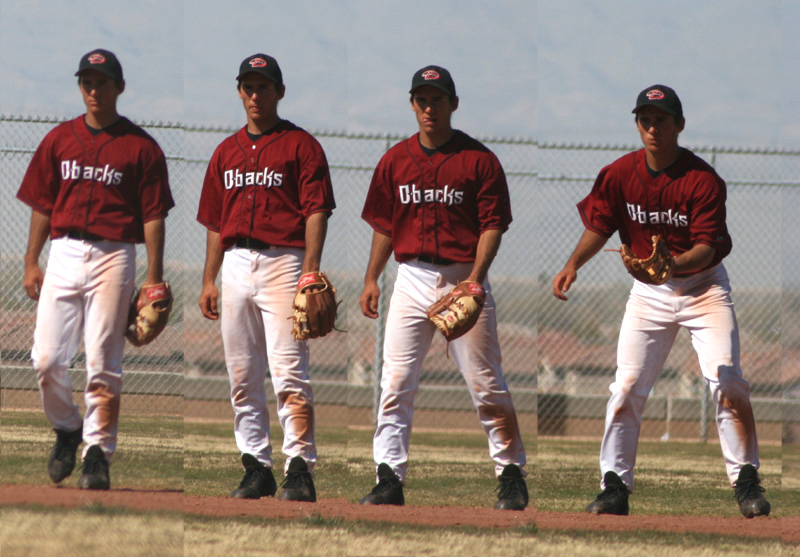 I think this is Dillon Krasn, the shortstop. He had one blast that flew to the wall for a triple.
Matt Garrett tries to make the play, but the ball was late.
Mike Moriarty had some fun this game.
Kyle Motis at bat.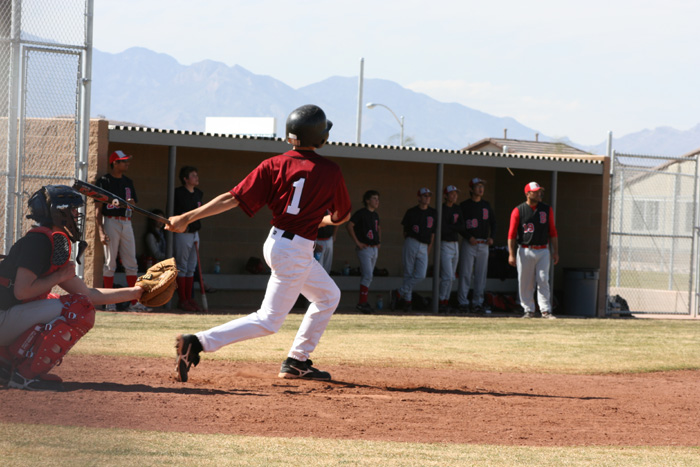 Kyle says "if that one goes straight"!
Tom Haley can hit it a mile.
Kyle wondered how big a lead he could get at second.
Bryan Morrison nails it here and takes off.
Dillon does some work here.
Chris Paratore wonders if it will fly out of here after a mighty swing?
Matt Garrett blasts one here.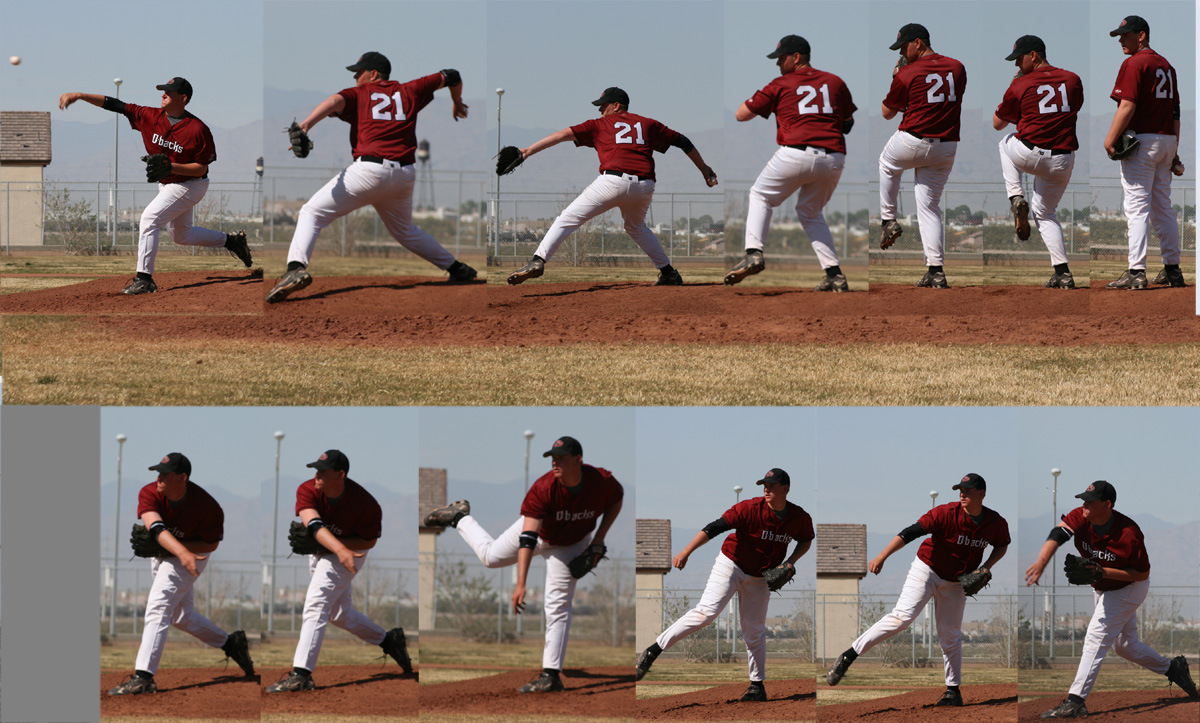 Tom Haley pitched a great game.
Game over!
Desert Oasis 2 - Durango 5

Desert Oasis has Marty who played with my Grandson Hunter on the Wildcats. Desert Oasis is a new shool. Marty is a freshman and the starting catcher on the team. I don't know any names on the team besides his, but will learn them hopefully. This game was tied 2 - 2 until the bottom of the six inning as it was a good game up to that point. With two out in that home side there was 2 outs. A gounder to the pitcher named Dakota was played well and the throw looked like an out. Safe yelled the ump and then three runs were created after that puzzling call. His foot could have come off the base, but form where I was, couldn't tell. Regardless, it made it look like the young DO boys didn't do well, and they certainly did great.
# 5 is alive as he led off the game.

Dakota, the pitcher, whacks one.
Number 10 on the go.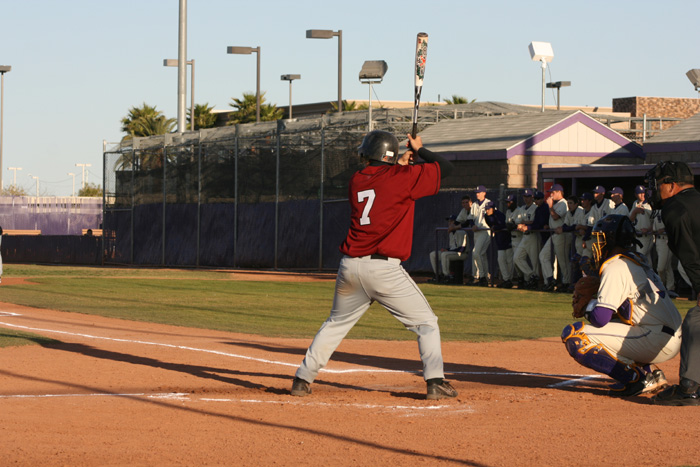 Number 7 ready to hit.
Number 11.
Number 9
Pitching is tough
First baseman
Second baseman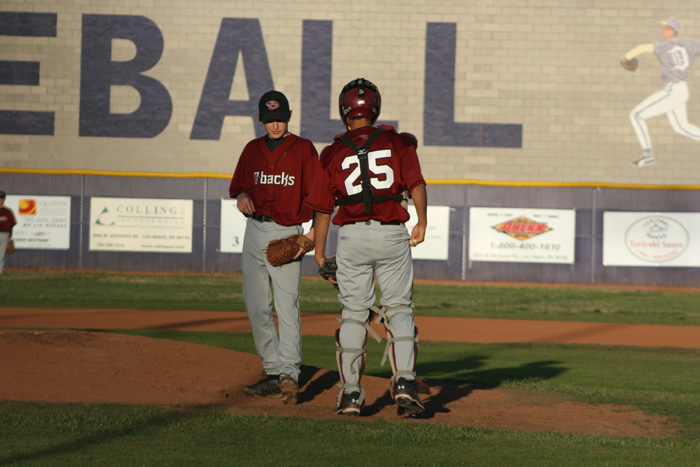 Pitcher - catcher conferance
Marty returns behind the plate
Number 4
Marty thinks about getting a hit.

Marty takes a mighty swing and heads for first base.
Marty Heads fro the dugout.
Number 6

Behind the plate is a lot of work and it's not new to Marty.
The right field wall has a neat mural on it. The helo is proably landing at the nearby hospital across the way.

Marty catches everything thrown at him.

Marty Swings like he means it!
THE LAS VEGAS HAWKS SUMMER BASEBALL TEAM.

# 1 Jordan Keegan, # 7 Trevor Kirk, # 8 Stephan, # 10 Dillon Smith, # 11 Justin Rainville, # 20 Adam Koglin, # 22 Pierce Belaustegui, # 30 Braden Keathley. # 44 Underwood
THE SILVERADO HIGH SCHOOL BASEBALL TEAM.

This was the state high school playoffs and all Silverado had to do to go to Reno was win two games. They got the first one against long odds and almost took the second.

Silverado 10 - Las Vegas 9


An outstanding game for the Skyhawks as they continued to come from behind. The key to the game for me was when Brian Harper struck out a Silverado player and yelled "BYE YOU". From that point the Silverado boys sucked it up and won on a clutch home run from Braden Keathley. That was exciting!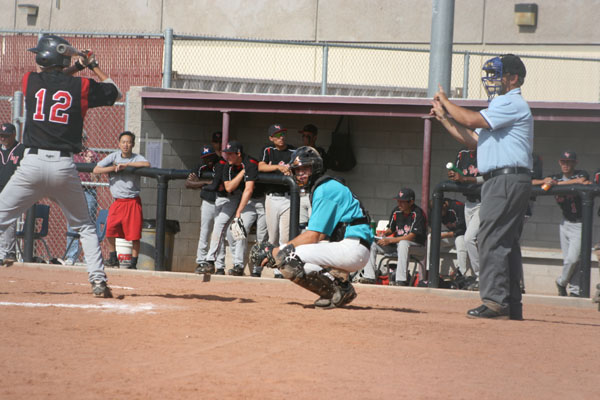 Dillon Smith looks for the pitch call from the dugout.



Adam Coglin at second.



Jordan Keegan comes running in from center field.



Brian Harper would be the opposing pitcher for this one. He made one serious mistake, yelling "BYE YOU" after a strikeout and it was his unraveling.



Jordan out in the field.



Pierce Belaustegui plays third and hits strong.



Trevor Kirk at shortstop.



This freshman, Brice Harper, is one of the best and played this year with his brother, but may not be at LV next year. He hit a 3 run homer in the first to show off his tremendous power.



This was the score early with LV leading, but hang on.



# 21 pitched well.




Trevor Kirk at bat.



Underwood pitched for a bit.



Pierce hits one.



# 5 getting a hit.




Adam Koglin on the hammer.



Stephan gives it a go.



Dillon Smith hacks away.



Braden Keathley cracks the game winner over the wall!!!



Jordan takes it to right.



Justin Rainville came in to quiet things down.




# 29 pitched early on.



Teams do that bump after the game, but Brian Harper wasn't real friendly after losing.



SCOREBOARD!
Silverado 3 - Green Valley 6
It was unfortunate that Silverado had to play Green Valley on the same day. They were pooped, but gave it a real battle and came within a hit or two of winning this one. Everyone went hard and only a good team could beat them.
The teams were introduced before the championship game with Green Valley.
Jordan Keegan leads off with a triple and scored the first run of the game.
Jordan again hits the ball well.
# 35 pitched well.
# 29 pitched as well.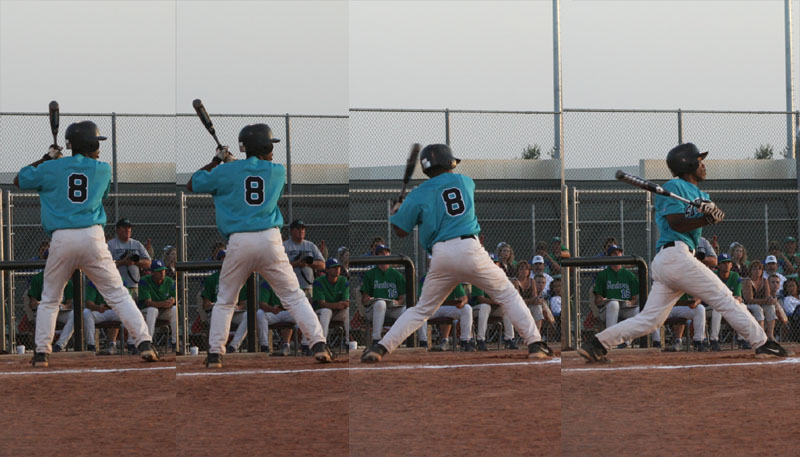 Stephan at bat.
Braden Keathley at bat.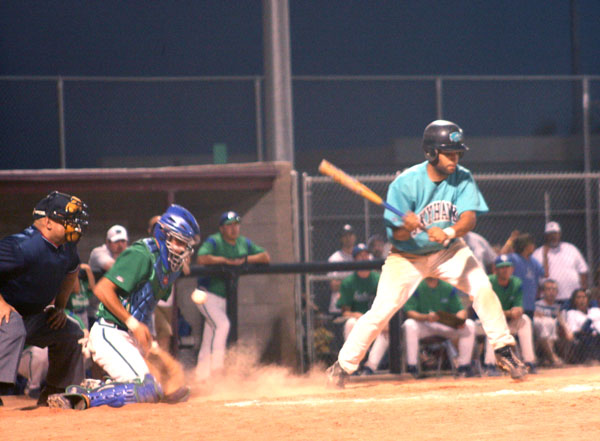 Pierce going after one.
Adam Koglin at bat.
Dillon Smith ready to steal.
Silverado 2 - Green Valley 5

Trevor Kirk hits one hard.
Jordan Keegan at bat.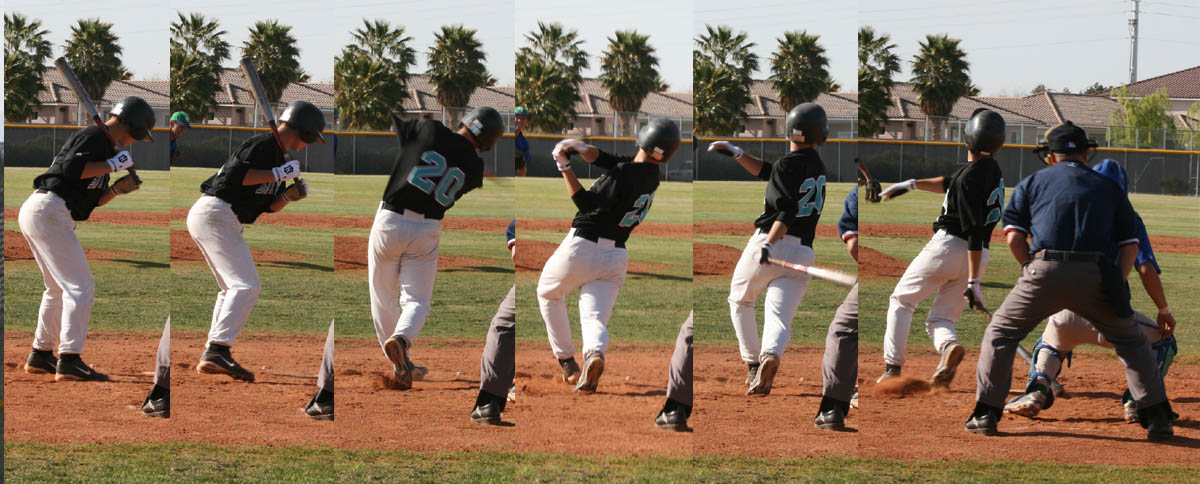 Adam Koglin gets a hit.
Underwood on the mound. He gave up 4 runs and took the loss.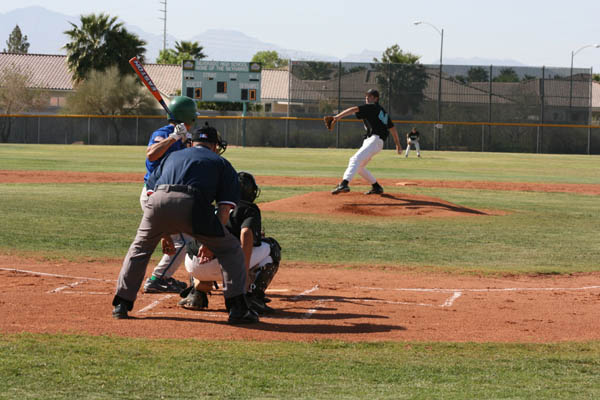 Underwood comng home with a fastball.
Dillon Smith whacks away.
# 5's alive
Stephan gets going.

Justin Rainville gets in an at baT.
Pierce got a couple of good hits.
Keathley hits it well.
The relief pitcher did well.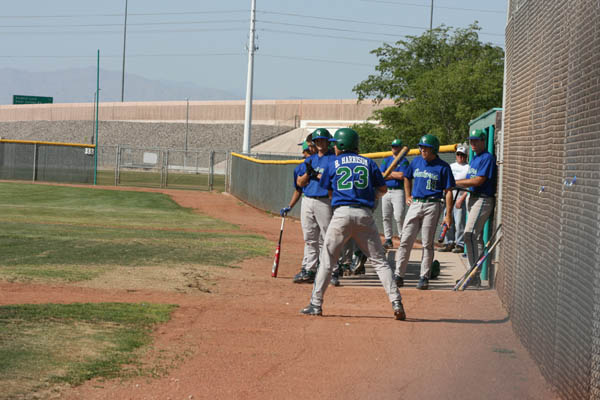 The Green Valley dugout was busy all afternoon.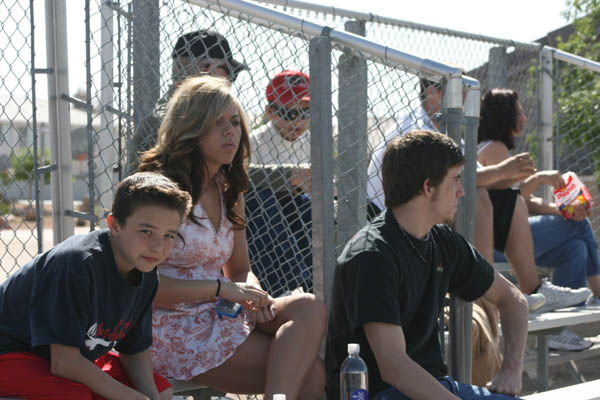 Grandsons Chris, Hunter and Damanda, Chris's girlfriend watch the game. He is a Silverado grad and she Green Valley.
A Green Valley blond.
Silverado huddle before the game starts.
The peanut gallery outside of the left field fence.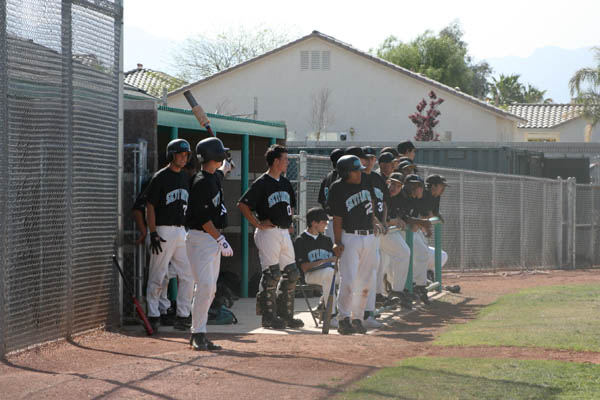 Silverado dugout tries to talk it up.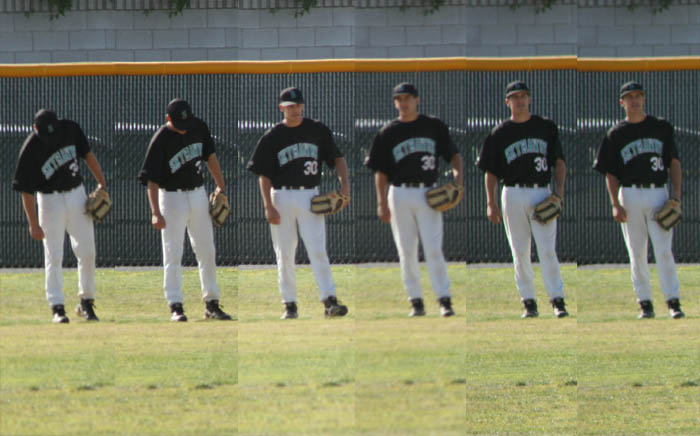 Keathley was in left field.
Rainville in right.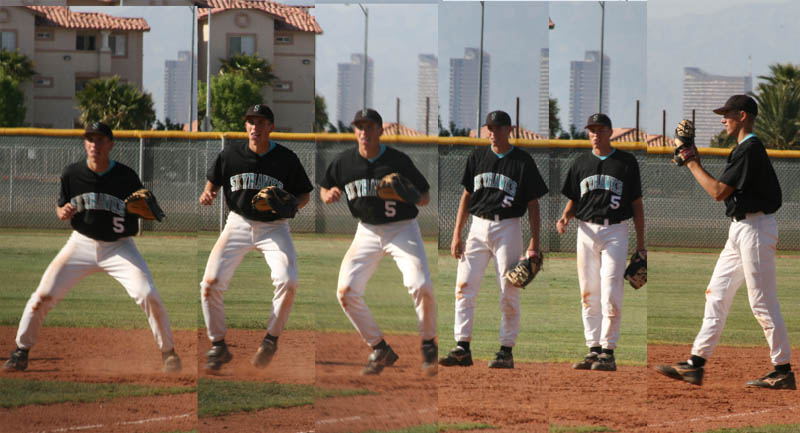 # 5 at first.
Kirk at Shortstop.
Adam at second base.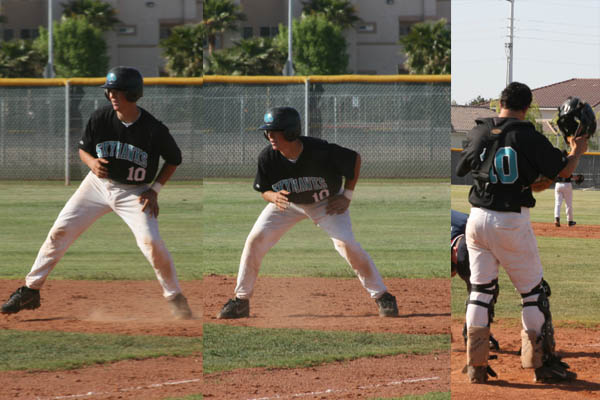 Dillon catches and runs the bases.
Keegan in center field.
Kegan scores one of the two runs.
Silverado 4 - Sierra VIsta 8

A tough opener at home, but it looks like there is a good team out there. I hope to get to a few games this year as I have to go to more Calvery Chapel games due to another family member playing there.
Third baseman Pierce lines up at the hot corner.
First baseman Keathley gets ready.
Second baseman Koglin is on the go.
The dugout is a bundle of nerves for the opener.
The visitors took the win in a shaky start for the Silverado boys.
They are ready to hit.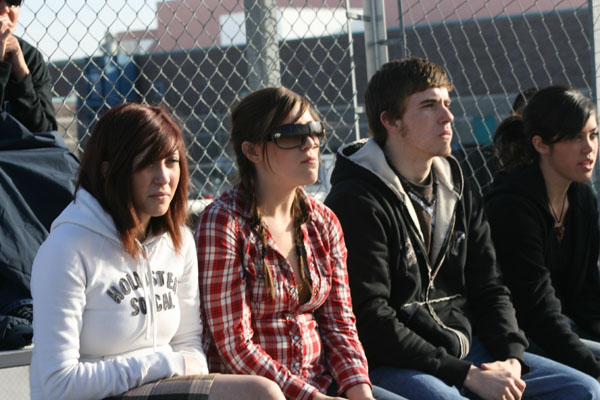 Interested fans include former Silverado player, my grandson Chris and some cute girls.
"other" team fans.
The peanut gallery in left field by the street. Are they lazy or just lazy?
Keegan on the prowl in center field.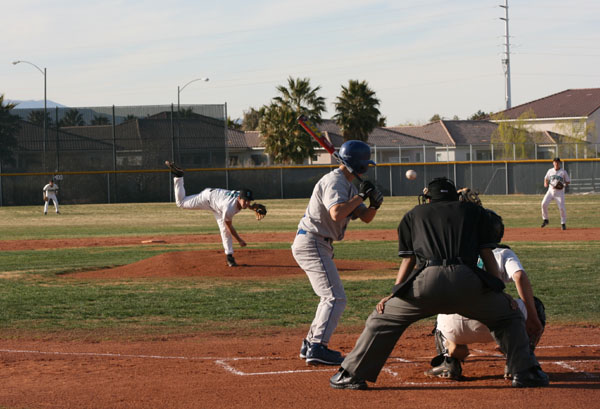 Justin Rainville on the mound. He was unlucky a double play ball was muffed as he then gave up 4 runs in the 1st. Ultimately, that beat him.
Rainville throws a strike.
Rainville makes the ball sing.
Rainville makes a throw to first.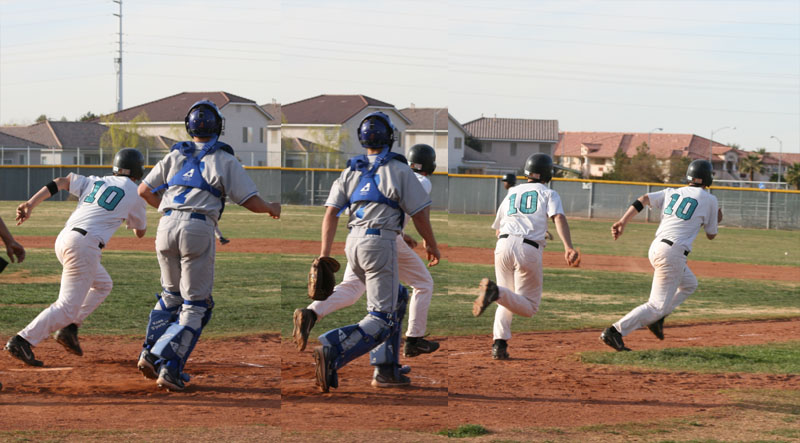 Dillon Smith hits and runs.
Koglin on the move.

Keegan at bat slaps one to te wall.
Keegan on second waiting to score.

Kirk hits and gets it going down the line.
Pierce has a mighty swing.
Rainville at bat.
Keathley runs to first.

Pierce nails a hard liner.