January, 2011 @ Chili Bowl

The pit is packed with cars as I wandered in.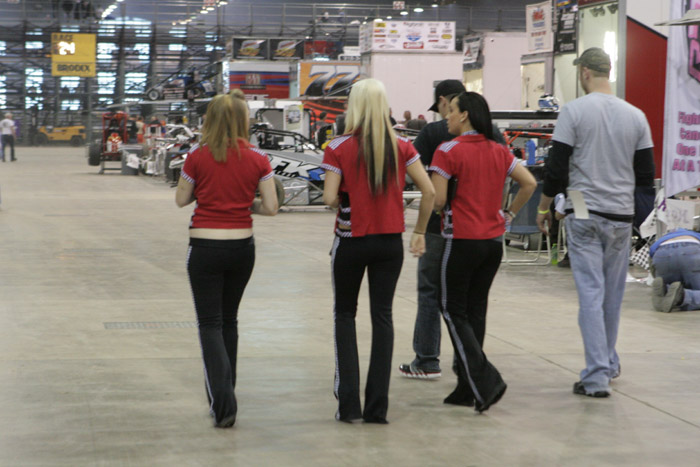 It didn't take long before the Cloud Nine girls came by to put stickers on the boys.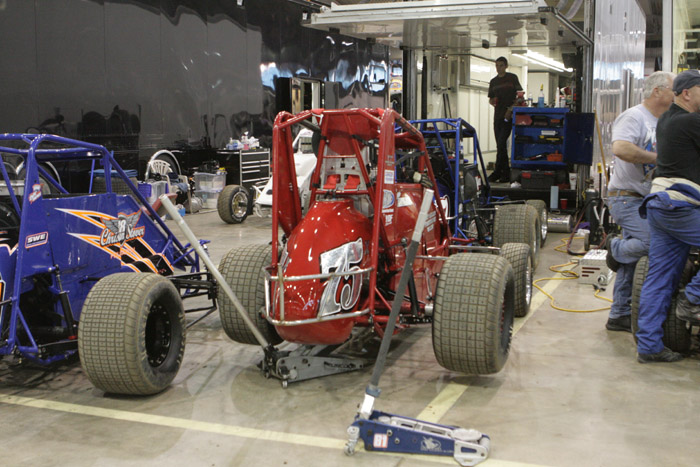 Mike English will drive this # 75 car of Wiley Miller's this week. Mike was getting around pretty good as his ankle heals marginally from month to month from a horrendous motorcycle crash years ago.
Murrey Erickson from Odessa, Texas.
Matt Mitchell is driving this one if I heard correct.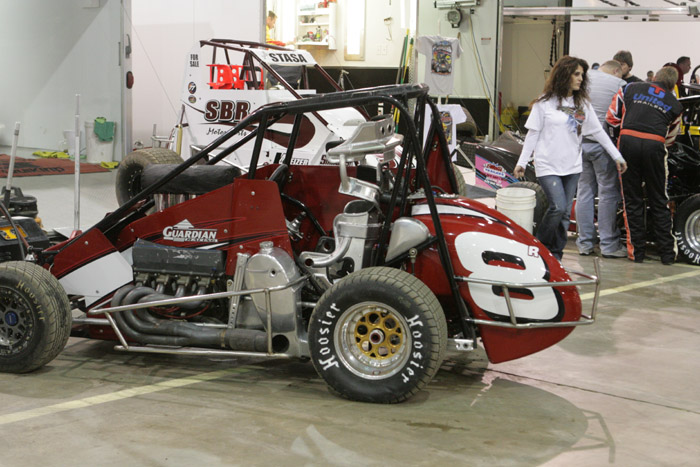 Rico Abreu from Rutherford, CA
Chad Boat from Arizona.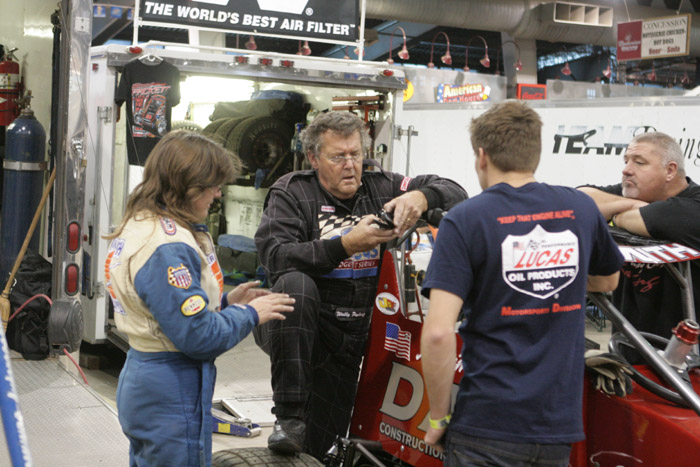 Randy with her retired dad Wally. Wally has a drivers suit on because he was going to warm the car up?
Bobby Michnowicz from Torrance, CA.
The Hockett car in honor of Jesse from the Loyet stable.
J J Yeley from AZ.
The R J Johnson team cars.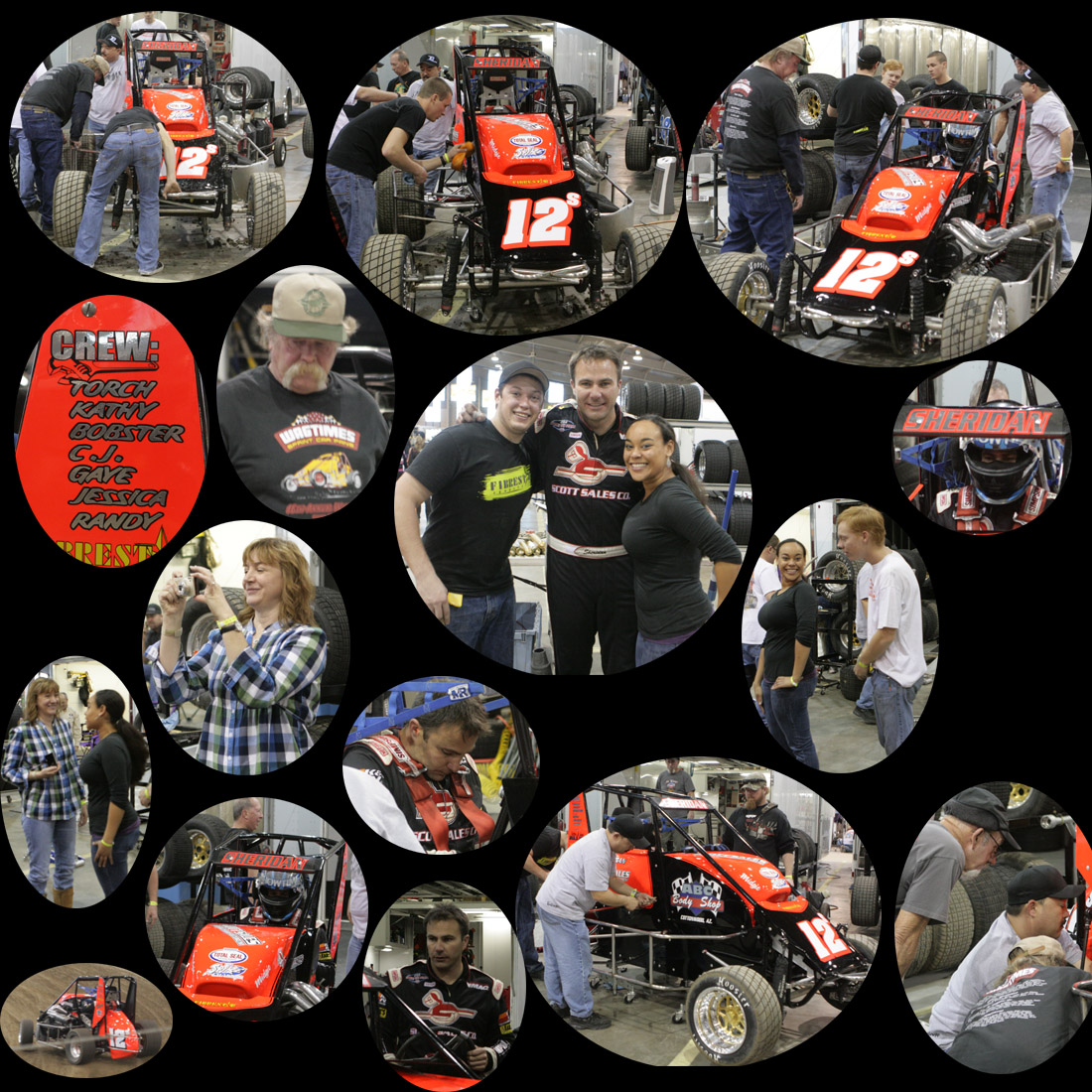 A few shots of the Robbie & Gaye Allen racing team with Danny Sheridan and Josh Pelkey the drivers.
It is a big arena!
Danny on the gas in practice thru turn 3.
Kevin trails his racecar pushed by his dad Bobby after he blew the torque tube up on the track. Smoke, a little fire and boom!
Don "The" Barber struts around the pits.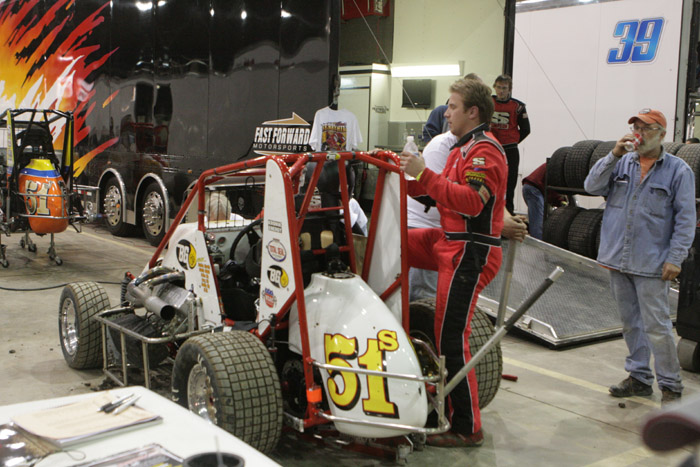 Mike Spencer CRA Champion in an RJ Johnson car.
Want a cloud 9 sticker? The dark haired one looks like she has to WORK!
Bob Ream Jr from Arizona came to play.
Fran and Jim and Julie and Randy in the grandstands enjoying the racing.
Brother Michael Tanaka is embarressed by the "bird lady". Randy is enjoying Julie's new look.
Hooter girls with the winner.
More................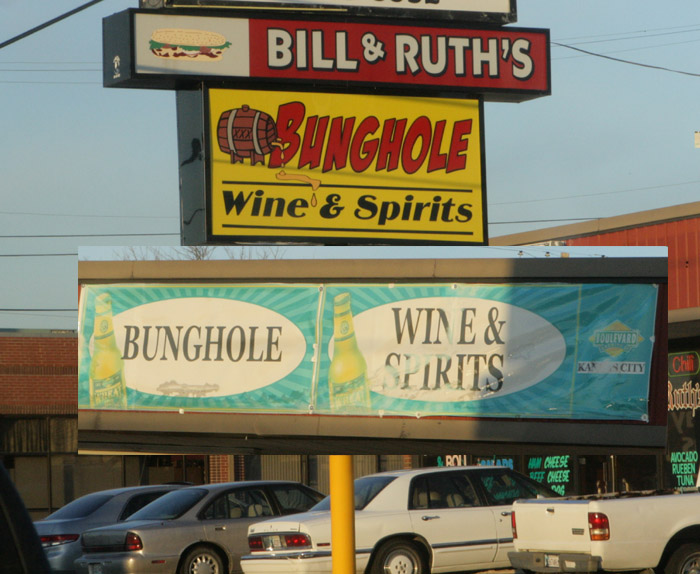 I just take the pictures! It's Oklahoma and they have STUFF here.
Danny Sheridan getting out of his car after practice. He made the main and was running 7th when an errant driver sent him flying in the air and on relanding, and the ensuing restart, his car wouldn't fire.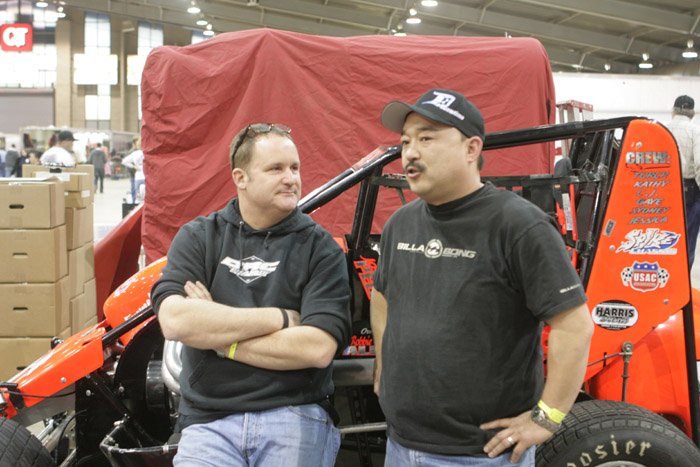 Car owner Robbie Allen and Randy Shiosaki talk about the nights racing coming up. "hey boss, what if we put a rear view mirror in the cockpit, then Danny could see it coming?"
Pink was bright from the "Night Trip" girls.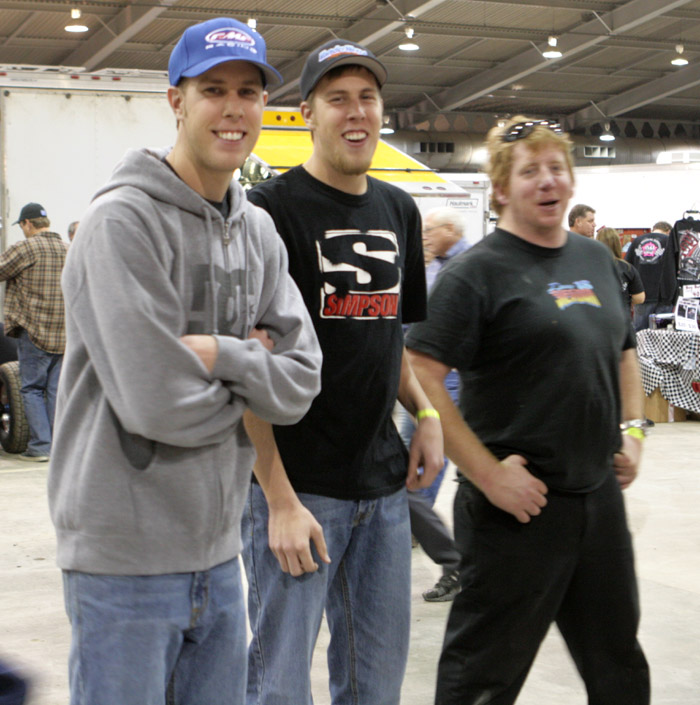 Jimbo shares a laugh with the VanderWeerd brothers Jace and Richard. The boys came with their father to watch the races. Jimbo came to work on Danny's ride.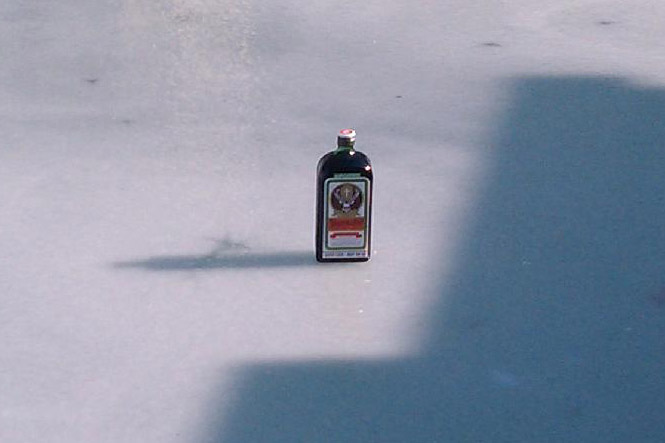 Before Jimbo arrived on Wednesday morning, he asked that they get him a bottle of Yager and put it on ice. There it sets on the ice of the pool at the house they are staying at, all ready for him, but a little out of reach!
For my first time of actually going to the infield during the racing at Chili Bowl during the racing, I had an opportunity to try something new. When I got out there, I noticed several things. 1) it was very muddy and slippery in many spots down there. 2) when I tried to get a nice spot against the k-rail in turns 3 and 4, it was too messy and wet. 3) when the action started, it was very loud (could have used ear plugs). 4) Most photographers were zoned in and ignored me, except a few who I knew and they visited a little between shots. 5) The Hooter girls were very close and pretty. 6) It was hard to get much track in my lens, as I was only able to see a small portion of the track. and 7) I didn't have my good telephoto lens so it didn't turn out very well with only about 10% of what I shot usable. It was pretty wild and I enjoyed it, but will leave the close ups to the pro's in the future.
Danny moves into 2nd place in his heat.
This boy got it turned around in a wheelstand!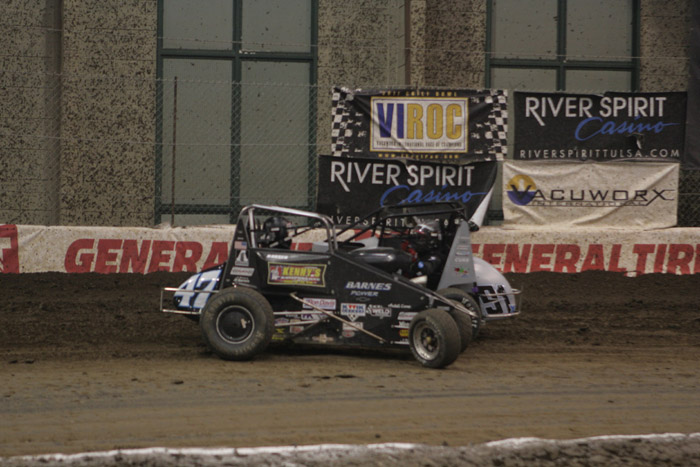 And here's Garrett and Leffler looking at each other. I wonder what they are saying?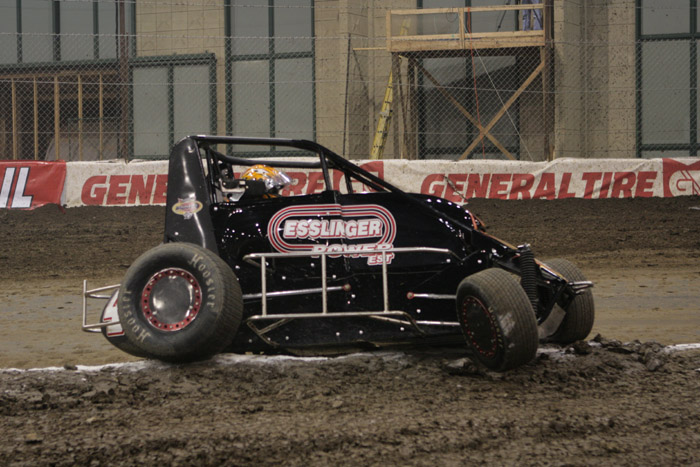 Ooops!
The Hooter girls on the track.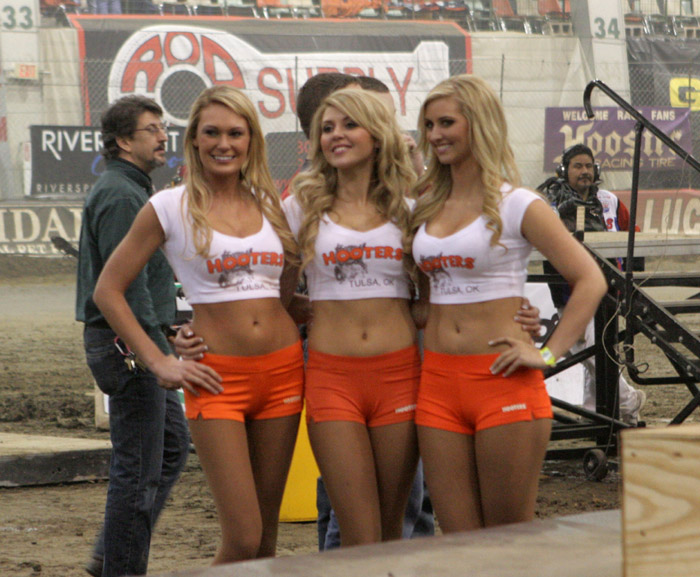 The Hooter Girls posing for the photogs.
Thumbs up from the Hooter girls.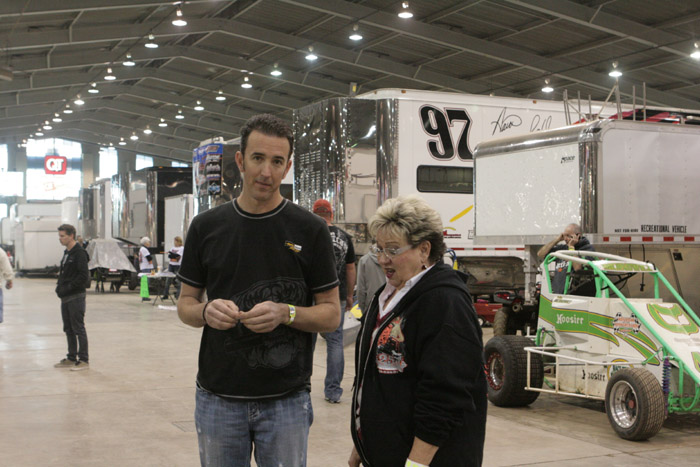 Bob Ream from AZ visits with Mrs Wags.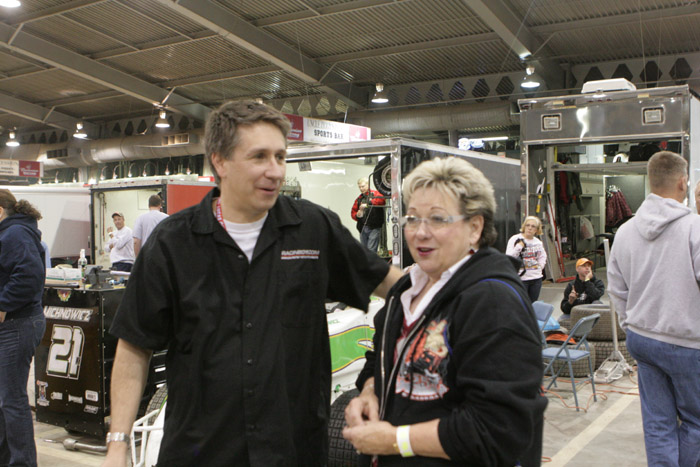 Brian Gapinski, a long time friend and announcer back East says high to my bride.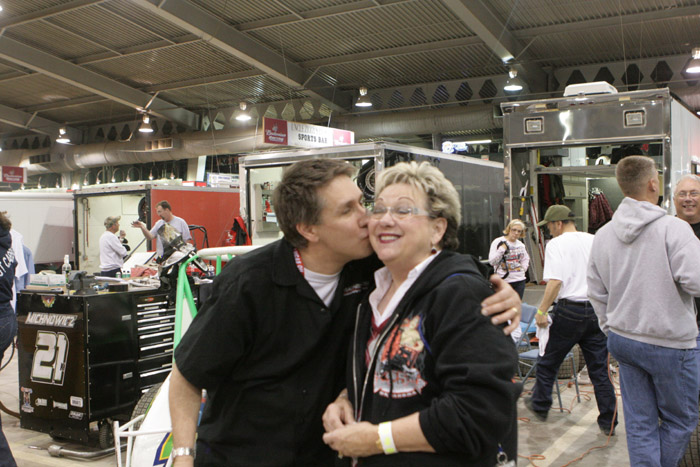 I think she likes him, both of them have their eyes closed!
Jim and Carol Wolfe pose, but Jim isn't too happy about it!
Twin peaks girl from a nearby restaurant of the same name. Better looking girls than Hooters, maybe it's the Daisy Dukes outfits?
Ronnie Gardner took a crashed car and repaired it, borrowed a motor from Tony Everhart and made the race. He won the D main!
Johnny Murdock from Kaufman, TX. How do you climb in this one?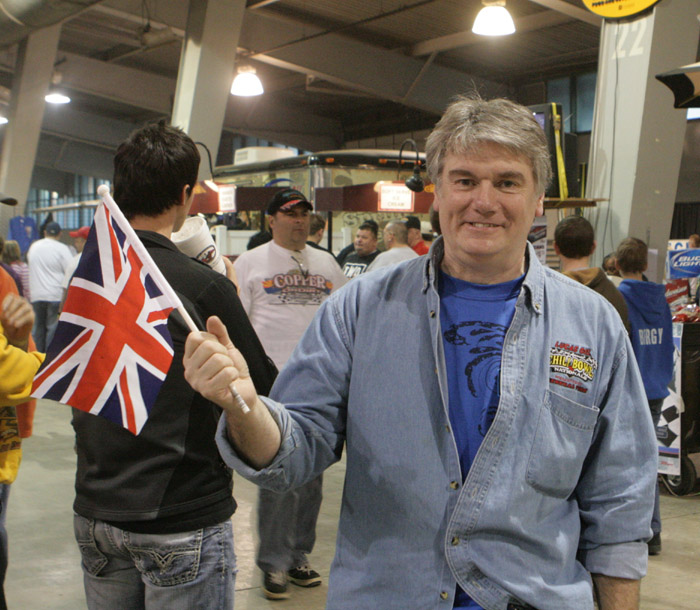 George Rimmer, our friend from England, was in the house!
A view of the Expo Center which is a racing arena in January every year.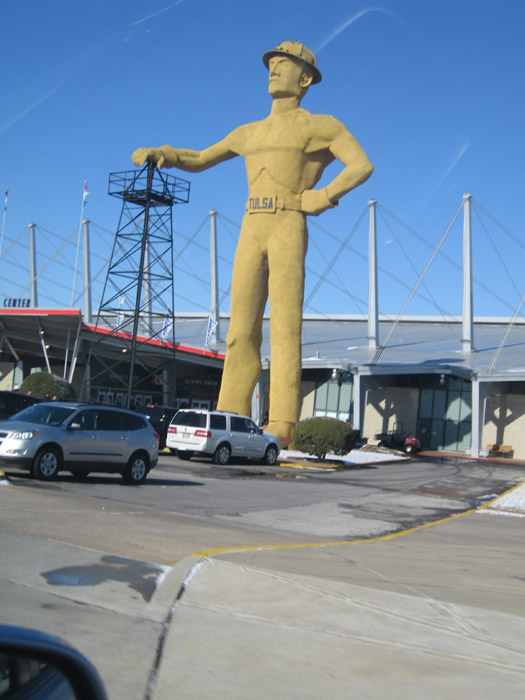 The Driller guards the Expo.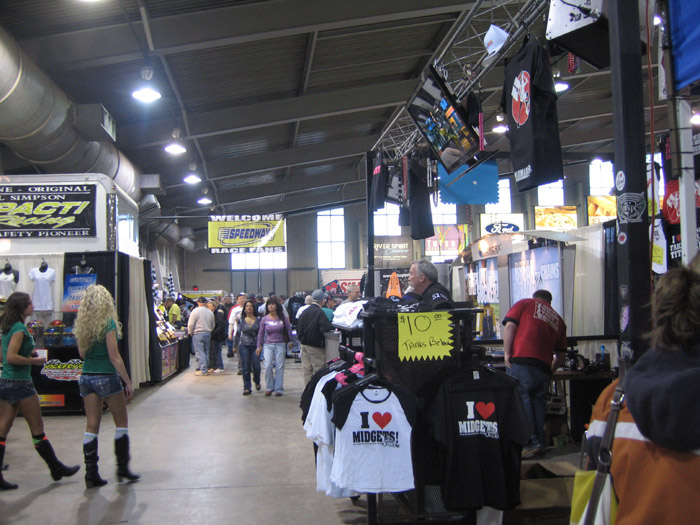 Vendor area.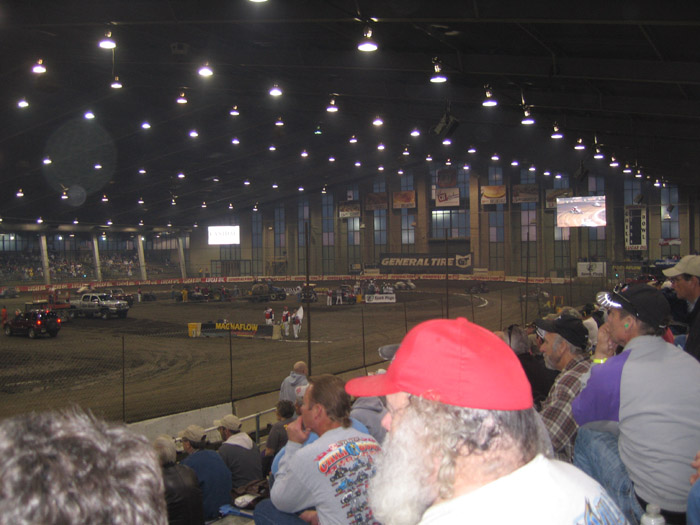 A look at the track.
Another look.
A Kevin Michnowicz shot.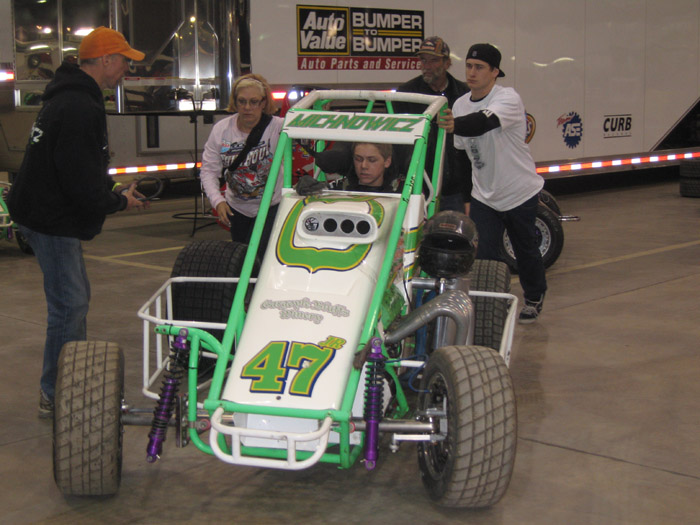 Off to race we go.
A pit view.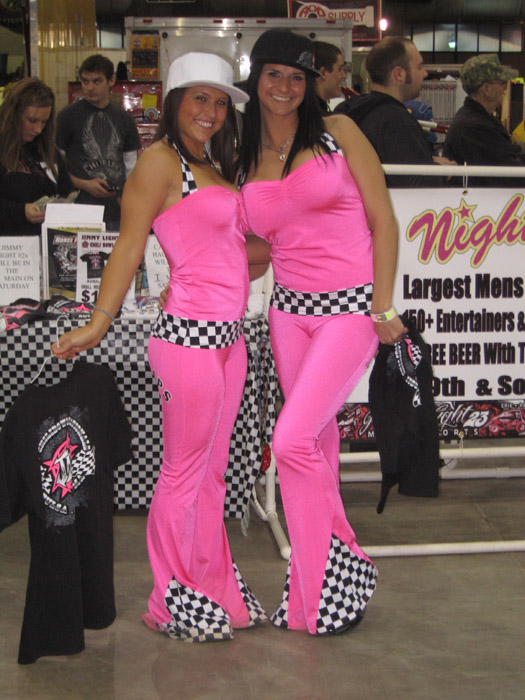 Night Trip girls, BRIGHT!
Mike and Lori English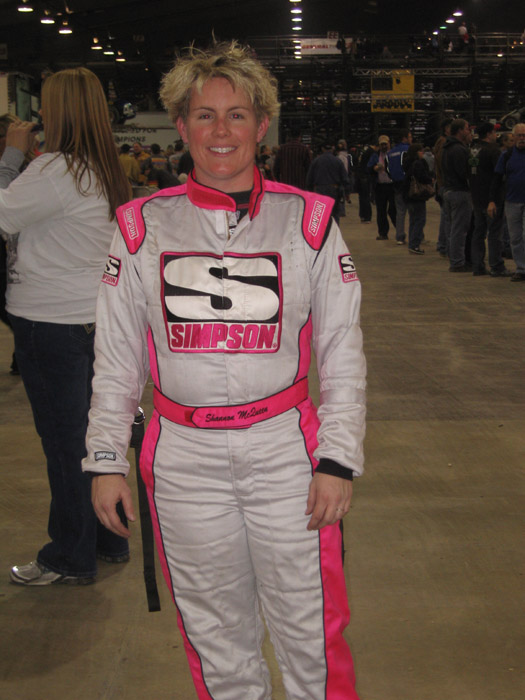 Shannon McQueen
Leroy to left, Wags to right and Jim Thurman in the middle.
OK, lets pose right.
My son Kevin and Mike clark.
Leroy getting his ear bent by George Rimmer form England.
JD Cormack and the Wags.
George, Mike, JD, Ellen, Leroy and Jim.
March 12, 2011 @ Perris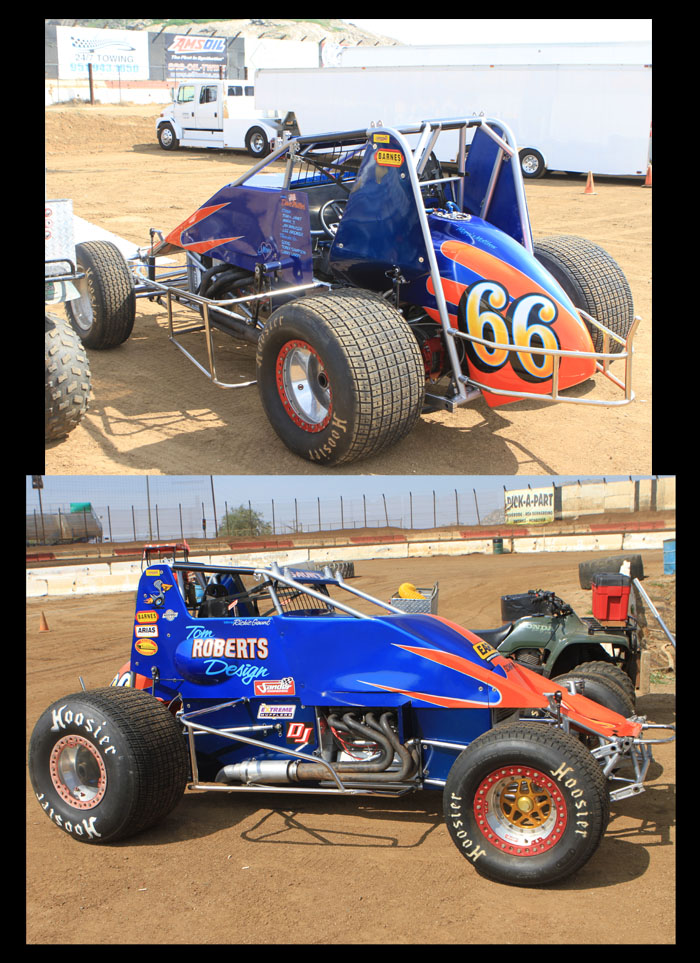 The David Miller car with Rickie Gaunt in the seat.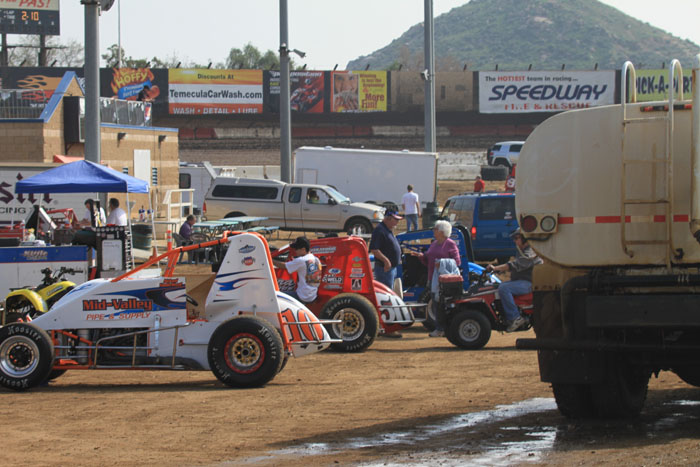 Ray is watering the pits. He got my mule, again. Thanks Ray, it was dirty!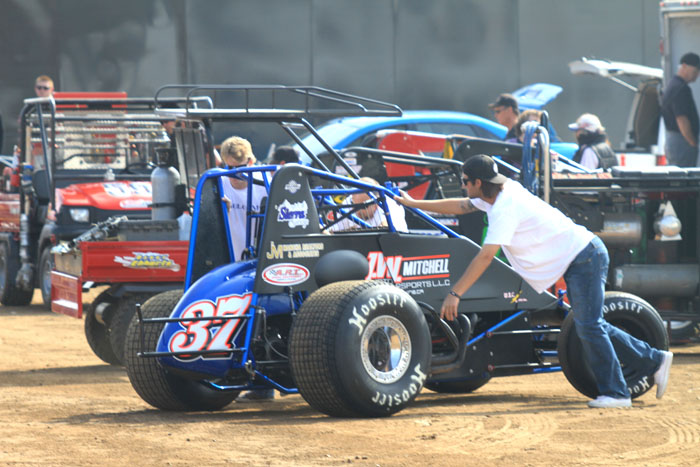 Matt Mitchell pushes his car out to go to the scales.
The brand new little blue bugger driven by Danny Sheridan!
Inside Davey Miller's trailer
Nic Faas caught me taking his photo. He must have learned that smile from Blake Miller. What me worry?
Tobie Sampson has a question of Julie?
Jeff Kristensen is taping the meeting.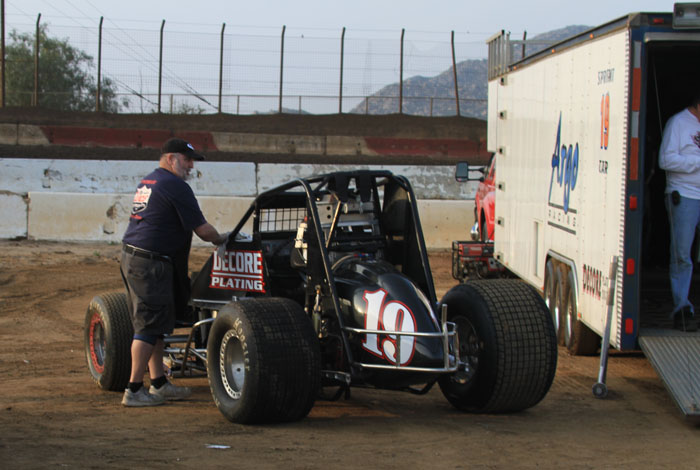 Catfish working on the Argo # 19.
Dwight Cheney talks with Damion while Jim Battersby looks on.
Gale Forrester and John Redican bring the good old days to the track.
March 26, 2011 @ Victorville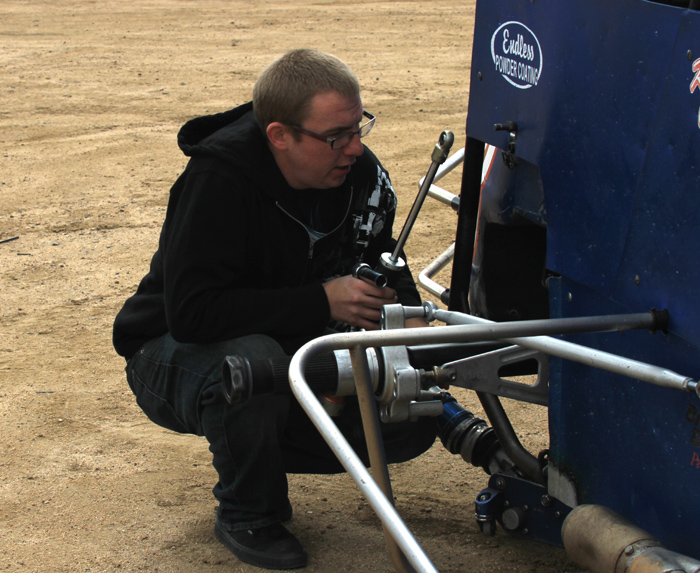 Ronnie Gardner working on his car. He was tenth in the main event.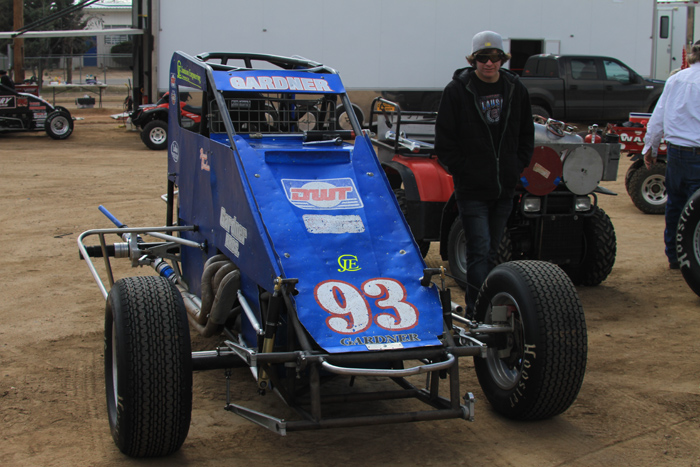 Ronnie's Sled chassis is home built by the Gardner family.
Matt Mitchell and car owner Mark Priestley chat.
The Perkins sprint car school cars were everywhere.
There were spies walking thru the pits. The two in the middle are PAS officials with a night off due to wet grounds at their track.
Where else can you draw for a pill with two hot ladies? Julie Shiosaki and Shelley Ostling have it all in control.
Bill Rose brought his outlaw motored yellow car to California to follow the outlaws. His stop at Victorville got him 5th after leading for 10 laps.
Circle Track boss mingles with the pit folk during the afternoon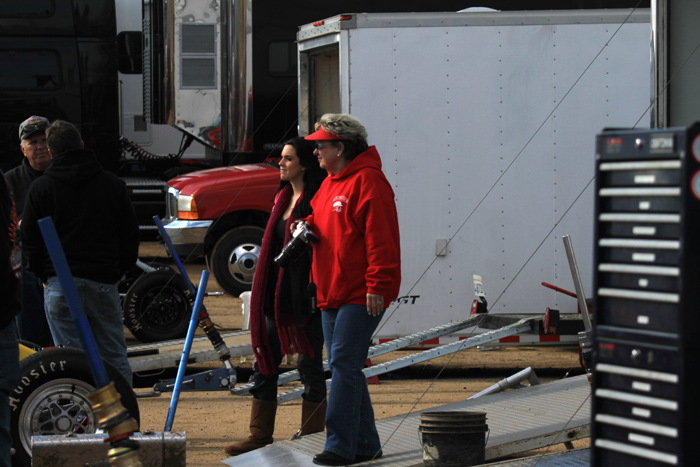 Mrs Wags is here!!!!
How about now!!!
And here's Showtime on the resulting wild ride!!! Follow it from top right to left and each line below right to left in order.

Here is Seth Wilson's qualifying flier. He was 5th in qualifying on the first lap, but then he hooked a rut and away we go! From top right to left and below the same.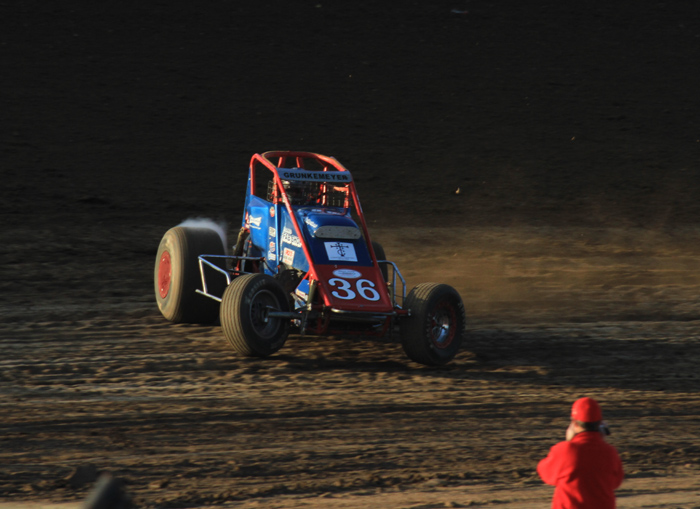 Tom Grunkemeyer gets it sideways. He was the first car out in the main.
The Raging Inferno fire truck doing it's thing during the National Anthem!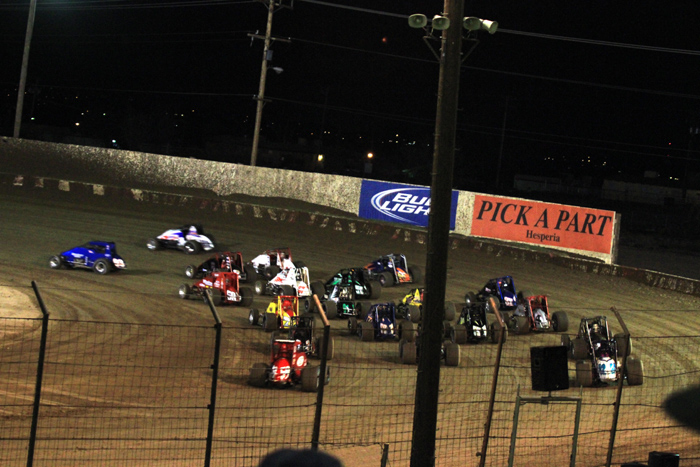 Doing the fours, sorta.
Coming for the green flag.
Action!!!
Pics by Mrs Wags

A panoramic view
Brody Roa
Brett Roa, dad.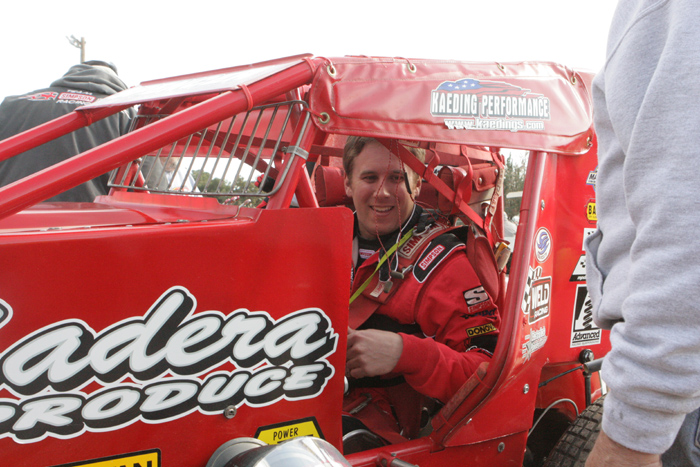 Mike Spencer
Blake Miller
Blake Miller
Ronnie Gardner
Rip Williams
Cody Williams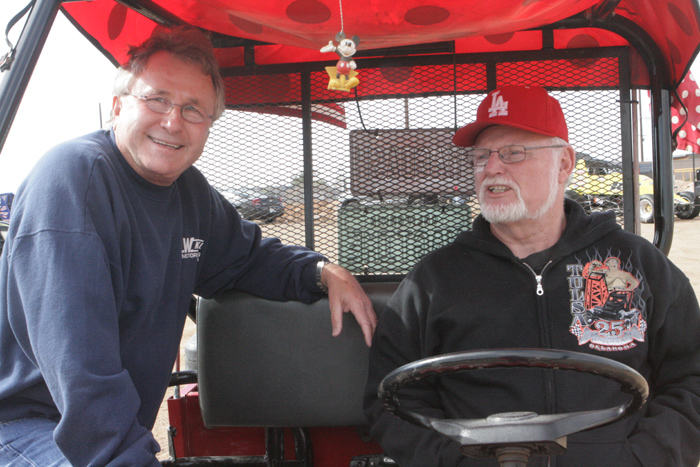 Wags with Matt Mitchell's dad
Doug Allen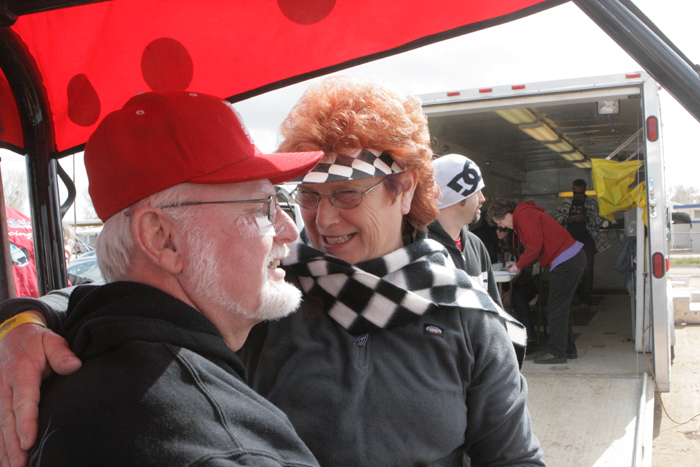 Me and Nellie Stansberry
Austin Williams, Matt Mitchell and Nic Faas
Mark Spivey
Kenny Perkins
Randy
Jimbo
Bruce bromme Jr
May 7, 2011 @ Hanford

It's the "yellow yowser" # 7 ready to do battle. Blake got stopped on the track with extra baggage and had to come from the back to get back to 11th at the end of the 30 lap main.
A day of Sprinters, stockers, and modifieds was some good, some bad and da really ugly!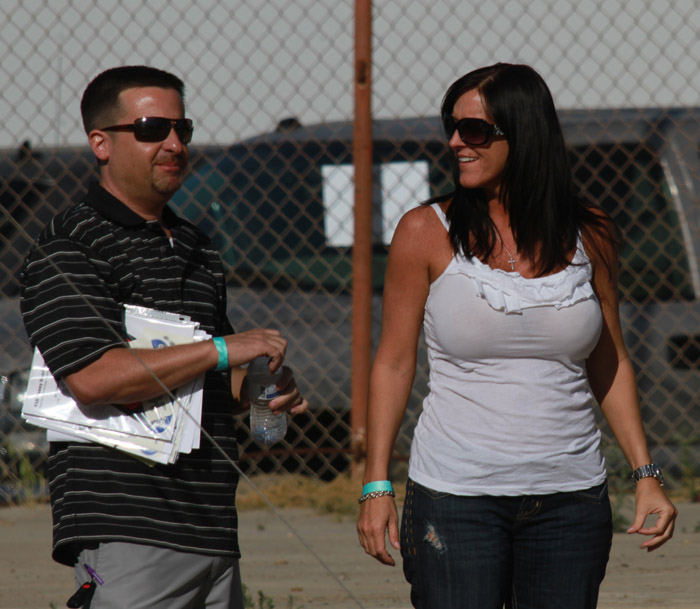 What is Bobby G hearing from Shelley Ostling early on.
Julie and Shelley do a job for the racers! And, they look like they are having fun!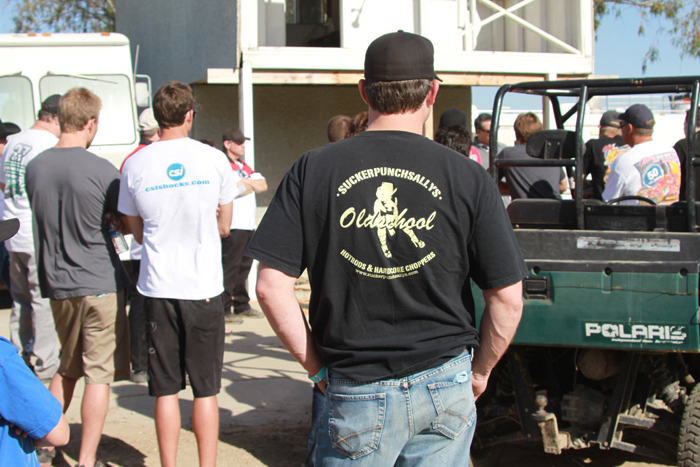 Suckerpunchsally old school???
Rip drives the mule back to the trailer after the meeting. He ran 5th and beat his boys, cody 13th and Austin 16th.
Randy Shiosaki crewed on Danny Faria's car this week. It looked real good until the no brake problem gobbled Hollywood up at the end.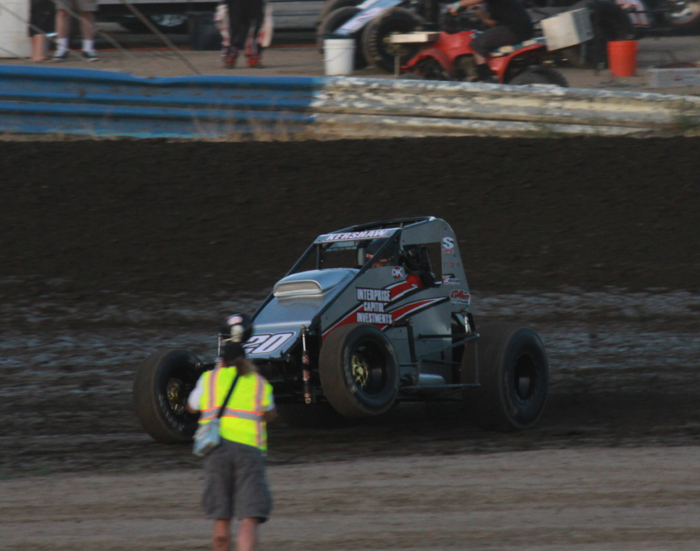 A Kershaw wheelie is captured by the TOHF fotoman Steve.
May 28, 2011 @ Hanford

Cars lined up in the pits is good. Over 40 sprint cars this week!
"Nubbs" Howell is workin' hard on his sons car!
My mule gets a lot of poaching as it is a handy seat for someone like Mrs Hillberg.
Even officials have their wait time. He loks like he missed breakfast, or is thinking about lunch, or.........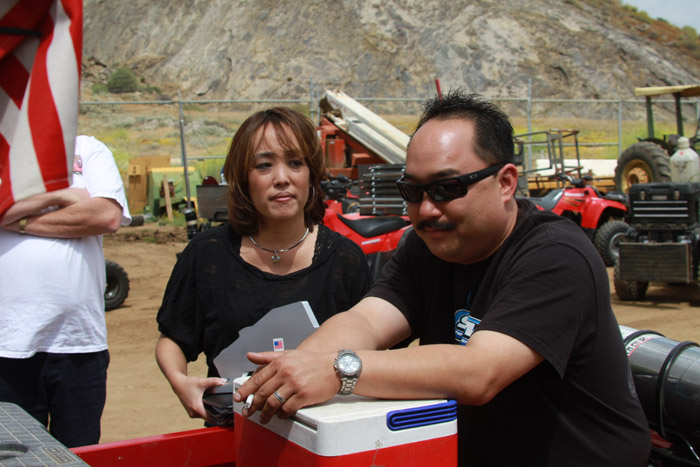 I think Randy has a Jack and Coke on his mind as Julie is ready to get her work zone on.
Kevin Michnowicz and mom Wendy ready to had back to their pit.
The crowd around the pit booth moves in.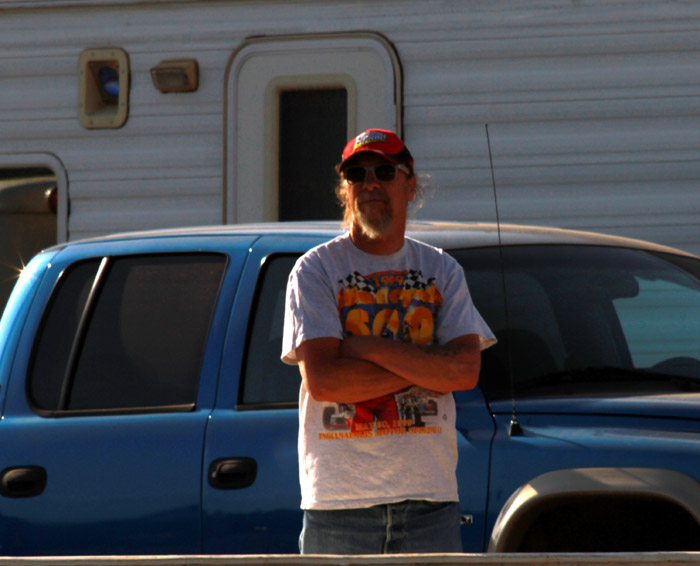 Biker Bruce watching from the infield.
My good friend the Okie from, well you know, back there! Toby builds good race cars, races them and rebuilds others mistakes.
Tony everhart still supports the CRA and runs nearly every race.
Dennis Howell's mom Maryanne and girlfriend Tania visit with me. Tania had never seen a race before. Maryanne fed me to keep me quiet.
Ronnie Gardner works on his car.
This shining example of race official always seems to be smiling, even when he gets serious.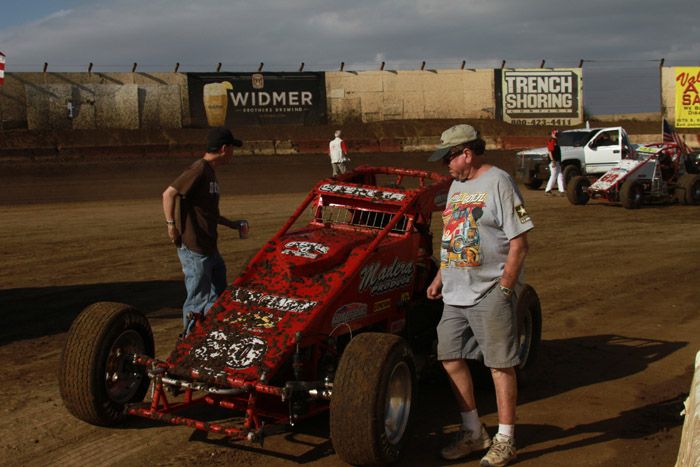 Bruce Bromme Jr checks on his work.
Matt Mitchell
Mike Spencer
Jerry Welton
Greg Alexander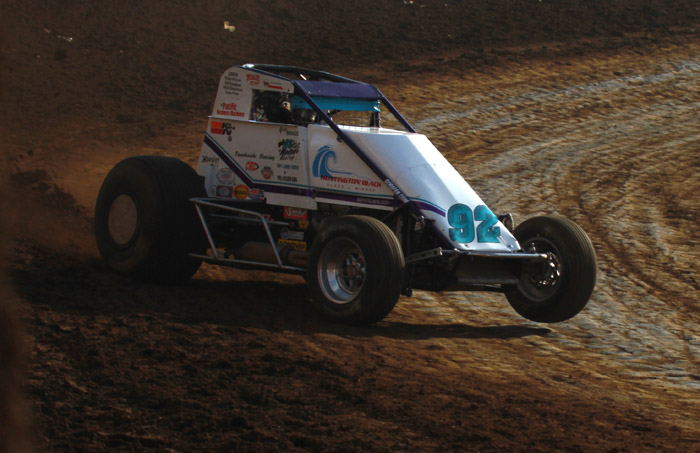 Greg Bragg
Ready for the 1st heat.
Mike Arthur and broken foot Doug Allen at work.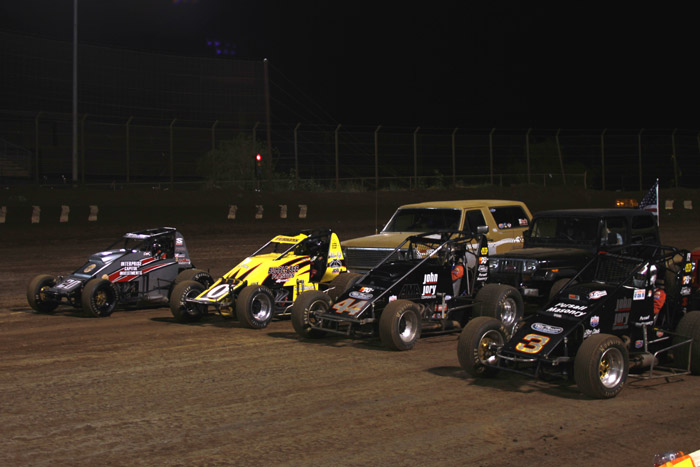 Ready for the main!
June 17, 2011 @ watsonville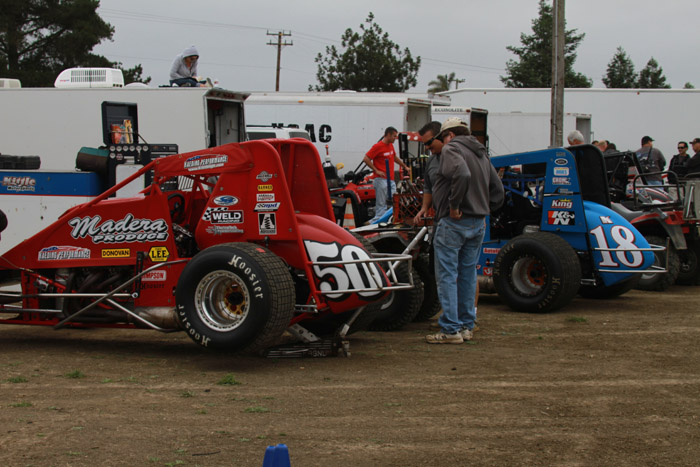 Bruce Bromme Jr, back from his hall of fame induction, is visiting with Steve Ostling between the red and blue cars.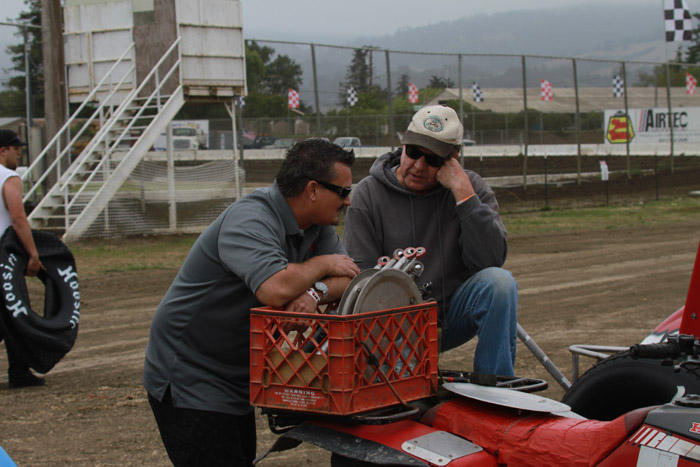 Here they are again.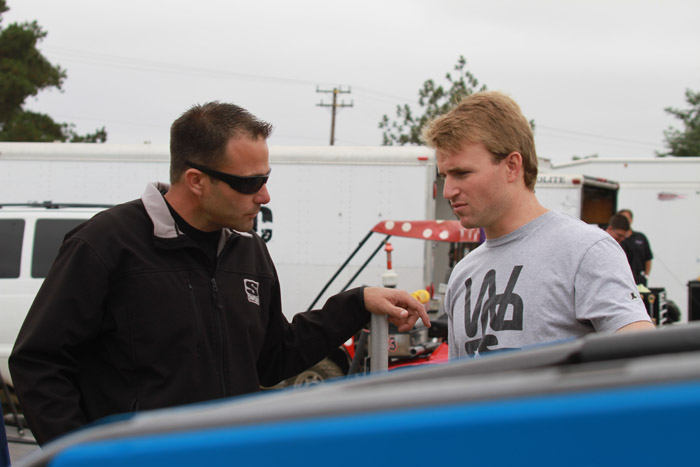 More chat time between Danny and Matt.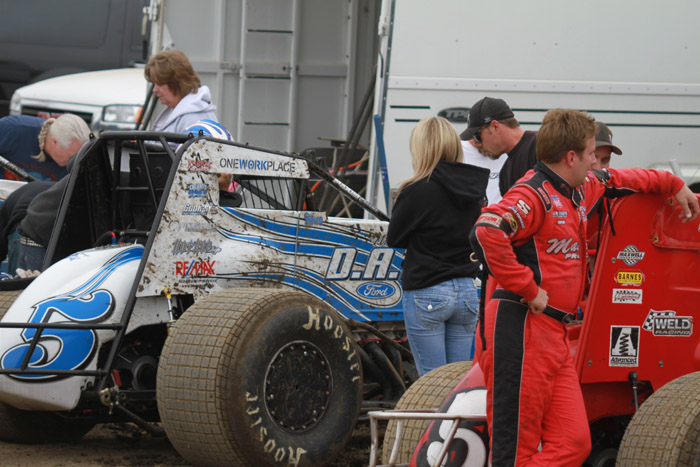 Spencer waiting to go out.
Randy is getting a stiff neck trying to talk to his driver.
Here's Joe the Sky Harbour Cowboy and Neetra, Austin's cute girlfrind, waiting for something to happen.
June 18, 2011 @ Santa Maria

Looks like the Alexanders have their work to do as well. Nic was runner-up this race.
Looks like a Jack Jory Junkyard, but no, it's just the team activity around 3 cars that need to get ready.
A lot of activity as everyone is trying to get it all settled.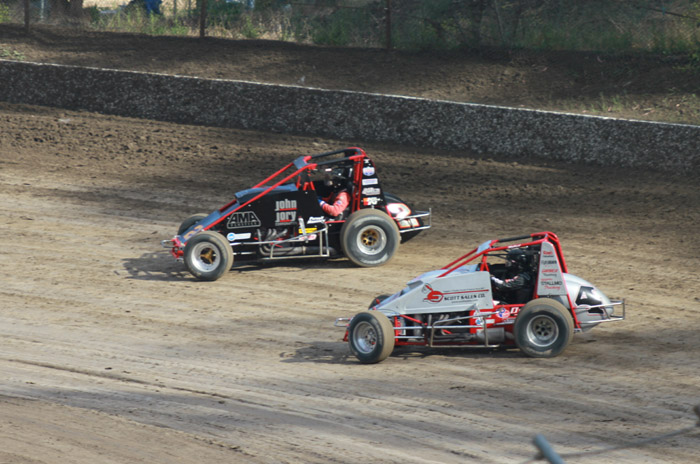 Nic Faas and Austin Williams
Coming and going, it's nice to have trophy girls!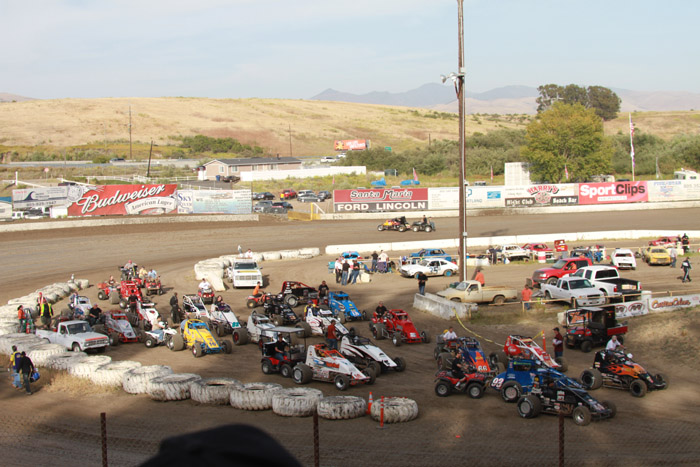 After qualifying, everyone gets pushed back to the pits at the same time.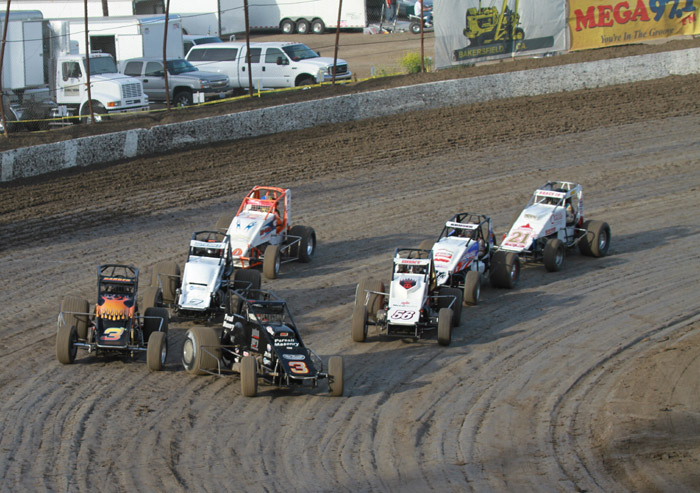 First heat won by Ripper!
Second heat winner was Ronnie Gardner.
The Line-up is in fours and then were off!!!
July2, 2011 @ Perris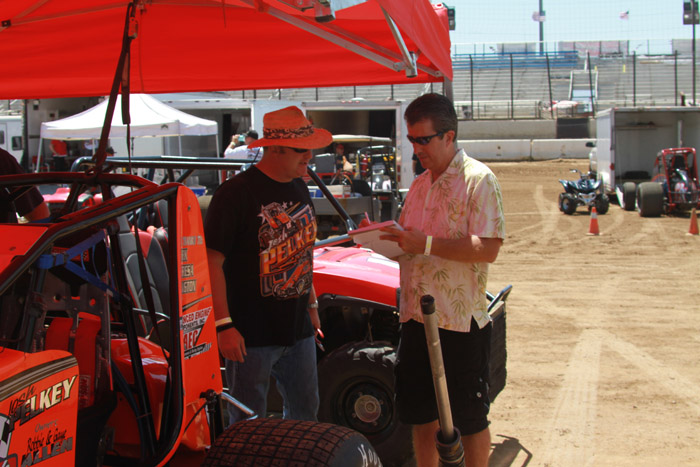 Robin Allen gives Scott Deloisio his stats on the car Josh Pelkey will drive.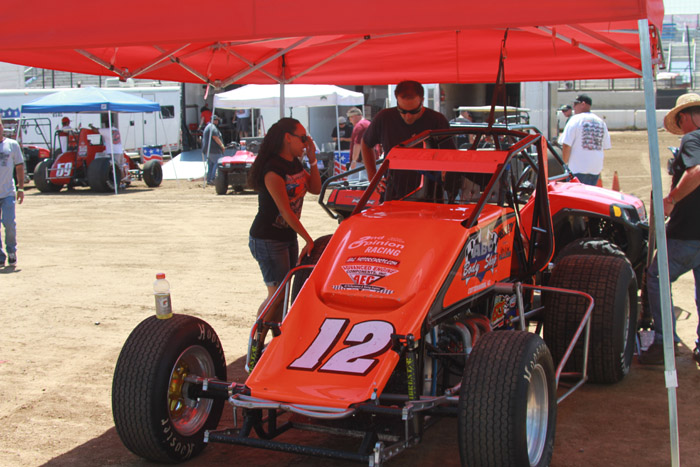 Jessica Allen keeps an eye on Danny Sheridan.
Randy and Shelley are talking while the sun is high overhead in the afternoon.
Danny and Shelley are up to something!
The Alexander crew relaxes and visits.
Double trouble Moosemobiles came to battle.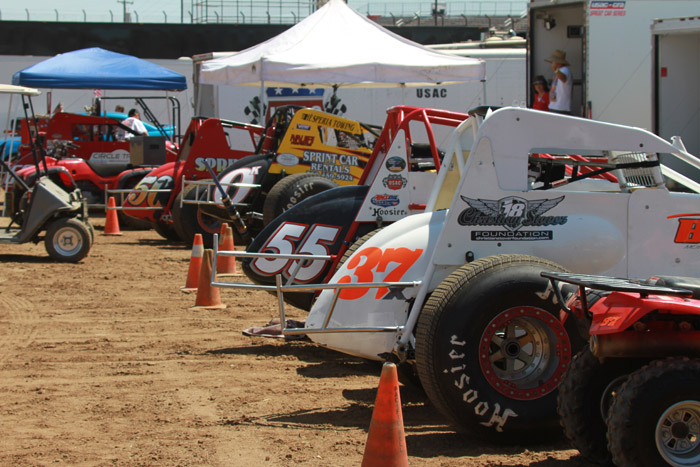 Line em' up as the world of speed and beauty gets ready to rumble.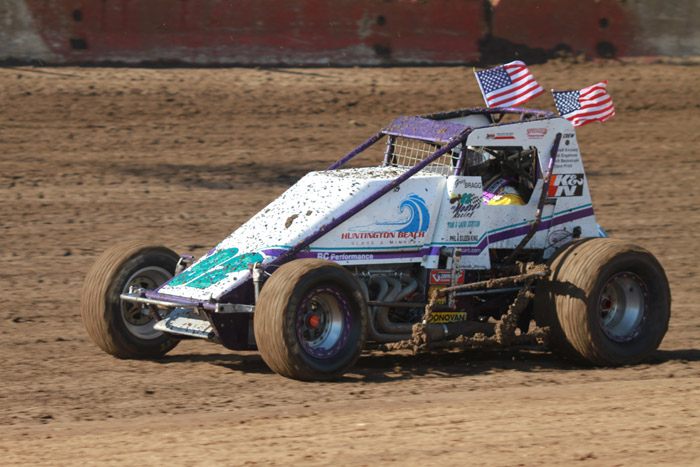 Greg Bragg with Laurie's flags a flyin'.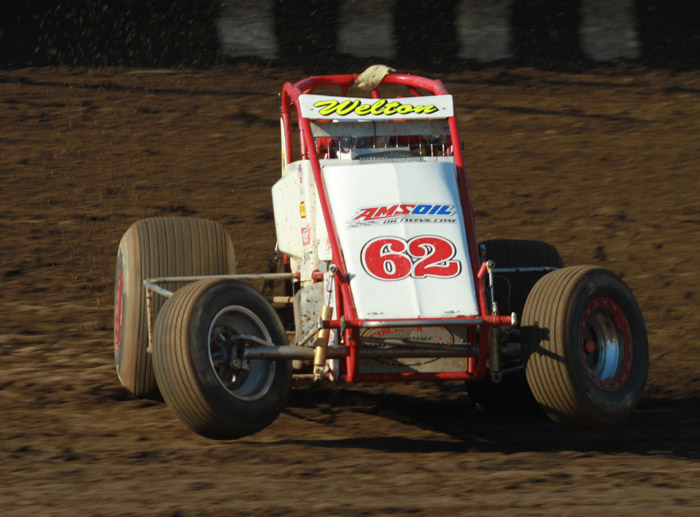 Jerry Welton
Brandon Thomson
Rip Williams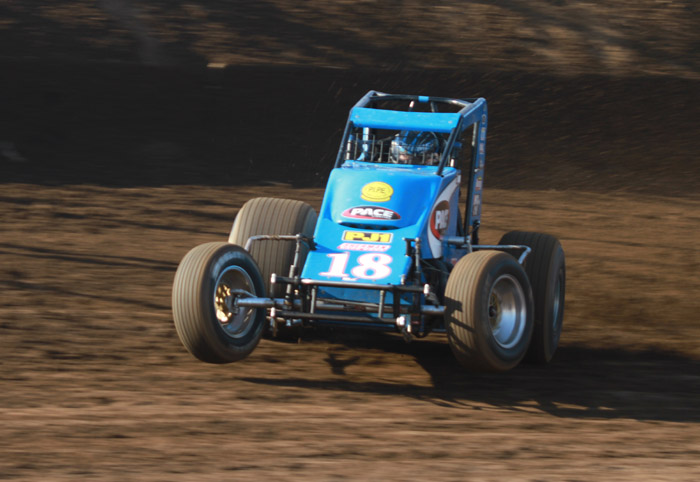 Danny Sheridan
Tony Everhart