January, 2010 @ Chili Bowl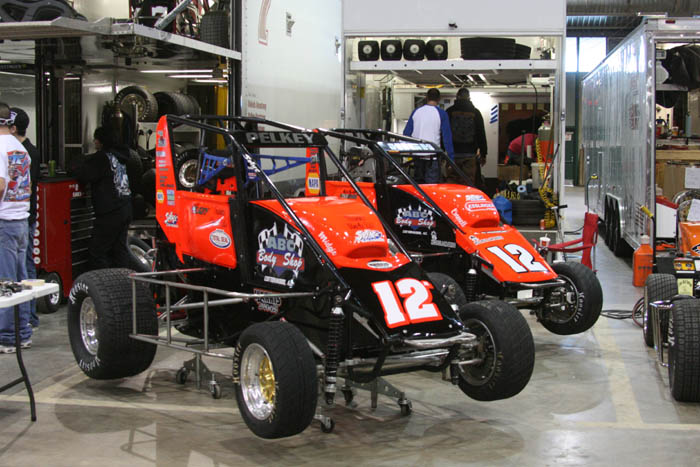 Josh Pelkey and Nathan High from Arizona.
What a cutie!
Sammy was his usual racy self, this year coming from last (25th) to 3rd in the 50 lap main on Saturday.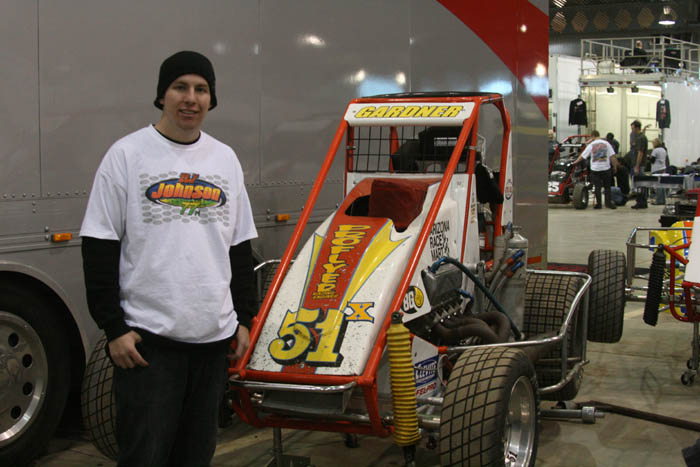 Ronnie Gardner came to have fun! He won the first feature on Saturday night!
Shannon McQueen
Matt Mitchell and Johnny Rodriguez
Garrett Hood
Bobby Michnowicz in the cockpit.
Wags in his funny hat with Bethany Thrasher. The hat isn't the same as normal because one of my dogs got my good one about two hours before my flight to Tulsa and, you guessed it, it was a tug of war! This one was all I had.
Jim Viviano, photog from the St Louis area. He did the one and only 1st Wagsdash pic.
Ronnie Gardner looks pensive, or is that the "what me worry" look? He raced one of the three R J Johnson cars.
Bobby Michnowicz
Looking down the front stretch towards turn 1.
Cars head into the 1st turn.
The winners and the girls.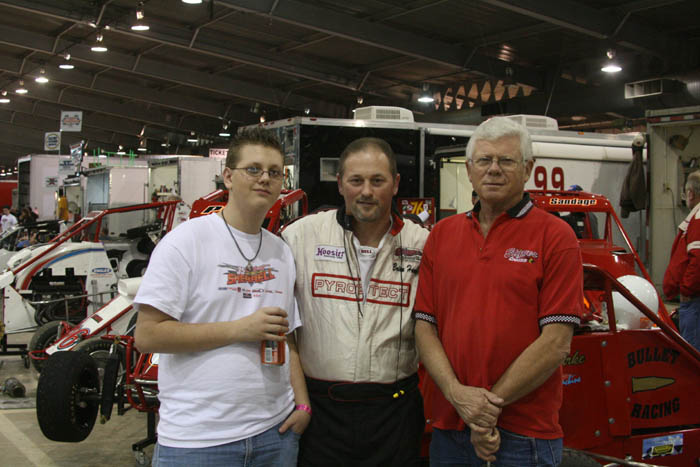 Young Cody, left, is way too big since we haven't seen him in a long time. His dad Brian and Grandpa Richard were all working on the car.
Brian poses in a family portrait with Bill and his bride (???)
A heat takes off with J J Yeley on the front in red # 67.
This heat has Brent Camarillo hustling from the second row.
Troy Rutherford leads the pack here.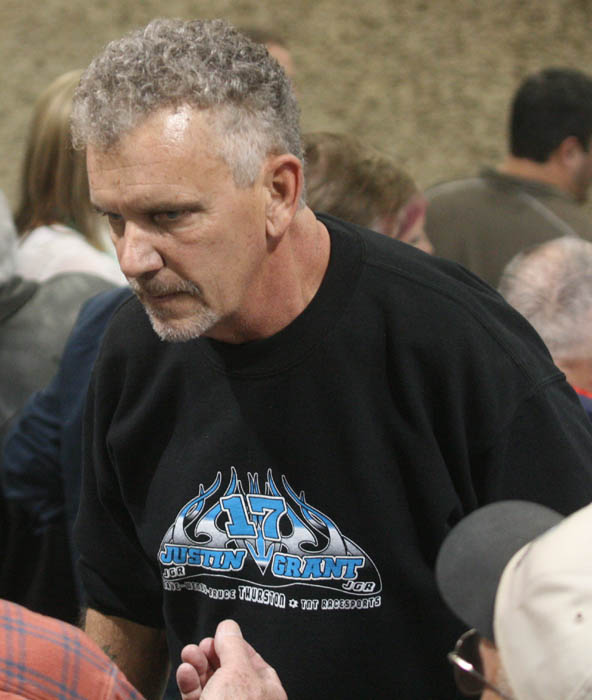 Jimmy Sills looks stern in the VIP section.
The thursday main lines up on the backstretch looking for green.
The crowd is full of Wagtimers!
This is what the adults doing during the lulls in the action. The annual blow up doll toss facinates the crowd.
February 25, 2010 @ Las Vegas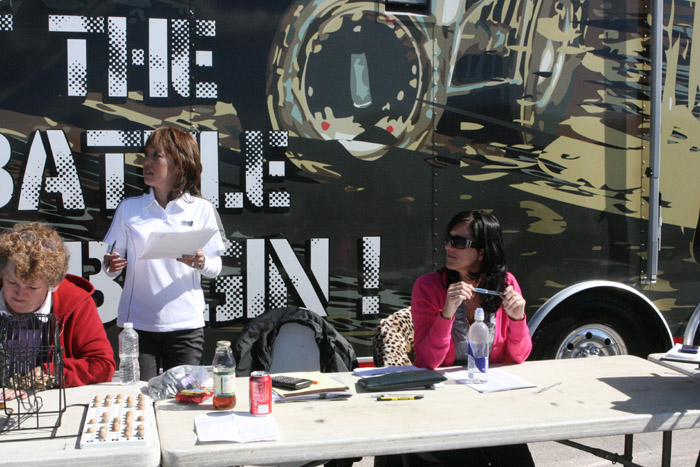 Silvia, Julie and Shelley get to work.
The Kittle hauler is parked closest to the USAC trailer.
That's Darren Hagen in the middle.
Mad Dog Shedarowich was there.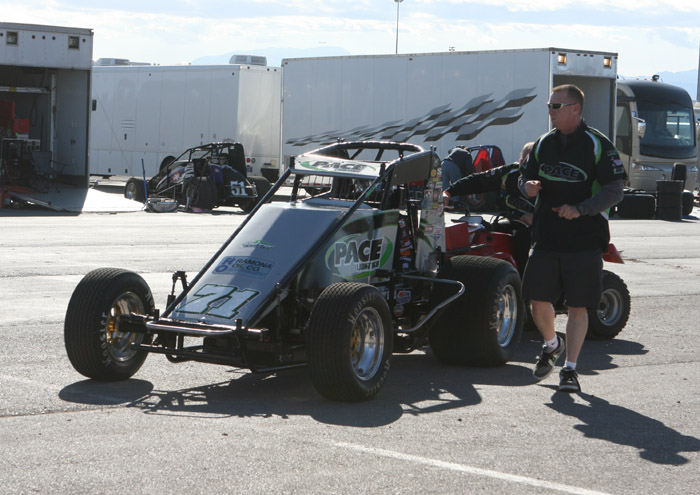 Vinnie Latner walks along side as Damion goes to the push off area.
Blake Miller now drives the # 7. He will have to get use to a totally different car than the Sled's of the Gardenr's. Blake was 14th in it tonight.
A look at the main grandstands from out in turn two.
February 28, 2010 @ Perris
There's Chris and Scott with Mark Spivey of the David Miller car. Rickie Gaunt returned to the drivers seat and ended up 16th in the main.
Prolong brought this little monster blown Metropolitan out to make some noise. It sounded fast. They run it at 1/8 mile drags because the druver can't run a full quarter?
Damion Gardner's winning Pace sponsored car.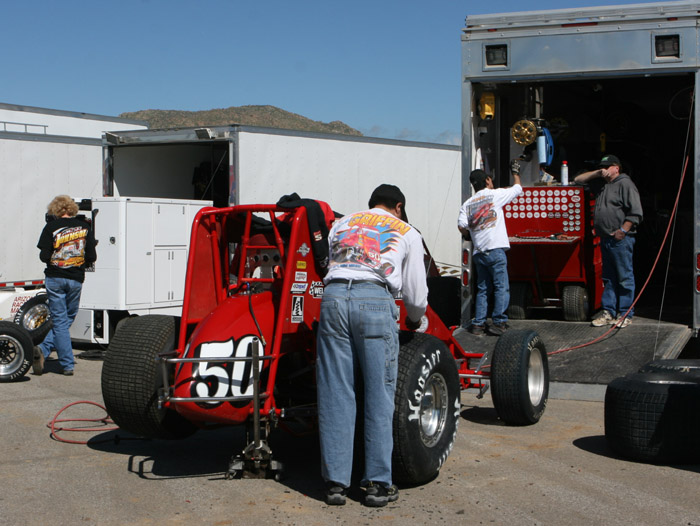 The little red sucker gets attention.
Mike Spencer moved up to 5th in the main event in the Ron Chaffin # 50.
Mike Priestley's # 7 driven by Blake Miller. The Bullet was 17th this race.
Damion Gardner, right, gives up something to Tracy Hines.
Rookie 410 driver Dennis Howell Jr, left, talks with Danny Sheridan.
A shot of the pretty # 7 with Blake Miller up.
Tony Jones.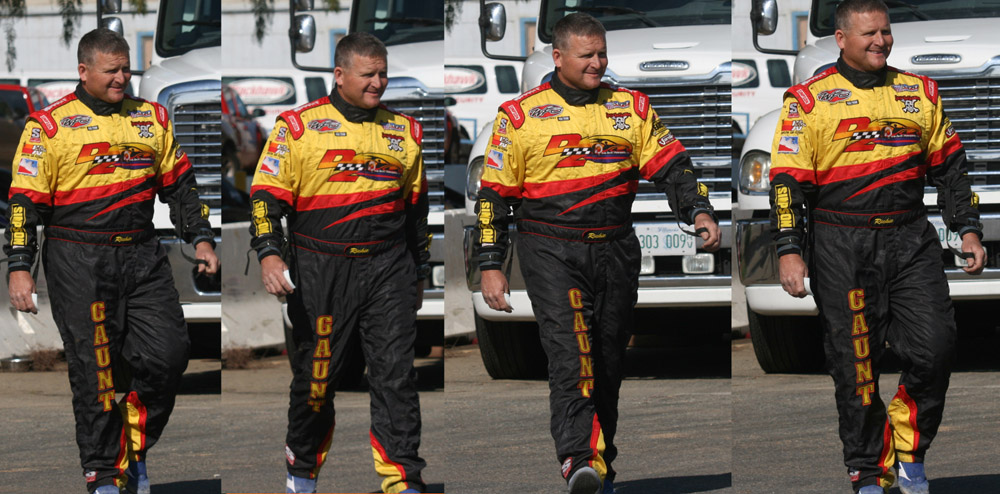 Rickie Gaunt takes a walk.
Damion Gardner.
Danny Sheridan.
They look like they are going somewhere.
April 10, 2010 @ Perris
Looking in betwen the haulers as they line-up to gain access to the pits.
Here's Ronnie's ride the blue moon!
The day in the life of a crew chief. Imagine what he is thinking about. Winning! It must have worked!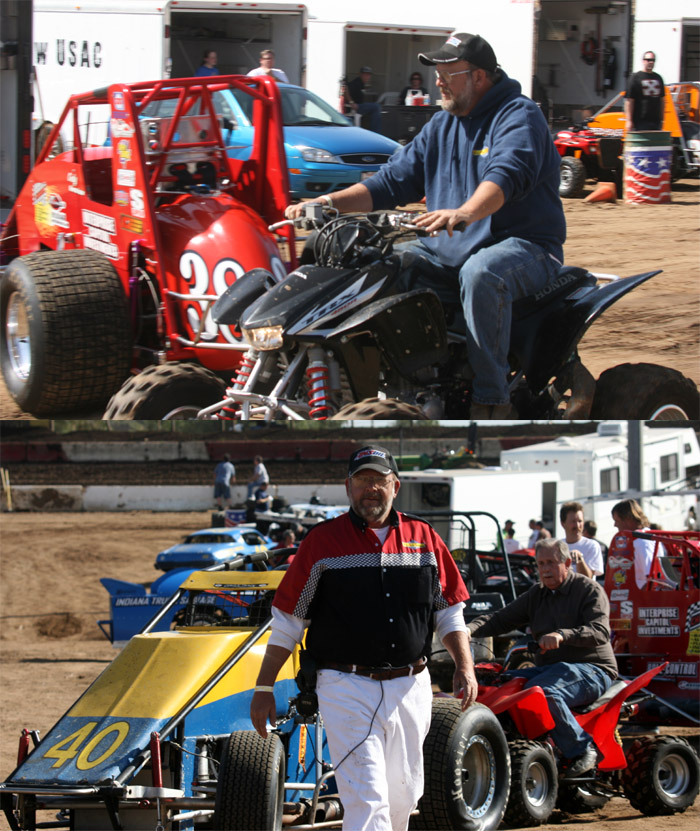 This very nice PAS official called "Coach" is always up to something with a smile on his face. Early in the afternoon he was zooming this 4 wheeler around the track trying to get the motor to run smoothly, or practicing for an off road race. Later he became an official and was dressed for the part.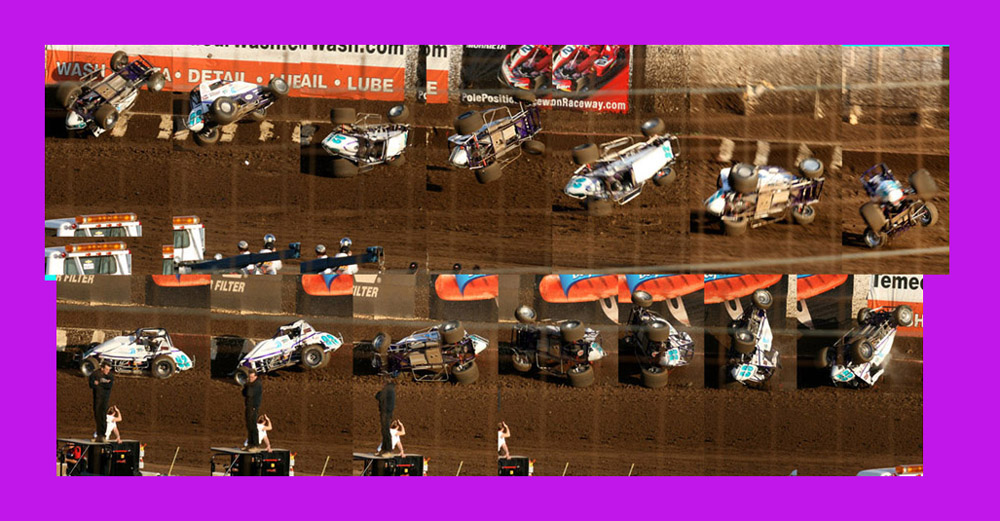 On the second one qaulifying lap, Greg Bragg makes some rollover music. He later came back to get 6th in the main event.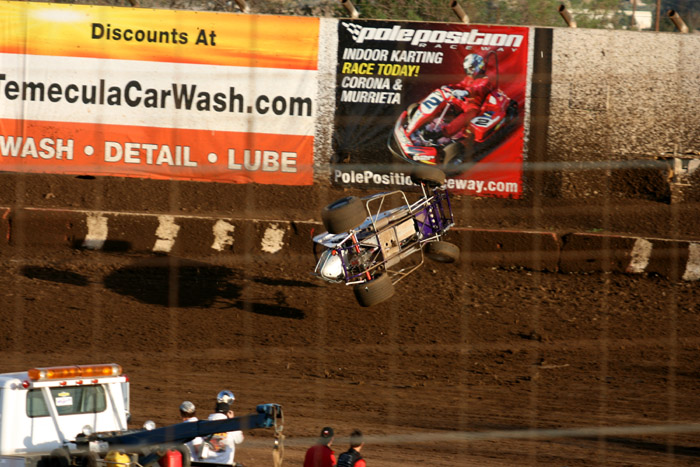 Here is a shot of Oh No!!
And one more of the flying Moosemobile.
The main event lines up.
And they are off!
March 27, 2010 @ Perris
Dog sitting with Hailey is another of the many talents of Randy Shiosaki in his quest to make the little blue sucker a winner each week. Soon it was back to business and the car took center stage.
Nic Faas gets his car ready early. He had the lead for 8 laps before falling off the pace with a problem late.
Jerry Welton continues to get seat time in his # 62 as he just missed the main this week.
Okie Sampson came in like a tornado and left like a lion. He was frustrated all night and didn't get to race. It started with the traffic getting here. Don't know what the rain guard is for.
A little confab around the David Miller car.
A look at the announcers booth from the back.
That's Neetra relaxing out front with the youngest Williams brother Logan. Logan is ready for his sprint car experience and Neetra dates his brother Austin.
May 8, 2010 @ Santa Maria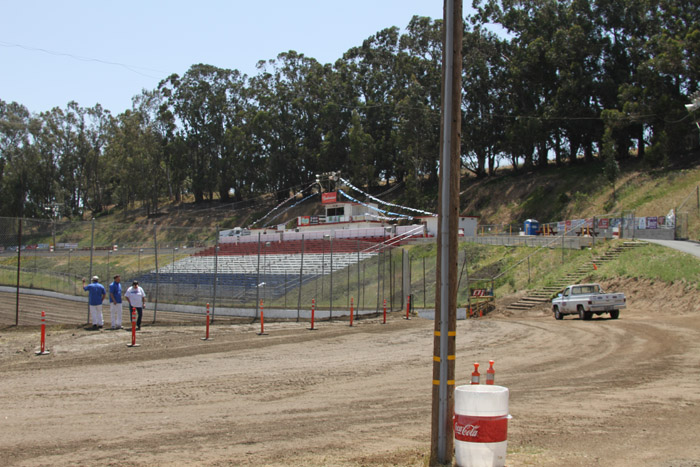 Here we are at beautiful Santa Maria Speedway and the grandstands are empty early on.
Randy is working on the Kittle Kar.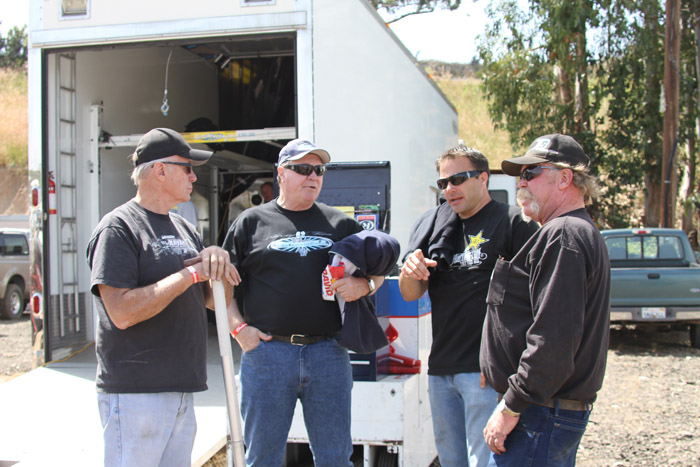 From left, Paul, Dennis Sr, Danny and Ralph are having a session. Danny seems to be leading the discussion.
Danny Sheridan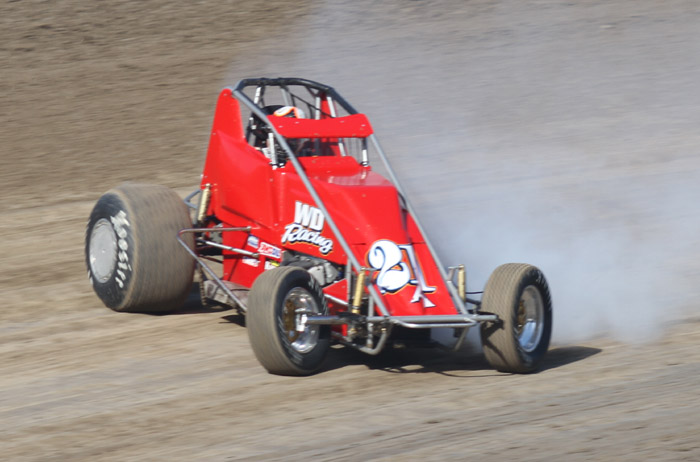 Aaron Altaffer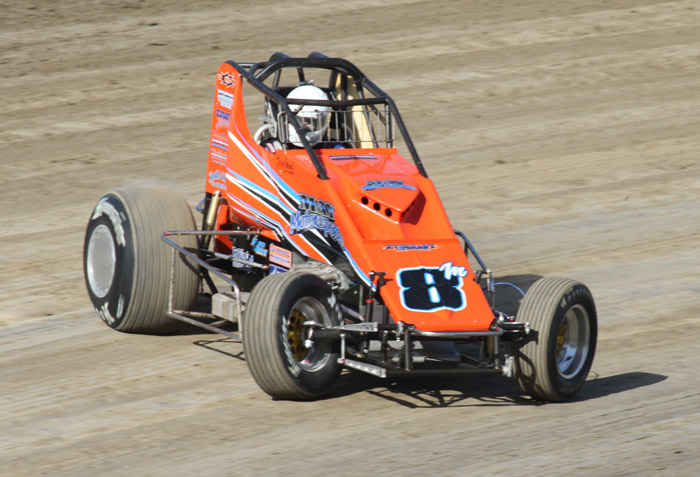 Jesse Mack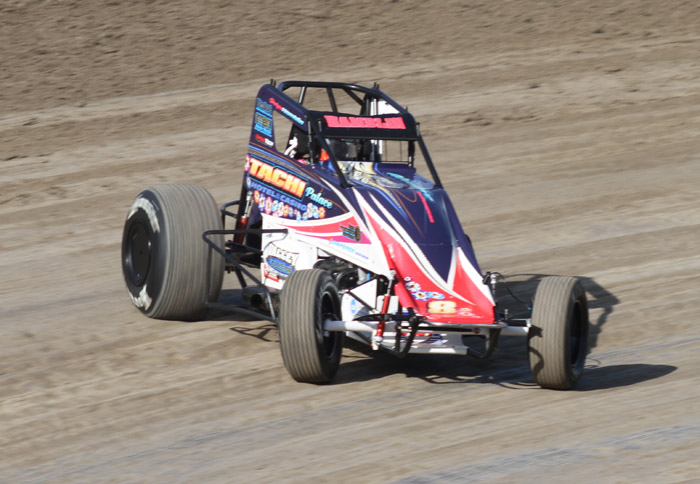 Justyne Hamblin
Justyne Hamblin and part of her cheering section pose with their sign.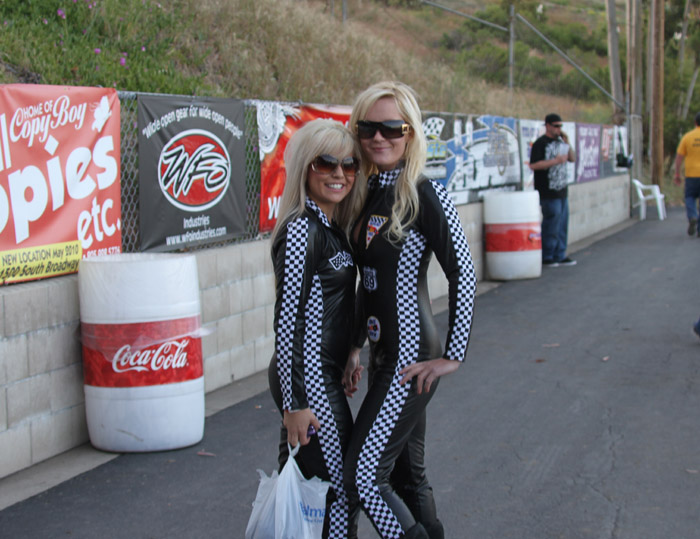 The trophy queens after changing into their outfits.
Danny Sheridan climbs into his office to go wheel pack.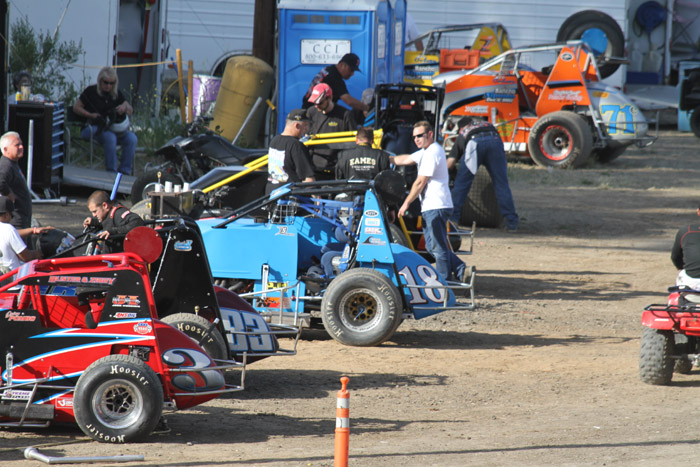 Pit shot.
Heat race.
Another heat race.
The main event lines up
May 29, 2010 @ Perris
Here's Heidi, her mom and probably her dad?
This looks like the black hole of calcutta, but no, it's just the Priestley crew relaxing.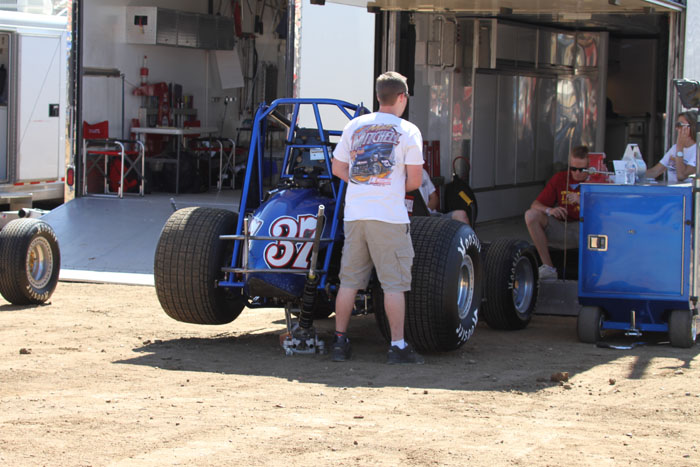 The Matt Mitchell car was helped by Garrett Hansen as he is still recovering from his serious back problems.
An evil Rickie Gaunt is messing with infield announcer Ronnie. Rickie has a gift of gab for all.
Long time friend and Wagtimer, Ray Vodden doesn't miss many races.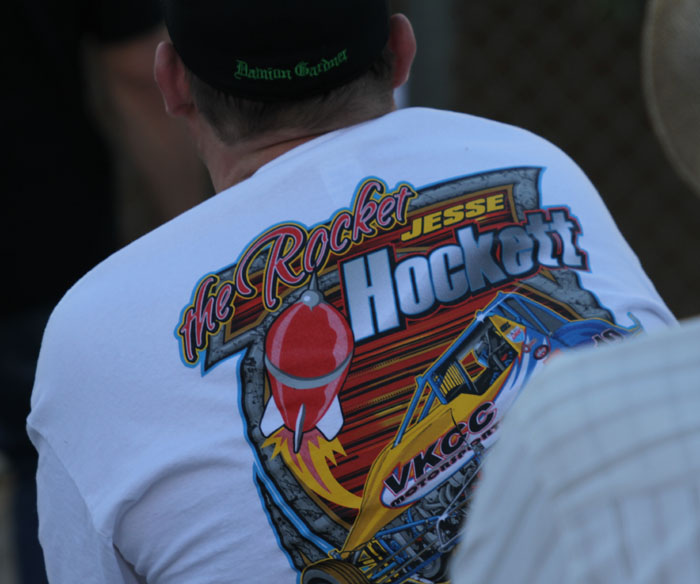 In memory of Jesse Hocket, there were many of his t-shirts in the stands.
Doug Allen sits on the scorboard walkway.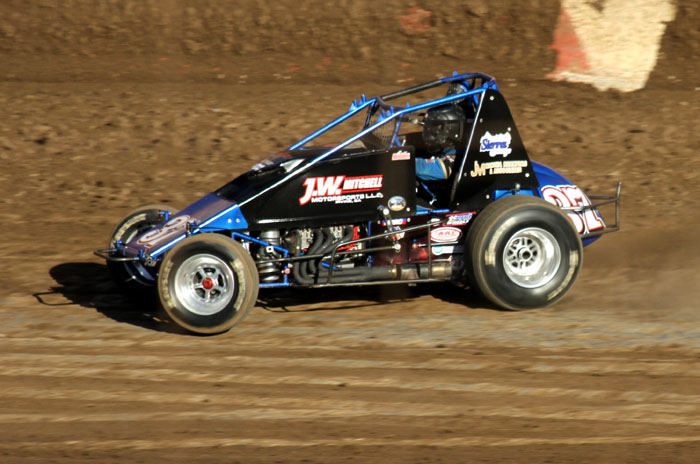 Matt Mitchell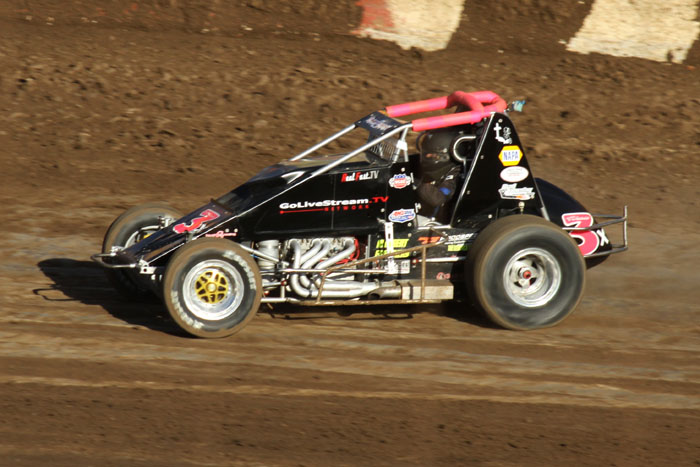 Heidi Tresler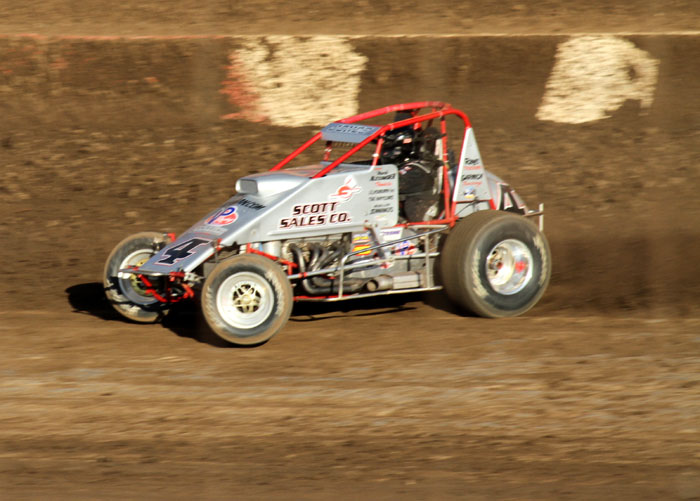 Tony Jones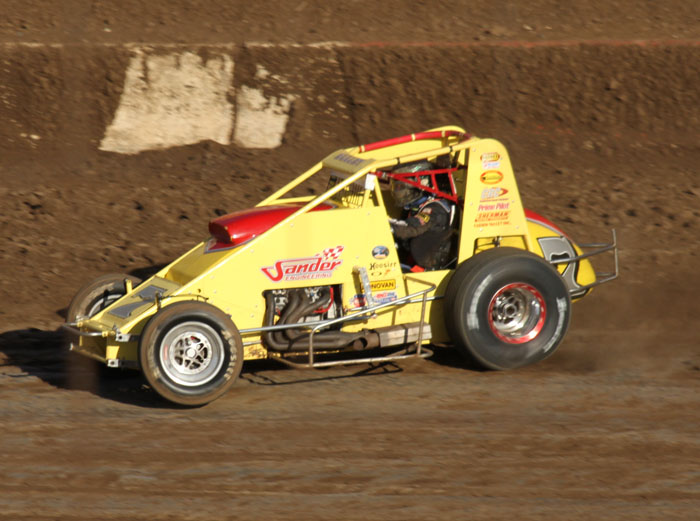 Blake Miller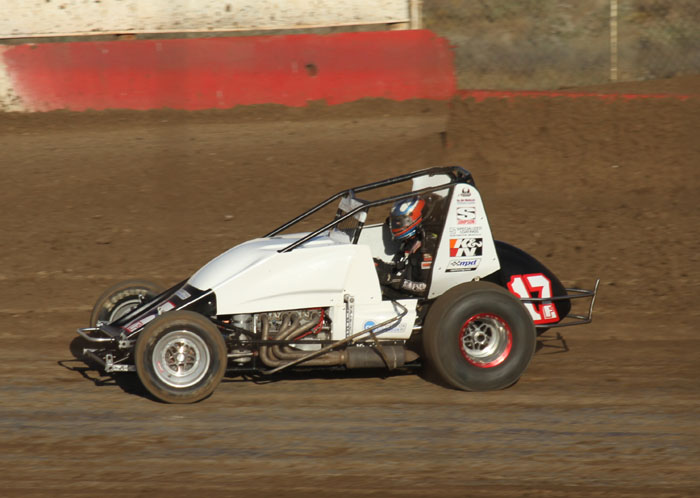 Nic Faas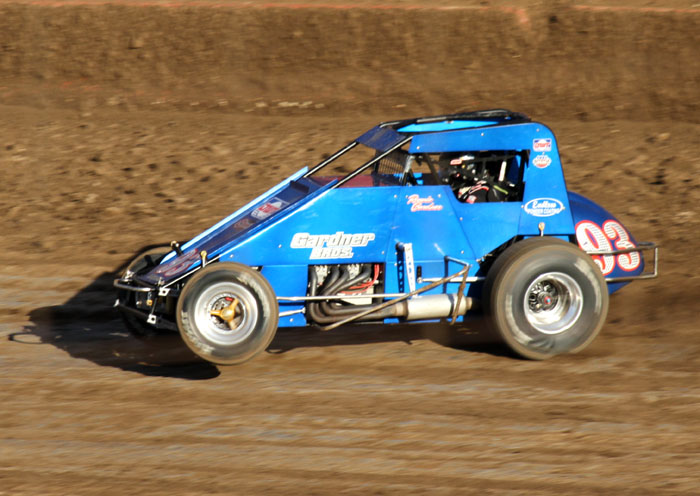 Ronnie Gardner
Some of the haulers have a lot of traffic atop their rigs. Here the Jory bunch is watching the action.
The Kittle trailer has it's own looky loo's.
May 30, 2010 @ Tulare
Tom Sertich and Steve Ostling are kibitzing as Tom works unloading.
Here's a nice pair...... Steve & Shelley Ostling.
Gary Kittle out looking for a restroom with the main grandstands a backdrop here.
One of the antique modifieds on the trailer coming into the pits.
Speaking of which, how do these two look in USAC black? Julie Shiosaki and Shelley Ostling.
Kinda looks like Danny Sheridan is ready to race, he's got that 4 wheeler movin' now.
Greg Bragg
Richard VanderWeerd
Blake Miller
Tony Jones
Austin Williams
Rickie Gaunt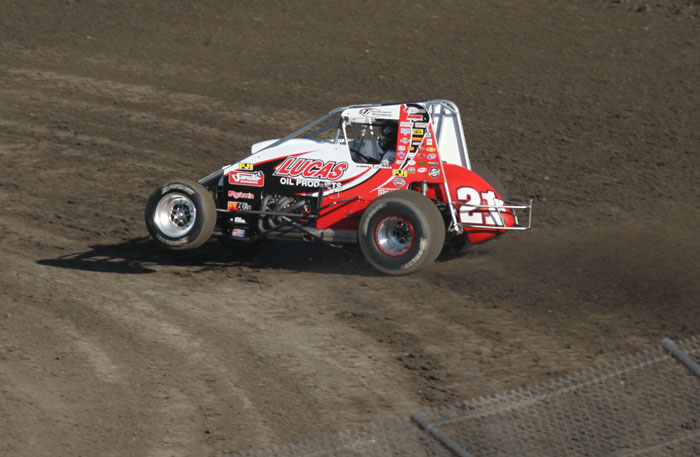 The Kruser gets the left front up.
Rickie Gaunt smokes it a little.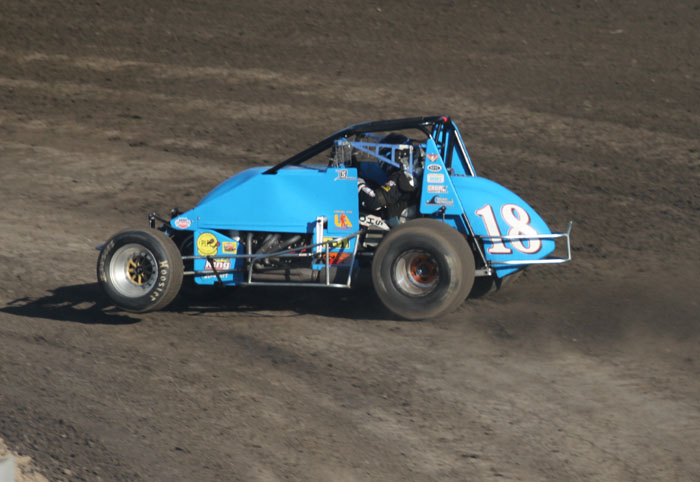 And lifts a wheel.
A really nice view of racing action.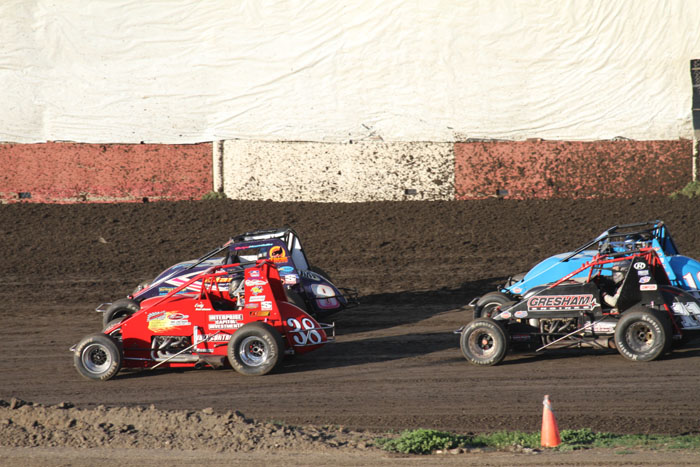 The first heat was won by Danny Sheridan.
The pace truck pulls to the inside as the next heat race is about to start.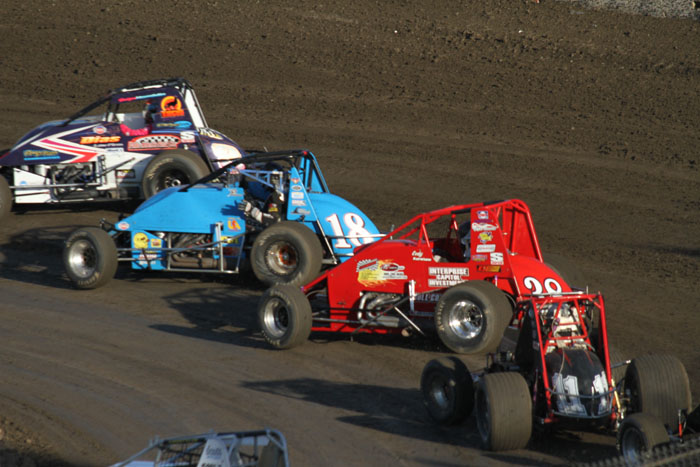 Justyne is leading danny, Cody K and Crawford thru turn one.
And they are off!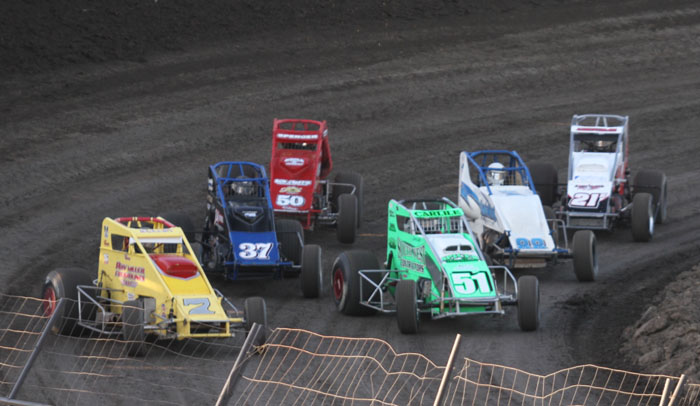 Blake Miller takes the lead in the 3rd heat and goes on to win.
June 12, 2010 @ Perris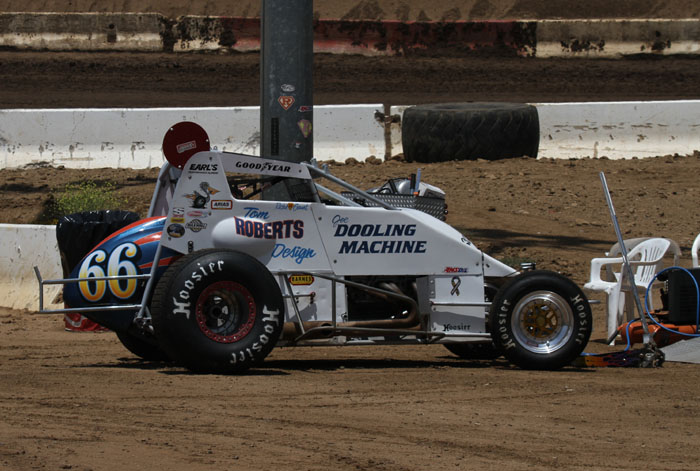 Rickie Gaunt's car looks lonely.
Matt's # 37.
Jonny Bates car looks ready.
Here's Nellie Stansberry wondering whats next? Behind her is Glenn Crossno talking with Tony Everhart.
Danny Sheridan, left, and Nic Faas chat.
Cal Smith posing with his car.
The white version of the # 7 priestley car.
The "old timers" have to wait their turn, but they love driving the old cars.
Julie Shiosaki and Shelley Ostling look like they are going shopping, or have been shopping, or are just having fun looking for more shopping opportunities.
On the Jory hauler you can see Austin Williams watching the action.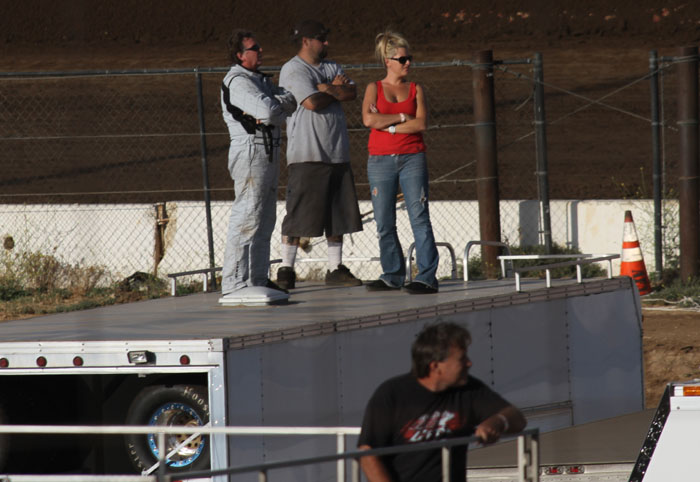 You can see Rip Williams on the lower right while above him Tony Everhart is on the top of his trailer.
June 12, 2010 @ Perris by Mrs Wags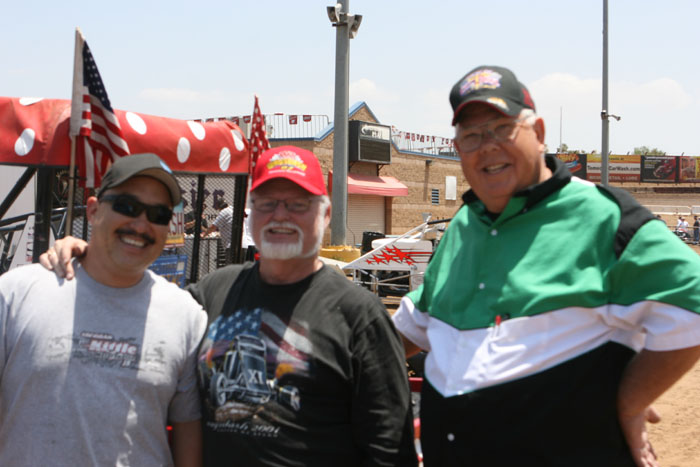 Randy Shiosaki, Wags and Ray Stansberry pose for the lady.
Jace, Ron and Richard VanderWeerd posing for Mrs Wags.
Glenn Crossno thinks about a smile for Mrs Wags.
Evelyn Pratt still rides the pits looking to straighten out the boys.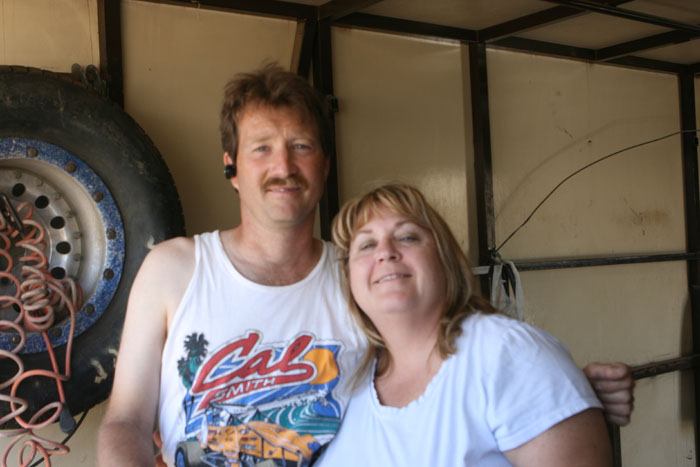 Cal and Debbie Smith relaxing in their trailer.
Jimmie Oskie, 5 time CRA Champion to the left, talks with Tony Jones, a CRA champion himself.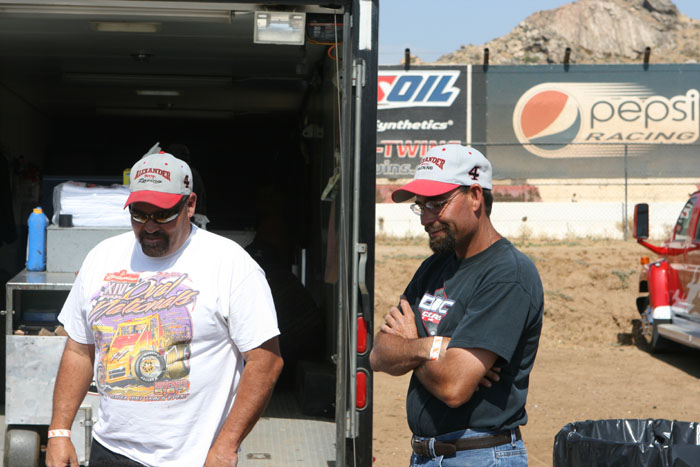 The Brothers Alexander, Steve, left, and Mark analyzing.
Mark Spivey back working in the pits after serious surgery last week.
The Silver Bullet gets some work done!
The young Williams brothers, Austin, left, and Cody.
June 18, 2010 @ Watsonville
My dog can jump higher than your dog!
I don't know about the word official on the front, sez Mr Ostling. The new uniforms look sharp.
The front view of the Mark Prietley owned # 7 driven by Blake Miller.
Time to get to work as Gary Tanaka and Bruce Bromme Jr are ready to pull out the little red sucker.
Kittle Tool Kart is coming out to be ready.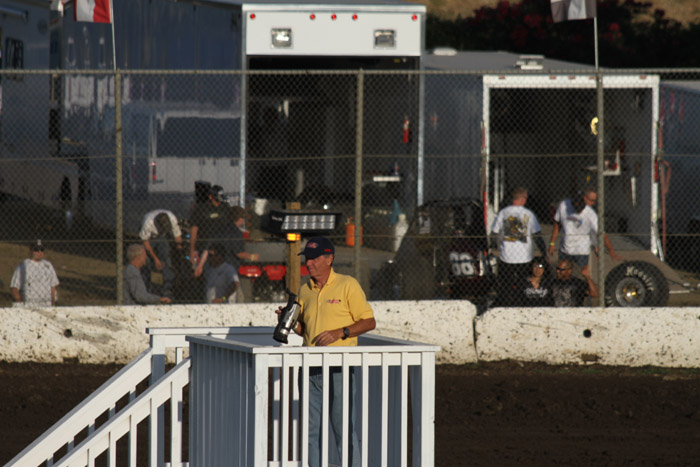 Mike Truex does his thing from one of the infield high view areas.
The Moose Mule is ready to wander in the pits.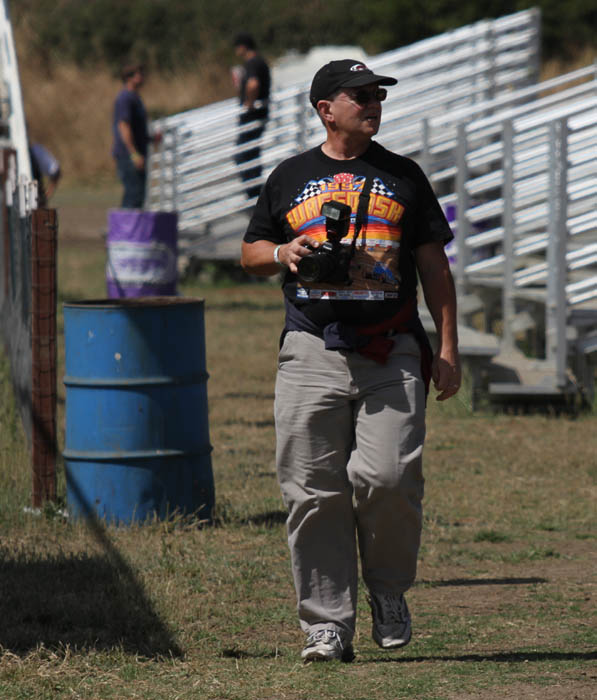 Chucko has arrived! He only had to come a short way to shoot the CRA this time.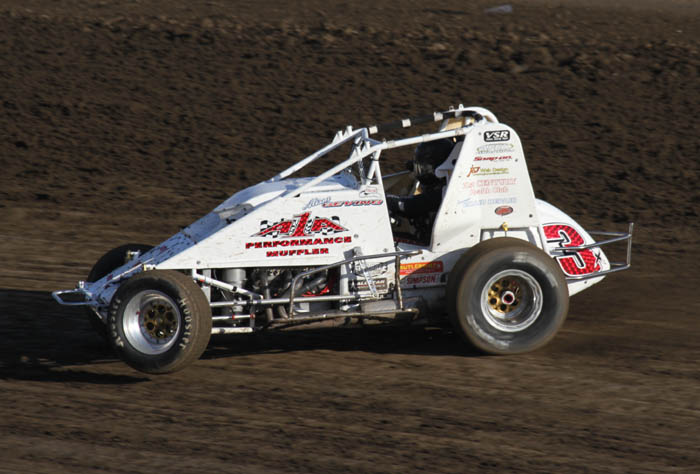 Alissa Giving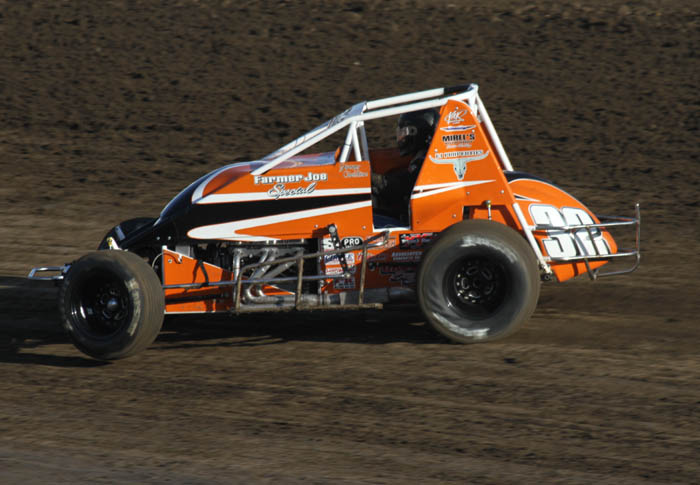 Jim Christian
Danny Sheridan
Wheel up for Sheridaan
Crew chief Randy on the top of the hauler checking his driver out.
Daniel Hood who was 4th fast and 16th in the main.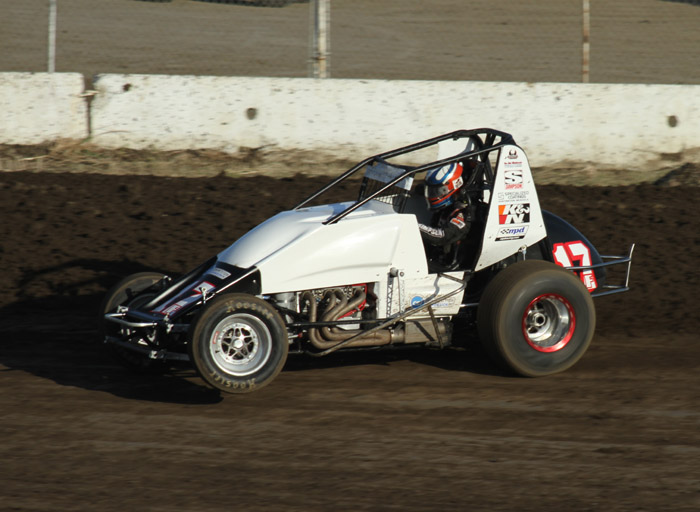 Nic Faas
Howard Ferguson Jr ran 20th in th emain.
Ryan Bernal pulls the wheels as he slides under Tyler Schmidt.
Blake Miller pulls hard in the # 7
Austin Williams
Danny Faria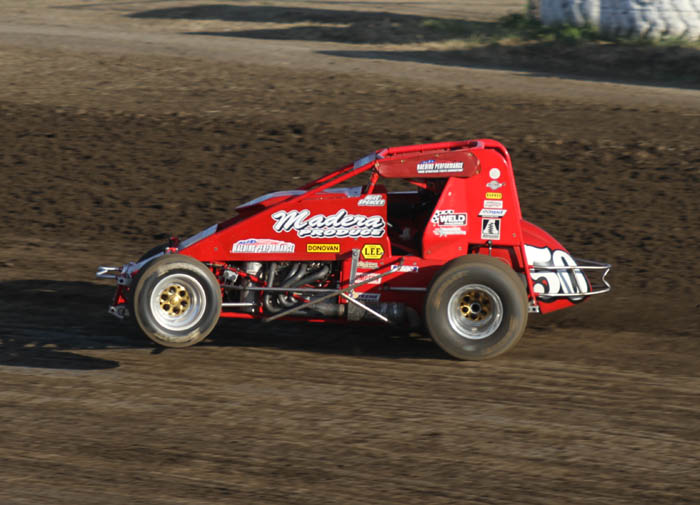 Mike Spencer
Shane Gobolic finished 6th after running up to 2nd in the main.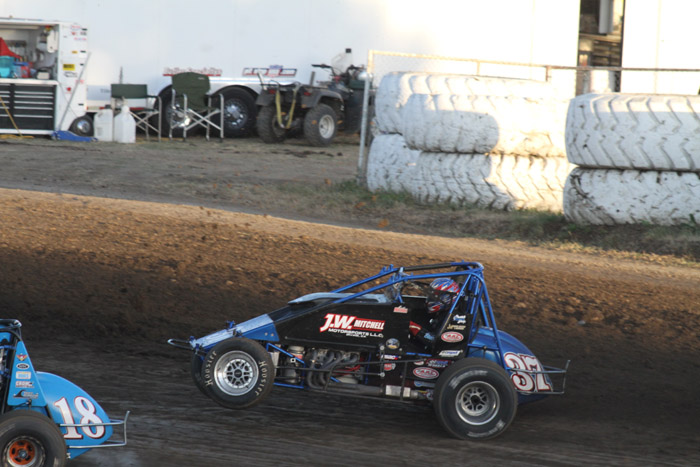 Matt Mitchell pulls the wheels trying to catch the leader.
Tommy Laliberte didn't set an altitude record, but he got some air!
June 19, 2010 @ Petaluma
The little blue bugger gets it's share of maintenance. Lucky I don't know anything.
O v e r l o a d e d!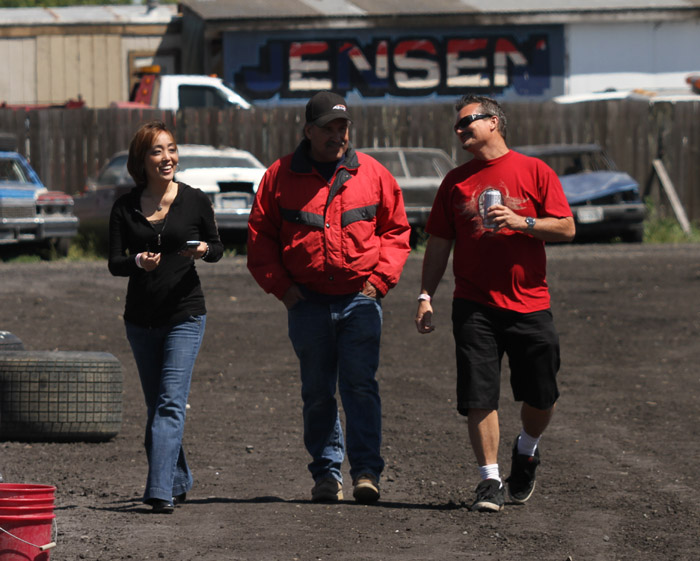 Julie, Rip and Ostling walking the pits.
Ryan Bernal
Eric Rossi
Jason McIntosh on tilt!
Alissa Giving
Off they go in a colorful blast of speed.
Matt Mitchell and Geoff Ensign on the gas.
July 3, 2010 @ Perris
The brothers, left to right, Justin and Randy do their thing? It's all done.
Here is the cockpit that the redhead uses for his playtime.
Tom Sertich is working in the trailer of the Moosemobile camp. Must be a holiday?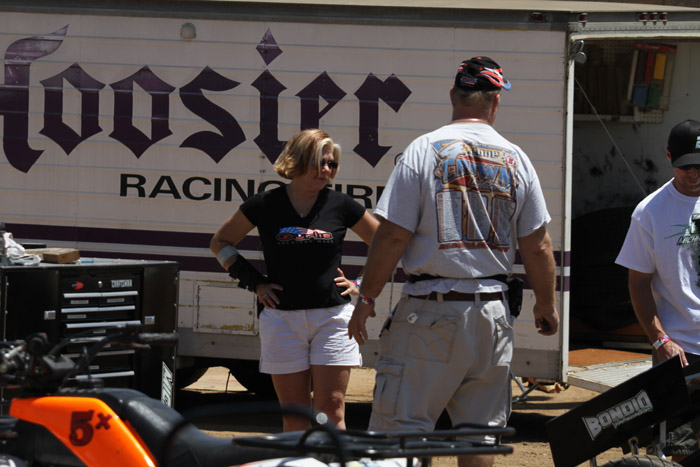 Mark Spivey makes the rounds and talks with Wendy Michnowicz. He looks pretty good for a guy who had major surgery recently.
Danny Sheridan contemplates what he will do in the water ballon fight. Get wet is one theory with his son Blake in the car.
The line-up is straight and pretty impressive from here.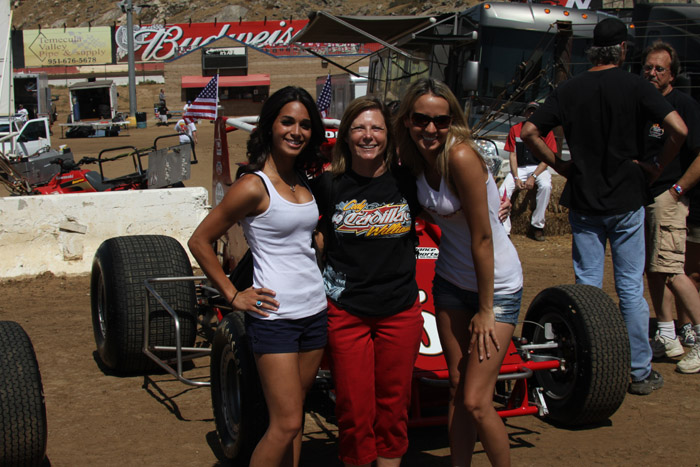 Netra, Becky Williams and Heidi clown it up for the camera in the bright sun. I should have given Becky some sun glasses, it was sooooo bright.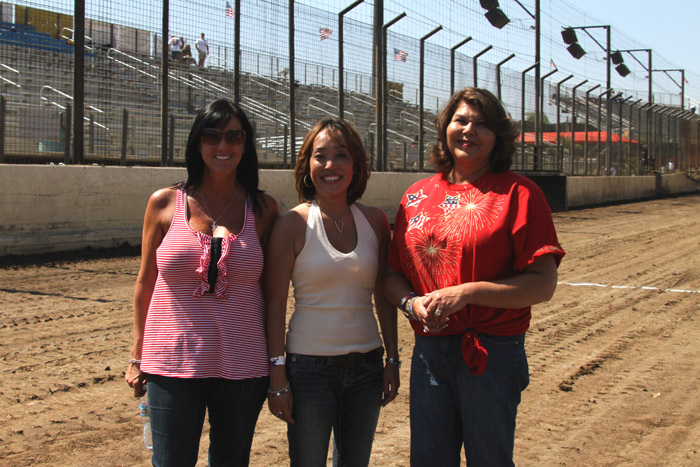 Laurie Sertich, Shelley Ostling and Julie having a fine firecracker day.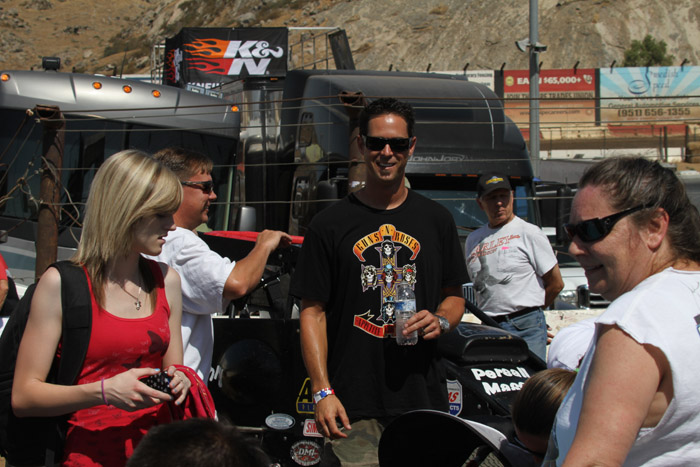 And here is the eventual winner, David Cardey visiting with the fans.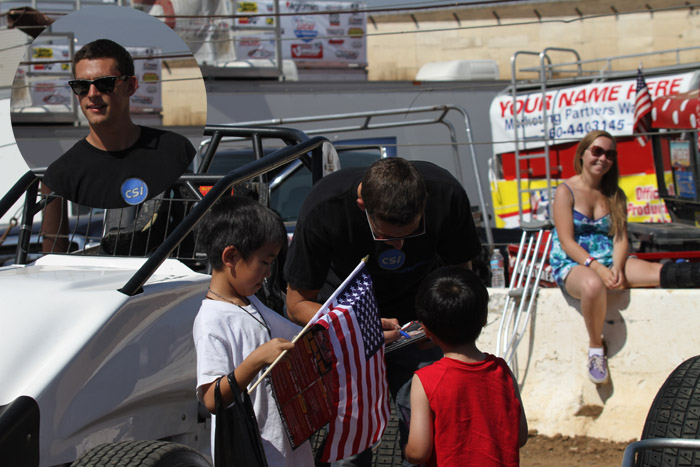 Nic Faas takes time for the kids.
Danny and Blake smile for the camera as Kasie looks on.
Ludwig Solberg IV back in the # 13 car.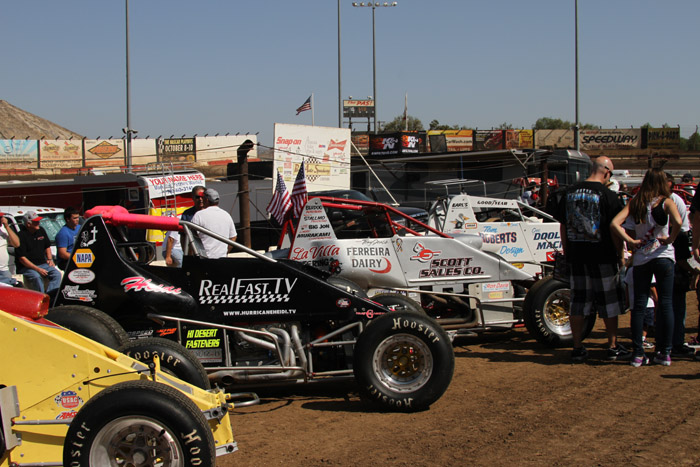 Were burning sunlight as the afternoon moves on.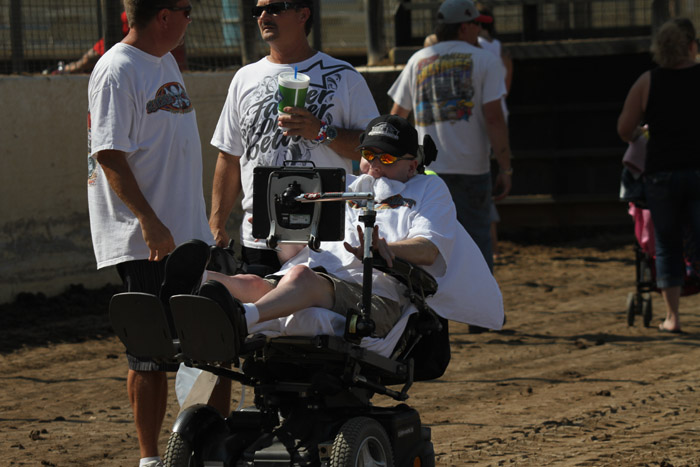 The worlds biggest sprint car fan Shawn Macdonald tools around the pits.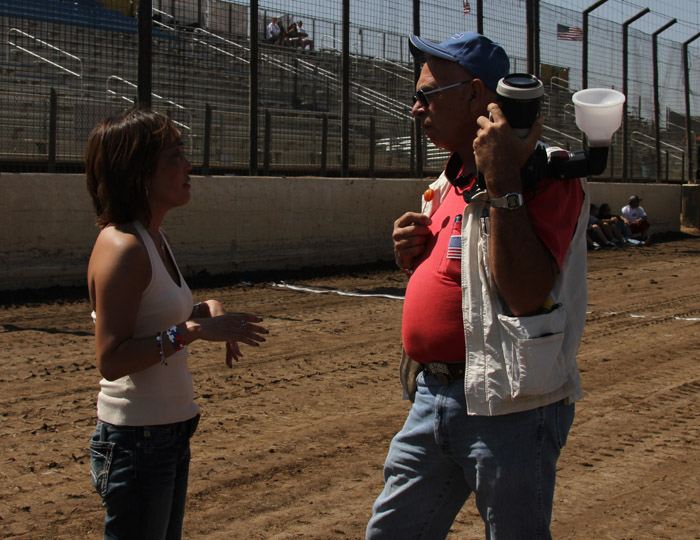 Julie Shiosaki and Doug Allen doing some business. She wants photos!
Cruelty to children seems to be Krista and David's theme this week as little Dylan gets an enhanced chest.
Cal Smith up in the air and down.
And then there were fireworks all thru the land.
July 31, 2010 @ Perris
The Bromme plan is to attack the car early, then sit back and watch till' they race.
The new look Silver Bullet car of the Alexanders driven by Tony Jones.
Looks like a really nice paint job, but it's just not the silver bullet car.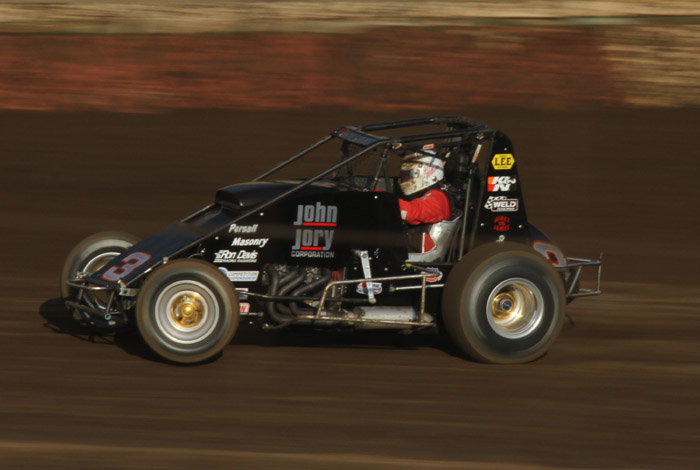 Rip Williams
August 28, 2010 @ Perris
This is the way it used to be. Open trailers with all your stuff crammed on small rigs. Now look in the pits, it's way different.
Super Rickie Gaunt on a jaunt.
Ronnie Gardner
Next we added one more but Tony was busy and I had to go home.
And the finali put me with Sheri with the camera in Kenny's hands, and then it was good night to all, as I was on my way to Vegas.
September 04, 2010 @ Calistoga
There are a few motorhomes packing the place as well as tents at Calistoga.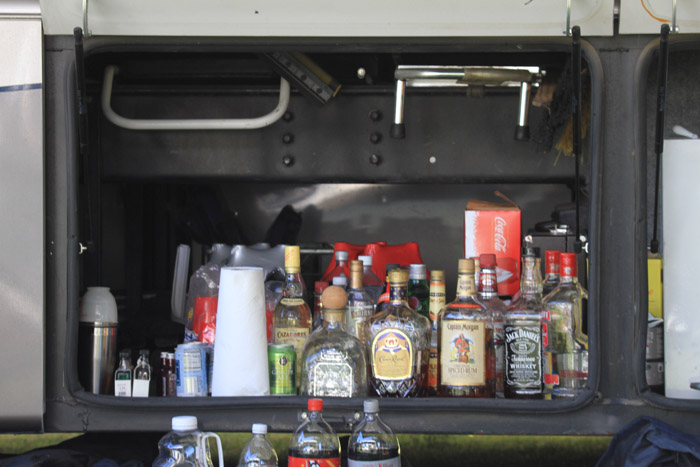 Bar's open!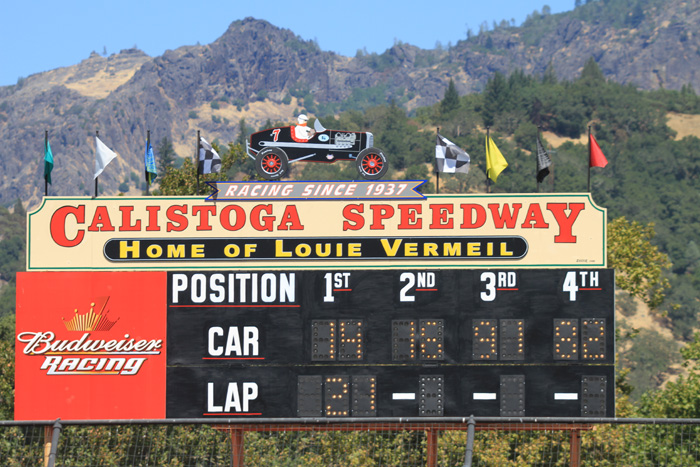 The new scoreboard had some old habits, it wasn't up to date much, but it looked great. Manzy had a great looking one too!
One of the movers and shakers of the WRA, Bob Mastroleo, is movin' here.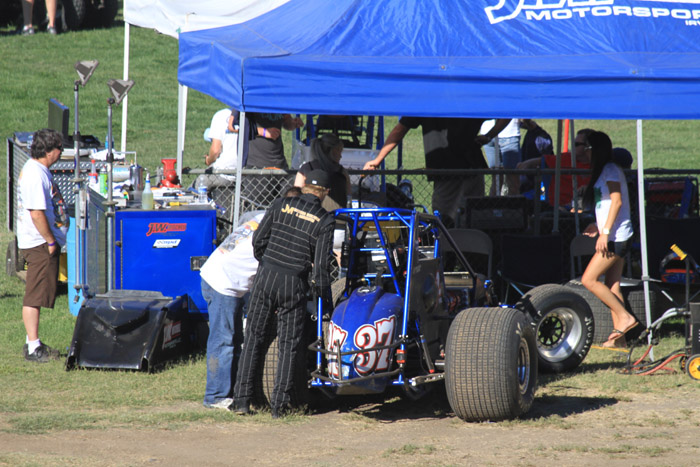 Matt Mitchell's pit area.
The Jack Jory black cars.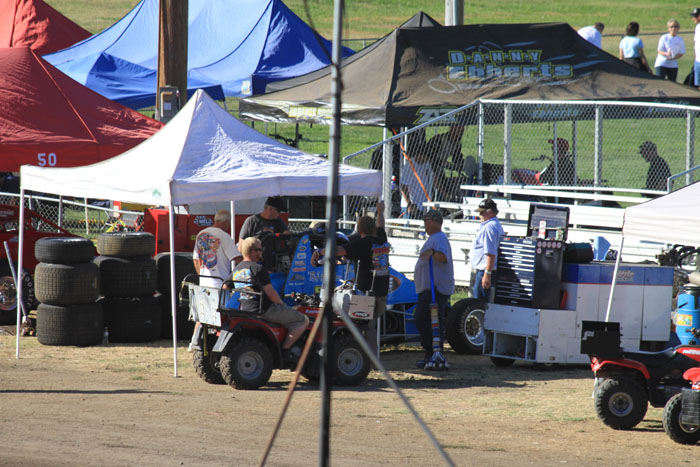 Danny Sheridan
Jim Richardson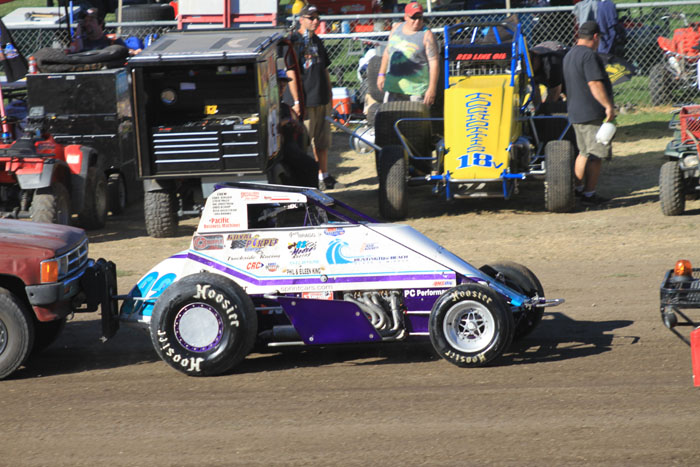 Greg Bragg
Mike Spencer
Robert Ballou
triple play
Bullett Blake Miller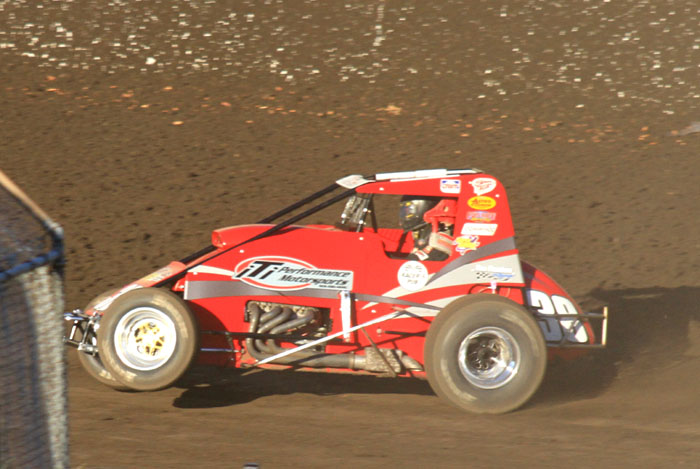 David Cardey
Shane Golobic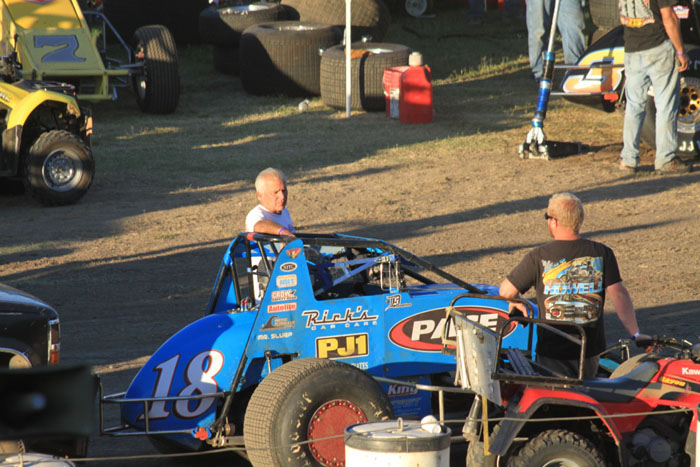 Danny Sheridan
Cory Kruseman
September 05, 2010 @ Calistoga
Brian Kittle at work at the track. He loves to cook and his feeding of the crowd is becoming legendary.
chow down
Robert Ballou
Danny Sheridan ready to get at it.
Mike Spencer
Kyle Larson
David Cardey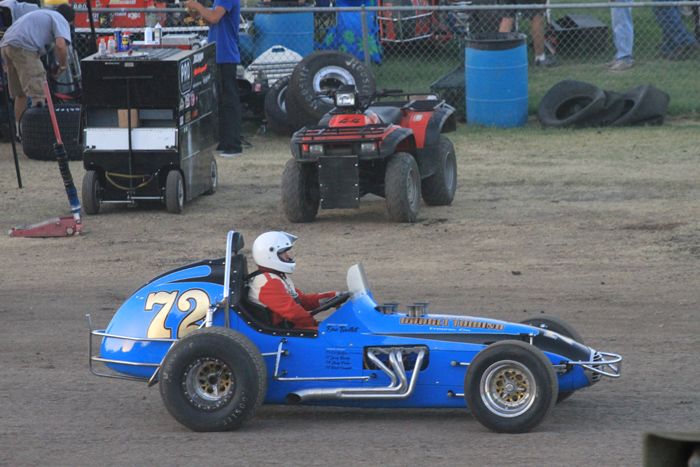 Antique sprinter.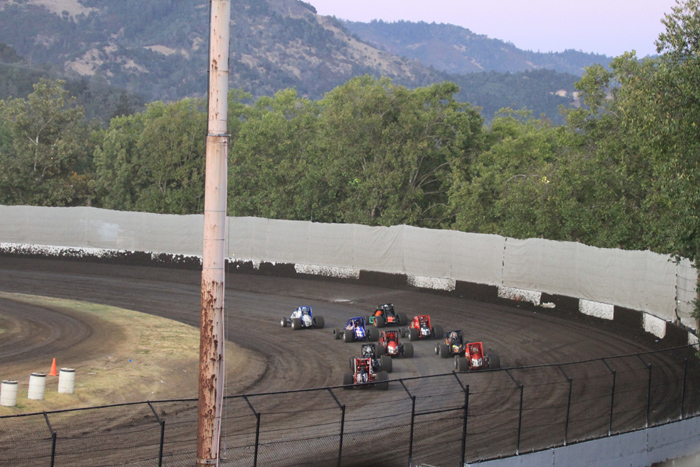 What a scene, race cars on the track at Calistoga!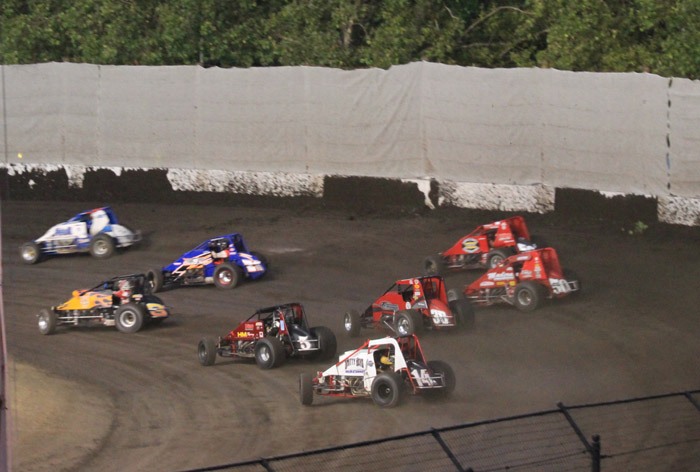 And a race is going on.
September 11, 2010 @ Ventura
Always nice to see an old Wagsdash T-shirt.
Wiley Miller
Little arn't they?
The Brothers Camarillo, Brent and BriaN.
More Brothers Camarillo, but different car.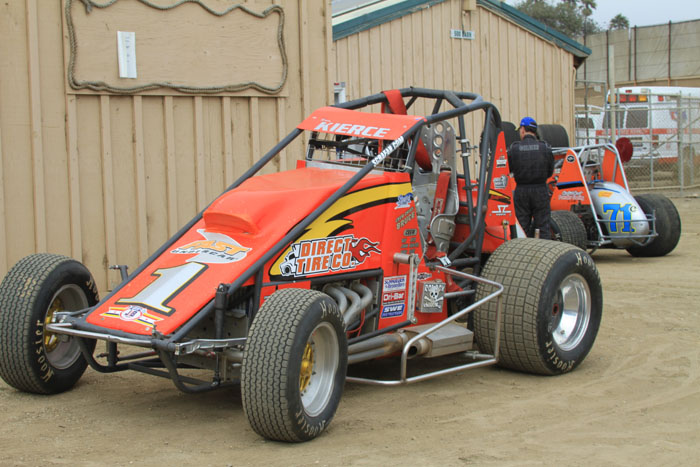 Kevin Kierce was on probation but his car was there.
It's real beach scene
Lets race
September 18, 2010 @ Perris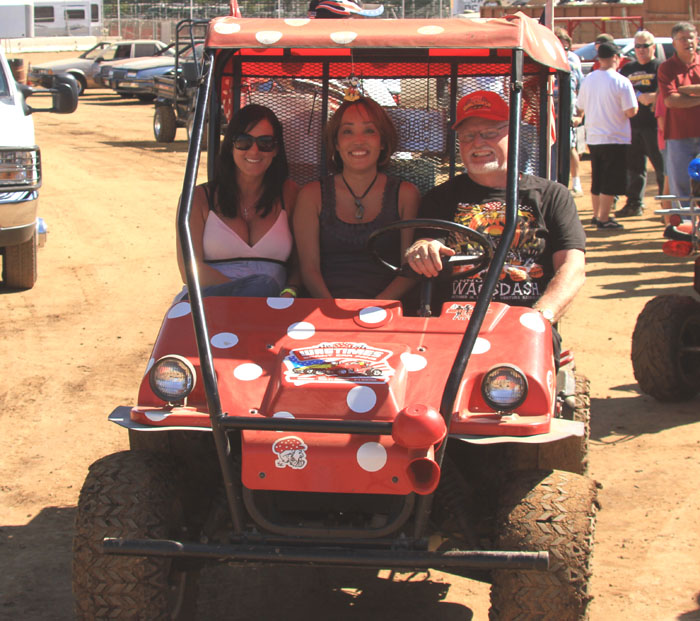 Wags always get accused of messing around. Here I am just helping out these two cuties. Can you blame me?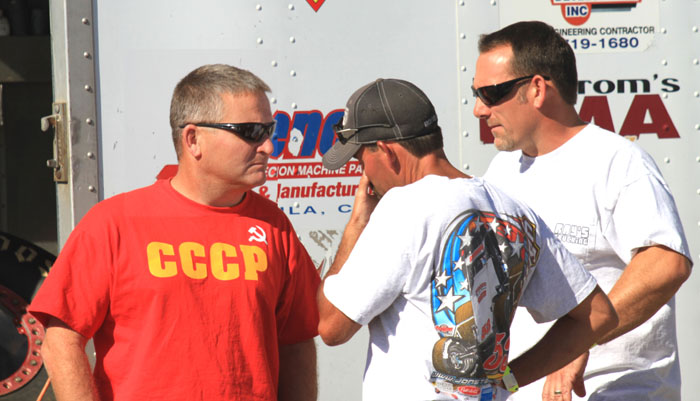 Rickie Gaunt, the Russion imposter(?), discusses the night with Tony Jones as Mark Alexander looks on.
It's a beautiful world of speed and beauty.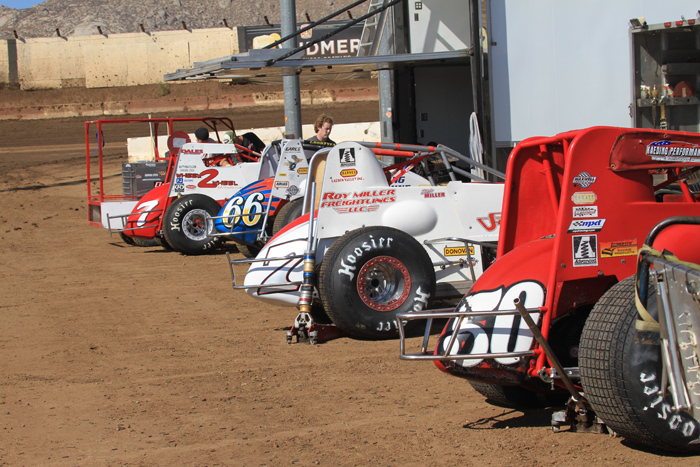 And more so here.
Ron Chaffin, owner of the little red sucker walks in for another victory on his long string of them.
Here comes his driver Mike Spencer.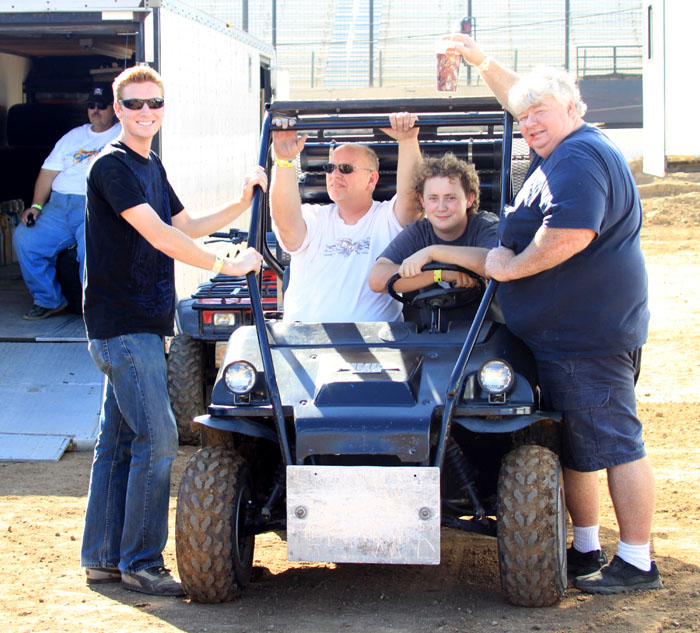 Gardner conclave and Blake, ever the instigator.
September 25, 2010 @ Ventura Wagsdash photo's by others
Wags and the Gasman do the national anthem. By Chucko
By Darleen Dils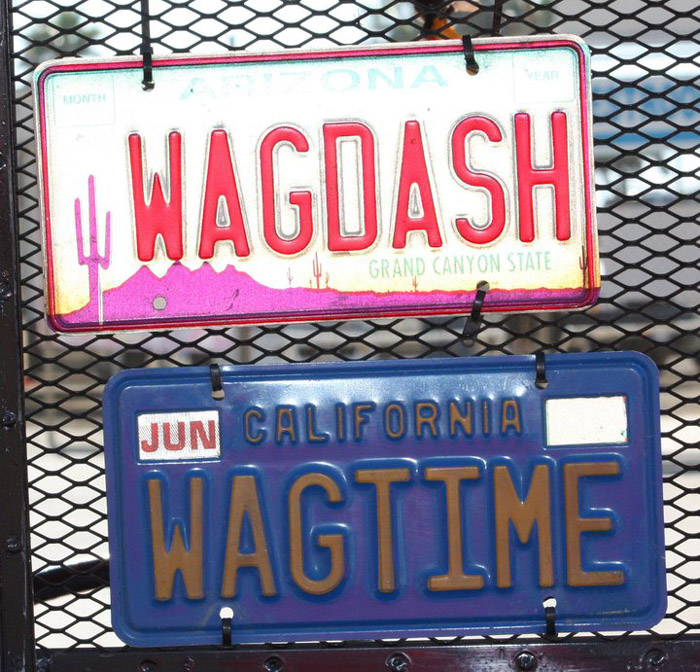 Wags license plates
The last Wagtimes banner
Richard Griffin and Tony Jones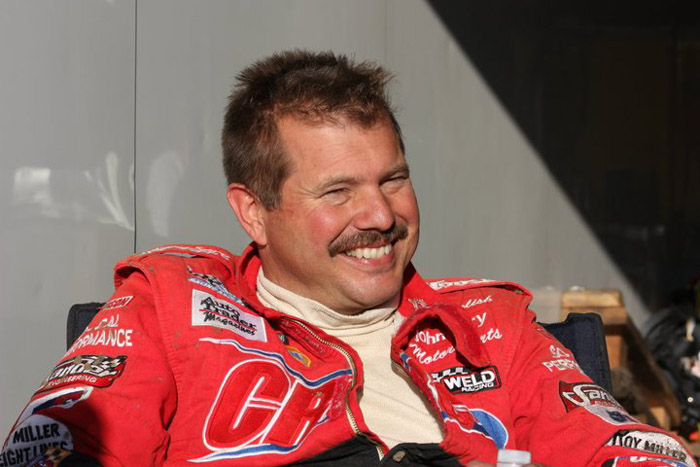 Mike English
Wags and the Gasman on the track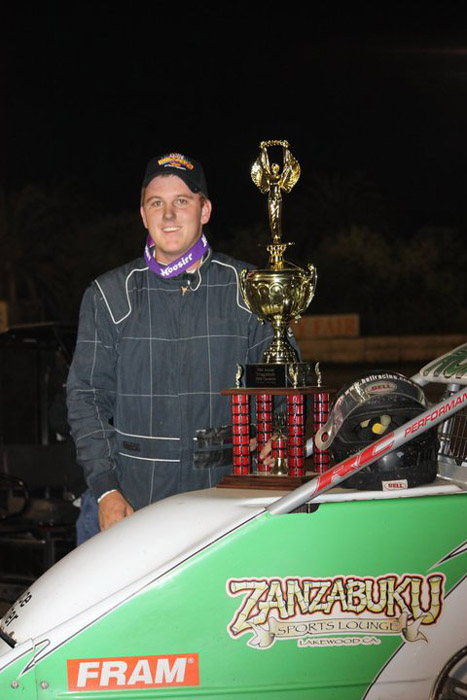 Brody Roa
Shopping, shopping, shopping
Bobby and Wendy Michnowicz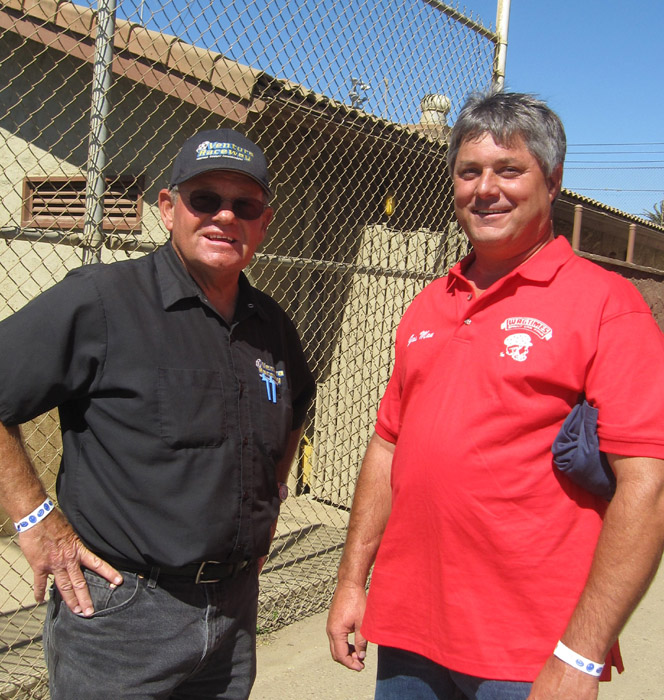 The Gasman and Jim Naylor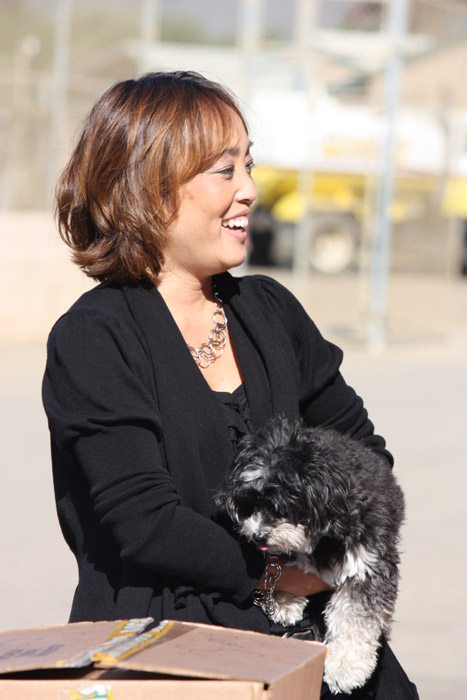 Julie and Hailey
Wags with a very packed Morono that didn't leave any room to add anything else.
By David Cordova
Setting up is always a chinese fire drill, except they always get it done.

The Wagsdash trophy that now sits in Brody Roa's trophy case.
Ventura Raceway and the palm trees aplenty.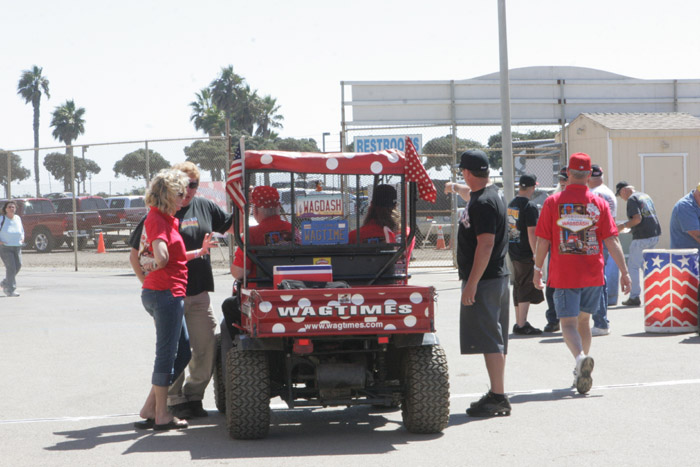 The Mule is stopped for a moment as activity moves on.
A pic from up there overlooking the midway.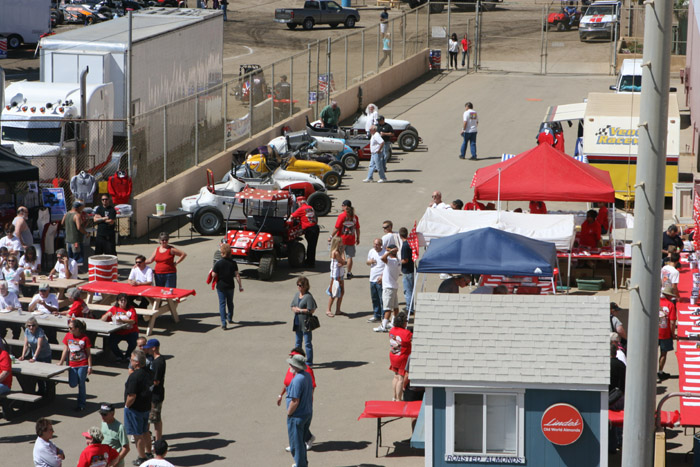 Another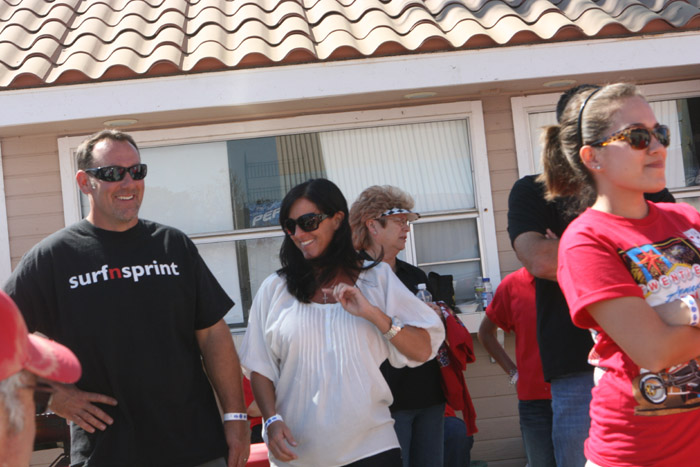 Tony is messing with someone as Shelly Ostling looks on.
Chris is talking with Bethany's friend from AZ, Shannon?
Bethany is celebrating her 24th birthday. What's that on her head, a queen's bling?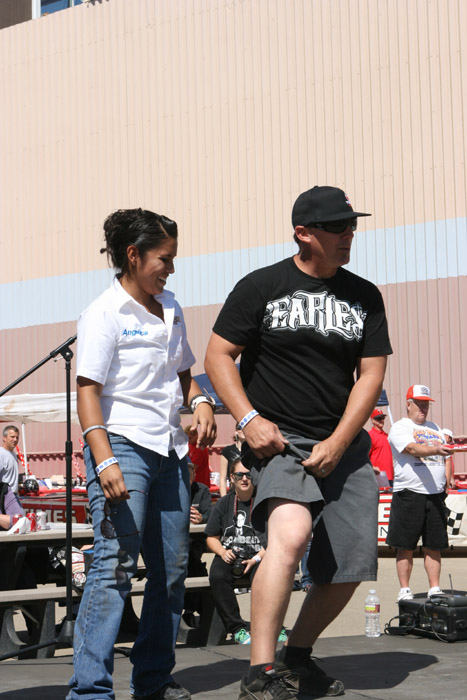 Angelica watches her husband do silly things. Lynn was up for it.
Mark Spivey checks it out
Polka dots and checkers, what could be better?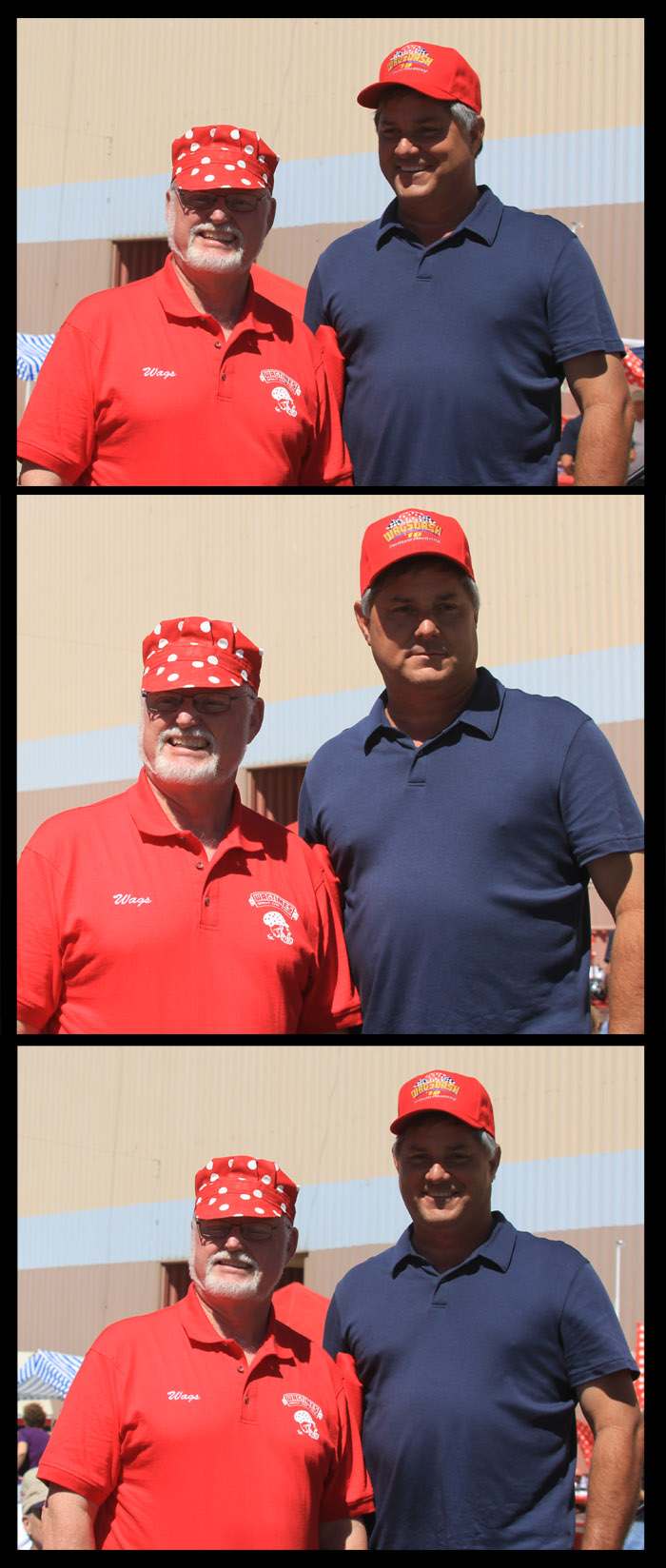 The Gasman made the crowd smile.
John Gardner of La Villa Restaurant made and served the chili all afternoon.
Cody and Heidi
Jim Naylor made this sign for Richard's appearance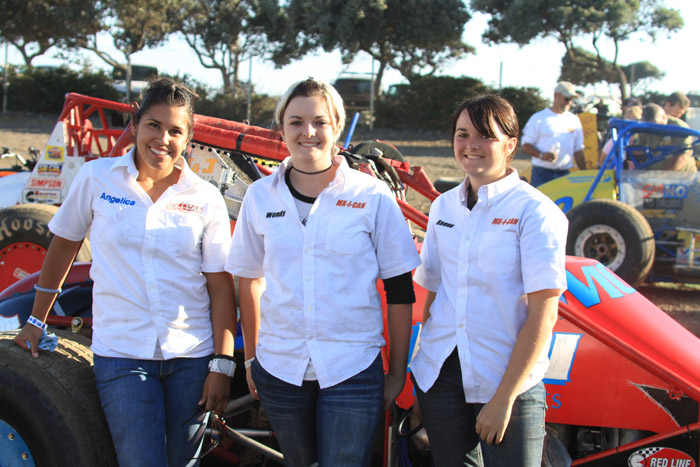 The Anderson ladies Angelica, Wendy and Kenna
Sexy driver winners
Brody Roa the 2010 and last Wagsdash CHAMPION!!!
October 9, 2010 @ Perris
It's not even 11 Am and cars are already unloading.
Mike Spencer Sr works on his sons ride.
Super Rickie is looking for the rainbow!
Rusty is a hustler and runs with us fairly often.
The eventual winner, Matt Mitchell, advances thru the pits.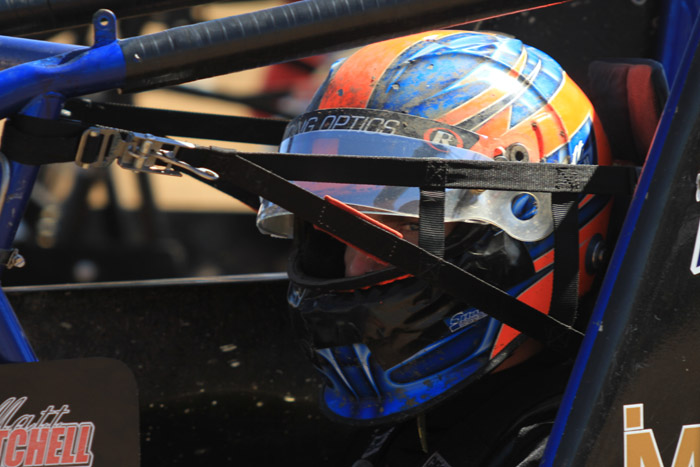 You can almost see Matt's eyes.
Tony Everhart is concentrating.
Ronnie Gardner is keeping an eye on me.
Super Rickie looks the track over

Danny and Mike looking over the track from the top of their haulers.
Some other shots.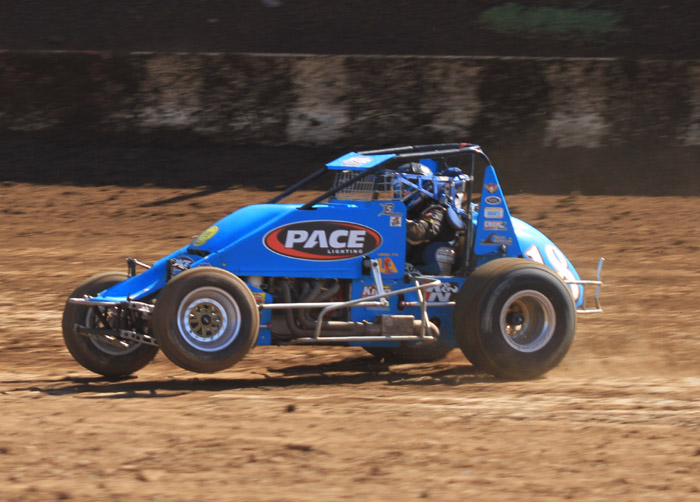 Danny Sheridan qualifies on the dusty track.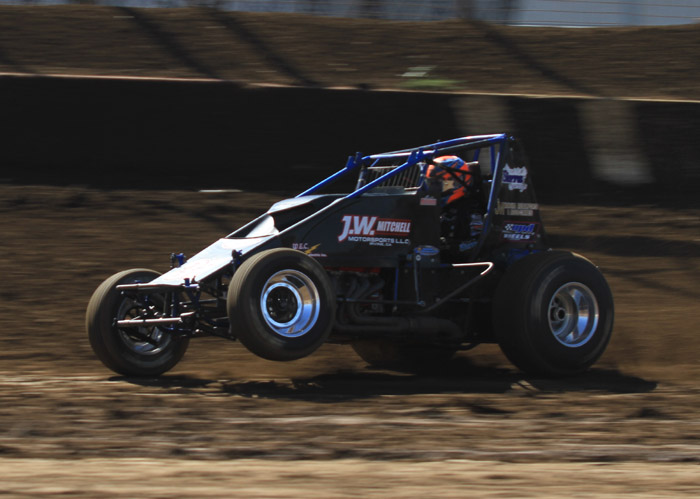 Matt Mitchell pulls the wheels.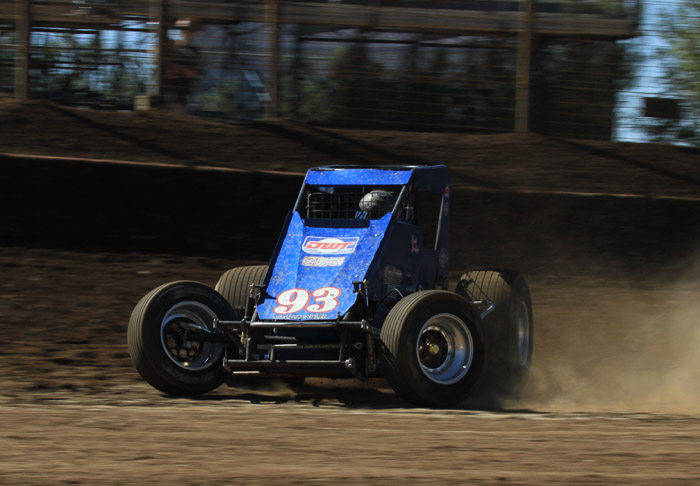 Ronnie coming around turn one.
Ludwig's car on the hook.
Cody Kershaw and Rusty Carlile duke it out.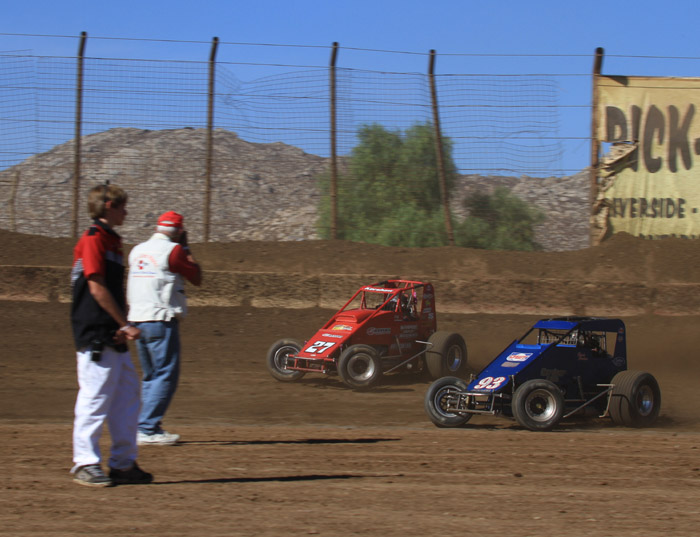 Cody Kershaw picks on Ronnie Gardner.
Ronnie Gardner gets his wheel up.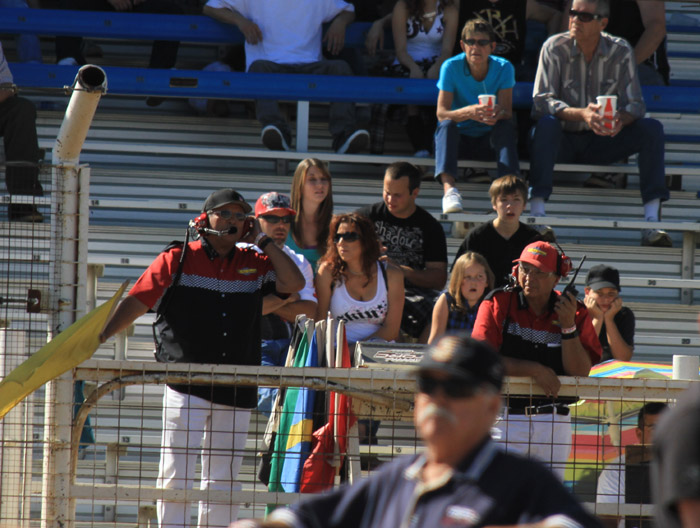 The starters are ready in the flagstand.
The end!
November 4, 2010 @ Perris
Bob Ream brought his car over from Arizona for Shane Cottle to drive. They didn't have a good weekend and was loaded up and parked outside to watch the last night.
Justin Grant was 2nd quick the 2nd night in his orange car. He was 25th, 11th and 16th on the 3 nights.
His sponsor is a gentleman's club?
Mark Spivey works on Rickie Gaunts car.
Ronnie Gardner had bad luck after missing the main the first night. He was inches (literally) from a tranfer in the second night heat race, but broke the motor in the Semi and was parked for the last night.
Rip Williams and his boys raced hard for this one. Rip was 18th and missed the second night transfer and sat out the last night.
Seth Wilson
J J Hughes
Danny Sheridan
Shane Cottle
Dennis Howell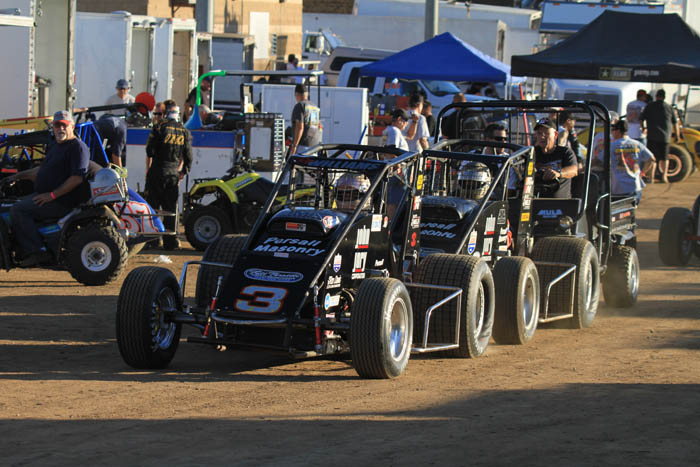 The Rip and Cody Williams train
Austin Williams all alone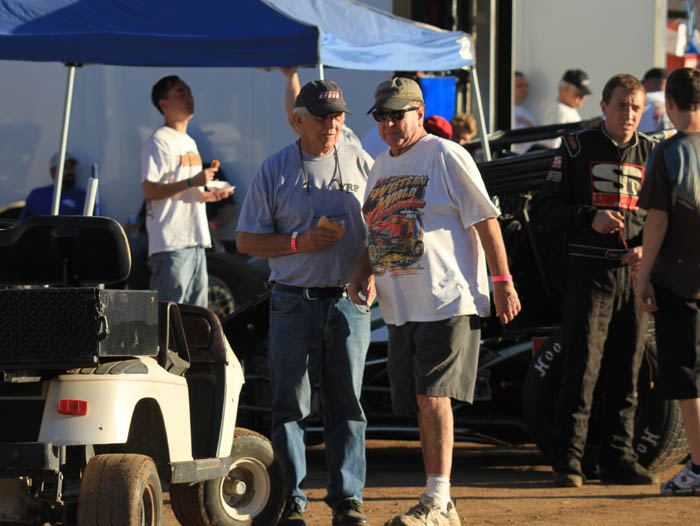 Bubby Jones visits with Bruce Bromme Jr
November 5, 2010 @ Perris
The VanderWeerd pits is busy Friday morn.
Hal Engstrom's message on his 4 wheeler is that his yellow # 44 is no longer dependiong on his pocketbook any more.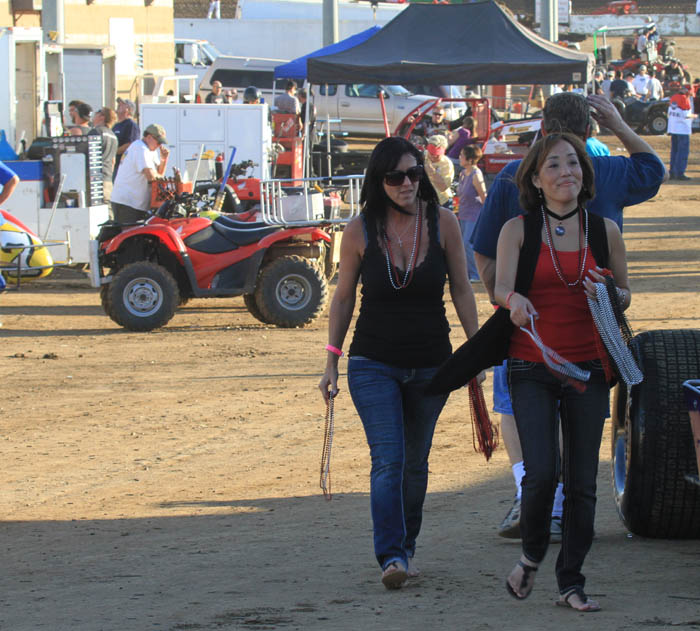 Shelly Ostling and Julie Shiosaki are out looking for models to wear the beads!
My old buddy from JD's pool service Jim Wells. He is a hard worker and has been helping Seth Wilson for several years now.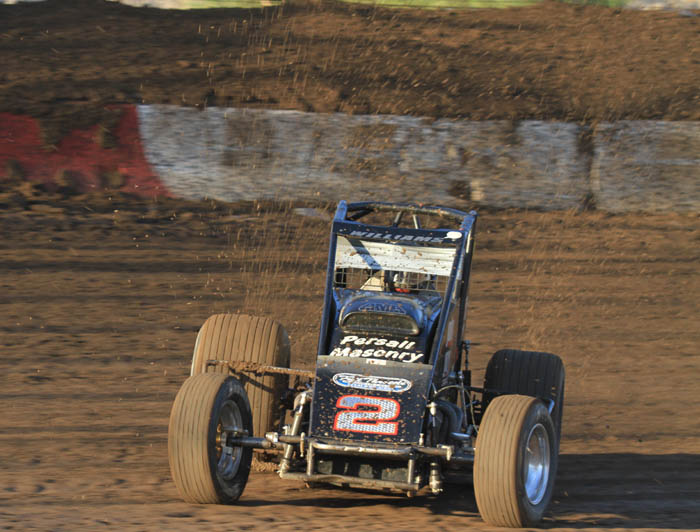 The mud flies off Austin Williams tires.
Mike Truex getting the video shots from the scoreboard.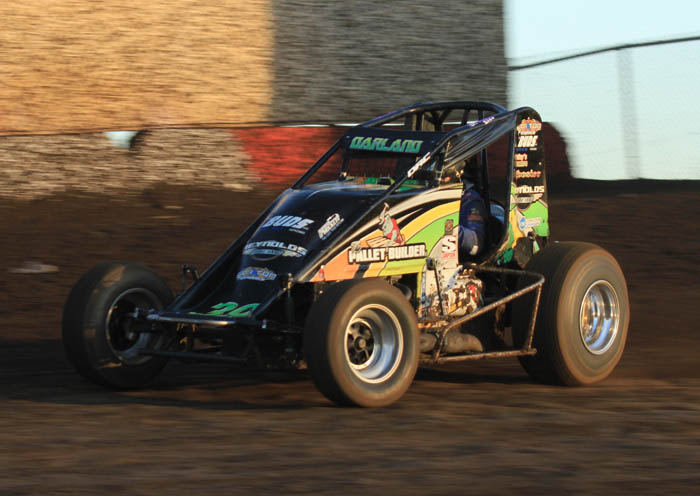 Dave Darland
Damion Gardner
Rusty Carlile
Tony Jones
Kyle Larson
November 6, 2010 @ Perris
Don Flanders is a Wagtimer who sponsors David Cardey.
Tony Jones motor ails were part of his weekend.
J J Hughes looks like he is wearing one of Ostling's t-shirts.
Strange sky but neat!
They want in!
Kenny Perkins
My new helmet!
November 6, 2010 @ Perris By Mrs Wags
Josh Ford's two cars getting set up. One was for Robert Ballou. Neither had a good week and were gone on Saturday.
Ronnie Gardner and his dad Jeff work on the # 93 car.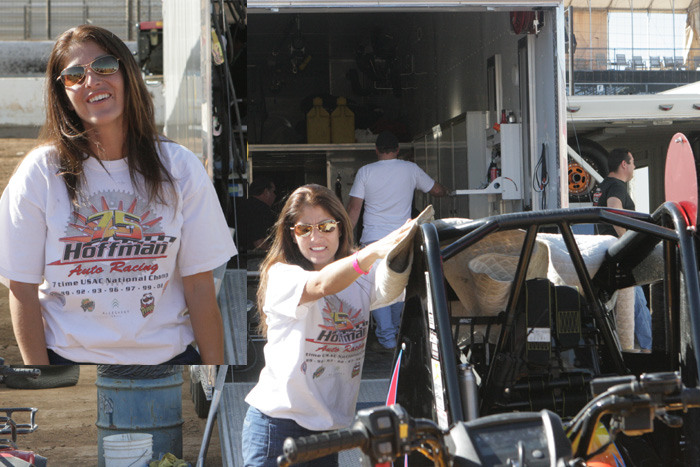 Tracy Hines wife Kristi was here and working on his car like normal. It turns out my old Tulsa roommate, Tony Mishler, is from South Whitley, Indiana where she is from. It's more likely he knows her mom, as he is near my age.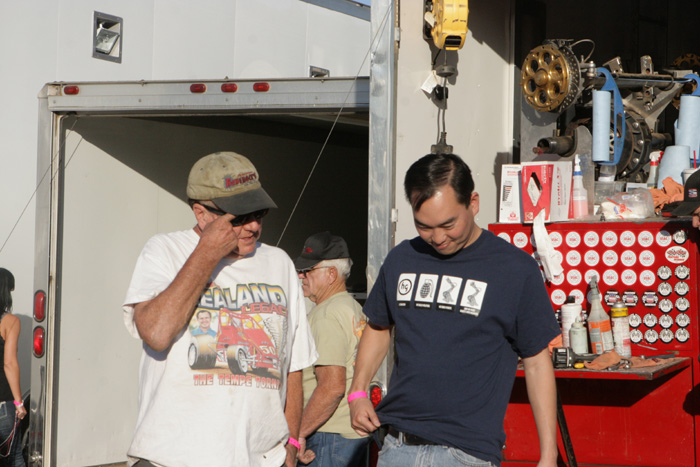 Bruce Bromme Jr and Michael Tanaka visit.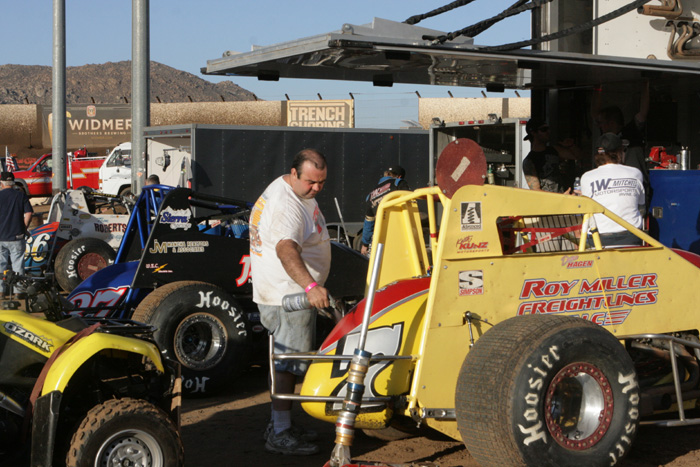 Work continues on the Priestley # 7 with Jason spraying the body down.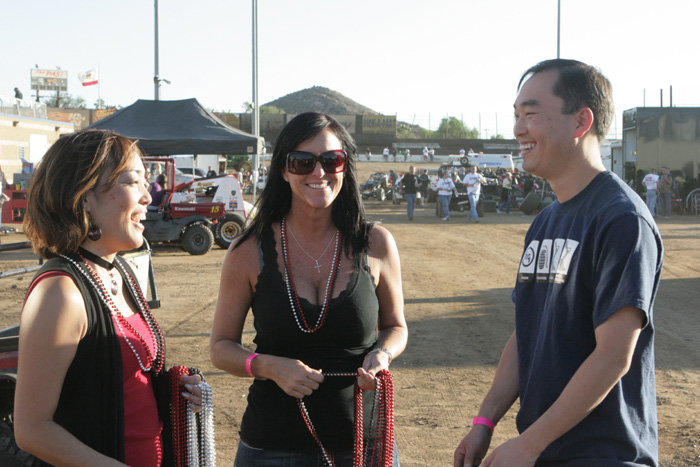 Shelley is between Julie and her brother Michael.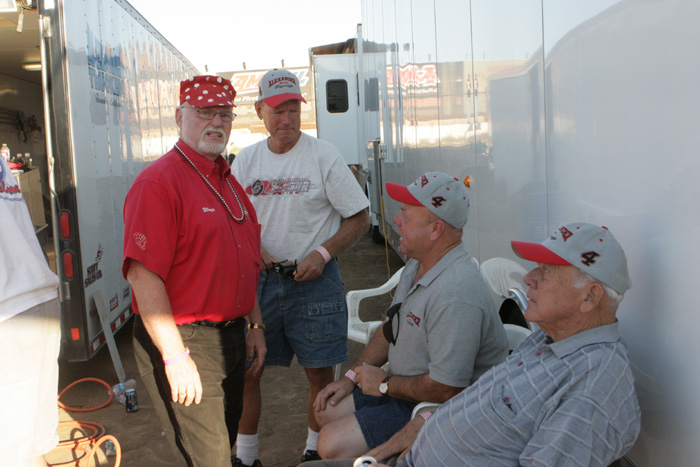 Wags visit with the Alexander crew.
Austin Williams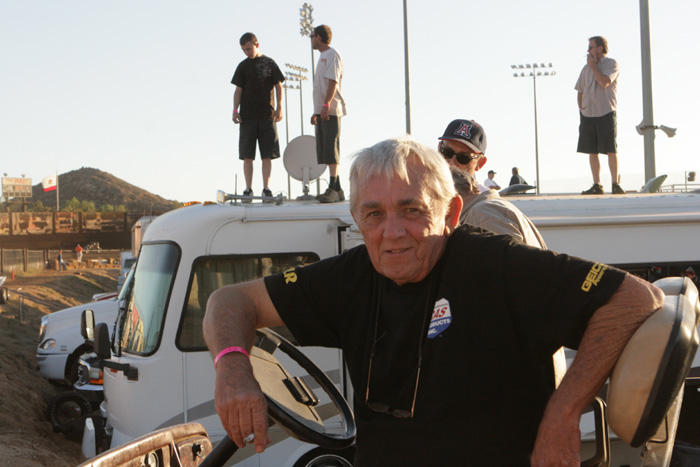 Bubby Jones
K-Rail watchers in turn 3/4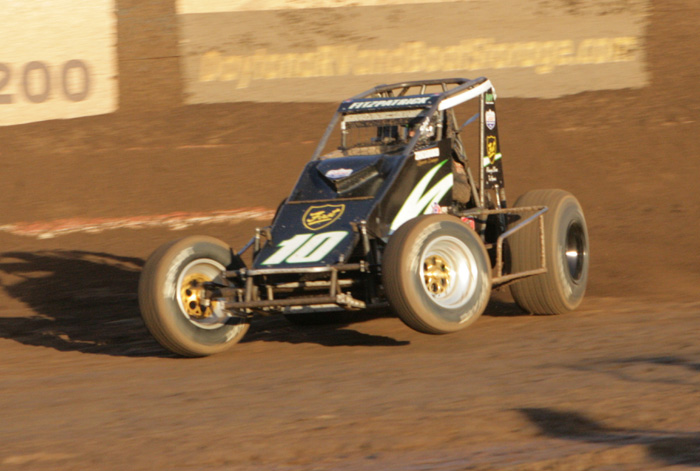 Blake Fitzpatrick
Mary and Dick Sours and their granddaughter Ashley.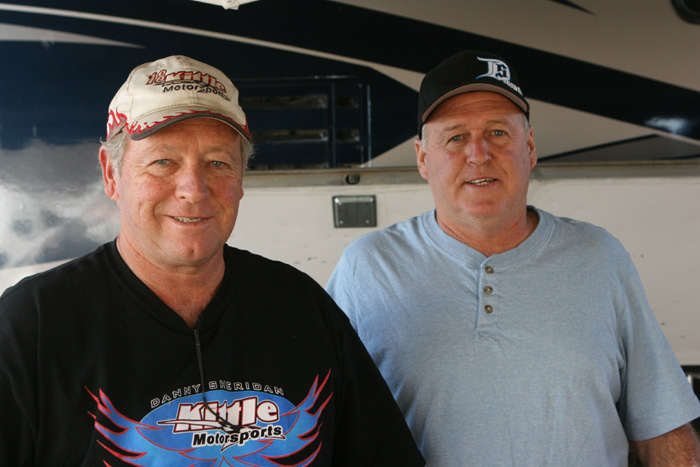 The Kittle Brothers Brian and Gary.
Ron Shipley Jr has been with the fire rescue team for a long time going back to the Ascot days.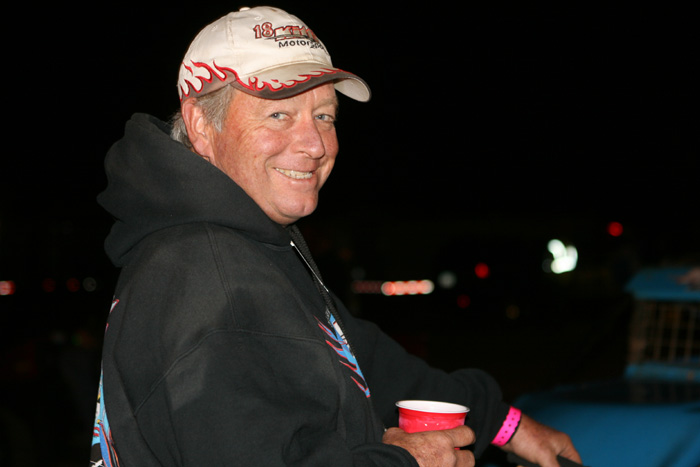 Brian's has a devilish look here!
Carol and Jim Wolfe from Oklahoma!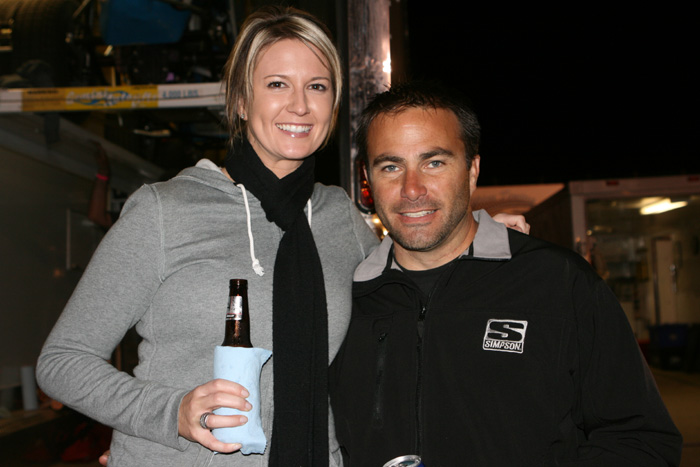 Danny and Kasie, wake up Danny!
Looks like Jimbo found the hidden beer.
November 13, 2010 @ Tulare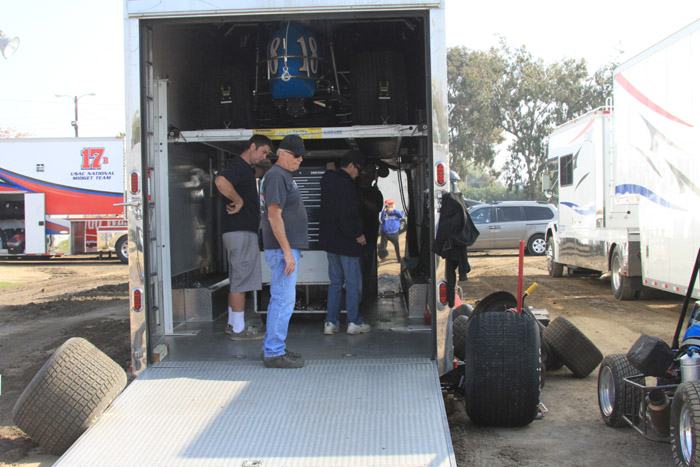 I snuck in the Kittle Hauler for the trip north to Tulare. As they unloaded, out came a tiny midget, as Dennis Howell also thumbed a ride and brought his little car.
Dave Darland comes out each year to run the west coast races. He was 11th in the main.
The Kittle fuel pumping team filling up the fuel cans.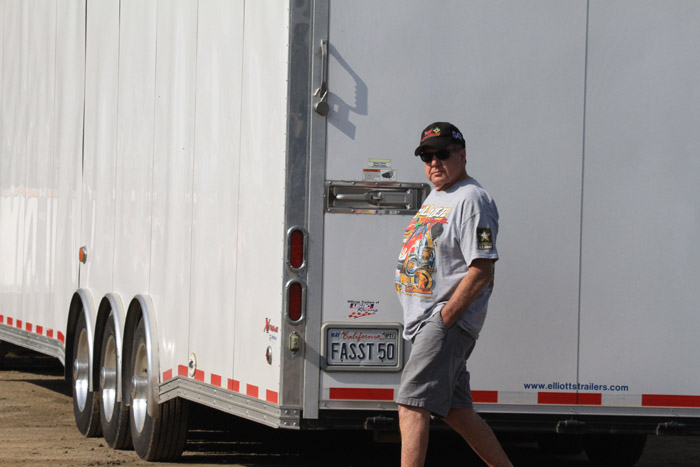 Halt, who goes there? It's Bruce Bromme Jr, ace mechanic on the little red sucker!
Tracy Hines wife Kristi works non-stop on his midget. Tracy won the midget main, leading every lap.
Julie and Shelley smile for the camera.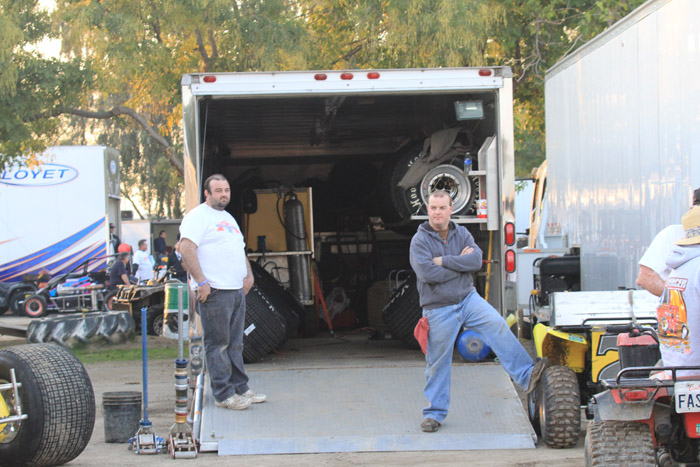 The brothers Randy and Jason work relentlessly on the Priestley car.
Mike Spencer Sr looks at some bars.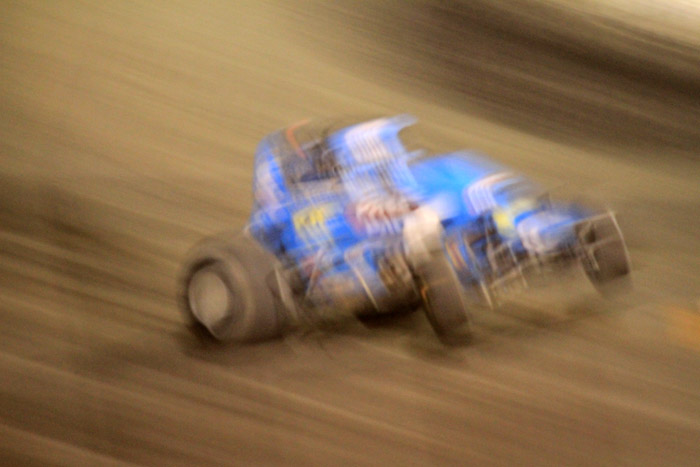 Great shot of Danny Sheridan, too bad I didn't get it!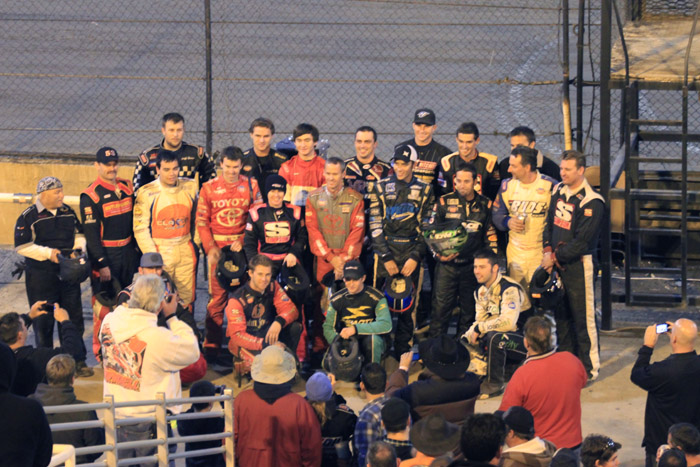 The drivers collected money for Darren Hagen.
Coming out of turn 1.
The feature starts.
Stops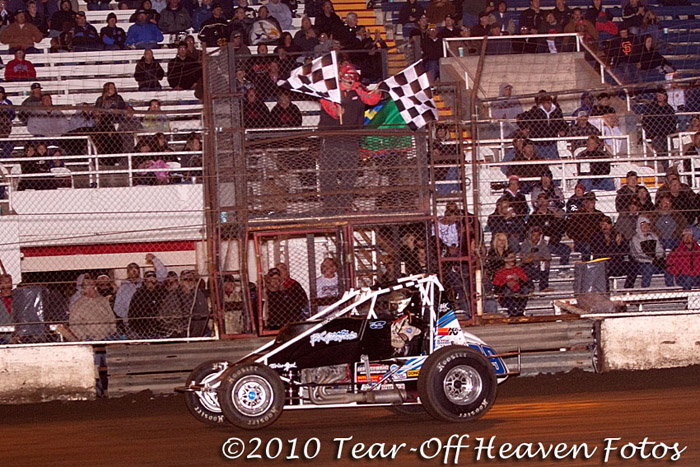 And ends, thanks to Steve Lafond!!!