March 17, 2009 @ Chili Bowl
The Hooter girls move around.
The cloud nine girls shopping for suckers.
The girls were very nice to pose for me. From small to tall, they were fun and it was hard to pick a favorite!
Bobby Michnowicz had his name fractured, again, as the announcers just can't get it. He made the last B main on Saturday but couldn't transfer. Still a great job.
Now, where was I?
Brad Kuhn won the opening night race in this car.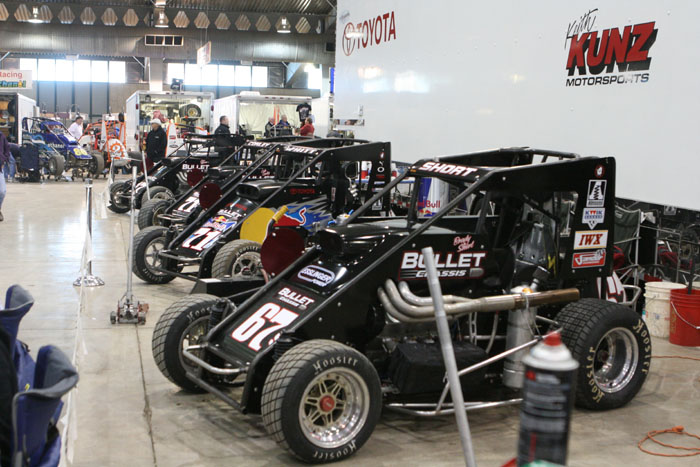 Keith Kunz Motorsports cars.
Ellen Ellis and George Rimmer (the famous English sprint car fan)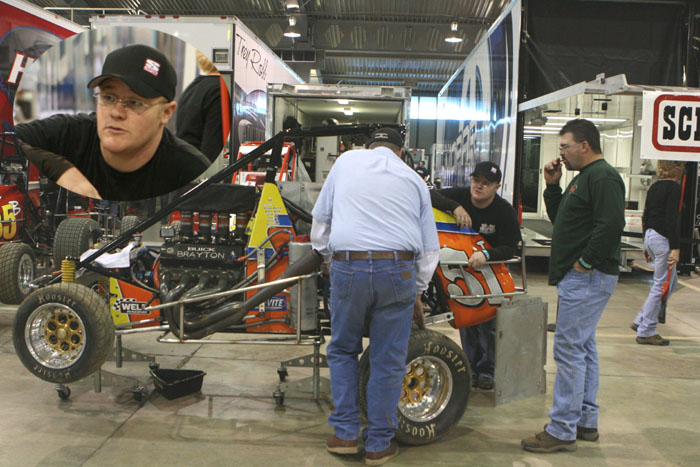 R J Johnson chats in the afternoon.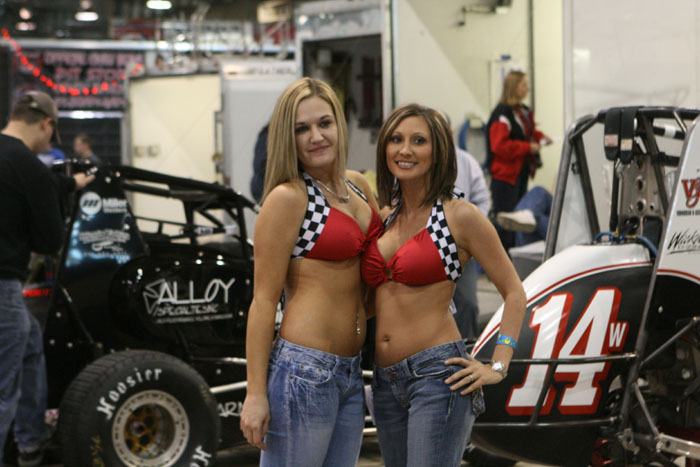 These Gentleman's club girls were minding their own business as I took a picture.
Then along came Kevin Kierce to put me in the photo.
Here is Bill Camarillo with his boys just having fun.
There's always a copycat in the crowd. This year it was Kevin Kierce!!!
Some cute girls in Tulsa for this one!
Kevin sez let's go home!!!!
March 28, 2009 @ The PAS
Wags>
A look down the back side of the pit area.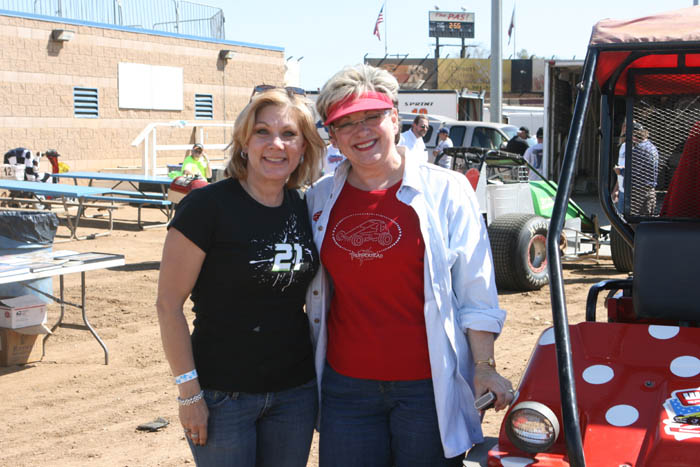 Wendy Michnowicz and Mrs Wags do a pose for me.
Here comes Rambo, er Jimbo to fix anything!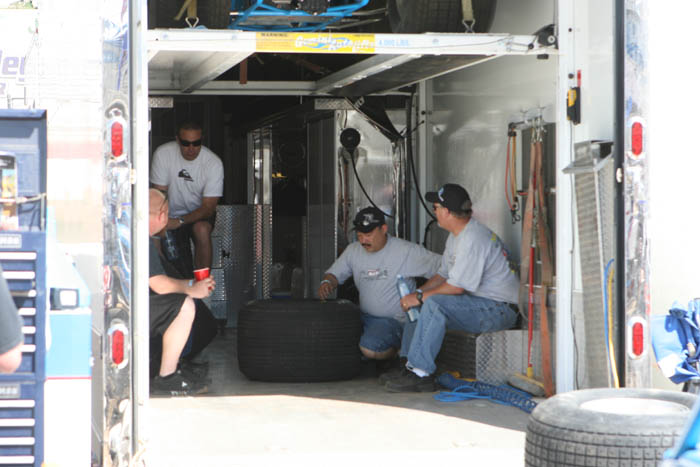 Alright listen up sez the crewchief. What we do now is put this tire on the car and focus, focus, focus!
Notice the winner stickers on the tool cart. This team has won 100 victories with the little red sucker as Ron Chaffin picks up the bills and Bruce Bromme Jr runs the show.
Bruce Bromme Jr and Jimmy OSkie discuss old times? What did you two say?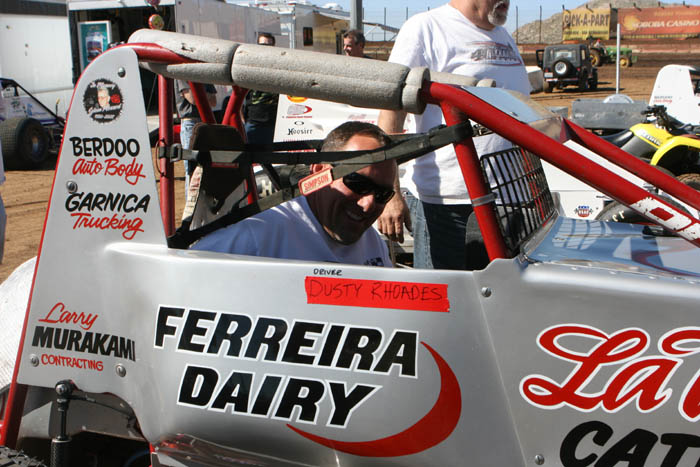 Dusty Who? That's the Cowboy plain and simple. Welcome back Tony, and have fun.
March 28, 2009 @ The PAS
Mrs Wags
Big smile from Logan as he seems to be just as interested in going fast as the rest of the family.
Jonny Bates moves thru the pits.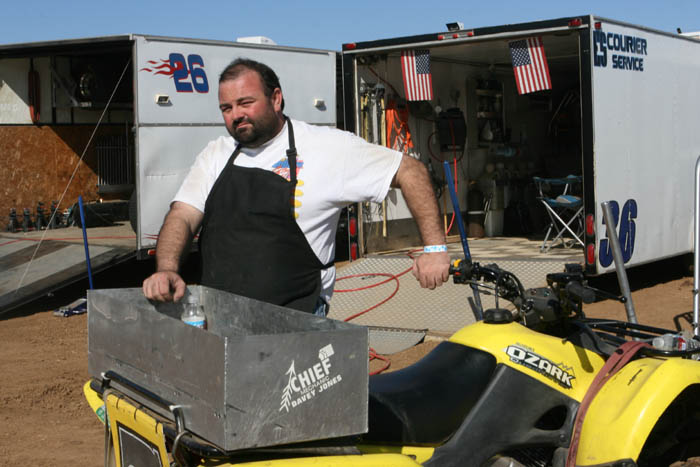 Jason Derting is always working hard on the Priestley cars. This week Garrett Hansen ran a strong 4th
Doug Allen in the ready mode!
The Spencer crew lines up to count the dirt balls flying?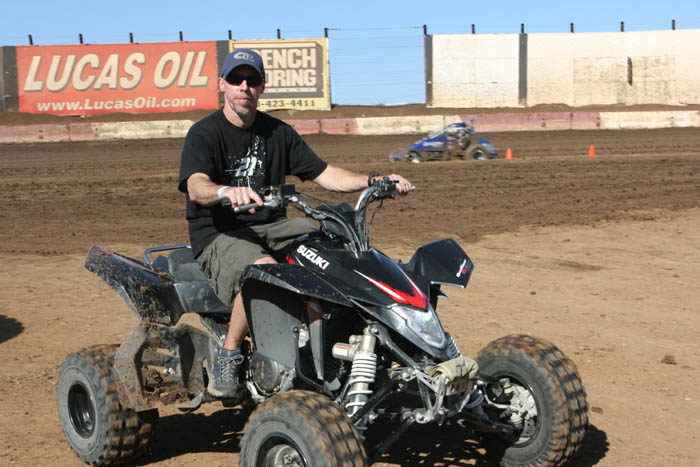 Bobby Michnowicz comes back after pushing his son to the fire up area.
Jimbo and Chad keep their head up looking for the stars???? They are on the track boys.
Matthew "Mad Dog" Shedarowich looks like he was mudded.
Mike Spencer and Danny Sheridan gas it up.
Big Show works on Cardey's car.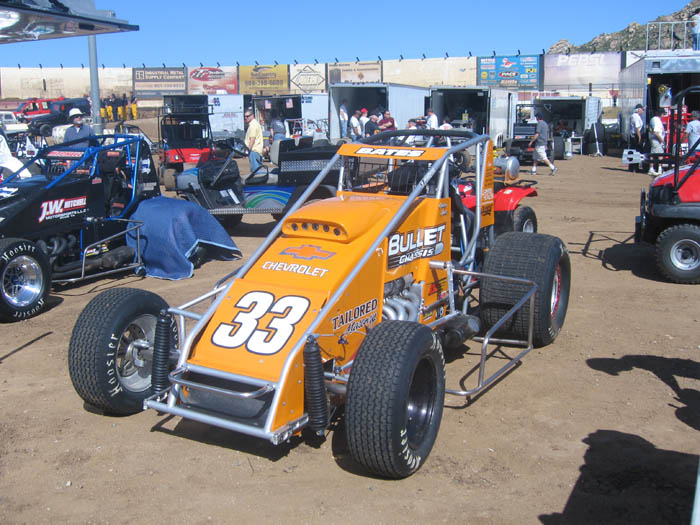 Jonny Bates # 33 looks real sharp.
Jonny smiles for Mrs Wags.
April 18 2009 @ Victorville
Wags
At Victorville, I tried to hide the Vette back in the grass after pulling into the pits.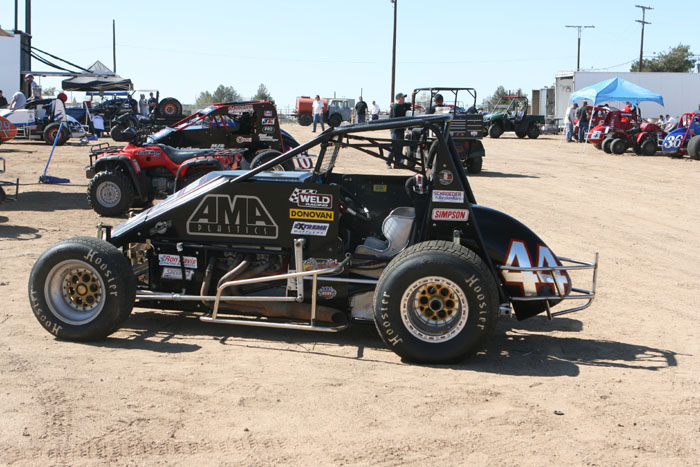 Cody Williams ride is ready as well. He did very well running from the back up to 7th in the main event.
Ronnie Gardner's pristene blue ride took him on a great ride this week. He looks like he is having a ball
From left: Brandon Thomson, Ronnie Gardner and Austin Williams. They all made the main! And They are checking out the meeting.
Or, what were they checking out?
John Aden gets a push.
Dwane Markum returned to the driver seat after a long hiatus and gets strapped in the DOn Blair carto go pack the track.
Brandon Thomson heads to the track. He was 9th in this race.
Tyler Brown and Bill Rose paying attention at the pit meeting.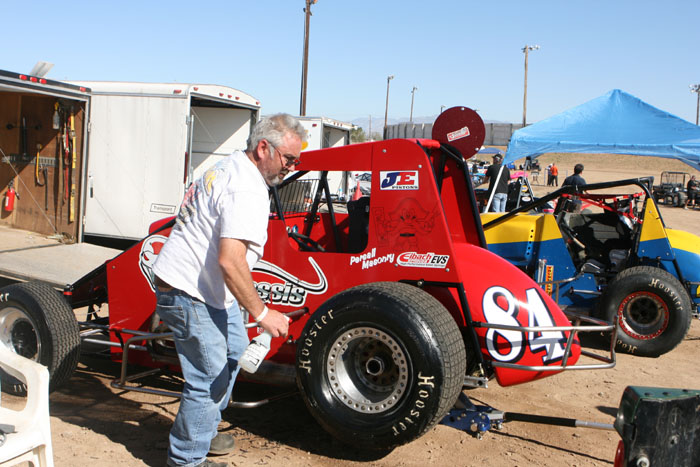 Ludvig Solberg IV has this new car this season and has been doing good in it.
Ziggy pushes his driver, Mathew Shedarowich, to his pit. Mathew was 5th on the night for a good run.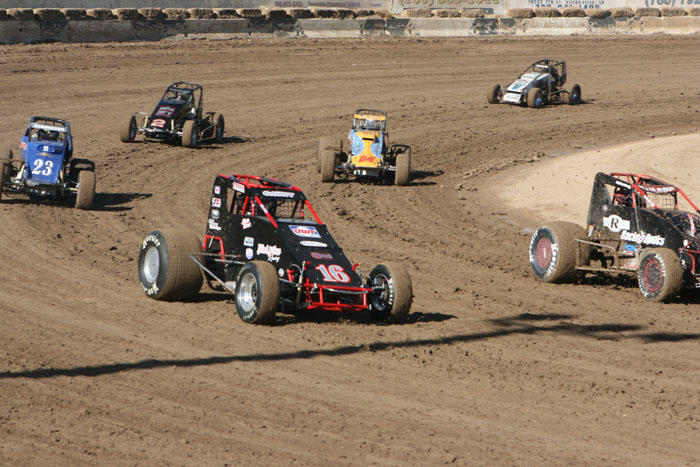 Here they come. You can tell by who just got out there by the lack of mud.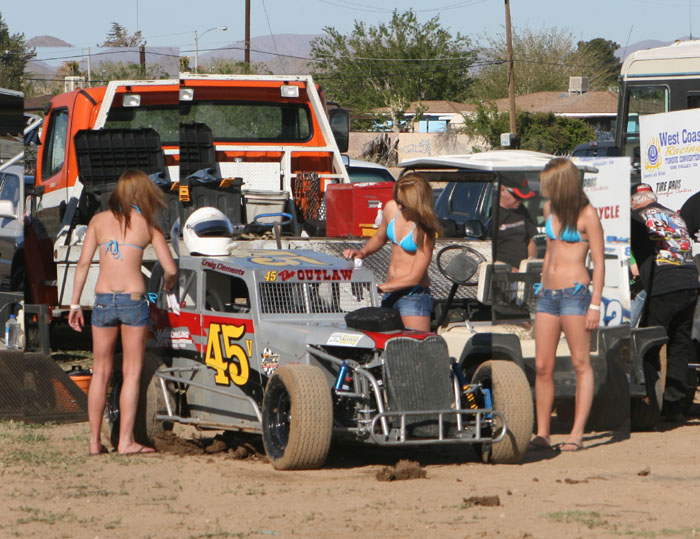 Dwarf car pit crews are fun to watch.
Ludvigs car always has shiney tires. Good Job!!!!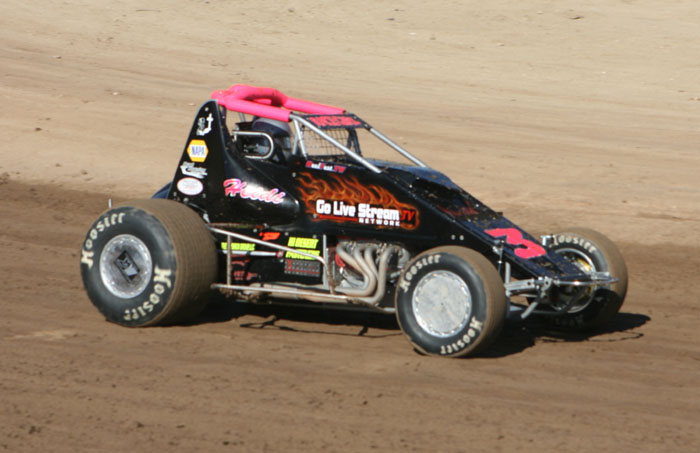 Heidi has a pretty car.
Dan Tedrick, always a proud Wagsdash runner, gets his car ready to race. He missed the main, but still is always positive as he loves racing. If there is a Wagsdash this year, he will be one of the invitee's.
Another heat off.
Look at them go.
April 25, 2009 @ The PAS
Wags
As another day starts, it is quiet when we show up.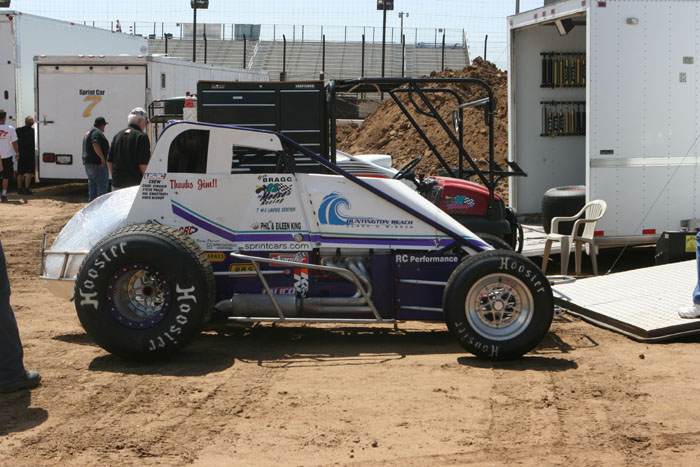 What is that hiding the driver. Is that window with a curtain? UUUUUUggggggggghhhhhhhhhhhh!
Dannny Sheridan doesn't know what a day they will have at this point. They started off the night with the last one lap shot in qualifying after a fuel pickup problem. Then a hard crash in the feature looked like it would park them, but the able crew taped his car up, and probably him too, and off he went from the back up to 4th in the battered racer. Whew, it must be fun to be a racer!
Go Rickie go! Super Rickie giving Greg Bragg and Steve Ostling what for!
What are Kenzo Okubo and Steve Foki up to with Lore Wright. Only problem is Lore won't tell!
Pretty car of Dennis Howell Jr.
The fire rescue is ready to roll. Oops, is that Ripper trying to get a ride on the back?
Blake Miller gets tough and his 2nd quick ti
Rodney Argo in an unfamiliar black car to us.
Assume the position! When Tony flipped, Danny ran under him and Jones rolled on top of him and over to the track. Then Kruseman and Spencer joined the pile.
Blake passes the leader coming to the white flag, but couldn't hold on and it was a wrap!
May 9, 2009 @ Ventura
Wags

Dennis Rodriguez drove this rental from Kevin Kierce. He made the main then experienced a problem with the power steering, he reported.
Shaun Kautz
Kevin Kierce in orange is new. He finished 4th I think.
Cody Nigh and Kim Lewis share some time with me.
Jim Naylor talking with Steve "Biggie" Watt.
Mike Nigh checking e-mail, looking for the Dodger score, ordering pizza, watching Indy qualifying or sending his wife a happy mother's day message.
Leave it to me,I always find the best looking crew members in a crowd.
Another heat gets ready.
May 16, 2009 @ Tulare
TOHF
Peter Murphy trophy time.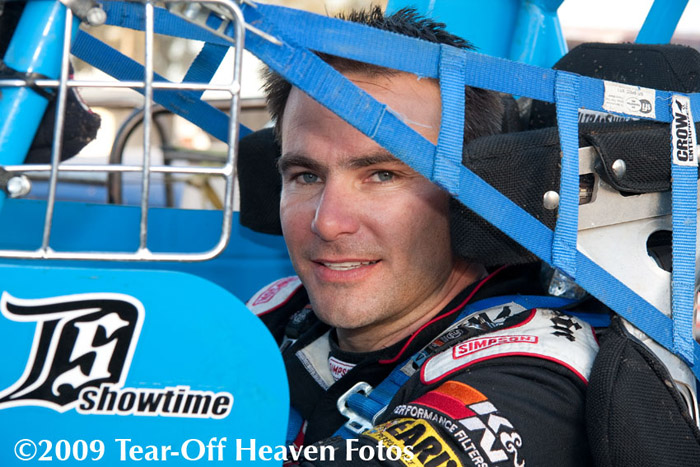 Danny with a smile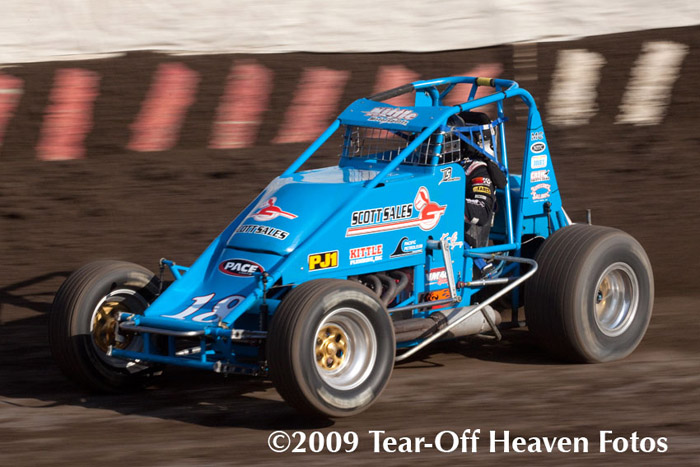 Danny Sheridan
Hello dere'!
How did that get in there?
Peter Murphy and the trophy queen. Check the flat tire.
May 16, 2009 @ Tulare
Wags
Upon arrival, the lake the water truck had sprayed down had the crew a little in a trance as they surveyed the mud. From left Dennis Jr, Steve, Gene and Dennis Sr.
Back to business as the # 62 J & J chassied car looks ready.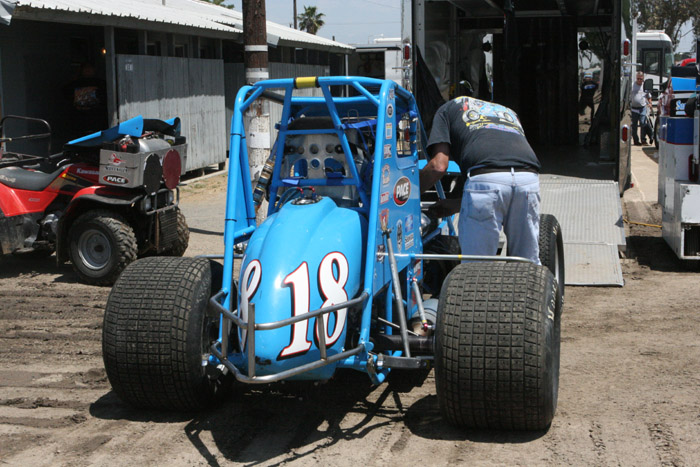 Ditto the # 18 car.
You got to hand it to Ray Stansberry. He thought it was a cheeters race and told his driver Alan Ballard to stand on it and they'd never see him go by!
Nellie Stansberry took a rare day off. Normally she is seen at USAC/CRA events running her a$$ off!
Blake giving me a crusty smile here.
Danny's gone so Blake has an even better smile with Kasie in the picture.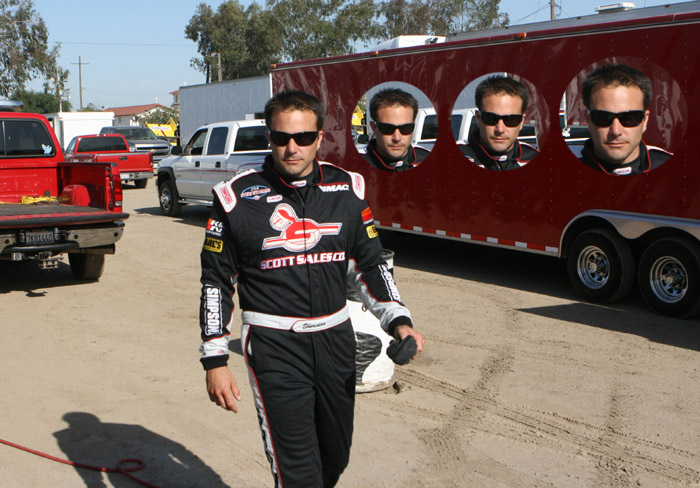 This is Danny's focus look as he nears time to go racing.
May 23, 2009
Wags
Ray Stansberry had a bithday present for me this week, a new horn for my Mule. Ray was pretty clever in that the horn and wiring were red, but no polka dots! I have to look for a Wags head decal, I hope I have one to cover up the existing logo.
The line-up of cars in the pits is always colorful. The walk this week was a short one as the low car count left plenty of room for everyone.
Question of the week, what are Nellie and Julie laughing about? 1) Their Husbands, 2) their race cars, 3) their USAC duties, 4) whats for dinner or lastly was it my new horn?
Then Chris Holt tries to capture the scene. Tony Jones started it!
Danny Sheridan on the gas.
May 30, 2009 @ Tulare
Wags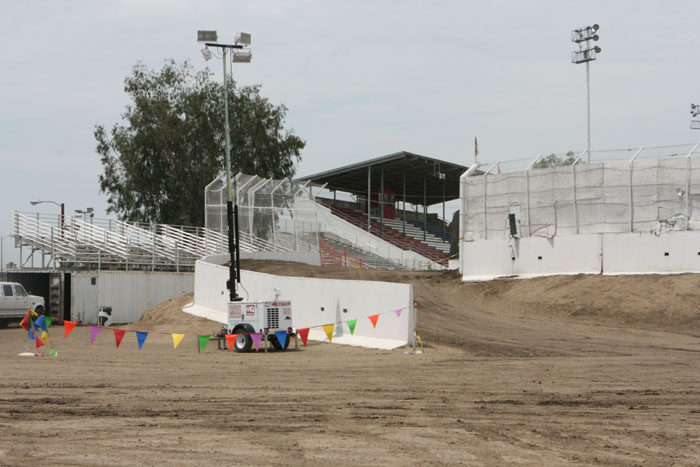 The exit path from the track. Thru the opening, you can see the covered grandstand along the front straightaway.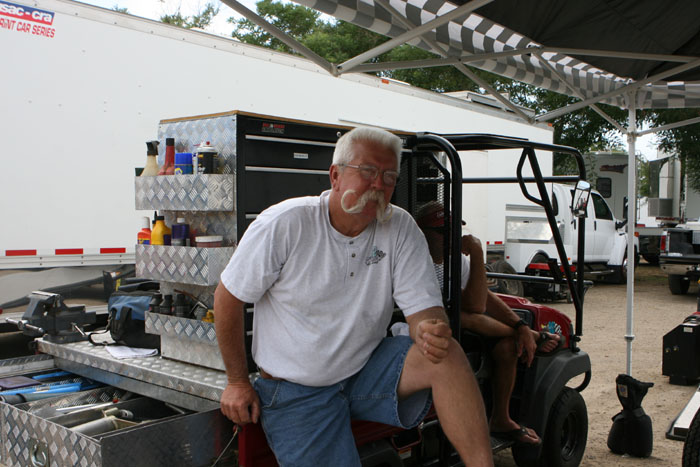 There is only one famous handlebar moustache in CRA. Hal wears it proudly.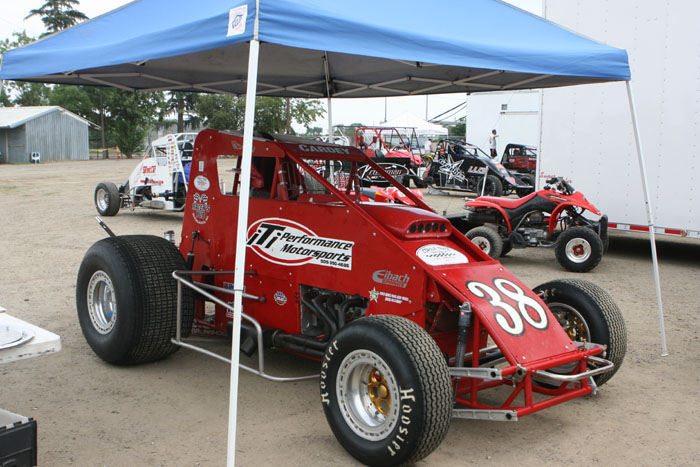 David Cardey's ride under the EZ UP. He had never been to Tulare beefore, but settled right in with 2nd quick and a 5th place finish.
Matthew Shedarowich is called the Mad Dog!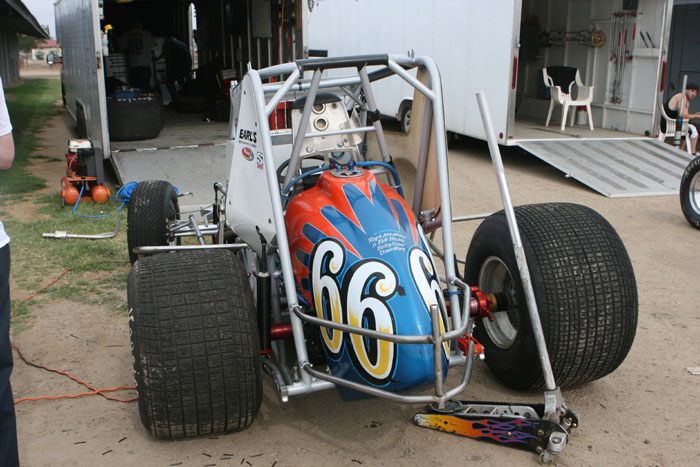 Bill Rose is still flying out to run the Miller car. This week he finished 16th.
Jonathon Logan ran this 360 very well. An interesting sponsor below left.
Matt Mitchell pit area looked pretty relaxed. They must have felt that they had this one cold! When Matt won, I think they were pretty excited.
Garrett's trailer has plenty going on early in the afteroon. That's his mom on the right.
David Cardey
Damion Gardner
And they are off in the first heat. Peter Murphy chases Matt Mitchell until he catches him and wins.
June 13, 2009 @ Santa Maria
Wags
I know what Randy is thinking. Where is the Jack? Could that have a double meaning? Nah are they out of coke?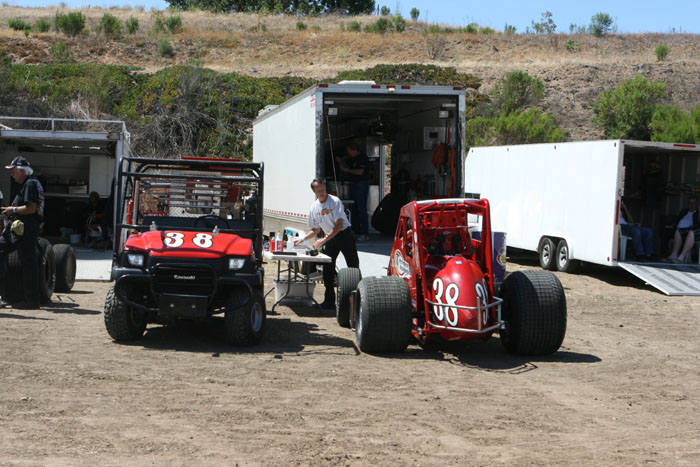 Jim is patient as he contiues to adjust things on the Cardey machine.
Sarah joins Neetra and Sophie, Austin's new dog, in the Jory Mule. Are these the WIlliams brothers girlfriends, or just friends?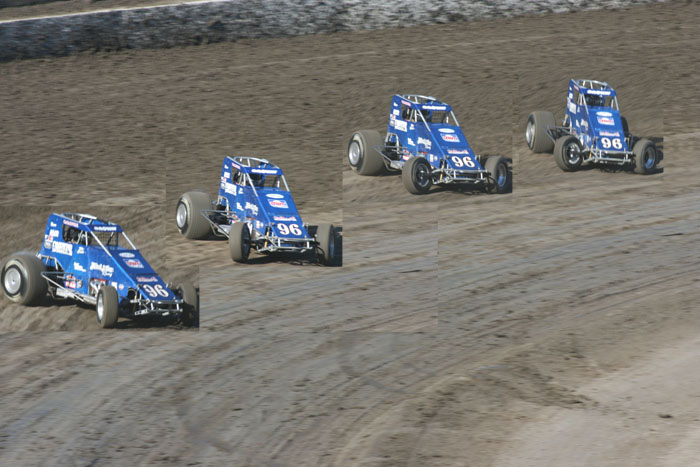 Ronnie Gardner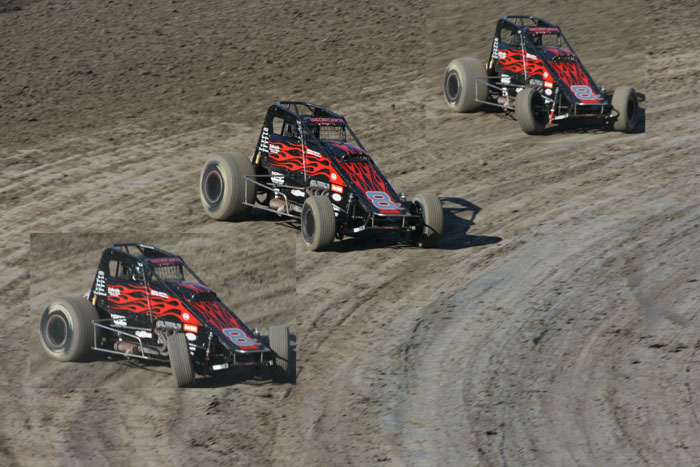 Mad Dog Shedarowich
Blake Miller
David Cardey
Rodney Argo
Alan Ballard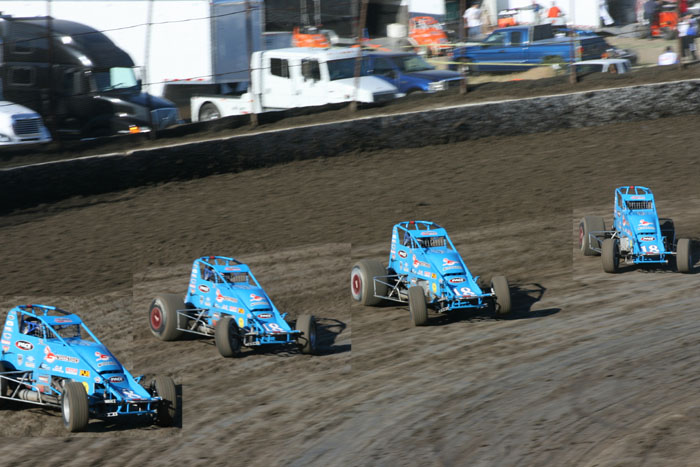 Danny Sheridan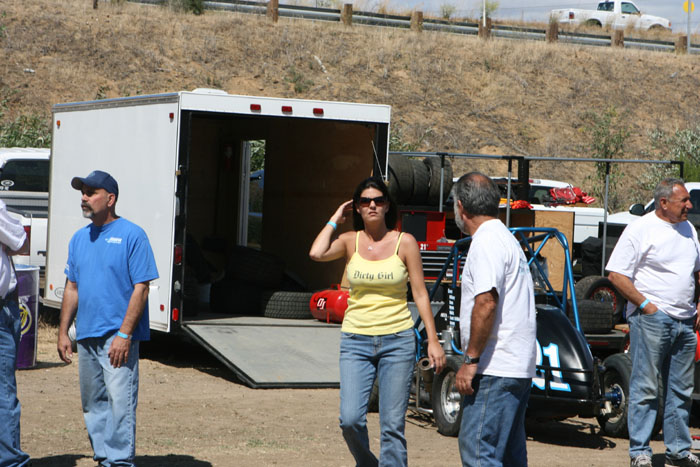 Hmmmmm, I don't know. Perhaps she is the leader of a new dirt track program.
The sprinters line up to move onto the track for the heat races.
First heat lines up and ..........
Lining up for the fans on the frontstretch is cool.
It's more glitter with the four wide salute to the fans.
June 20, 2009 @ Petaluma
Wags
Here's Big Show getting ready to be productive on the winning car.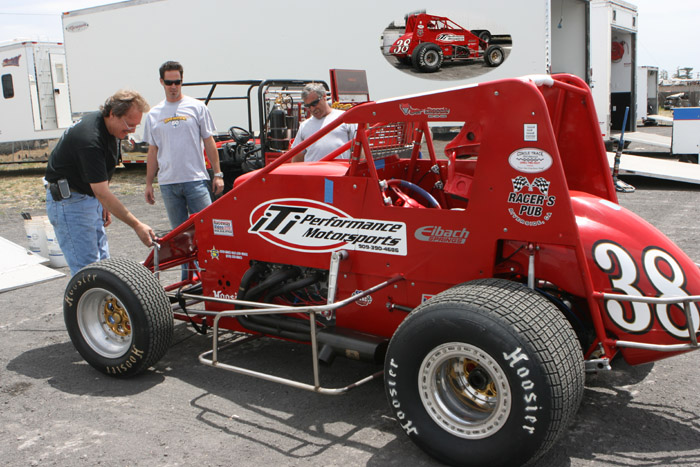 Jim Cardey says I shouldn't show the right side of this car because it's so much nicer on the the other side. The inset is the taboo side. Looks OK to me. Obviously it was a good night as he had the 4th clean sweep (fastime, heat win and win the feature) in USAC/CRA.
Three cars just setting out and ready with Sheridan, Howell and Spencer's rides lookin' good.
The # 75 Stansberry car isn't out to play yet.
Tom Sertich has a broom in his hand????
Austin Williams and Blake Miller clown aound in the afternoon.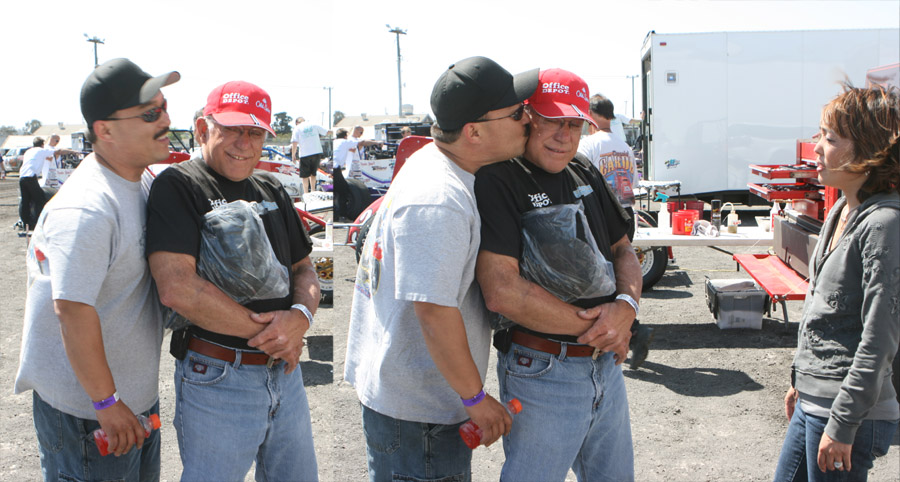 Minding his own biz, Nelson gets some love from Randy Shiosaki.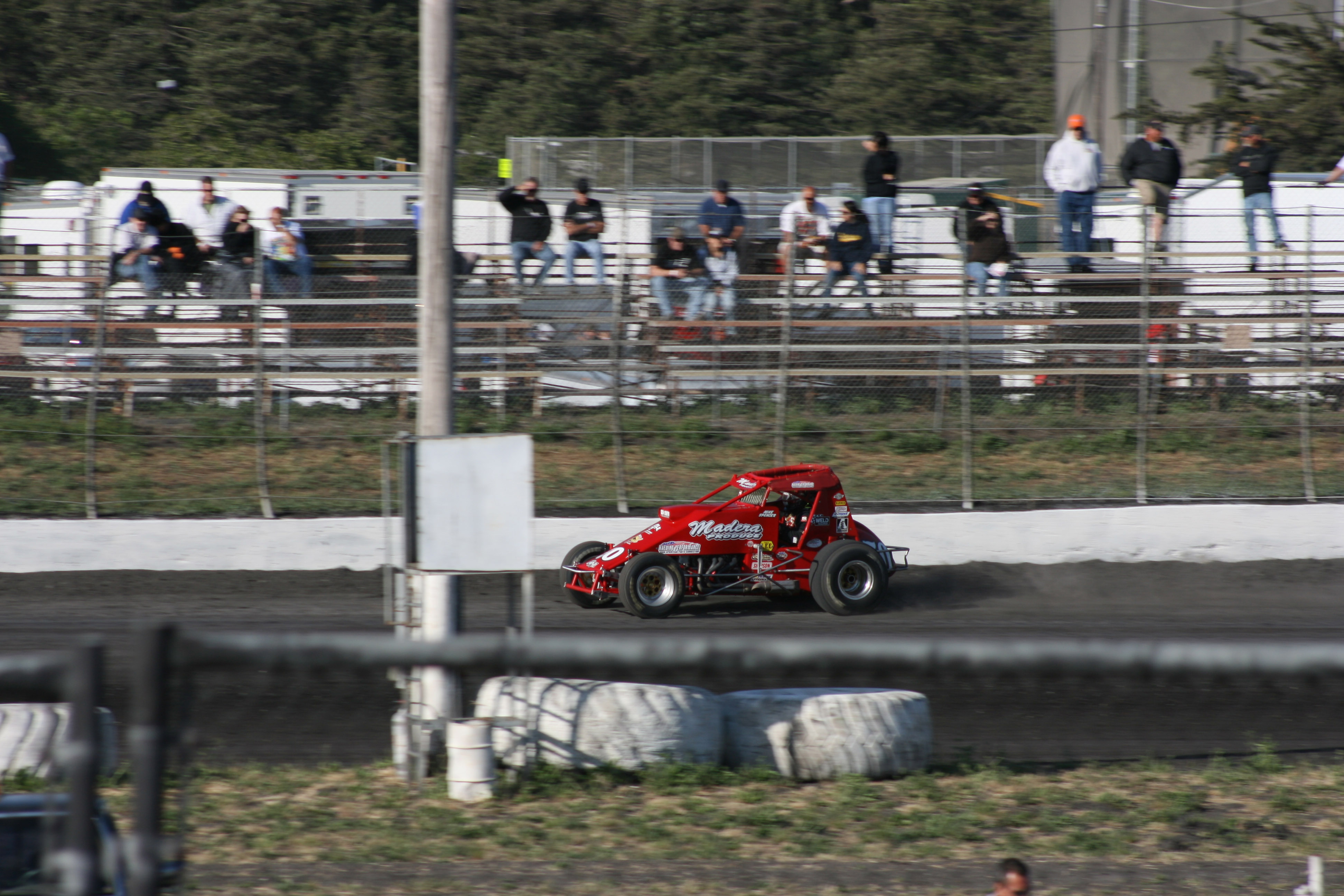 Another shot of the little red sucker.
The first heat lines up.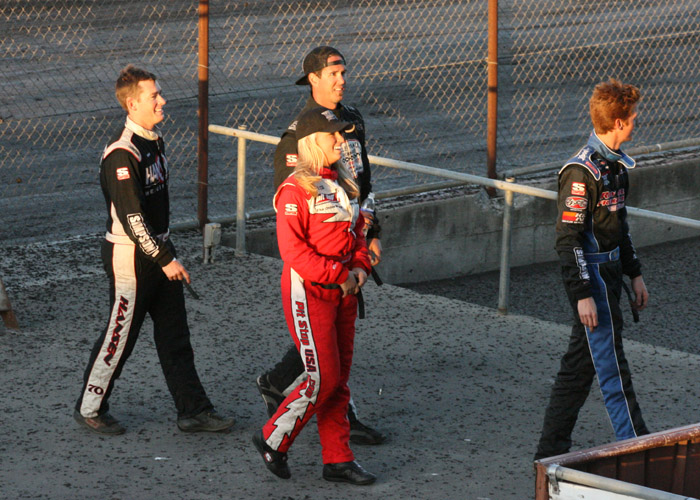 The four heat race winners were David Cardey, Alissa Geving, Garrett Hansen and Blake Miller.
Alissa is one very attractive sprint car driver. At 17 years old, she is too young for most of the drivers even.
The pile-up. Look closely, there are at least a dozen cars.
July 4, 2009 @ The PAS
Mrs Wags
Here's Matt with his father Dennis. Matt crewed for Tony Everhart and Dennis helped Ed McWilliams.
The PAS officials are very friendly and work hard to get their jobs done. When they have time to relax, they cut up a bit.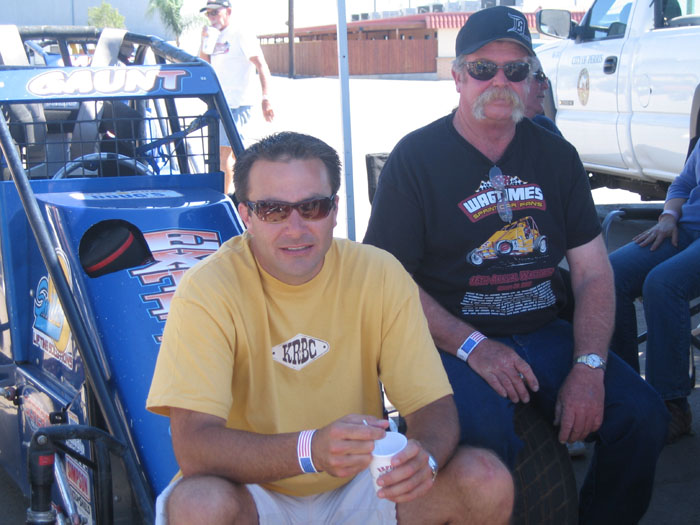 Danny Sheridan and crewman Ralph in a Wagtimes shirt, in the shade.
Okie Sampson and Randy Shiosaki having a laugh.
Here is Dennis Howell Sr relaxing with a cool snack.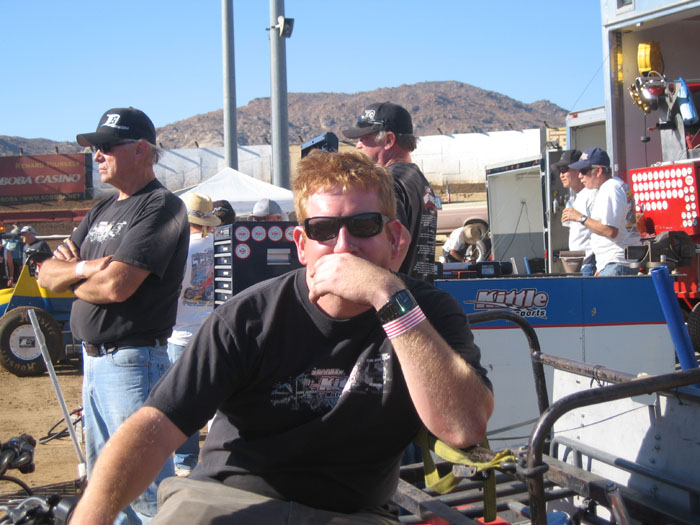 Jimbo looks mesmerized by Mrs Wags.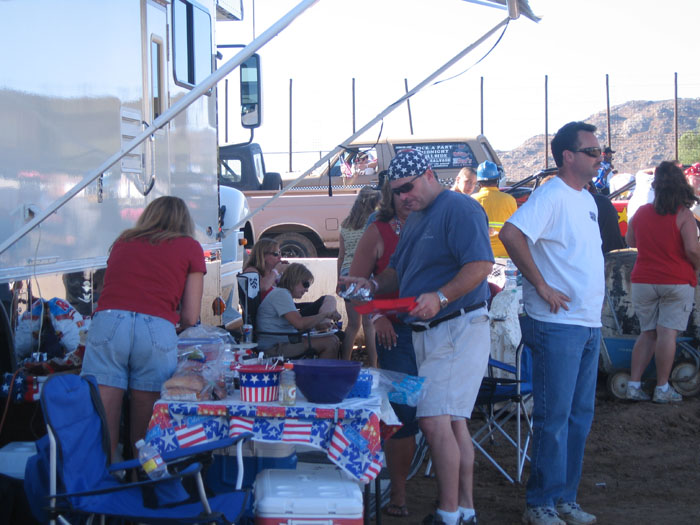 The Moosemobile feed keeps the crew happy every week.
Land rush when the cars come off the track and the 4 wheelers chase after them.
Jeff McSpadden and three of his kids came to the races this week.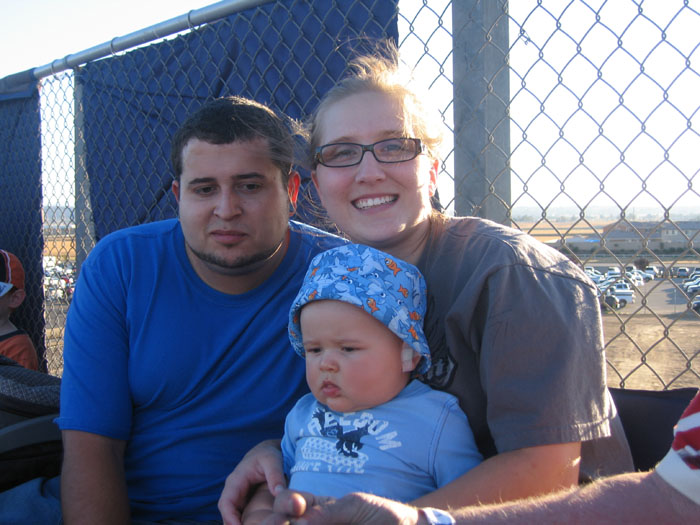 Family portrait of Krista, David and son Dylan.
I liked that shirt. Maybe it was the eagles or just the red, white and blue.
July 4, 2009, @ The PAS
Wags
Friday Shackelford relaxes as Wendy and Kevin Michnowicz smile. Kevin raced his Ford Focus as Grandpa came to watch.
Brady Roa, another in a long line of sons of former racers, (Father is Brett also the crew chief for Mike Kirby for years) is looking a bit big for this Focus car. He won his main event this night in this car.
Mrs Wags chats with Rip & Becky Williams and Fran and Jim herdrich as it got hotter on the asphalt.
Fran and Jim Herdrich looking festive.
I gave this car driven by Ed McWilliams a push out front as they had no 4 wheeler in their trailer.
Mrs Wags visits with Jimbo, my Mule repairman. I had trouble getting it started after it sets for weeks at a time. By moving the battery a little, it starts, so it sounded like a hook-up problem. Jimbo cleaned the posts and I didn't have anymore no starts. I owe him.
Blake Miller's NEW CAR!!! I wonder if he won it on the price is right?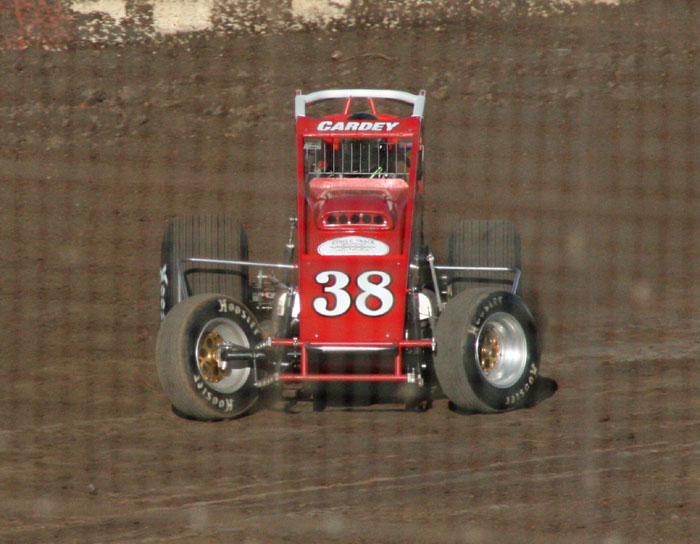 Shooting thru the fence is not too awful, but not good enough to keep.
The view from our 4th turn perch looking towards the main grandstand.
Here is that B something flying over the track for the opening ceremonies. AWESOME, it sent chills up my spine.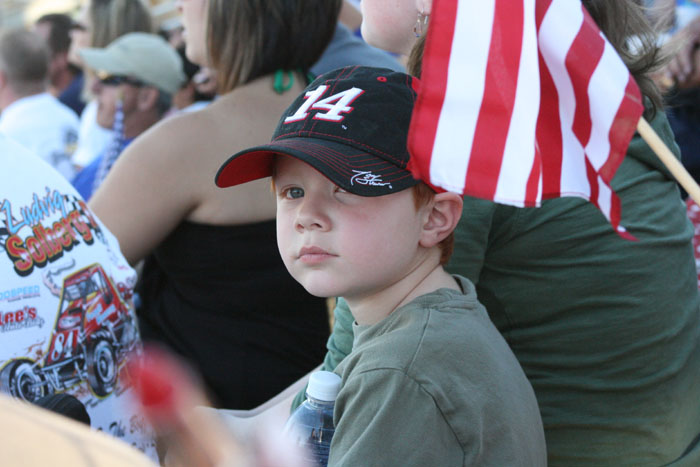 This is Jeff McSpadden's son Andy. What a cute young redhead he is. Lealand should be proud.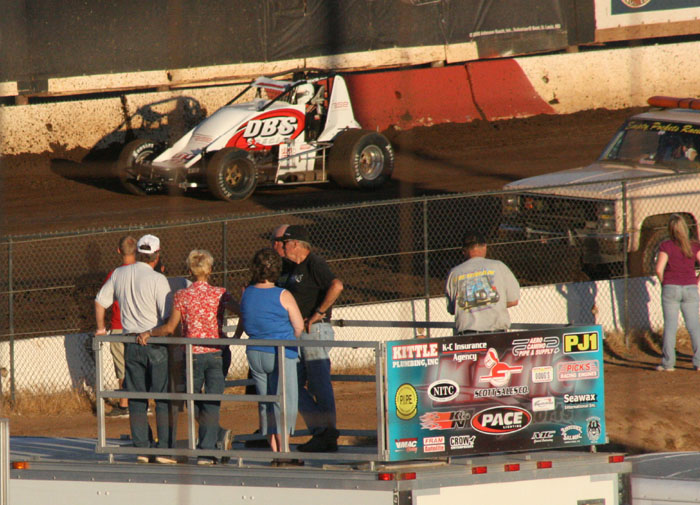 Jordan Hermansader cruises down the backstretch as the Kittle Krew watches from the hauler roof.
August 1, 2009 @ The PAS
Wags
Greg Alexander drives this bright # 75 that Ray Stansberry presents each race. He didn't have much luck this week, but ran hard when he was on the track. Who is Gizmo??
Lance Butler came to play this week, but didn't turn a wheel in the racing program.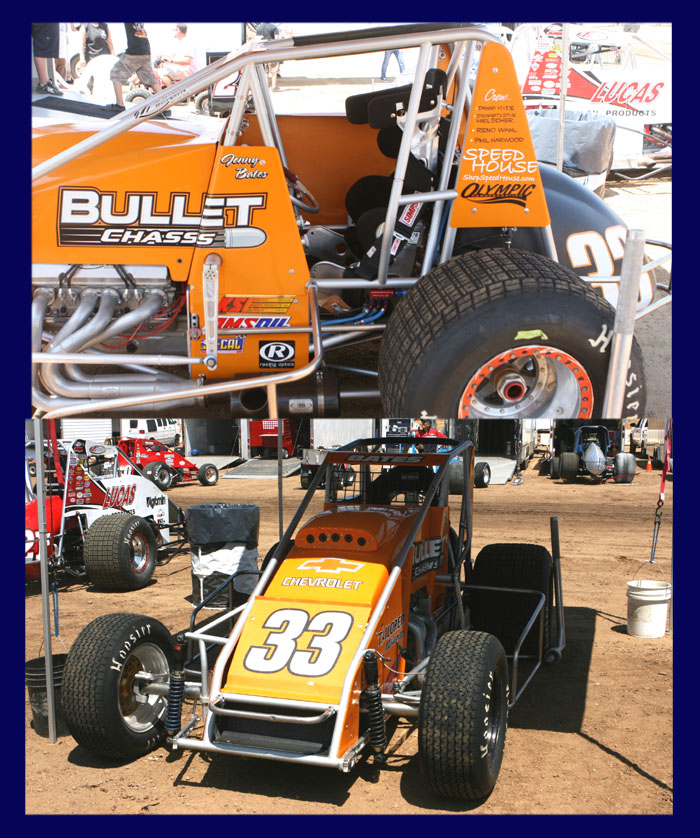 Jonny Bates had a good night as he ran 3rd in his heat and 14th in the main event.
R J Johnson made the long trip over from Phoenix, as did two others as they don't have Manzy anymore.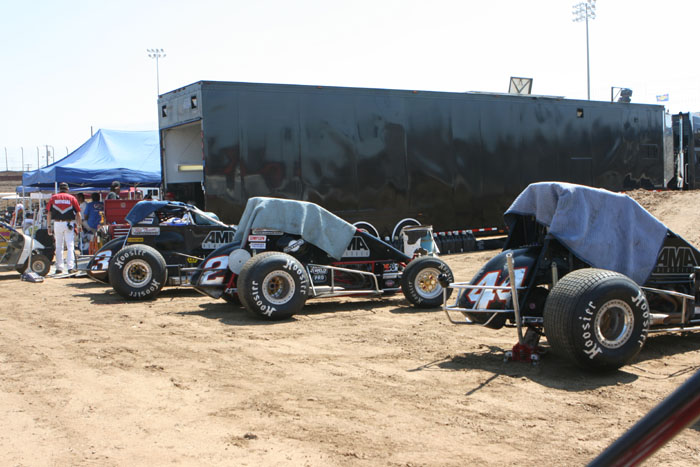 Looks like the young Williams Brothers have blankies on their rides too.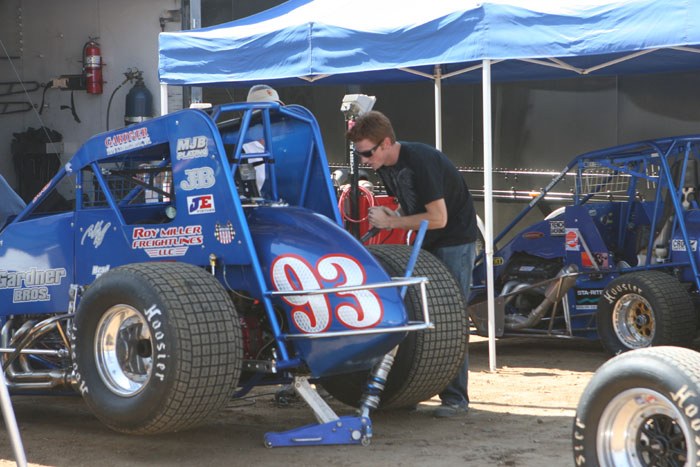 Not all drivers actually work on their cars, but here the young redhead Bullet Blake is doing his right rear. He was pretty fast in the main until he poped the berm once too many times and banged his front end and was done.
David Cardey had an interesting night. First he ran second in his heat, then started on the front row of the main and took the lead he held for 7 laps. He got a little sideways coming out of turn four and Mike Spencer was too close and they hooked up and stopped together. David came back to grab third on a great ride.
August 1, 2009 @ The PAS
Mrs Wags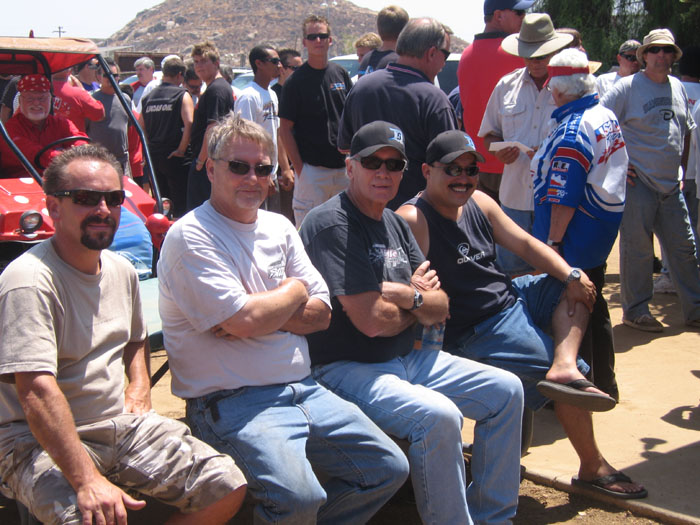 Would you let your daughter buy a car from these guys? The Kittle crew was looking mighty suspicious out at the pit booth.
Steve Howard, left, looks like he is going to have to work again today.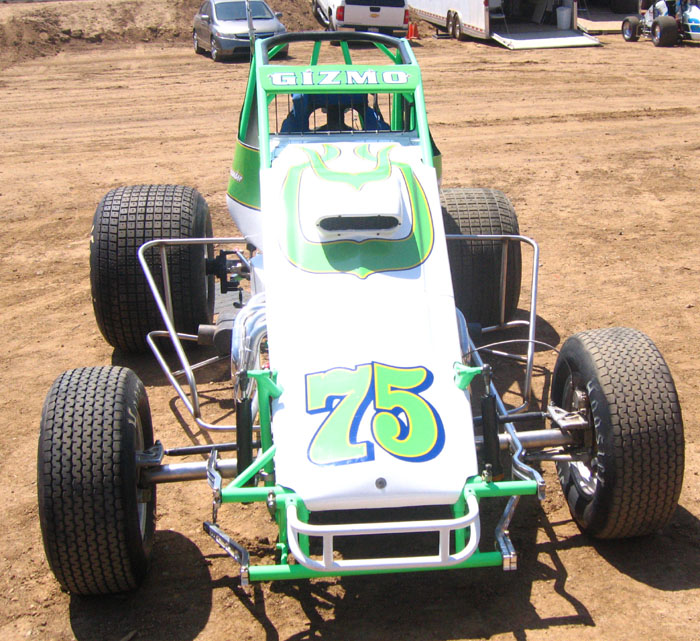 Gizmo drives Ray Stansberry's car, right?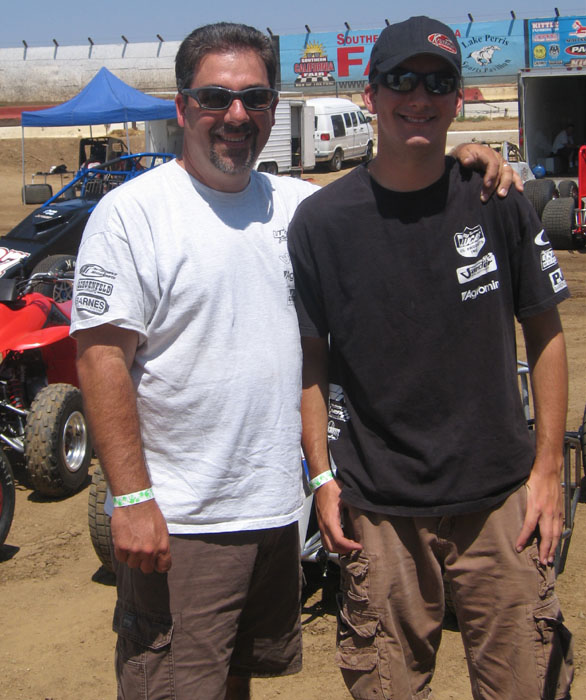 Mike Nigh and his young 15 year old son Cody.
Jim Wells and Mathew Shedarowich's dad do due diligence on the race car.
Matthew poses for Mrs Wags.
September 6, 2009 @ Calistoga
Wags
Lealand and Janet bring a Tempe Tornado T-shirt for the auction.
Here's Tammy and Tony Jones with their son Grady.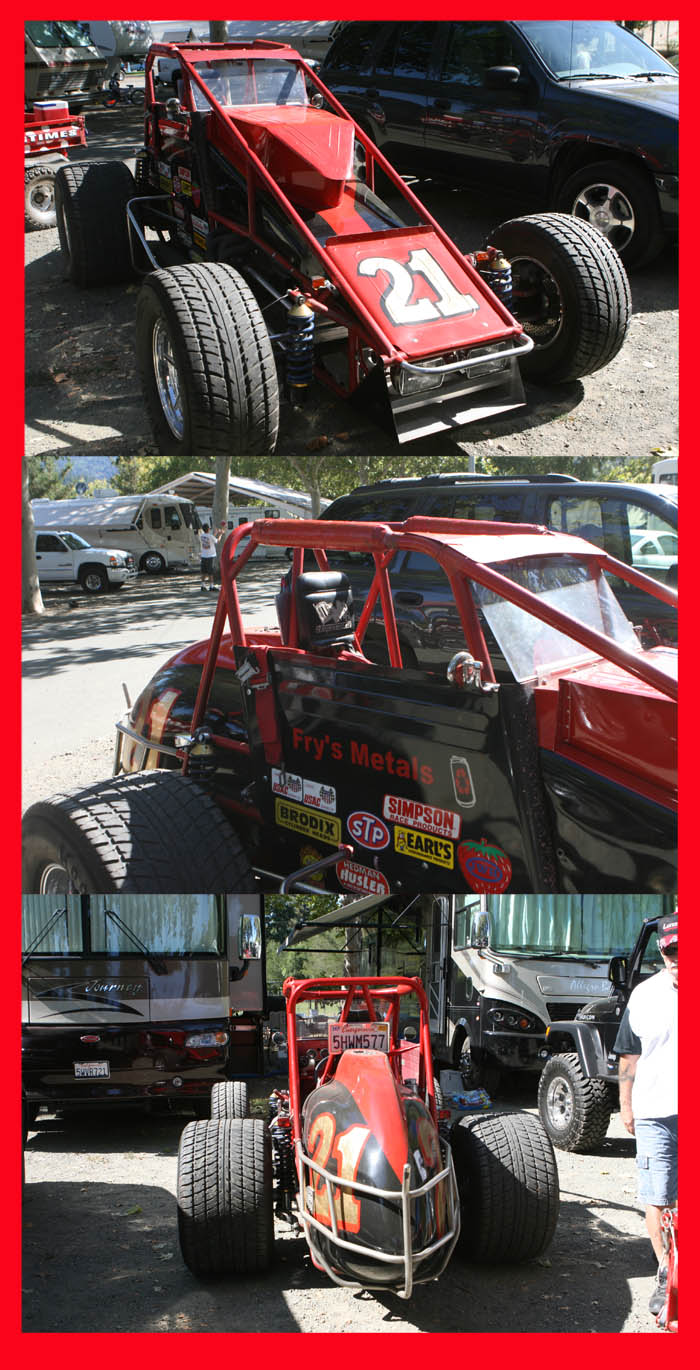 Dick Fry's street legal sprint car. How come I don't have one of them?
Danny Sheridan gets hooked up in the little blue bugger.
Blake Miller was fast in the blue car, but finished in the black car.
Keith Bloom takes a long flying flip. Starting from the right going left. I am usually just a spectator on these, but this time he flew so far I caught some of it. He first appears behind the two telephone poles to the right.
Looks like Keith has the best view of this crash.
Matt Mitchell gets it muddy.
David Cardey pulls a wheel.
Danny Sheridan on a hot one.
September 5, 2009 @ Calistoga
Mrs Wags

Bobby McMahan's ride is cool. I wonder if he is a Cardinal fan, football or baseball?
Here Mrs Wags makes this suitable for framing shot of the cute pair. She says these Williams boys are really good looking young men.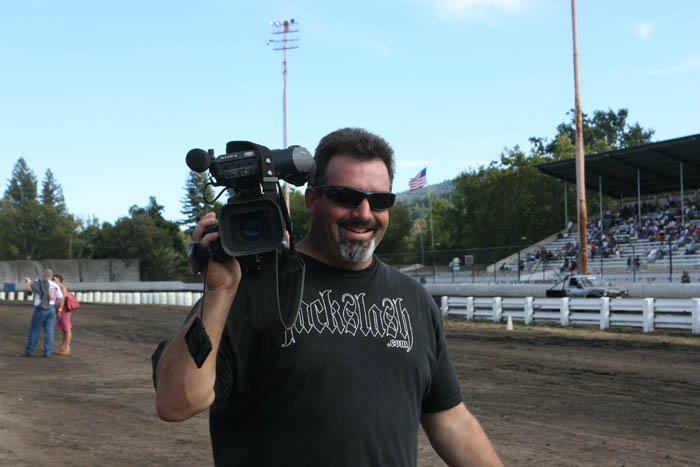 Dyno Dean Mills with his extra appendage roams the pits looking for good shots.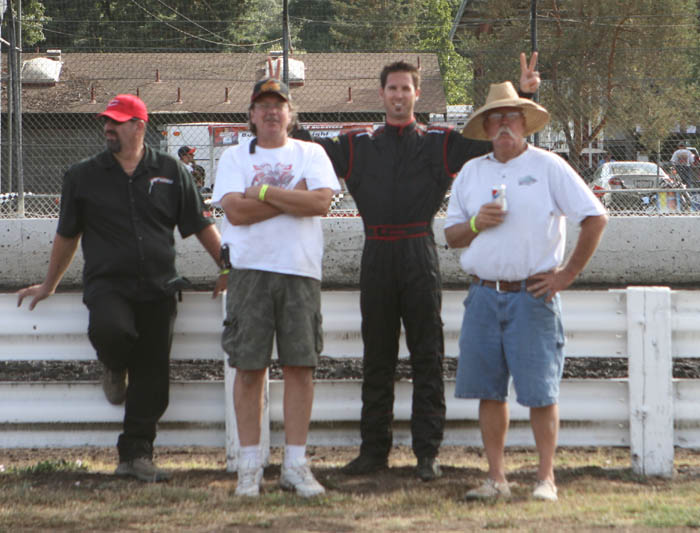 David Carey does his "quotes" move on his crewmen as they hang out on the track.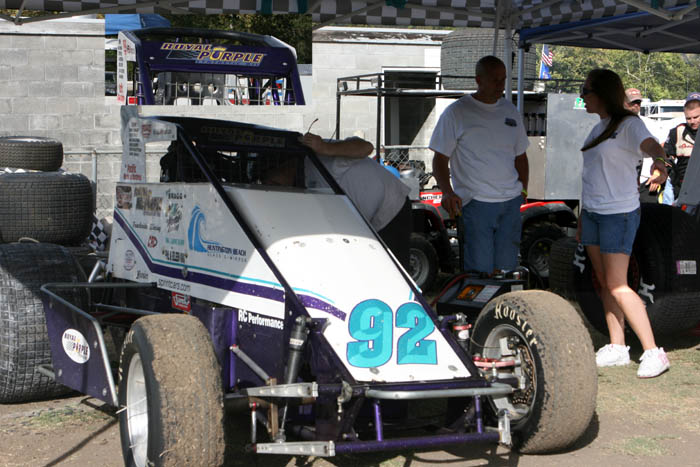 Royal purple oil for the Moosemobile! That is an insert of the Royal Purple sign I put in over the car so you could see it.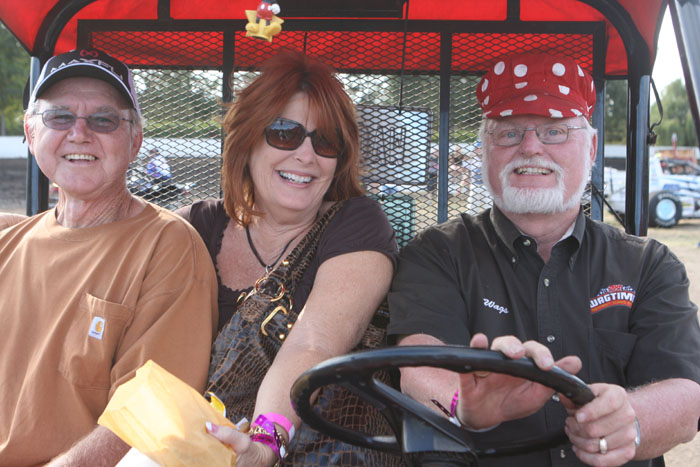 Janet and Lealand take a chance on a ride with the Wags back to the parking area where they dined on track cuisine before they returned to watch the action from the infield.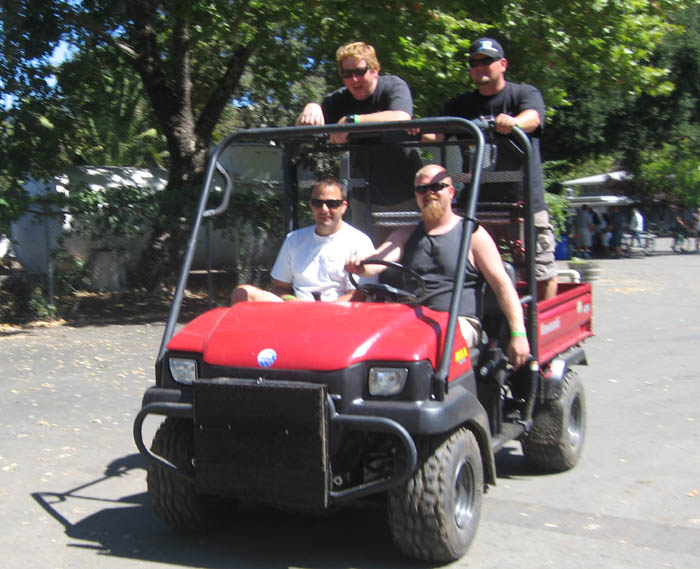 This looks like trouble waiting to happen as the Kittle Krew goes round and round.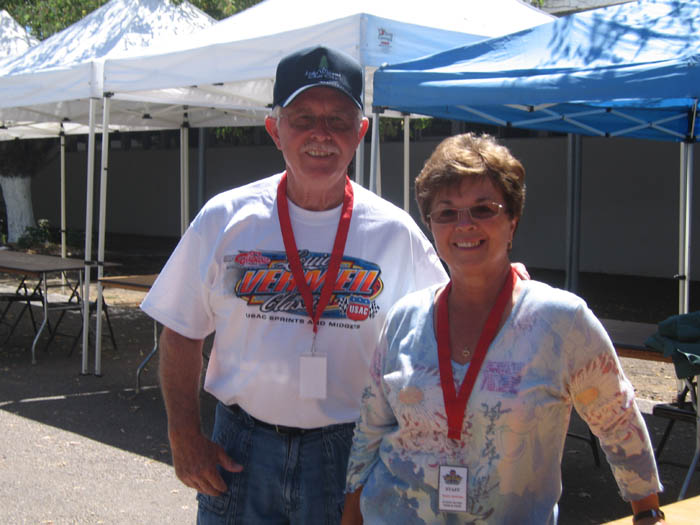 Greg Sowers mom and dad, Mary & Dick, worked hard during the weekend.
Hmmm, so she came after all.
Janet and Lealand still having fun.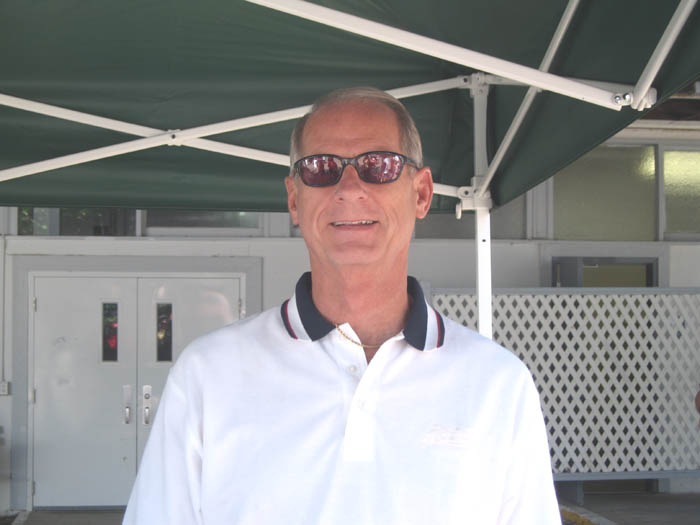 Our Taximan, Mike clark did such a good job ferrying the airport arrivals!
Cody Williams and girlfriend Heidi relax as he signs.
Tony Jones and his pretty wife Tammy arrive for signing.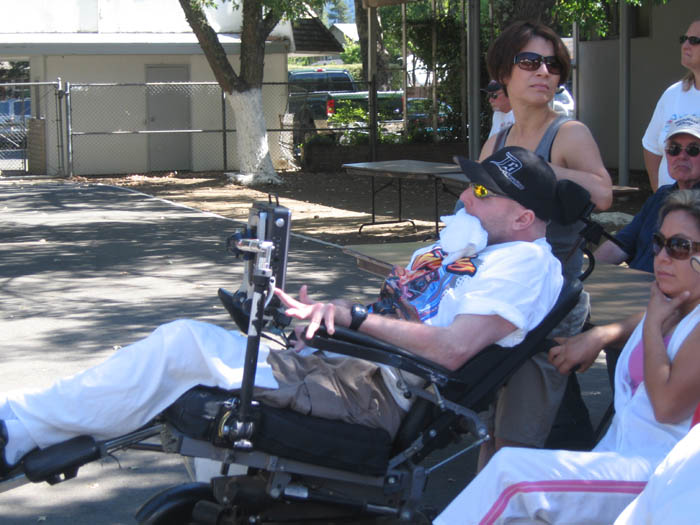 Shawn McDonald and his new bride Nellie came to town. Did you know he was from the Bay area? He used to go to Baylands every week. He is on a vacation with family up North for a little while.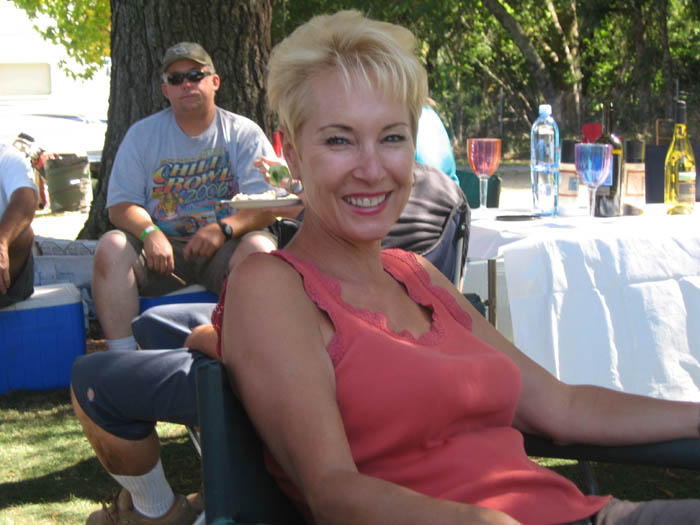 Brian's sweetie, Kris, is always a gracious host. She doesn't come to all the races because she is so into riding her horse, Big Red, but enjoys when she does come.
You would be worn out too, if you cooked three times a day for this brood. Brian says this chair was well worth the money and obviously is comfortable.
A panoramic view from the grandstands.
September 19, 2009 @ The PAS
Wags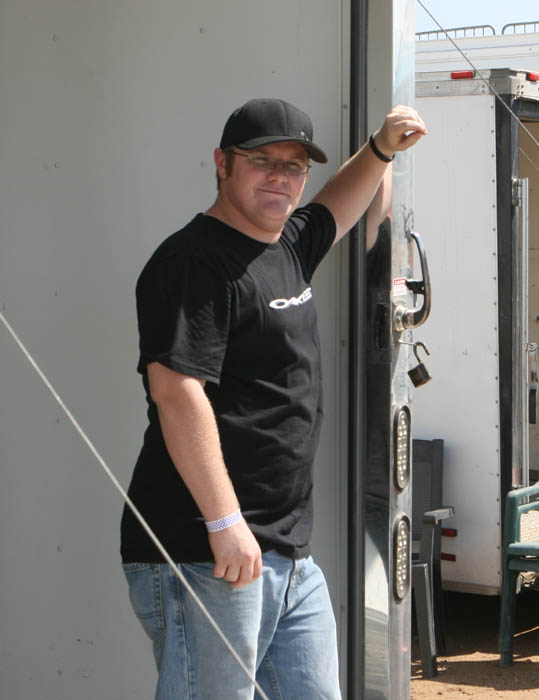 R J Johnson comes west to the PAS. He worked hard to get 10th in the feature.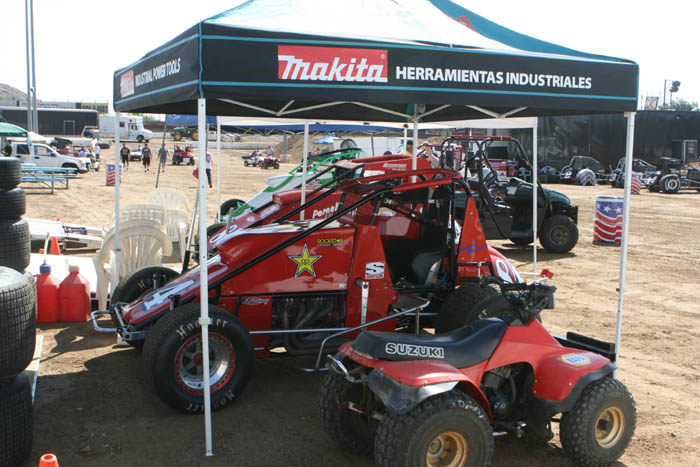 Hey there are two # 84 cars in Ludvig Solberg's pits. Curt Le Duc, and off road runner, tried out the circle track tonight. He was 7th and 16th in his initial sprint debut.
Line em up. Ellis, Josh Ford and Tanner Terry's cars are lined up and close together. With the lightning sprints running tonight, it was pretty packed in there.
You know what it's like to go back in time? This pic was tried by me four times before I got it. The sun was not allowing the shutter to click until they got in the trailer, thus their not getting posed like the pror few times. Anyway, it's the Waitman gang. Going back in time? The silver haired guy is Andy. Andy once worked on Kim Craft's car back in the 80's. I use to go out there to Kim's house and watch Andy and Kim's crew, which included Kenzo Okubo and a few others who have long since moved away, work on the car. I didn't recognize Andy until he said hey, remember me? Anyway, I had so much trouble getting them posed and the camera working, we didn't get names or proper posing points correct.
Lonnie is busy on the front end of the # 38 car.
Toby Sampson works very hard on a lot of different spint cars, rebuilding and changing them. Here he actually gets to drive and is having a ball. He recently won in this little lightning sprint, but I was on the road when they ran their feature this time and missed the finish.
The Jones crew talking about things.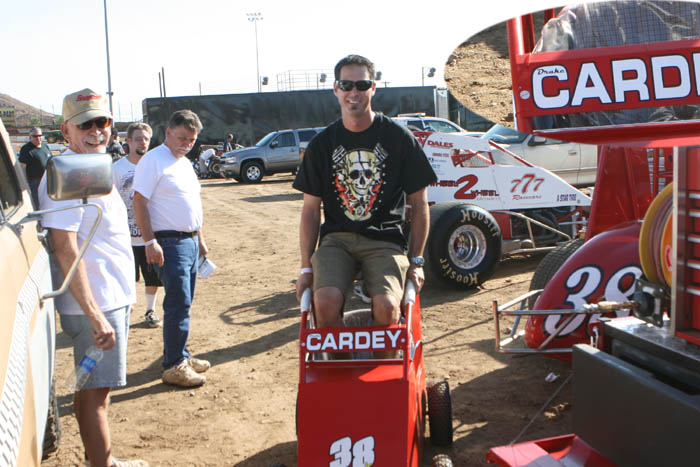 David tries out his son Drake's ride. Cute little car, but no motor yet!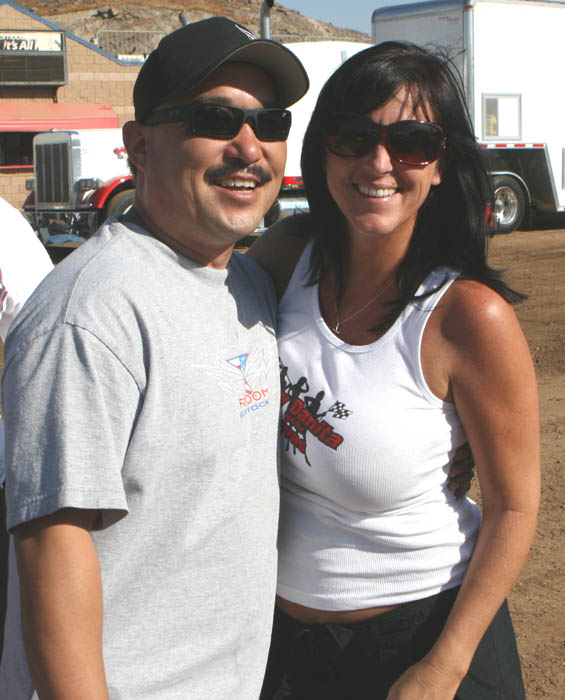 Julie's husband Randy is now talking (?) with Shelley
This car wanted to fly with David Cardey at the wheel. Unfortunately, it did before it finished this lap.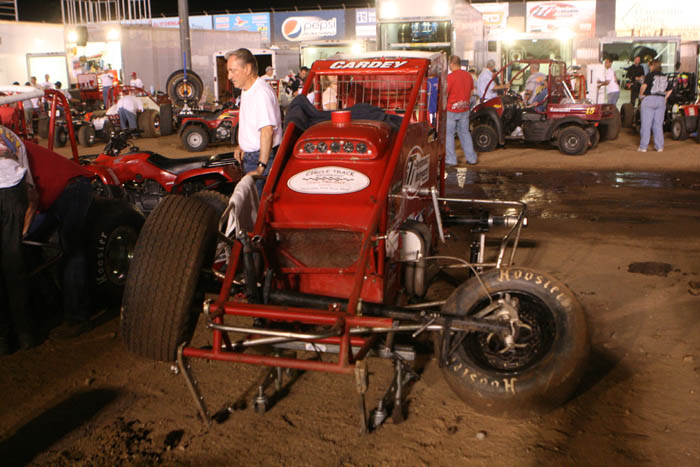 Here is the mangled # 38 waiting to go to the fixit shop. The end.
October 3, 2009 @ Ventura
Wags
I specifically came to Ventura to support the Jim Kearce Memorial. Kevin Does this race in memory of his father Jim. Kevin leads the VRA points, but it wasn't a great night for him as he was done early in the main.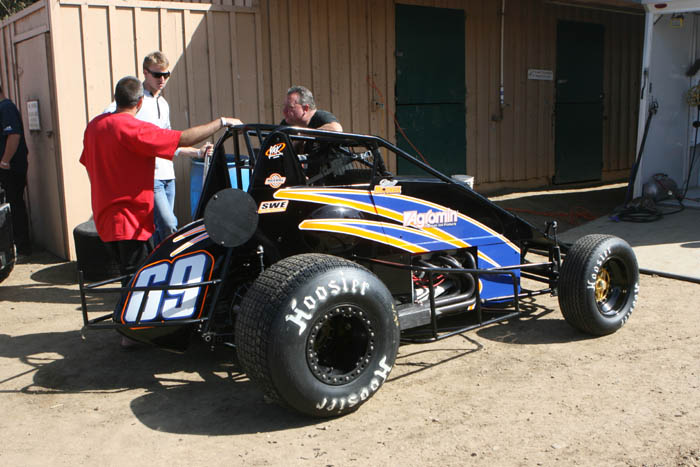 Biggie's # 69 driven by Matt Mitchell did well as Matt won!
The Jim Kierce Memorial pace car, isn't it a beauty!!!
When they are not racing on the big track, they race on the small pit track.
Bobby Michnowicz heading to the push off area. He won the Sr Sprint main.
Mike English pushes Wiley up front.
The Miller sprinter is very pretty, to me!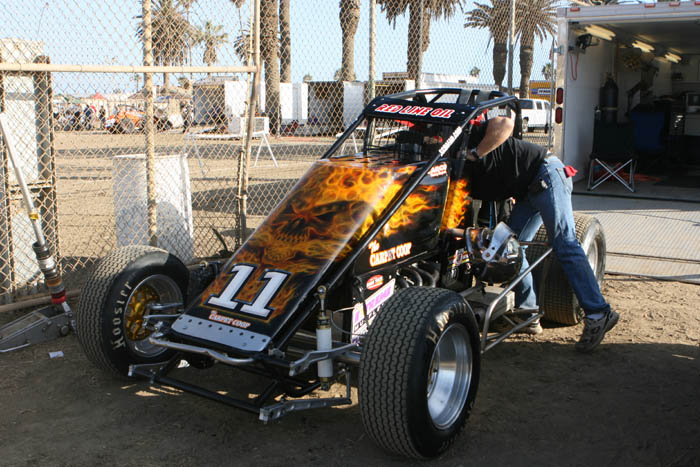 Troy Rutherford finished 2nd this night in this Carpet Coop car.
October 10, 2009 @ The PAS

Doggy, big doggy.
Here is Ed McWilliams race car.
Here is Ed's car with wife Alexandria. You may recognize her from other race day features I have done.
David Miller's # 66 has Toby Sampson in the seat this week.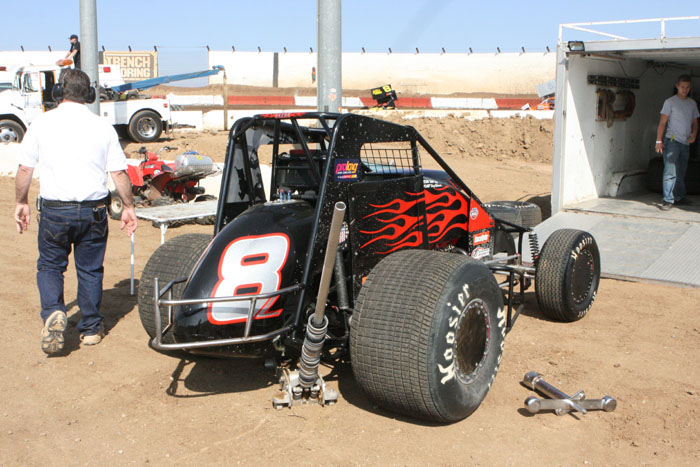 Mad Dog Shedarowich broke a rear end in the main event.
Kenny cooks me a chicken taco. MMMMMMMMMMMMMMMM good.
Turns out it was Steve Alexander''s cooker. Very unique and foldable portable
Doug Allen and Julie Shiosaki converse.
Gary Kittle brought his little weenie dog to the races again.
David Cardey on a hot lap.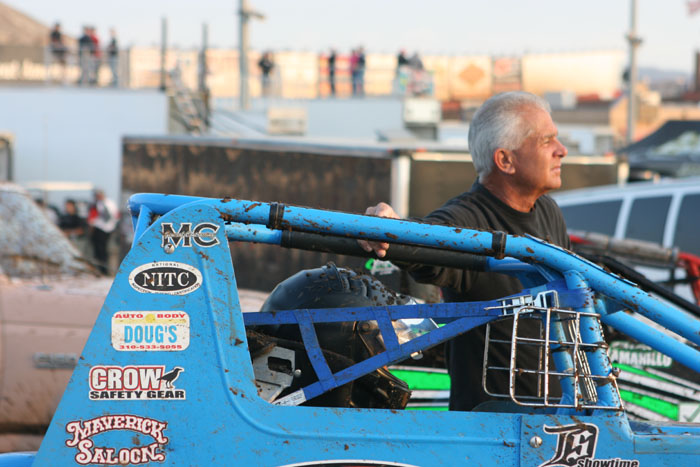 Danny's dad Rich is concentrating hard.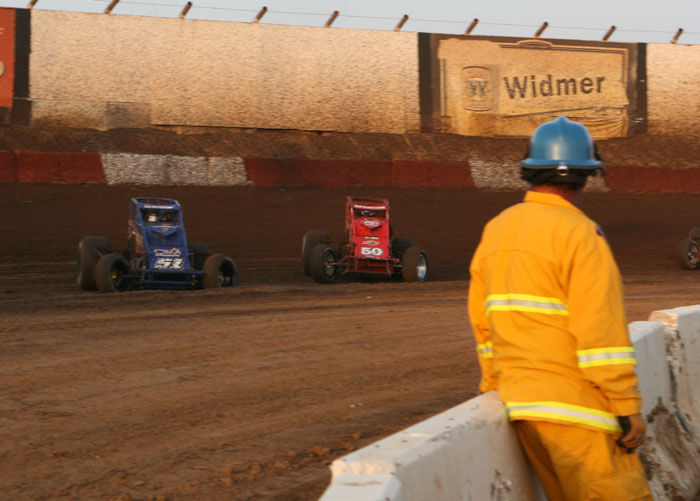 One of the paramedic guys views the cars as they go around. These guys not only like racing, they are really into their work.
Ludvig Solberg IV warming up.
The Jory Mule pushes two Williams cars, Cody and Rip.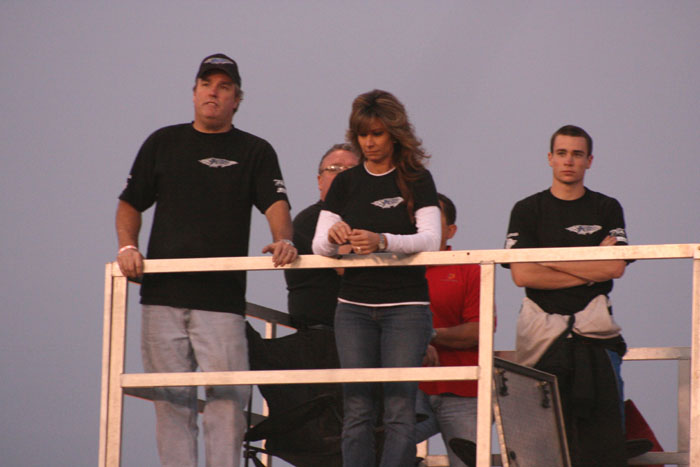 The Kershaw Family watches the action from atop the hauler.
And now we go racing.
September 5, 2009 @ Calistoga

Calistoga always starts with a little wine country experience. The "bar" area was attractive where we went.
Here are some bottles for the oils. Mrs Wags scored one as an arrival present.
Let's go to the next one, it's getting late.
Julie wanted just a taste.
Back to the track jack! Parts going to the pits for the Moosemobile. Tom Serich is driving and his driver Greg Bragg is holding on, I guess. If you use your imagination, don't those bars on top look like antlers?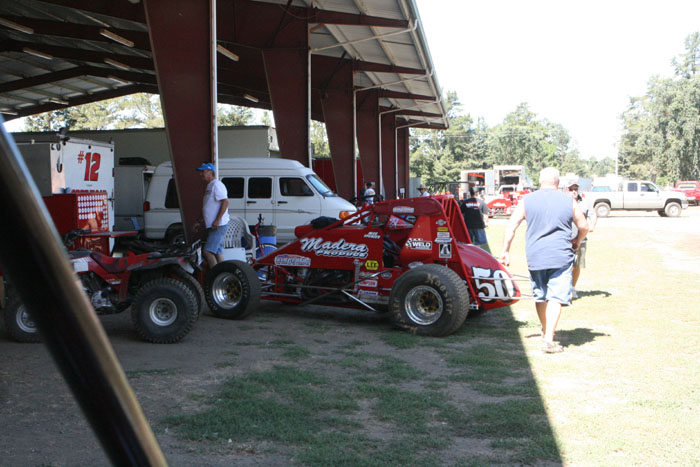 The real little red sucker in the shade. There was another one very similar looking, but didn't have much luck, unless you count the fuel can toss, which they won hands down.
You tell me, what was she doing at first before relaxing?
Jessie Hockett's ride was so bad Saturday night he pulled in early before he bought the farm. It was so good on Sunday he took a big lead in the feature, but should have pulled in early because he bought the farm with 6 laps to go. He wasn't hurt, but the car went from zero to rocketship after Saturday night.
One of the great old cars that were brought out
I wonder if she comes with it?
Roy Kitchell and the Racer's Pub proprietor "Fred" on a weekend outing in Calistoga. These two looked like they were looking for trouble most of the time.
Julie Shiosaki heard they were looking for Italian Flamenco dancers, so she was applying.
Janet and Lealand McSpadden. Don't they look just like they did when he retired some 15 years ago. He still misses driving, but was done when he retired. He still owes me a ride at Manzy in a two seater, but I guess I'll never collect, duh.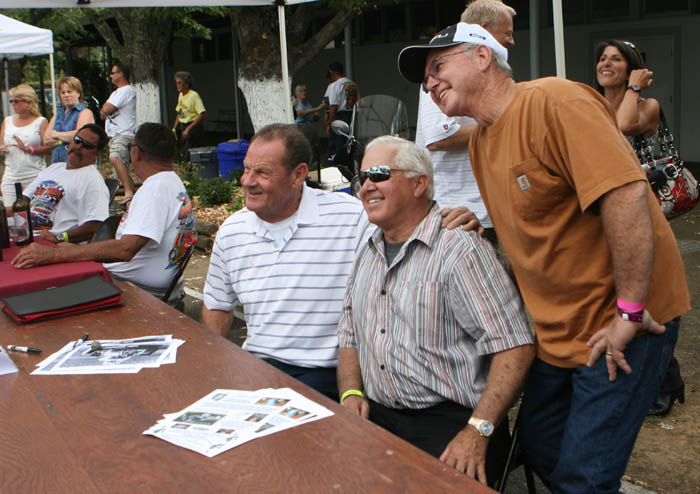 Lealand gets in on one of the poses for the old timers.
That is Dick Vermeil in the old car getting pushed to the infield. He would light it up and make a few laps later.
Lucky driver, wouldn't you bet as she waited for him to get off the track and push him to the pit?
The sprinter once driven by Gary Patterson is always welcome here.
Showtime and Spencer side by side in the pits.
October 24, 2009 @ Ventura

Dennis Howell Sr is working on his son's car. They missed the main.
Jesse Hockett and Mike Truex talk before the action. Jesse got a raw deal when he and Matt Mitchell stopped when a car flipped over. Unfortunately, no red was called, and they went to the back. There was rumor that the red came on and off, but officially, it was they stopped on a yellow, end of case.
Danny Sheridan's car ready to go.
Mike Spencer drove the # 30 car to 8th place in the main event.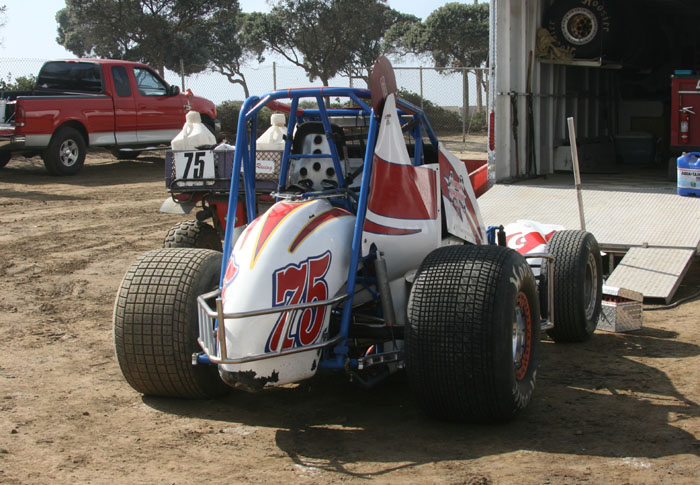 Bobby Michnowicz drove Ray Stansberry's car this week.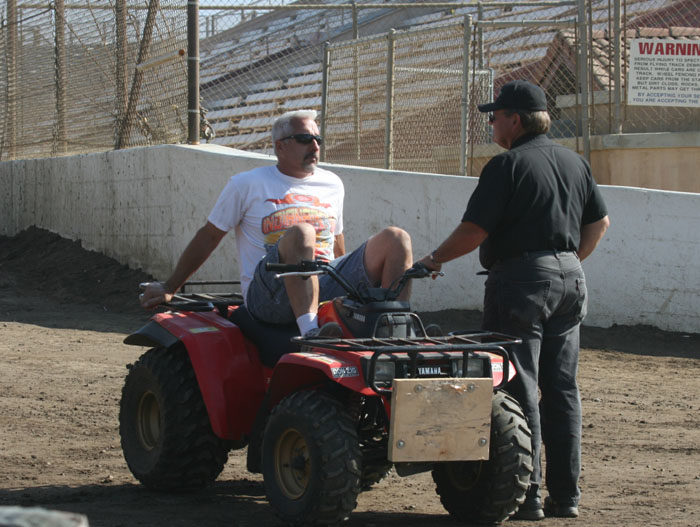 Jim Naylor talks with his new VRA Sprint Car Champion Kevin Kierce.
A lovely scene in the pits at the racy little track by the sea.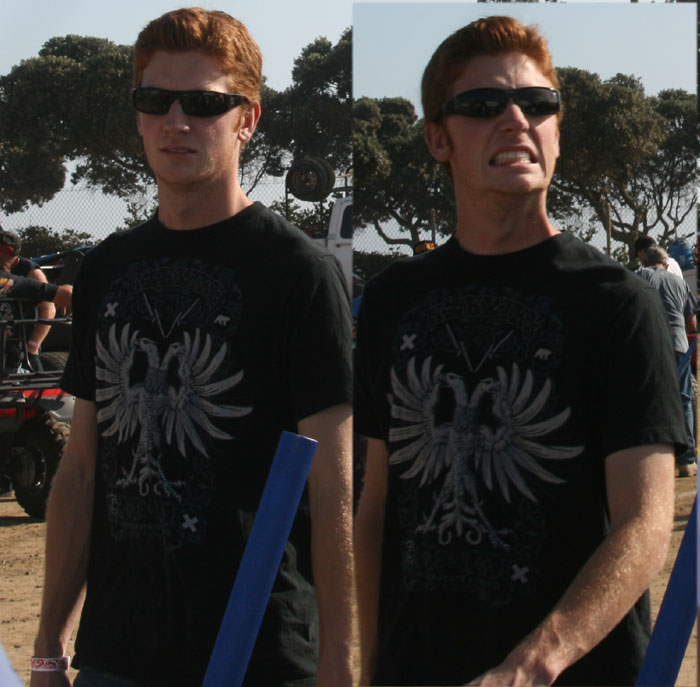 The two faces of Blake Miller- normal and his posing for me one.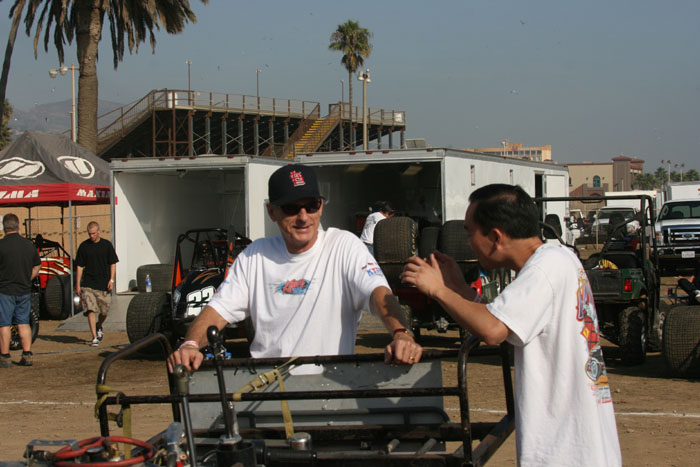 Mike Clark and Michael Tanaka chat.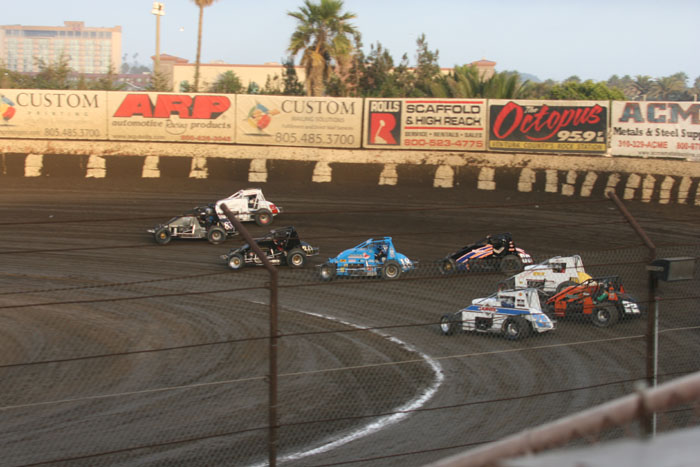 The heats start.
This might be the reason Jesse Hockett and Matt Mitchell stopped.
October 31, 2009 @ Las vegas

Bryan Clauson, the eventual winner rolls by.
It was quiet in Jeff Rissell pit as the pretty blond reads to pass the time.
These cars are amazing.
Jim Berges led for 20 laps until Troy Regier came to get him.
AJ Russell was 10th in the main.
Point leader Garrett Hansen comes in from track time.
She must drive the legend?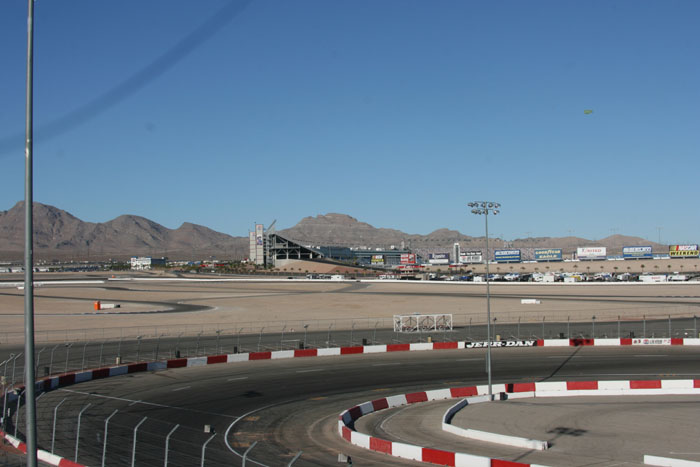 Looking to the left you can see the big NASCAR track. Beyond that is the drag strip that laid down some heavy groundshaking runs this day. You could feel it way over here! This super speedway with all it's tracs looks like a big parking lot with one dirt trzck in it's midst.
A J Russell has a nice push vehicle.
Pink is in!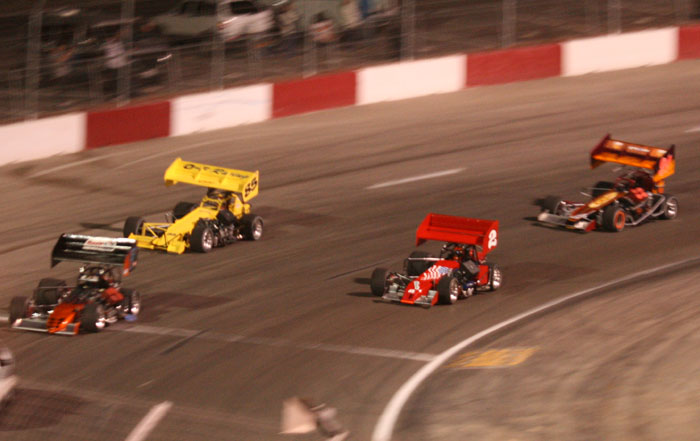 Super heat race. There were two.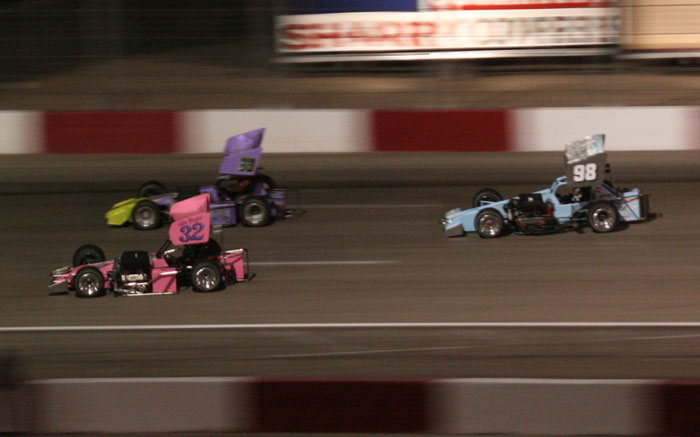 Supers at speed.
Bryan Clauson comes out of his car after winning the 50 lap USAC Midget main.
August 15, 2009 @ Santa Maria

The pit booth opens for business.
This pretty lady takes care of the deadheads. I forgot to call and get on the list, so that's why I am in the other line for a change.
Algelica Anderson brings Kirby and Pinto for a walk. The two Weenie dogs are 4 months old and are Dapple colored? Really cute!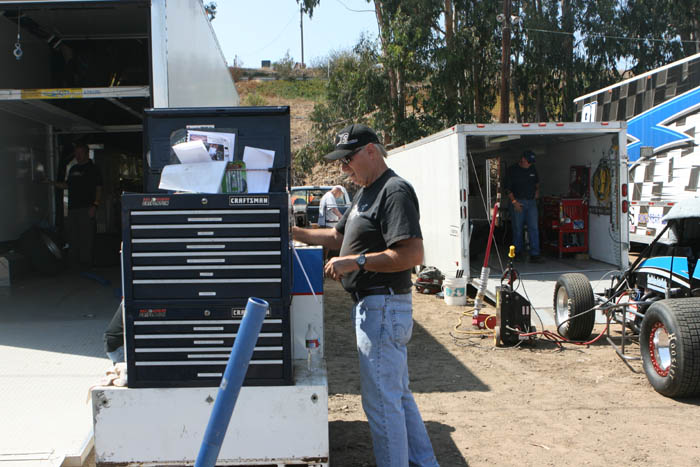 Paul Dean looking for some mechanical thing to play with.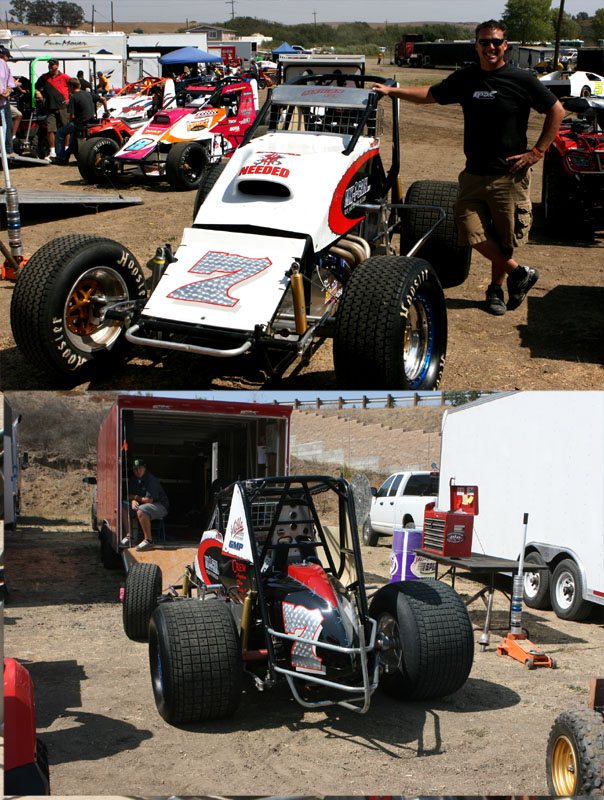 Here's Lynn "Hot Rod" Anderson posing. He's raced off and on for many years, but tonight was the first time his father had seen him race.
Justyne Hamblin led the feature in this pretty car. She had a flat and ended up 15th.
Pit meeting ends and they disperse.
The busy pit area is really bustling with activity. Sounds like a narration for a 50's movie.
Dennis the menace on a smokey one.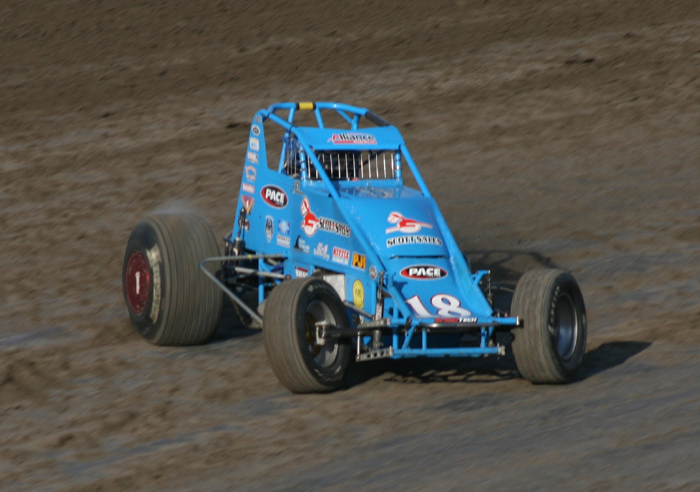 Danny Sheridan takes a lap.
Is that smoke coming off those tires ? It's early and still glazing over.
The first heat lines up.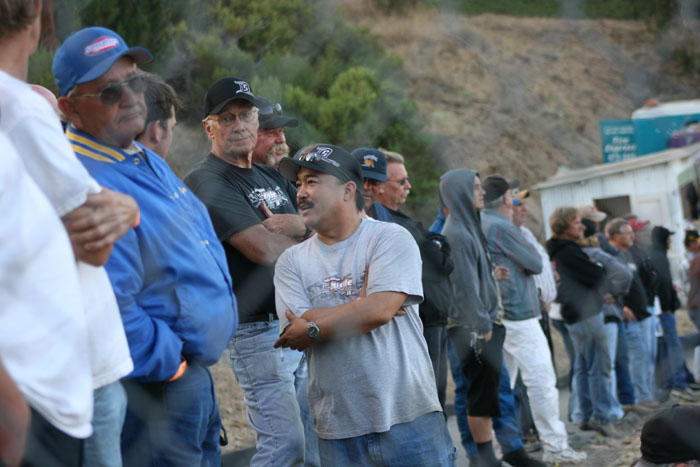 The ramp up to the grandstands from the pits is a viewing area for pit people.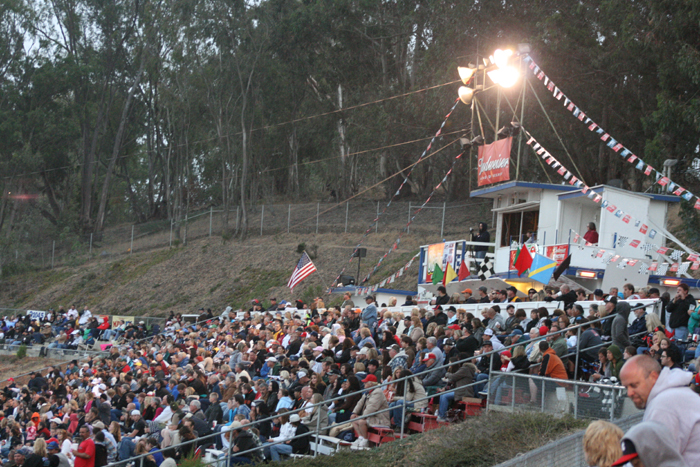 The front stretch grandstands with the announcers booth above.
The grandstand.
The Semi gets ready.
November 5, 2009 @ Perris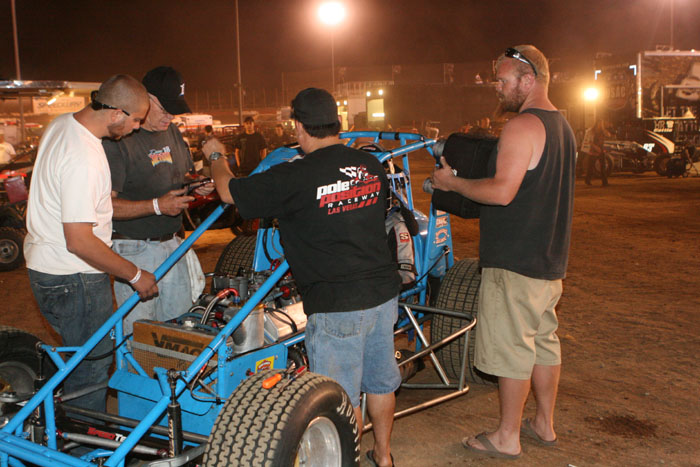 Practice starts out on Wednesday night as most of the haulers are open and they are getting dialed in. The little blue bugger was no different as they were checking out a refreshed motor and some set-up thoughts.
The view from the track entrance looking over the pits to the grandstands.
Looking down the backstretch.
Just going into the pits from the turn two entrance.
The Thursday night winner was Bryan Clauson.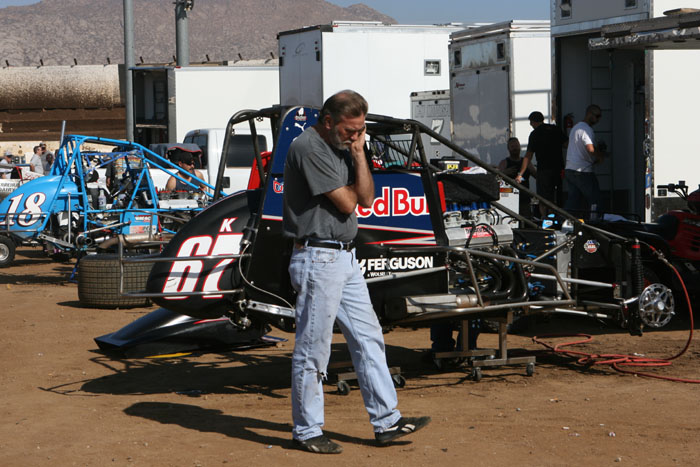 One of the masters of Sprint Car racing Keith Kunz is on the phone. His cars always run up front under his guidence.
Showtime's little blue bugger is looking a little nude.
Kevin Swindell was in the Roth sprinter this weekend.
Coleman "Iceman" Gulick from the east coast came to race.
photog's row include Diecast Mike, Stan Junior and Chucko as the day begins.
November 6, 2009 @ Perris

The long look has the pits packed
Dean Mills, Bruce ST James and Dennis Rodriguez getting their picture taken.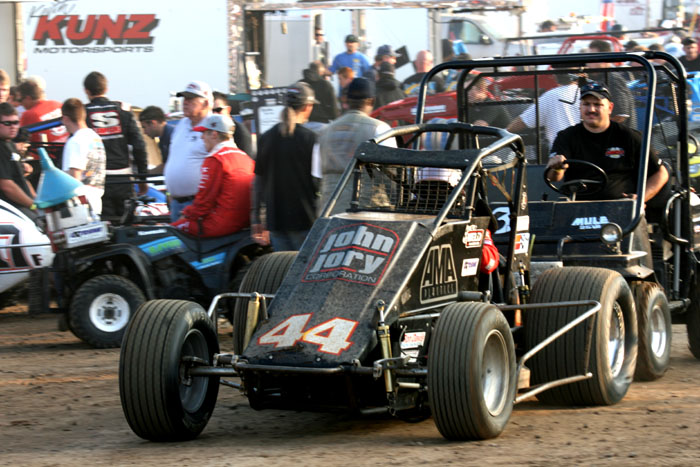 Cody Williams moving to the track to fire up.
Peter Murphy gets ready to go.
Ripper moves his new Viper Chassis car along. He led the main for 21 laps before falling back to 7th at the end.
Matthew Shedarowich made his way to fire up.
Darren Hagen ran a second car from the Alexander stable. He had some good and bad as he was the first car out in the Main on Saturday after running strong the 3 days.
The winner! Damion gardner won his first Oval Nationals with some gutsy driving.
Danny Sheridan had a consistent weekend with no crashes and he finished each race.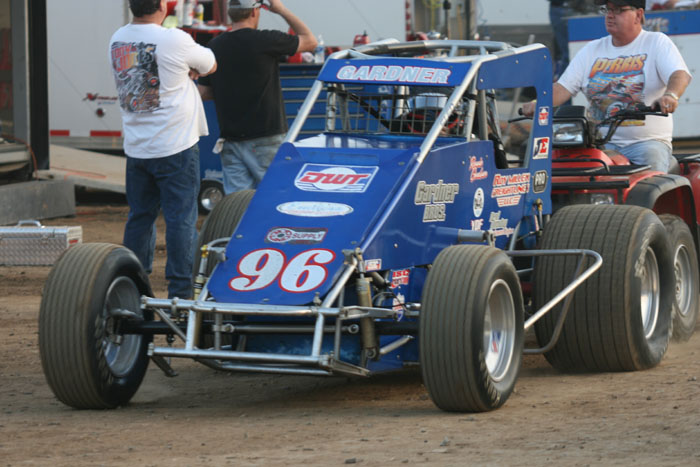 Ronnie Gardner had a great weekend getting 14th in his first Ovals A Main.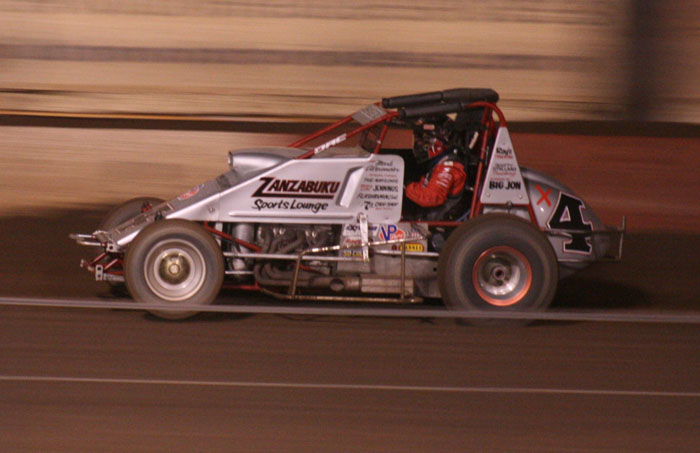 Tony Jones on the hammer.
November 7, 2009 @ Perris

The striped Iceman car before it hits the dumpster.
The bare car looks weird in the pits.
So much more to come as all the crews went thru their rituals to get the cars prepared.
The cars were brought out on the frontstretch and the fans were allowed to go thru the gate to walk around and meet and greet the drivers.
The quads are ready to push them back in the pit area as 4 Pm arrives.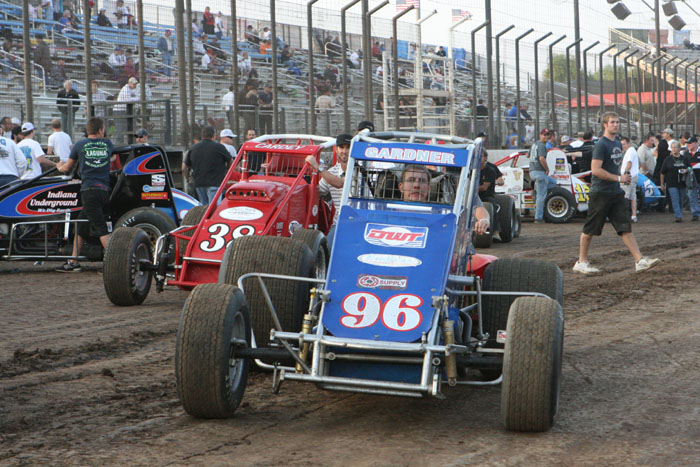 It looks like Ronnie Gardner is aiming for the Wags, but he missed me.
November 7, 2009 @ Perris by Mrs Wags

Dave Darland poses for Mrs Wags.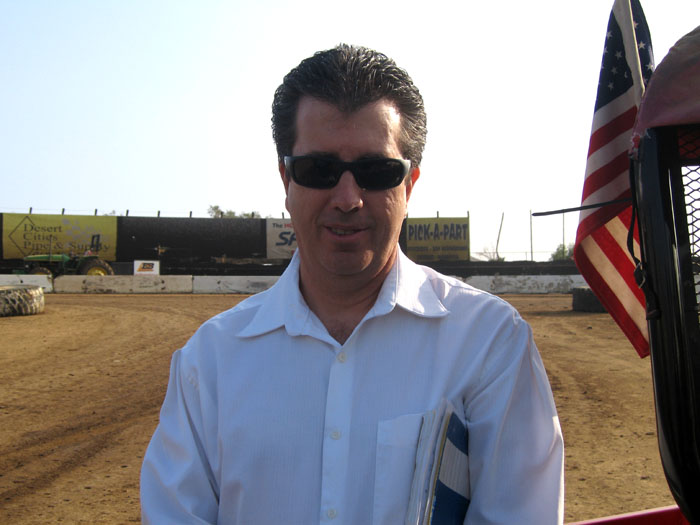 PAS announcer Scott Deloisio wanders the pits before he heads up to the booth each week. He keeps on top of everything and gives the crowd much needed data.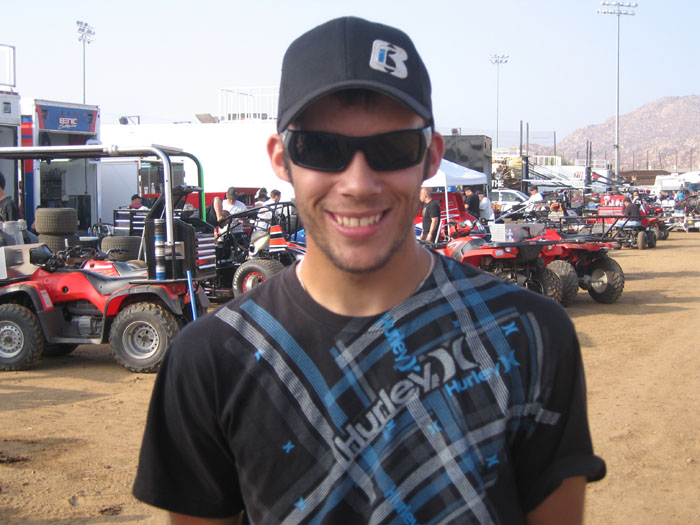 Bryan Clauson was a happy camper after winning the opening night. He was 4th in the Saturday A Main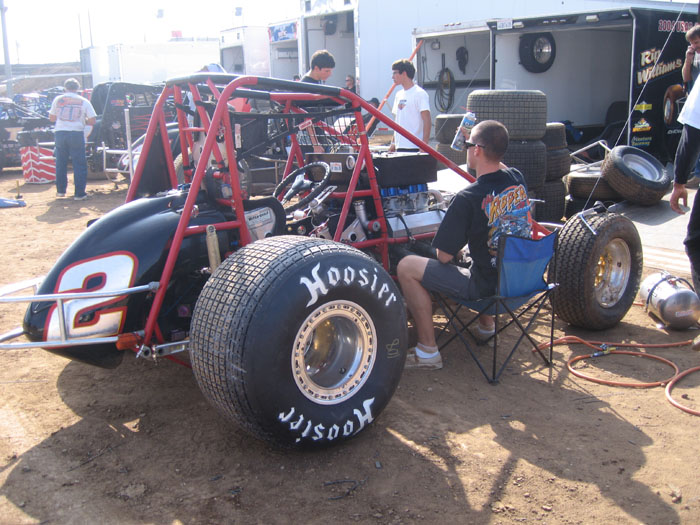 Austin's car gets attention.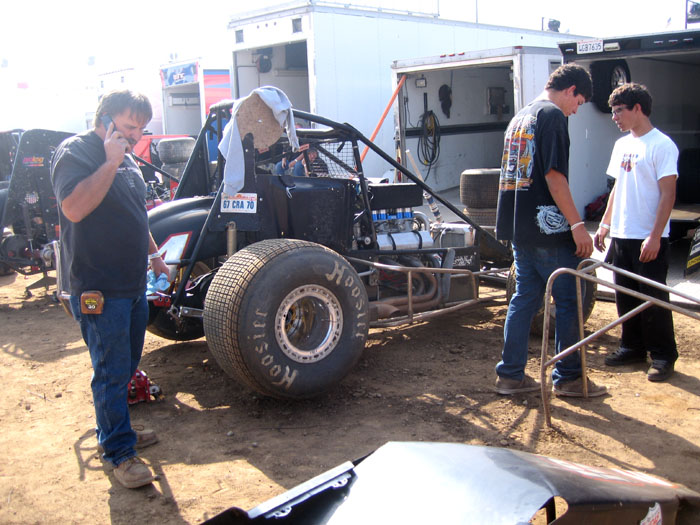 Rip's on the phone as Cody, far right, gets busy.
This is the Bromme pit cart. Looks like a lot of wins, yes!
Evelyn Pratt visits with Noice and Richard in the early afternoon.
Bob Ream Jr came over to help Bruce St James this weekend.
Darren Hagen came to town to race. He had some good and bad luck, but ended up out early in the finali.
Hal Engstrom relaxes before the storm.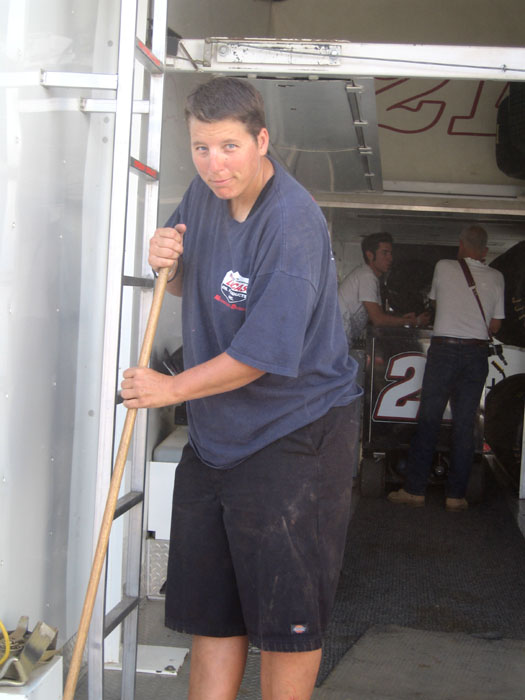 Hobie does many things for the Kruseman team.
Busy looking pits, again.
Dinner at the Kittle Kamp.
Jack Kramer and sister Helen.
From left: kacie, Mrs Wags, Sharon, Fran, Julie and Tanner. It was black dress up day. Tanner almost made it!
Jimbo "Rambo" ready to go home!
November 14, 2009 @ Tulare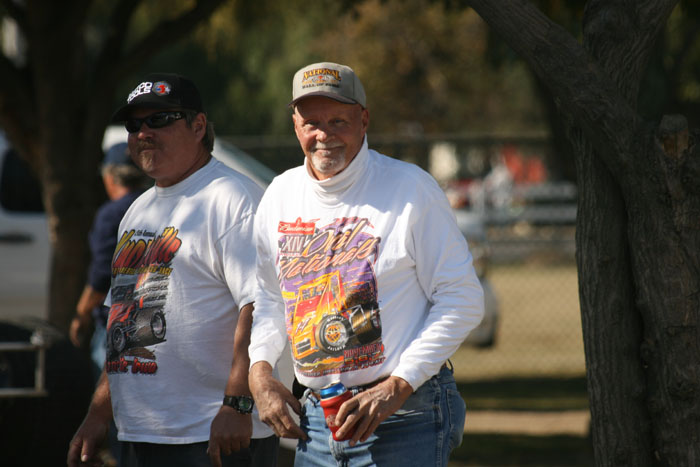 I think they said "how about a little Tequela with your breakfast"?
Grrrrrrrrrrrrrrrrrrrrrr!
The organization inside some of the trailers is set-up for maximum usage. The poster is just extra.
Photographer Jim Fargo, Shaun Buckley (Jack FLash) and Marilyn Griffith hang in the pits.
Jesse Hockett had a tough weekend. He was 27th and 23rd in the two nights.
November 15, 2009 @ Tulare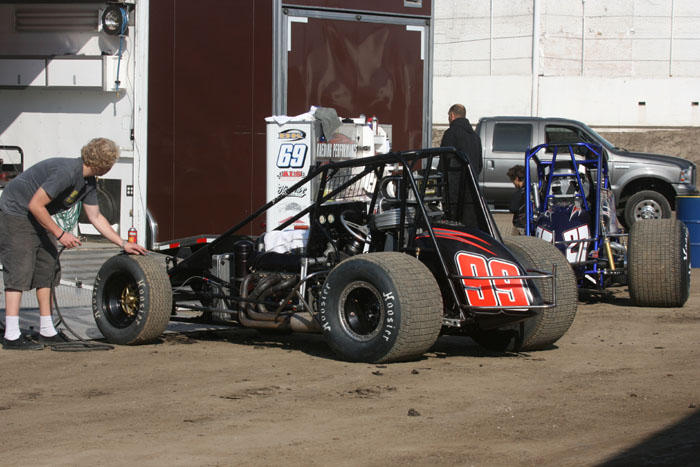 Wing runner Kyle Larson had his moments.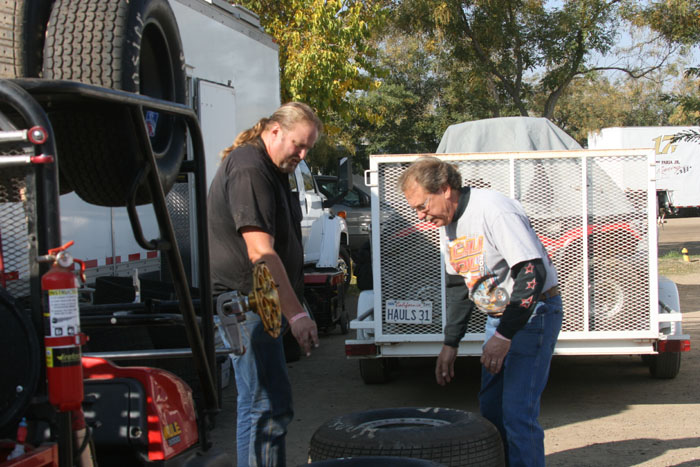 Big Show and Lonnie working on Cardey's car.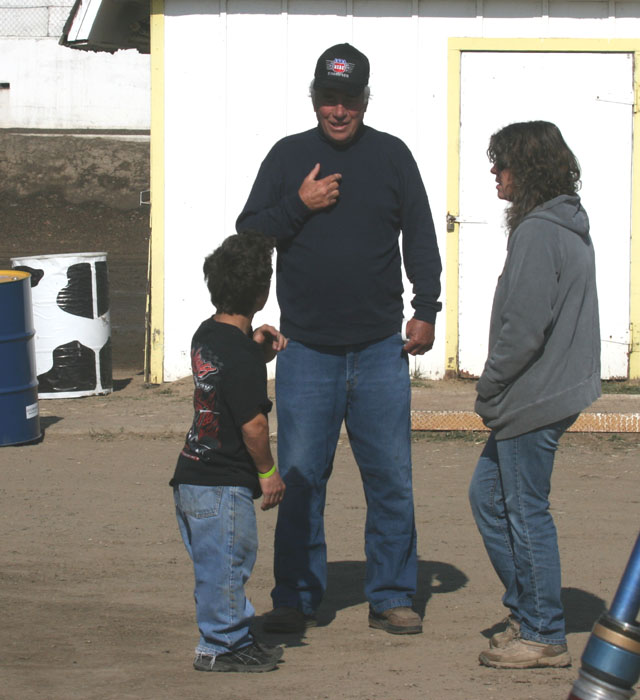 That is Howard Kaeding visiting in the pits.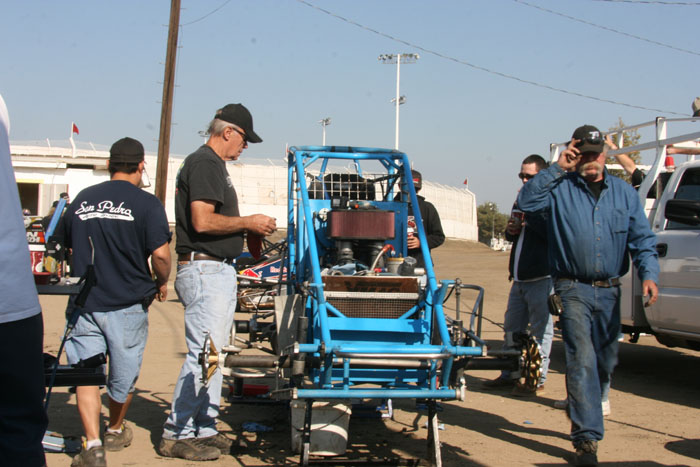 The Kittle krew works on the little blue bugger. Little did they know............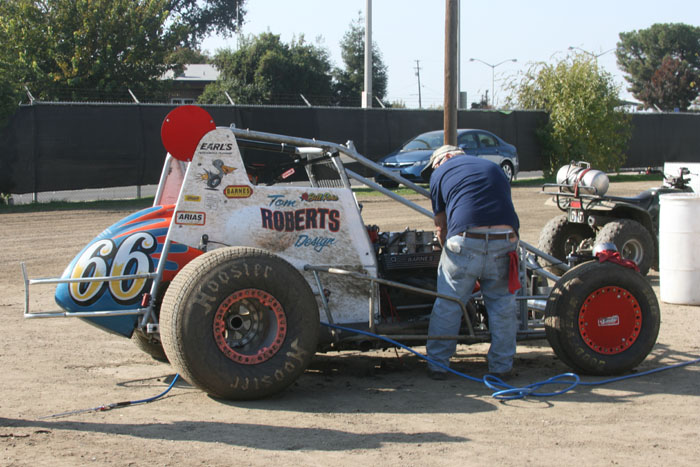 A crewman works on David Miller's car for Bill Rose to drive.
Damion talks with a few people after the drivers meeting. Julie is hidden, but she's there.
Steve Lafond and writer K O from Indiana come stalking in the pits.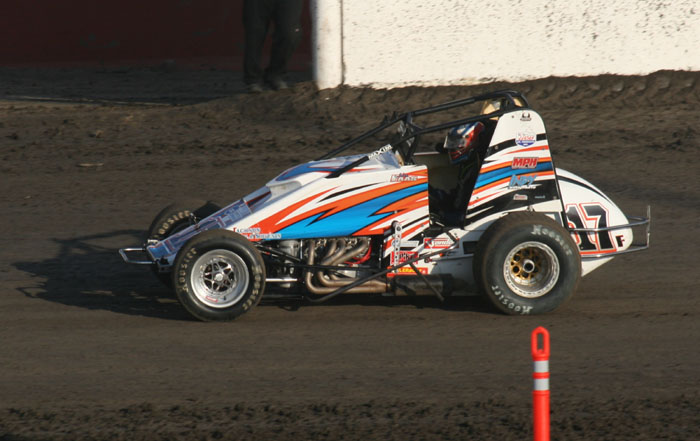 Nic Faas
November 28, 2009 @ Perris

Didn't I tell you? Danny Sheridan's car looks like it is going to be wet soon, and it was as we got just a little sprinkle.
Damion Gardner's rig is setting under the boiling sky. Is that a funnel forming over there?
Charles Davis Jr comes out of the cockpit of David Miller's car. He didn't have much luck in the main.
Doug Allen, Mrs Wags and Ronnie Everhart visit a bit.
These guys are very important at our racing events, and they need to be highly trained. Here they take some instruction from Ron Shipley III (middle front) as he is a long time Fireman/EMT from the Ascot days. In the bottom pic they are from the left to right: David Batten, Ryan Amendt, Jeremy Stuck, Ron Shipley III and Keith Fishell.
Big Mark Spivey pats the # 66 on the fuel cell? No, I think he might be wiping it down.
November 15, 2009 @ Tulare by Mrs Wags

Ray Stansberry just handed me a present?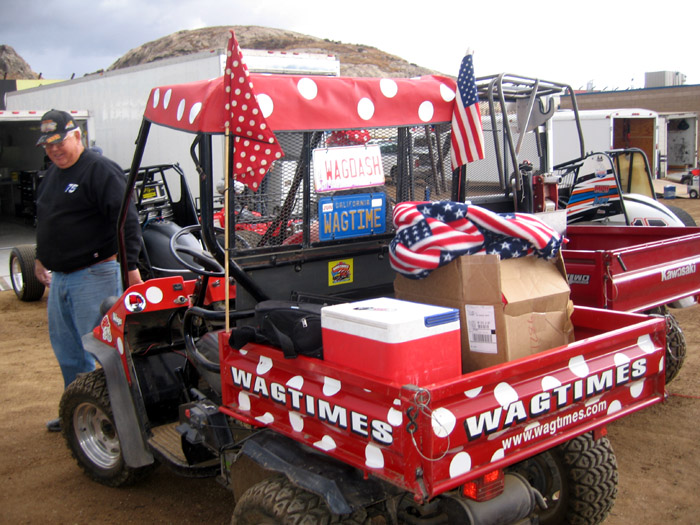 You can see the improvement. The old topper was sun baked and ugly. This one is beautiful!
The talented Jake Argo is looking for a new job next year because young Nic Faas is planning to stay home, go to college and race sprinters.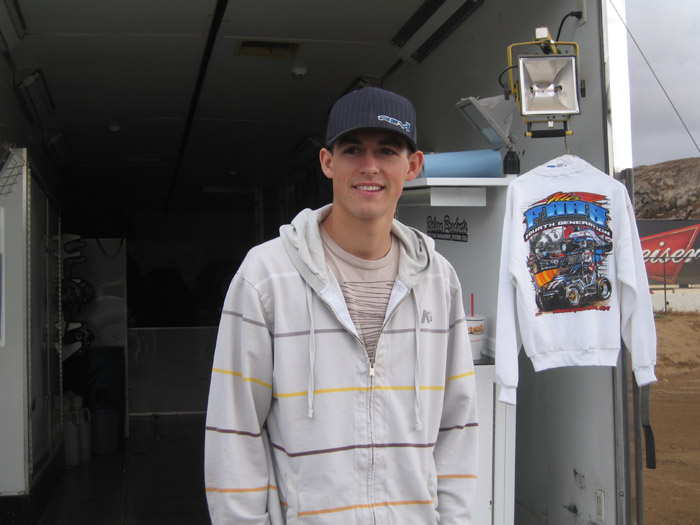 Nic Faas won the special 3 lap trophy dash
Steve Howard did a monster job raising money for his dad's race. I am sure Glenn is proud of his son.
Dick and Greg Sowers visit with the Wags.
Okie Sampson was the Lightning Sprint rookie of the year in 2009.
Danny Sheridan and Blake Miller chat about next year?
Infield announcer Chris Holt and the Wags.
The other infield announcer Ronnie Everhart.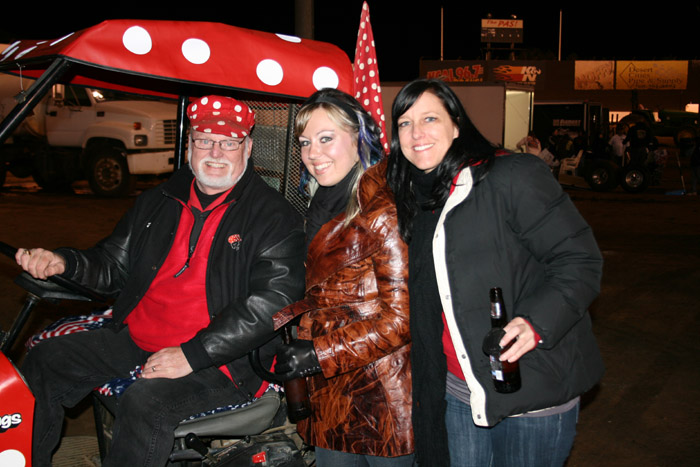 And this one's sent to me by Shelley Ostling. It's Shelley and Wags and a lady to be named later in the pits after the race.