November 3, 2007 @ Perris
Mrs Wags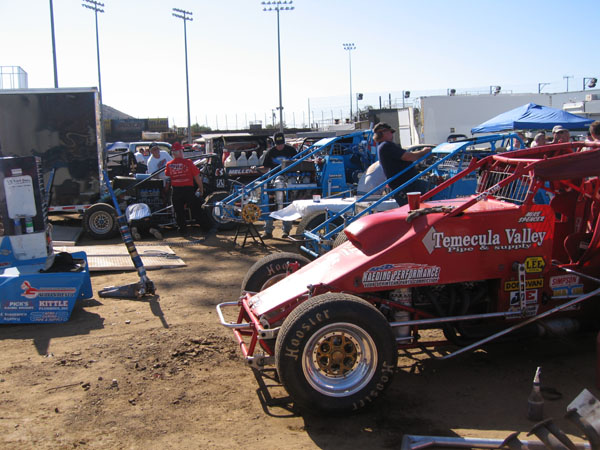 The pits on Saturday had a lot of work going on.
Wags visits with Golobic crew. Shane looked good and at 16 he will get better and better.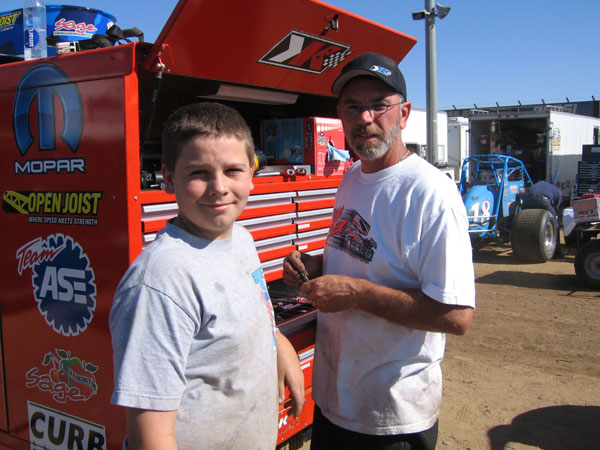 Davey Jones has son Dillon working with him in the pits.
Davey's wife Michelle with their older son Dalton. My but hasn't he grown up!!! They love living in the mid-west and don't miss California at all.
Damion Gardner did well until a hole appeared in his block late in the finale. He looked like he was going to make another challenge before that happened.
A great view down the pits.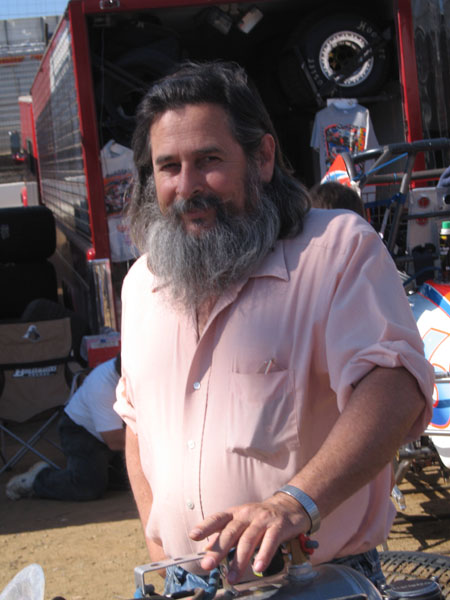 Mike Sala visited with Mrs Wags and indicated he might be running with CRA some next year?
Mike Clark and Julie Shiosaki in the camping area.
Frank, forgot, Carl and Mike hang out having a few beers.
Shaun McDonald is always having fun at the races. Here he is greeting xxxxxxxxxxxxxx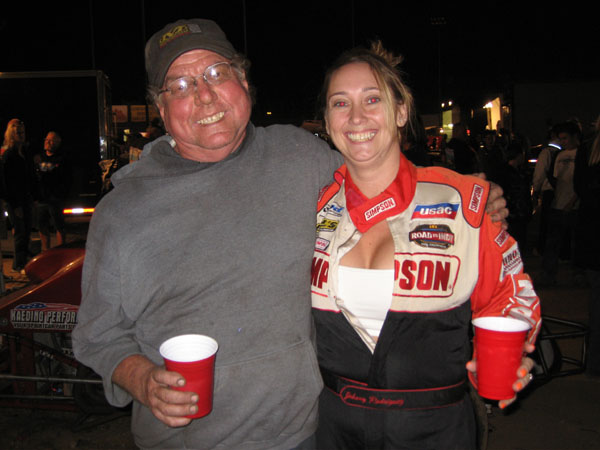 Bruce Bromme Jr with Karen as J-Rod.
That is what we are thankful for, our America. When do we get it back?
Ashley comes to visit Wags.
Mike Clark, Trucker Frank and one time t-shirt king Bill Marion.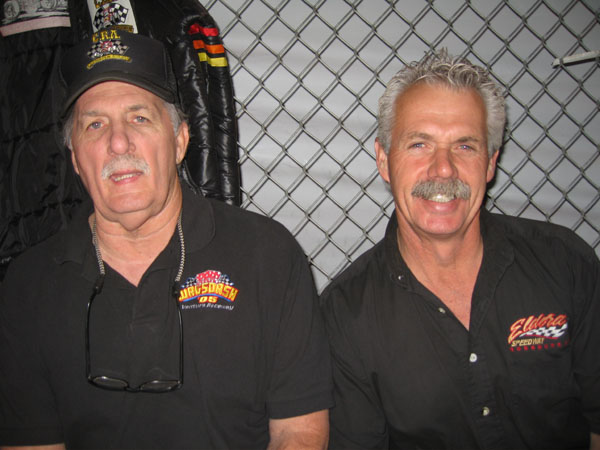 Don and Goog.
November 3, 2007 @ Perris
Wags
A lot of activity as teams pull in, unload and get to work. Some have to get tires.
The Gardner leader, Jack Senior, has his way of relaxing during the long waits.
Another view of the packed pits.
Charlie Davis wife Gale is a workin' fool when it comes to her husband's ride.
Davey Jones works the Kasey Kahne team into the winners circle. Brady Bacon and Kevin Swindell drive the mopar cars. Brady was third in the big hoe down on Saturday night.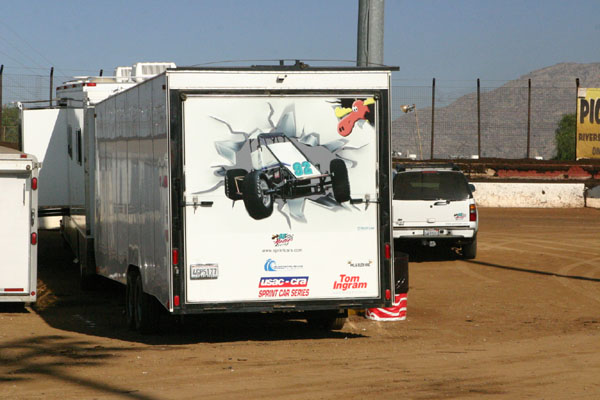 The Moosemobile trailer.
Look at the view here. One car for sale up in the air. Seems like Jeff Walker tried to sell one last year like that.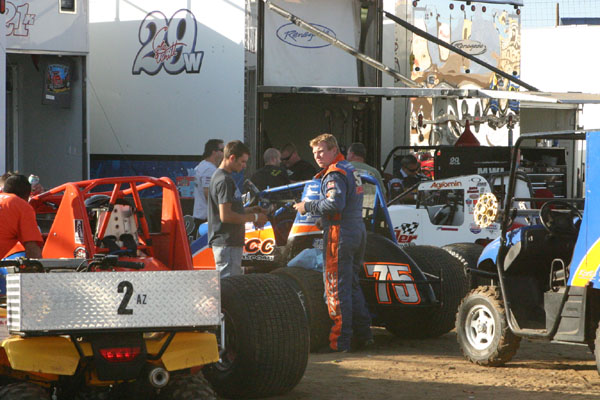 Jesse Hockett looking ready. He was as he won the Friday race.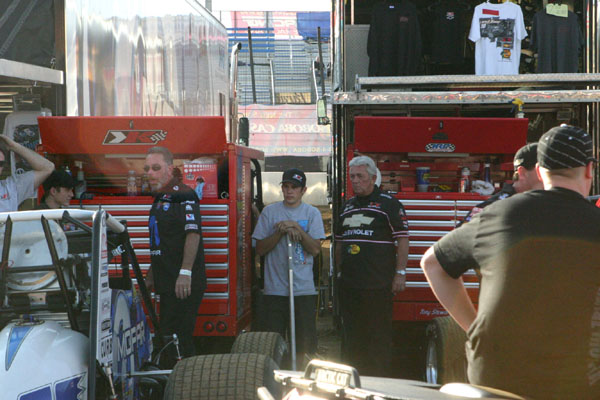 Bubby Jones, right and son Davey Jones are each crew chief for a different team. Bubby for Levi Jones and Davey for the Mopar youngsters.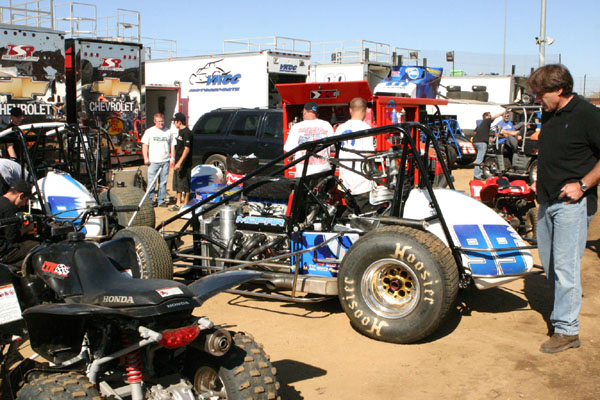 Brady Bacon's ride in process during the big day afternoon. Note R J Johnson in the bckground gathering up some scoop.
Got plenty of the big haulers?
Michael Tanaka is probably figuring which 50 car to work on.
Danny Sheridan concentrates on rolling a joint, finding the needle in a haystack, checking for bubbles or lining up his shock absorber.
October 27, 2007 @ Las Vegas
Wags
Crew chief Davey Jones, Tony's brother, talks with a crewmember.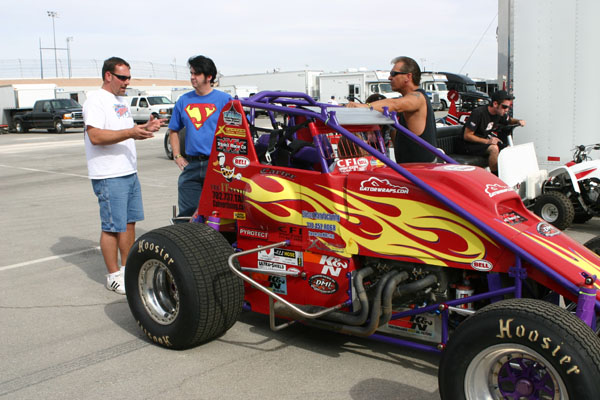 Tony Jones talks with Joey Franklin, AKA Elvis of Las Vegas.
The Gardner line-up is impressive. Five cars for Nadine, Super Rickie, Bullet Blake, Bad Brad and Tyler "B".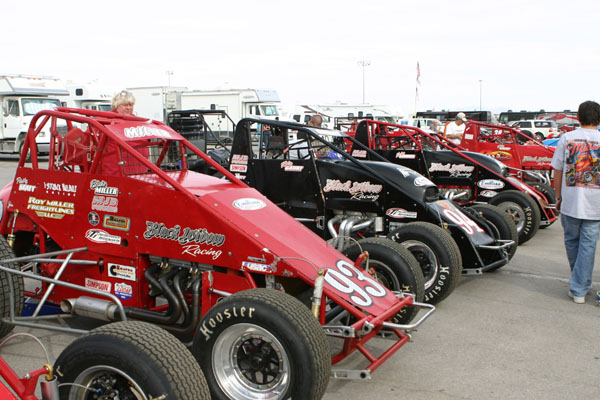 An almost full frontal view.
In memory of Glenn Howard sticker on some cars.
Jimbo didn't want to mess up my picture, and he didn't.
The early leaders in action.
Which is this, either a stock car push starting a sprint car, a sprint car towing a stock car, a mirage or a figure 8 race. If it weren't for the stock cars and wreckers theire would be no sweet music on this night as no push trucks showed up.
Line-up for the main event.
Look close, a digger just blasted off on the drag strip.
October 27, 2007 @ Las Vegas
Mrs Wags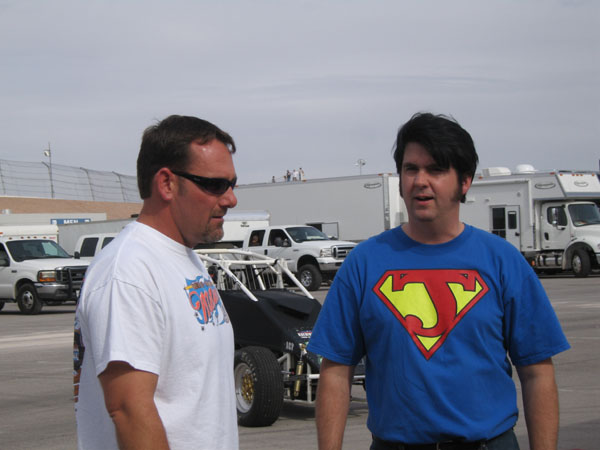 Joey Franklin talks with Tony Jones aka Elvis.
Wags visits with Nelson Stewart, father of Tony, as he came to see some racing and brought the Davey Jones crewed team to run here.
Ray Stansberry and Jimmy Crawford receive their Wagsdash 3rd place money.
Wags visits with Damion Gardner. He looked like he would be tough in the main until he pulled over to the work area with a quiet motor.
Mike Nigh and Glenn Crossno have a little chat.
Harlan Willis now helps Cory on his cars. It used to be the other way!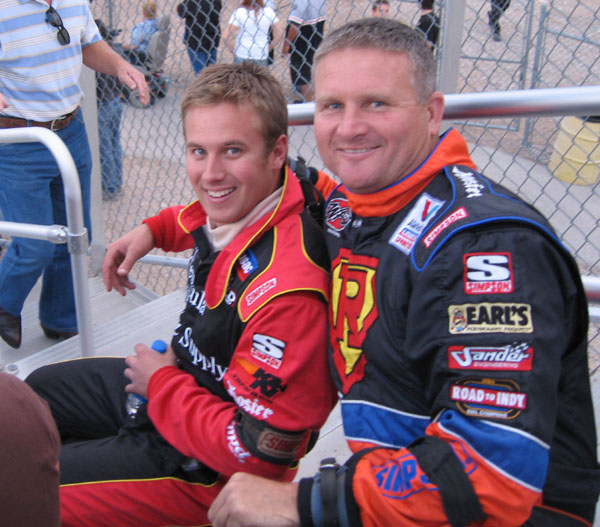 Rickie and Spencer came to watch the drags.
John and Maria Gardner of LaVilla Mexican Restaurant fame.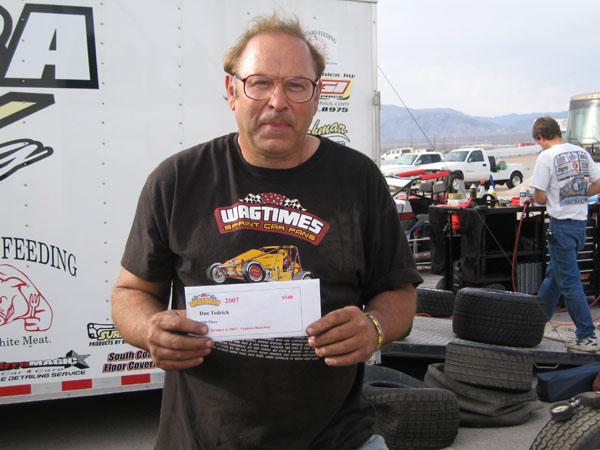 Dan Tedrick gets his Wagsdash money.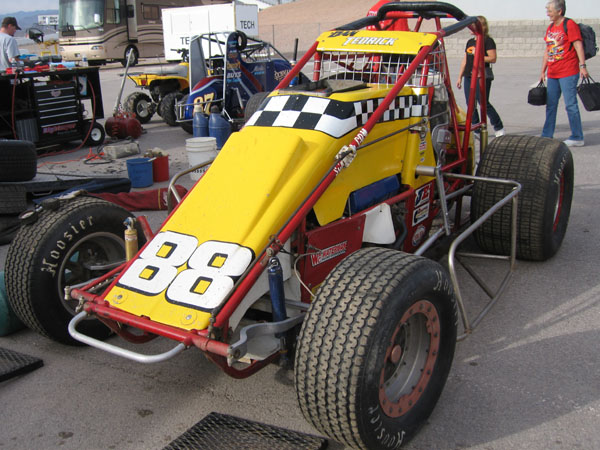 Dan missed the main, but like always, had a fun night in his low buck car.
October 27, 2007 @ Las Vegas
Bob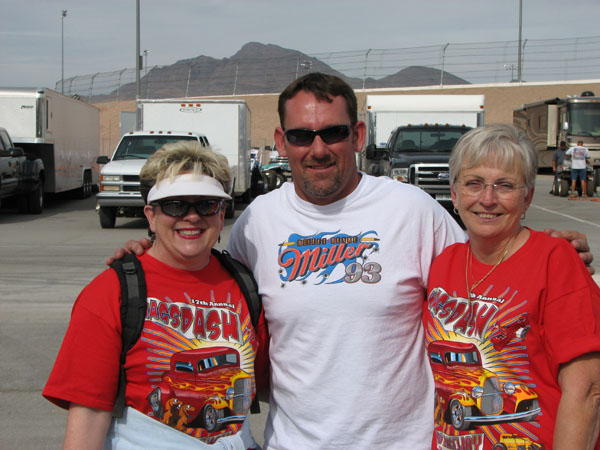 Tony Jones with my girls.
Jack and Nadine Gardner take off in their black mule.
Dirty Danita and father-in-law Jim pose with the Wags. No telling where David was.
Evelyn Pratt giving someone a talking to?
Here's a funny car blasting off at the drag strip.
October 7, 2007 @ Perris
Mrs Wags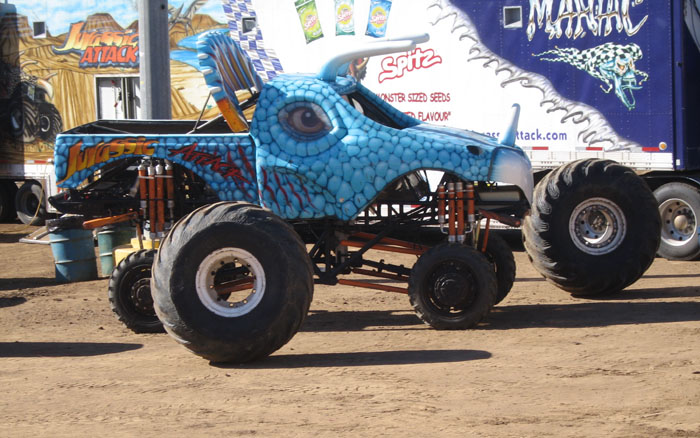 The pits were full of these monsters when we arrived. What they were doing didn't happen very fast.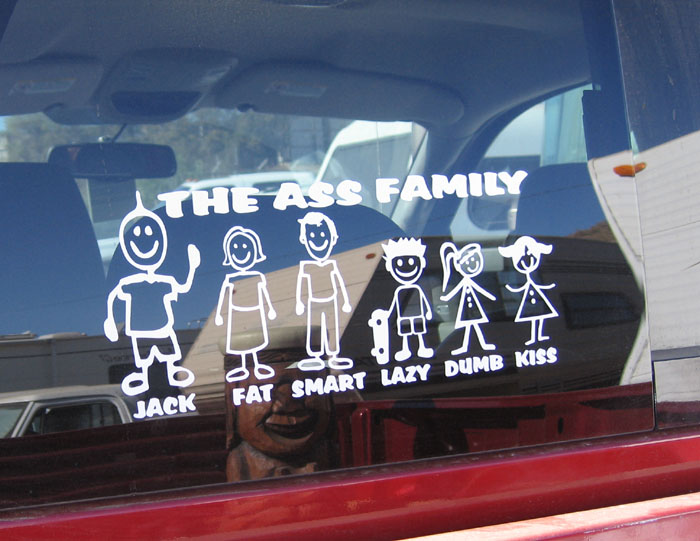 A new racing family is getting started.
Daren Hagen and Mike Spencer, right, attend the drivers meeting.
Chris Wakim is out practicing for the Oval Nationals.
September 29, 2007 @ Perris
Mrs Wags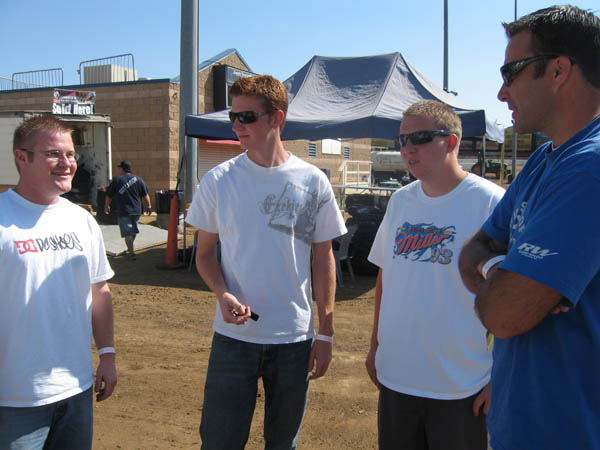 RJ Johnson, Blake Miller, Ronnie Gardner and Danny Sheridan up to something. You never know about this bunch, always looking for a good time.
Wags and Ricky Johnson chat early on.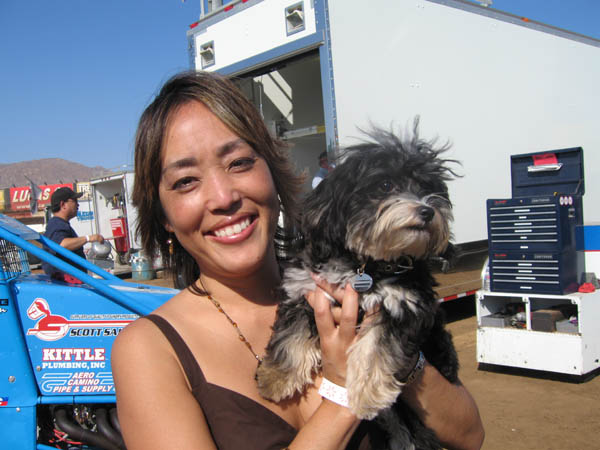 Julie Shiosaki with Hailey. This is the cutest dog!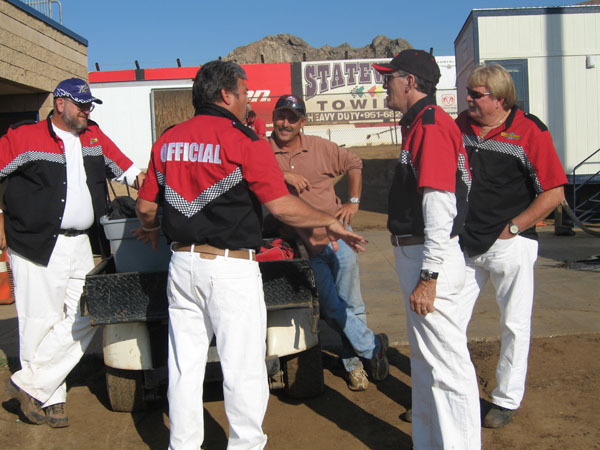 The PAS officials talk with Don Kazarian.
Carol Wolfe came in from Okieville for a few days. She and hubby Jim, former tire specialist for several sprint teams, moved to Okie City lasy year and are happily living the life in the midwest.
Jim, right, talks with Eric Kaufman of the 50 car about.........?
A view beyond the Venard pit area.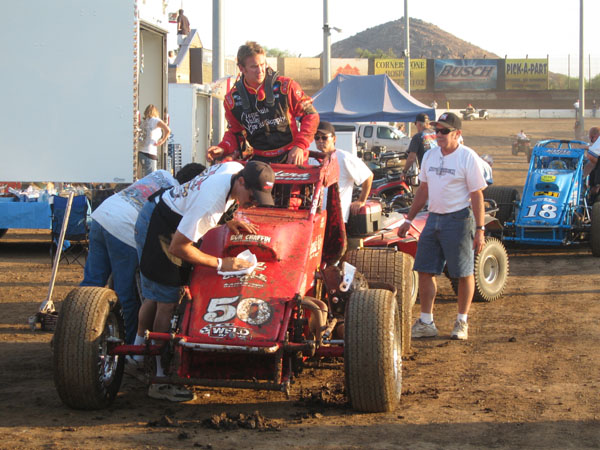 Mike Spencer stands up in the cockpit as the team works around.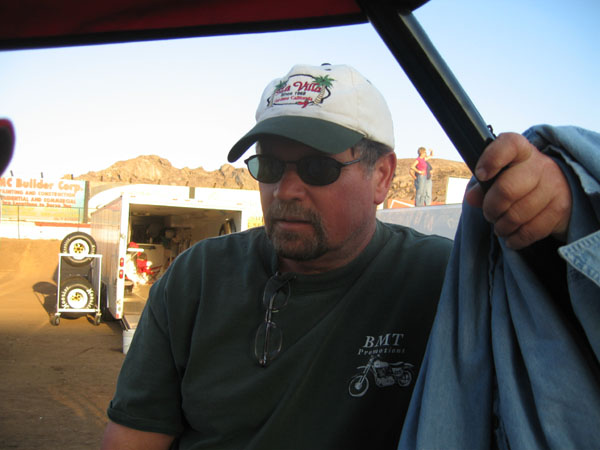 John Gardner of La Villa Restaurant fame visits with the Wags.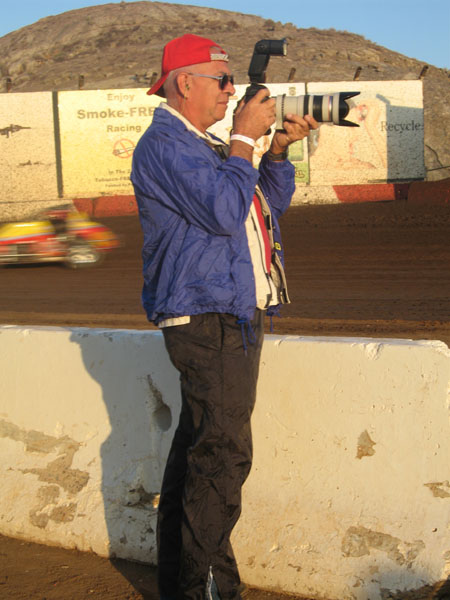 Doug Allen shooting away.
Chris Holt and Ronnie Everhart, the infield announcers, are suggesting who's next to interview.
September 29, 2007 @ Perris
Wags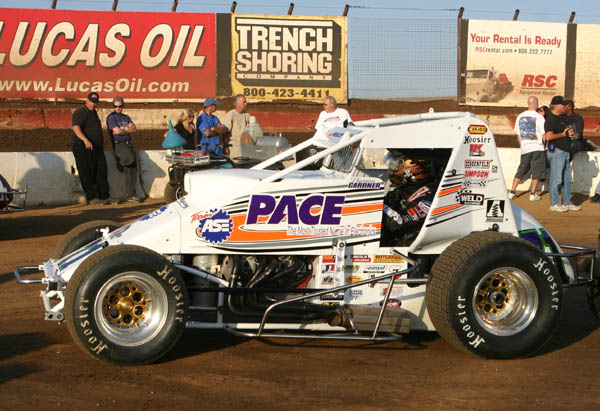 Damion Gardner had a rough night. He crashed hard in his heat.
Super Rickie Gaunt gets a push to the push off area.
Stan Jr and Mike Arthur are in the house to do some camera work.
September 8, 2007 @ Ventura
Mrs Wags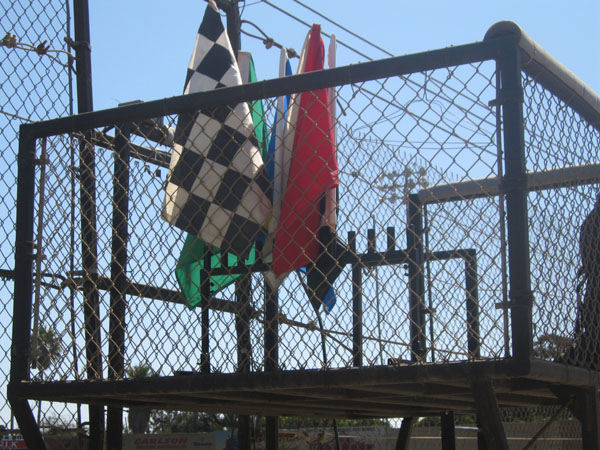 The flagstand and the flags ready to go.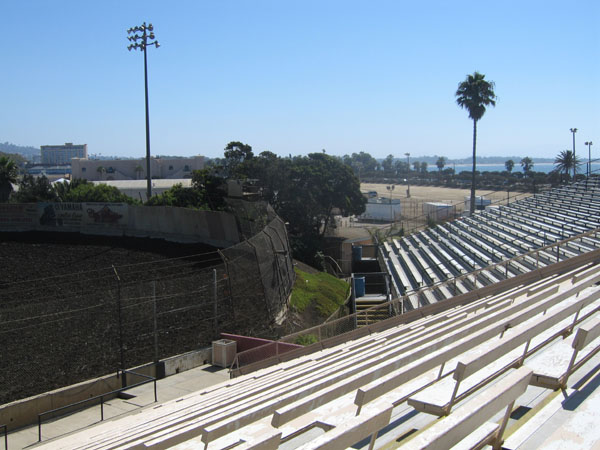 Turns 1 and 2.
Turns 3 and 4.
Danny Sheridan, Randy and Julie Shiosaki having a little break together.
SCRAFAN.com smart guy Lance Jennings and his mom.
The $25 pill draw area has Sylvia Watkins, Nellie Stansberry and Evelyn Pratt in charge.
Jim walking off after a request for a picture. He said this is his good side!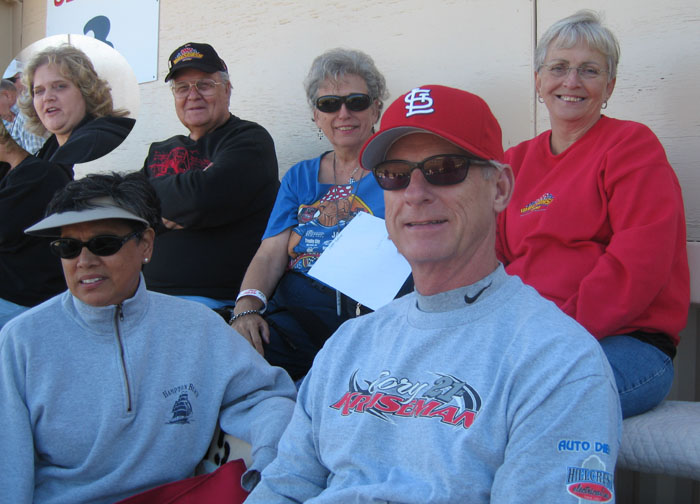 The Wagtimes section includes Mike and Evelyn Clark, Joe & Ellen Ellis, Sonia Bandy and Tracey Johnson in inset.
September 8, 2007 @ Ventura
Wags
Ronnie case showed up with two cars this race. A new blue one he just purchased and his normal orange model. Lucky for him he was able to use the 360 orange car, because he had a problem with the blue car right away.
Brother Brett is dapper today. He is up to something like always.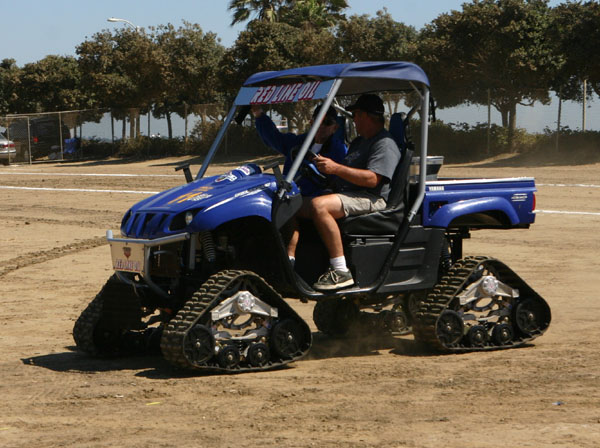 Where is the snow? Troy Rutherford's stepfather Frank is just tooling around in the pits in this snow buggy.
Rip Williams, his son Cody and Sylvia Watkins relaxing.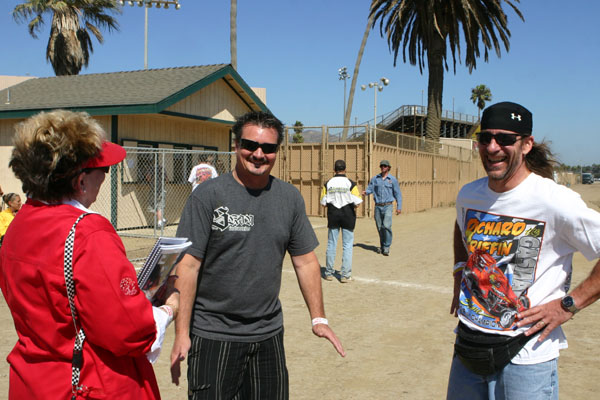 Mrs Wags has a few laughs with Steve Ostling and Steve Lafond.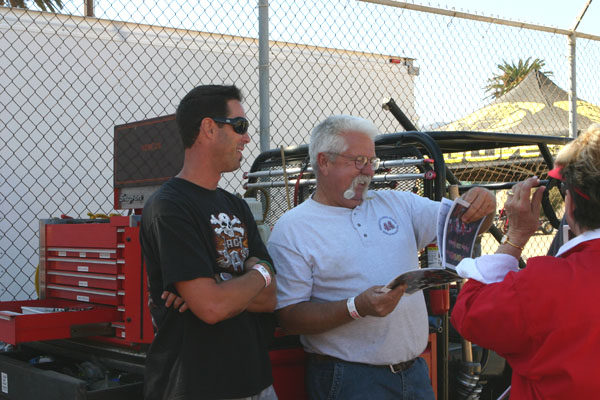 Hal looks intently at something. Did Mrs Wags bring a copy of Playboy to the races?
Brad Downing and his wife look over the new non-wing calendar.
August 4, 2007 @ Perris
Mrs Wags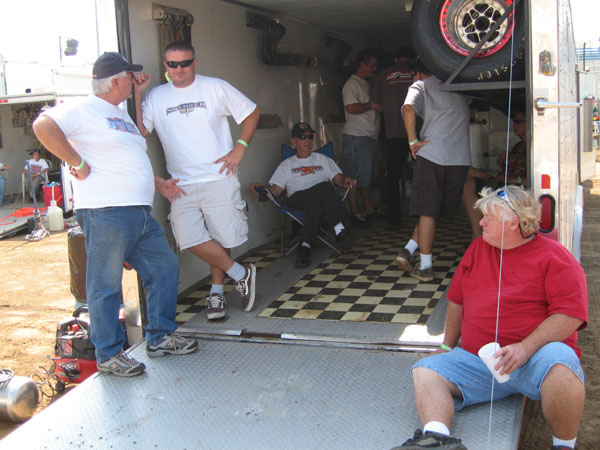 The Gardner clan hangs out at the trailer early on.
Alan and dad Ernie Ballard came smiling to another race together.
Remember that Kenny Rogers song "you picked a fine time to leave me "Loose wheel"? Something is missing and Wags needs help!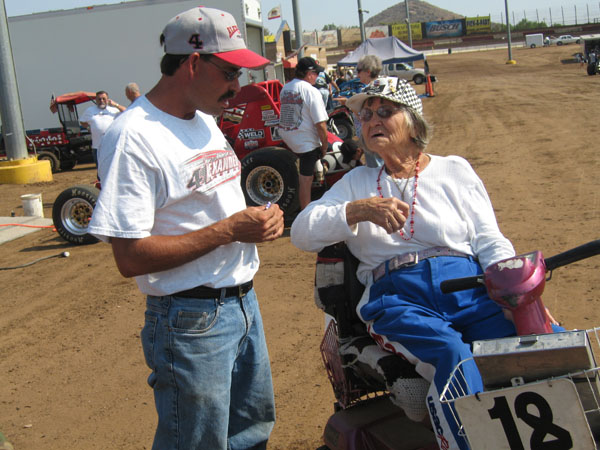 Evelyn Pratt visits with Mark Alexander about some USAC rule probably.
Mike Truex and son Tim come to the races to shoot video again under the Loud Pedal Productions banner. Check it out!
Tony Jones and push truck driver Skip have a laugh over something.
David Cardey hams it up for Mrs Wags.
Glenn Crossno is a hands on owner. Here he makes an adjustment on the Tyler Brown ride.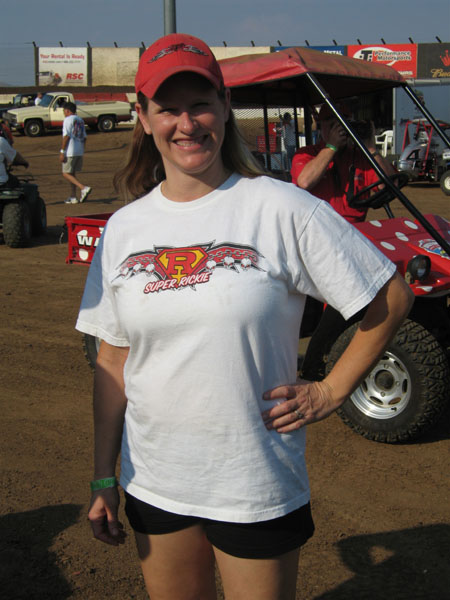 Sherri Evans is always working on the Blair car with hubby Jimmy, and having fun!
August 4, 2007 @ Perris
Wags
As Chet Gardner bips around the corner, is he going to get it from the stern looking Jack Gardner Jr and Rickie Gaunt? Look at them, they are up to something.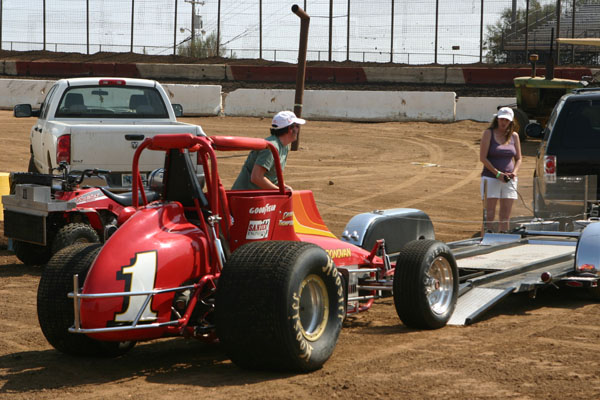 The famous Bromme/Thompson machine comes off the trailer. Wouldn't you love to own that car. You should have heard Jimmy Oskie running the pipes loud on the track later, it was, in a word, awesome!
The EZ-UP is a big part of J Hicks pit area when it gets hot.
Brian Venard gets pushed back out of the pit to go warm up.
July 4, 2007 @ Perris
Wags
This is Gary Kittle and Paul Dean, each holding D2 and is Paul thinking about keeping him?
Bruce Bromme Jr doesn't have much use for the camera. Here he is getting ready to go to work.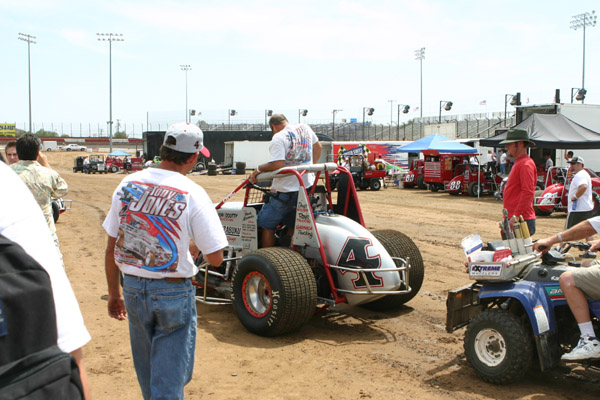 Kenny gets in the Alexander car on the way out front to display for the crowd.
The Gardner Rickie Gaunt ride is headed to the midway.
Nate Ziegler's ride out front lookin' good!
The midway in high activity.
Some of the drivers I got head shots of this week.
The flags are flying. Makes you proud to be an American. We shouldn't have to dial 1 for English in America, should we?
June 23, 2007 @ Perris
Mrs Wags
The Cowboy visits with five time CRA champion Jimmy Oskie. Tony is listening because we may have another champion working in him and everyone knows, Jimmy knows everything.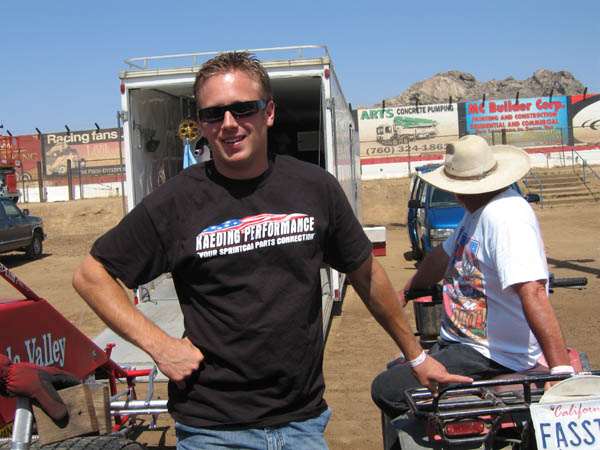 Mike Spencer is ready. He enjoyed telling about the drag racing fun they had the night before.
J Hicks poses in the latest Wagswear. He thouroughly enjoys racing and was 13th this week.
Wags and Julie caught in the shade of the mule.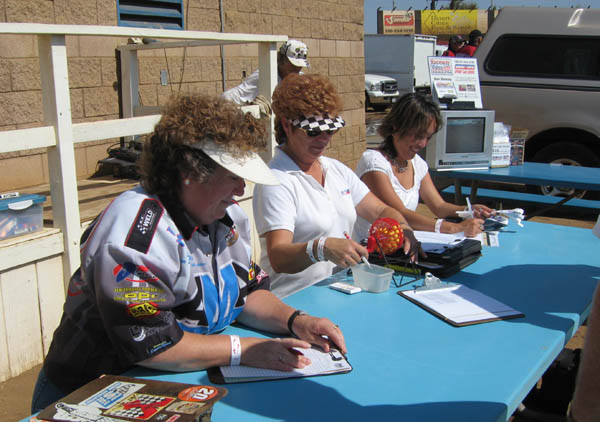 Silvia Watkins, Nellie Stansberry and Julie Shiosaki work hard getting things ready for racing later.
Doug Allen, with red hat, talks with point leader Tony Jones. Later Tony won the 30 lap feature.
The Gardner family meeting in the trailer. Their race shop consists of a small garage and several trailers. Swapping cars in and out must be a Keystone Cops kinda deal!
Brian Venard straps in with a message. He was 7th in the feature for a good job.
Tyler Brown poses here.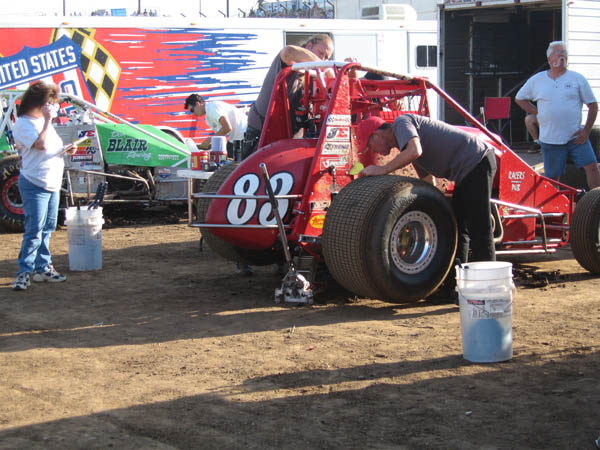 Git er' clean! David Cardey's ride is getting attention.
June 23, 2007 @ Perris
Wags
Note Chris Holt taking a picture of the Kittle's Kris and Brian.
Rickie was messing around with the TV crew, well maybe it was just the blond?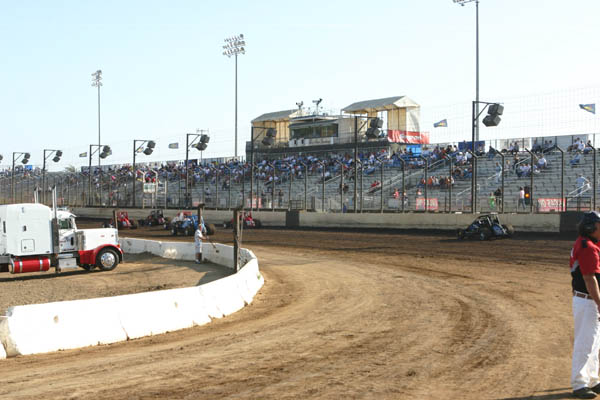 "The view" from the push off area.
The starters stand.
The winners trophy sits on the top of the Silver Bullet.
June 16, 2007 @ Santa Maria
Wags
Somebody reminded me that the grandstands were once painted in a black and white pattern, but this red, white and blue version works for me.
Jeff and Jack Gardner Sr visit with Rip Williams.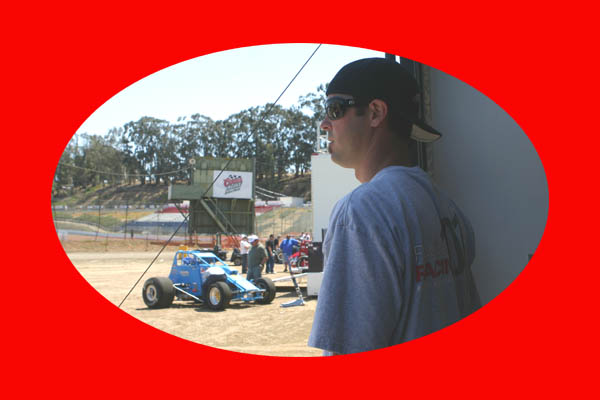 David Cardey contemplates........
Scotty Weir, up, and David Cardey, down, are teammates on the ITI Performance race team owned by Glenn Crossno.
One of the Crossno Mules is highly modified. Don't know anything about the cute blond.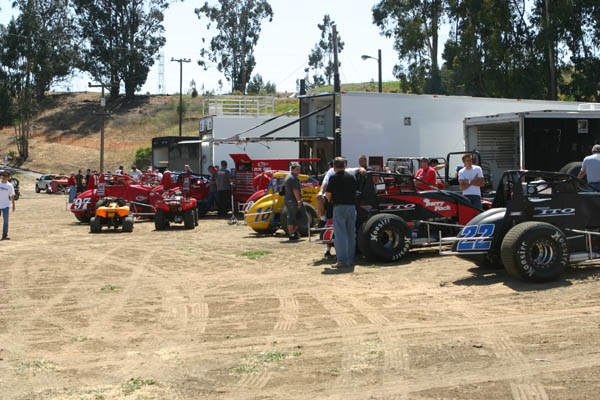 A nice view in the SM pits with the tall trees and the nice ocean breeze.
Hey, the Kittle guys are still having fun. Is that the missing Kenzo Okubo with them?
Jimmy Gardner and Blake Miller take a trip around the pits.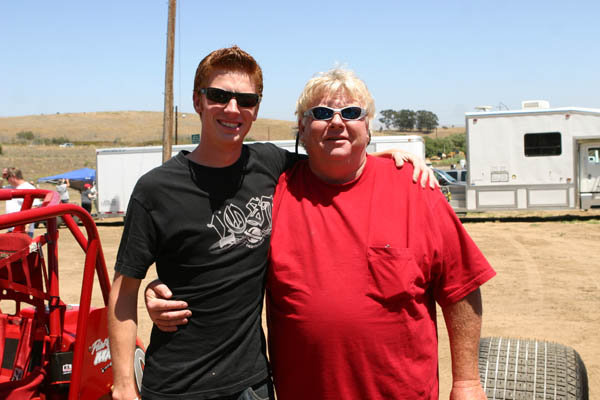 Jeff is a happy Sled owner. Jack Jr better get the shop ready, they might want to build a few more of these family cars.
Becky Williams got to make the trip. It had been awhile sence we saw her in the pits, so I told her I would prove it by putting her picture here.
Video-ographer Jeff waiting for track action.
Super Rickie in the infield.
Rip Williams climbs out of his car.
The cars have to get off the track out that little opening.
The WRA was there and brought their good looking cars.
I want to see her bike.
Westward ho! The 4 wheelers go get the cars from the infield after qualifying.
The crowd was good.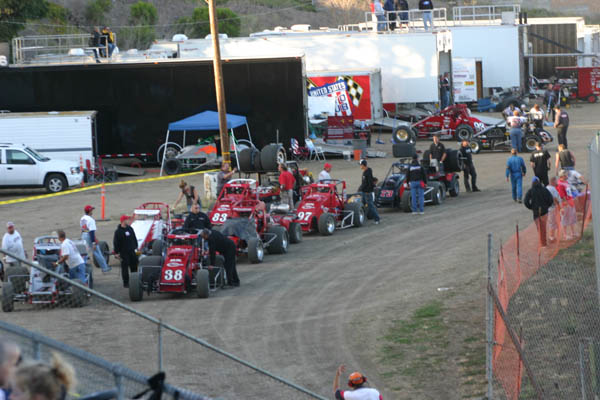 The cars are lining up.
June 9, 2007
Wags
Ray Stansberry carries fuel containers out of the trailer. Next stop the fuel truck to fill them up.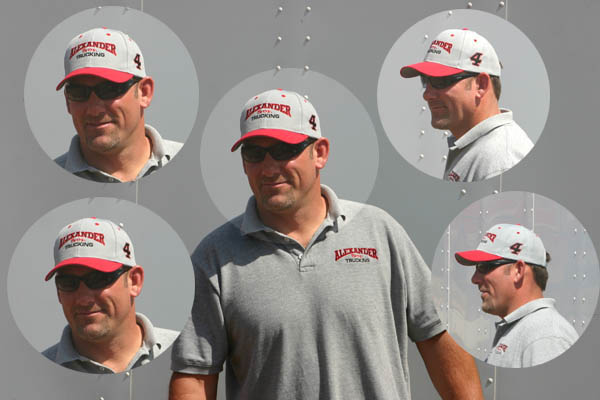 Tony Jones poses for an unnamed camera person.
Buster Venard came south to see his boys. Brian, Buster and Steve spent the night in the pits. Buster, Linda and Grandma Rosie live up in Gardnerville, NV area. Buster says it's out in the sticks and he loves it.
Nadine Garder walks betweem two of the team cars as Jeff Gardner and Blake Miller are in the background.
This young lady is spraying down the Tony Everhart car.
Quiz of the week. Is Ronnie Gardner 1) Listening to a radio, 2) analyzing his breath, 3) checking for the stereo dials, 4) doing some Zen thing, or 5) hiding from the rest of the team.
The Gardner red storm lined up for battle.
That makes me proud!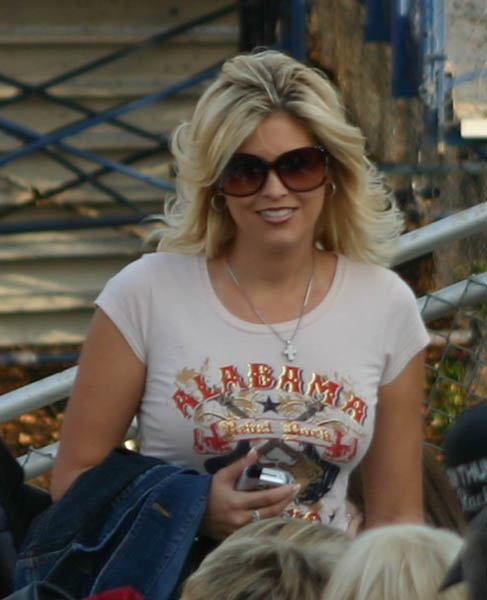 Nice shirt!
I leave you with one of the all time great fans and one time driver, crew man and more, Jim Van Natta and his wife Doris enjoying the races.
June 2, 2007
Mrs Wags
Bruce Bromme Jr was visiting with Wiley Miller when Mrs Wags walked in the Chaffin trailer.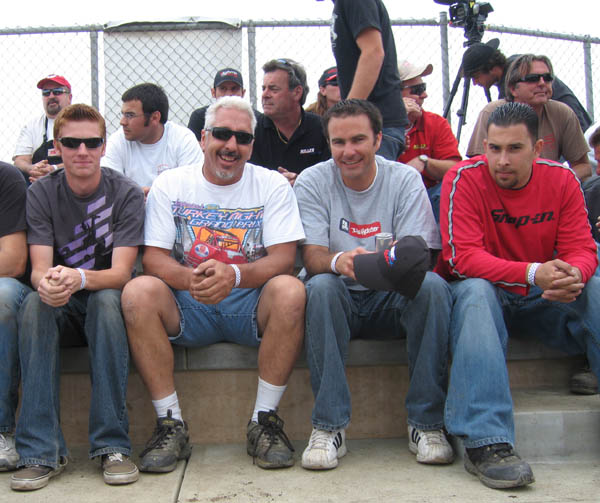 The "liars bench" include, right to left, Blake Miller, Kevin Kierce, Danny Sheridan and Luis Espinoza. I just wonder what's going thru their heads, is it the next joke they want to play on each other, or how about that rut, eh?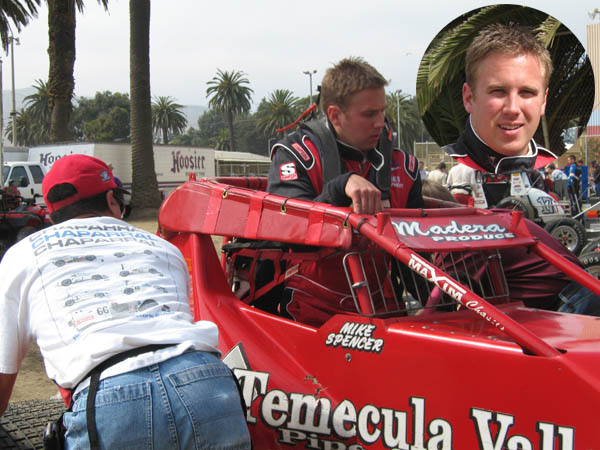 Mike Spencer gets buckled into his mount.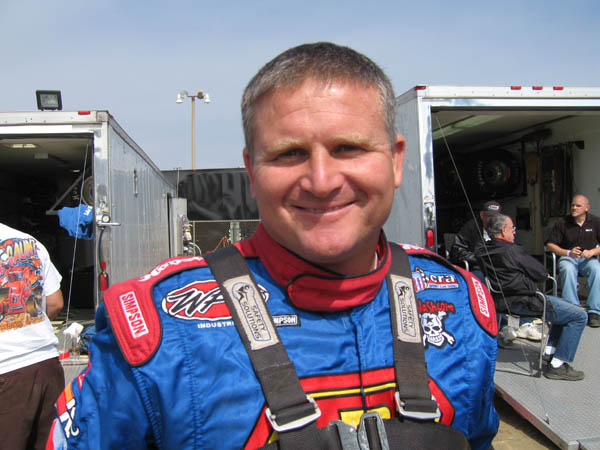 Super Rickie has a smile for Mrs Wags, like always.
Blake in a scenic view.
What a scene!
And they call Terre Haute "the Action Track". Ventura is all of that and more every week.
June 2, 2007
Wags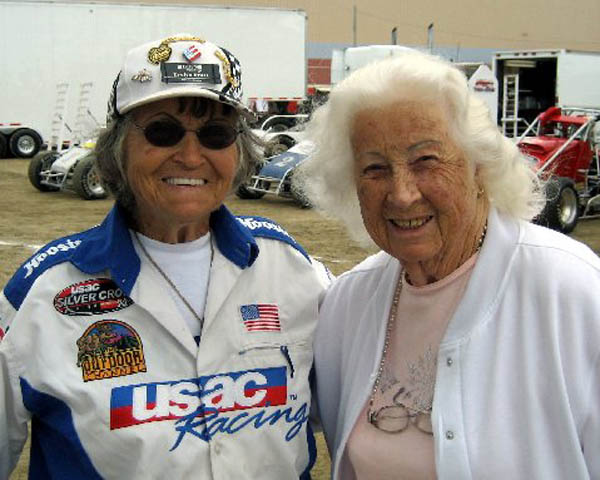 Evelyn Pratt and Wilda Kindoll together again. Wilda made her first trip to the races this year at a cooler Ventura. Photo by Chris Holt.
Mike Spencer busies himself in the afternoon with, what else, shocks, the one thing that has changed drastically the last few years.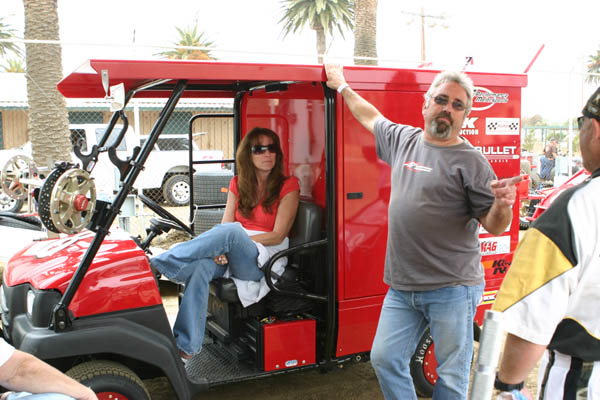 Hmmmm, his mule is different than mine, then I don't own any race cars, now do I?
Three wise men? Well, a driver and two wise men maybe. Scotty, right, looks relaxed.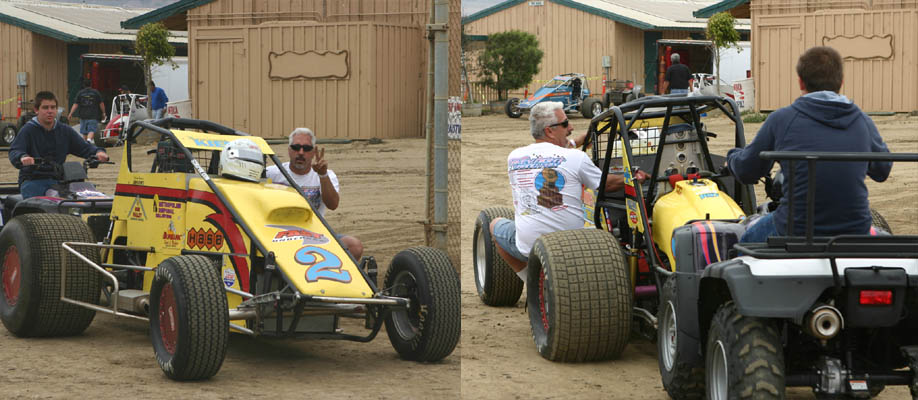 Kevin Kierce is coming and going.
Rock Star Jon watches as Rickie gets suited up to go pack the track.
Mike and Laurie English are in the Wiley Miller pit. Mike is still recovering from the horendous motocross crash he suffered last September/October. It is not healing right, he reported, but he's working on it.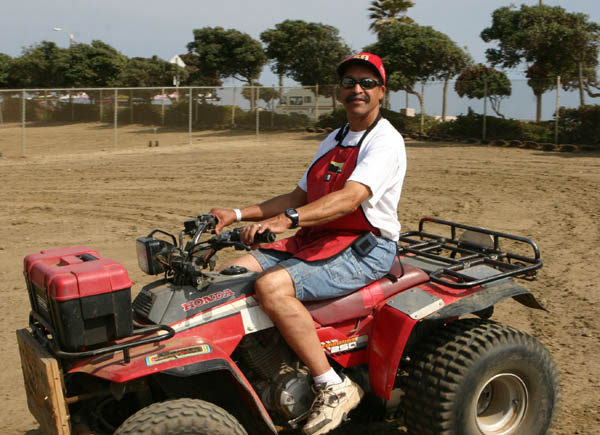 What is Eric Kaufman doing over here? Hmmmmmm.
Just your everyday average pit area scene.
Brian Camarillo surges to the lead on the start.
The Semi charges off with the Ripper grabbing the early lead. He would not be headed in this 12 lap affair.
Pat and Lee Ann Normoyle were there, but we never got to talk to them. She seems choked up when I spotted them?
The main event takes off.
May 26, 2007
Wags
Car owner Mark Priestley is back in the shade as Terry and the brothers Derting, Randy and Justin, are ready to go.
Car owner Ron Chaffin relaxes with crew chief Brice Bromme Jr before work has to start on the # 50 car. Gary Tanaka wasn't in attendance so Bruce warned everyone there would be more work to go around.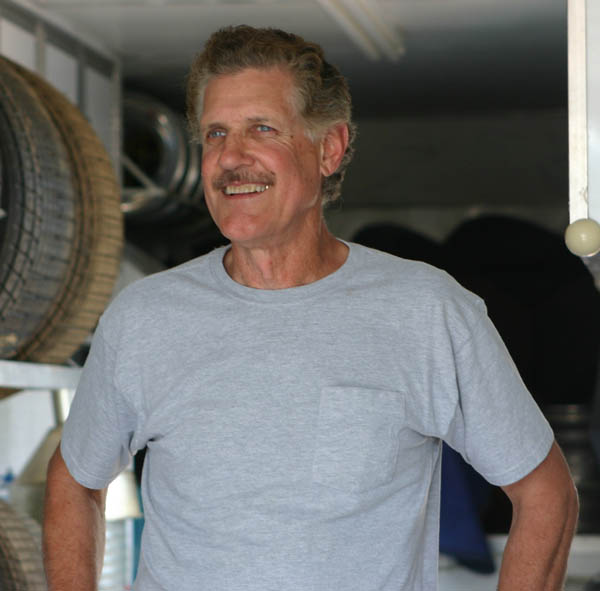 Jimmy Oskie looks like he could still drive one of these monsters. In fact he was in the King-O-Lawn car pacing the races later.
Brian Venard, left, and brother Steve relax in the trailer until it's time to go racing.
Alan and Ray Stansberry chat about things.
David Cardey, left, and Glenn Crossno push the # 83 back out of the pit area. David was aswesome after getting put to the back after a spin, and coming all the way up to 2nd.
Jonny Bates # 33 gets tuned up before the races. He ran 14th in the 40 lap main.
Crew chief Randy Shiosaki stays busy working on the car.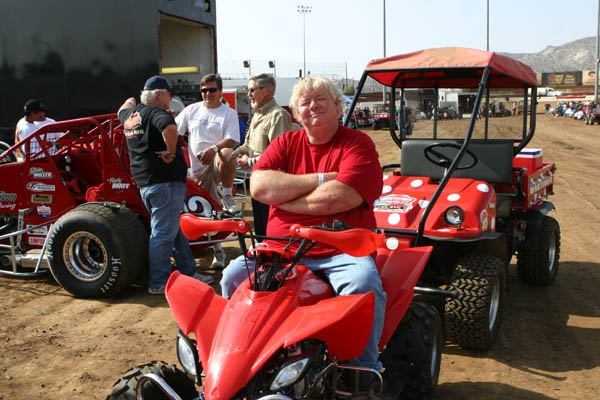 Can this happy look improve. Check the results and you'll see how good it was for Jeff and the Gardner clan. They won.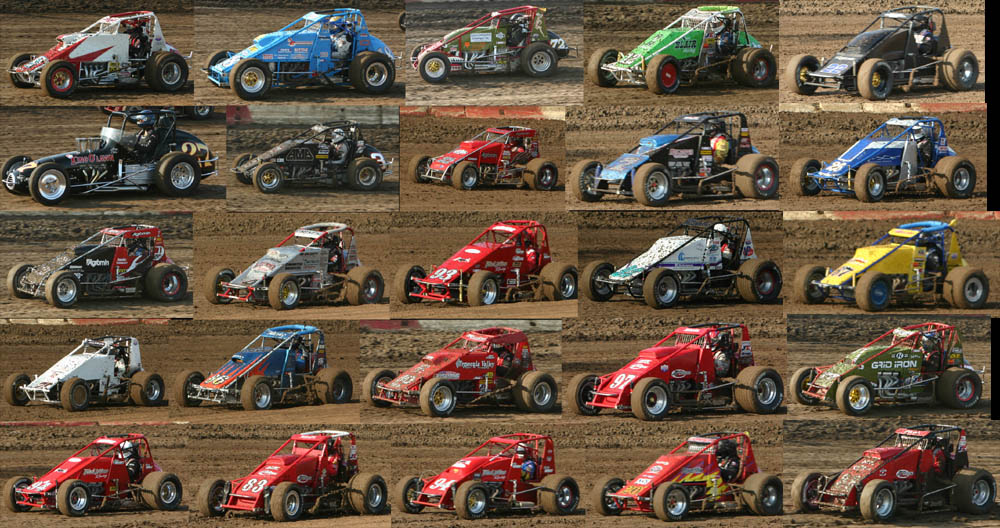 Here they are all packing the track.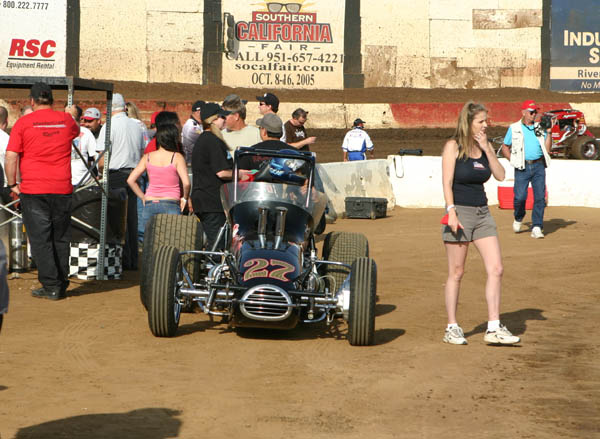 A shot of the King-O-Lawn car.
Here's a four wheeler driver ready to go.
And it's back em' in time!
May 19, 2007
Mrs Wags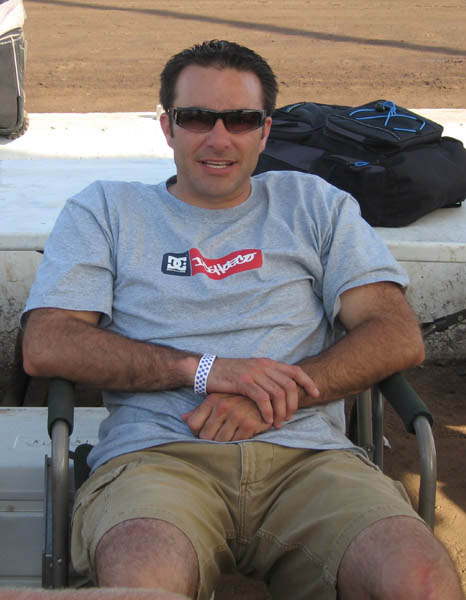 Danny Sheridan cools out in the afternoon. Later, he led 14 laps before Jeremy Sherman got by him with three laps to go.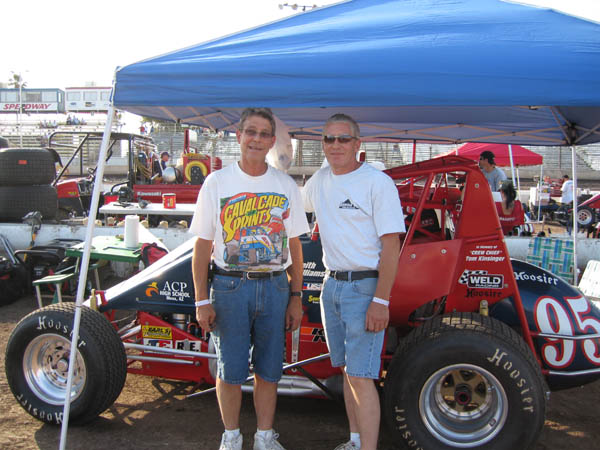 Keith Williamson, right, and his brother Gary are still trying to make their Ford go to the front regularly with limited money and a short racing schedule.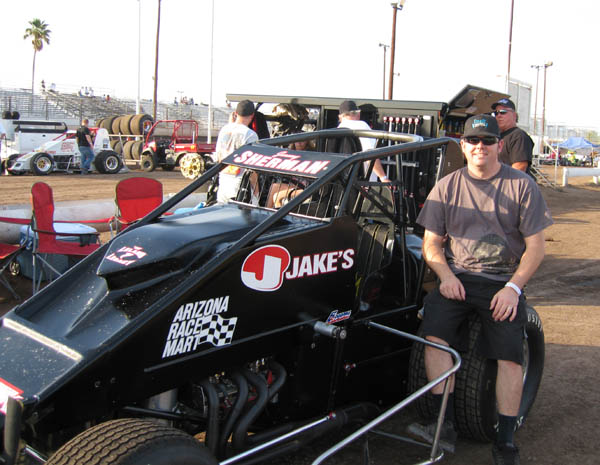 Jeremy, again, posing for his cousin Bethany.
Ben and his ladies having fun.
Lealand McSpadden signed autographs all afternoon for his fans. He said he was so thankful for the fans because they allowed him to do what he did all those years. The Hall of Fame driver, both nationally and in Arizona, was one of the best. His treatment of the fans was very special.
The McSpadden family is growing as Janet and Lealand's two kids, Michelle and Jeff, have 6 children between them, so they get plenty of grandparent fun.
It is an honor to be in the same frame with this man!
Danita and her hubby David Cardey make a fine pair. David made a monster pass early in his heat for the lead and a push rod, or something like that, went south, so he was done for the night.
Tony Jones signs autographs and visits with the fans after he was 4th in the main.
Danny Sheridan and Bethany all too crazy!
Rip Williams was in good spirits even though his Manzy curse added another chapter. He had some problems, but pulled off in the main when he said it wasn't going fast enough!
May 12, 2007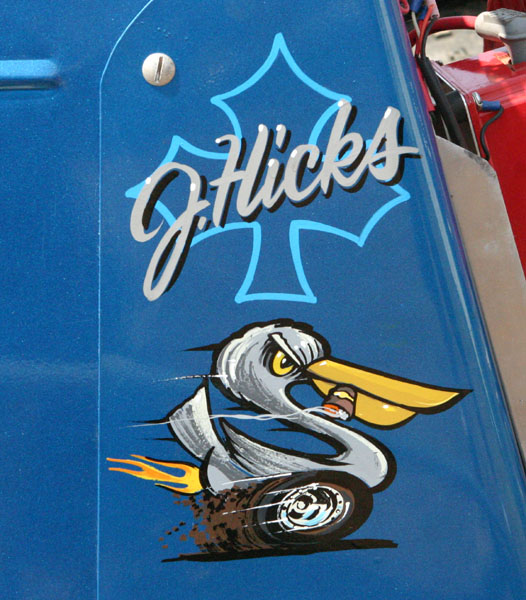 The new icon is representative of their motor man "The Pelican".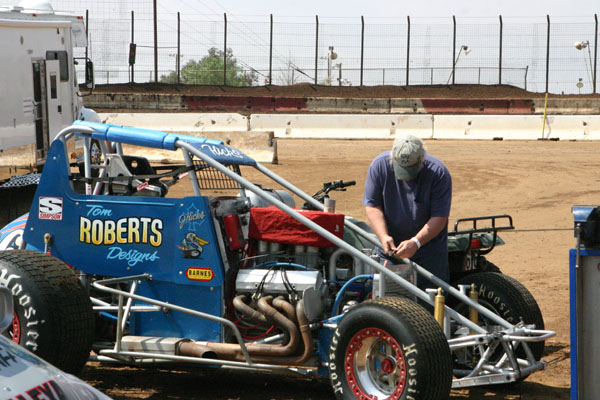 Work begins on the Hicks car like always.
Mark Priestly talks with Evelyn Pratt on her scooter as Michael Tanaka looks on.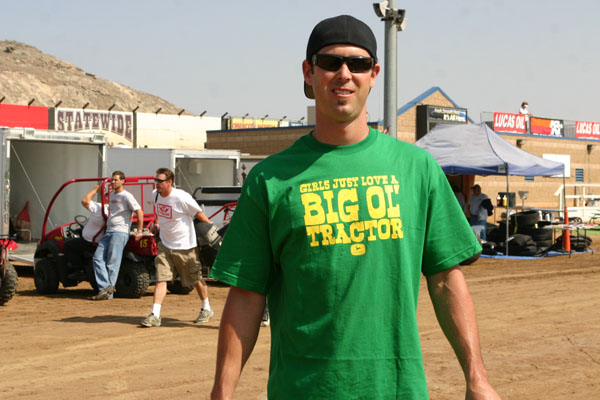 David Cardey is taking over for Steve Ostling's t-shirt showings.
This cool look is just a look. In that brain things are churning and looking for the next wild thing he can get involved in.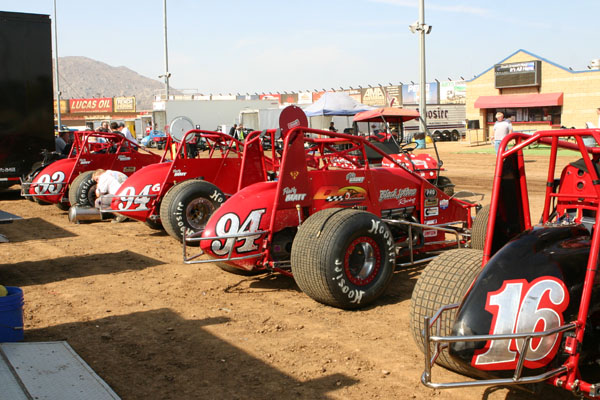 The Gardner pit featured 4 cars this week. In addition to Rickie Gaunt, Nadine Gardner and Blake Miller, they have added rookie Brian Williams to help him go fast sooner.
Infield announcers Ronnie Everhart and Chris Holt are up to something.
Ronnie and the Wags gettin' chummy.
The newlyweds, Jack and Nadine Gardner!
What do driver's wives do during the racing day? Relax as Troy Rutherford's sweetheart Leslie does here.
Cars are slowly packing the track here
Now, they are backin' it in!
Here is why, CAP'N DADDY has climbed up on RJ Johnson's sprinter.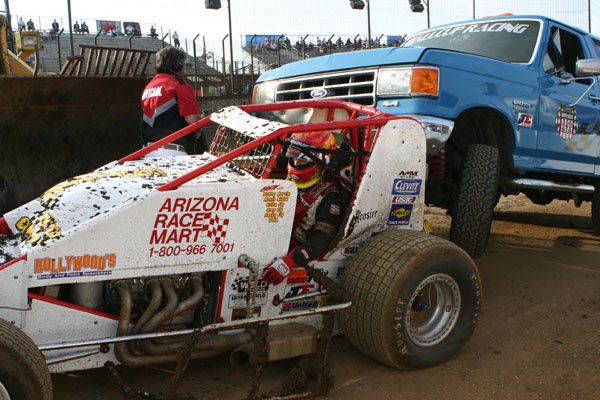 RJ was very patient.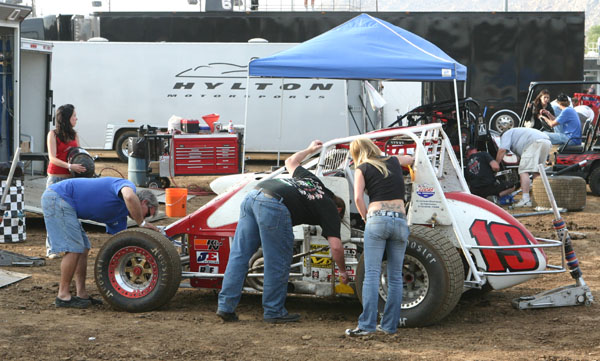 Argo's crew swarm the car.
Grady Jones doing his impression of dad. I told Tony if he won Saturday, I'd put this one up with him on the fornt page!
Tony won his second of the year and 26th lifetime in these thunder and lightning cars.
March 28, 2007 - Pics by Meri Didonato
Tony Jones goes over in his heat race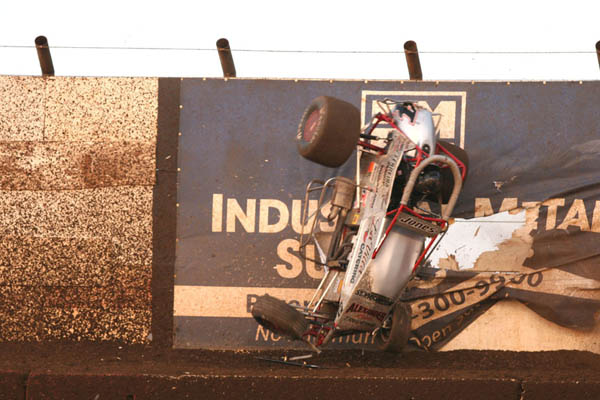 And over......
And over..........
And stops.
After repairs he got 7th in the main.
March 14, 2007

David Cardey's dad chats beside the eventual runner-up car his son drove hard this week. Dynamite Dave, Dirty Danita's husband, was third quick and second in his heat before his best ever finish with CRA a rousing second.
The new cooler for the Alexander team. It's like an old style cooler with a bottle opener mounted on the front. The Alexander logo and race car graphics make this a one of a kind.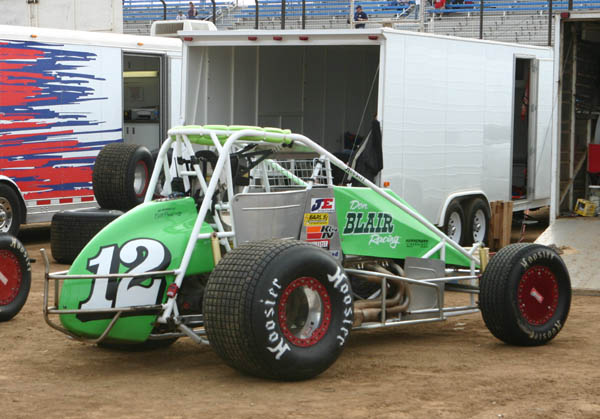 Flyin' Brian Venard drove the green monster this week of Don Blair. He was in a transfer spot when another car ran him into the inside back stretch wall, and he was done. The other car restarted in his position and made the main.
The little red sucker crew mosies around after driver Mike was just interviewed on TV.
Showtime Sheridan is having some fun before the racing got started. He was 9th quick on his way to winning the 30 lapper later.
The Nate Ziegler team were back racing at the PAS. Of course they reminded me I was the one missing.
Todd Hunsaker just missed the main by one spot!
The Stewart family gets ready to go have some fun as Matt gets on the loud pedal as often as he can. He was just two spots short of making the feature.
Jonny B is lovin' this Bullet. He is getting quicker and the results are better.
The new Kittle hauler gets checked out up top.
Tony Jones out for a stroll with a friend.
March 8, 2007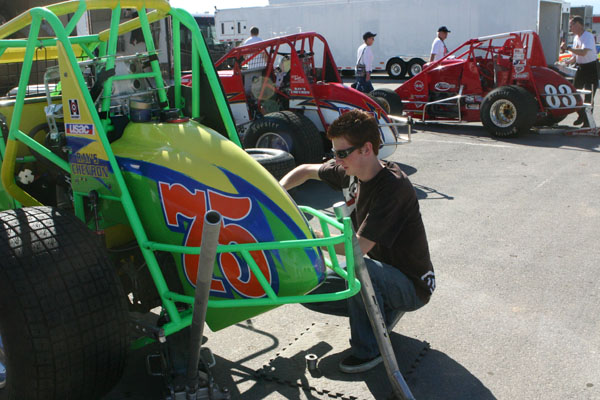 Blake Miller working away.
A big picture of the many pit area's ie drag strip, big 1/2 mile track and the dirt track.
Vinnie and Damion are figuring what to do.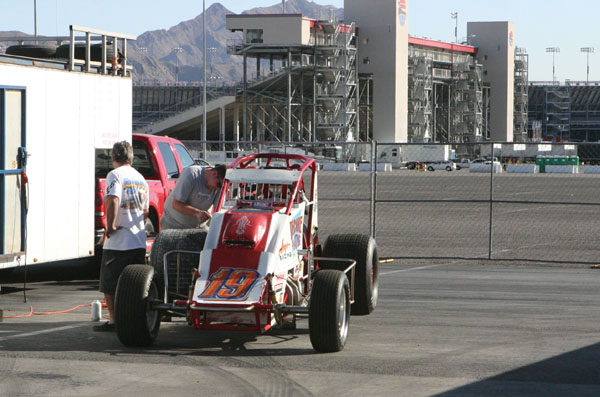 The Rodney Argo Ford powered sprinter was on the track this week. The drag strip grandstand is right behind the car.
Charlie and wife Gayle in the pits. She told me her work with horses was so much fun.
Tony Jones is out walking around in the pits. Later he was jumping for joy in victory circle!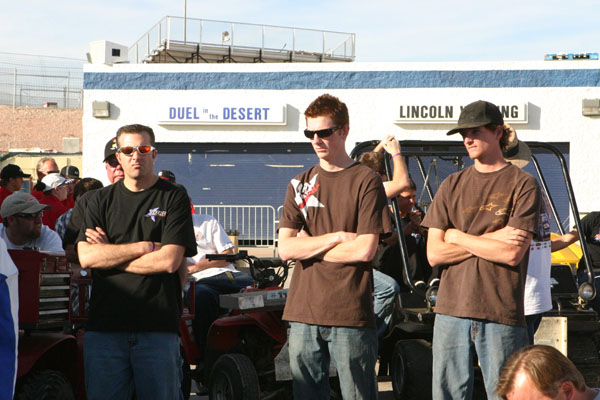 Three wise men at the meeting are ready for some news!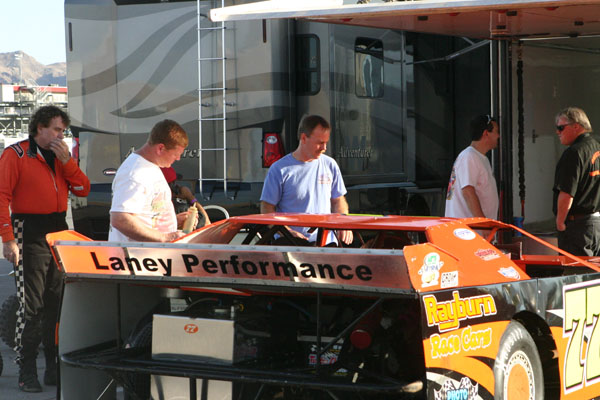 Mike Kirby is now involved with the late models and here is helping this team.
Rip Williams and Rickie Gaunt relax before the night begins.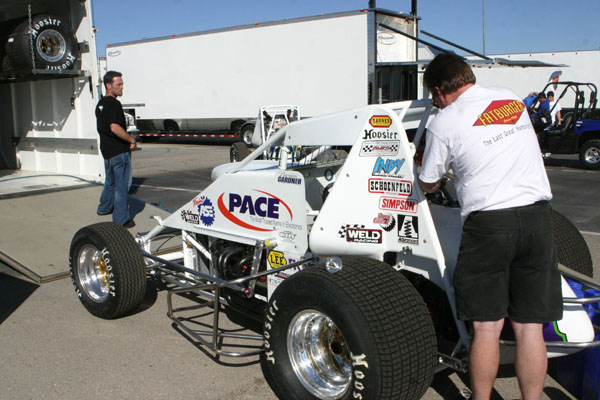 Note it is Damion doing the valve work himself.
Jack Gardner Jr and Nadine Keller cruise around the pits looking for (1) food, (2) trouble, (3) fun, (4) another motor, or all of the above. They do have fun and Jack told me he has been directly involved in racing over 30 years!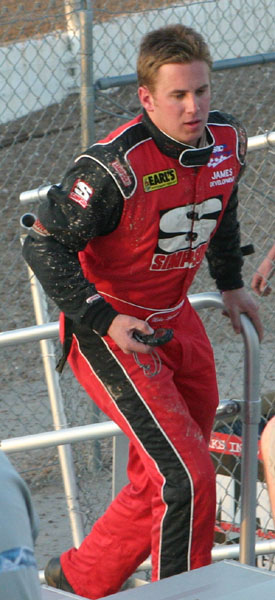 Mike Spencer climbs into the 50 car with his Hans device on. It is now a safety requirement.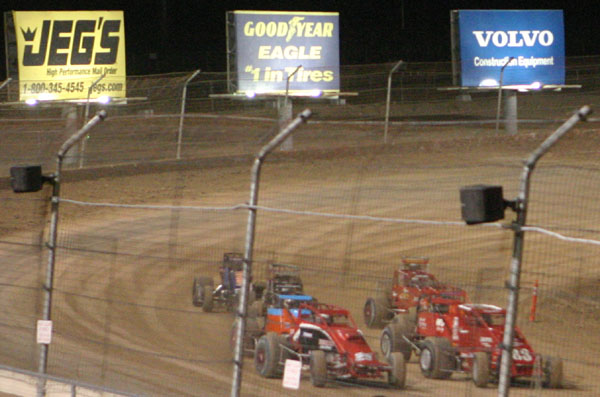 Tyler Brown leads them out in heat 3.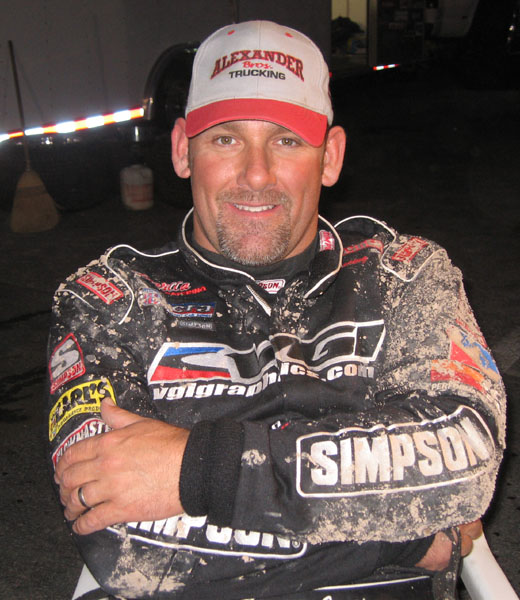 Tony Jones with a big smile.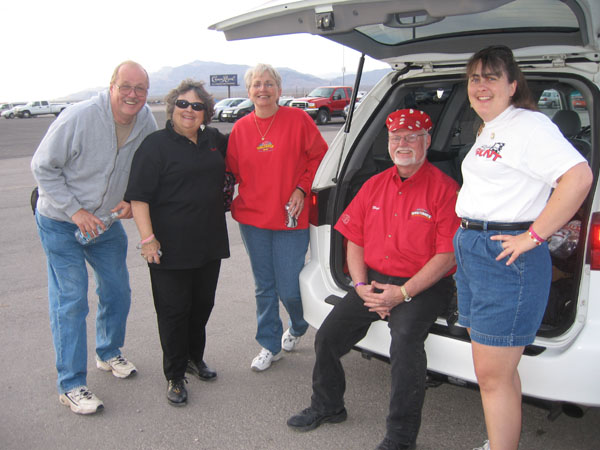 Bob Hawkins, Darleen Dils, Sonia Bandy, Wags and Tina Dils about to enter the pits.
The push off area was at the edge of the pit area and they fired going directly on the track out of turn two.
Two # 75 cars pushed as one.
Matt in his office.
J J Yeley visited with a few Wagtimers before heading back to the BIG track.
Headshots by Steve Lafond TOHF.
March 3, 2007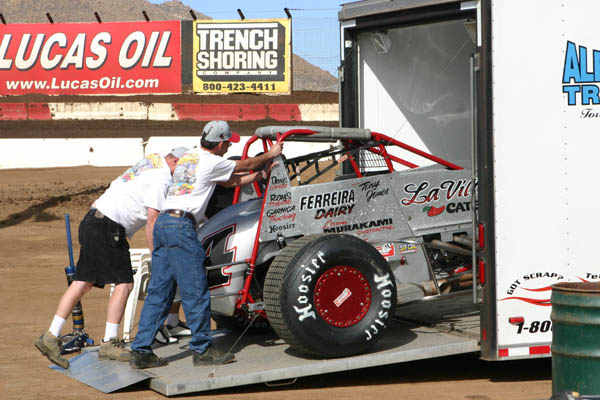 Mark Alexander is helping get the car out of the trailer.
Jonny Bates puttering around in the afternoon.
Tom Stansberry is working the tire.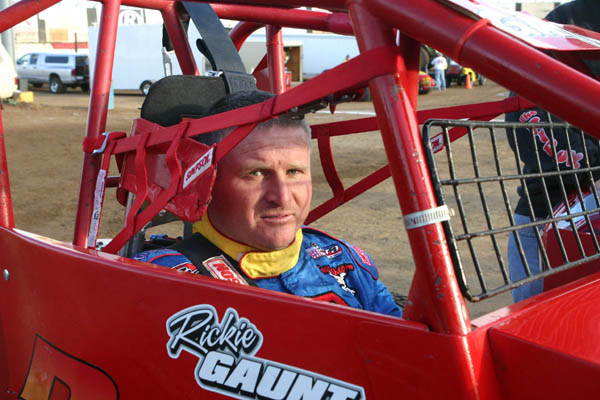 The usual smile on Super rickie is hard to miss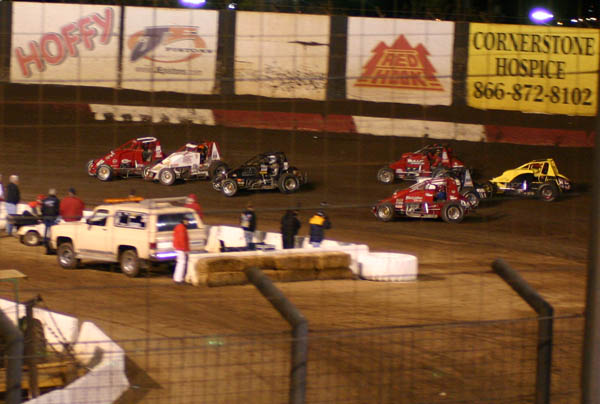 Heat three takes off.
Danny Sheridan got an unwanted ride to the pits after he was unable to avoid an incident.
February 17, 2007
RJ's dad, Ricky works on the car. He says helping his son is fun and time consuming, not leaving him much time for his own driving career.
Danny Sheridan and Randy Shiosaki have a light moment.
Car owner Ron chaffin is still having fun!
Jim Fargo, noted photograper , and Marilyn Griffith in the pits together again. Jim recently bought a restored 1970 Triumph Bonnville to pay with.
Super Rickie Gaunt, left, and David Cardey pose here.
RJ Johnson and Ronnie Gardner marvel at telophony technology!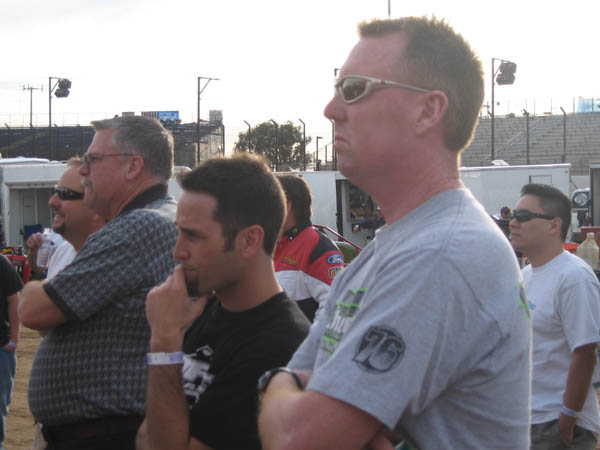 Vinnie, Damion and Glenn Corssno look on at the pit meeting.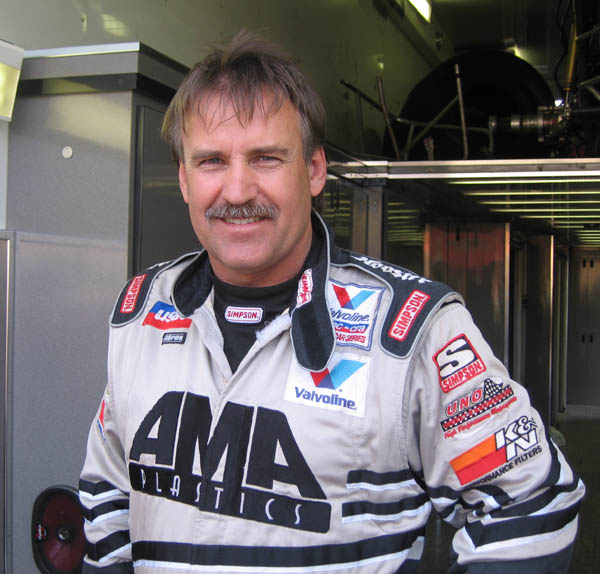 Ripper was ready to go racing.
Matt Stewart poses with his "new" car. Matt ran 4th in his heat to transfer to the main where he ran 18th. Matt retired due to lack of money shortly after this.
Glen and Pat Howard share a rare non working moment at the So Cal trailer.
Mrs Wags and Wagtimer Sonia hang with Danny Sheridan.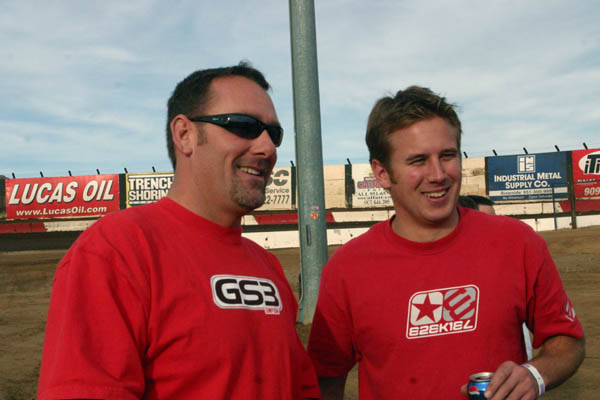 Tony Jones and Mike Spencer having fun in the afternoon.
Bruce and Wags pose for Chris Holt.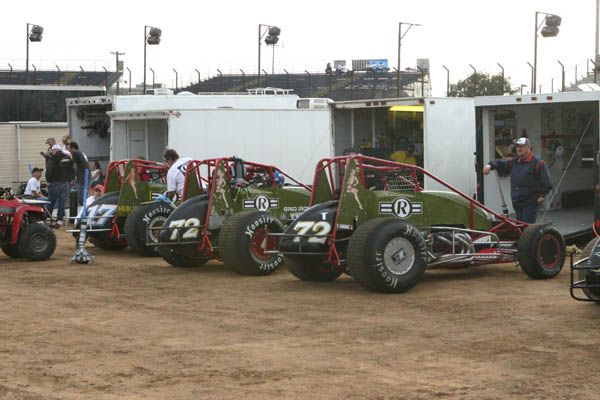 The Seth Wilson trio of cars came to play.
Tony Jones peers thru the fence on the frontstretch to say hi to his wife Tammy and son Grady.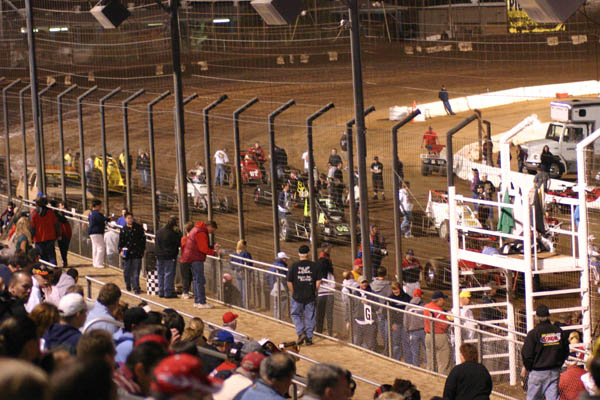 A look at the back half of the main event line-up from the grandstands.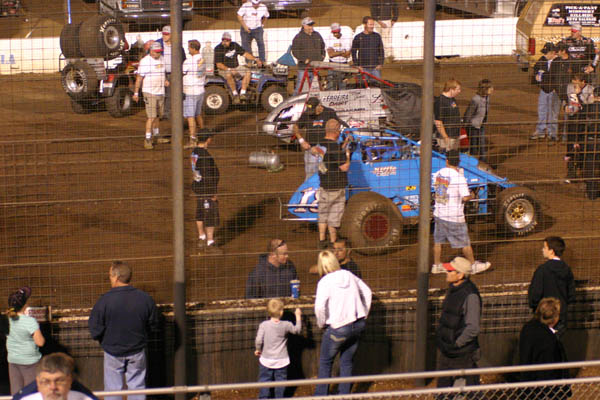 Danny Sheridan and Tony Jones lined up side by side.
Chili Bowl 2007

Josh Ford, left and Brandon Lane hang. Josh won the C Main and was whacked in his B, so finished in the back there and was done.
J J Yeley gets fitted into the 2nd Andy Bondio car. J J had a bad heat when he crashed, but came back to get third on his opening A main night and 2nd in the big main. Great job for the NASCAR regular who came from the open wheelers.
Here's the Sleeze, Kevin Eckert, hanging out with the Wags in the funky hat I said I wouldn't wear until I got a new one. Oh well, it's gone now.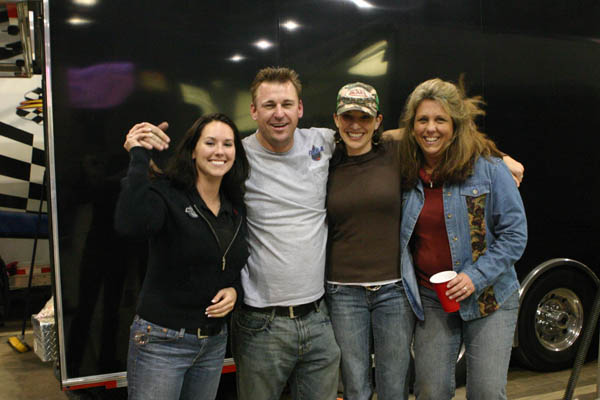 That is Troy Rutherford with his wife, the cute Ventura photgrapher lady Christina on the left and another lady to be named later on the far right.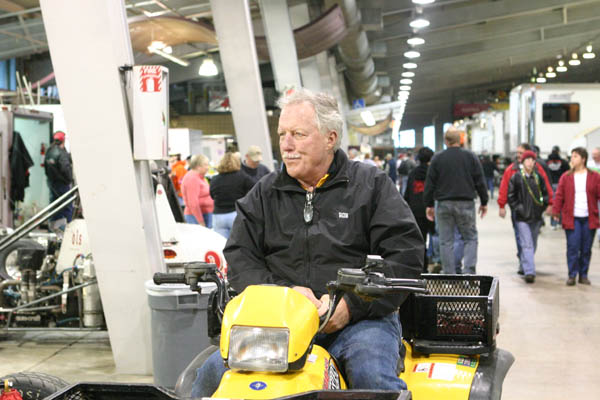 Ron Back sits on a four wheeler and relaxes.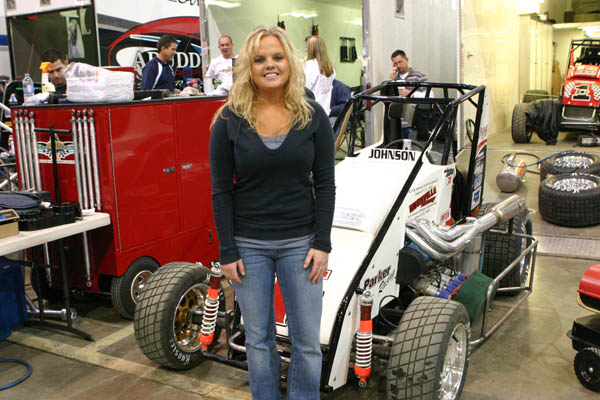 Jessica Zemken is a driver from New York. She is a two time Modified champion and talked about Syracuse like it was a highlight of her racing. She has experience in a wing sprinter and want to move away from home, where her father is a Modified driver, and go out on her own. She would love a sprint car ride and is actively looking for an opportunity. She would love to come to Phoenix and Perris and run next month if it can be worked out. She is personable and very attractive so would make a splash wherever she lands.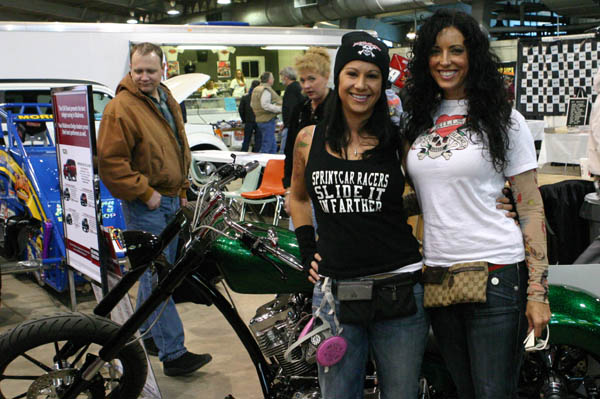 David Cardey's wife Danita and friend Victoria (?) - It's been days, so I might have forgot her name.
Nelson Stewart, father of Tony, worked in the t-shirt trailer most of the time, except for when his son was raicing. He also got around a bit to visit.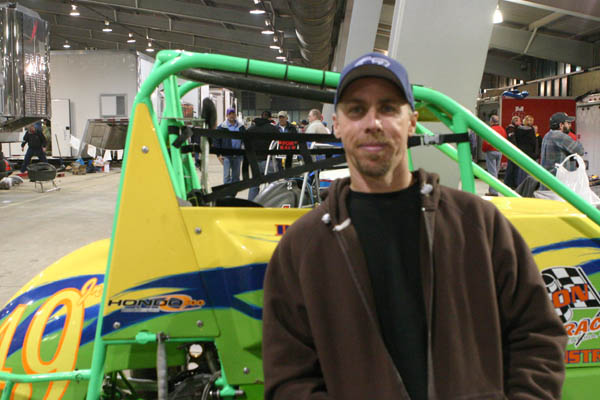 Bobby Michnowicz poses with the green car of Ron Baaaaach.
Casino girl!
Casino girl.
The Kindoll Classic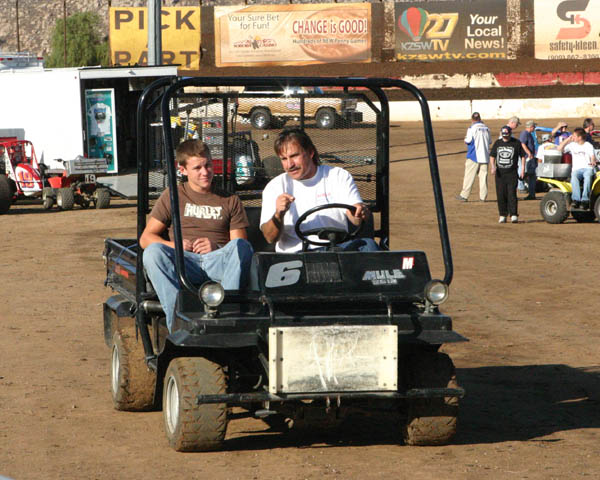 Rip and his son Auston ride in the Jory mule and it looks like some knowledge is passing here.
Mike Spencer gets help from one of the young Argo clan, Jake, who once worked on couisin Rodney's car and has gone on to work on Andy Bondio's midget among other top cars.
Damion focuses as things get prepped for the last race of the year. Damion's fate went downhill after the ugly Ventura incident when he was 2 points ahead in the championship chase. From there he went slipping back until the gap became too much. No news on his plans for next year, but don't be surprised if he moves on to somewhere else. There was that Pace deal in Indiana and perhaps more, so he still controls his destiny.
Terri Bliss, Fran Herdrich and Mrs Wags are up to something. When they heard the shutter click, the gave me another view that I laughed at.
The Venard racing trust with, from left, Steve, Rebecca, Mrs Wags, Buster and Brian.
The Venard ladies who watch so intently are Linda and Grandma Rosie.