Perris 1/28/06 - practice
The Kirby Kars are lined up and ready to get at it. Mike Kirby and car owner Jim Kirby, not related, brought out the two team cars to get them ready for the long season. Mike was slated to start on the front row of the Manzy feature last week when a motor miss appeared and it turned out to be something that might have been a spark plud deal. Mike was anxious to get the yellow cars ready for next weeks Perris opener.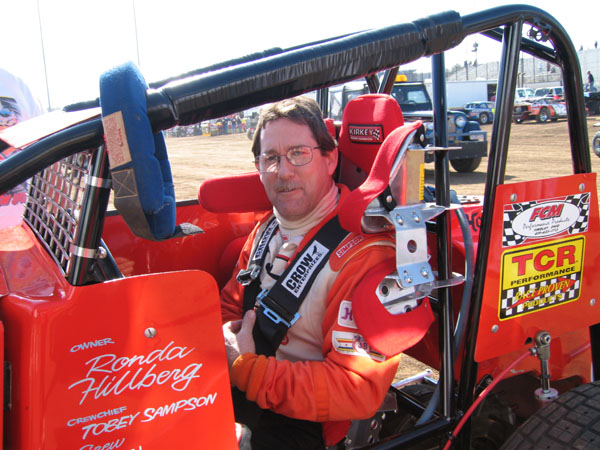 Dan Hillberg is in his office, the one he enjoys the most.
I thought this was cute, that's why, and I wanted you to see where it came from since Seth Wilson's car wasn't here.
Perris 2/4/06
Here is the front of the fuel cell-less Nate Ziegler's car.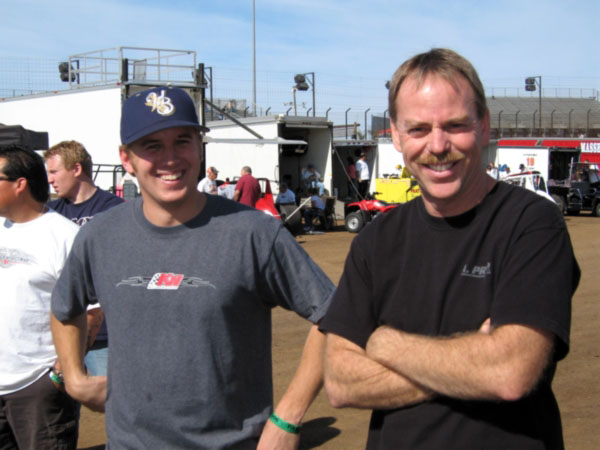 Mikes a pair, Spencer on the left and Kirby on the right. Could they be up to something, these two soft spoken guys?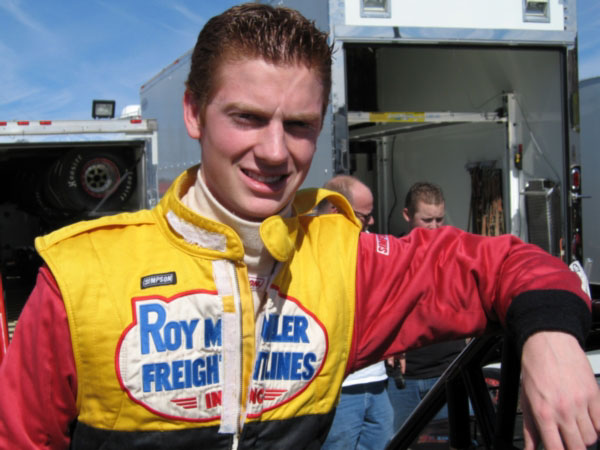 Blake Miller made the main for two straight races. He finished 15th this week.
Tony Jones buckles in for his fun ride.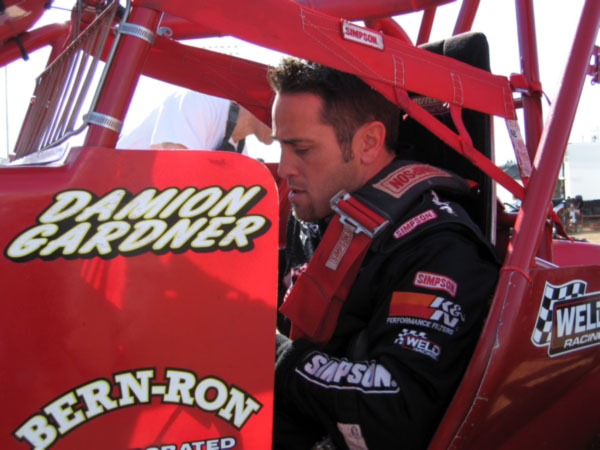 Damion Gardner finished a very close second to the winner this week after setting his 2nd fast time of the new season.
Perris 3/4/06
What a great graphic on the back of the # 92 trailer. Great job and it will get your attention as the rig goes down the road.
Evan Suggs ride looks sharp.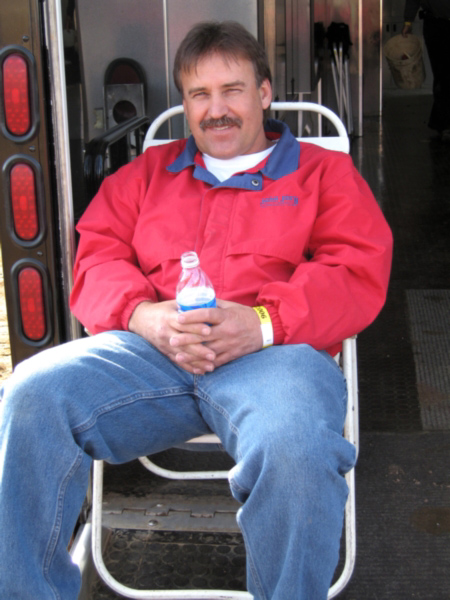 Rip Williams looks calm before the night starts. He had a tough night, making more laps than anyone in getting 20th in the main after a troubled qualifying time.
The Crossno entry looks bright while parked.
Big Jon relaxes in the Alexander pit early. R.I.P. Big Jon.
Super Rickie has a new bright driving suit. The bright orange should keep his eyes open. He was fast with third quick and ran sixth in the blue 2 car.
Did I tell you David Cardey has a new poster. The outrageous winner is a must for collectors.
The cars line up to go wheel pack, making it a beautiful rainbow event in the pits when the sun sparkles the colors of the cars.
Another blue shot of car # 7. I'll get used to it, I think.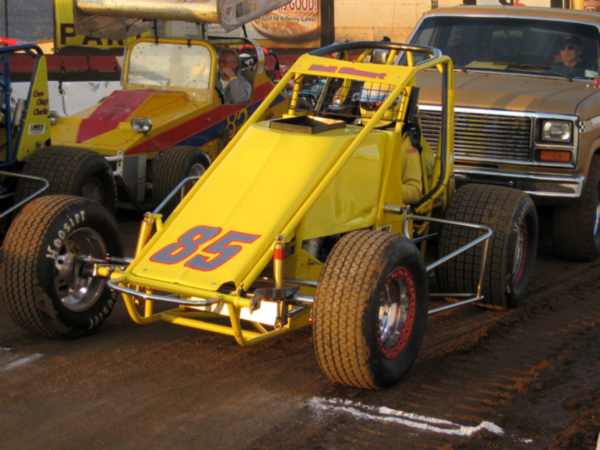 Matt Stewart gets pushed off by Skip in the early evening.
Mike Spencer continues to run strong with another top 5, his second of the young season.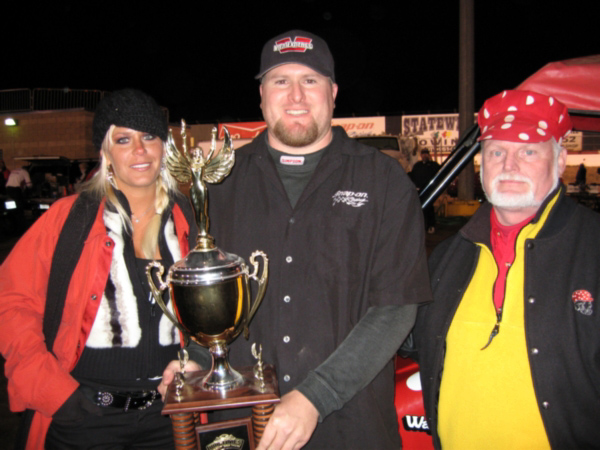 Ronnie Case finally gets his Wagsdash trophy.
Perris 4/29/06
Randy Shiosaki works hard on Mike Kirby's ride.
Danny Sheridan's Kittle Motorsports ride.
The Ron Chaffin # 50.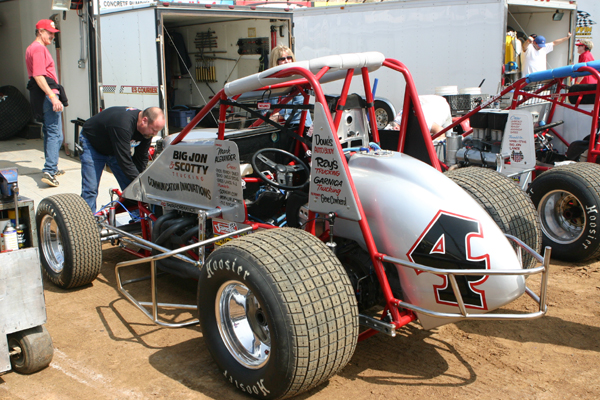 Tony was fifth this week as his consistency has been sharp this season.
It's not often Mrs Wags gets in front of the camera, but I fixed her as I took some pics, too!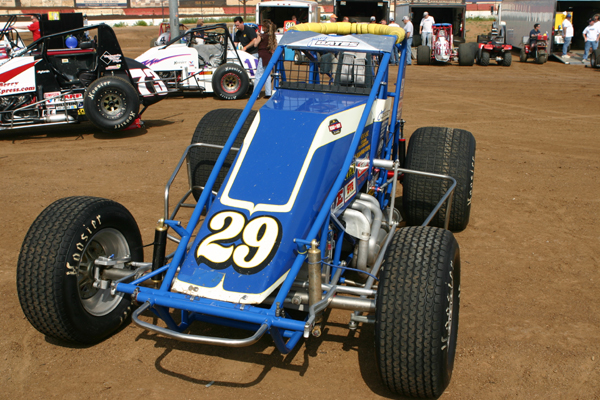 Another view of the blue and white beauty.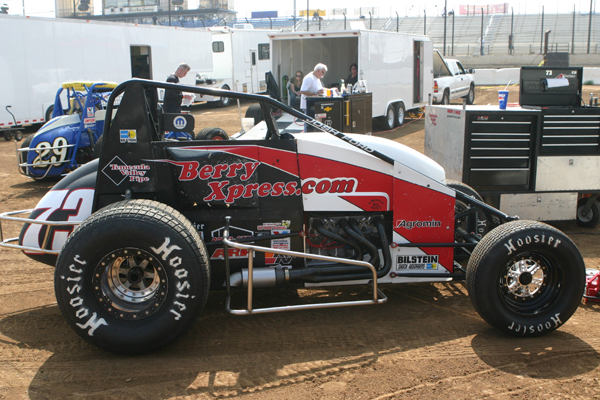 Josh Ford is back for another season with CRA. He will run Indiana Sprint week and a few more midwestern races, but will stay around home mostly this season.
Here is the front view of Mike Nigh and Brian. Brian joined the team this winter and says he likes working on cars, wing, non-wing, drags etc. etc..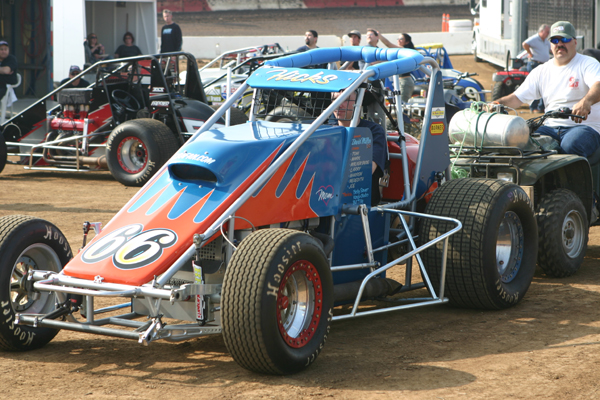 J Hicks car is getting pushed thru the pits.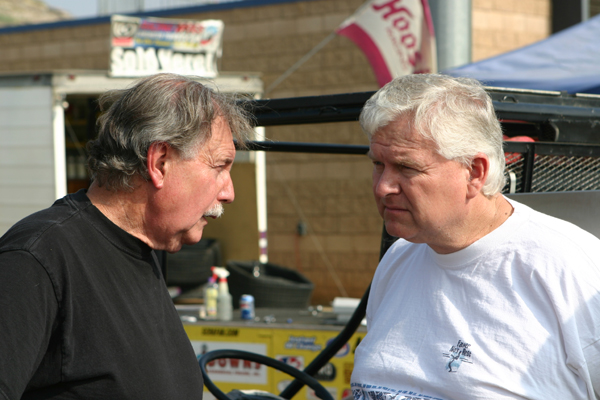 What could these two be talking about is unknown, but the tooth Doc has a lot to say to Jack Gardner Jr.
Tony Jones gets pushed to the scales.
Bruce St James came over from Phoenix to run.
Jonny Bates in his car with Steve Willouby and Chris Fischer helping out.
Mike Spencer buckles in here.
Look into my eyes, says Rip as he gets his "tude" on.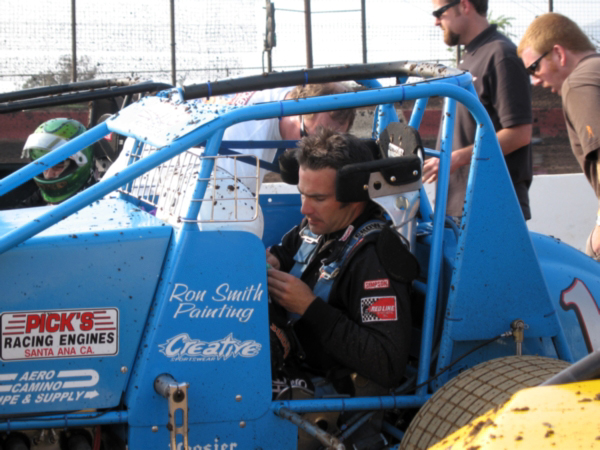 Showtime Sheridan gets geared up to plunder.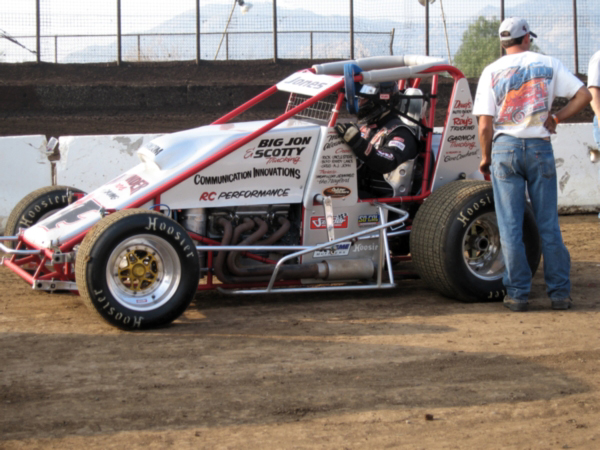 Mark Alexander looks at the track while his driver, Tony Jones, waits to go run.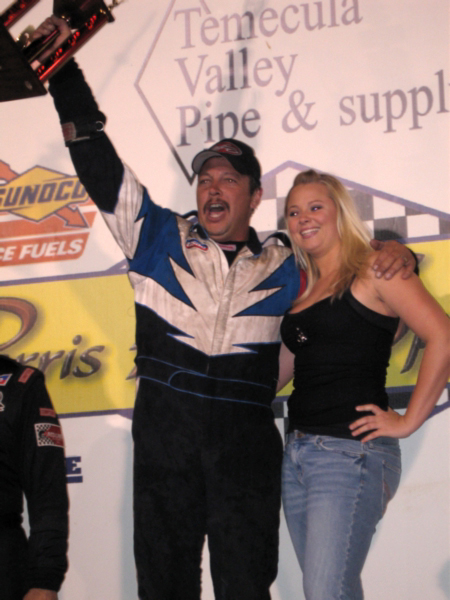 Charlie celebrates with Carly after his first Perris win.
Ventrura 5/6/06
Bruce Douglas wild sprinter is one of Jim Naylor's "vinyl showpieces". Jim created this one piece design that is different than the type that are put on individually.
Danny Miller has a nice looking car, and he doesn't have to share it with his son anymore!
Mike Truex, of Loud Pedal Productions, cruises thru the pits.
Davey Pombo finished 7th, but should have had better with his good driving.
Troy Rutherford's wife Lesley and mom Sheryl were there to support him.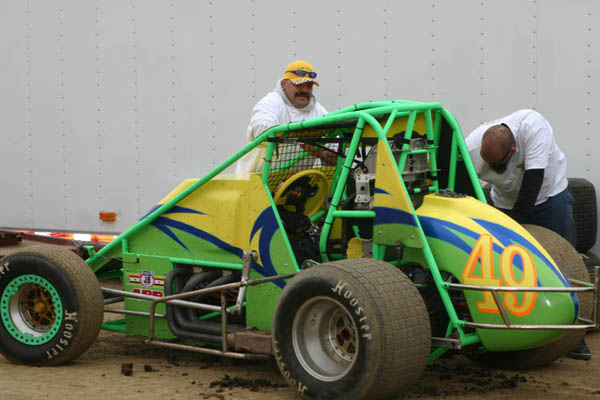 The cleaning goes on in every pit after the cars hit the muddy track.
Kevin Kierce finished third after a great drive this week.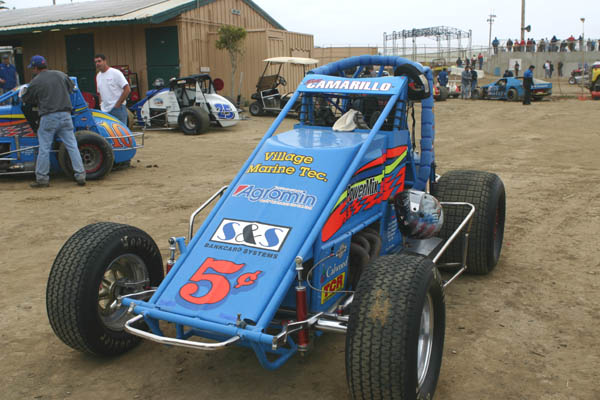 Bill Camarillo's ride is giving him a lot of relief from his busy business life. He loves driving the twitchy cars.
Lining up to push off makes for a neat scene.
Dennis Rodriguez poses with a sharp looking car. The one time CRA rookie of the year still likes to race.
Perris 5/13/06
For some, it's just another day at the beach in his pit.
Dan Tedrick poses with his newly painted car. He loves sprint car racing!
Alan Ballard is catching rides as he can. He is driving Buzz Shoemaker's 0 car again this week. He was 8th.
The Black Widow beauties are ready to go.
Tooth Doc, Tom Ogle and Bullet Blake Miller in turn two.
Qualifying is about to start and the middle car is the first car out, was 21st fast and won the main from the 8th row, Mike Kirby.
Tony Jones gladly signs autographs for the fans after stepping on the podium for the first time this year. He will be back there soon.
Manzy 5/20/06
Jim Fargo, JAF racing photographer from Manzy and long time Wagtimes fan, had knee replacement surgery recently. Not one to sit around, he found a way to get around the pits and still get his shots. Marilyn Griffith has been his "nurse" thru much of his recovery and she watches him as he trips around the infield with her right behind to keep him out of trouble.
Seth Wilson's mean machine looks to eat up other sprinters with these teeth. He was running up front when tire wear sent him packing. It got so bad, he reported, when he had no traction on his now drag type slicks, he pulled in and finished 22nd.
Tony Jones Silver Bullet car had it's tire problems. when he went up top like he normally does, he went backwards. His 13th place was not bad at all under the circumstances.
Chad Boespflug made the main and persevered with a 14th place finish. The 2005 SCRA champion is impressing us as he gets used to the 410 world.
Ventura 6/3/06
Glenn Howard is still doing the part trailer road trip experince.
Steve, Mark and Noice are in their pit early in the afternoon doing what they do best. Steve is working on the car, Mark is telling whats new and Noice is wondering where the chairs are.
Eric is concentrating hard on his job on the little red sucker.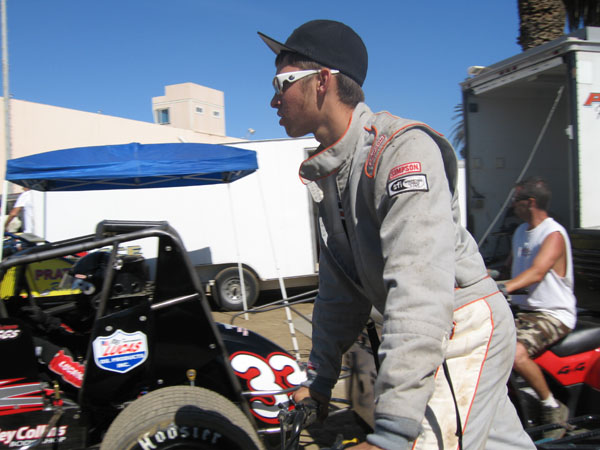 Chad Boespflug is heading to the pit meeting. Cool glasses, Dude!
David Cardey's ride is getting ready here.
Jim Wolfe is a study of intensity. The master tire man never sits still, always analyzing his next move.
The brand new Maxim of Tom Stansberry showcases the Ron Bach colors. He just missed the transfer to the main as he shook the new car down.
It's only the pit sign in booth, but what a view with palm trees.
Blake Miller receives his awesome Wagsdash Jacket, created and donated by Jim Naylor, for being the 2005 Wagsdash Champion!
father and son Mike & Mike Spencer. I remember Mike Sr driving the # 21 car when I first went to Ascot in the early 70's.
Kirby still on his way to the push off area.
The second heat goes off. Note the black three with Mike English on the bottom trying to get under Mike Kirby in the yellow # 96.
Perris 6/10/06
David Cardey's father Jim and Glenn Crossno's father Dale, are talking behind the Tooth Doc's ride.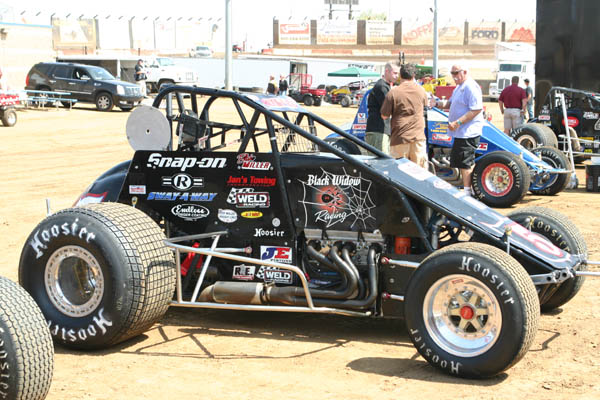 The Blake Miller driven car.
Ron Didonato and wife Meri visit the pits. Rom makes Spin Tech mufflers which are one of two official mufflers at Ventura. Perris is looking to do the same thing with the houses so close by.
Damion crouches down to talk to Vinnie as the final prep on the car is done.
Mike poses with his car and hardware after winning.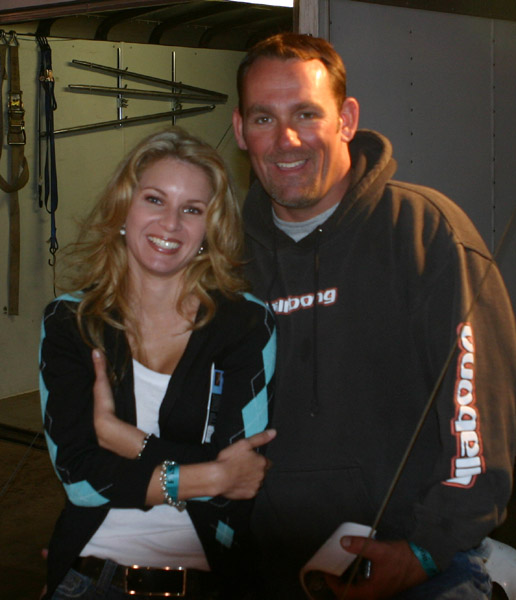 Tony and Tammy Jones, what a good lookin' couple.
Santa Maria 6/17/06
Ripper took this black beauty to 4th on a great slick track exhibition.
The two trophy girls for the evening dressed up for later. Summer, left, and Nicole.
Damion and Blake hot lapping.
Josh Ford honkin' on.
Tony Jones picks up a wheel.
After cars qualify, they pull into the infield and push back to the pits when everyone's done.
Tony Jones to the lead!
The Bullet and Showtime comparing notes.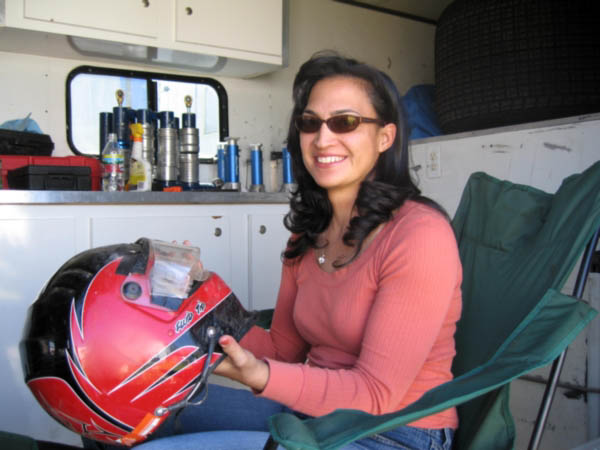 Nadine Keller working on her helmet.
Bruce Bromme Jr has recovered from his flu and is back at the track.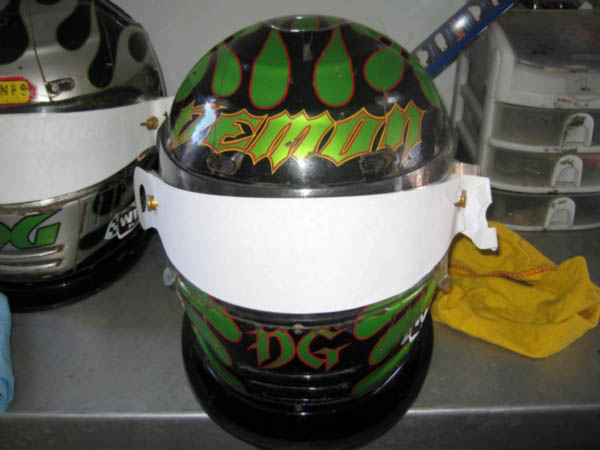 Damion's helmet has a green look to it like always. Rumor has it, the helmet will be in the Wagtimes auction in 2007.
Perris 6/24/06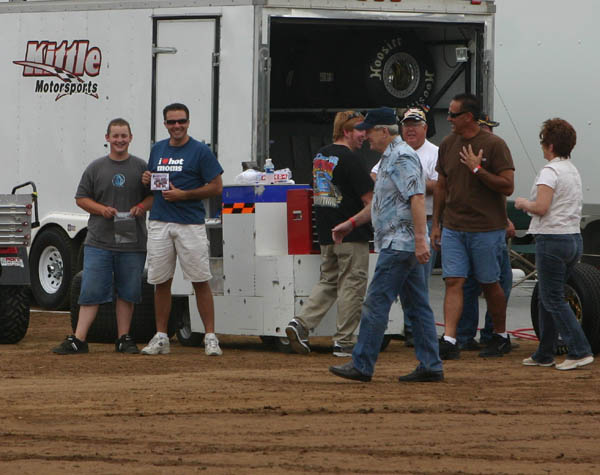 The video of the last race is getting autographed by Danny Sheridan. Something about a flat tire on Blake's car.
This trio is up to something. Mrs Wags with Ron Chafiin, car owner of # 50, and Bruce Brome Jr, crew chief. They got it covered.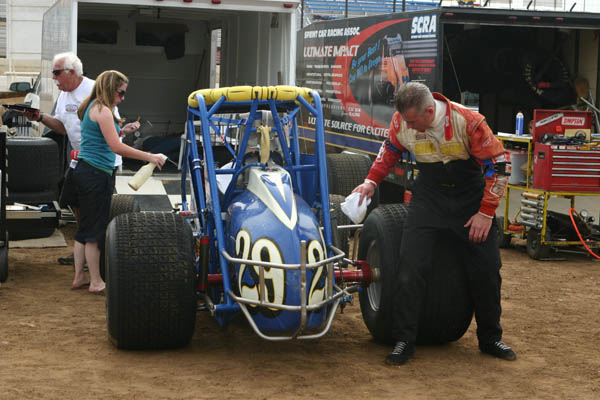 Jonny Bates is doing work on his racer. He made the main and ran strong as he continues to get valuable seat time in the # 29 car.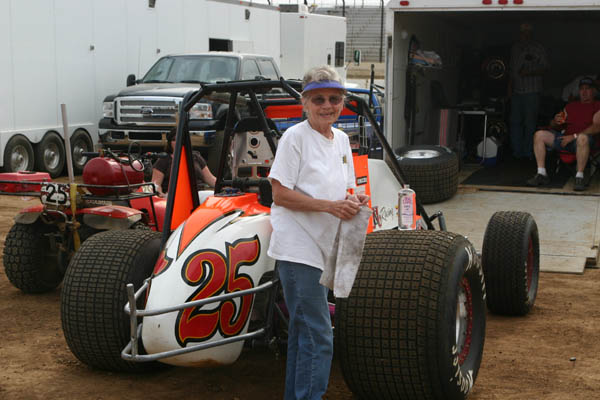 Petie Ruth is cleaning their race car while the men are busy.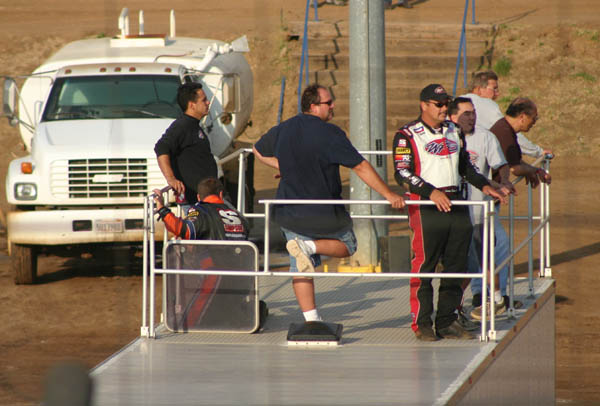 The Smiley hauler viewing platform on the trailer has Charles Davis Jr looking at the action.
Kirby gets the last look from tire man Jim Wolfe.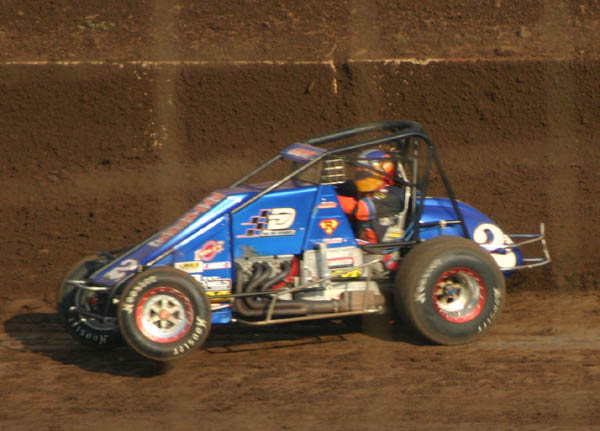 Rickie Gaunt pulls the wheel on his quick lap.
Rip williams on the move. He had a great night passing his way from 11th to 2nd and earned the hard charger award.
A view of the trailer area from the grandstands.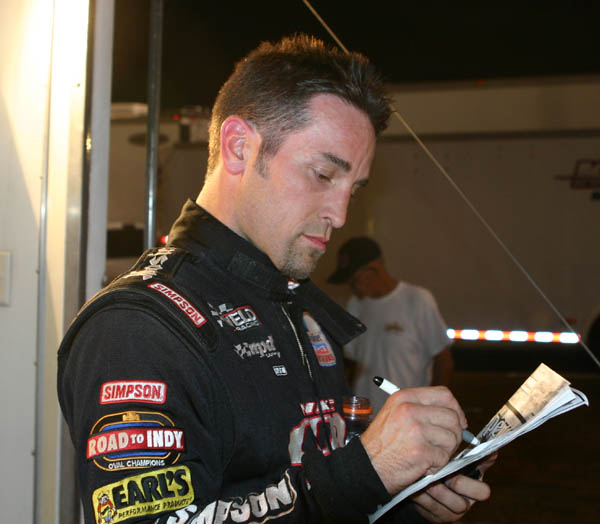 And signs.
A little celebration of champagn after Damion's win with Julie Shiosaki and Eric Kaufman enjoying the bubbly. I had to drive home.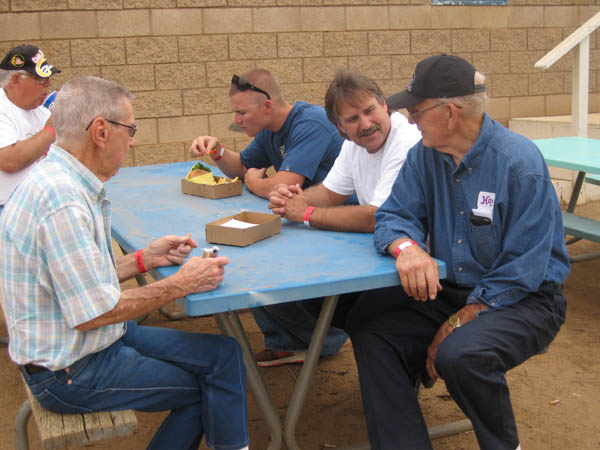 Lets see, there's Glen Howard and Rip on one side and Billy Wilkerson and Ray Stansberry on the other.
RJ is looking like he's helping here.
Bruce Fischer has a hand still available to help his old blue car. Word has it he now is a proud owner of a new Corvette. The copycat sez you can afford other things when you don't own a sprint car.
Joe Clifton, famous dog tracker, is a friendly face in the pits, and a hard worker, too.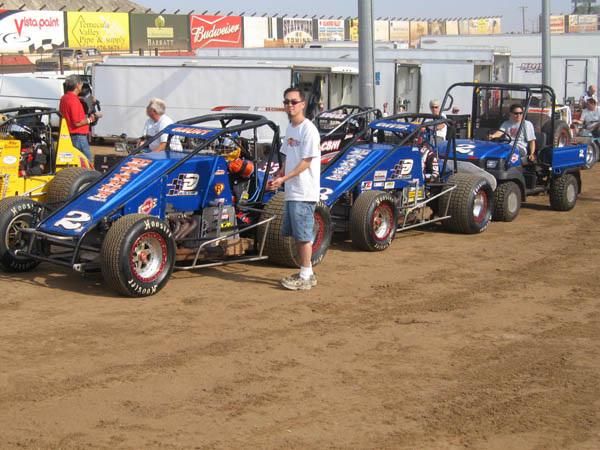 Michael Tanaka works on the blue cars of Tony Smiley. I guess the blue train is on the move.
Bullet Blake Miller is ready to rock and roll. Rumor has it he is taking flying lessons at the world famous Norco Raceway. He didn't quite clear the fence.
Blake, RJ and Cory lined up to hot lap.
A great shot of Mrs Wags and I didn't take it?
Danny Sheridan signs autographs.
Perris 7/1/06
This car now belongs in Don Blair's stable. The former Prattmobile was driven by Dwayne Marcum, who designated this as his last race driving, as he is now retired.
Nadine Keller's ride is ready for the fans out front.
Danny Sheridan's crew chief, Russell Bliss, gets the posters ready for autographs.
Cal Smith's # 39 is patriotic like most today.
Eric Severson's pit is quiet. He missed the main from the semi this week, but continues to improve.
The "little red sucker" is always a special treat at the races.
Rip restarted at the back and won!
The flags were flying all night.
Karen, one time Wagsdash trophy queen, Mrs Wags and Terri Bliss hang out in the cool. I saw Mrs Wags go in about 1:30 and didn't see her until qualifying much later. I wonder what they were drinking.
Indiana Sprint Week July 06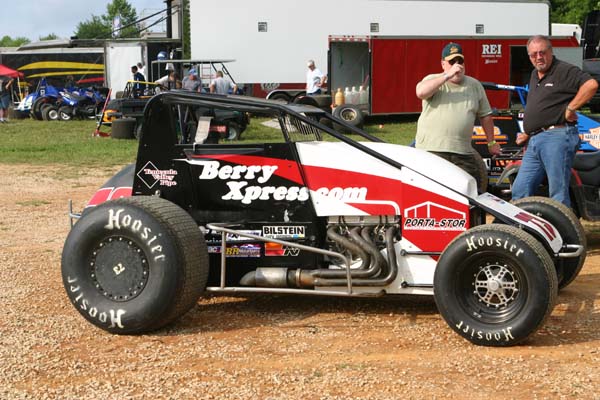 Josh Ford's straberry ride.
Danny Sheridan came east to run Bob Price car this week.
Alan Ballard and his dad Ernie made the long tow to suprise me. They came in a new hauler that was a gift from grandpa.
Alan Ballard is on the move.
Bubby Jones puts his touch on the Daron Clayton racer. Daron wasn't lucky at all this race when someone gave his frontend a bounce three feet to the right and he nailed the wall. It was a white car!
The Mark Priesley # 7 came to play in Indiana with Johnny Rodriguez in the saddle.
Alan Ballard qualifies.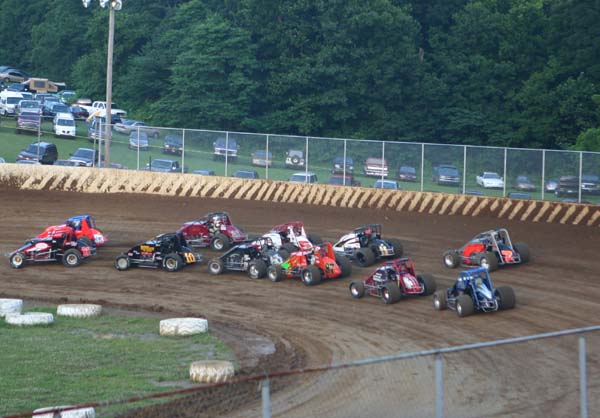 There is Alan Ballard in the middle on the Bloomngton clay.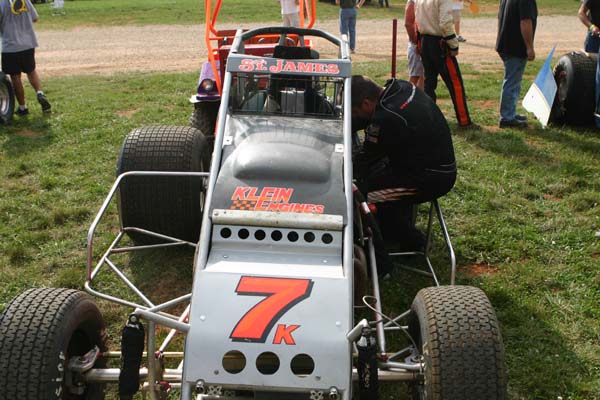 Bruce St James has his car ready to go.
One of four pushtrucks belonging to the Habstadt track. Red, Green, Yellow and Blue are the colors and they do a great job.
Another nice looking blond!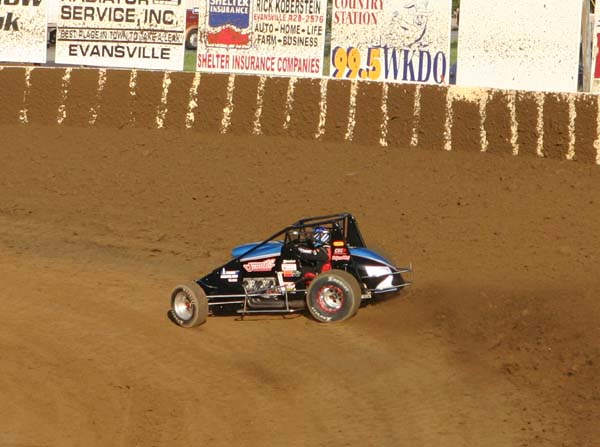 Johnny Rodriguez cranks it up.
Alan Ballard.
Danny Sheridan gives the loud pedal a workout.
Cory Kruseman at work.
Bill Rose is getting his seat comfortable.
Perris 8/5/06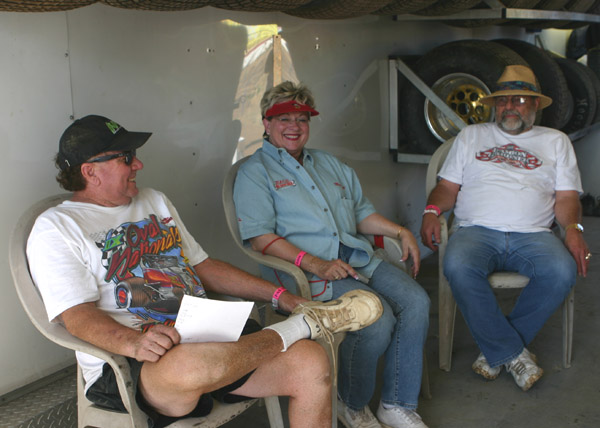 A little gathering in the # 50 hauler with crew chief Bruce Bromme Jr, Mrs Wags and car owner Ron Chaffin holding court together.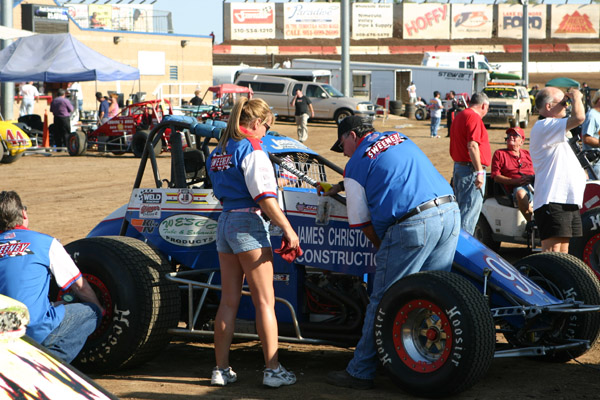 Verne Sweeney comes out now and then, but his son Andrew has a fuller racing schedule, so he misses a few. He made the main, but had an encounter and was done early.
Jim Keene and Mel hang out in the pits. Mel says he would love to drive again, but the cost of owning these things is too much right now.
Jim and Petie Ruth still bring out the # 25 dayglow orange car. J J Ercse has been the most recent shoe and has been very racy, but unlucky. This week he was 10th in the main for a good night.
Bobby Cody still leading on this restart.
Car owner Hal Engstrom was concerned how this brand new car would work out of the box. Looks like no worries after Mike set fast time!
Matt Stewart smiles as he rides his quad around the pits. Later he wouldn't fire until it was too late. They got the motor to fire later in the night.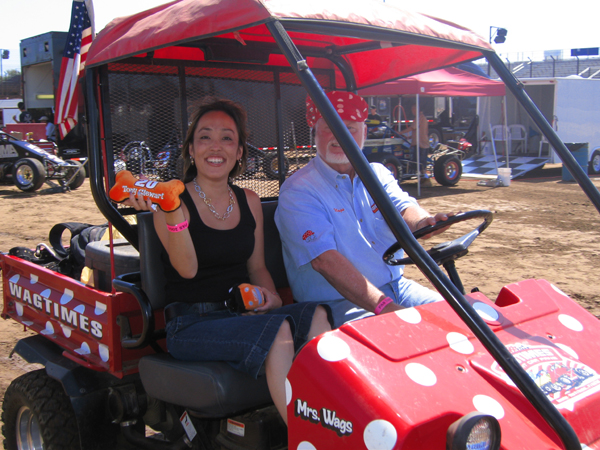 Julie Shiosaki has two new dog toys for her dogs at home to play with.
Ben Lancaster visits with former PAS track worker Charlie Watson. He is living in Las Vegas for now, but plans to go back to California soon.
Jeremy Sherman came over for a run. He was 9th with more to come we hope.
J J Ercse is buckled in for a wild ride.
Look into my eyes, I am going to get you!
Steve Ostling is driving this car from time to time. He made the main and ran good in it this week.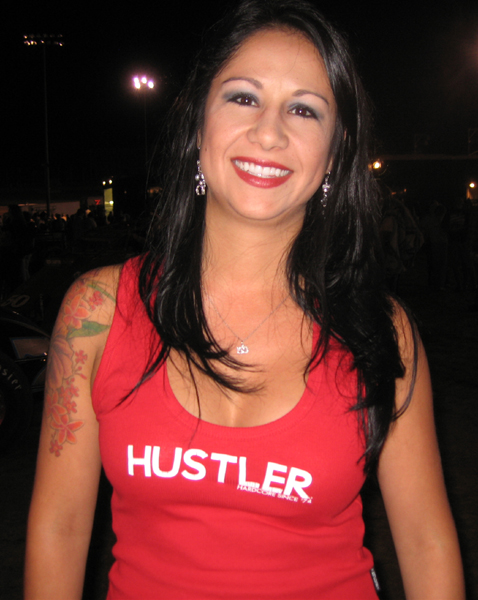 Danita Cardey is always cheering her husband David on. She was sad this week when he got whacked in the main, but knows his time is coming fast.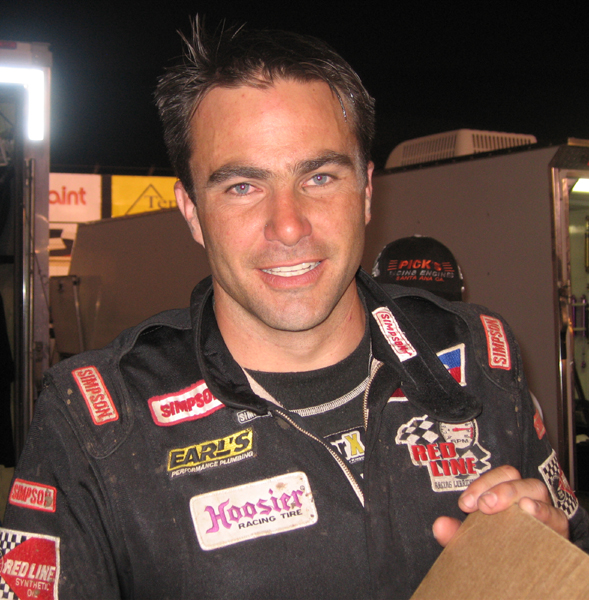 Danny Sheridan after getting third this week.
Tony Jones and his pretty wife Tammy and son Grady pose after his third win of the year.
Perris 8/19/06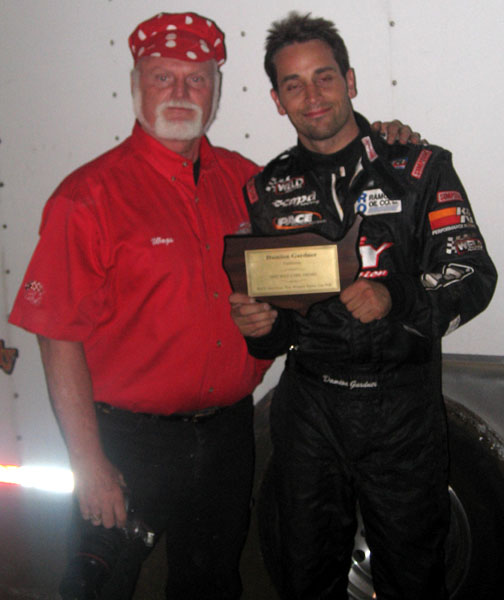 The Demon gets his award form the Sprint Car Hall of Fame.
Scott Deloisio and Ronnie Everhart relax before a busy evening of announcing. He stays in the tower to do the brunt of the announcing and she stays in the pits to do her work.
The Warbirds line up and are ready to score.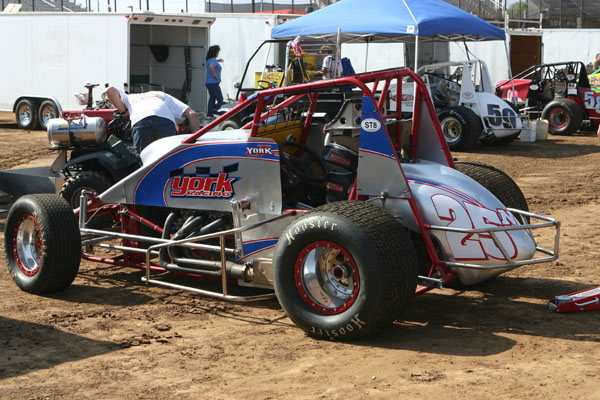 Jason York's ride ready to go. He started on the front row, but got shuffled back to 10th in the main.
Lining up and getting ready to rock and roll.
Ventura 9/9/06
Josh and crew chief Jimmy May discuss possibilities for the night.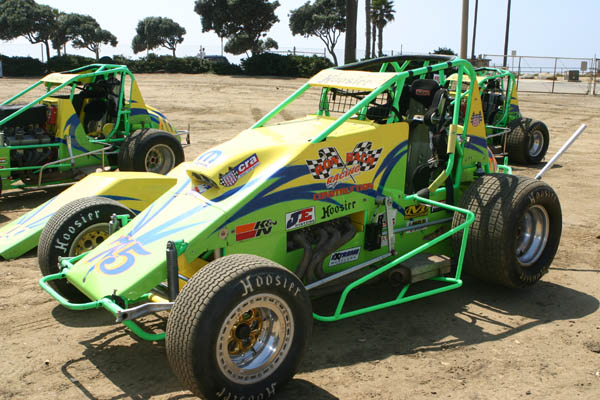 The Ray Stansberry # 75 sponsored by Ron Bach is ready for Steve Conrad to drive this week. Ray has had a number of different drivers in the car since his son Tom retired recently, but Steve will be the driver next season for the Mopar car.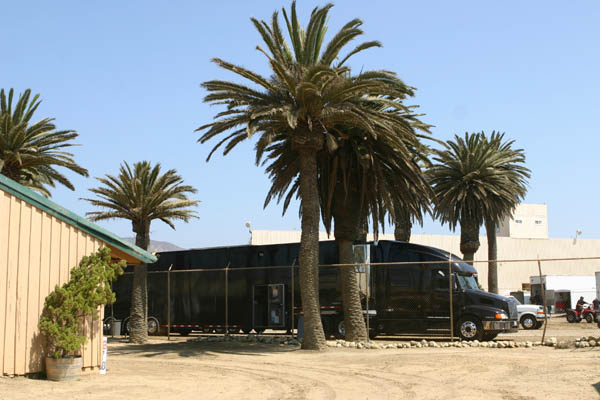 Rip's hauler looks rather majestic among the palm tree's, don't you think? That is the main grandstand behind the big black beauty.
Another view of the pretty yellow car driven by Kevin Kierce.
What was the name of the great thinker? Was it the Cowboy? It looks like it to me as he was doing some powerful thinking this past week.
There are now two mufflers that are legal at Ventura and Perris. The Extreme muffler is made locally to Ventura and the Spin Tech by Ron Didonato in Riverside. Ron's is rounded on the ends and the Extreme squared off. This is an Extreme.
This is a Spin Tech muffler like I have n my Corvette. Sweet music and it's quiet?
A better view of the blue lagoon, that is the Pacific Ocean.
The view over the backstretch wall shows the Ventura hillside.
Perris 10/21/06
Brian Venard made the main in the Don Blair car. Grandma Rosie came to see this youngster.
Damion Gardner retained his point lead, even after a hard night. He was looking for the water trruck when I last saw him, it was dusty!
Perris 11/02/06
Michael Trimble comes from Northern California every week.
Damion Gardner's little red sucker.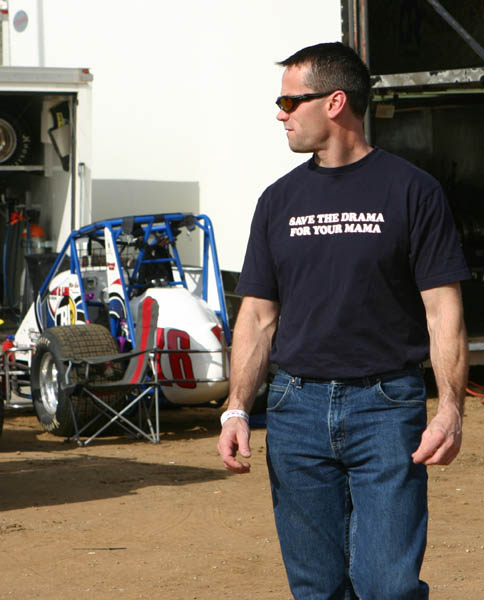 Jon Stanbrough out on a walk. He was charging in his first ride in a Pace sprinter.
Ever see an 8 legged chalk walk? That's a Chalk Chassis walking along into the Black Widow Racing pit for next year.
Matt Stewart receives the George Rimmer Award for the longest tow this year.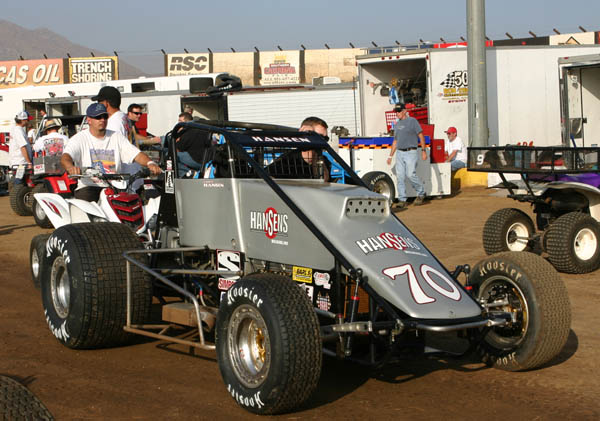 Garrett Hansen had a good weekend for a rookie as he made the A-main on Saturday.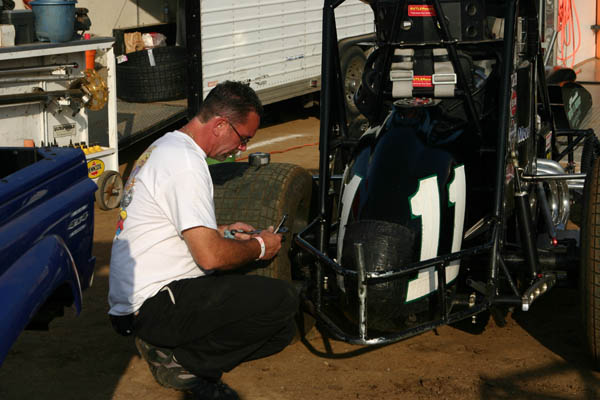 Davey Jones worked on Troy Rutherford's car this weekend.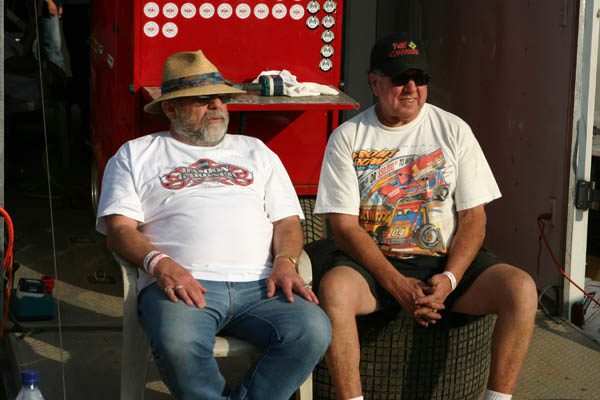 Bruce Bromme Jr and Ron Chaffin are relaxed here.
R J Johnson's car in process.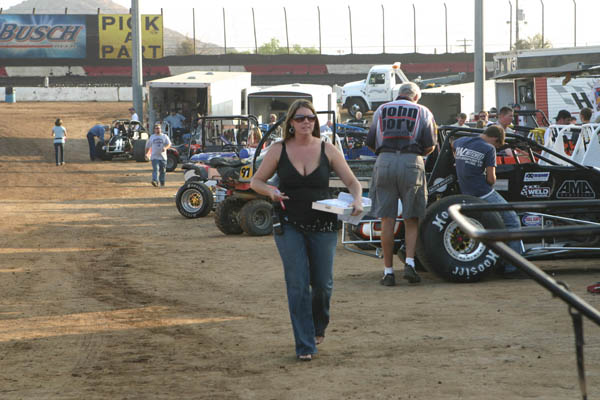 Tanner Watson goes about working to make the Ovals smooth.
Shane Cottle came West to try his luck and was 6th on Saturday.
Perris 11/3/06
A view from the area in turn 1 and 2 down into the pits.
Damion leaves the racing surface.
The Stewart push vehicle is fast and bright.
Perris 11/4/06
Jimmy and Sherry Evans hang out with the Blair car every week. He has a sprinter, but it doesn't come out much due to sponsorship, big sponsorship, for the newlyweds.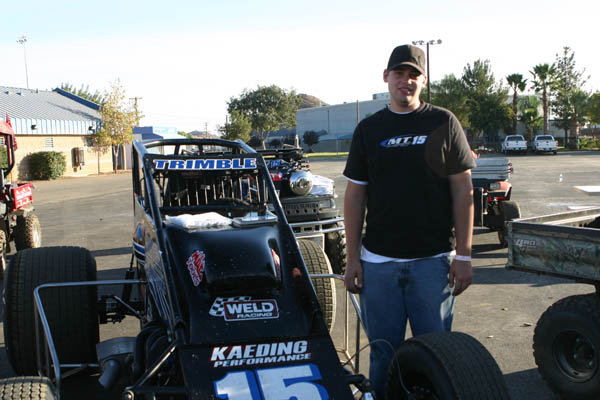 Michael Trimble poses out front when the cars were on display for the fans on Saturday afternoon.
The semi lines up.
Jerry Coons Jr talks to a fan. He was eighth in the big show.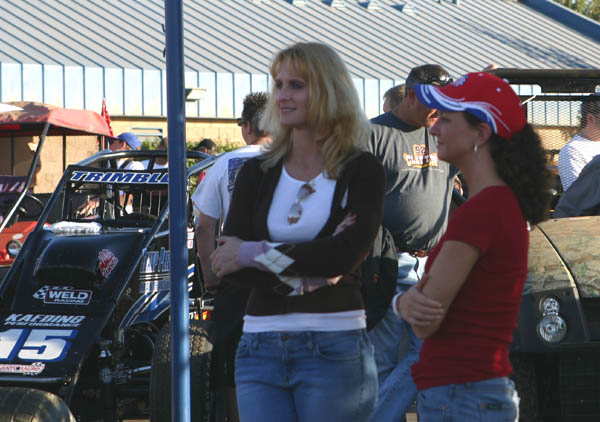 Two attractive ladies brighten up the car show.
4th turn Rob, not 1st, let me now of my latest gaffe. He came up to me too fast.
Jon Stanbrough, left, and USAC official, Greg Staab, chat before the storm.
The Big Show lines up.
Manzanita 11/11/06
Looking into the pits inside the 1/3 mile track. The John Jory black hauler is unloading to the right.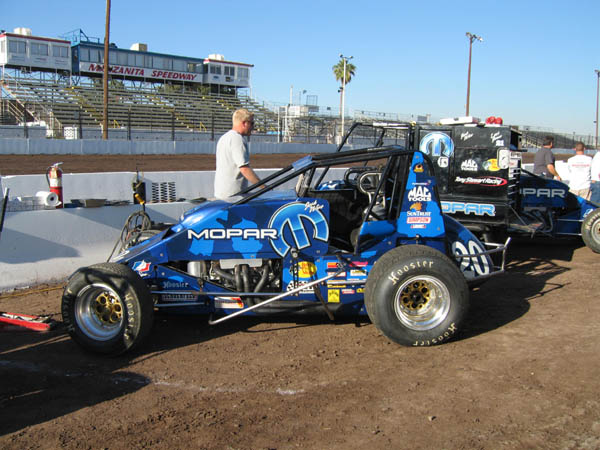 Josh Wise championship rocket from the Tony Stewart racing stable. He won the points deal and announced he's off to NASCAR.
RJ Johnson's 360 ride is white with orange.
His 410 ride is all white. He missed the 410 main by a little and ran 15th in the 360.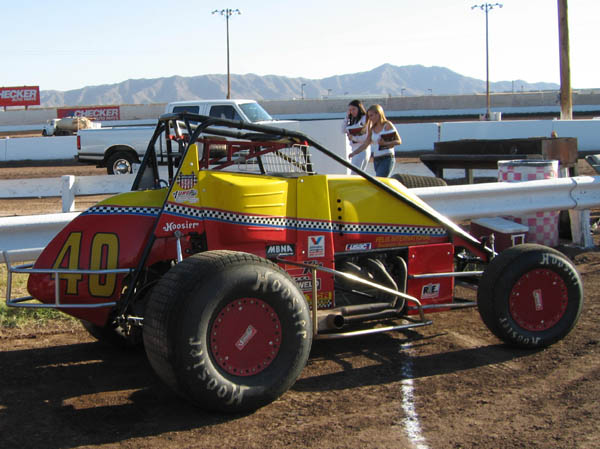 Royal Adderson came to Manzy, but missed the main on Saturday.
Billy Boat and his 14 year old son Chad. Chad made the 360 A main on Saturday and did well. Dad says next year they will run a 410 and stay close to home. Billy looks like he can still drive!
Chad talks with 16 year old Brady Bacon who opened some eyes at Perris!
Even though David Cardey didn't run up front, I think the guy to the far left had a lot to do with the cars being very fast this weekend. David was just unlucky as he passed several leaders after being lapped.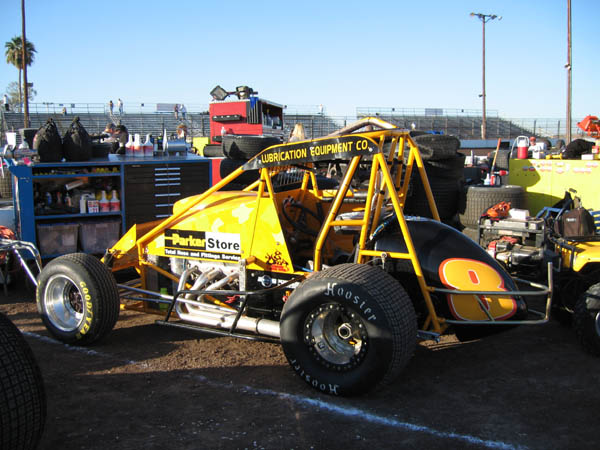 Bob Ream's ride ready to rock and roll.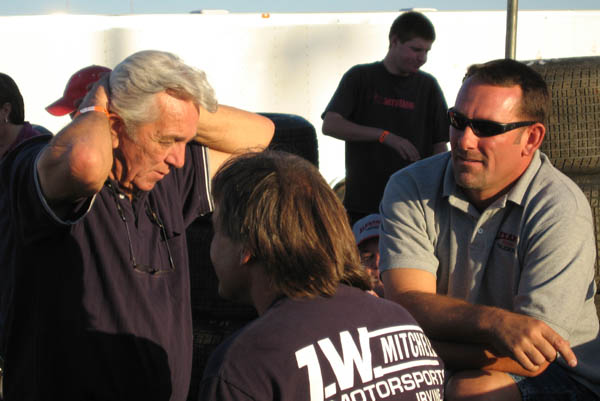 Bubby Jones and son Tony talk with Ripper in the pits early.
Tony and Rip lean on the La Villa # 4 car.
Mark Alexander, car owner of # 4, gets a little shut eye before the storm.
Jon Stanbrough and Dan Droud Jr drove the two # 44 Pace owned cars.
Mike Spencer unloads his car.
Glenn Crossno sits and waits for his first car owner Championship. It was all done then
Tony Everhart's ride.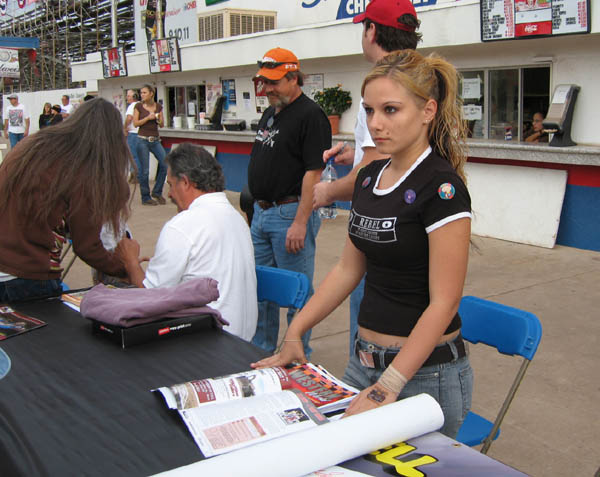 What a cutie and she's already 16!
Jack in several faces of happiness.
Ellen gets an autograph also.