Turkey night 2004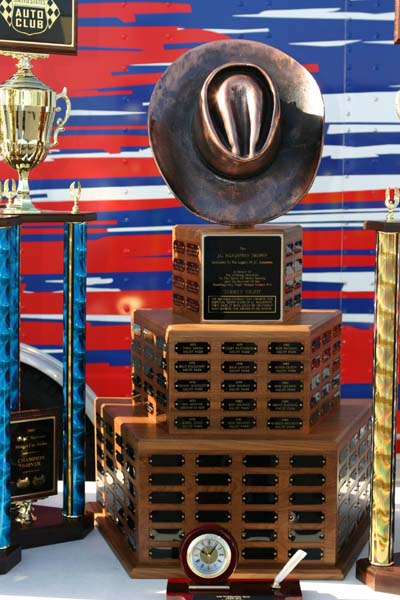 The fairly new perpetual trophy in honor of JC Agajanian who was a big part of keeping this annual event going back in 1955.
Evelyn Pratt had a job keeping people away from the Tony Stewart race cars during the afternoon of fan wandering.
Tony Stewart sits in his midget in line to qualify.
Perhaps the prettiest race car driver around, Destiney Hays, has a great smile. She was ninth quick and started the main on the fifth row. After moving up a few places, she was taken out by another competitor. What a shame.
Ray Vodden, left, and Don Read pose happily in the pits. Don was the SCRA tech man the last few years, but says it's too much traveling for him and will stay closer to home in the future, except for Indiana Sprint Week he says.
Chili Bowl in January
J J Yeley sits and relaxes just a tad before his qualifying night. It didn't go to well.
The Hooter girls behind the top three on Wednesday. They are Chad DeSelle, winner Josh Ford and Danny Lasoski.
Rip Williams visits with Joy Paulson and Ellen Ellis.
Randy Pankratz and Bruce Fischer enjoy a moment of quiet. Bruce came to help her dad Wally and her run their cars. Randy ran a Ford Focus against all the regular midget entries and fared pretty well.
Terri Bliss and Julie Shiosaki are busy with their bracelet biz, which was real good until the promoters shut em' down after complaints from the trade show jewelry booths.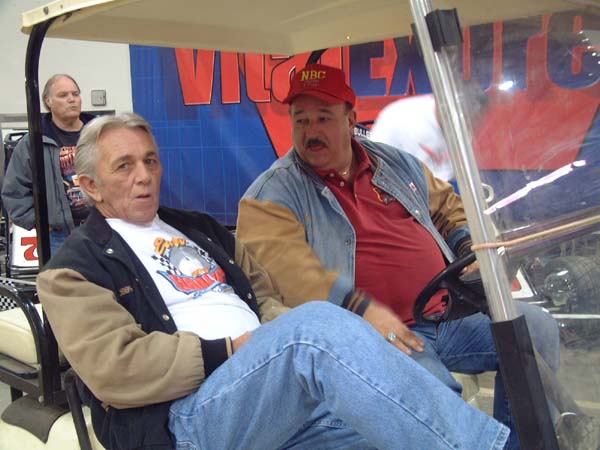 Bubby Jones and Duke Cook spent the four days knifing thru the pits in this rig looking for food and watching all that goes on. I caught a ride a couple of times and watched them in action.
The Hooter Girls make the podium prettier. Winner Tracy Hines wasn't here yet when this was taken. By the time he arrived I was out of space on my card.
You have to admit it looks pretty different. It seemed to intimidate or at least get the other drivers attention.
LT Works poses with Bob Ream Jr at the Chili Bowl.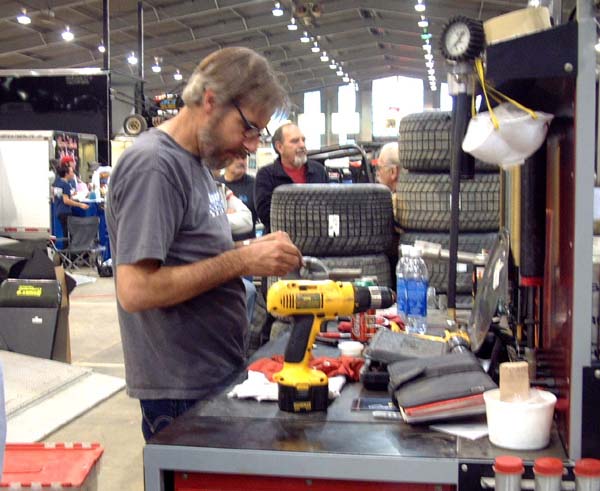 John Barnes of Barnes Systems is a hard working member of the Bondio crew.
Cory looks like a champion here.
The podium for Cory Kruseman's Friday win included Dave Darland and PJ Jones.
CRA season opener at Manzy!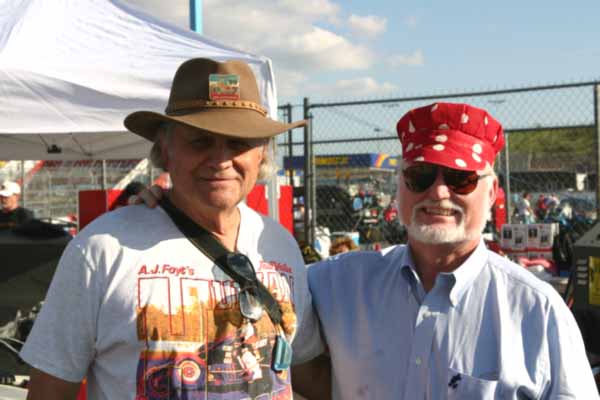 Jim Fargo was also there to pick up his credentials and snap photos, as well. Wags is looking much perkier after returning from the Chili Bowl with no voice and pneumonia!
Rain and mud prevented this photographer from entering the Manzy pits once we arrived there, until just before Main Event time. Charlie Davis, Jr. sits in his car during driver introductions.
Josh Ford waits patiently for introductions to be completed so he can get pushed off for the Main.
Second place Charlie Davis, Jr. and third place Mike Spencer, flank the winner, with smiles all around. Not many pictures this time out due to rain and mud and cold, but look for bunches at Perris this coming weekend!
Perris opener a day race
Jordan Hermansader was in Bobby Farro's 91 car this week.
Julie Shiosaki and Terri Bliss love to have their pictures taken!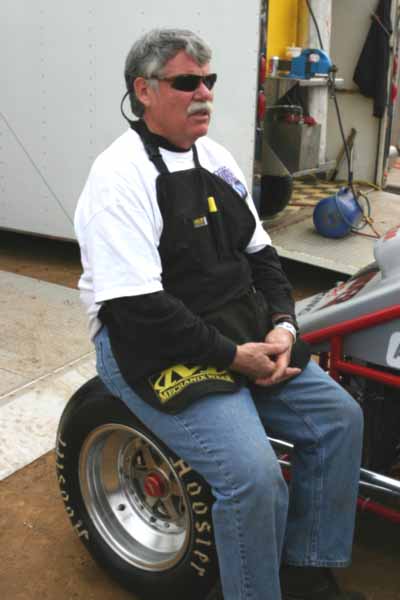 Jim Wolfe rests on the front left wheel of the Alexander #4.
Mark Heidenreich gets pushed back out of his pit. It's time to "hit the track!"
Chris Holt interviews second place, Rip Williams.
Following his interview with Mike Kirby, who placed third.
The photographers await the top three to get their podium shots. From right to left is Steve Curtis (Raceimages.net), Stan Junior, John Meirhofer of Racing Photos, D. J. Renwick (R.I.P.) and Mike Arthur.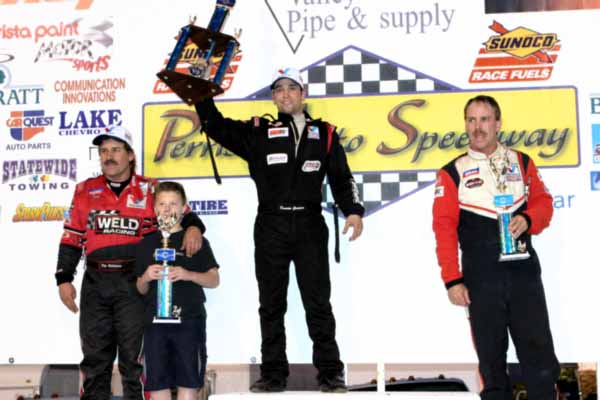 Rip with son Logan, Damion and Mike. What a show these three put on!
We caught up with Mike in the pits and presented him with a beautiful trophy, courtesy of Tracey Johnson. Mike was honored as the 2004 "Wagtimes Most Popular Driver."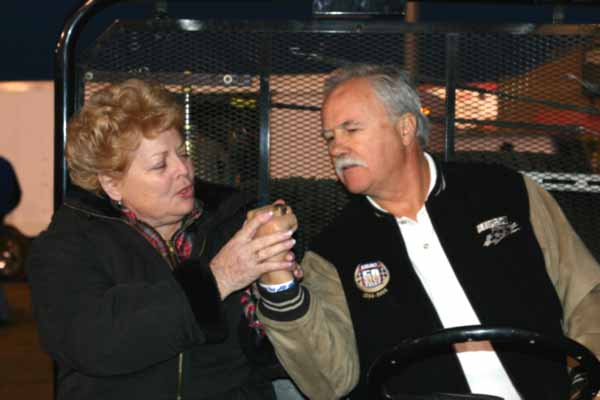 Ooohhh…that's pretty….Sharon Jory, owner of the #3 car, checks out hubby's 2004 championship ring…no, I didn't hear her say "where's mine!" It's wrap for the first Perris race. The wonderful cloud cover that made for such a wonderful racing surface didn't do justice to all the pictures, but there'll be more next time out! Have a great week!
March 5th at the PAS.
The Hillberg crew gathered around for a photo op (those who were available). From left to right, Brad Russell, "Okie," Ronda Hillberg, Dan, and Dan, Jr., who is rapidly outgrowing dad! Dan is holding the Wagtimes Beat Appearing Car Award for 2004. A special thanks to the Hillberg's and all the other teams who constantly strive to put a beautiful car on the track. We fans truly do appreciate it!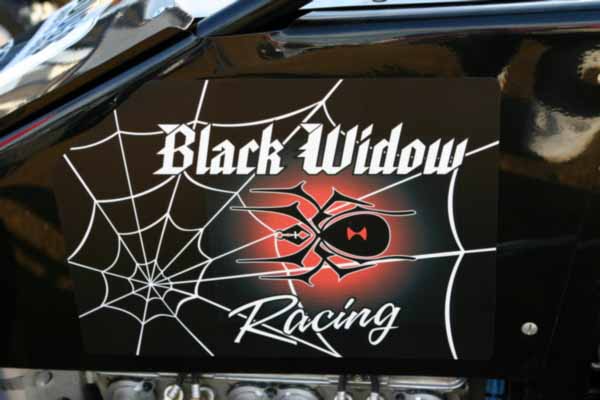 The "Black Widow" racing team logo has been updated and looks sharp, if not a little scary!
Ron Chaffin relaxes and watches his crew scurry around the pit working.
The Racing Optics #17 driven by Seth Wilson gets its turn on the scale.
Damion Gardner poses with the trophy girl, who was gone before I could get her name. Damion put on quite a show, as did Steve Ostling and Mike Kirby! If you chickened out because of the weather, shame on you. What a great race!
March 12 at Bakersfield
The "Smiley twins" were already out of the hauler by the time the Wagsmule was unloaded and our pitwalk began.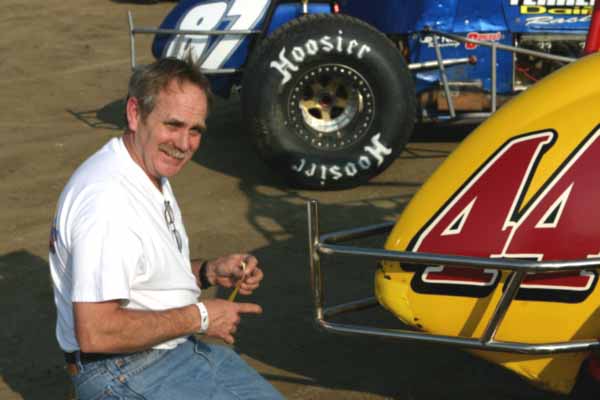 Mike Spencer, Sr. gets the #44 car ready for his son, Mike, to wheelpack.
Danny Sheridan looks over when he sees the camera – I bet he's smiling behind that helmet!
The Stewart crew gathers around the #85 car with young Matthew at the wheel, as it comes back in after wheelpacking.
Hal Engstrom hops on his quad to make a run for parts.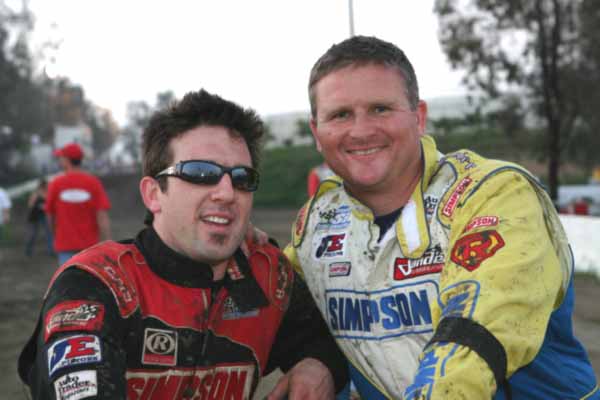 Seth Wilson and Rickie Gaunt ham it up for the camera!
Wags came out of the press booth during intermission to find our long time friends, Harold and Alice Hubbs in the grandstands. They were in Bakersfield for the drags, and decided to stop by for some nonwing sprint car action!
Cory, Carri, Carol and Glen were very happy to be in victory circle after a great race by anyone's standards! That's it for this week!
March 18 at Manzy
Father and son, Ernie and Alan Ballard are hard at work already.
The Chaffin crew gathers around the #50 car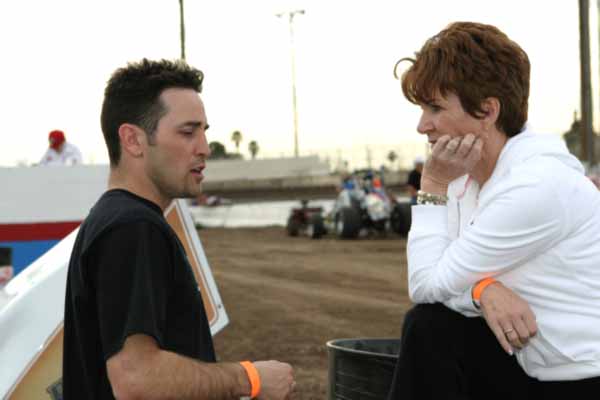 Terri Bliss listens attentively to Damion Gardner – sorry no audio included with this camera!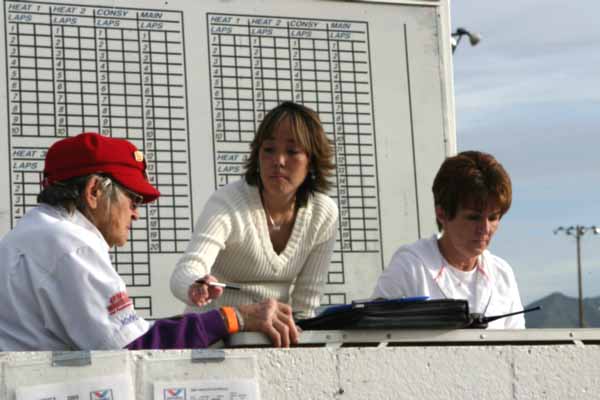 The work never stops in the pits before a race. Evelyn, Julie and Terri are getting ready for the evening ahead, while hoping it doesn't rain.
Rip Williams crew goes over the car before the main event. He got on the podium and was close to his 100th win with second.
Josh Ford is buckled in his 73 car while girl friend Wendy urges him on to do well.
March 19 at Manzy
Young R.J. Johnson is always happy to be racing. He admires the big boys of USAC/CRA and that's why he wants to run with them. He missed the main on Friday, but ran 11th in the big 40 lapper. Good Job R.J..
Bobby Cody's crew works on the car before qualifying. He ran a strong 6th on Friday, then got caught in the two stop rule when he had a flat and they flipped it over lightly when a car in front of him went on it's head. Not hurt and sorry he didn't get to restart.
Mark Thrasher and Doris Clark generally discuss Jeremy Sherman's progress on the track. They are all thee related, so it's a family thing.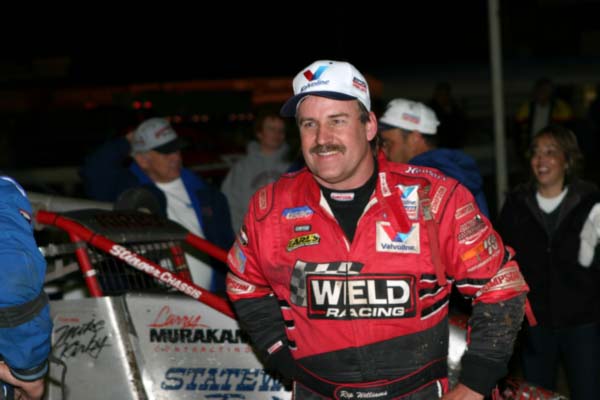 Rip Williams making the podium for the second night in a row.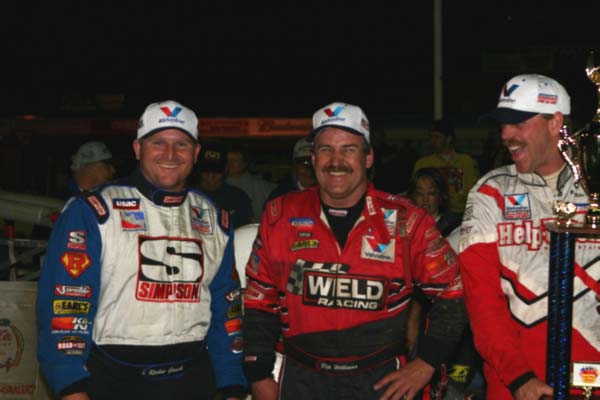 From left, Rickie Gaunt (2nd), Rip Williams (3rd) and winner Mike Kirby share a laugh on the podium.
March 26 at the PAS!
Sandy, Joseph and Tanner were in the pit booth to sign everyone in beginning at 2:00 p.m. They always have a smile as the crews check in each week.
Buffet Benny continues to work hard on his race car, both at the track and back in his Las Vegas shop. Ben just wants to have fun and win a little. He welcomed Bobby Graham back in the seat of the # 14 car this race and they had a pretty good night after two years waiting for his return. Bobby later got out of the seat to continue Helicopter school full time and Adam Mitchell jumped in for a few weeks. He then reretired and Jordan Hermansader and others finished the year in the # 14 seat.
Five time CRA Champion, Jimmy Oskie, left, shares a moment with PAS announcer Scott Deloisio in the pits as Mrs Wags walks around looking for "subjects".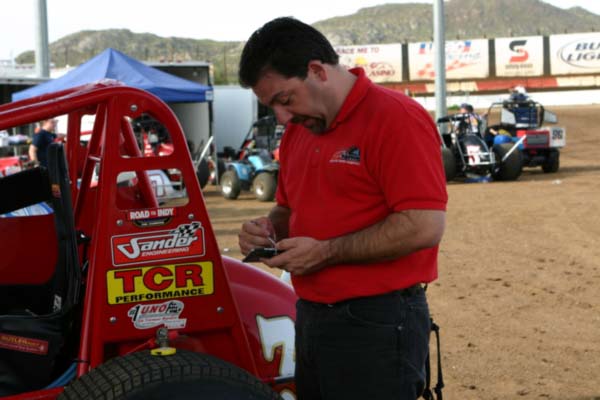 Mike Nigh, crew chief for Cory Kruseman in the # 38 car, is back with Cory after a two year separation. Cory drove for Harlan Willis until he went to Indiana and there drove Tony Stewart's car. When Harlan decided not to race this season, Mike got back with Cory. They finished 2nd in points.
Alan Ballard gives a big smile as he is always ready to give Mrs Wags photo ops.
Tony Jones is chasing the winner's circle very hard. He has his new car going faster each week and was eighth this week and looking for more. Great attitude each week as he is ready to win!
Mike Kirby moves around towards his pit after mudding his ride on the track.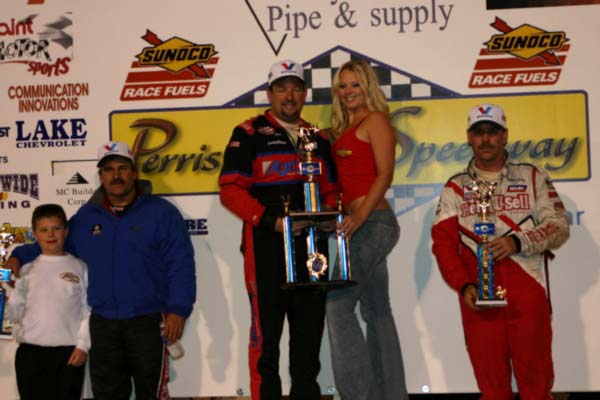 The podium includes Rip, Cory and Mike.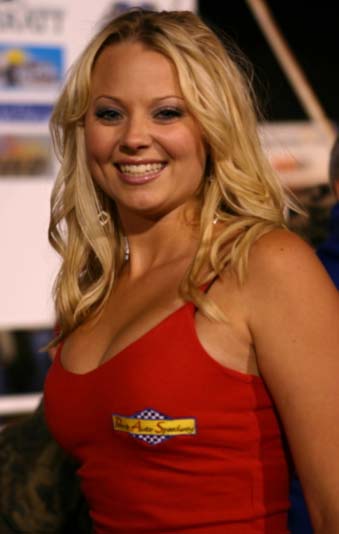 What can I say but The End!
Perris on April 16.
Richard Watkins reluctantly poses with Danny Sheridan after Danny called his shirt a soccer shirt!
The Gardner brain trust is gathered around the newest Sled Chassis that has new features that this un-mechanical soul can't tell you about. One look for most will give you a clue that it is totally different from previous models.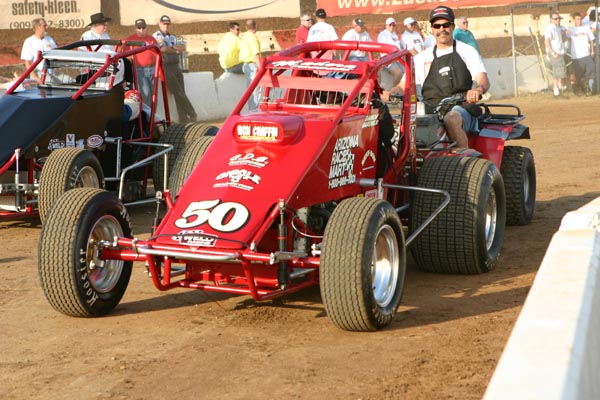 Another view of the 50 car later in the afternoon as Eric Kaufman pushes it to the pushoff area.
Nadine Keller is all suited up and ready to push off.
Adam Mitchell was seen in the pits this week. His smile and easy going attitude is missed.
The many cars waiting to push off for hot laps makes a beautiful sight.
The Warbird of Seth Wilson is ready to aim his weapons at the Perris track.
Steve Ostling and wife Shelly are intent on the pit news.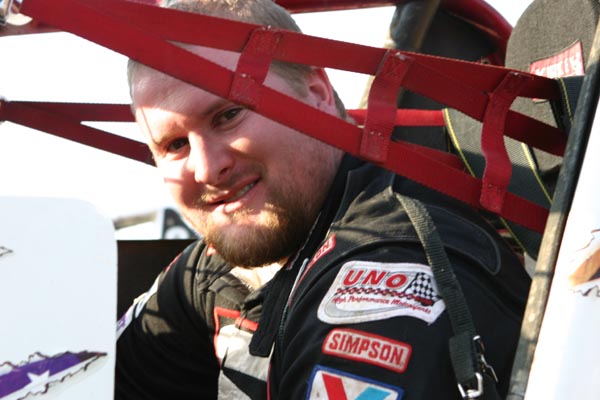 Ronnie Case really wanting to do well after his rookie season, but he hasn't hardly got settled in yet.
The demon all suited up for action.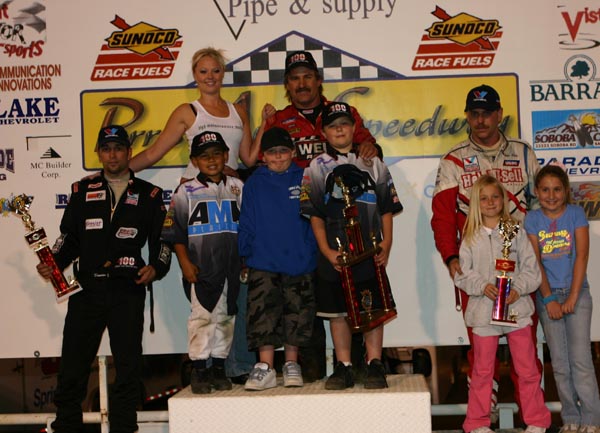 The podium trio of runner-up Damion Gardner, left, third place Mike Kirby, right, and winner Williams in the middle.
Rip is at his happiest time here with the big win. Note the hat!
April 30 @ the PAS.
Drake York, son of Jason and Julie is contemplating what's going to happen next with the tall tires he wants to play with.
Jimmy Crawford was back at Perris with some "tricks" he said he learned from his near win at Ventura last week. He made the main and made a good run on the night.
Rickie Gaunt gets close to teammate Charles Davis Jr before the night begins. Charlie got 5th while Rickie was whacked out of a chance for the main twice!
Okie corner happens when Toby's dad Tommy comes to town. Here they try to imagine Mrs Wags is taking this photo, but maybe next time.
May 7 at Ventura.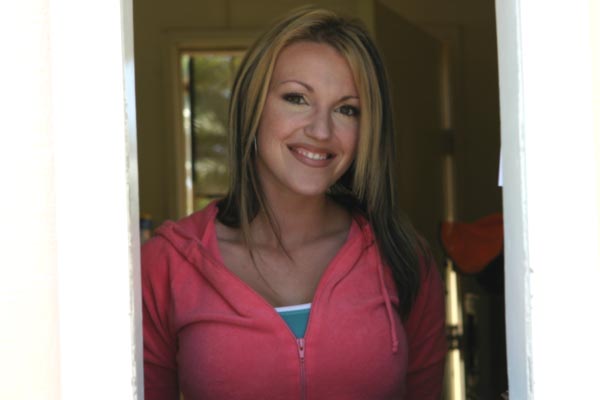 A pretty face greets you at the sign-in booth to the Ventura pits each week. Amanda is a doll with a greta smile.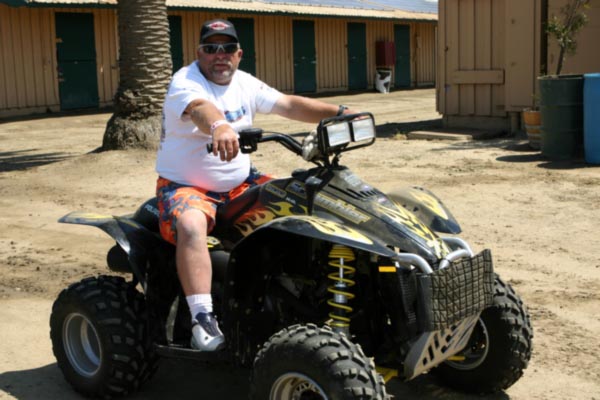 Brother Brett makes time on someone's quad? He was around stirring the pot as usual.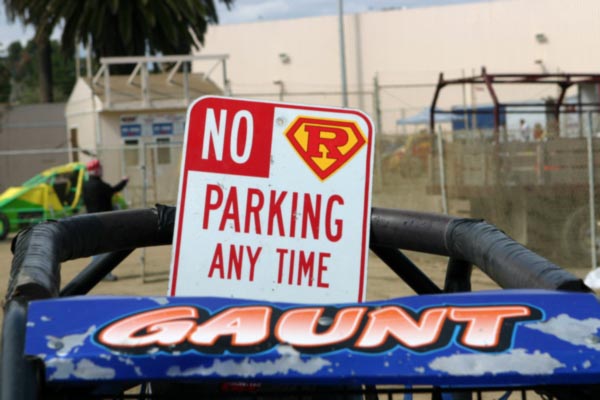 If Super Rickie is a part time cop, who gives who a ticket here? Always around the action, Rickie was MIA when this bit of fun happened.
Tony Jones is putting on a Wagtimes sticker, can you believe it? The honor is mine Mr Jones, and we thank you. He finished sixth on the night.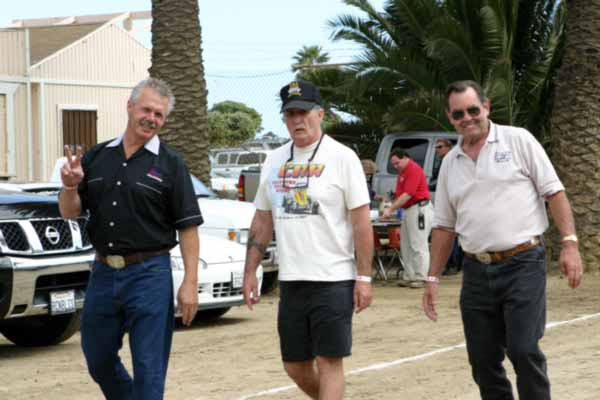 John, Don "THE" Barber and Trucker Frank make the flight down from Petaluma a fun one. Long time no see as they had a 6 am flight back home in the morning and missed a fun after race feed.
A big smile from Damion to Mrs Wags after winning again.
The awesome Rip "100 wins" jacket is special.
Manzy May 21.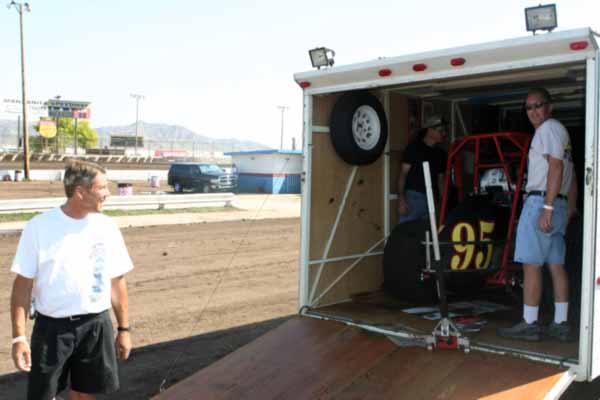 The Williamson brothers, Gary and Keith, were out early to unload Keith's #95 car. Always a pleasure to have the wonderful guys among us!
Their car is really sharp looking.
Jimmy Drinan (91) and Chuck Buckman (61) drove the Lowell Carsten cars on this night.
Charlie and Gayle Davis get close for a photo op before he climbs into the Smiley #8 (and finishes 8th!)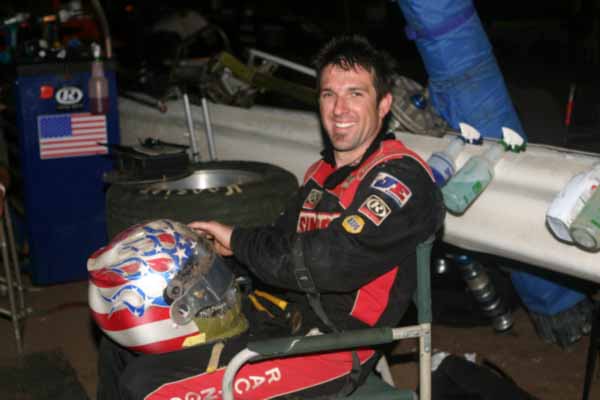 A smiling Seth, adding tear-offs to his helmet.
A proud Bruce Bromme, Jr. shares the limelight with Damion.
May 28 at the PAS for a Salute to Indy.
An interesting scene greeted us when we went into the pits this day. The Glenn Crossno trailer was in the process of unloading. Glenn stands back beyond the rig while Crew Chief Mike Nigh is halfway down on the elevator bringing tires to the work area.
Mike and Nan Arthur are in a picture for a change. Their outstanding photo work is known all over the country. It isn't often you see them not moving in for a shot!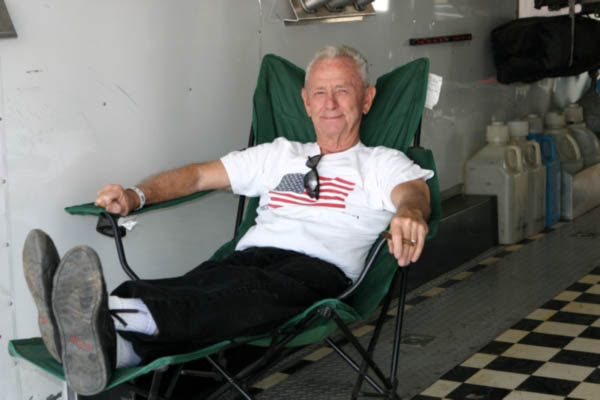 Jack Gardner Sr is contemplating all the work the Gardner family will do this race.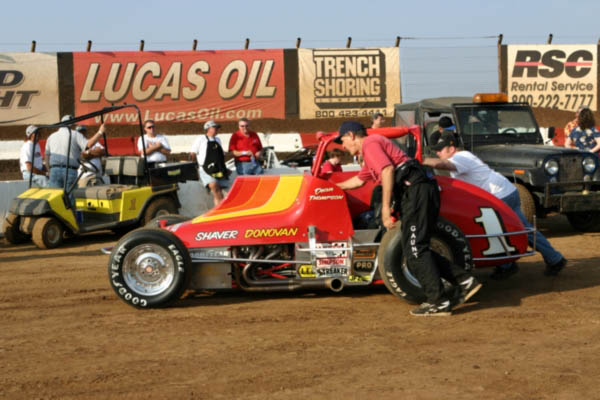 The Bromme number 1 car is still awesome! Jimmy Oskie chauffeured it around for a few laps this evening to the delight of the admiring crowd.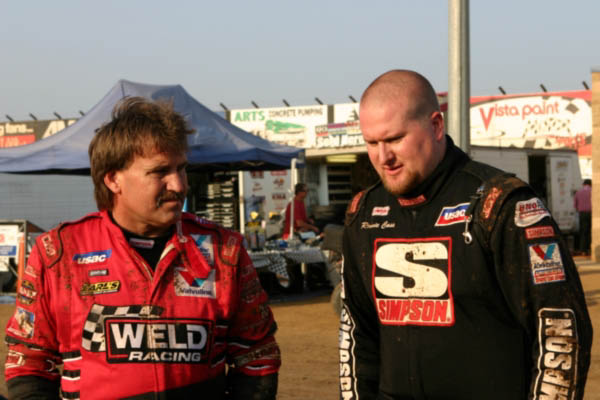 Rip and Ronnie case have been friends a long time. They are seen together a lot at the races.
It just seemed like this was the attitude the # 18 car of Danny Sheridan was in most of the night. It took a long time to rebuild after Danny hit the wall in qualifying, but he started last in the semi and transferred. In the main he was on the move getting into the top 10 before a drive shaft piece broke and took him out.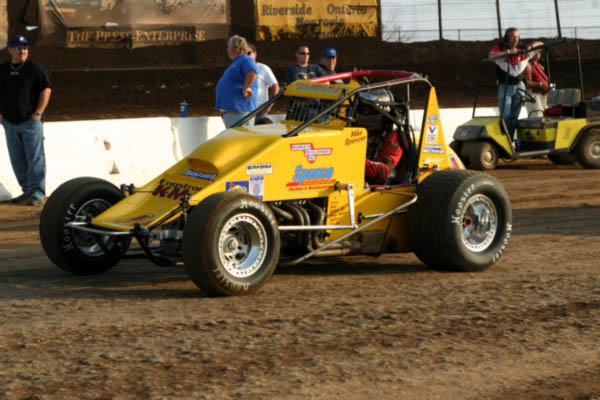 The new/old Maxim chassis that the team built for Mike Spencer this week was a 4 bar car and was already faster than the former coil over they were trying to make work. He made the main easily, but before the 2nd attempt at starting the 50 lapper, he pulled in done for the night.
The podium three Rip Williams, Cory Kruseman and R.J. Johnson.
Hanford on June 4th.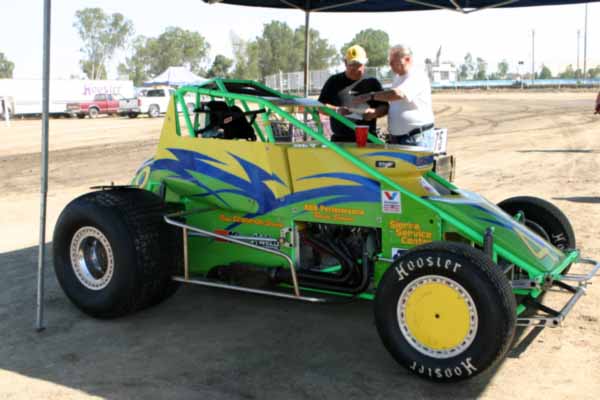 Ray Stansberry looks at pictures, while the car his son Tom drives sits ready for action under the canopy.
Nellie Stansberry, USAC official scorer, and Julie Shiosaki, registrar, do their work during the pit meeting.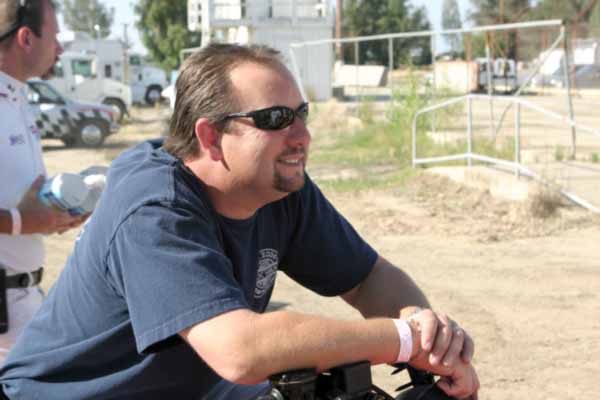 Fresh off his Perris victory, Cory Kruseman is relaxed as watches the pit meeting going on around him.
Jim Wolfe (almost unrecognizable without his mustache) hams it up with Mark Alexander, who tried to duck out of the picture. Randy Shiosaki succeeded in stepping aside quickly enough to keep from being in the picture!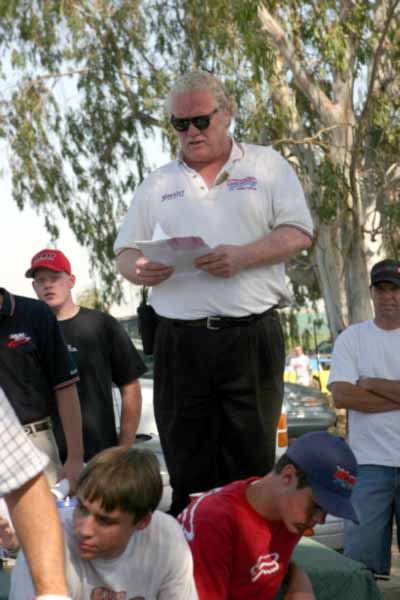 Dave Swindell was "up first" and I mean literally "up!" Instead of holding the pit meeting in the hot sun in front of the building where the officials hang out, the meeting was held behind the building, and Dave stood on top of a picnic table while he talked. Hmmm, wonder where he is now?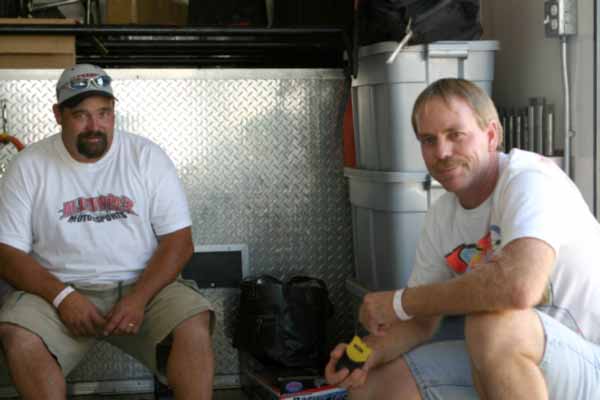 Inside the Alexander Trucking trailer, Steve Alexander and driver Mike Kirby visit.
Now that he's not a car owner, Bruce Fischer is free to roam from pit to pit having a good time (for a lot less money!). He visits with Ron Chaffin, Ray Vodden and Don Read – they got quiet when I walked up, so one can only wonder what they were laughing about!
Damion has his "game face" on as he straps into the #50 car to wheel pack and hotlaps.
Peter Murphy shows a big smile in the Dorathy # 21A early in the afternoon.
Car owner Hal Engstrom pushes his car to the push off area. You can see the main grandstand in the background.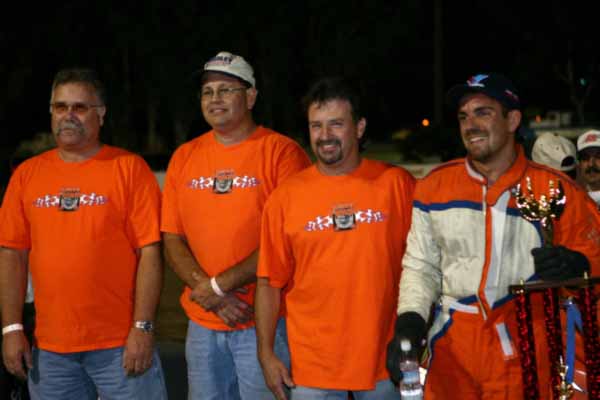 Ricci Faria, the winner of the Main Event, is happy here. It was Ricci's first ever 410 win!
Perris June 11.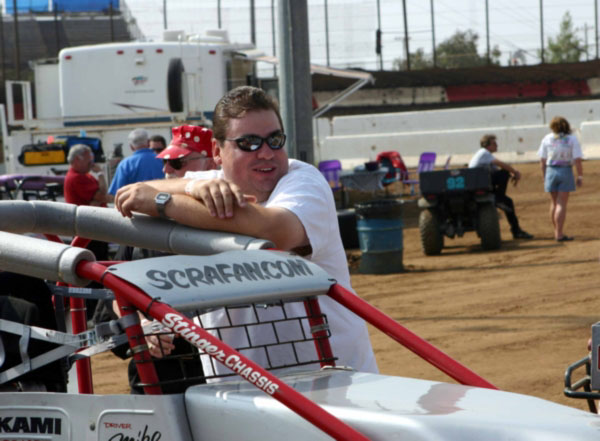 Lance Jennings leans on the Mike Kirby driven # 4 car that he is enjoying being part of the team.
"Mr Tire", Jim Wolfe, spends a lot of time with rubber things. Is this what they call a fetish or is Kirby lucky to have him? I suspect the latter, but ……
Randy Waitman, driver of car Y69, didn't believe Mrs Wags would put this one up!
Larry Smith catches a few winks before Ripper's motor heated up.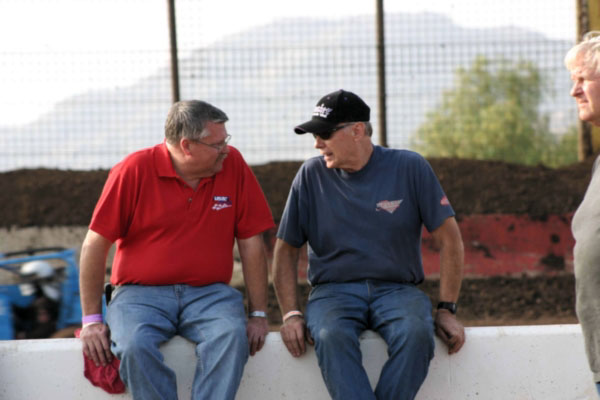 Glenn Crossno, left, and Paul Dean are chatting about Snap-on Tools, probably.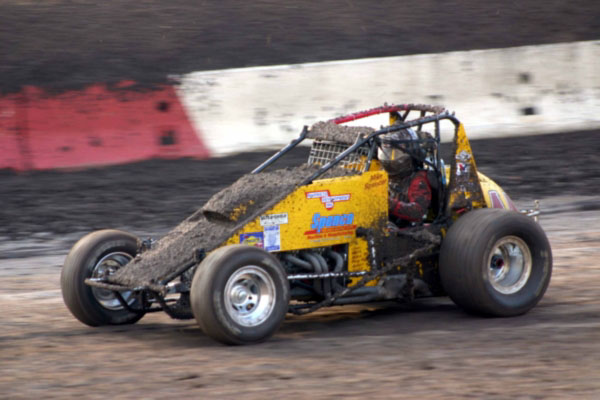 The muddyness of it all. Packing the track means scraping the results off the cars later.
Johnny Rodriguez piloted the Priestley #W 7 again this week. He was 13th as he stayed out of trouble and finished the race.
Jeff Shaver and girlfriend Michelle can usually be found in the pits.
Linda Williams helps her son with something. No, it is not a hold up.
Crewman "Rock Star" Jon works on the blue car of Super Rickie.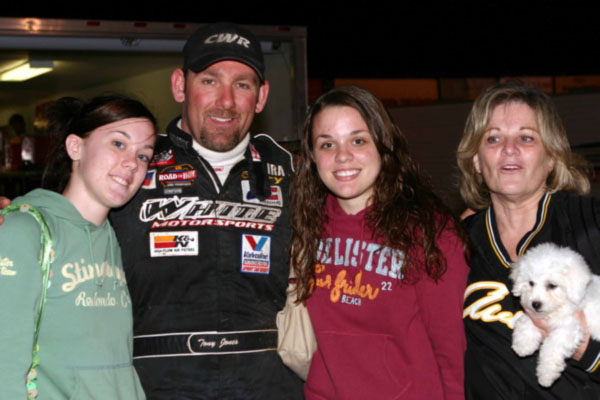 from the left Jessica, Tony, Emily and Patty, the Jones are back in town.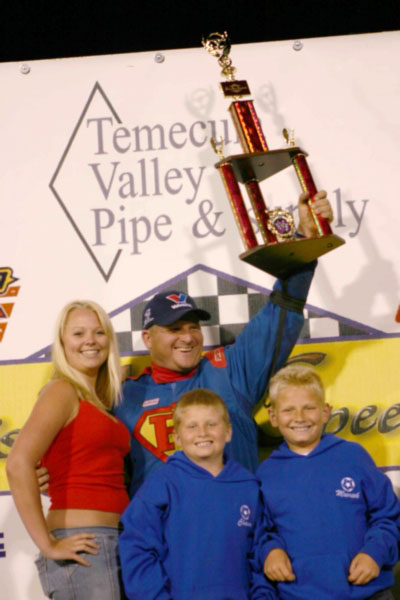 The winner's circle has Rickie sharing it with his boys and Carly the PAS trophy girl.
June 18 @ Santa Maria.
The pit sign in booth awaits the customers that are anxious to get signed in.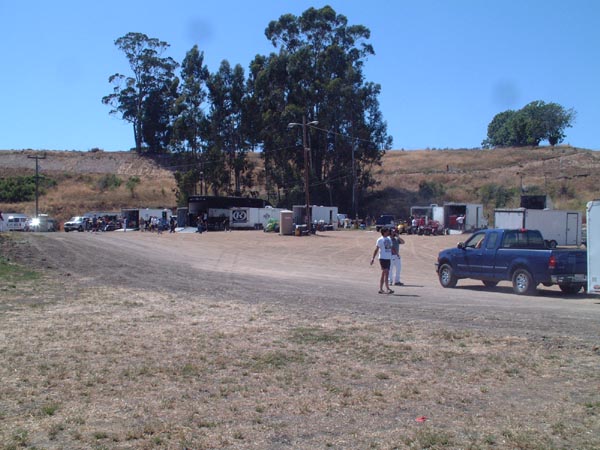 A view from the parking lot showing the slight incline, a much improved pit area since our last visit.
Tommy Hunt, Terri Bliss and Evelyn Pratt do the USAC thing.
Glenn Crossno pushes his # 38 car nearer the back of the trailer before his driver and crew chief conveniently arrived right after all the unloading was done.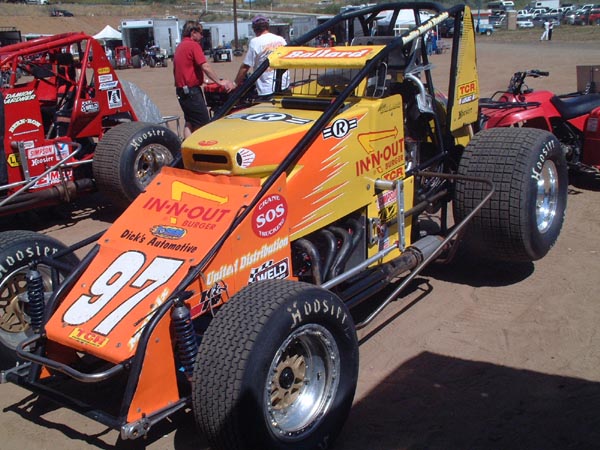 Alan Ballard's new sponsor, In -N- Out, is clearly on the hood of his ride.
Mike Knopf has brilliant colors on his sprinter. He was out for only his third race of the season after suffering some motor problems. He was 12th in the main.
Danny Ebberts came to play this week and finished 5th for a great job at Santa Maria. Rickie Gaunt won this one.
Perris on June 25th
Remember how great trailers look with racing graphics? It's not like we don't know what's inside these trailers, but many owners think by not showing what's in there on the outside, it will deter any looting. Who knows, but this is hot looking!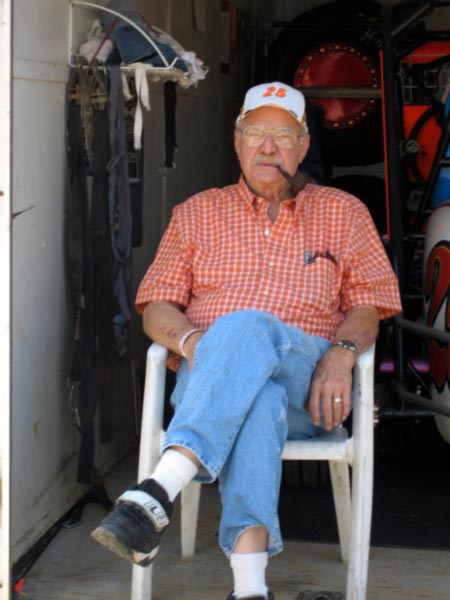 This man has been around a long time, Jim Ruth, he and his pipe. He and Petie have been supporting racing it seems like forever. Jimmy Thornell drove the bright # 25 to 13th in the Main Event this week.
Ready to rock and roll, the Cowboy Tony Jones did himself proud this week. He won the dash and finished 2nd.
The Demon visited with Wags early on in the afternoon before he got serious. He once again set fast time for the 13th time and won his 7th race, but not without some controversy.
Here is Bobby Cody preparing himself for his night of racing.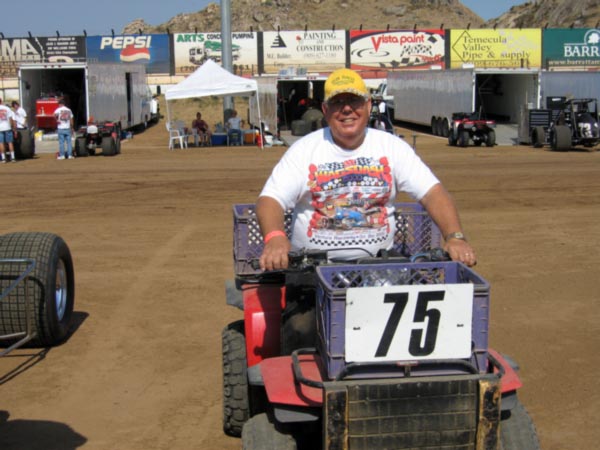 This man. Ray Stansberry, is always smiling, and why not, look at the outstanding shirt he was wearing for luck? It must have worked, his son did his best job yet in the Mopar car of Ron Bach's with a 4th.
A great line of cars getting ready for their time to fire off.
Mike Kirby lines it up.
Richard Rose on a hot one.
Jimmy Thornell cuts a smoky pass.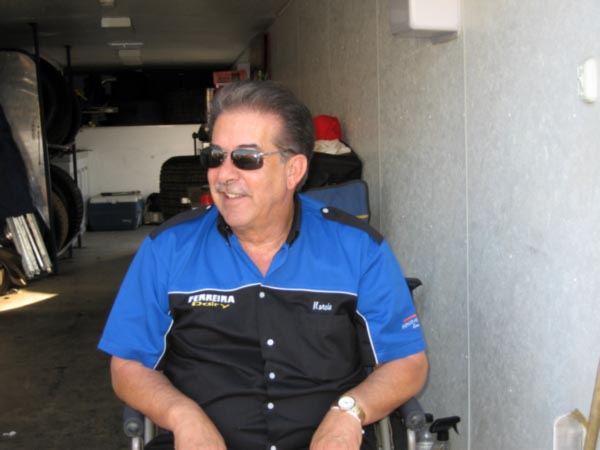 Narcie Ferreira waiting for the podium dance he will do later.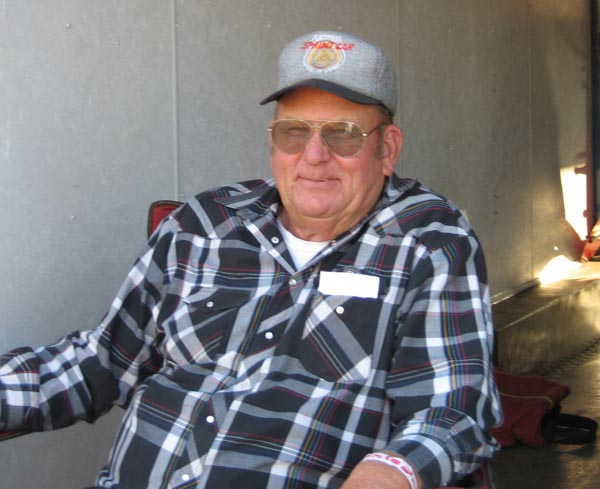 Buzz Shoemaker sits in the trailer waiting for the fun to come.
Wags at work in the press box? He retired at both his job and the pressbox work, yippee!
Mike Kirby and Tony Jones waiting with the trophy girls for Damion to arrive after his 7th win of the year.
Firecracker 50 @ the PAS.
It took some doing but Mrs Wags finally got the yellow clad Matt Stewart team together for a historical pic. It took a try or two, but got done. Matt missed the main this week, but noted they made a lot of changes to his Ellis race car and were ready to move forward.
Greg Bragg's new ride has Jimmy Evens wife, Sherri, sitting in it. He finished 14th in the main after qualifying thru the Semi.
J Hicks leans on his # 66 race car. This team has to save the bucks up to get to race. They were off for a while and he just missed the main this week.
Dan Hillberg's number 82 was back for the first time in many weeks. He wasn't real lucky this week and retired in the semi after a meeting with several other cars that left his car unraceable this week.
The view coming in the front spectator gates towards the track. The fans packed the area for over an hour.
Mike Spencer and his car. He came from 12th to fifth on a great run.
Nadine Keller gives her best smile to the fans. What a fun lady and she can drive too. Seat time will continue to make her better and better.
Josh Ford made some great moves in the main and ended in ninth.
A zoomy shot from same location.
Doug Allen is getting a snack before getting serious with his picture taking.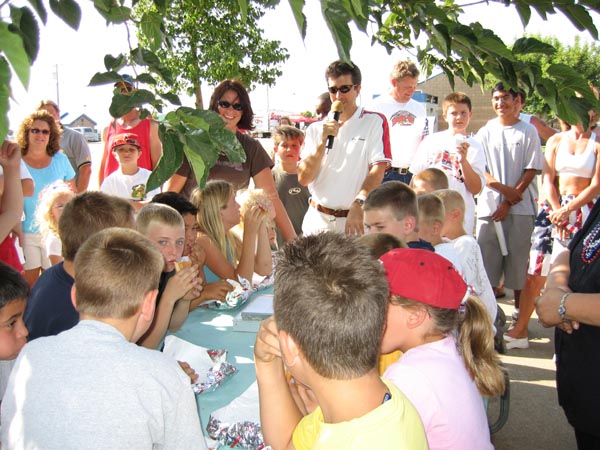 Scott Deloisio takes care of the kids games out front.
Renee and Petie Ruth in the # 25 trailer relaxing in the warm afternoon.
Charles Davis Jr has his sock on ready for the helmet as he buckles in the Smiley racer.


Verne Sweeney returned to the wars for one race after two years absence with USAC.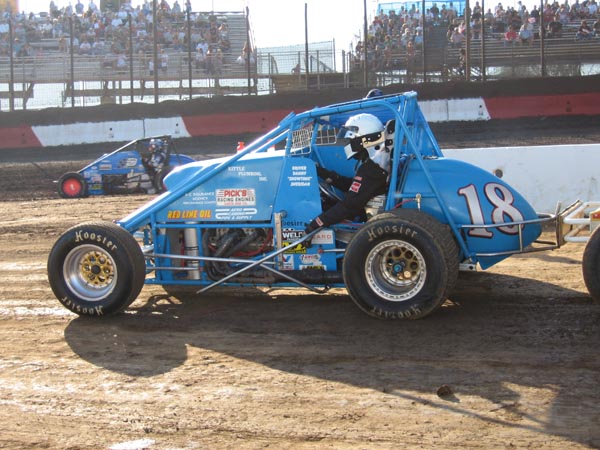 Danny Sheridan had his best night of the year with a 2nd place finish.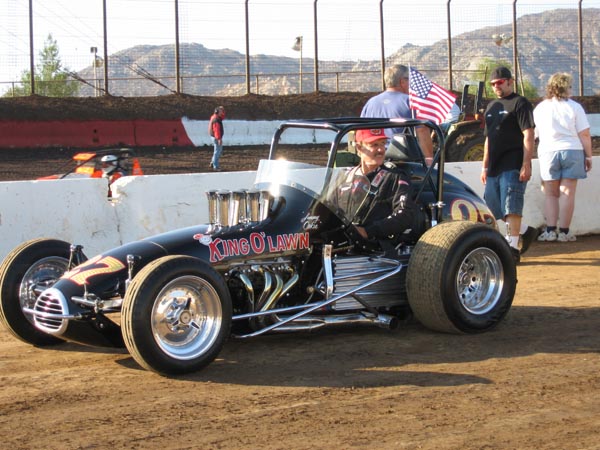 The King "O" Lawn car is a beauty. Once owned and restored by Buzz Shoemaker, it belongs to Duncan Edmunds family and is driven by five time CRA champion Jimmy Oskie. Duncan passed away in September.
The sight of American flags flying in the grandstands gives me a chill.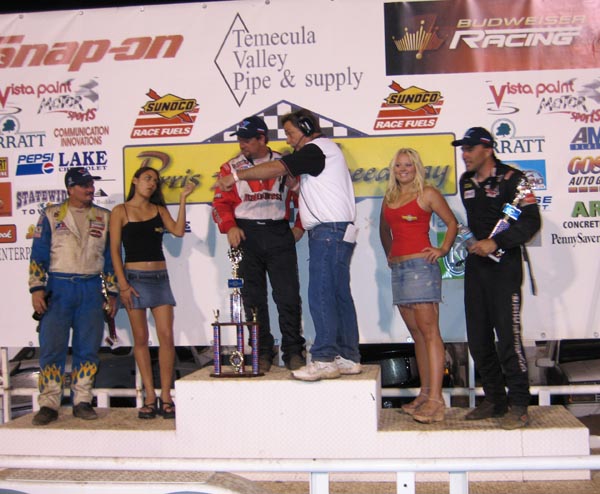 The podium scene with Cory, Ostling and Sheridan celebrating.
Fireworks ooh!!!!!
July 23 @ Perris
The Alexander Brothers, Steve and Mark, help J Hicks on his race car. Hicks once drove for them and won a Wagsdash in their car. He ran 19th in the main, pulling in early. The team will tow to Skagit.
Troy Rutherford and is mom, Sheryl, are racing. Troy's wife was home overdue with their second child. He said he duct taped her up and came racing. He ran in the top five most of the race and finished 12th at the end.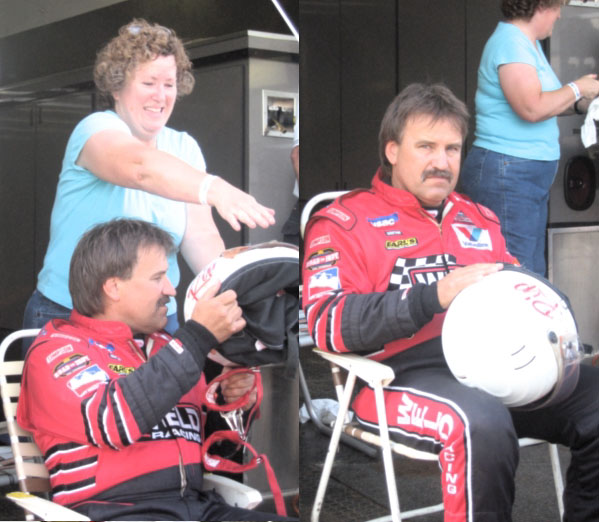 Rip Williams gets his helmet ready as Sylvia Watkins assists him.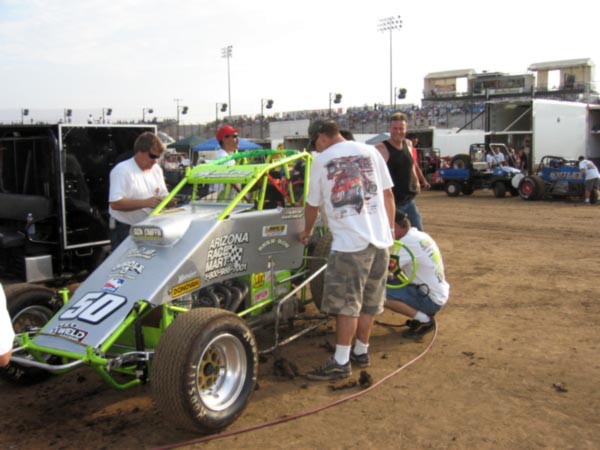 Damion drove a familiar car from days gone by. He did "OK" on the night as the crew surrounds the car setting it up.
Jeff Christianson does great dvd's of USAC/CRA racing.
Super Rickie and Scotty haven't recovered yet. Rickie is saying "did you see that?"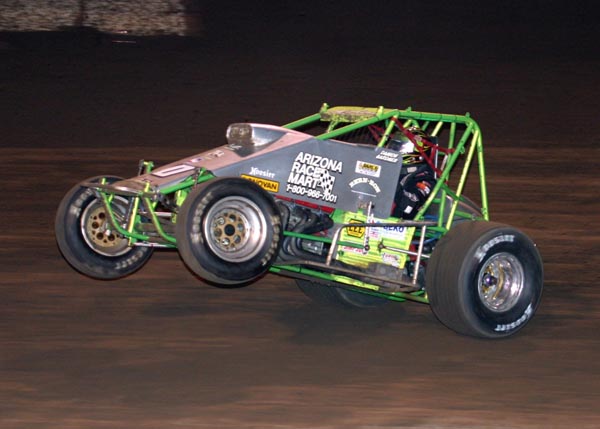 How bout this wheelie? Photo by Doug Allen.
Perris August 6
A thinner model of Okie Sampson is working on Dan Hillberg's car here. He likes to do this stuff for some reason.
Jason York's Joe Chicago's sponsored car ran 2nd in his heat and then got whacked in the main ending his night in 18th. It wasn't his fault.
Nate Ziegler returns after a layoff to drive the family car. He is in the middle of the crew posing here with dad Ziggy, from left, Riki, Nate, Craig and ?????.
Jimmy Evans was so ready to race this week, but the car wasn't. He never made it on the track to race.
The 45 car had Jim Wolfe and Paul Dean looking to help it.
Cory gets buckled in as Mike Nigh looks on.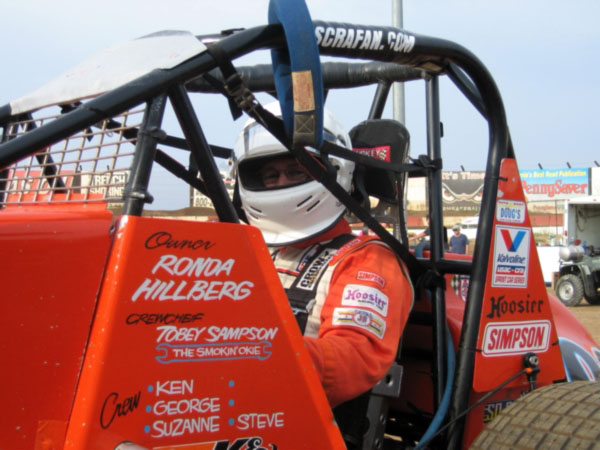 Dan Hillberg suited up and ready to rock and roll.
Rippers crew swarms the car for adjustments before he gets pushed back out.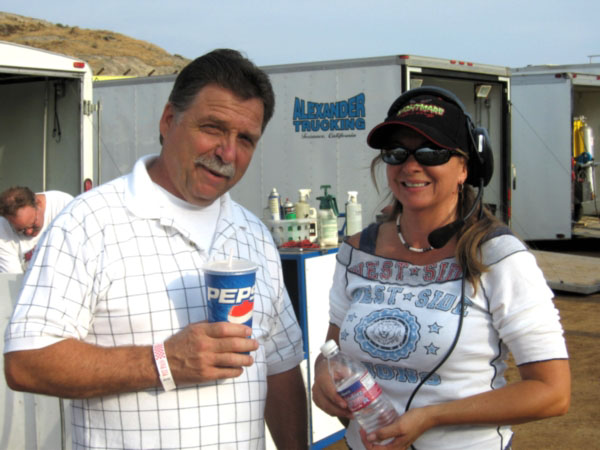 Infield announcer's Chris Holt and Ronnie Everhart. Chris of course has been doing this forever and Ronnie was a champion stock car racer until she got this gig.
Mike Nigh's son Cody poses with Casie Kruseman and a little "rat dog". I can't spell chew-wow-wa.
Seth Wilson and daughter Julia pose after the race.
August 20 at Perris
Jack Jory's show car has it's own little trailer. The car is use for many events to advertise sprint car racing and Rip's championship. It will soon be used by the racing reverend Joe Bubbico to enlightened kids in a show and tell presentation he will be doing in the southland.
Wilma Kindall and Evelyn Pratt share a new shade tree, perhaps it's more of a beach thing.
It must be a Gardner sighting. Ronnie, Chet and Jimmy must be getting ready to do something cool.
Big Jon is one of the sponsors of the # 4 car driven by Mike Kirby. Here he rests up for the night.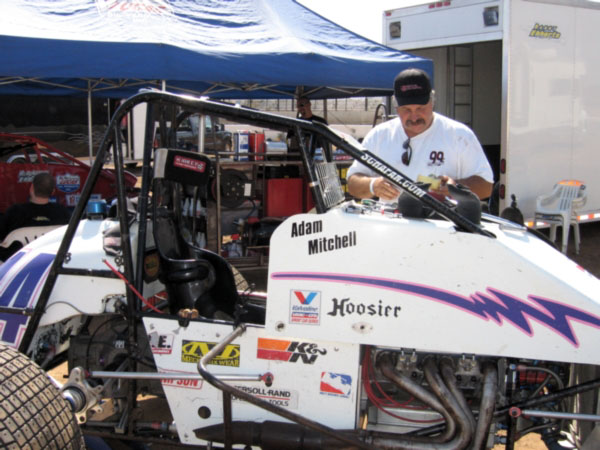 The Lancaster number 14 now features Adam Mitchell in the seat. He hit the trailer early when an incident folded his front end down.
Here is Jack Gardner Jr telling Ben about how to 1) find good tacos, 2) get good fuel mileage on the hauler, 3) win the Oval Nationals or 4) all of the above.
The Hillberg family reunion took place in the pits today beginning with the starter of it all, Ken. Nick and Dan jr belong to Dan with the boys half brother Chris, by another father, join Dan and Ken at the races. It was Chris's first race.
Glenn Crossno isn't shy about working on the car. In fact he is so focused he doesn't have time to play with us media types when his car needs work.
What are David Cardey's parents up to here? Does Joyce have a use for the scissors, and is Jim going to make it thru it?
Buzz Shoemaker, right, is chatting with Troy Cline, one time local sprint car driver, who comes back now and then to race. He lives in Mooresville, NC and loves it.
Julie Shiosaki stopped to talk with Wags before he had to head up to the tower.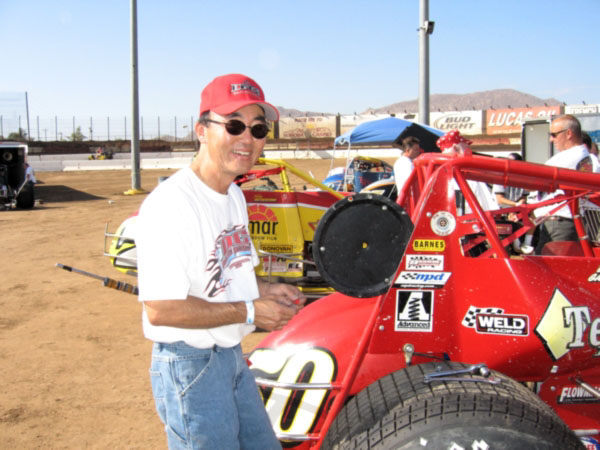 Gary Tanaka, Julie's father, continues his long time support of the Bromme legend that is still going. One of the nicest men in the pits, he always has a smile win or lose for us.
Dan Tedrick is a very nice man. He looks a little focused here and is probably saying lets go racing!
Tony Jones with that look in his eye. If he could just put 30 laps in a row on the track, it could be a great night for him.He is the model driver who deserves Wagsbucks.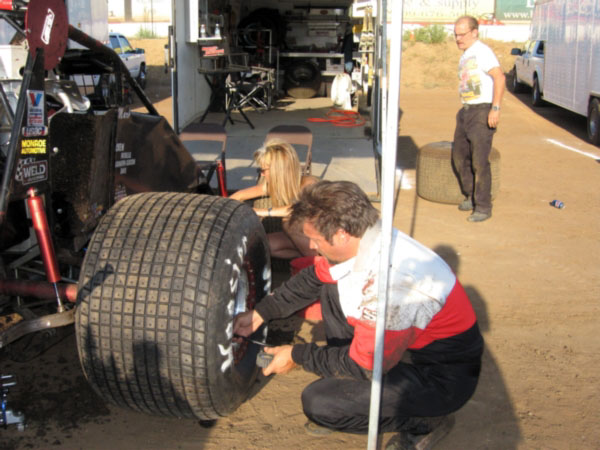 Mark Heidenreich is working on the car here. He made his second feature in a row.
It looks like a party on the PAS podium. An emotional race for the winner and the Bagley's who presented him an extra $500 on the podium.
Some Wagtimer's caught me in the pits because I don't get to see much of them any more. Krista, Wags, Ashley, Sonia, Lauren and Tracey are talking about the chili already.
Santa Maria 8/27/05
Danny Sheridan was relaxed during the afternoon. He was going for it later in the main until a spinning car took him and the leader out, egads!
Ryan Devitt drives this Jim Blenkarn owned car. Jim still likes to drive, but seems to prefer the pavement stuff.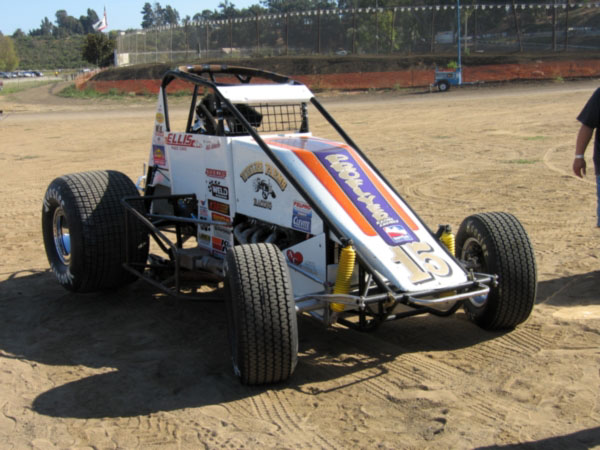 The Bobby Martin owned car has been a good vehicle for the young 18 year old R. J. Johnson. He is improving fast and will likely be someone to watch out for in the near future.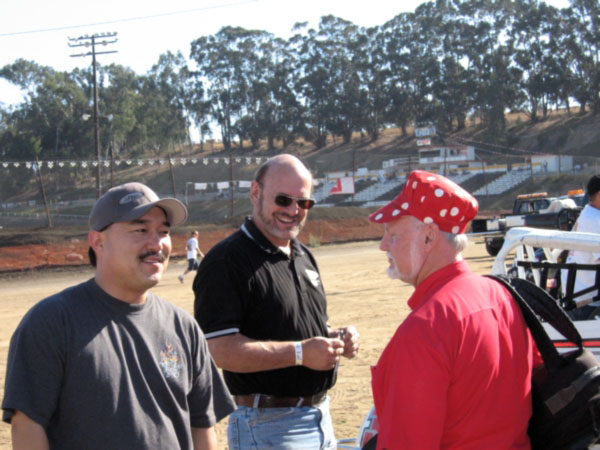 Randy Shiosaki and Jim Blenkarn chat with Wags about things early in the afternoon. Randy might be interested in getting back to working with another team in the future, but is not ready just yet. Jim lives just around the corner from us and I still don't know why I don't go visit the engineer who works for Toyota very often?
"Slick" Mike Spencer is looking good in the afternoon, but the ride to the trailer after 19 laps was a killer for him. He was fine, but the car could not continue.
Rodney Argo had his best outing of the year with his fifth place finish.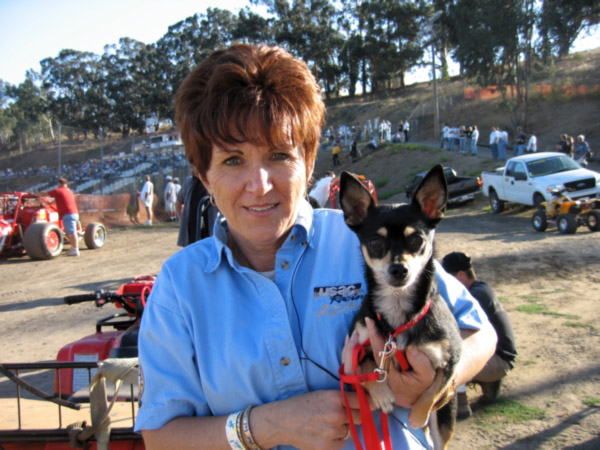 USAC official Terry Bliss with her dog Chili. They had a great weekend of racing.
Rickie Gaunt sawing the wheel.
The line-up to push off for qualifying is ready. <
Mike Kirby and the trophy girls on view.
The winning crew poses for their second time this season in the winners circle. What joy!
VRA @ Ventura Sept 2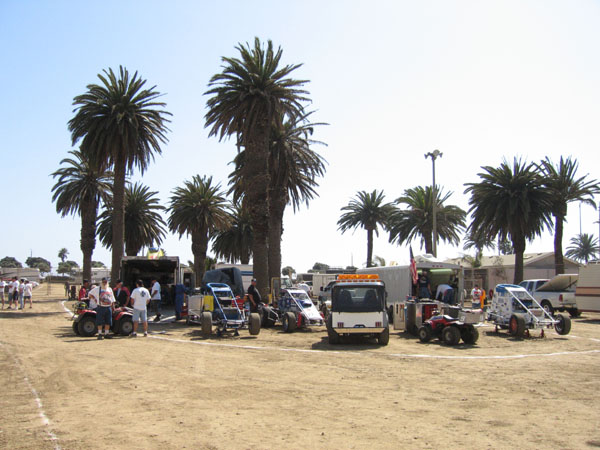 Always a pleasure to go to Ventura Raceway. I snuck off from my retired man house duties to see the first night of the VRA/Bandit two day show that will crown Peter Murphy the champion. He clinched the title after running at Hanford, Bakersfield and Santa Maria so he's here to prove he can do it again with two victories and a second place finish in the series. The afternoon was very pleasant and cool with nighttime temps a little different as I put on my jacket for the first time since April. Great fun this night as all the 40 plus sprinters qualified and then ran the 30 lap Agromin Challenge race in preparation for the Saturday finale. Rick Taylor took fast time with a 12.4 something, 2 tenths quicker than the next car and close to what the USAC/CRA boys will turn when they return there.
Brian and Richard Harvey Jr pose and squeeze out a smile. These two have seen a lot of racing together over the years.. Where was dad? Probably out selling chassis.
Camarillo colors included four cars for this event.
He was pretty busy putting ties on body panels when I came by and answering the phone.
Here are a few more of "Master Dirt Man" toys of Jim Naylor.
Peter is such a likeable guy. He got "lapcarized" in the main, but returned from the back for 7th!
Turn's out that the Black Widow Racing team showed up with this car for Blake Miller to drive tonight in the main. He would jump back into his dad's car for Saturday, but he started last and ended up fourth. He finished 2nd on Saturday night behind Garrett Hansen. He is the VRA points leader and was part of the answer to Loud Pedal's trivia question of the night. "what three drivers have won three races here at Ventura, and are here tonight?" Answer Cory Kruseman, Chris Wakim and Blake. The winner got a CD of the last race won by Greg Taylor and autographed by Greg Taylor. Mike Truex is the Loud Pedal guru.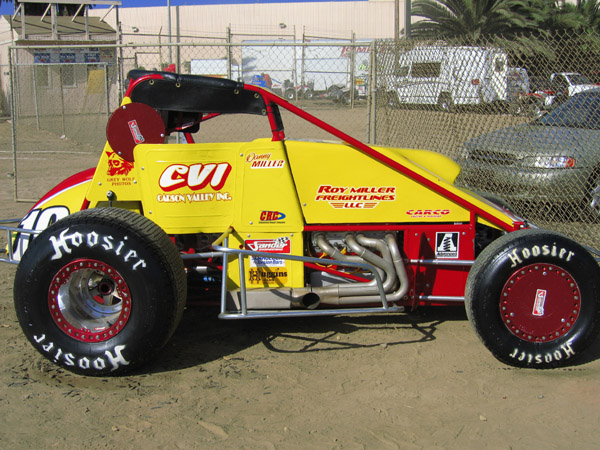 Here is Blake's dad's car that he drives and leads the points in.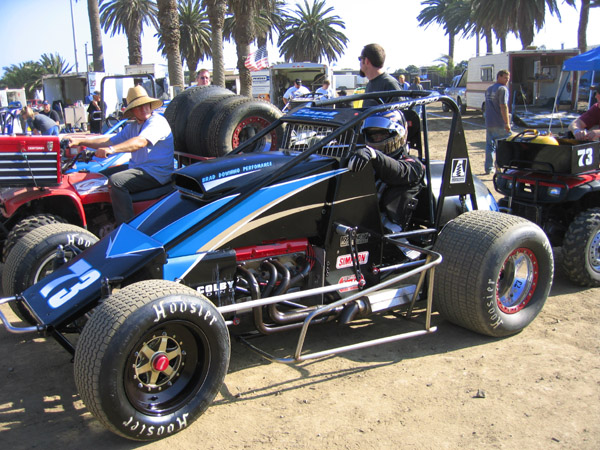 Josh Ford suited up and ready to rock and roll. He ran third in the main and had second for a brief second until a yellow sent him back. Great racing between him and Rob Hansen.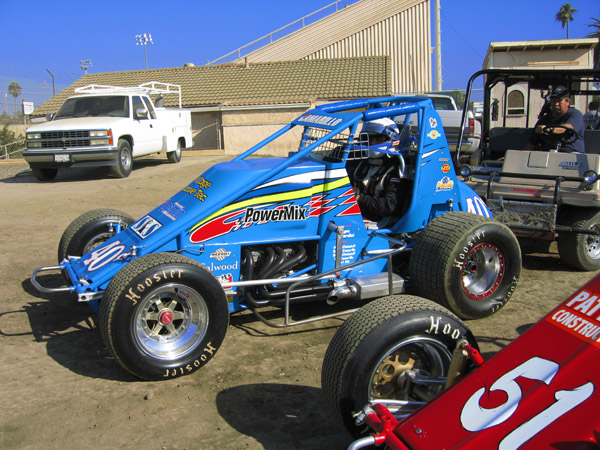 Bill Camarillo on the push off area.
Here's the view of Hobie you see the most, on her 4 wheeler. In Motion! She had to quit driving her sprint car for a while as she crashed it and has no money. Typical response from racers.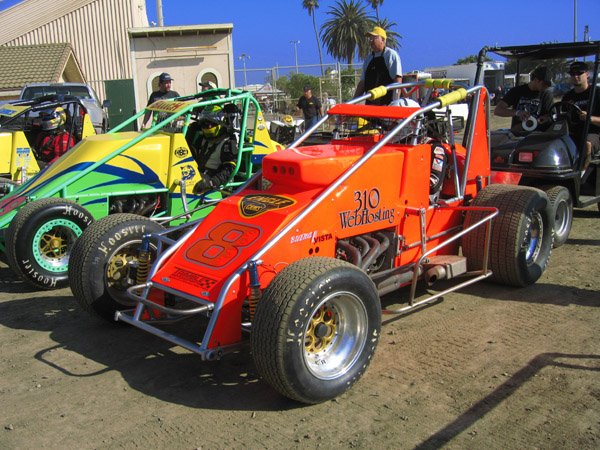 Ronnie Case's new car, so bright!!!
The cars line up for the feature.
Perris Sept 3rd.
The USAC work area for Terri Bliss and her many helpers including Wilda Kindall and Nellie Stansberry with Keith Williamson coming to check in.
"Wop" Mastroleo and his 2 year old Dauxie Kadi Mae. We have seen this little dog racing in the Ventura Raceway parking lot as a bunch of fans tried to catch her!
Greg Bragg is caught in the camera by Mrs Wags. That's Jimmy Evans back over his left shoulder and Jim Blakesley to the right.
The Williamson Brothers came from Phoenix for their first race at The PAS this season. Keith, in the middle, said they hoped to make the main. He got the last transfer from the semi and will get a check in the mail this week from the Indiana coffers. This is truly a low buck team and yet they race to have fun and could use some sponsorship!
Danita Cardey, David's wife, has a new shirt. I wonder what SteveO had to say about it?
Super Rickie Gaunt met up with Evelyn Pratt before the pit meeting. I guess Evelyn made a statement here. Charlie Davis Jr, right, is Rickie's teammate and had no comment at this time. Later he set fast time and noted Rickie was second to him!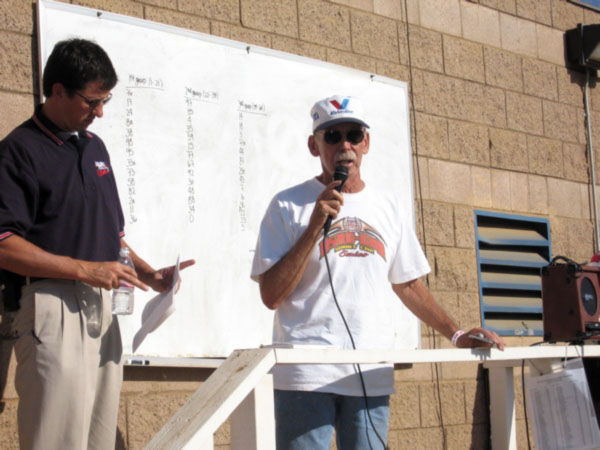 Skip Creath gives thanks to all who contributed to the "new transmission" fund money he received two weeks ago. He mentioned how all push truck drivers do it at their own expense and now that gas is double for them, it gets expensive, especially in the big gas burning pushers they use.
Damion looks petty focused now as his game face is on.
Rickie Gaunt setting his car on the Perris track.
From left Jimmy Oskie, Marsha and Glenn relax under the So Cal tent. Glenn doesn't bring any food does he?
Damion with PAS trophy girl Carly.
The night ends with Mrs Wags in the dark with Danny Sheridan and my Mule. Hmmmmmmmmmmmm.
Ventura Sept 10.
Mike English and Danny Sheridan discuss "stuff". Mike is in the business of fixing racing parts.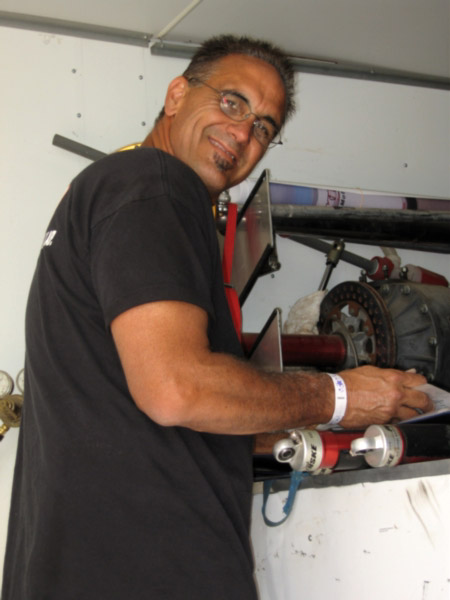 Russell Bliss is up to something, but it has to with Danny Sheridan's ride.
Seth Wilson looks at the new Wagtimes Calendar with Ellen Ellis.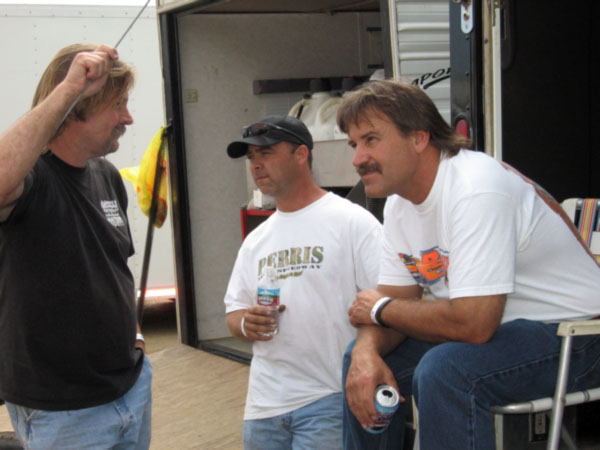 Jim Blakesley, crew chief for the Blair owned # 33, and his driver Greg Bragg visit with the Ripper.
The trailer that houses the Demon's instrument of terror for the troops, the little red sucker. Eric Kaufman unbolts the ramp.
Eric Kaufman and Jeff Stitch begin the work in their pit.
Big Jon, Mrs Wags, Kenzo and Steve are also, wait, how did she get in this picture?
When Rip laughs this hard, it could only be a comment by Rickie. What do you think it was?
Julie Shiosaki and Nellie Stansberry are talking shop. Julie helps with the processing of the racers each week and Nellie is a scorer for most road trips with USAC/CRA.
A nice view here with Dan Tedrick's car standing out.
Steve Ostling drove the Harlan Willis car this week. He had a rough time in his heat and then started back in the Semi only to overhaul the leader and win the Semi. He was fifth in the main event with some great moves only the Mexican National Champion can do.
Jack Jory chats with Wags during a break. He has added one of those Magnum superchargers to his sleek black Hummer and reports now it runs just fine!
Perris on Sept 17
Josh Ford and his girlfriend Wendy are having fun at the races.
Mel Murphy was trying out a new car this week owned by Joe Anderson. Unfortunately this first time for the car didn't make it to qualifying as they found things were not ready. Good to see Mel out for the first time in over two years.
The cars show off the beauty of sprint cars. This line-up is pretty cool.
Bill Rose made a visit to Perris this week and ran 13th.
Steve Ostling, left, and Tony Jones having fun before the hard racing started. Steve was driving Buzz Shoemaker's car this week.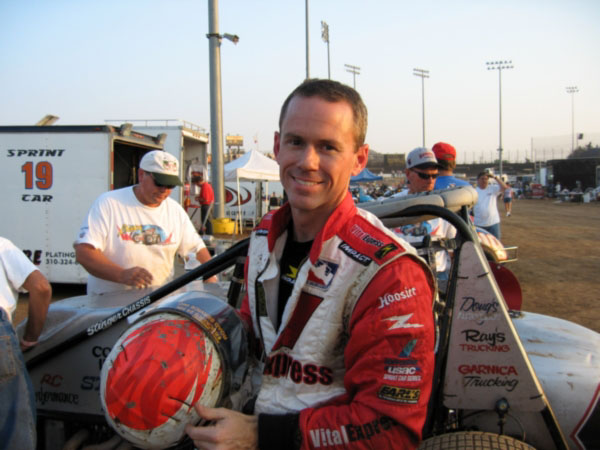 Jerry Coons Jr ready to go get em'.
The Gardner clan at work on Nadine Keller's car early in the afternoon.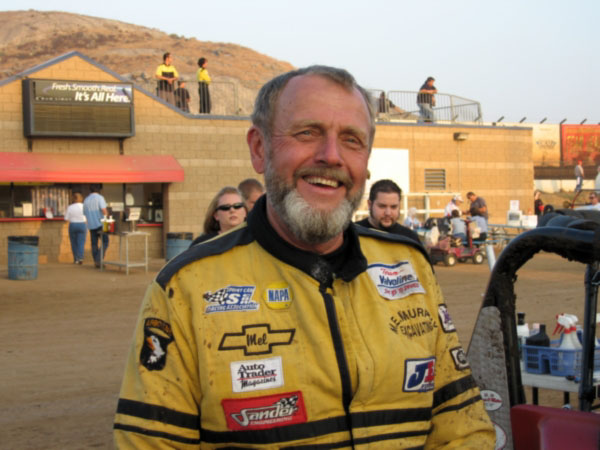 Mel Murphy looks like he was enjoying himself, doesn't everyone?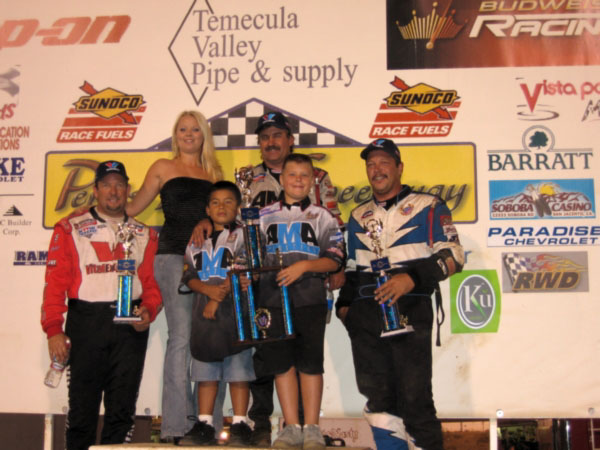 The podium three Cory Kruseman, Rip Williams and Charles Davis Jr.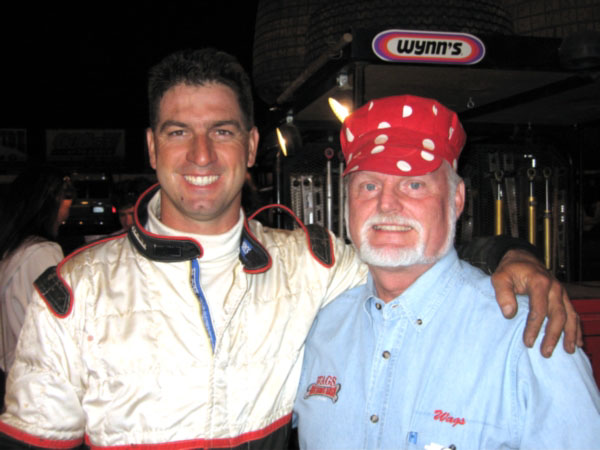 Danny Faria with the Wags explaining why the Trophy Cup would be at Tulare on Wagsdash night. He was smiling, but it wasn't his fault.
Manzy Sept 24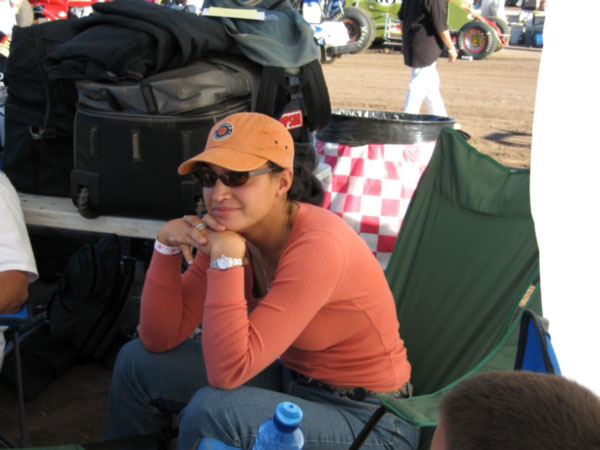 Nadine Keller looks peaceful here as she readies herself for the big half mile. She missed the transfer in the heat, but drove an extremely strong Semi and came from the last row to get a transfer showing some fast moves around the big oval. In the main she got involved in the Charlie Davis crash and went on her own wild toad ride flipping about five or six times herself without any lingering problems but will be sore this week.
Cory and crew chief Mike Nigh sit in the team Mule while car owner Glenn stands. Hmmmmmmmmmmm
The pit meeting as recorded from the grandstands by Mrs Wags who found the air conditioner in the press box to her liking.
A view down to the midway from up above the grandstands shows autograph signing and more going on down there. I use to get to go do that.
Walt James and Bob Ream Sr flank an unknown inductee into the hall of fame at the autograph table.
The famous Twister was out and driven by Jimmy Blanton for the old iron part of the show. That horsepower surge from the car is still pretty awesome.
Perris on Oct 1st
Side view of the new bumble bee themed car.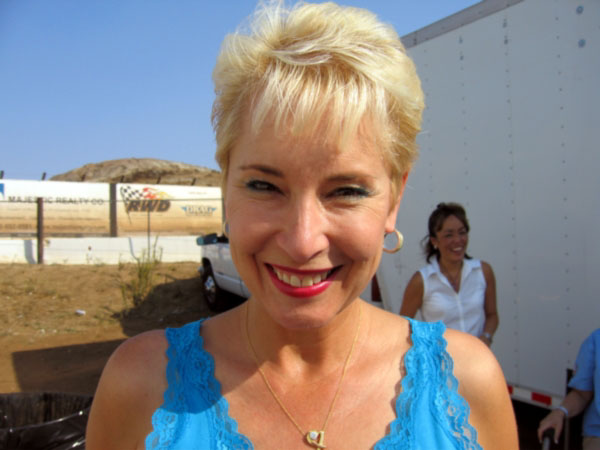 Kris Kittle, wife of Brian, shows off a bright blue top and mascara that matches the car. Can you believe it?
What does the number 109 mean to these two? It is their age total of 60 and 49 that is impressive when you see how they drive race cars.
Billy Wood works on the new Kirby motor as they searched for an early problem. He works for RC Performance.
You can just imagine Wags telling Jack Gardner Jr about how to make that tire round so they will go faster, can't you? That might be the only thing technical that he understands in racing.
Mike Kirby and Jim Kirby look at their work. Jim owns LA PREP and has been a sponsor of Mike's for a while. Jim plans to do some 360 racing himself as he has other race experience and recently rented Perris for a day to play and loved it.
The big smile from Dan Hillberg is twofold. He has this new car and the car owner, his wife Ronda, lets him drive it!
Carri Kruseman, left, and Terri Bliss discuss things in the afternoon.
SteveO gets ready to go get em'.
The Tooth Doc Jim Giardina won the consi, but missed the main. He later said he got tired a bit.
Cory Kruseman getting ready to go with Mike Nigh nearby.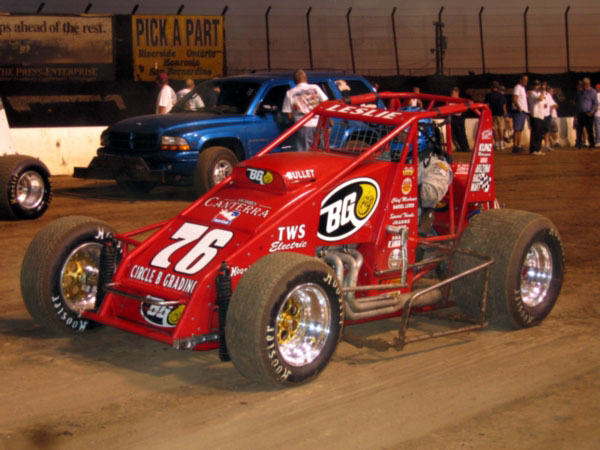 Mike Leslie's pretty red car came over the border for more action after last week at Manzy.
They said it was a shock deal, but the check writing took forever.
Seth introduces his wife Rachel after the races. She sez she comes a lot, but stays under the radar.
John and George bookend the birthday boy Don Blair owner of car # 33. He was 84!
Ron Chaffin is asking "how do you like me now"? Could anyone have more fun than this car owner?
Runner-up Mike Spencer is interviewed by Chris Holt as Carly Alex smiles like she can, dazzling!
Wally Day at Ventura

I put together a small Parnelli Jones collage from the pics we took at his offices.
This pretty midget is owned and driven by Tony Everhart.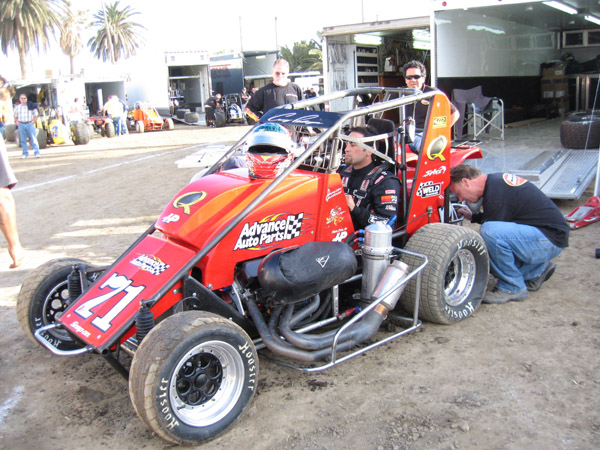 Damion Gardner sits in the cockpit of the # 71 car ready for action. Hot laps got it muddy and his top ten could have been better if someone hadn't spun him out.
Wally Pankratz gets comfortable in his car before heading to the track for hot laps.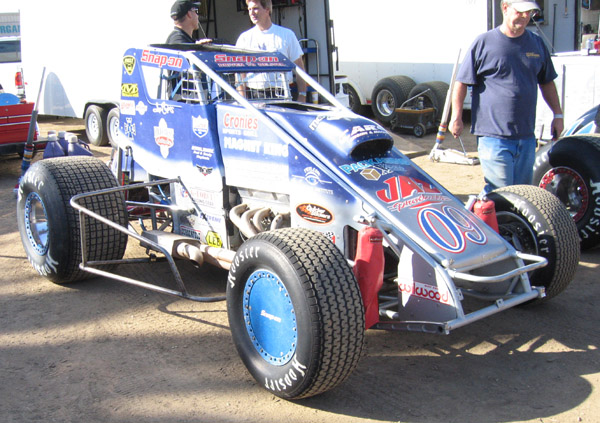 Luis Espinoza came away with a fourth this night in the pretty purple car.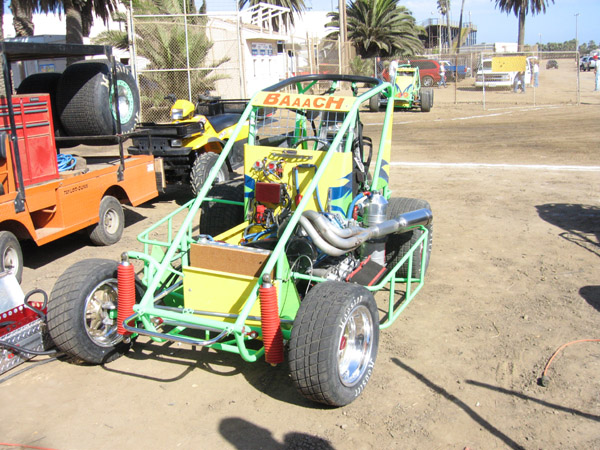 Ron Bach has added a midget to his stable of sprint cars. He says it is fun driving it so far as this was the first race in it after a practice earlier last week. Unfortunately, he got on his head in his heat and was done for the night. His plans are to run Chili Bowl with it.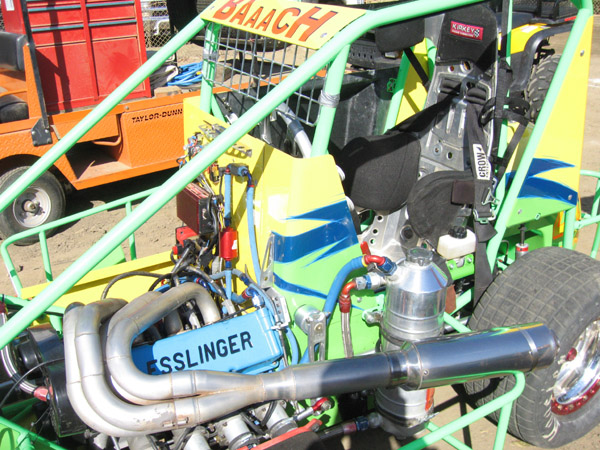 A look at the cockpit and motor shows this one off well. It's pretty.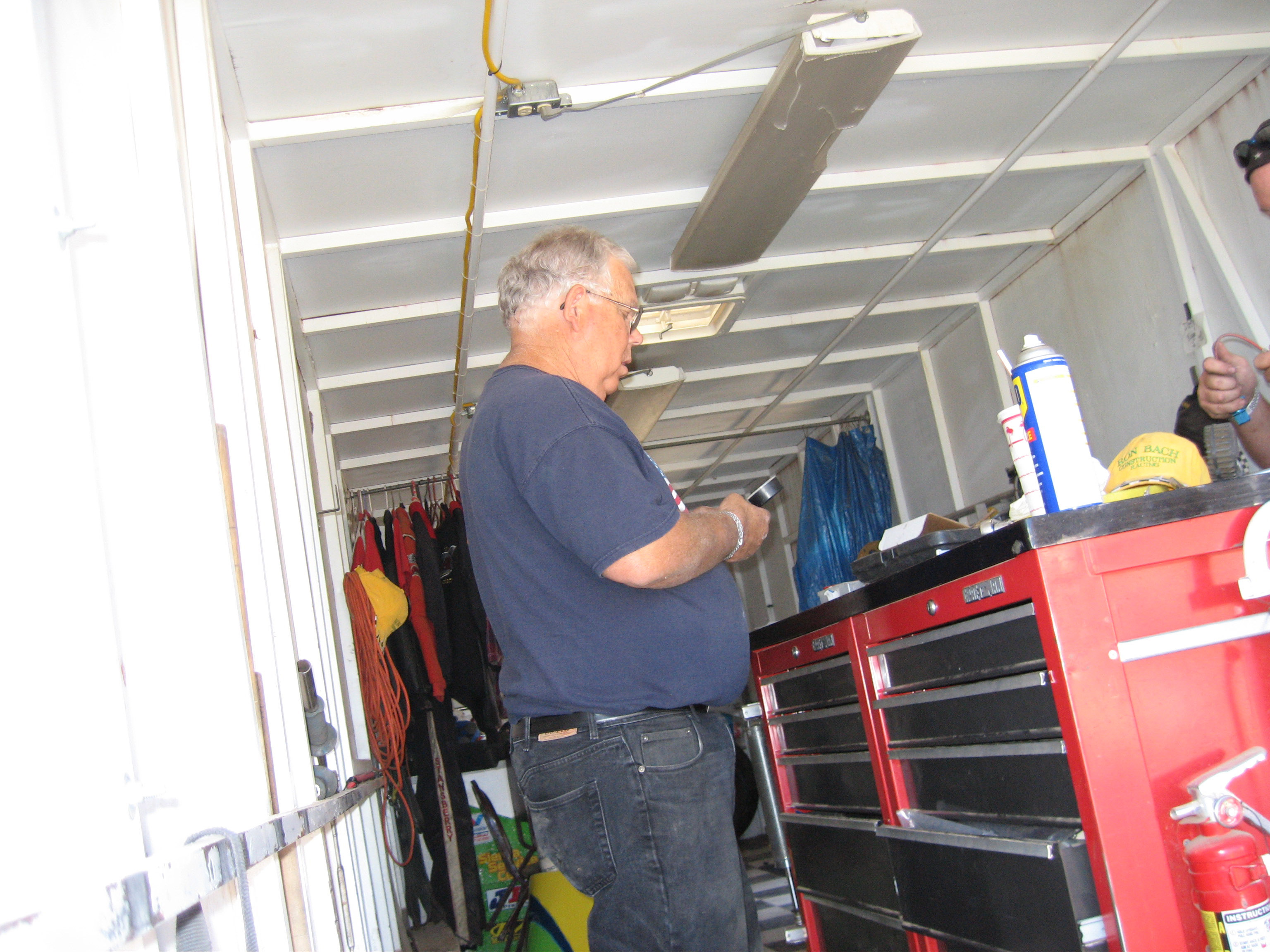 Ray Stansberry, whom I have been calling Ken forever and I don't know why, is in the Bach hauler working as usual.